Make your home stand out in a crowd of monotonous interiors with inspiration from these lesser-known interior design styles.
If you were asked to list all the interior design styles you know, it would probably look like this: traditional, modern, mid-century, bohemian, Scandinavian, farmhouse, rustic, art deco, minimalism, maximalism, contemporary, industrial, transitional, Regency… You wouldn't be wrong! Those are some of the most popular styles that have influenced countless interiors for years, decades, or even centuries. They're also the styles commonly listed in articles, just like this one.
Interior design stretches back as far as the early prehistoric humans that first settled and built permanent homes, followed by the Ancient Egyptians, Romans, and Greeks. So, that's an awful lot of time for a lot of interior design styles to exist and evolve. Interior design develops as a response to social, cultural, and geographical factors, which are in constant evolution. With that in mind, we thought we'd shine some light on those lesser-known interior design styles, offering a new source of inspiration to make your home worth remembering.
The Neo-Palladian style was named after the renowned 16th-century Venetian architect Andrea Palladio. Palladian disciplines were reintroduced in Britain in the 18th century and interpreted to suit the English taste. Though Palladian exteriors were quite plain and based on Classical forms, symmetry, and proportion, the interiors were quite the opposite. Richly decorated with exotic materials, oversize furniture, elaborate ornamentation, and gilding, the Palladian interiors were lavish and opulent yet tasteful. William Kent was one of the most influential Palladian interior and furniture designers who sought inspiration from Ancient Rome and Italian Baroque. Thomas Chippendale is also known to have made Palladian furniture, though it was not his specialty.
Neo-Palladian Characteristics:
Richly decorated architectural features: Think doors, windows, and fireplaces adorned with classical architraves, columns, and pediments; moldings highlighted with gilt finishes; coved or coffered ceilings and some decorated with pictorial scenes in plaster.

Paneled walls: Painted in brown, gray, olive green, off-white, or soft neutrals like stone, drab, or olive. Brighter colors include pea green, sky blue, straw, yellow, and deep green.

Wallpaper and upholstered walls: Especially flocked paper and vibrant shades of silk damask.

Matching walls, window treatments, and soft furnishings: Curtains and upholstery match the walls. Opt for textiles like silk, damask, needlework, velvet, wool, cotton, calico, and linen.

Wood and masonry floors: Oak, pine, or fir flooring, softened with oriental rugs. Stone and marble floors for entrances. (Axminster and Wilton carpets arrived mid-century.)

Elegant light features: Chandeliers, candelabras, and wall sconces.

Large-scale, ornate furniture: Typically made from mahogany and decorated with scrolled supports, gilding, and late Roman classical motifs such as masks, putti, shells, swags, etc. Think wing armchairs and elegant occasional chairs with tall backs and cabriole legs. Consider drop-leaf dining tables and architectural bookcases.

Brass and gilt finishes: Fittings and hardware.
How to bring Neo-Palladian style into your home?
Neo-Palladian style is rooted in history, so it naturally has a classic, traditional aesthetic suited to period homes. The best way to leave a Neo-Palladian stamp on your home is to think 'grand' in terms of appearance, size, and style of furniture and furnishings. Prevent your home from looking like a museum by setting the Neo-Palladian tone with a few key pieces and mixing it in amongst furniture from other periods. Another way to keep the scheme fresh is to add contemporary touches with textiles, color, and pattern. Attention to detail is essential here, so give some thought to things like trimmings, fittings, and hardware.
2.

De Stijl Style
De Stijl, or "The Style," was founded in 1917 in neutral Holland around a small-circulation magazine of the same name. The style was a response to the revolutionary creative activity of the Cubists and the Neoplatonic thoughts of the Mathmetician Dr. M.H.J. Schoenmaekers, whostated, "yellow radiates, blue recedes, and red floats"; the three colors that came to dominate the style. Painter Piet Mondrian, painter, designer, and theorist Theo van Doesburg, and designer Gerrit Rietveld were pioneers of the movement, also known as "Neo-Plasticism." The new aesthetic advocated a simple visual language to promote harmony and order using horizontal and vertical lines, precise geometric forms, and primary colors. Symmetry was out of the question. Instead, balance was attained through the relationship between geometric shapes and the distribution of color.
De Stijl furniture had an honest and integral style with a form-follows-function approach and exposed furniture construction.
De Stijl Characteristics:
Open plan, multi-functional spaces: Zoned with sliding partitions.

Natural light: Large floor-to-ceiling windows.

Abstract furniture: Functional designs with clean lines set at right angles, often made from plywood with the De Stijl color palette.

Primary colors: Red, yellow, blue, plus black and white. Color applied in blocks.
How to bring De Stijl style into your home?
De Stijl has a distinct minimalist aesthetic that strips each element to its bare essentials. So, a rigorous Marie Kondo-style sort-out is a good place to start to strip your home down to what you really need. White walls will provide a clean slate to build a Mondrian-inspired space. Introduce blocks of primary colors with plain tiles and cabinets in kitchens and bathrooms or with key furniture pieces such as a bed (and headboard), sofa, or large rug. Think linearly and avoid symmetry. If you're feeling bold, create a feature wall with a crisp interpretation of a Mondrian painting, using black lines to inform intersections for color fills and negative spaces.
3.

Bauhaus Style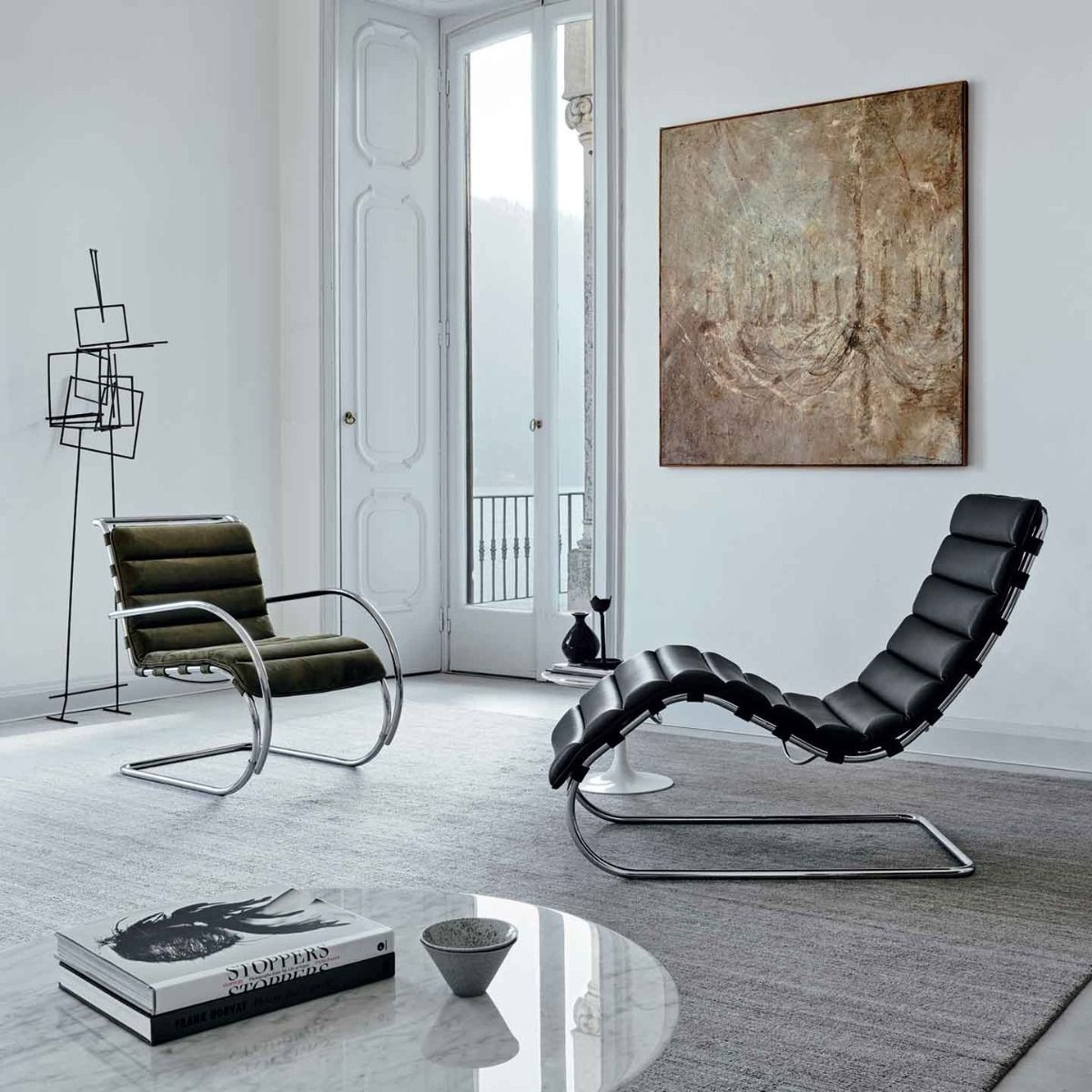 Bauhaus was an influential art and design movement that arose out of Weimer, Germany, in 1919. It was named after the German art school founded by architect Walter Gropius upon the concept of Gesamtkunstwerk (a total work of art), meaning a synthesis of all art forms into a single creative expression. Gropius wanted to unify fine art, design, and industry to create beautiful and functional objects for everyday life that could be mass-produced and accessible to everyone. The simplistic and rational style is known for its form-follows-function ethos and a less-is-more approach. Objects were stripped back to their essential elements to provide a highly functional and simple way of living. Expect simple geometric shapes, clean lines, and unrefined industrial materials. Iconic Bauhaus furniture pieces still popular today include the Barcelona chair, the Cesca chair, and the Wassily chair.
Bauhaus Characteristics:
Plain walls: Painted walls in bright neutral tones, like white, brown, gray, or beige. Glass walls maximize natural light.

Natural flooring: Materials like brick, stone, wood, and cork.

Bold geometric pattern: Upholstery and wallpaper designs with geometric patterns.

Plain, functional furniture: Practical designs with no ornamentation, clean lines, and geometric shapes.

Unrefined industrial materials: Metal, vinyl, glass, and plywood.

Basic color palette: Muted neutrals like white, black, gray, and brown, and pops of primary colors.
How to bring Bauhaus style into your home?
Bauhaus is marked by its simplicity and functionality, so it works well in modern and minimalist interiors. Avoid clutter and limit furniture and accessories to those that are necessary. When choosing furniture, keep the object's function or purpose at the front of your mind. Limit your color palette to neutrals like black, white, brown, and gray, and sparse pops of primary colors through accent furniture pieces and abstract textiles and artwork.
4.

Scandifornian Style
Scandifornian is a contemporary interior design style coined by interior designer Natalie Myers to describe the fusion of minimal, organic Nordic design and the laid-back Californian lifestyle. Though they may be geographically distant, California and Scandinavia are close in their appreciation for light neutral color schemes,natural, sustainably-sourced materials and textures, clutter-free spaces, and a focus on functionality. A distinct sunny Californian influence can be felt through the addition of ethnic patterns, handicrafts, vintage pieces, and dry climate plants, like cacti, that tastefully adorn the space. The resulting aesthetic feels bright and modern yet warm and organic with a chic bohemian hint.
Scandifornian Characteristics:
Bright and airy spaces: Large windows with lots of natural light and functional open living spaces.

White walls: White or similar off-white shades provide a blank slate.

Blonde wood: Opt for light-toned wood, like birch, maple, or ash, for furniture and flooring.

Streamlined furniture: Practical, multi-functional designs with a sleek and simple aesthetic; think modular sofas.

Natural materials: Rattan, jute, sisal, wood, and linen.

Quirky accent pieces: Introduce accent pieces with a mid-century and bohemian flair.

Neutral, earthy palette: Natural textures and neutral shades, like white, beige, gray, and brown, with pops of black and earthy color accents.
How to bring Scandifornian style into your home?
To bring the bright, airy, and relaxed Scandifornian vibe into your home, start by painting your walls white to reflect light around the room and act as a blank canvas. Restrict your palette to creamy neutrals with subtle pops of earthy hues, like olive green and tan. Create depth and interest in a neutral scheme by introducing a variety of textures and layering things like throws, cushions, and rugs. Furnish your space with sleek, functional furniture made from natural materials that encourage a clutter-free lifestyle. Opt for materials such as blonde wood, jute, and rattan to forge a deeper connection with nature, and upcycle mid-century accents for a fun touch.
5.

Postmodern Style
Postmodern style, also known as PoMo, became a hit in the 1970s and endured for over two decades. Fueled by a desire to break free from convention, PoMo sought to be everything modern design was not: vibrant, bold, complex, weird, whimsical, and full of unique personality. Unlike post-war mid-century design, PoMo prioritized form over function, taking inspiration from the bold shapes, bright hues, everyday references, and controversial and experimental attitude of the pop art movement. The concept was further developed by a group of like-minded designers known as 'The Memphis Grop.' Designers challenged ideas about the form and function of commonplace objects, fusing them with pop culture influences and nods to Art Deco, resulting in disruptive furniture with exaggerated forms that can't help but spark debate.
Postmodern Characteristics:
Quirky furniture: Form over function; expect exaggerated proportions and bold, unusual sculptural shapes, like blobby, bulbous, and noodle-like seating, and overtly geometric forms.

Mixed materials: A mixture of textures, including leather, colored glass and plastic, lucite, laminate, burlwood, metallics, terrazzo, ceramic, velvet, boucle, and fur.

Loud pattern: Think graphic black and white prints, abstract multicolored pattern, and geometric shapes.

Colors-galore: Anything goes! Contrast saturated hues, primaries, pastels, or natural and retro shades.
How to bring postmodern style into your home?
PoMo celebrates abnormality, creativity, and individuality, so focus on objects that inspire you and bring you joy. Have fun and introduce playful accents and unexpected 'wow' moments, whether in the form of a quirky-shaped sofa or side table, oversized light feature, or pops of unexpected color in exposed structural elements, like trusses, pillars, and beams. You don't have to opt for bright, saturated hues and flashy finishes to achieve a postmodern look. Tone down the look with sculptural furniture pieces in muted neutrals or earthy retro shades, like mustard yellow, avocado green, warm brown, and burnt orange. Add a whimsical touch with a curated selection of kitsch decorative objects and give ornamental flourishes to everyday objects.