Mismatched furniture and decor can lend a vibrant and unique look to your interior space. Here's how to mismatch decor in a way that looks purposeful and professional.
If you're drawn to eclectic interiors and one-of-a-kind thrift store finds, you might have a natural appreciation for mismatched decor. When curated with a designer eye, mismatched decor utilizes contrast and juxtaposition to create an effect that's complementary and unique, albeit a bit unorthodox.
Outside of that, there can be a lot of freedom in using mismatched decor. Mismatching lends itself well to thrift and bargain shopping since it's all about bringing one-off pieces together, and you can pick up rare finds from just about anywhere without being limited to colors and styles that are an exact match. But it can take some finessing to make a mismatched arrangement look intentional and aesthetically pleasing. Luckily, we're here to help!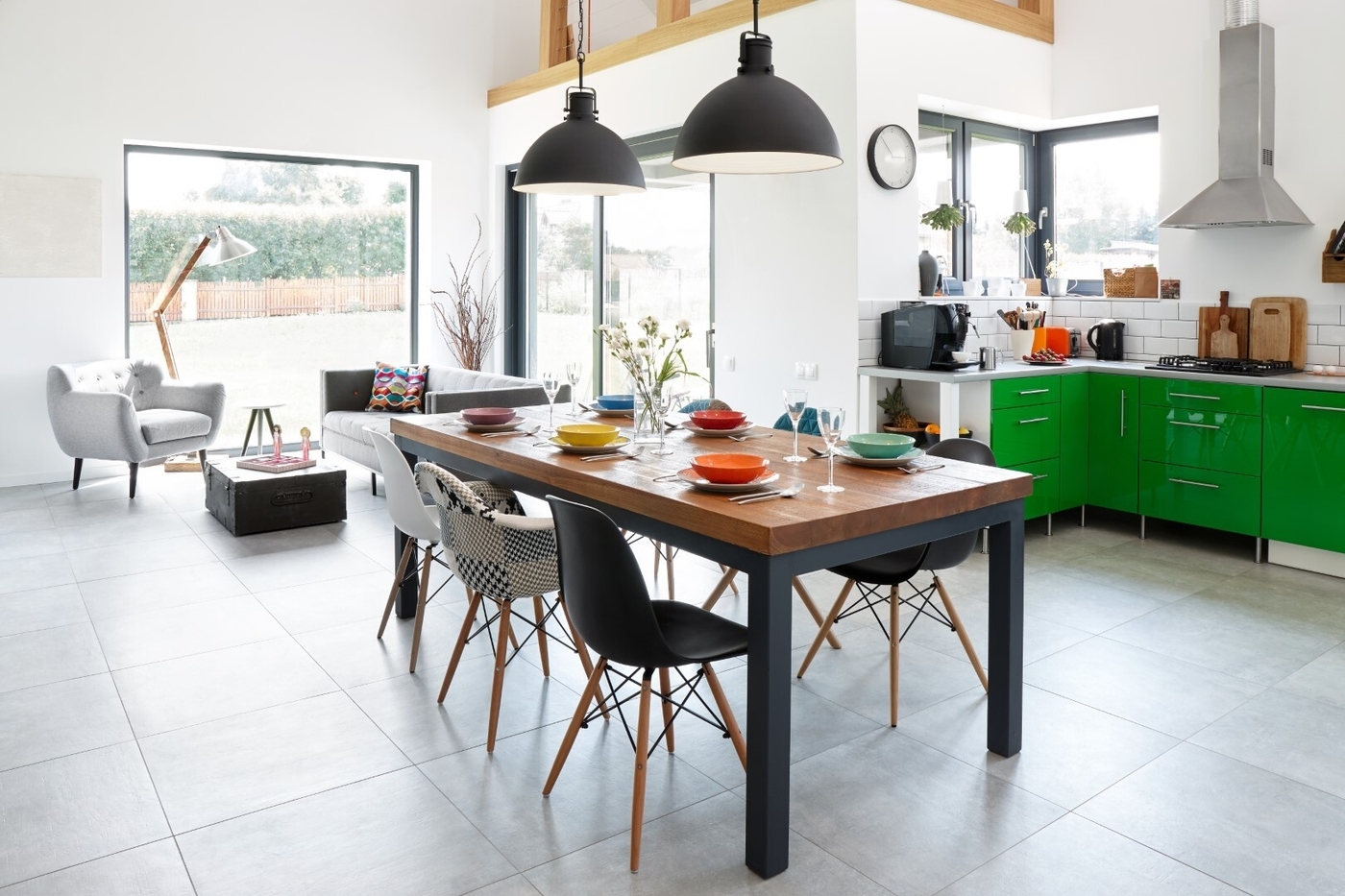 Keep to a theme.
Although the mismatching technique is all about taking creative liberties, it helps to put some forethought into the look you're trying to achieve and how you plan to tie individual elements together. Ultimately, even mismatched decor should have some cohesive elements, but it's up to you to decide what those elements are.
If you're not sure where to start, consider your personal preferences. If there's a particular design style, era, or even multiple styles or eras with a similar aesthetic that you're naturally drawn to, start there and stick with pieces that fall into a larger category of your choosing. Giving items a commonality will prevent your overall designs from looking haphazard.
Here's a topical example. One trend that's grown in popularity over the past few years is mismatched dining chairs. Mismatching your chairs can bring a sense of playfulness to a traditional dining area. To pull the trend off, you can group chairs by style (vintage, industrial, mid-century modern, art deco, etc.) or by height, visual weight, material, or really any other visual factor. You can also try using a few pairs of chairs rather than four or six completely different chairs. This way, each chair will have a twin somewhere else on the table, enforcing a cohesive look.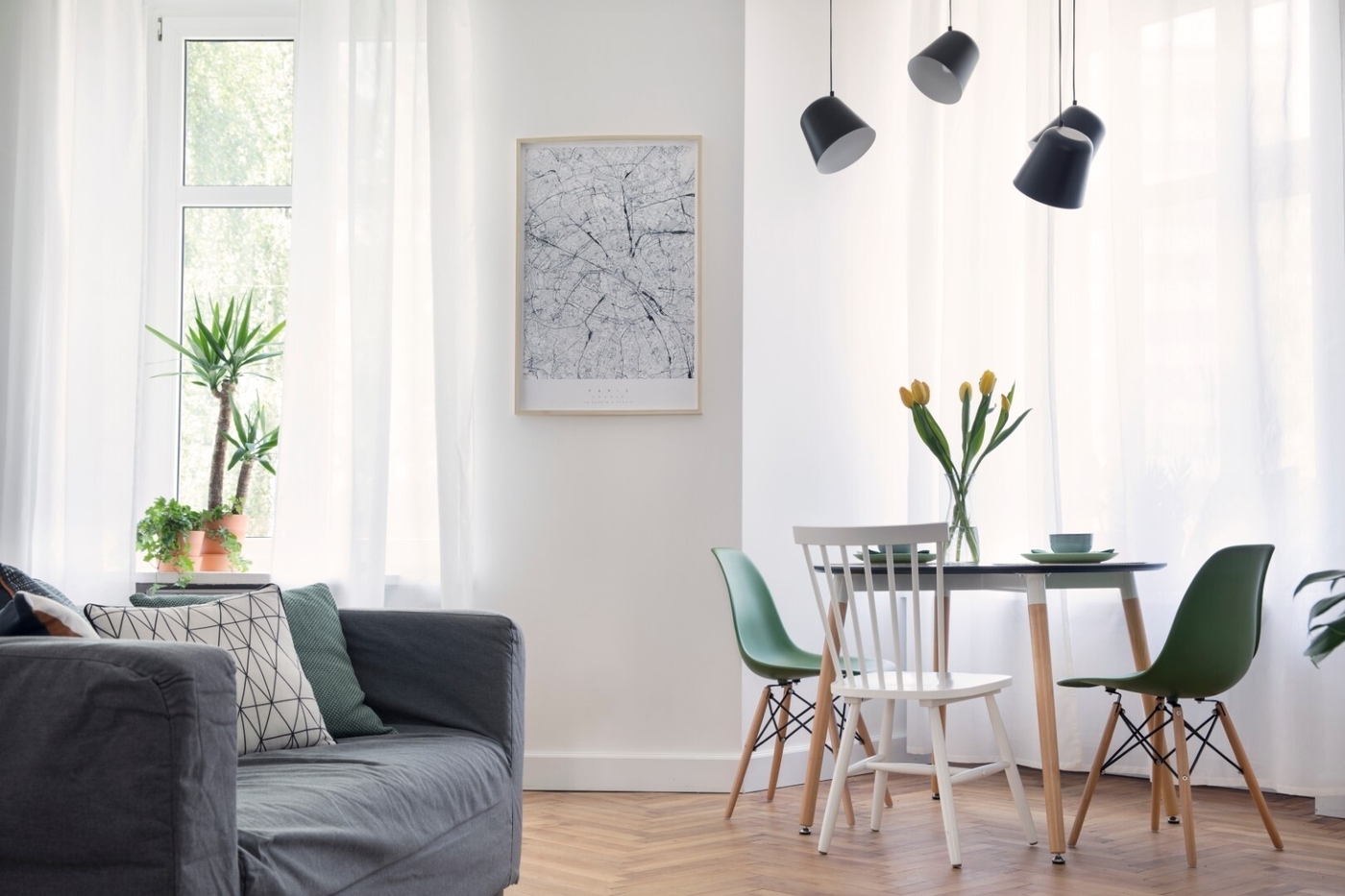 Use a unifying color scheme.
Sticking to a single color family or a few complementary color families is another way to enforce visual cohesion when you're mismatching. Using color as a unifier means that you can be more liberal when it comes to things like style and era. You can pair that modern sofa alongside an antique apothecary table, mixing old and new, so long as they're related by color. If you're choosing to use complementary colors, choose colours with the same chromatic intensity for a polished and professional effect.
On another note, you can use mismatching to invigorate a design style that is inherently monochromatic or tend to be largely defined by one color. For example, Scandinavian design, which is characterized by a neutral, minimalist color palette and the use of lots of white. You can freshen up a Scandi-style room by introducing mismatched elements, such as mismatched chairs, light fixtures, or dishwares. You don't necessarily have to invite other design styles into your space to do this; you can use furnishings that fall into the Scandinavian category so that you're preserving the integrity of the style.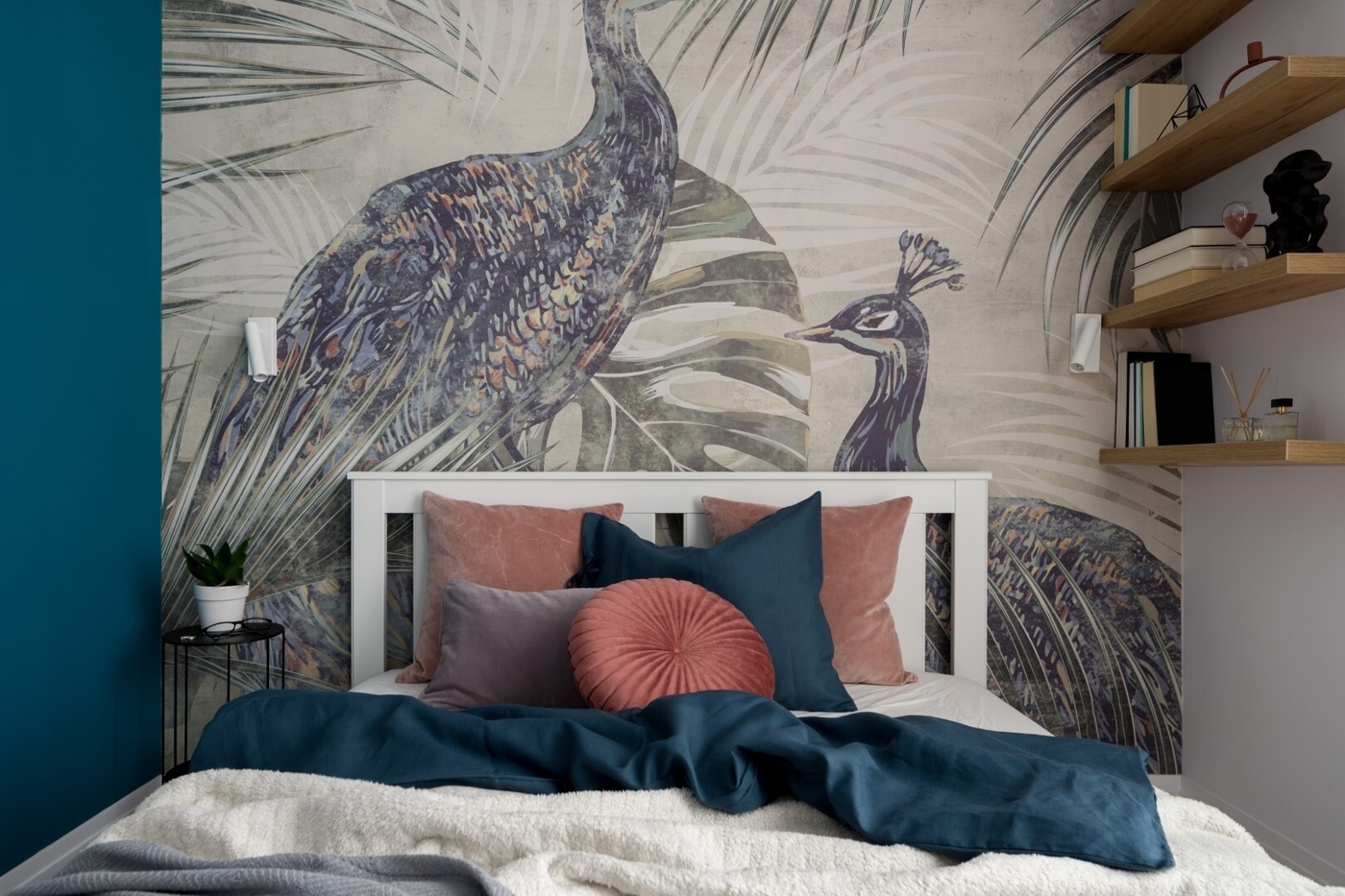 Start small.
Oftentimes the best way to approaching an unfamiliar or daunting interior design task is to start small and take your time. In this case, you can start small by working on one mismatched arrangement at a time and allowing yourself indefinite time to get it right. That could mean shopping around for months for complementary barstools or a side table that juxtaposes your sofa in a way that's impactful but not distracting. The more patience you are with the process, the more enjoyable it will be.
Mismatching decor in a way that's visually pleasing is not inherent. It can take lot of practice, trial and error, and re-jigging before you get it right. It really is a practice of training and honing your designer eye, so don't be discouraged if it takes some time (and multiple trips to the store to purchase and return items) to get a mismatched arrangement to a point that you're proud of.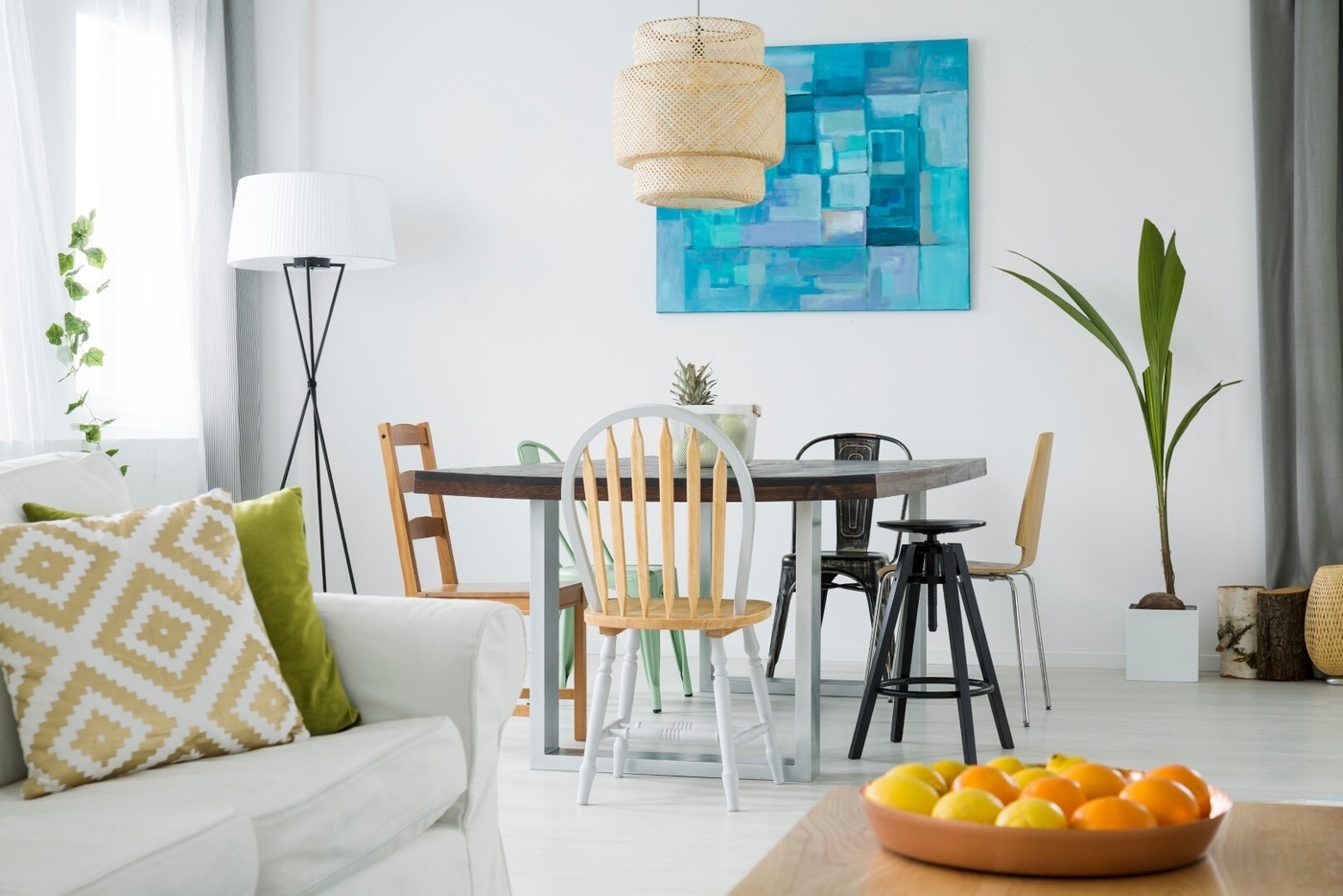 Go neutral for big-ticket items.
When you think about what it means to mismatch decor, you might think of a room with a surplus of wild colors, patterns, and styles. What you might not think of is the neutral pieces that will ground those eclectic elements and prevent the space from looking chaotic.
You should put some importance on neutral pieces in an eclectic space. A good rule of thumb when integrating neutral items into a largely eclectic decorating scheme is to keep big-ticket items, such as your sofa, area rug, and kitchen table, on the neutral side. Then you can mismatch items that are more easily and inexpensively interchangeable, such as chairs, pillows, artworks, and lighting fixtures.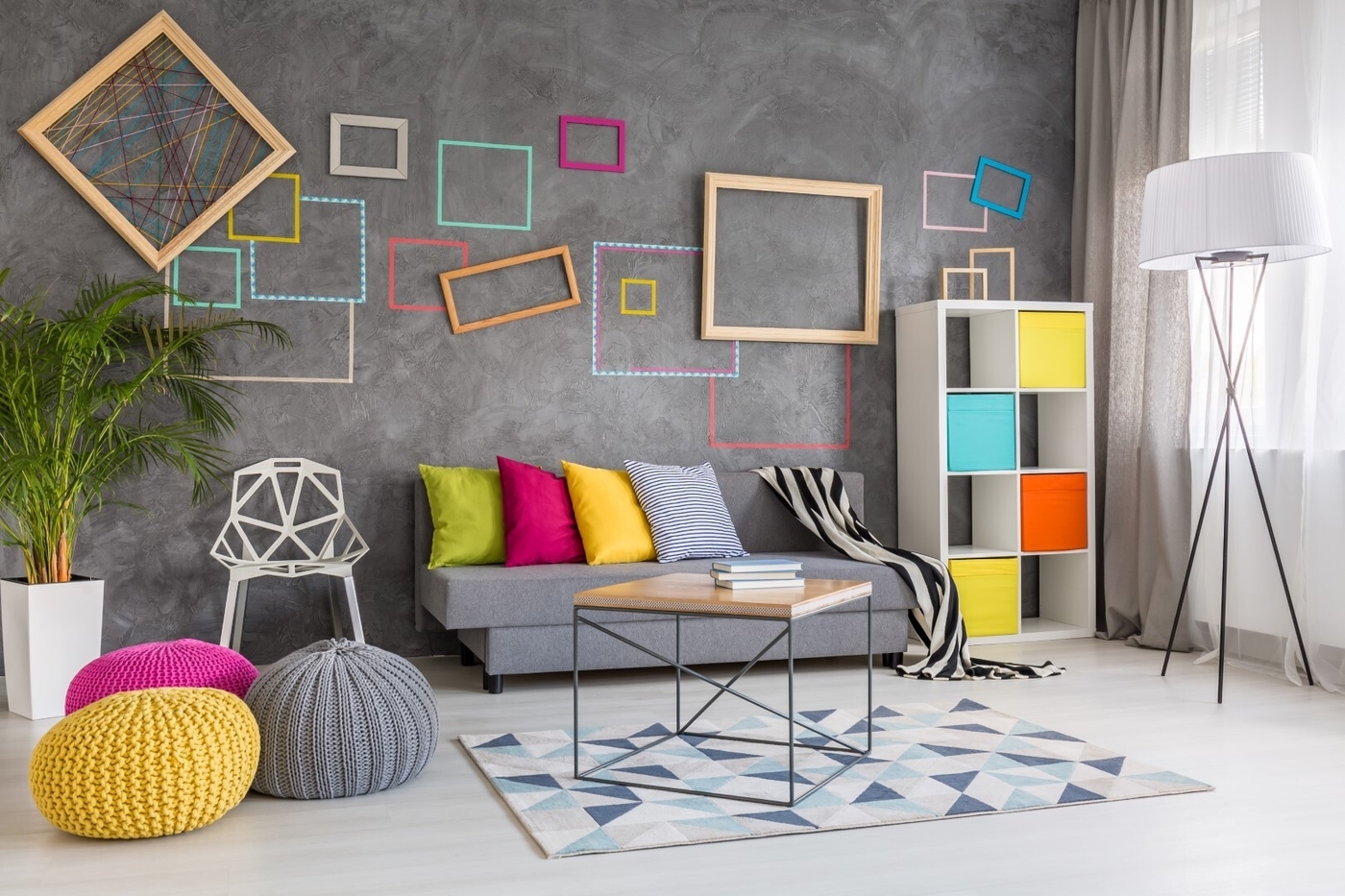 Go modular for big-ticket items.
For a big-ticket item, you can also consider going modular. Modular furniture items are made up of movable, adjustable sections called modules. You can reconfigure the modules in whatever what you see fit. Some common modular furniture items include sofas, shelving units, ottomans, and beds.
In addition to being space-efficient (and in some cases, multifunctional), modules can be ordered in a wide range of fabrics and colors. This gives you the option to mismatch within a single piece of furniture. Just make sure that you've taken a look at fabric swatches (in person) before ordering different color modules for one piece of furniture. Colors should be complementary and have the same chromatic intensity, or at least one color should be a neutral to stabilize a more saturated color.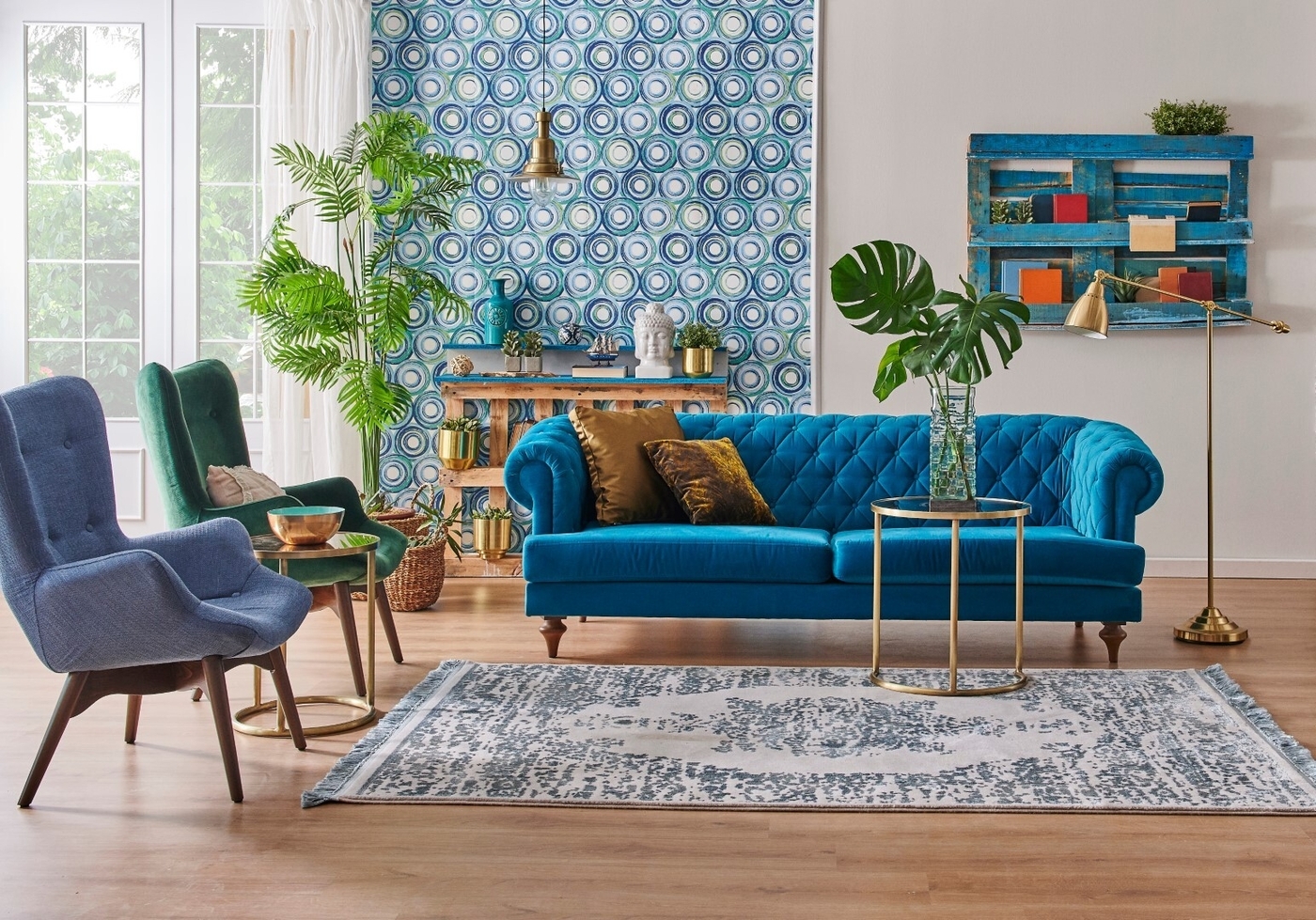 Pull the room together with decorative accents.
Decorative accents can help to pull a room together in a way that's imperceivable but effective. Think about it this way: if all of your pillows match, all of your hardware is the same, or the colors used in your space are also in your area rug, the room is essentially unified by these small details. And as we've discussed already, mismatched decor actually benefits from having unifying factors.
You can also use plants to unify your space. Plants are a unique decorative accent because they embody a certain texture and movement that can only be mimicked by other plants. Displaying plants throughout your space can help to ground furniture and decor that is appearing arbitrary.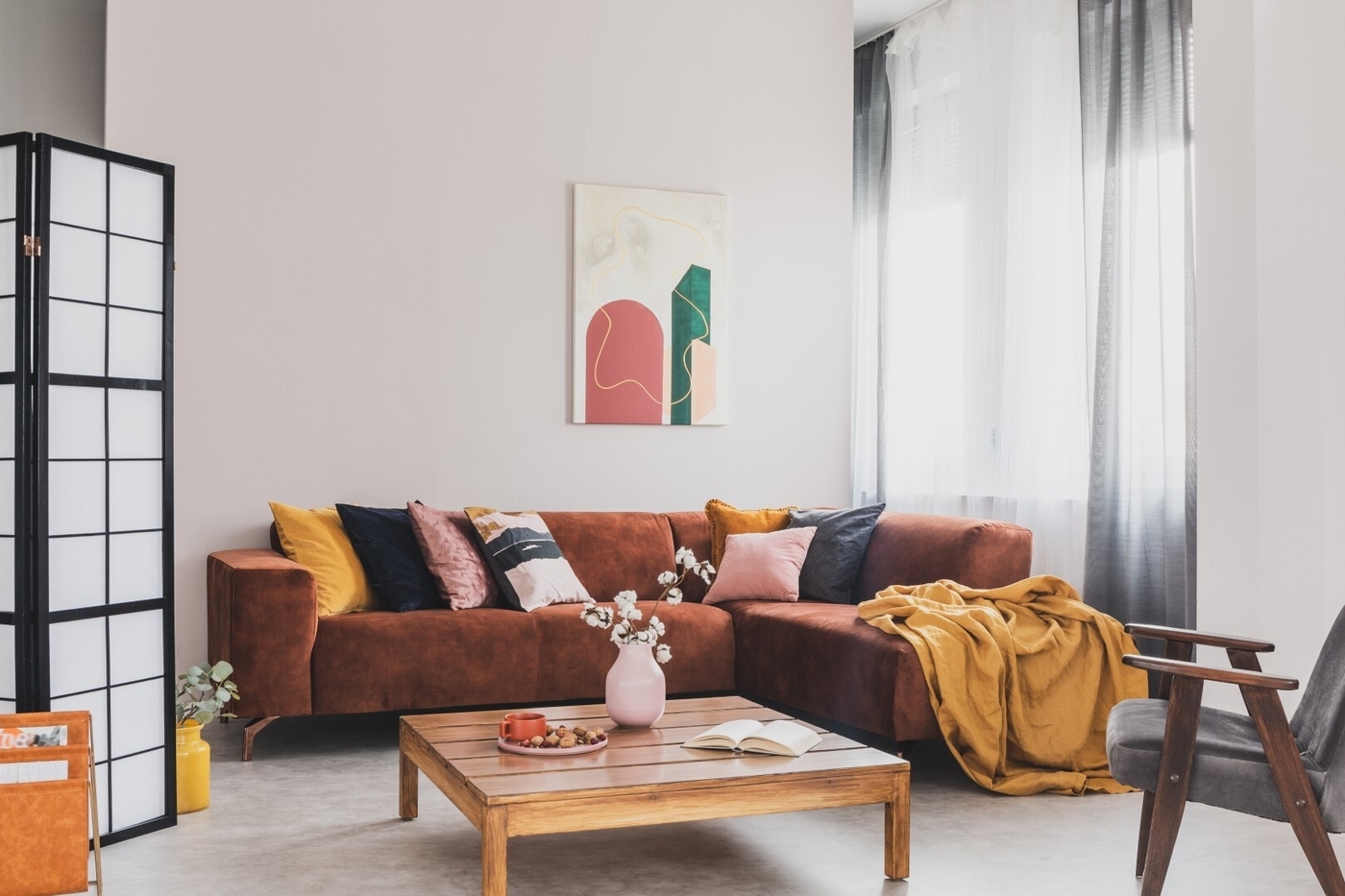 Limit texture-use.
Because mismatched decor can be very visually commanding, using too much texture can tip your space into sensory-overload-territory. As such, you'll want to keep your texture-use to a minimum, narrowing down your material choices in a given space to one or two materials.
At the same time, texture can be a cohesive factor in your room. Think velvet throw cushions, a velvet accent chair, and a velvet curtain tie—all in one room. The eye will register the tactile similarities and this kind of repetition will give the space an intentional, flowing look.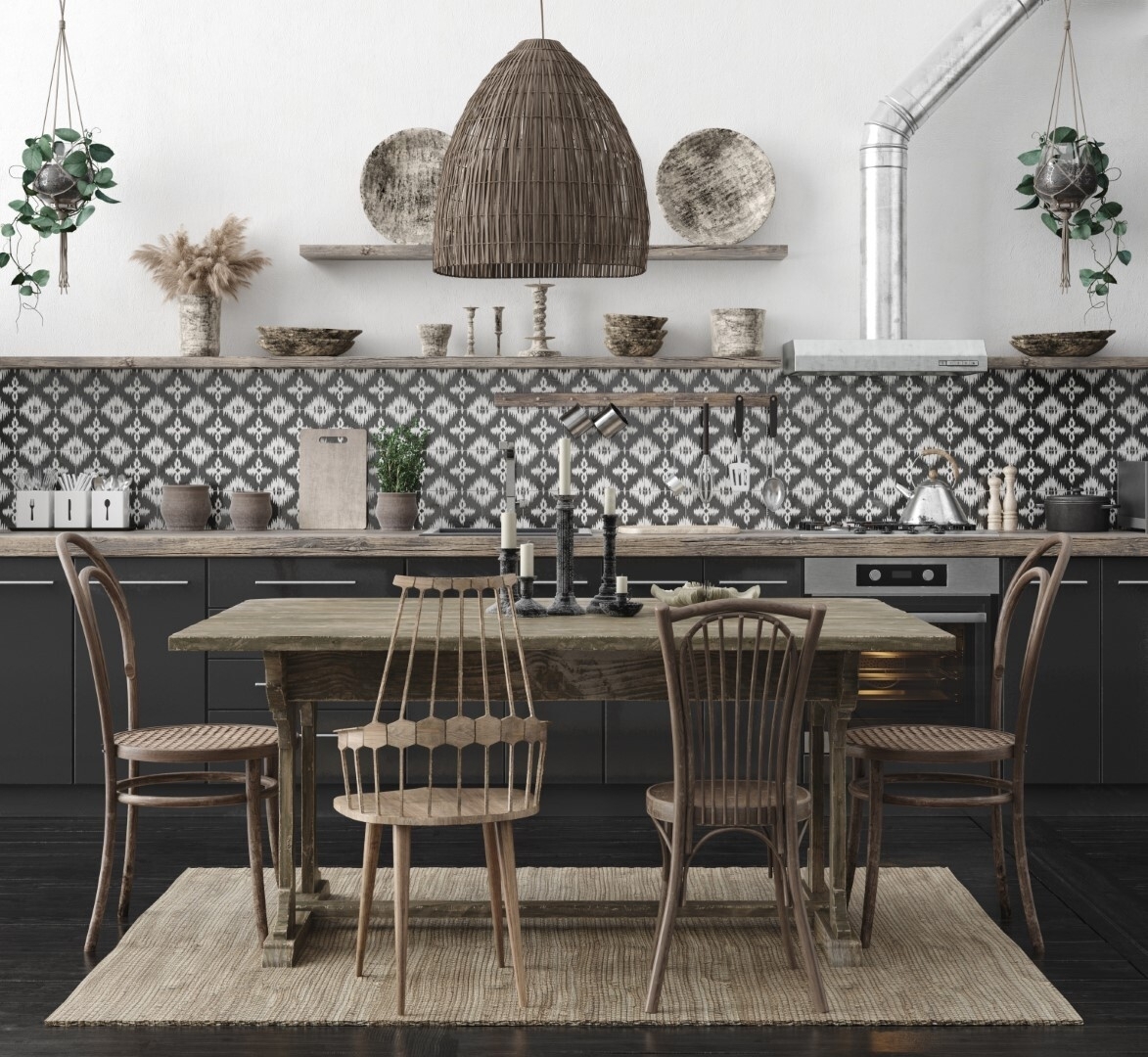 Fall back on symmetry.
One major drawback of mismatching your decor is that it can come off scattered and unorganized. If you're finding this to be the case, you can restore order to your design by opting for symmetrical arrangements. Symmetry is inherently tidy and logical, and the contrast between eclectic decorative choices and the elegance of symmetry can be quite striking.
So, for instance, if you're wanting to display mirrors with mismatched frames, consider mounting them in a way that enforces a sense of symmetry. For instance, directly over his and hers sinks or on either side of your fireplace. Although the two mirrors aren't matching, displaying them in a precise, symmetrical manner will lend orderliness to your overall design.