Dark green is a majestic, forest-inspired shade that thrives in traditional and contemporary-style homes.
Dark green brings to mind rolling hillsides flanked by a dense canopy of pine trees. The deep shade of green has a black undertone, giving it a dark and mysterious appearance and a rich quality that affords its reputation as a luxurious, sophisticated, and powerful hue. A softer and more natural alternative to black, dark green is just as versatile and can be paired with many hues without overpowering. Dazzling verdant hues dominate this year's trend forecasts, including this noble green shade that denotes stability, growth, and a warm sense of familiarity.
What is the Psychology of Dark Green?
Green is a dominant color in nature, often associated with health, growth, prosperity, and new beginnings. Dark green simultaneously relaxes and energizes and communicates a reassuring sense of security, stability, balance, and harmony. The color forges a deep connection with nature, transporting you to the depths of a forest, sheltered by a thick canopy of trees. Its soothing quality establishes a relaxing atmosphere, making it the ideal hue for a living room or cozy reading nook.
What are the Best Ways to Use Dark Green in the Home?
For a striking bathroom design, contrast brilliant white porcelain tiles and fixtures with dark green paintwork.

Create a cocooning effect with a tonal scheme composed of various tints and tones of dark green.

Bring the outdoors in with a nature-inspired dark green wallpaper design.

Opt for dark green as an accent color to bring life and energy to a neutral scheme.

Reinforce the connection with nature by complementing the rich shade with natural wooden textures. For a contemporary feel, opt for light wood tones. Dark wood offers a more traditional, moody, old library vibe.

If you're not ready to use dark green in abundance, start with an accent wall or a striking piece of furniture.

Add a verdant touch to any space with pops of dark green ornaments or indoor plants.
What Colors Go with Dark Green?
Discover new ways to incorporate dark green into your space and uncover which colors work best with this sophisticated shade.
Dark Green + Mustard Yellow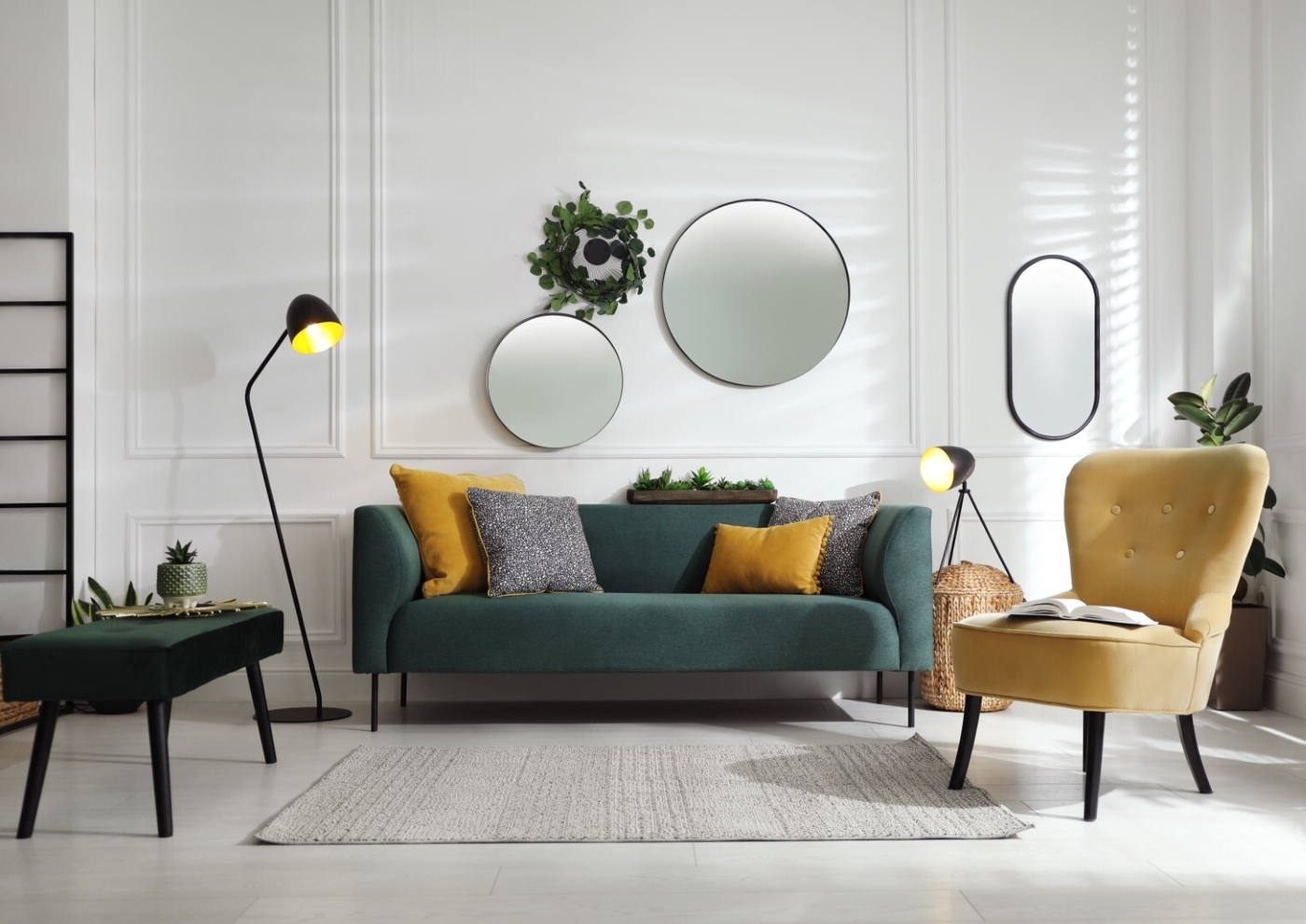 Make your home cheerful and inviting with a combination reminiscent of a brooding garden bathed in warm sunlight. Green and yellow are analogous colors, so their harmonic tendency is no surprise. Mustard yellow is a dark shade of yellow with a brown tinge, giving it a warm, earthy feel and golden appearance. Paired with dark green, it forms a rich autumnal palette. Use mustard yellow as a striking accent and focal point against a dark green backdrop.
Dark Green + Earth Brown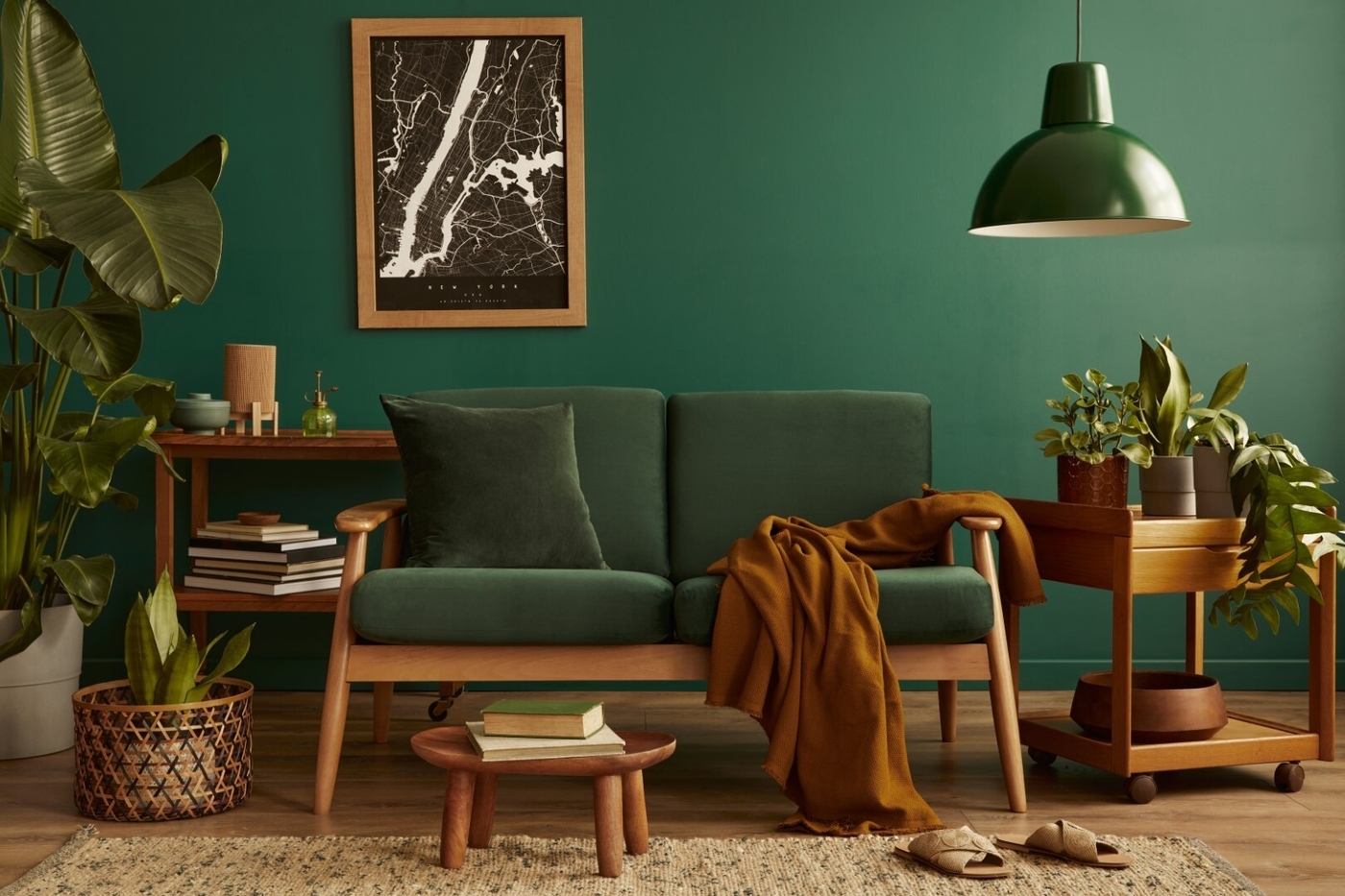 Envelop your room with rustic charm by incorporating brown earth tones into a dark green scheme. This organic color scheme creates a clear visual connection to the natural world, promoting relaxation, a sense of presence, and physical and emotional balance. Amplify the jungle mood by embellishing the room with large, exotic indoor plants. Avoid using this color combination in small rooms because the cocooning effect will make the space feel even smaller.
Dark Green + Black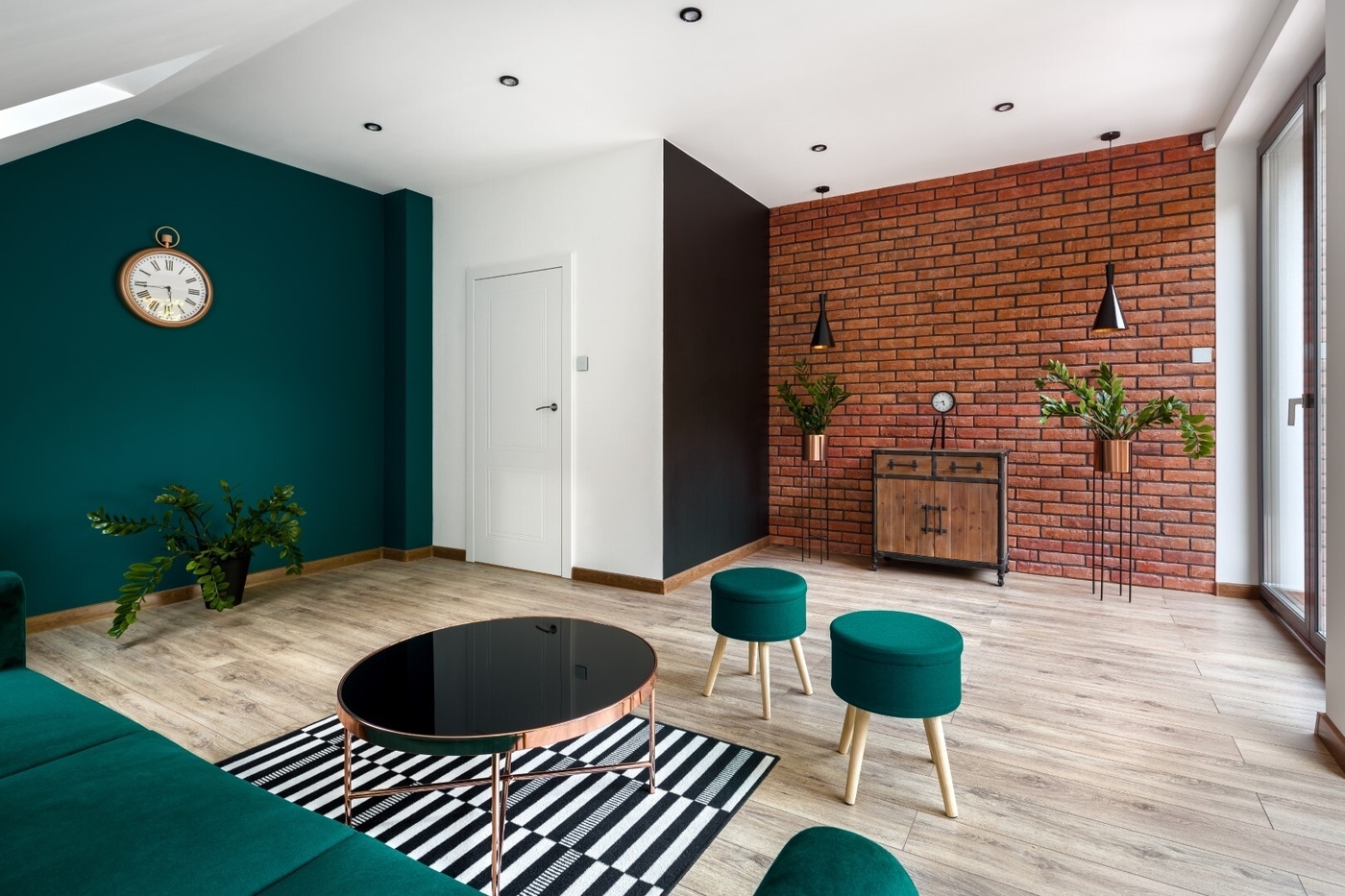 Dark green and black are an intense and dramatic combination that plays out well in modern decor. Pepper a dark green room with black decorative accents and create high contrast with elements of brilliant white to lift the scheme. Incorporate wooden furniture into the room to tone down the drama and add natural warmth to the space. Achieve the perfect color balance by following the 60-30-10 rule.
Dark Green + Gray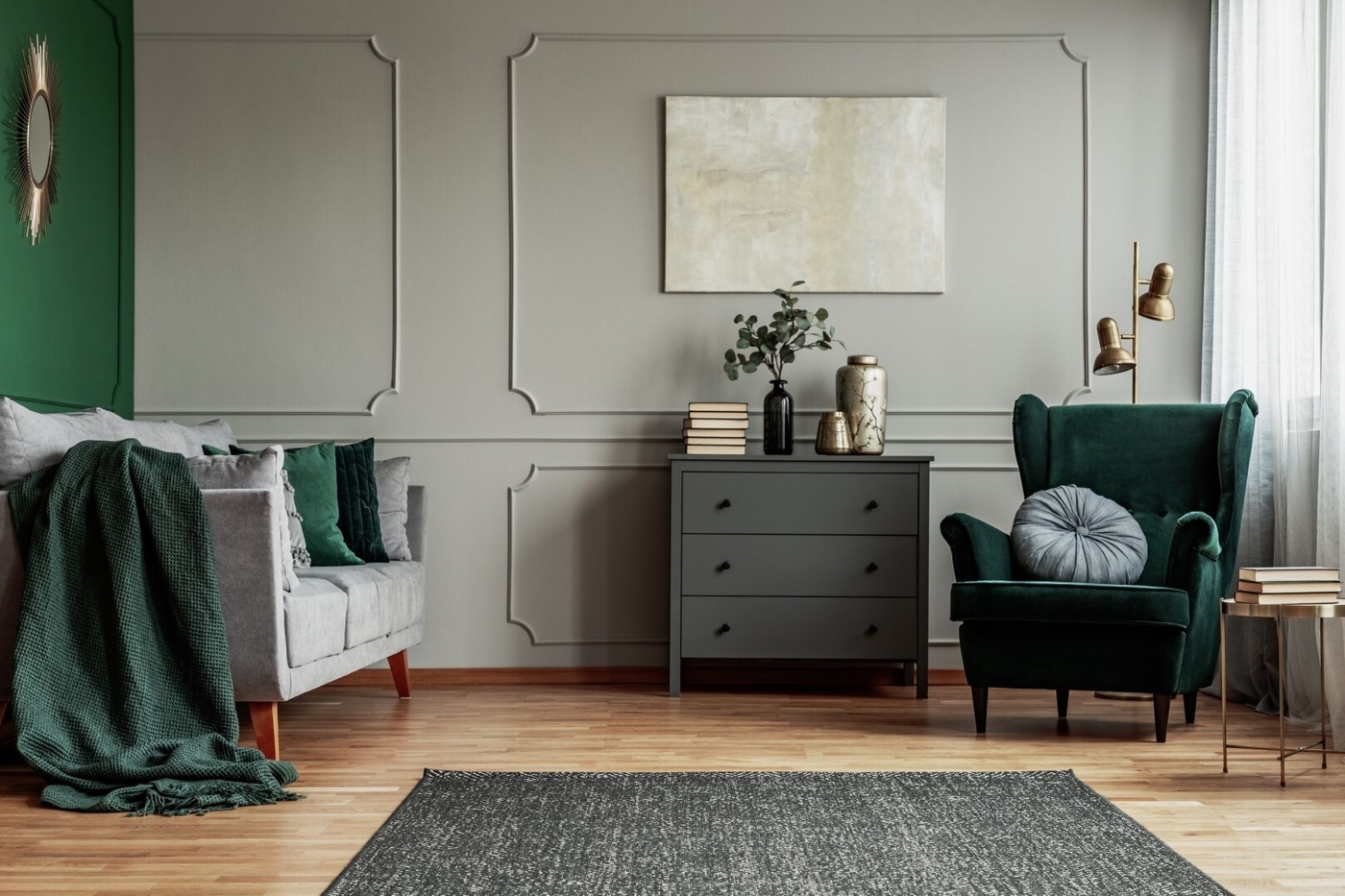 Gray is a timeless, versatile color that can lift or dampen a room. The impartial shade serves as the ideal canvas for the dramatic impact of a dark green hue. The lighter the shade of gray, the more it lifts the mood of the room and contrasts the heavy verdant shade. Here, the dark green velvet armchair spells opulence with its soft, lustrous texture as it asserts its presence in front of the soft gray boiserie, while subtle brass accents contradict the cool green-gray tones.
Dark Green + Lavender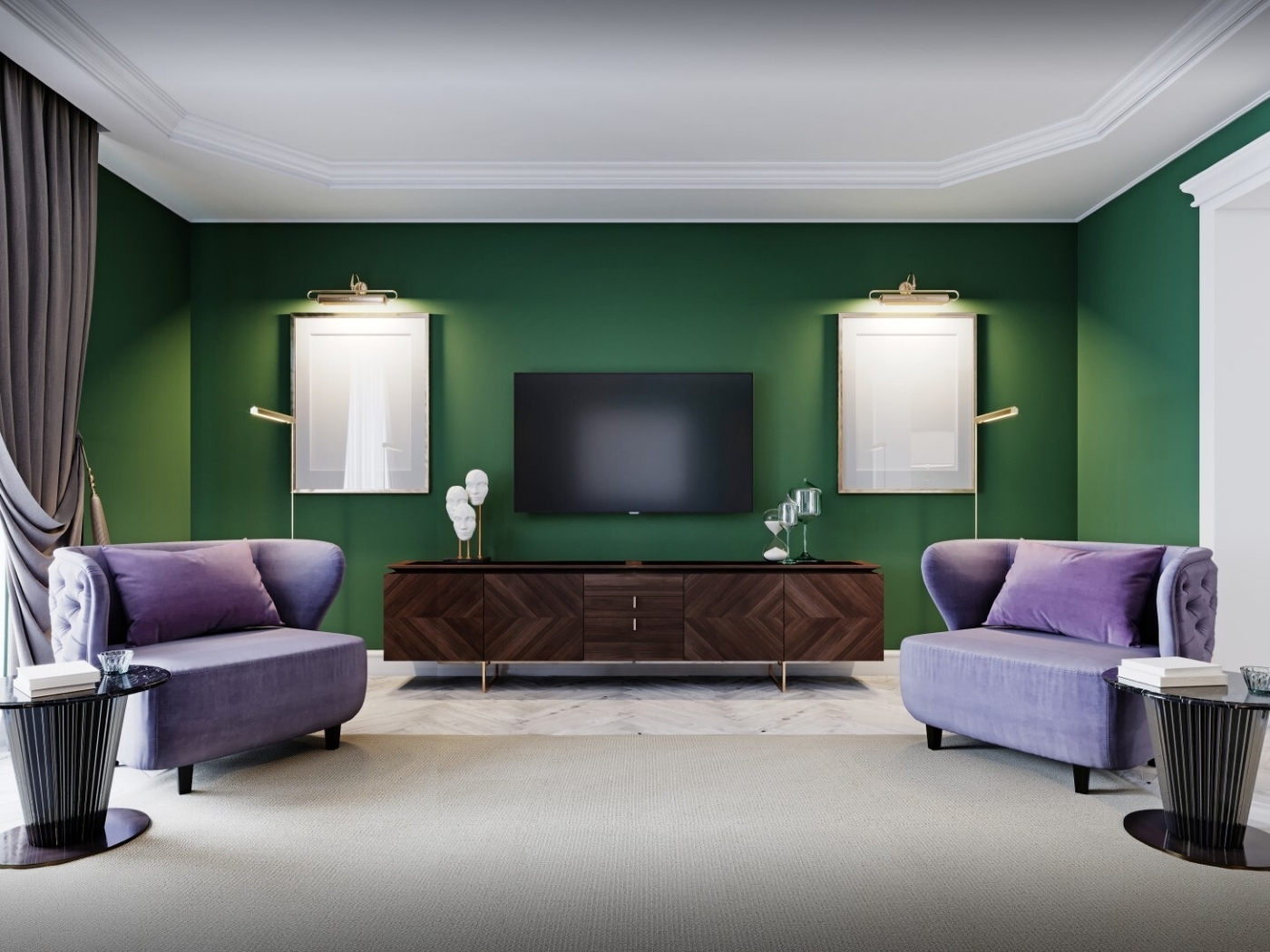 Named after the aromatic plant, lavender breathes a fresh sense of calm into a rich verdant scheme. A harmonious pairing in nature, the cool colors conjure images of a bucolic scene with vast lavender fields. The colors' tonal contrasts create an intriguing sense of movement and dynamism. Admire how the lavender armchairs appear to advance while the dark green backdrop recedes.
Dark Green + Gold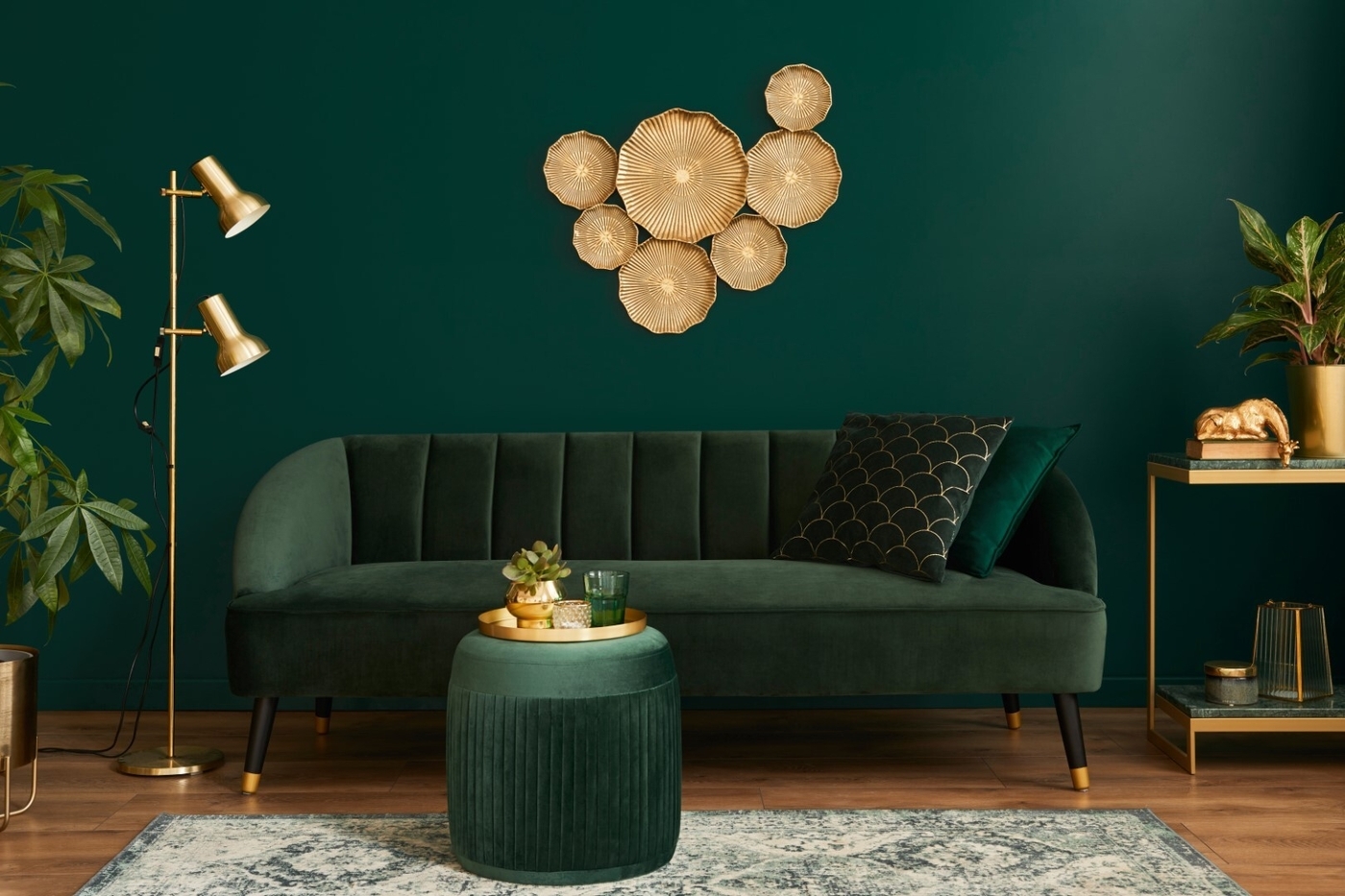 Glam up your verdant nook with gleaming gold accents. Gold's natural warmth and brilliance create a satisfying contrast against a cool dark green backdrop. Tone-on-tone schemes paired with an accent hue result in a memorable interior, like this striking dark green ensemble littered with gold. Give in to opulence and adorn the forest-like space with gold-trimmed furniture, lights, and decorative accessories. Opt for gold hardware, including light switches, taps, and door handles, for a certain je-ne-sais-quoi.
Dark Green + Beige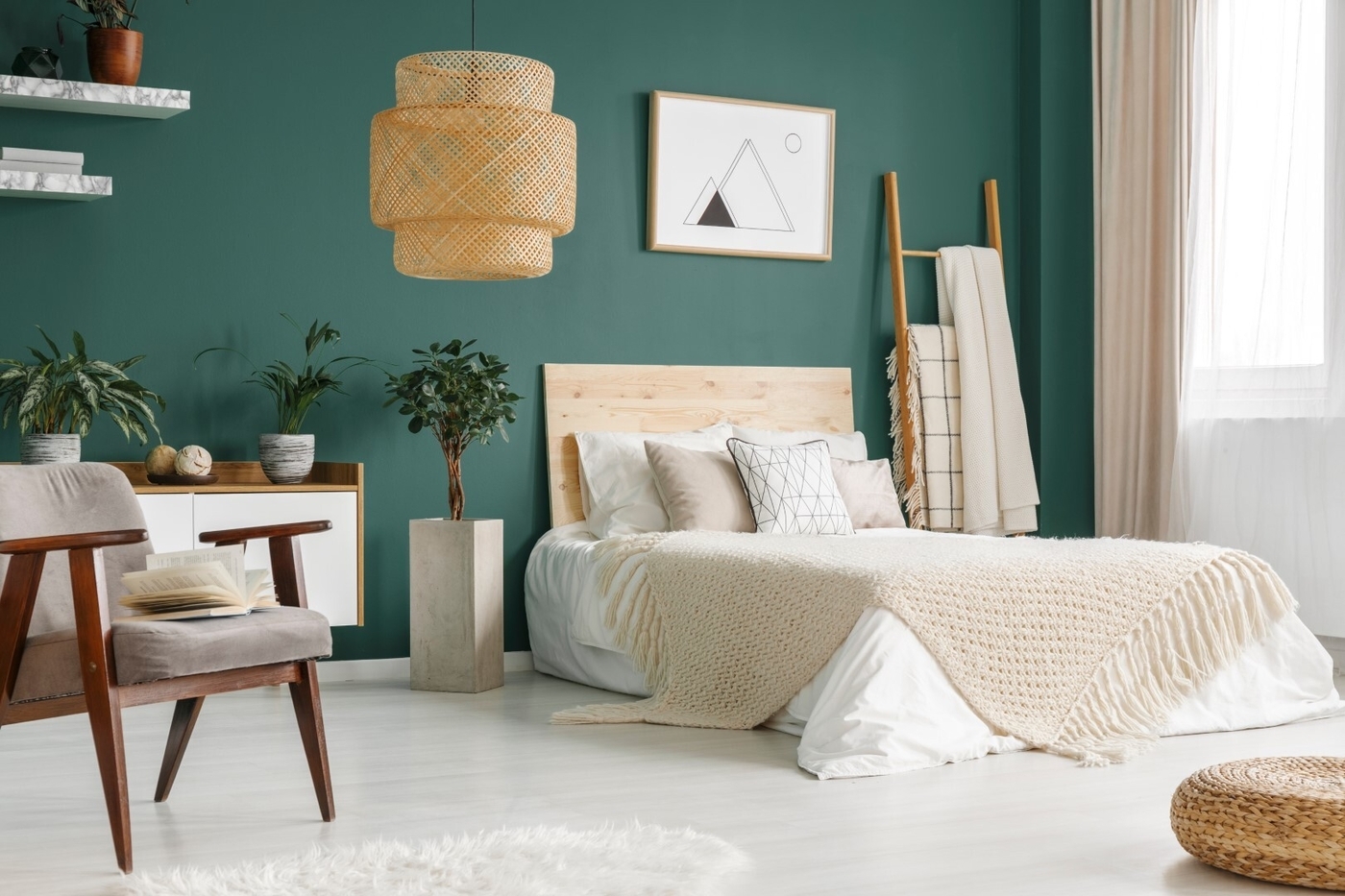 While beige schemes exude serenity, too much of the color can quickly feel dull and uninteresting. Painting an accent wall dark green in an otherwise neutral scheme is an optimal way to invigorate the space. Amplify the warm, organic palette with natural wood and sustainable rattan furniture. Get the most out of a neutral scheme by layering textures to create depth and visual interest.
Dark Green + Tangerine Orange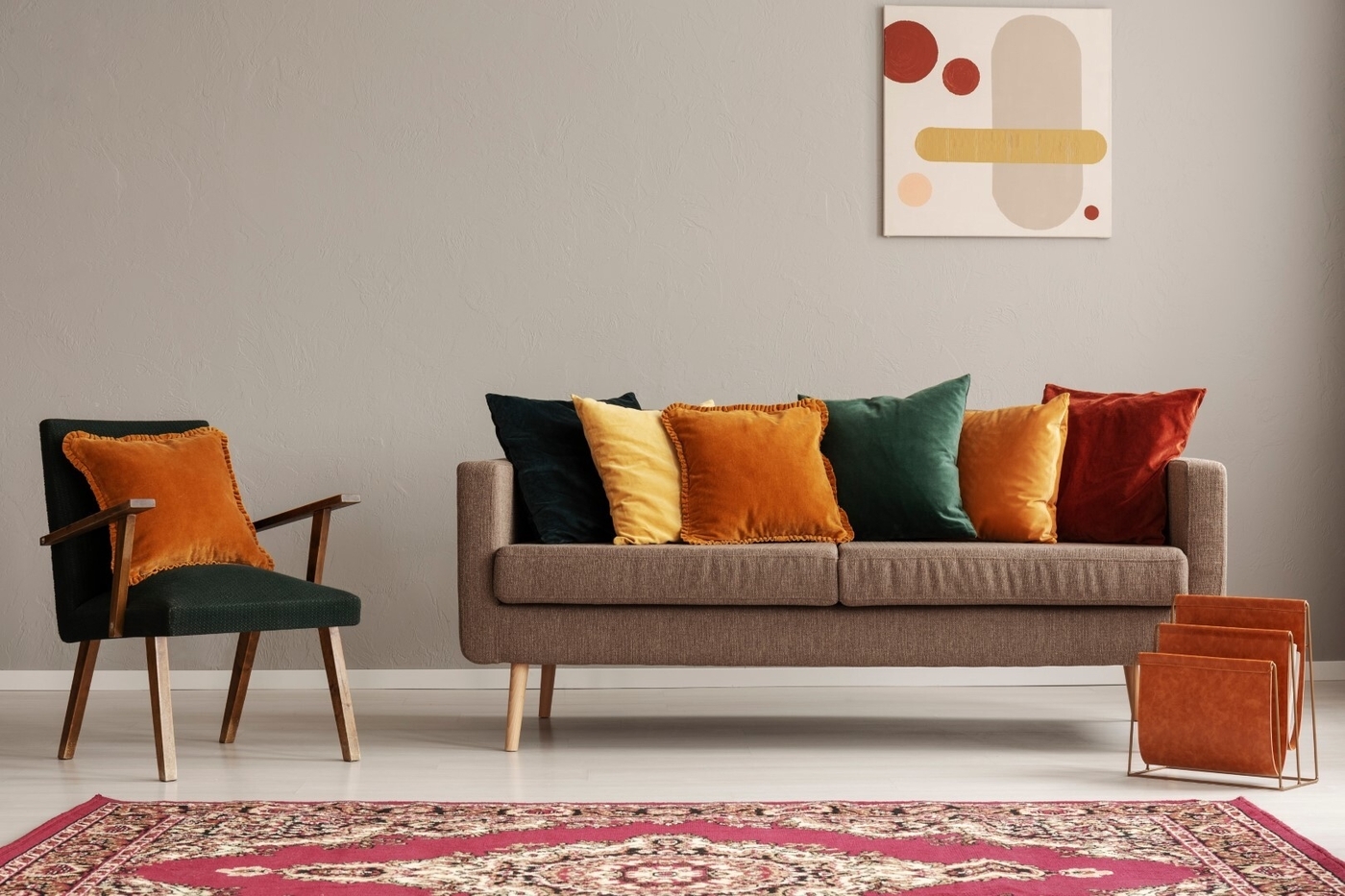 Tangerine orange and dark green make a compelling combination. The saturated orange hue celebrates the ferocity of red and yellow's optimistic cheerfulness, resulting in a bold and daring character. The warmth of tangerine orange affords its advancing quality against dark green's receding nature, creating a fascinating sense of depth. Here, the striking pair energize a neutral midcentury-style living room through an abundant array of velvet scatter cushions.
Dark Green + White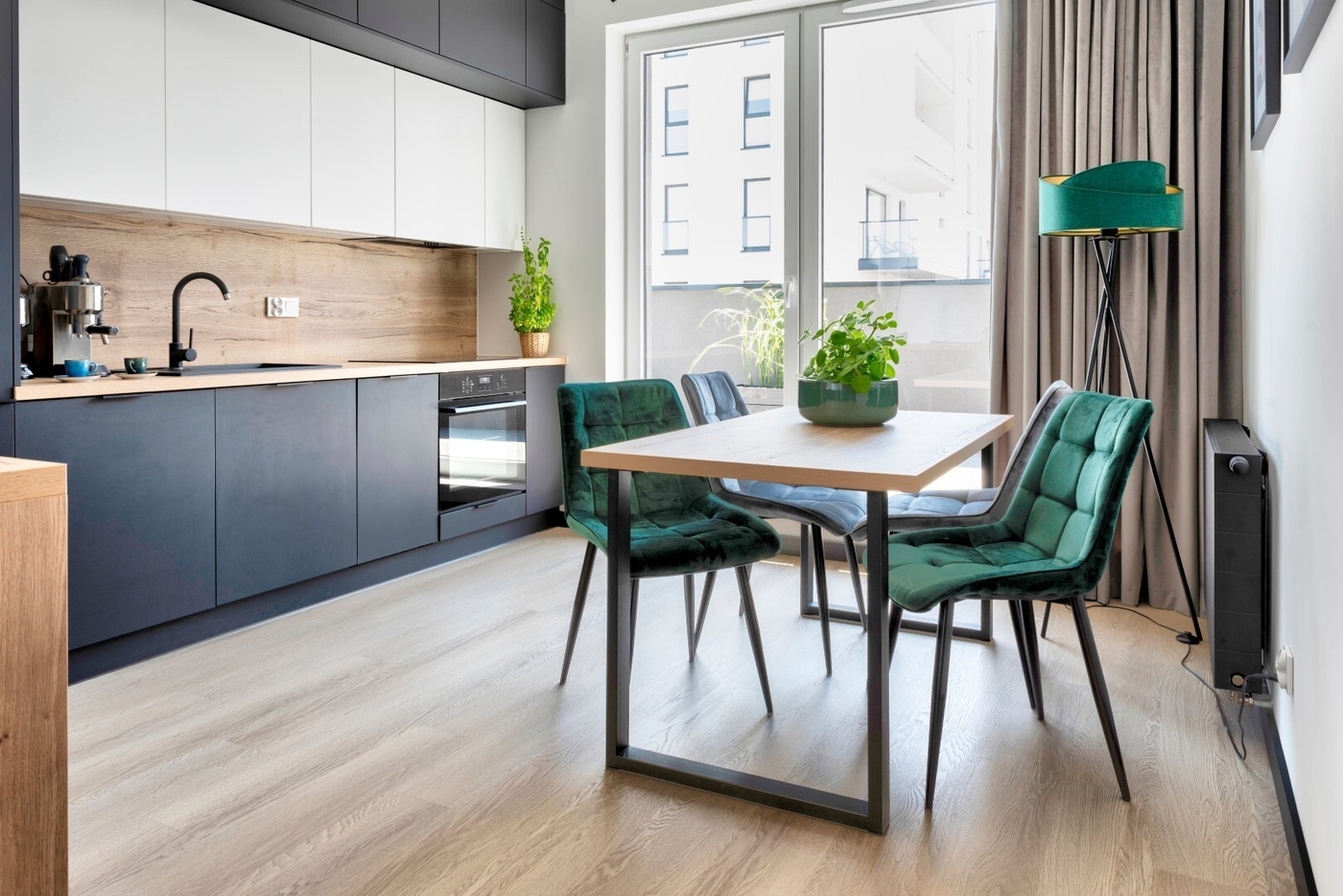 The color white symbolizes purity, cleanliness, and freshness—fashion a clean, invigorating space with a predominantly white palette and splashes of dark green accents. Like a blank page, the white backdrop allows the complex green shade to take center stage and be admired in all its glory, free from distraction. In this dining room, the lustrous upholstered chairs immediately capture your attention, contributing the perfect touch of color.
Dark Green + Pale Pink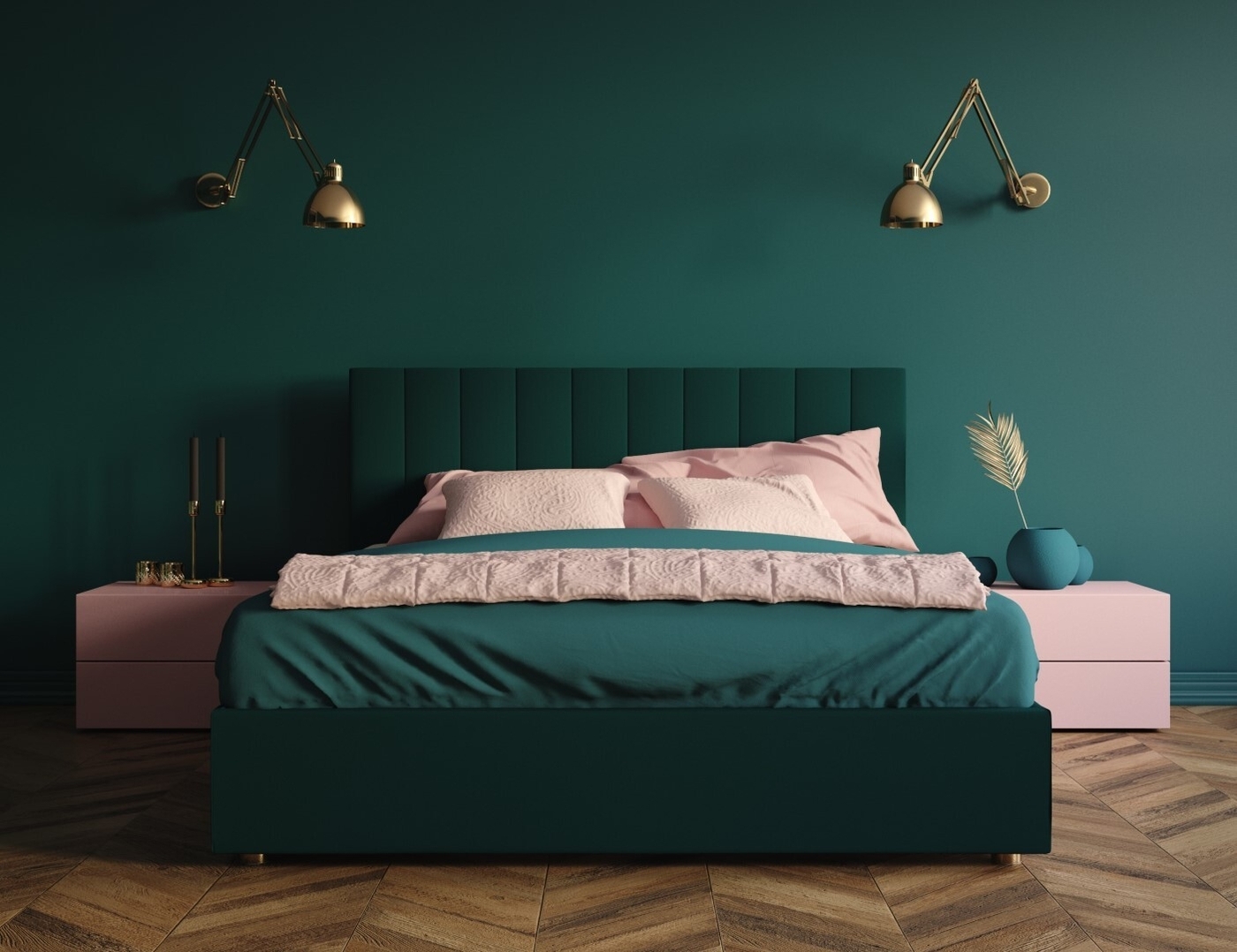 Pink and green are a popular color combination that complements any aesthetic. Frequently appearing together in nature, the pair is instinctive. The intensity of dark green and the romantic quality of pale pink strike the perfect balance. Use the 60-30-10 rule with 60% dark green as the dominant color, followed by 30% of soft pink on soft furnishings and statement furniture, and a final 10% with shiny metallic accessories.
Dark Green + Light Blue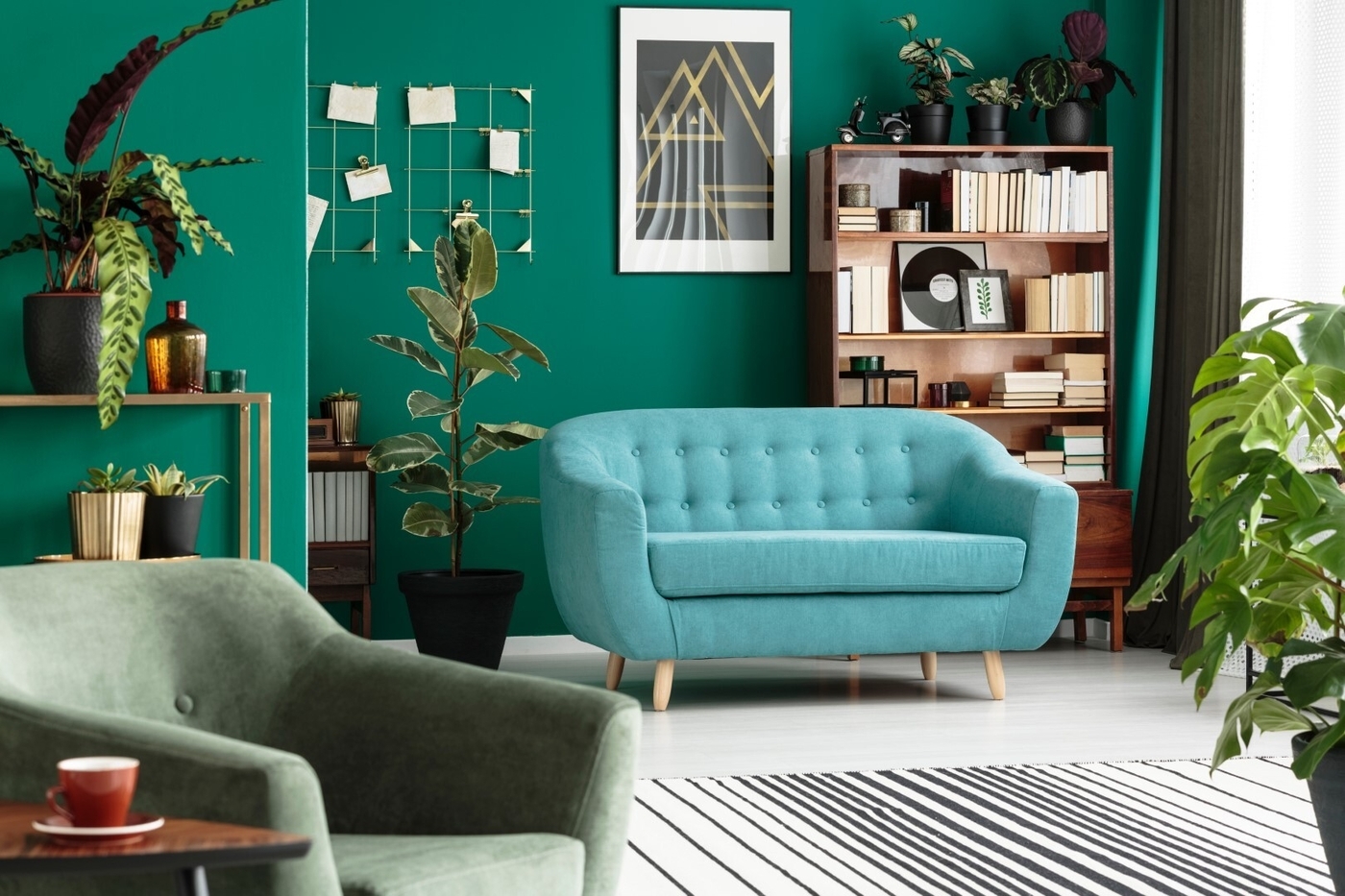 Sat next to each other on the color wheel, blue and green are analogous colors and therefore naturally harmonious. Create contrast by varying their tones, like this light blue and dark green mix. Here, a pale blue accent couch brightens the dark green scheme and prevents it from being overwhelming. While dark green walls create a cozy effect, a daring light blue ceiling will make the room feel larger, like a cloudless sky peeking through a thick canopy of trees. Make light blue the predominant color for a more modern and juvenile look.
Interesting Facts About the Color Dark Green
The color of Prince Philip's official livery was a dark green known as "Edinburgh Green." The page wore this shade in his honor during his coronation, and the Royal Family wore the same shade during his funeral.

Green, once associated with political movements, is now a symbol of environmental protection movements.

Dark green is associated with prosperity, uniqueness, and growth in marketing and branding. For that reason, Starbucks, the well-known coffee company, chose a dark green for its logo.

The most common dark green tones are forest green and hunter green.

Dark green is often used in tartan, commonly associated with Scottish kilts and other highland regions.