As design trends take a U-turn from muted to maximalist, we're looking for ways to enliven our homes with a sense of optimism and whimsy. The 2022 wallpaper revival encourages us to be fearless with our creativity and have some fun, with exotic scenic murals and wild prints being favored over plain walls and dull pattern repeats.
Biophilia, 'an innate and genetically determined affinity of human beings with the natural world'.
If we could sum up 2022 wallpaper trends with one word, 'biophilia' would be it. Expect to see an abundance of flora and fauna-inspired patterns emerge, bringing the outside in and satiating our thirst for a proximity with nature. In harmony with the 2022 paint color trends, shades of green and blue also dominate next year's wallpaper designs, encouraging an increase in revitalizing and soothing wellness-focused interiors.
The secret to picking the best wallpaper
Whoever said choosing wallpaper was easy? Liking carefully curated wallpapered rooms on Instagram or Pinterest is one thing, but finding a design to suit your home and decor is a completely different ball game. To help, here are some tips on what to look for and what to avoid.
Watch out for scale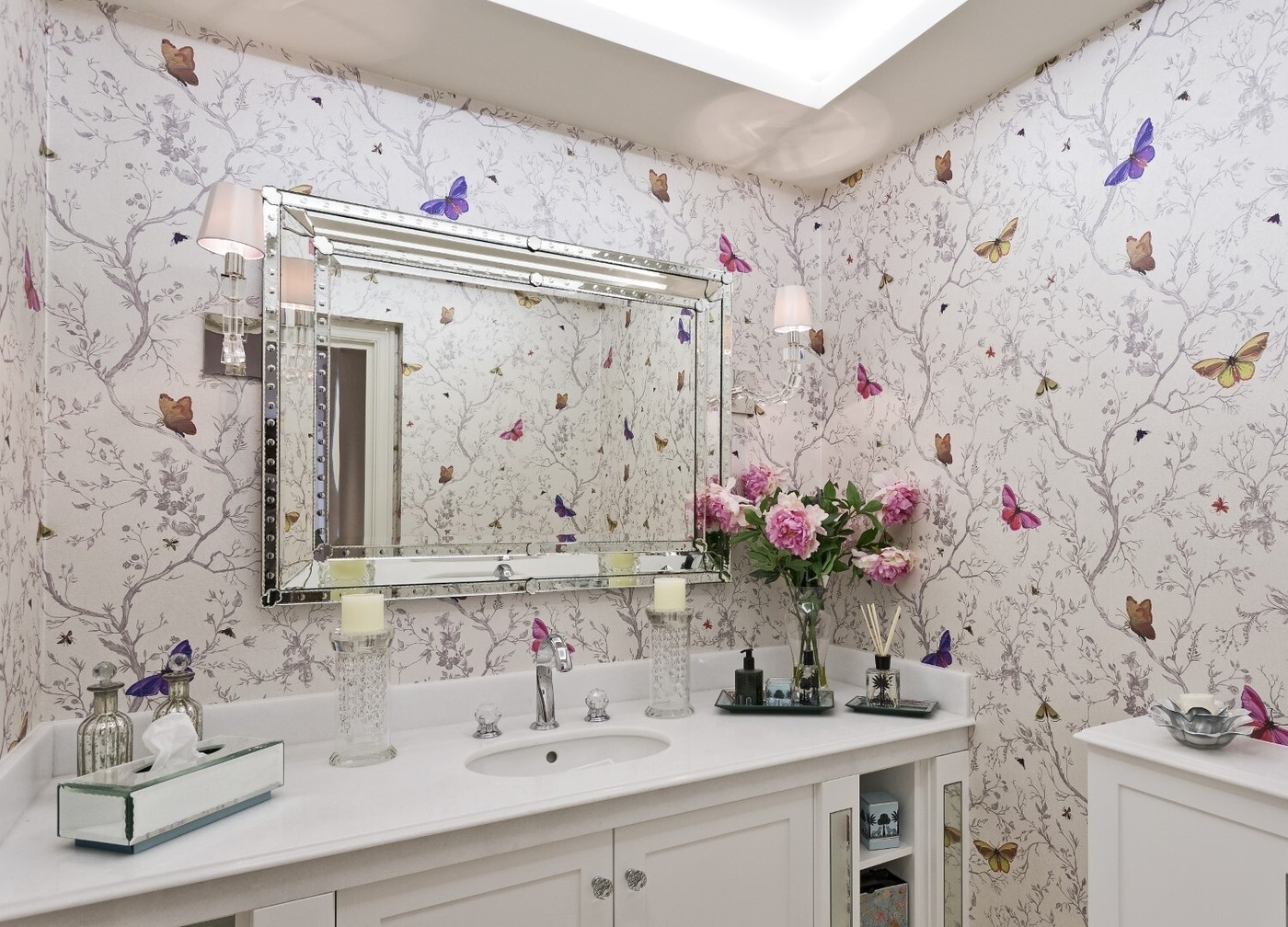 Start by considering the size of the room you want to decorate and the impact you want the wallpaper to have. Large scale prints add a conspicuous layer of texture, making a spacious room feel more furnished and intimate, whilst small scale designs give the illusion of a light and airy space. For that reason, small patterns tend to work best in smaller spaces, as in large rooms they can get lost, or look fussy. Use a big, bold pattern in a small space, like a bathroom, to make a dramatic statement.
Use color to your favor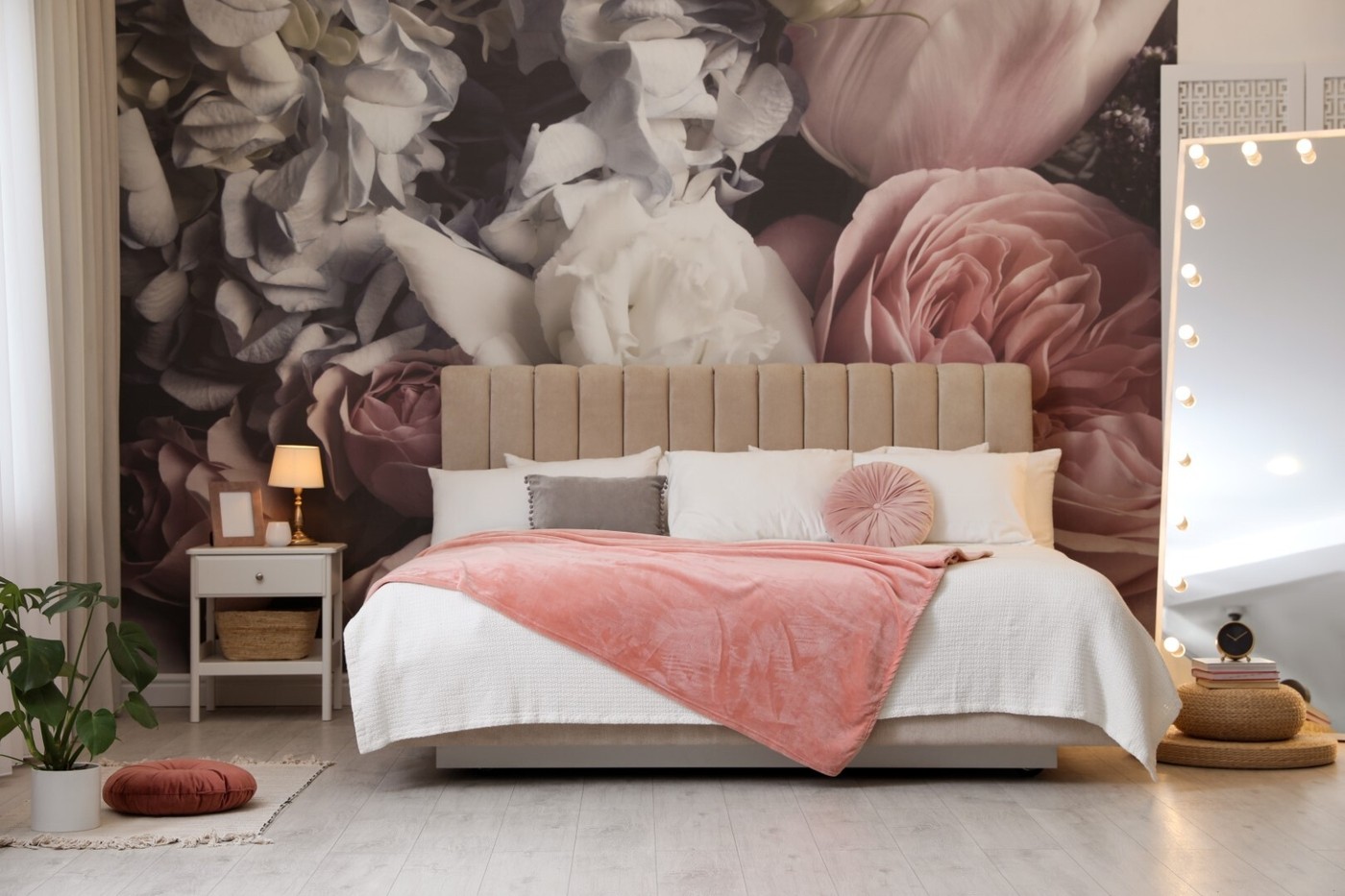 When it comes to choosing a wallpaper colorway, the same rules apply as for paint. Counterbalance cold, dark, north-facing rooms with a warm color palette that has energizing yellow undertones. Cool colors with a blue undertone work best in south-facing rooms as they offset warm light and freshen up the space. To make a room feel bigger and brighter, opt for a light-colored wallpaper with a smooth surface, or a pattern with shimmering metallic or iridescent ink detailing that bounces light around the room.
Au contraire, dark, textured wallpaper absorbs light, drawing the walls in and making a space feel smaller and more intimate; it also makes an excellent cover up for architectural flaws and uneven, or dented walls. Finally, consider what you use the space for and the mood you want to create; a stimulating, highly saturated color palette might work well in a dining room or kitchen, but it's not conducive to a good night's sleep.
Pay attention to style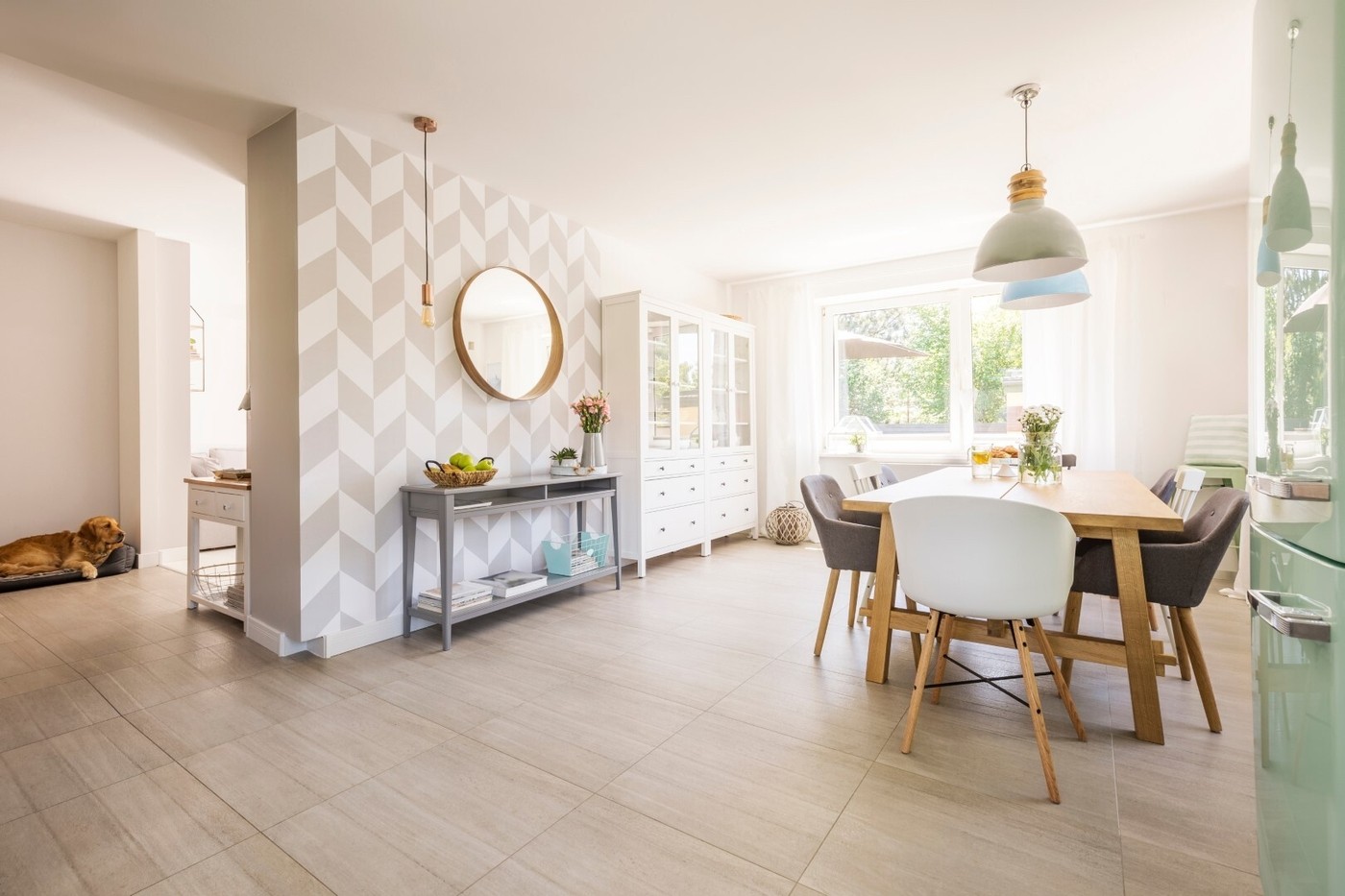 Make sure the style of the pattern accurately matches the theme of your scheme and complements any existing decor or striking architectural features. For example, in an old country cottage with exposed beams and low ceilings, you might opt for some delicate florals or a pastoral scene. Likewise, damasks and hand-painted prints benefit an elegant, classic or formal scheme, whilst geometric and abstract designs work best in modern interiors.
Consider long-term practicalities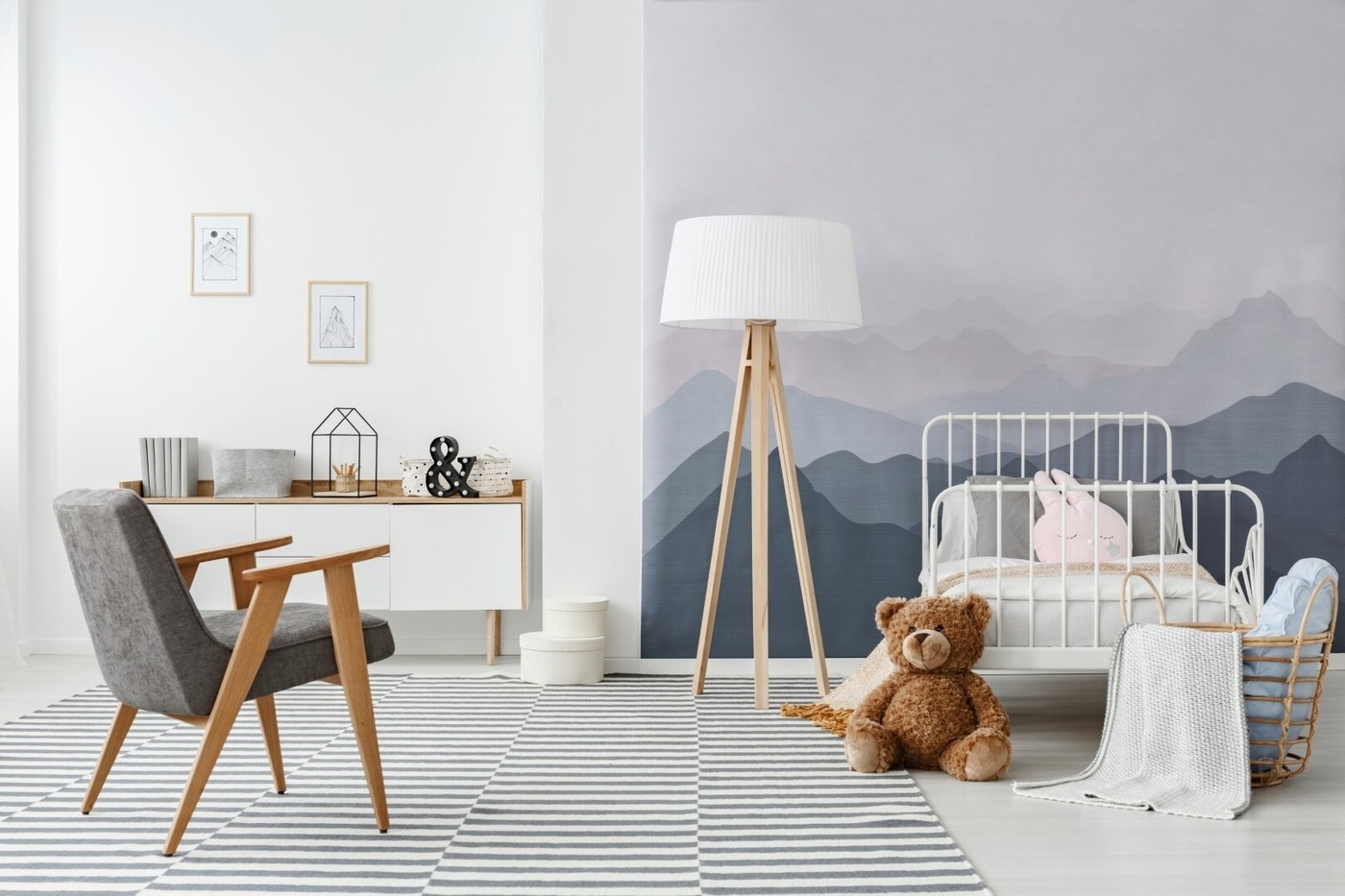 It's easy to get carried away with beautiful prints and forget about everyday practicalities and wear and tear. For kitchens, bathrooms, and kids bedrooms where mucky hands, cooking fumes and high levels of humidity are prevalent, consider a durable, washable and stain-resistant vinyl coated wallpaper. Fabric-based or textured wallpapers may look enticing but they're quick to build up dirt and absorb odors. Peel and stick removable wallpapers are an easy way to temporarily update a rental property and add a personal touch, damage-free.
Take your time with samples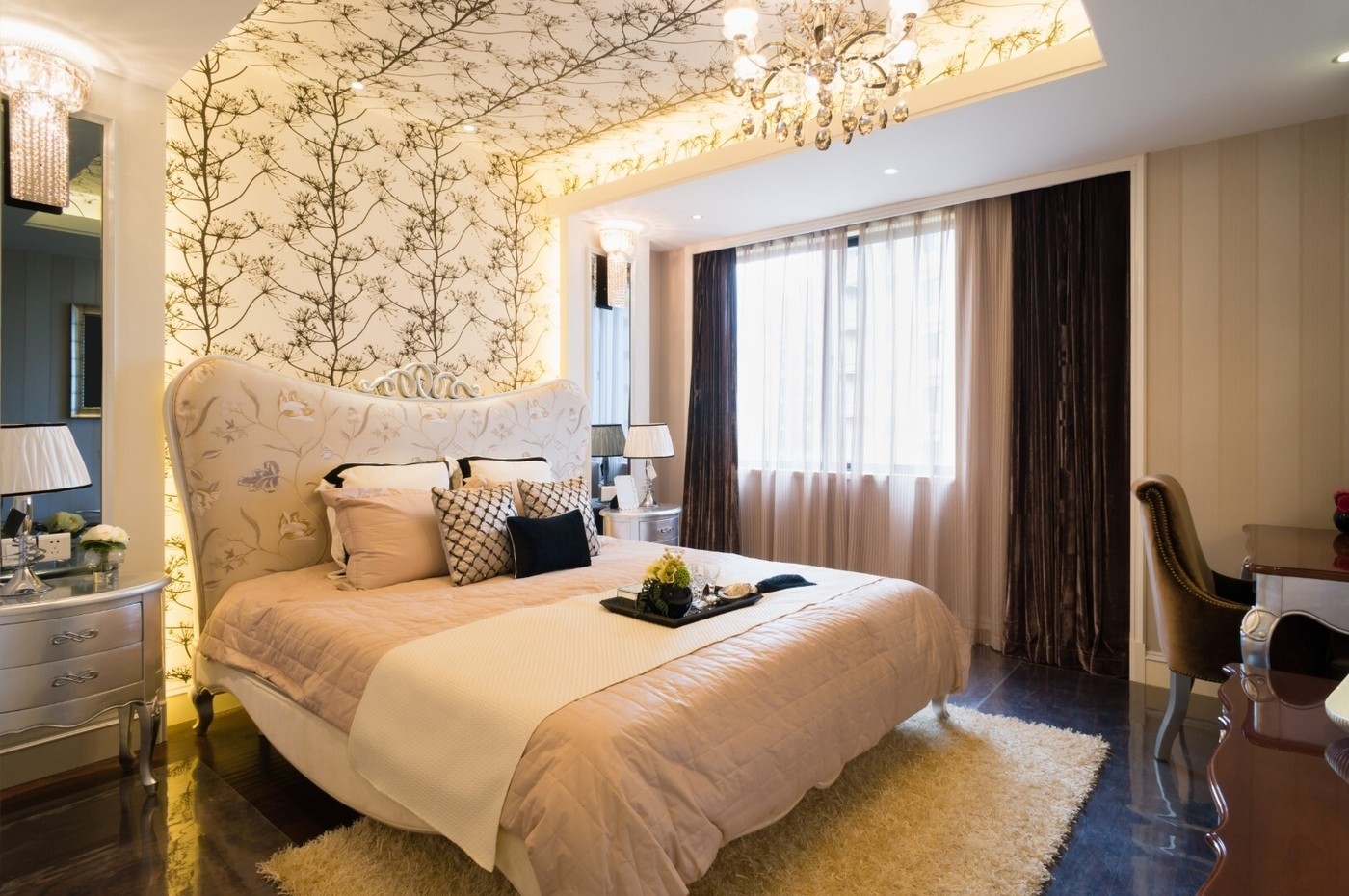 Don't splurge on expensive wallpaper until you've tested it out at home with a sample. Pin it up and sit with it for a while, evaluating how it looks on different walls and under different light as it changes throughout the day.
2022 Wallpaper Trends
Check out the wallpaper designs set to govern our interior decor in the new year.
1.

Connect with mother nature with green wallpaper

The color of 2022, the abundance of green wallpaper confirms our revived affinity with the natural environment. As well as being undeniably de rigeur, the versatile hue pairs beautifully with wood finishes, metallics, neutrals and a wide variety of colorways, making it easily adaptable to existing decor. On top of soothing sage and olive shades that command the trending paint palettes, expect to see a prevalence of jewel-like emerald tones injecting life into botanical prints.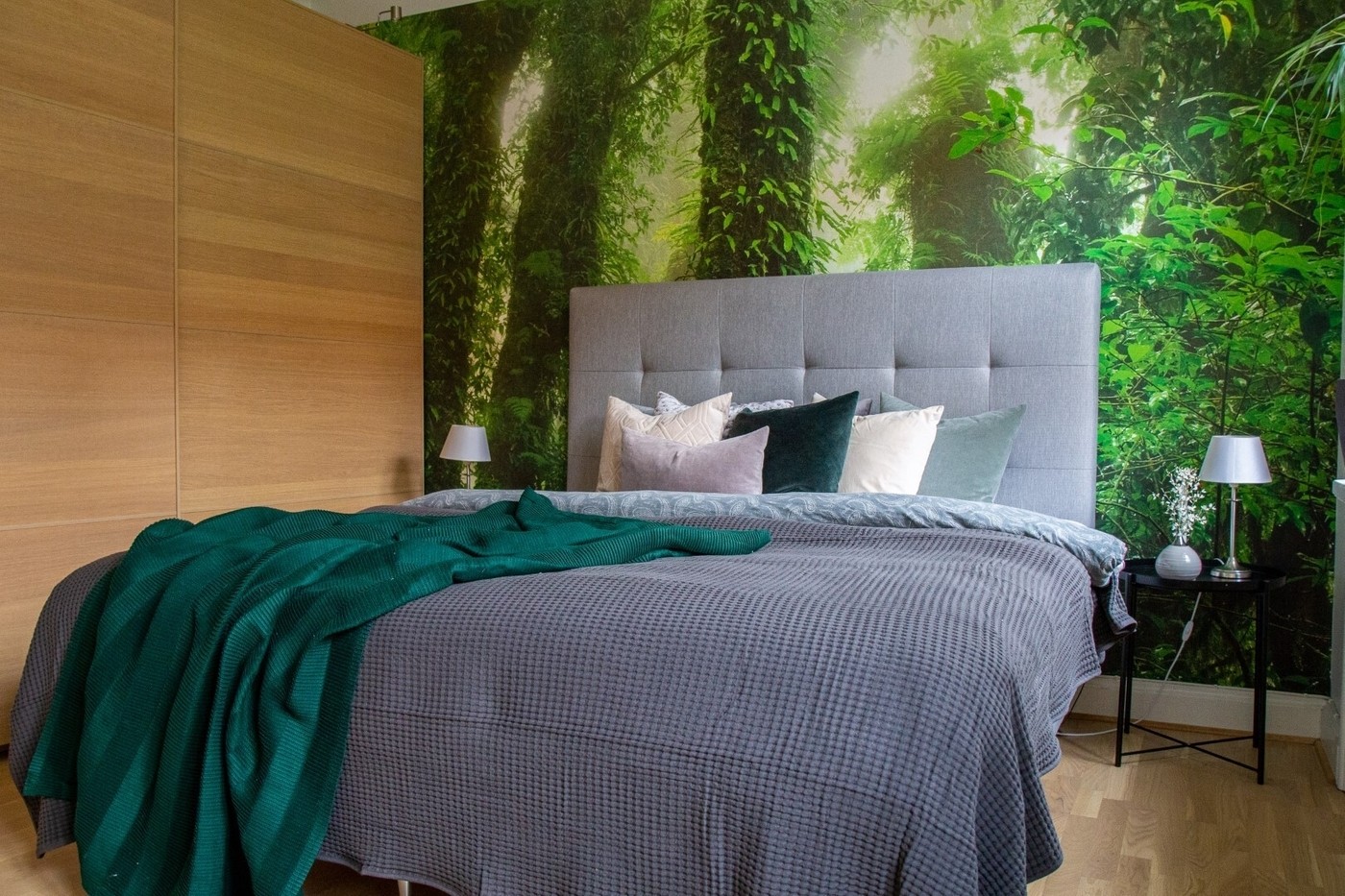 Emerald green wallpaper is a natural show-stopper. Energetic and vibrant, the rich hue exudes elegance and luxury and works well in large rooms, drawing the walls in in a verdant embrace. Spread a sophisticated botanical print on all walls and break it up with wainscoting painted in a complementary shade. Or, to avoid overpowering small rooms, use the pattern on one wall as a focal point. Combine it with calm neutral shades, dark wood antiques, and silver and gold accents for a glamorous touch.
2.

Sink into a tranquil oasis with azure prints

Graham & Brown set the trend for blue walls with their wallpaper of the year 2022, Restore. Available in a dreamy midnight blue and refreshing sky blue, the design depicts wild and misty trails of exotic plants set against a concrete-like backdrop, representing the force of nature reclaiming the manmade. The color of the sea and sky, blue hues inspire a serene space in which to relax and restore, making it an ideal palette for bedroom and bathroom decor.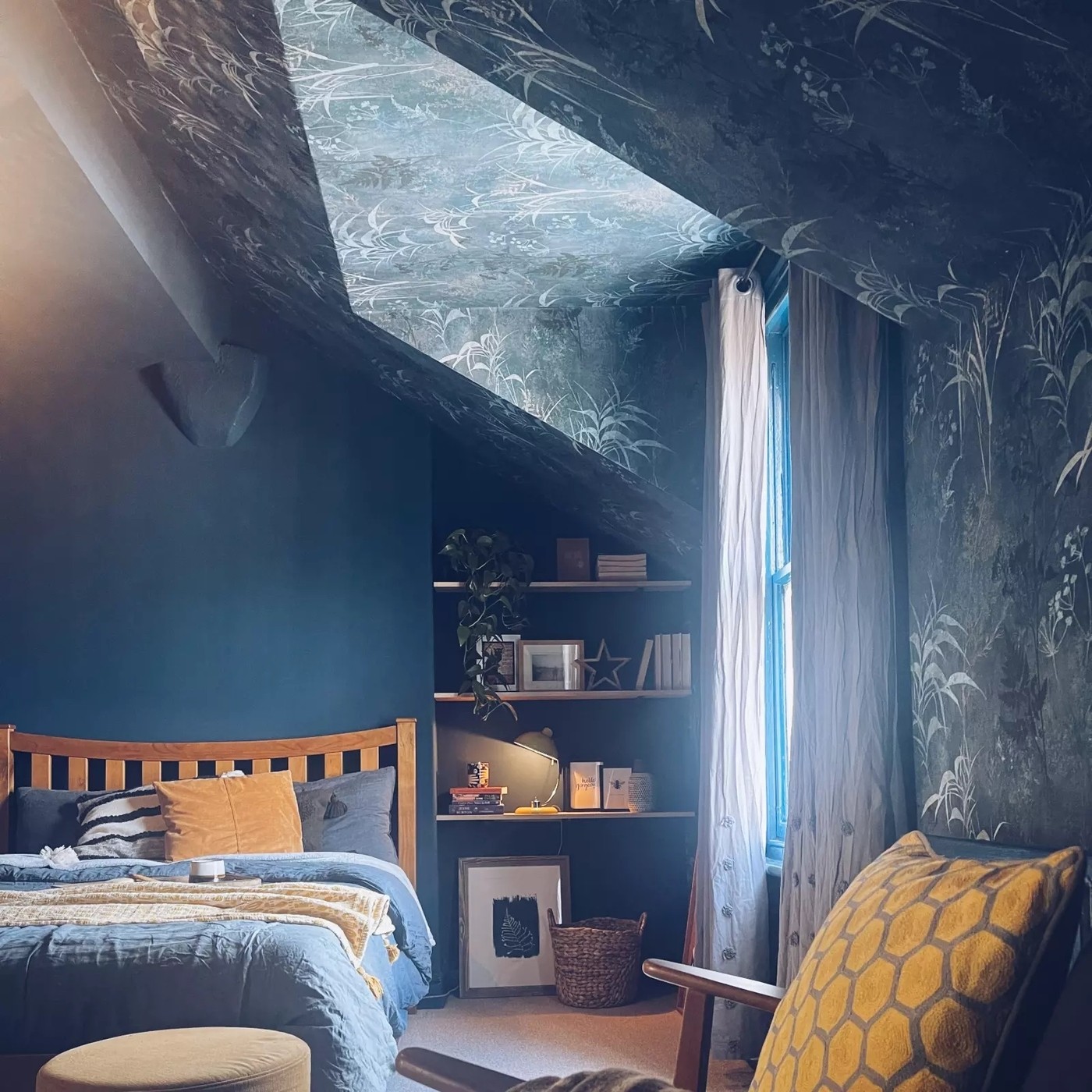 Create a cocoon of calm with a textured midnight blue backdrop paired with splashes of mid duck egg blue paint, and juxtapose the cool tones with warm mustard accents and wooden furniture. Dark moody shades are suited to a bedroom with high ceilings and lots of natural light. To avoid the room feeling gloomy at night, illuminate the space with warm artificial lighting. Whilst lighter shades of blue are equally soothing, they also have refreshing and revitalizing qualities that make them the perfect setting for your morning self-care regime.
3.

Escape to the tropics with jungle-themed designs

Our travel plans may be temporarily on hold, but that doesn't mean our dreams of a tropical oasis have to be too. Taking inspiration from far-flung places, we're bringing the uplifting and joyous hues of exotic botanicals into our homes with eye-catching, large-scale leafy prints. Make playful use of bold designs to break up a large wall or highlight an empty space between built-ins. Let them pop up in unexpected places, such as in wall niches and alcoves, or behind built-in bookshelves.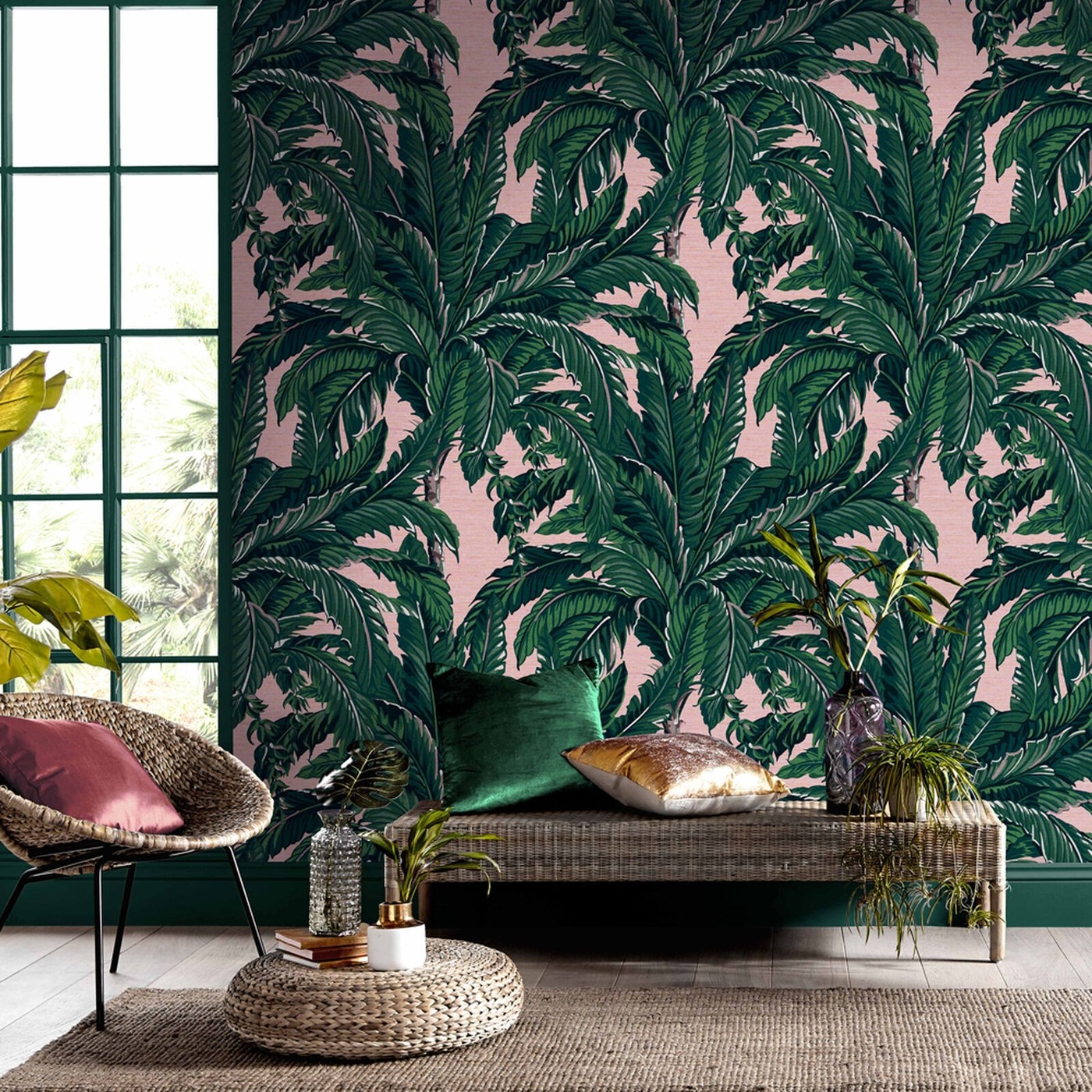 Jungle-themed patterns are the perfect addition to a bohemian scheme. Let the print do the talking by keeping the rest of the decor simple with woven rattan furniture and hanging lamp shades, and some real-life foliage. Stick to natural materials and neutral colors that complement, without stealing the spotlight. And, rather than painting your skirting boards a bright white shade, consider using a subtler tonal match instead.
4.

Express your joie de vivre with Fresh Maximalism

Combining the comforting mood of cottage core with the vibrant energy of classic maximalism, we're seeing a new style arise, which William Morris & Co. have coined Fresh Maximalism. Keep an eye out for bold repeat patterns of swirling leaves and bucolic scenes in an optimistic yet harmonious natural palette, picked straight out of an English country garden. Refreshing hyacinth blues, peony pinks and daffodil yellows, turn busy, maximalist wallpaper designs into a soothing backdrop.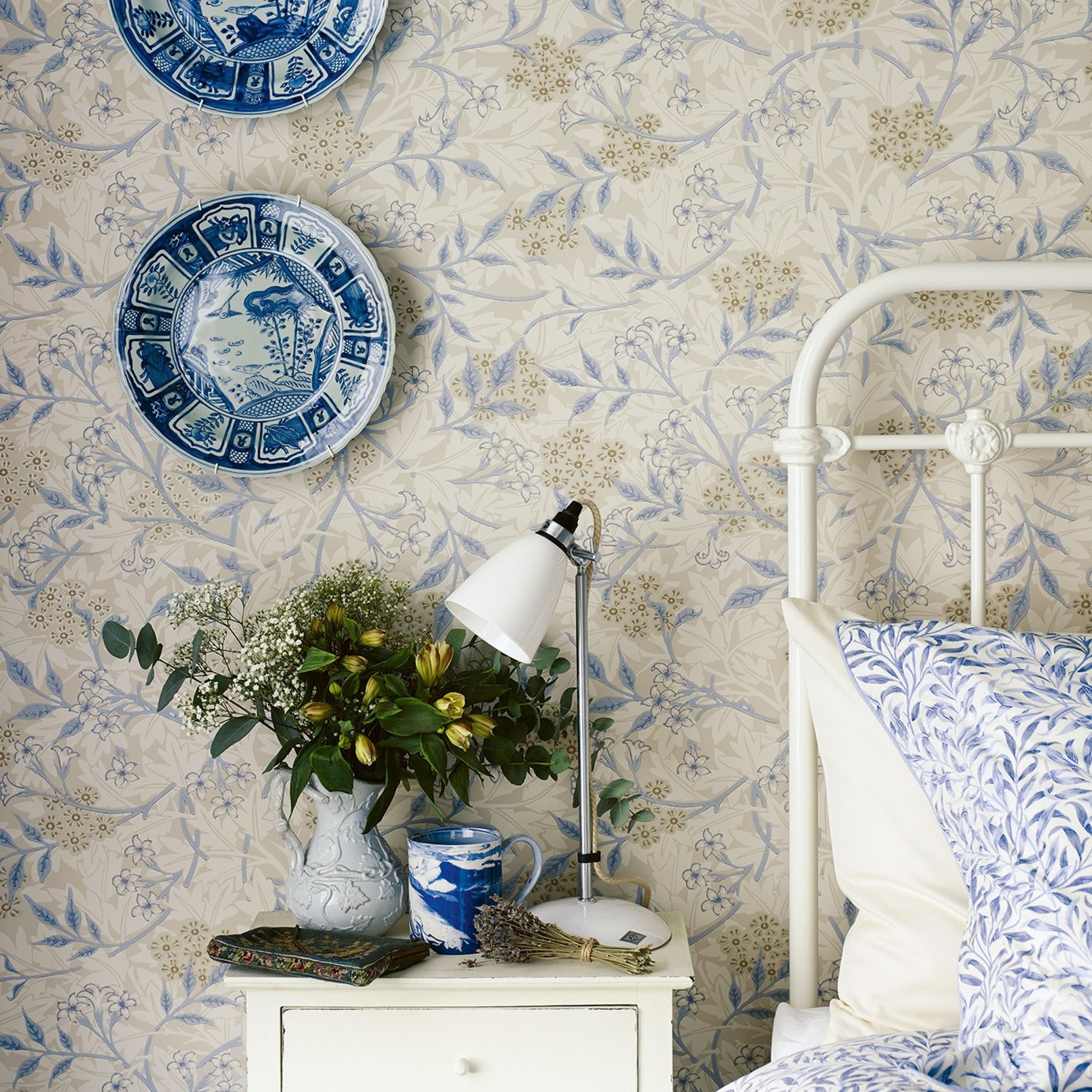 Fill your home with joie de vivre and complete the look by following maximalist design principles. Build up pattern, texture and color a layer at a time, making sure to stick to your chosen colorway.Remember, more is more when it comes to maximalism, so don't be afraid to mix and match different styles. To avoid falling into the trap of a cluttered-looking, restless space, refrain from over-accessorizing; start with books and your most prized decor, and gradually build up from there.
5.

Elevate your interior with the oriental charm of chinoiserie

In tune with the current biophilic craze and our lack of international travel, exotic chinoiserie is back by popular demand. However, this time the captivating designs, inspired by Chinese and Japanese art, are back on a grander scale, with oriental scenes making show-stopping wallpaper murals. Large-scale ethereal designs of ornate flora and fauna, like cherry blossoms, koi carp and herons, add a touch of timeless exoticism and luxury to modern and classic interiors. And, unlike hung artwork, murals form part of the room itself, creating a captivating narrative and an expression of the homeowner's personality.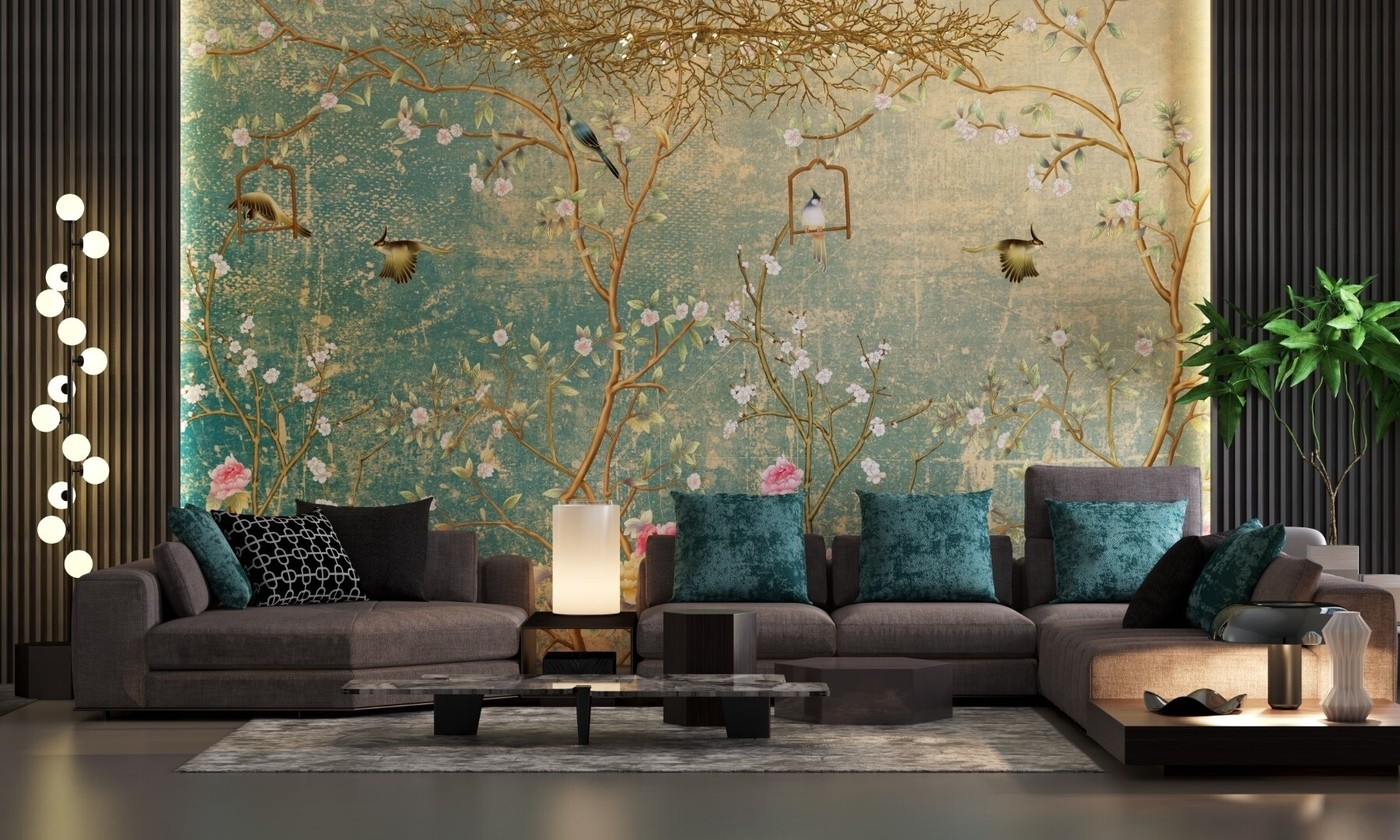 Use chinoiserie murals to add magic to any space, making the most of large empty walls in a dining room, bedroom, or in connecting spaces, like foyers or hallways. Style the mural with simple decor that lets the artwork take center stage. Create a cohesive look by extracting colors from the scene and repeating them throughout the space with furnishings or paintwork.
6.

Revel in the timeless elegance of damask

An embodiment of timeless elegance, damask is enjoying a huge resurgence in interiors, with a contemporary twist. A celebration of enduring design, the iconic nature-inspired pattern dates back to the late 16th century. The scrolled motifs therefore evoke a welcoming sense of familiarity and nostalgic grandeur, whilst the play on scale and fresh colorways feel distinctly modern and optimistic.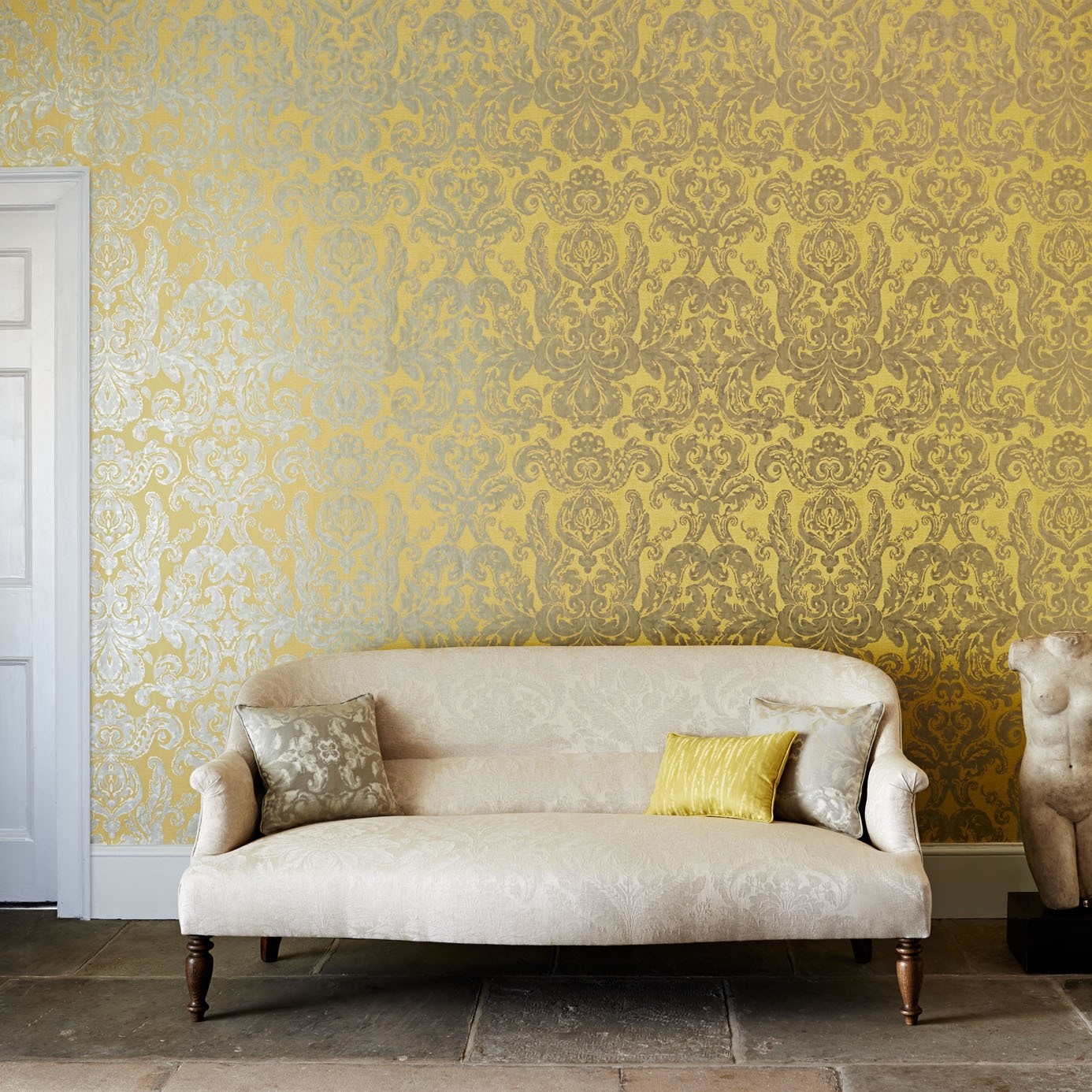 Enjoy the versatile print in classic and modern schemes by covering the whole room with the infinite pattern, or up the ante with a damask wallpaper ceiling. If budget is a concern, add character byframing small segments of pattern in trendy wall panels. This way, you can experiment with bold color combinations, without overwhelming the room.