There's nothing quite like a powder room that pops, especially if it's well-appointed. This water closet is small but mighty, offering an opportunity to be whimsical, imaginative, and expressive through design. With a growing coterie of brands using healthy materials and sustainable practices, these eco-chic products for the powder room help create a better quality of life.
"Eco-friendly refers to materials that are energy-efficient and have benefits that are important to the longevity of the planet; Healthy materials refer to the health and well-being of the human users and occupants," explained The Green Design Center founder Andy Pace. "Bathrooms have become an oasis within the home and it is important to invest in healthy and sustainable materials in the space where wellness and self-care occurs." Here is a list of products to elevate your powder room to its highest potential.
Sana Jardin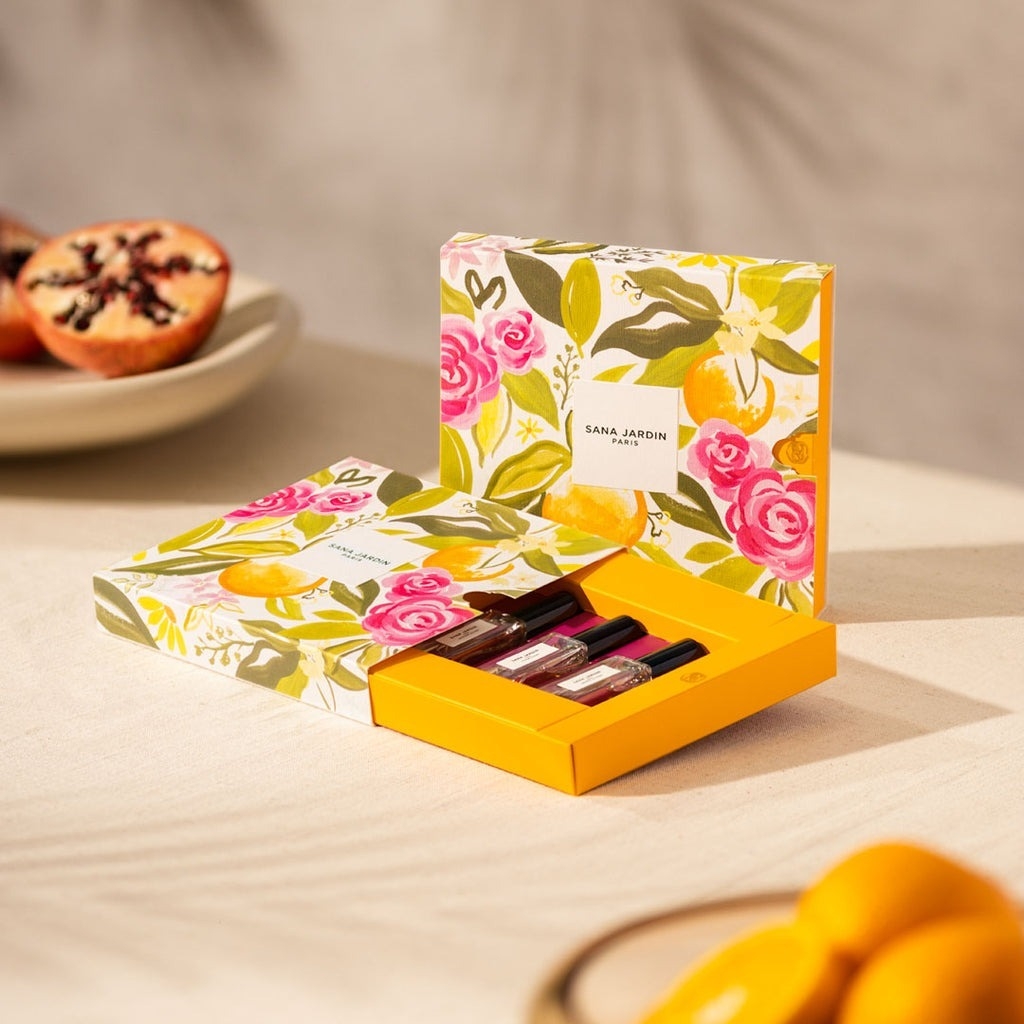 Being socially conscious is at the core of the luxury fragrance house, Sana Jardin. Master Perfumer Carolos Benaim uses ingredients that create longer-lasting scents for clean and sustainable perfumes, votives, and candles, with packaging created from upcycled coffee cups. One of the main goals of this fragrance house is to empower women, working with female flower harvesters to create their sensuous products.
AFM Safecoat Paint
"Non-toxic paint, antimicrobial countertops and mold resistant tile is where I like to start with my client's bathroom design," advised Andy Pace, who's been designing healthy homes for his clients for 30 years. For its rich, sustainable, and non-polluting paints, Pace opts for AFM Safecoat. "Since I deal with homeowners who already have health issues, I really have to rely on their own experiences with materials. AFM has such a solid track record in that space, so I always feel safe knowing that I'm recommending the healthiest material I know," Pace said. These zero-VOC paints can also seal surface offgassing. The AFM Ayurveda Essence system bases the paint composition on each person's unique disposition and body type, with an array of 108 essential colors, to create an environment suitable to each person's health and wellbeing. Paint the powder room's ceiling the same shade as the walls for added dramatic effect.
The Abstra Collection
Each bespoke brushed and matte tile in The Abstra Collection evokes the look of sculpted clay and comes in an organic, natural palette of colors. Handcrafted by Kohler WasteLAB, the tiles of The Abstra Collection are made from Kohler's pottery refuse. The tiles can be mixed and matched to create a textured mosaic or as one single design statement.
Sangre de Fruta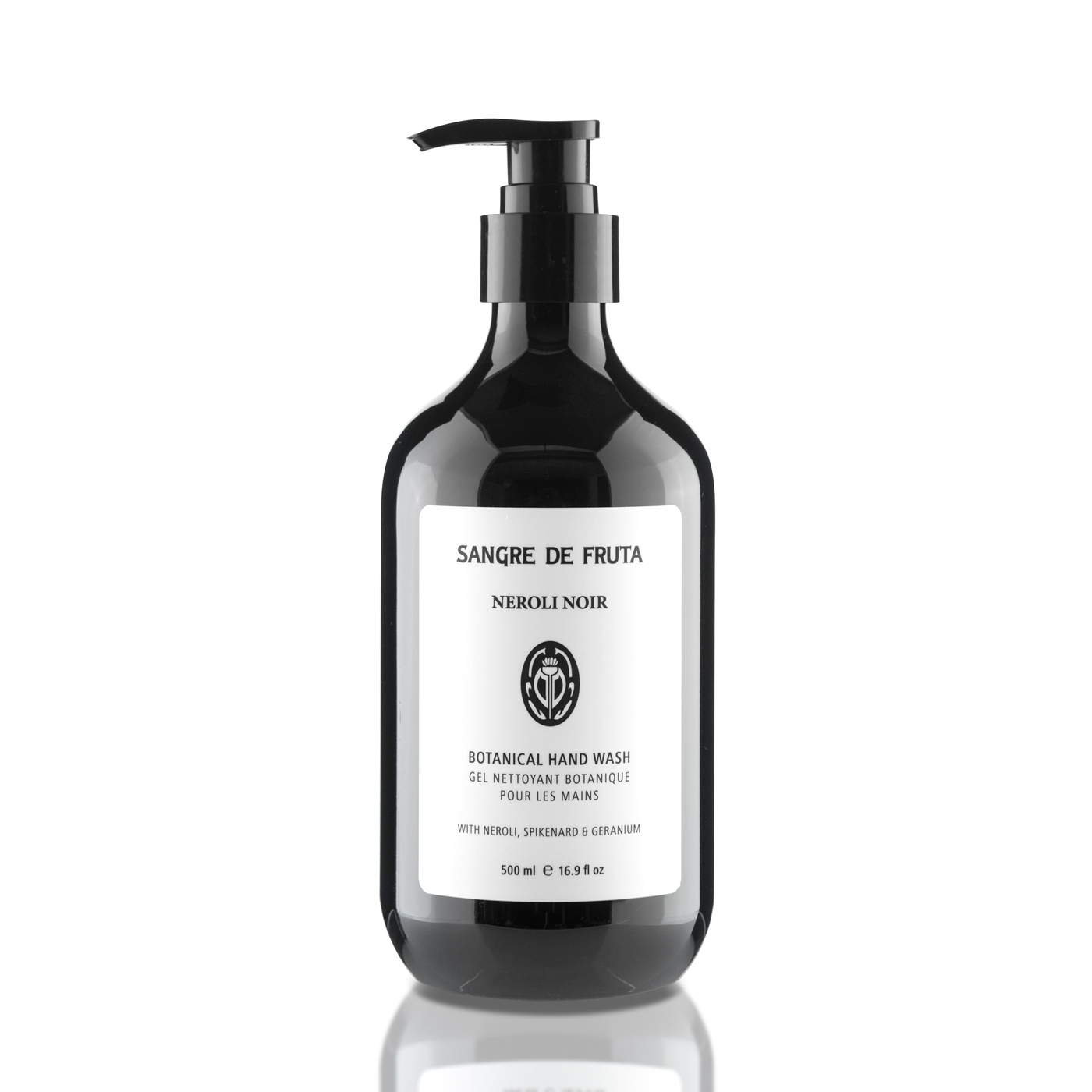 Spanish for "Blood of the Fruit," Sangre de Fruta is an enchanting line of small-batch, organic botanicals ranging from lotions to hand soaps to tonics. Whipped from natural oils, botanicals, and plant butters, Sangre de Fruta offers such scents as Indian jasmine, chamomile and anise, a hint of rose, and salty lavender. All of Sangra de Fruta's products are ocean-friendly, biodegradable, and GMO free.
Cozy Earth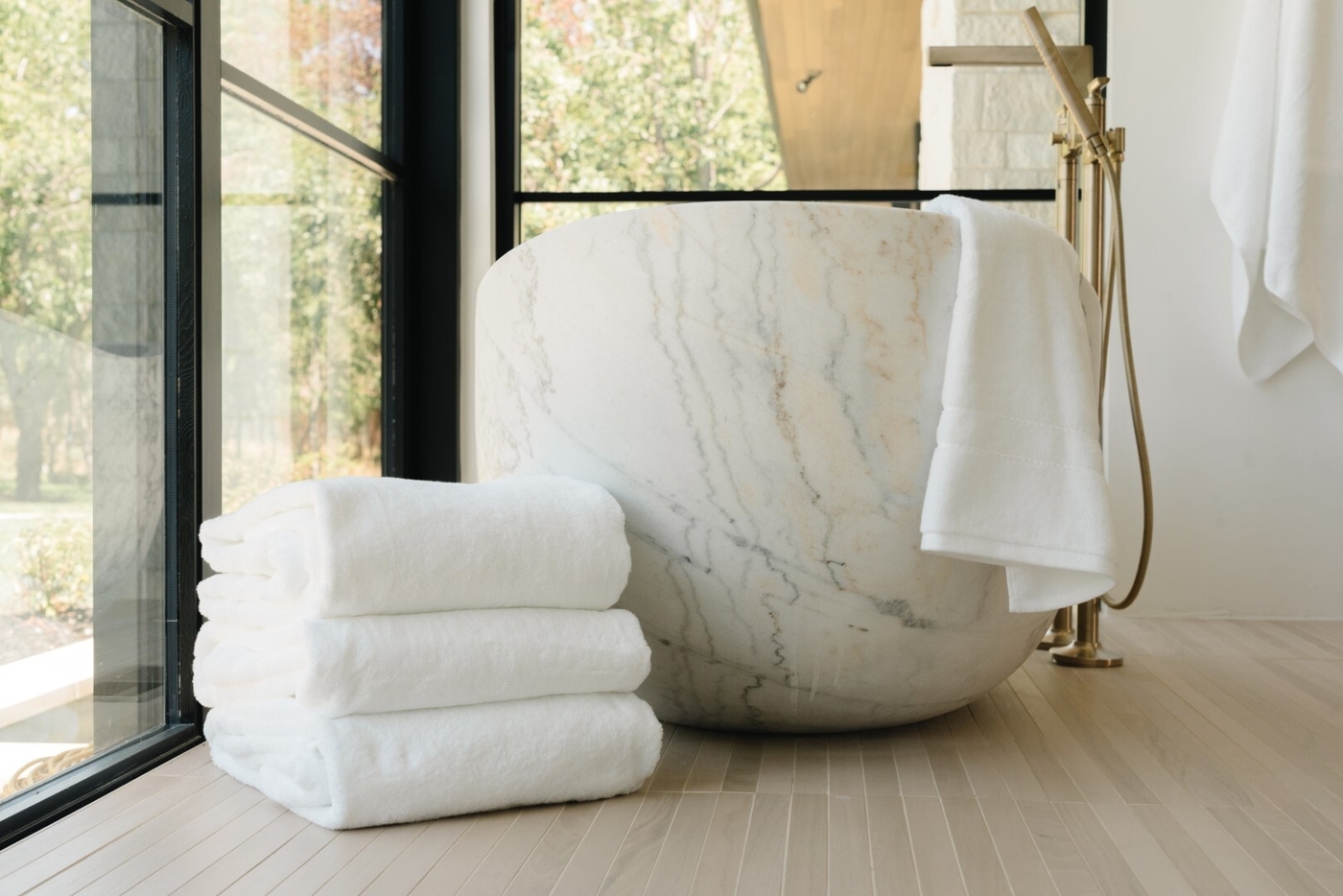 The soft touch of these waffle deluxe bundles, plush towels, and bathrobes relies on bamboo harvested in USDA organic farms. Cozy Earth's ethical manufacturing processes ensure its towels are both sumptuous and environmentally conscious. "We personally select and manage every part of our process, from where our materials are harvested, down to who makes our labels," said Cozy Earth CEO and Founder Tyler Howells. "We personally select only the best supplies with an eye toward premium quality, responsible production, cutting-edge technology, and natural materials." Cozy Earth's towels come in a soft palette, such as white, light grey, crème, and harbor mist.
Kale Wallpaper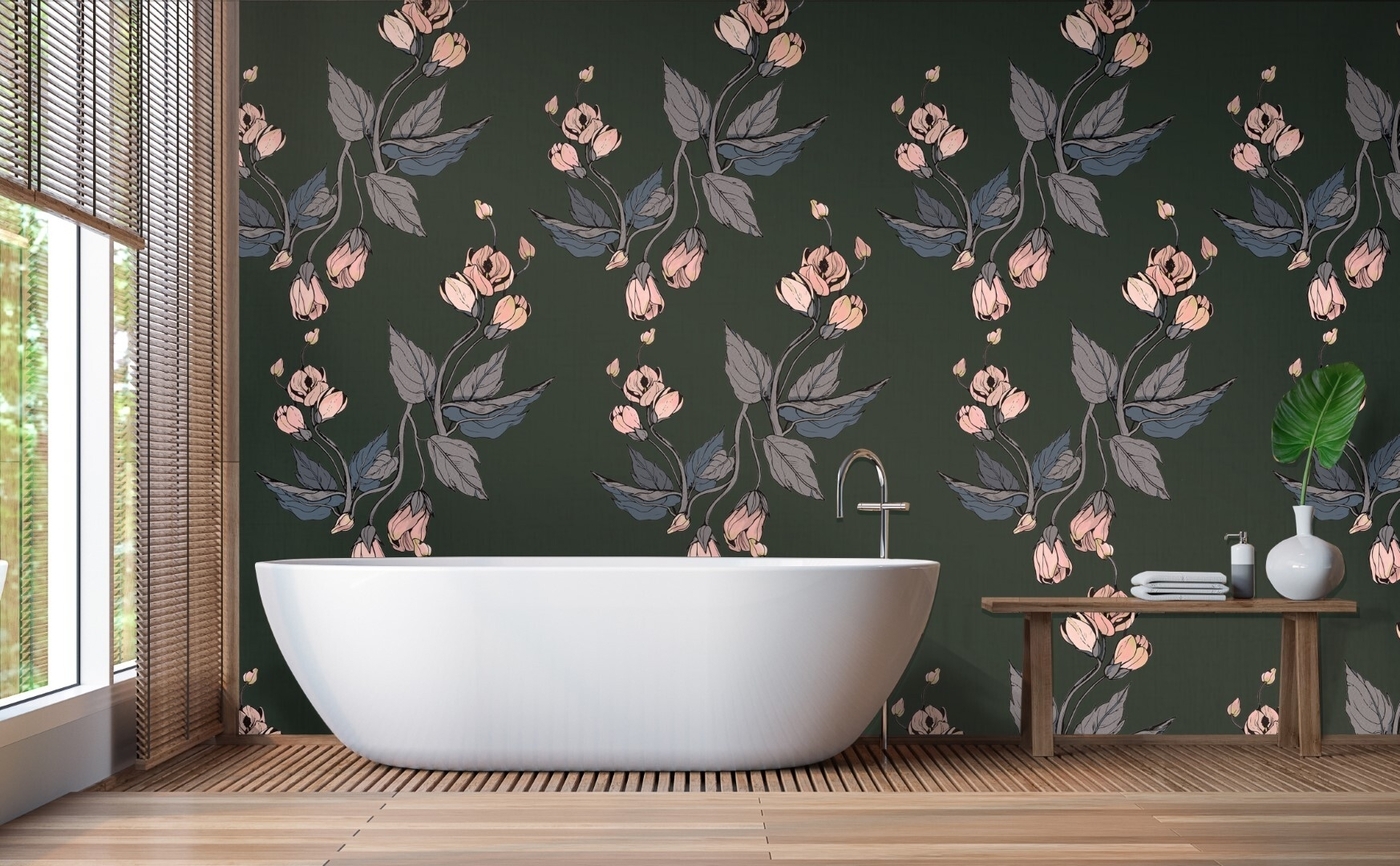 Because designer Sarah Barnard is committed to creating sustainable spaces that support mental, physical, and emotional wellbeing, her nature-inspired wallpaper line helps create a vivid, eco-friendly oasis. Inspired by the flora of the outdoors, her bold wallpaper designs range from bell-shaped blossoms to large California poppies, which feel healing and meditative. The paper is made using a PVC-free wallpaper produced in part using post-consumer, recycled canvas and printed with a solvent and VOC-free printing process. The large-scale, floral silhouettes give the powder room a whimsical and sophisticated presence.
WallpaperMural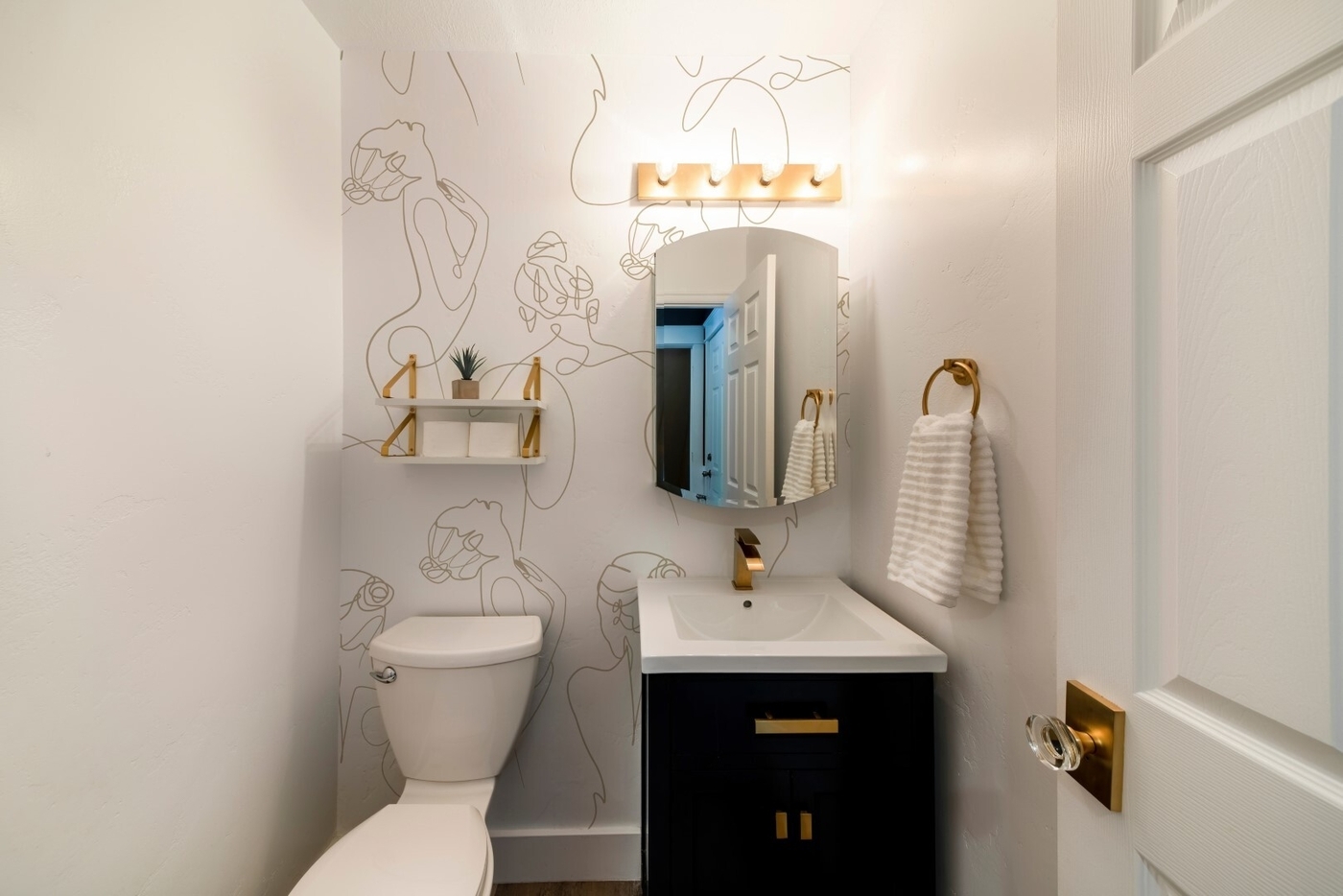 For a more flexible design approach, WallpaperMurals offers an eco-friendly way to enhance the powder room's wall - or walls. These stick-on murals range from verdant forest scenes to ethereal abstractions and can be changed often and are easy to use. WallpaperMurals are recyclable and sustainable: the paper is sourced from FSC-approved forests, the prints are VOC-free, and the ink is solvent-free. Even the printers are vegan, made from recycled ocean plastic.
Durat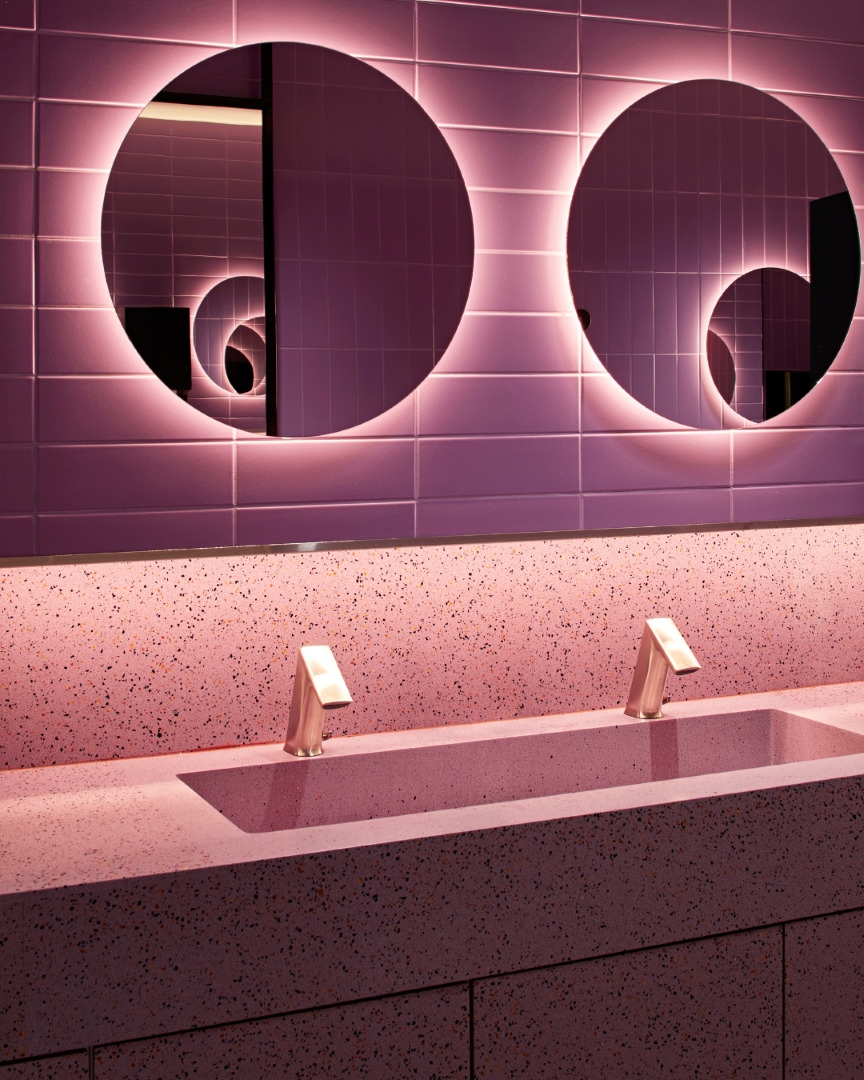 This building material is made from recycled post-industrial plastics and can be used to create colorful counters, sinks, and tubs. The unique material is easy-maintenance and hard-wearing, making it ideal for a bathroom. It's also resistant to humidity, wear, and various kinds of chemicals. Available in a vast array of colors - some evoking a terrazzo-like look - Durat can also be customized for any bespoke design requests. One of its newest lines, the B.lush Collection (pronounced "Be-Lush), comes in eight shades of pink, such as soft peach, muted blush, and hot pink.
Bauwerk Limewash Paint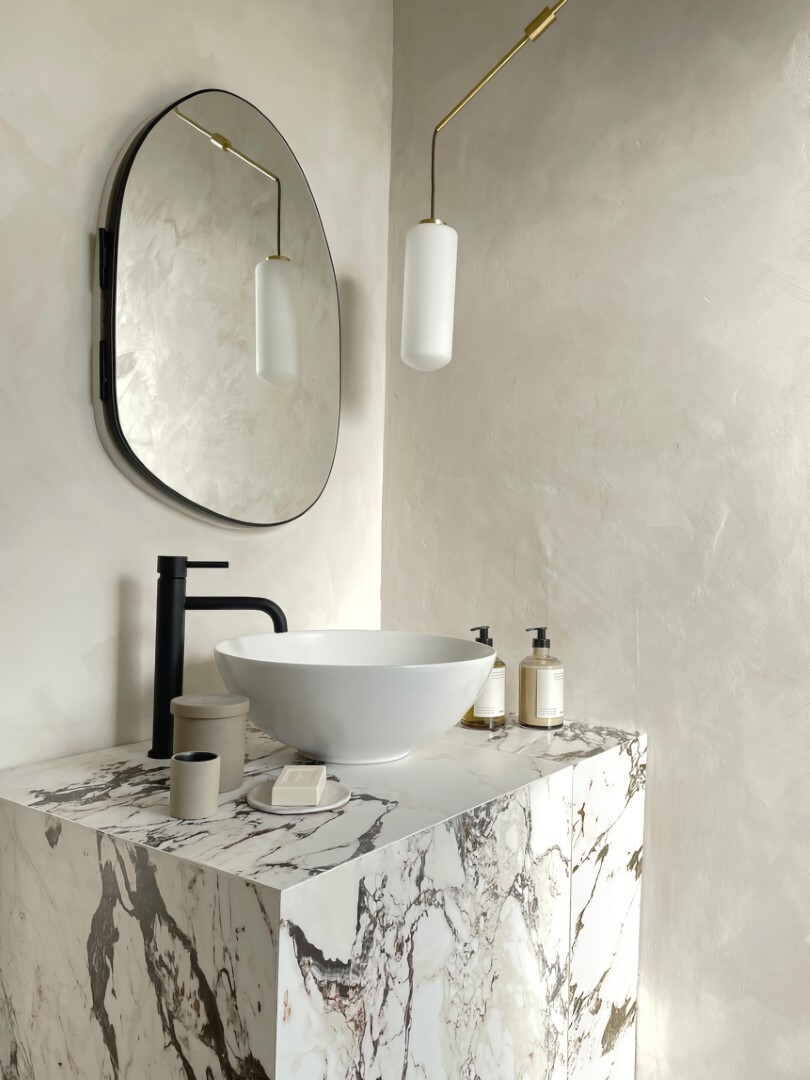 This simple matte paint can evoke the beauty of a Moorish palace. Limewash - also known as lime paint or whitewash - contains only naturally occurring ingredients and has been used over centuries. This distinct paint creates gorgeous textures and its high pH level makes it resistant to mold and bacteria. Bauwerk Limewash Paints are 100 percent nontoxic, fadeproof, and VOC Free, while being suitable for high-humidity environments, such as the bathroom (backsplashes behind the sink and toilet areas are recommended, as limewash can be stained by products like toothpaste). Its shades of Witch Hazel, Bone, and Calm are particularly entrancing. Generally, limewash pigment typically becomes lighter as it dries, so color trials are recommended.
Honeycomb toilet paper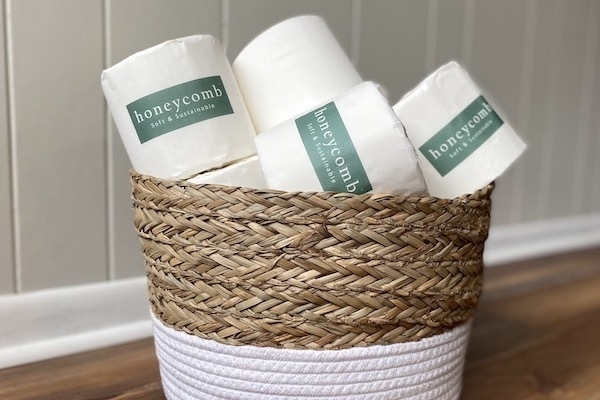 The average American uses 141 toilet paper rolls per year. Honeycomb's plush, three-ply toilet paper is dye and scent-free, biodegradable, and uses no plastics in its packaging. It's also tree-free by using 100 percent bamboo. A nice touch is that Honeycomb offers a toilet paper subscription delivered to your home.
Fast Growing Plants
No powder room is complete without the fresh scent of flowers and plants. There are many benefits to having plants in the home, including purifying the air, aiding in destressing, and supporting cognitive health. Fast Growing Plants provides plants, shrubs and trees from its nursery, delivered to the home in three days.