One of the most exciting parts of revamping a house and making it a home is picking the color of your walls. It is a very personal choice and a reflection of who we are and how we experience the world that we live in. Minimalists, maximalists, and everyone in between often ponder the perfect shade, yet they forget about one essential factor: the finish.
The paint's finish is as influential on the overall look and feel of the room as the color. Paint finishes are broadly categorized into five types - flat (or matte), eggshell, satin, semi-gloss, and gloss - ranked lowest to highest based on their reflectivity. A paint's sheen interacts with a room's natural and artificial light. Gloss paint looks almost glass-like and is highly reflective, whereas flat paint absorbs light and is matte or velvety in appearance.
Eggshell and satin are two of the most commonly used paint finishes for interiors. But what about eggshell and satin make them the go-to choice? And what's the difference between them? Read on as we decode how and which one of these finishes is what you need to make your next paint project stand out.
What is an Eggshell Finish?
Eggshell finishes have a low sheen that is likened to that of an eggshell - hence the name! Its sheen level is one above matte paint and much less reflective and shiny than a gloss finish. It subtly reflects light creating a soft, low-luster glow that enhances its color and adds depth and interest to the room. Bright light accentuates its sheen, while low light tones it down.
Eggshell finishes are favored for their low maintenance and resistance to stains, burnishing, and everyday wear and tear. Where eggshell gets one up on a matte finish is that it is easy to clean and more resilient, so marks and scuffing can easily be wiped off without damaging the color or removing a layer of paint. That's why eggshell finishes are always used on woodwork, such as skirting, architraves, doors, window frames, paneling, wainscoting, carpentry, and furniture. While matte paint is the usual go-to for walls and ceilings, eggshell finishes are just as effective, particularly in high-traffic spaces like kitchens, hallways, and bathrooms. And, because it isn't very reflective, it's good at concealing bumps and blemishes.
Try out an eggshell finish on…
Skirting and architraves
Bookshelves and built-in cabinetry
Furniture
Paneling
Doors and windows
Walls, especially in high-traffic and moisture-prone areas, like bathrooms and kitchens.
What is a Satin Finish?
Satin paint sits comfortably in the center of paint finishes, glossier than matte and eggshell paints yet less shiny than semi-gloss and gloss. It is durable, easy to clean, and dries quickly. Satin paint is an excellent tool for enhancing narrow or compact spaces because its reflective quality bounces light off the surface, creating the illusion of depth. This finish works particularly well in moisture or mold-prone spaces of the house, making it an excellent fit for kitchens and bathrooms.
Satin paints are slightly more durable than eggshell, so they are another popular choice for woodwork. They're also favored for spaces that experience moderate impact and demand durable paint that can be easily cleaned, namely children's bedrooms, playrooms, or tight hallways. Use satin paint on trims to accentuate the architecture of the space or to bounce light around the room and create added interest without committing to a full-on bold glossy statement.
Try a satin finish on…
Kitchen cabinets
Banisters and stairs
Walls, especially in high-traffic and moisture-prone areas, like bathrooms, kitchens, and hallways.
Doors and windows
Trims
Paneling
Eggshell vs. Satin: Which Should I Choose?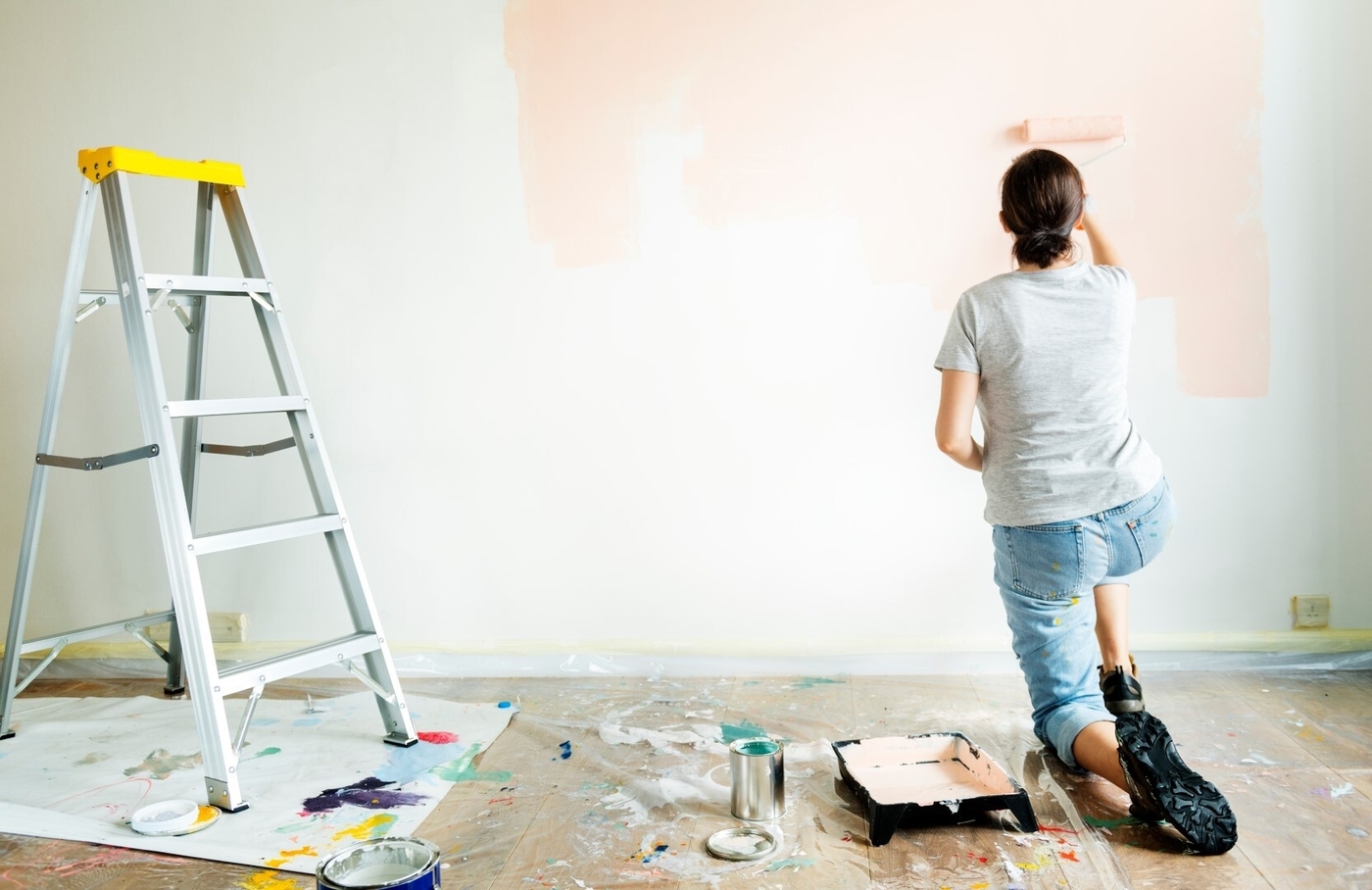 At surface level, eggshell and satin don't immediately appear to have many significant distinctions. However, upon closer inspection, you'll see there are some key qualities and differences that influence the appearance and overall performance of the paint.
Shine and Sheen
Eggshell is dull in its sheen when compared with satin paint. This is because they are composed of different pigment-to-binder ratios. The pigment volume concentration (PVC) - a ratio of pigments to binders in paint - indicates that the lower the PVC, the higher the gloss. Eggshell and satin finishes have a difference of 10 to 15% in their PVC numbers. The lower ratio of PVC in satin paint gives it a glossier finish than eggshell. Opt for eggshell if you want a soft sheen, or choose a satin finish to add a little more shine.
Durable and Lasting
High-gloss paints contain less pigment and more binders, rewarding them with higher durability and resilience. Since the level of binders is higher in satin than in eggshell paint, it gives satin finishes slightly more resistance to scratches, scuffs, and stains. That said, eggshell stands up to everyday wear and tear far better than a matte finish. Both finishes are easy to clean and maintain.
Flawless and Forgiving
Eggshell comes up trumps in this category as a slightly more suitable finish for concealing existing bumps and imperfections on walls. This is primarily thanks to its low sheen that effectively conceals surface-level flaws. It is also a better option for planning a DIY paint job. Strokes of glossier alternatives, like satin, don't overlap as well and highlight shortcomings; hence they benefit from a trained and precise hand. You will likely achieve a good final finish with eggshell paint, regardless of your skill set.
Value for Money
Finding a finish that matches your budget and your taste and design concept is important. There is a direct correlation between the sheen of the paint and its cost. The higher the sheen, the higher the price, so eggshell paints are marginally more economical than satin paints. This small margin can make a big difference when you scale it to the size of your paint project. The benefit of eggshell and satin finishes is that they are super versatile and can be used across all surfaces, making them a one finish fits all solution that can save you time and money.
Finishing Thoughts
For a classic finish with a soft, majestic glow, eggshell is the paint for you. Add a light sheen to your walls to accentuate the color and smooth finish, or use it on trims to highlight architectural features. Alternatively, opt for a satin finish for hardworking rooms, like bathrooms and kitchens, or to brighten up a narrow hallway. A dark or highly saturated color in a satin finish is a great way to make a bold statement in a contemporary home. Both paint finishes bring unique possibilities and infinite potential to elevate a space and imbue color, as we understand it, with new meaning. Regardless of where you are starting your paint project, these sheens will ensure that it is always a job well finished.