How to select, style, and handle art pieces that will enhance your home and express your personality.
One thing that professionally designed spaces have in common is carefully curated art. Unlike furniture, art isn't typically integral to functionality, but it can help to achieve an upscale and aesthetically complete look and feel within an interior space.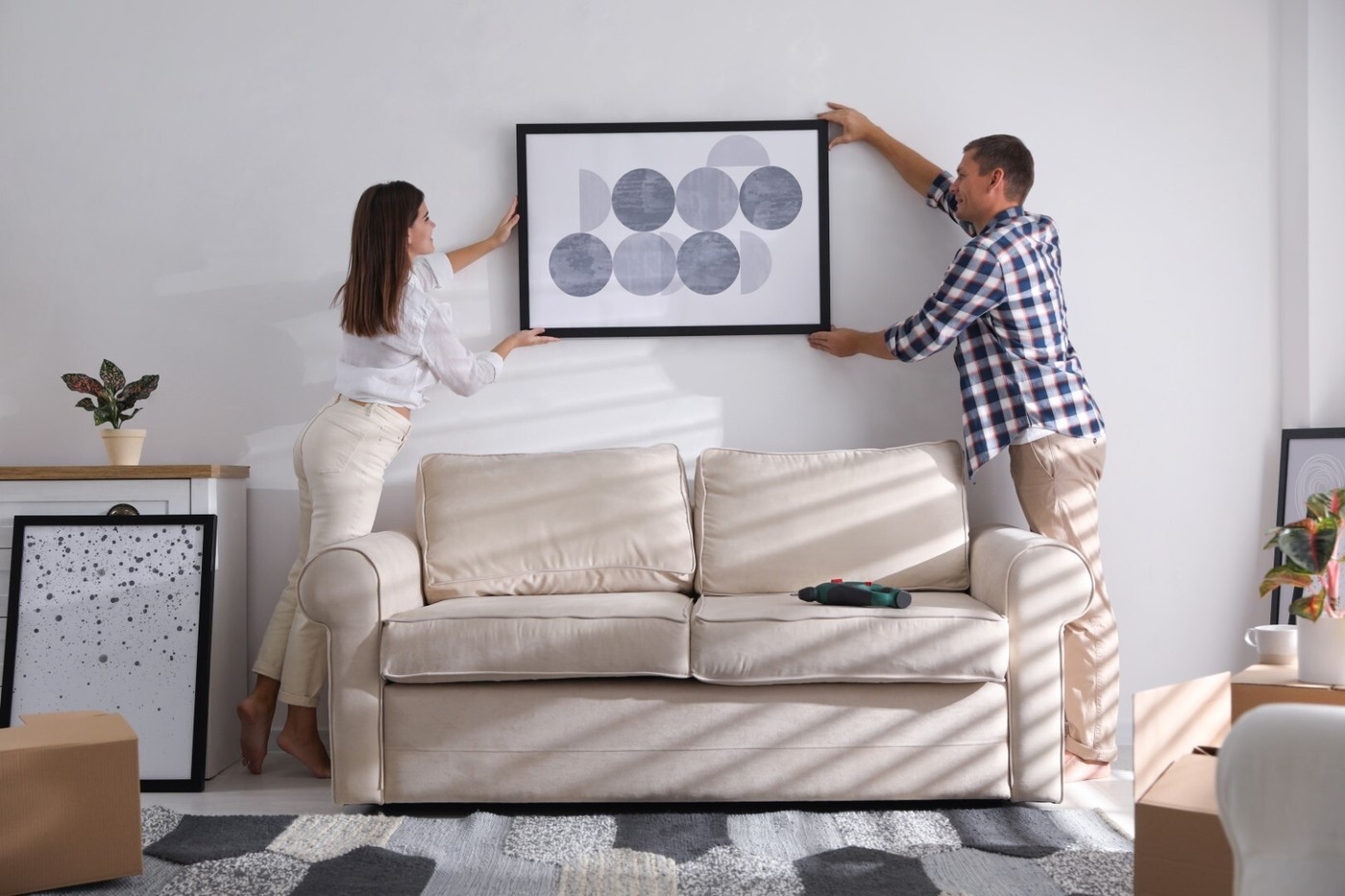 New Africa / ShutterStock
5 common art styles for the home
Abstract art employs a variation of shapes, colors, lines, and textures to achieve a composition that's visually stimulating and emotionally evocative. Abstract artwork can err eccentric and illogical, and it also tends to be polarizing, sparking curiosity and conversation. Famous abstract artists include Jackson Pollock and Henri Matisse.

Modern art includes pieces created from the 1860s to the 1970s that embrace strong and experimental use of colors, forms, and lines. Iconic modern artworks include Poker Game by Cassius Marcellus Coolidge, The Scream by Edvard Munch, and 32 Campbell's Soup Cans by Andy Warhol.

Andy Warhol's work also falls into the pop art category. Pop art draws from mass media, incorporating imagery related to celebrity, advertising, news, comic books, and popular culture.

Impressionism artwork is characterized by thin, visible brush strokes, open composition, and accurate depiction of the subject at hand - typically landscapes and people in everyday life. Claude Monet is one of the most famous impressionist painters to date.

Like modern art, the term contemporary art refers to a time period more than a particular style. In general, contemporary art draws from the media and technology of the present day.

Olly Kava / ShutterStock
How to choose the right art styles for your home
It really isn't a matter of right or wrong when it comes to choosing artwork. Art is highly subjective and what appeals to you may not appeal to others and vice versa. Bearing in mind that you're not going to please everybody with your art choices, the best way to choose art for your home is to (a) familiarize yourself with the various styles, and (b) figure out what resonates with you.
Here are a few jumping-off points for selecting artwork for your home:
Use a famous artwork that you like or a piece that you already own as an anchor piece. Figure out what it is about the anchor piece that resonates with you and then use that knowledge to suss out other pieces that evoke a similar fondness.

Take cues from life experiences that resonate with you, such as childhood memories, travel, pets, and hobbies.

Decide how your home will be best complemented by the art styles that stand out to you. For example, a modern artwork might be best suited for a communal space, such as the living or dining area, where it will be a conversation starter. On the other hand, a soft abstract piece with soothing colors might be better suited to a bedroom.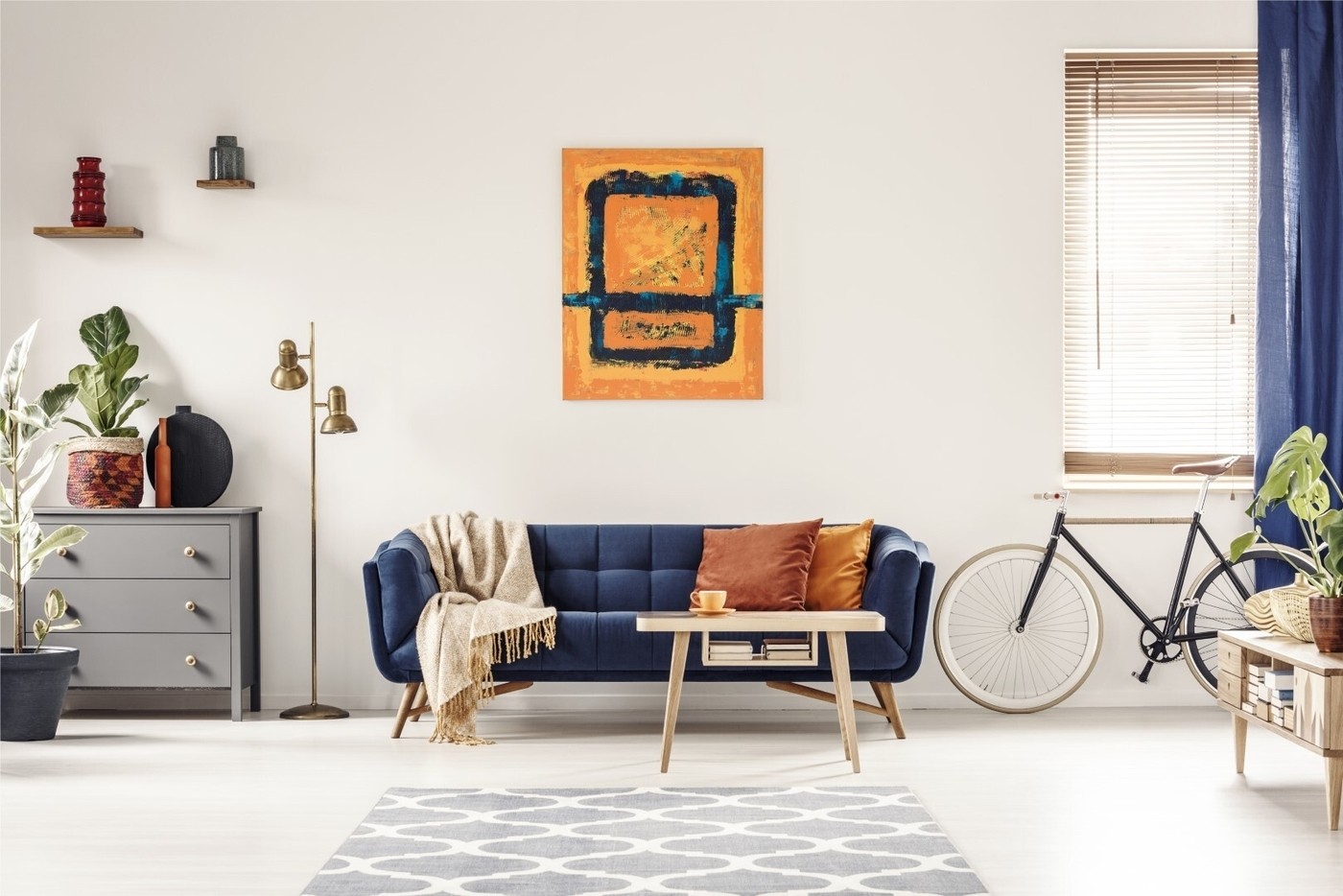 Photographee.eu / ShutterStock
Splurge or spend?
If you can afford it, art is a great long-term investment. Provided you take care of it, art can appreciate in value over time. And unlike many other investment avenues, art is recession-proof. That said, you don't necessarily have to splurge to obtain a quality piece of art. One of the best things about art is that one-of-a-kind pieces come at a wide range of price-points.
Here are some ways to snag quality artwork on a budget:
Suss out artists at local events and on social media
Shop online via retailers like Etsy, Society6, Saatchi Art, Artfinder, and Amazon
Ask artists and art retailers about payment plans
Shop secondhand
Best practices for framing, mounting, and displaying
So, you've tracked down the perfect artworks for your home. Now what?
Pay attention to scale. You want to make sure you're doing your pieces justice when it comes to display. To avoid artwork that's too big or too small for the wall it's displayed on, aim to cover approximately 4/7th or 3/4th of your available wall space. (And don't forget to factor in the thickness of the frame!)
Choose the right frame and mat. The frames that you choose for your artworks should complement each piece, without stealing attention. If you're not sure about color, opt for a neutral color that appears somewhere in the artwork itself. In addition to the frame, you might want to consider investing in matting, which separates the glass from the artwork, allowing air flow. The mat should be lighter than the art but darker than the wall.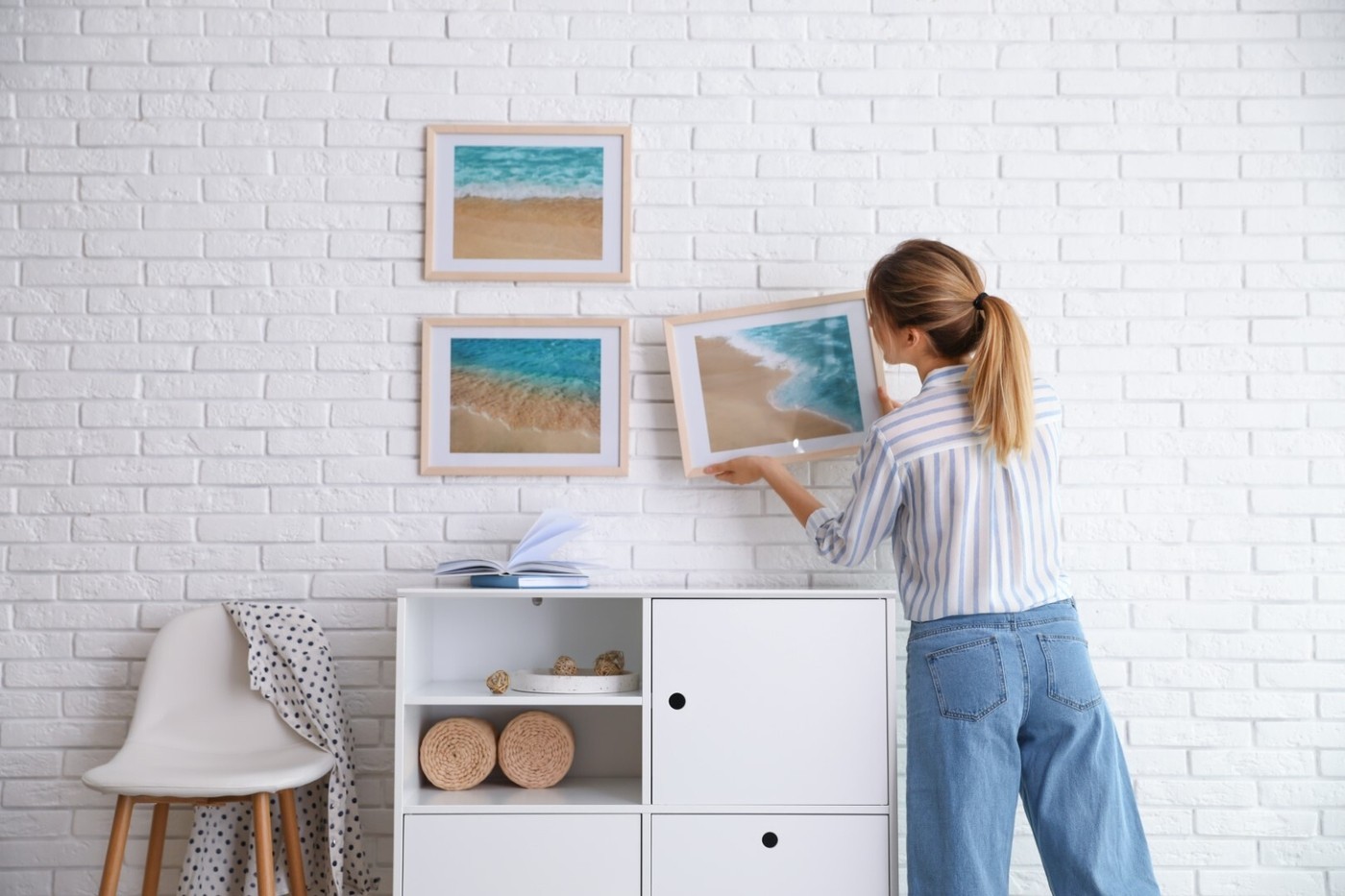 New Africa / ShutterStock
Use lighting to accentuate statement art. Because natural lighting is not ideal, you might want to consider illuminating your art pieces with artificial lighting. Your best bet is LED lighting. Steer clear from any lighting that emits ultraviolet energy, such as fluorescent lighting. Meanwhile, placing the lighting overhead, at a 30-degree angle will illuminate the piece with limited glare.
Create vignettes and gallery walls with smaller pieces. For shelves or mantles, smaller framed pieces sharing a cohesive color palette can be used to create vignettes. Smaller pieces can also be used as part of a mounted gallery wall. When creating a gallery wall, make sure to utilize negative space between the artworks to keep the display from looking crowded. You can use masking tape to map out the gallery wall pattern before you mount anything.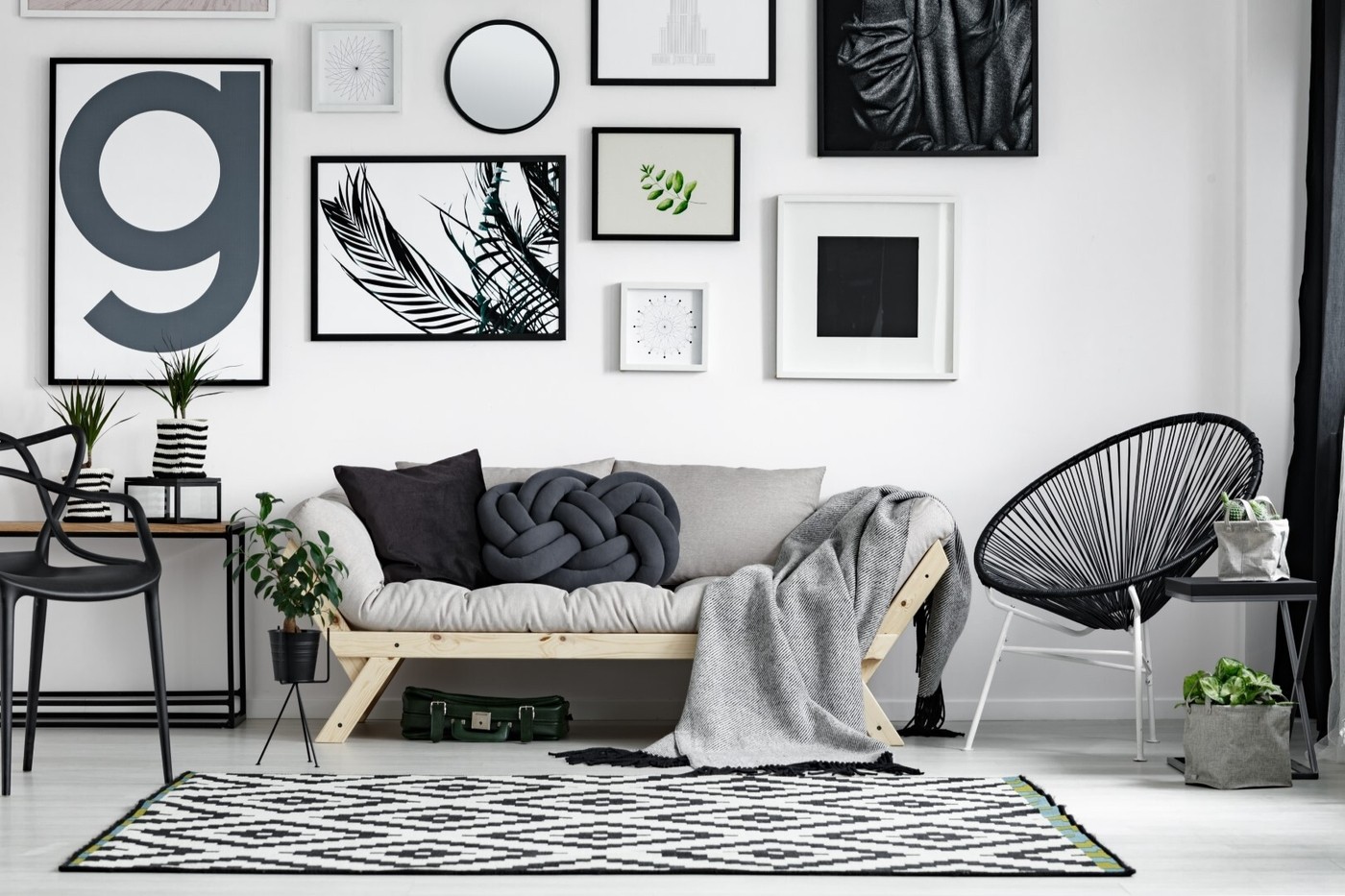 Photographee.eu / ShutterStock
How to take care of your art in the long term
Limit exposure to direct sunlight to prevent fading and cracking.
Invest in non-reflective museum glass or UV plexiglass.
Dust your artwork regularly using a soft, dry, and preferably cotton rag.
Never use chemicals to clean your artwork.
Consult a professional art restoration company or art conservationist if your artwork incurs significant damage.
Use corrugated boxes and bubble wrap to protect your art pieces during transport.