Today, people are utilizing gothic home décor in their interior decorating style, and they are getting away with it too! You can select a few gothic pieces or nearly dress your entire home in gothic black, all while making it look fabulous.
Midnight black accents paint a rich and luxurious design element that light neutrals just can't do. Scroll to learn more on how to implement the hot gothic décor trend in your home.
The History of the Gothic Accent Style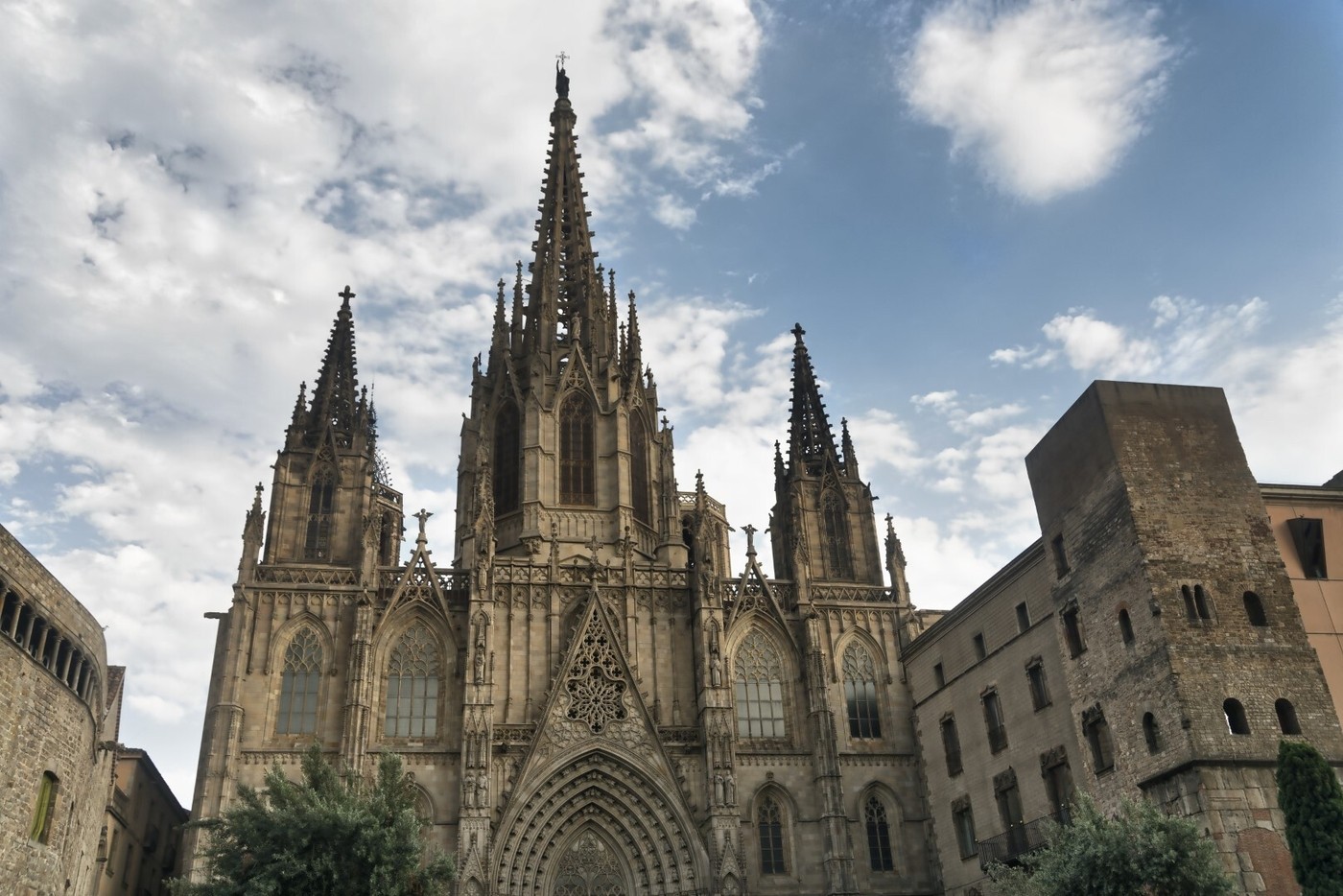 From gothic castles and cathedral buildings to rock music, clothing, and now home décor, the hot gothic style has been around for centuries. Gothic style originated in Europe but has since spread to France and other countries.
Gothic style is summarized by five key design elements: large stained-glass windows, pointed arches, ribbed vaults, flying buttresses, and ornate decoration - pointed arches are the most prominent feature.
For a while, people shifted away from dark gothic accents and focused on light modern neutrals. Though recently, hot gothic home décor is trending. People need change, and maybe black gothic accents in home décor is that wonderful change you're looking for.
How to Pull-off the Trending Gothic Home Décor Style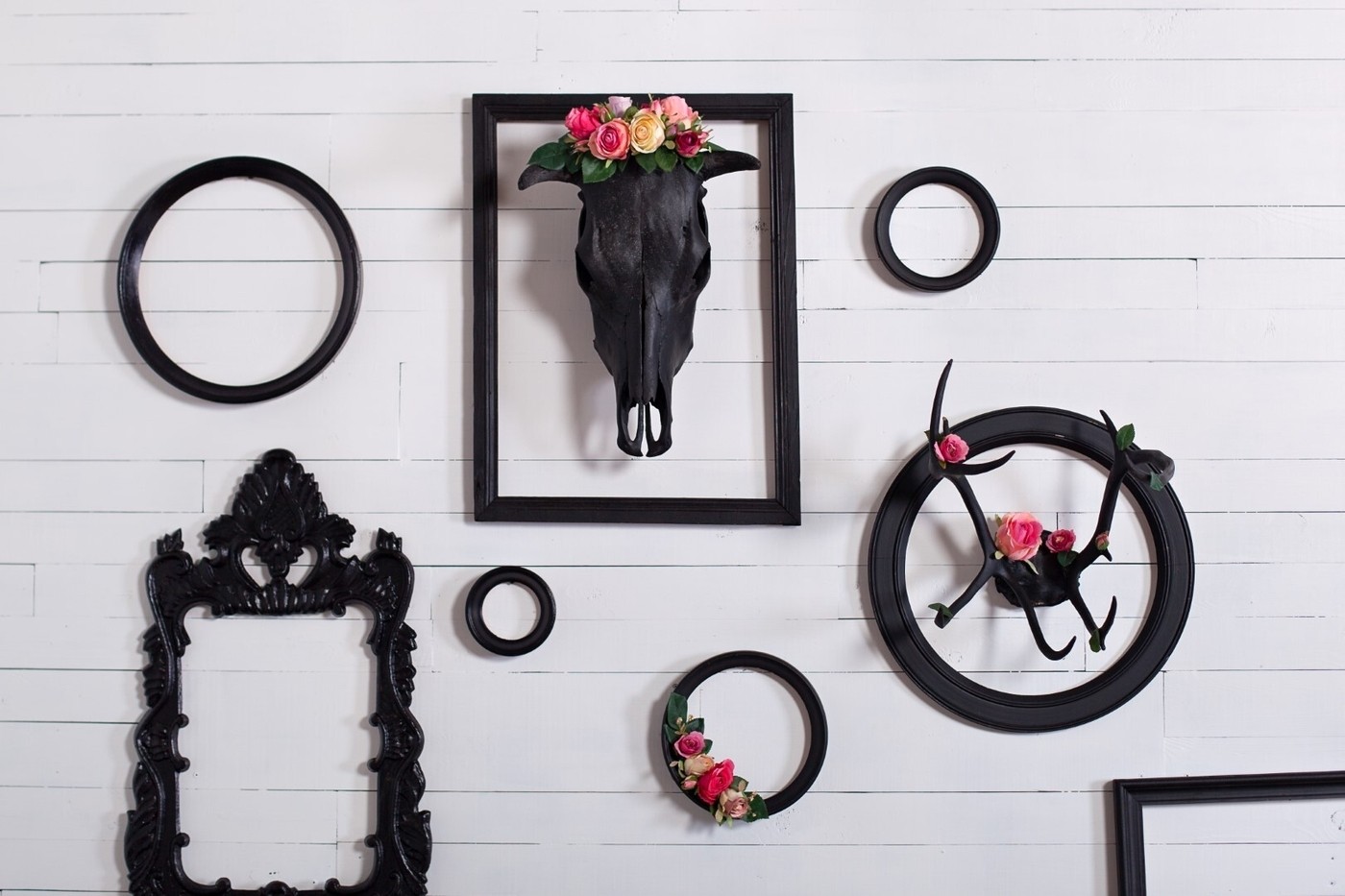 How do you pull off a gothic home décor style? Many people think painting their walls black and buying all-black furniture and décor is required.
Unless you are going for a vampire mansion appeal, all black everything isn't how you pull off the new trend of gothic home décor. Instead, combine a few of the gothic colors and textures to encourage and strengthen your gothic accent piece.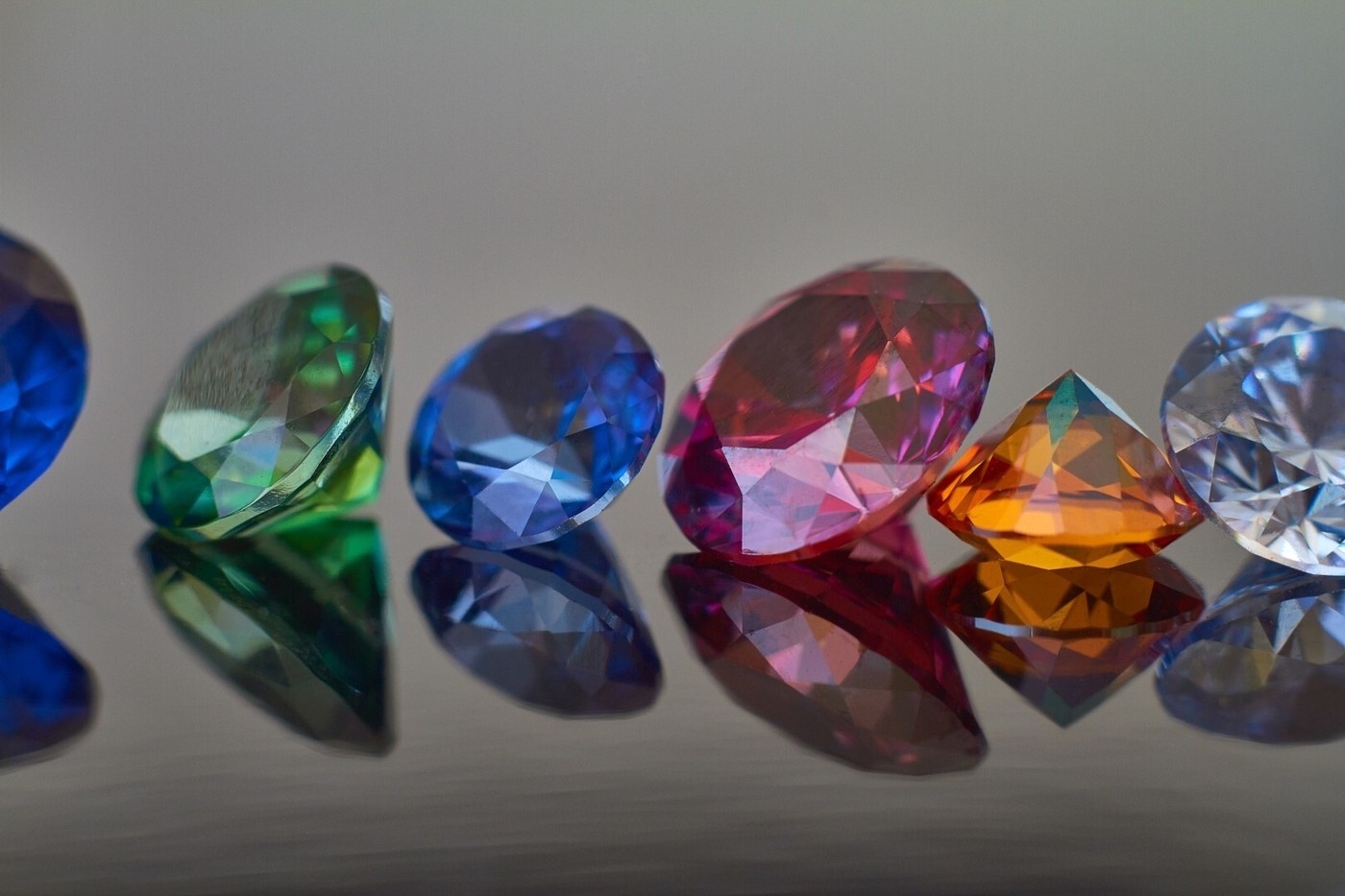 Yes, black is the primary gothic color, but there are other gothic colors involved in the gothic style. Gothic colors include:
Ruby red
Emerald green
Deep ocean blue
Rich burgundy (Maroon)
Amber yellow
Indigo purple
Midnight black
For the most dramatic color scheme, pick only one color alongside the primary black color. Your chosen color should be one-fourth to one-third of your overall home décor color scheme.
Accentuate a black leather couch with ruby red pillows and hang long ruby red curtains. Add black picture frames to your walls to tie in the gothic style even more.
In a living room, paint a black accent wall and then add a sapphire blue Victorian-style couch and sapphire blue area rug.
For a bedroom, paint your walls emerald green. Set black lamps on black nightstands and dressers. Use white candles to lighten up the bedroom.
Pick-out Your Gothic Fabrics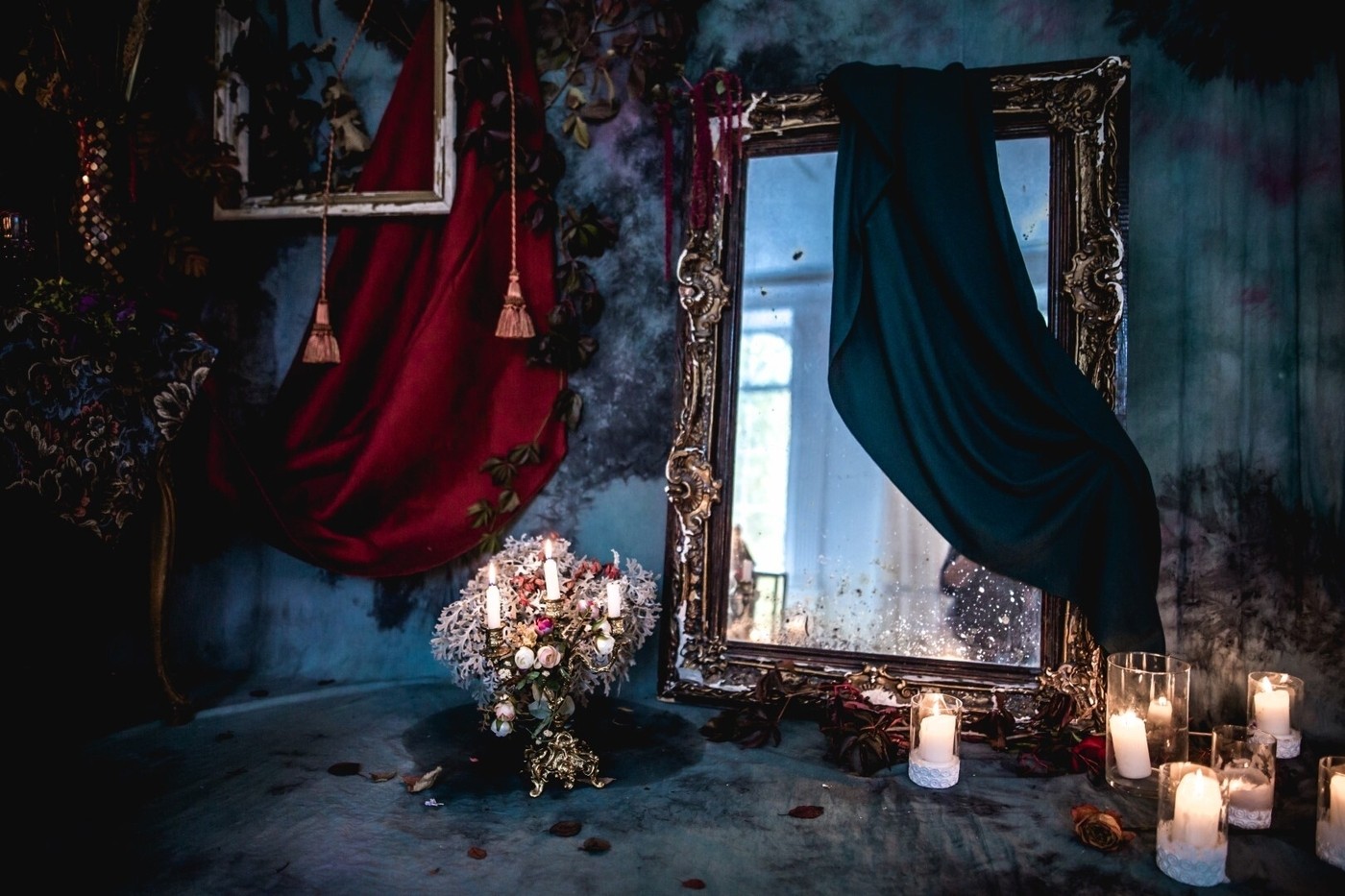 Gothic fabrics come from a rich Victorian background, so when choosing your gothic fabrics, look for dramatic fabrics that flaunt sophistication. A bad example would be simple polyester or cotton material.
Instead seek out fabrics made of satin, silk, or velvet. Find yourself long and dramatic emerald green silk drapes and combine them with a black velvet couch.
Find Your Gothic Accent Pieces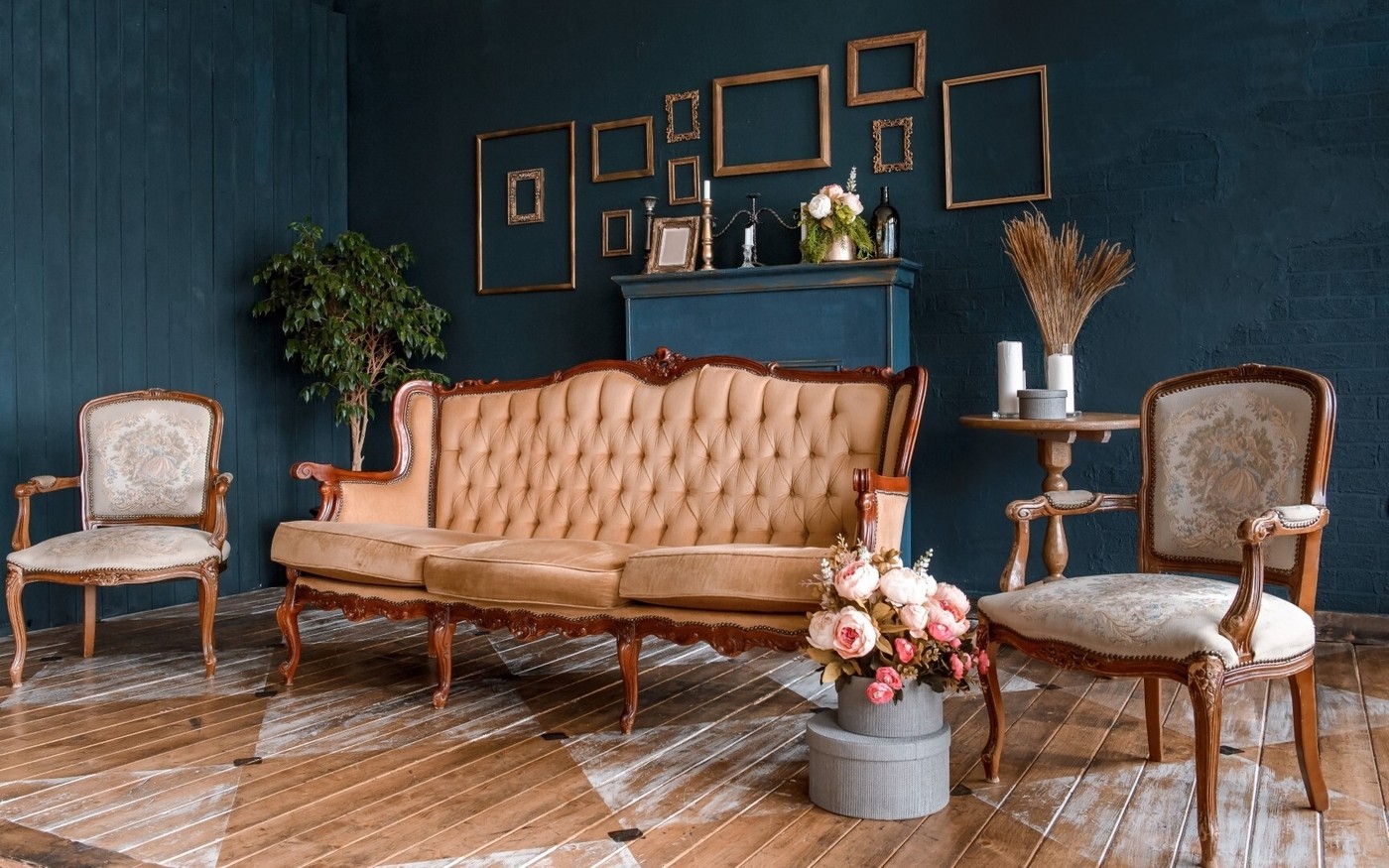 You can add gothic accent pieces to various interior decorating styles. If your home is currently Victorian-themed, you are already one step ahead of the gothic style.
The most popular gothic style accent pieces are:
Cathedral-arched mirrors and window frames
Victorian-styled armchairs and sofas with tufted backing
Long satin, silk, or velvet pooling drapes
Dark-toned chandeliers and candelabrums
Heavy, jaded, and hammered silverware
You can also outline the top of your walls with black and white damask-designed wallpaper. Crown molding with arch designs and gold and silver finishes are another gorgeous accent piece to use.
Hang an oval mirror with a vine framework in your bathroom or a wavy ornate picture frame in your living room. Place a gargoyle statue or similar type of figurine just above an arch window frame in your living room.
Set a bubble-up lamp base on top of a curvy-shaped dresser or nightstand in your bedroom. Find a vanity orentryway table with intricate designs and spindles.
When you are shopping for gothic accent pieces, imagine a historical Victorian cathedral. Think of the deep colors found in stained glass to help you remember gothic colors.
Tips on Gothic Black Home Decor Accents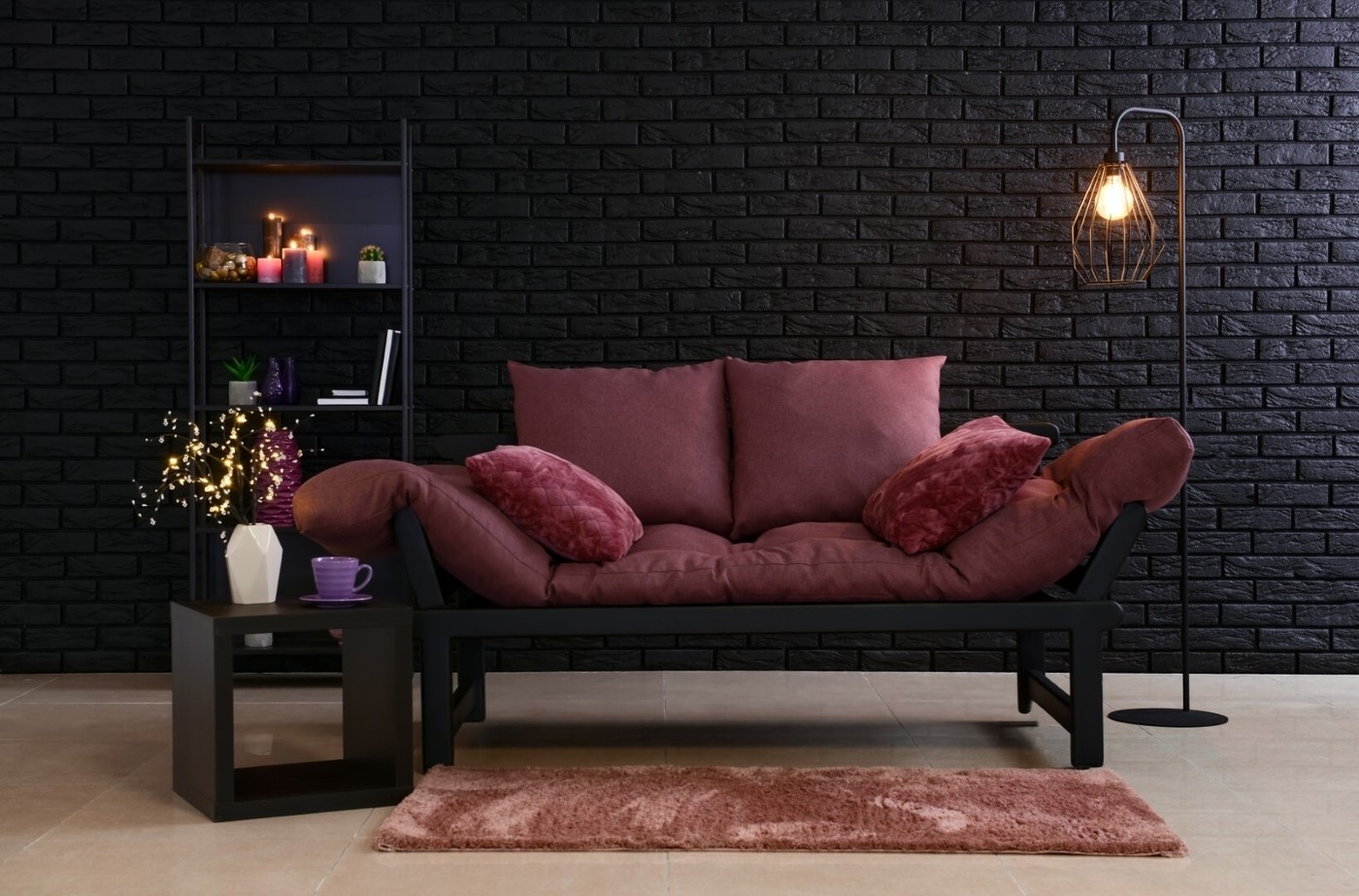 The most important tip to keep in mind about black gothic home décor accent pieces is your backdrop. You would think it's the accent piece itself.
If your backdrop or wall color is dark or black, then it will be a lot harder to see your black gothic accent piece. Black against black can look stunning if your accent piece combines other colors besides just black.
A fitting example is a black entryway table with a silver outlining and silver handles against a deep navy blue or black wall. Another example is a well-lit black chandelier with shifting textures against a shadowy-painted dining room.
Gothic Black Accent Décor Pieces by Room
For a gothic theme to look good, you should consider adding an accent piece to each room. This way, you will tie the gothic theme together and your house will achieve a cohesive look.
Gothic Midnight Black Accented Living Room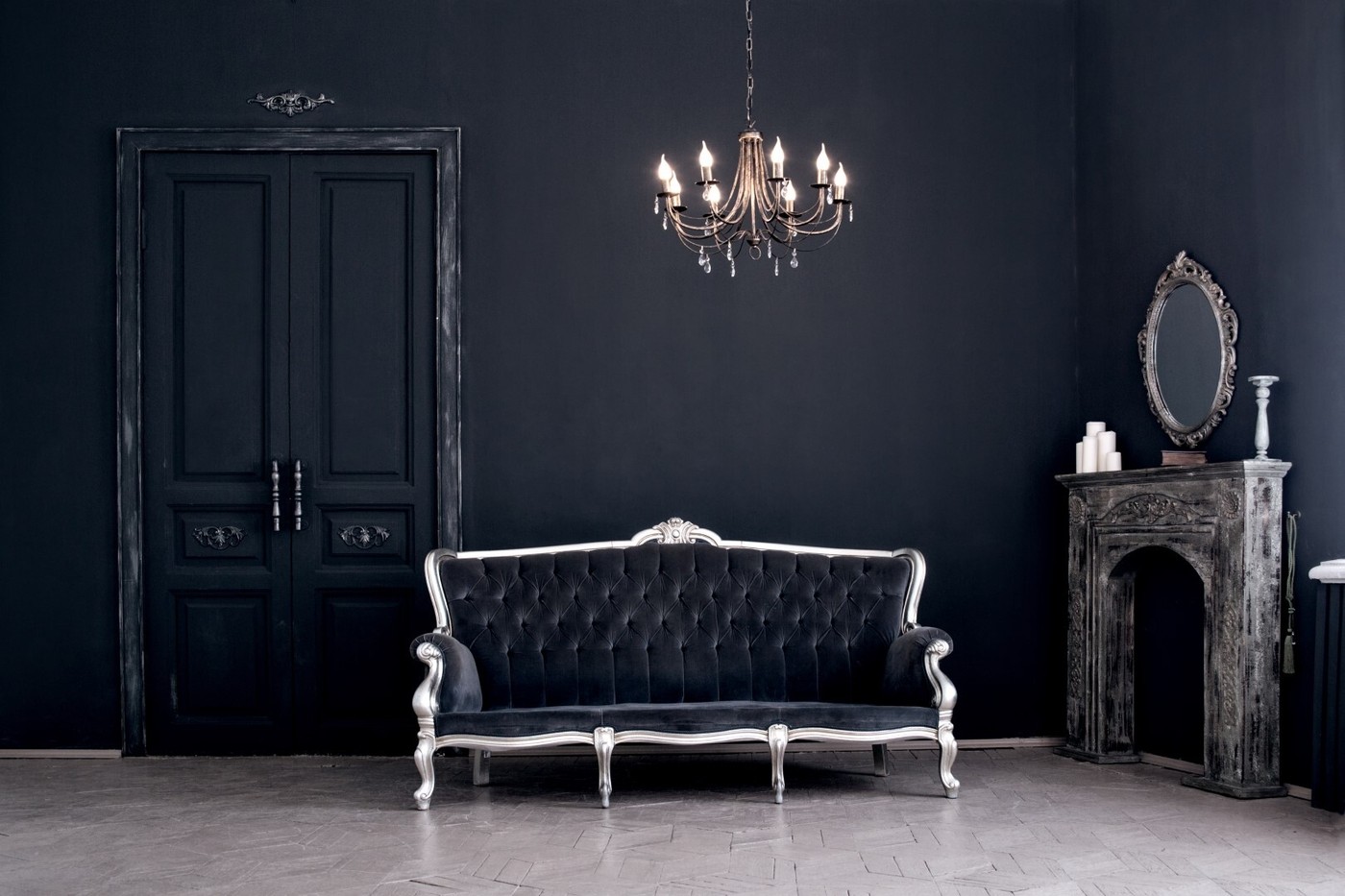 This living room illuminates the true gothic vibe with the immense amount of black and dark hues.
The gothic couch with its Victorian build, black dye, velvet fabric, tufted backing, and chrome outline, adds to the dramatic look of this interior. Your room doesn't have to be painted black to use a gothic-styled accent sofa.
Gothic Décor Outlined and Accented Formal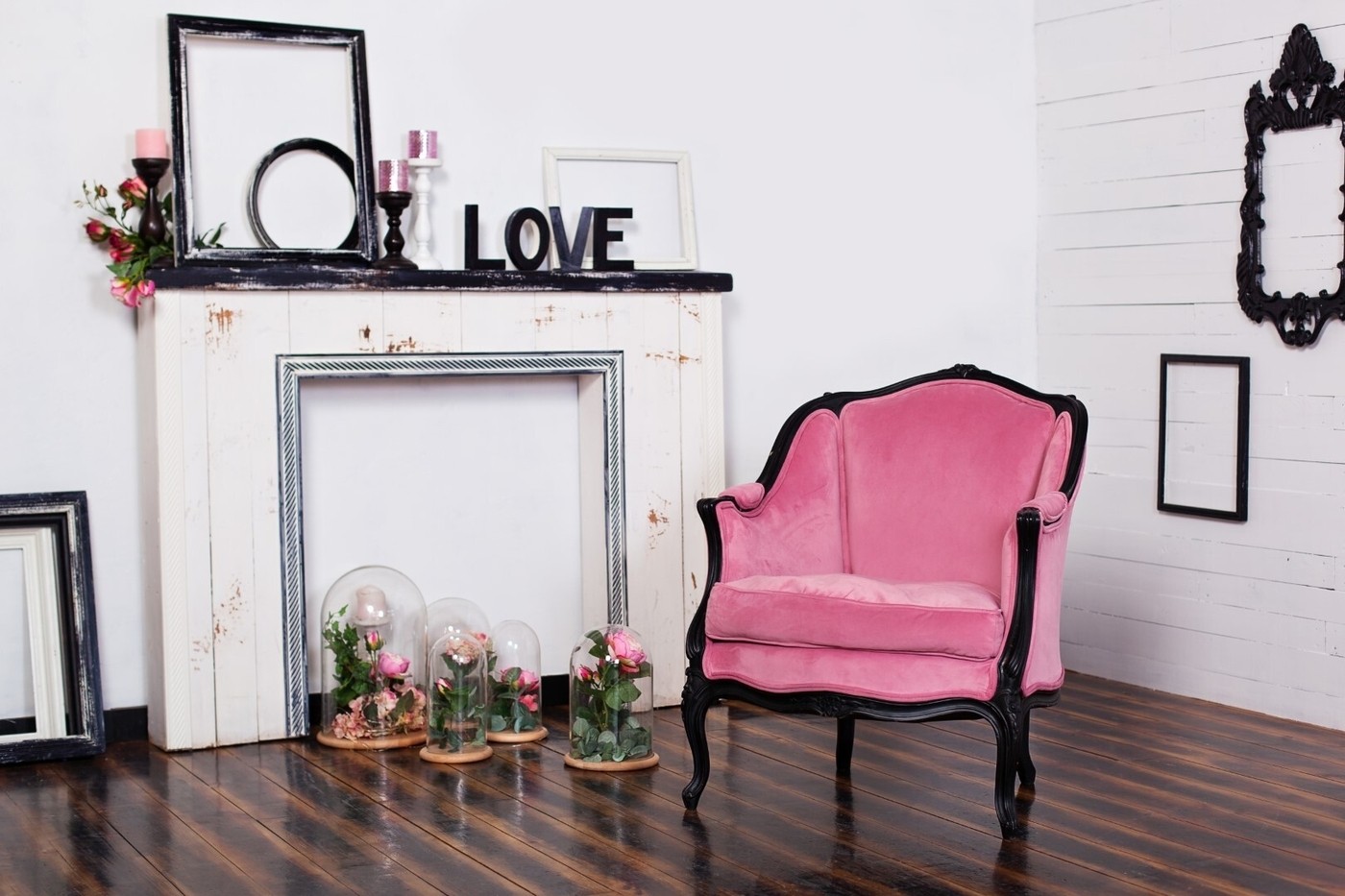 In this formal room, black is not the main color. Instead, white walls are accentuated by a few black goth accent pieces.
Hang a black gothic picture frame on a white or off-white wall and keep it empty to demonstrate the magnificent gothic features of the frame. Buy a black candle holder and rest an indigo or amethyst purple candle on top of it.
Gothic Black and Red Accented Kitchen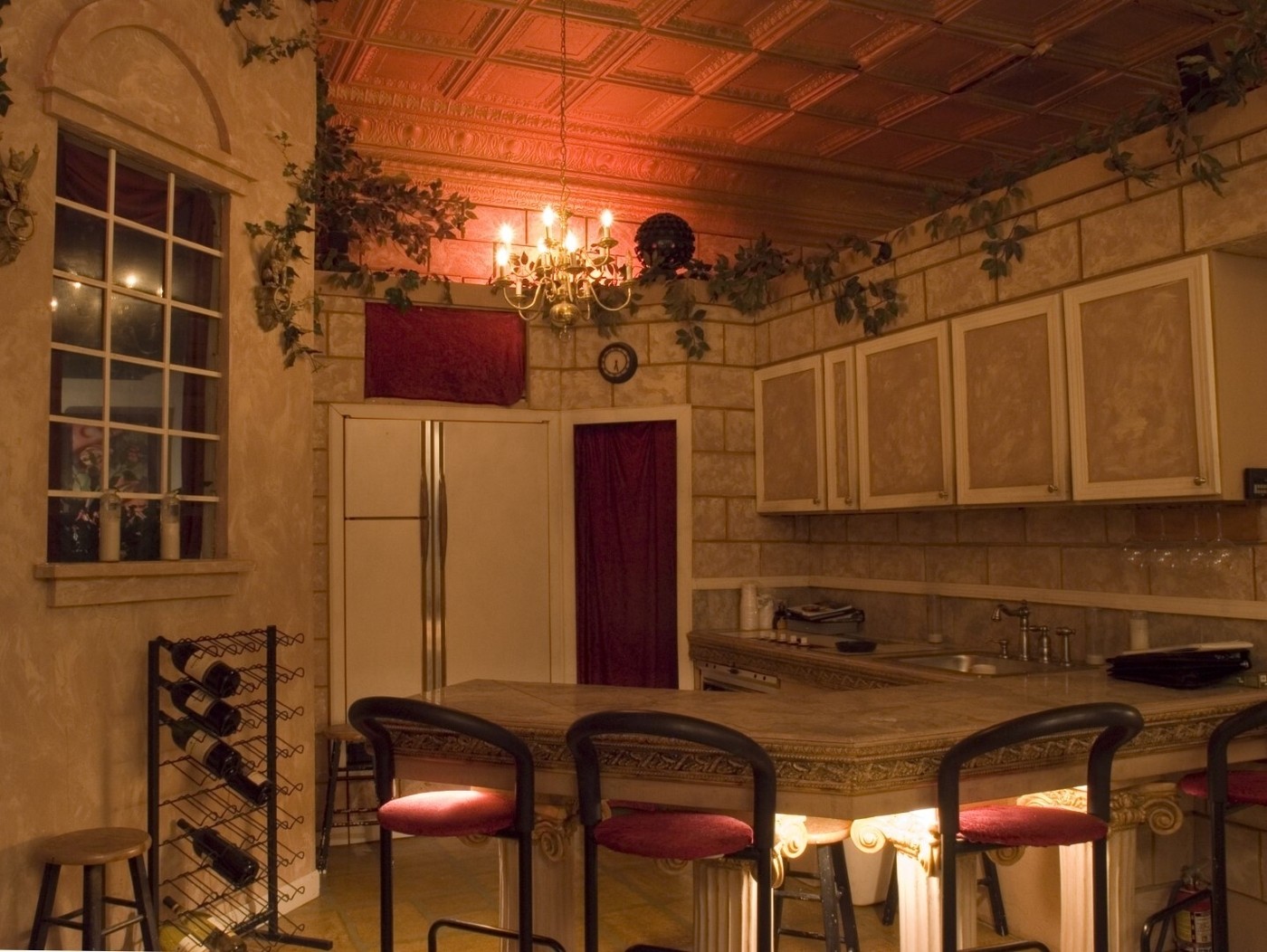 Ruby red bar seats paired with warm chandelier lighting and column-held counters are all fantastic gothic home décor accents. Mix and match black, red, and white outlining for a lighter gothic appeal.
Another fantastic gothic accent is a lancet window. You can hang a lancet window, picture frame, or use a regular crisscross window with the arch sculpted into the wall just above it.
Gothic Black and Emerald Green Accented Dining Room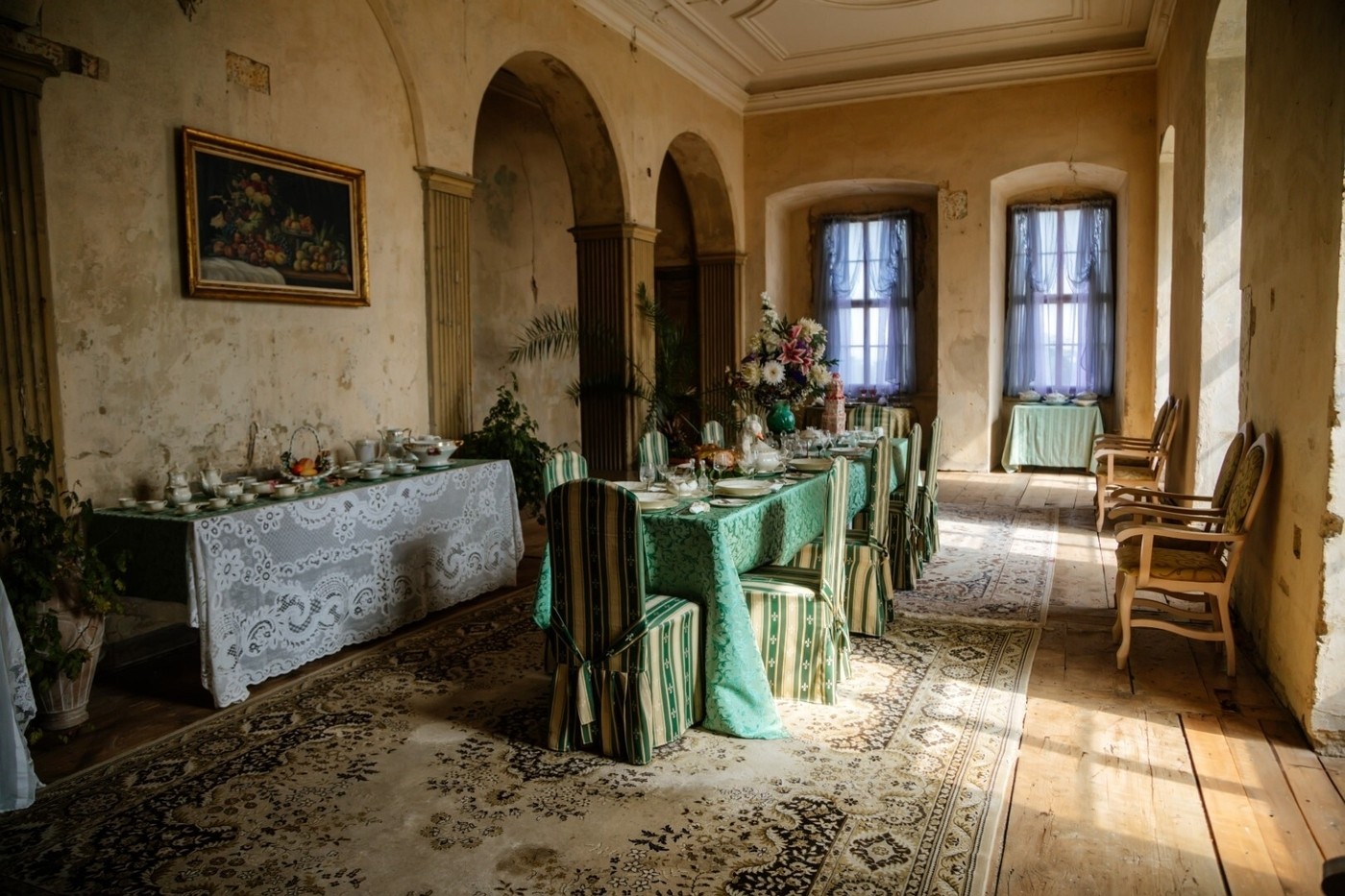 Layout a green, emerald satin tablecloth and tie green patterned chair covers over your dining room chairs. Use either black or white kitchenware to let the green, emerald tones take center stage.
Also, consider buying a gothic black patterned rug to place underneath your dining room table. Your gothic black patterned rug helps to stretch the gothic style from your table down to your floor.
Gothic Black and Burgundy Inspired Bedroom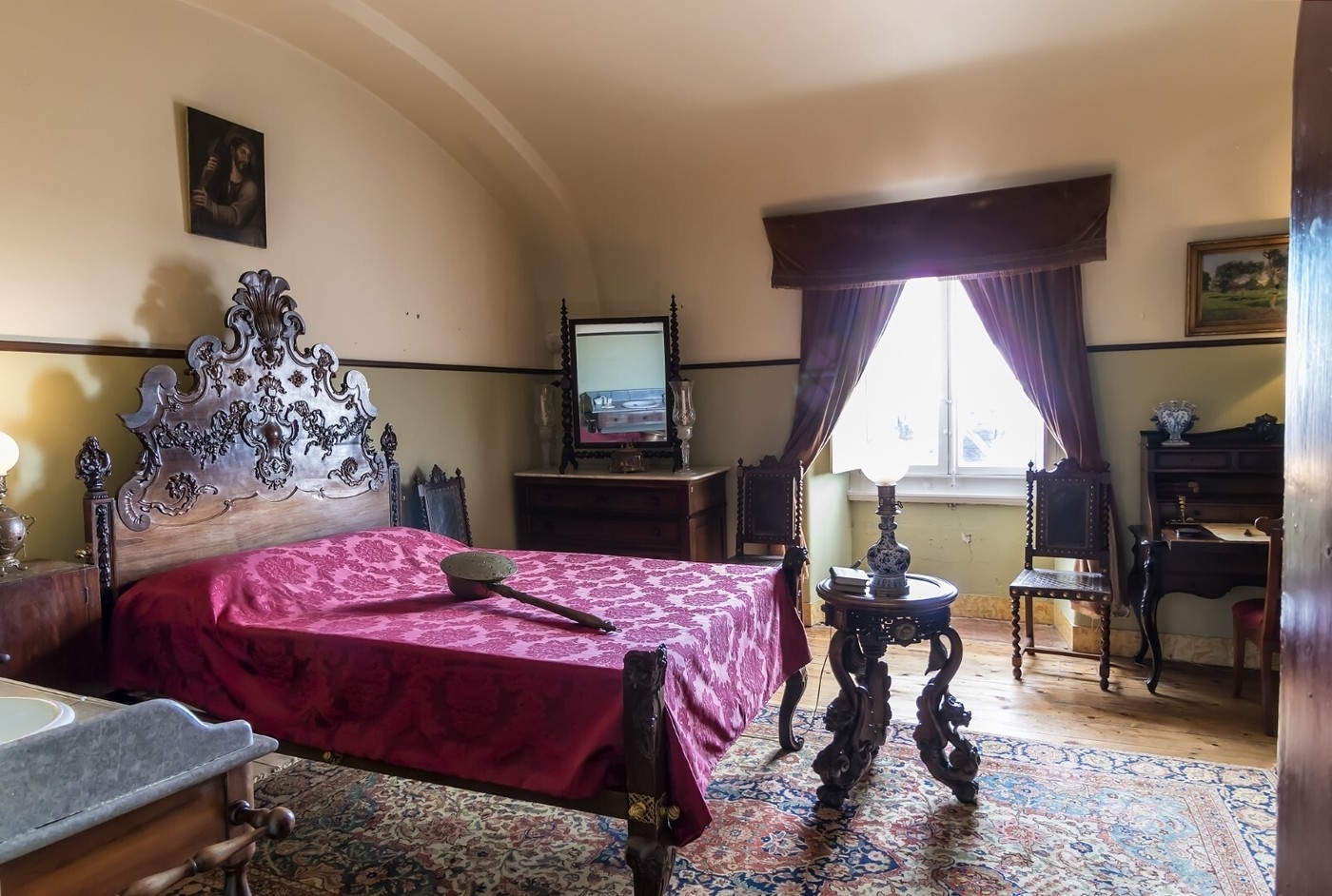 Accent your bedroom with gothic décor by using long spectacular burgundy curtains and silk blankets. Attaching a yellowish-green wallpaper to the lower half of your bedroom walls brings in more color contrast to the gothic style.
Long velvet, satin, or silk curtains in bedrooms introduces a spectacular romance to the bedroom. You can also find chunky textures on vanities and freestanding mirrors to push your gothic accent to the next level.
Gothic Black and White Marble Bathroom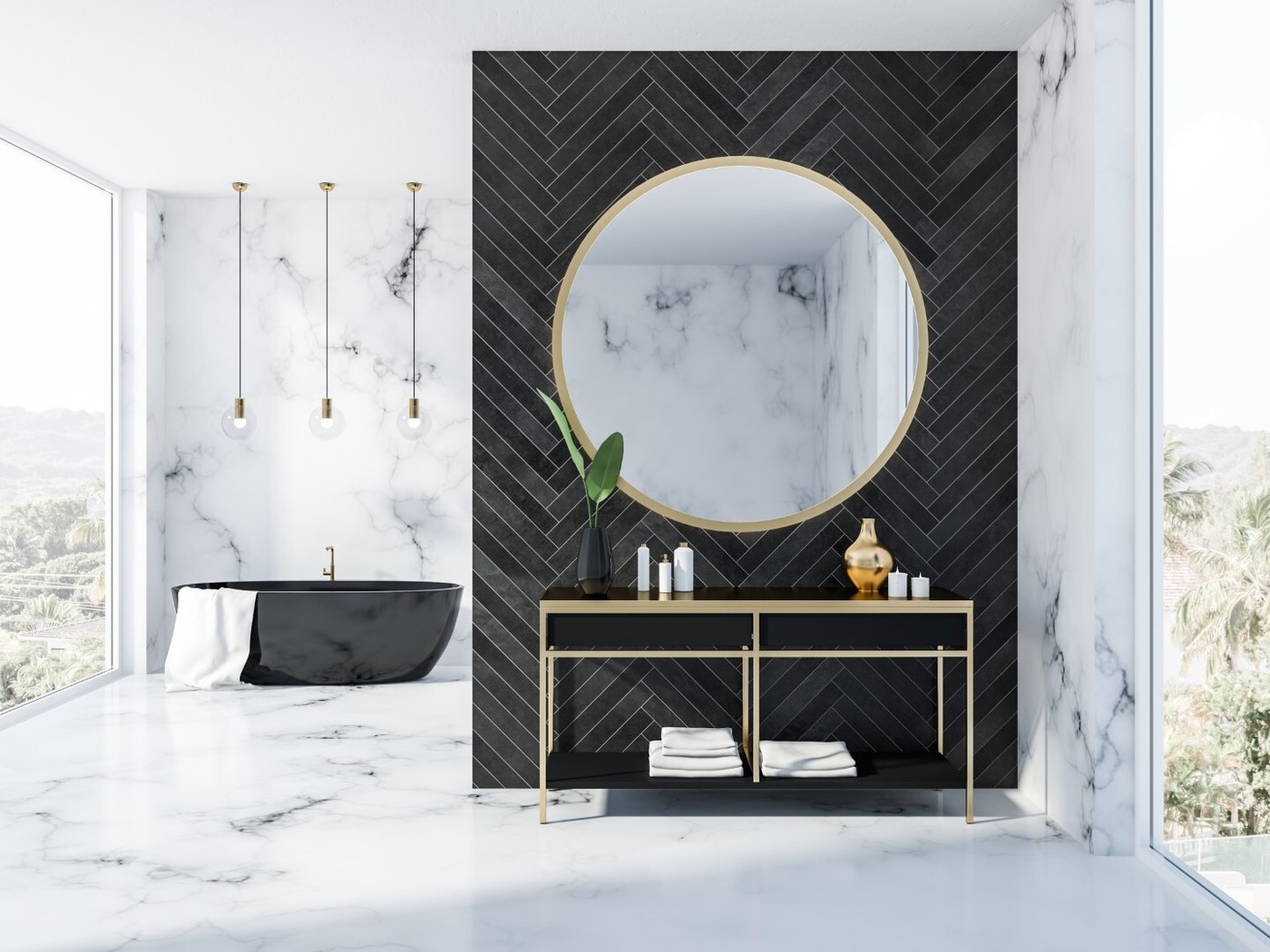 Most bathrooms are on the small side. if you want to make your bathroom appear larger, then stick to mostly light backdrops with black gothic accents like a marbled wall and black bathtub.
Add amber yellows and deep ocean blue refined vases to a black marbled countertop. Black and white checkered or marbled floor accents enrich the gothic style.