At first, you might think that the two core inspirations behind Japandi interior design couldn't be further from each other, but that's only geographically.
In reality, they share so many similarities that, once you have learned more about them, we bet you'll only be surprised that this combination hasn't been created sooner.
What does Japandi stand for?
Japandi stands for Japanese and Scandinavian as it draws inspiration from both interior styles. You might have read or heard about this decor with a slightly different name (such as Scandinese, Japanordi, or simply Scandi-Japanese), but if Instagram hashtags don't lie, Japandi is still the most common one.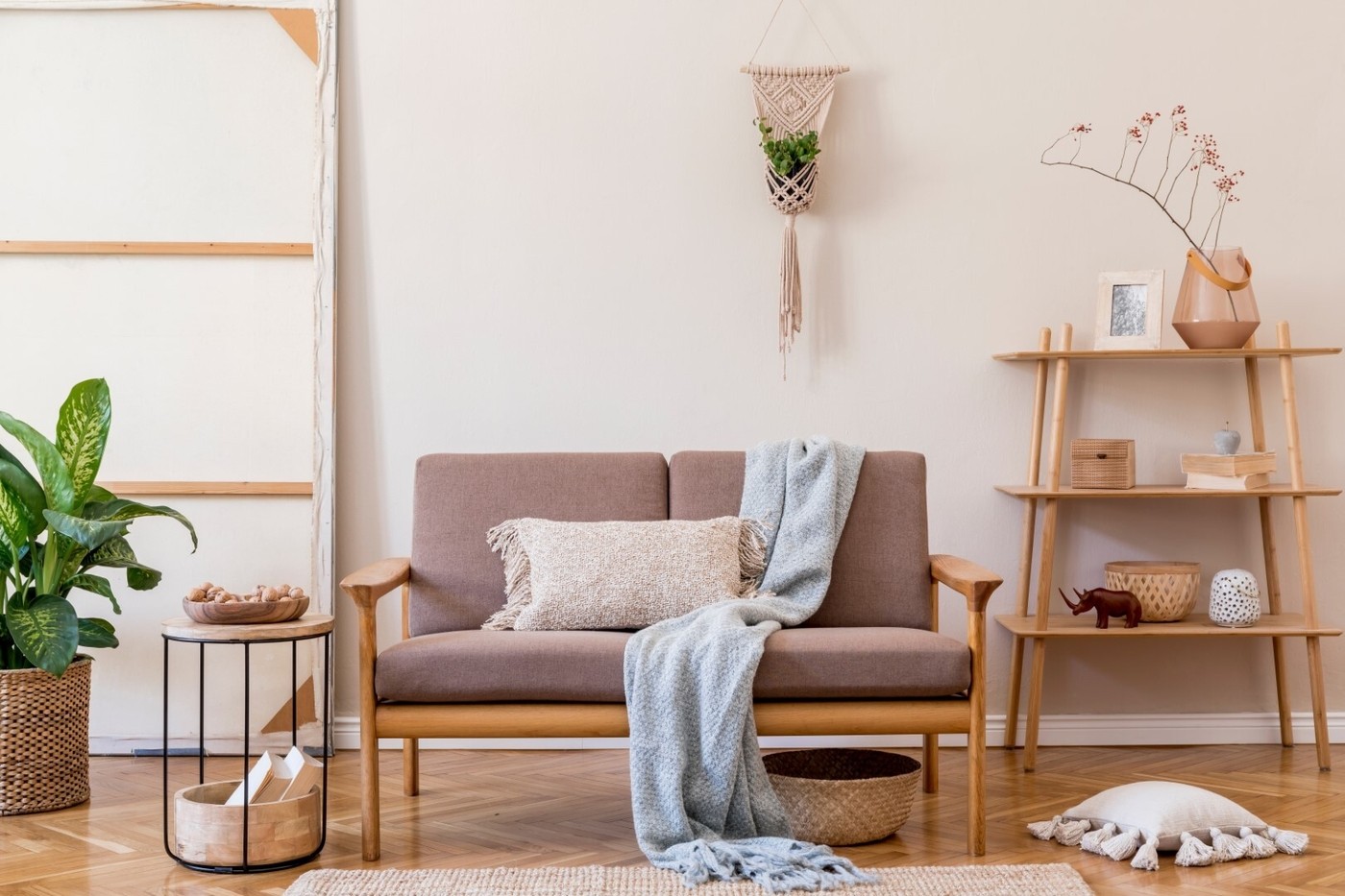 So, what is Japandi interior design?
Japandi interior design is exactly what you suspect: a combination of the cozy simplicity of nature-inspired Scandinavian decor and the elegant, peaceful minimalism of Japanese homes.
If you think about it, there couldn't be a more perfect match. After all, both interior styles adopt a minimalist approach to decor and draw inspiration from the natural world.
But what do Japandi homes look like in practice? Well, we'll delve into the details (or minimalist lack thereof) later on, but to give you a good overview and starting point:
Japandi interiors are minimalist and prioritize simplicity and functionality over decorative elements. They rely on a mostly neutral palette and natural materials to add a rustic touch of coziness to their streamlined rooms.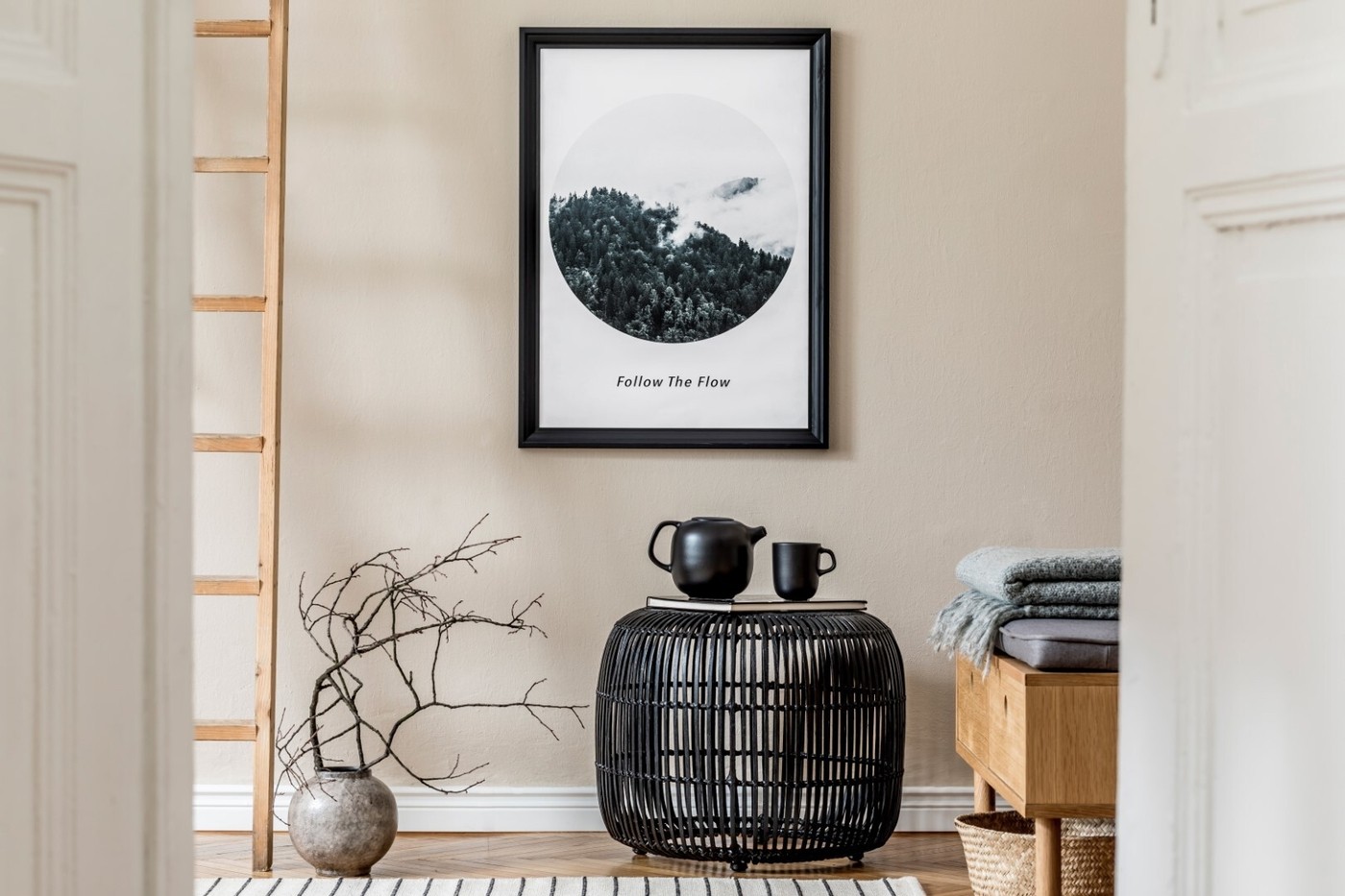 The rise in popularity of #Japandi decor
This beautiful combination was actually an emerging interior design trend in 2017. However, since both Scandinavian and Japanese decor are about timelessness rather than elements that might or might not be in fashion, it's no wonder that we're still talking about Japandi homes today.
If anything, a return to this Zen-like peacefulness and to bringing nature inside one's home only seem a logical consequence to the lockdowns and working-from-home solutions experienced during the coronavirus pandemic.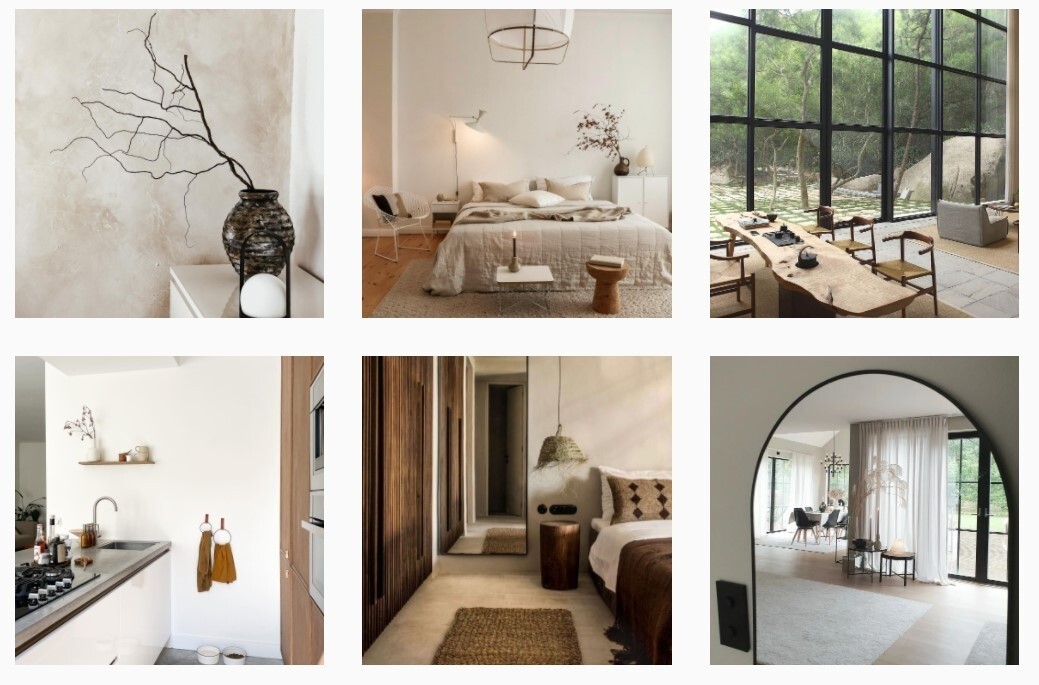 Used well over 100k times on Instagram alone, the #Japandi hashtag keeps on growing, and a quick search will show you just how many opportunities it offers when it comes to making it your own.
Core elements of Japandi interior design
A minimalist approach to decor

Simplicity and clean lines

Functionality and purpose over ornate elements

A neutral and earthy palette

Natural materials and fabrics
Is Japandi decor for you?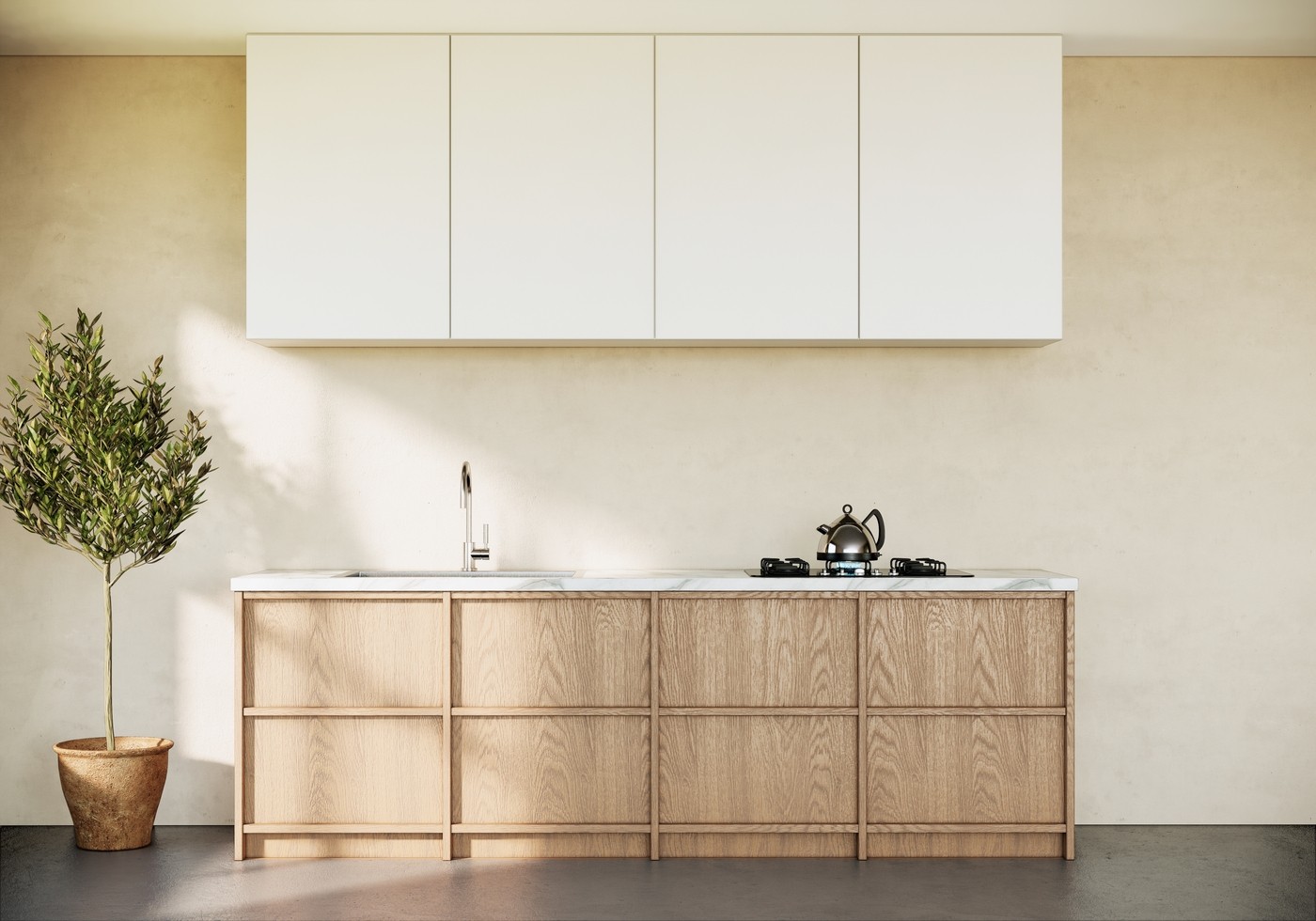 You should consider adopting this conscious blend of Scandinavian and Japanese decor if:
You feel constraint when trying to stick to a single interior style, but you also don't want to obtain messy or mismatched interiors

You're drawn to both Scandinavian and Japanese or Zen interiors individually

Nature is an important part of your inspiration

You get stressed whenever you realize that your house is filling up with clutter
At the same time, we don't recommend opting for Japandi interiors if you prefer more contemporary trends or if minimalism isn't part of your vocabulary (perhaps you love collecting souvenirs and using them to cover every possible shelf?).
How to create elegant but cozy Japandi interiors in your home
As we mentioned before, there are different ways of making the Japandi style work for you.
For example, you might want to go for more of a 75% Japanese and 25% Scandinavian combination (or vice versa) rather than a perfect balance.
Either way, start with these simple tips to understand which aspects resonate the most with your vision of a cozy minimalist home.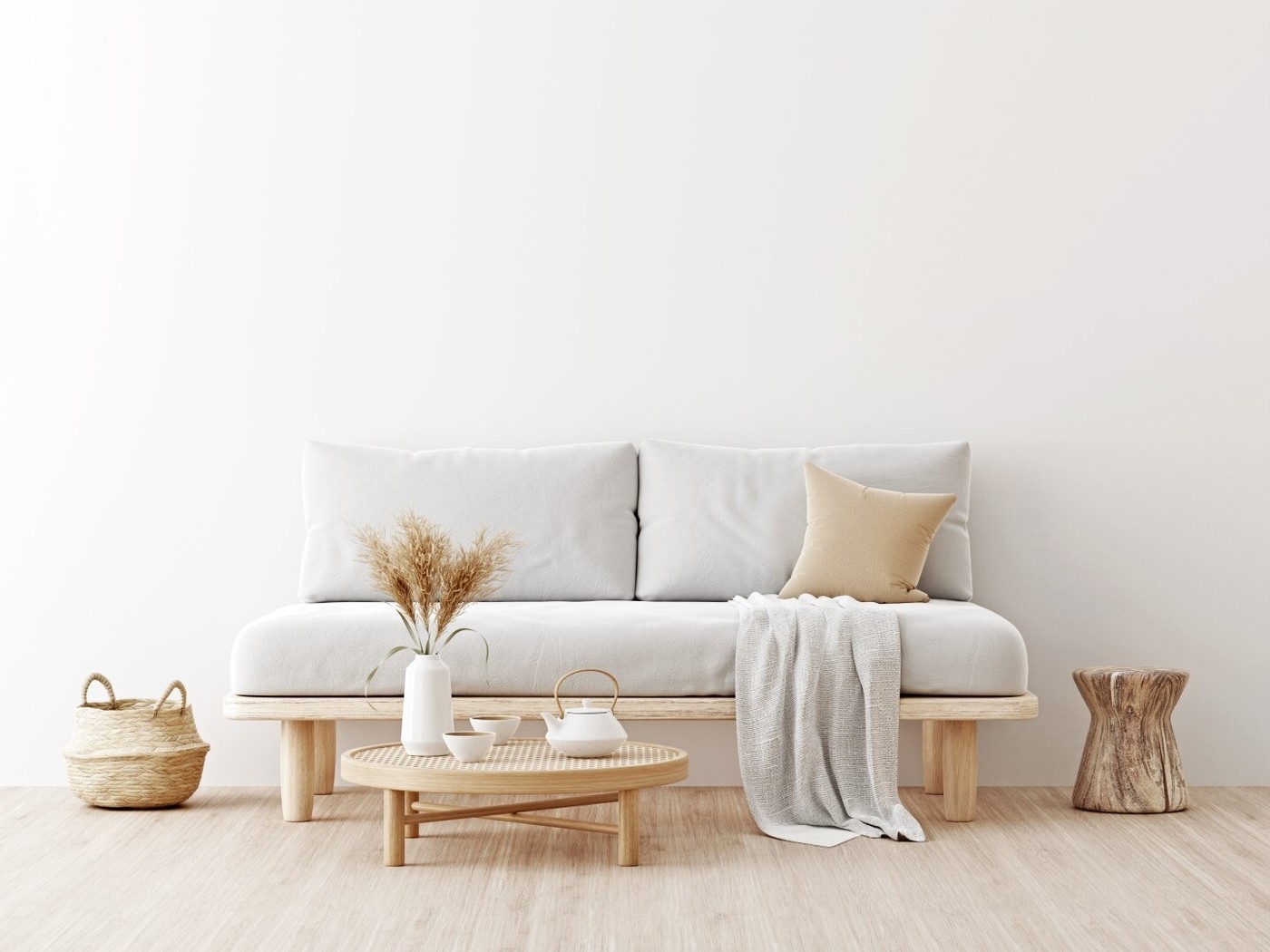 Both Scandinavian and Japanese decor are about maintaining a clean visual flow by focusing on fewer but more meaningful furniture pieces and decorative items.
Unless you've already been following a similar approach, it might be worth Marie Kondoing your home with a thorough declutter before you get started with your new Japandi interior design.
2.

Create a Japandi palette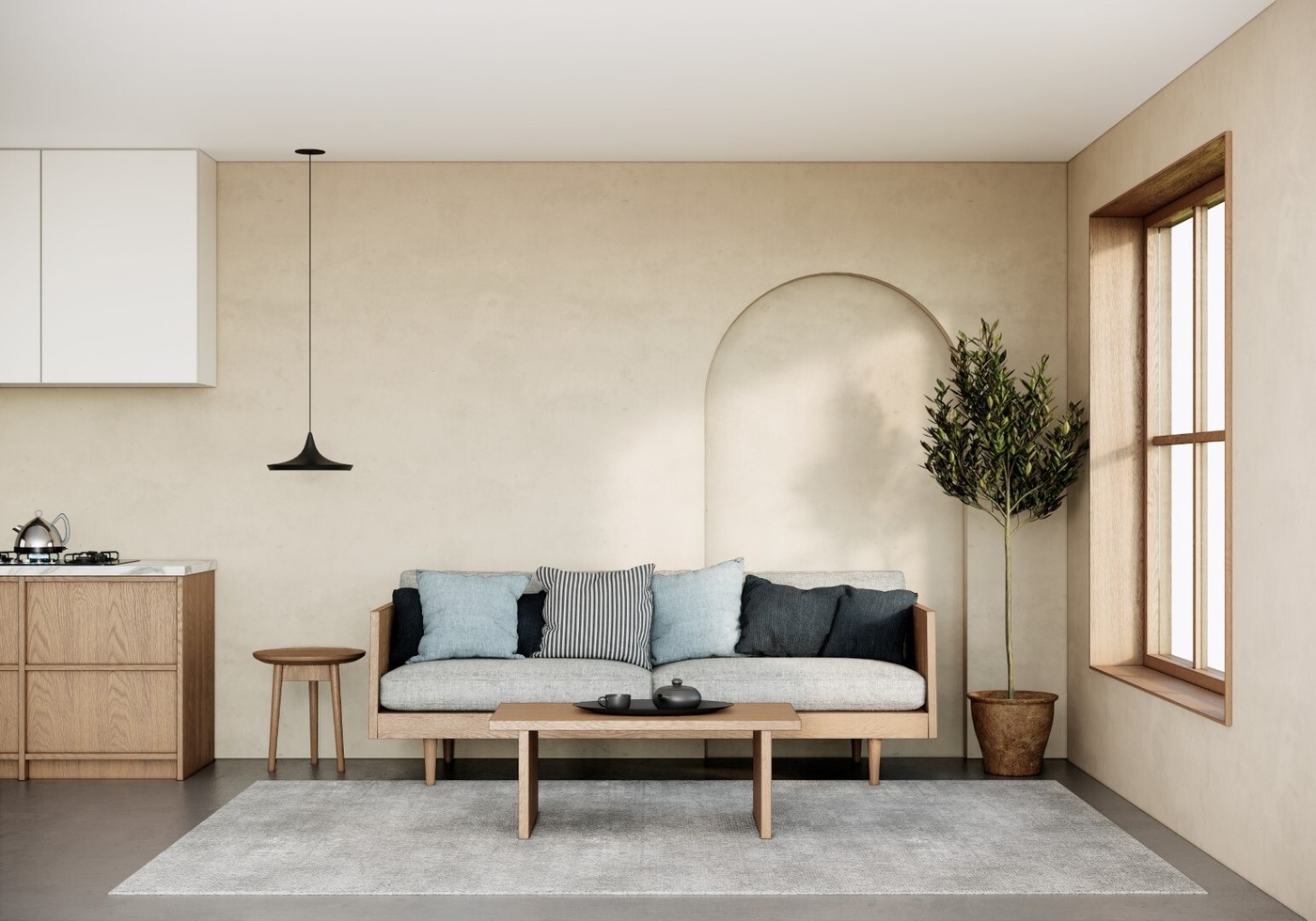 The key is to combine neutral and earthy hues tactically in order to maintain a peaceful atmosphere but create the right contrast to allow certain elements to stand out.
For example, more neutral colors like off-white, cream, or pearl gray are ideal as primary ones, especially on your walls.
Brown and wood will help you reinforce the natural inspiration behind your palette, and you can then use stronger shades like forest green or sky blue to create some contrast through your accent elements.
3.

Choose wooden furniture…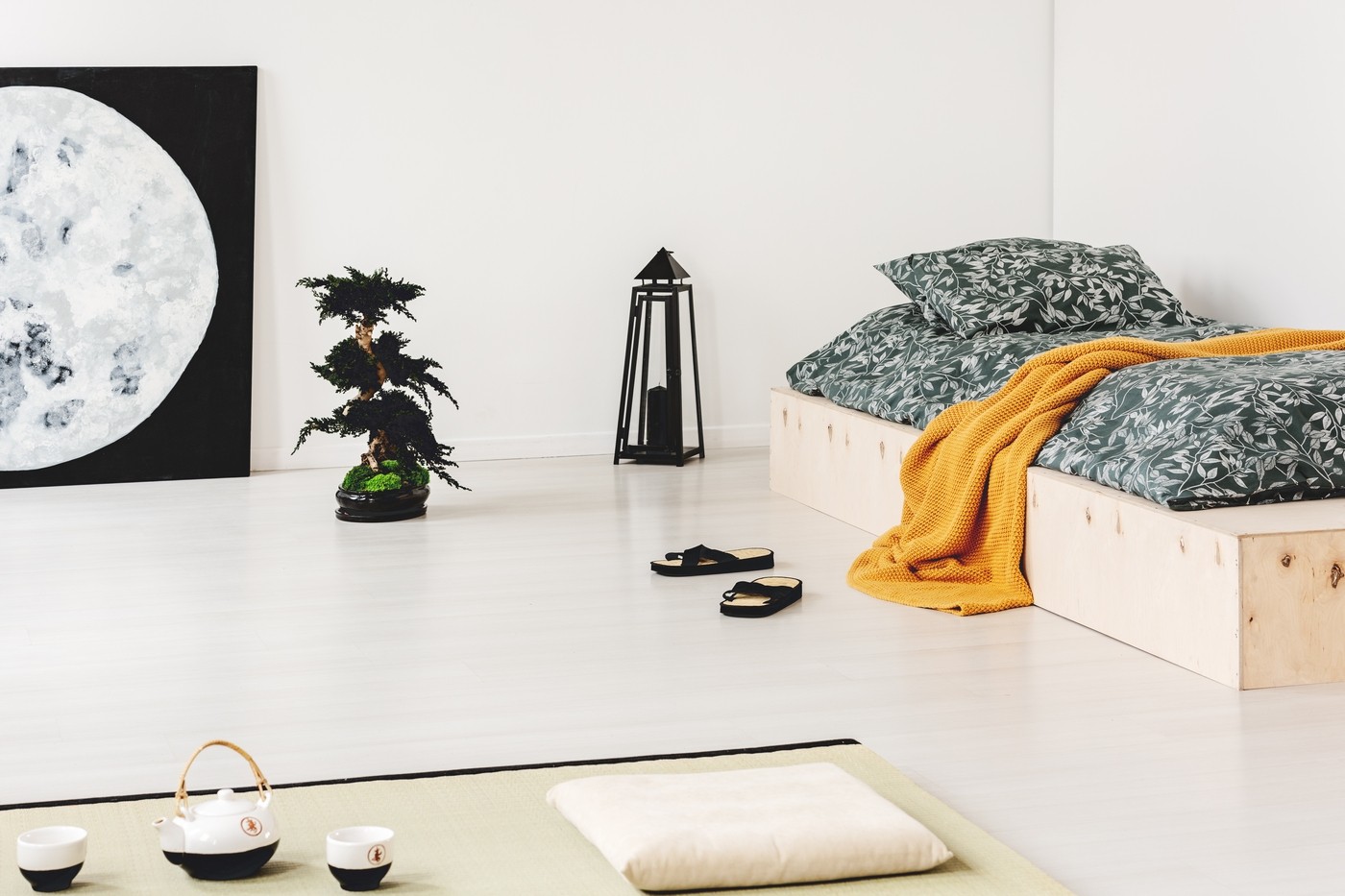 Natural wood is a staple in both Japanese and Scandinavian homes. In the former, wooden furniture tends to be stained and slick, whereas Nordic interiors maintain more rustic finishes.
Consider playing with both ideas, but either way, stay grounded!
Rather than tall items that interrupt your visual flow or create a cluttered feel, reduce the general height of your furniture, from console tables to your bed.
4.

…and natural materials in general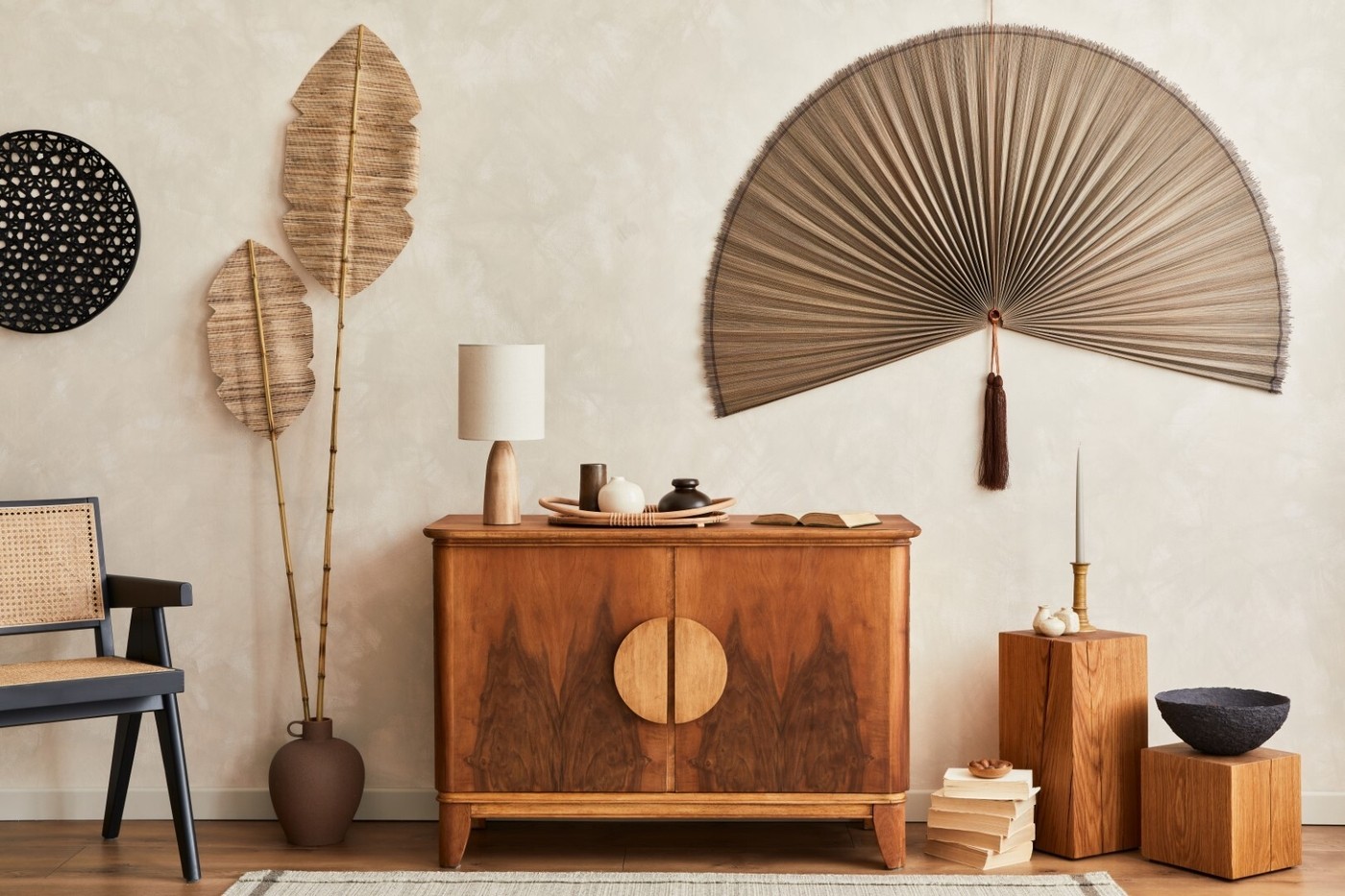 While wood should be the star of this quiet show, there are other natural materials that you can consider for some of your pieces, such as bamboo and rattan.
But your natural inspiration should go beyond furniture: think textures!
Instead of synthetic alternatives, try sticking to cotton, linen, or wool when choosing your upholstery, pillows, curtains, bedding, and accessories like throws.
Jute rugs are also popular items in this style, and if you happen to have wooden floors, those are bonus Japandi points for you.
5.

Stick to decorative items with purpose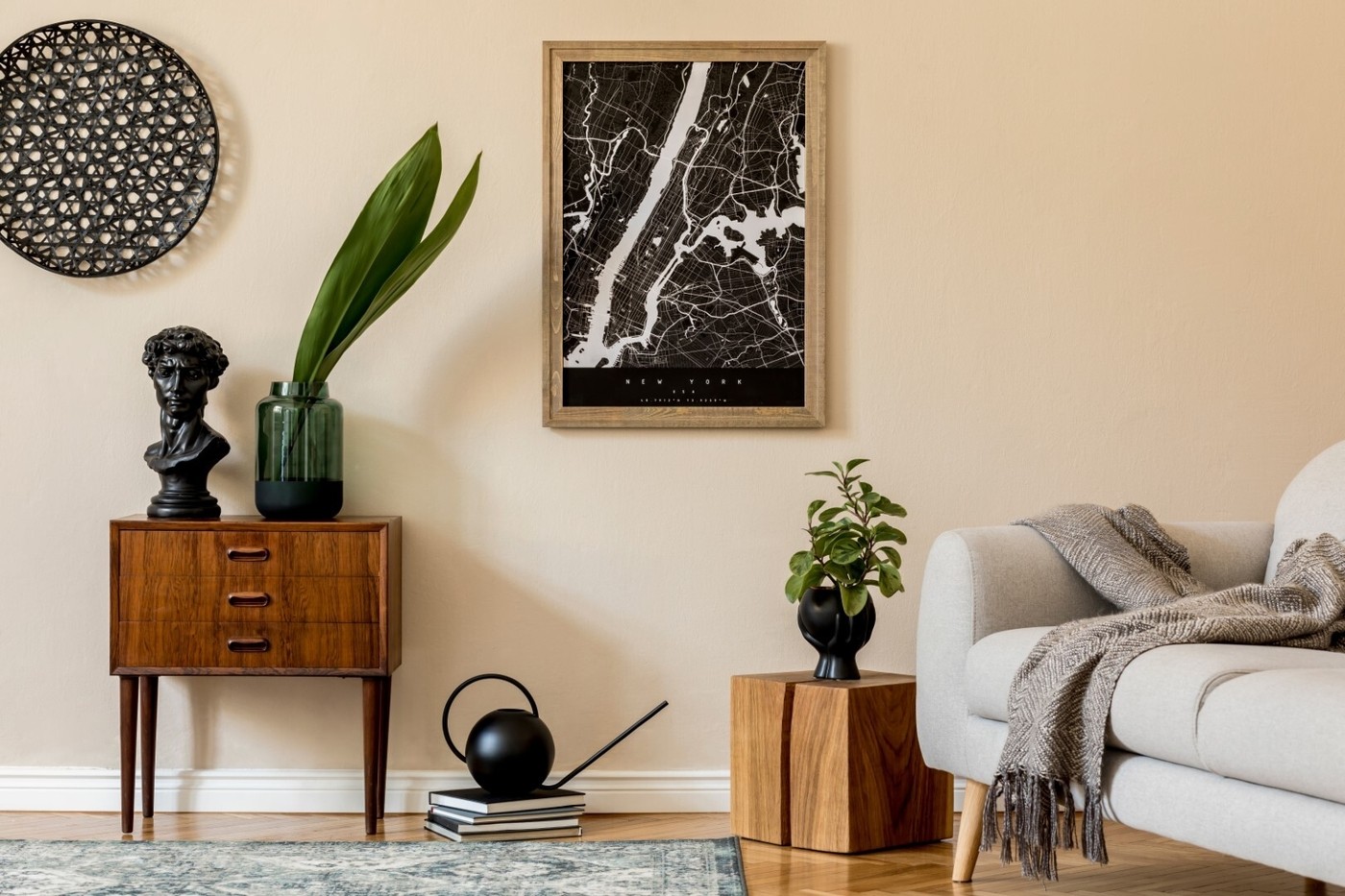 While the Japandi police won't break into your living room if you decide to add some colorful fresh flowers, keep in mind that this interior style prioritizes green and plants instead.
For example, you could consider bamboo, bonsai trees, or charming hanging planters.
Once again, for the right Japandi interior design, use them consciously and wisely rather than going overboard in an urban jungle-style fashion.
7.

Don't take light lightly

Light plays a central role in both decors.

As natural light is rarer during their coldest months, Scandinavian countries tend to embrace it as much as they can (another reason why we recommended light-colored walls: they'll help you emphasize it).

As for Japanese homes, lighting can be considered an art form, and it's central to the Zen philosophy.

So, use it wisely and tactically. Welcome natural light into your home through your windows, and use smaller fixtures, task lighting, or candles whenever the sun goes down. You really don't want to rely on a single, huge overhead light!

As you've seen, Japandi interior design is more than a trend: it's a timeless concept that will allow you to create minimalist but cozy interiors that help you feel relaxed and at peace. And the best part? You get to focus on the inspiration that means the most to you.