If you're not going to Paris to soak up design inspiration, why even go? The City of Light contains enough inspo for lifetimes - even before you set foot inside a building. But the true immersion comes when you post up at one of the city's abundance of boutique hotels.
Paris is a playground for brilliant designers who are infusing small, chic hotels with color, whimsy, and global flavors. These spaces instigate dreaming - maybe of your own home's redesign, maybe of the life that could be yours here, or maybe the next trip you'll take … that is if you can tear yourself away from this magical place.
While the city is awash in dreamy hotels, we've found three that are can't-misses for any design lover.
1.

Hotel Les Deux Gares

Have you ever exited Paris' grand Gare de L'Est train station, hung a right, and climbed a nearly secret set of stairs behind it? Probably not, because this is a slice of Paris most tourists would never stumble upon. Tucked between Gare de L'Est and sister station Gare du Nord on a slim street in a neighborhood known as Little India, Hotel Les Deux Gares looks like what might happen if Wes Anderson's fever dream came to life in a coloring book about Paris.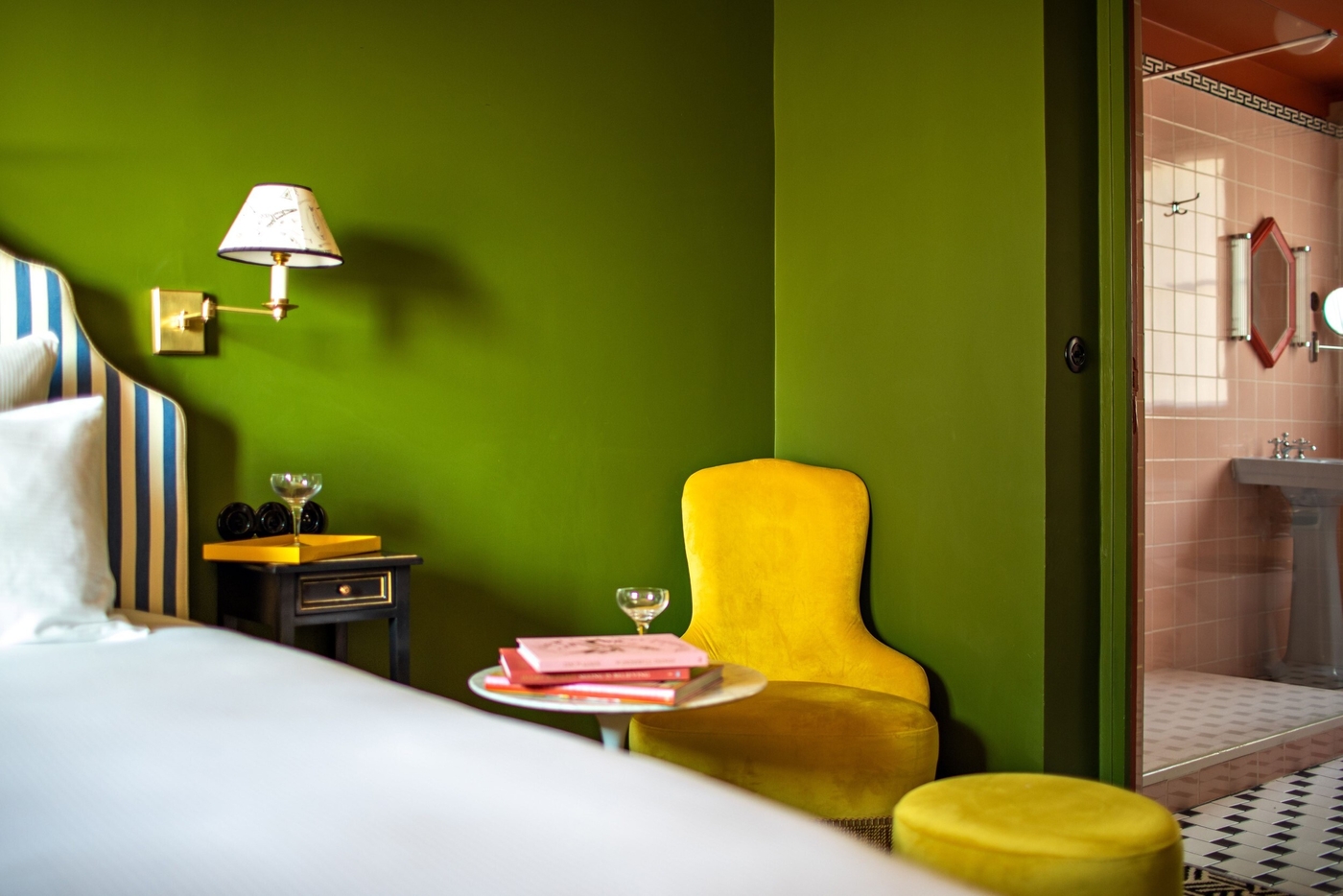 Benoit Linero, Hotel Les Deux Gares
Bold doesn't begin to cover designer Luke Edward Hall's first hotel project, sizzling with yolk yellow, cherry red, and mint green among its contrasting colors and patterns that spill together in an ecstasy of unexpected combinations.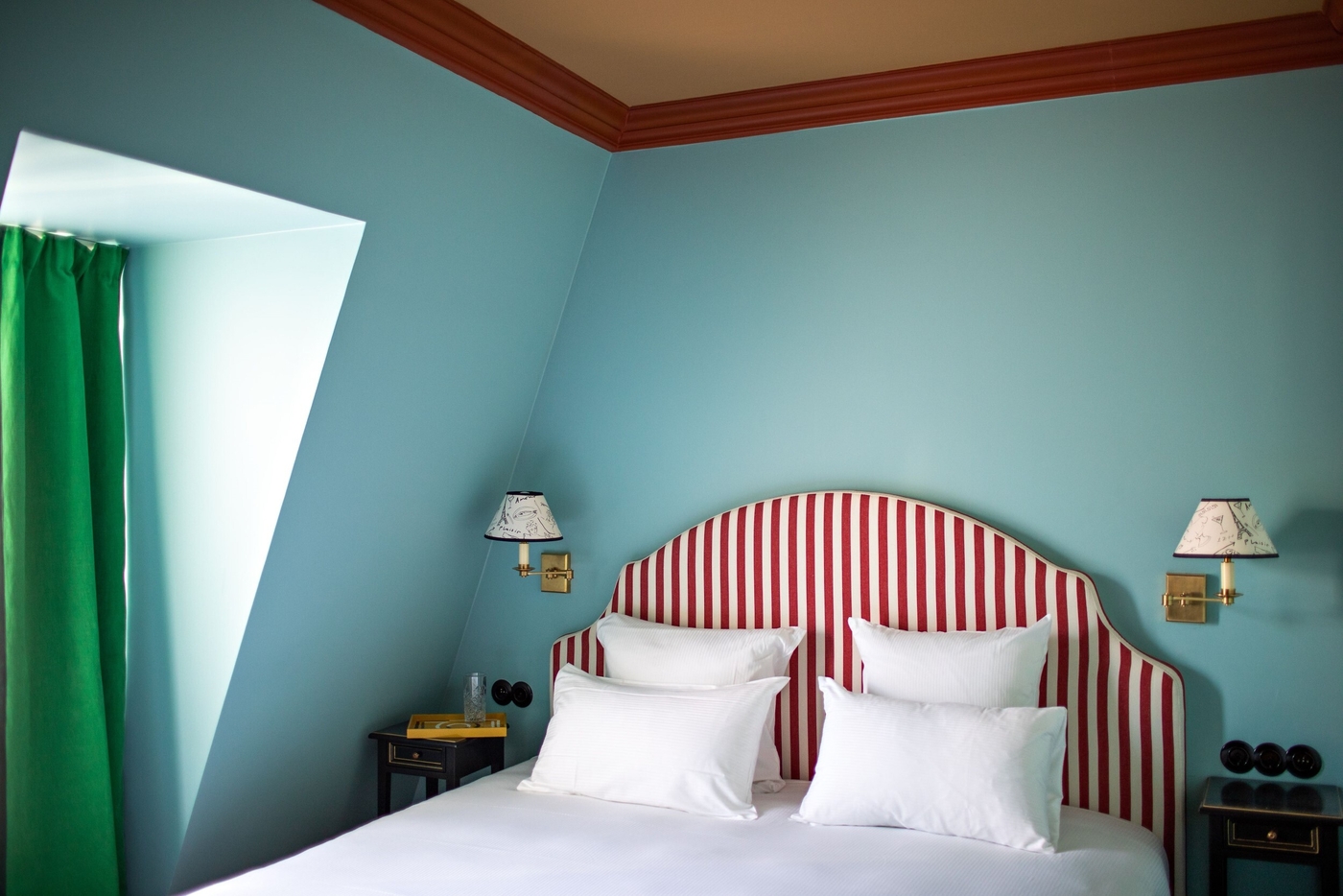 Benoit Linero, Hotel Les Deux Gares
And while this is candy to the camera, the aesthetic runs deeper than its Instagram perfection. When Adrien Gloaguen, who founded the Touriste group, and his childhood friend Antoine Raccat, came across this abandoned railway station hotel, all tiny rooms and flowery wallpaper, a 60s and 70s filmography immediately revealed itself, as did the name Hall. The young British artist known for his vibrancy was unleashed, freed to tell a story through a chromatic mash-up of eras.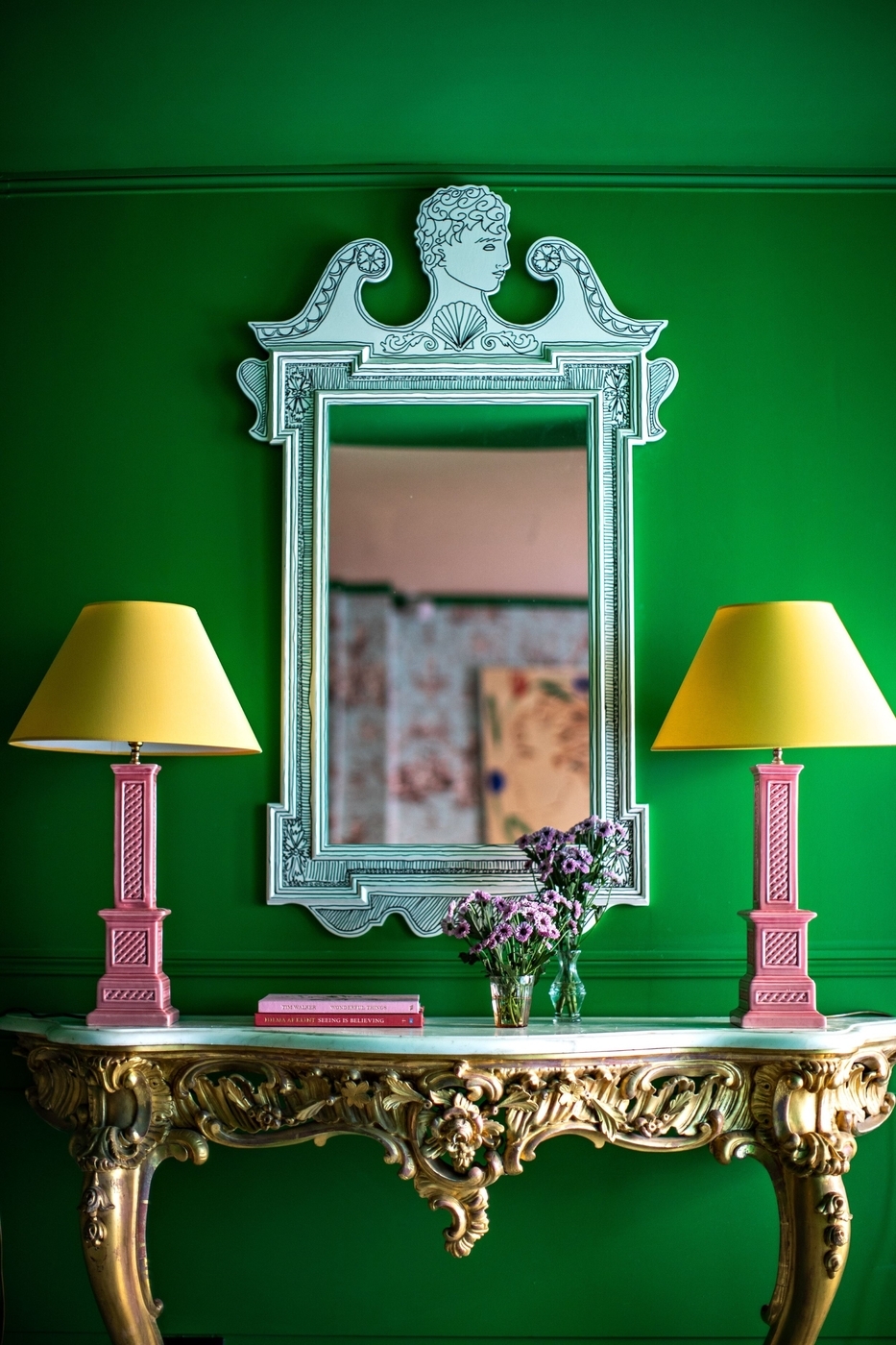 Benoit Linero, Hotel Les Deux Gares
And somehow, it not only works, it intrigues, it tantalizes, it conjures the eccentric Parisian who roamed the corners of the globe collecting anything and everything that caught his fancy. Maybe including you.
2.

Hotel Providence

Wouldn't it be the loveliest dream to have a friend in Paris with a cozy, inviting home where you're always welcome? Where your room is as snug and decadent as a jewelry box, a plush cocoon from which to peer out your window at the flaneurs of Paris strolling past? Where you can ensconce yourself in the lobby by the fireplace, sipping champagne by flickering candlelight?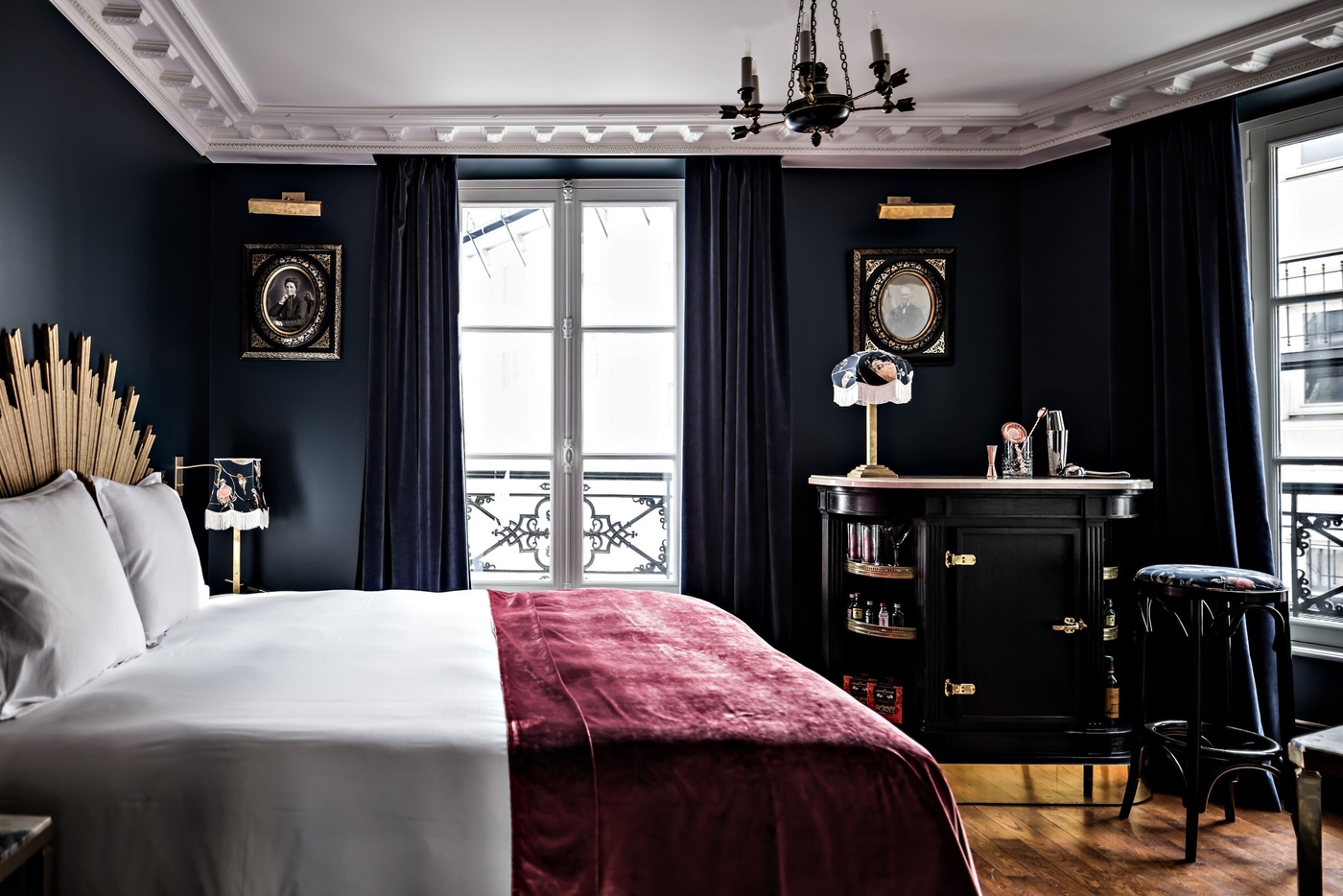 Welcome to Hotel Providence, where you'd be forgiven for thinking you lived in a past life, one that, happily, you can return to. The spell is cast the moment you exit the car onto the cobblestone street outside the warm white 1854 building. Step into the lobby, all warm woods and vintage leather, velvet wall-coverings and oil paintings. You're in Paris yes, but your friends here have channeled an English country home on the ground floor.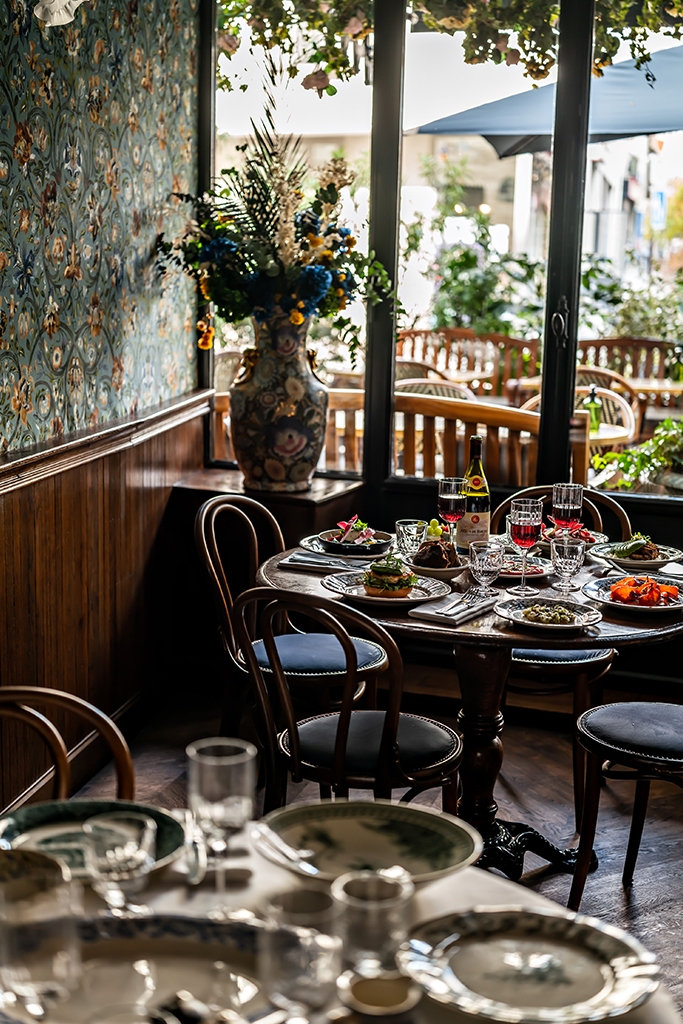 You'll want to linger in the lobby with its alluring burble of French conversations at the bar and restaurant, but your chamber awaits. No matter which you'll claim for your too-brief stay, you'll be enchanted by the sumptuous in-room cocktail bar, ever-so-glamorously dark and moody palettes, and details like fringed lamps, luscious gold and brass accents, and … is that carpet on the walls?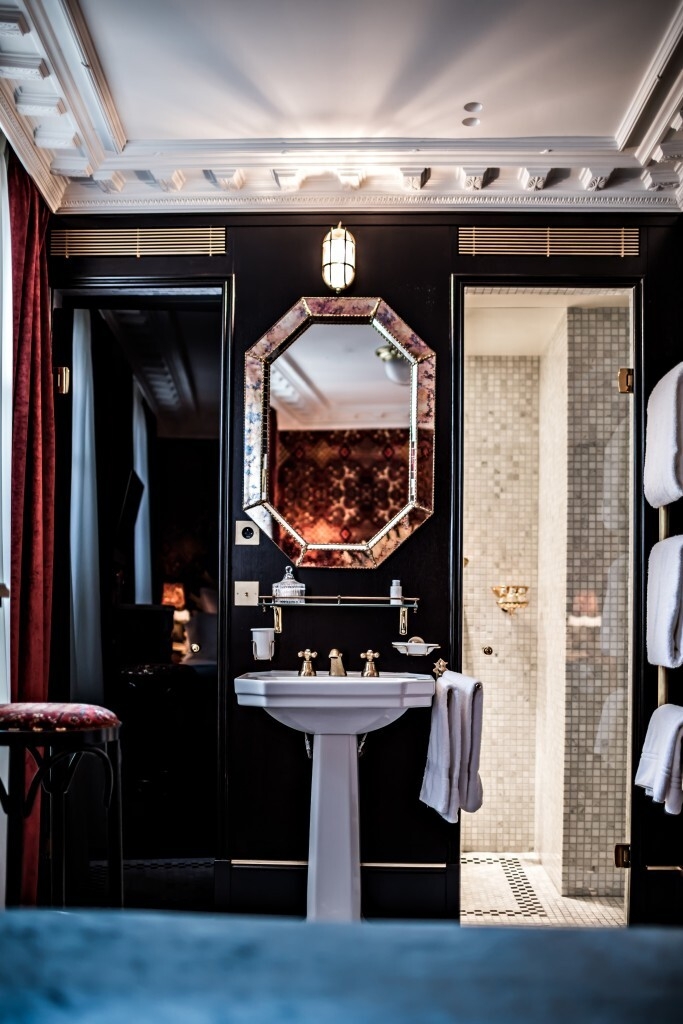 It seems rather impossible that the creators of this magic are not designers by profession, but by passion. Owners Pierre Moussié and his wife Elodie, along with friend Sophie Richard, envisioned a retreat for travelers in the heart of a Parisians' neighborhood, hidden just off the beaten path near the happening Canal Saint Martin. With their exacting eye and a razor-sharp insight into their guests' wishes they've manifested your dream of a home in Paris.
3.

BABEL Belleville

On the fringes of the spirited village of Belleville, hidden off of a graffiti-emblazoned alley, a secret treasure awaits the intrepid voyager. Inspired to "create a place like a memory of travel," says Daphné Desjeux, an interior designer of hotels, she has painted an ethereal vision at BABEL of "an old house of an adventurer's family, with whitewashed walls, antique furniture from India, lamps and chairs found in flea markets, and magnificent travel photos printed on beautiful grained paper."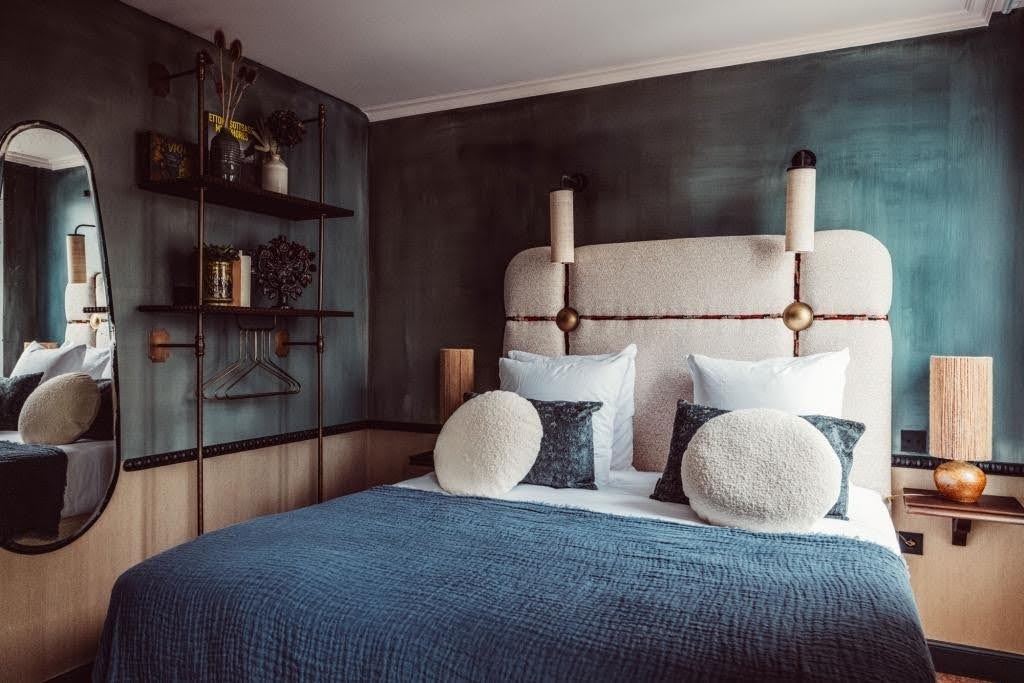 Once inside this artfully weathered space, a wanderluster's soul may take the free rein. "I am no more a decorator than someone who seeks to create emotions," Desjeux says, and indeed, emotions flicker and blaze, igniting inspiration amongst the guests. A writer's story may come to life as they scribble in the dining room under the fringed canopies, an artist's next creation may be borne with each sip of mint tea on the lively sidewalk cafe.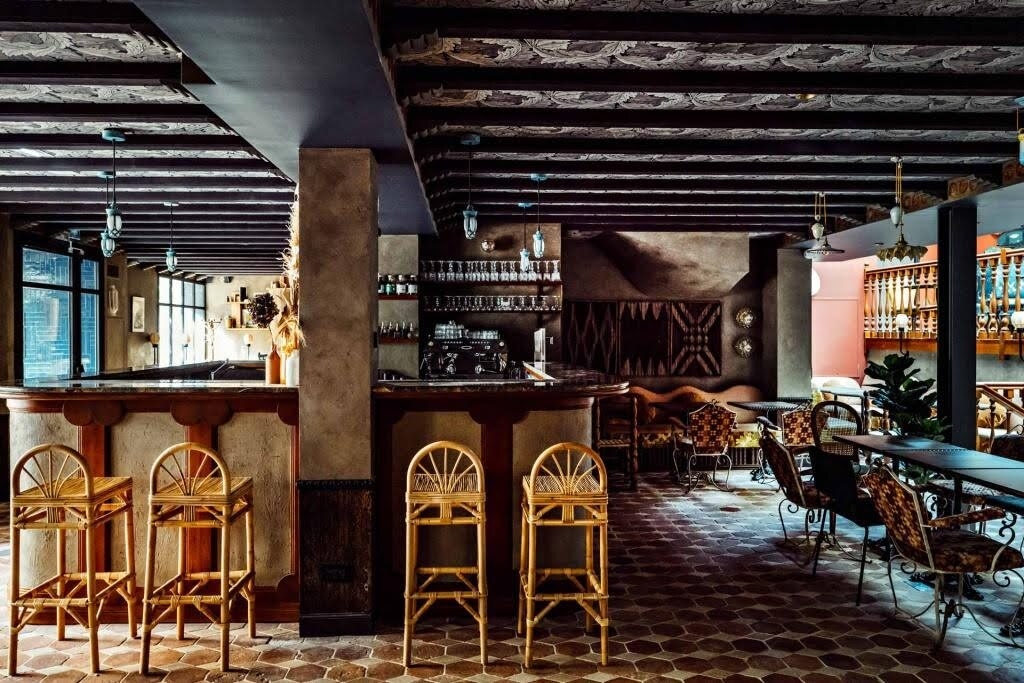 Blissfully free of screens and drenched in the romance of the faraway unknown as BABEL is, you could be anywhere and any time - your imagination is the only constraint. Picture yourself overnighting in the Sahara decades ago, maybe, or traversing the Silk Road in the past century.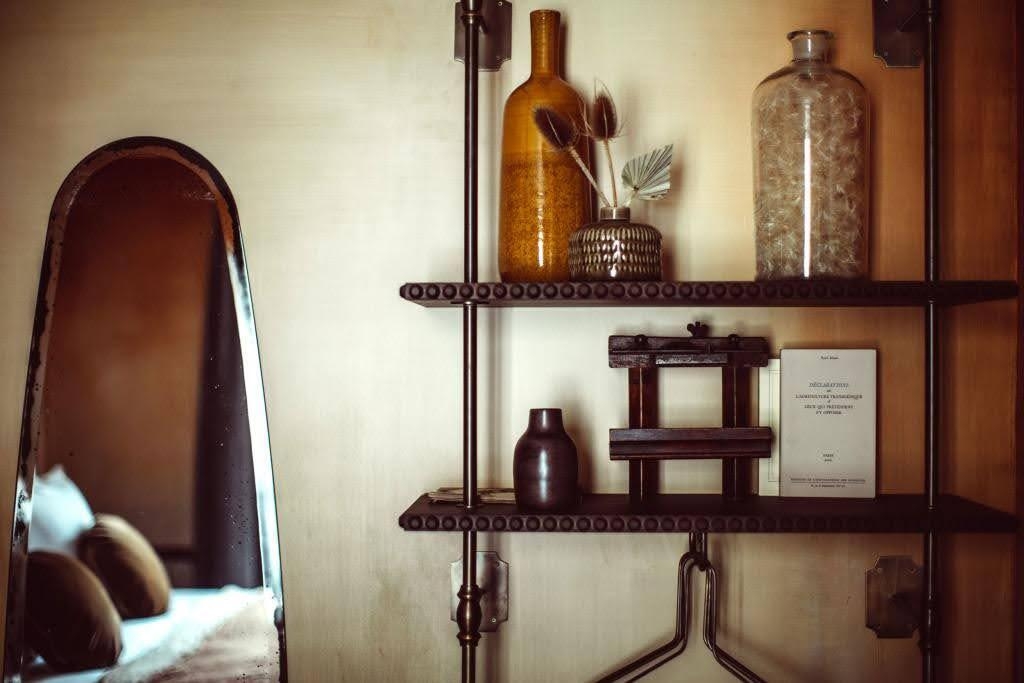 "Inspired by the ends of the earth and the next street down," BABEL may be a melange of the flavors, scents, and textures of the globe, but is at its heart, Paris - and Belleville - distilled. A Paris that may be unknown to the casual visitor - and a Paris that is now yours.