A makeup vanity is a must-have piece of furniture for those who take care and pride in applying makeup to look their best. These products come in different shapes, designs, and colors. You can choose between a luxury white vanity or a contemporary, jet-black design, depending on your home design aesthetic.
Before you buy your makeup vanity, it's essential to consider where you're going to put it in your home. Here, you'll find six key factors to consider when finding the perfect place for your makeup vanity.
In Front of a Window
When it comes to applying makeup, it's no secret that natural light creates the best setting. It provides the most definite, realistic representation of your face, allowing you to adjust your shading accordingly.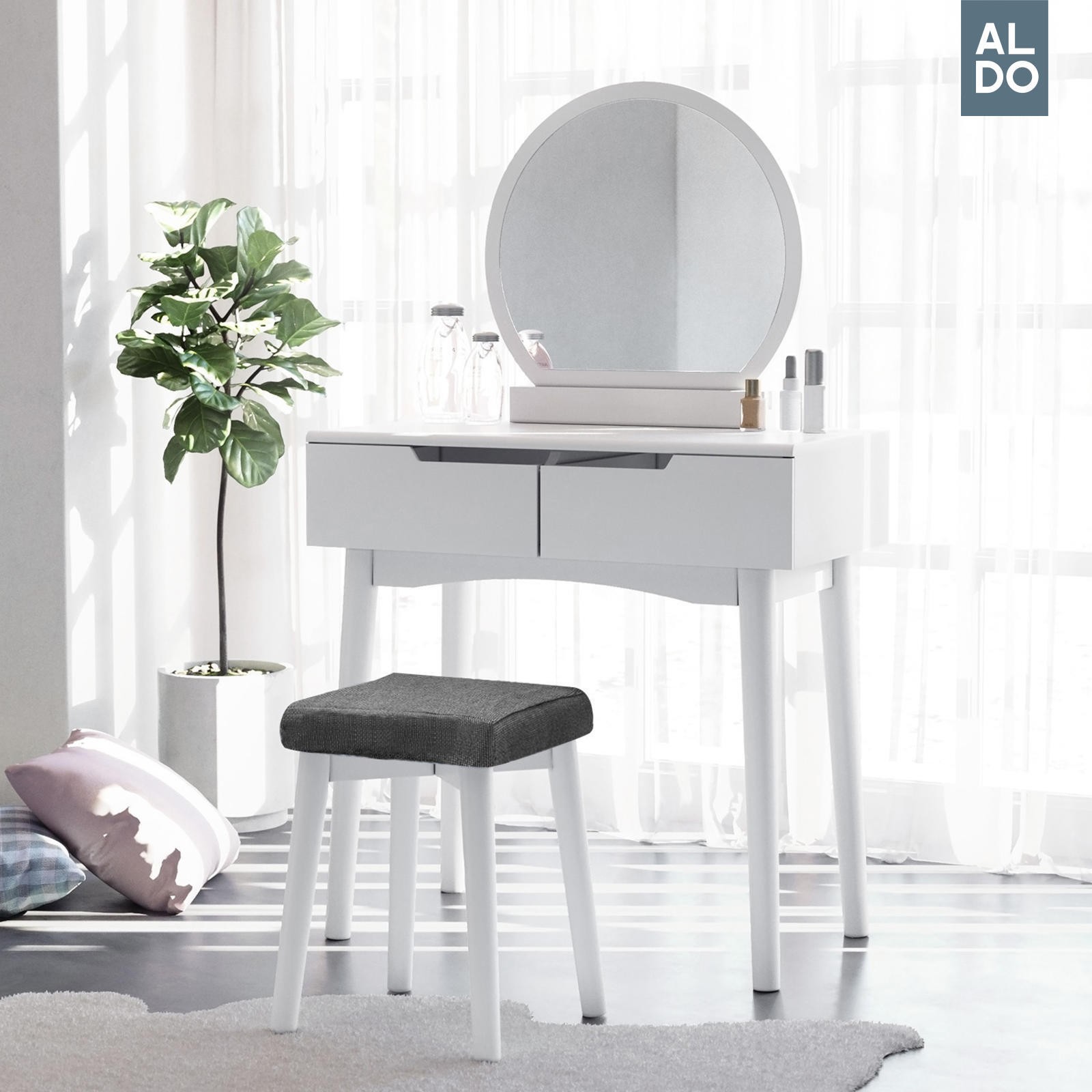 Ideally, you'll want to put your makeup vanity in front of a window: this ensures you get a supply of natural light that distributes evenly across your face. Try to place the vanity centrally in front of the window: if it's off to the edge, you'll get some misleading shadows on your face's far side.
It's a great idea to opt for a vanity with a removable or portable standing mirror: this means you can move the mirror around on the tabletop to ensure you're getting optimal exposure to the sunlight coming through your window.
If you want to put your new makeup vanity in front of your window, don't go for one with a backboard or an oversized mirror: these features will cut off the natural light from reaching your face.
It's best to invest in a daylight light bulb for vanity tables too large to fit anywhere near or in front of a window. These bulbs emit a color temperature range between 4500K to 6500K and provide a sustainable glow that mimics natural daylight.
If you want to put your vanity beside the window in your bathroom, fix some dimmers onto the ceiling lights. These devices lower the light's overall harshness in the bathroom so your face looks more natural in the mirror.
In a Cabinet or Walk-In Closet
It's usefulto keep your makeup in a cool, dry, and dark place because most types of skincare products will lose their effectiveness if they're exposed to direct sunlight and high temperatures. UV light can disintegrate the active ingredients in certain cosmetic substances, rendering them useless. Moisture will also adversely affect these products as condensation breeds mold on the surface of unsealed items like soap, bath salts, and makeup. It's best to keep your entire makeup vanity at a temperature between 45-60℉, although a consistent room temperature of between 68-77℉ is sufficient.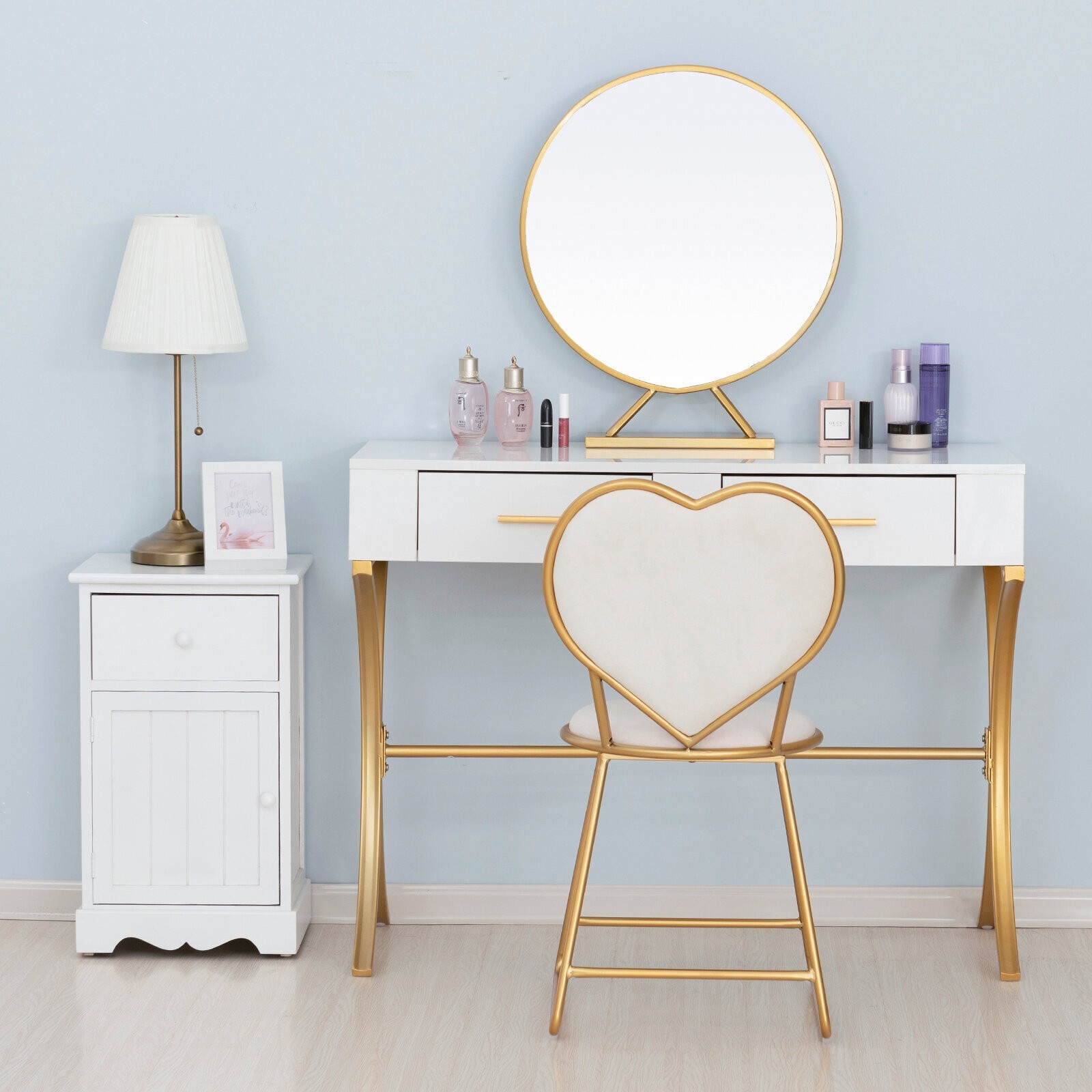 To maintain a consistent temperature and humidity level, keep your vanity in a cabinet or walk-in closet. These areas are neither too humid nor too bright; however, you may need to install additional lighting or purchase a vanity with a lighted mirror. This feature will help you to apply your makeup successfully.
It's also a good idea to choose a vanity that has a large storage capacity, with plenty of drawers and shelves. This allows you to keep your skincare products in the dark, protecting them from harmful UV rays.
Away from Radiators
If you leave any skincare and cosmetic product in a place where it's susceptible to constantly changing temperatures, it will lose its structural integrity. A sudden increase in heat will soften the item, while a rapid cooling will harden it. These quickfire changes to the product's molecular composition will ruin its performance.
It is essential to keep your makeup vanity away from radiators and fridges: you don't want to damage all your skincare products before you've even used them.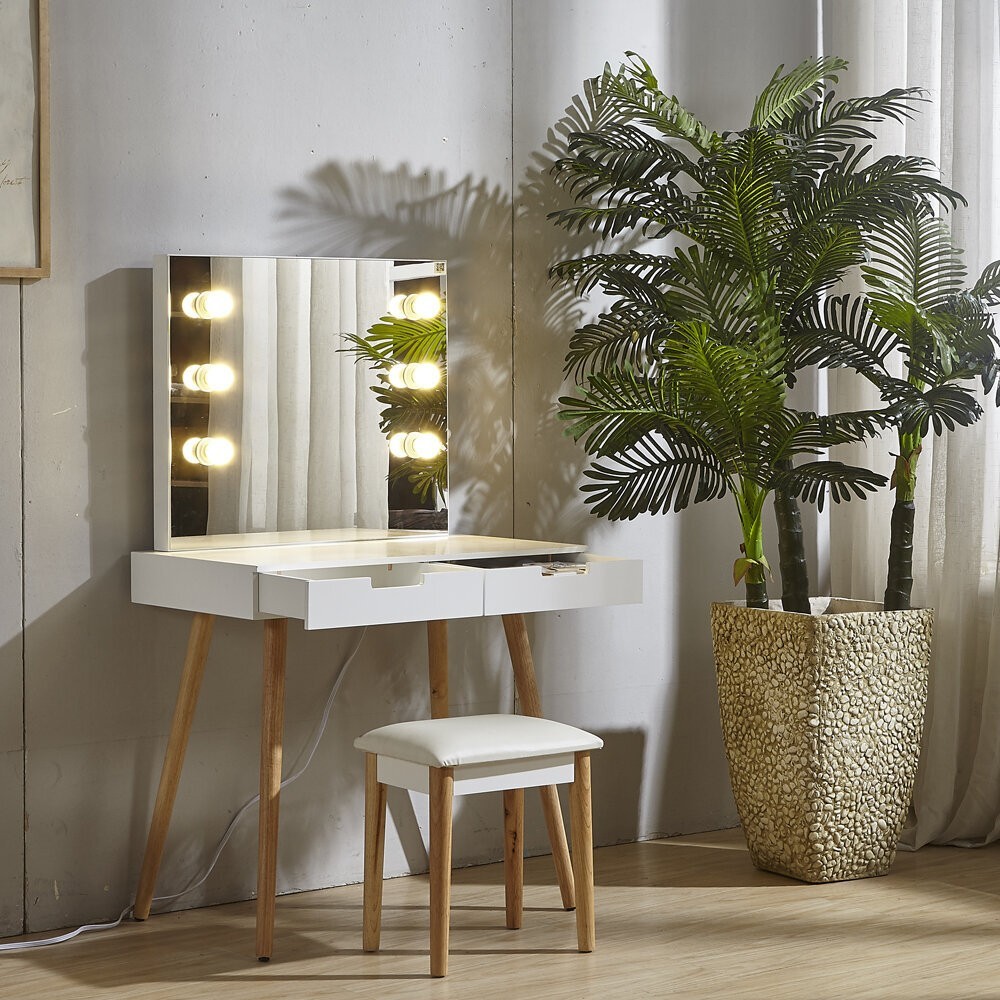 If you're worried about radiators affecting your skincare products, then invest in a vanity that's compact and ergonomic: a small corner vanity is an excellent option if you're looking to keep the furniture piece away from your room's heat sources. These designs tend to take up less space than other vanity options and can slot right into the corner of your room and out of the way.
Beside Your Bed
If you've got a tiny bedroom, it's a great idea to put your makeup vanity right next to your bed. This placement means that it can serve multiple purposes, from makeup vanity to study desk to bedside reading table.
Bedside makeup vanities tend to be smaller than other vanity models, and they often contain an assortment of ergonomic features. Some have flip-up mirrors so you can convert them into a simple bedside table whenever you want.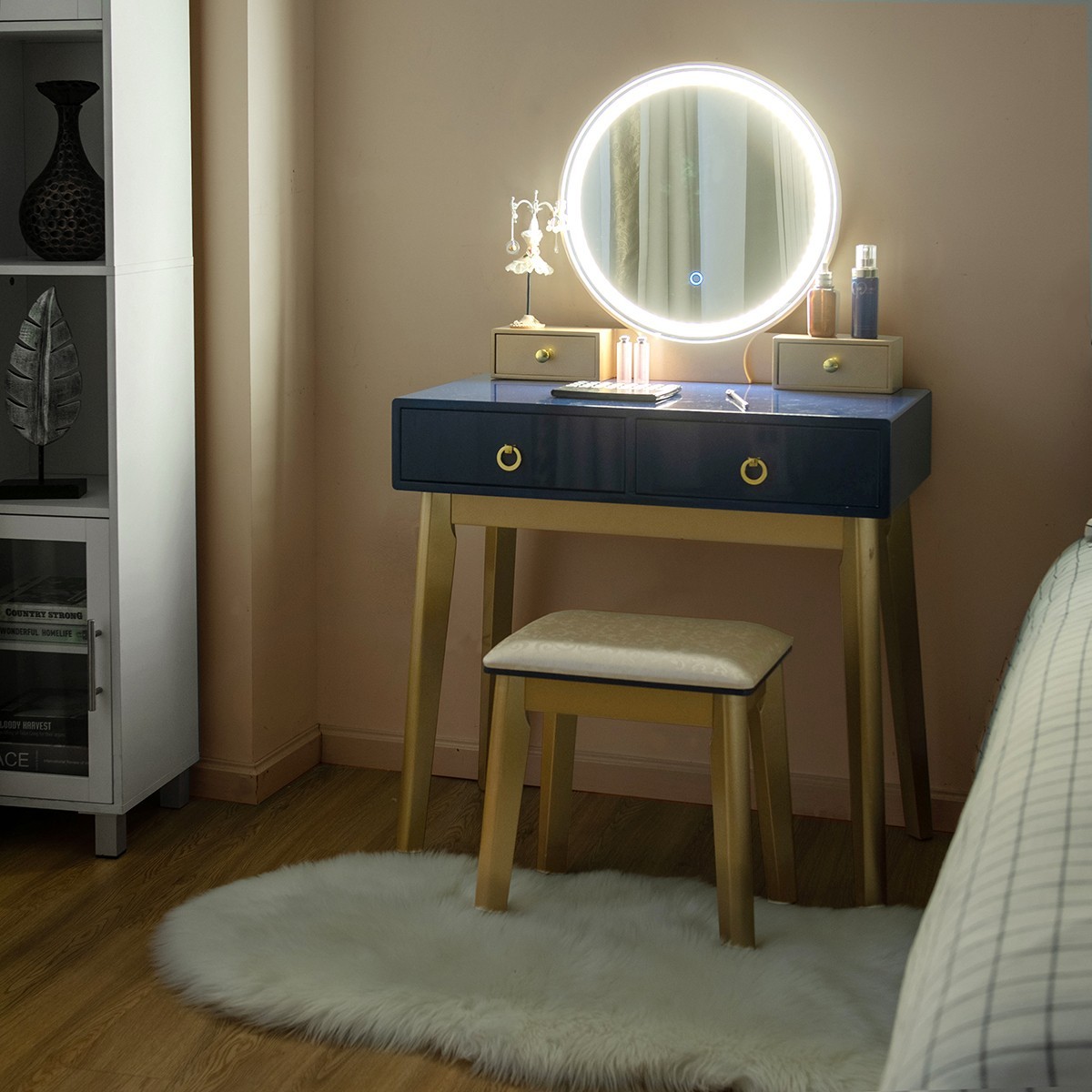 You can also use bedside vanities as a desk. But make sure you're investing in one with plenty of leg space underneath it so you're not cramped and uncomfortable while you work.
At the Foot of Your Bed
If you've got a small bedroom and want to make the most of the space, put your makeup vanity at the foot of your bed as the mirror will create a sense of space in your room. The mirror's reflective properties bolster your room's brightness by distributing light to make your bedroom seem bigger.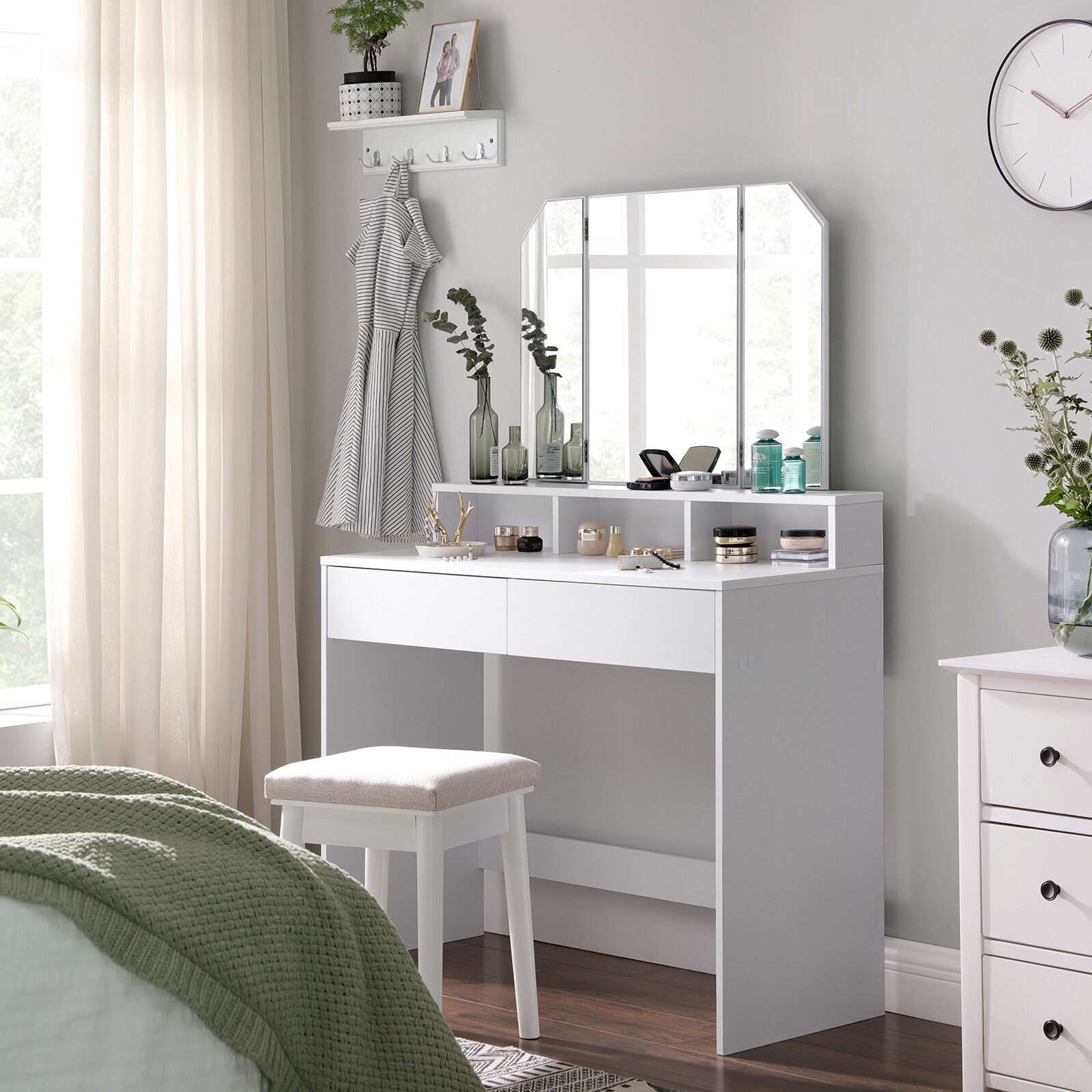 If you put your makeup vanity at your bed's foot, you're positioning the mirror in a prime place to apply your makeup each day. You'll also be able to look in the mirror first thing in the morning and last thing at night as you go to bed.
Between Other Furniture
When space is an issue, but you still want a luxurious dressing area, try placing your makeup vanity between your wardrobe and dresser drawers. By lining your bedroom furniture up along the wall you not only make the most of your floor space, but you allow for easier movement around the room.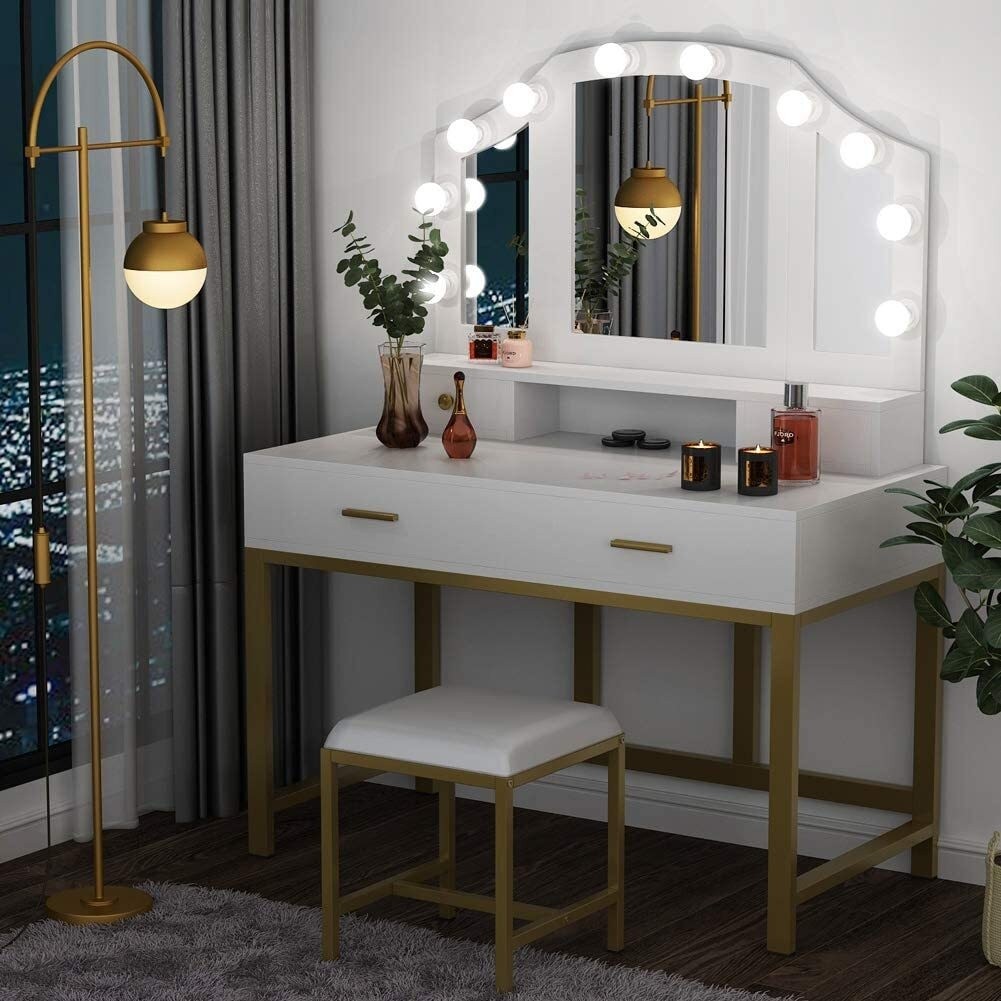 The Last Word
There are many things to consider when buying a makeup vanity, not least where you're going to put it in your house. When picking the best place to put this new piece of furniture, it's essential to consider the type of light you'll be getting and the intensity of the surrounding temperature.
You should also think about how much space you have available in your room, and whether your vanity will be near a fluctuating heat source.