Practical and sophisticated, makeup vanities are perfect to upgrade your morning routine and create a special place that's entirely dedicated to your self-care!
However, because they're an investment that will hopefully stay with you for years, you shouldn't pick one randomly.
It'll be easy to spot one that matches both your needs and décor since you can find lots of different makeup vanities with lights here. However, you should first make sure that you know exactly what you can't afford to overlook.
Here's a handy guide to avoiding disappointment or returns!
Decide where you're planning on placing your makeup vanity
This is vital for two reasons: it will allow you to measure that exact space avoiding models that won't really fit and it'll also give you the opportunity to match the décor style of that room.
Makeup vanities are mainly placed in bedrooms, but there are other options that might work better with the layout or your house or with how you're planning on using it;

Having a makeup vanity in your bathroom makes it even easier to get ready after a shower. However, we only recommend it if your bathroom is very well ventilated or else you could have problems with moisture, a mirror's worst enemy. Plus, keep in mind that your makeup routine might get interrupted by someone who needs the toilet right now;

If you want to have both makeup and clothes at hand, you could consider placing it in your walk-in closet. Since these rooms usually lack windows, you'll definitely need a good makeup vanity with lights.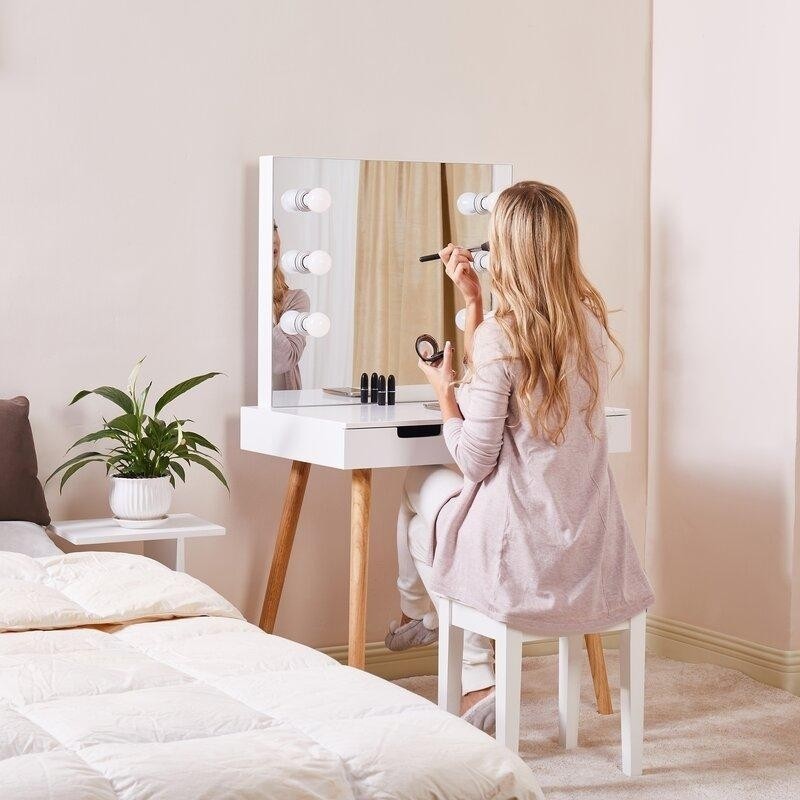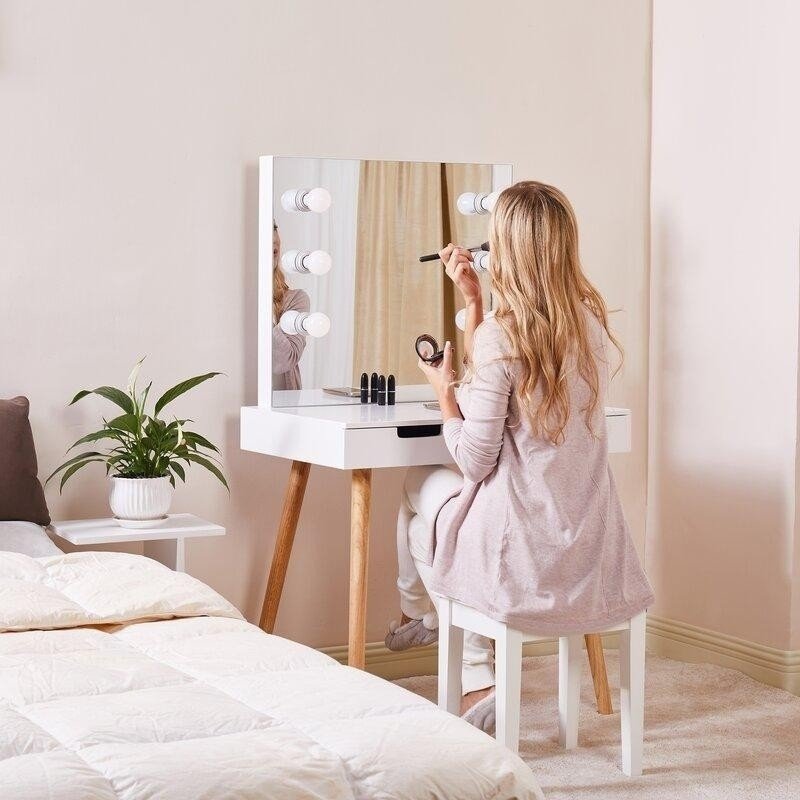 Choose between natural and artificial lighting
Natural lighting is always the best option to apply makeup without unpleasant surprises: to avoid shadows, you should place your new makeup vanity in front of a large window;

However, artificial lighting is a better alternative if you haven't got this option or you do but also want to be able to apply makeup when it gets dark. Look for a makeup vanity with white LED lights that reach a CRI of at least 90.
Our tip? Cover all your basis by choosing a makeup vanity with bulbs but keep relying on natural light during the day!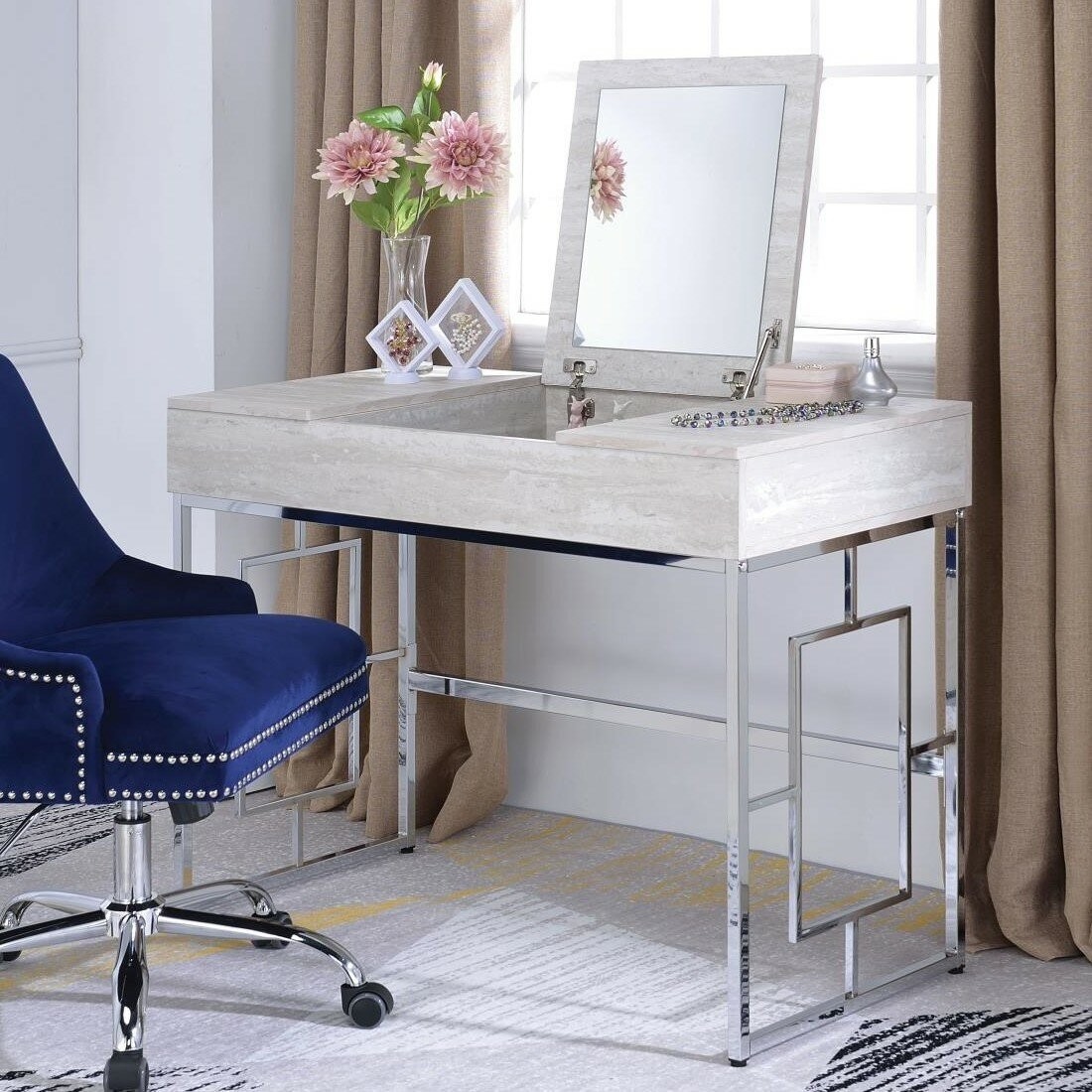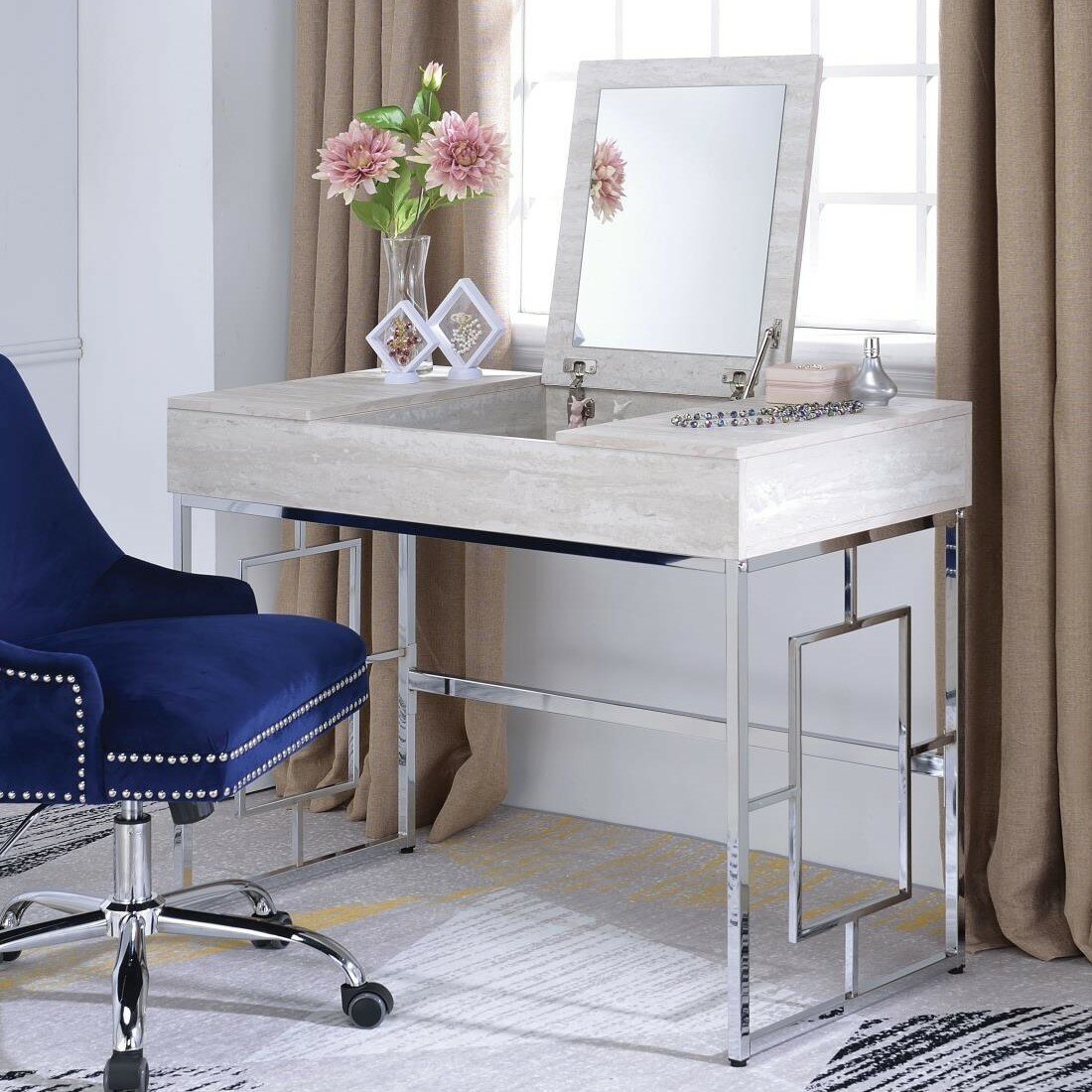 Figure out how much storage you actually need
Makeup vanities are great at preventing clutter and keeping your products well organized. However, if you misjudge how many you've actually got to store, you'll end up back to square one:
Decide whether you're going to store just your makeup products or your jewelry, hair accessories and styling tools, too;

Run an inventory of what you already own and lay out the products tidily to see how much room they require, roughly. Factor in 10-20% extra room for each type of product, since you're always likely to buy a few more;

Hair styling products can be rather long or bulky, so, if you're planning on storing them in your vanity's drawers, we recommend measuring them to avoid disappointment.
Know what type of mirror to look for
Adjustable mirrors are usually the most versatile option because they give you more flexibility and allow you to check your makeup from different angles, making the most of the light;

Standing mirrors can work too if you always have a satisfactory source of natural light or are planning on relying on lightbulbs. If space is not a problem and you'd rather be able to always check your face from three different angles, consider tri-fold designs;

If you're worried about clutter or are planning on using your makeup vanity as a writing desk too from time to time, you should opt for a flip-top mirror that disappears when you're not using it;

When choosing the type of mirror, be realistic about its size: if the rest of your furniture is rather minimalist, a huge mirror could look out of place. You should also be careful not to completely block the window if it's small and low.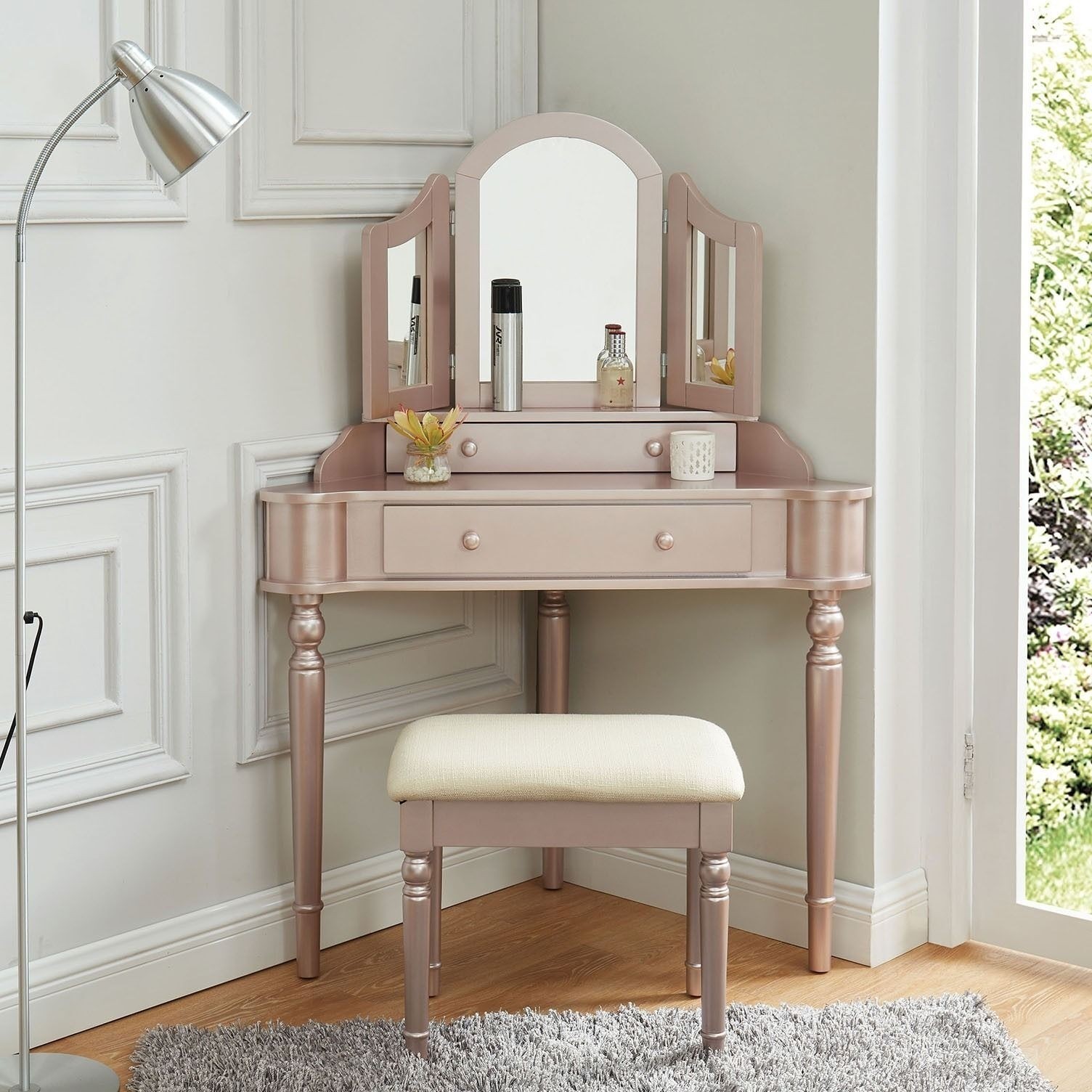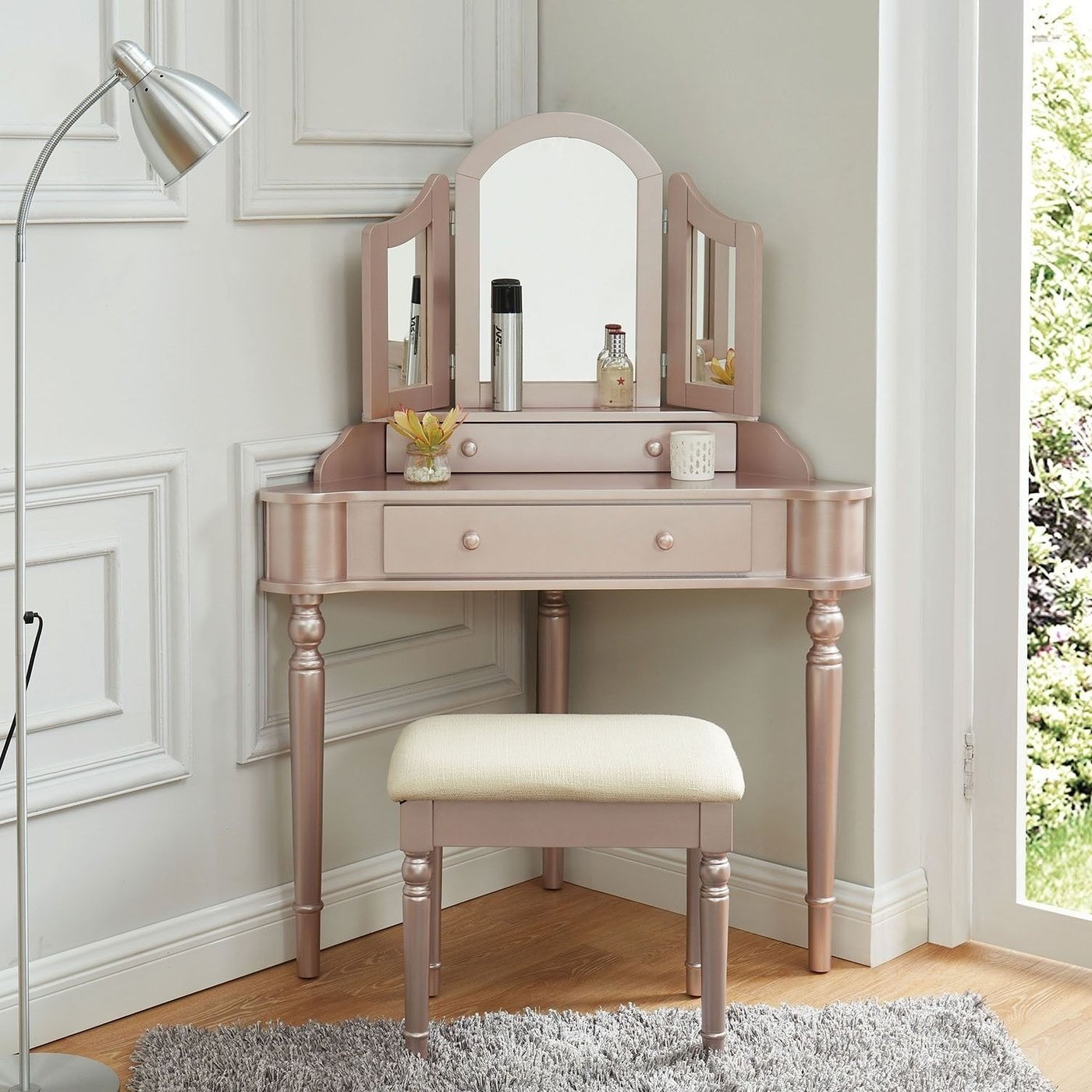 Consider the best material for your makeup vanity with lights
Most makeup vanities are made of wood, but to be on the safe side, we recommend looking for a non-porous surface (a real lifesaver when you spill something onto it!);

Mirrored designs are a more modern option that can help you make your small room look bigger, but they could be a hazard if you have young kids running around. While they're easier to clean, you'll need to wipe them much more often to avoid fingerprints.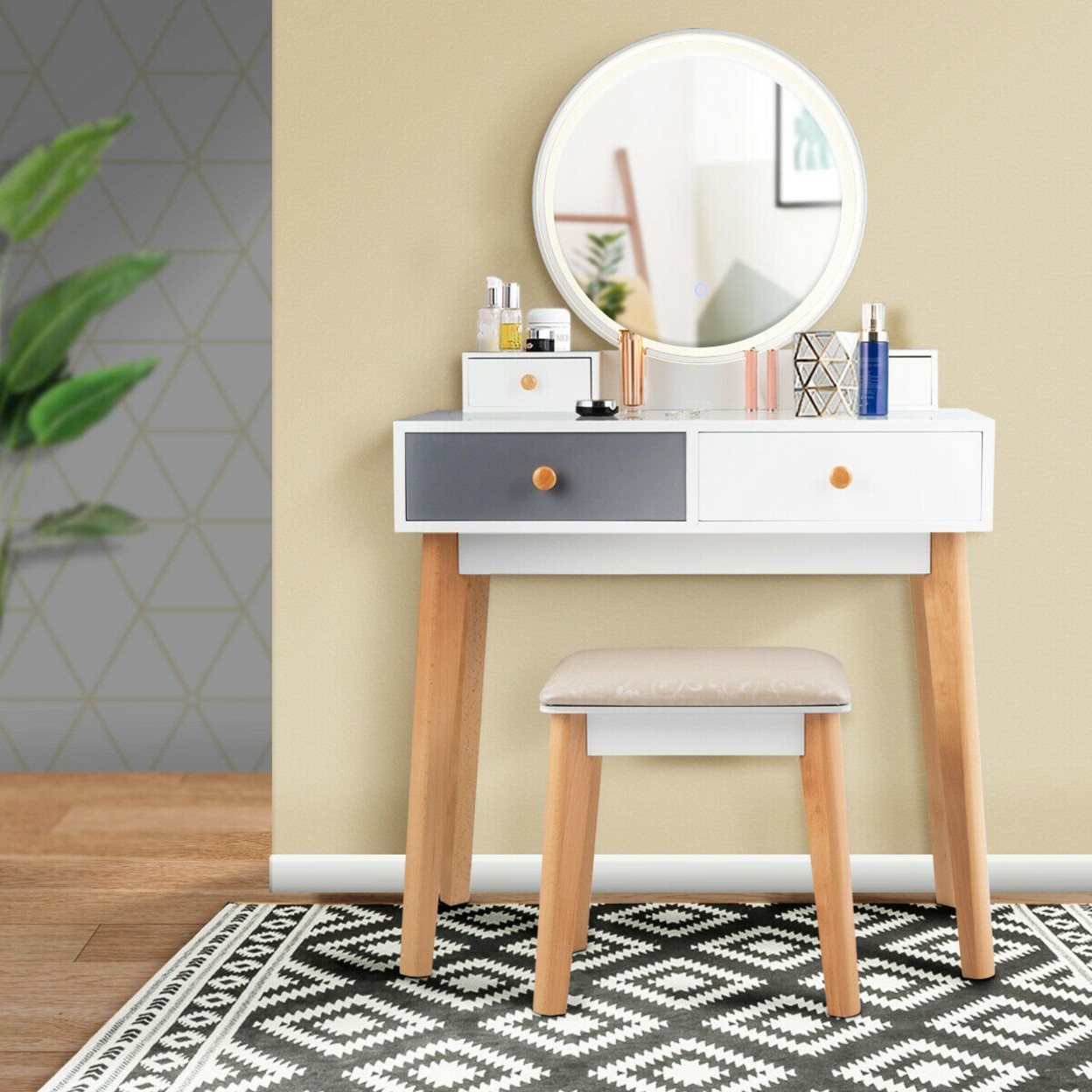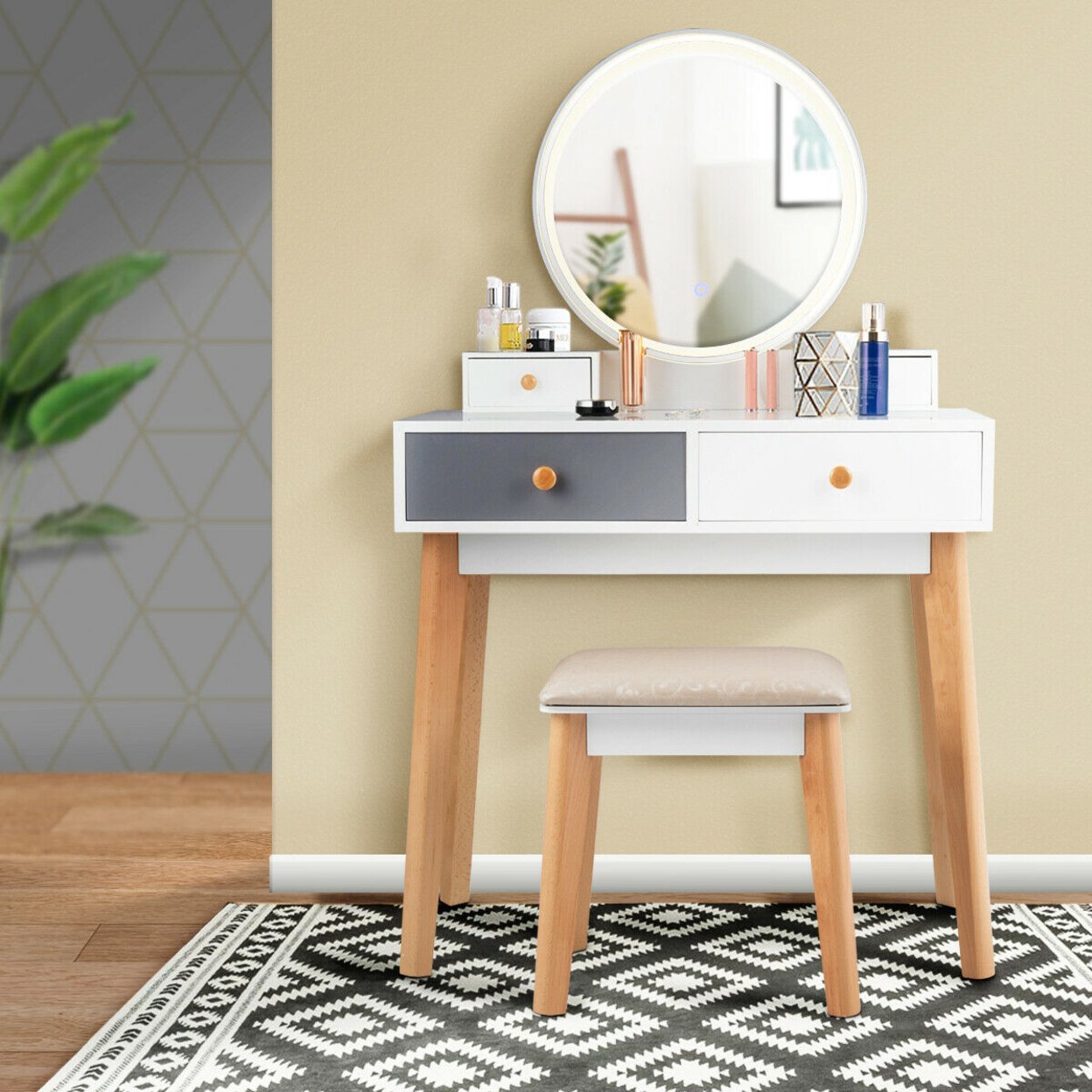 Don't forget about the stool for your makeup vanity with lights!
Most makeup vanities come with a stool that can be placed underneath the table, but not all of them. Unless you already have a chair that you can use, make sure that one is included in the model you're after;

When looking at sizes, don't forget that you'll need to add a few extra inches to the depth of the model to be able to pull out the stool and sit on it comfortably;

Ideally, you should look at a stool that's both comfortable and easy to clean, such as one with a leather or vinyl top or with a removable washable cover.