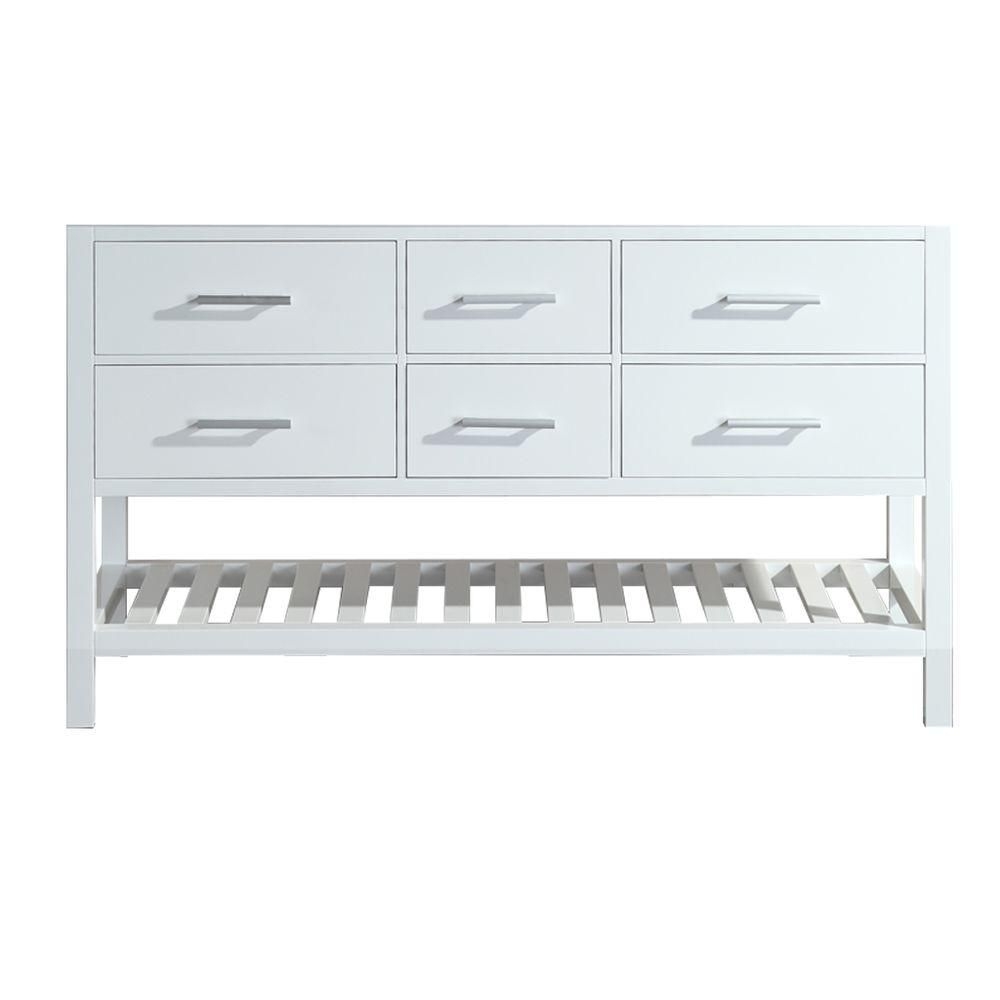 London Double Sink Base Vanity Cabinet Base
This vanity cabinet in white finish is characterized by solid wood construction. Includes 2 flip-down shelves, 4 fully functional drawers with wide handles, and 1 slatted shelf. Accommodates 2 sinks.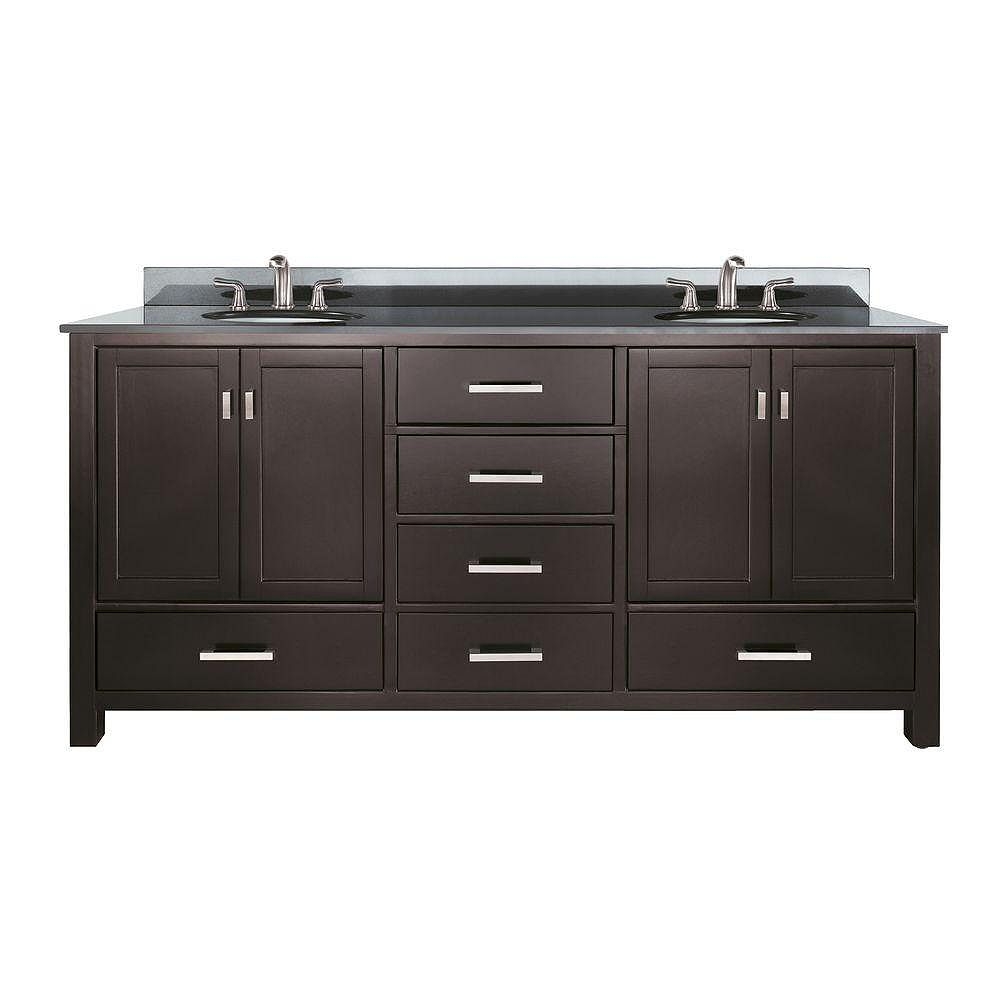 Modero 72" Vanity Base
This beautiful vanity base set of furniture under the sink is a stylish design element for your bathroom. It has many practical cabinets and drawers for necessities, toiletries or towels. Elegant finish delights.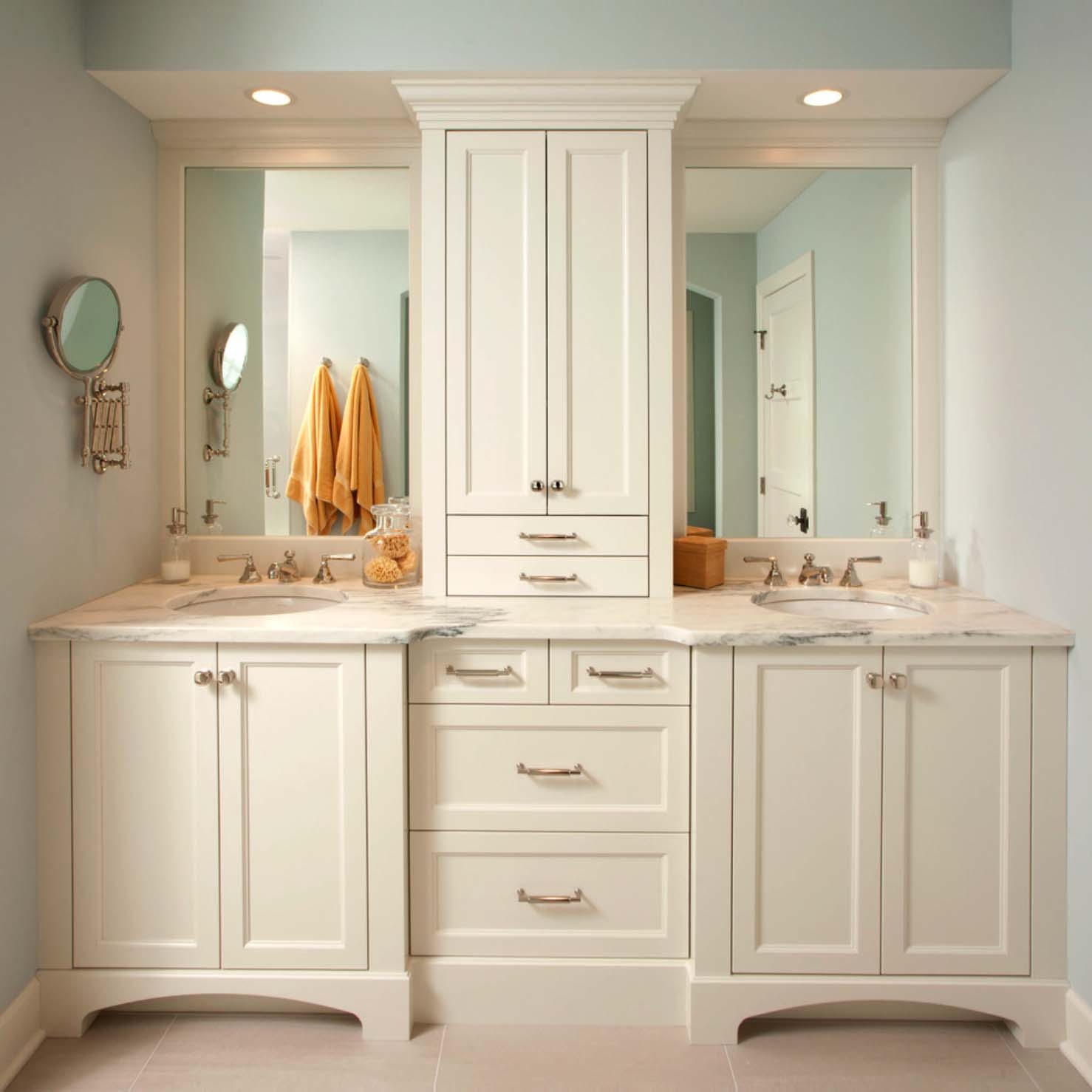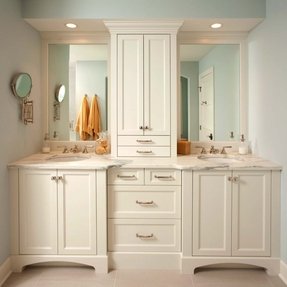 Vanity sink base with a durable wooden construction finished in white color. It features two sink areas and three compartments. This set also includes six storage drawers with metal handles and two rectangular mirrors.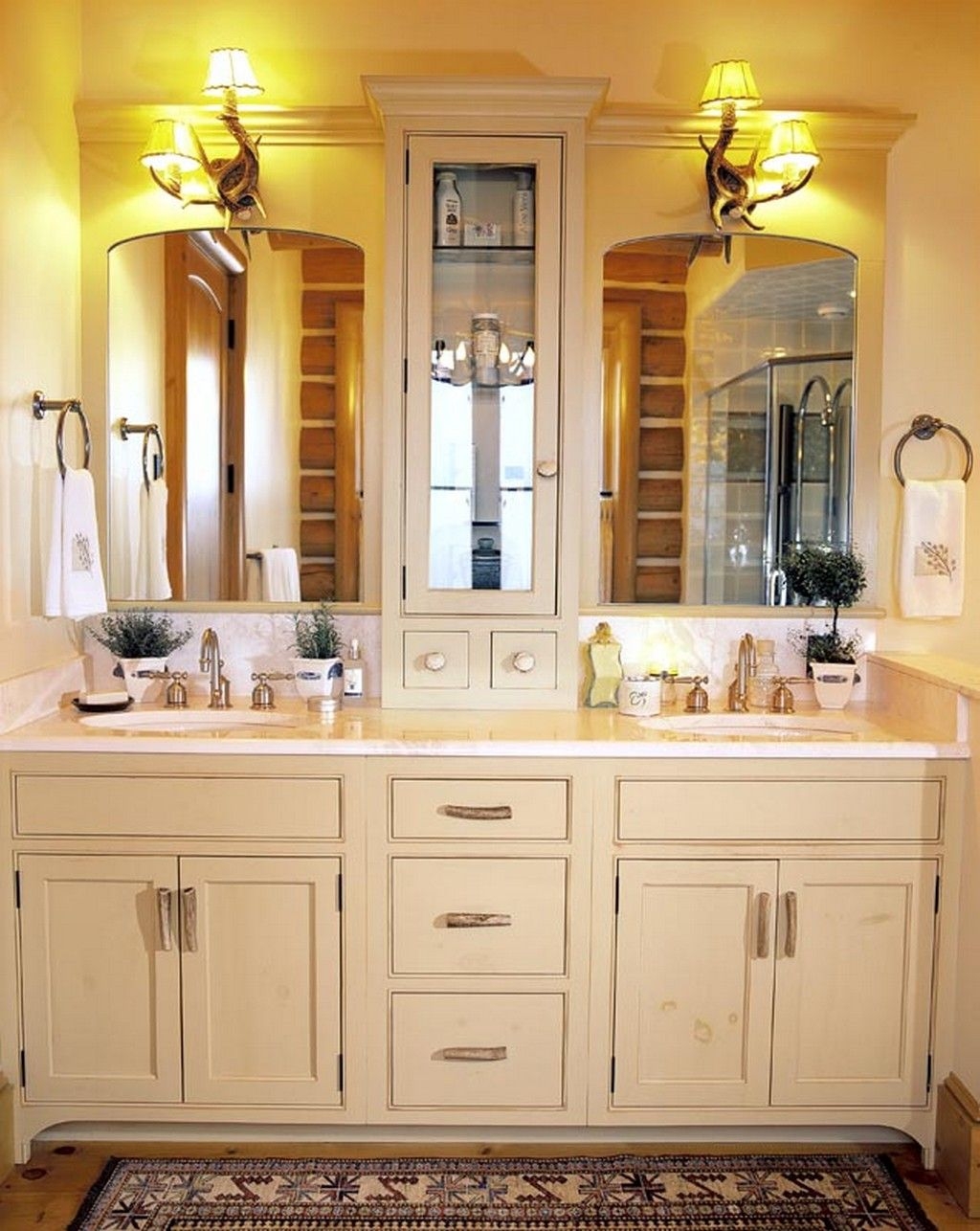 Such a beautiful, traditional setup for a master bathroom, very classy and elegant. I really like the mirrored, symmetrical design of the vanity cabinet and the appliances. Great if you love harmony.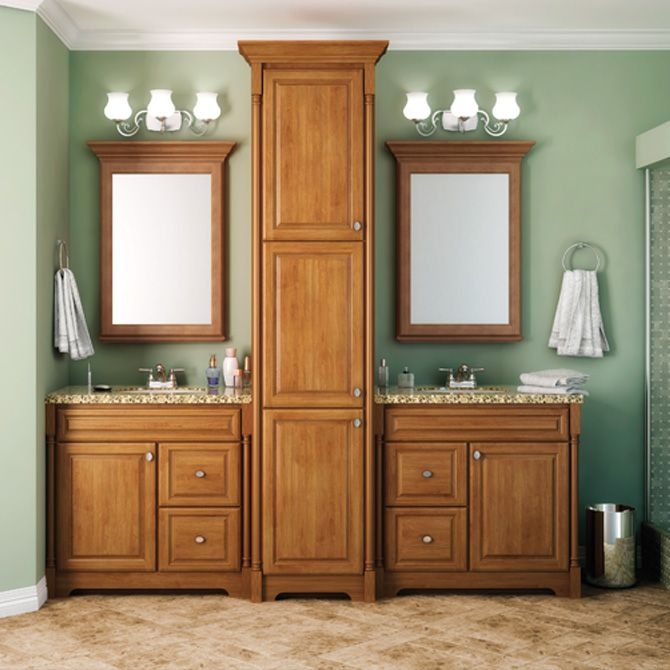 Double vanity unit comprised of two separate vanity bases; each one comes with individual sink; the vanity bases are separated with a tall cabinet unit. Separate mirrors, towel racks and wall fixtures add to the feel of independent units.
Or, I could use the dresser colour on the walls and bring in mustard with bedding/curtains/accents.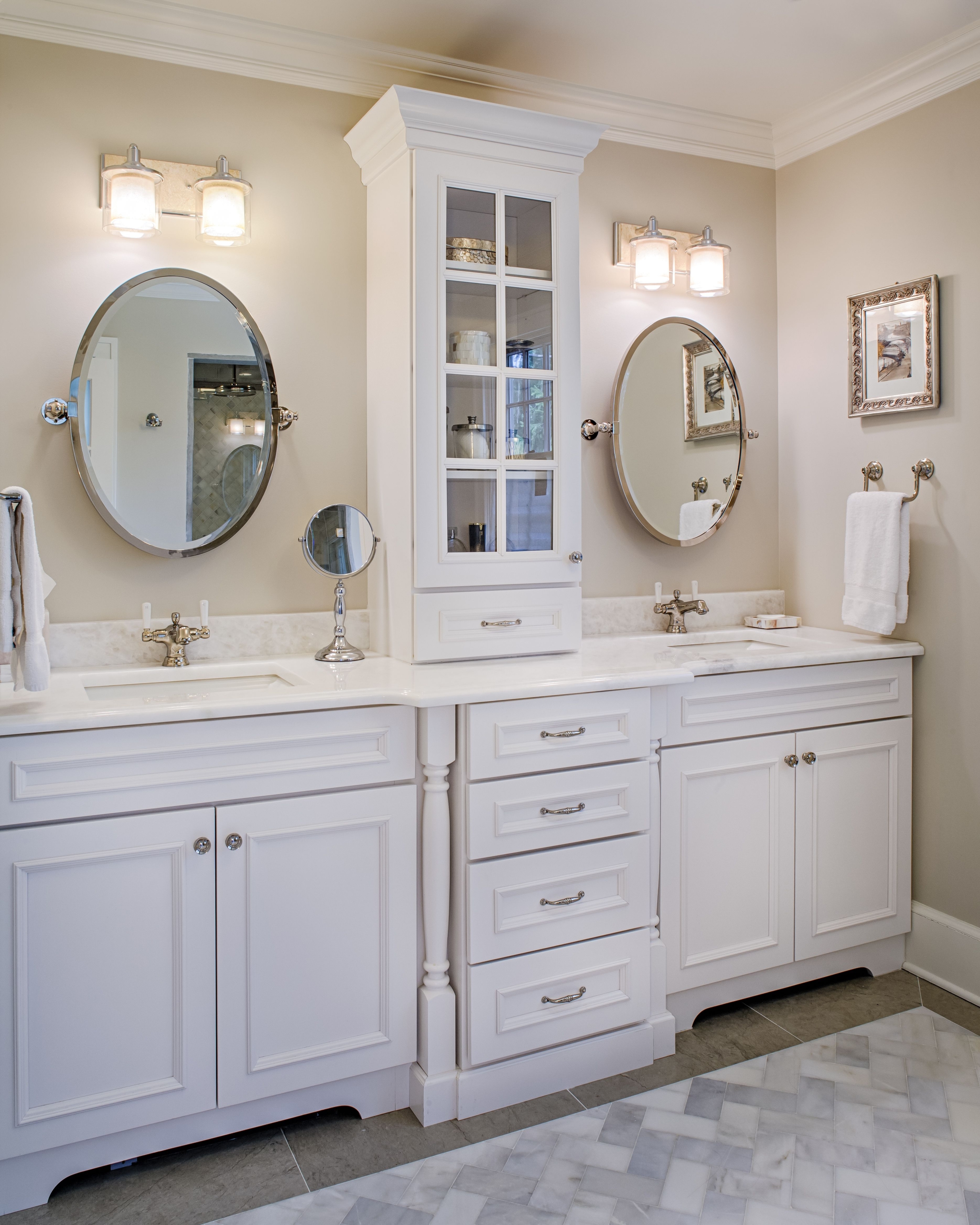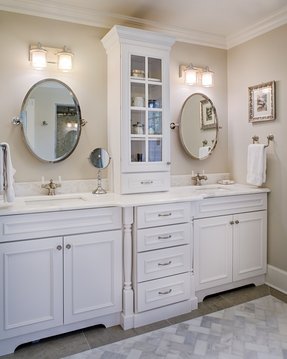 Double bathroom vanity with storage drawers and cabinets. Wooden construction is finished in neutral white color. Classic stylization looks very good in any bathroom design. These cabinets are paired with two oval mirrors and a storage tower with glass doors.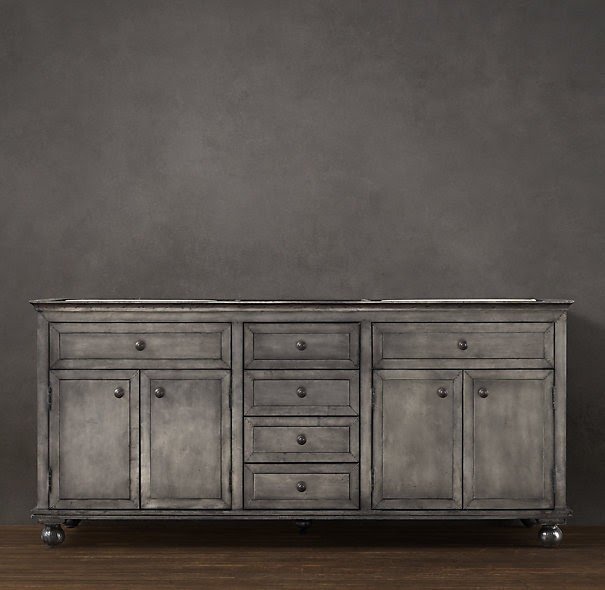 Zinc Double Vanity Base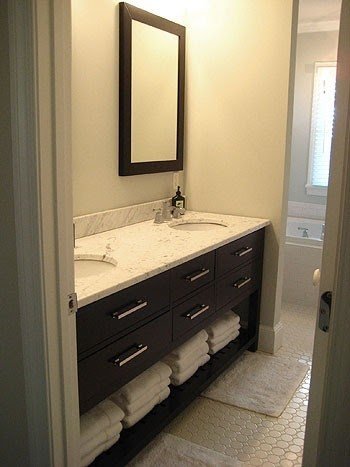 dark cabinetry with marble surface, hexagonal floor tile, subway tile on bath tub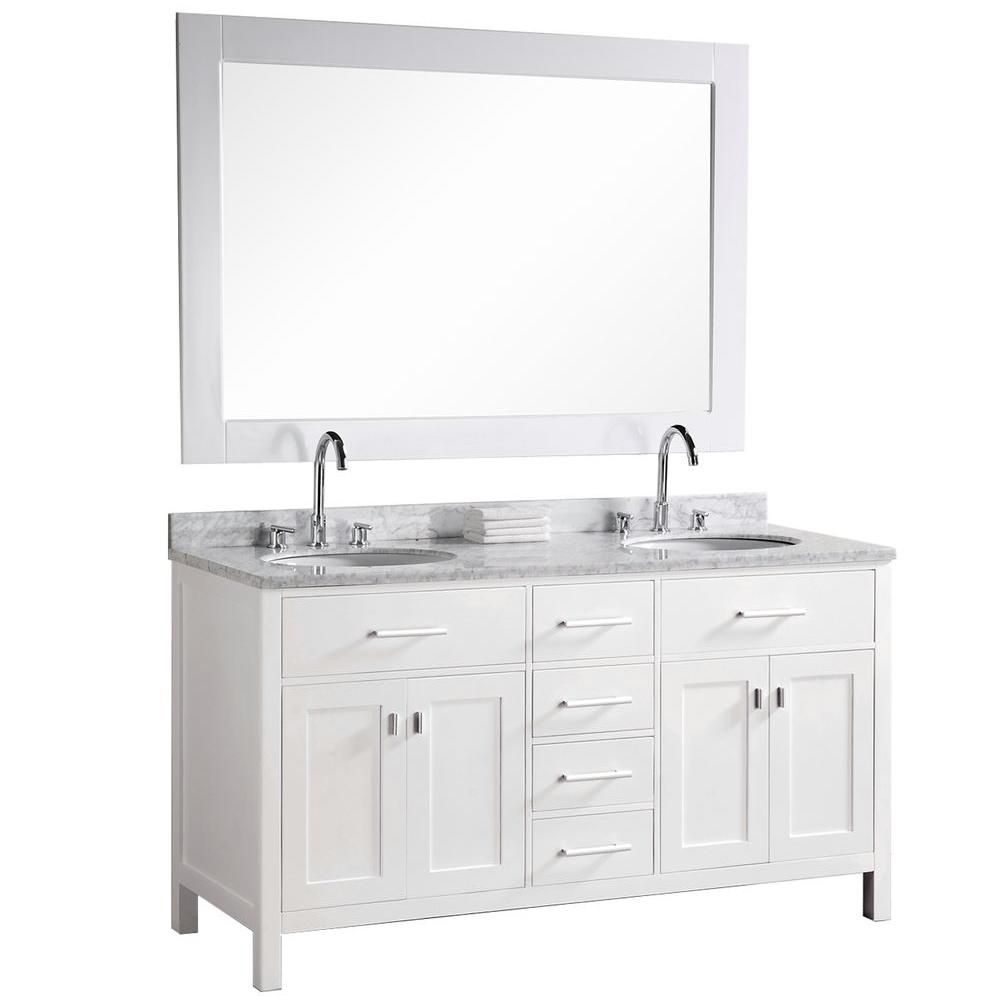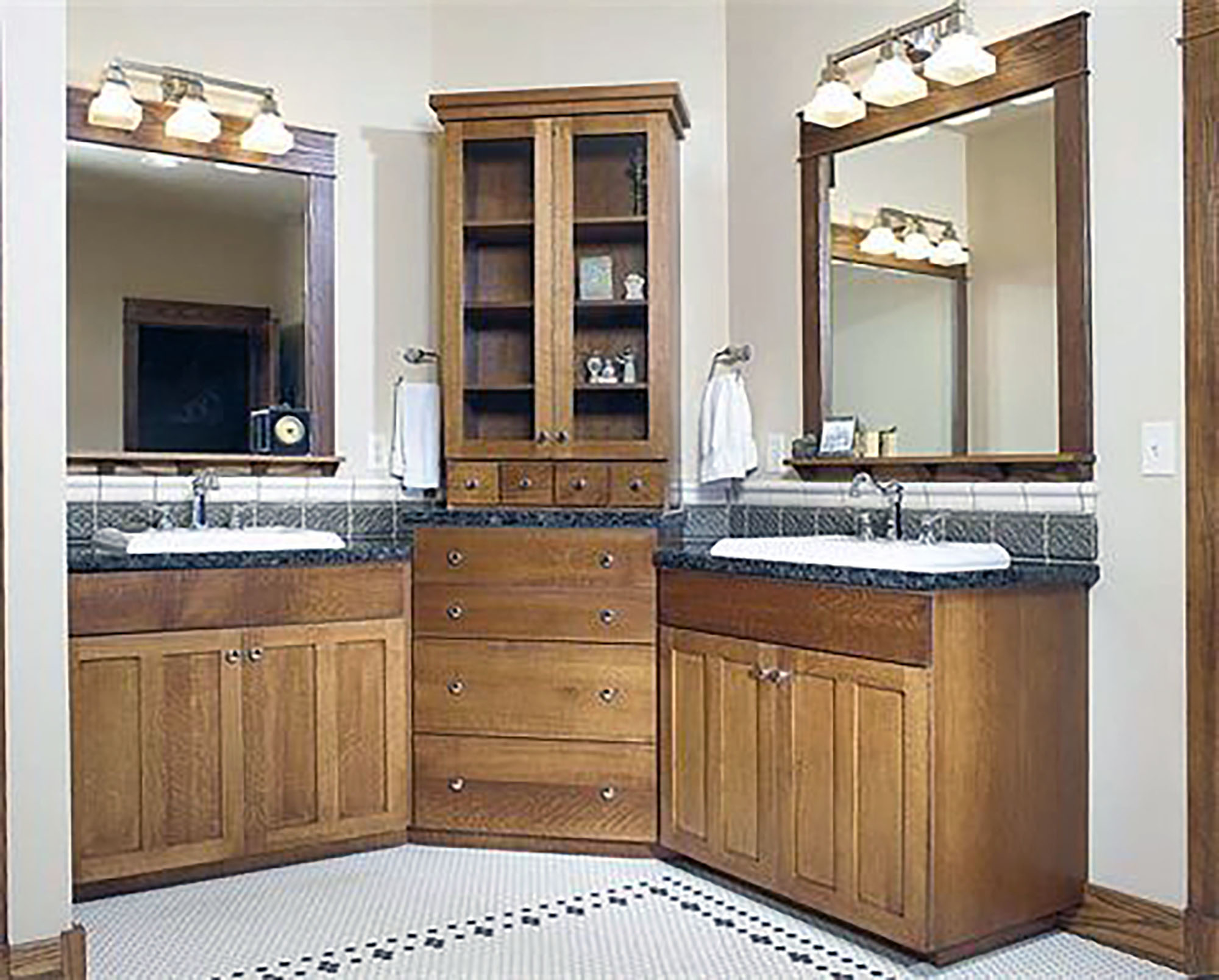 Double vanity base cabinets are a way to queue up in the toilet. This way you can brush your teeth at the same time with your beloves - with wooden washbasins cabinets at the bottom. Vanity top was made in gray elegant marble.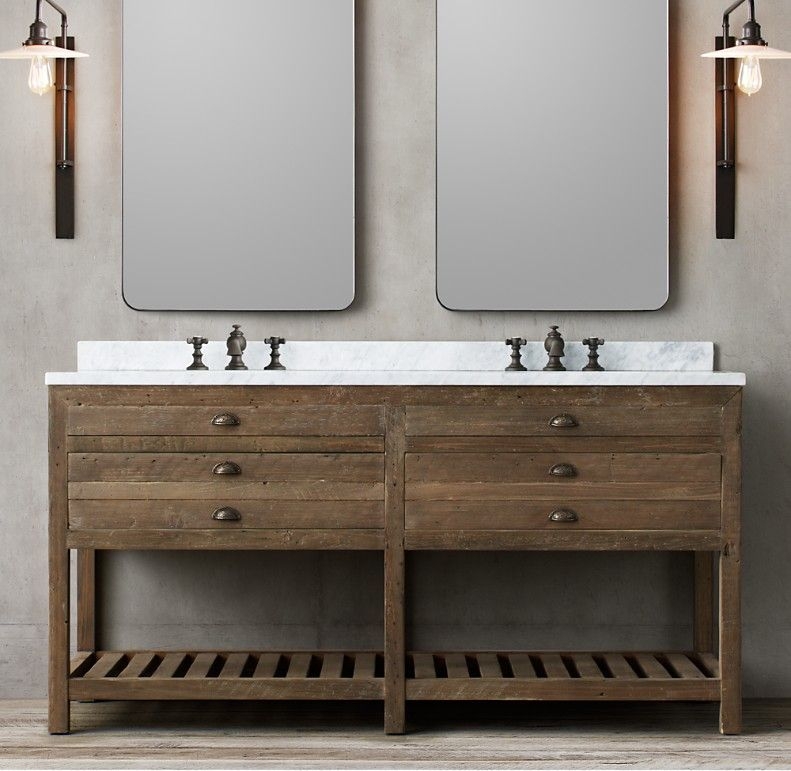 This double vanity sink cabinet is a refined proposition, combining smoothly industrial and modern influences. The rustic, wooden construction features 3 double drawers and a long bottom shelf for storage.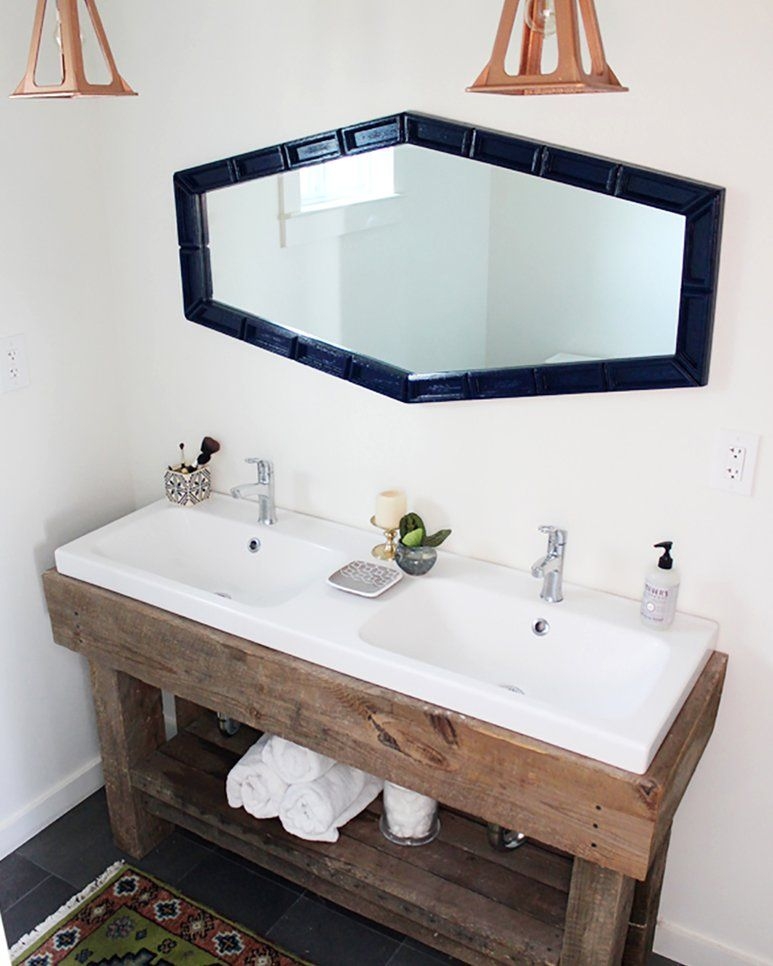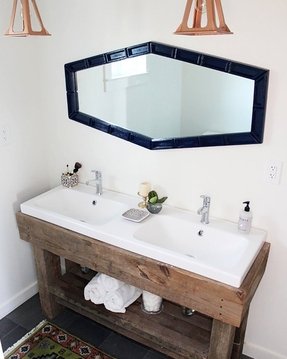 This gorgeous vanity sink will fit well into contemporary, loft or urban spaces. It combines smoothly rustic and modern design elements, mixing natural wood with sleeky white finish.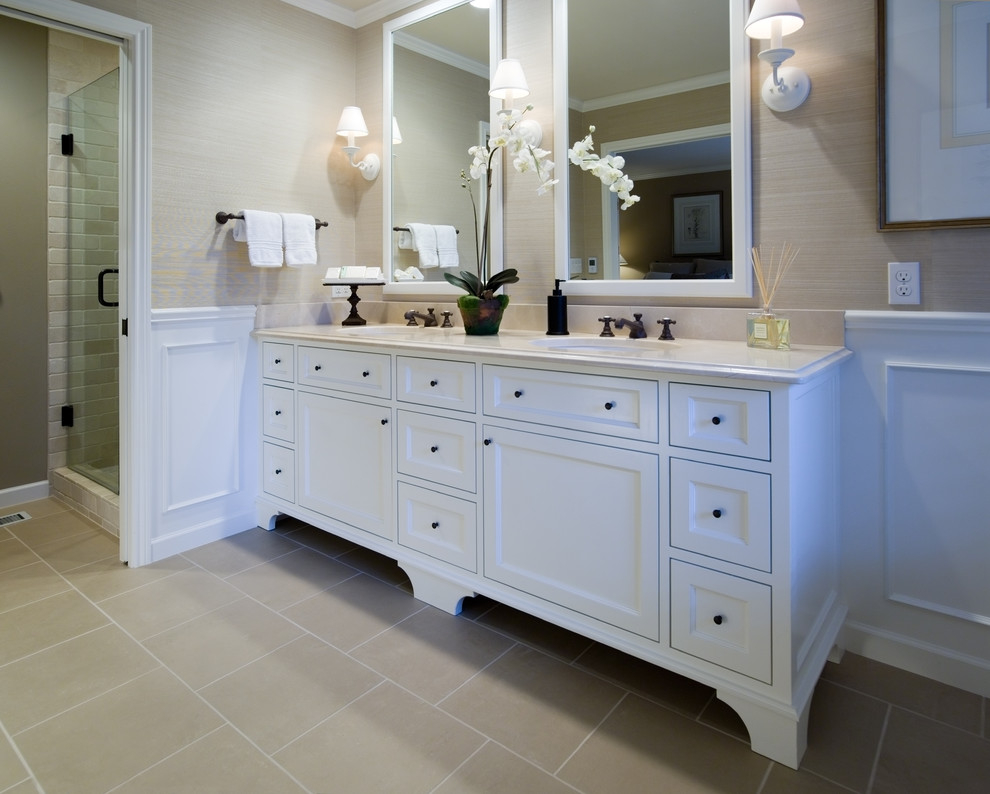 This vanity is 84" long. The middle drawer bank is 14" wide and the outside drawer banks are each 10" wide. This leaves 25" for each sink base. The floor tiles used here were 14x14's. (change site base from 25 to 22)
Classic colors give this bathroom a crisp modern feeling. Browse more of our top bathroom vanity picks here: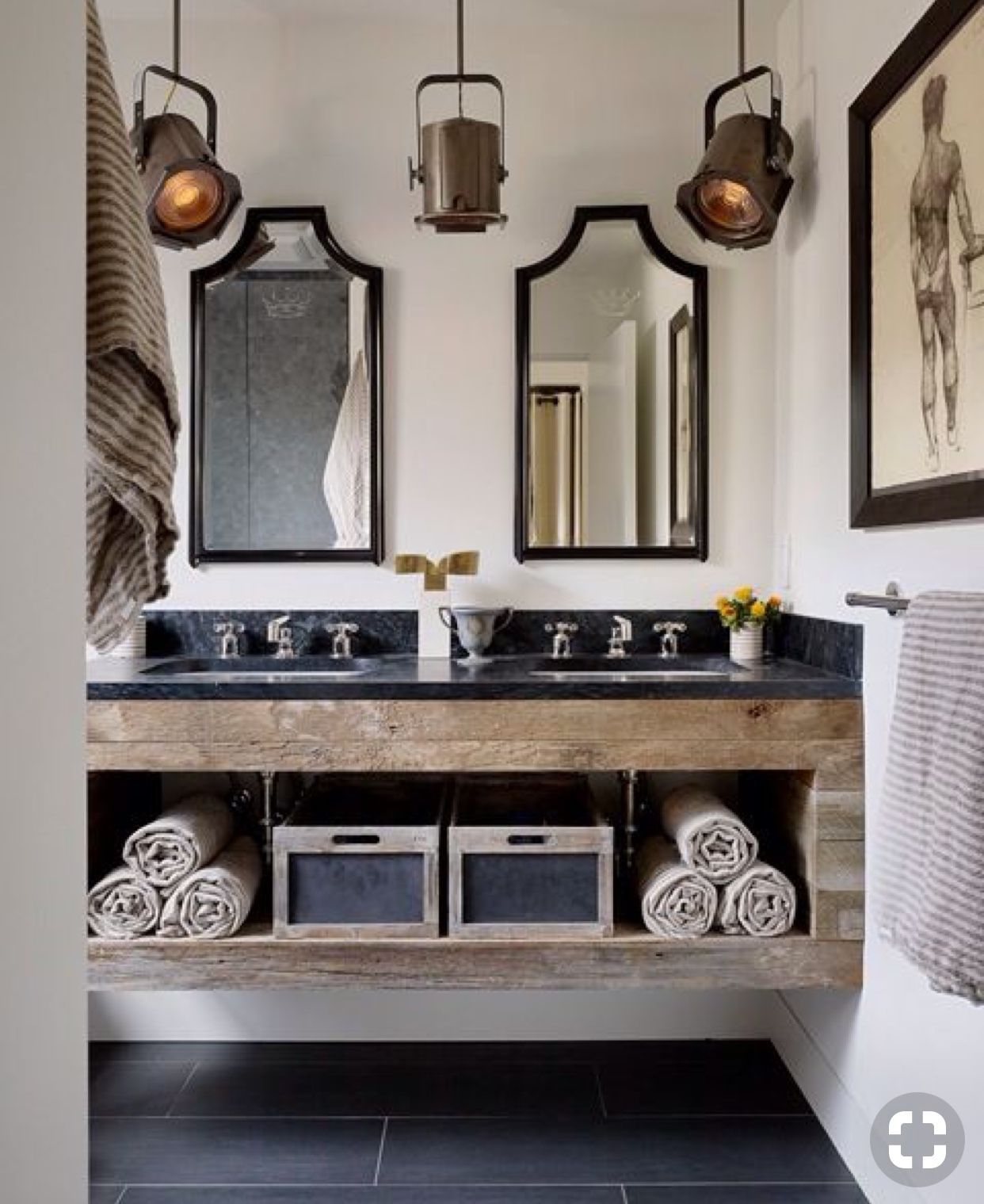 The interesting interior which mix the traditional style with the influences of industrial style visible to the naked eye. It is a great idea, because such lamps will never be ignored by the visitors interested in modern art.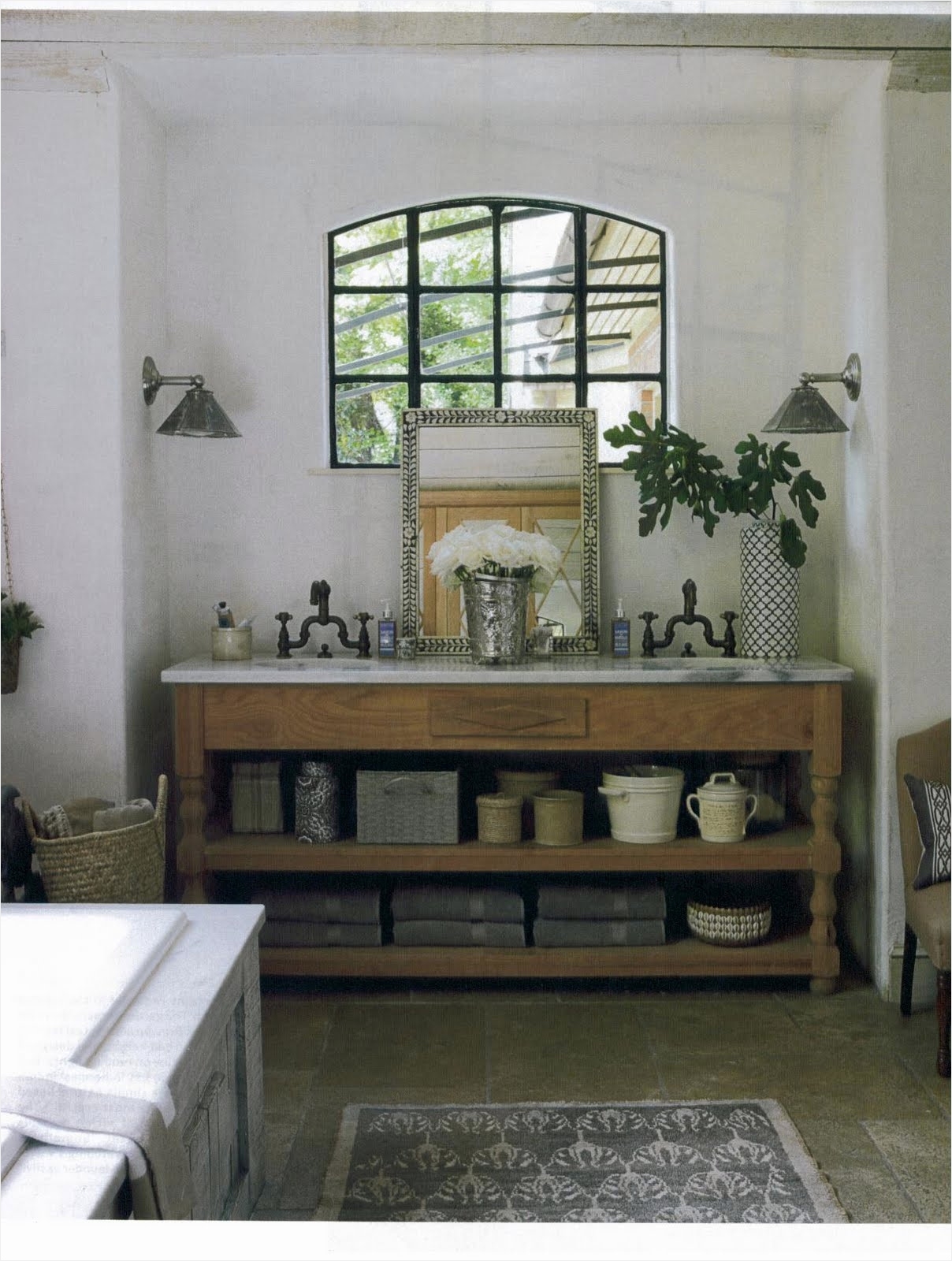 I like this sink cabinet, but I think I would like mine closed so the plumbing doesn't show.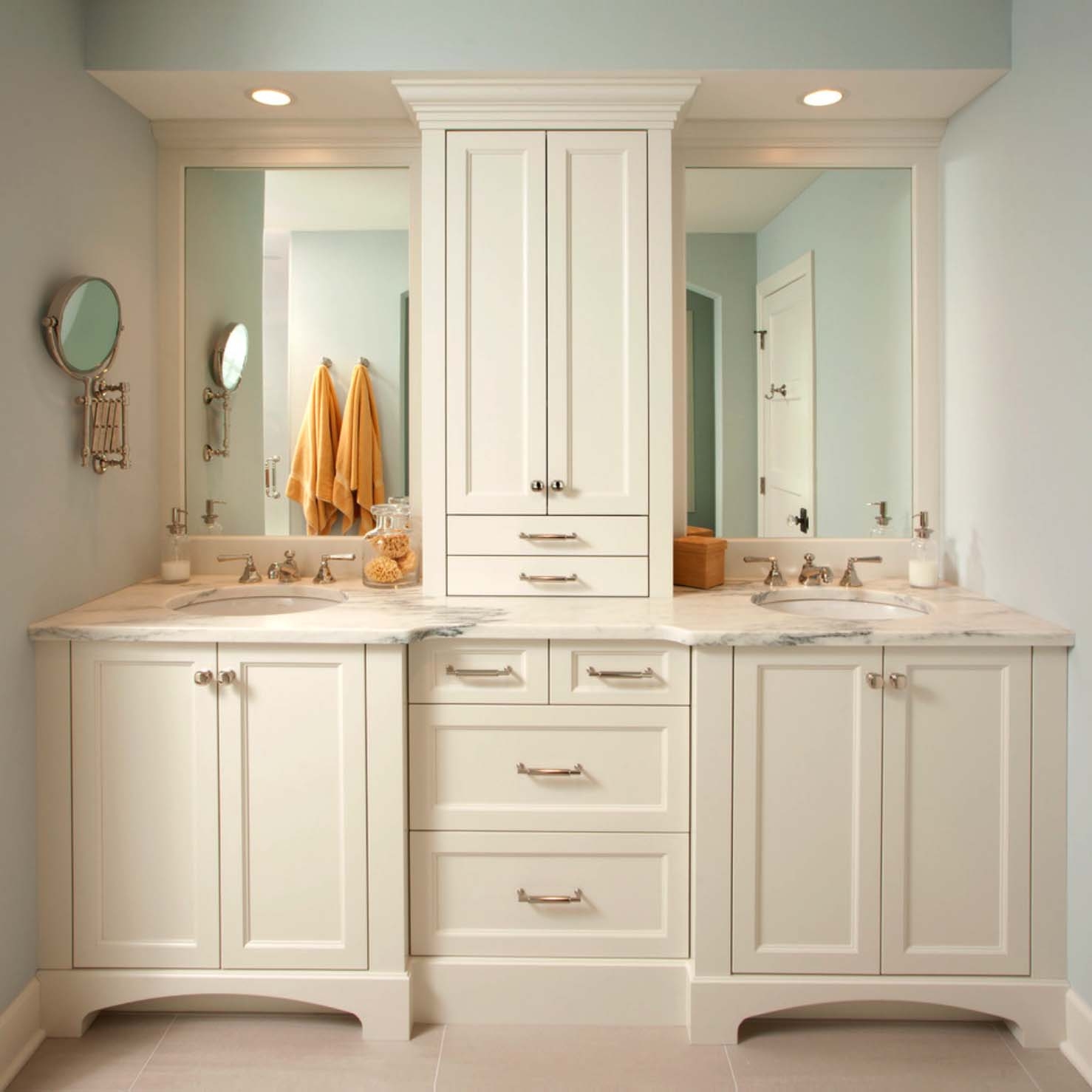 The use of marble in interior design has a long history, dating back as far as Ancient Rome. Marble has been used over the centuries to embellish everything from iconic architectural structures to modern day kitchens and bathrooms. Sculptures as famous as
Beautiful Marble Double Vanity Sink with solid brass base, faucets, and plumbing fittings (image by Gerardo Jaconelli, via All The Best Blog)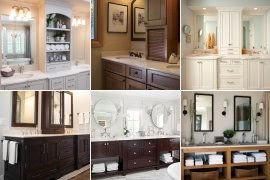 Brookfield 60" Double Vanity Base$1119 JMT1484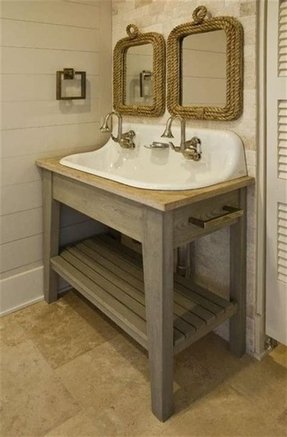 Suzie: Brown Meihaus Construction - Fun cottage bathroom with repurposed wood vanity, Two's ...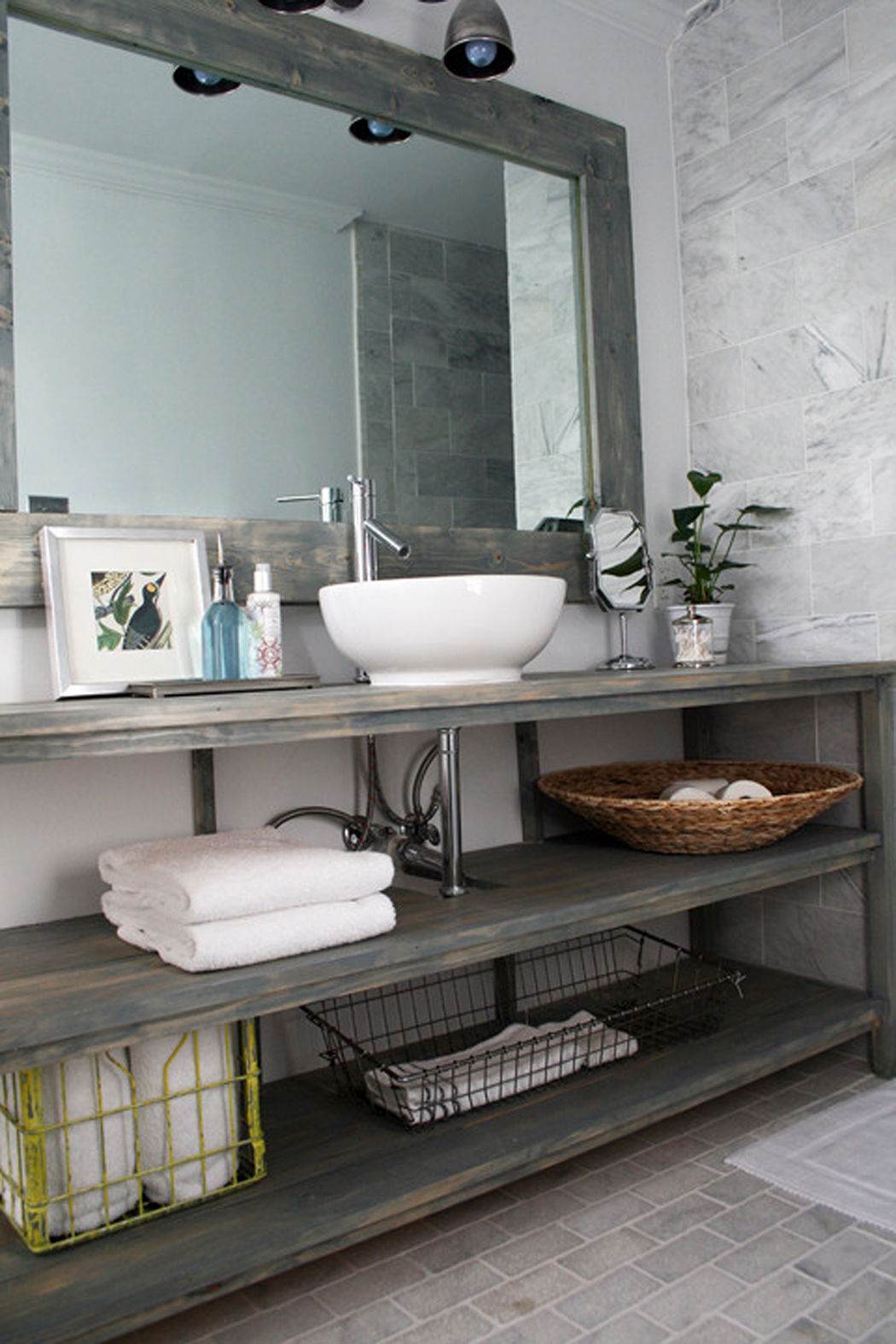 blue & white modern farmhouse bathroom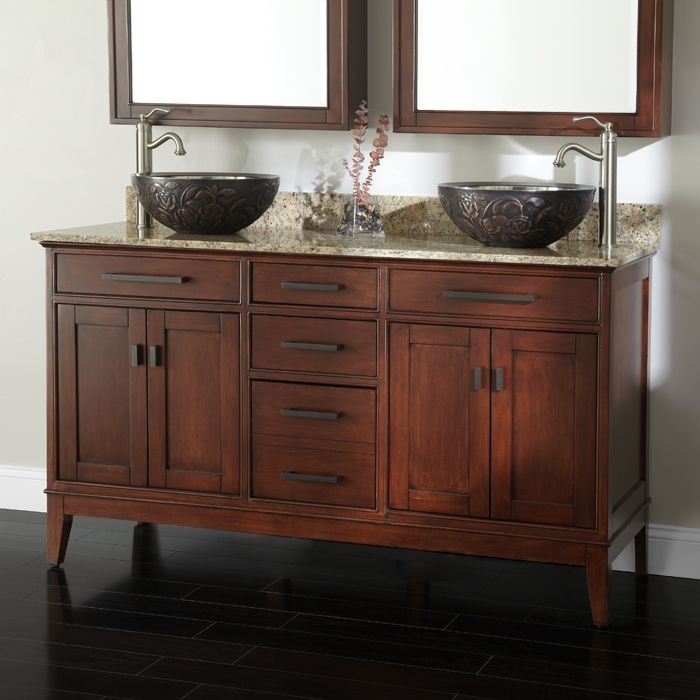 60" Tobacco Madison Double Vanity Cabinet with Vessel Sinks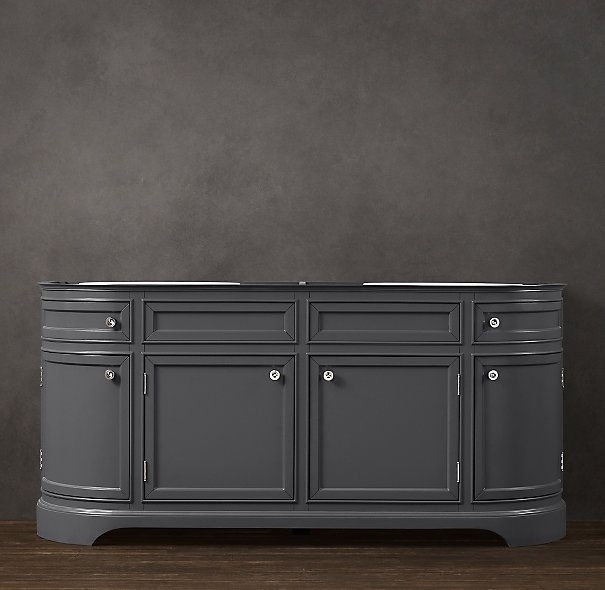 Odéon Double Vanity Sink Base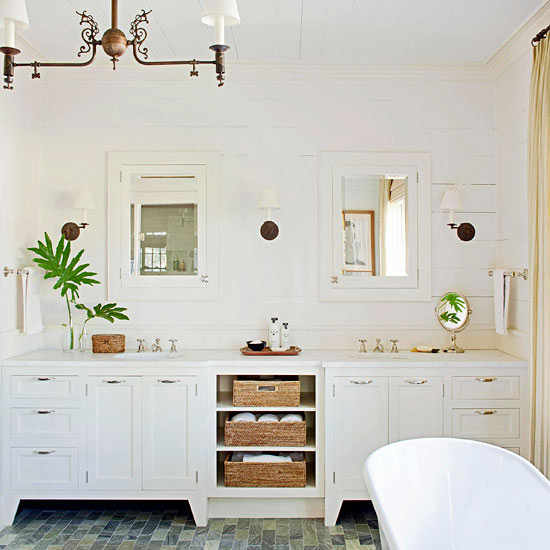 Bathroom Vanity with Historical Charm, like the planked walls, the baskets in the middle, and the sconces with the black base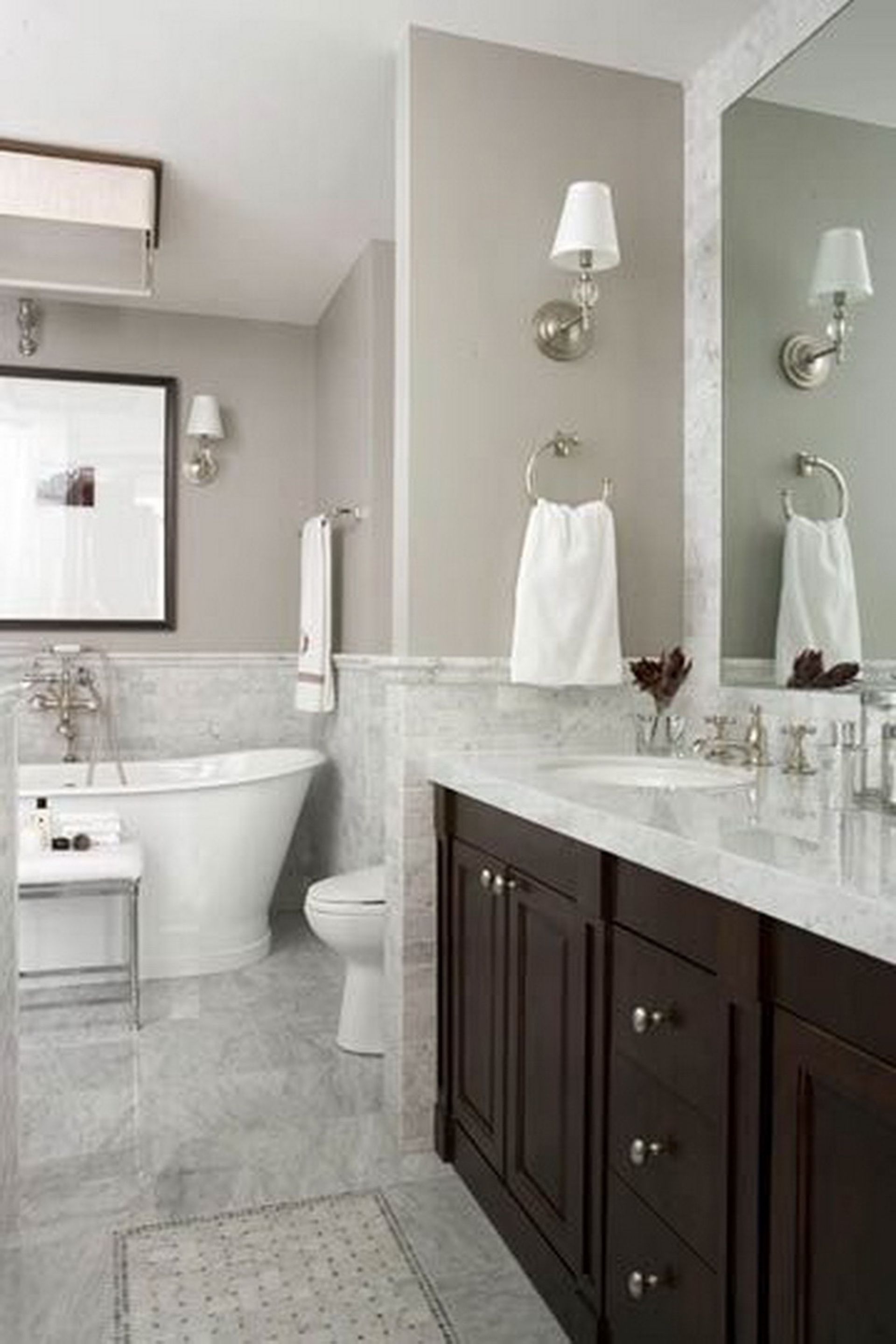 Imagine that many couples prefer to have a separate sink to feel comfortable in the bathroom. If the vanity sinks have their place in the marble countertop, on double vanity base- then you can feel good too!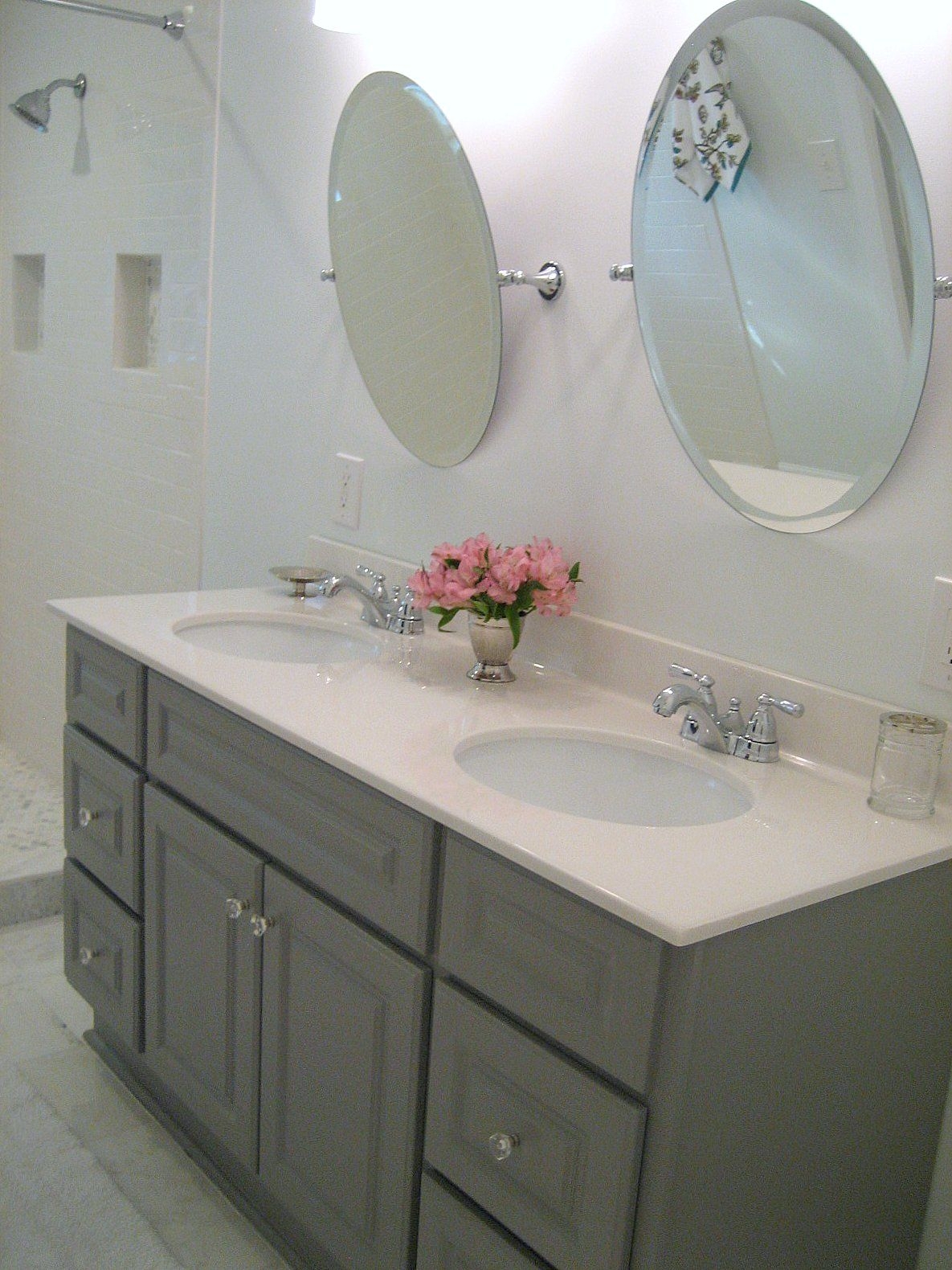 For those asking, the vanity (after I painted the laminate base with an oil-based primer) is painted with Martha Stewart's Cement Gray, which you can find at Home Depot. The walls are Gliddens Misty Moonstone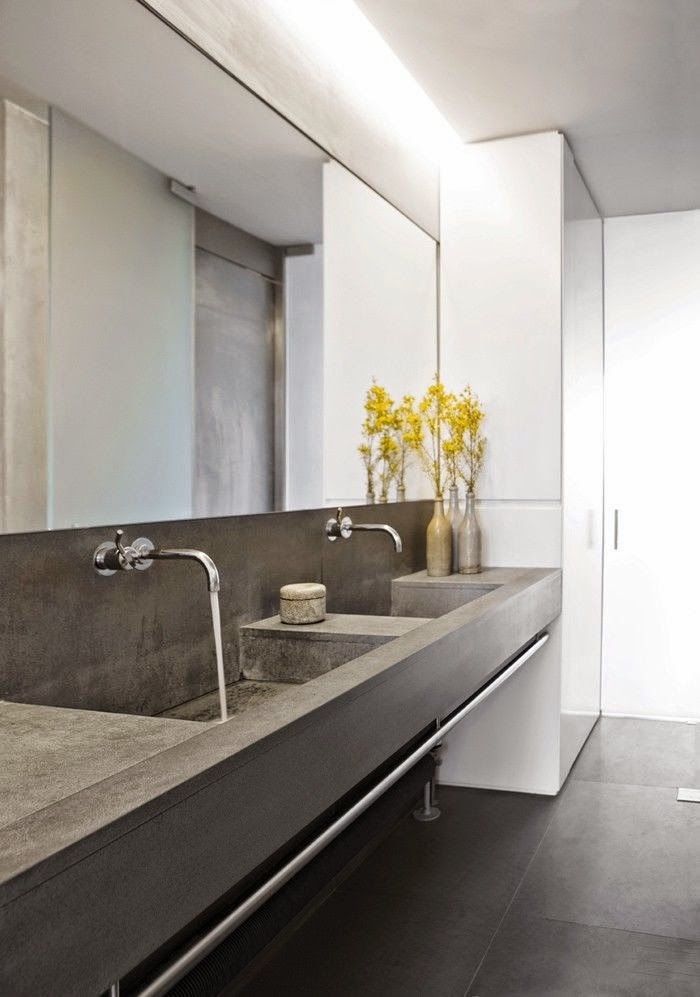 A spacious bathroom for a couple in a refined weekend home. Double vanity base (all wood) stores towels and bathing accessories, the latter houses in rattan baskets. A lack of doors delivers a welcome accessibility.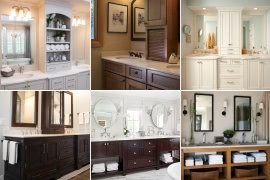 Carrara Marble Double Sinks Small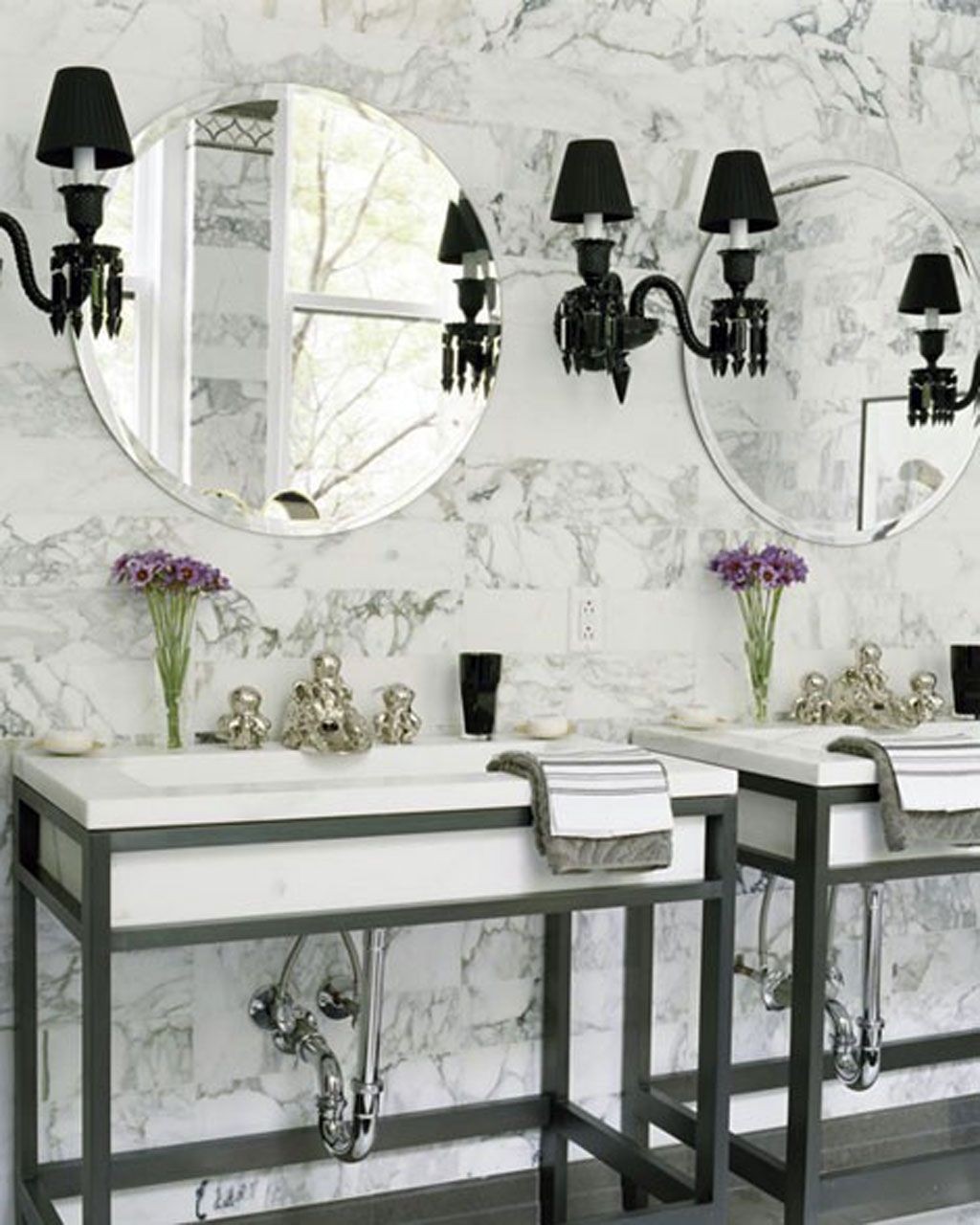 A beautiful console sink that emanates with striking contrast of white and black. The console is characterized by powder-coated metal consdtruction that keeps the sink firmly embedded in its durable structure.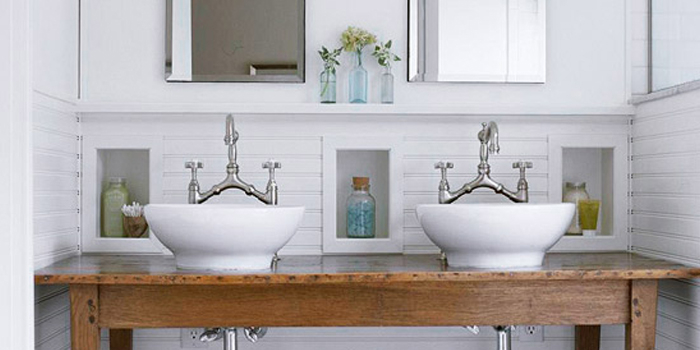 This is how I want my bathroom. but due to the cost of vessels... and we would have to gut the main bathroom to re-route the plumbing.... We are going to wait until the kids are out of the "wreck everything in sight" phase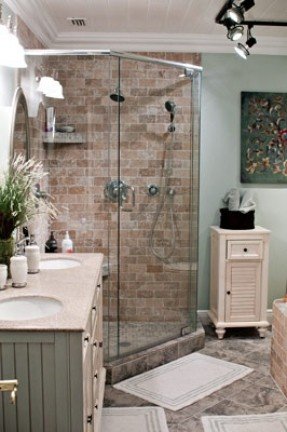 Being a stylish proposition for contemporary interiors, this tiled corner shower enchants with its fresh, minimalistic construction. Stone wall tiles give a distinguished ambiance from the very first seconds in the room.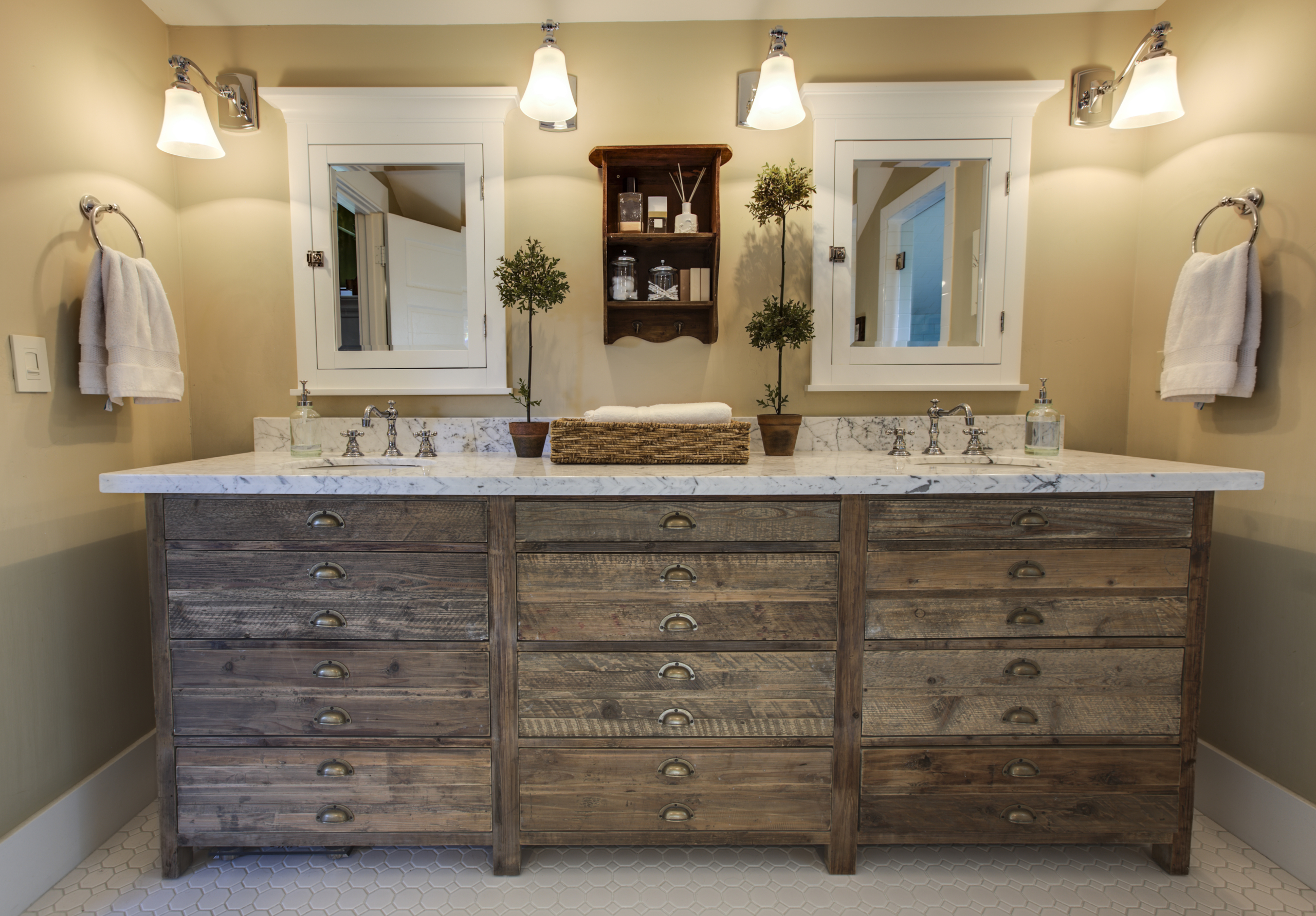 Bathroom cabinet in rustic style. Base is made of wood and fitted with a lot of drawers for storing cosmetics, toiletries and others bathroom accessories. Marble top is fitted with double sink.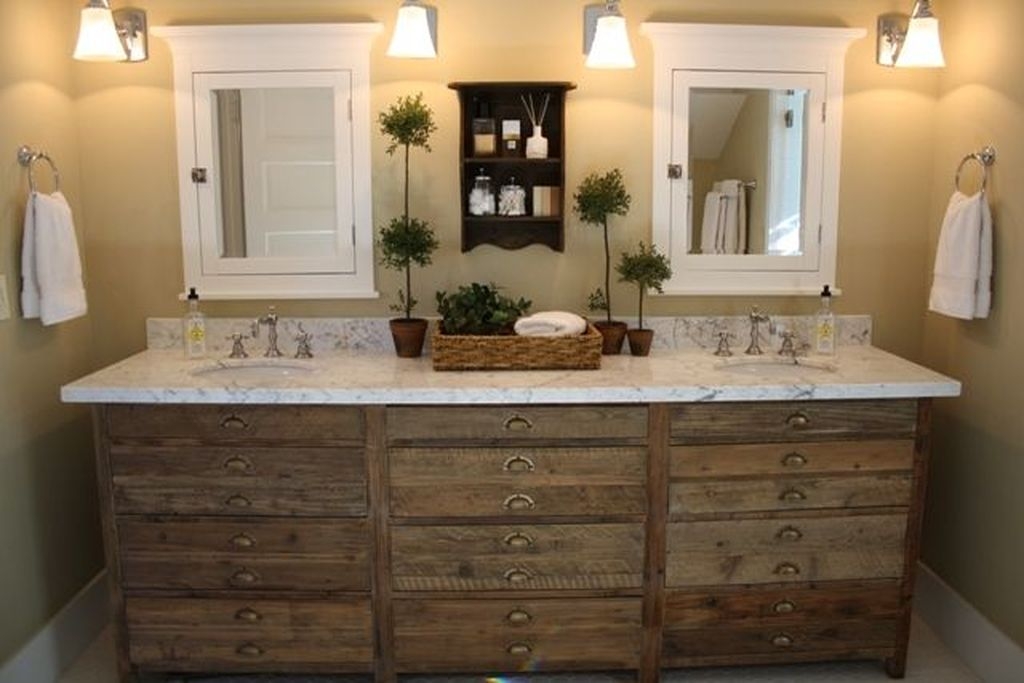 Medicine cabinets add personal storage space for each person in this dual vanity bathroom. So much better than a "builder's mirror" across the space. Small touch, big impact.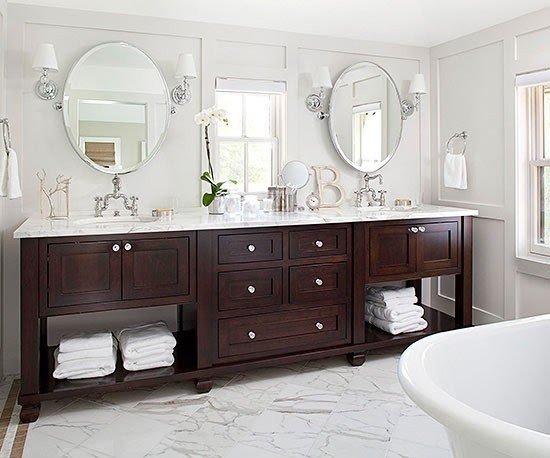 if I ever buy a house with as short sink ugh!! How to Raise Up A Short Vanity on the cheap
Thanks to this double vanity set, you won't have to fight with your spouse over the bathroom, anymore. Functional, stained maple construction allows you to accommodate 2 sinks on this elegant base with 5 storage drawers and silver-finished handles.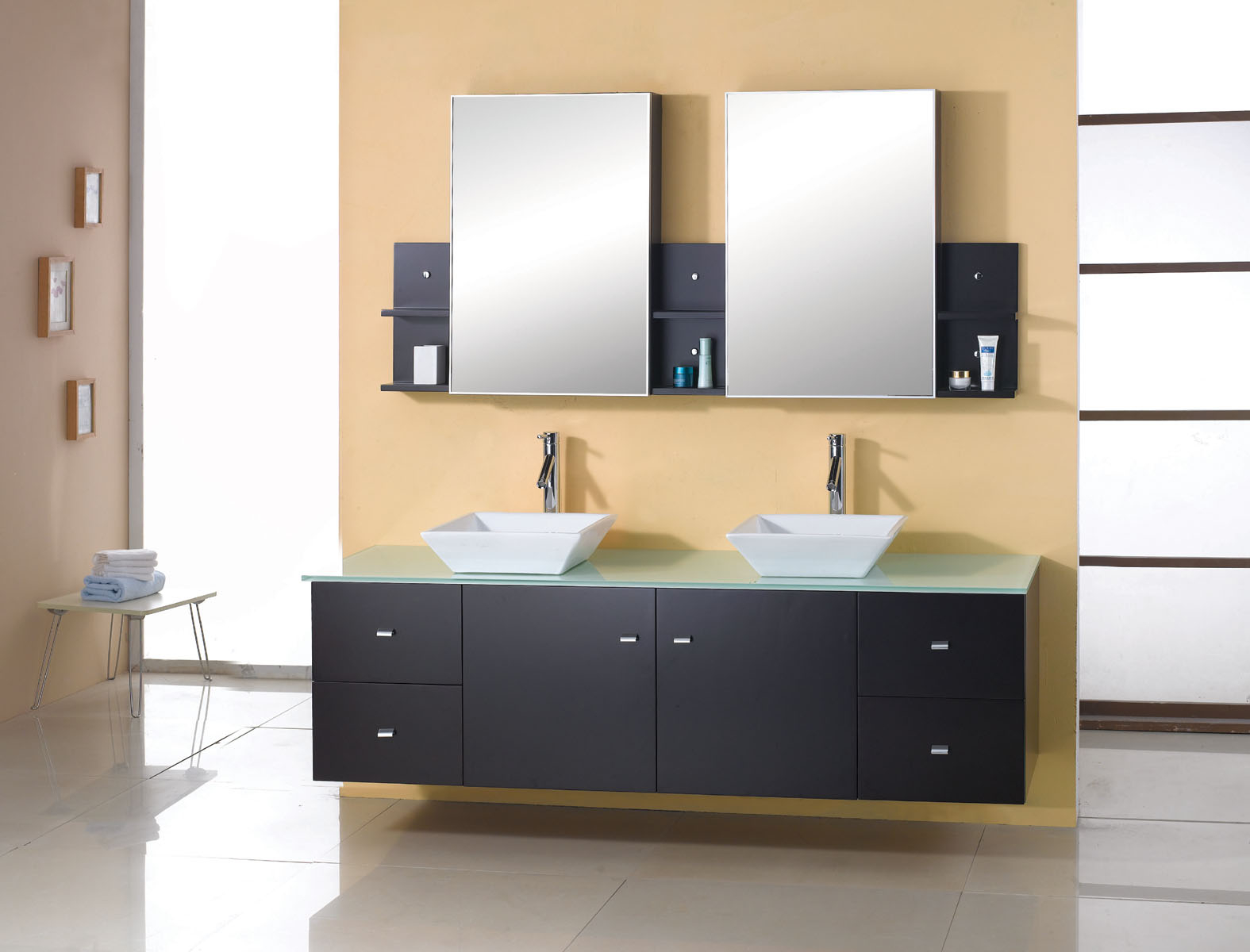 This exquisitely stylish double vanity with espresso finish features a brushed nickel hardware, tempered glass countertop, white designer ceramic basins. It is a solid oak construction, finished with quality 7-layer coating system.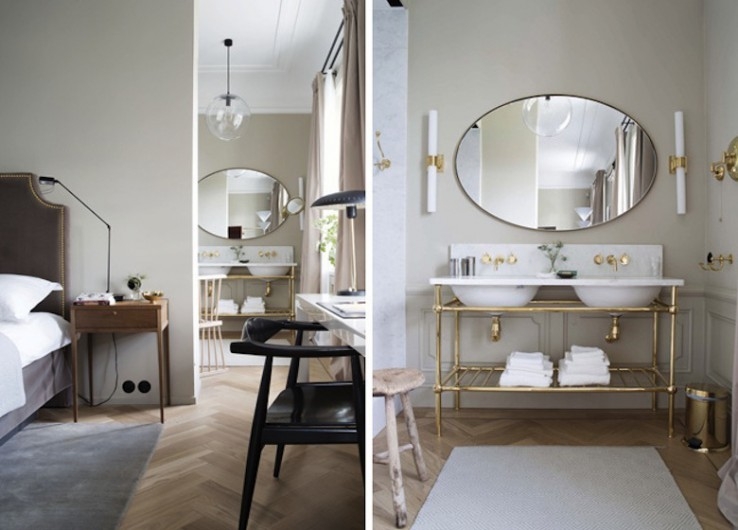 Architectural Digest - bathrooms - gray bathroom, gold and gray bathroom, oval mirror, large oval mirror, long sconce, long brass sconce, br...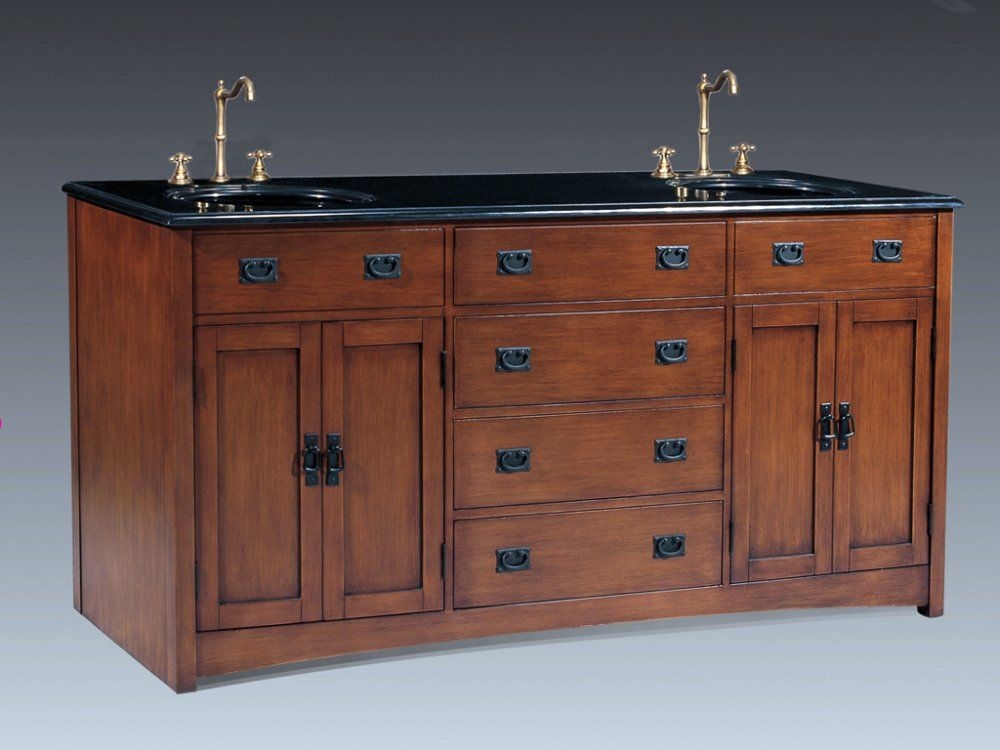 Mission Bathroom Vanity | ... (double) 72-Inch Mission Style Bathroom Vanity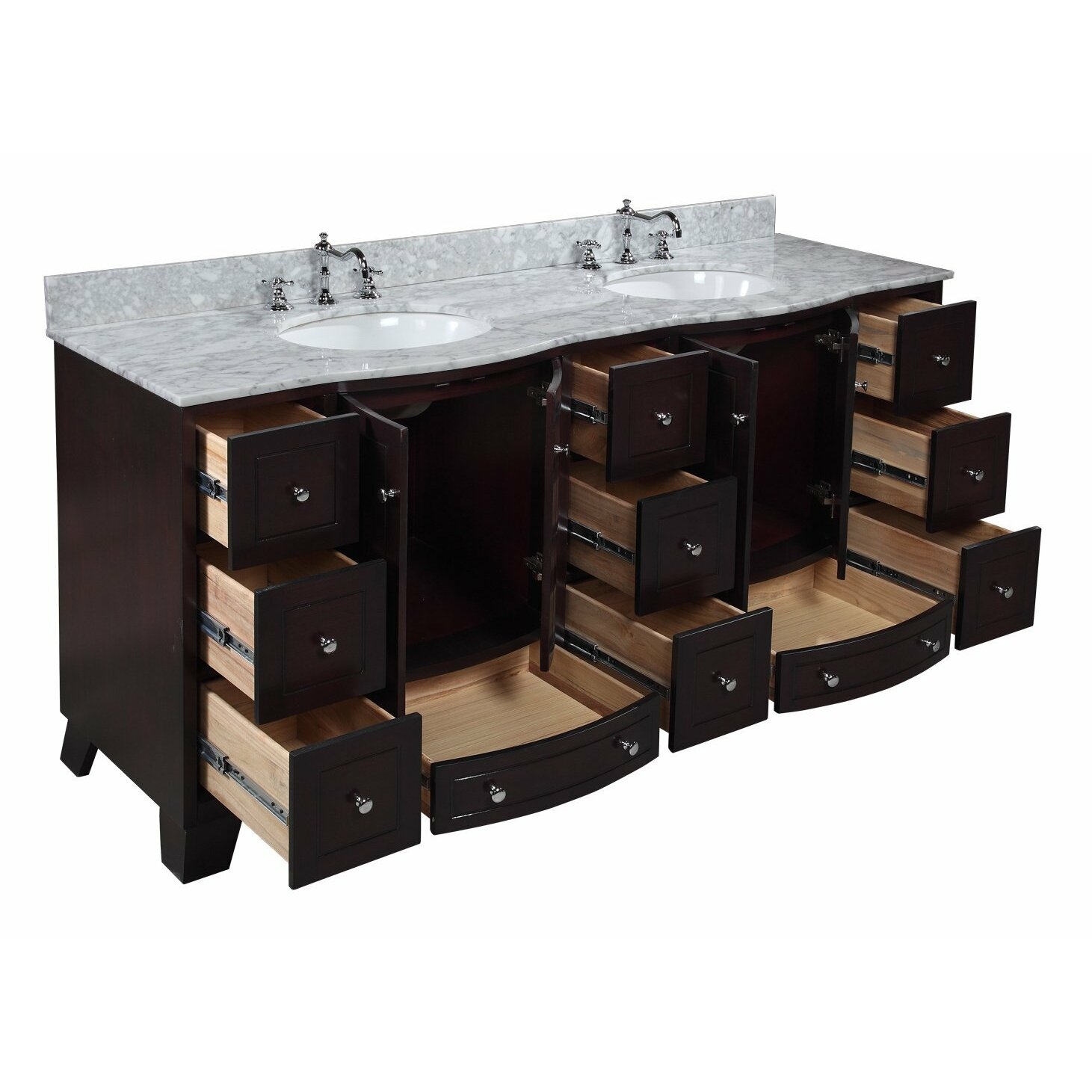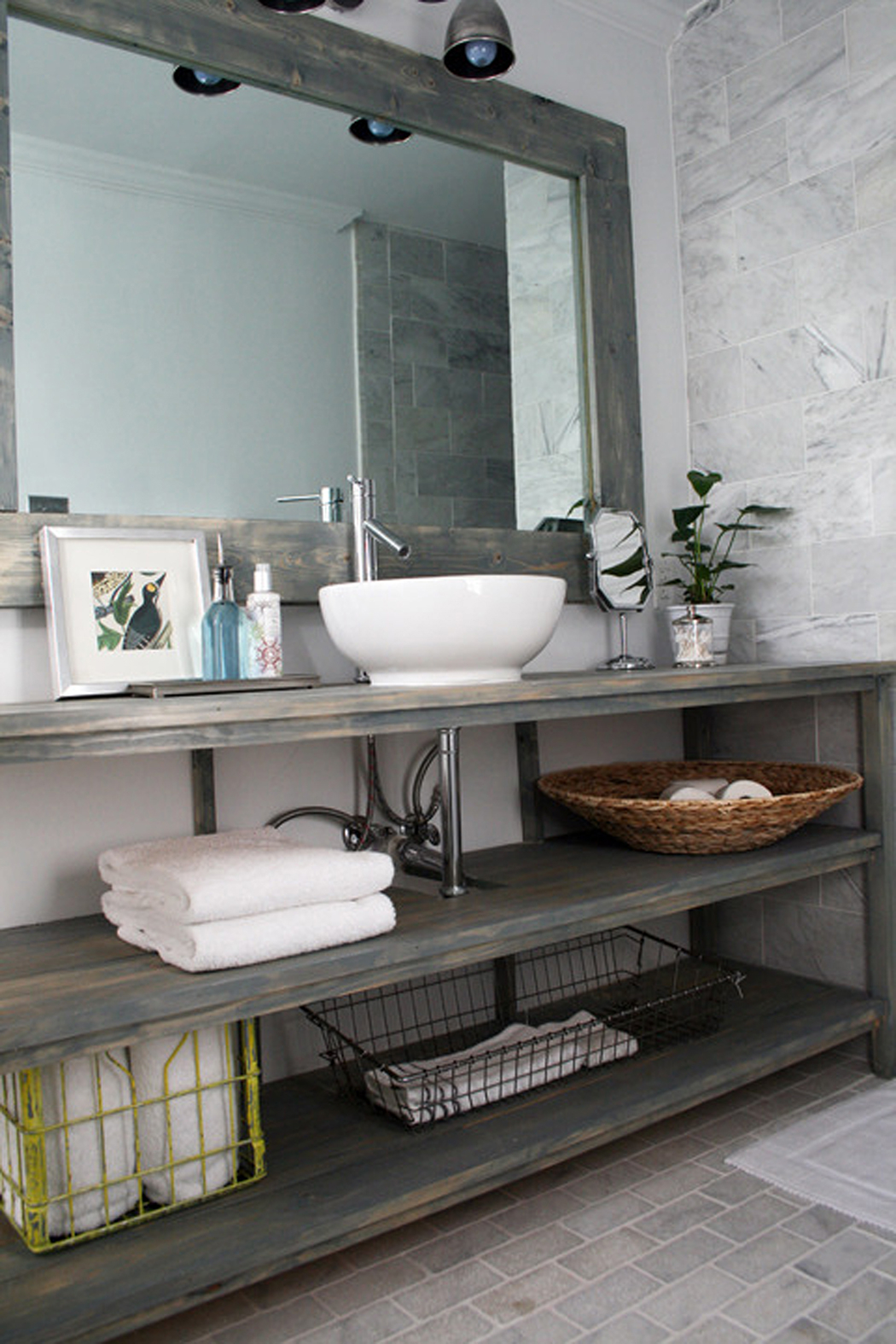 Salvage Savvy: DIY Bathroom Vanity Ideas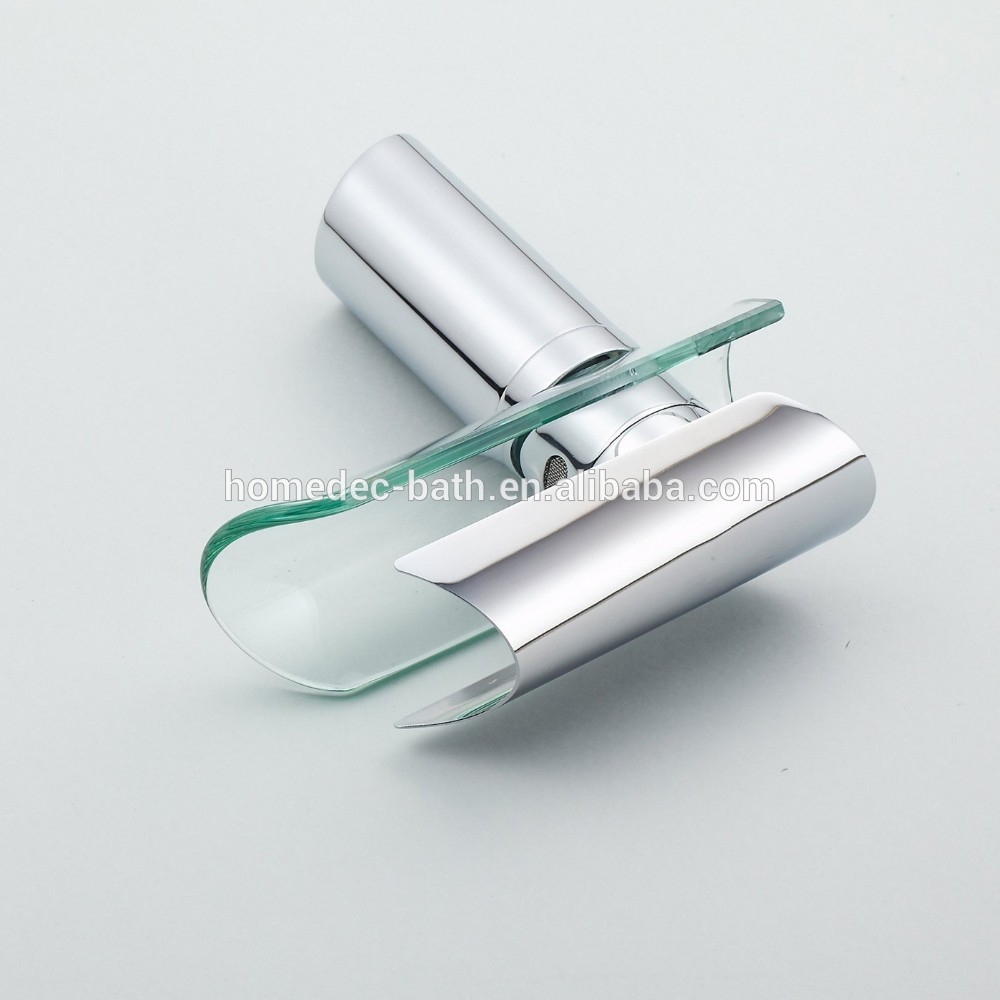 DIY vanity by Sarah Richardson / idea : use the same principle but with shorter legs to make a bench