Galala Marble Vessel Vanity Top with Backsplash
A vanity top with a backsplash. Made of natural marble in glossy beige and designed to be used with vessel sinks. The faucet hole is pre-drilled, as well as drain hole. High quality product and great addition to your bathroom.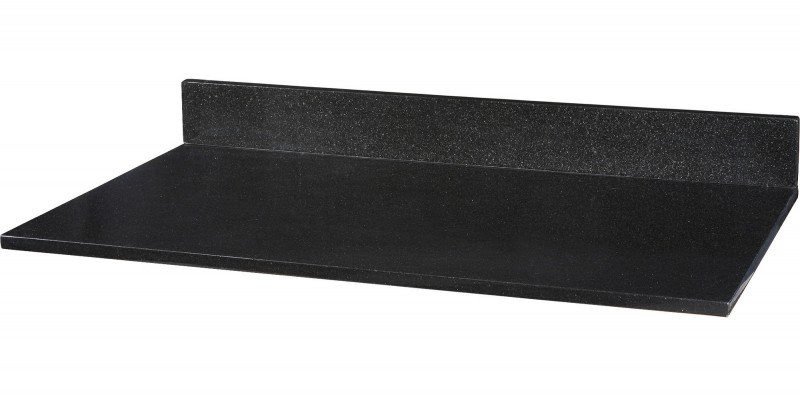 49" Vessel Sink Vanity Top
This type of product is a sink top. It is made of solid materials that are resistant to wear or damage. It is also a product that is resistant to water. It also looks nice in different kitchen stylizations.
48 Inch Marble Top Single Sink Rustic Bathroom Vanity With Matching Wall Mirror And Linen Tower
This set includes solid and useful pieces of bathroom furniture. A sink console features some storage drawers and a compartment. The mirror looks very attractive and a vertical cabinet provides additional storage space.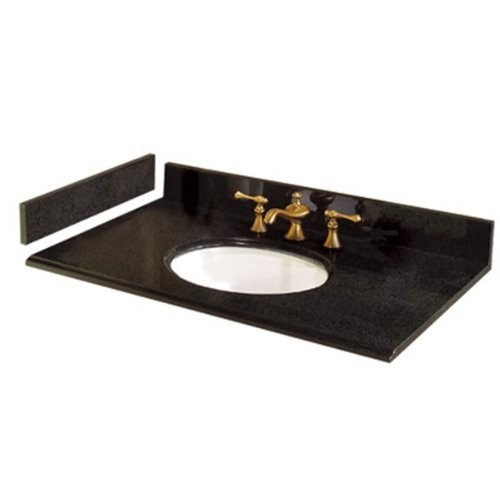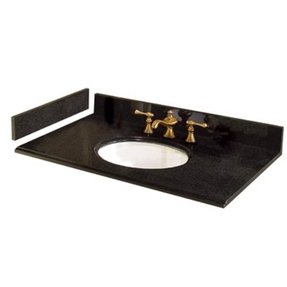 49" Granite Vanity Top with Sink
A beautiful and contemporary granite vanity with an attached under-mount porcelain sink. It is easy to install and fits directly on top of any standard 48 inch vanity cabinet. Granite is a natural material and slight variations in color may occur.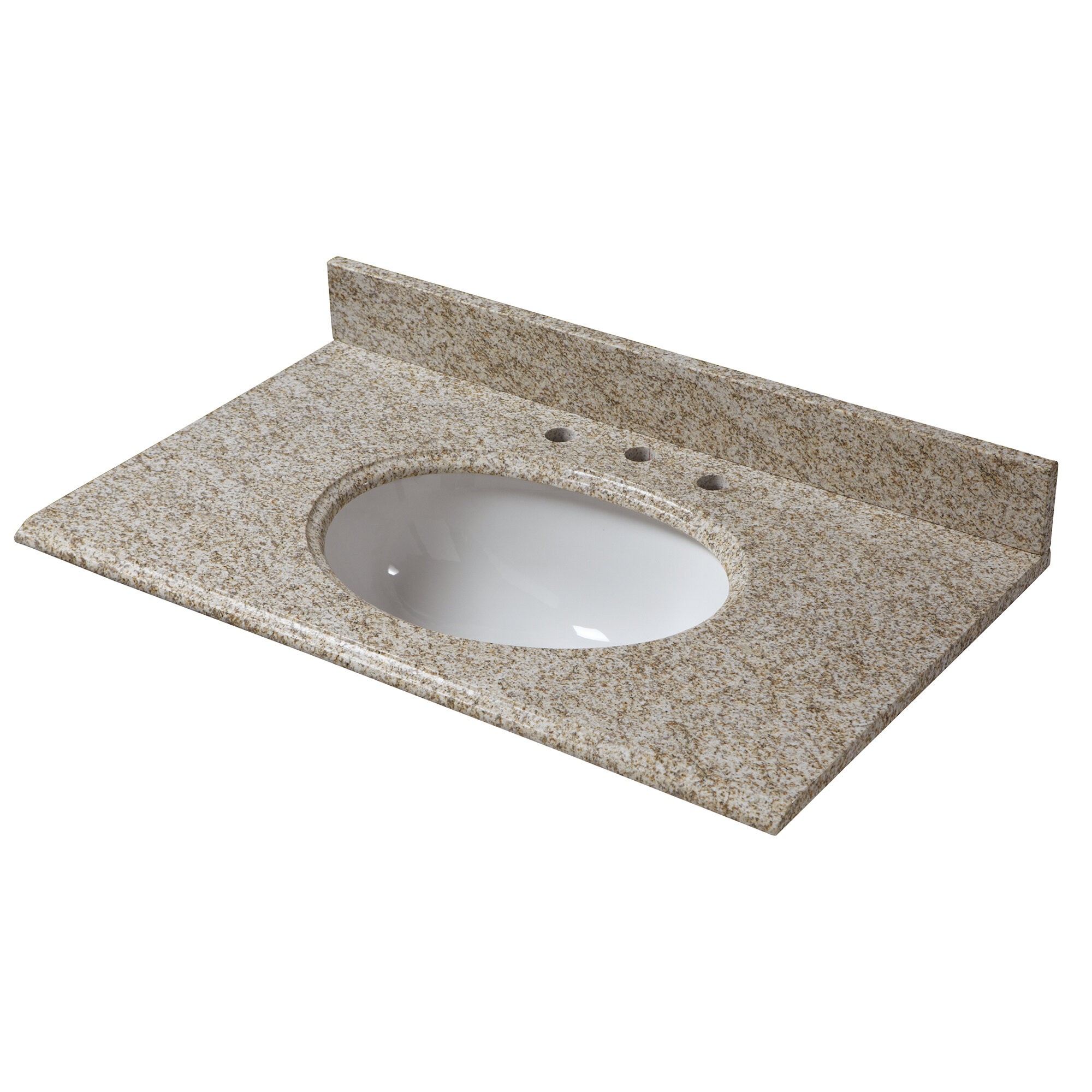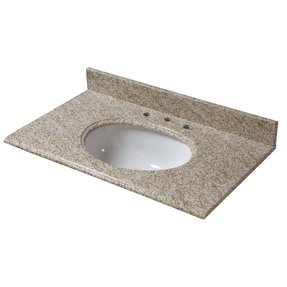 25" Granite Vanity Top with Sink
Built from natural granite, this vanity top with sink is solid and stylish. It features undermount, centerset basin design, overflow and attractive golden hill finish. Installs easily in 3 steps on most standard 24 inch bath vanity cabinets.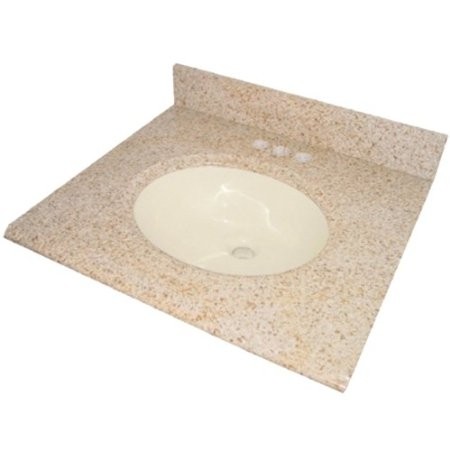 Granite Vanity Top with Sink
An elegant and timeless natural granite vanity top with sink bowl, backspalsh and pre-drilled faucet holes. The sink is in biscuit finish. Solid and smooth granite surface add elegance and a touch of luxury to your bathroom.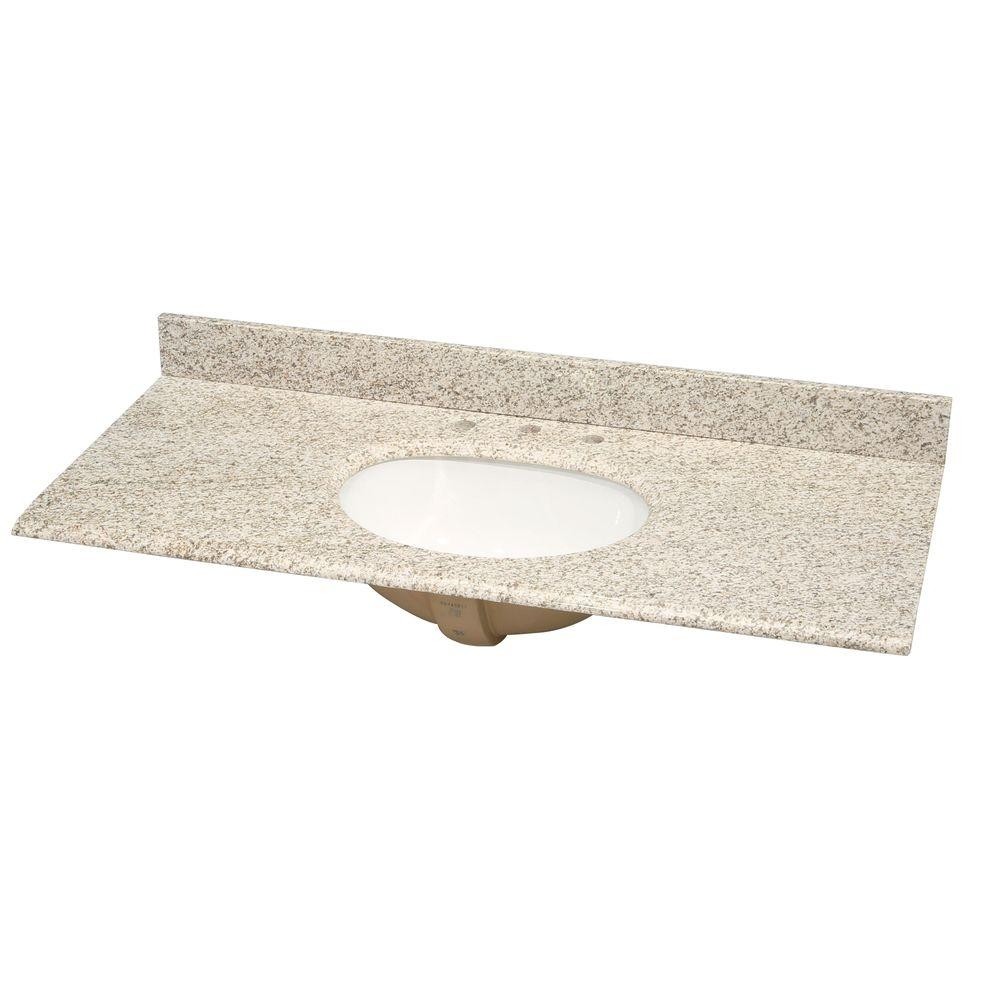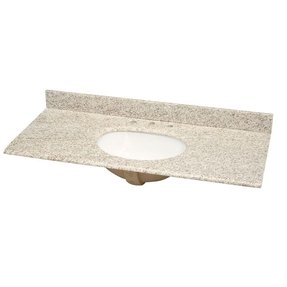 49" Granite Vanity Top with Sink
Built from natural granite, this vanity top with sink is solid and stylish. It includes a backsplash, single center bowl and overflow. Faucet and side splash not included. The piece is durable enough for everyday use.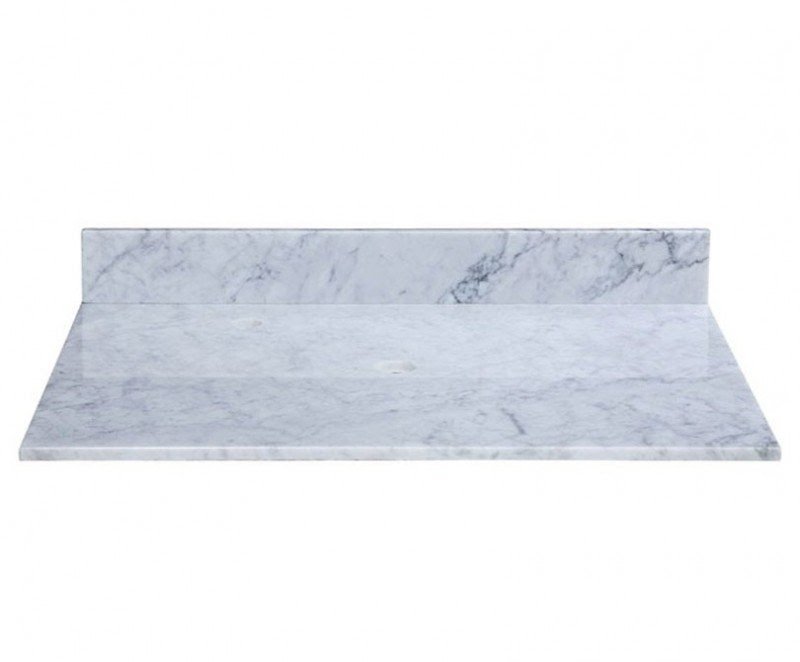 37" Vessel Sink Vanity Top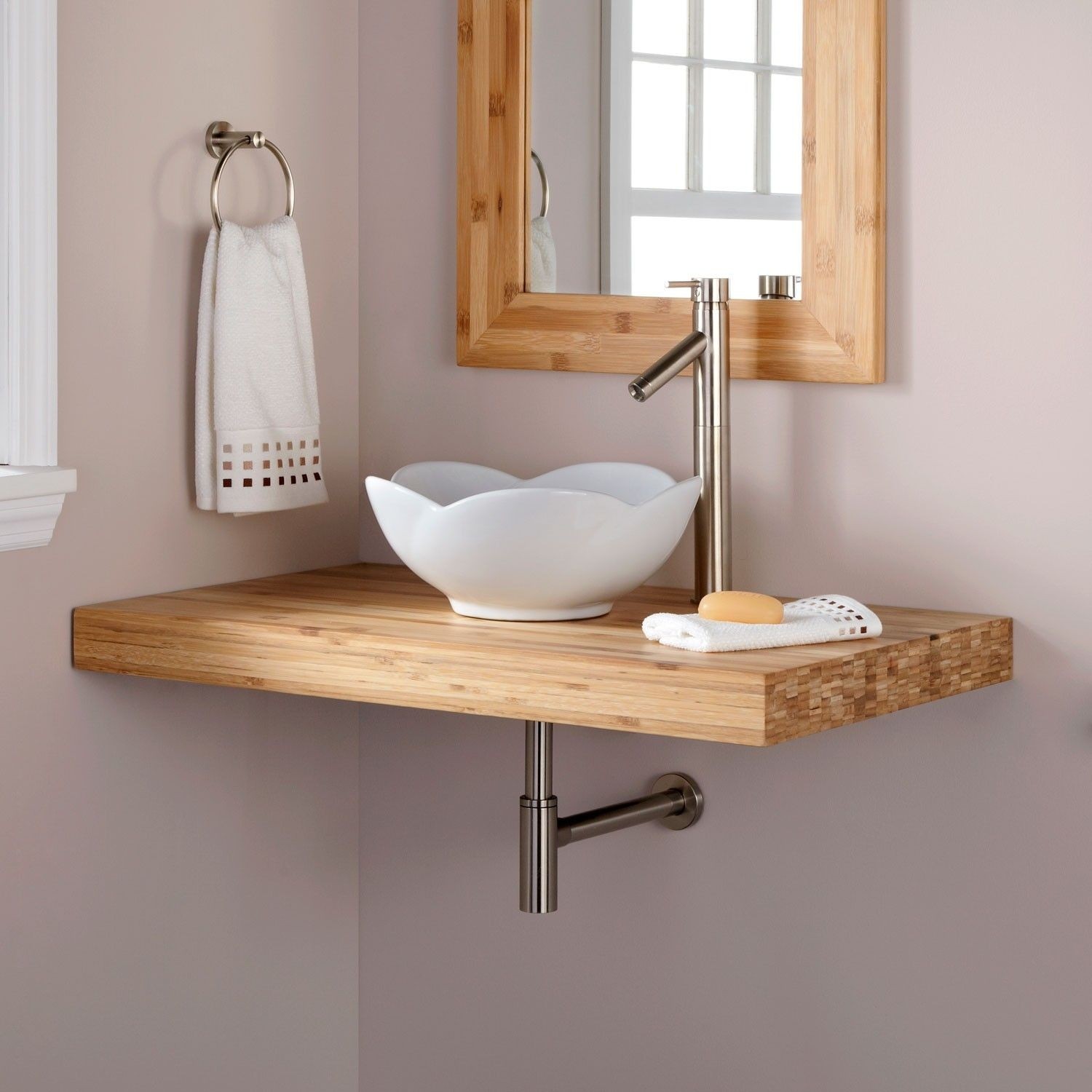 A simple, but unique design of a vessel sink pictured here draws eyes to the bathroom vanity top, which creates a decent backdrop accent for a contemporary bathroom. Multilayer wood looks great combined with chrome.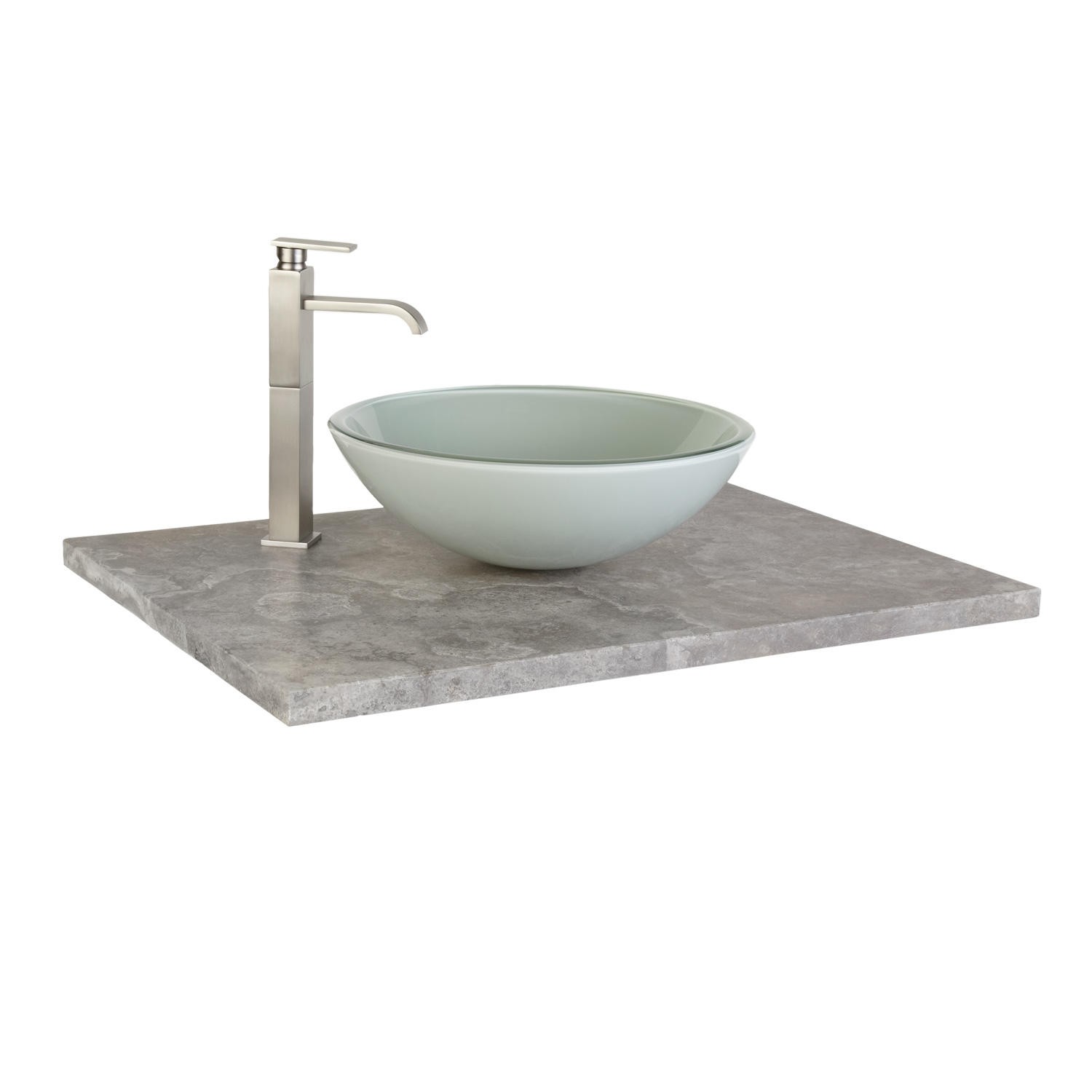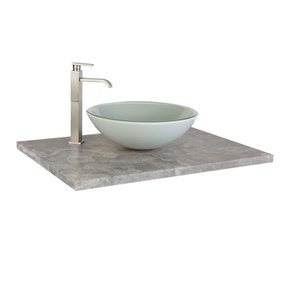 This vanity top for vessel sink represents the contemporary elegance. Measuring 31 inches, this Silver Travertine vanity top enchants with its high-quality, glamorous finish, adding style and chic to any modern bathroom.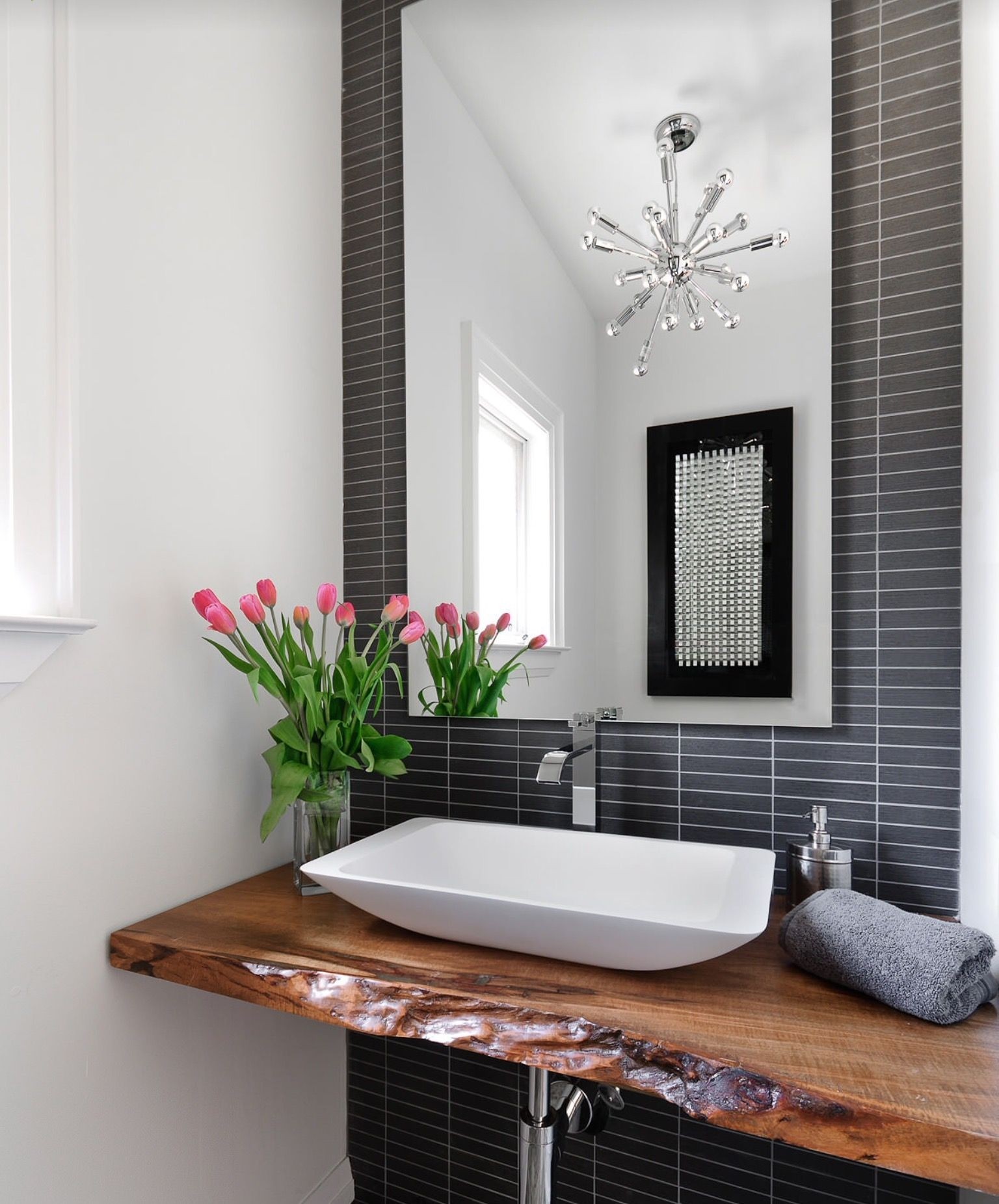 A truly captivating addition for bathrooms that drown in a mix of modern and old-fashioned solutions. This vessel sink is not only beautifully shaped, but also rests on a thick, lacquered top, crafted from a large piece of wood.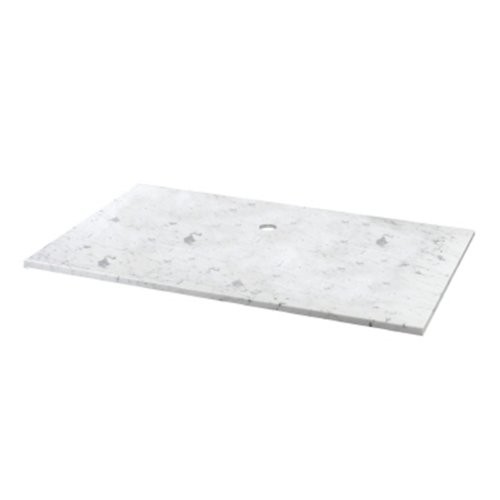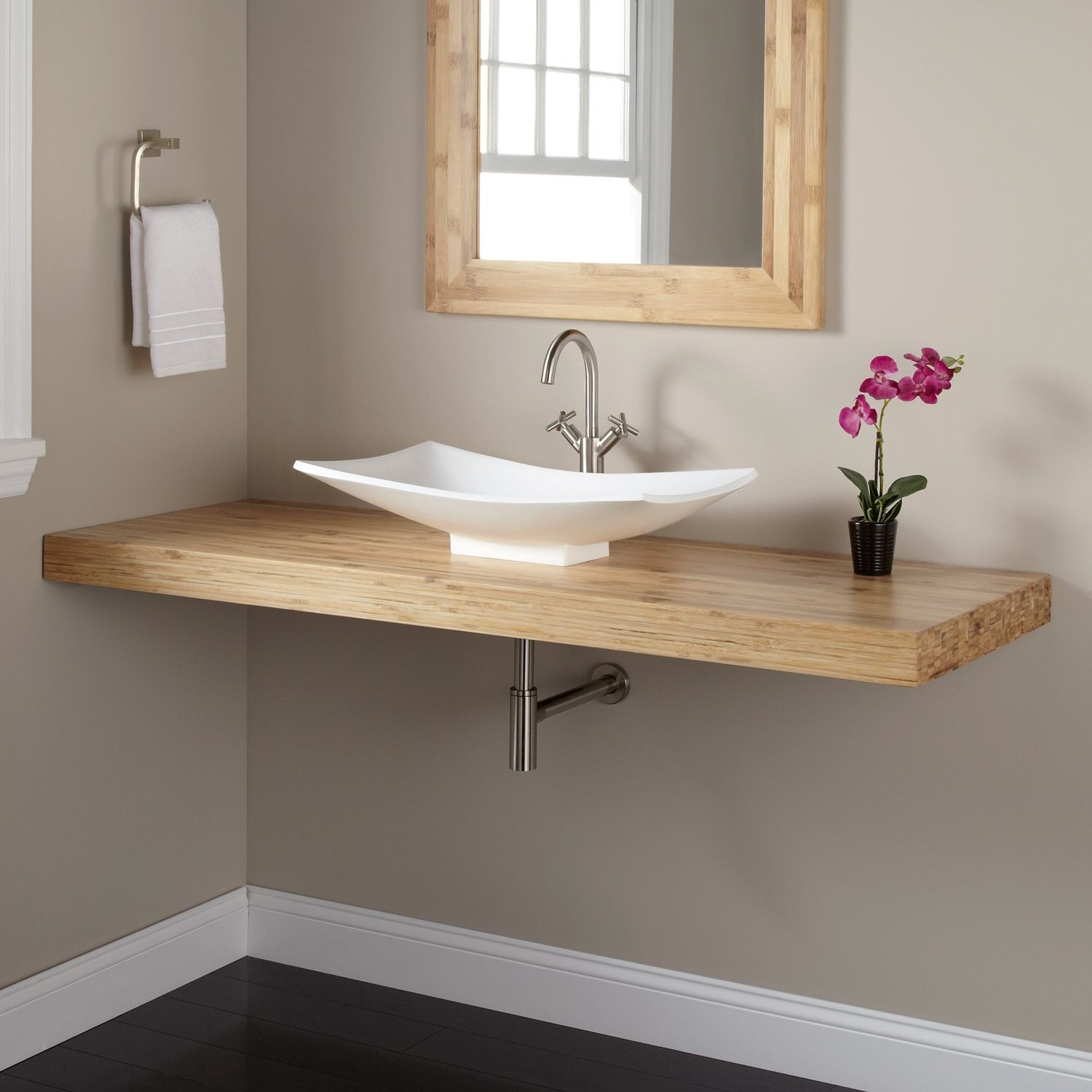 This vanity top for vessel sink rises like Joda when he finds his harmony Jedi. Made of strong and warm bamboo wood shade - it's really a shelf that gives a lot of space underneath and supports for a white ceramic sink.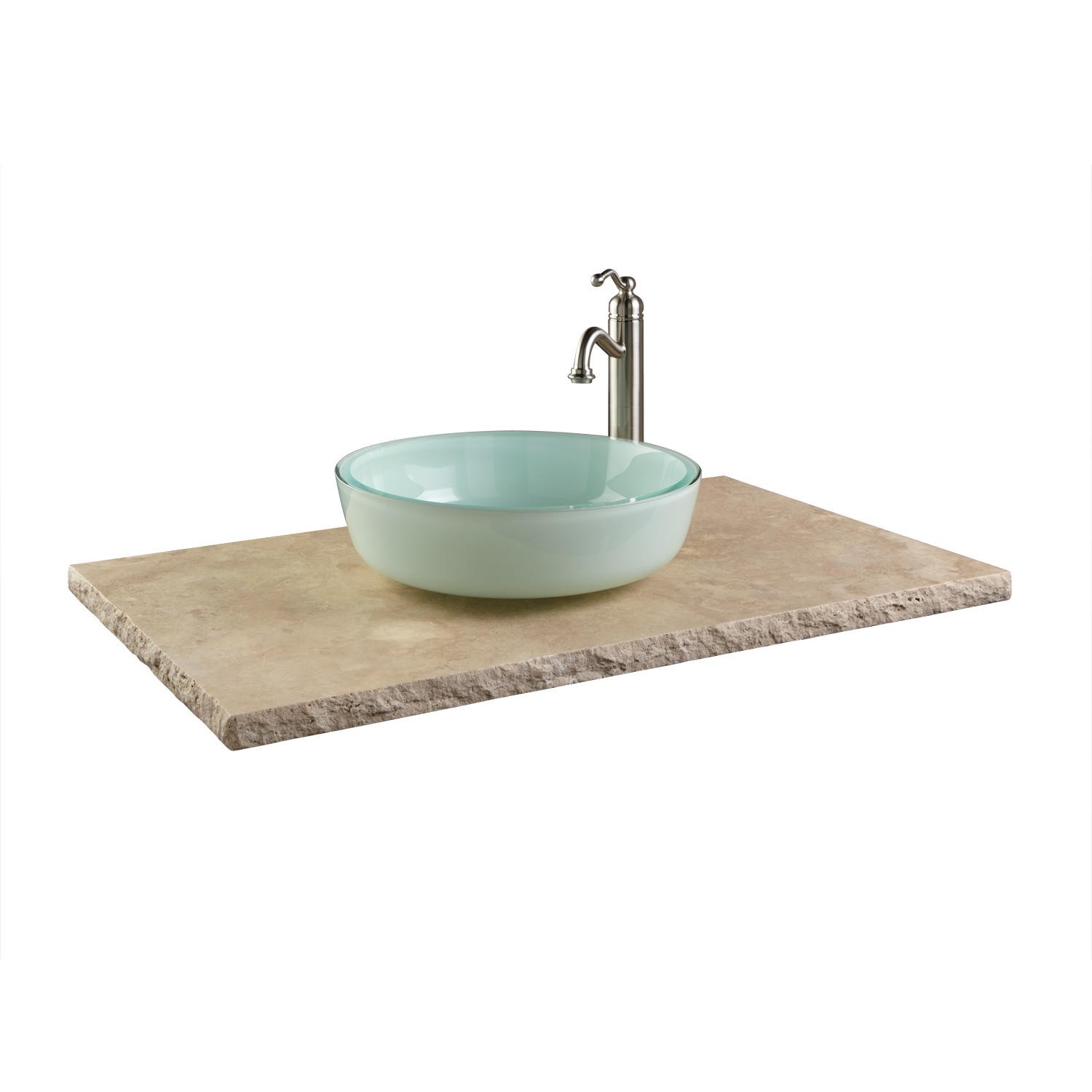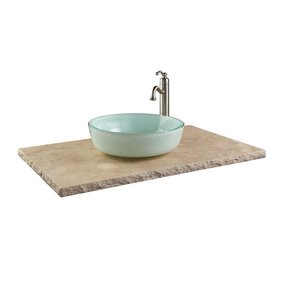 Enchanting with its raw design, this beige travertine vanity top for vessel sink will fit perfectly well to all industrial, rustic or loft bathrooms. It will work out both in private, as well as public spaces.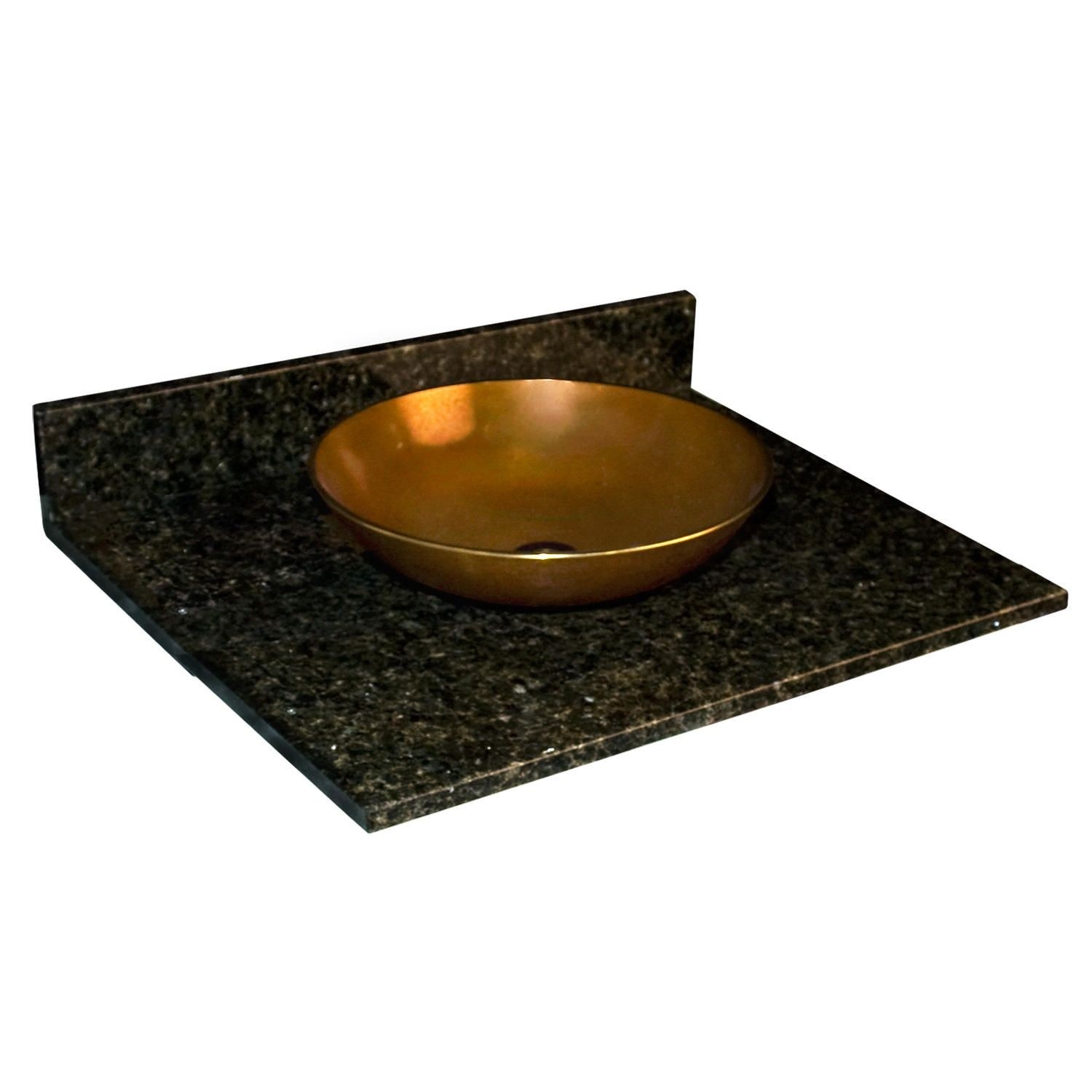 Home / Bathroom / 25" x 22" Granite Vanity Top for Vessel Sink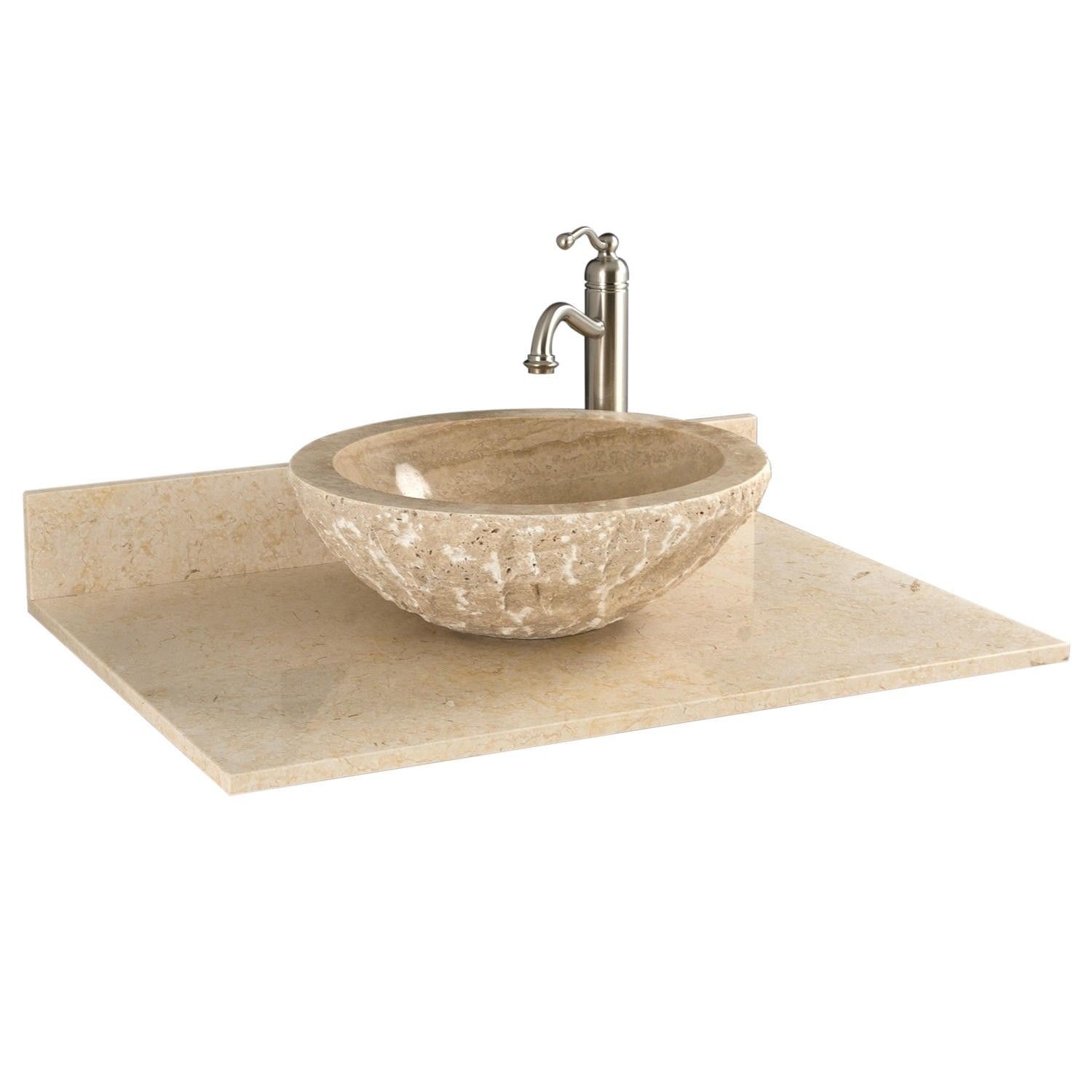 Creating a classic elegance, beige marble will help you create a smooth Mediterranean or coastal appeal in your bathroom. This vanity top for vessel sink has 31 inches.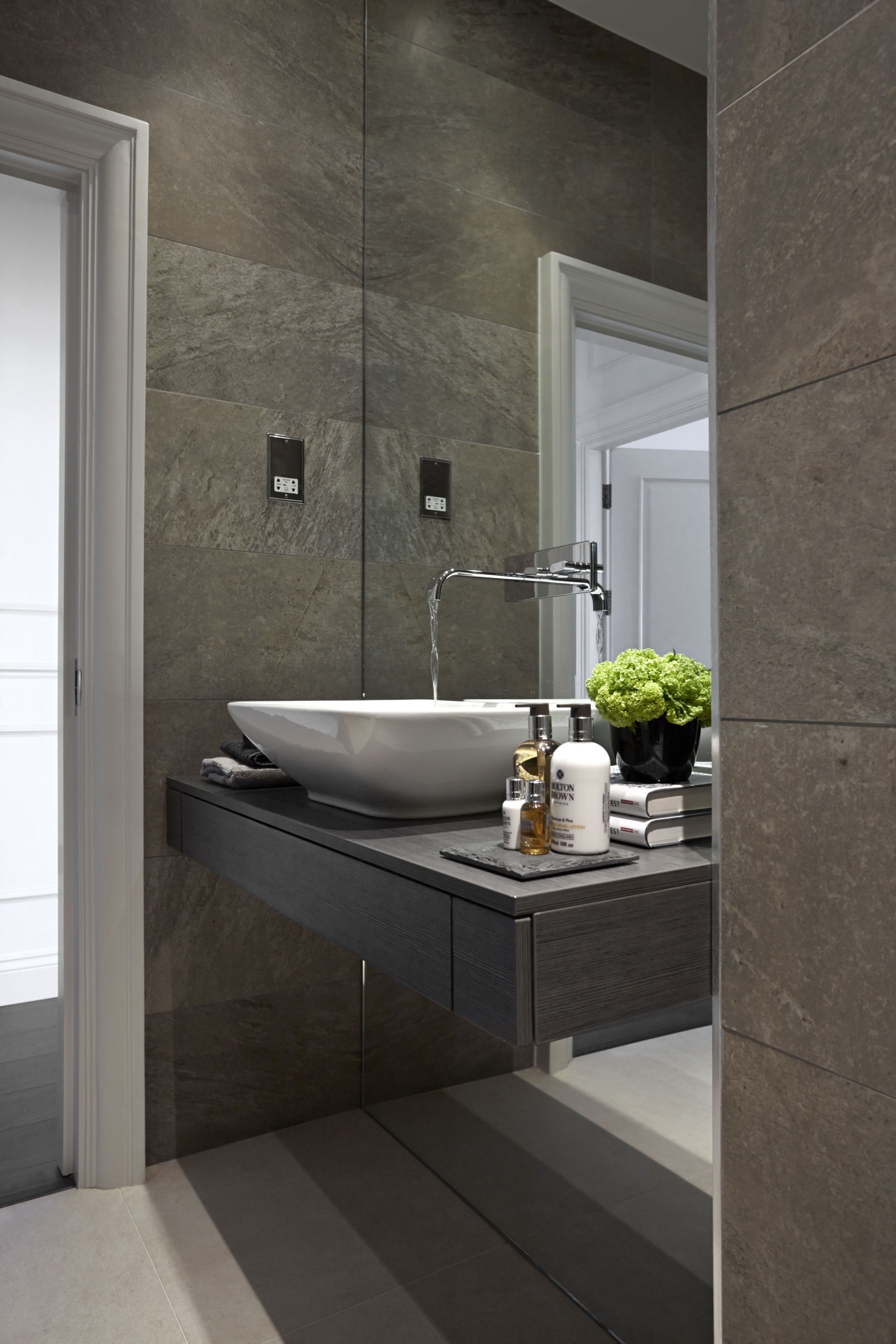 Sink vanity table designed for mounting on the wall. It has single drawer for storing personal items. Modern design for each bathroom according to taste.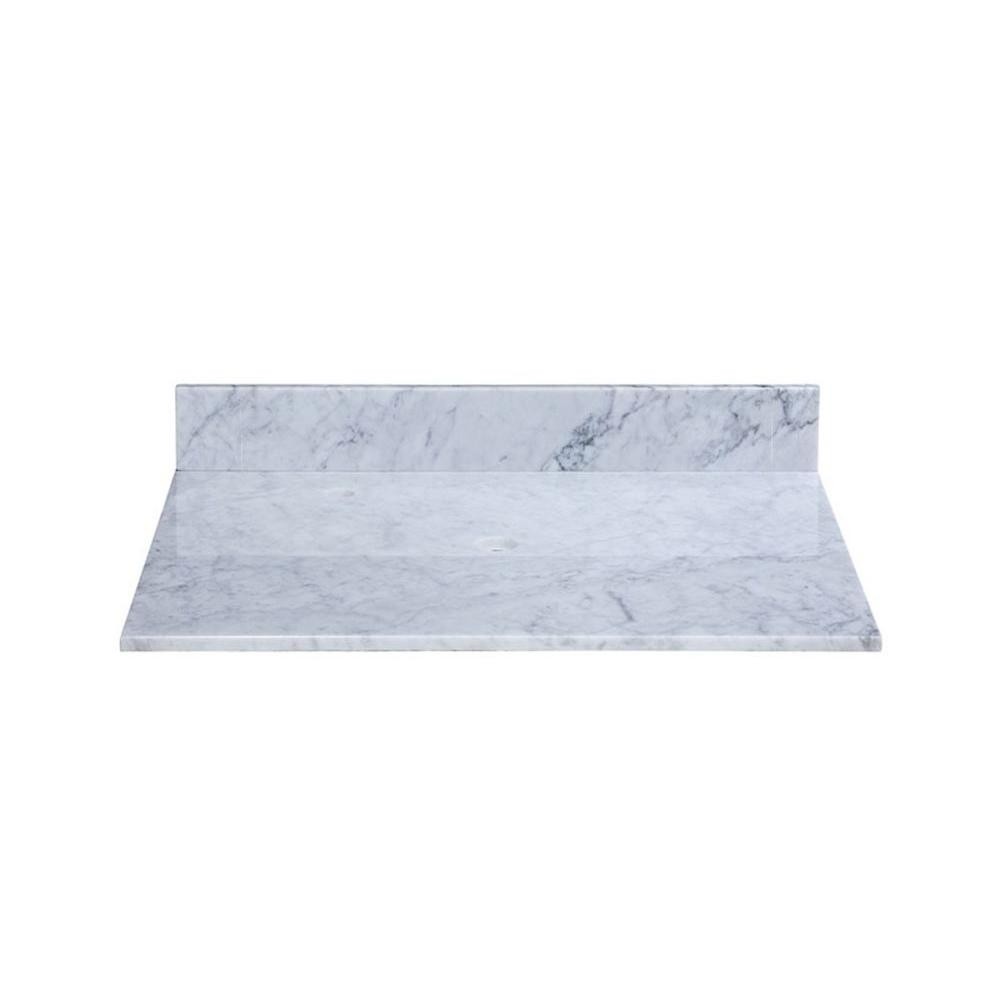 Xylem 25" Marble Vanity Top for Vessel Sink with Backsplash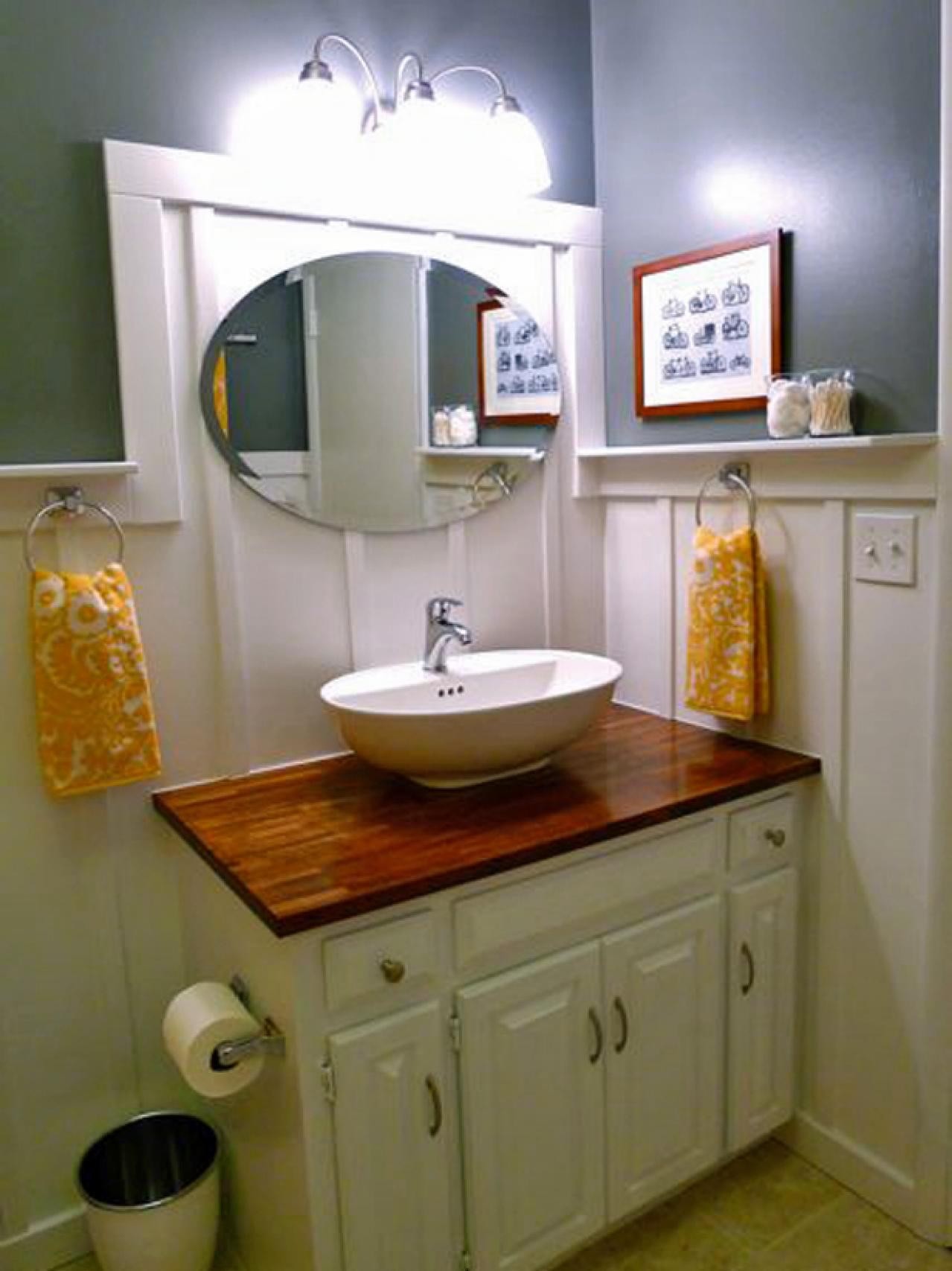 The beautiful combination of the white oval mirror with beautiful vanity with vessel sink creates a unique corner in the bathroom. A practical drawer cabinet with drawers and stucco finish and accessories create a cozy whole.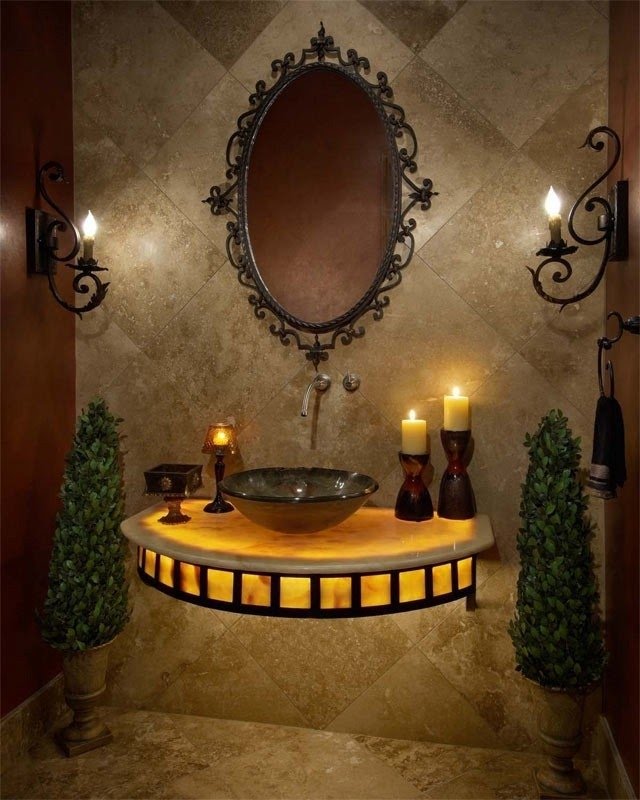 Remarkable ambience created in this powder room. The diagonal stoned wall is a dramatic backdrop for the lit vanity and one of a kind vessel sink. These details are complimented by the intricate iron framed mirror and wall sconces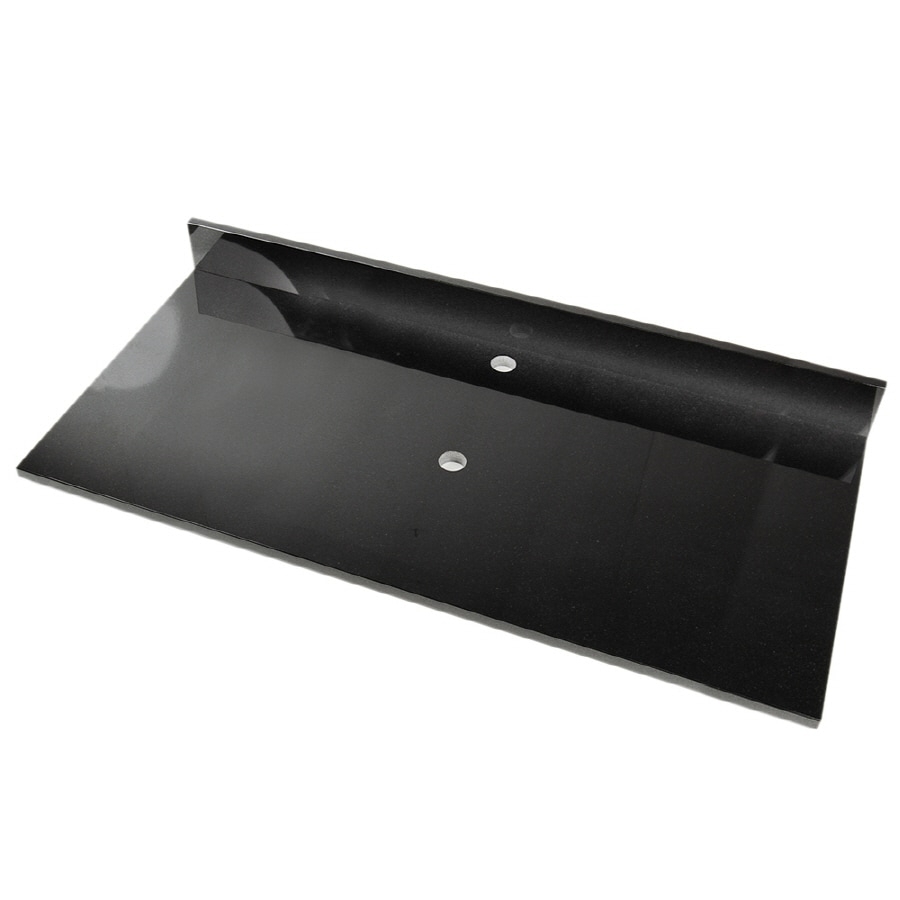 D'Vontz Natural Stone 49" Vanity Top for Vessel Sink & Reviews | Wayfair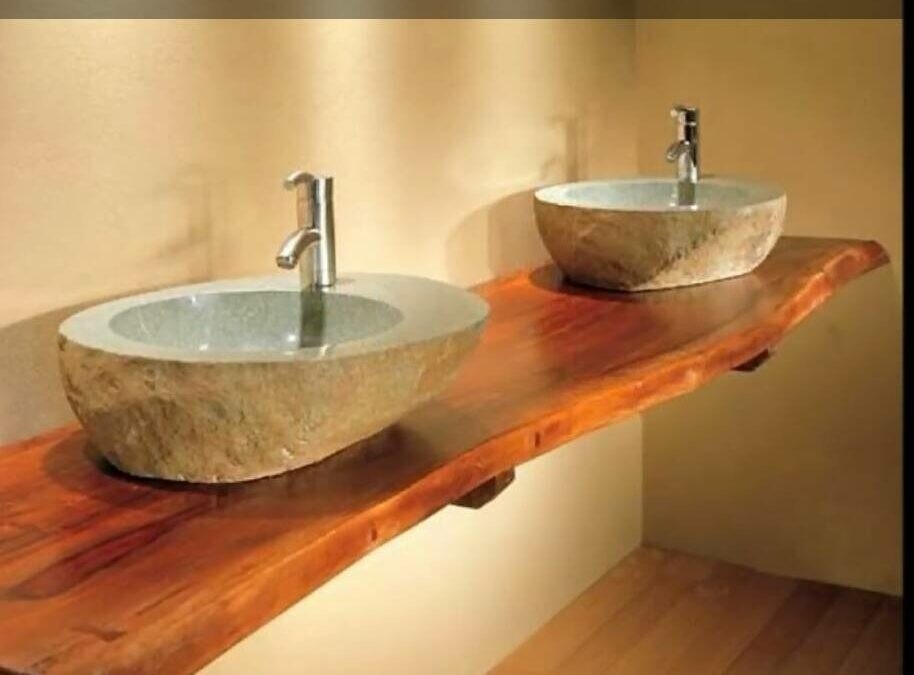 This unique set of stone sinks on a wooden countertop is a highly effective bathroom solution. Beautiful design and solid construction introduces a modern, natural style for the decor. Beautiful colors add warmth to the interior.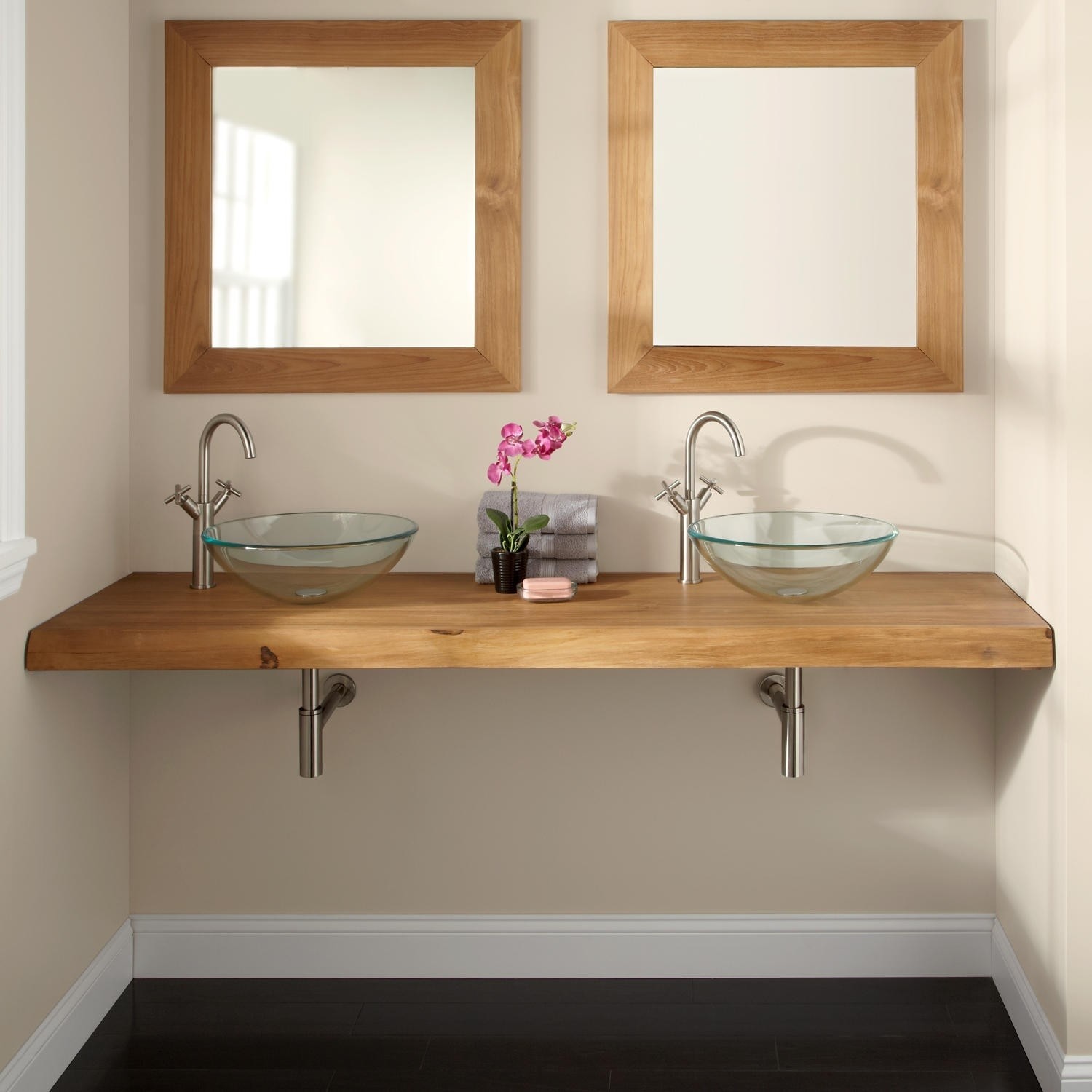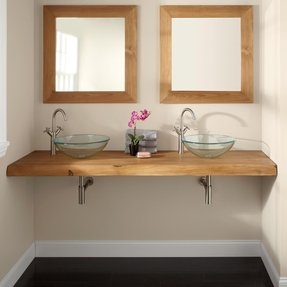 73" NATURAL EDGE TEAK WALL-MOUNT VANITY TOP FOR VESSEL SINK. This Fifth Wall Friday Design is a warm teak bathroom featuring Ceilume Ceiling Tiles.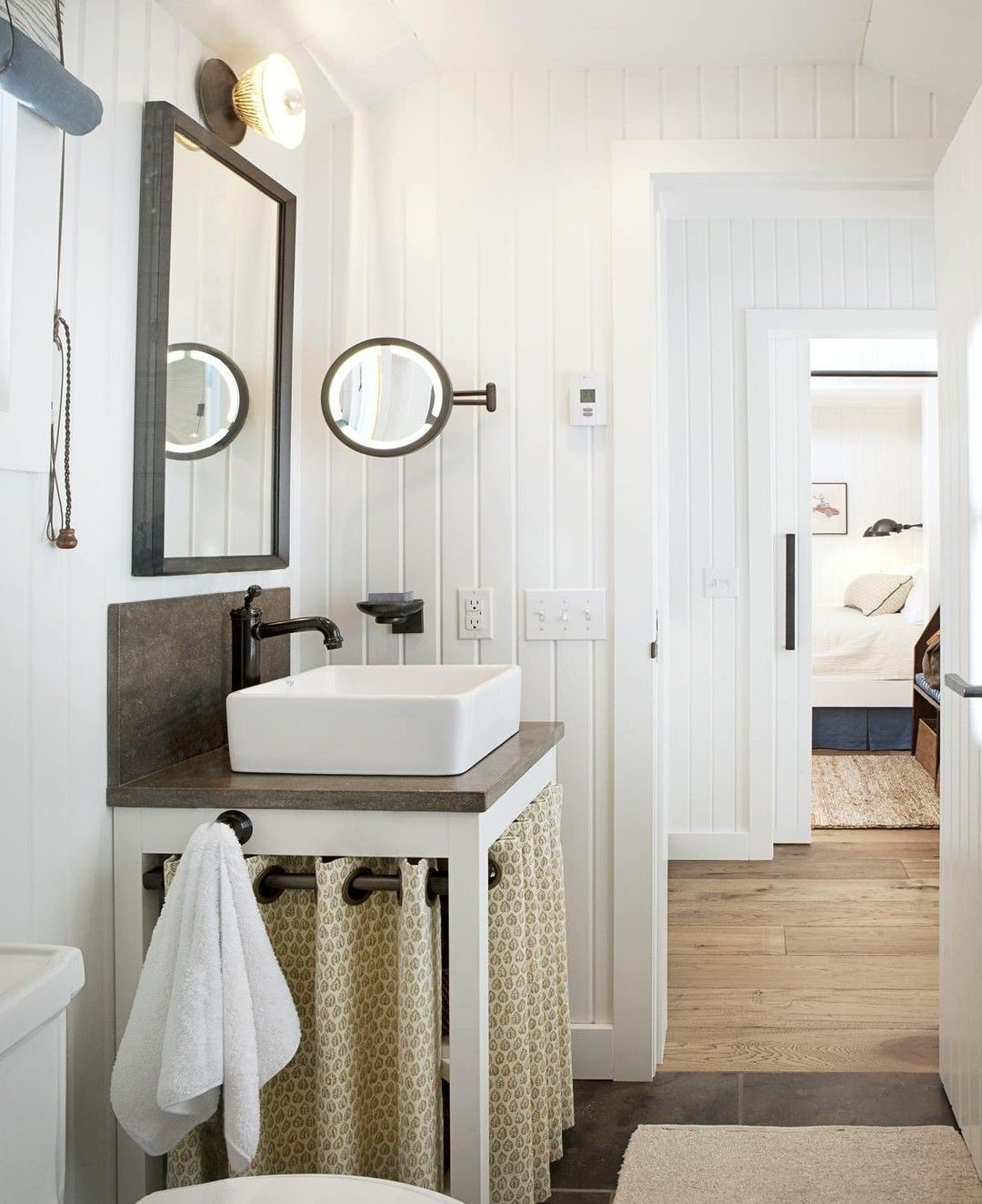 Skirted sink. I love this and wish we had done something like this to our pedestal sink. [Centsational Girl]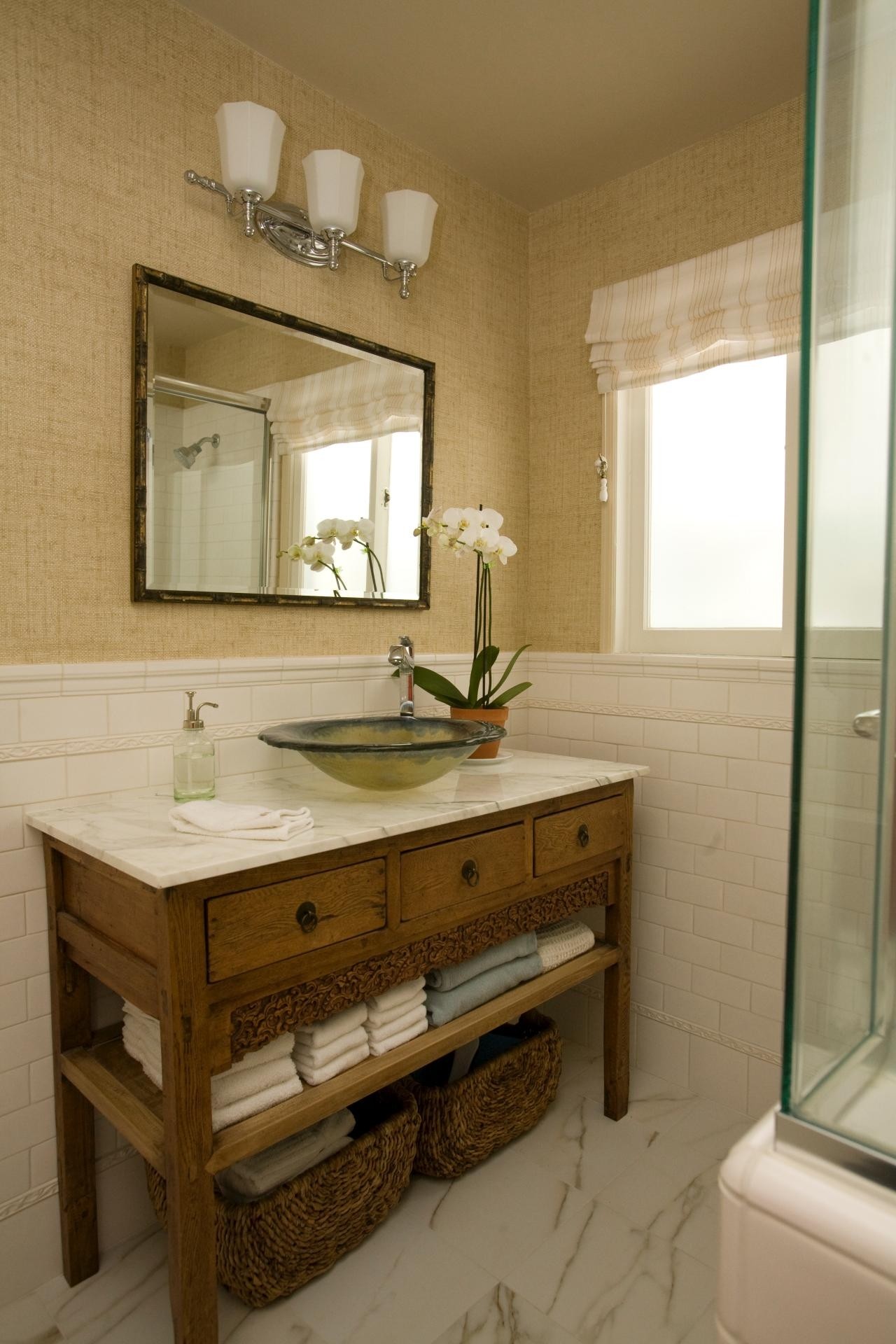 Bathroom. A casually elegant guest bathroom featuring a vanity made from a Chinese cabinet, topped with Calacutta marble and an ocean inspired vessel sink. Vinyl grasscloth wallcovering lend a relaxed feeling. The floor features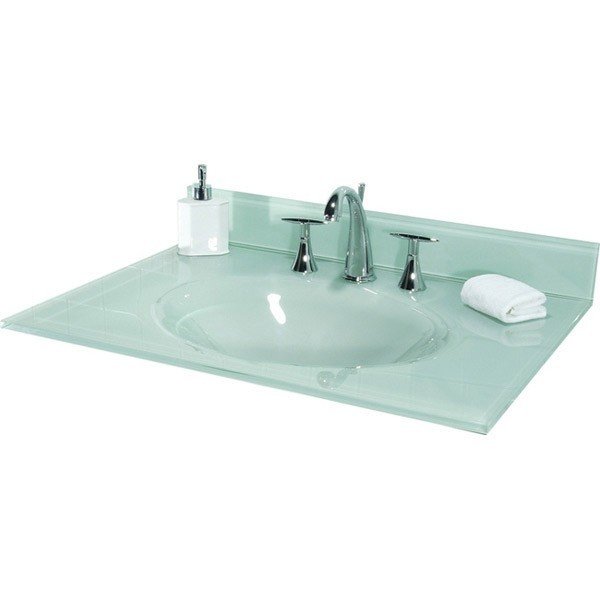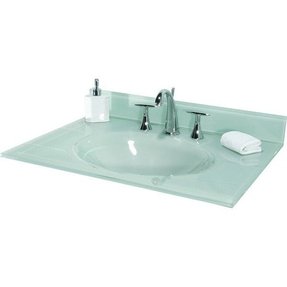 An aesthetic modern rectangular top with an oval sink for bathroom stands. It's manufactured of quality glass in a delicate bluish tone. It has a quite wide surface (with tap holes) around a sink, a bit raised edges, a low backsplash.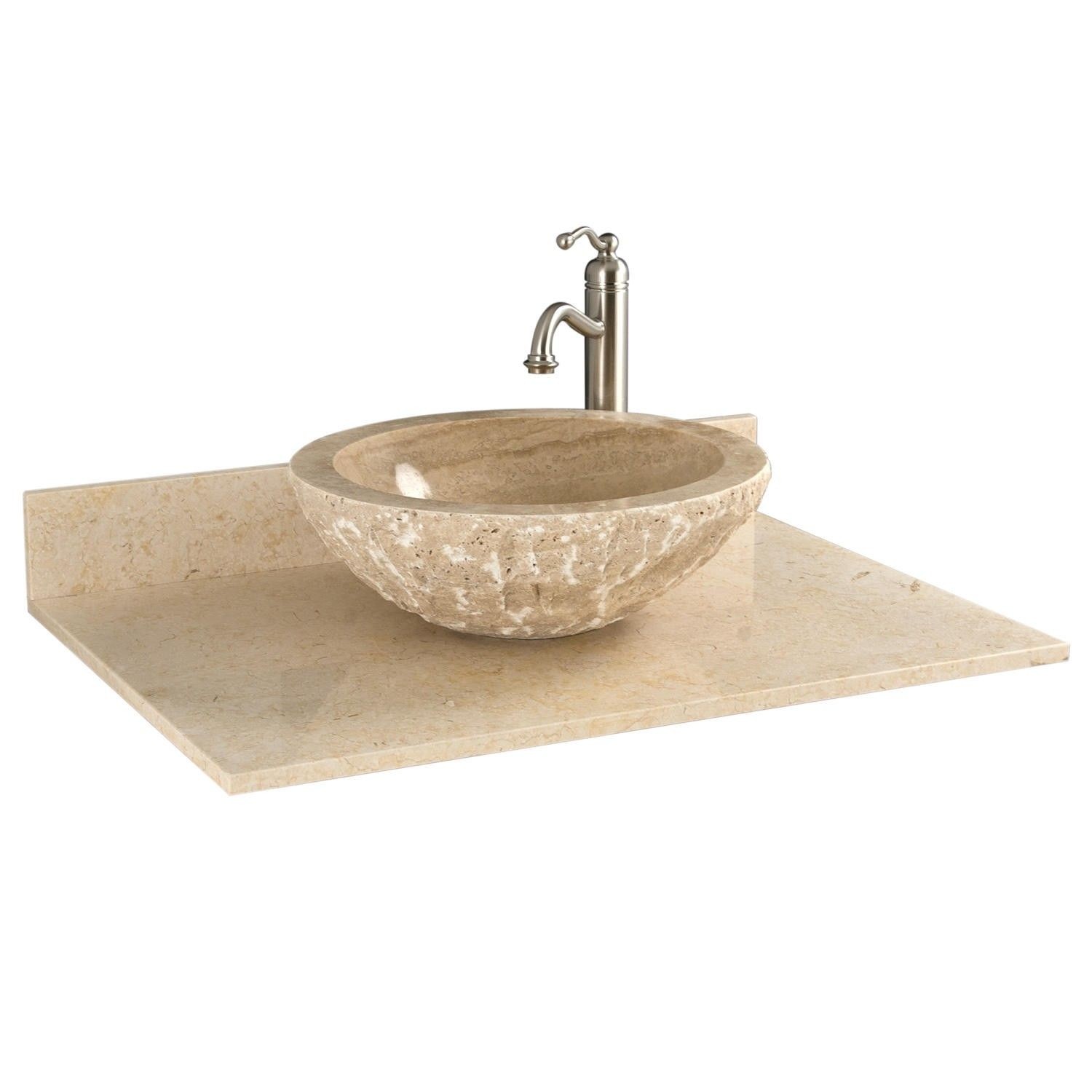 60 Jolon Teak Vanity Console with Teak Top for Vessel Sinks could probably find a cheaper furniture option and tweak it to make it fit vessel sinks... hmmm ikea hack?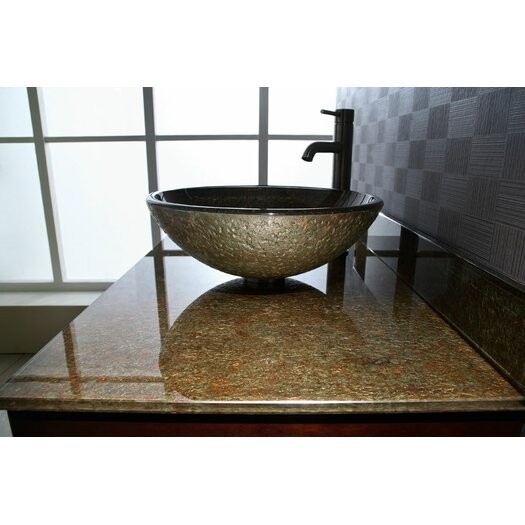 Reflex Storm 37" Vanity Top for Vessel Sink with Backsplash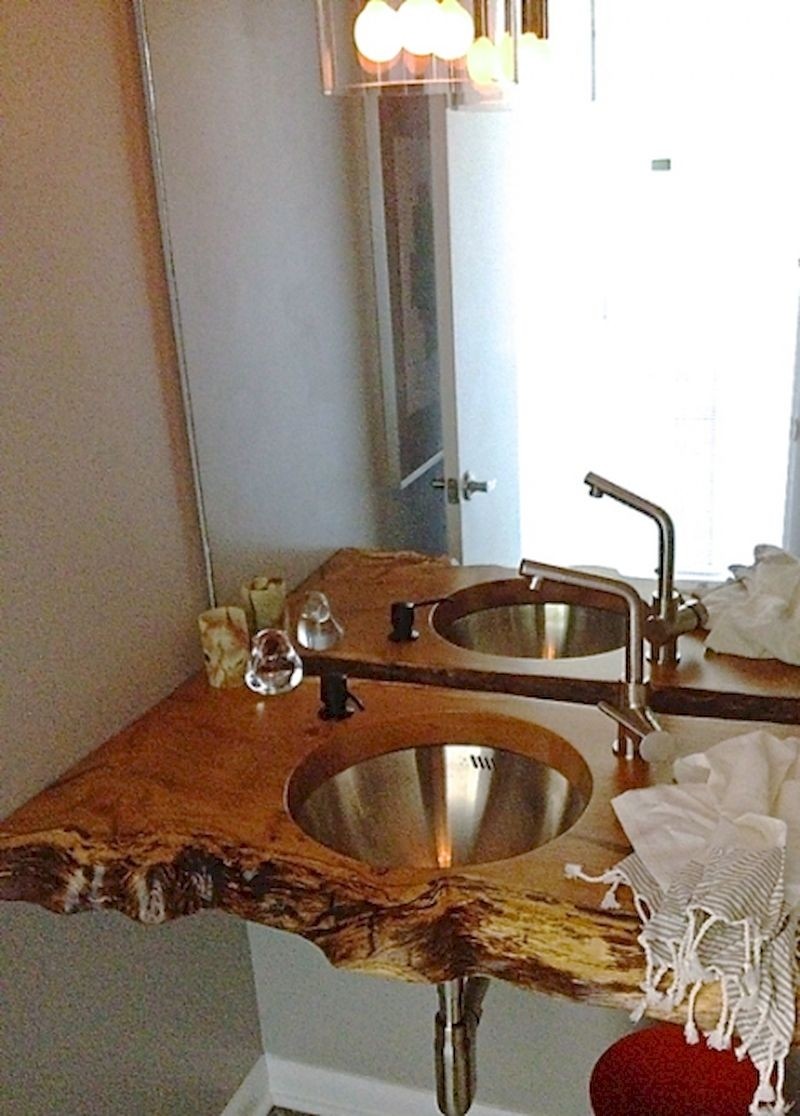 An unusual but cool and fashionable countertop for round bathroom sinks. It looks like a thick plank broken in half and features an irregular hackly front edge. This countertop is finished in warm brown tones.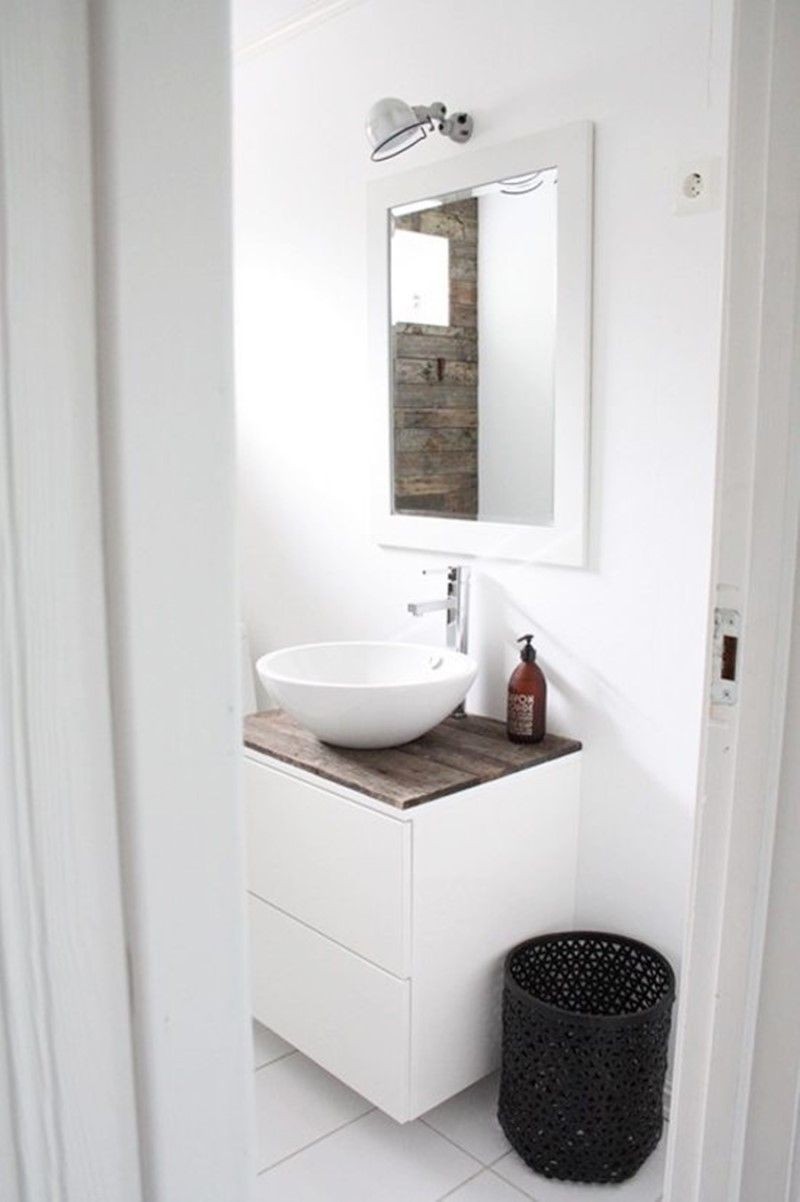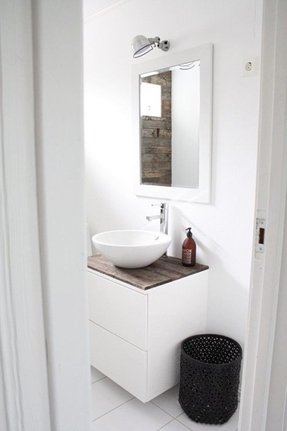 Bathroom cabinet for those who love simplicity. Has a white color and reclaimed wood planks. Table top cabinet is made of natural, beautiful wood. The whole creates a functional vessel sink. It gives the interior a scandinavian character.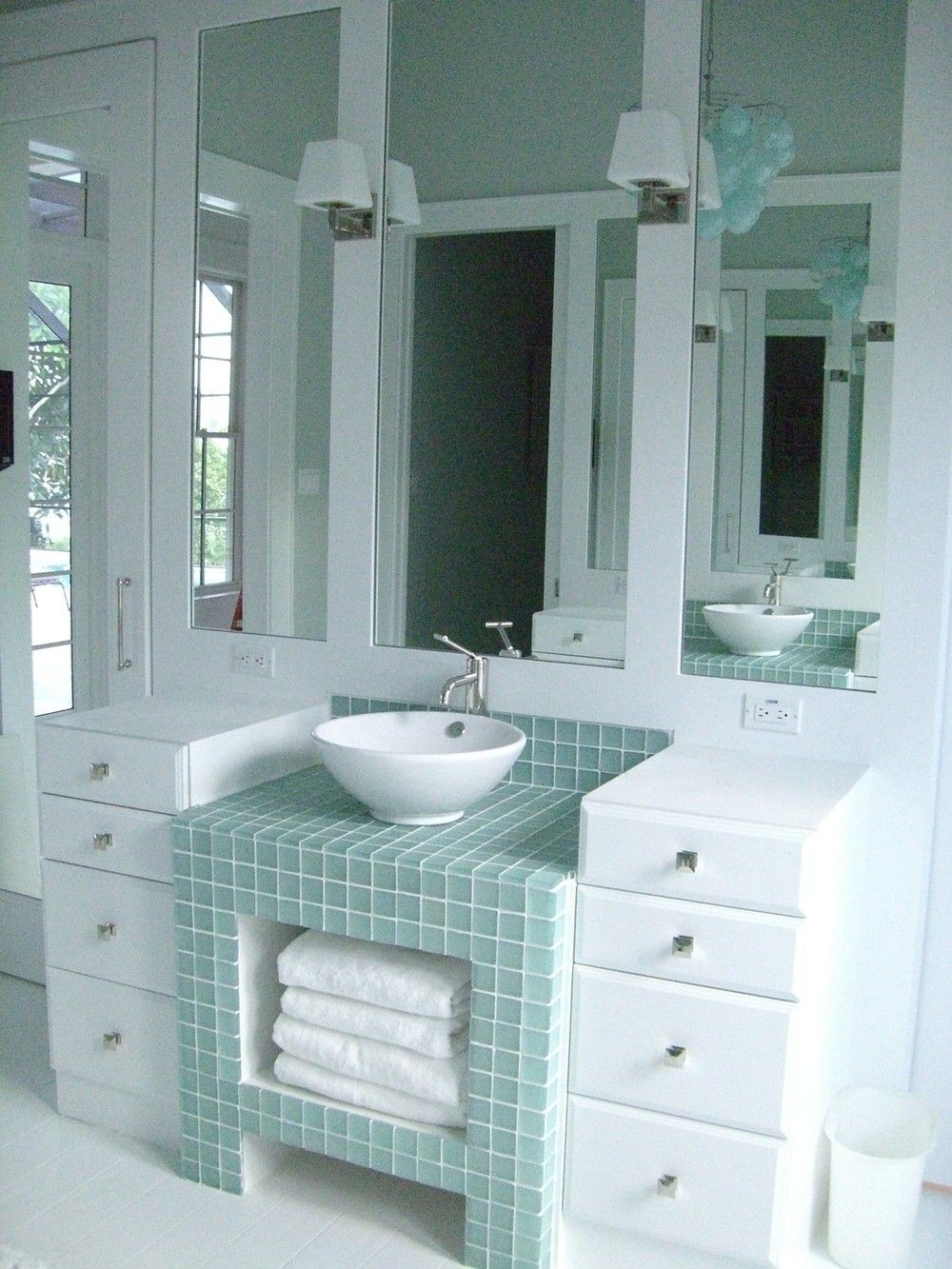 Love this idea for bathroom cabinets. Could easily be adapted to any size or shape.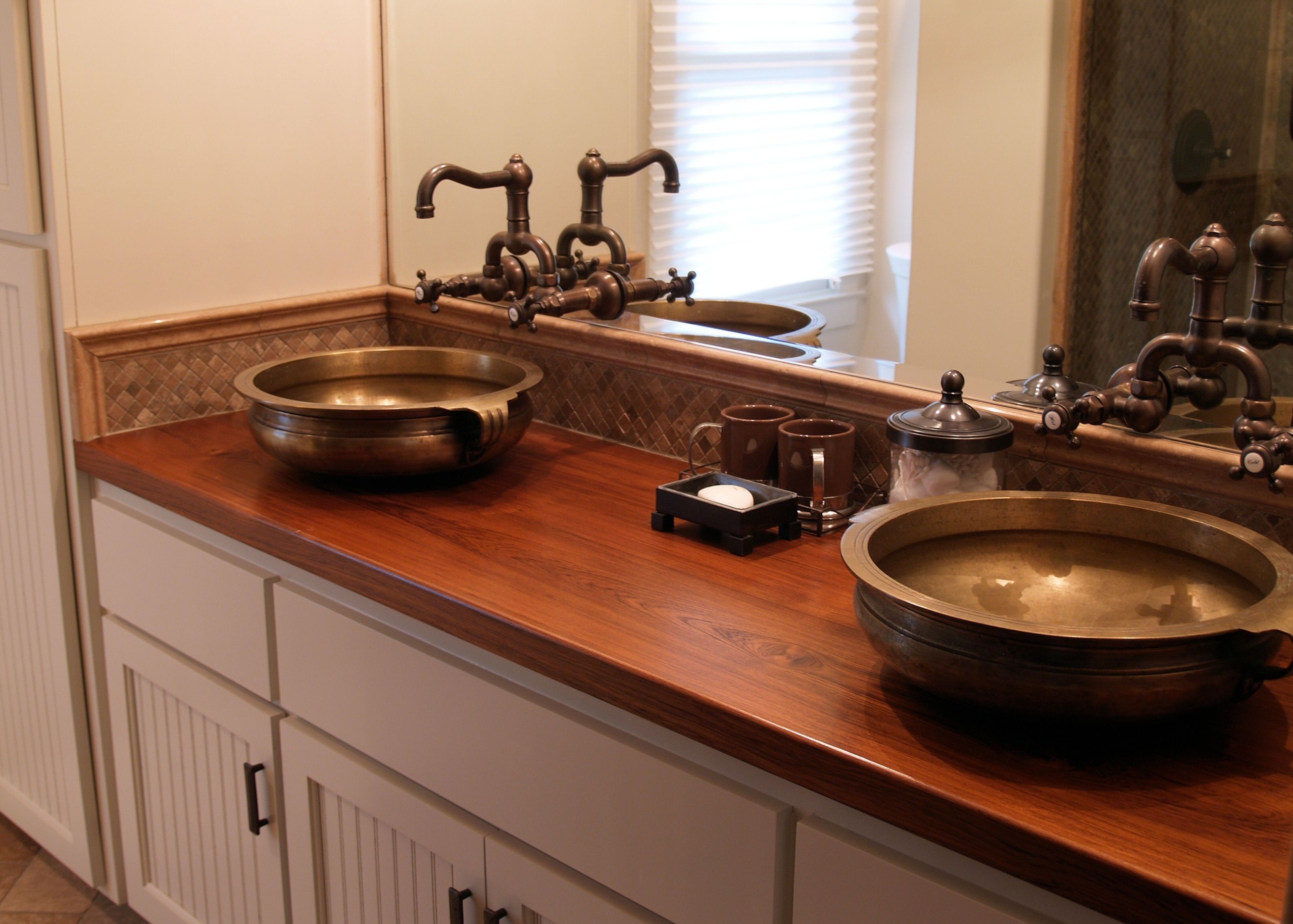 Great product for sealing wood counters - Waterlox Tung Oil for counters - Also supposed to be food safe for kitchen counters.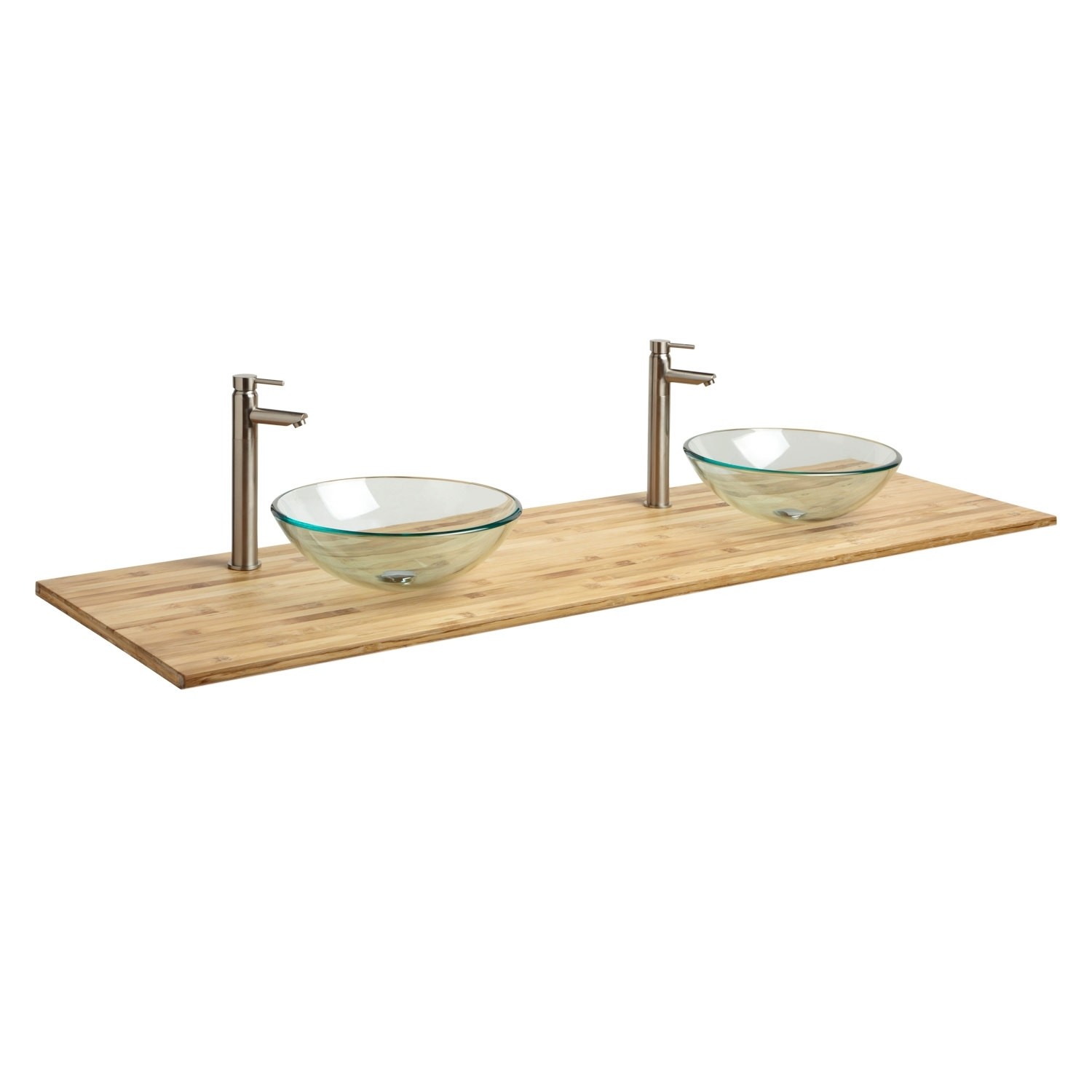 Home / Bathroom / 73" Bamboo Vanity Top for Double Vessel Sinks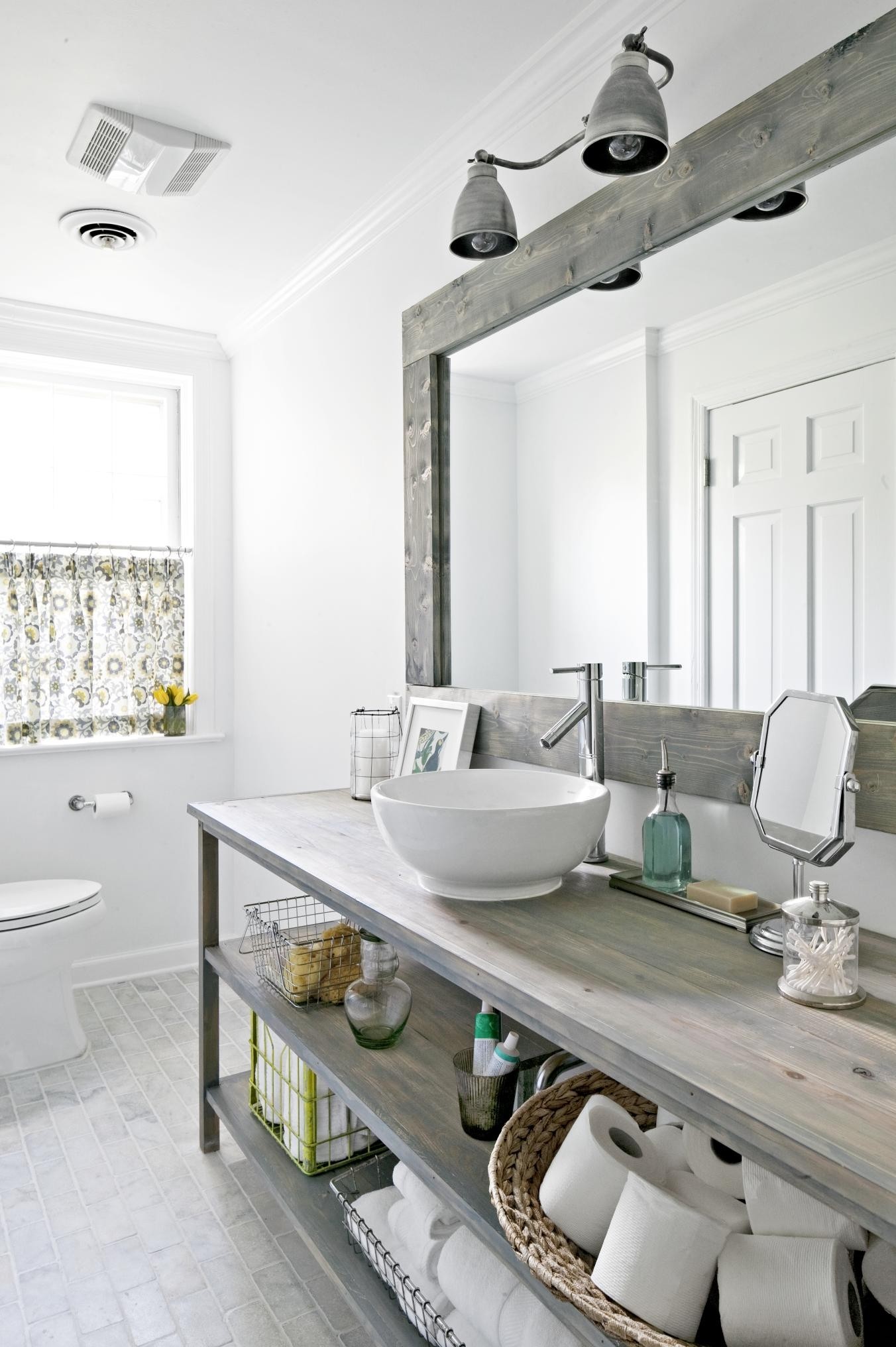 A solid vanity in a neutral gray color and wooden construction. This table offers a top and two lower shelves for the storage of bathroom items. Upper area also includes a sink with a vessel stylization.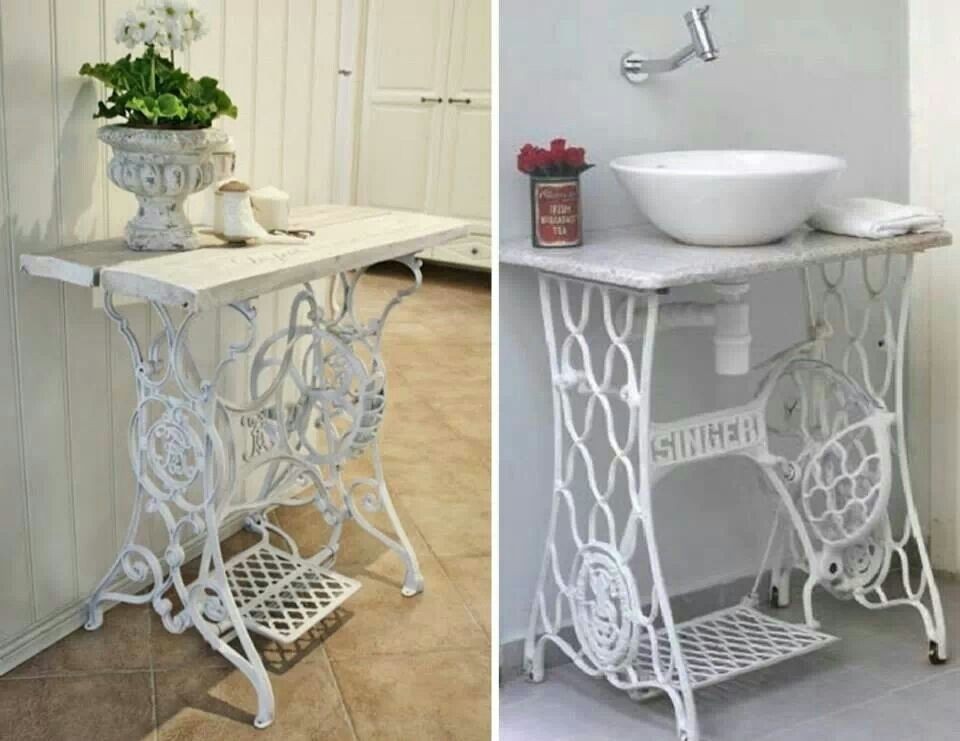 A brilliant example of upcycling. This project shows how gorgeous effects you can achieve while repurposing. An old Singer sewing base turned into a shabby chic vanity table. The base owes its adorned character to copper-vein powder.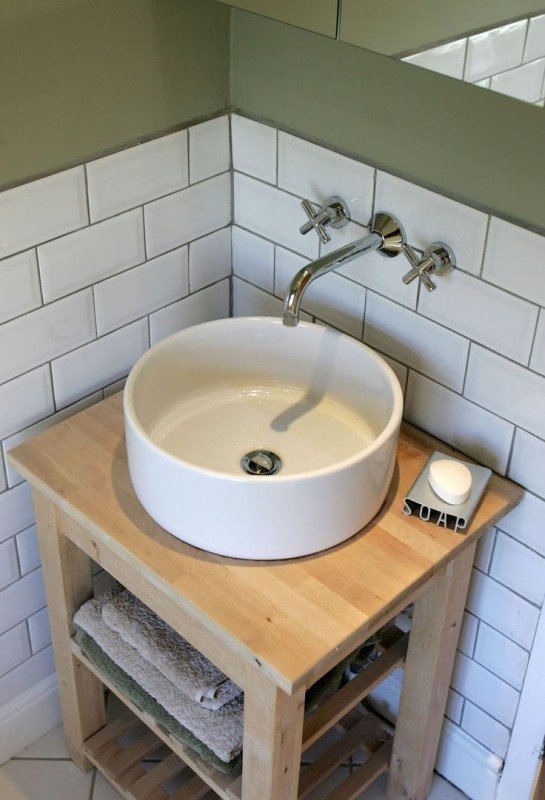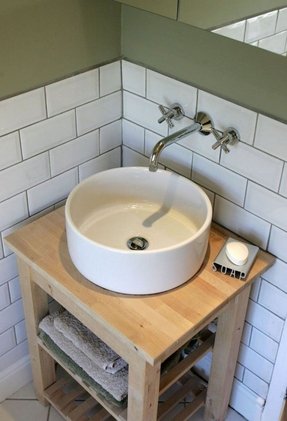 To keep costs low, this bathroom corner with vessel sink was equipped with reclaimed vanity top made from a wooden kitchen cart. Its small footprint and square plane fits this rather restricted space very well.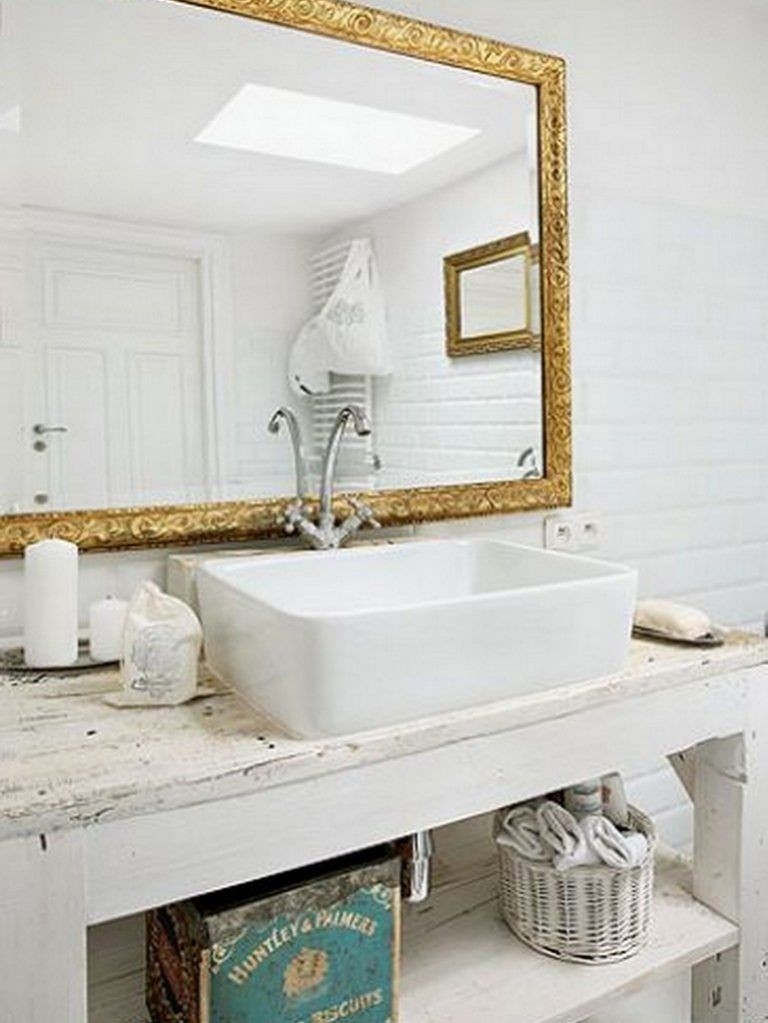 Vanity for either bath. Repourposed shabby furniture piece with top mount sink.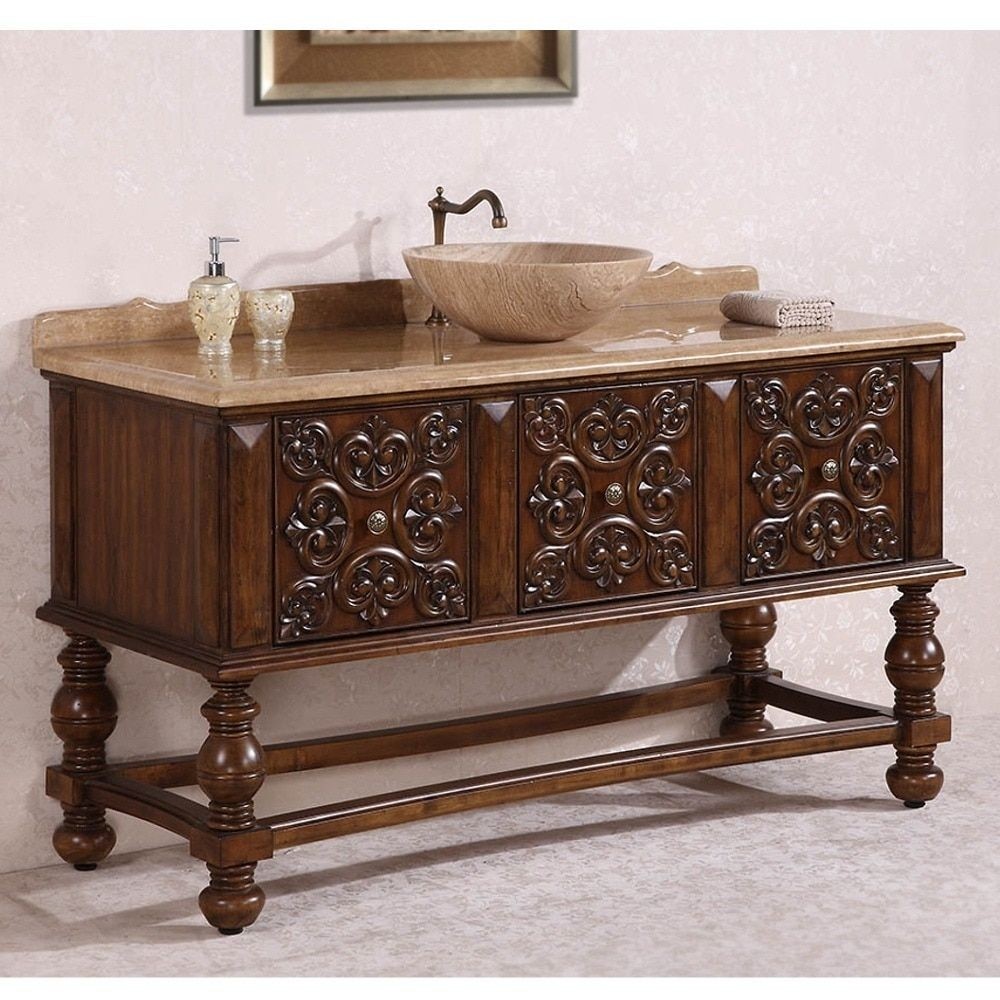 A true piece of sublime craftsmanship - this bathroom vanity travertine top with the vessel sink is a given to turn some heads, especially with the wonderful carvings of the front and the contrasting top.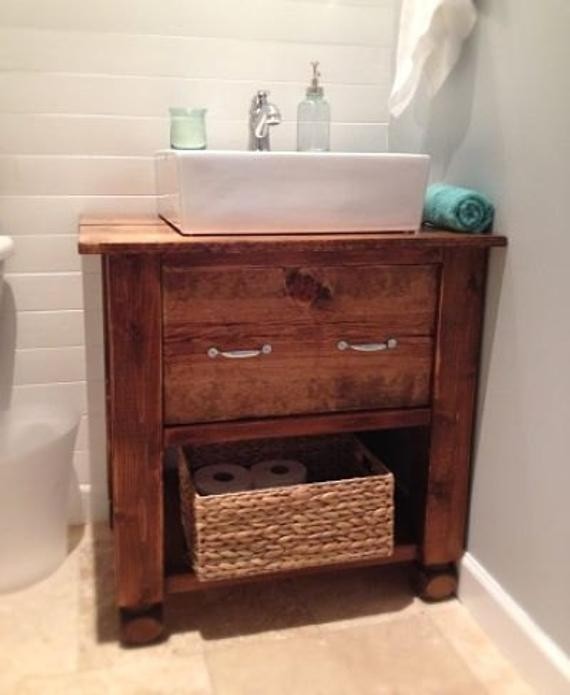 The rustic wooden vanity base for vessel sink. This traditional cupboard looks like renew grandma's one. You should remember to lacquer it, because I am not pretty sure if it is enough waterproof to be in the bathroom.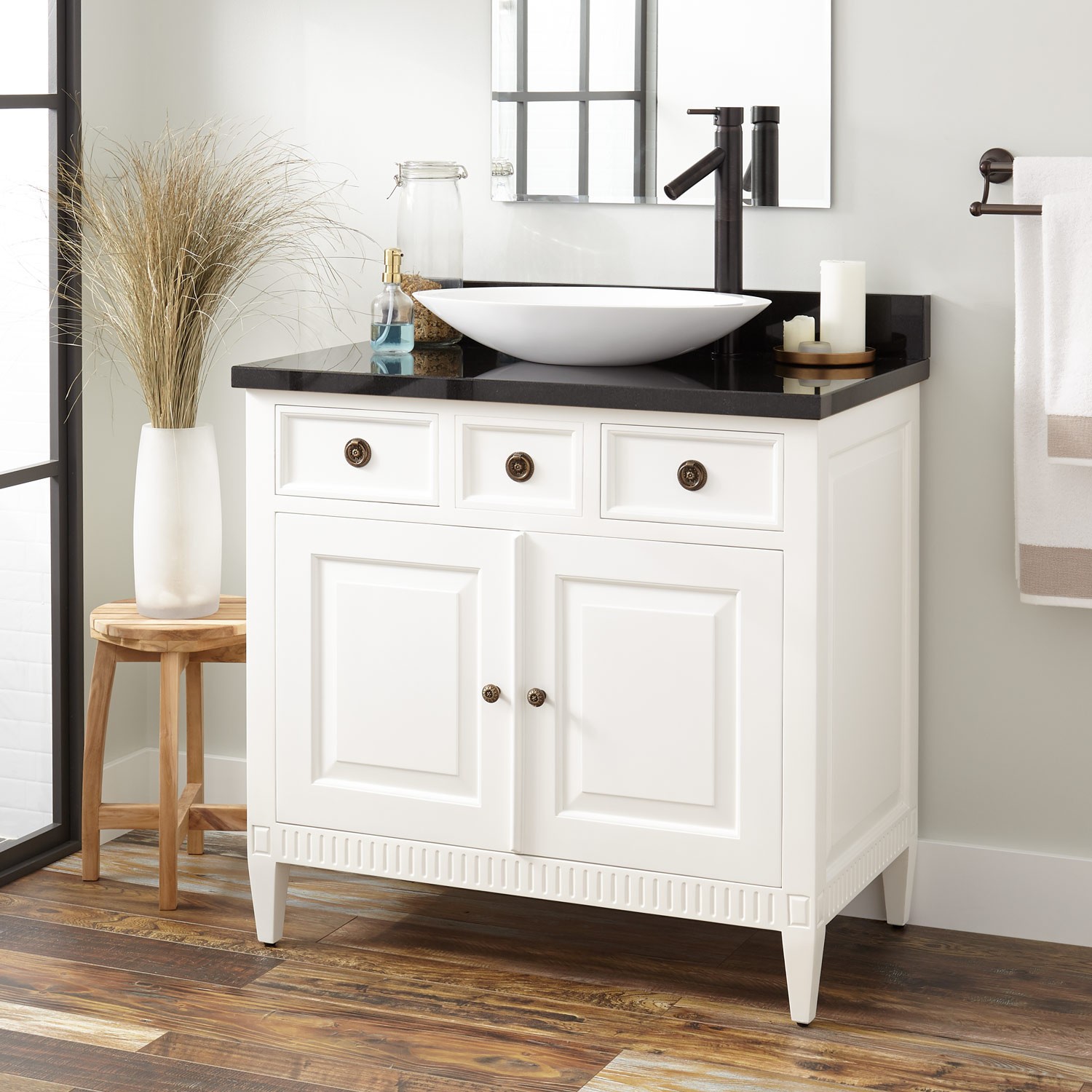 36" Hawkins Mahogany Vessel Sink Vanity - White - Bathroom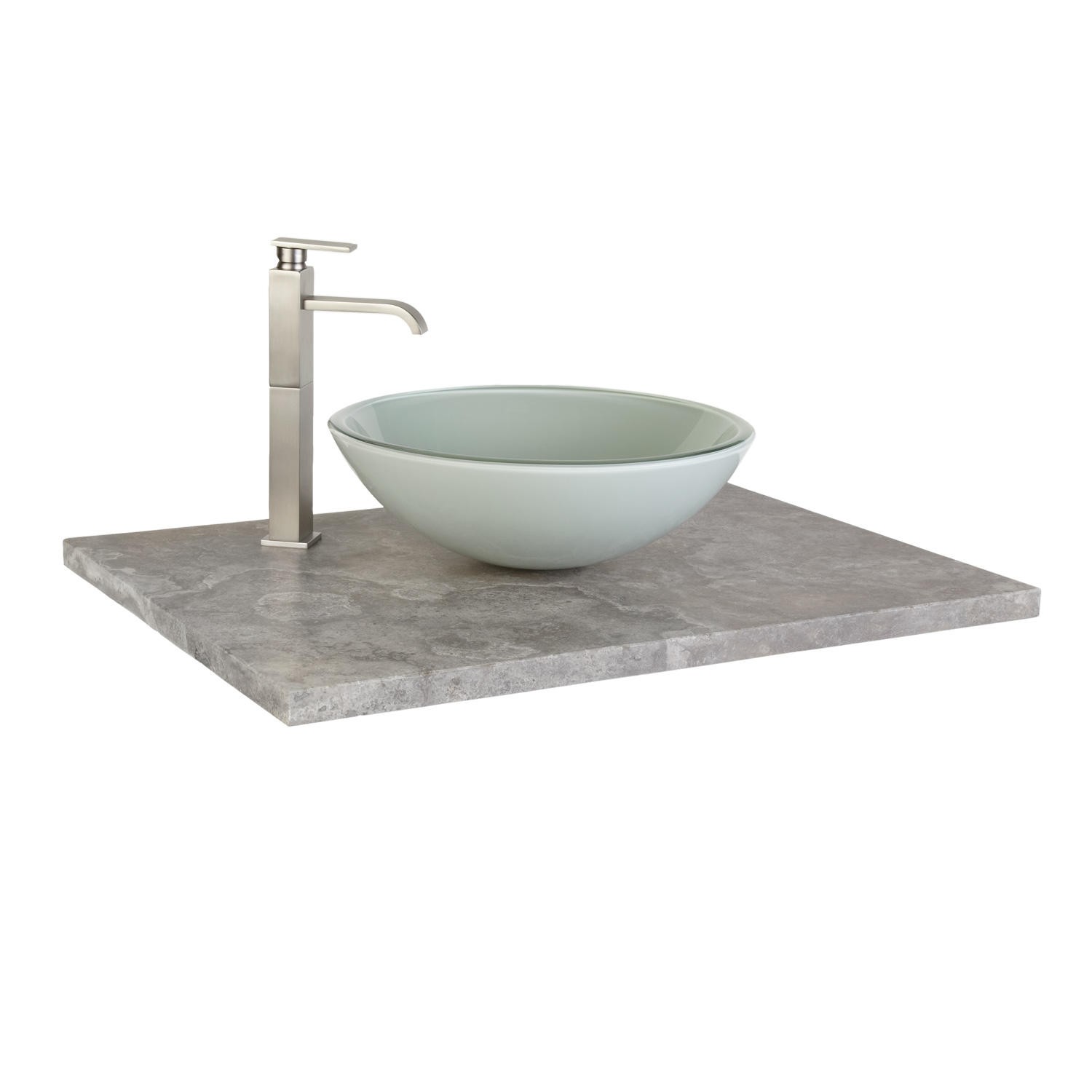 Signature Hardware 31"x22" Silver Travertine Vessel Sink ...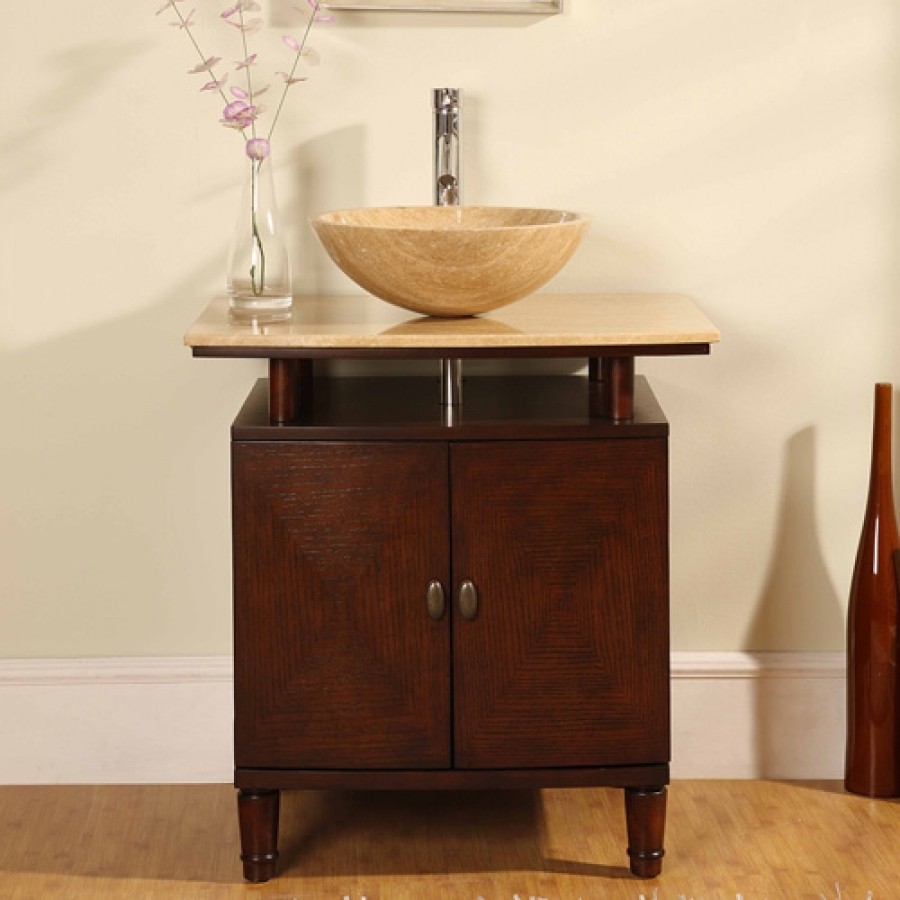 29 Inch Modern Vessel Sink Vanity with Travertine Top ...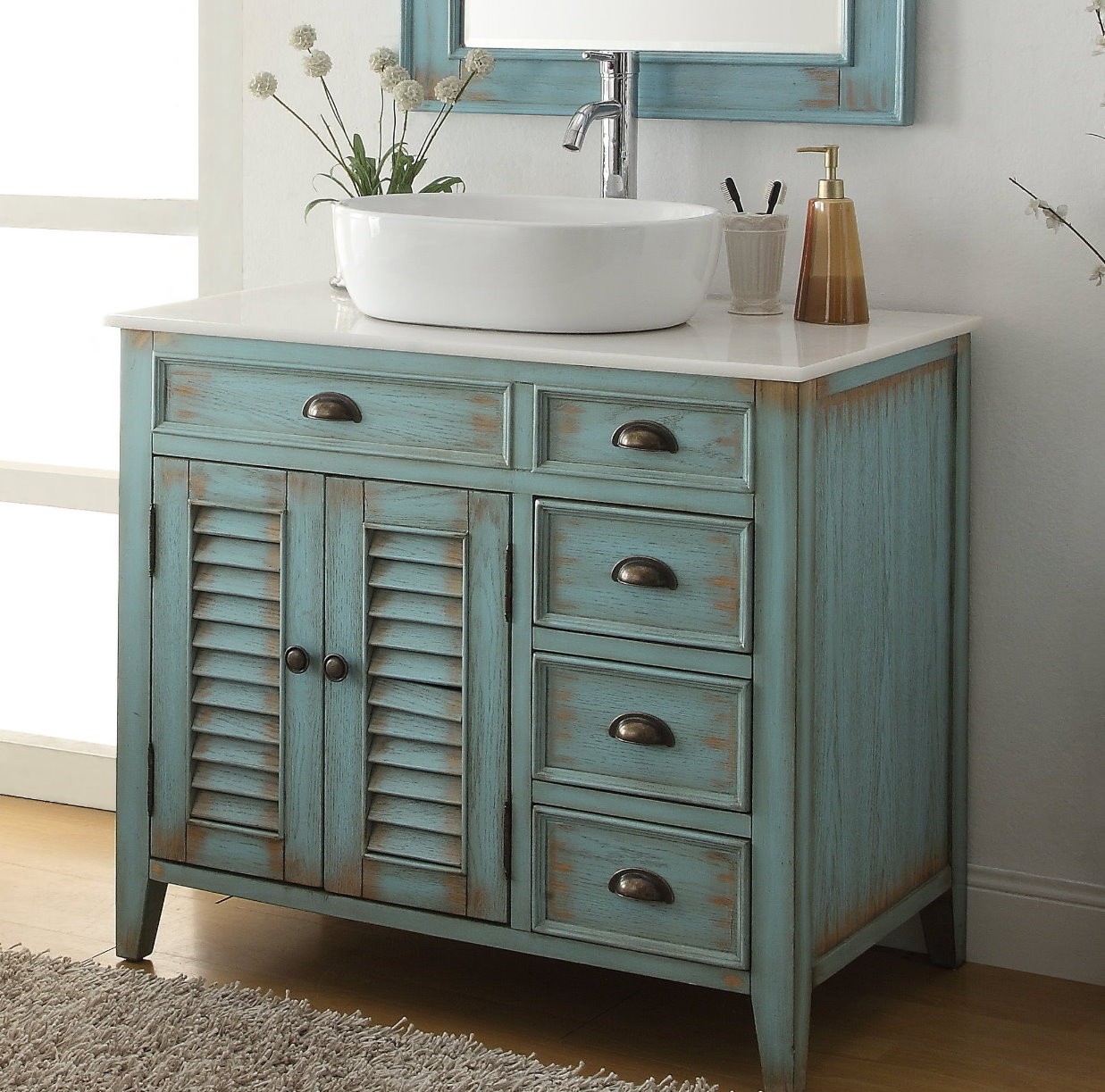 36" Distress Blue Abbeville Vessel sink Vanity CF-78886BU