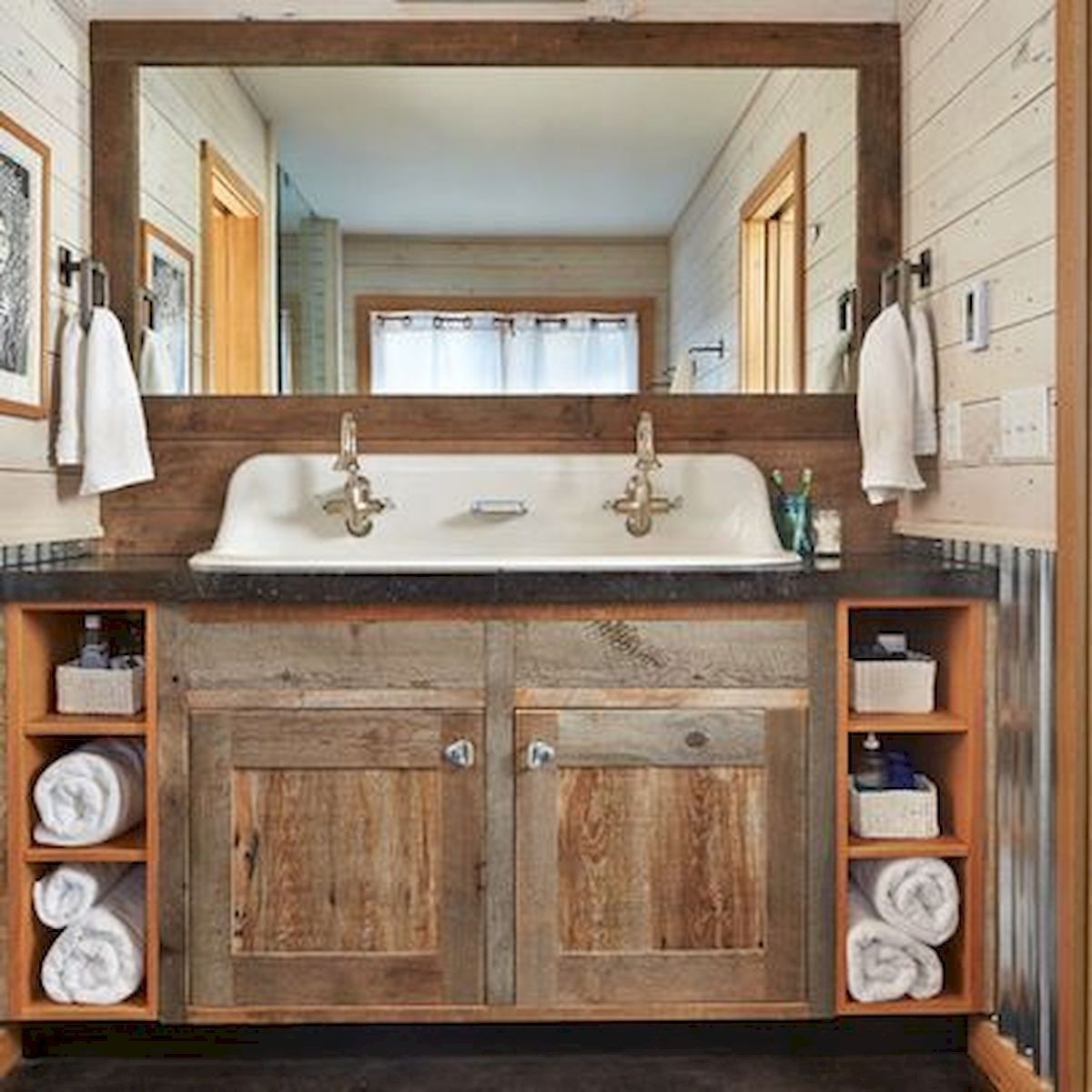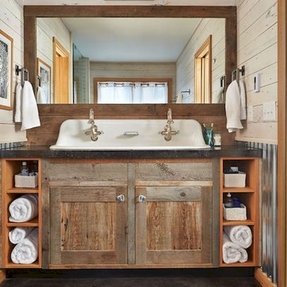 Bathroom sink with a durable wooden construction and rustic stylization. It features two metal sinks and a practical construction with six shelves and lower compartments with double wooden doors and decorative handles.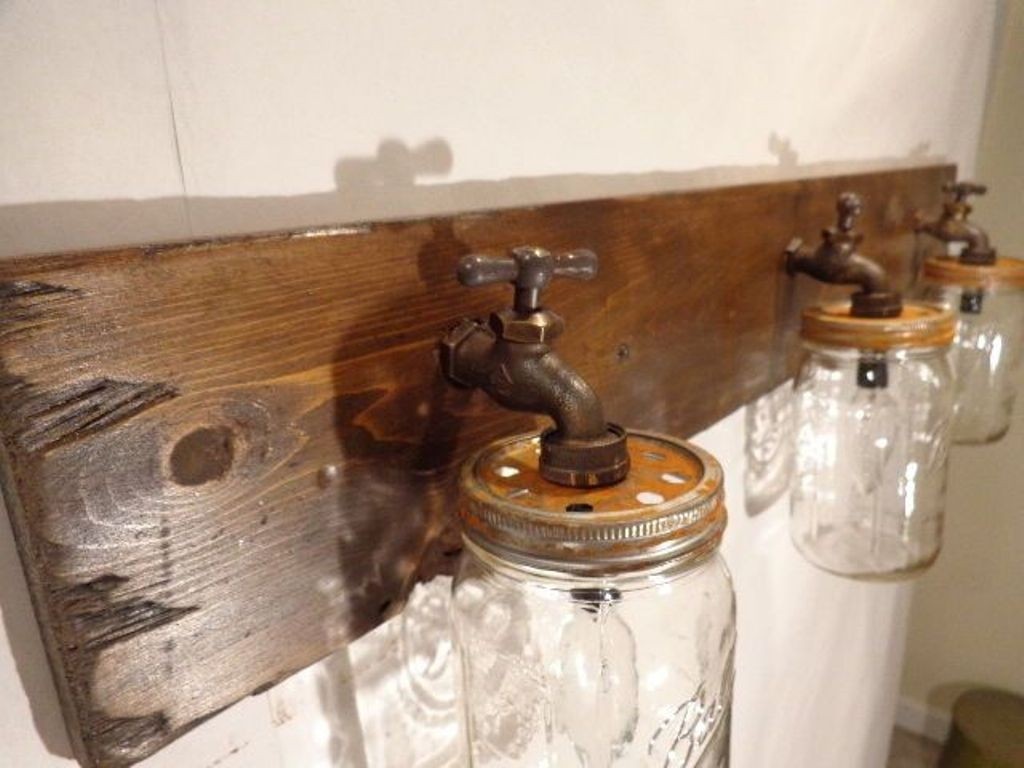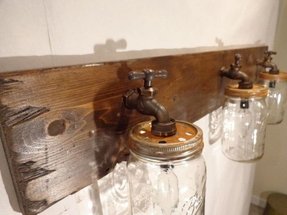 Handmade Mason Jar Vanity Light Fixture Country Primitive Rustic
If you dream about unique, old-fashioned adornment in your kitchen you should buy this hand-made wall decoration. It is composed of worn out wooden board, little sink taps made of brass and three old, glazed jars.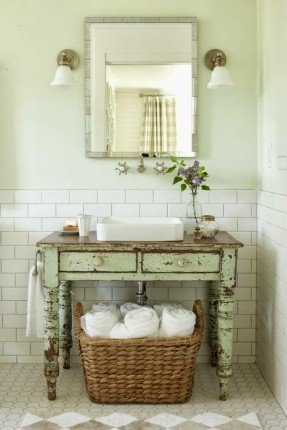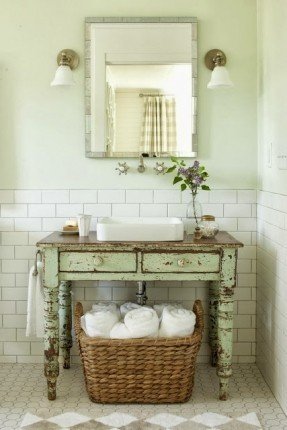 Country setup for a vintage and rustic bathroom with a tiny console vanity table with two drawers and a ceramic sink bowl on it. The console table is fitted with a large wicker bucket underneath for additional storage.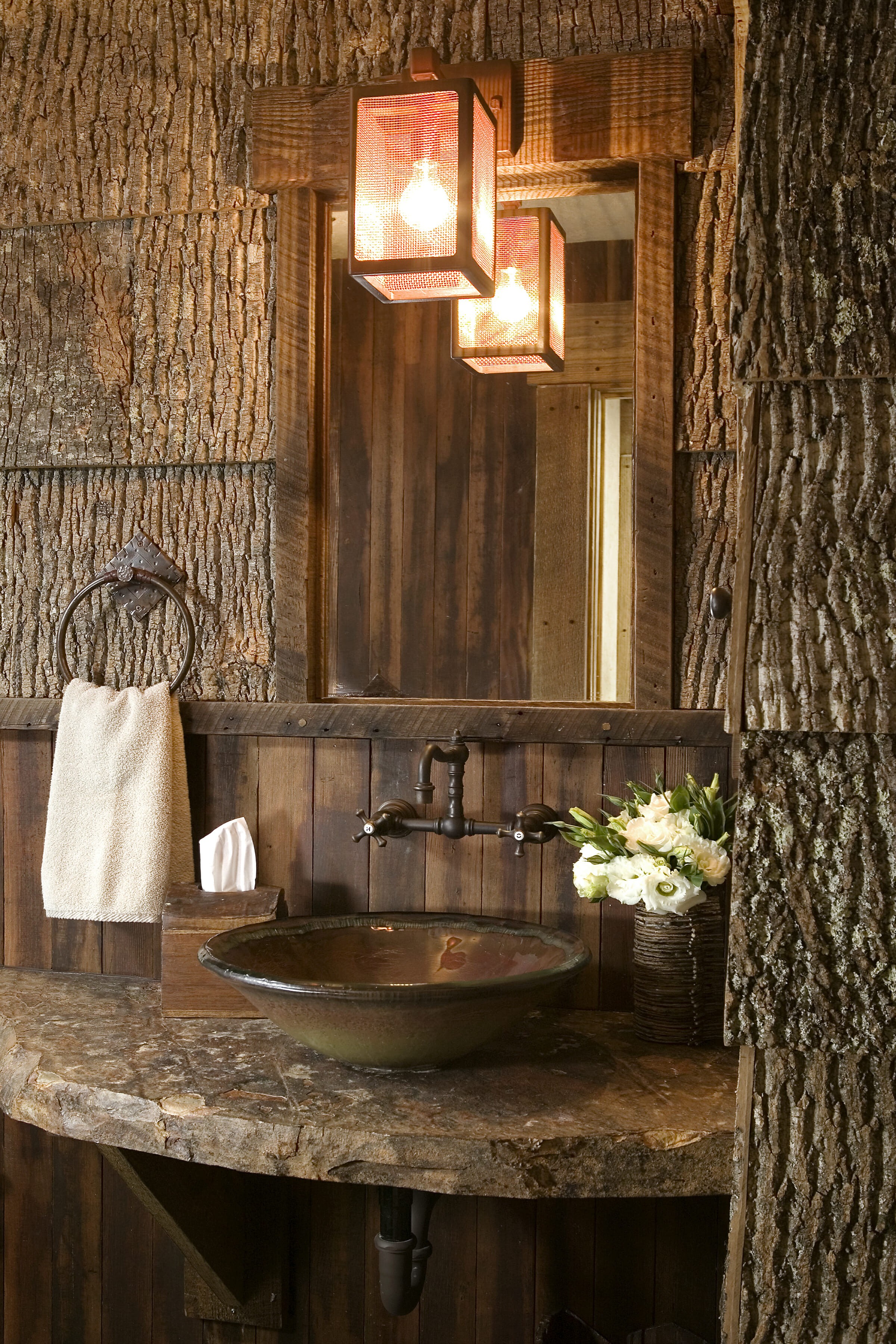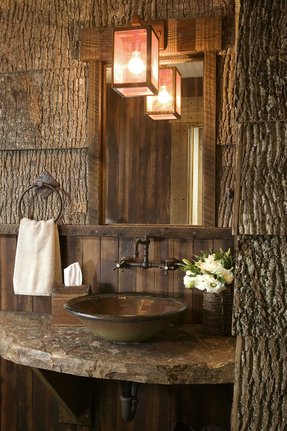 A nice bathroom sink for rustic decor lovers. Old-styled decor with an attractive vessel provides not only functionality, but also attractive appearance. Unfinished top provides additional aesthetic effect.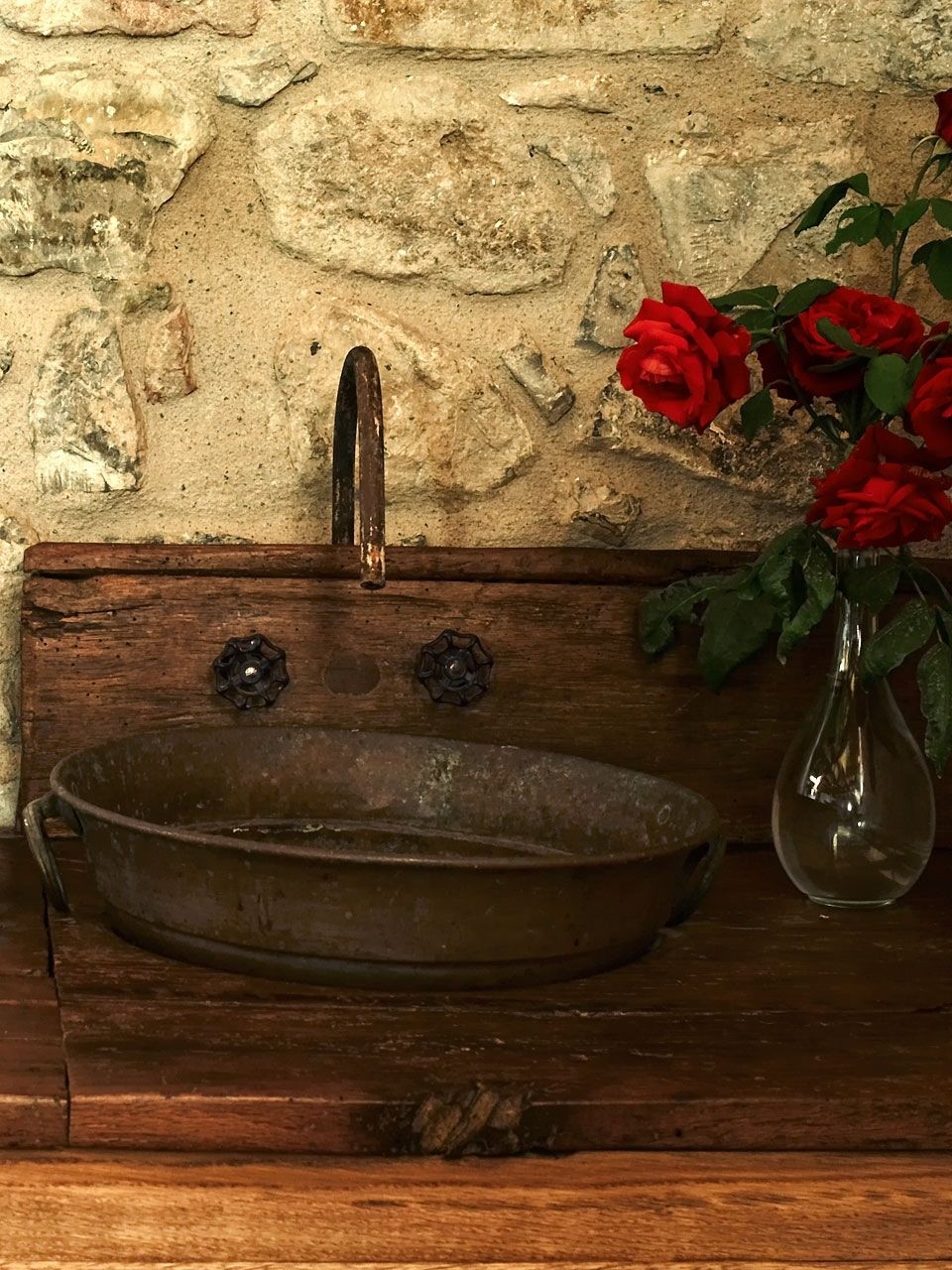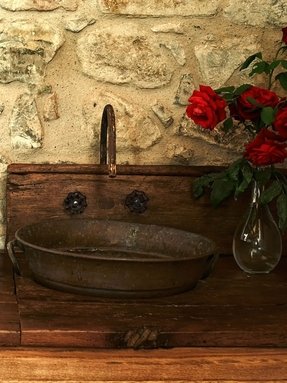 Bathroom sink in rustic style. It is made of metal with antique finish. Suitable for residential and commercial premises. Simple form and functional design for each place as needed.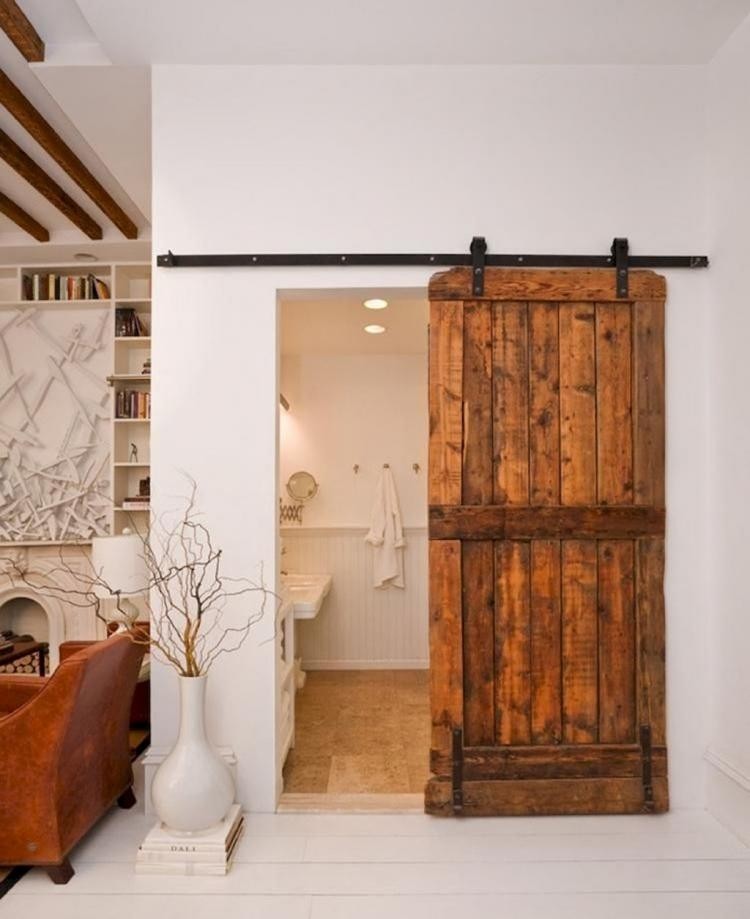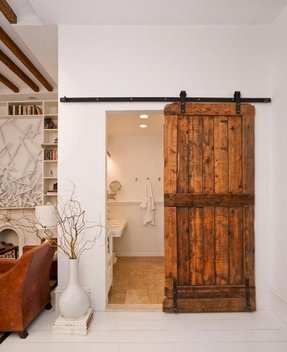 Rustic Master Bathroom with Large white floor vase, Built-in bookshelf, Raised ceiling, Exposed beam ceiling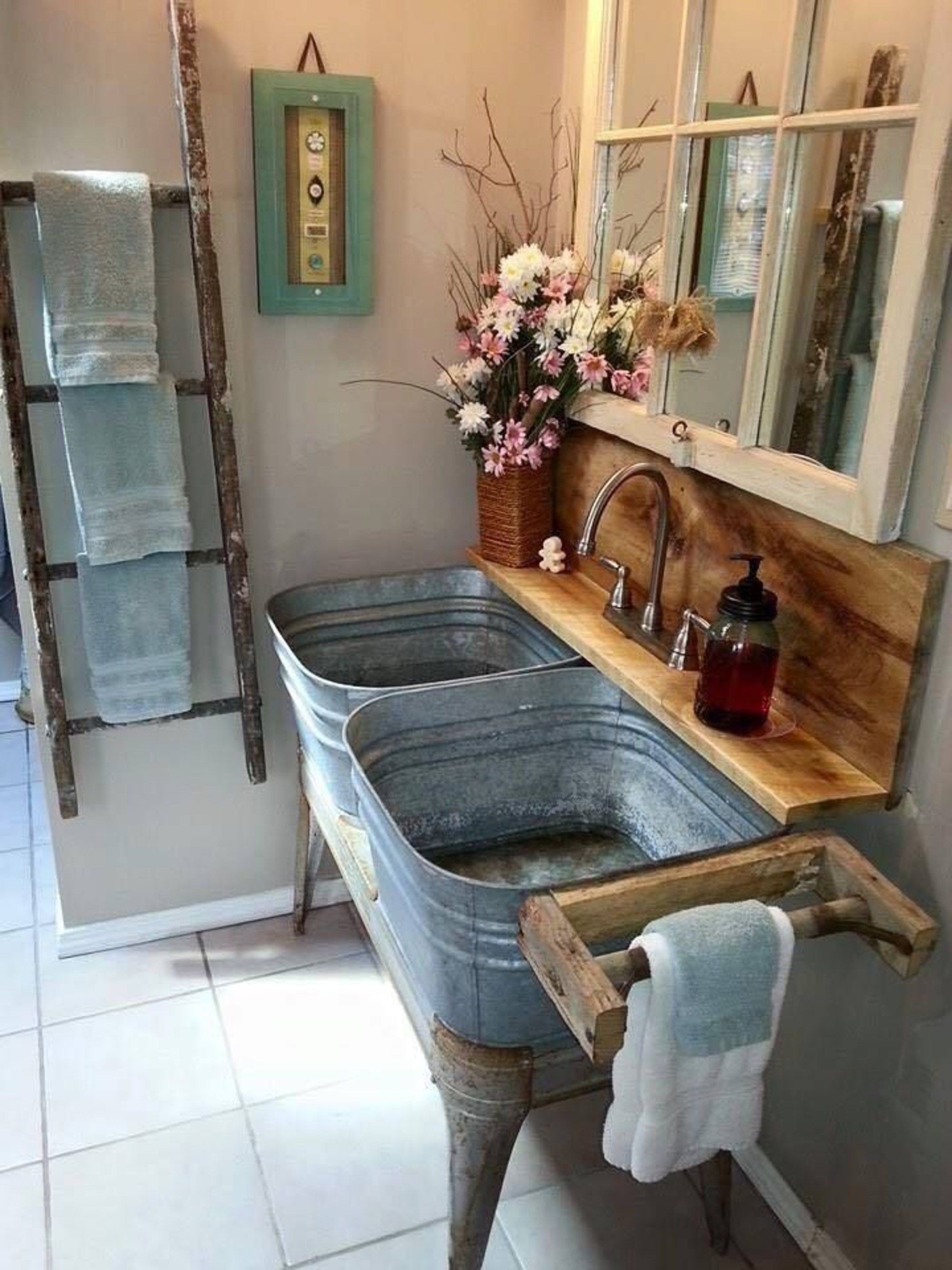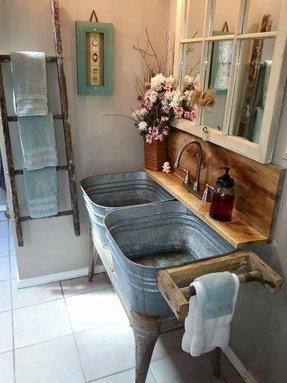 Vintage washtub sink, ladder towel rack and window mirror/vanity.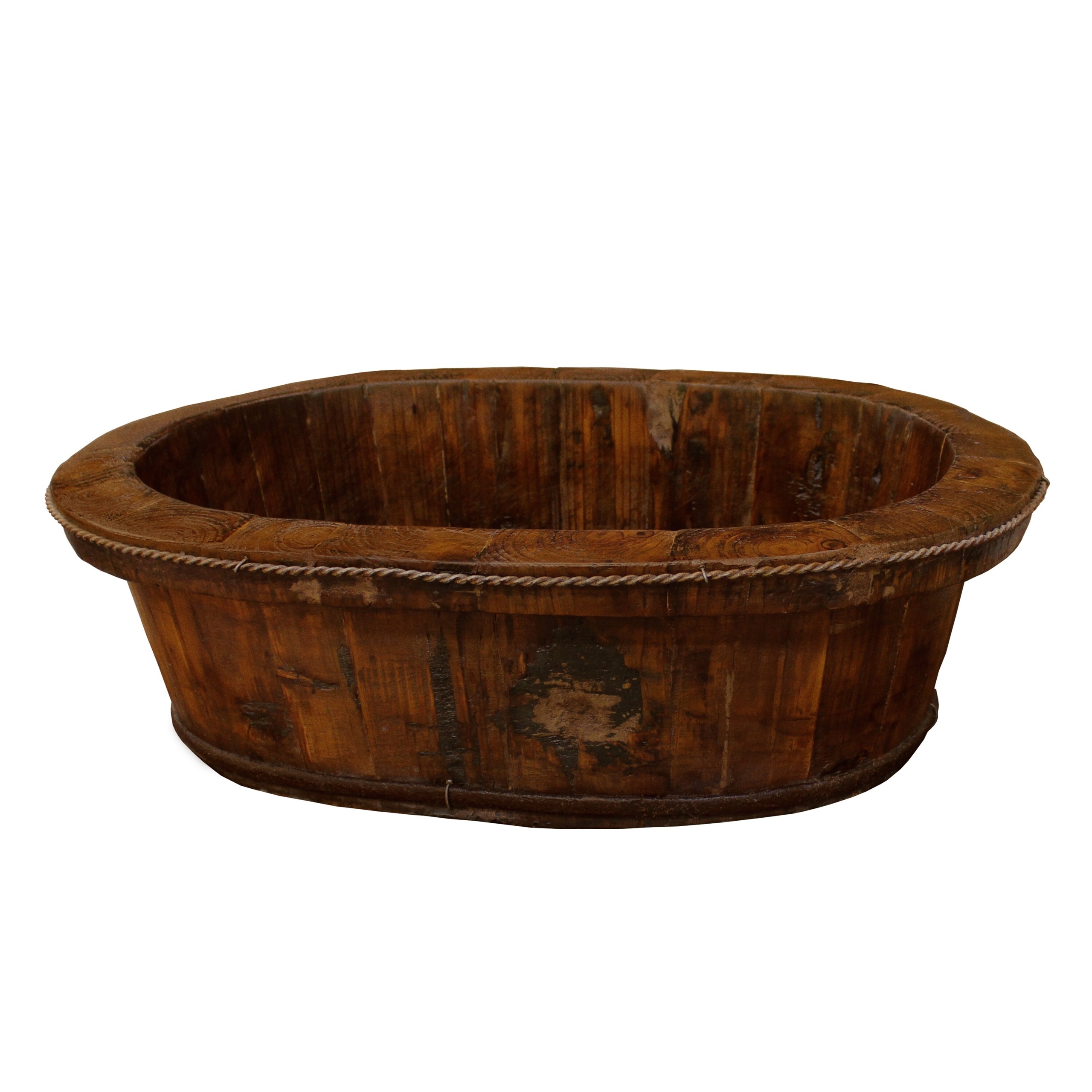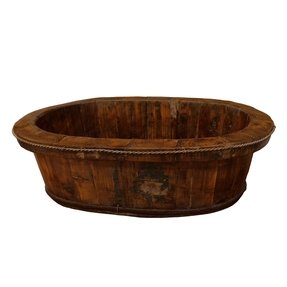 Vintage Gloucester Basin Bathroom Sink
Oval bathroom sink in vintage style. It is made of durable wood. Designed for residential and commercial use. It is very well evaluated by satisfied customers.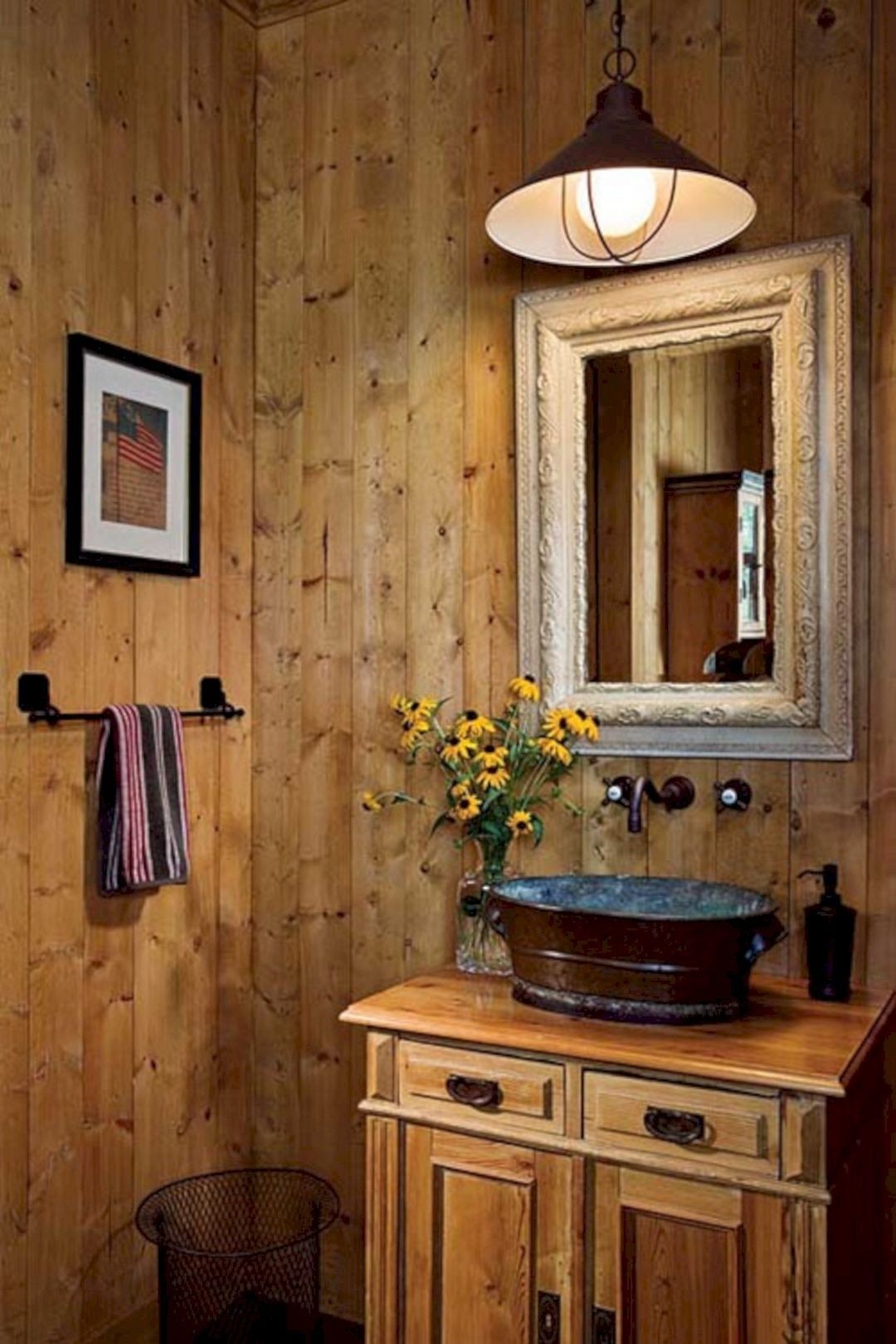 This sink is a functional and decorative stylization that matches rustic bathroom indoors in a barn style. This sink includes a storage compartment and two drawers with metal handles. Its old bathtub stylization is very aesthetic.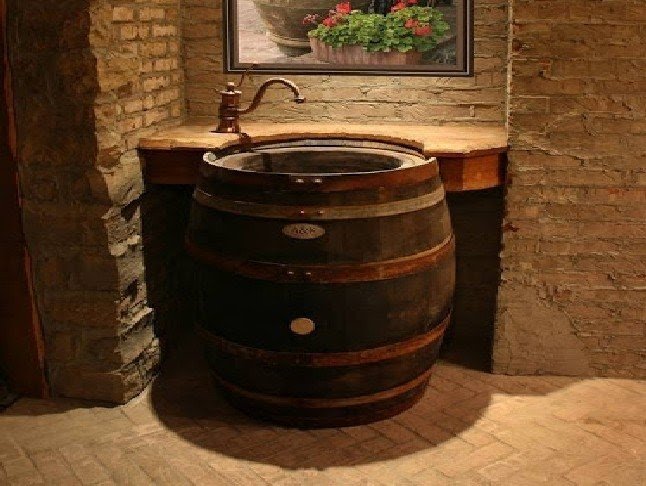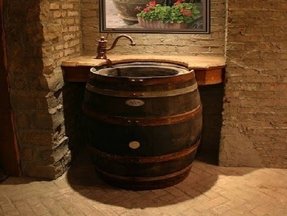 rustic bathroom sink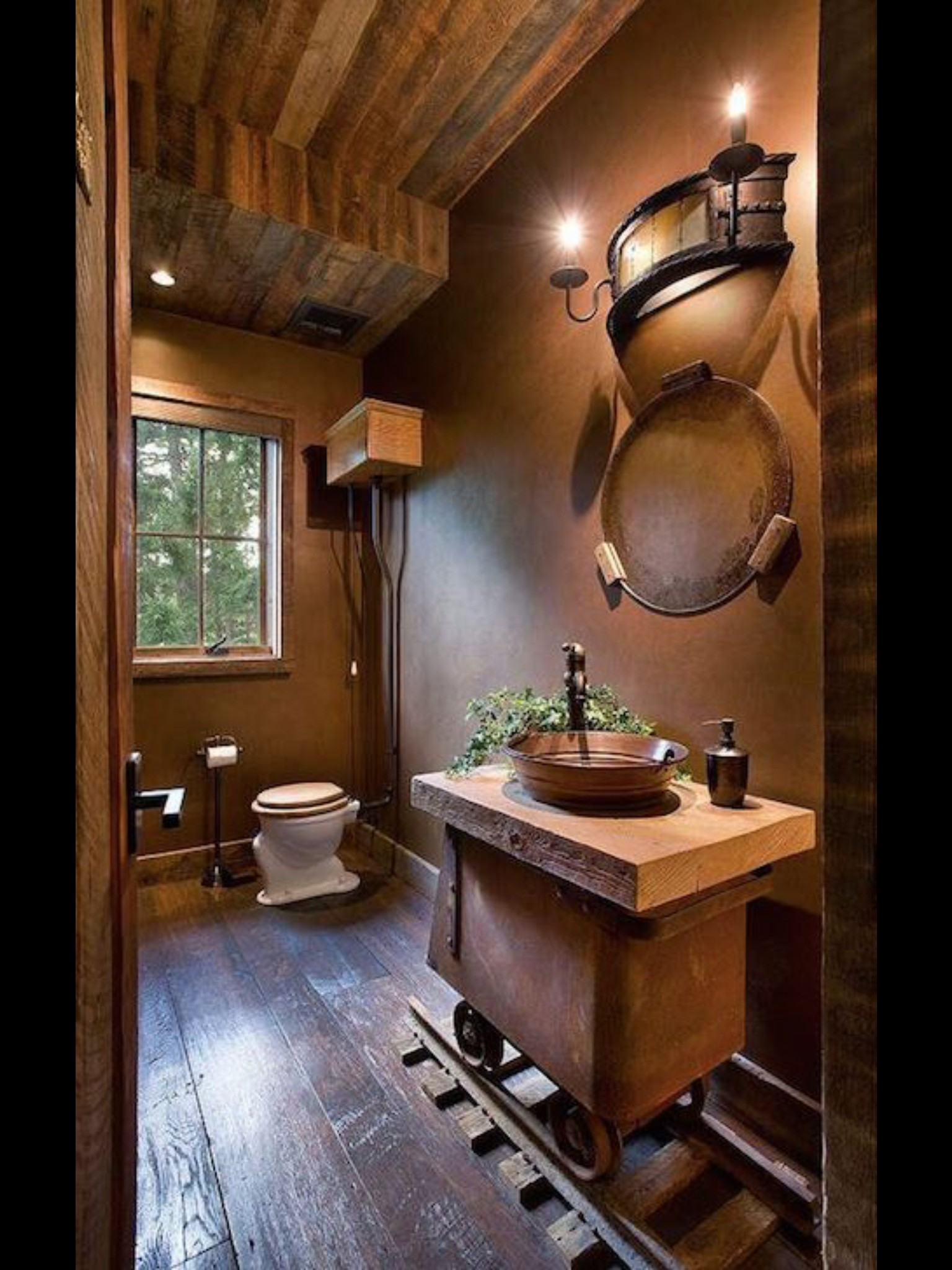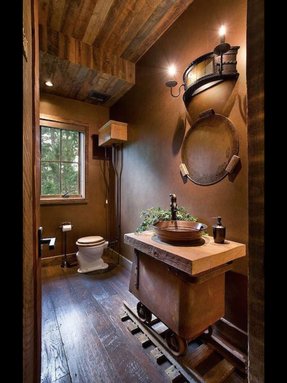 Lodge House Furniture Delivery Installation For Belle Grey Design Llc Traditional Bathroom Seattle
This bathroom sink is a functional and decorative element for anyone who wants to have an original product in a bathroom. Its solid wooden top is based on a durable frame with wheels and train tracks.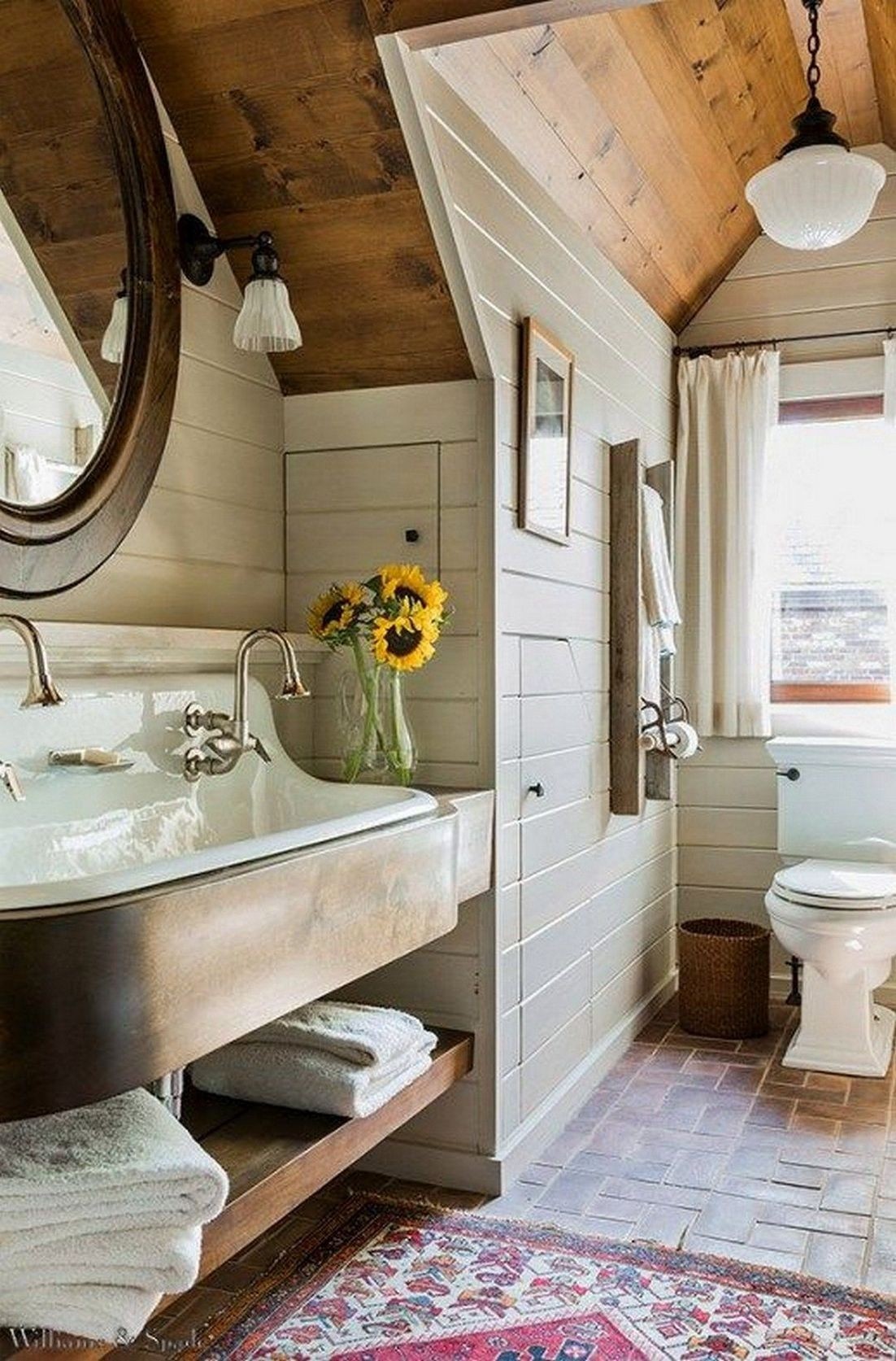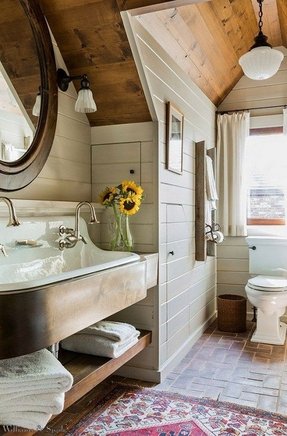 Newton Getaway Farmhouse Bathroom Boston
This stylized vintage farmhouse bathroom is a real treat for lovers of original interior design details. The use of salvaged wood beams as a sink base and effective lighting impresses. The warm interior makes the time spent on it.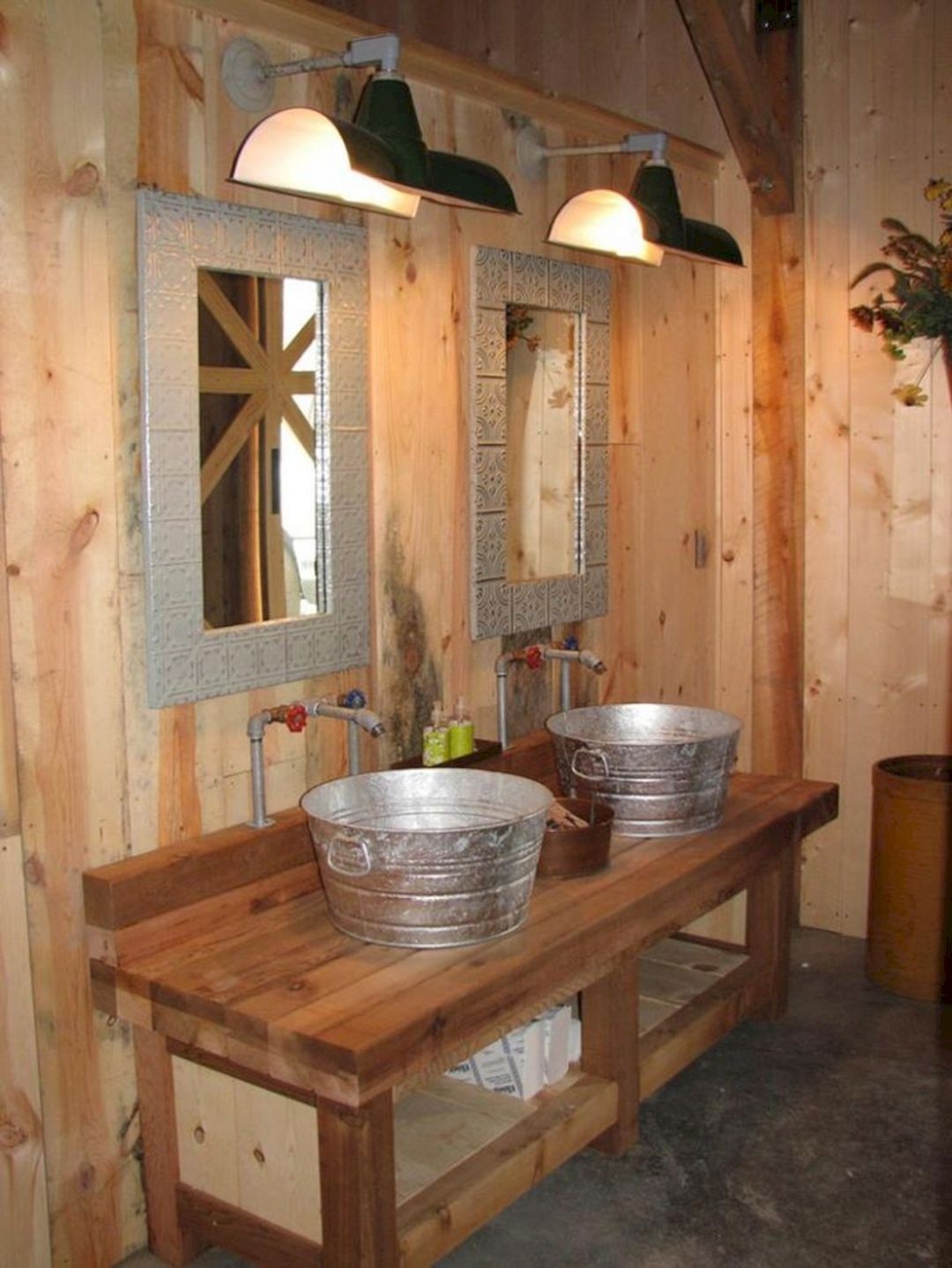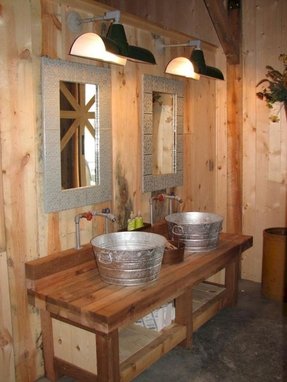 Ponderosa Country Barn Gallery TPE1207 | Sand Creek Post & Beam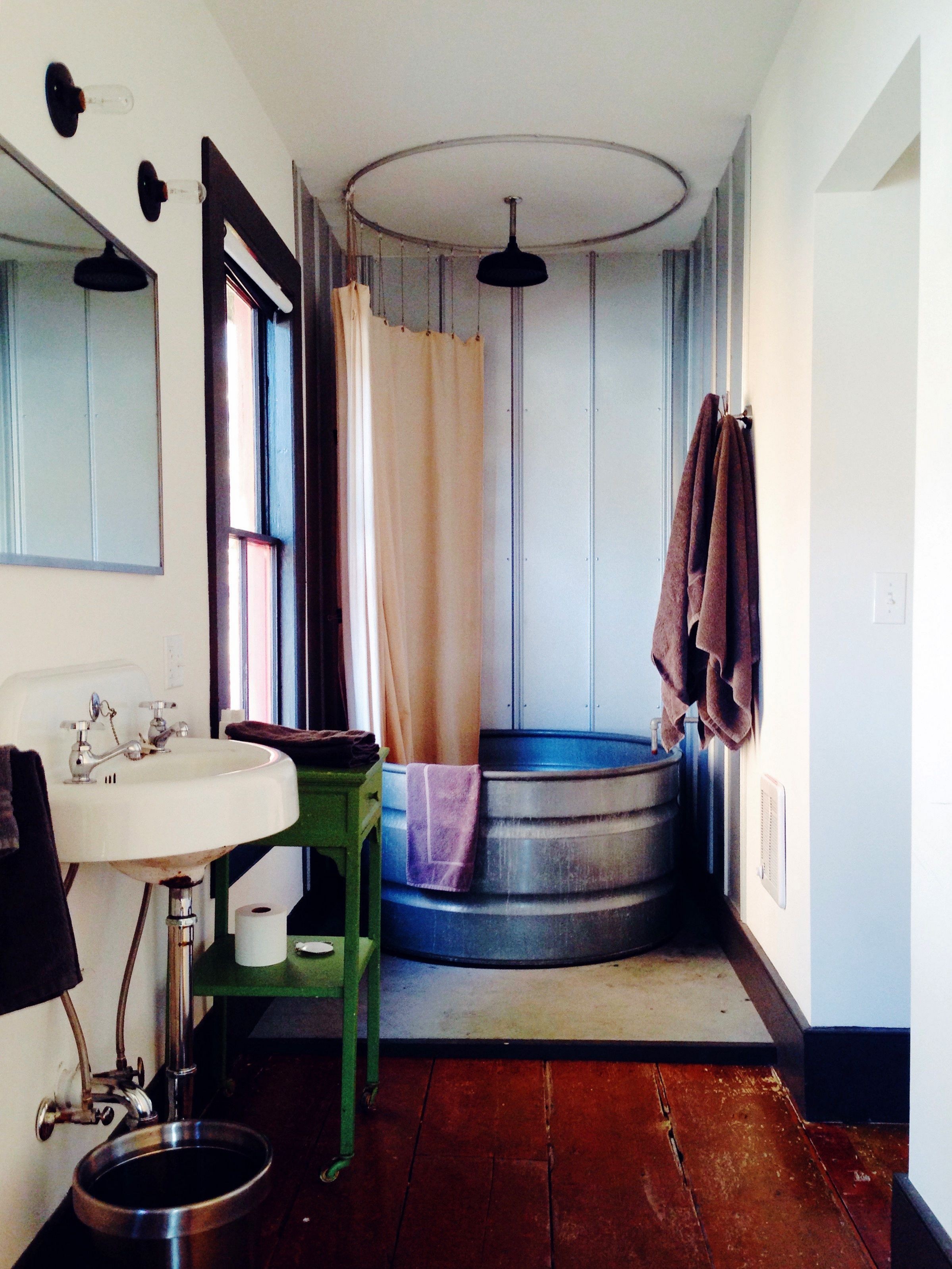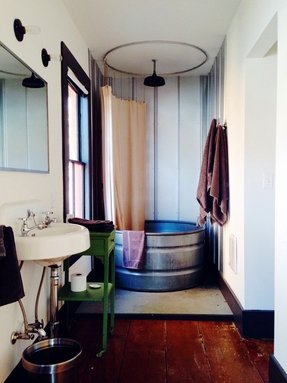 Stickett Inn bathroom with galvanized bathtub from Instagram account @dwellmagazine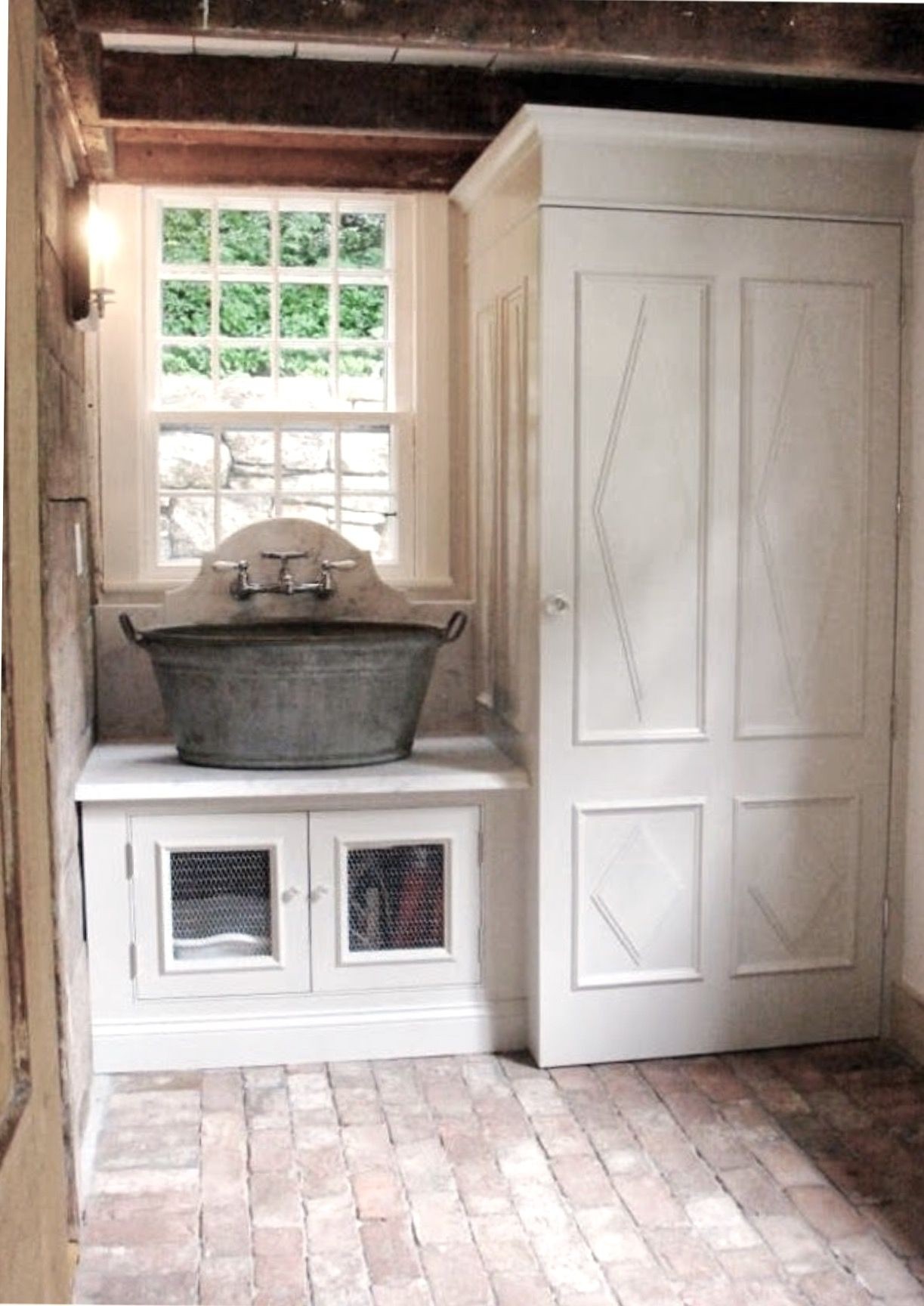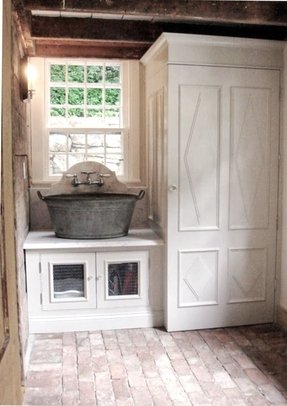 Bathroom cabinet in rustic style. Frame is made of wood. Ideal for storing towels, cosmetics, toiletries and others bathroom accessories. Neutral form and functional design.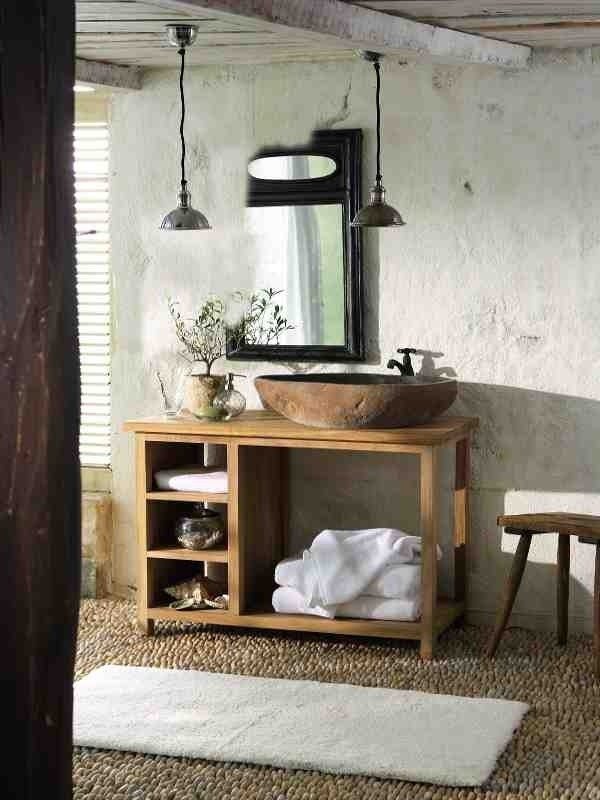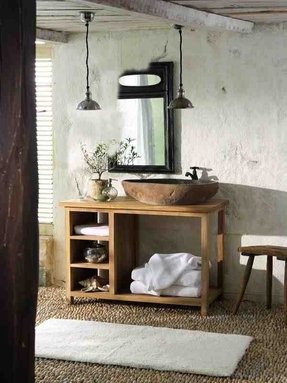 wow, the lamps, the sink and the floor, love it!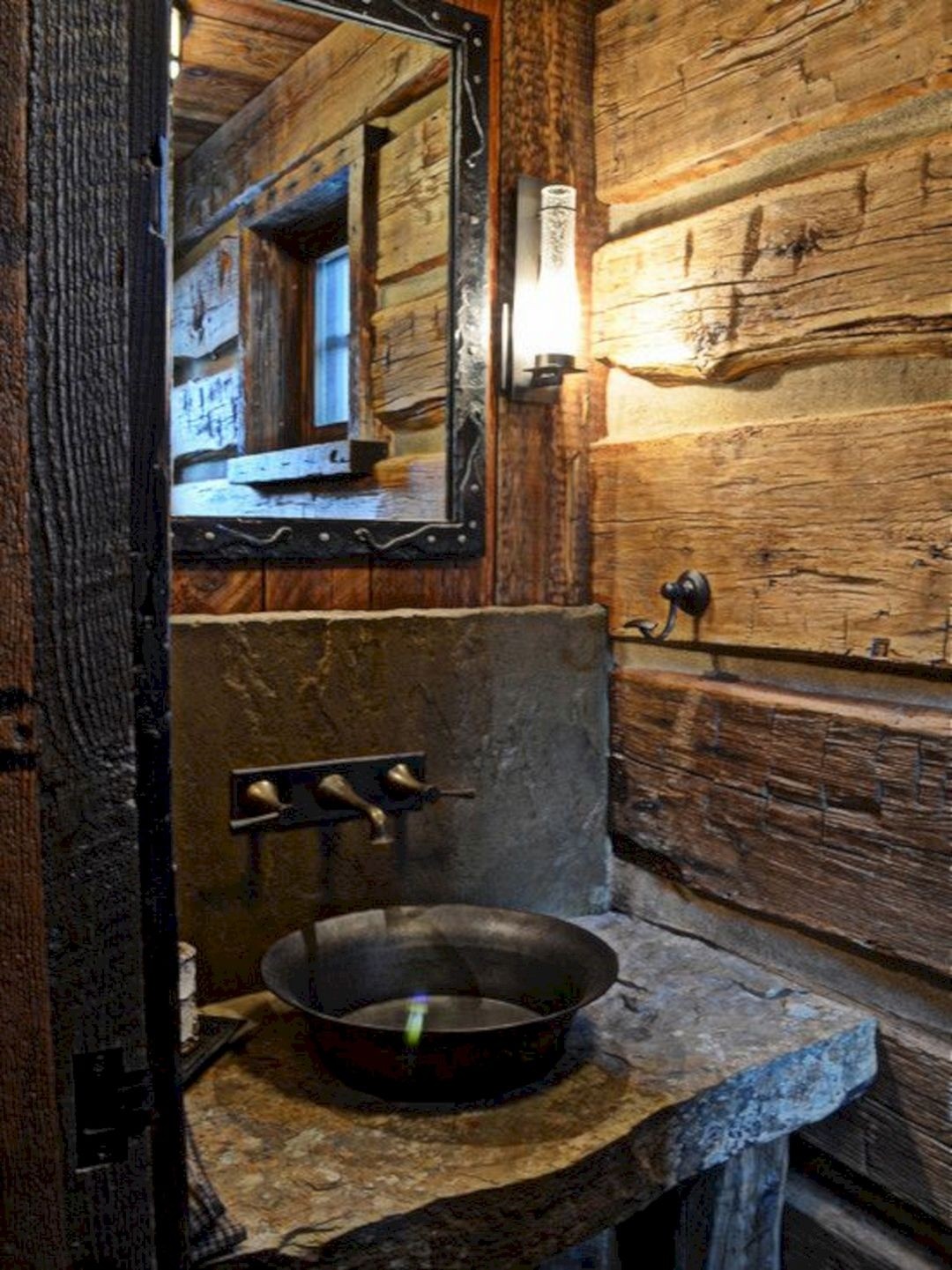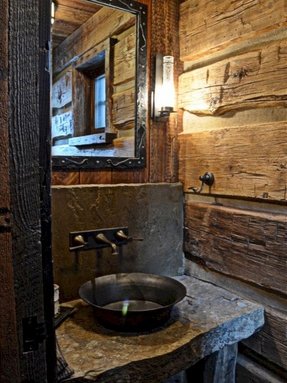 58 Wooden Cabin Decorating Ideas | Home Design Ideas, DIY, Interior Design And More!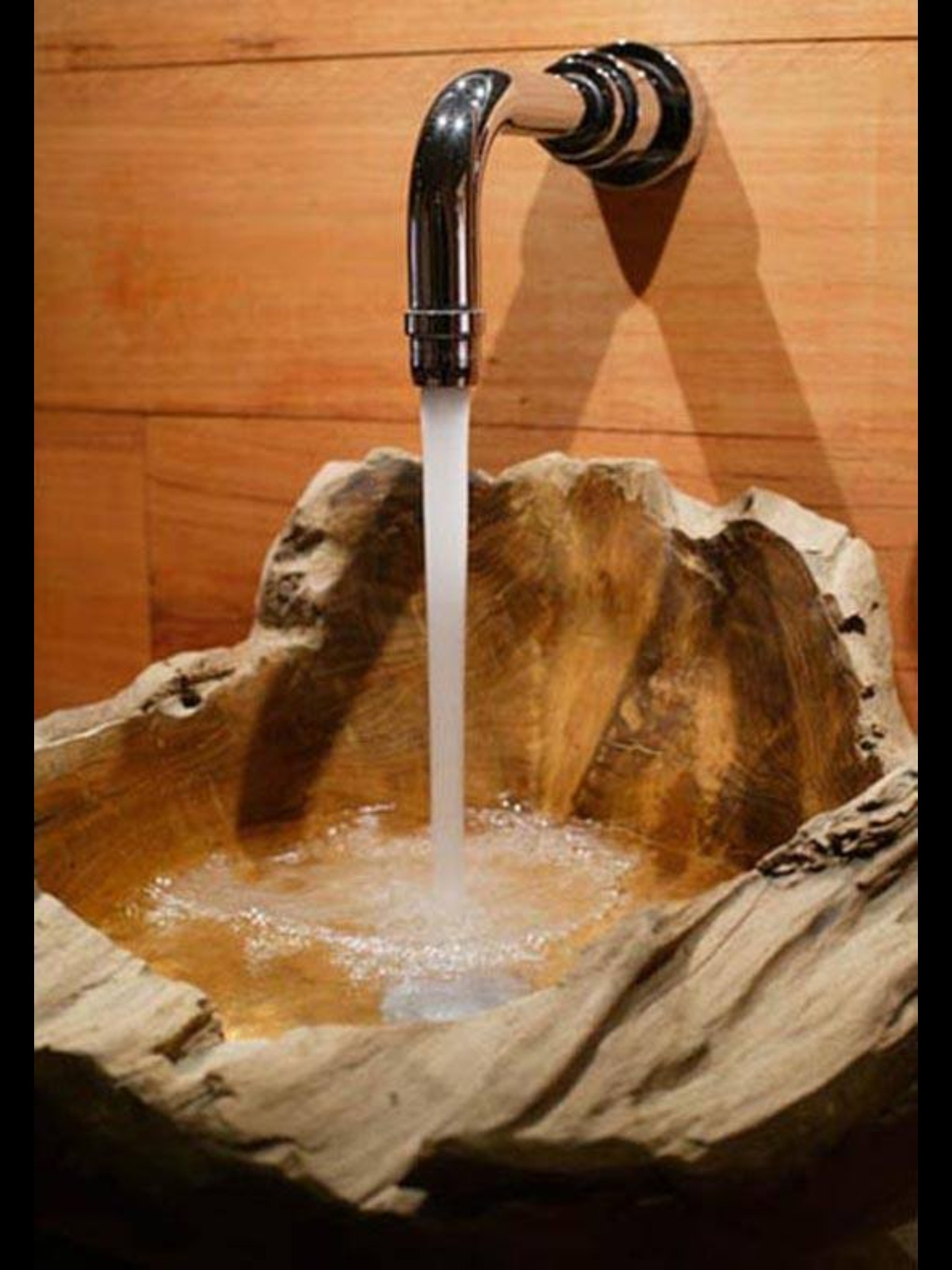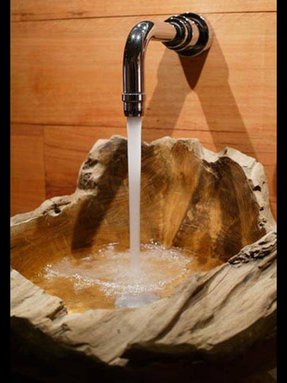 This bathroom sink looks like a piece of wood, so it features a natural design. It perfectly suits rustic bathrooms. Of course this sink is durable and also includes metal elements that are resistant to water.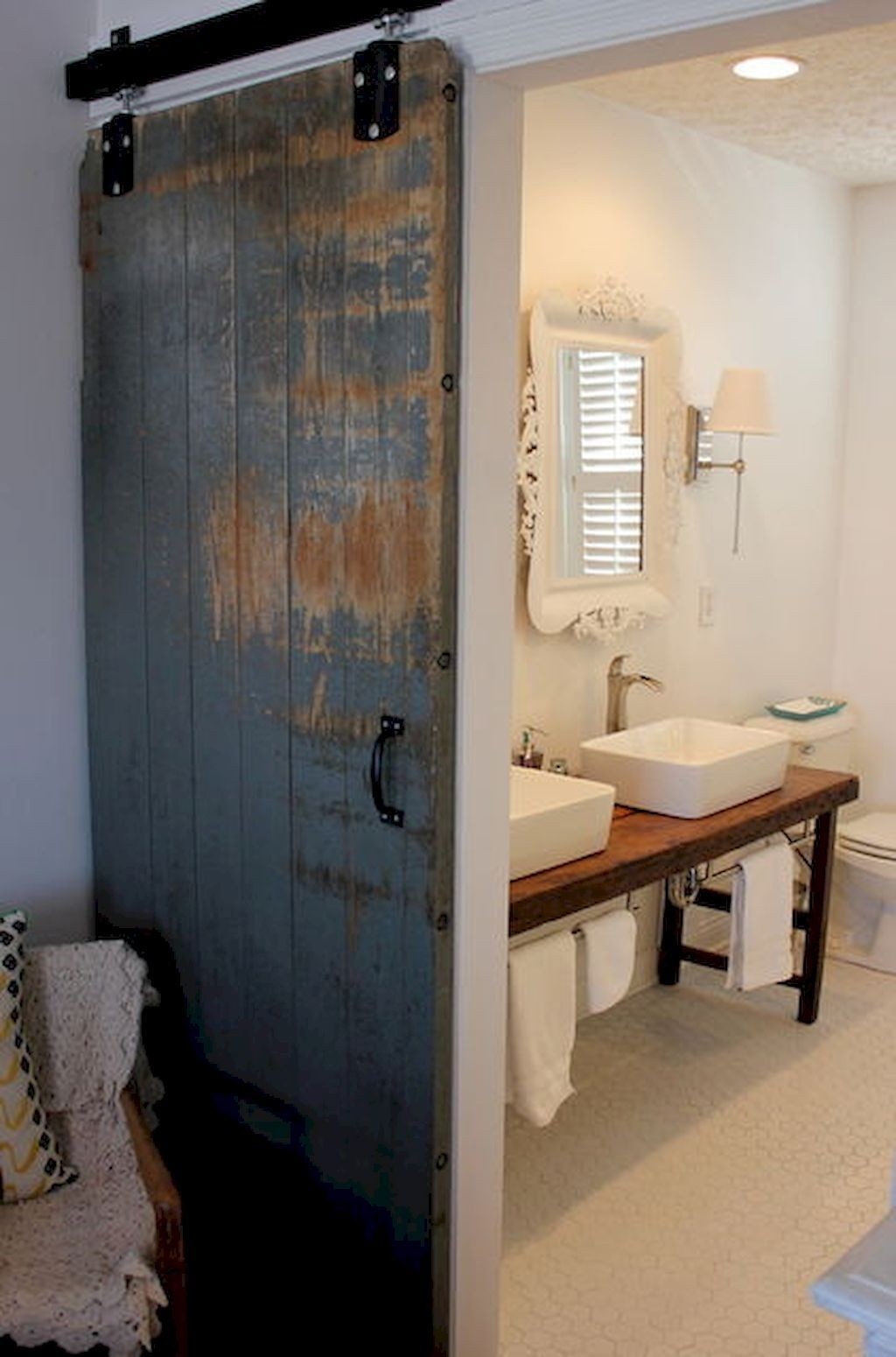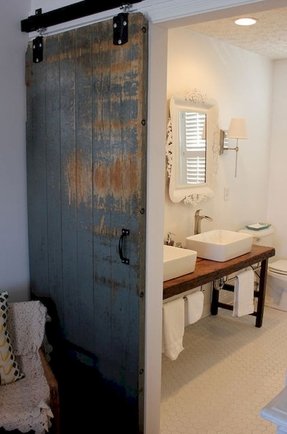 30 Inspiring Rustic Bathroom Ideas for Cozy Home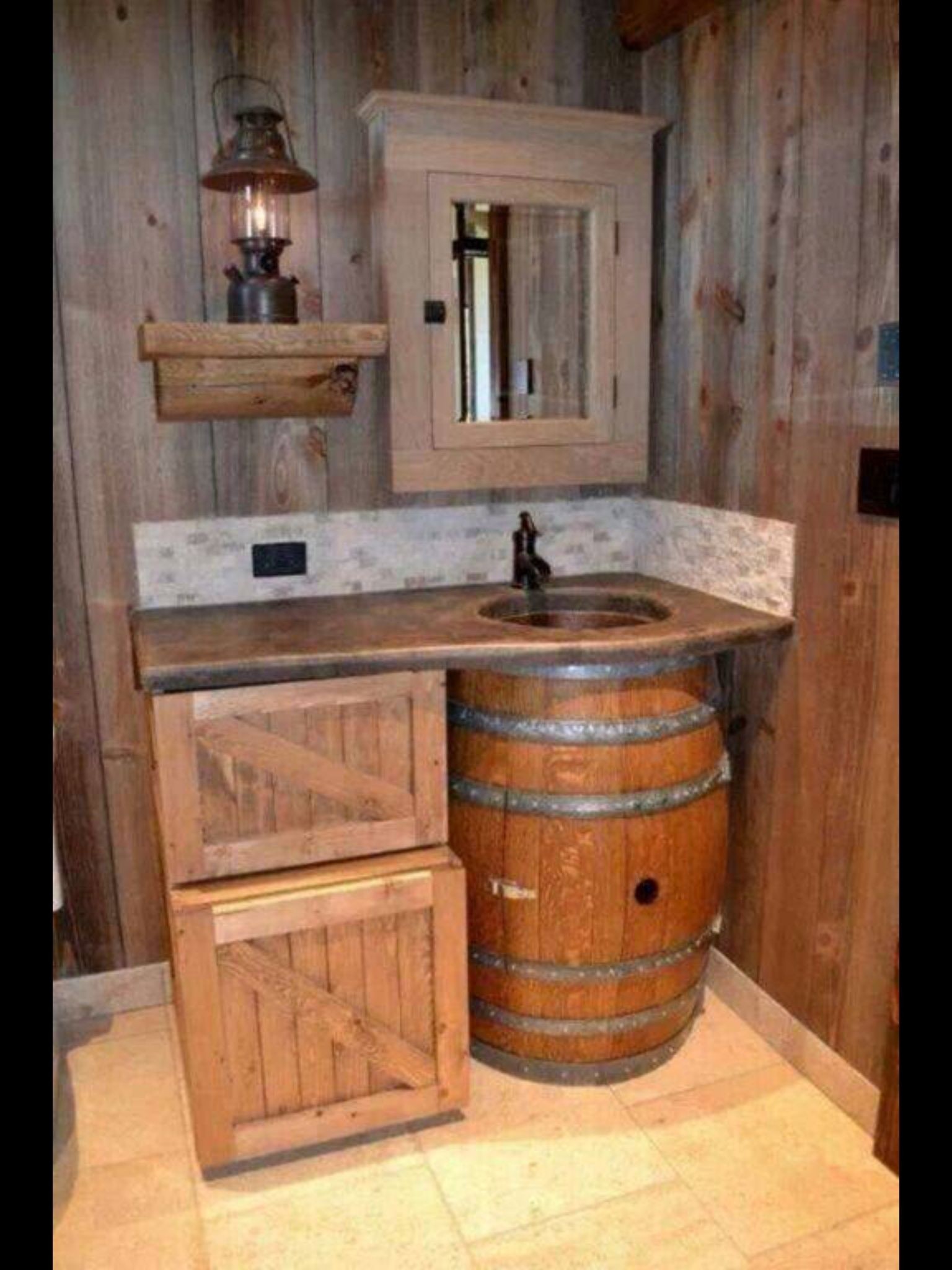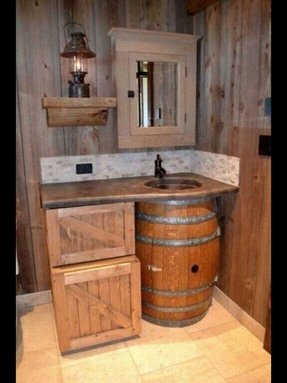 barrel... make out of buckets and posterboard?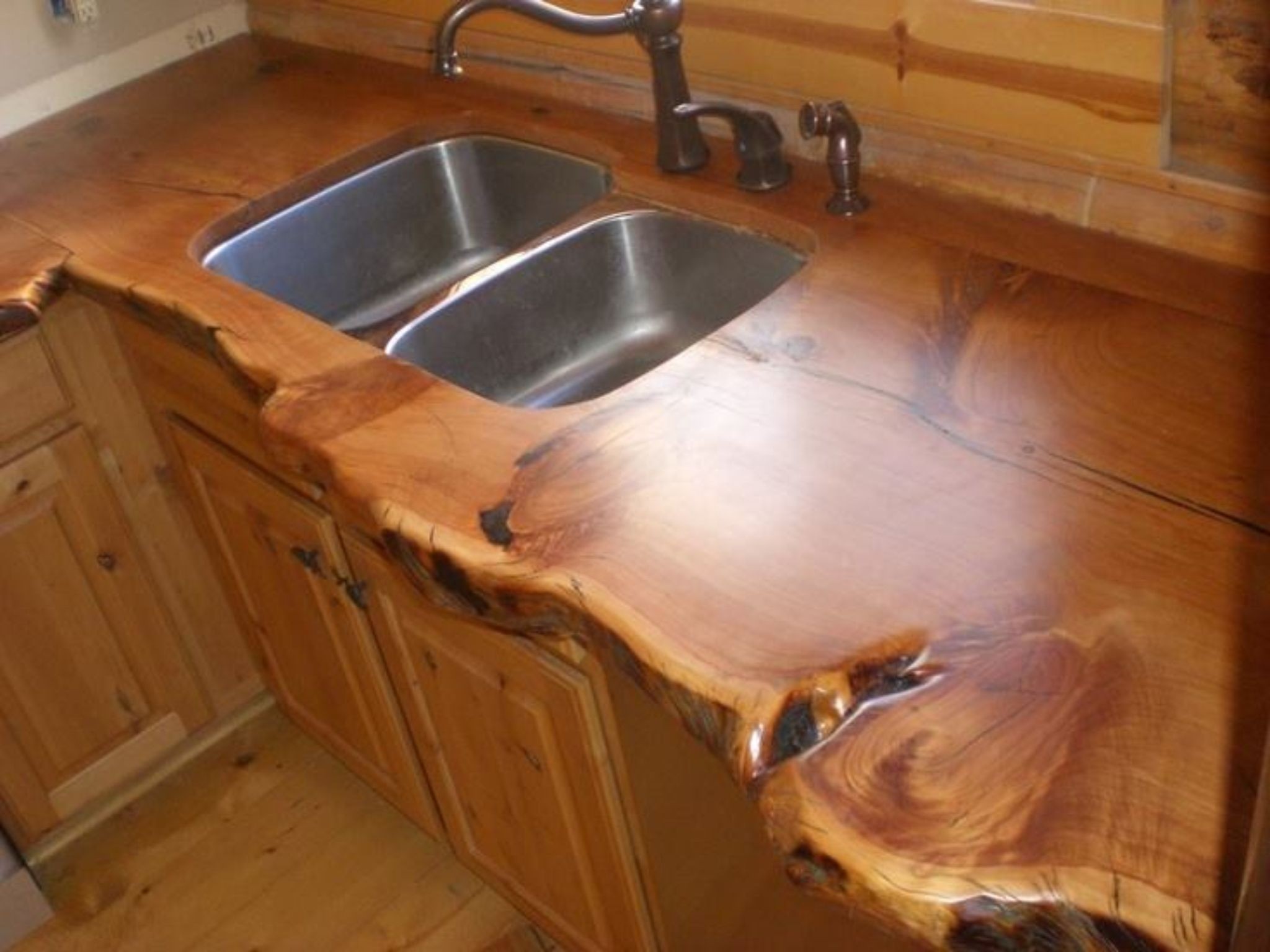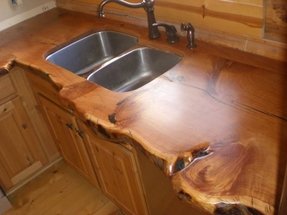 WOW.....Wood Counter Top for the Cabin! The Juniper Kitchen - by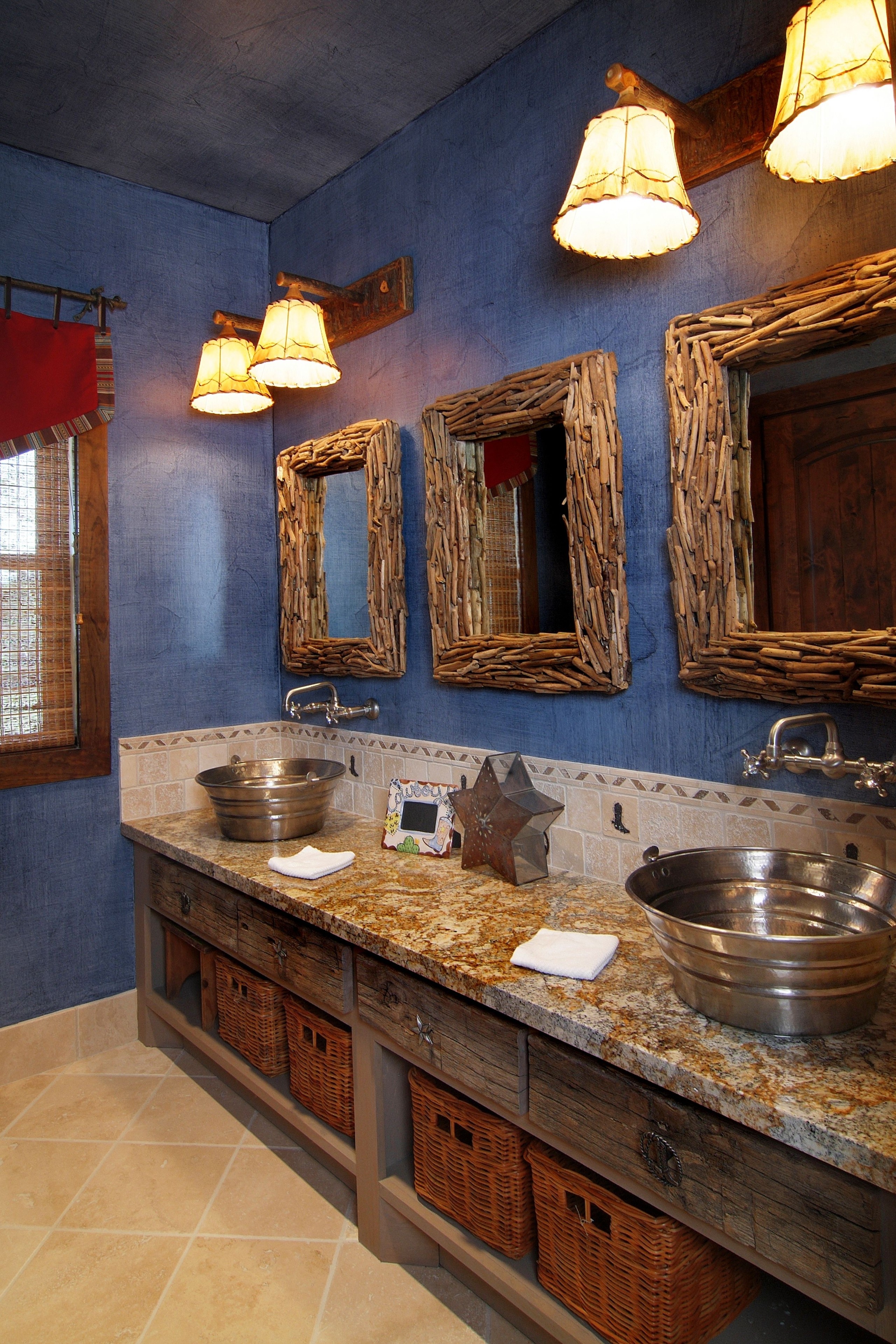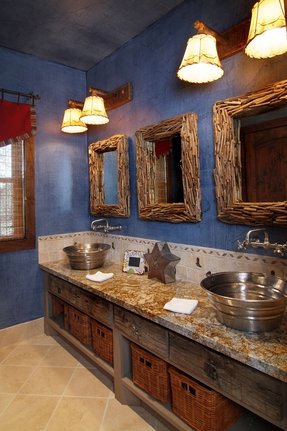 Layering shades of blue and brown creates the inviting atmosphere in this bathroom. The rustic bathroom sinks are an extra ordinary idea. All interior is designed in rustic style with denim blue walls. It features a lot of storing spaces in the baskets and drawers.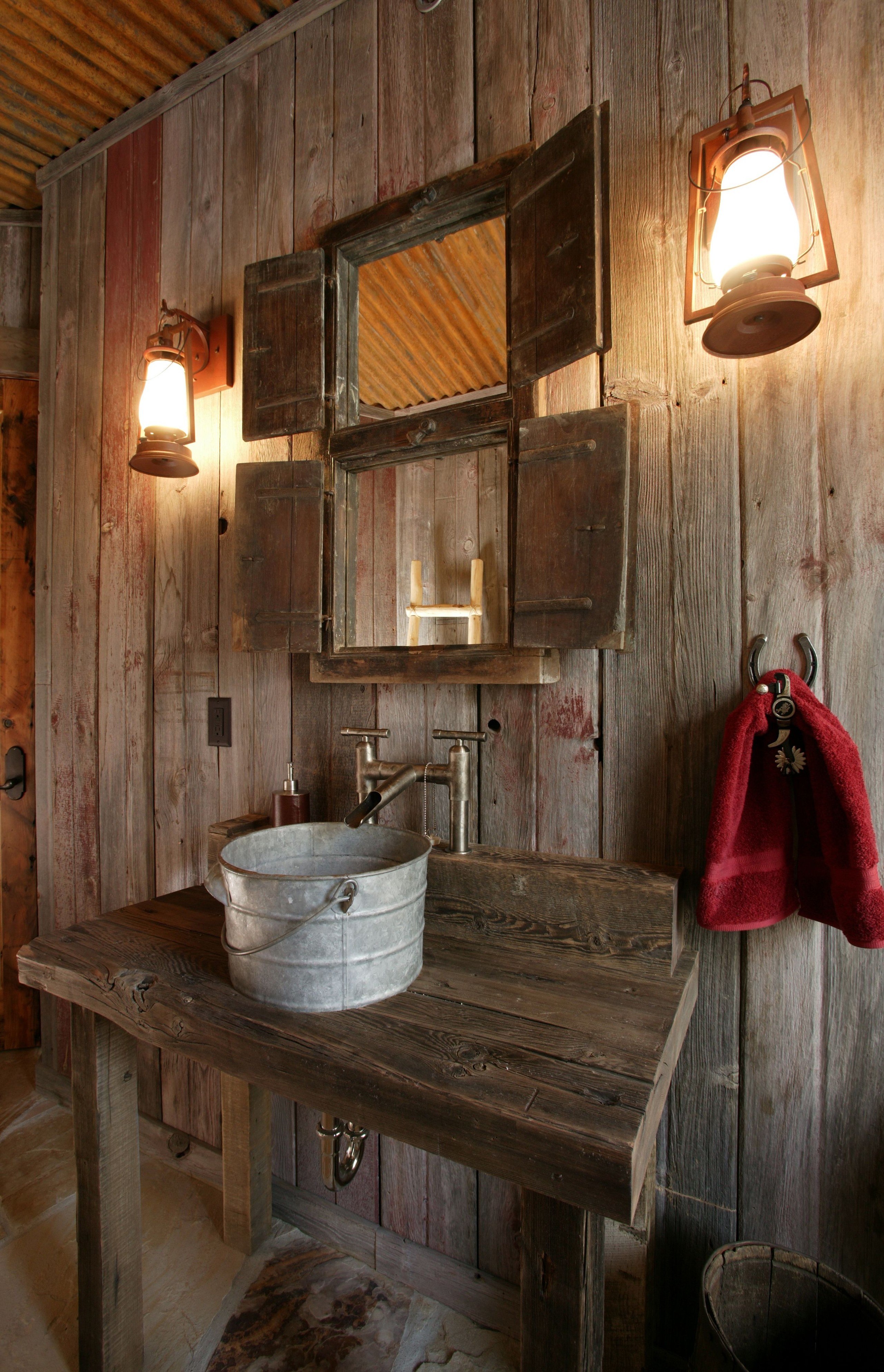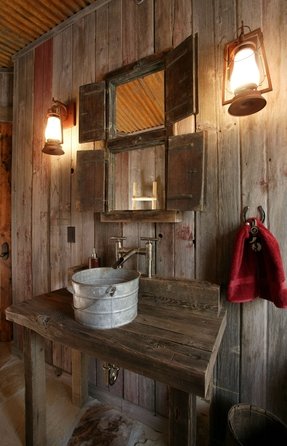 Rustic Bathroom Sink, hmmm jim said he wanted running water out there!! lol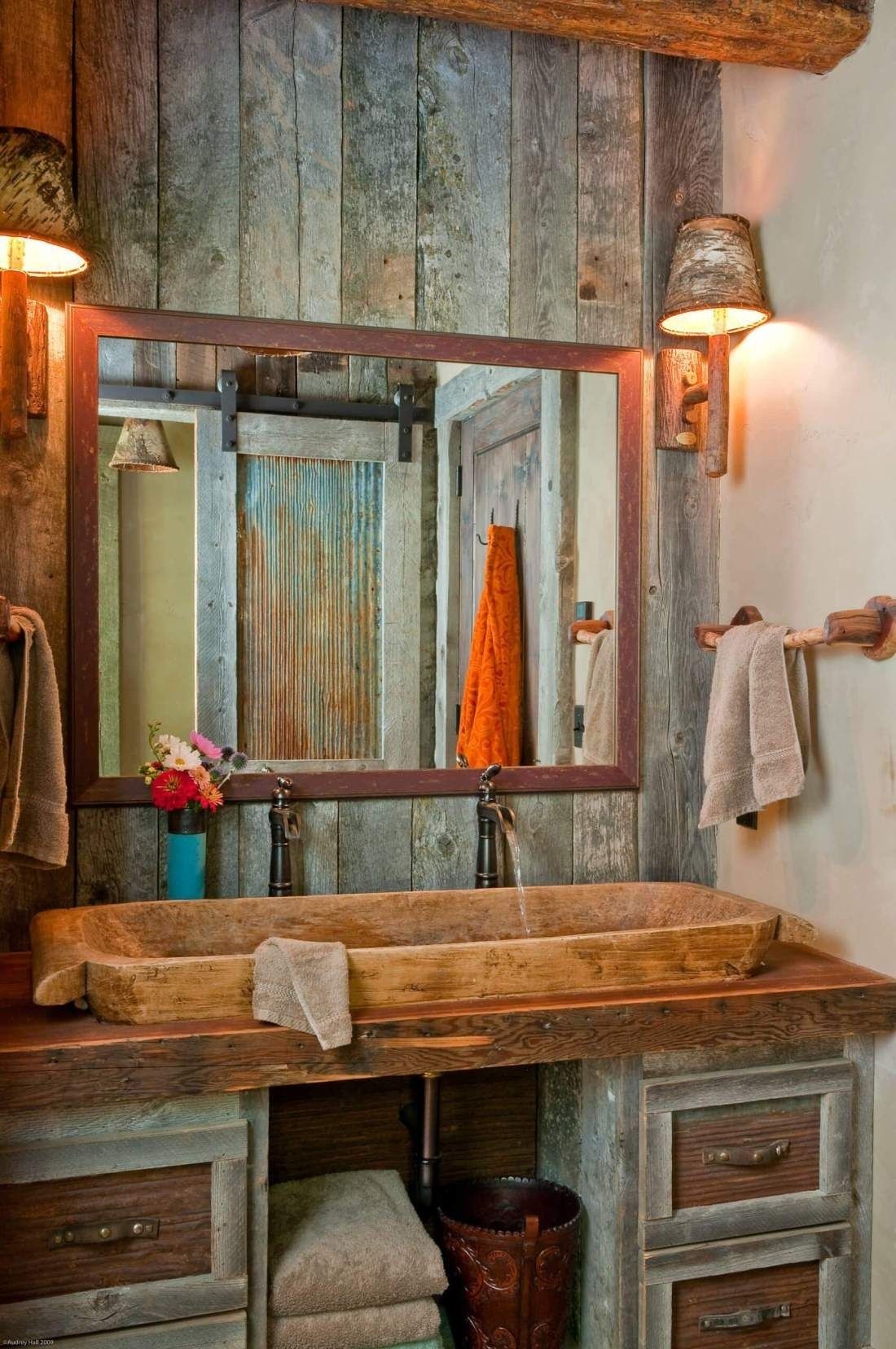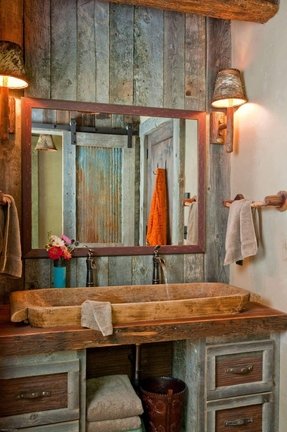 rustic-bathroom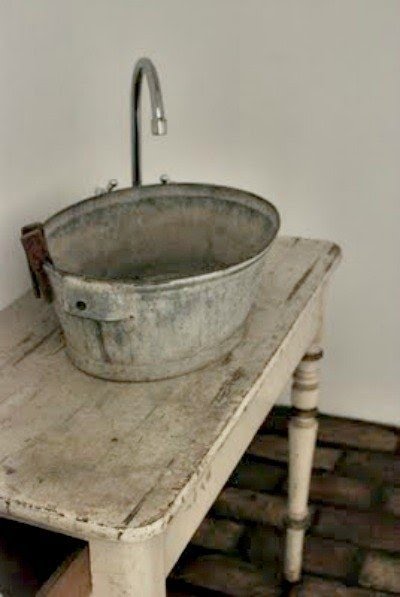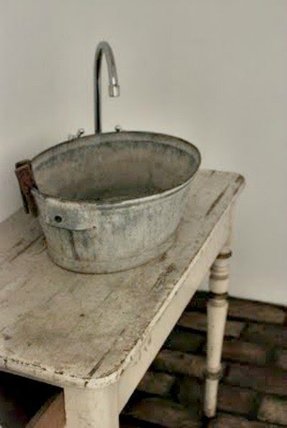 This hard-finished sink made of galvanized bucket is an exceptionally original solution that will bring the raw, minimalist character to a stylish bathroom. The beautiful design is also stable and durable, thanks to the flooring of an old wooden table.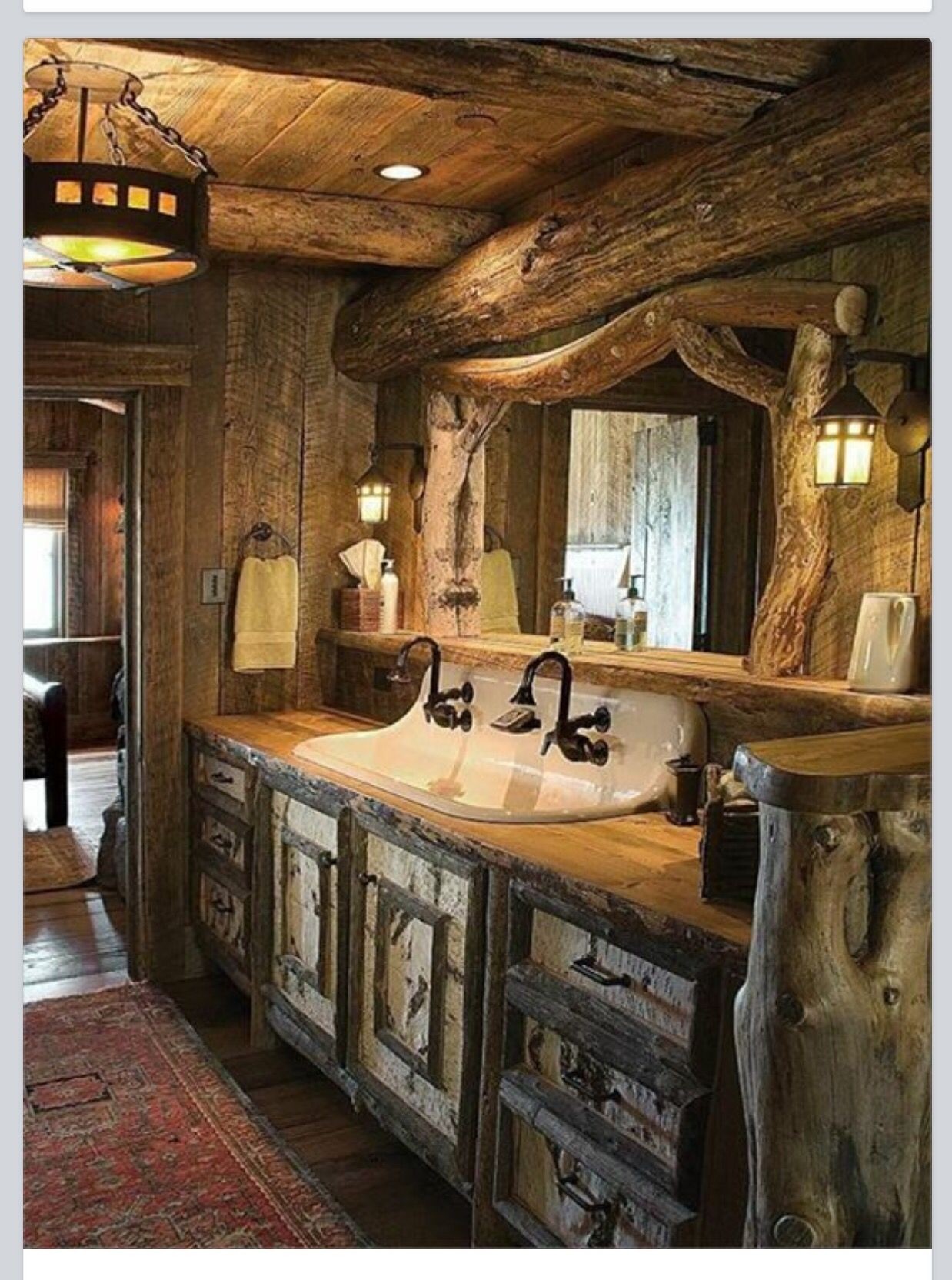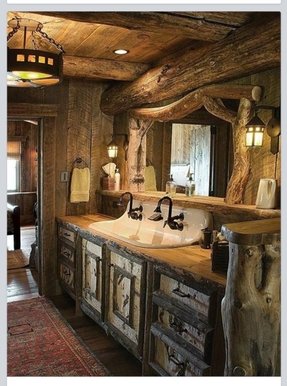 So artistic and functional and warm and a terrific bathroom for the vacation home!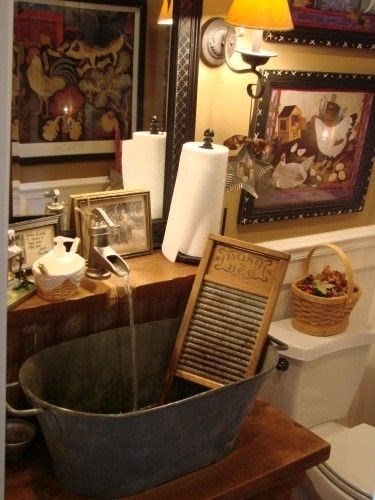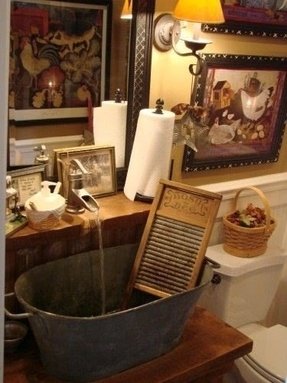 I love this Primitive Bathroom Sink...minus all the pics- this would be awesome.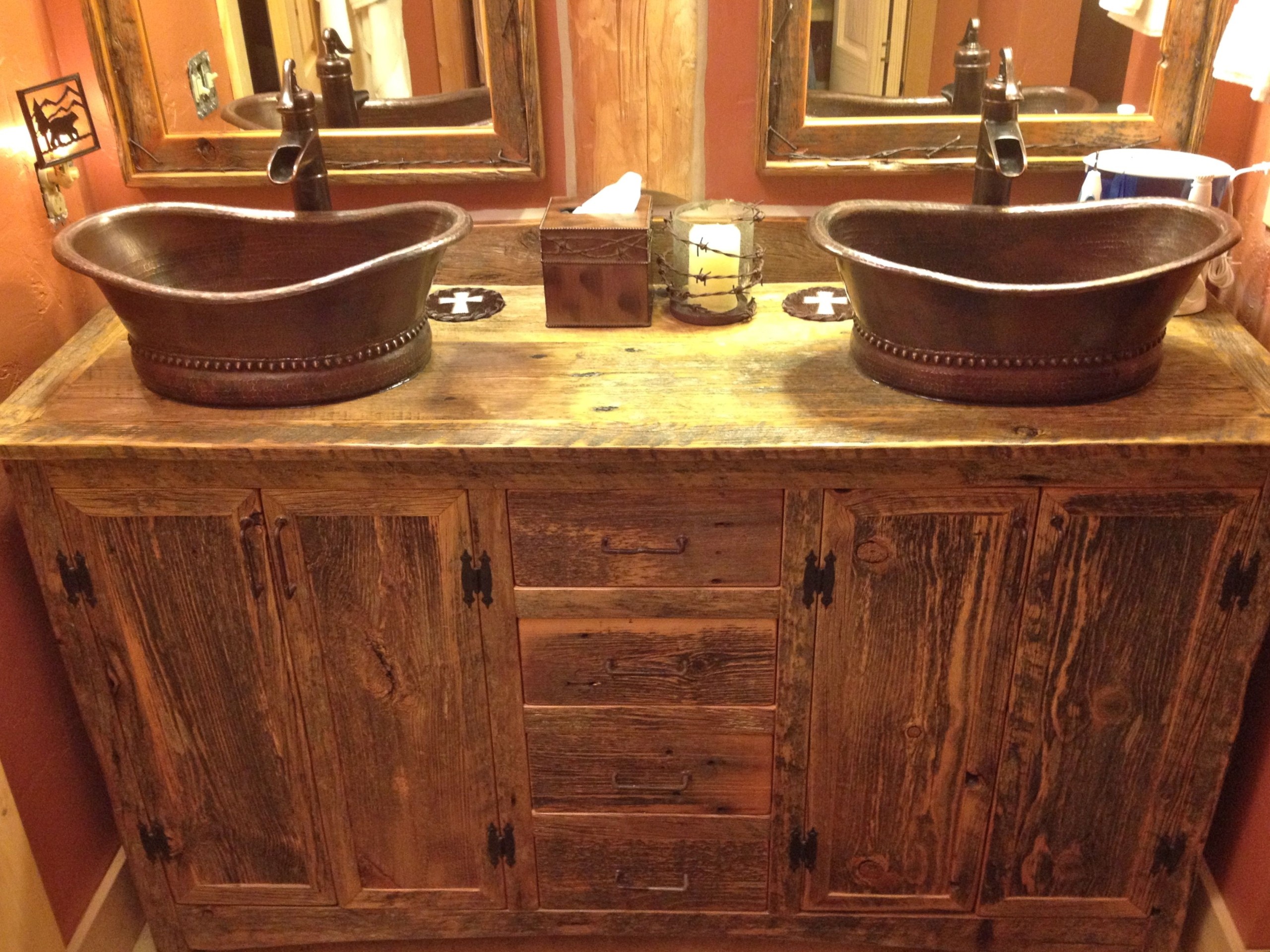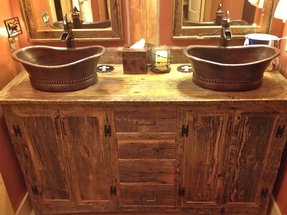 Products / Bath / Bathroom Storage and Vanities / Bathroom Vanities ...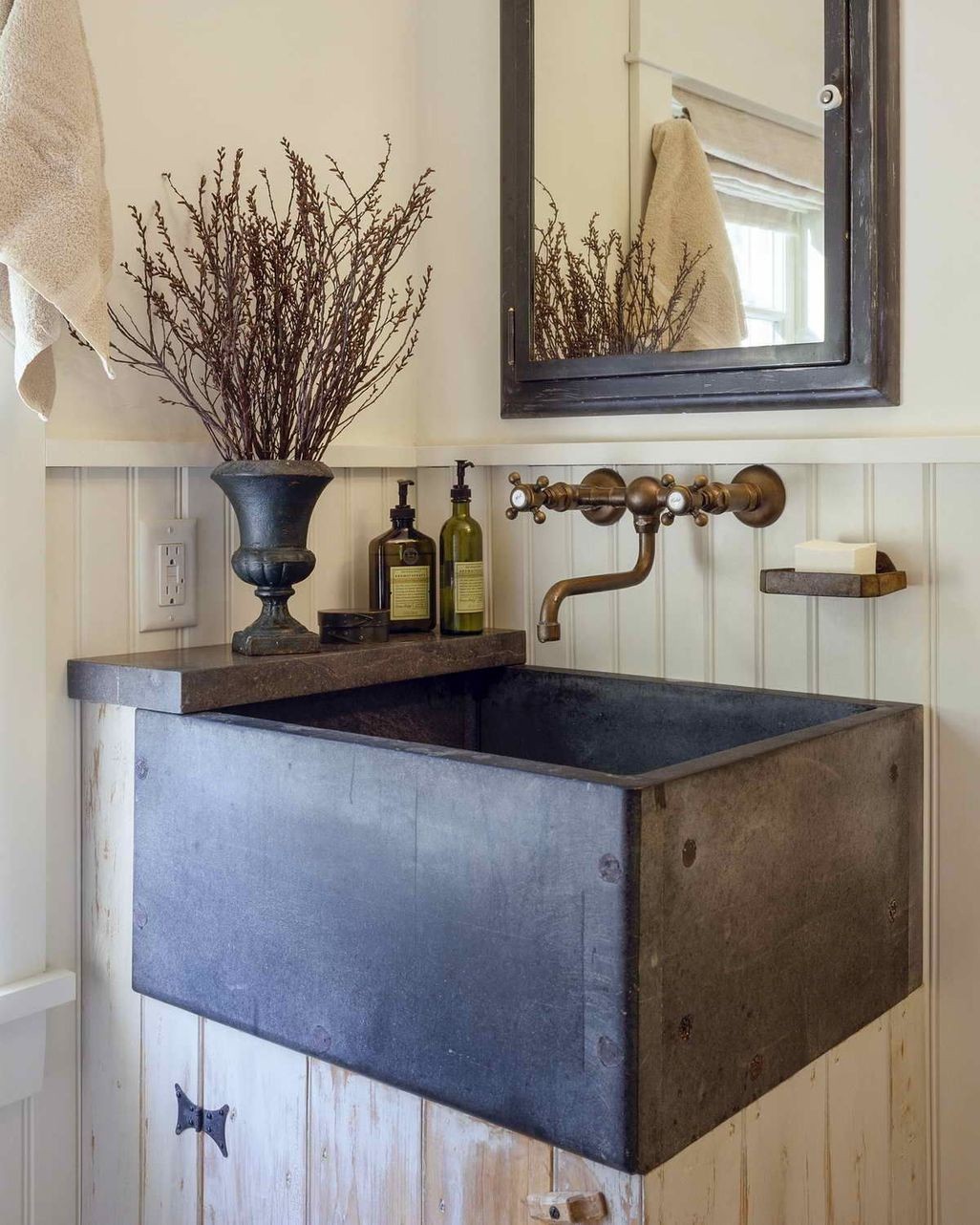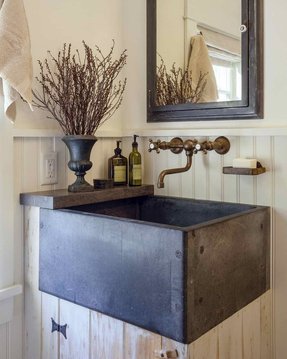 Special rustic basin sinks and trough sinks add character and a sense ...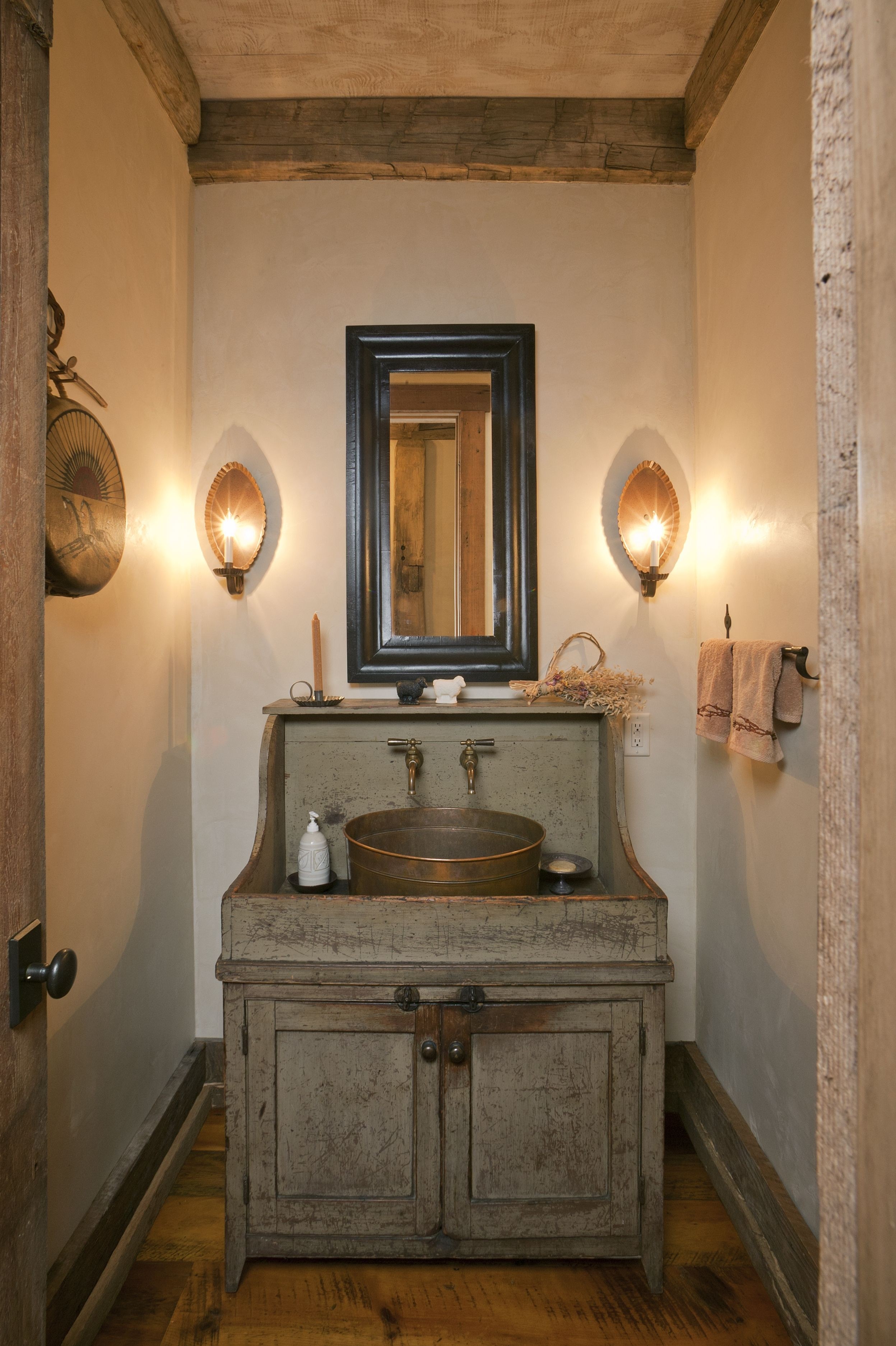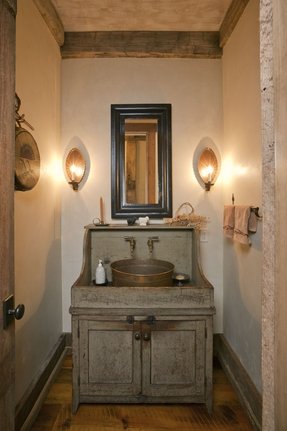 Vanities Bath As Well As Double Wall Lights In Small Rustic Bathroom ...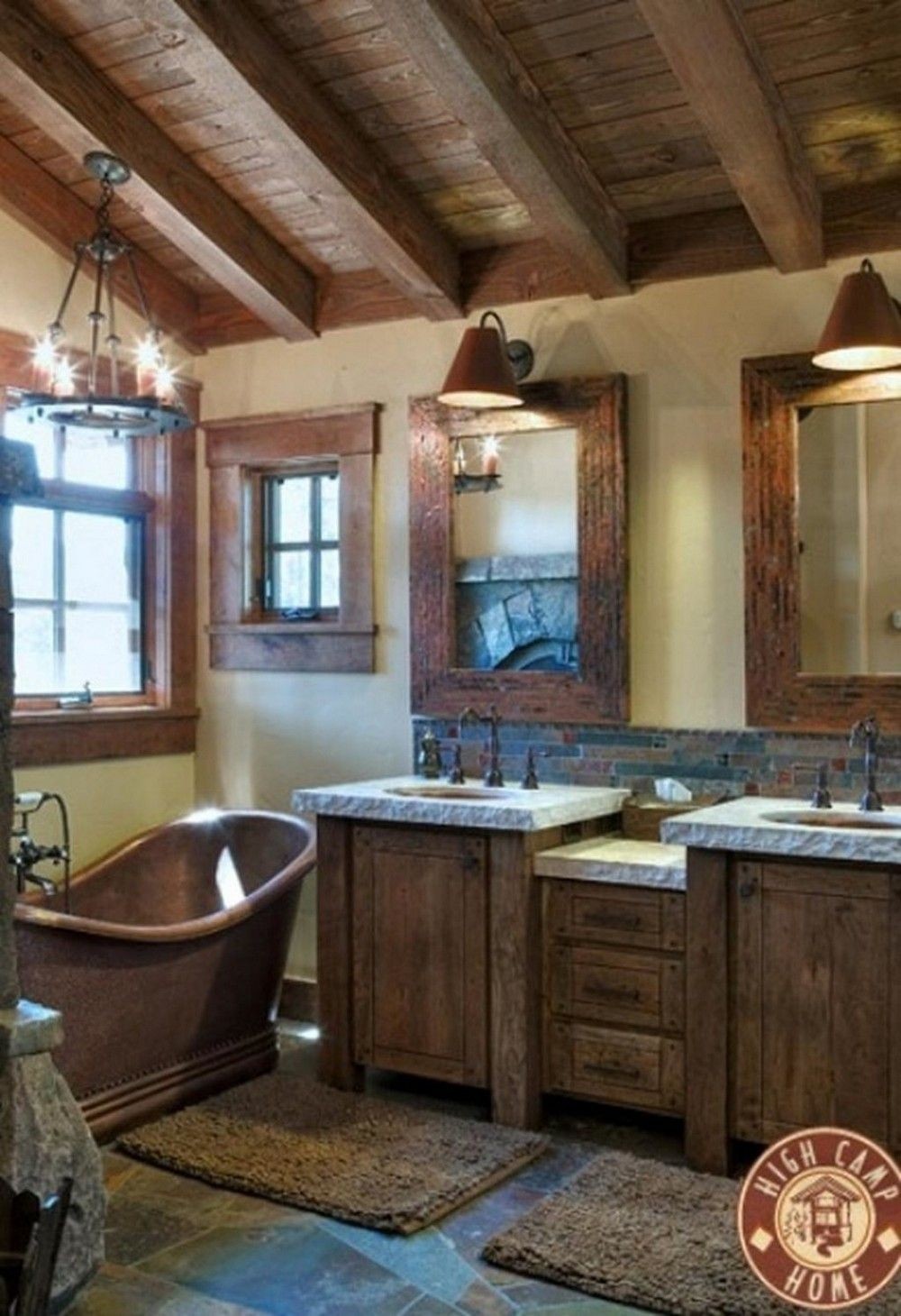 This rustic bathroom owes its character to the rough design of wooden bars, combined smoothly with granite tops. Each of the two tops is enhanced by two mirrors. The freestanding bathtub matches the surrounding decor perfectly.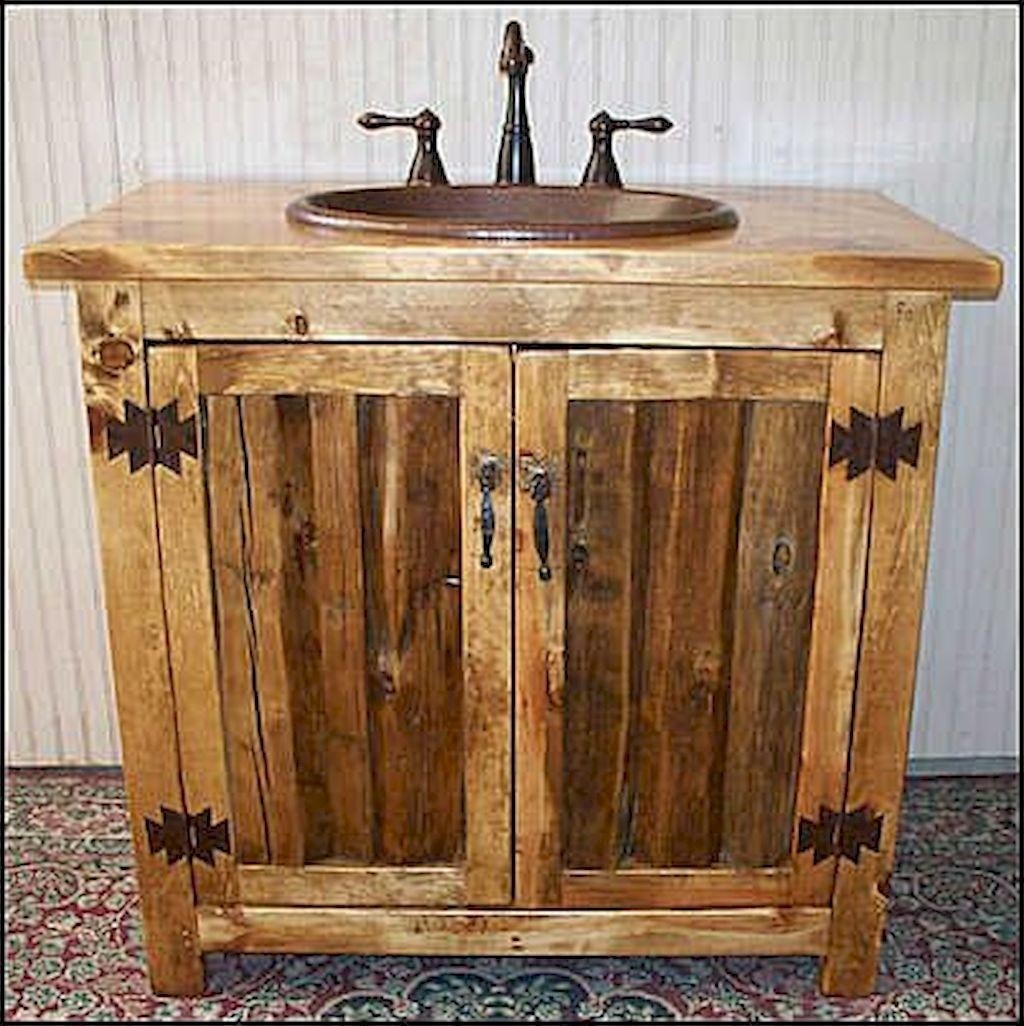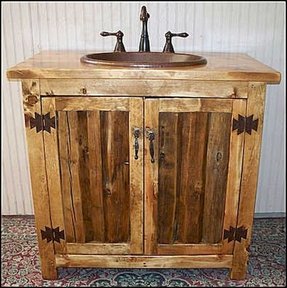 ... Vanity: Rustic Split Log Bathroom Vanity With Hammered Copper Sink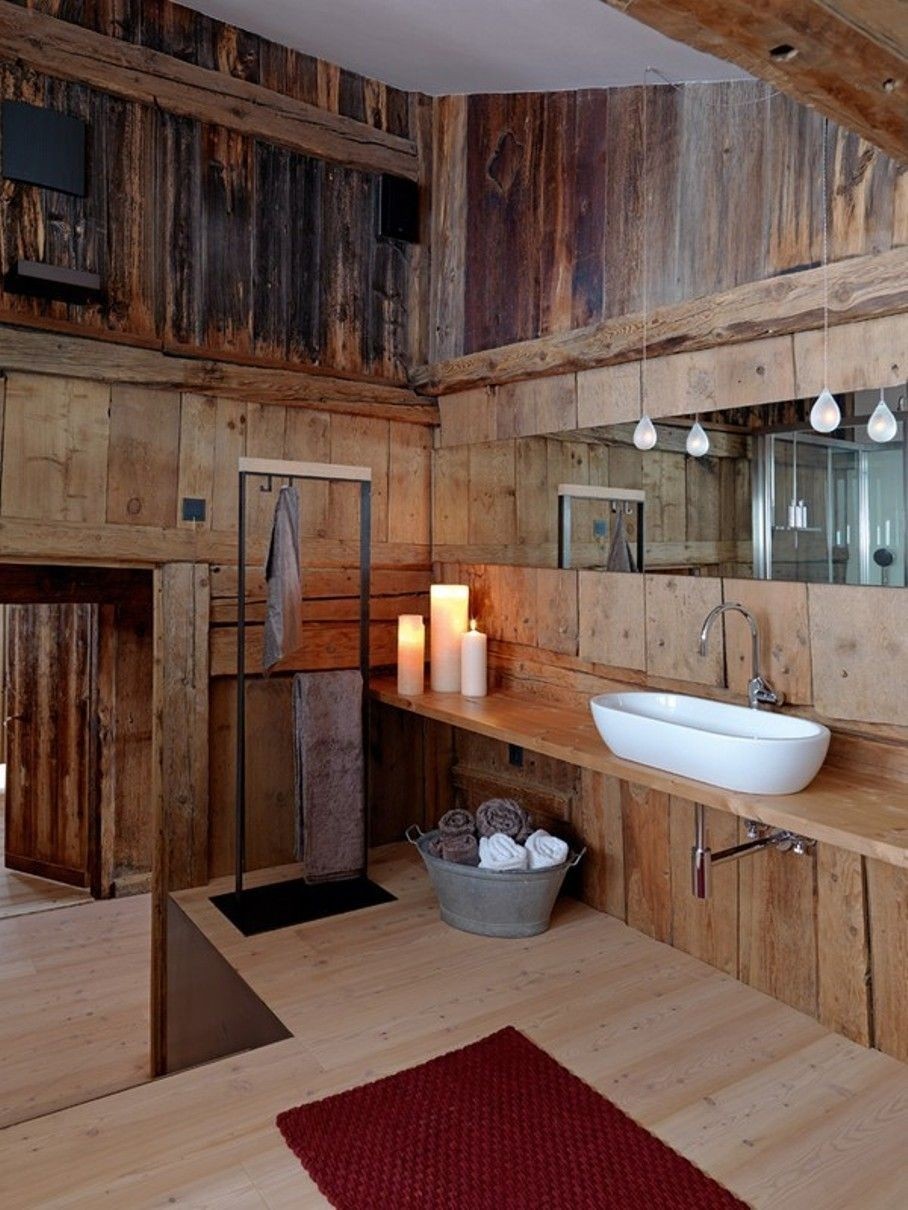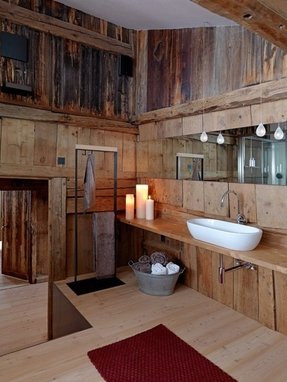 bathroom, rustic, sink, wood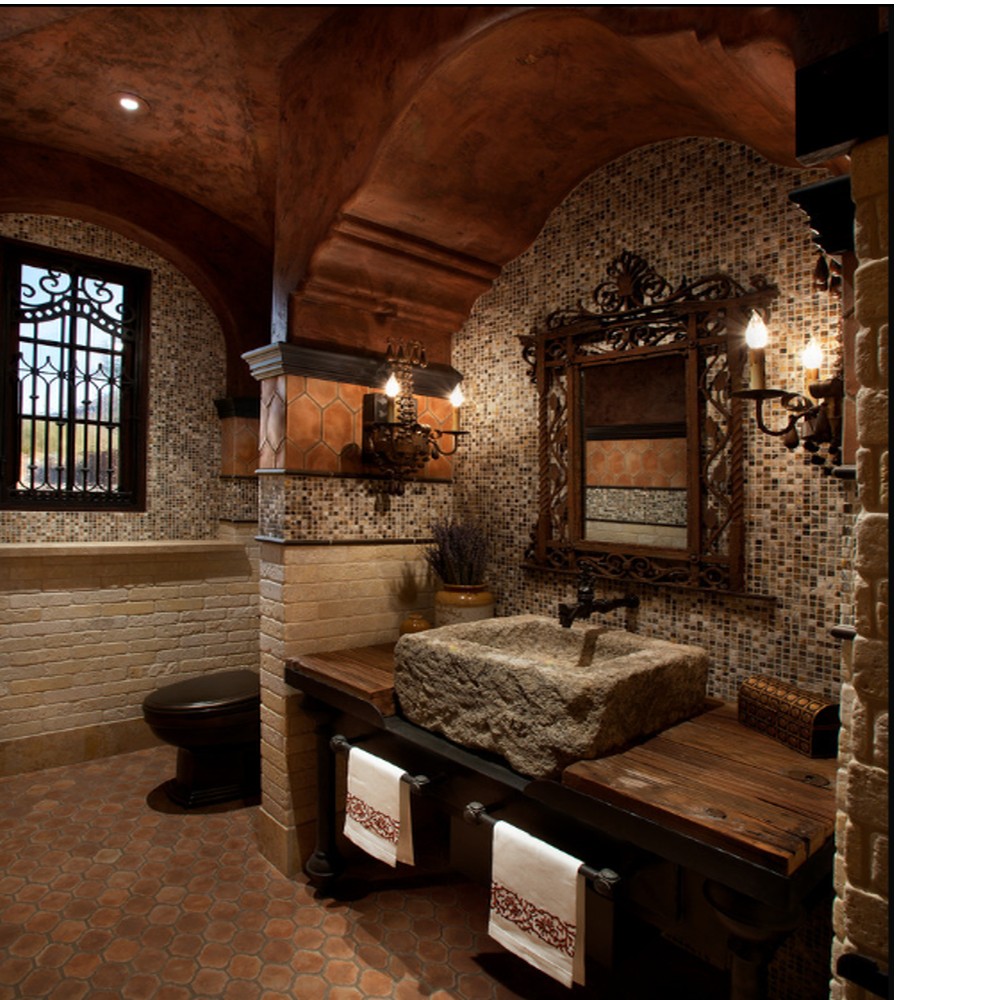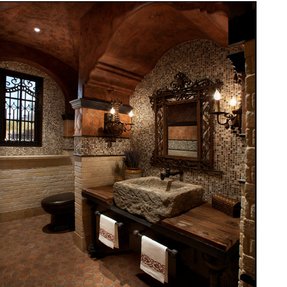 Mystical setup for a rustic, antique bathroom with a unique sink bowl made out of rough stone, providing a primitive detail. The bathroom is fitted with a Victorian-style mirror and finished with a set of old-fashioned candleholders on the walls.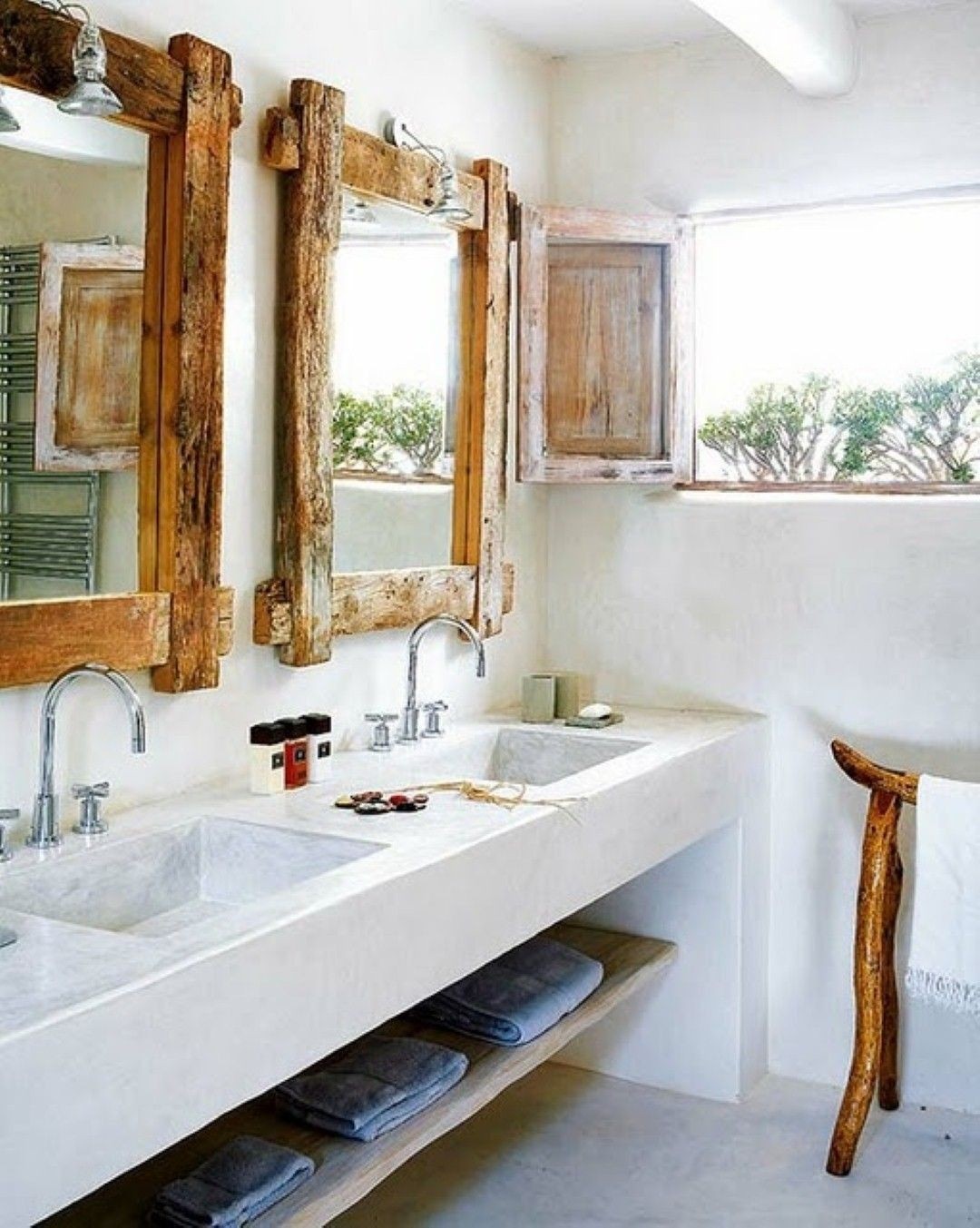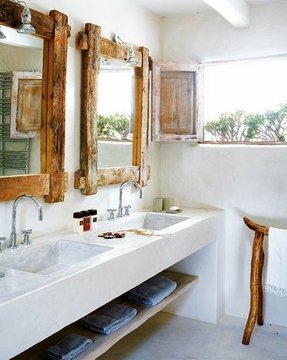 This decoration is fabulous, perfect ornamentation of the house.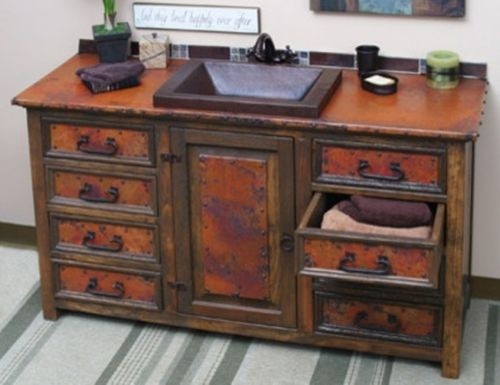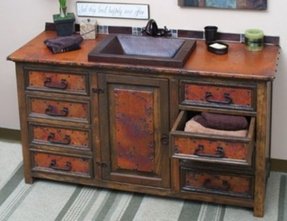 Rustic Bathroom Vanities eclectic-bathroom-vanities-and-sink-consoles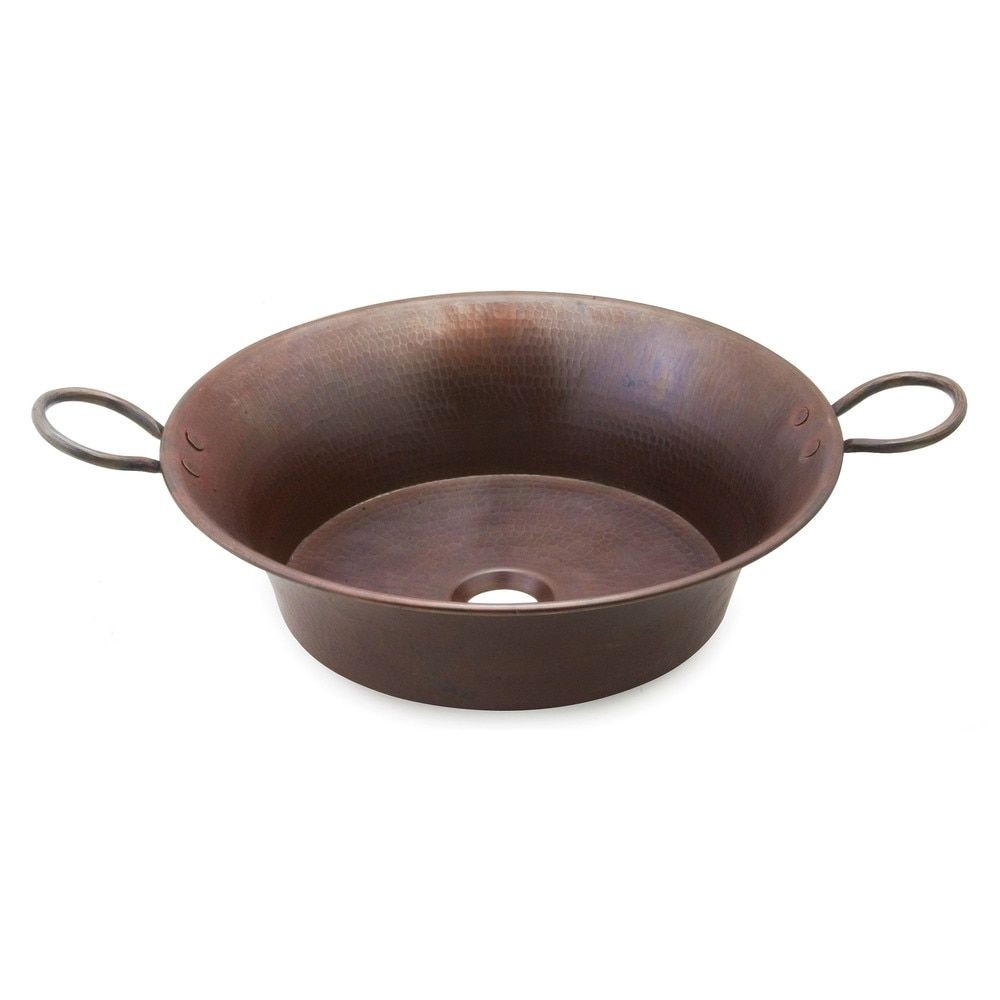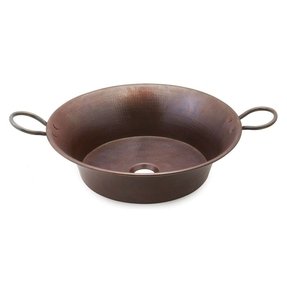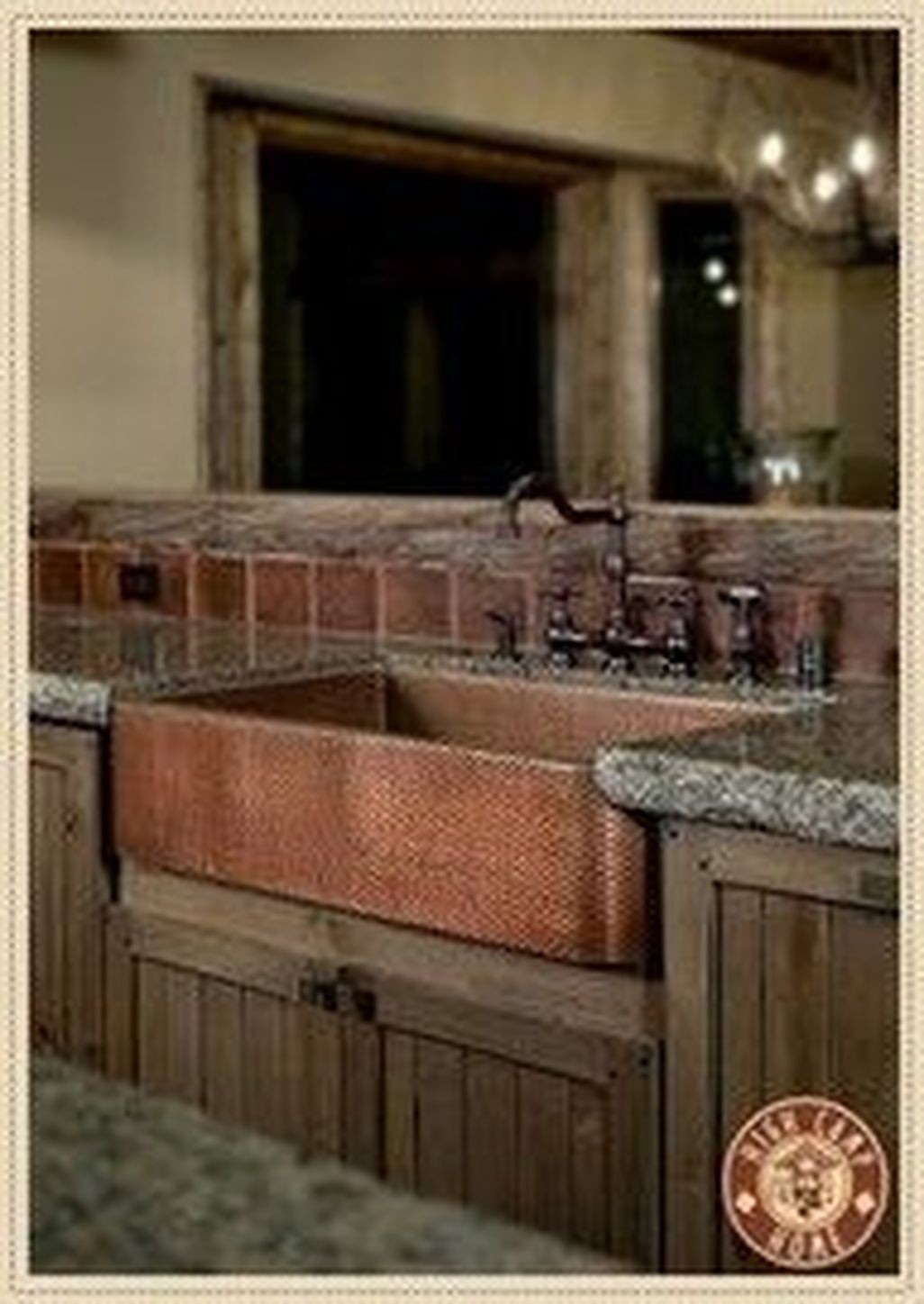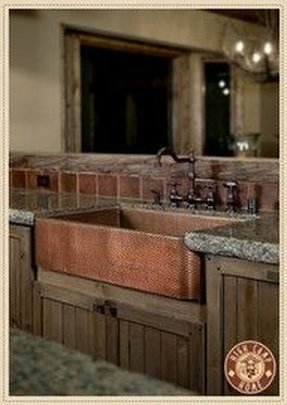 This kitchen sink is so beautiful....I love copper! It's my dream to one day have a full set of copper pots and pans and they would go perfectly with this kitchen! Ohhh...and don't forget the copper Kitchen Aid stand mixer! ;0)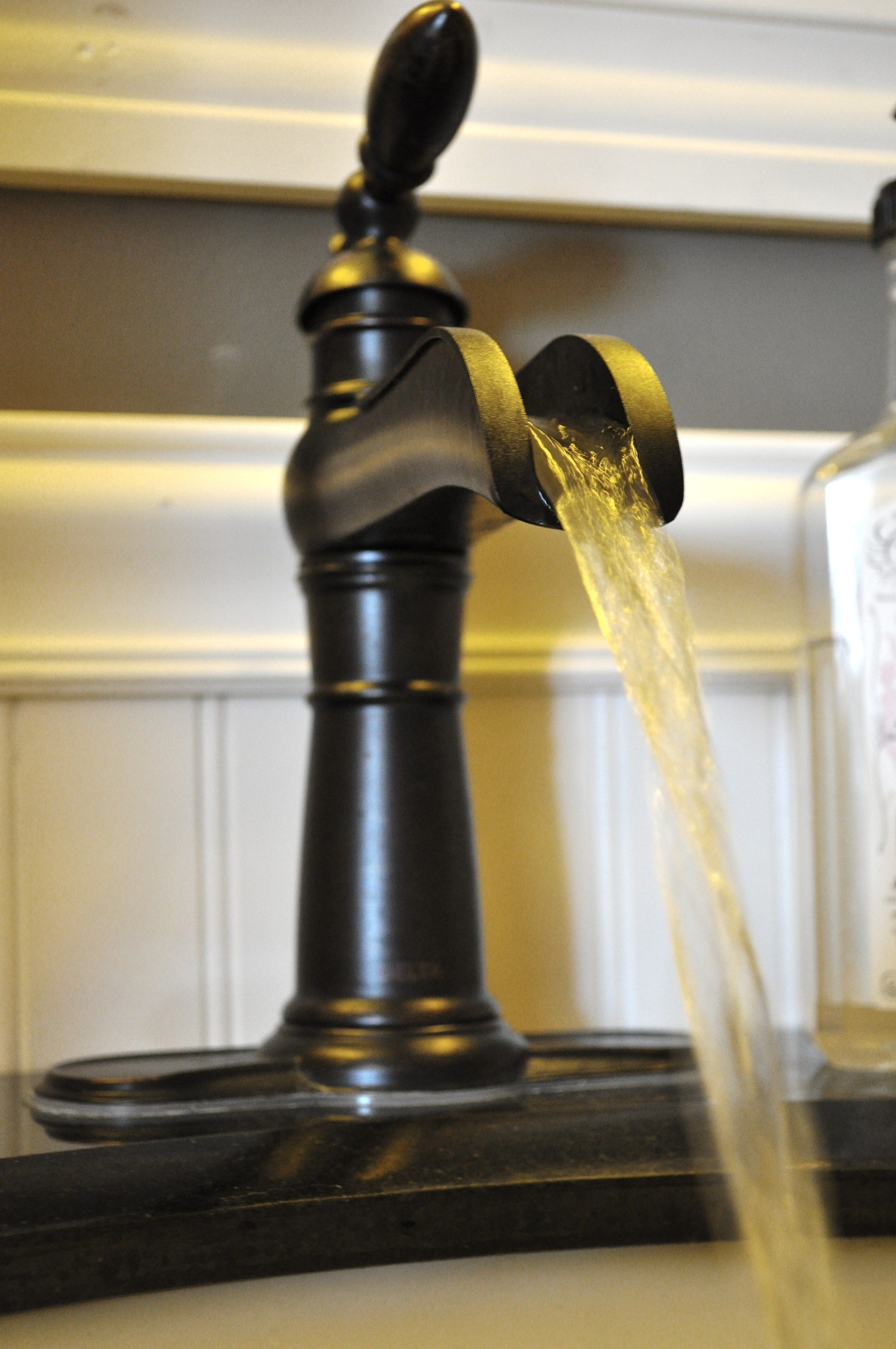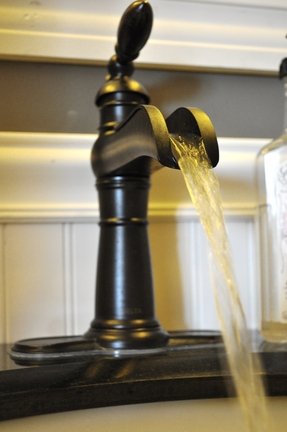 Faucet. This is super similar to the sink that billy and I will be getting for our home. For all 3 bathrooms. Oh I love it!!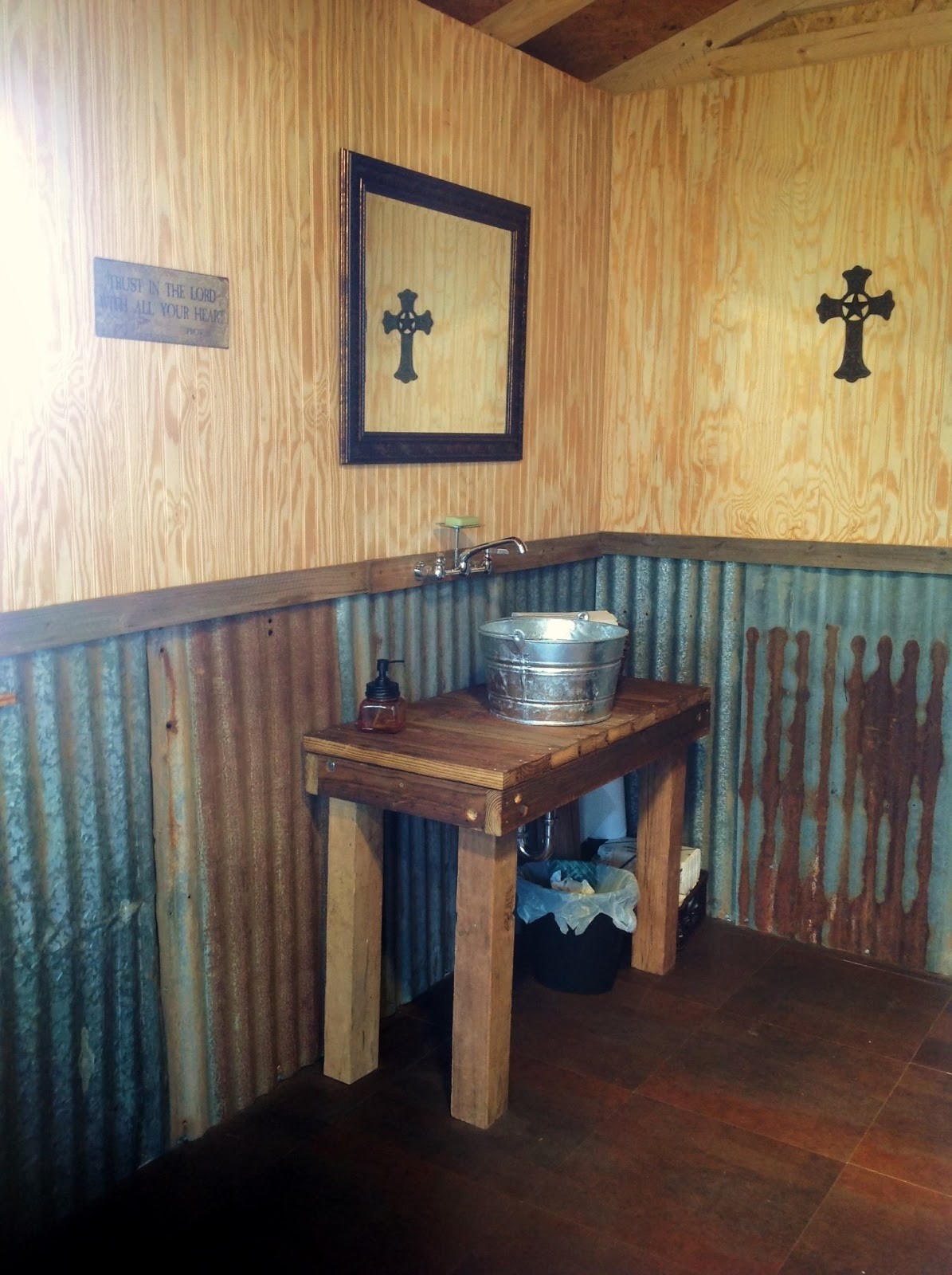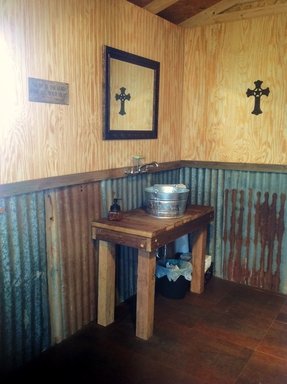 Blessed Oak Farm Groom's Room rustic bathroom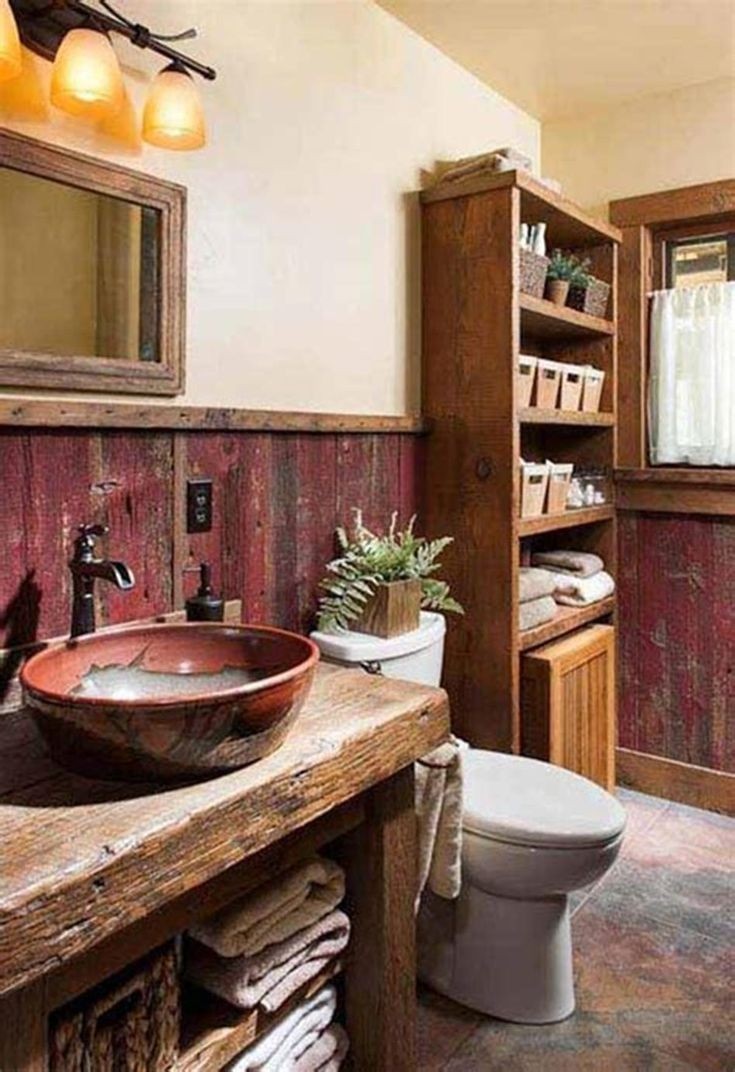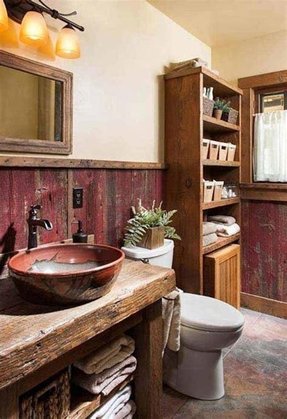 Builder Greg Lee used red reclaimed barn wood as wainscoting. He also built the vanity and corner cabinet out of reclaimed barn wood. For the sink, Mikki requested that Whitefish Pottery create an 18-inch vessel that matched the red reclaimed barn wood. A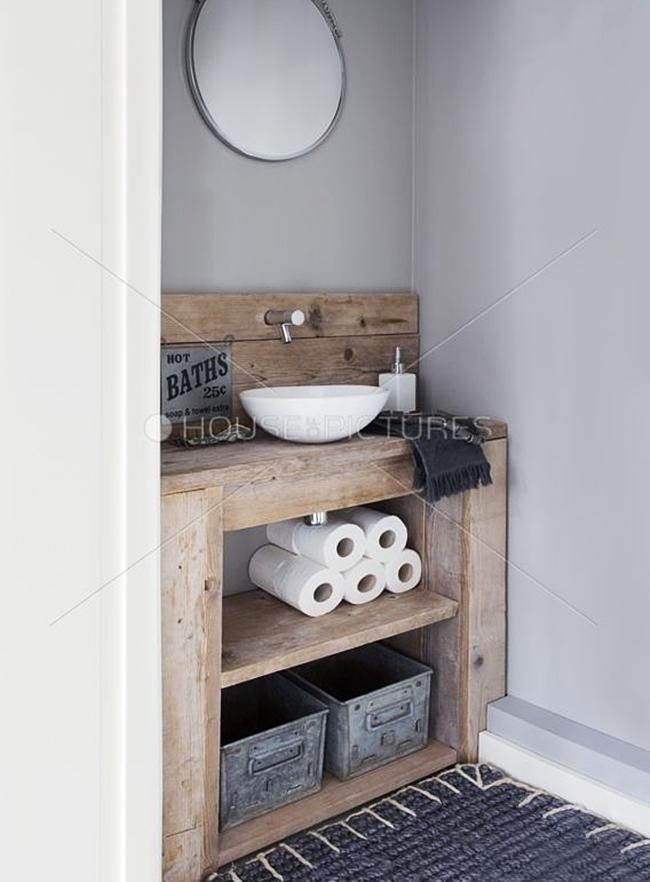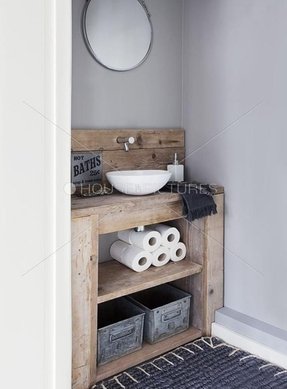 I'd love to have a rustic chic bathroom in our new home. Good thing Eric's handy, he could make this cabinet.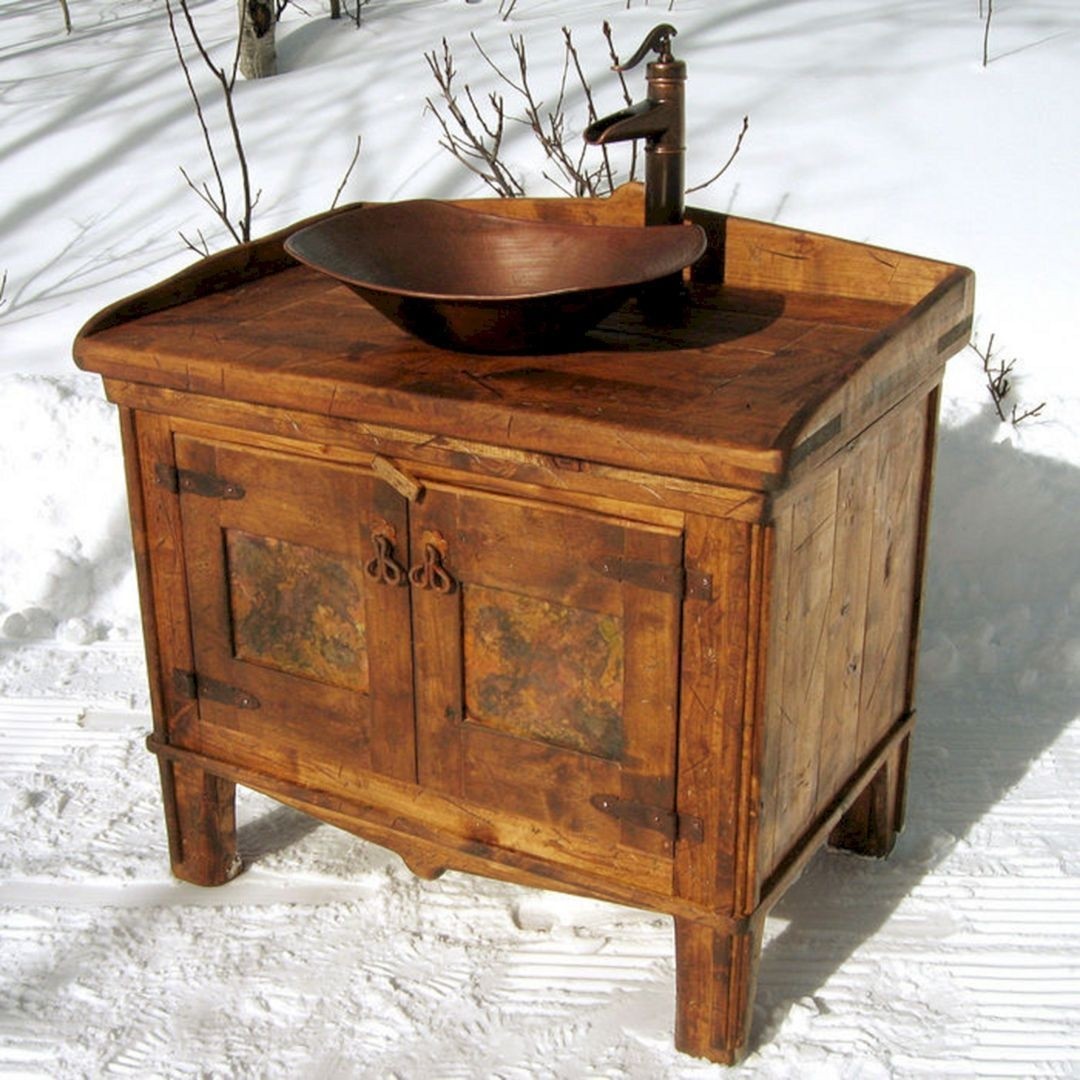 This sink is a bathroom element that represents a rustic stylization. Its functional character is paired with its durability. The sink features an interesting brown color that looks very good in any bathroom.