Treating yourself to a classic white vanity with a mirror to apply makeup and do your hair is one of the greatest gifts when it comes to self-care. While having one of these exquisitely lit vanities might be a childhood dream for many girls, there's no reason you can't fulfill this fantasy as an adult too.
There are a variety of ways you can create your dream vanity area, from a chic mirror to comfortable seating.
Vanity Table
The number one consideration for your vanity area is the table. There is a huge assortment of traditional and contemporary looks available on the market, depending on your interior aesthetic.
If you're designing an urban space or an industrial-inspired home, a modern vanity table will blend perfectly with your decor. The contemporary look is streamlined and based on rectangular and square shapes in both the vanity's draws and legs. It will typically feature sleek metallic hardware or feature drawers with cutouts instead of handles or knobs.
A classic white vanity with ornately turned legs, antique handles, and an ornate mirror is a perfect choice for a country or traditional home.
Look for a table that offers ample surface space for storing and displaying your cosmetics and hair care products, while also keeping a compact footprint in your dressing area.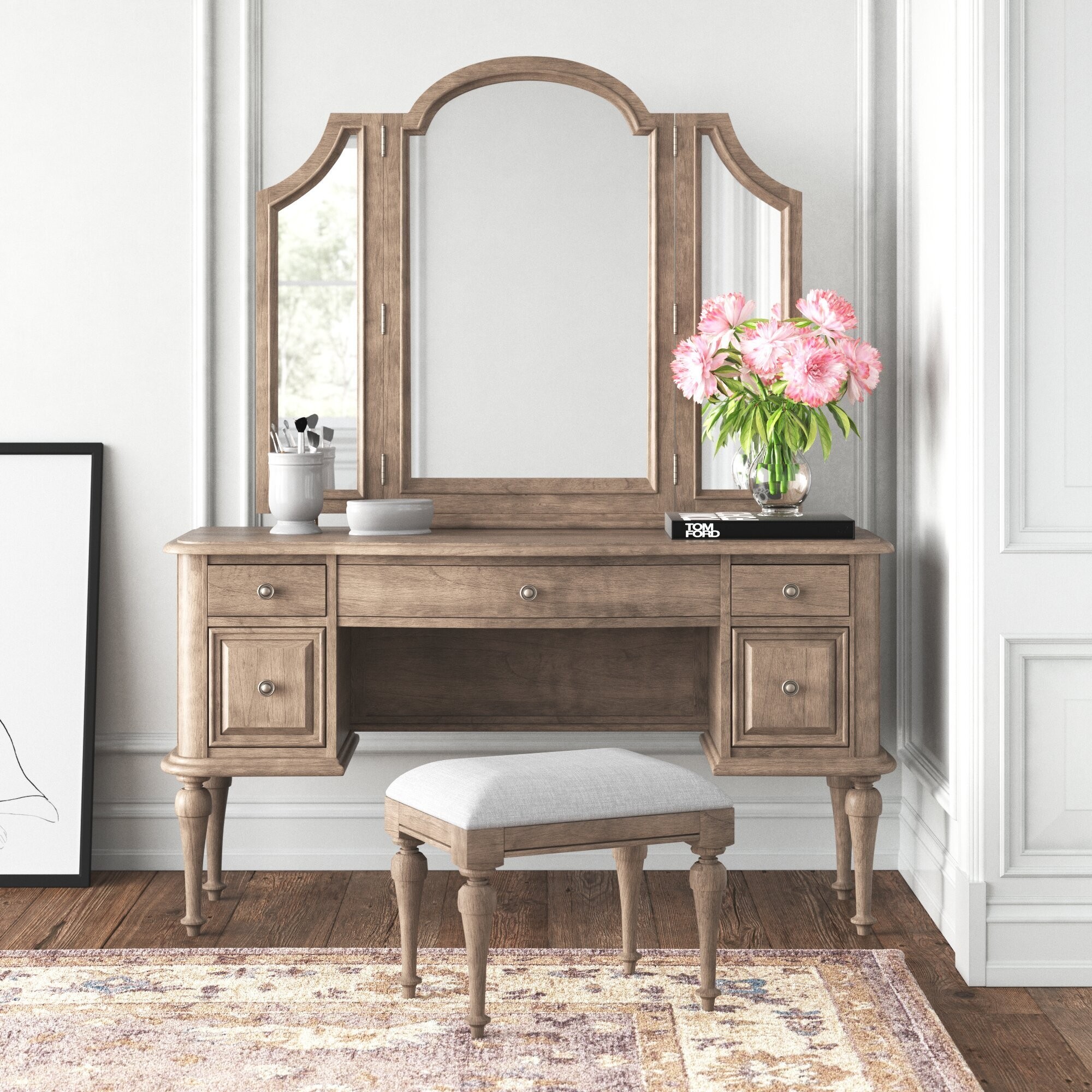 A Comfy Seat
A good stool or chair is essential for creating a cozy vanity area where you're excited to spend time.
If you've chosen a relatively basic white vanity, then a unique stool with a bit of flair is an excellent way to add your personal touch to the set. A vanity seat or bench should offer comfort with a foam cushion or light padding, while also appearing trendy and feminine.
The seat also provides you with the opportunity to add a touch of glamour to your vanity area without overwhelming the space. Try a chair with a gold metallic frame, or faux fur upholstery, if you have a simple vanity table.
For those who plan to spend a lengthy amount of time in front of the mirror, you might benefit from selecting a chair with a back for extra support. If you don't want a chair with a full back, you can find vanity stool to low backrests that offer plenty of lumbar support.