Everything about Paris has an effortless glamor to it, from its iconic buildings and landmarks to the charming cafes and bistros. Paris is famous for its magnificent architecture, and when you picture the quintessential French apartment, it's almost certainly the classic 19th-century architecture of Haussmann, which has become synonymous with Parisian Chic interior design.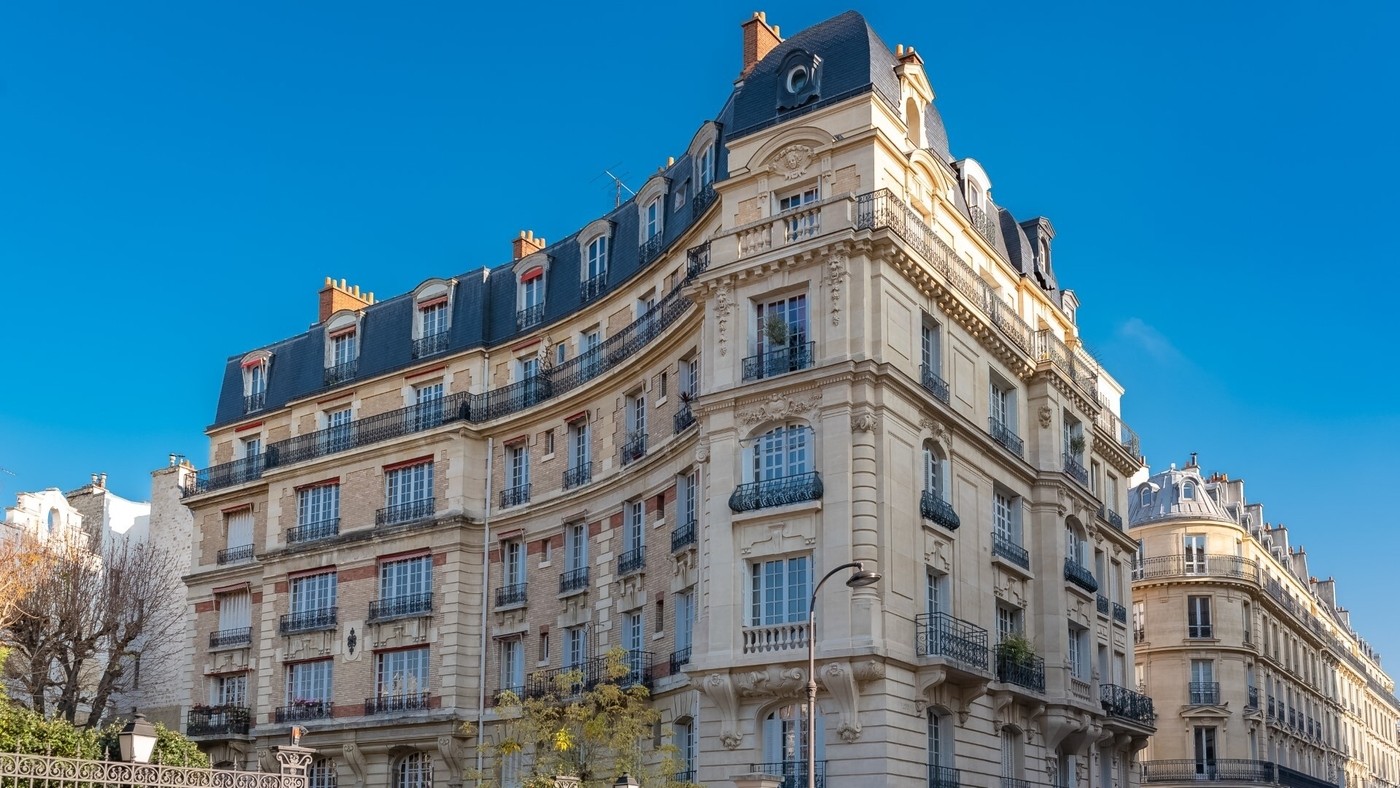 Parisian Chic interiors are feminine and elegant - the perfect mix of traditional and contemporary design. With a classic elegance underpinned by a relaxed, slightly eclectic aesthetic, Parisian Chic is a timeless look that will never go out of style.
The Parisian Chic look can work well in a variety of different style homes, so even if you don't live in a Parisian apartment yourself, you can still recreate this effortlessly cool style. We're sharing some of our favorite tips and tricks to achieve this sophisticated and elegant look in your own home.
Embrace Period Details
Parisian interior design starts with the bones of the building. If you're lucky enough to live in a period property with high ceilings and ornate plaster features, you're off to a great start.
However, if you live in a newer building, all is not lost. It's fairly easy to add your own cornices, coving, and architraves. These are available with various levels of detail, so you can choose ones that are sympathetic to the style and age of your building. Whether you choose a simple style, or something more extravagant, these details will add a touch of elegance to your room and give you the perfect starting point for your Parisian Chic interior.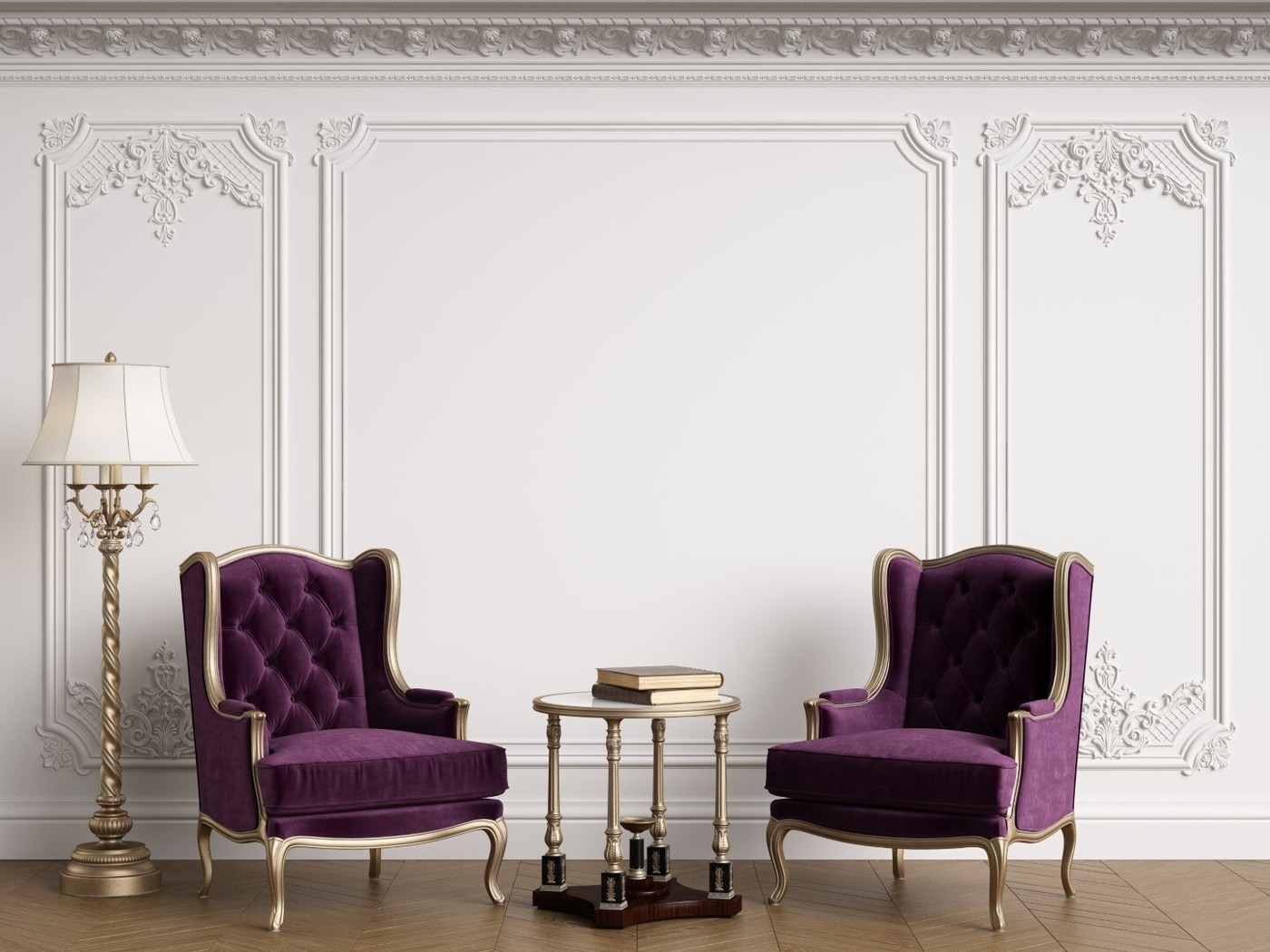 Stick to a Simple Color Palette
Parisian interiors tend to stick to a simple color palette. Although there are, of course, exceptions to this, most Parisian Chic interiors will start with white or light gray walls in a matte finish. White walls provide the perfect blank canvas for artwork and accessories to stand out against, creating a striking look.
White walls will also make your space feel bigger and brighter, bouncing the natural light around the room and making the space feel bright and airy. If you prefer color on your walls, then a pale milky blue is ideal for creating that elegant Parisian look.
When it comes to accent colors, black is a fail-safe option. Rich jewel tones such as ruby red or emerald green can work really well in small doses too, such as on upholstery for example.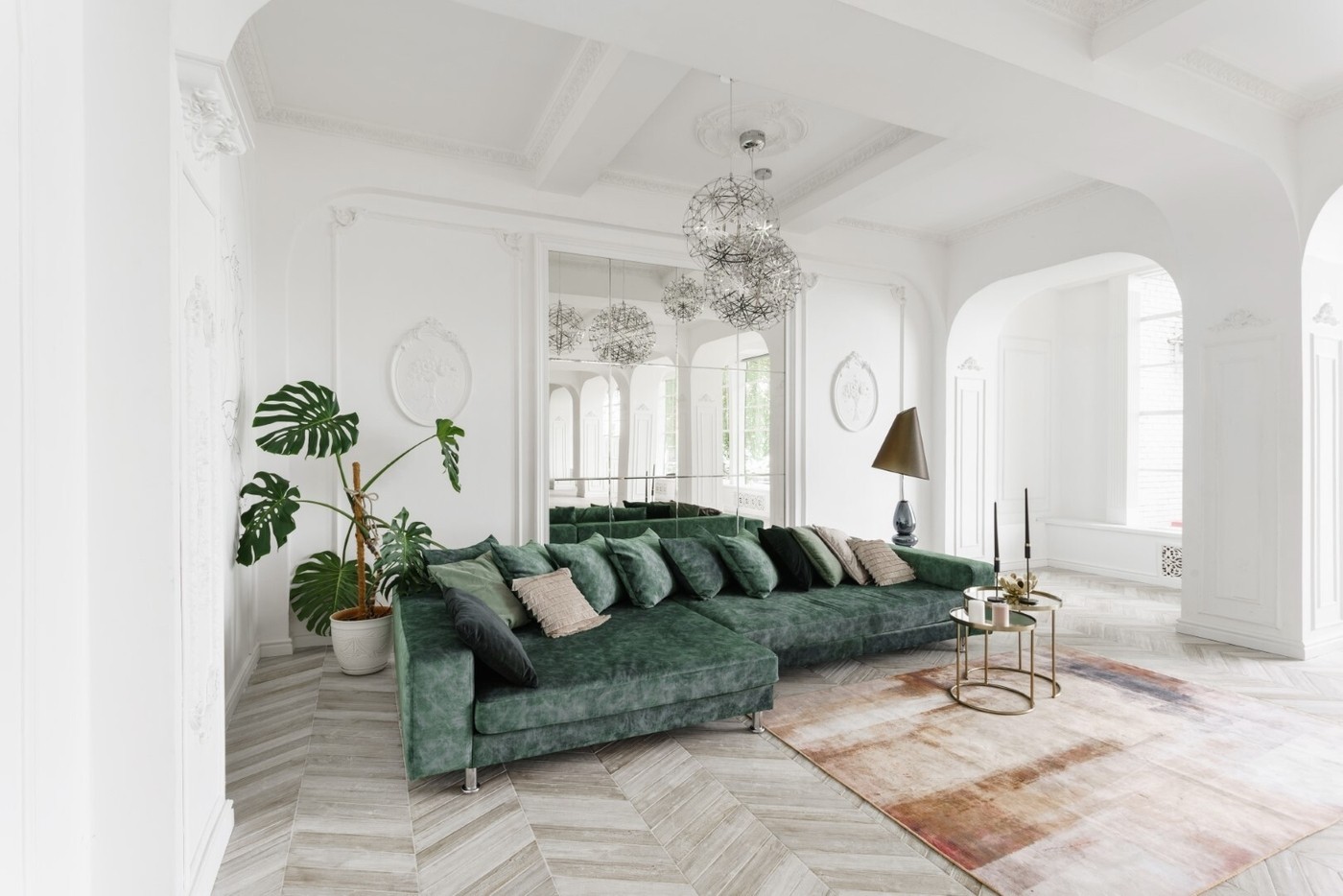 Add Drama With Statement Lighting
A statement light fixture is a key part of the Parisian Chic look. Whether you want to go traditional with a beautiful statement chandelier or you prefer something more contemporary, it's essential to make sure the size of the light fixture you choose is in proportion with your room.
Large rooms with high ceilings will need a large light fixture. A traditional French chandelier is a perfect option in this case, as they make the perfect centerpiece for any Parisian Chic room. Smaller rooms in modern homes will look best with a contemporary light fixture - but make sure it's glam! Gold light fixtures in a contemporary design are the ideal compromise for smaller rooms.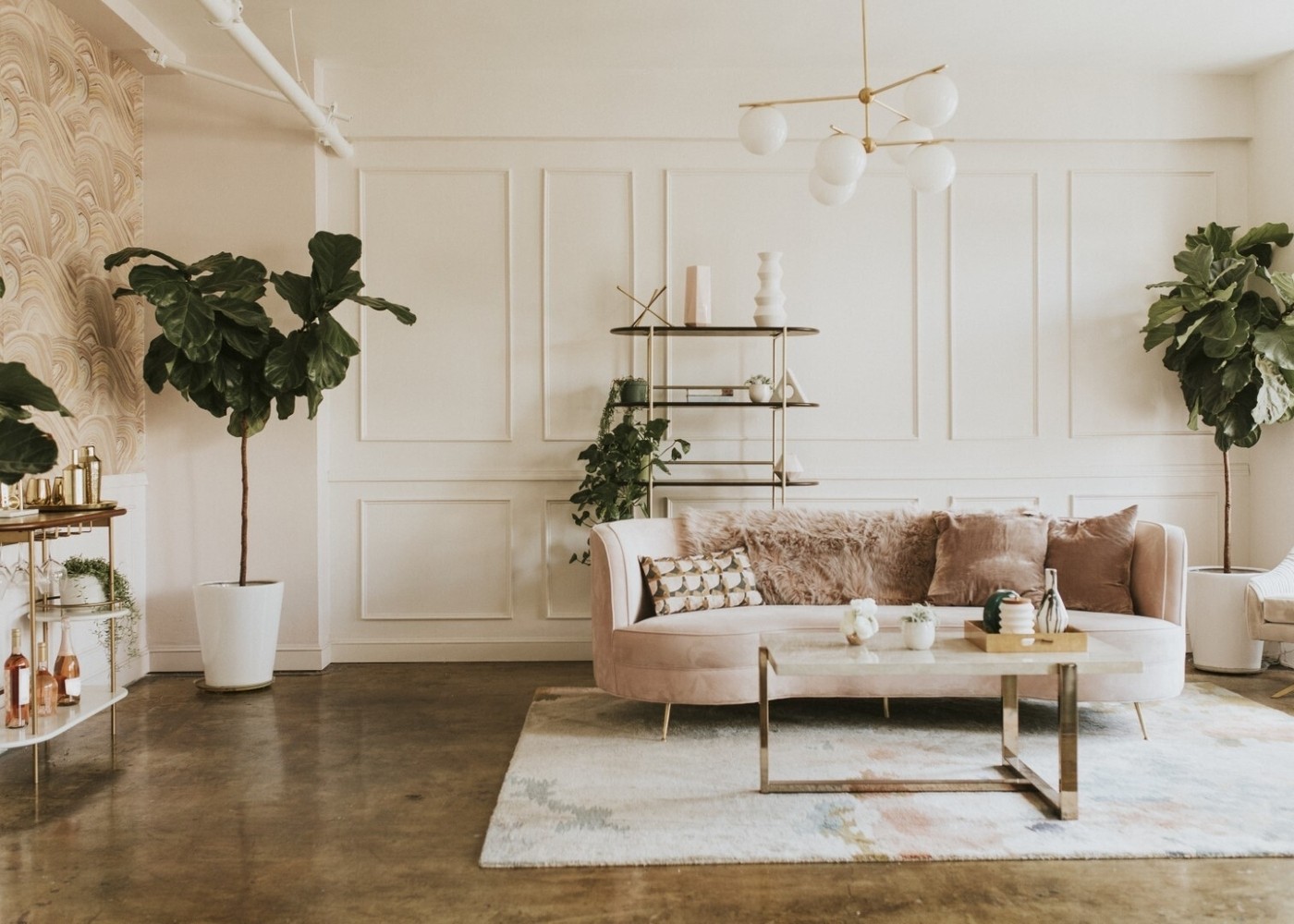 Dress Your Windows in Opulent Fabrics
When it comes to dressing your windows, floor-to-ceiling curtains are a must-have for anyone wanting to achieve the Parisian Chic look. For an injection of romantic glamor, try using heavy silk curtains in rich colors. If you prefer a more subtle look, then thick linen curtains will work beautifully too for a touch of French chic. You can add some drama to your space by ordering your curtains 5 to 15 inches too long, which will allow them to puddle beautifully on the floor.
You may also want to consider using an elegant sheer fabric behind your curtains. Not only will this provide you with some privacy during the day when your curtains are open, but light sheer fabrics will move with the breeze, giving your room a romantic Parisian feel.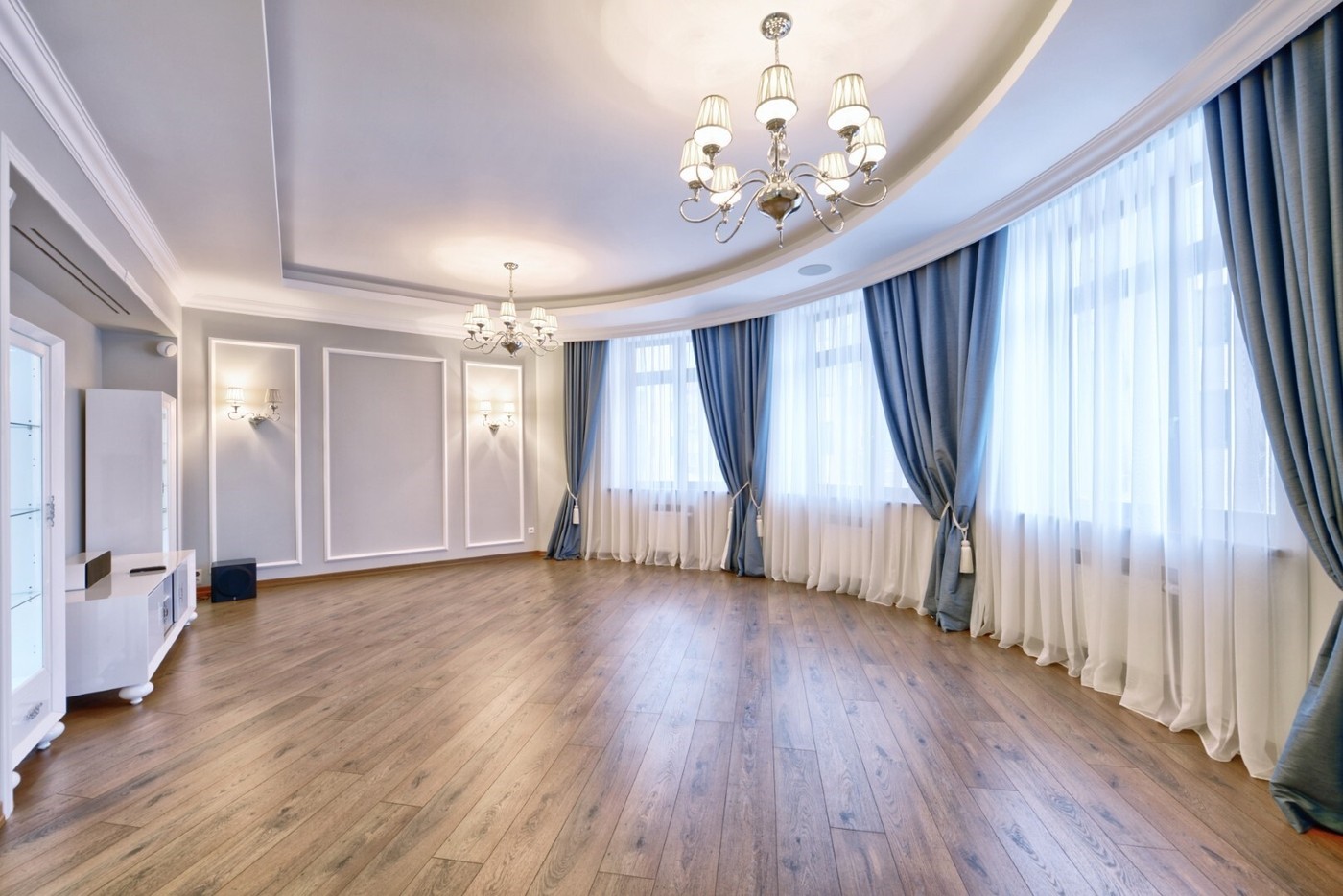 Mix Old and New
The beauty of Parisian Chic interior design is that things don't need to match. In fact, it's almost always better if they don't.
Mix and match traditional french furniture with contemporary pieces. Breathe new life into antique furniture by reupholstering with contemporary fabrics. Place modern art alongside classic oil paintings. Don't worry about whether things 'go' with each other, simply choose items you adore, and it will all come together perfectly.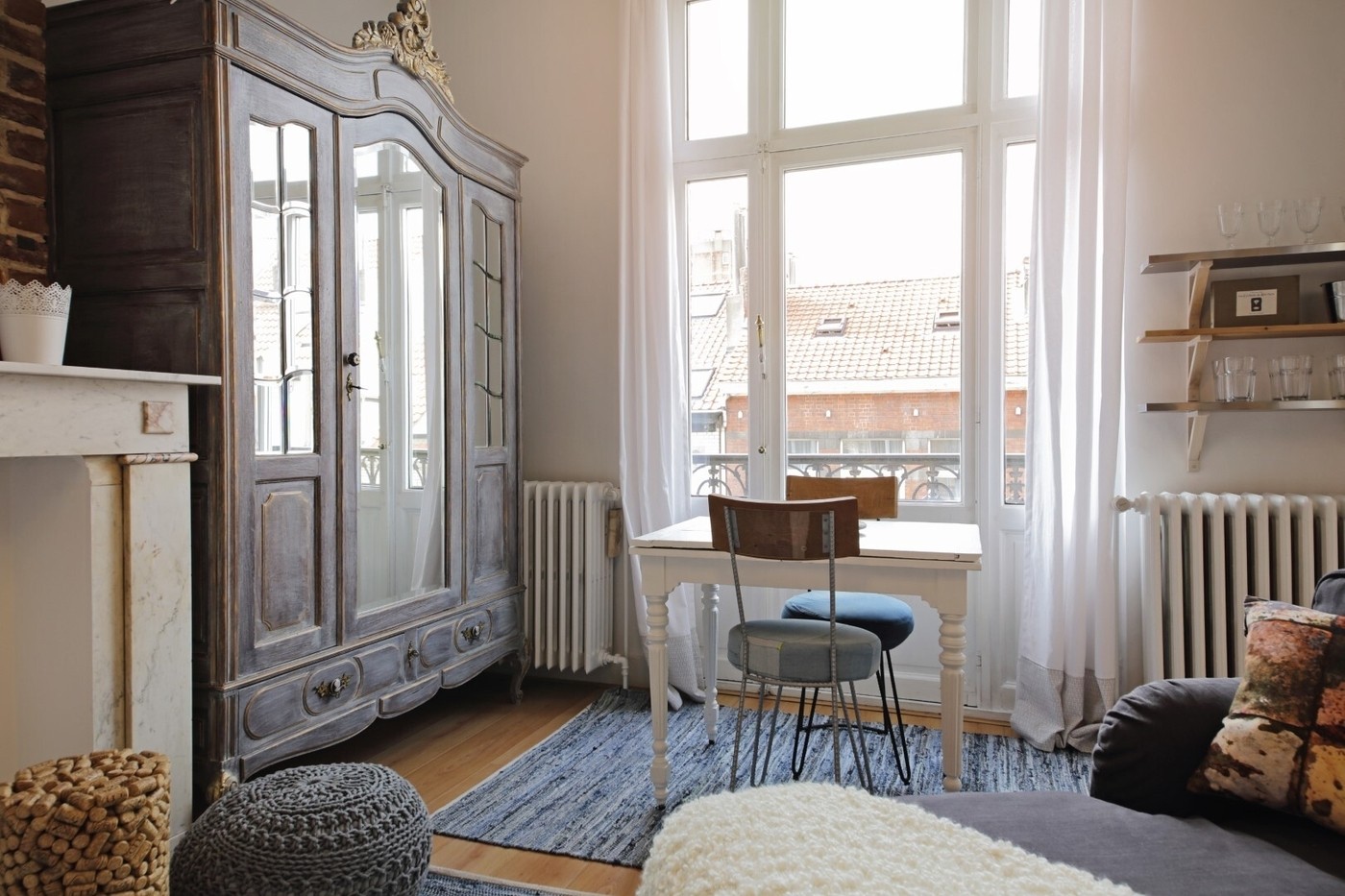 Use Oversized Gilded Mirrors
An oversized gold mirror is a staple of the Parisian Chic look. Best placed above a fireplace, a large mirror with a gold frame will add a touch of French glamor to your space whilst helping to make your room feel bigger and brighter.
Most styles of gold mirrors will work, but for the true Parisian look, look out for classic French-style mirrors with an arched top and decorative detailing on the frame.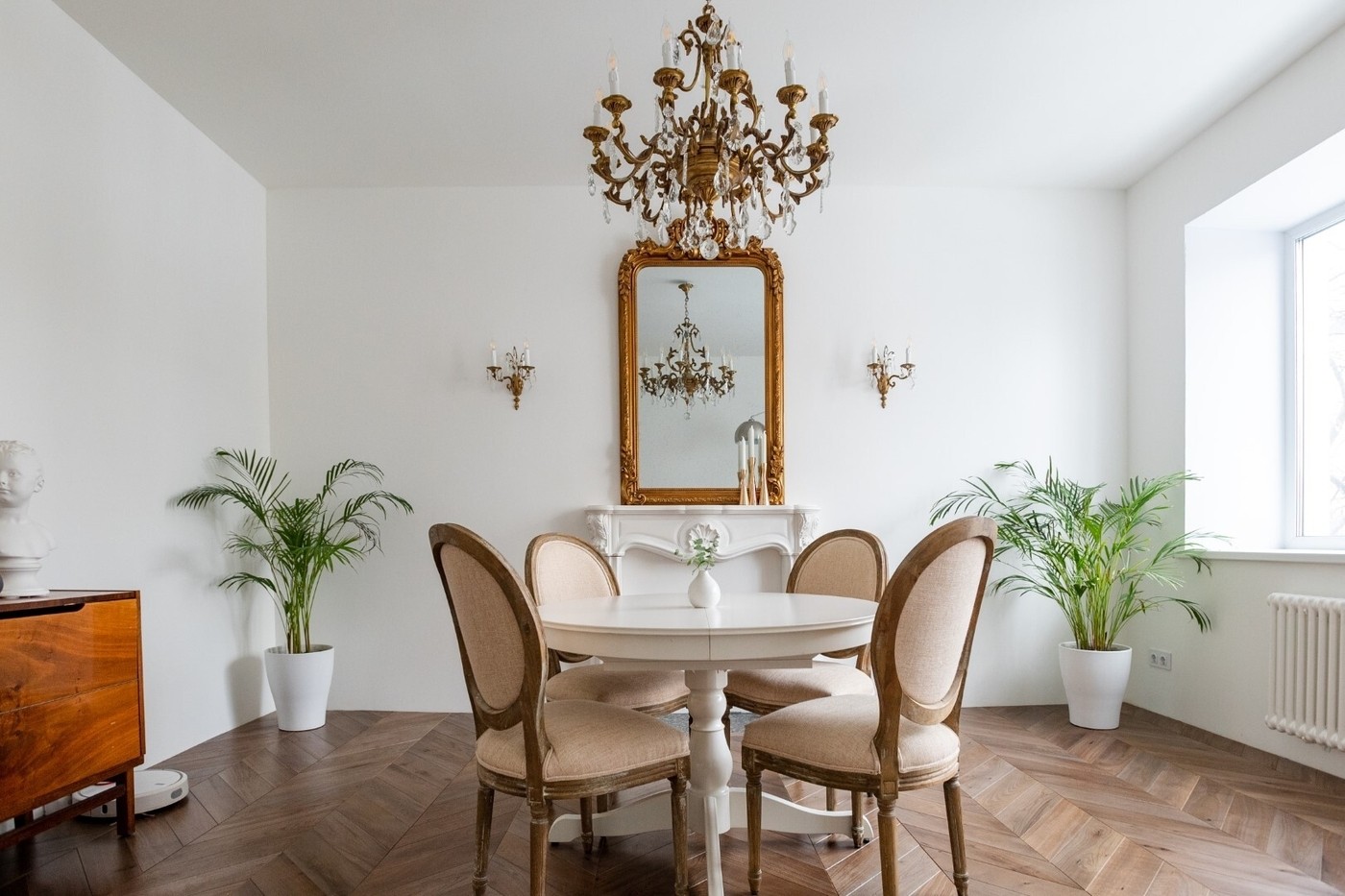 Parquet Flooring
Parquet flooring has a long history in France, dating back to the 16th century, and installing it is a sure way to get the opulent Parisian Chic look in your own home. Although it can be costly, you can consider installing parquet flooring as an investment in your home, as it's both luxurious and timeless, making it very appealing to buyers if you ever sell your home in the future.
There are lots of different parquetry patterns to choose from, such as herringbone, chevron, and Versailles. The Herringbone pattern is particularly popular at the moment due to the fact that it works beautifully in both traditional and modern interiors.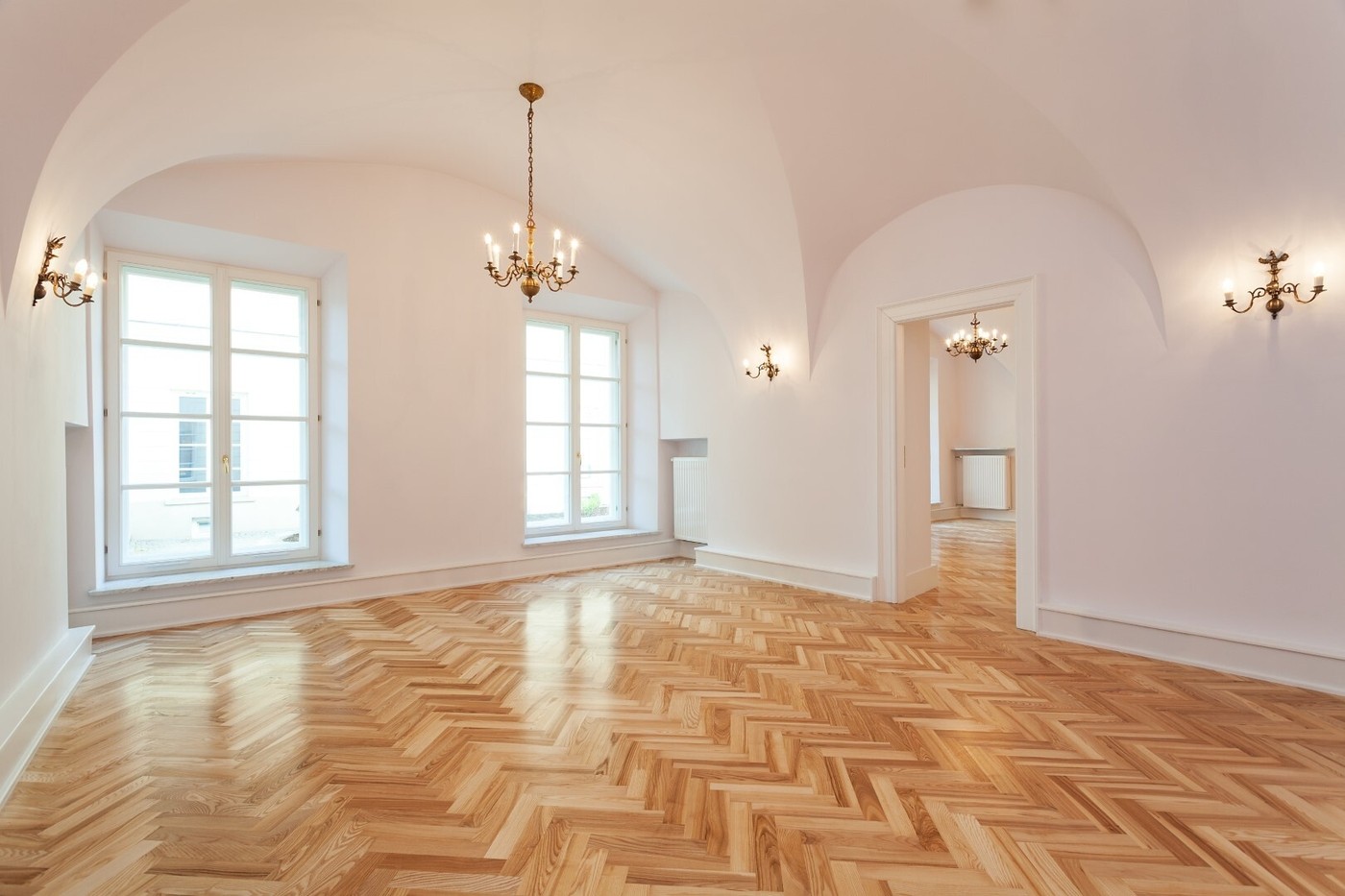 Hang Some Statement Art
No Parisian apartment is complete without some statement art. As we discussed earlier, mixing old and new is encouraged, so feel free to hang some bold modern art alongside something more traditional - anything goes here.
Think of your light-colored walls as the perfect backdrop to display your favorite works of art. Black or dark-colored frames will create the most contrast with white walls creating a striking look.
Don't Follow Trends
The main thing to remember when designing a Parisian Chic interior is not to follow fads and trends. The beauty of this interior design style is its timelessness, and its ability to evolve naturally over time. Don't over-stage your space, and never put form over function. After all, the epitome of French style is practicality and comfort.