Navy blue is one of the darkest shades of blue; it is a primary color. It represents strength, bravery and stability. It is often associated with the Navy, a sea-based military branch, sailing and water sports. It is important to understand the psychology of navy blue before you start designing with it because it can be a powerful color.
What is the Psychology of Navy Blue?
The color navy blue is strong and confident, which can help clear negative energy from a space. As a deep color, navy is associated with nightfall and the transition between two stages, light and dark. Navy is a shade of blue, which is known to have a calming and sedative effect on the body. It carries a sense of elegance and sophistication. However, navy can also be authoritative and empowering due to its association with the Navy and other branches of law enforcement.
What are the Best Ways to Use Navy Blue in Your Home?
Navy blue is an excellent choice for wall paint in bedrooms because it is calming and seen as a transition color, helping you fall asleep.

For a twist on a traditional library or study, paint the walls navy blue.

Navy blue is a good substitute for neutral colors such as black and gray.

Navy blue cabinets in a kitchen or bathroom are a good alternative to black and can be used in both modern and traditional interiors.
Add navy blue accents such as throw pillow or blankets to light, neutral upholstered furniture to add depth.
What Colors Go with Navy Blue?
Navy is a deep shade of blue. It is a calming and welcoming color. Navy is sophisticated and elegant and a great alternative to other neutrals. Read about the 5 principal rules of color combination before designing with navy blue, which we refer to in our color pairings. Navy is a rich color, so it needs to be balanced with other colors in a space.
Navy Blue + White
Navy blue and white are an elegant pairing and a hard combination to get wrong. In spaces with lots of white furniture, add navy accents such as pillows and rugs to create visual depth. Alternatively try painting one of the room's walls navy blue to warm up the space.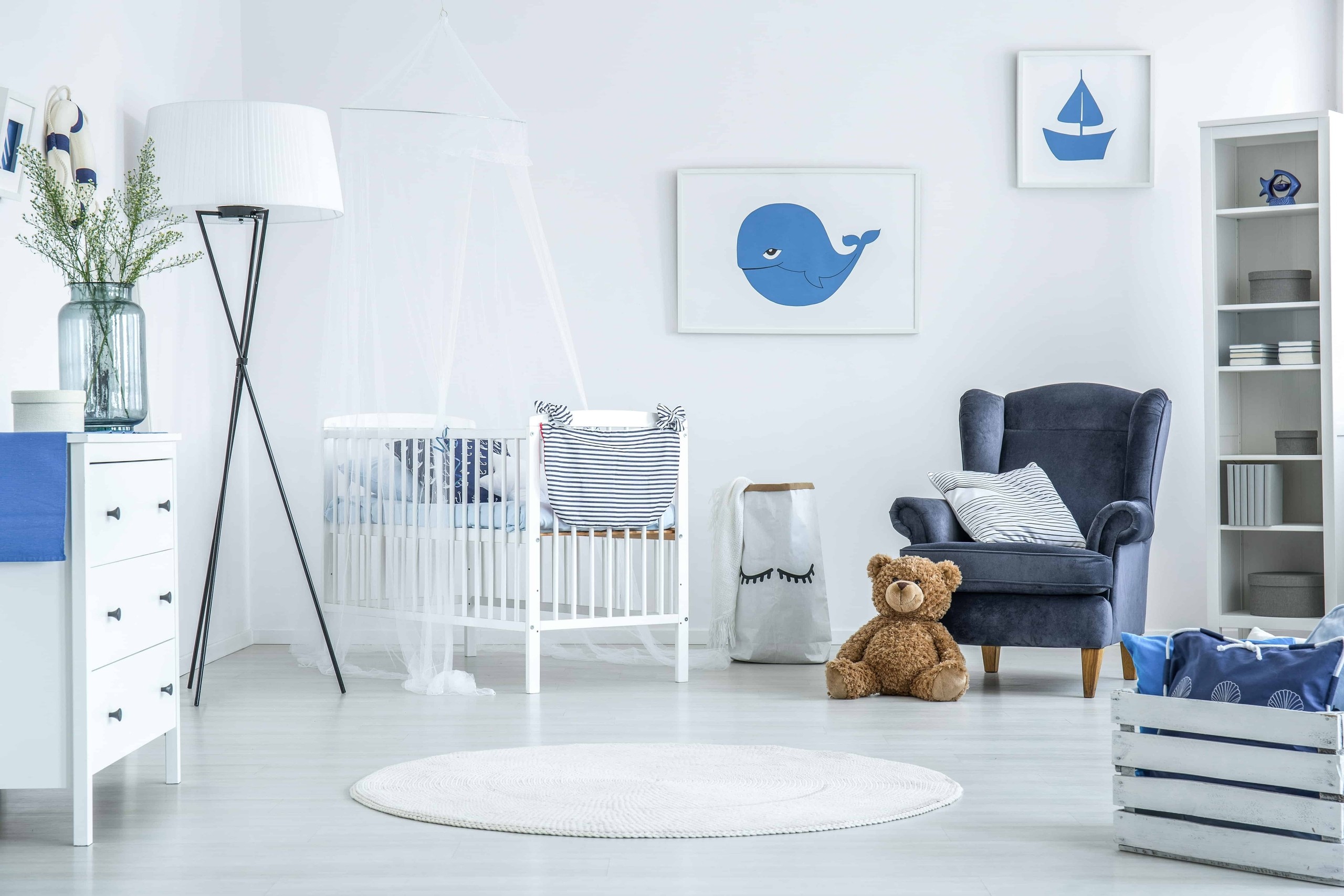 Navy Blue + Pink
Navy blue and pink are a bold and feminine combination. Use paler shades of pink such as blush to help soften a navy blue painted room. Navy and pink can also be paired as accent colors. Ground the room with a navy blue and pink patterned rug and pull both colors up into the room through the use of throw pillows. Balance the boldness of both colors by keeping the larger pieces of furniture in neutral colors.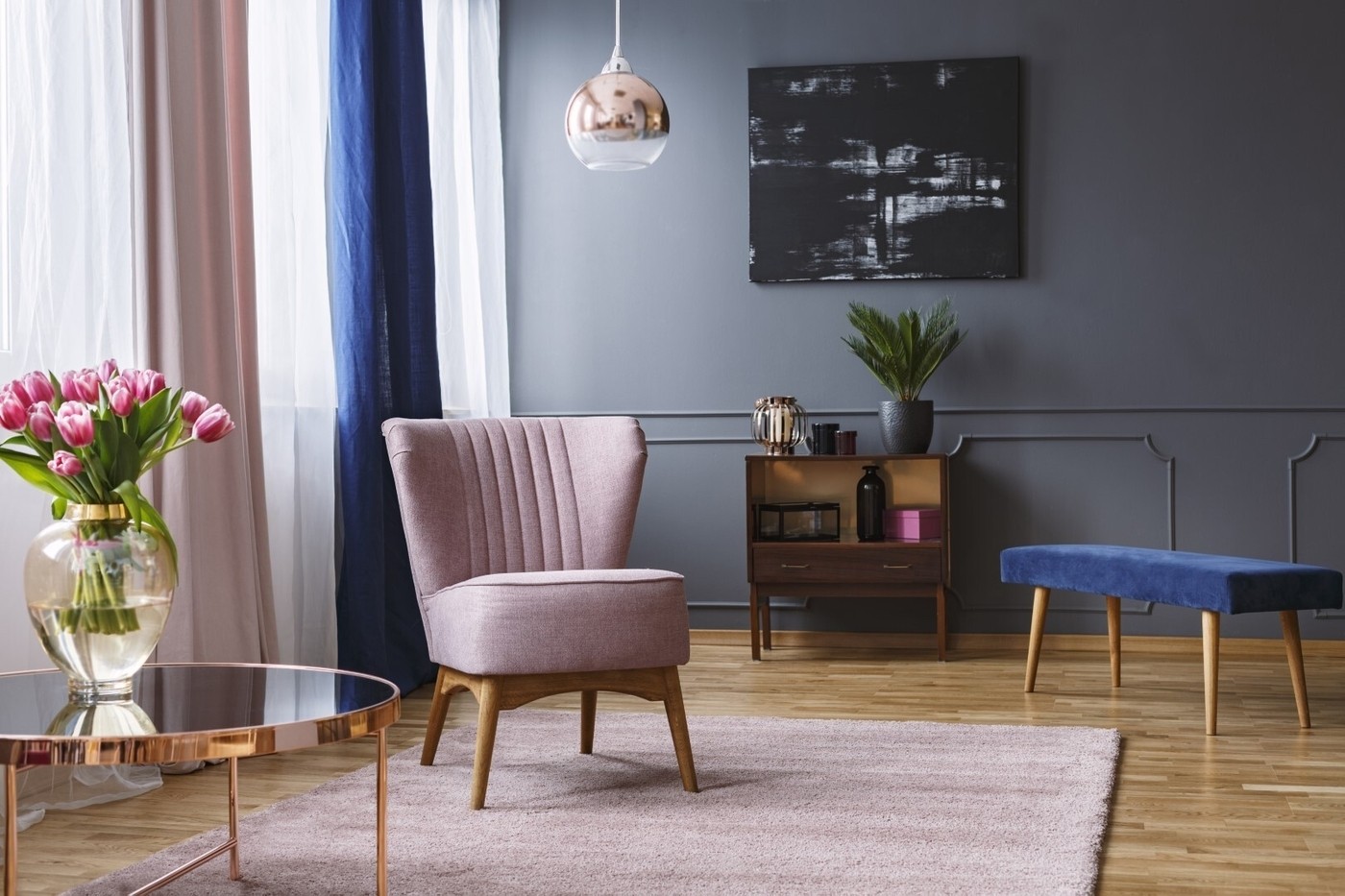 Navy Blue + Yellow
Navy blue and yellow are complementary colors pairing well together. The secret to combining these colors is to balance them right against a main neutral color. Use the 60-30-10 rules. Start with white or gray at 60% then add in navy blue at 30% - it can be anything from curtains to a sofa, and use yellow as your accent color at 10%.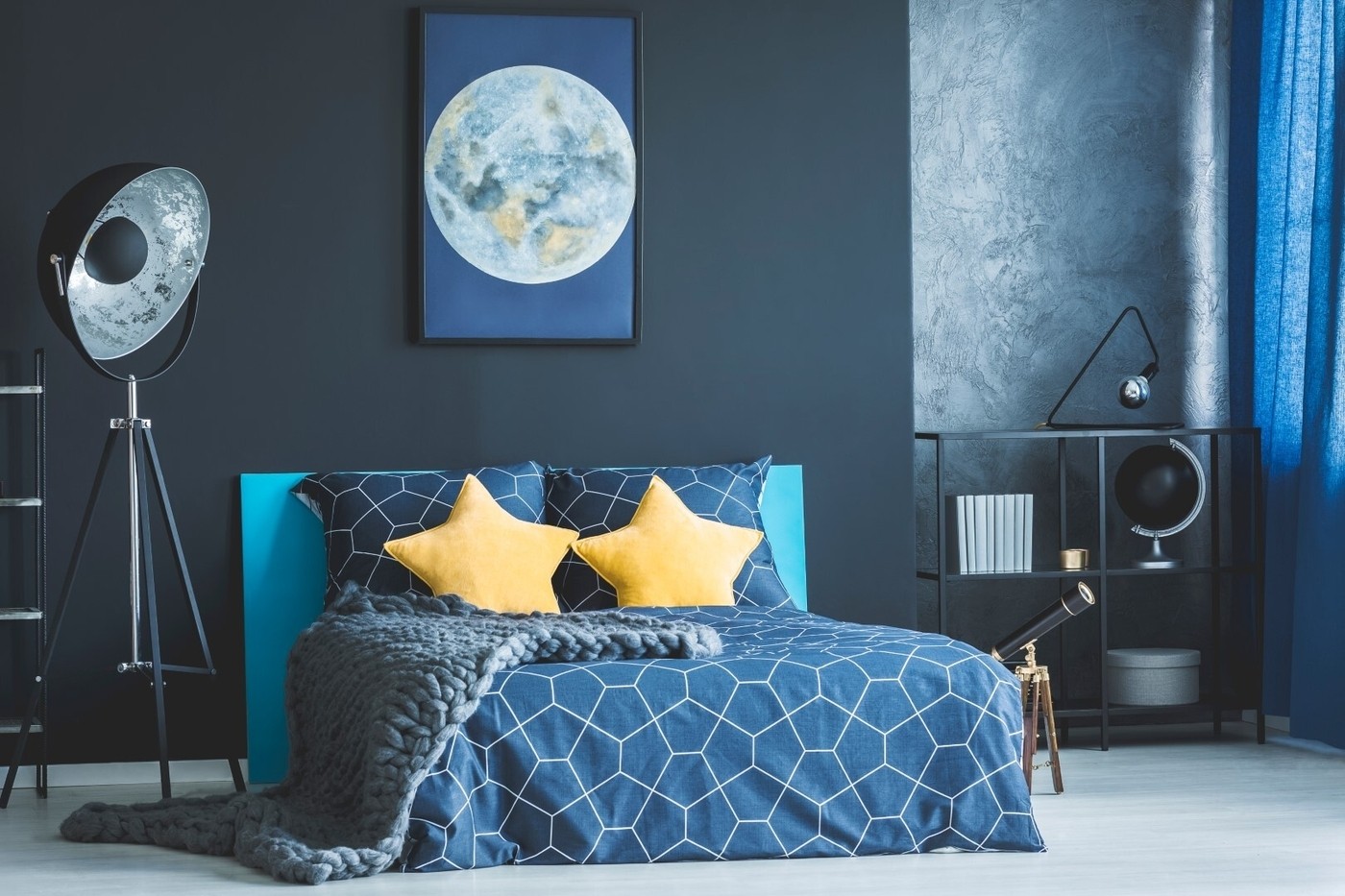 Navy Blue + Light Blue
Play around with a tonal palette by pairing navy blue with light blue. The key to getting this mix just right is to use light blue as your base color adding in navy blue accents. Make sure to add in a third neutral color such as white or cream to balance the room. Try painting the walls light blue and use a singular piece of navy blue furniture like a sofa. Likewise, keep the furniture neutral and add navy blue in the rug or accent pillows.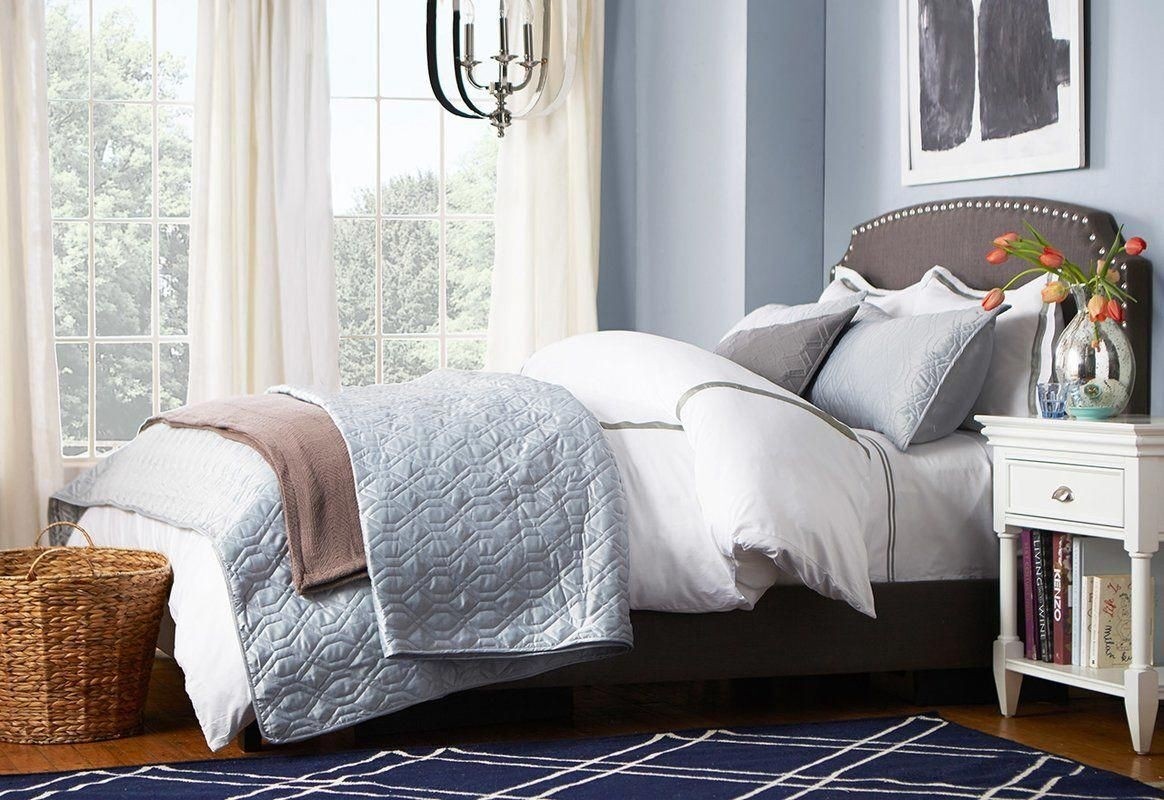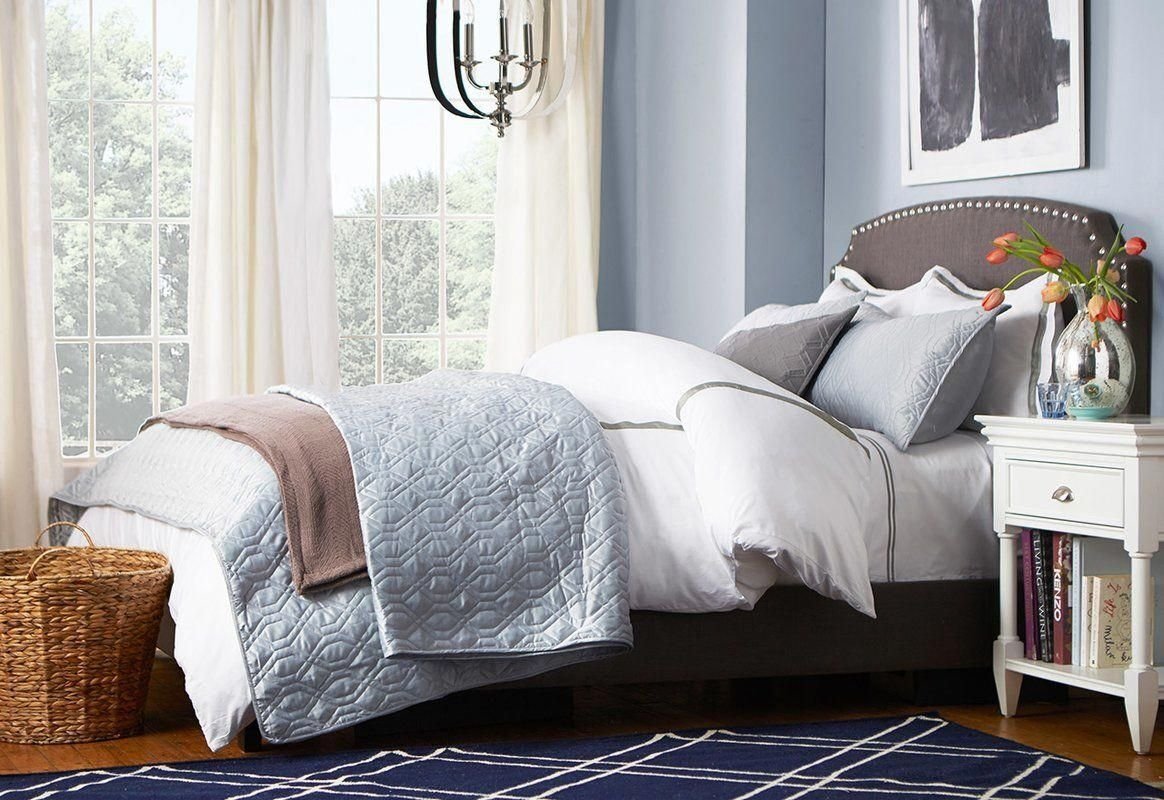 Navy Blue + Brown
Navy blue and brown are both dark and rich colors, so finding the correct balance of the two colors in a space is important. The best way to do this is to opt for lighter browns like tan or caramel instead of darker browns. If using navy blue and brown furniture, keep the walls light and add accent colors to keep the space from falling flat visually.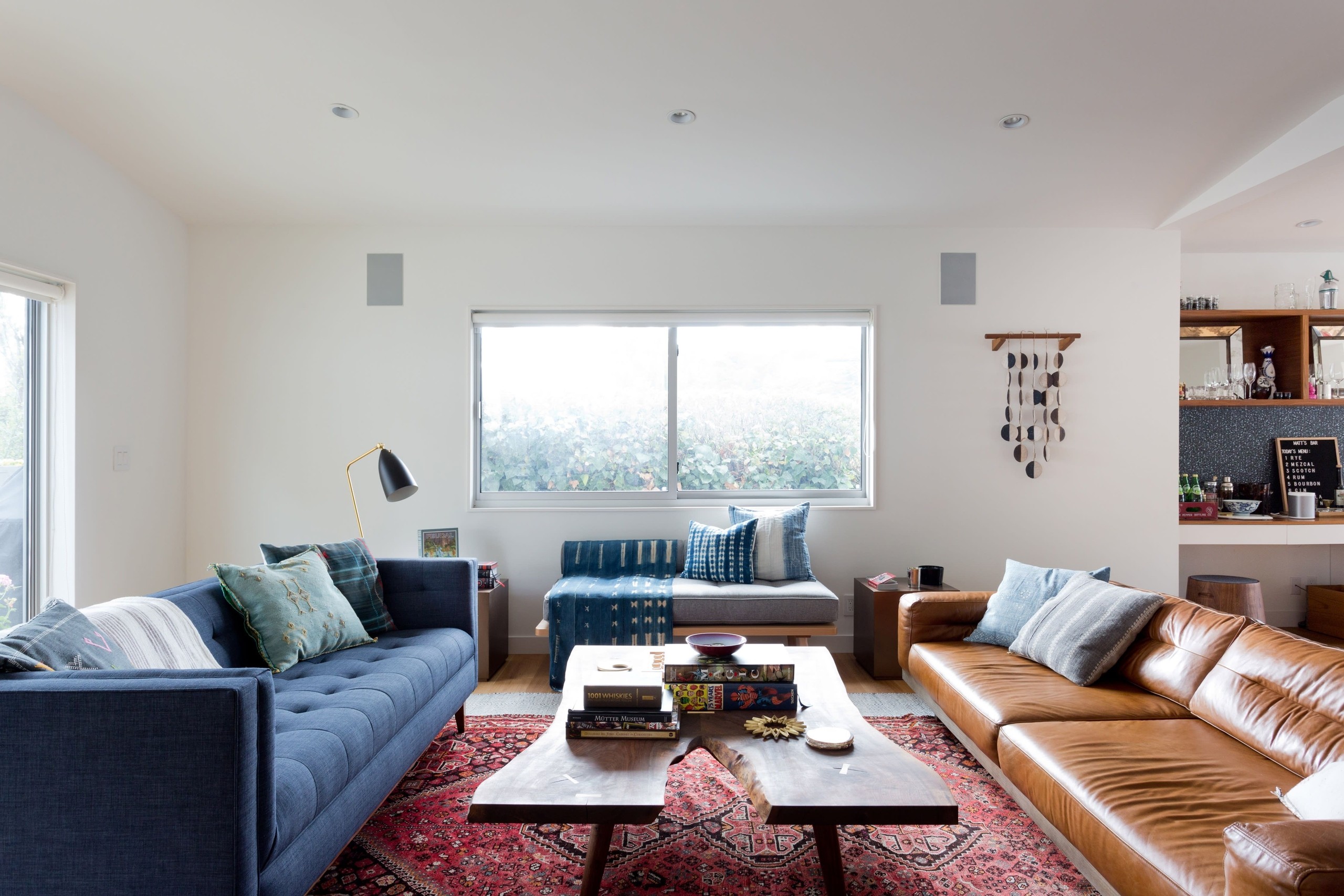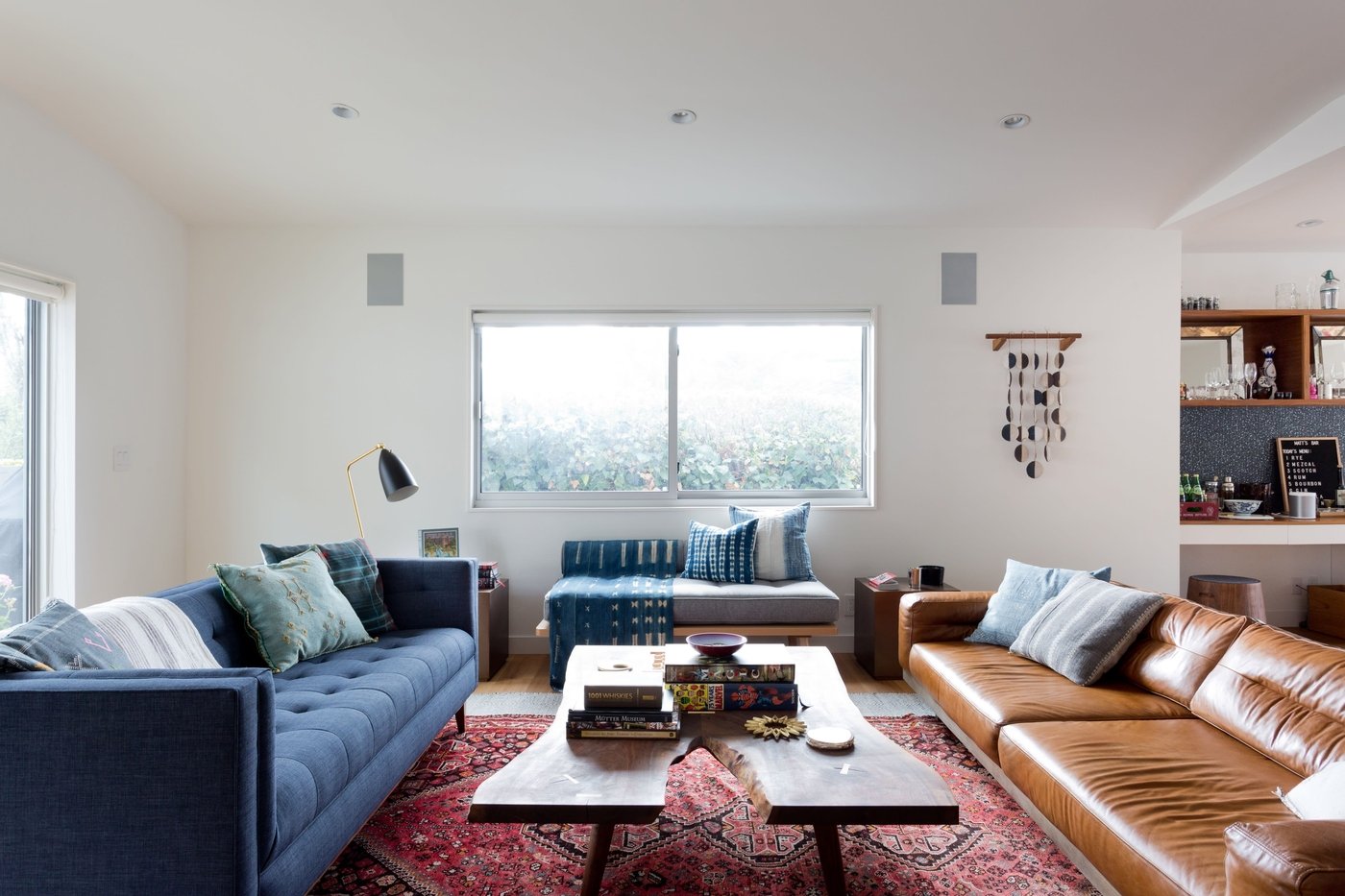 Navy Blue + Gold
Navy blue and gold are both elegant and sophisticated colors. For a warm and rich feeling space, pair gold accent furniture, such as side tables and lighting, with navy blue upholstered furniture. For a twist on this classic pairing, use gold as your foundation color, like a gold patterned wall covering and add in navy blue accessories instead.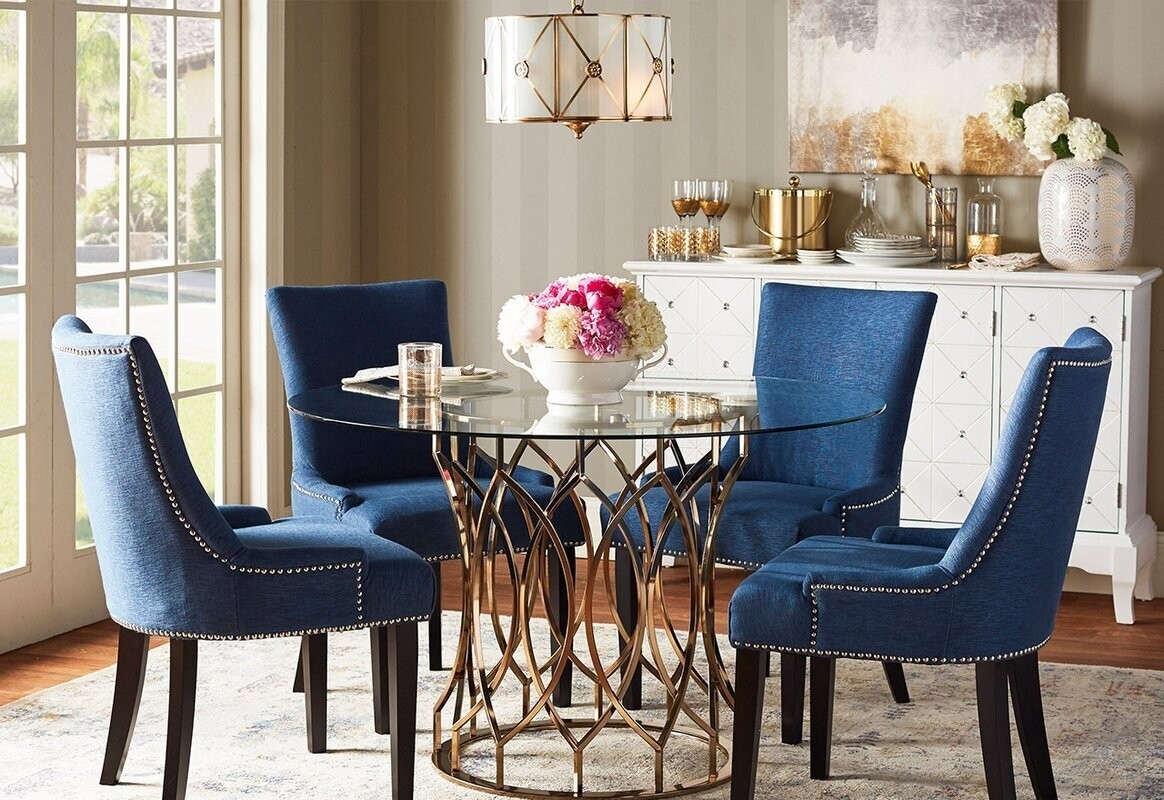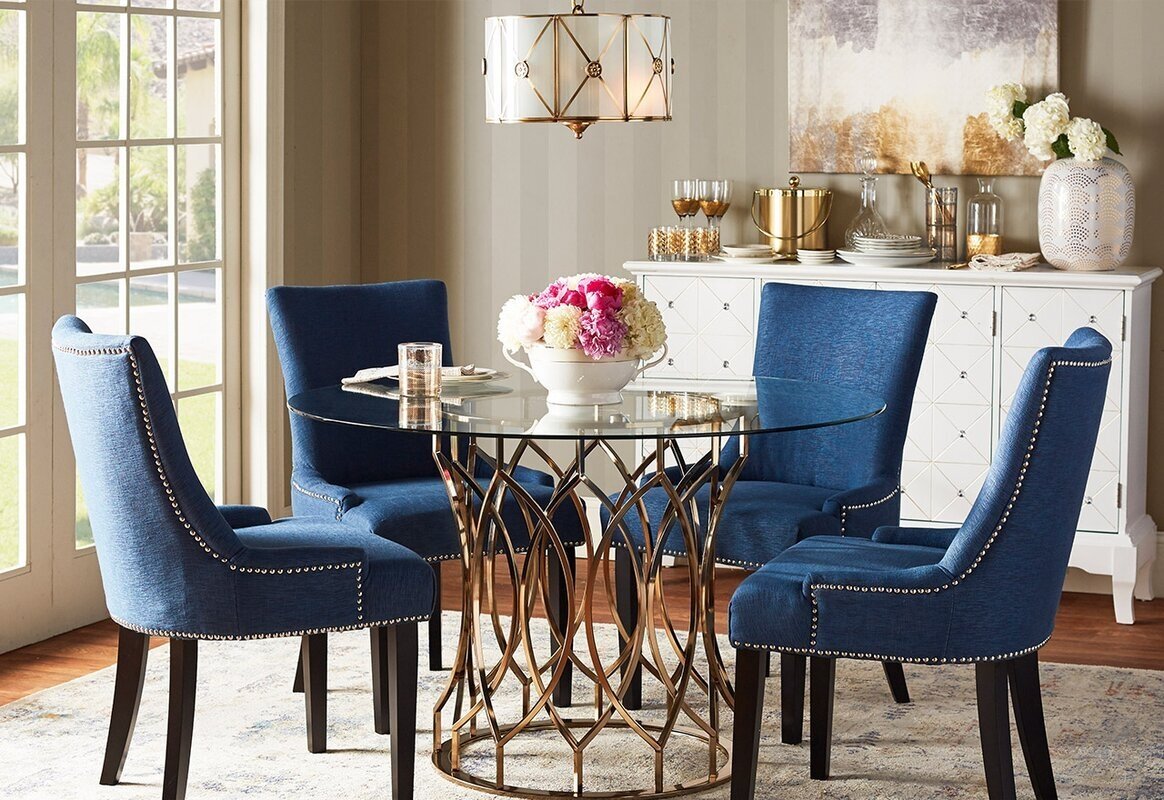 Navy Blue + Purple
Navy blue and purple are analogous colors. Balance the deepness of navy blue with lighter shades of purple such as lilac and lavender. For a bolder look mix navy blue and brighter shades of purple as accent colors in a room. Patterned rugs, throw pillows, drapery and even art are great ways to infuse a neutral room with these two colors.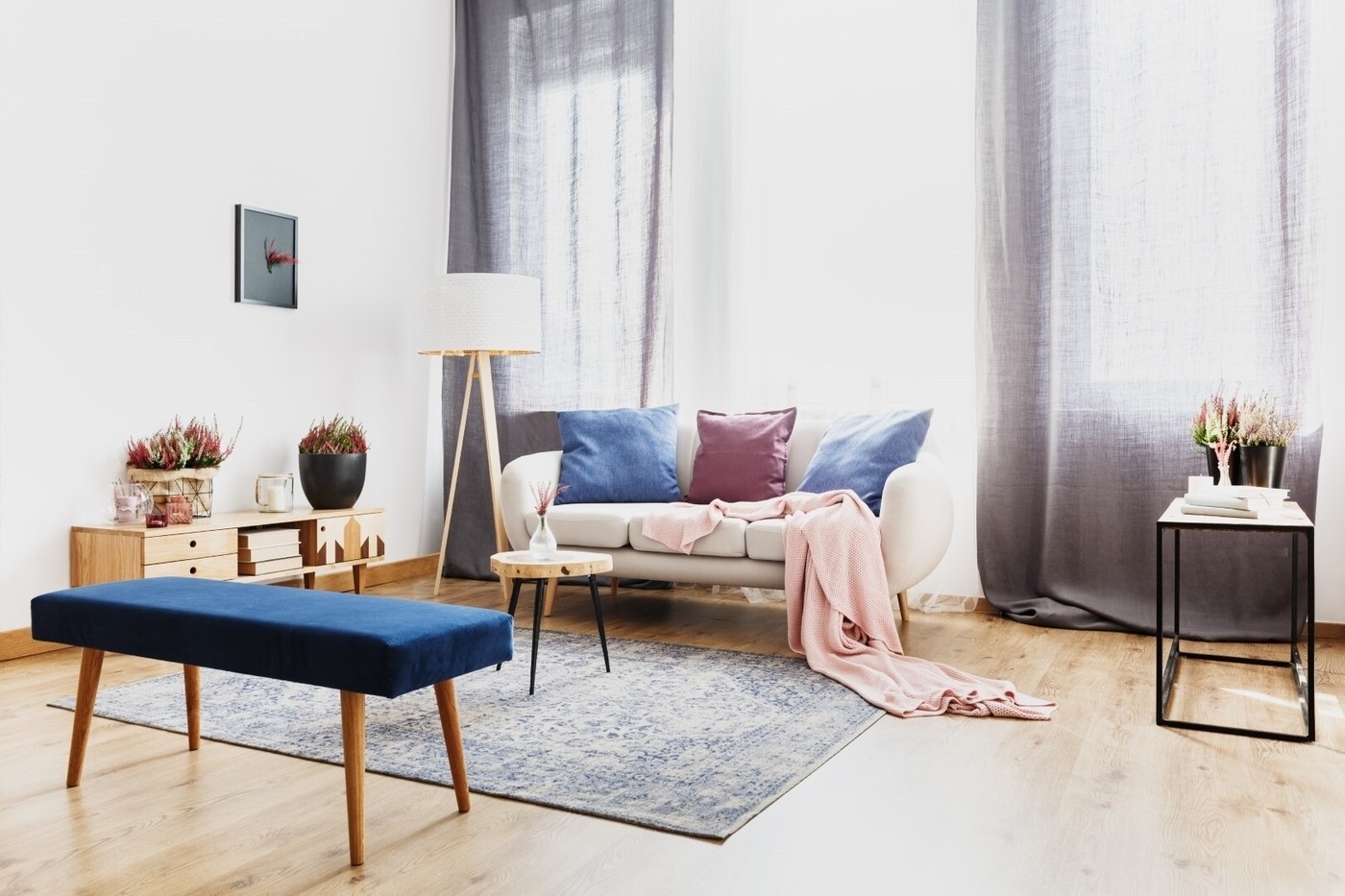 Navy Blue + Red
Navy blue and red are a natural pairing for nautical-inspired spaces. Mix them with white or lighter shades of blue to round out a space. The 60-30-10 rules are a good starting point when working with navy blue and red. Start with 60% neutral colors for the walls and larger pieces of furniture. Add in navy blue at 30% with a rug, drapery or bedding and finish with red accents such as table lamps or pillows at 10%.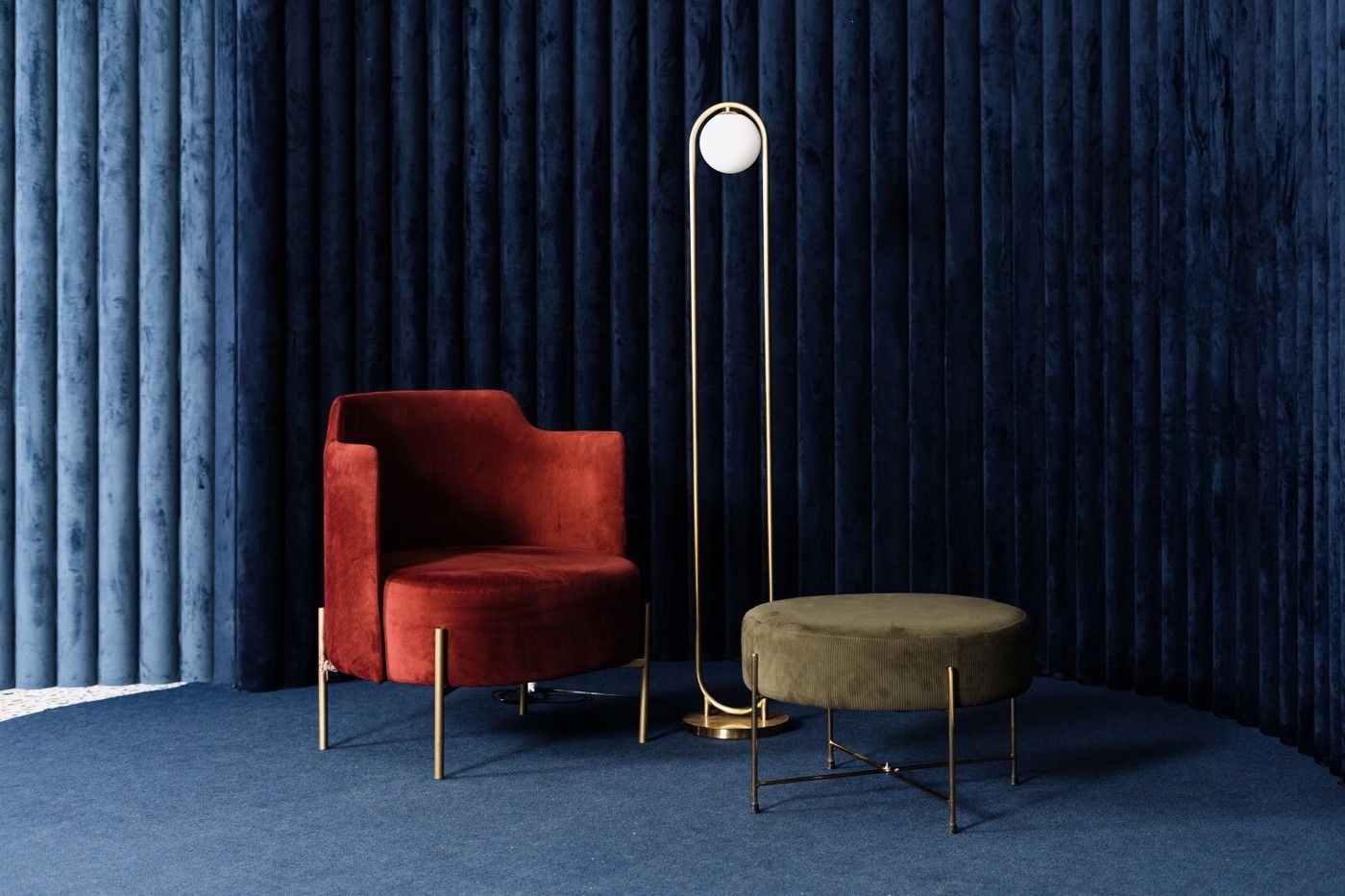 Navy Blue + Orange
Navy blue and orange are an eye-catching combination. Navy provides an excellent background for orange to really pop. For rooms that really make a statement, mix brighter shades of orange with navy blue. Start with navy blue walls and layer in orange accents such as rugs and artwork. Balance the brightness of the orange with a third, more subdued color.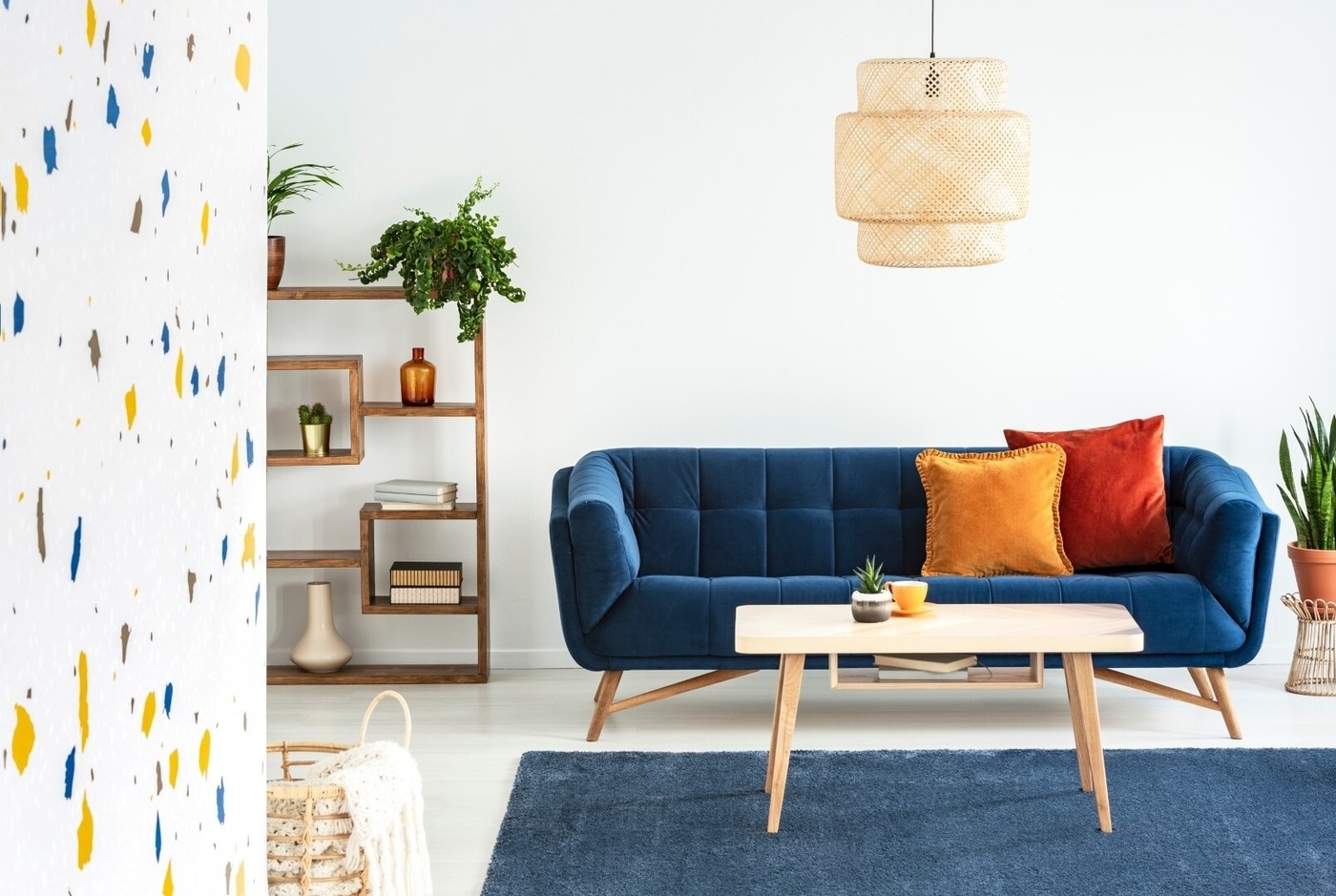 Navy Blue + Gray
Navy blue and gray are a warm and welcoming duo. However, to keep a room balanced and free from feeling too heavy, use lighter shades of gray. If your room has a light gray sofa, try adding navy accents such as a rug or throw pillows. Soft gray walls create a beautiful backdrop for navy blue upholstery.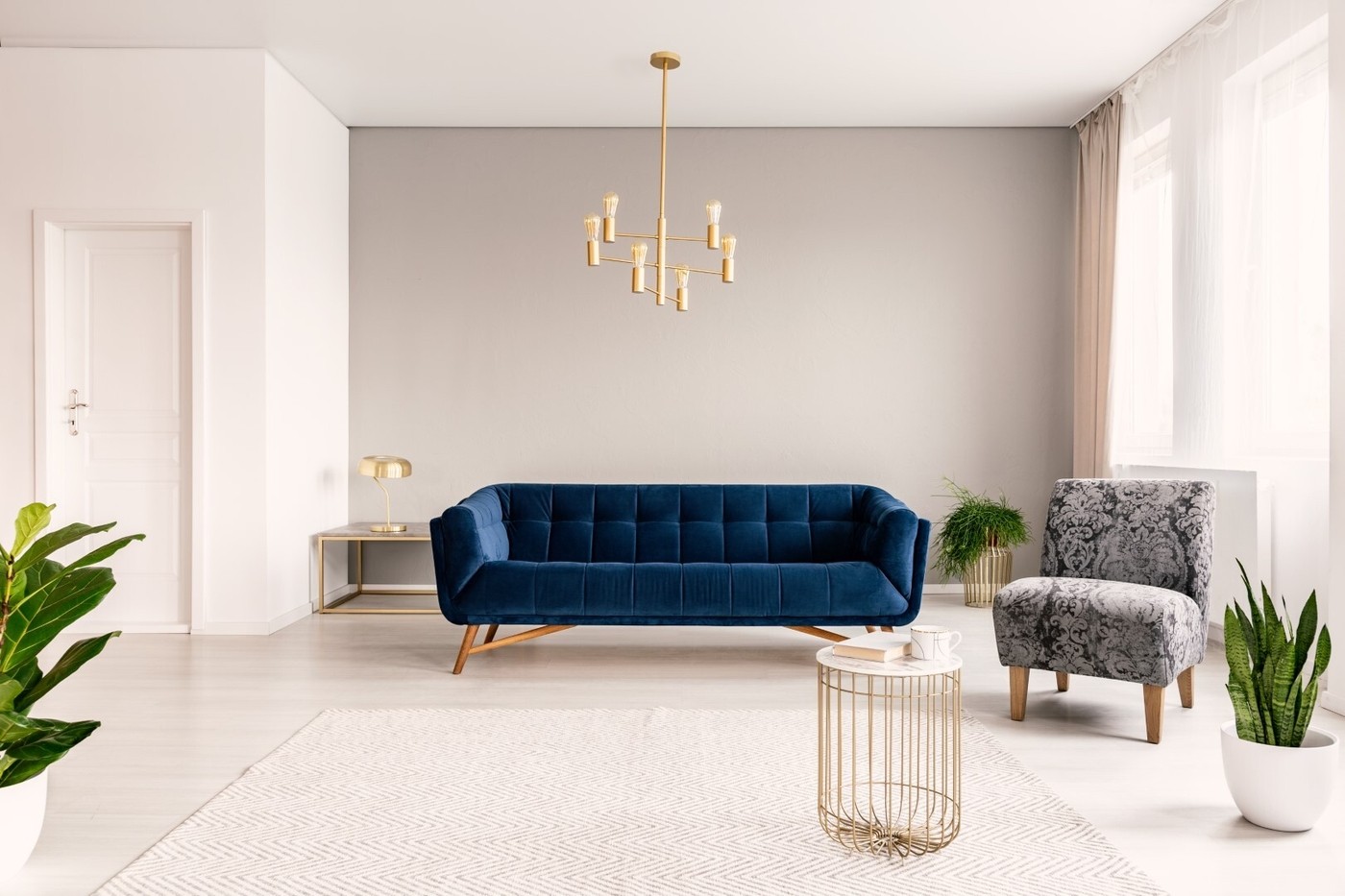 INTERESTING FACTS ABOUT THE COLOR NAVY BLUE:
Navy blue got its name because it was the color worn by the Officers of the British Royal Navy since 1748.

Navy blue auras often show up in people who are deep thinkers.

Navy blue is the most popular color of the blazer jacket.

Navy blue is the least common color food.