Considered an energetic color, orange is made by a combination of two primary colors, yellow and red. It is attention grabbing and, therefore, can be overwhelming in large quantities, so it is important to understand the psychology of orange before you start designing with it.
What is the Psychology of Orange?
The color orange gets its energy from the color red and cheerfulness from yellow. Orange is a very social and inviting color for its mix of warmth and brightness. It evokes the feelings of happiness and excitement. Since orange in nature is linked to sunsets, it is often also associated with beauty. However, in interiors you want to avoid overusing orange. Orange is physically and mentally stimulating. It is an active color so too much orange in a room can be overwhelming.
What are the Best Ways to Use Orange in Your Home?
Avoid painting an entire room orange. Instead paint the inside of a bookcase or cabinet for a punch of color without overwhelming the space.

Limit brighter shades of orange to accessories like throw pillows and artwork or a singular accent piece of furniture.

Rusty shades of orange can be used as a neutral to add warmth to a space.

Add a touch of orange to any room through the use of pattern. Wallpaper, patterned throw pillows and rugs are great ways to incorporate orange without too much of a statement.
Since orange can be intense and exciting, limit its use in bedrooms or other places of relaxation.
What Colors Go with Orange?
Orange comes in a variety of shades from bright citrusy colors to deeper rusty oranges. It has a lot of energy and can add a punch of color and cheerfulness to a room. To start, read about the 5 principal rules of color combination before designing with orange. We will be referring to these rules in our color pairings.
Orange + Cream
Cream provides an excellent backdrop for orange to really shine. Unlike white, orange does not vibrate against cream since cream has warmer undertones. Opt for cream colored walls in rooms where orange is the dominant color. Likewise, select cream colored upholstered furniture to provide a neutral foundation for orange throw pillows and blankets.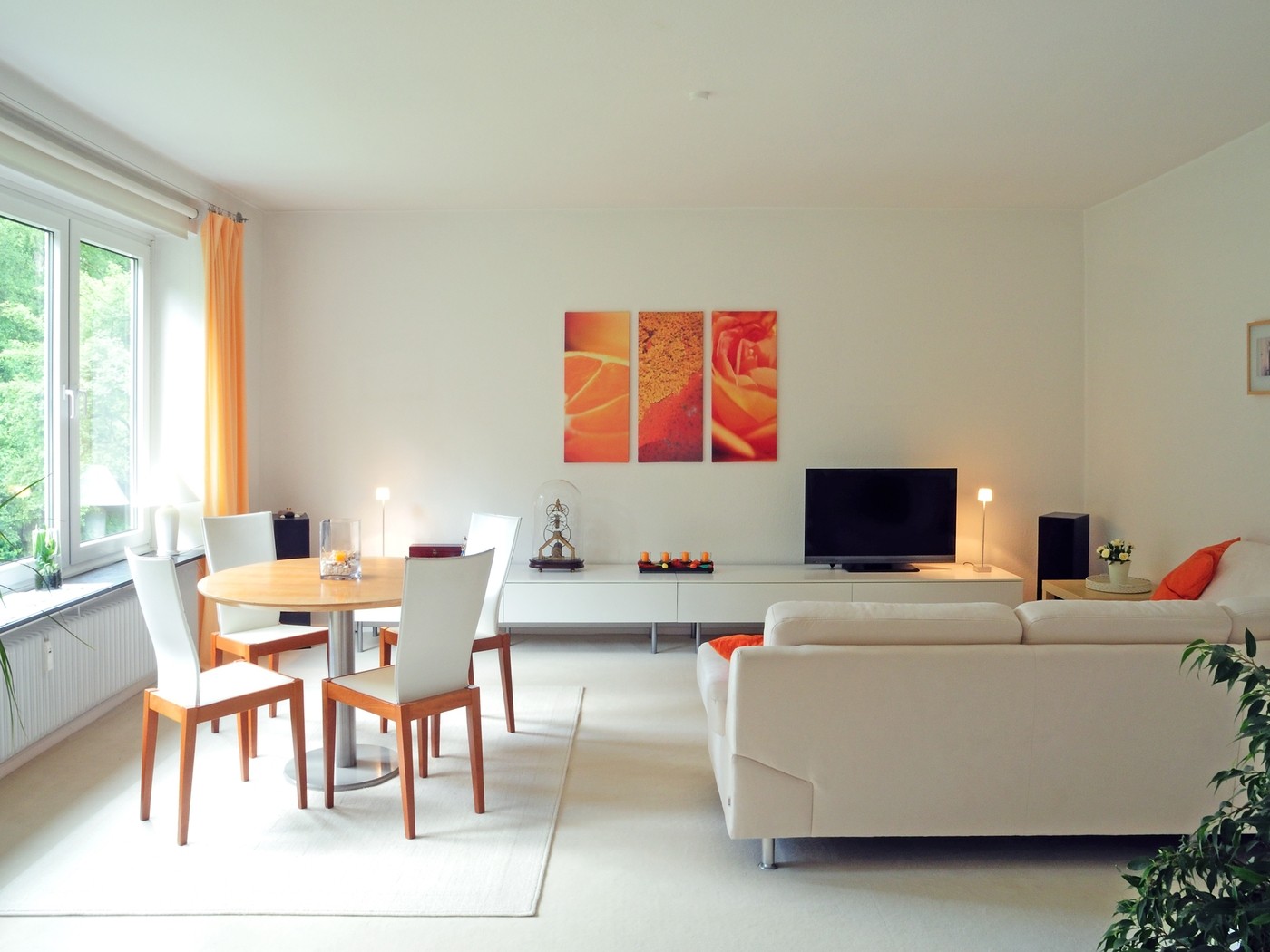 Orange + Black
Orange and black can seemingly be a tough combination since you want to avoid a room looking too much like Halloween. Opt for black and orange patterns such as a rug or accent pillows and select a warm neutral such a cream or beige for the foundation of the space. Avoid too much bright white with orange and black, which may make a space feel harsh.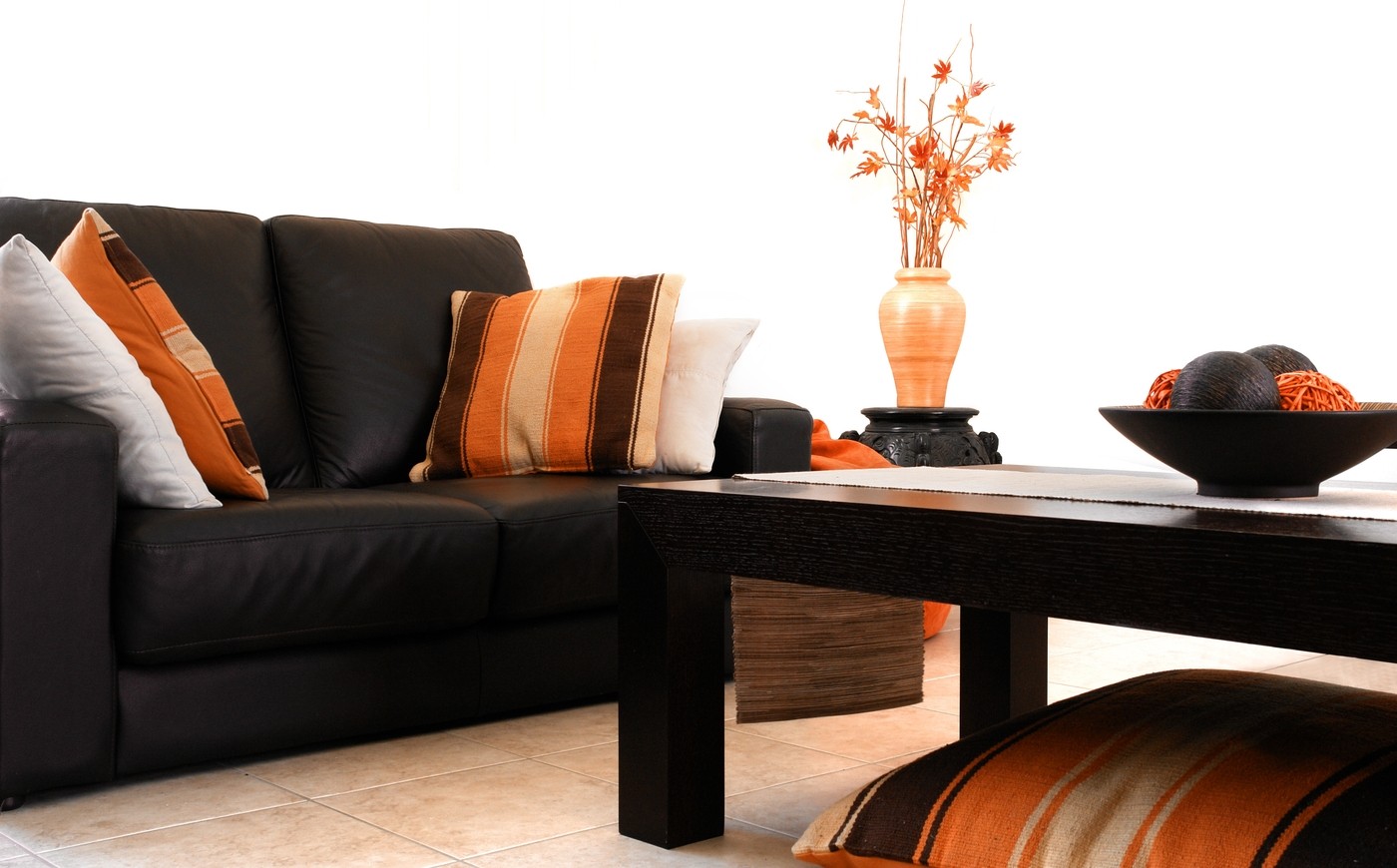 Orange + Yellow
Orange and yellow are a beautiful energetic duo. However, since they are both vibrant colors, they can easily overpower a space. When working with brighter shades limit both colors to accessories and accent pieces. For a more subdued approach, try pairing deeper shades such as pumpkin orange and mustard yellow. Add a third color such as blue or pink, in the same rich tones, to round out the room.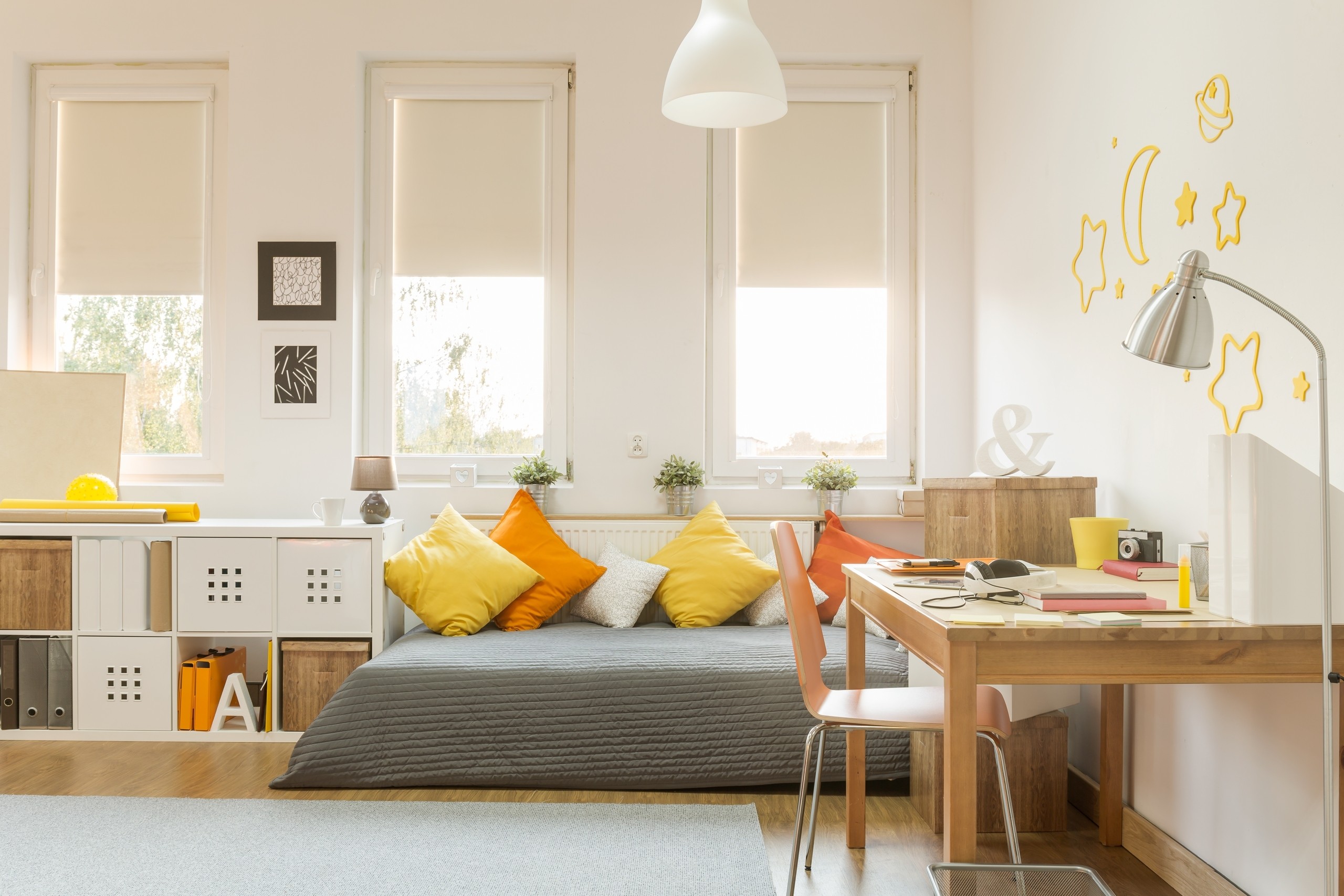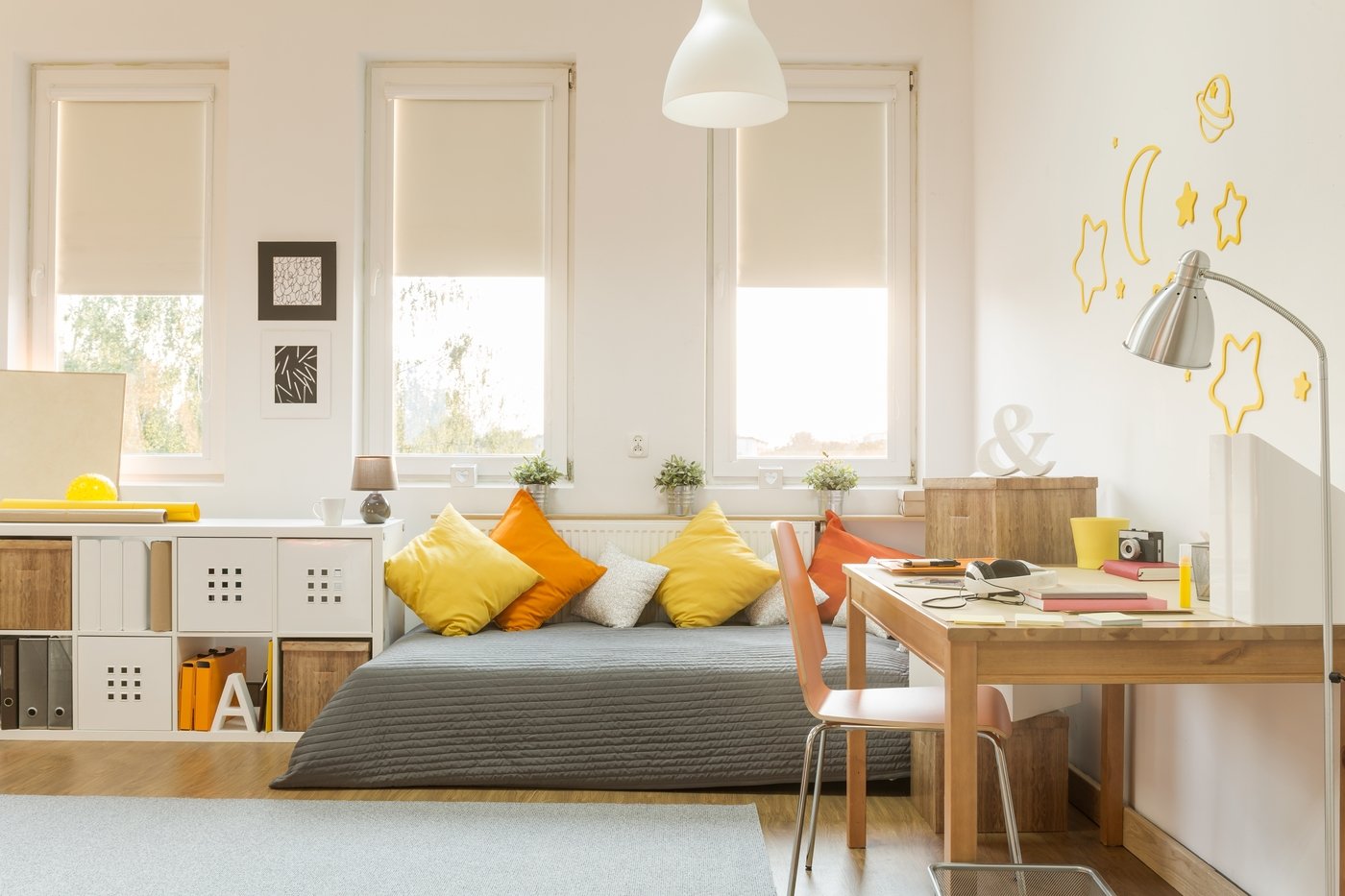 Orange + Pink
Orange and pink are complementary colors and a very youthful pairing. Rusty shades of orange look beautiful with blush pinks to create soft feminine spaces. For something a little more eye-catching pair brighter orange with light pink. Follow the 60-30-10 rules, 60% neutrals, 30% orange and 10% pink, to make sure the colors are well balanced in the room.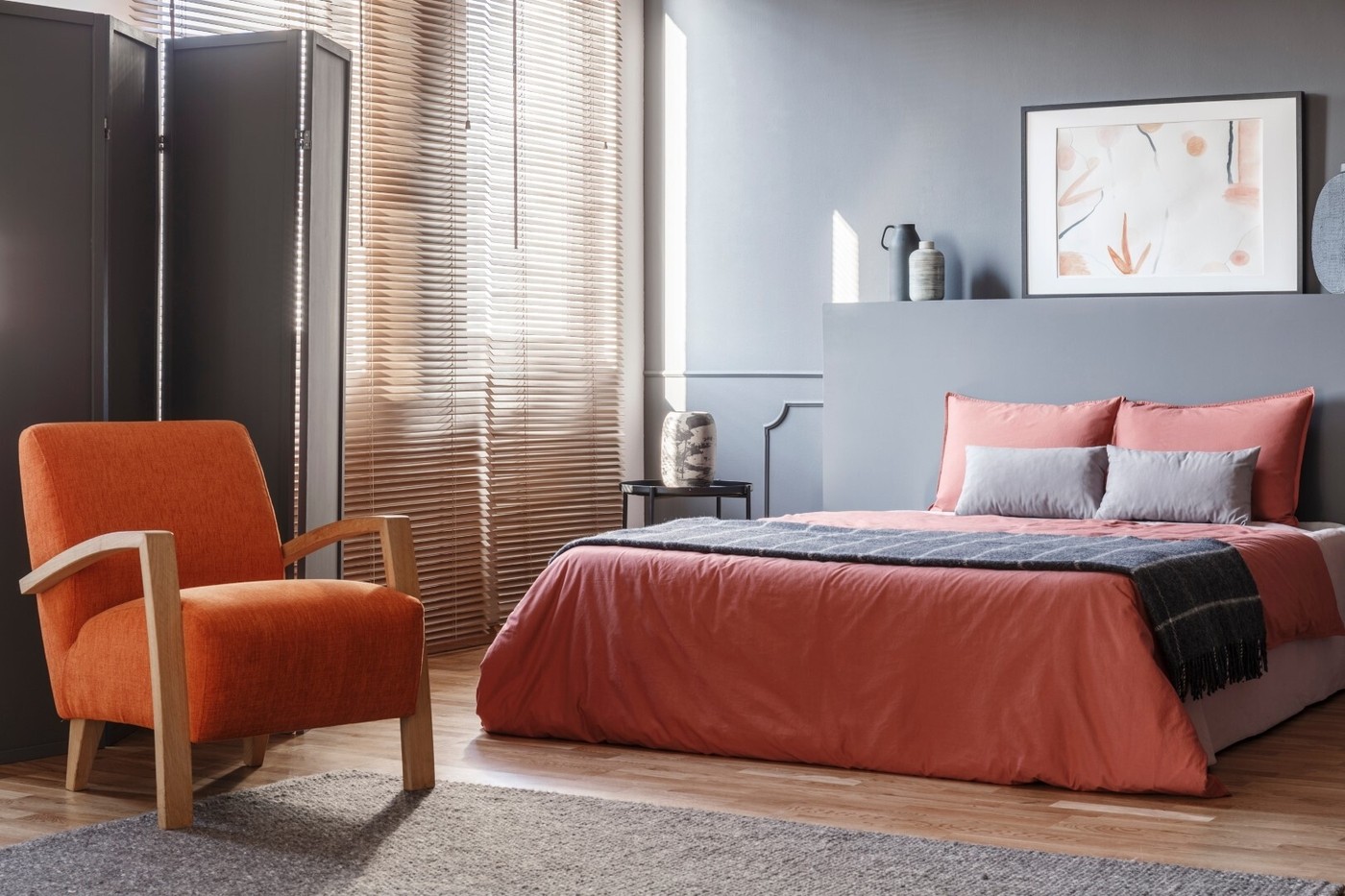 Orange + Purple
Orange and purple are a playful combination. For a subtle approach, pair pale shades of purple with deeper pumpkin tones of orange. To add a bit of color and energy to a neutral room, try pairing darker shades of purple with apricot oranges. Use a mix of solid and patterned orange and purple fabrics for accessories like throw pillows or add in a statement piece of art.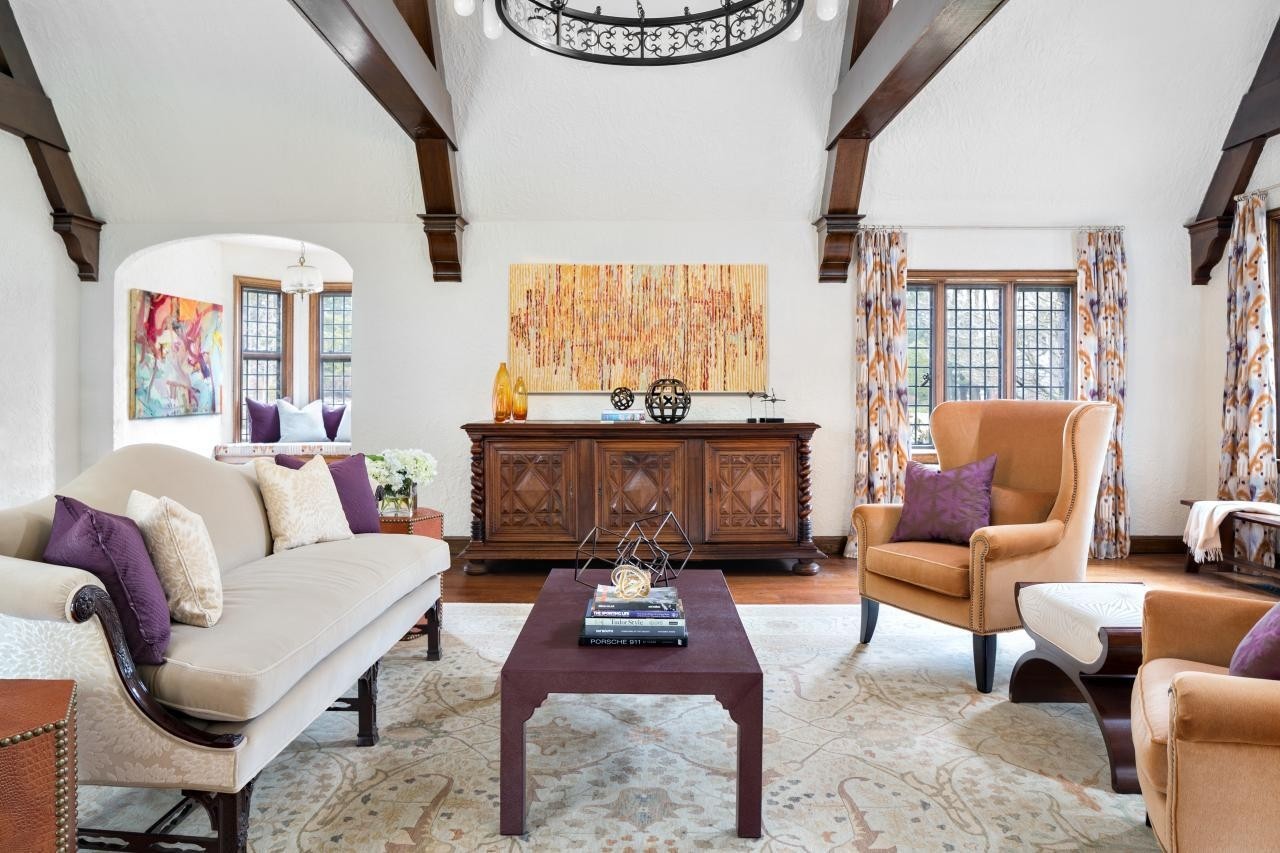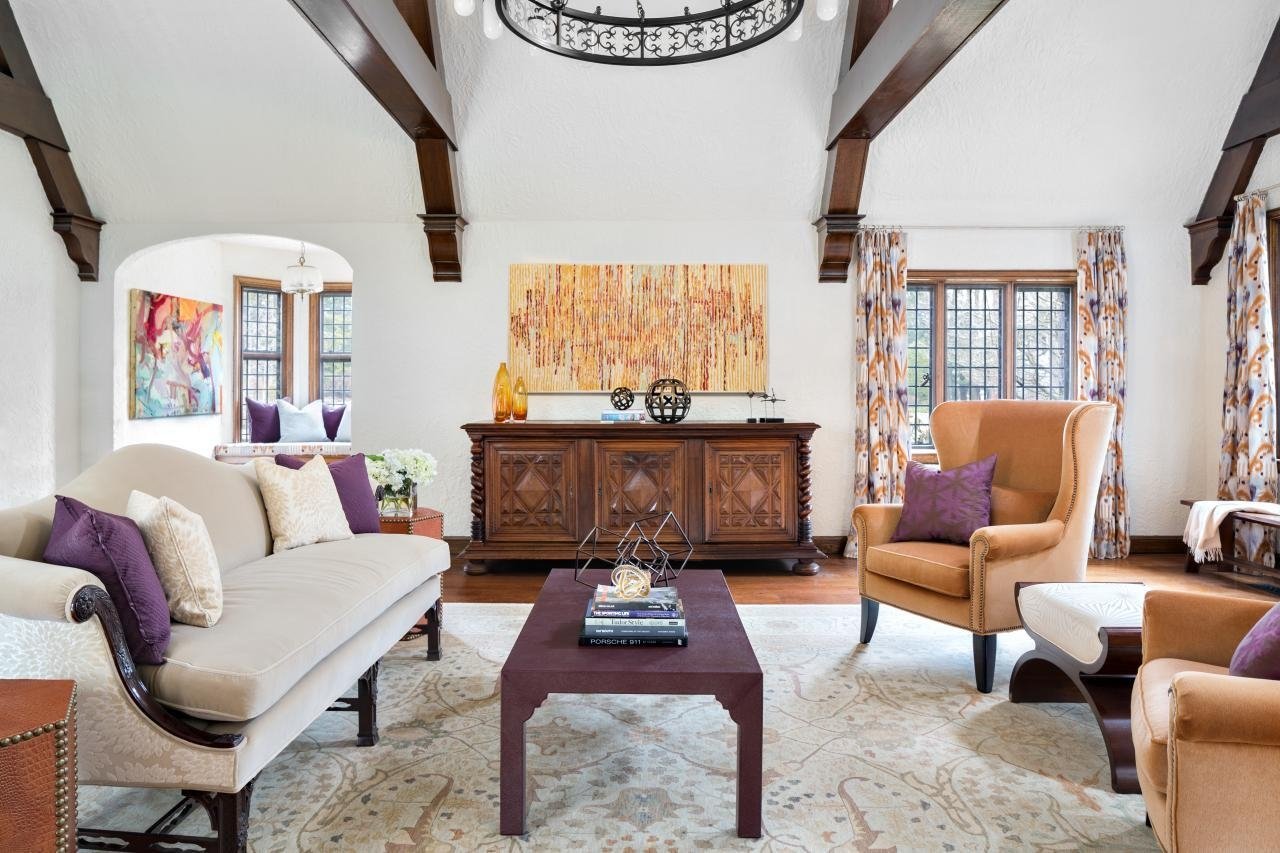 Orange + Blue
Orange and blue are a classic combination. Balance brighter shades of orange with lighter blues, whereas peachy oranges work better with deeper shades of blue. For a fun twist on a traditional library or study room, use navy or a deep shade of blue with medium tones of orange. Orange accents such as throw pillows really pop against dark blue walls.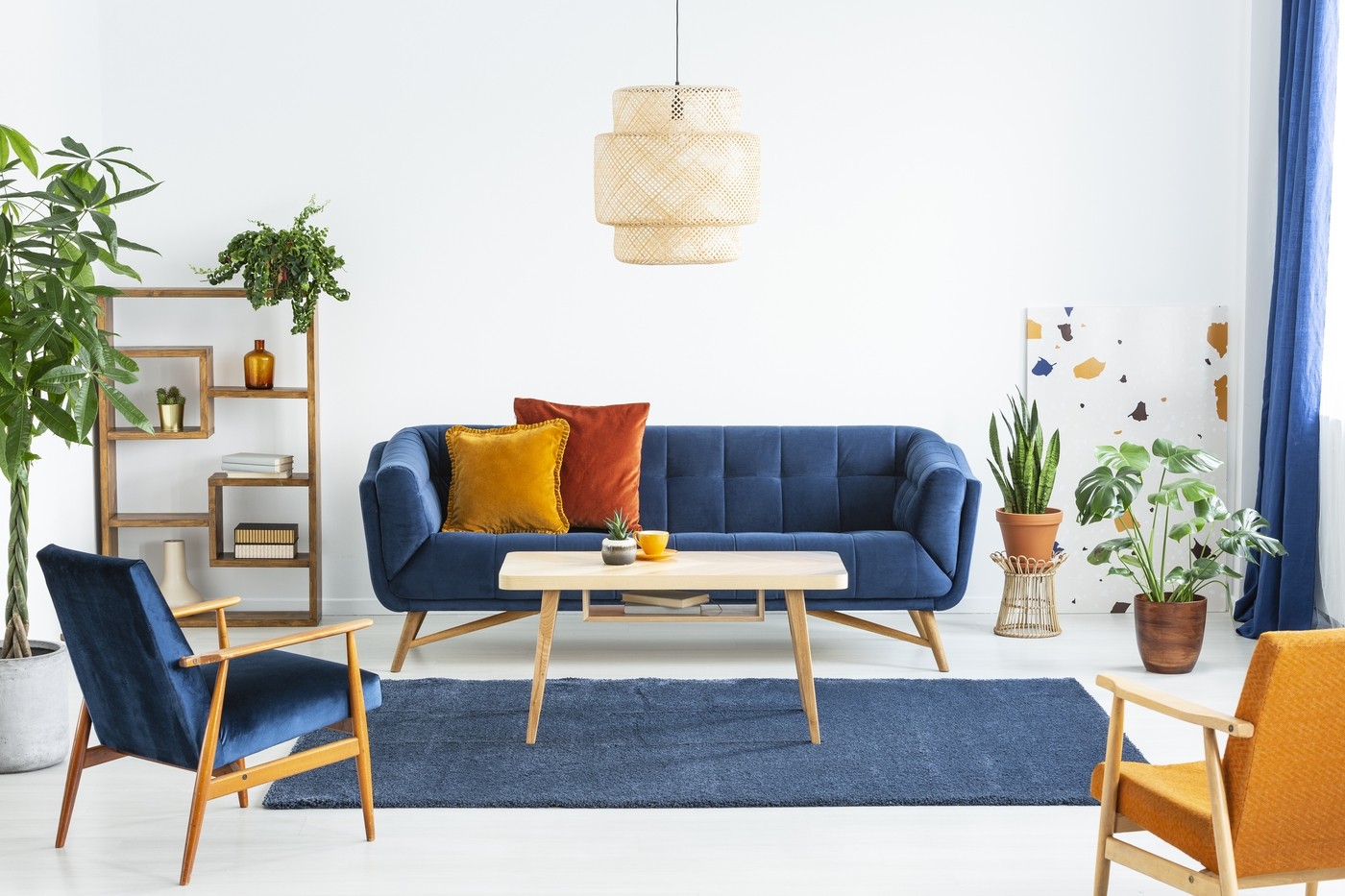 Orange + Green
The energy of orange is nicely balanced with the calmness of green. However, avoid pairing bright oranges and lime greens in living spaces and adult bedrooms, as they can feel too childish. Instead, select richer shades of orange like pumpkin with olive and blue-greens.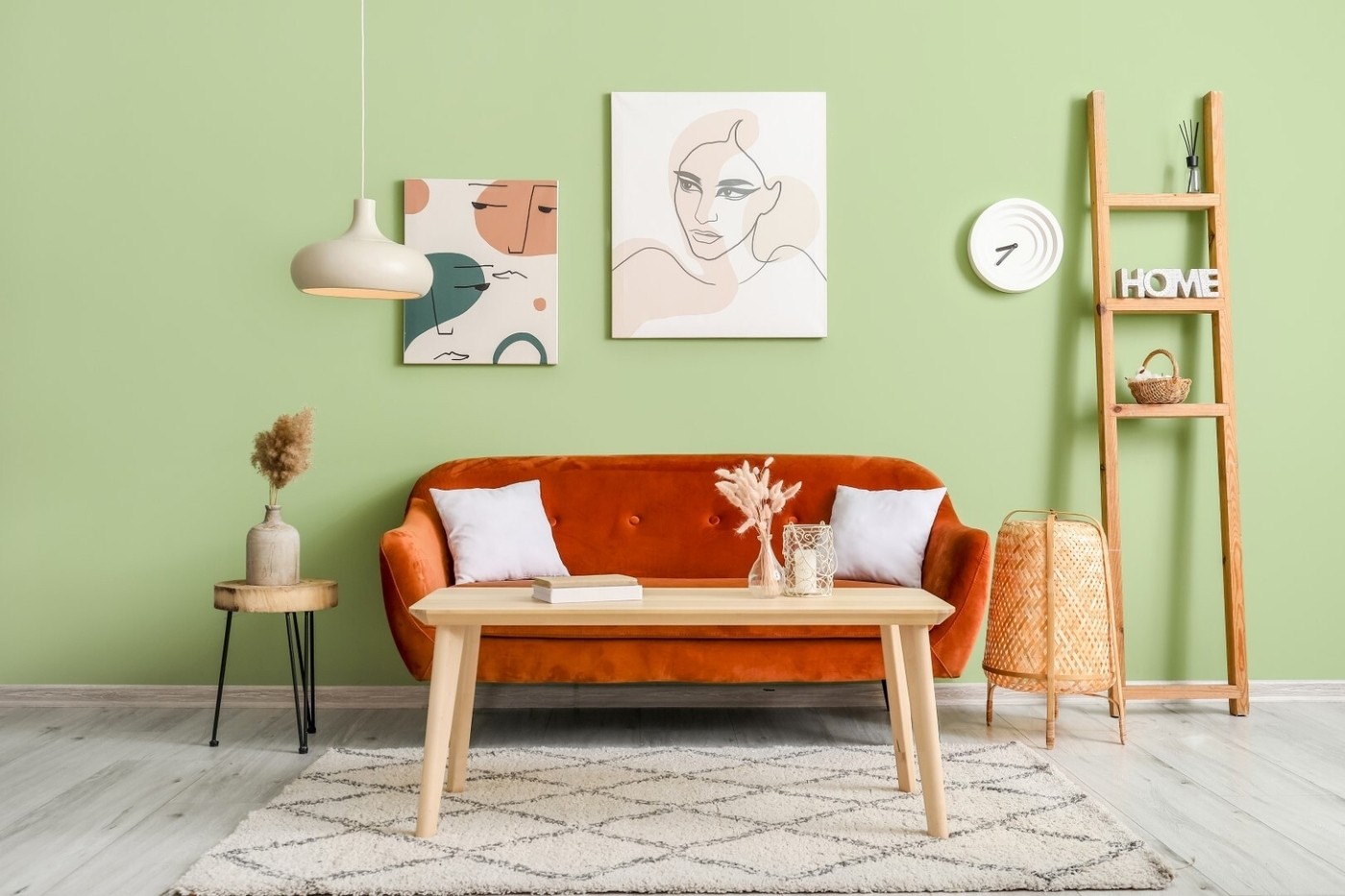 Orange + Gray
Brighter orange accents in a gray room have a youthful feel whereas burnt orange shades have a more masculine vibe. However, orange has an intensity that can overwhelm a gray space so it's important to correctly balance the colors. Follow the 60-30-10 rule when in doubt. Create a foundation for the room with 60% neutral colors, add 30% gray and finish the space with 10% orange accents such as artwork, decorative accessories or throw blankets. An orange patterned accent chair will also look beautiful next to a solid grey sofa in a neutral room with warm wooden accents.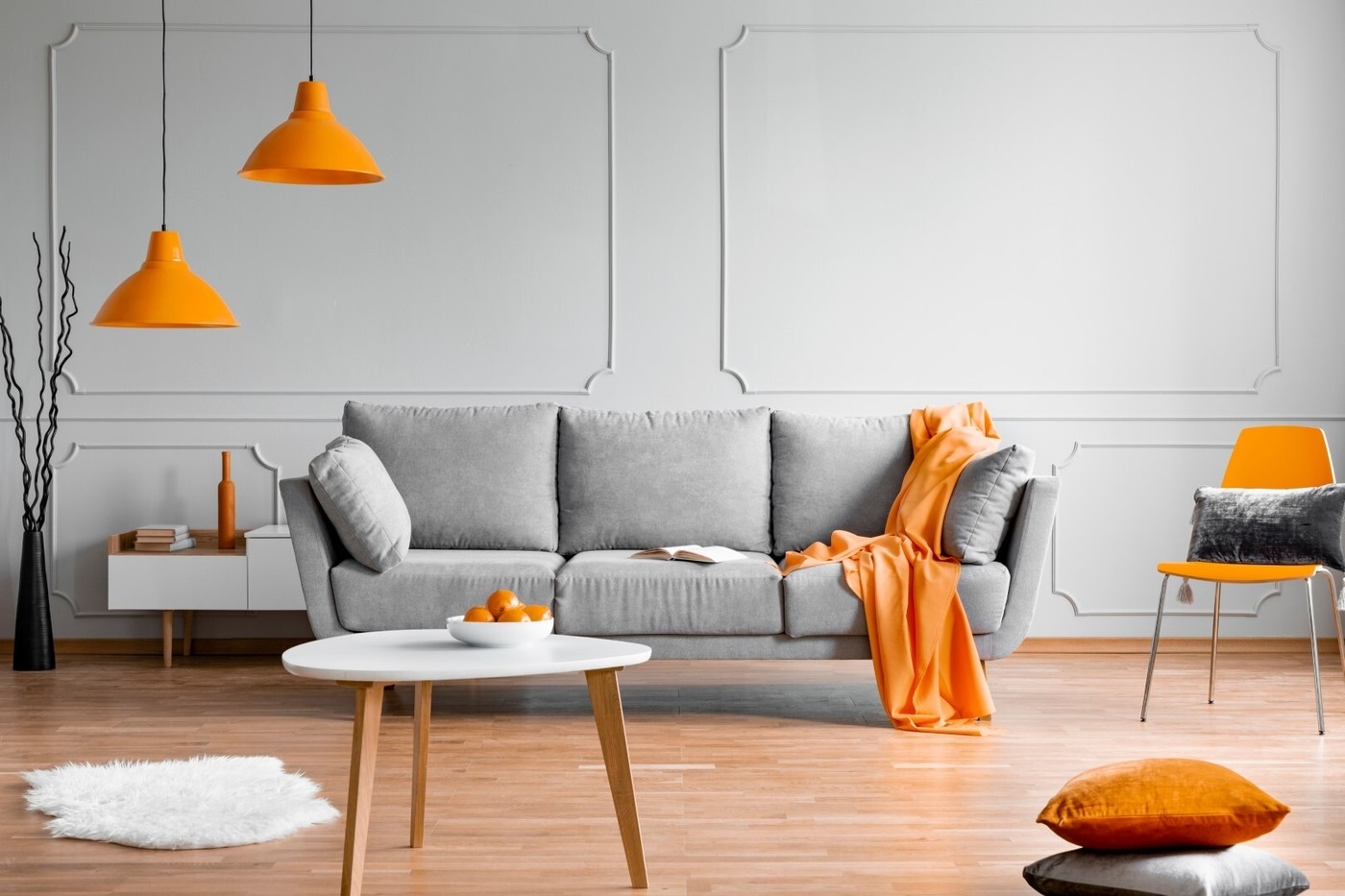 Orange + Brown
Orange and brown are often associated with 1970's interiors. However, with the resurgence of midcentury inspired interiors this duo is making a comeback. Orange is a great way to brighten and energize a space. Use orange accent pillows, rugs or art to keep brown furniture from feeling too heavy.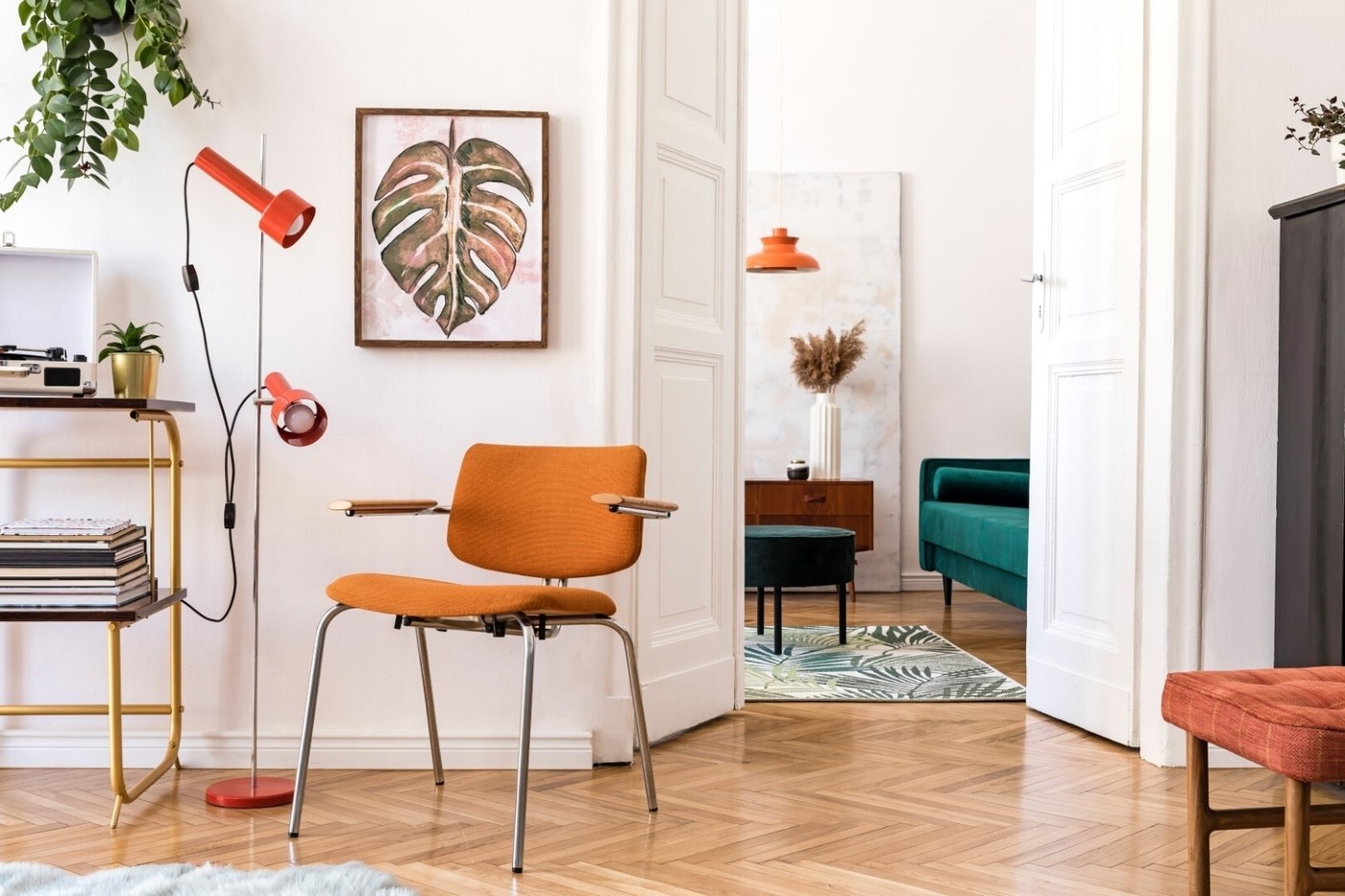 Orange + Teal
Orange and teal are a refreshing duo. They are often found in beachfront homes because they are reminiscent of the seaside - the ocean, sunsets, citrus fruit and coral reefs. However, orange and teal can be an equally appealing combination in any interior setting. Select varying shades of both to create interest and depth within a room.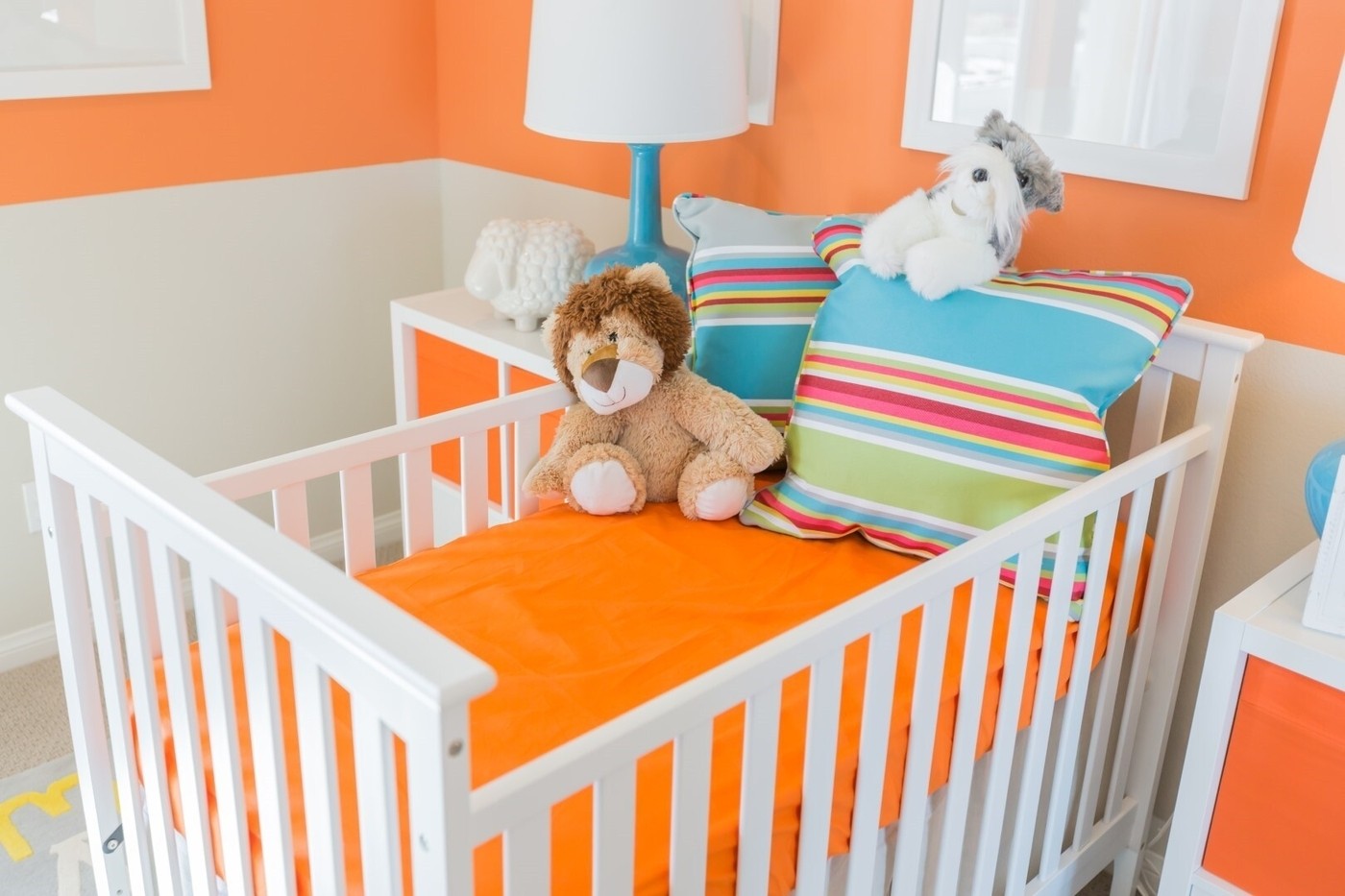 INTERESTING FACTS ABOUT THE COLOR ORANGE:
During the Elizabethan Era, Nobility were the only people allowed to wear orange.

Orange is the easiest color to see in low lighting, low visibility or next to water, which is why it is commonly used for life jackets, traffic cones and signage as well as 'black box' recorders.

Orange is the only color on the spectrum whose name was taken from an object, the popular fruit, orange.