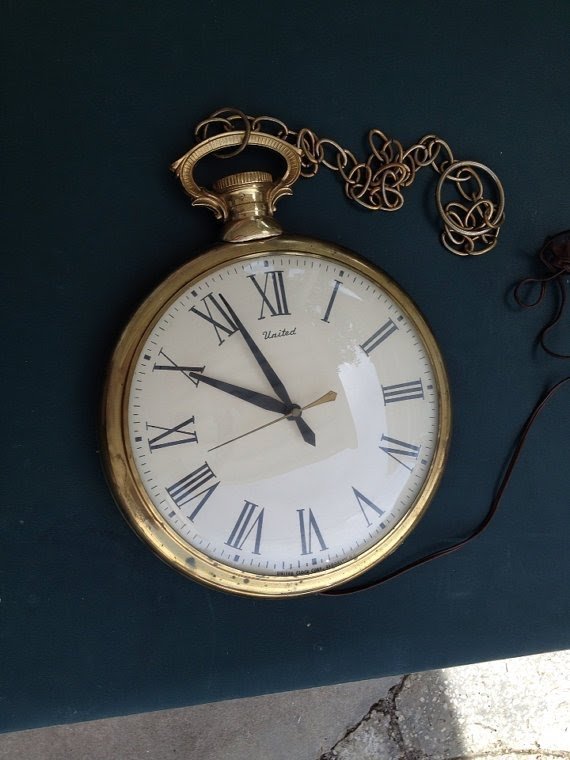 Vintage Large Brass Wall Clock Pocket
Why not combined the pure beauty of a pocket watch with the functionality that a regular wall clock offers and choose this amazing piece? It offers the vintage styled design and the large face with the brass finish for more durability.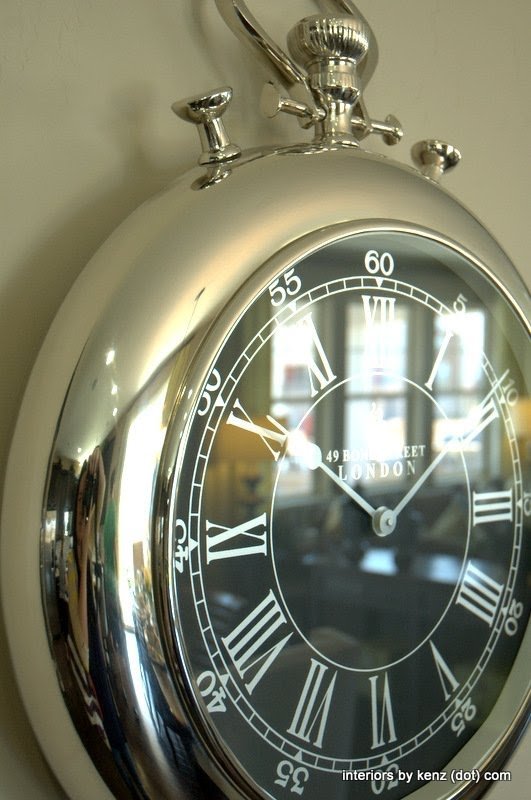 An elegant wall clock inspired by an old pocket watch. Its round plastic case has a white back and golden front. It has a black face, white Roman numerals for hours and tiny Arabic ones for every 5 minutes, white hands. It's 1 AA battery-powered.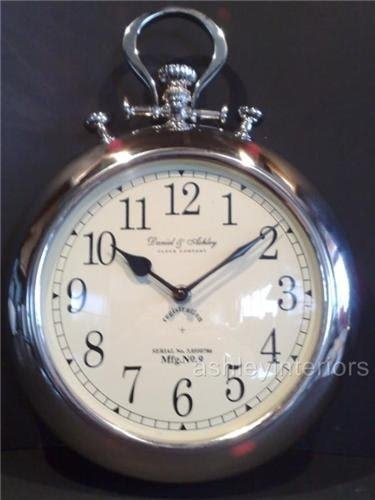 This smoothly designed wall clock bases its design on a pocket watch. Finished with polished nickel, it brings in a traditional, elegant appeal to the space. Ideal for bedroom or living room decors.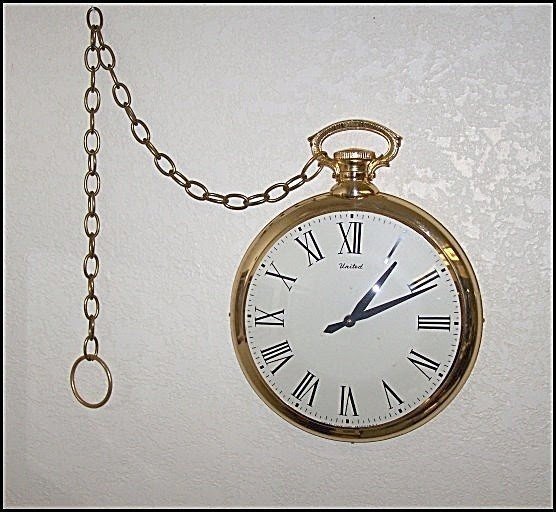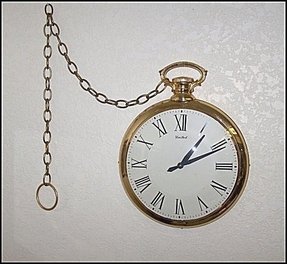 1958 United Large Gold Pocket Watch Wall Clock (Image1)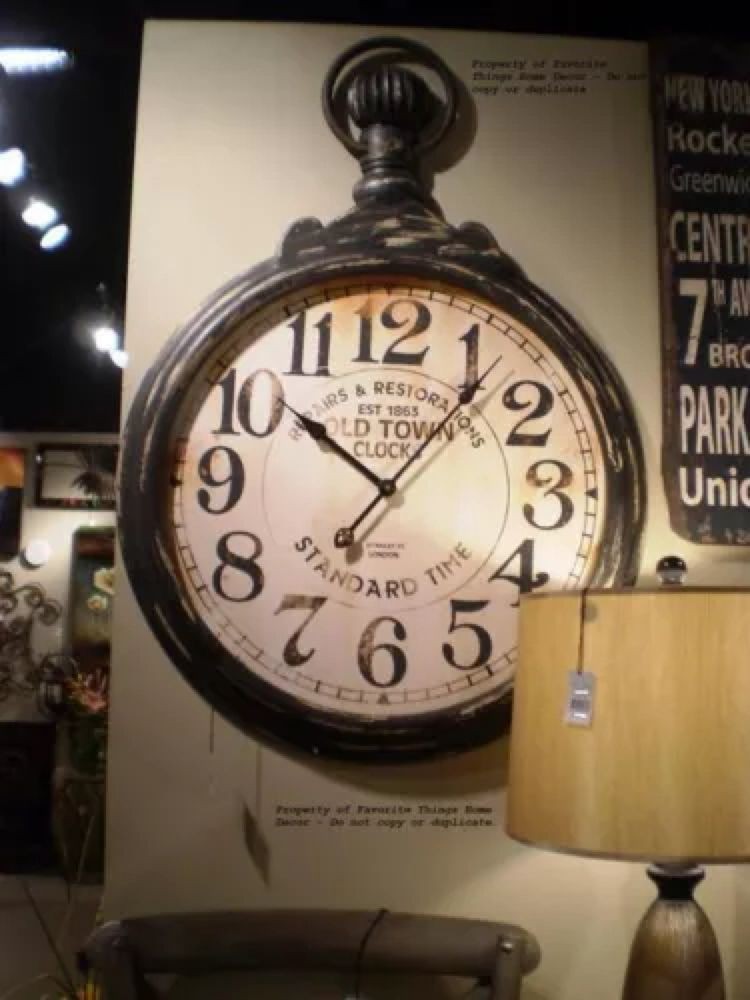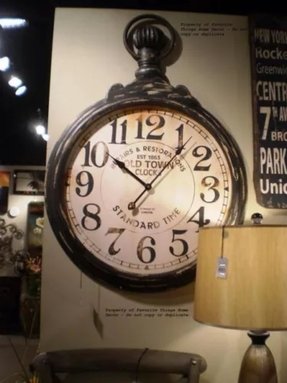 Designed in shape of a regular pocket watch, this vintage wall clock can be a splendid piece for making your home more old-fashion. It has a weathered, white, round dial with Arabic numerals, which is embedded in a round, wooden frame.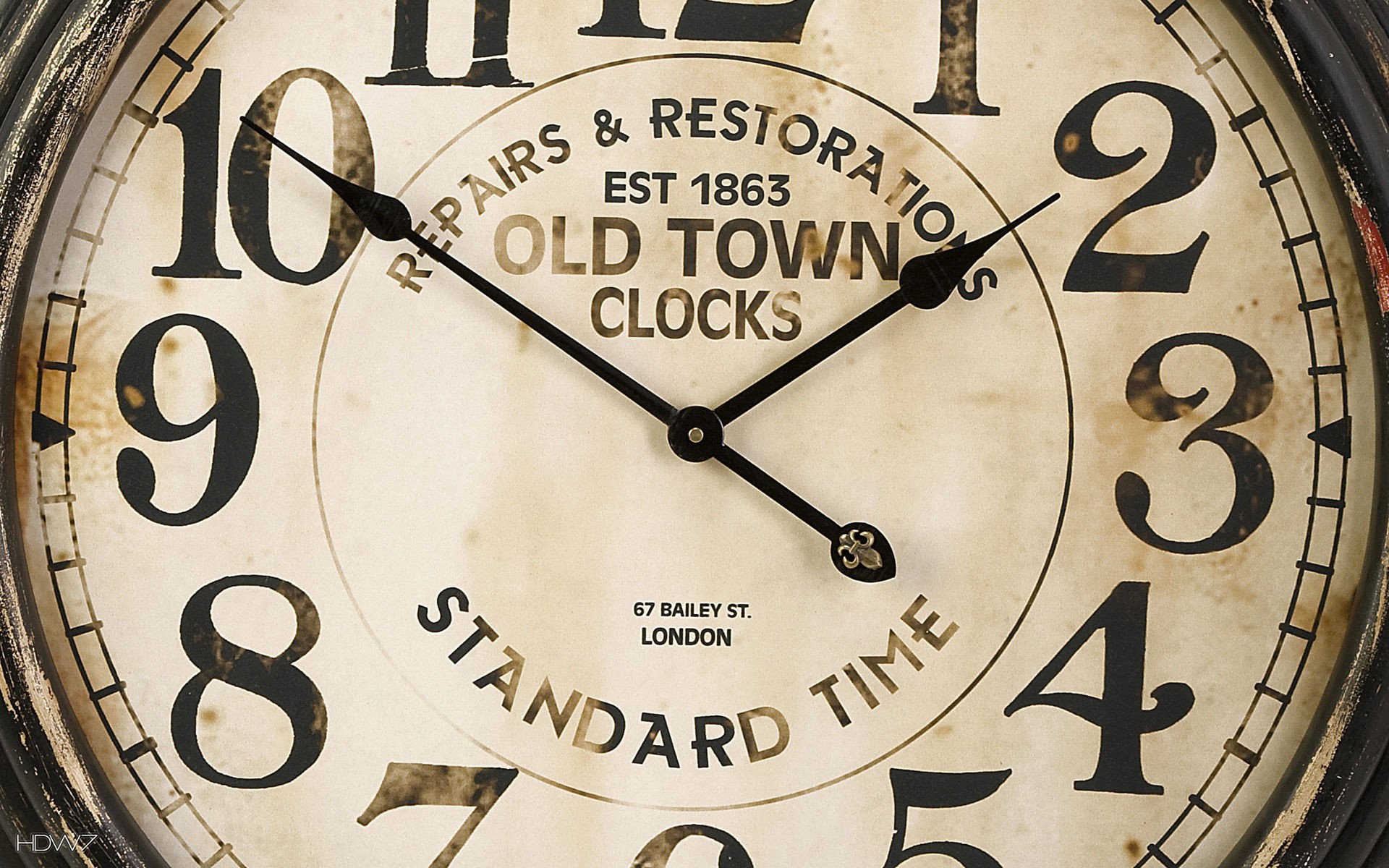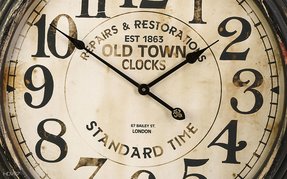 With such a large wall clock, you will be able to boost your rustic decor with a fine piece of antique mechanism. The dial sits tightly in a round case with distressed finish, featuring Arabic numerals, two black hands, and weathered appearance.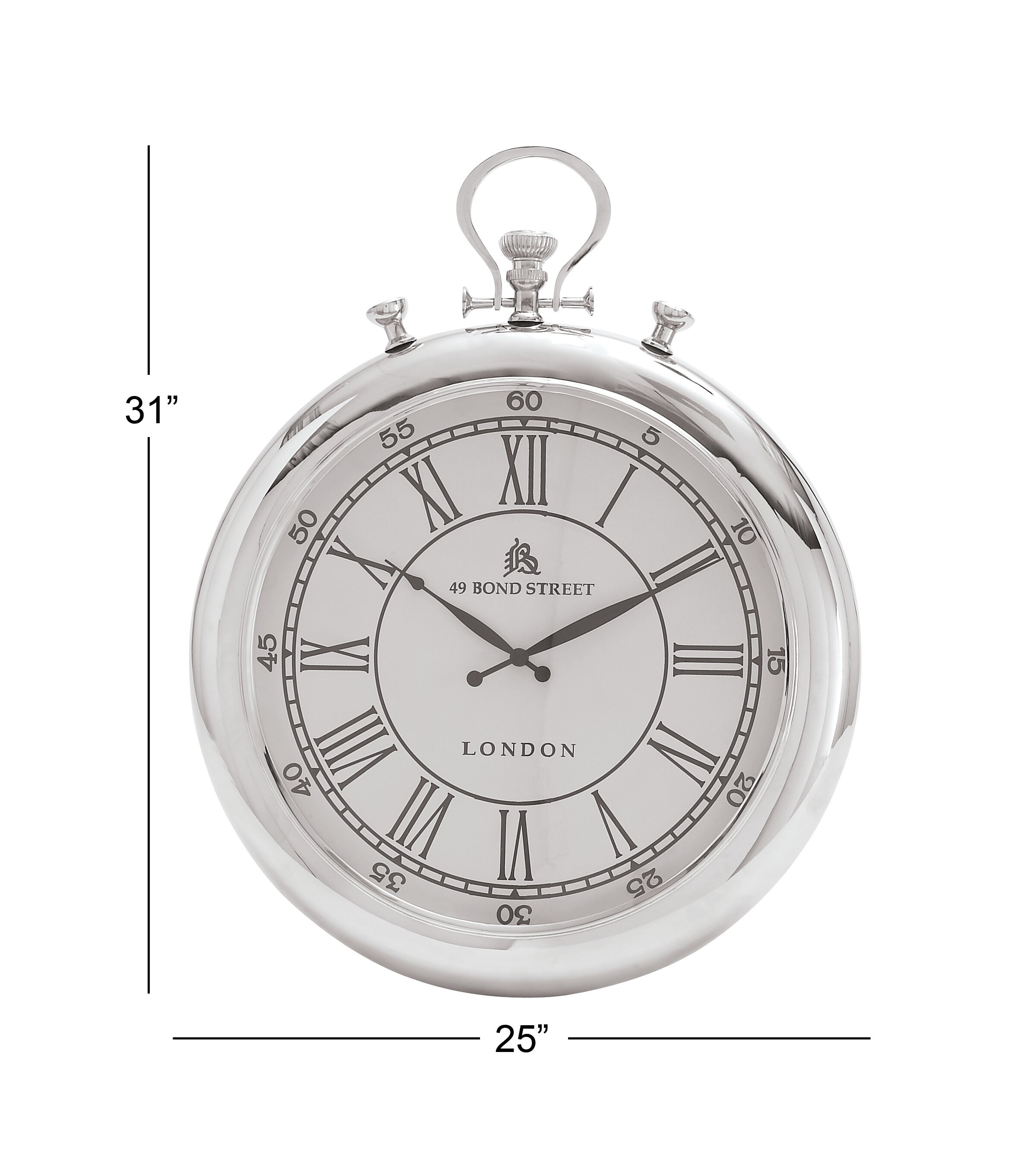 Vintage pocket watch inspired of wall clock in London street style. It is very classic face with Roman numerals and metal frame covered with nickel. This type of watch is dedicated special for every elegant man.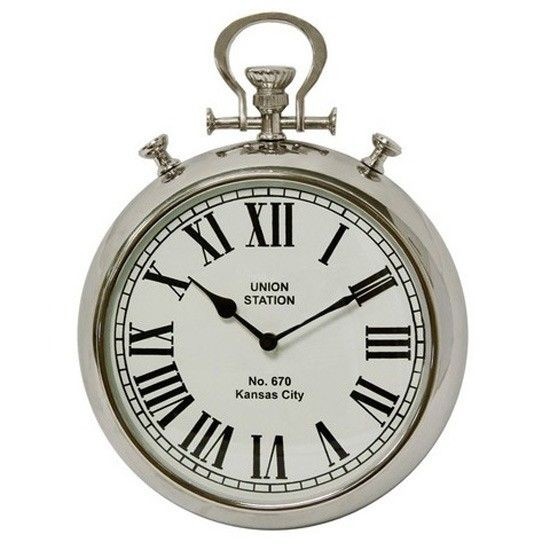 Enhance your home with vintage accents by using this large wall clock designed in shape of a classic pocket watch. The clock offers a round case with a a nice polish that holds a round white dial with Roman numerals and two black hands.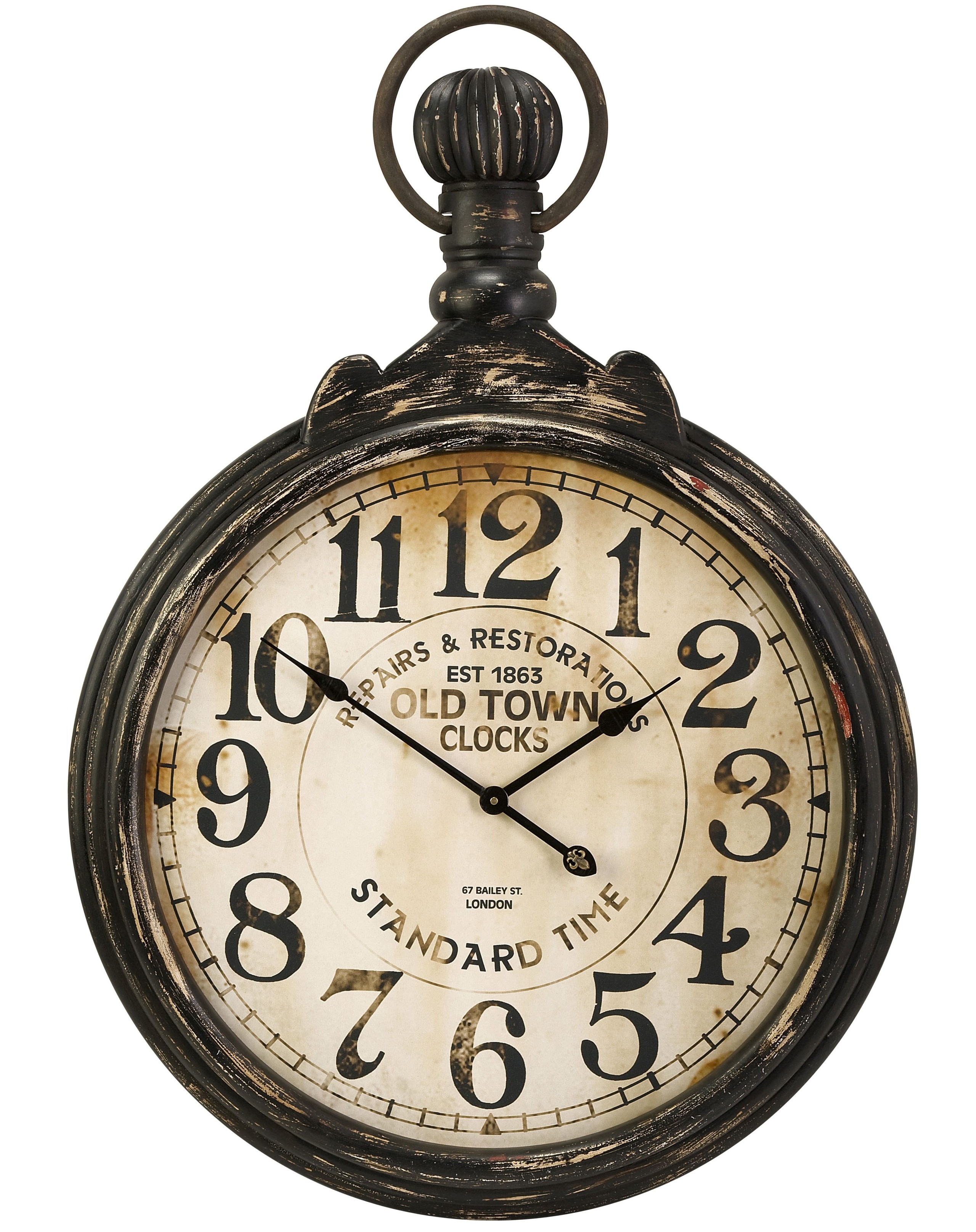 ... Clocks Old Fashioned Antique Oversized Pocket Watch Wall Clock 39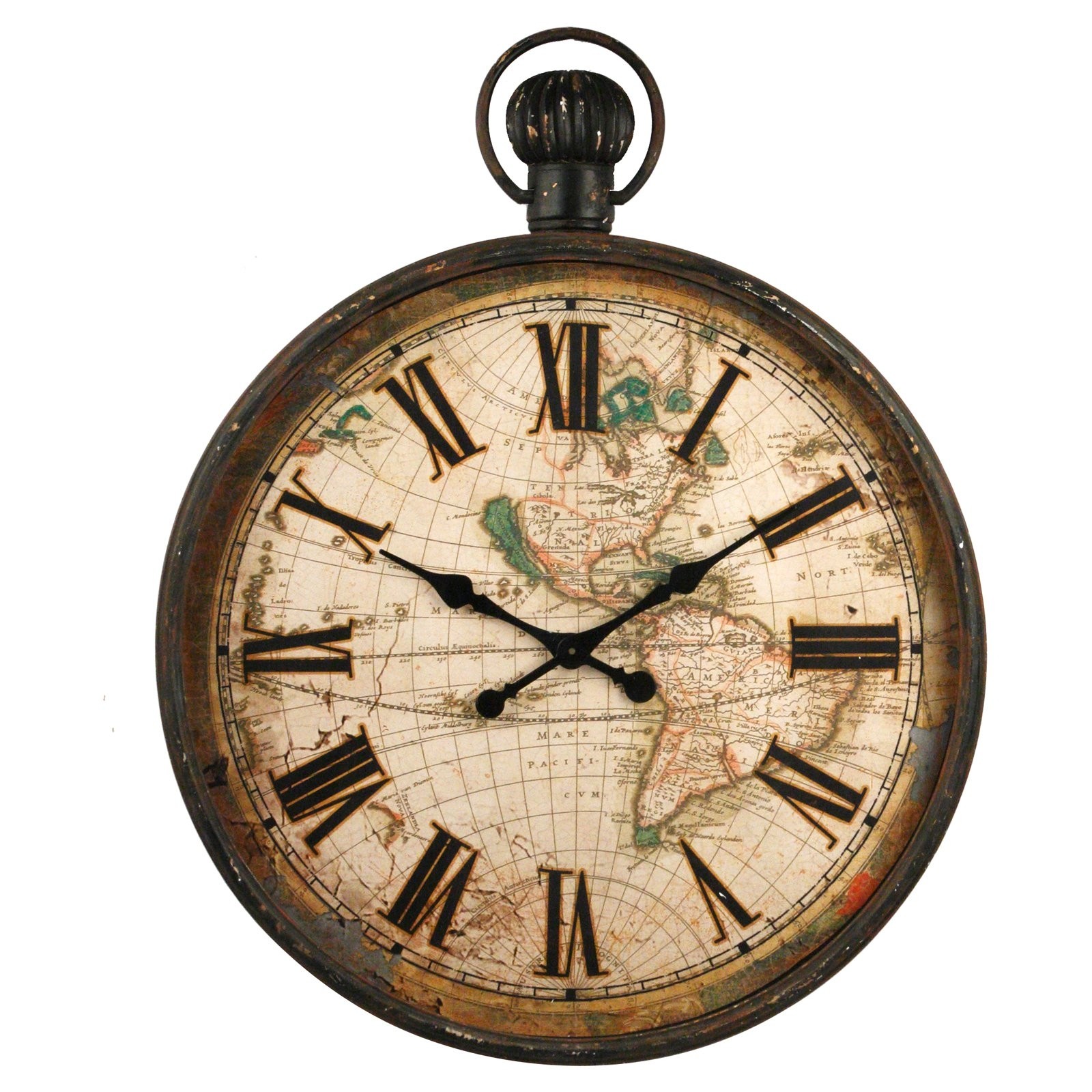 Improve your home with vintage flavor by using this large wall clock designed in shape of a classic pocket watch. The clock offers a round case with a weathered world map dial that has Roman numerals and two black hands.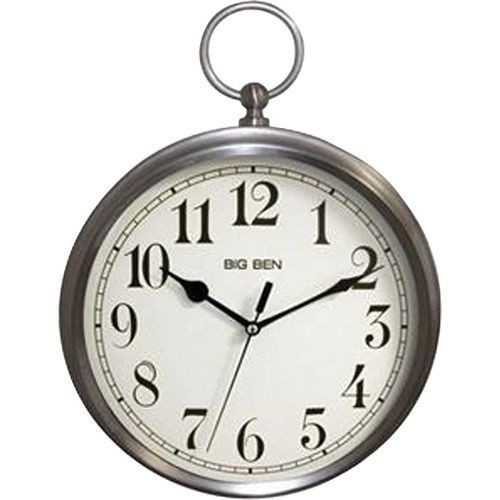 A very original and functional solution for people who love reliable clocks that show current time without any malfunctions or other problems. This wall clock has got a pocket watch stylization and its metal case features a nickel finish.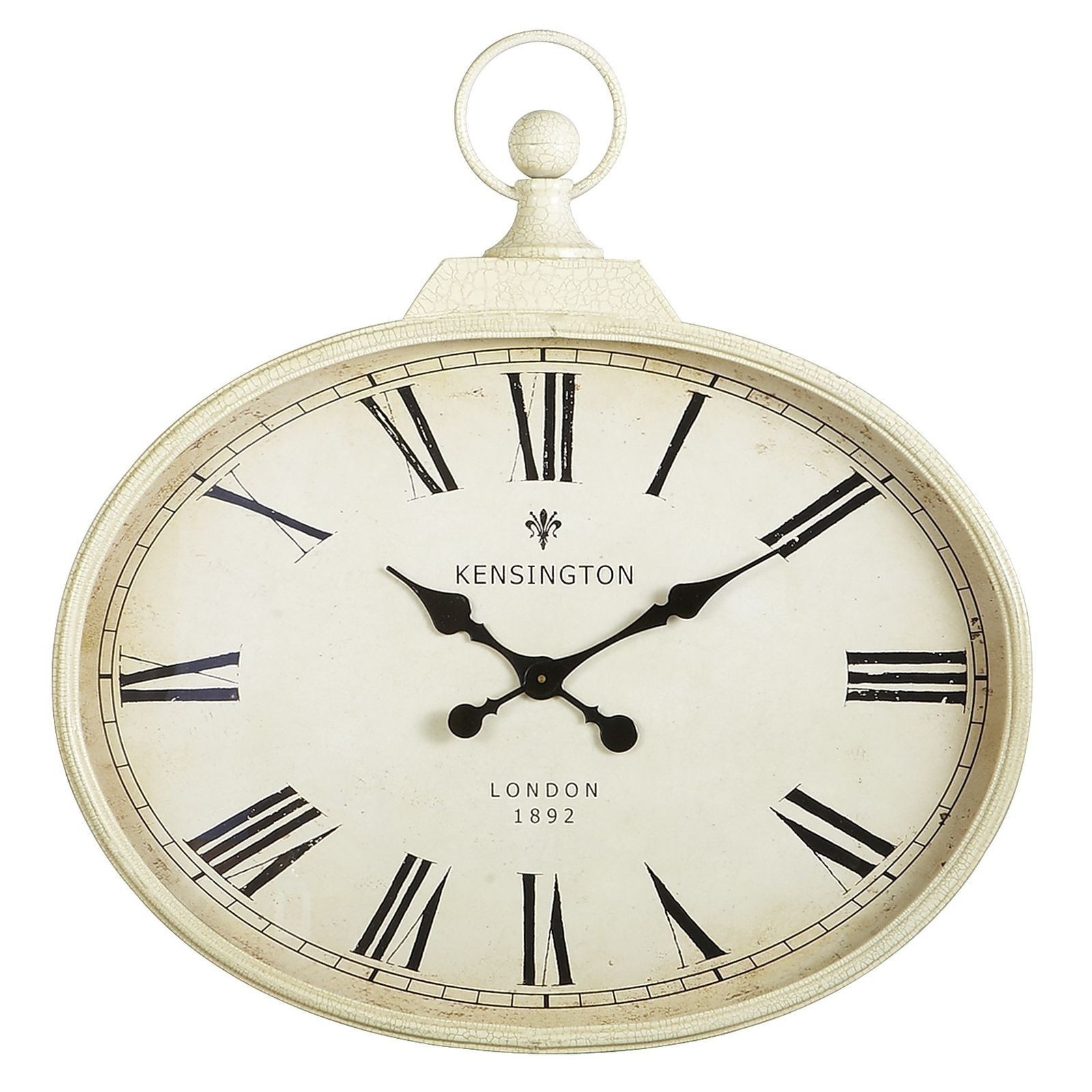 You'll always know what time it is because you won't be able to stop looking at this clock.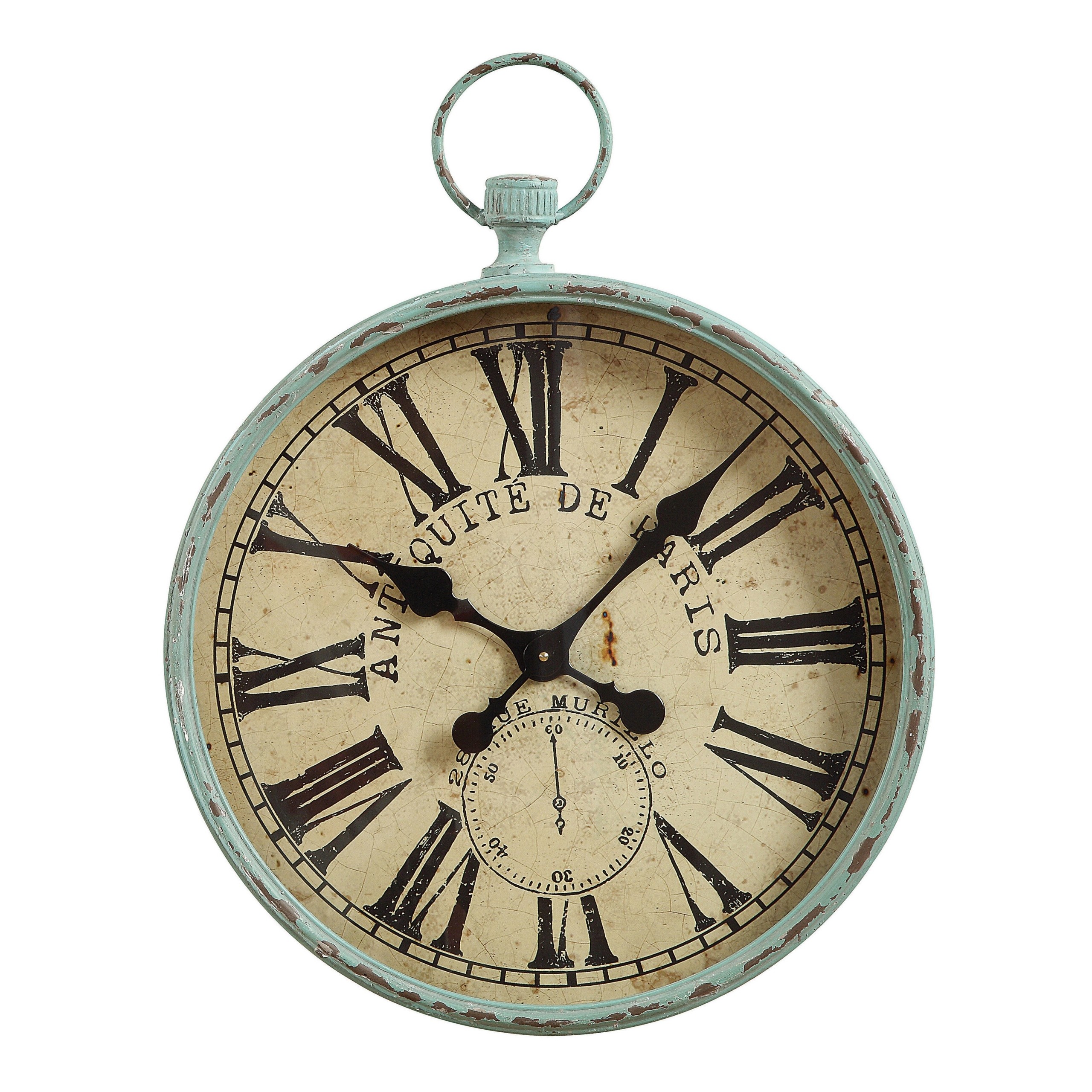 Large French Cottage Farmhouse Aqua Gallery Wall Clock Pocket Watch Style #Unbranded #Gothic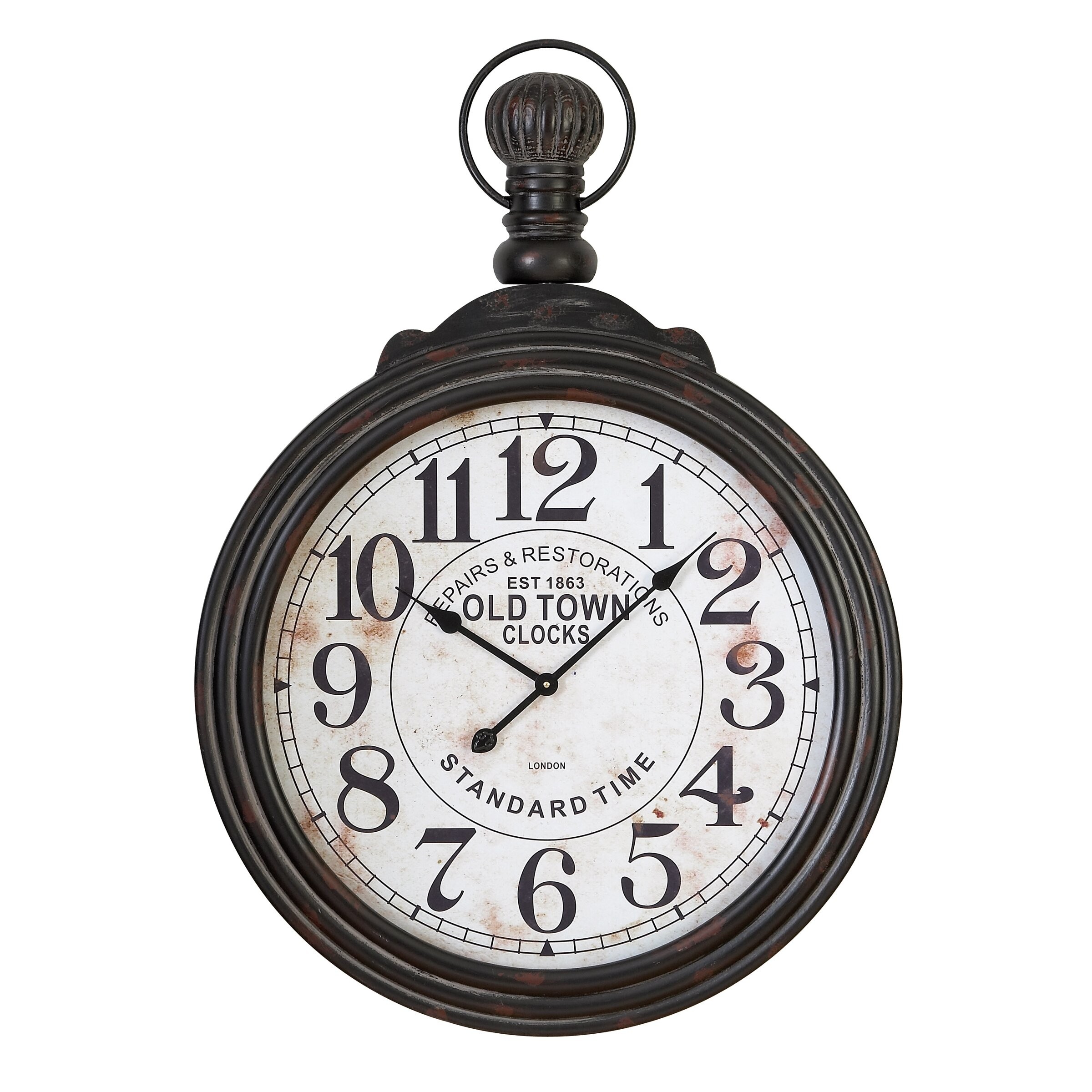 Aspire Pocket Watch Style Large Wall Clock
The clocks as easy to guess - reach back to the ancient times - it is worth remembering about them thanks to their antique appearance, eg this large pocket watch wall clock with an iron round frame and a white shaded shield with iron clock hands.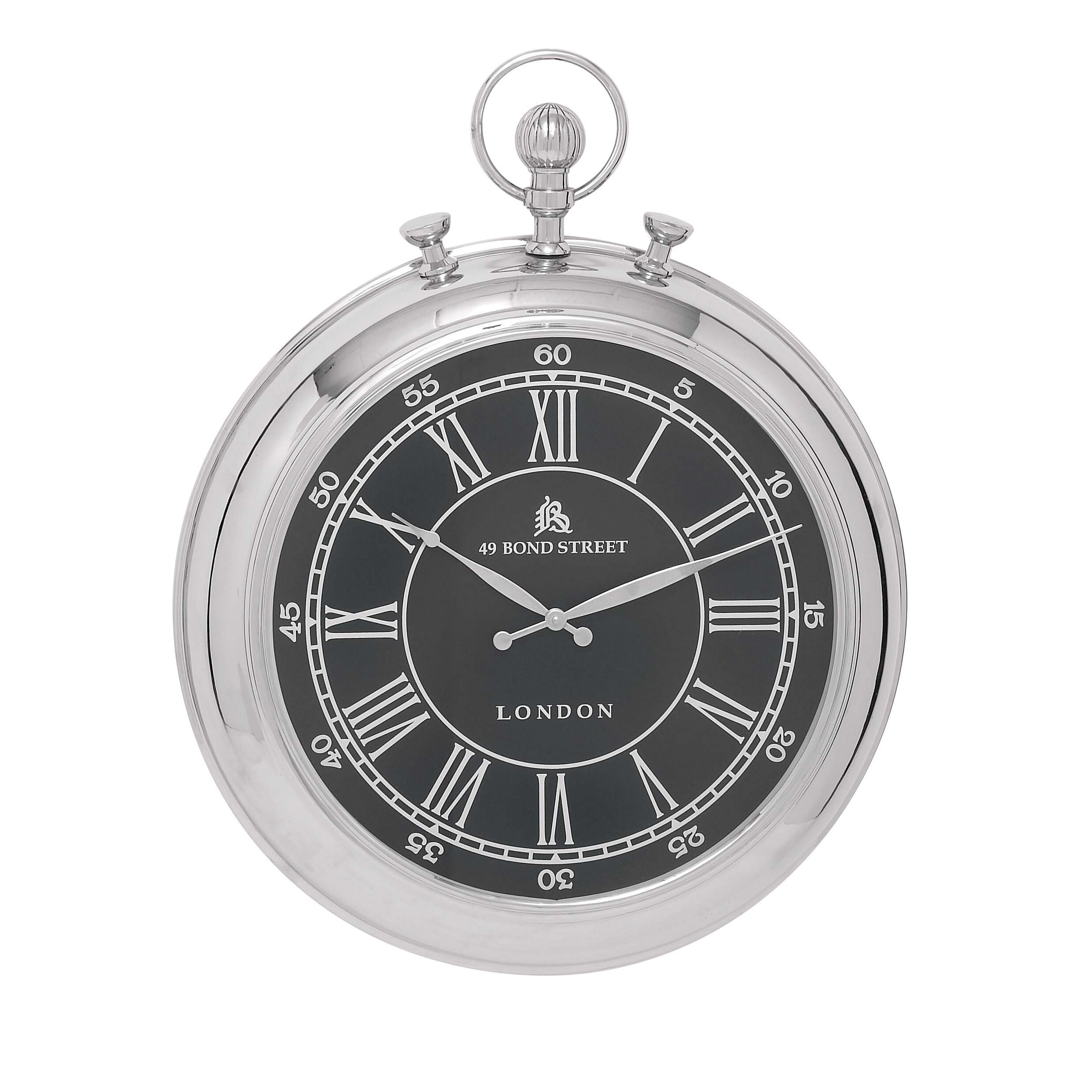 Vintage Oversized 24" Traditional Pocket Watch Designed Wall Clock
Round clock in vintage style inspired pocket clock. It is made of combining metal and glass. Only suitable for indoor use. It is powered by one AA battery.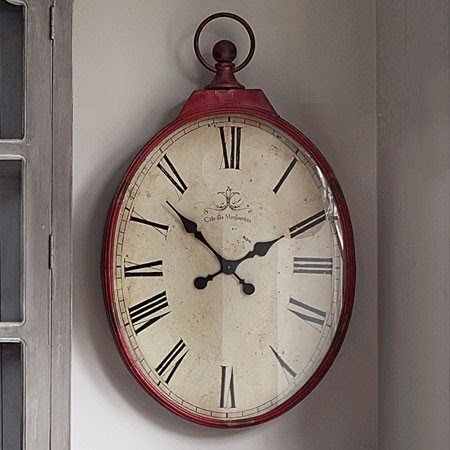 A wall clock is not only a practical device but also an extremely stylish decoration. This wall clock is more like a watch worn by a gentleman in a pocket, it has a large pocket oval shape, a bright shield surrounded by a red oval frame.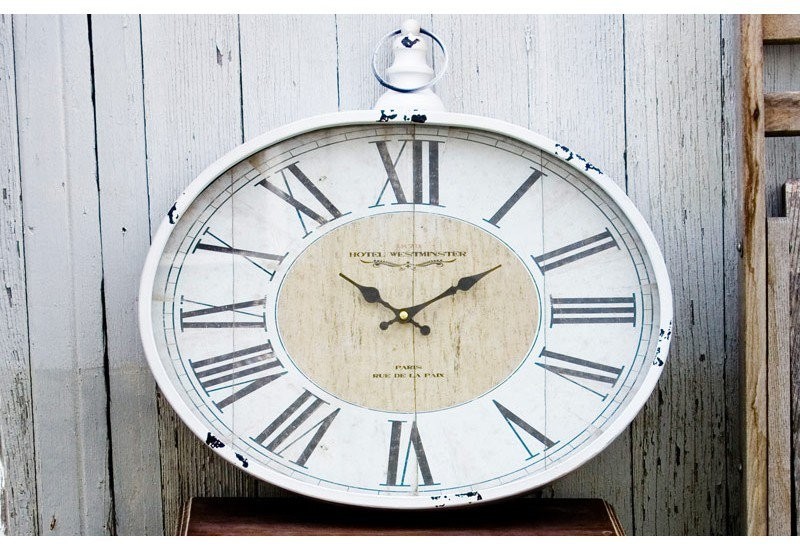 Our Wall Clocks are Large Wall Clocks that liven up any room! These Decorative Wall Clocks are so gorgeous! For more décor ideas visit, OR #Clock #WallClocks #DecorativeWallClocks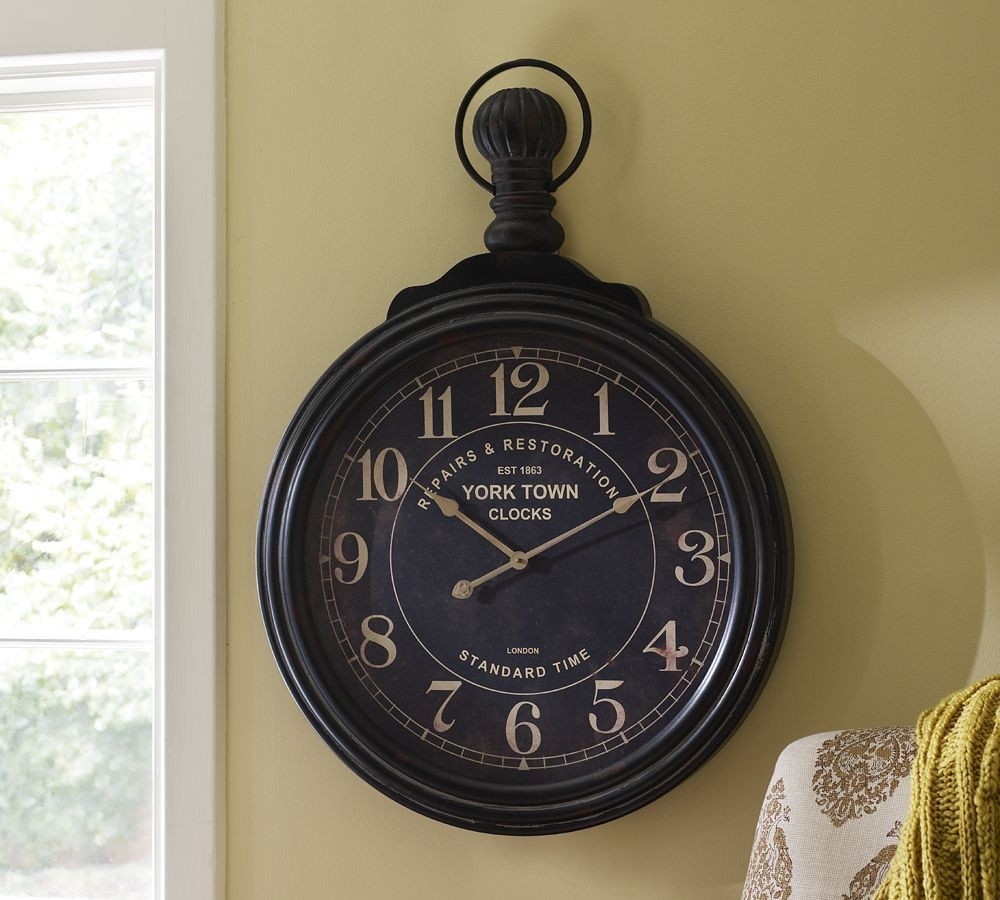 You may thought this large pocket watch wall clock is owned by a gentleman from Yorktown - but it can be yours, and it can be placed on the wall with its round shape of a pocket watch, black frame and black dial with light numbers and clock hands.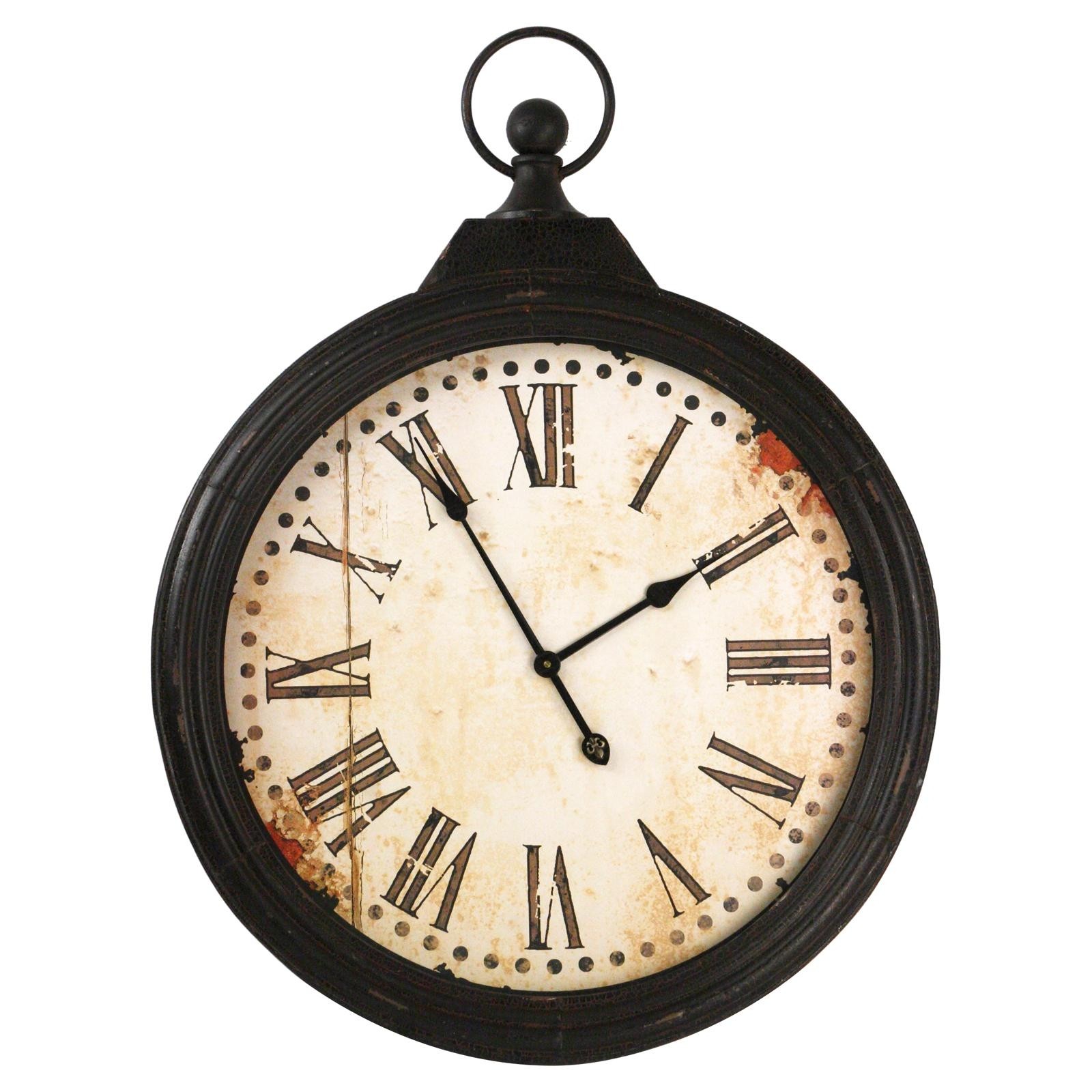 Improve your home with vintage flavor by using this large wall clock designed in shape of a classic pocket watch. The clock offers a round case with a weathered dial that has Roman numerals and two black hands.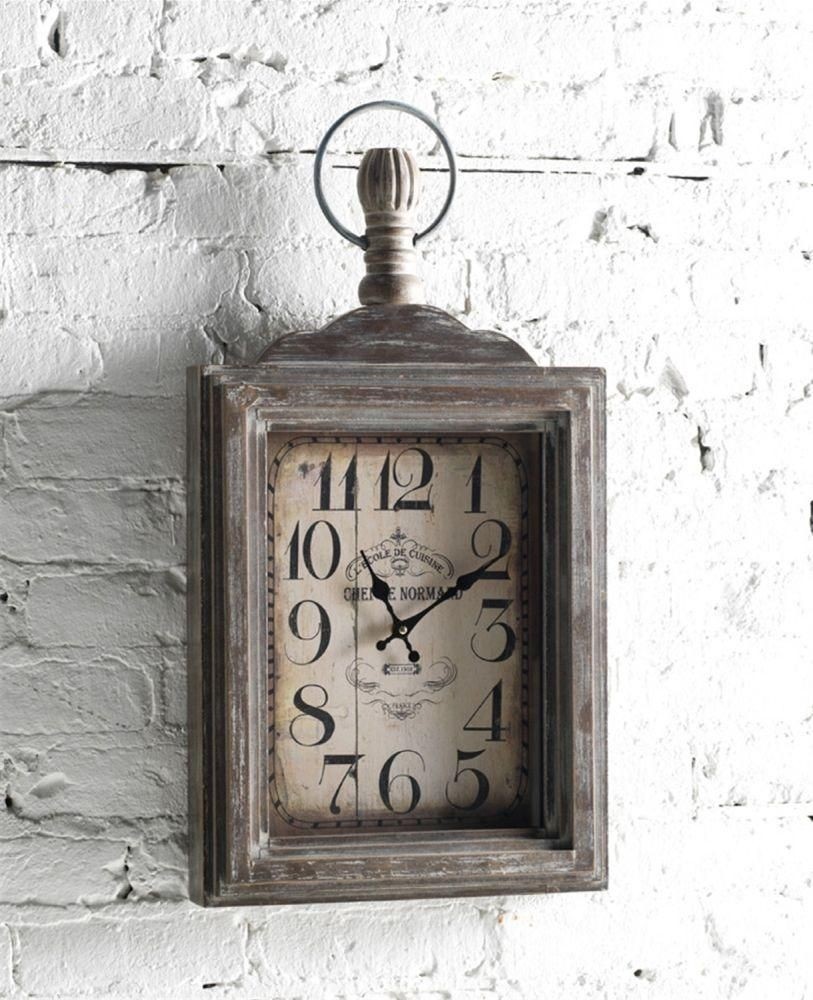 Rectangular wall clock in vintage style. Frame is made of wood with antique finish. Includes quartz movement and Arabic numeral. Sophisticated decoration for any interior according to taste.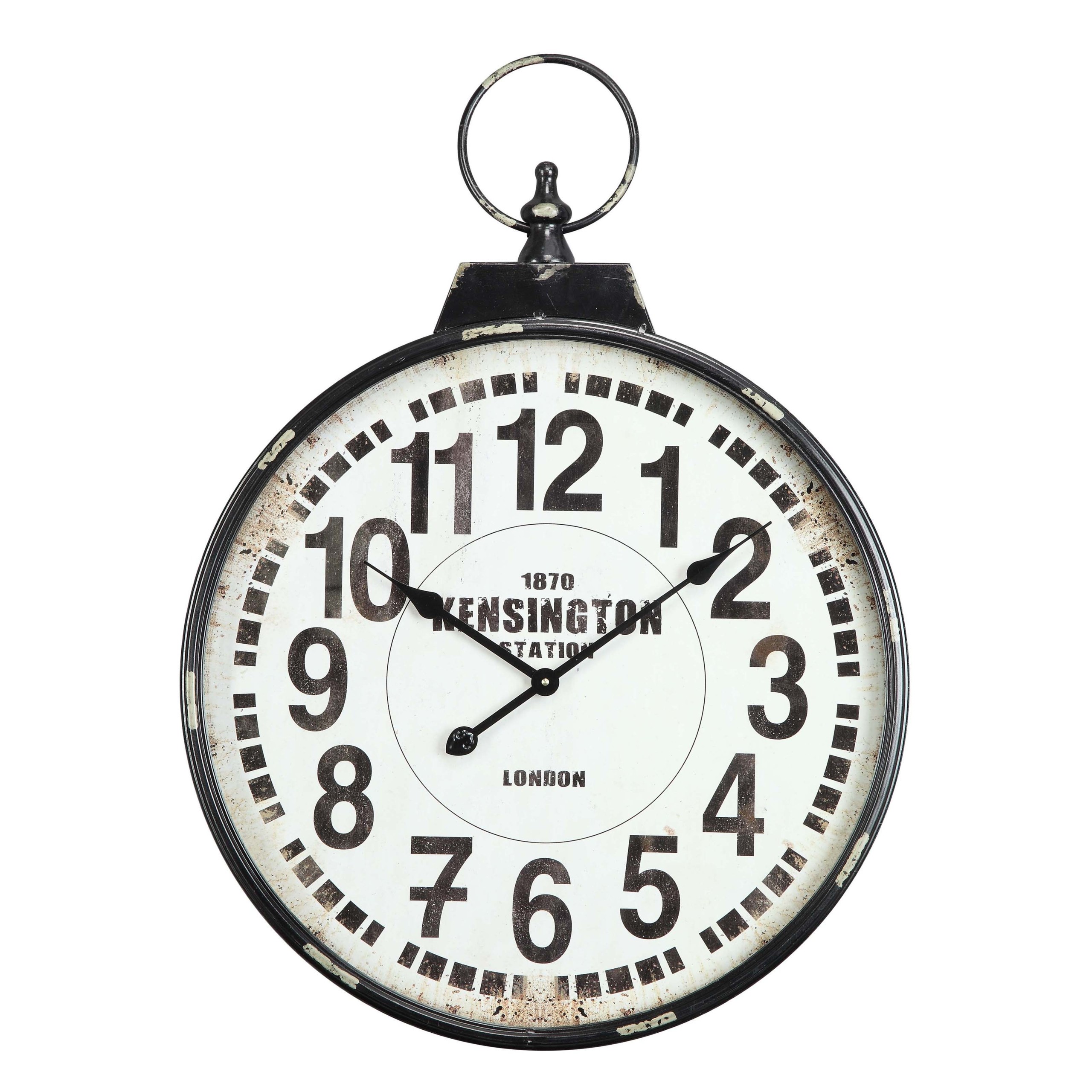 Who said that a pocket watch cannot bedeck a wall? This wall clock is stylized as a classic vintage pocket watch, and it even has a distressed metal case. It looks exactly like a pocket watch, though bigger, of course.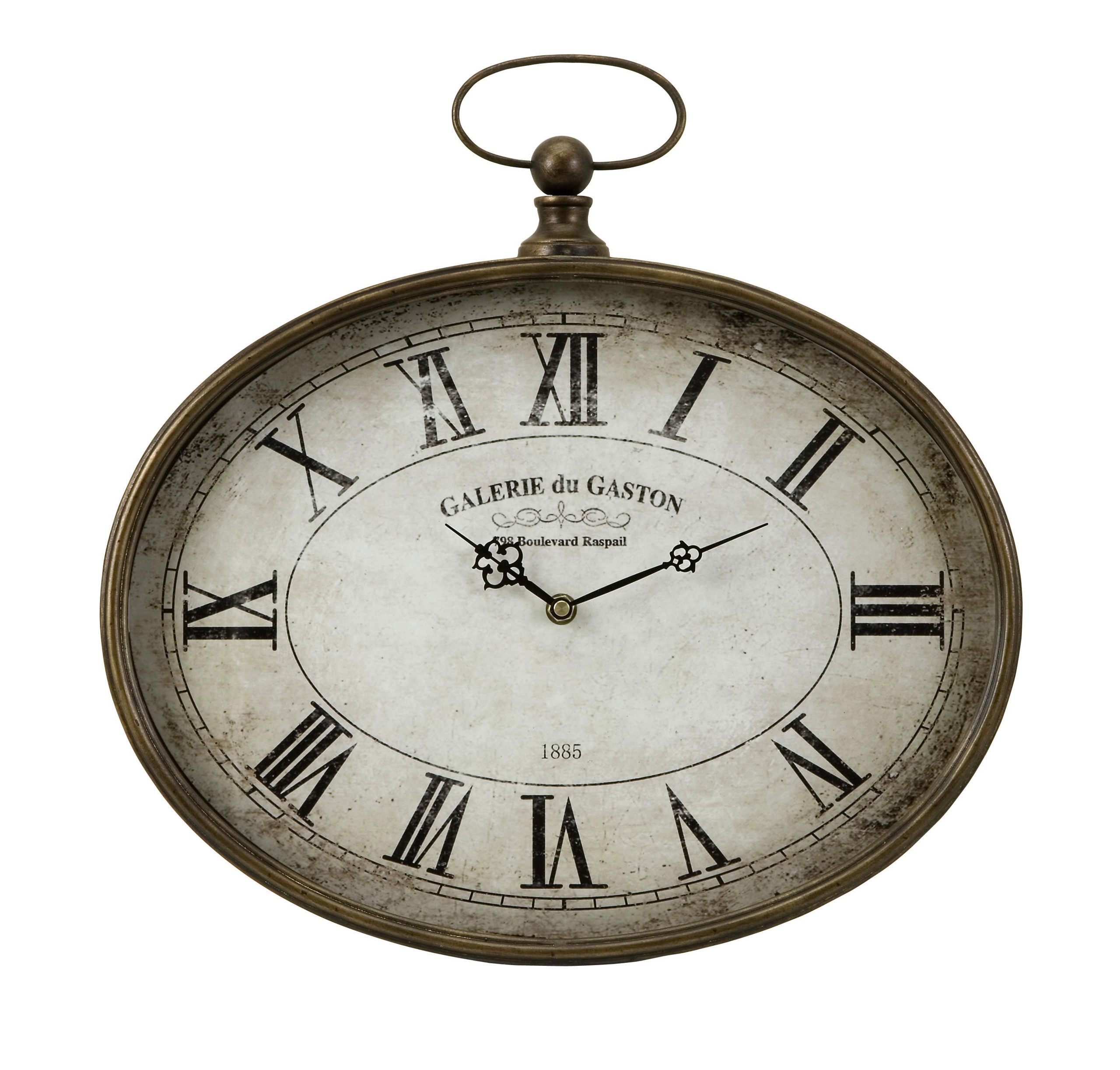 Pulled out straight from the bag of vintage French wonders, this wall clock is inspired by an old pocket watch design, with distressed face covered by glass. The clock includes Roman numerals, and inscription that says "Galerie du Gaston", "798 Boulevard Raspail", "1885".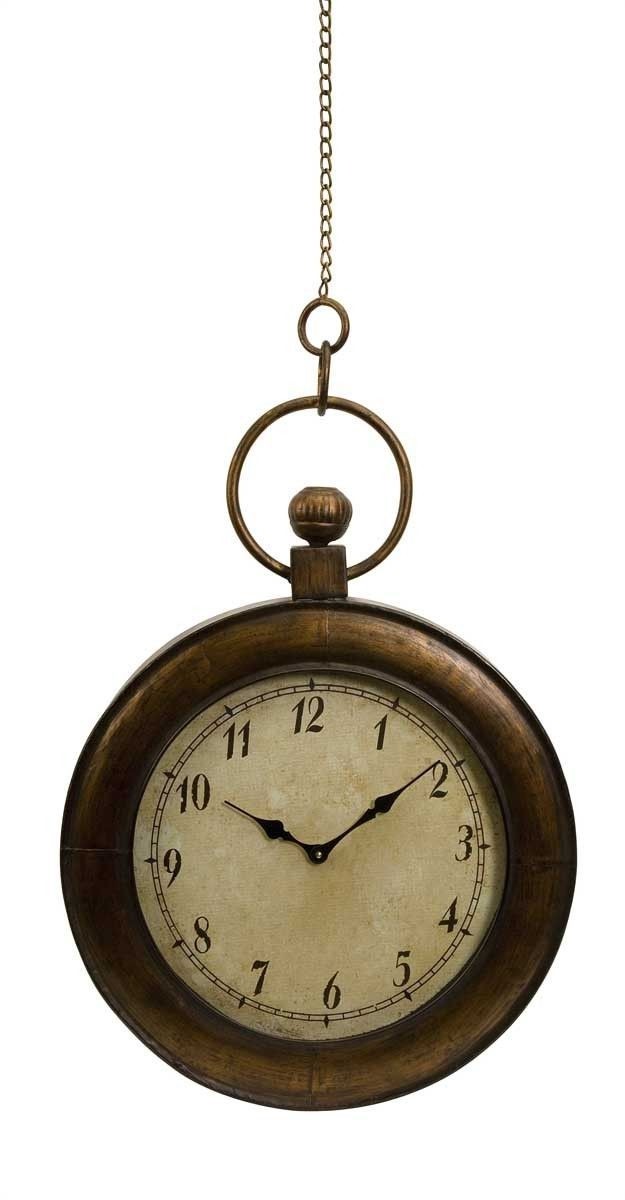 Large Oversized Pocket Watch Wall Clock ON Chain | eBay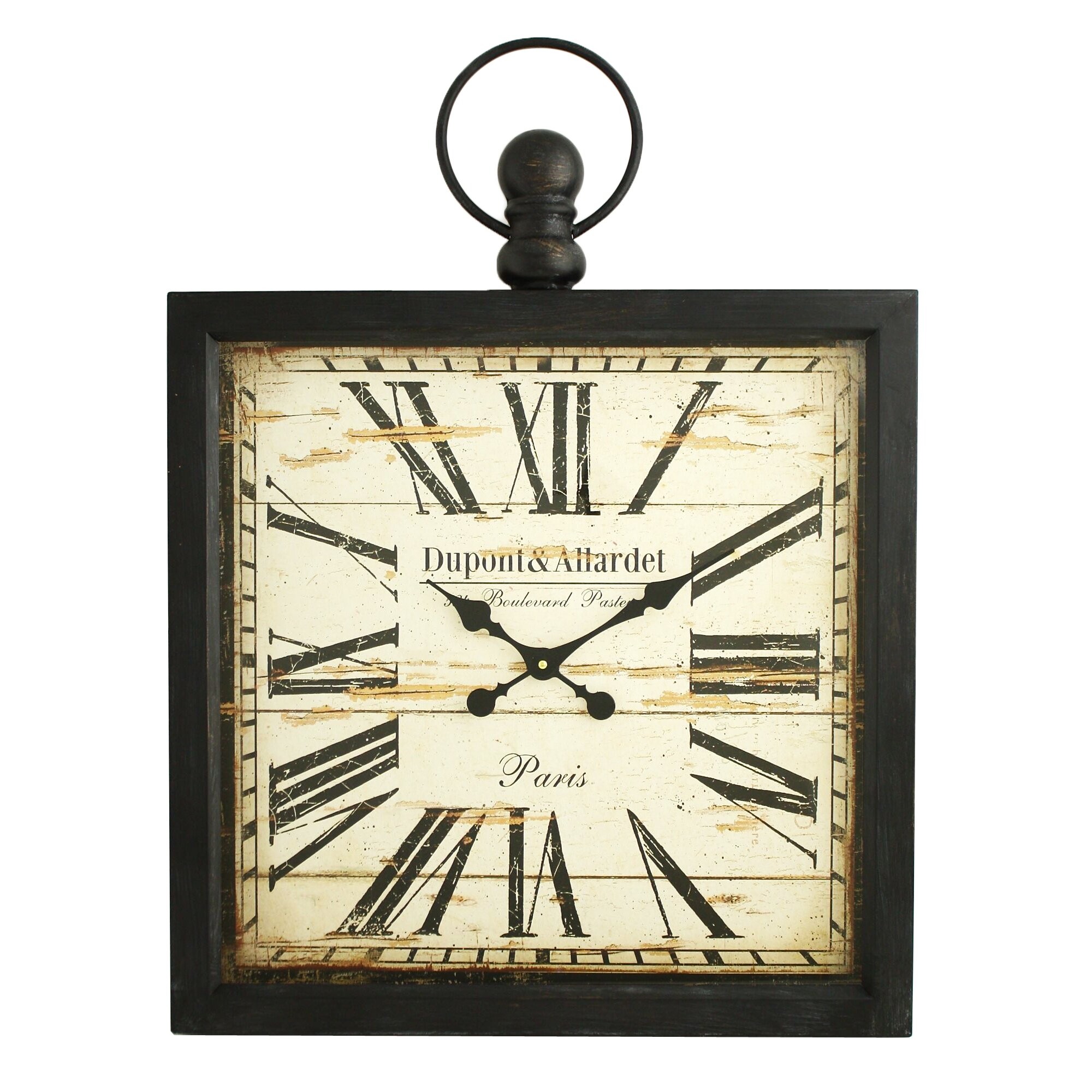 Olivia Square 23.5" Wall Clock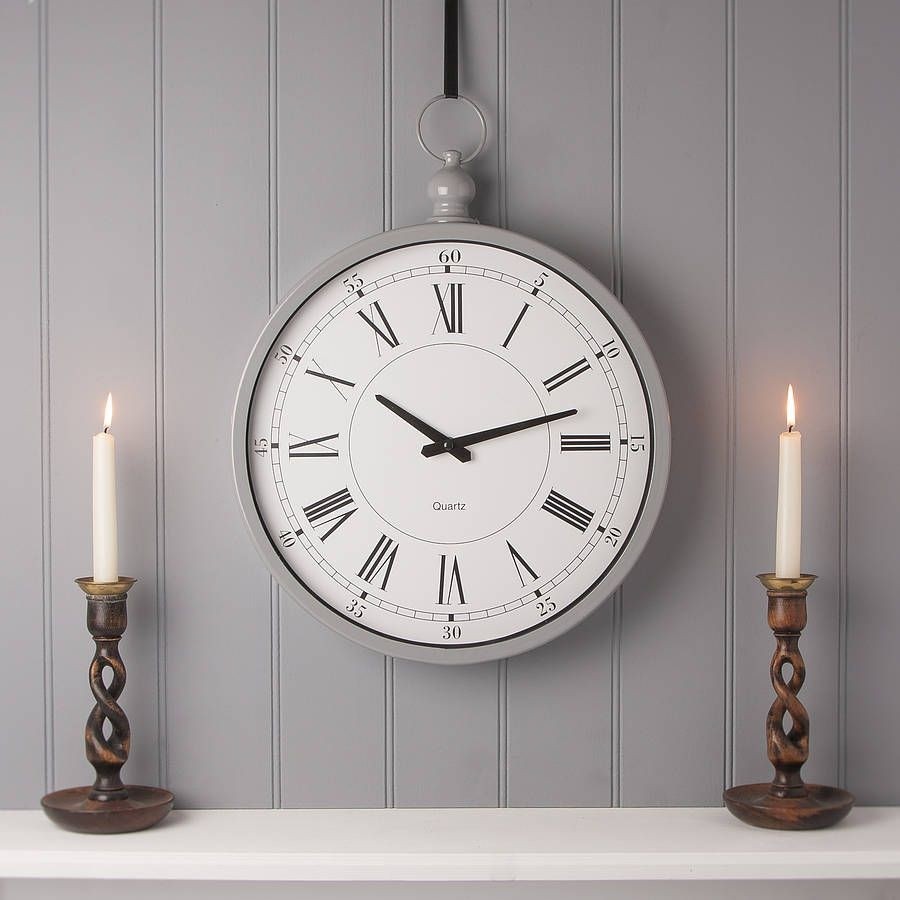 Adding a characteristic shabby appeal this old vintage wall clock fits well into all classic interiors decorated in the English style. It has grey finish and black numerals, both Roman and Arabic.
This iron wall clock reflects the design of the vintage pocket clocks, embodying a cool vintage vibe of the 19th century. It features Roman numerals. Iron finish will provide long-lasting solidness.

Classic 15" Pocket Watch Hanging Wall Clock
Why not choose a wall clock that will keep your guests guessing with this hanging piece that looks like a traditionally styled, classic pocket watch and sports the all-silver finish for a more elegant look.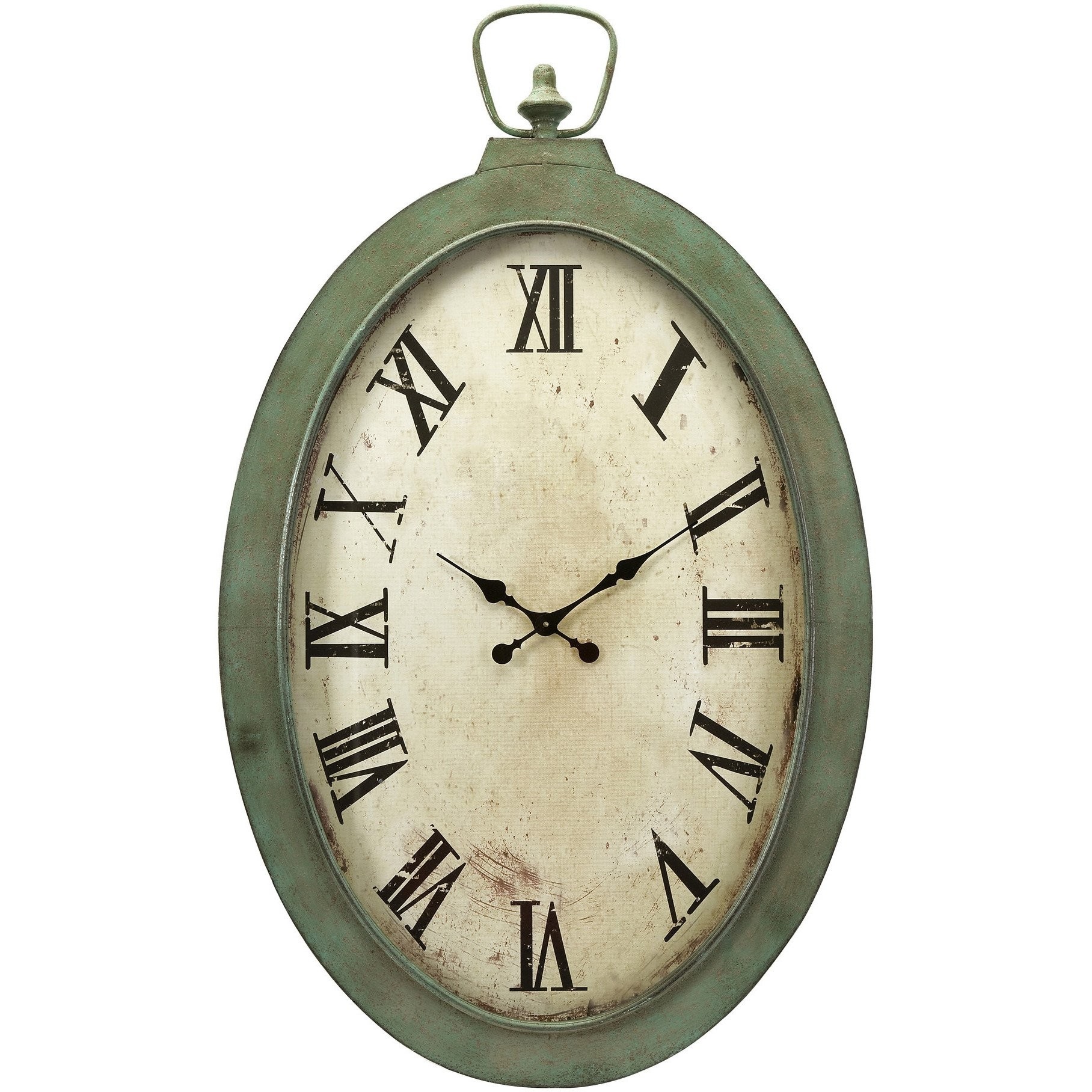 Oversized Noran Wall Clock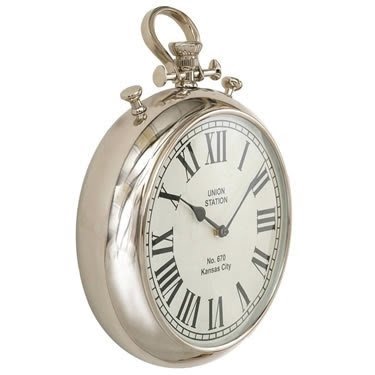 Inspired by vintage pocket clocks, this one is designed to be hanged on one's walls. Its chrome finishing emphasizes the refined haracter of the item, bringing in the traditional charm and elegance to the space.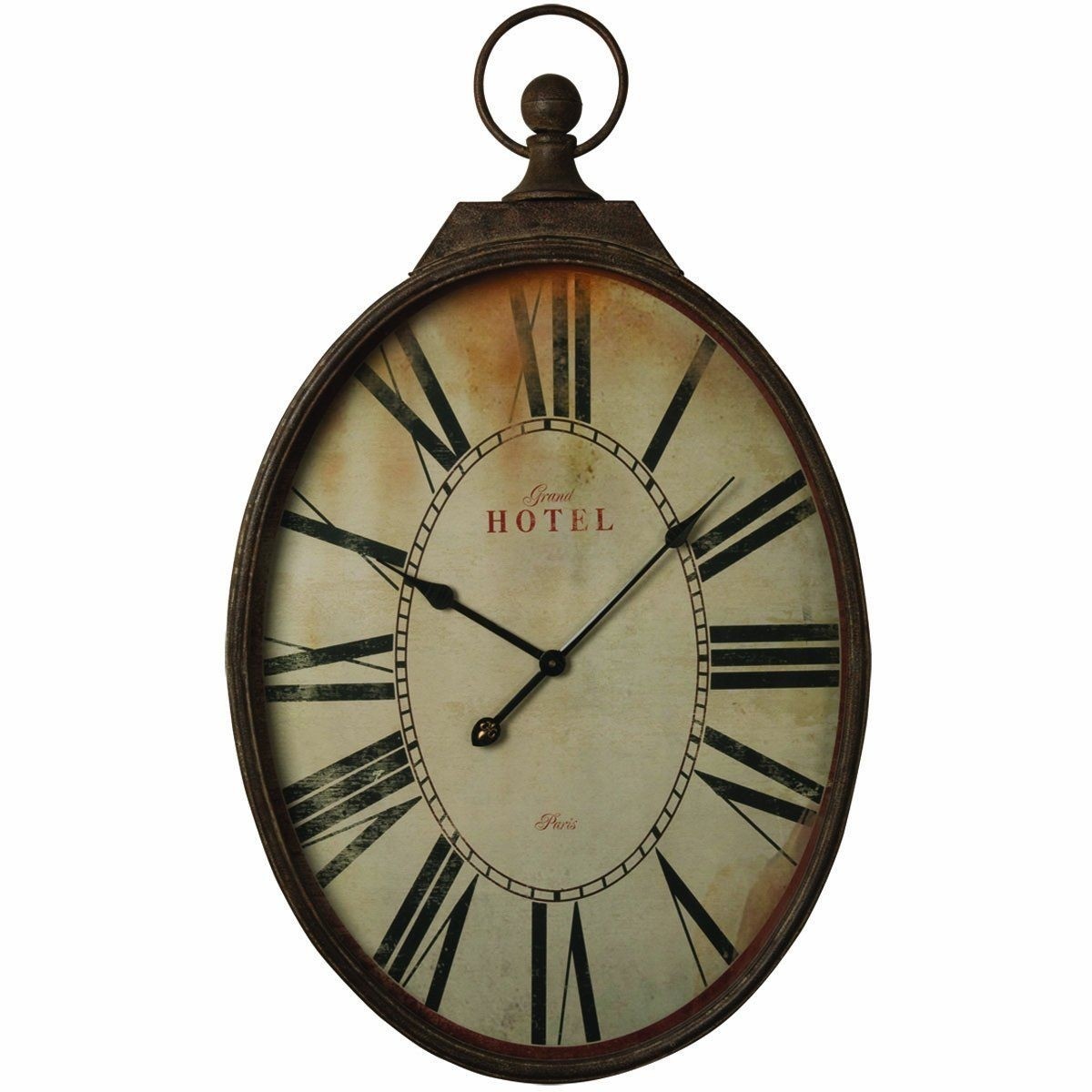 Large Rustic Industrial Oval Shaped Pocket Watch Style Oversize Hotel Wall Clock by WC,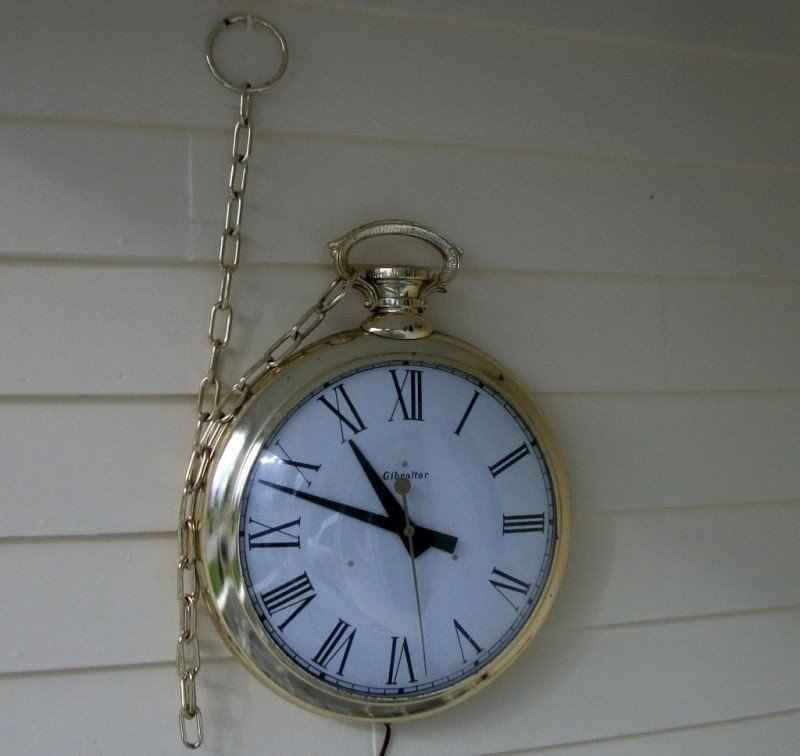 Roll over Large image to magnify, click Large image to zoom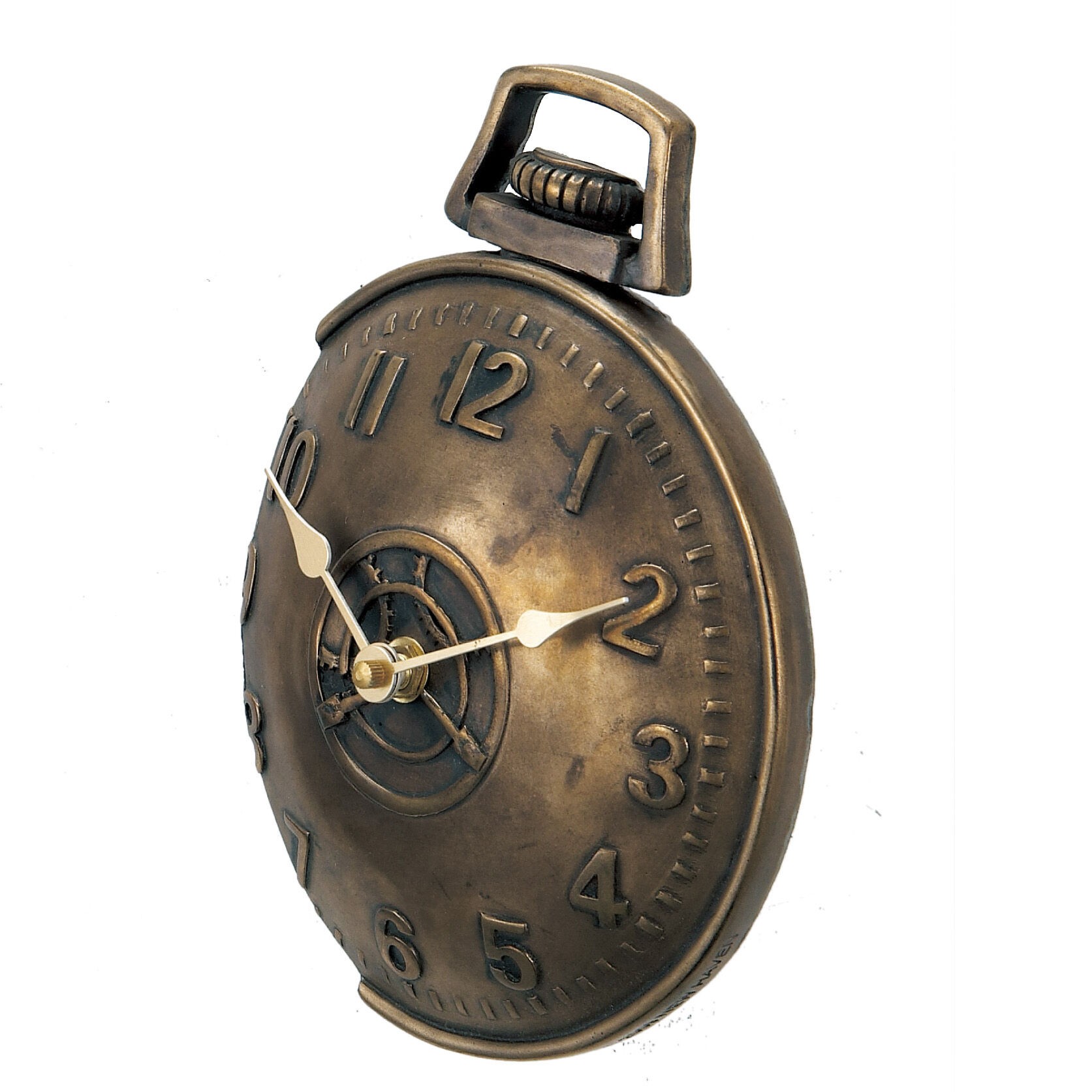 Convex wall clock with embossed hourmarks and Arabic numerals. It looks like a pocket watch made of bronze. Light coloured spade style hands ale clearly visible on the multitoned face. Beautiful vintage style accessory.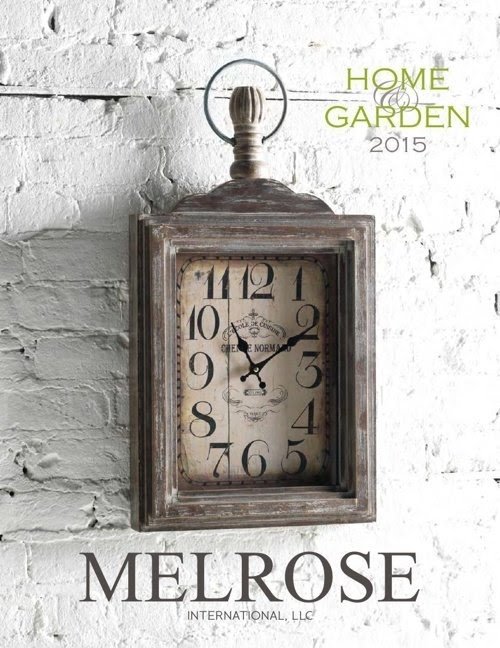 This large 29" tall vintage pocket watch rectangular wall clock enchants with its distressed gray finish, constituting a perfect proposition for rustic or vintage decors. It features Arabic numerals.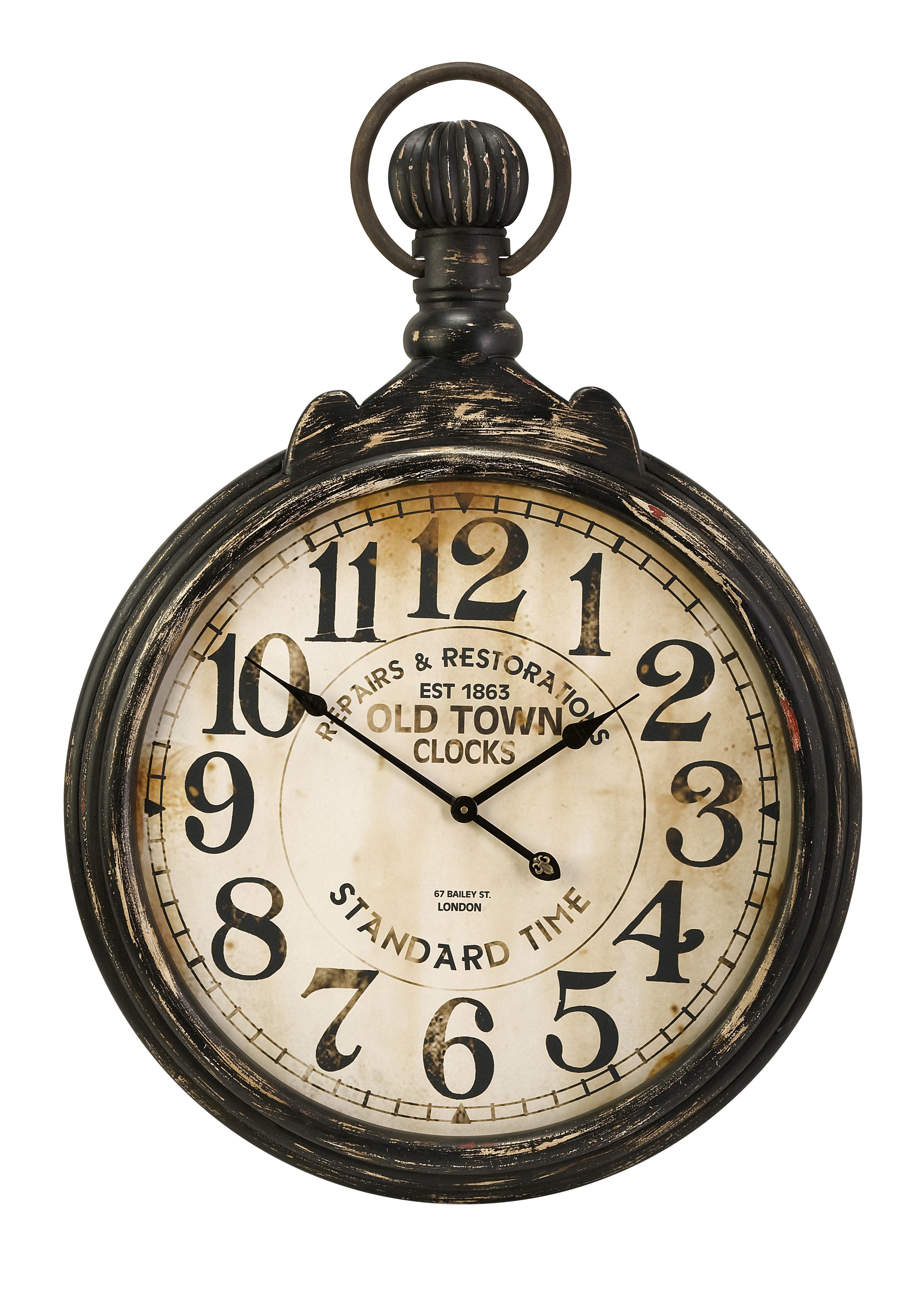 Oversized 27.5" Churchill Pocket Watch Wall Clock
Measuring 27,5" diameter, this wall clock is inspired by the characteristic Churchill pocket clocks. It features Arabic numerals on a distressed, yet beautifully maintained clock face.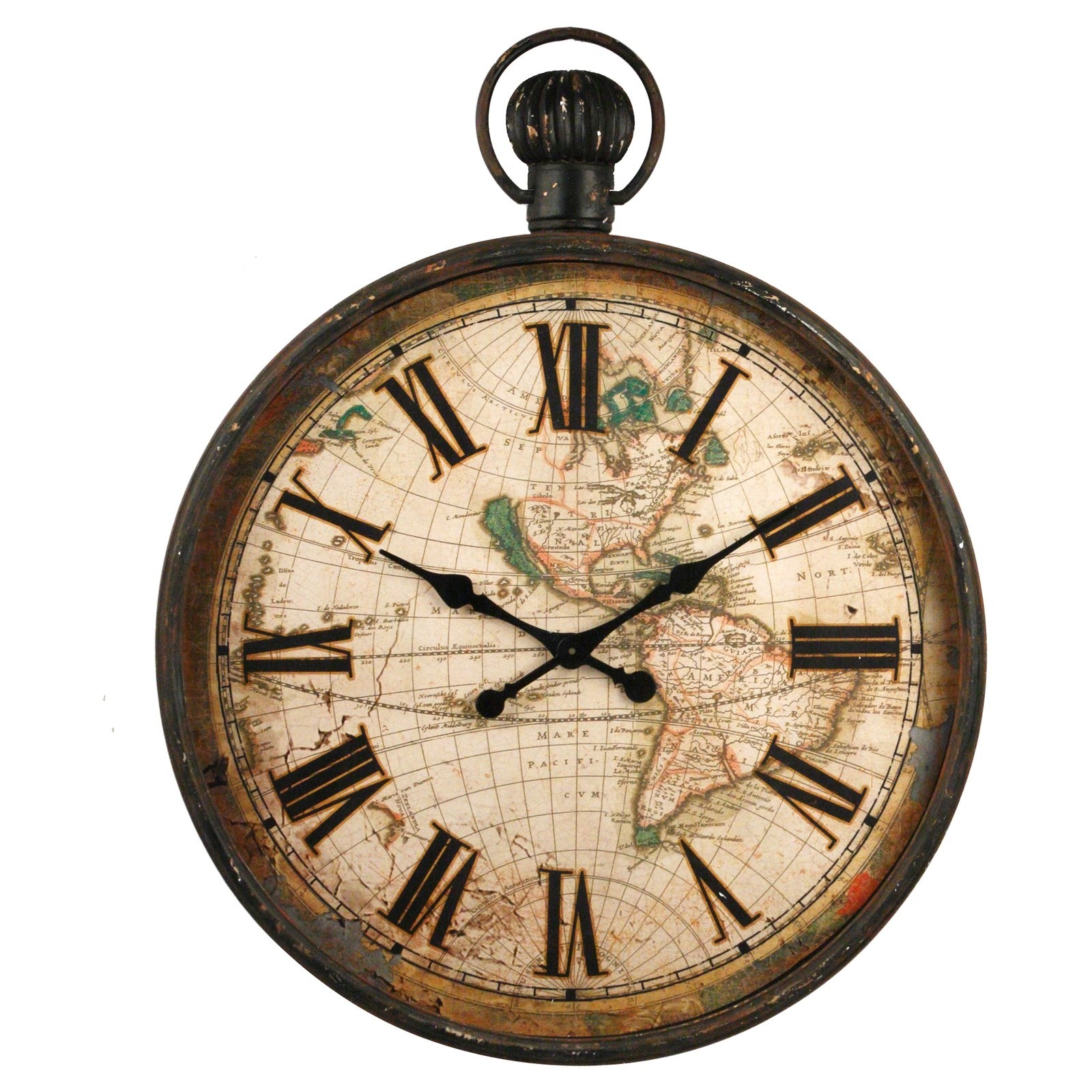 Westminster Pocket Watch Wall Clock
This astonishing wall clock is stylized on old - word pocket watch and will add a touch of vintage to any interior. Its frame was crafted from solid metal and has a white finish, distressed and rubbed.