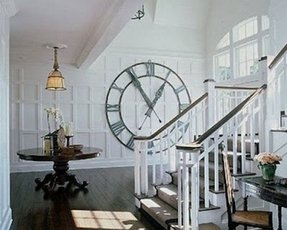 Large wall clock with a very durable construction based on metal. This round clock includes two large hands and Roman numbers. Attractive gray finish is neutral, so it looks great on different walls in different indoors.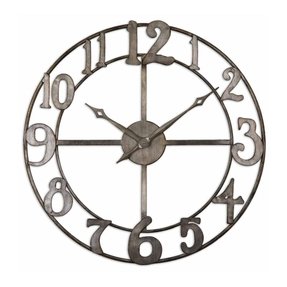 A large wall clock in a minimalist and contemporary style. It captivates with the simplicity as it features a metal structure with a subtly distressed trim. It will be a pretty wall decoration and big numerals are visible even from the distance.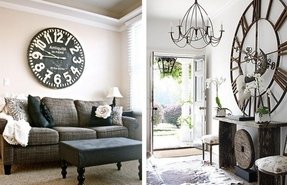 This stylish interior is a combination of traditional details with original accessories that together form a beautiful and cozy whole. The main point here is returning a large clock, which has a black dial with large white Arabic numerals, which is exceptionally efficient.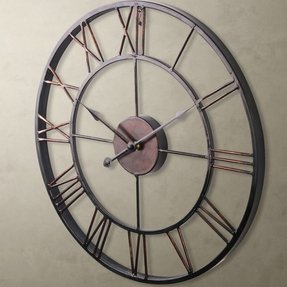 An impressive trendy antique style contemporary wall clock. It's made of wrought iron finished in black but minute marks, large Roman numerals and angular pointy hands in gold. It has a large round openwork dial and requires 1 AA battery.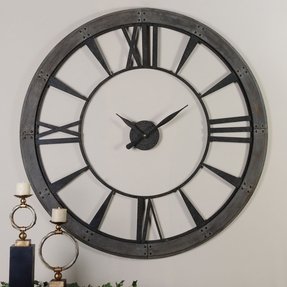 Wall clocks are no longer as necessary as they used to be. However, they can be an original arrangement finish. This metal large wall clock is an example of a rustic clock station with huge dimensions, made of iron with a brown finish and gray.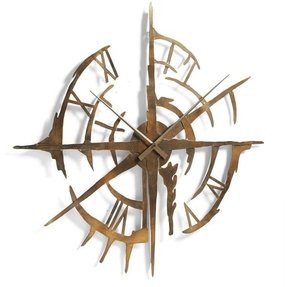 Luxurious, unique wall clock in nautical style. Shape and style of this clock is inspired of boat's compass. It is made of metal and covered with gold. It will play its role the best in sophisticated living room.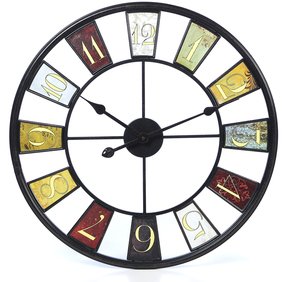 Infinity Instruments Oversized Kaleidoscope Wall Clock
This exceptionally beautiful clock kaleidoscope perfect decorative element and practical for your interior. Stylish frame made of metal, beautiful colored overlay on every hour and wonderfully made notes give the whole a unique character.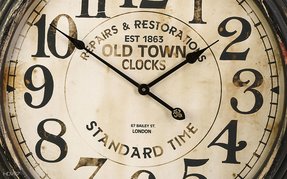 With such a large wall clock, you will be able to boost your rustic decor with a fine piece of antique mechanism. The dial sits tightly in a round case with distressed finish, featuring Arabic numerals, two black hands, and weathered appearance.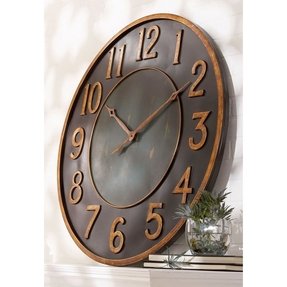 Get A World Clock For Your Home | Fun & Fashionable Home Accessories And Decor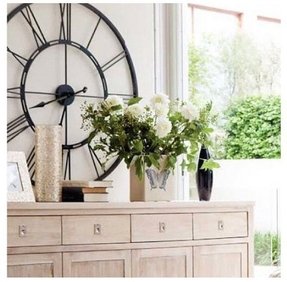 If you are a fan of modern details, the big wall clock is probably the best idea. It brings the simplicity and style to any interior. It is made of solid metal and has Roman numerals.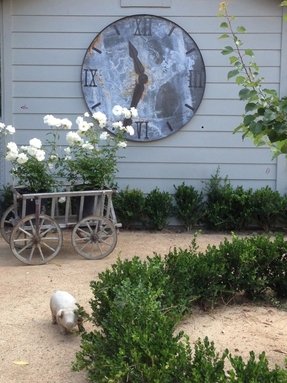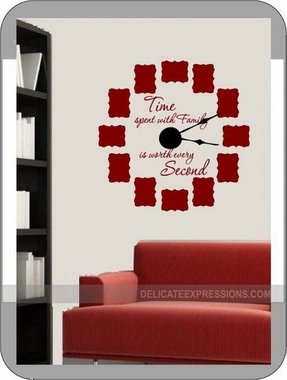 LARGE CLOCK KIT "Time spent with Family is work every Second" Features decorative mats for your photos (acts as a photo frame). Simply mount your photo directly on to the vinyl frame with double sided tape. Dimensions: Overall clock - 39"h x 39"w Frames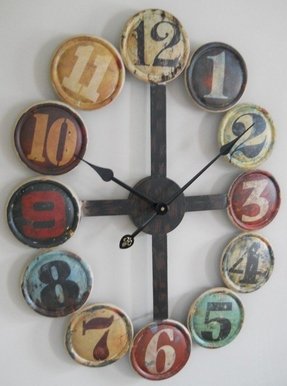 Large iron wall clock
Oversized 49" Postema Wall Clock
Modern take on the classic oversized clocks' style. The clock has an espresso finish and round shape, it is made from wrought iron with retro accents. Features roman numbers with antique gold finish. All for interesting and still contemporary look.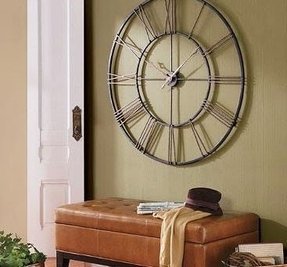 If you're looking for a unique decorative piece for your living room, take a look at this gorgeous large wall clock made in an industrial fashion with a hollow back, crafted out of wrought iron with Rome numerals on it.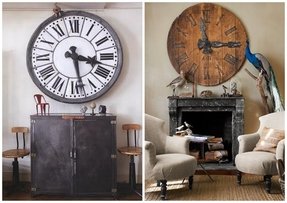 Cabinet in industrial style. It is made of metal and fitted with double doors. Suitable for storing clothes and others needed stuff. Application in all kinds of interiors according to taste and need.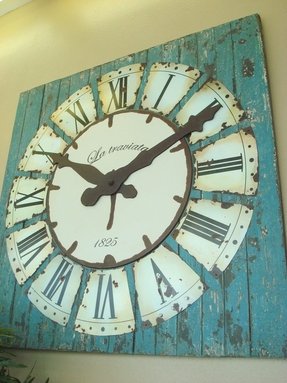 Have you dreamt of a big, wall clock? This DIY one may attract you, if you enjoy the country, cottage style. This large construction is a solid combination of wood planks and metal clock elements.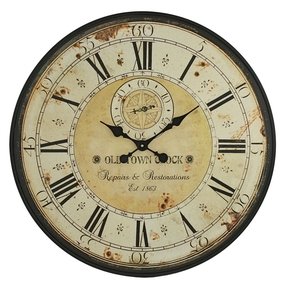 Oversized 31" Simona Round Wall Clock
This stylish and very original wall clock in the shape of a circle has Roman numerals. Beautiful antiqued blade motif gives it a slightly ancient character by what ideally suited to a traditional setting.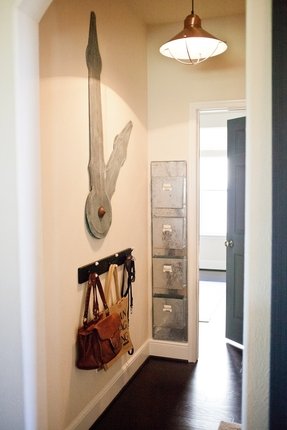 Super cute clock hands wall art from Little Cottage on the Pond at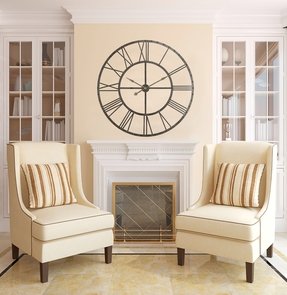 Oversized 28" Ruhard Wall Clock
Wall clock designed for indoor use. It is equipped with a quartz mechanism powered on 1 AA battery. It is made of durable metal. It has a standard Arabic numeration. Suitable for residential and commercial use.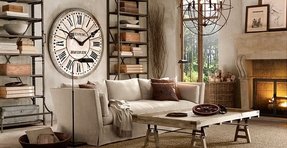 Crazy for Wall Clocks ~ Humpdays with Houzz - Town & Country Living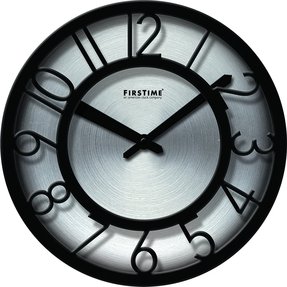 8" Steel Wall Clock
A contemporary wall clock that is mainly made of plastic and steel which means it's a solid and strong product. The manufacturer provides one year warranty to prevent unwanted damage. It was made in China.