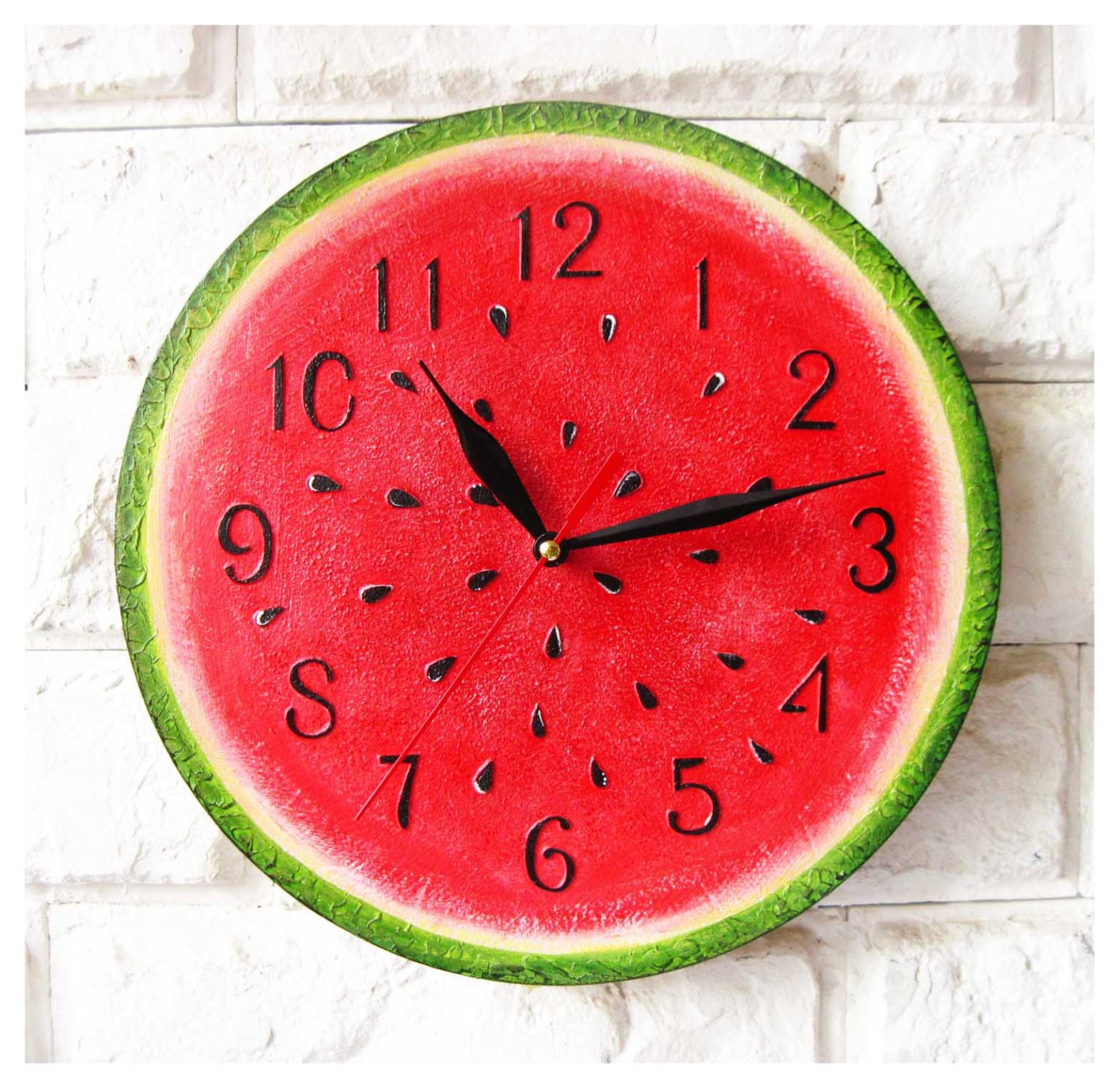 The watermelon wall clock home decor for
Charming wall clock with round shield in the shape of watermelon. It is fitted with quartz movement and Arabic numeral. Positive accent for the kitchen, dining room and others interiors according to taste.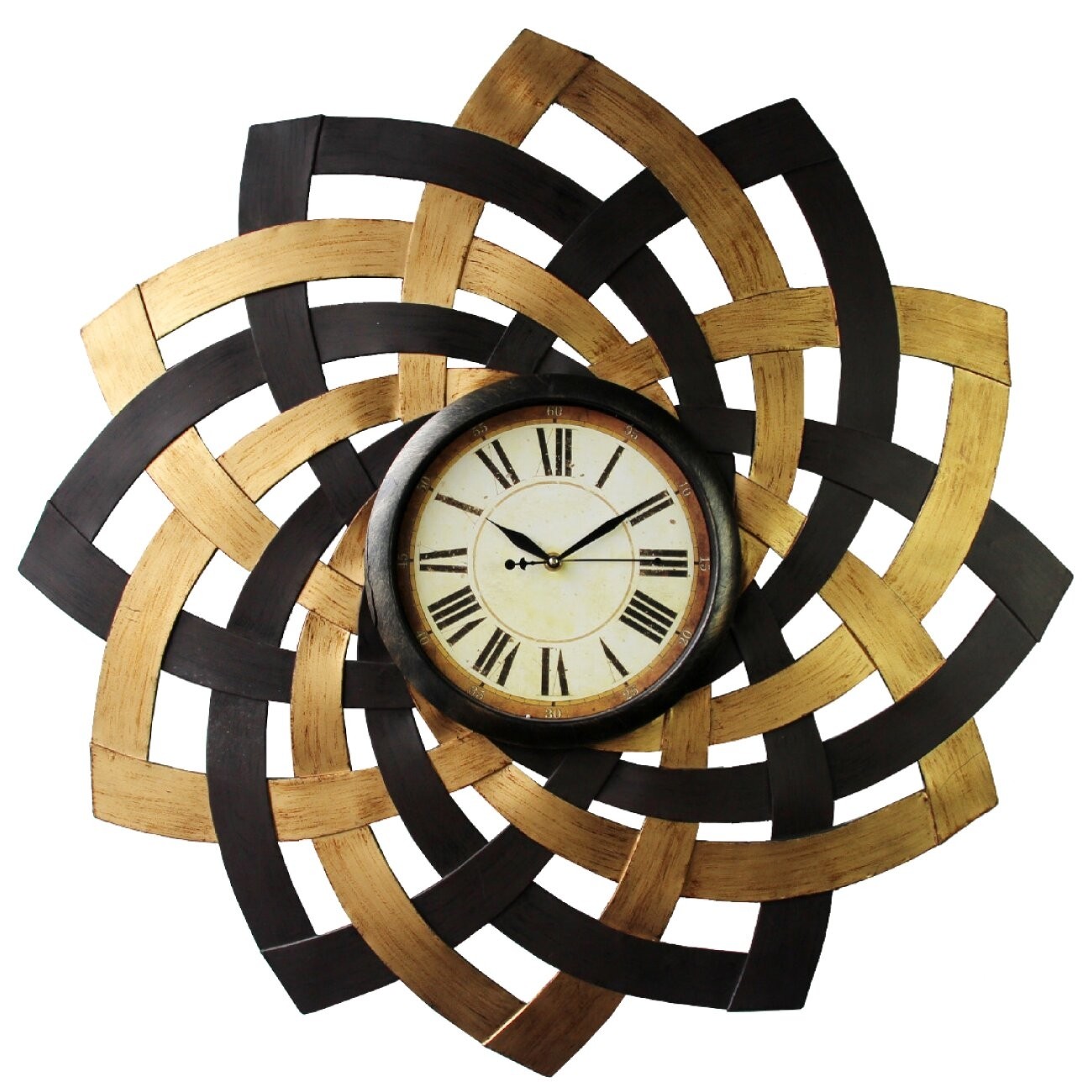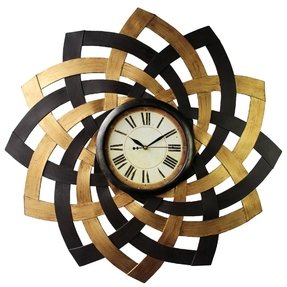 Wall Clock
This fantastically designed wall clock uses interlocking leaf-shaped shafts pattern to produce a gorgeous frame and durable clock face with roman numerals. Utilizes accurate clock movement running on one AA battery.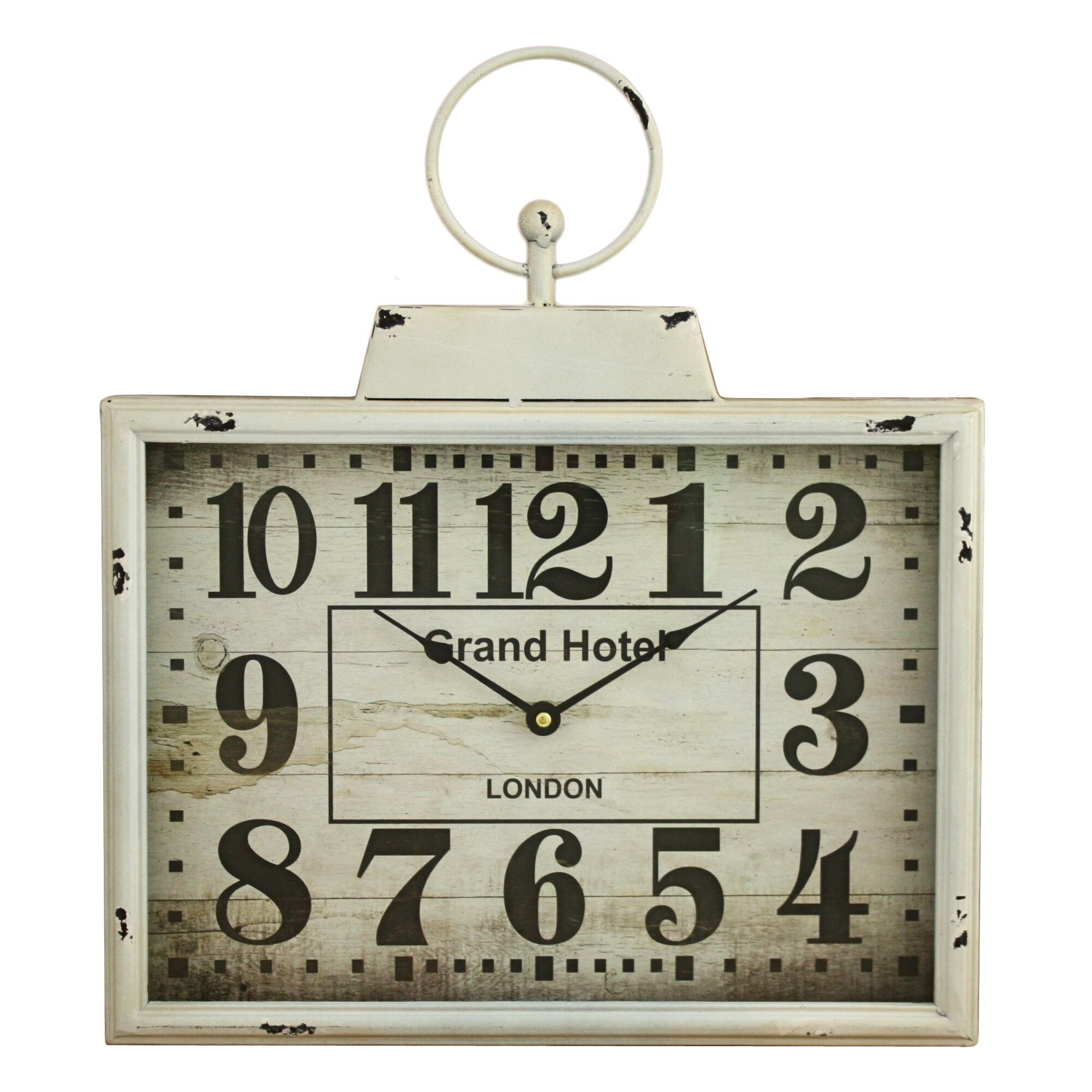 Darcy Rectangular Wall Clock
Cool vintage style wall quartz clock featuring a metal frame and a face with a distressed white finish. It's rectangular, 1AA battery-powered and has a ring holder up. Bold Arabic numerals, thin hands and stylised lettering are black.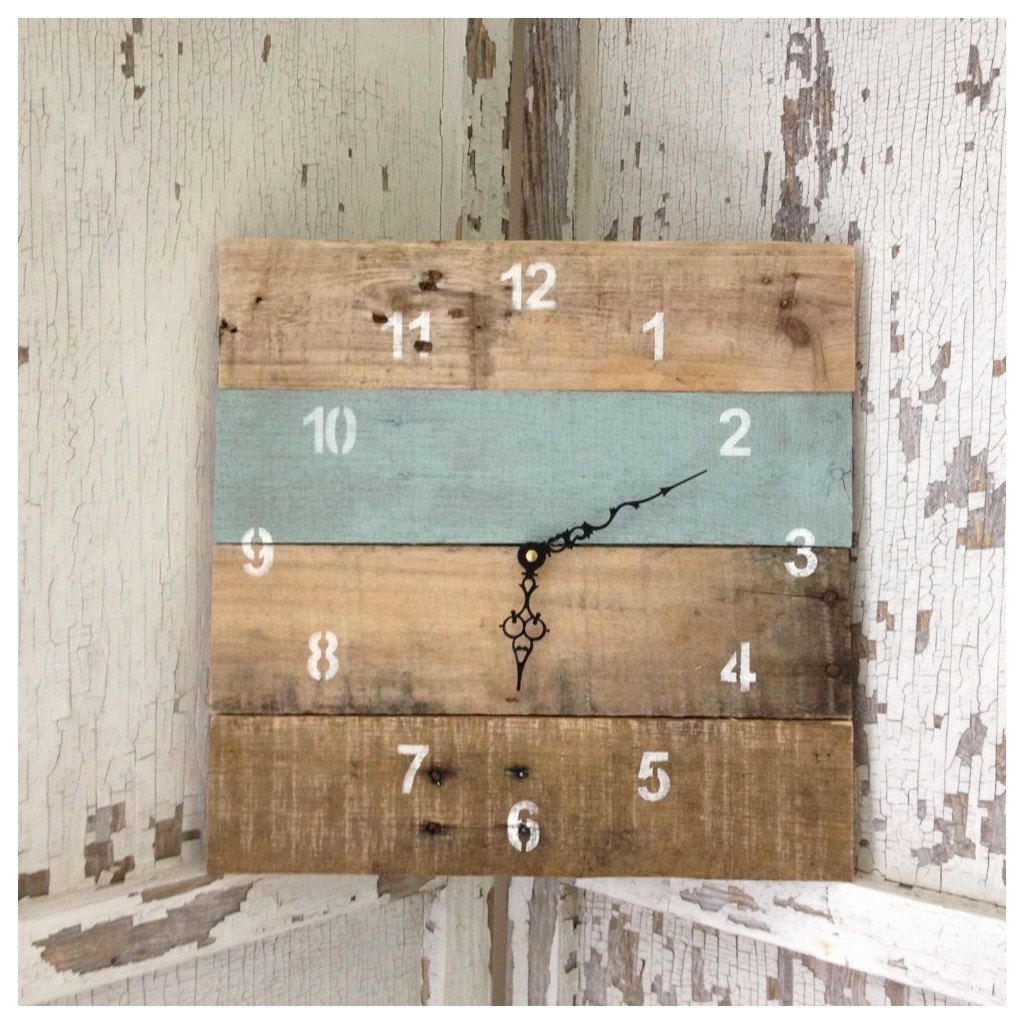 Reclaimed Pallet Wood Wall Clock Your
Wall clock in vintage style. Shield consists of wooden strips arranged horizontally. It contains quartz movement and Arabic numeral. It is very well appreciated by customers for high quality and neutral design.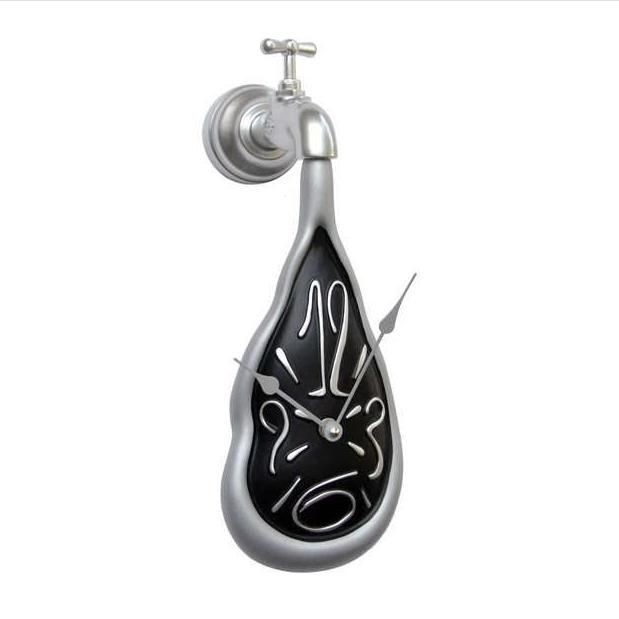 Imagine a water drop leaking from your sink, that will tell you the current hour? Sounds irrational? This unique, designer clock doesn't. With its smooth design, it imitates well a water drop, while at the same time its big silver hands will display the time.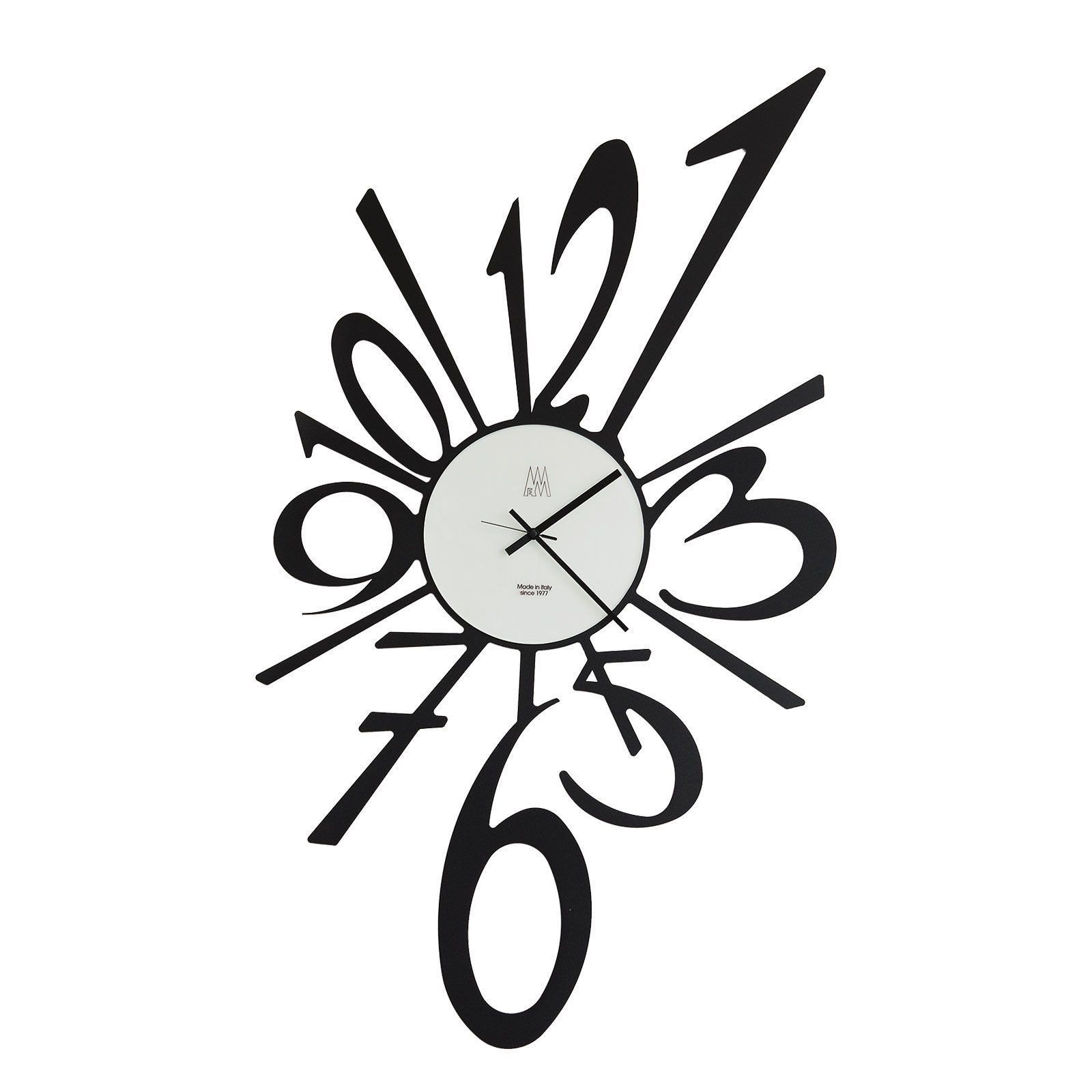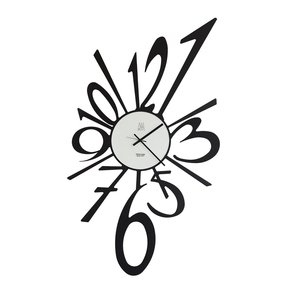 Sparkling with a unique design and modern appearance, this awesome wall clock is a perfect fit for both - homes and offices. It has a round white dial with metal black hands along with a matching second hand, and Arabic digits that surround the whole mechanism.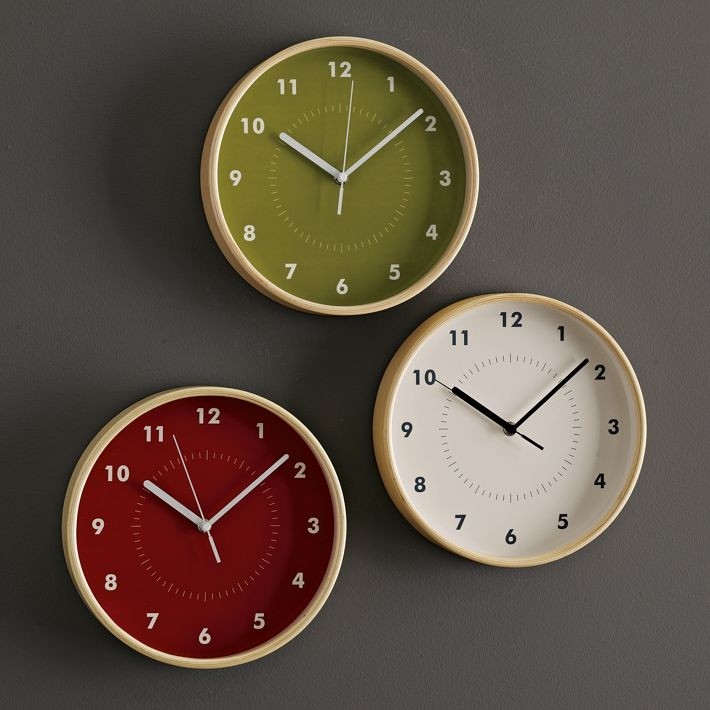 Modern kitchen clock in vintage style, contemporary kitchen furniture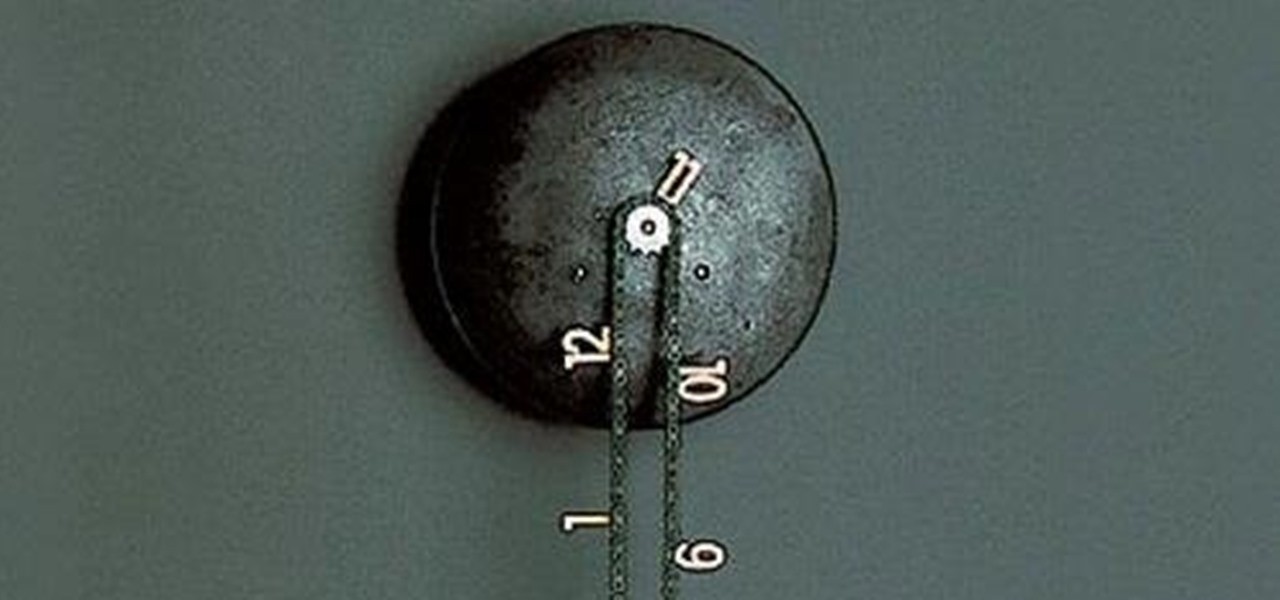 Cool clock! Not only it's unique - it's also self-made at near-to-zero cost! Gold coloured numerals are attached to a bike chain that hangs freely from a bicycle bell. The chain rotates slowly on a gear, and the current hour is shown by a numeral on top.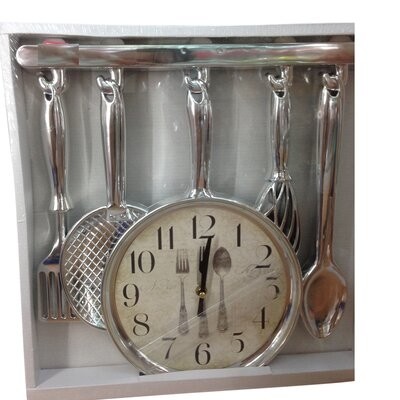 Kitchen Wall Clock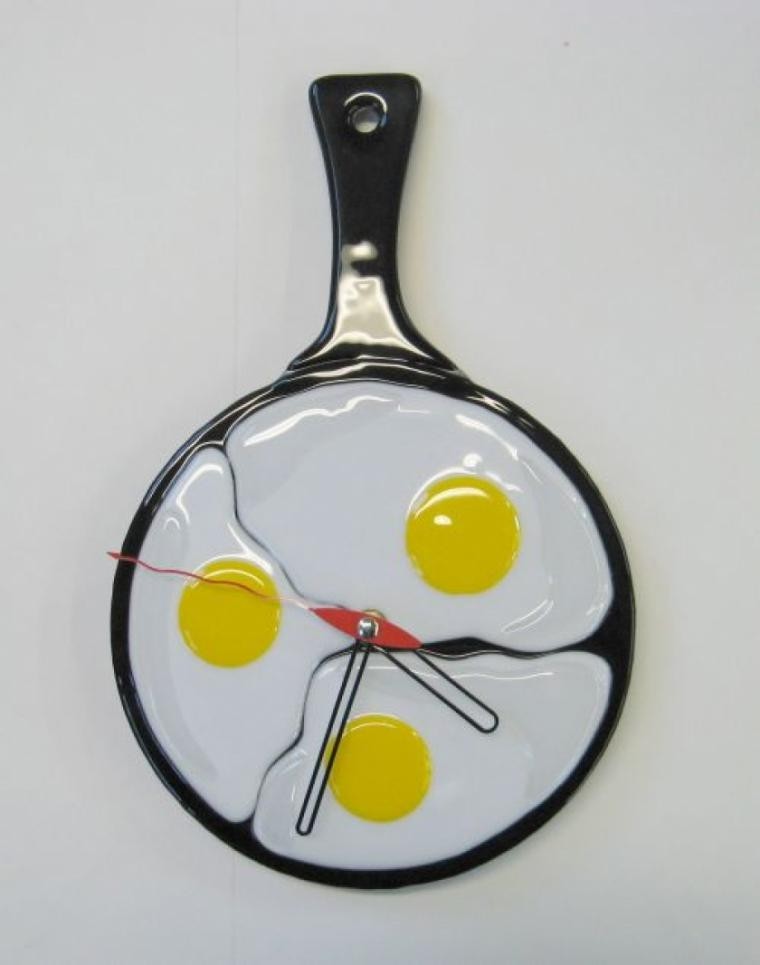 Modern Kitchen Wall Clocks Pictures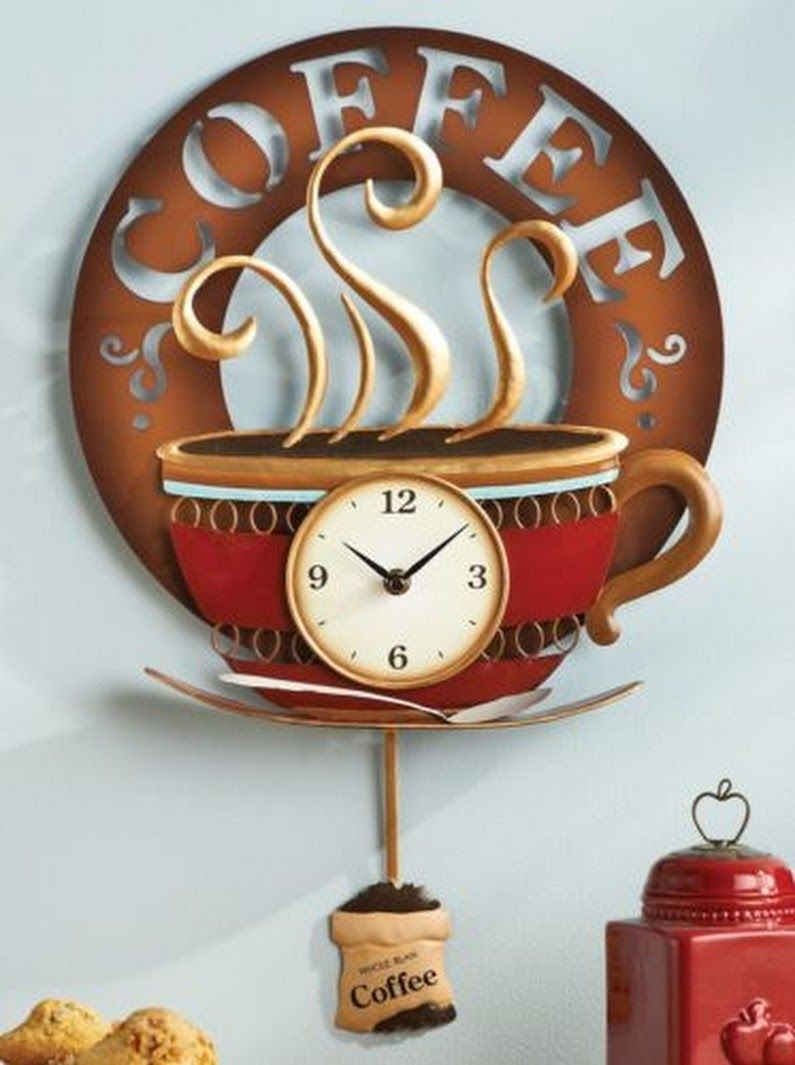 Coffee Cup Decorative Kitchen Wall Clock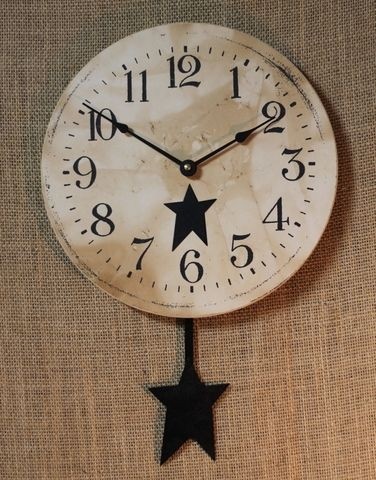 The beautiful form of this stylish wall clock with a pendulum in the shape of a star makes the whole look incredibly impressive. A unique combination makes the whole look exquisitely in the kitchen or another interior.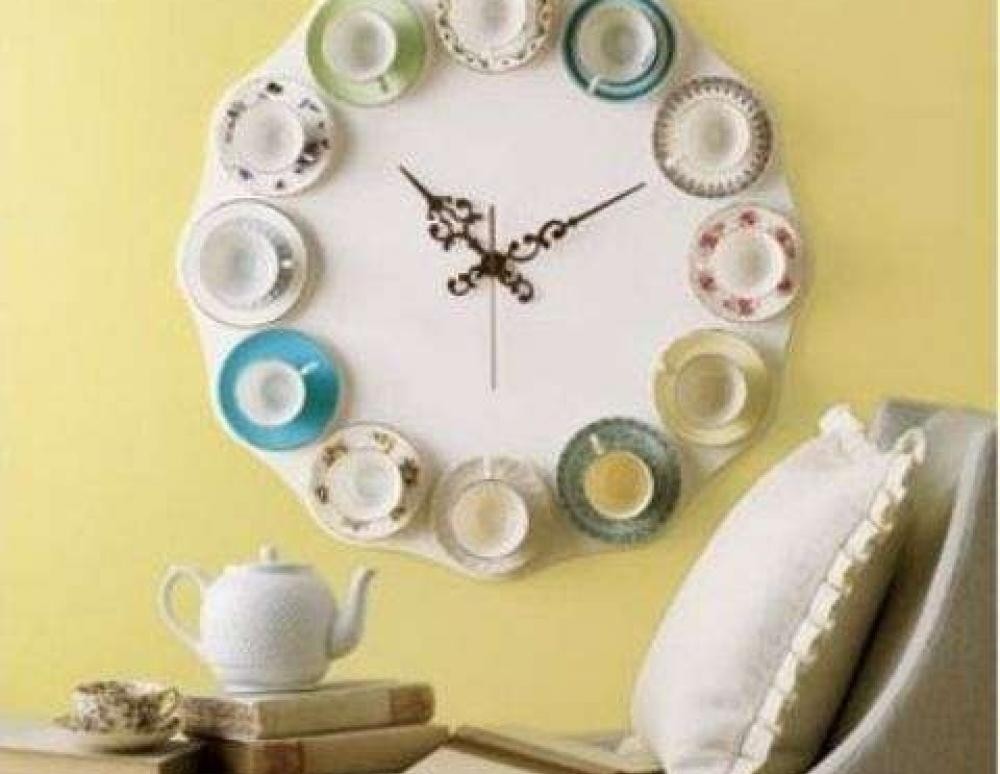 If you are unique person with own style or just tea's lower, this clock will be good idea to your kitchen. Instead of numbers, there are little cups with little plates. Hands are made of antique, carved brass.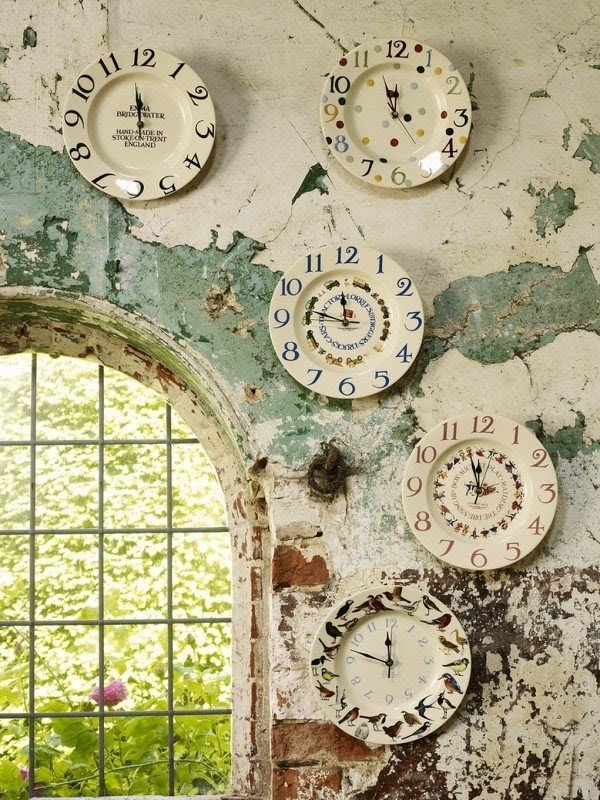 Charming collection of kitche clocks, uniquely made of dinner plates. Each clock sports different pattern: with birds, vintage cars and trucks, Polka dots or vintage signs. Definitely fit for rustic and cottage farmhouse layout.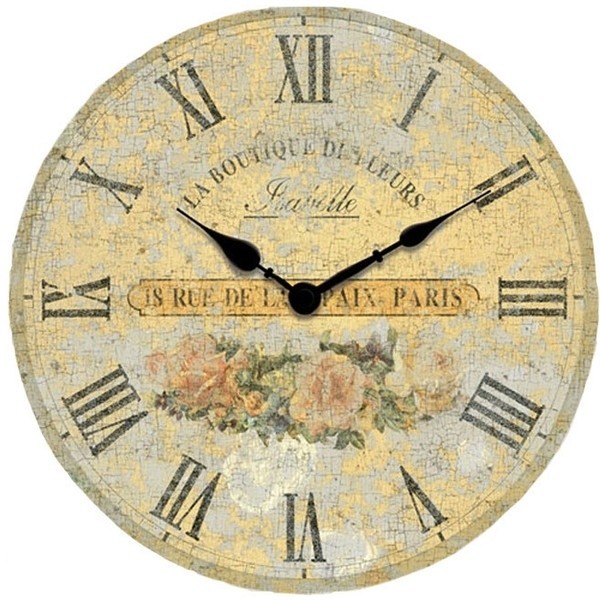 Clocks • Wall Clocks • Boutique Roses Decorative Vintage Kitchen ...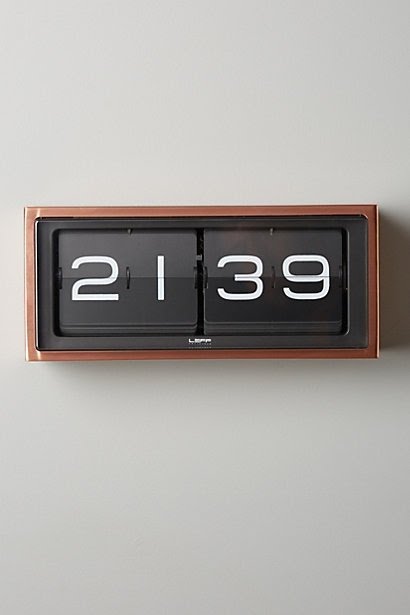 It's time to go back in time with this elegant timepiece. The hand-welded clock has flipping numbers, and a rectangle case made of copper-plated stainless steel, providing a 5'' projection. Measurements: 6''H, 14.25''W.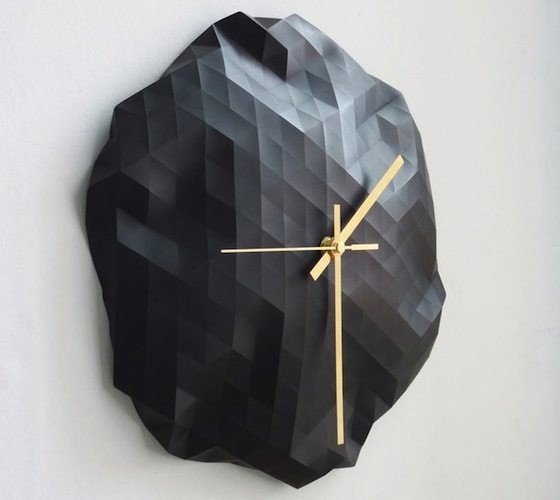 Original wall clock in contemporary style. It is mounted on resin shield and finished with gold tips. Suitable for residential and commercial premises. Modern design for each room.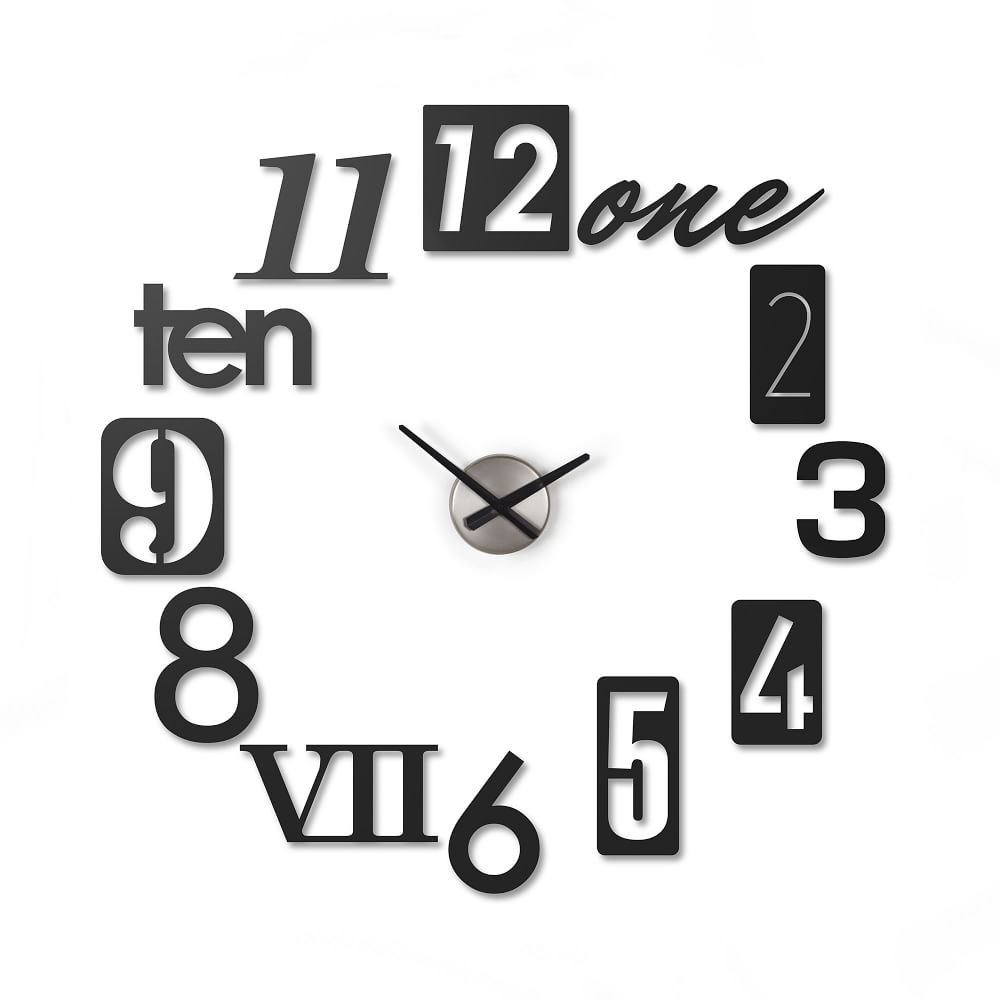 1960's Advertising Campbell Soup Clock | From a unique collection of antique and modern wall clocks at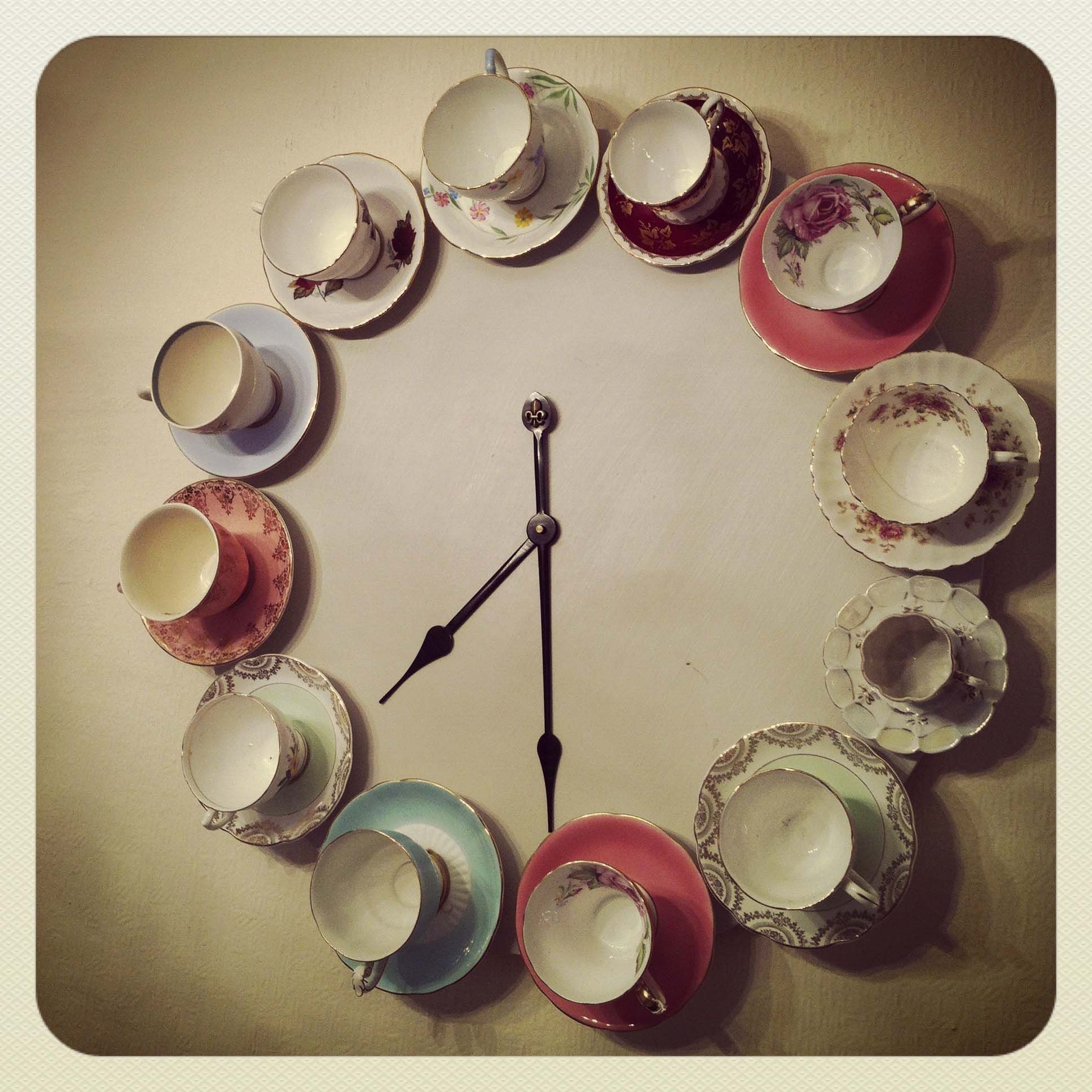 And what if our time measured out cups of tea? They do not even have to be full, although repairs green Japanese tea is good for health. This porcelain, pastel cups with stands attached to the wall, form a unique kitchen wall clock, with black clock hands.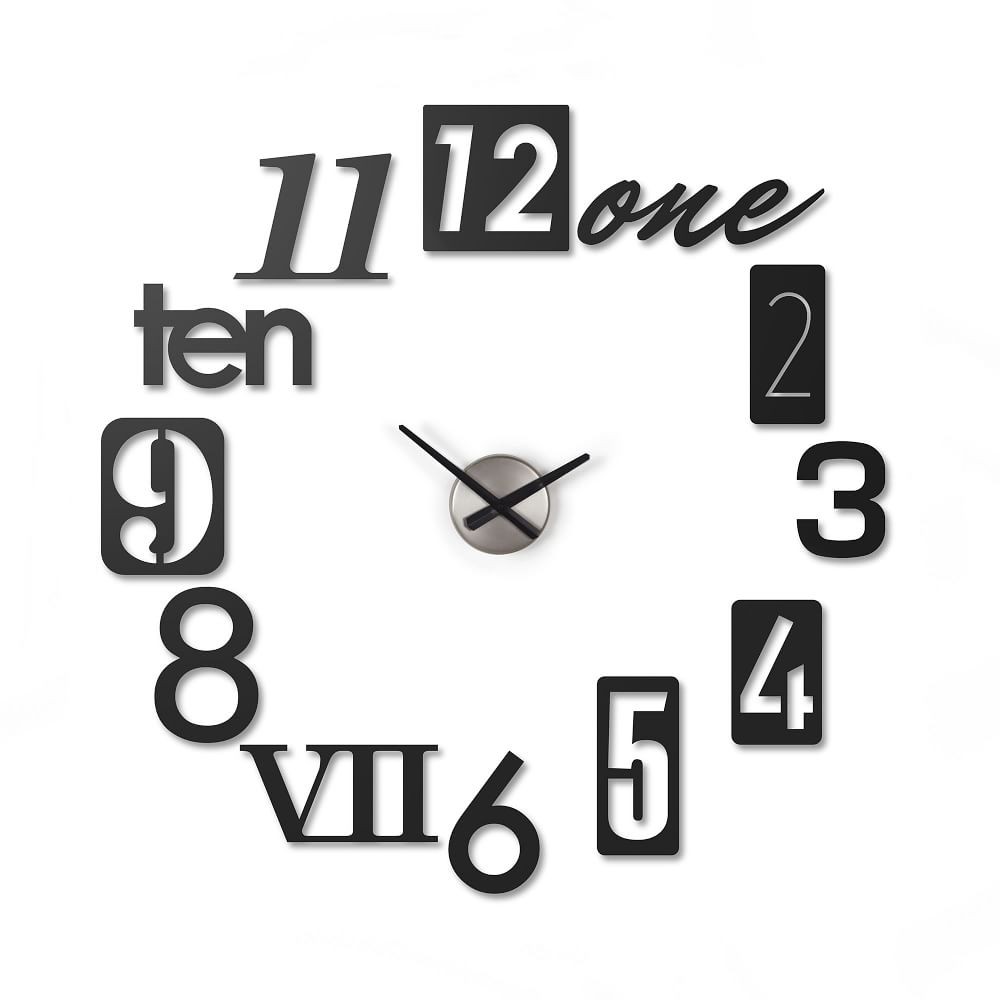 Add a stylish clock to your dorm wall.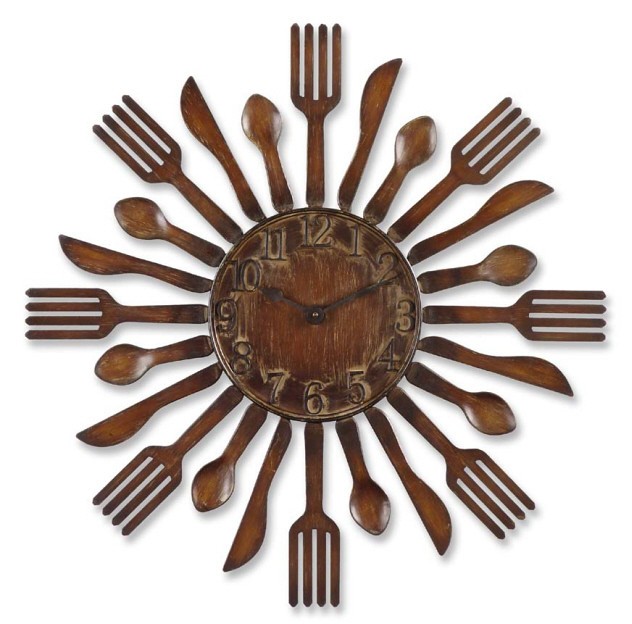 barcelona daily photo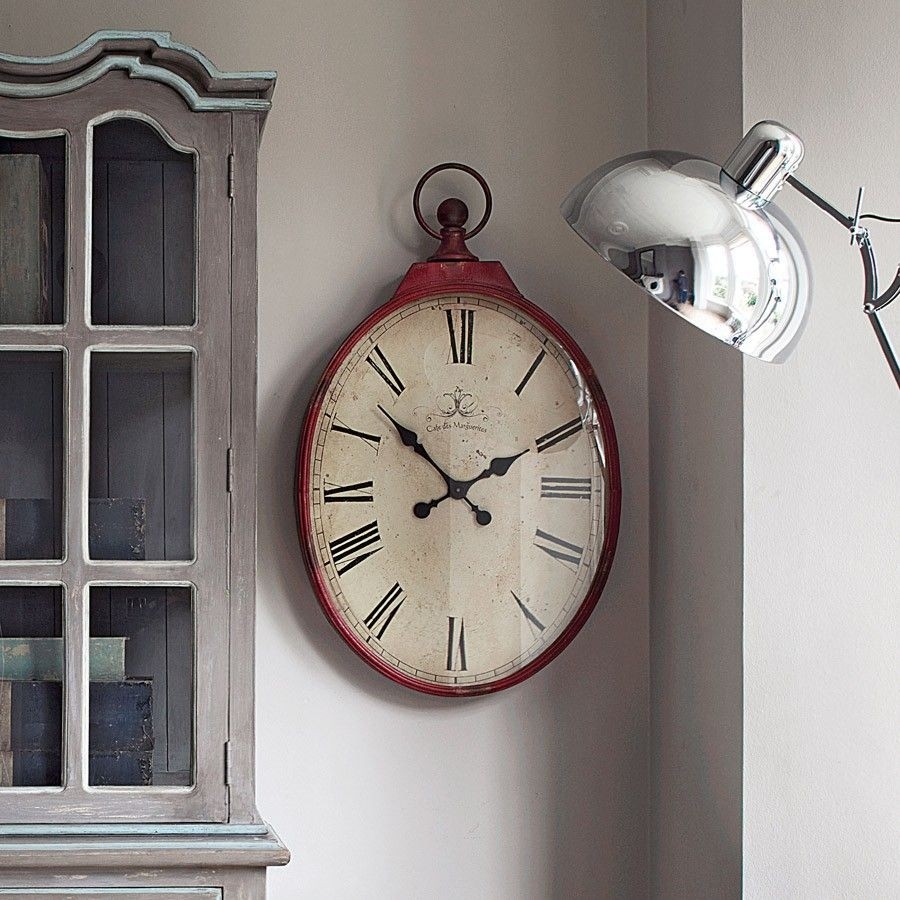 The unique and exclusive wall clock for the kitchen makes the interior a unique climate. Oval shape in retro styling brings a unique atmosphere thanks to the beautiful red frame and roman numerals on the clock face.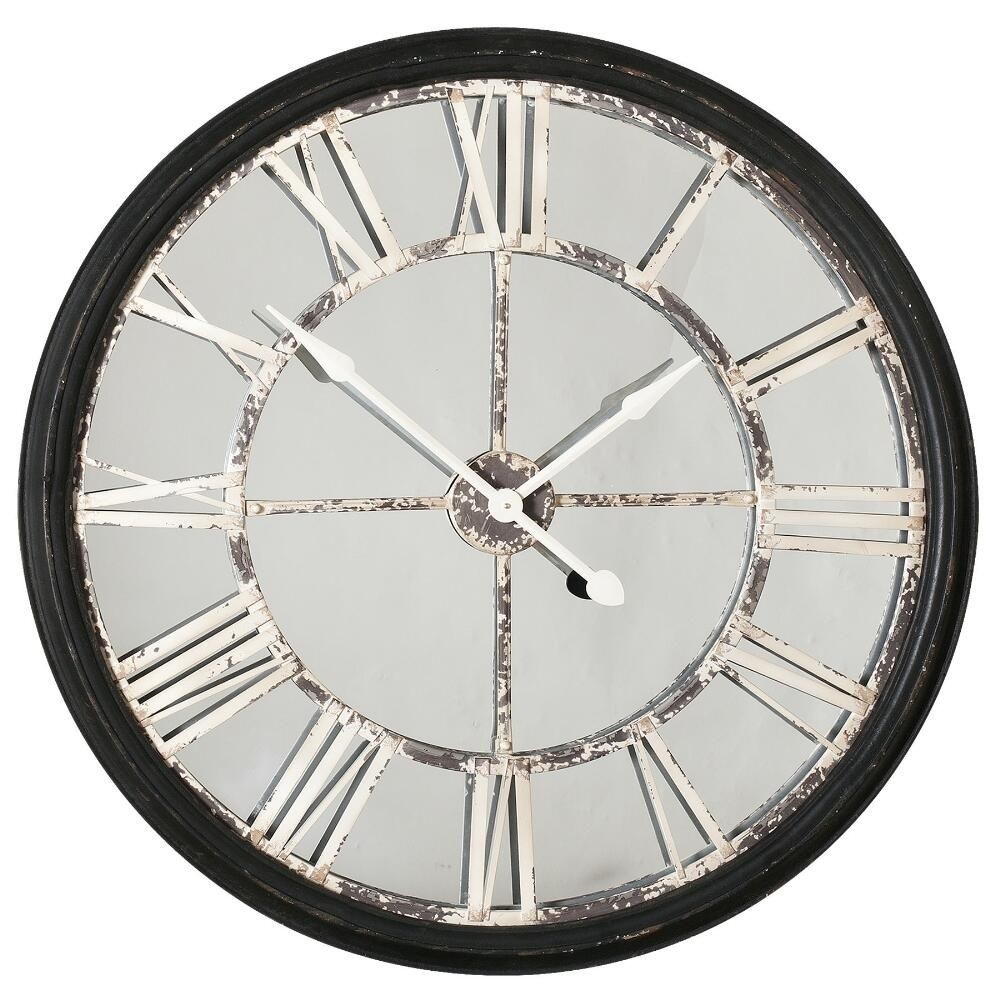 The Echo Wall Clock from Urban Barn is a unique home décor item. Urban Barn carries a variety of New Accents and other New furnishings.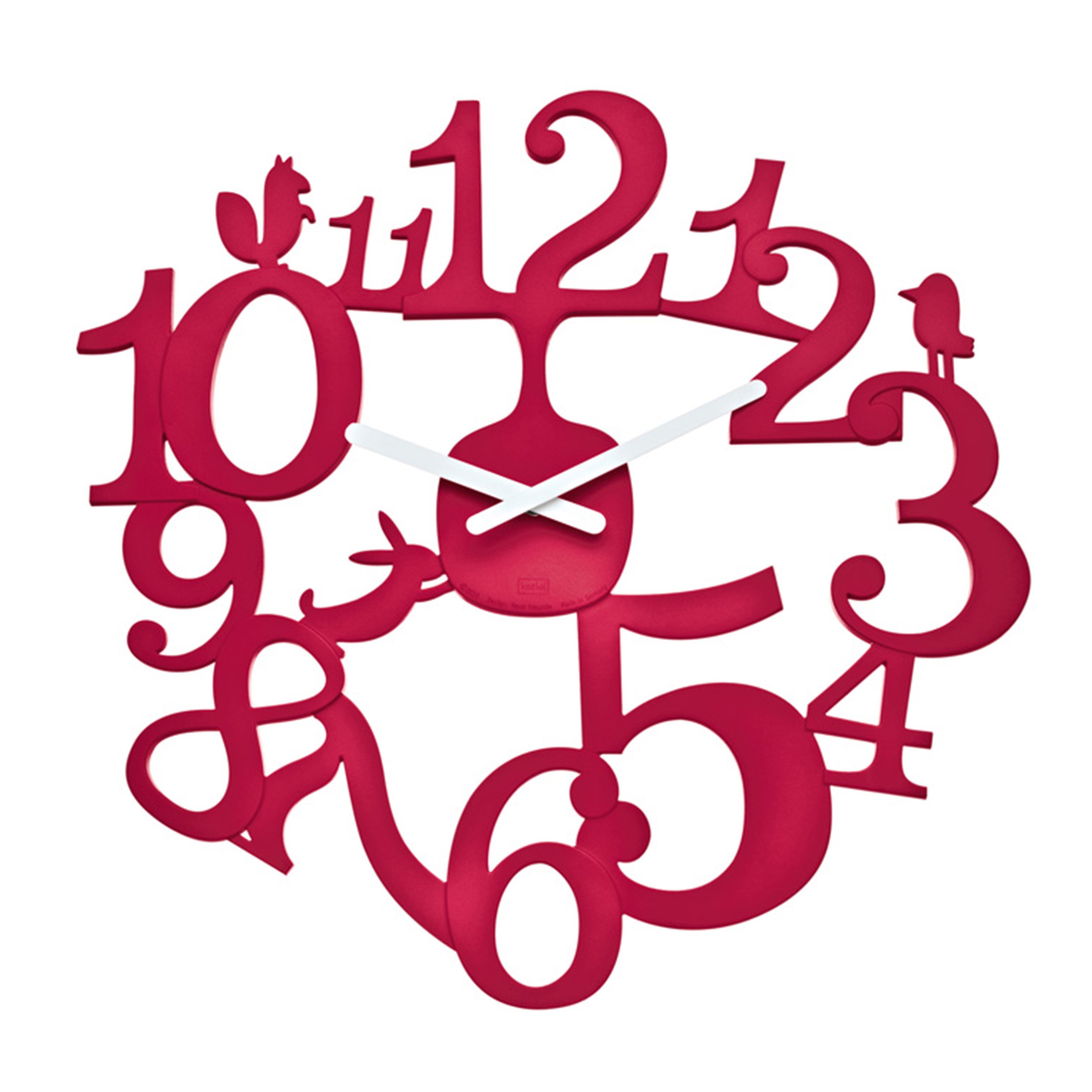 PI:P Clock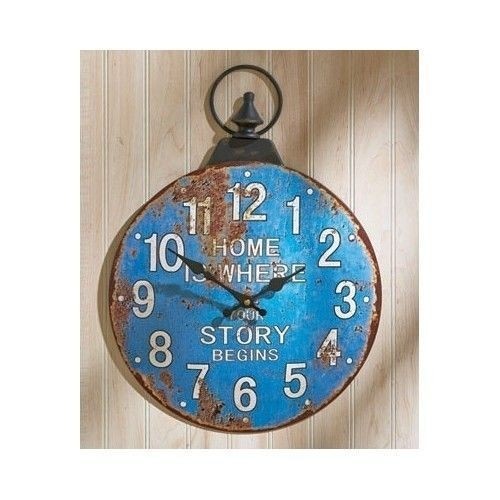 Not only will fit into the industrial interior thanks to artificially stylized rust with a characteristic red color. It also fits into the Marianist climate thanks to the blue color of this circular simple dial of unique kitchen wall clock.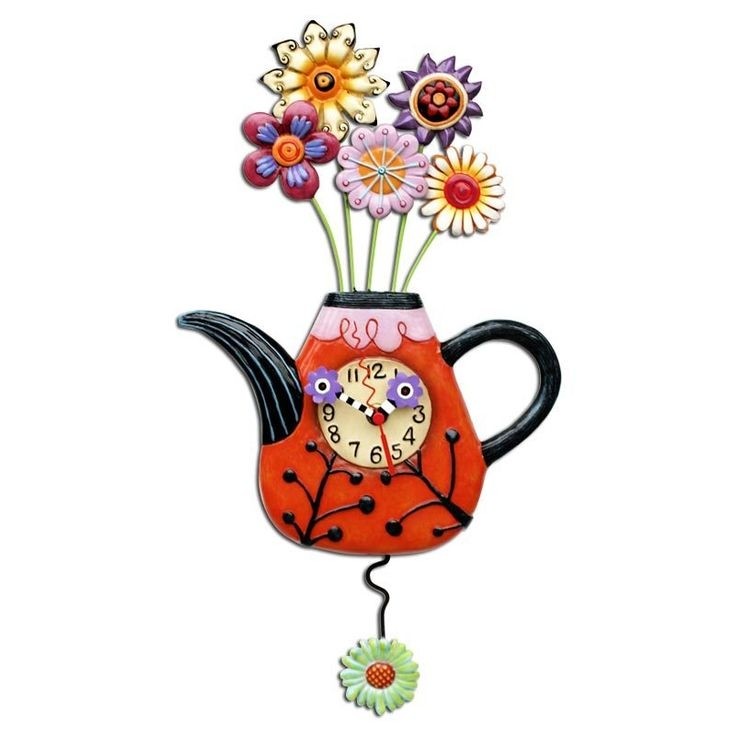 Search more about Unique Wall Clocks – Ageless Timepiece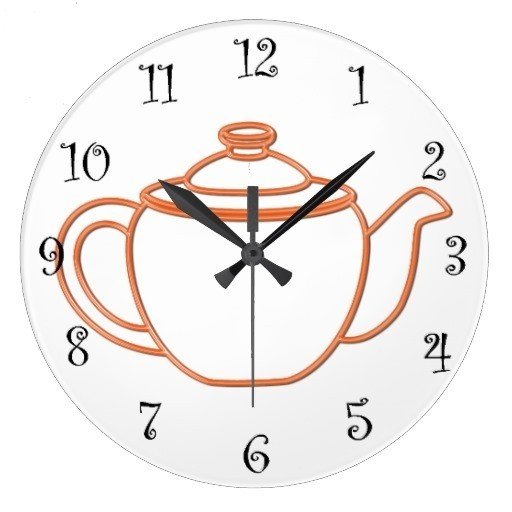 This amazing kitchen wall clock will work wonders for your dining area thanks to the charming pot in the middle of its face and the unassuming yet fun design with quirky lettering and contrasting finish.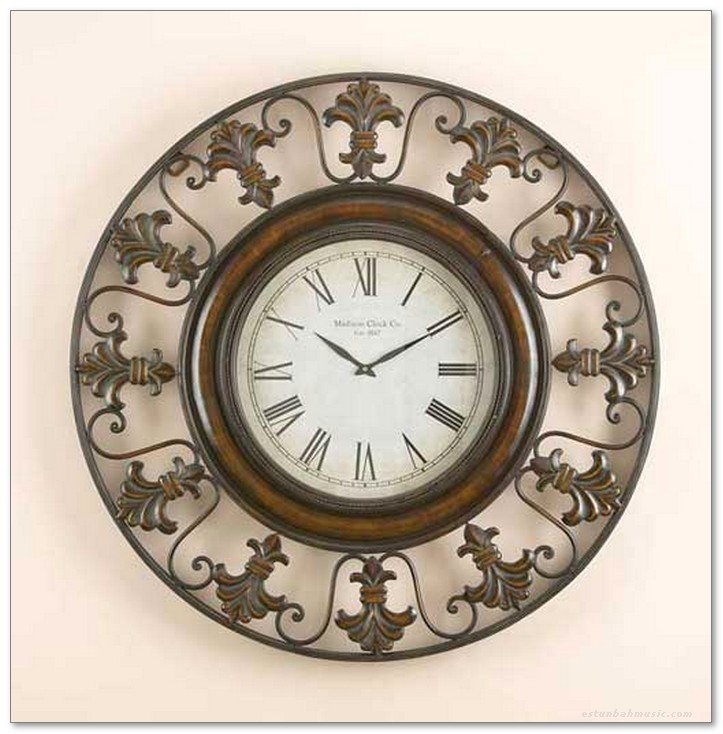 Fine Looking Decorative Wall Clocks Kitchen Decorative Large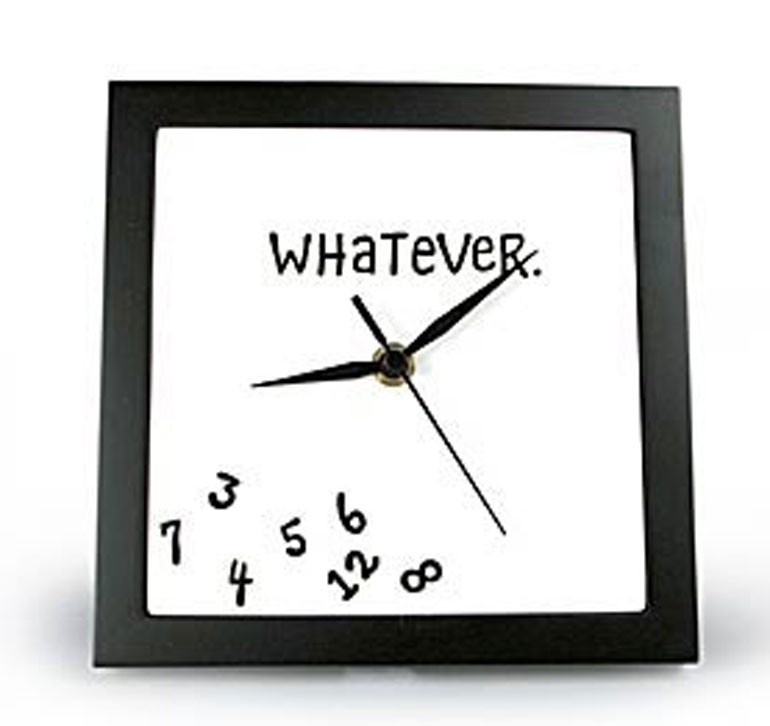 This is a very functional and decorative element used on walls. It has got a square frame and a solid construction. Its original design is perfect for people who love modern and unique elements in their houses.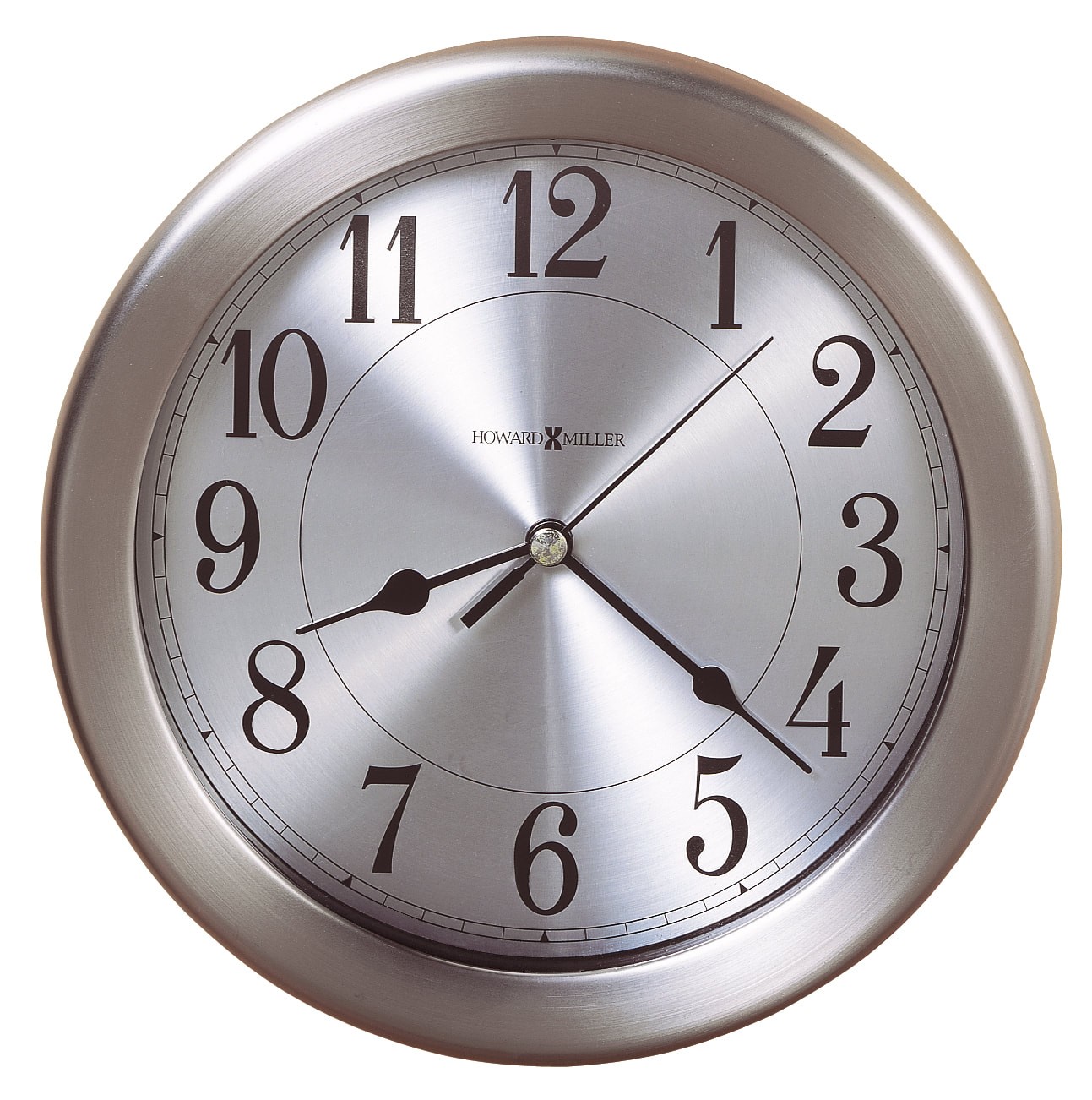 A very reliable, convenient and attractive element. It is a wall clock that has got a round shape. Its case is made of solid metal with a burnished nickel finish, so it also looks very attractive in any decor.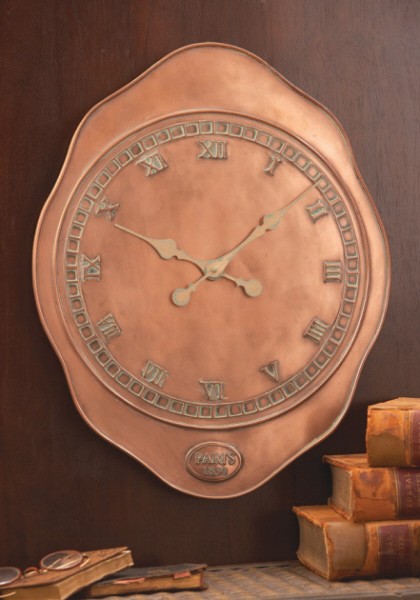 A classic 12'' wall clock, suitable for contemporary interiors such as homes, schools, and offices. Has a well-polished copper case, and a white dial with golden Arabic numerals, golden hands and a matching second hand.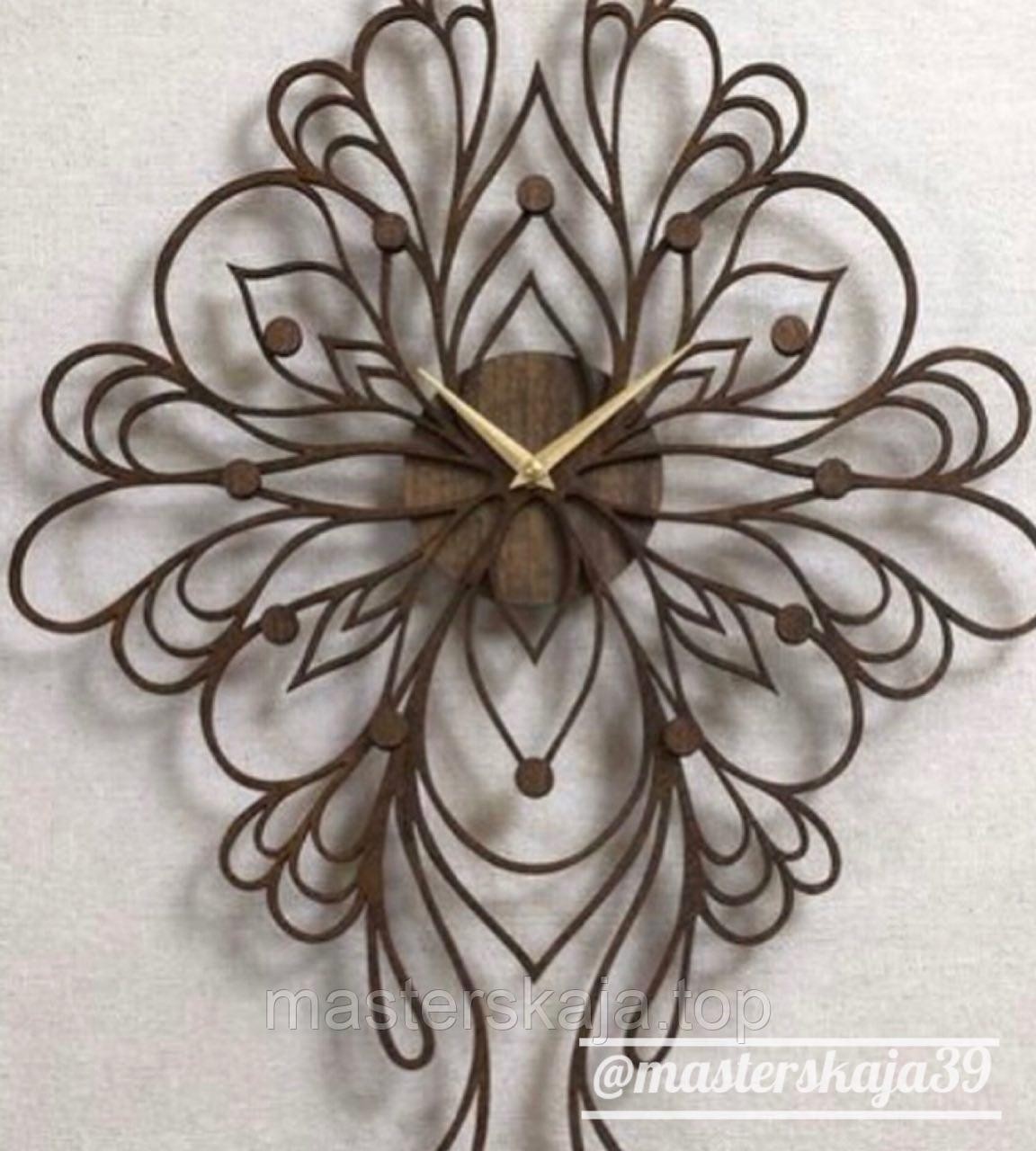 Sophia Clock. Laser Cut Wood Wall Clock. by SarahMimoClocks, $160.00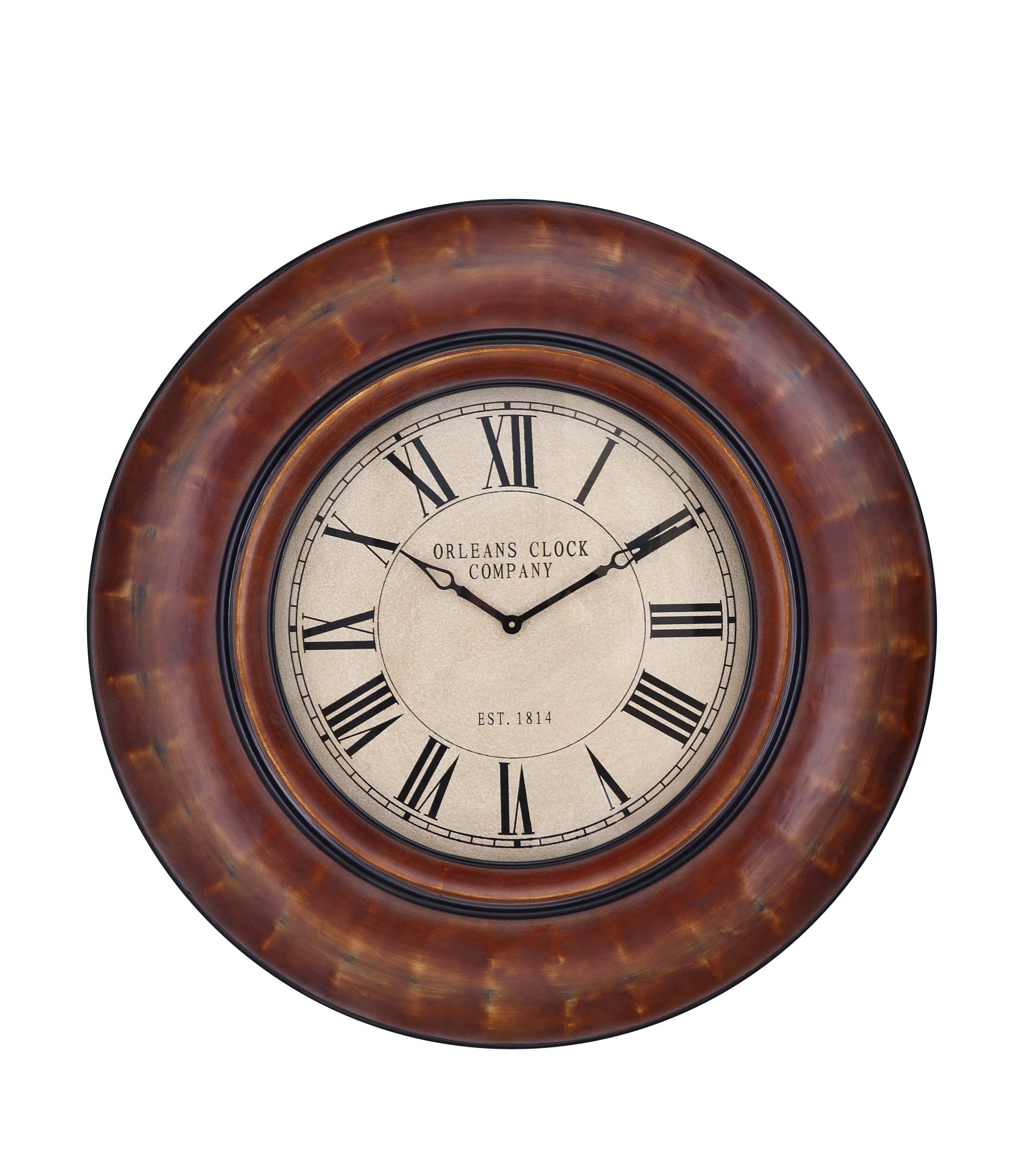 Vintage wall clock in thick, convex auburn brown frame with distressed two-toned finish. The dial has ivory background, black Roman numerals and elegant black spade hands, plus a logo of 19th century clock manufacturing company.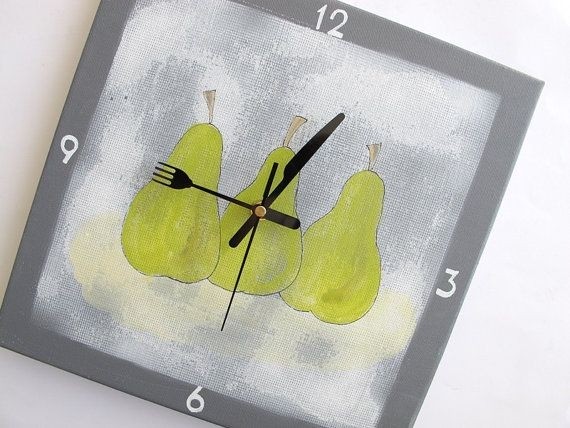 Kitchen clock- Unique Grey wall clock with 3 green pears white numbers ...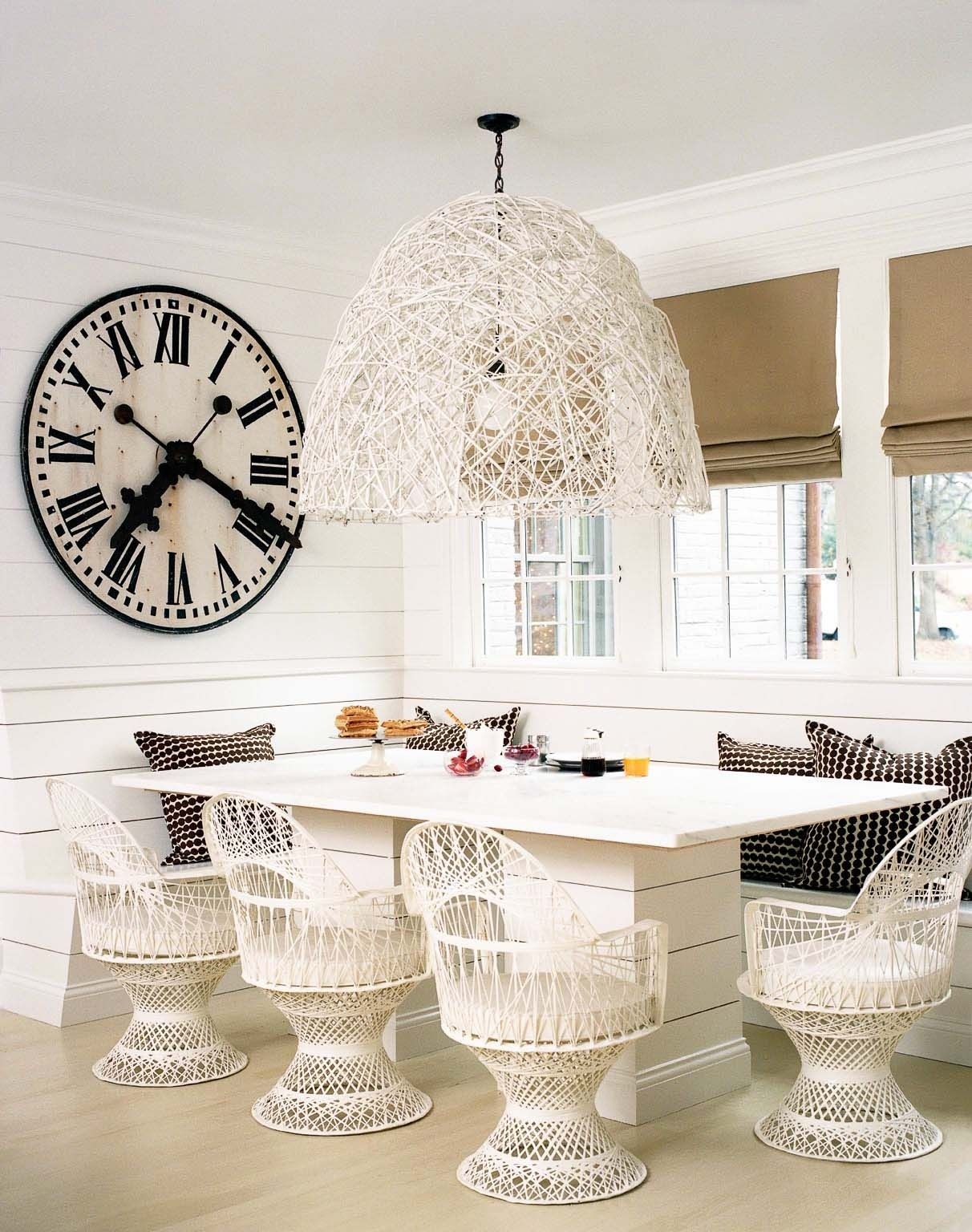 Happy people do not count the time? Why not! With such a unique kitchen wall clock! This oversized clock has a huge dial in beige tinted shades, and black Roman numbers and black clockwises. It brings a bit rustic character.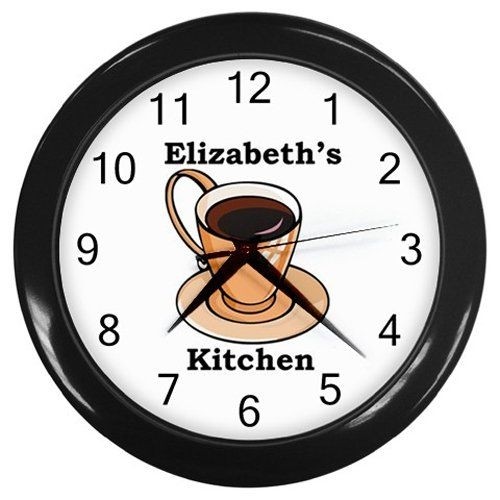 This custom made personalized kitchen wall clock features a coffee cup ...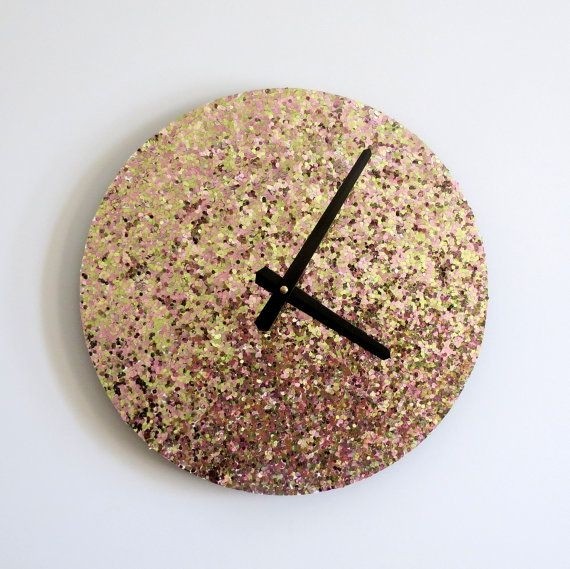 Retro Wall Clock, Gold and Pink Glitter Clock, Glitter, Home and Living, Decor & Housewares, Living Room Decor, Unique Gift Idea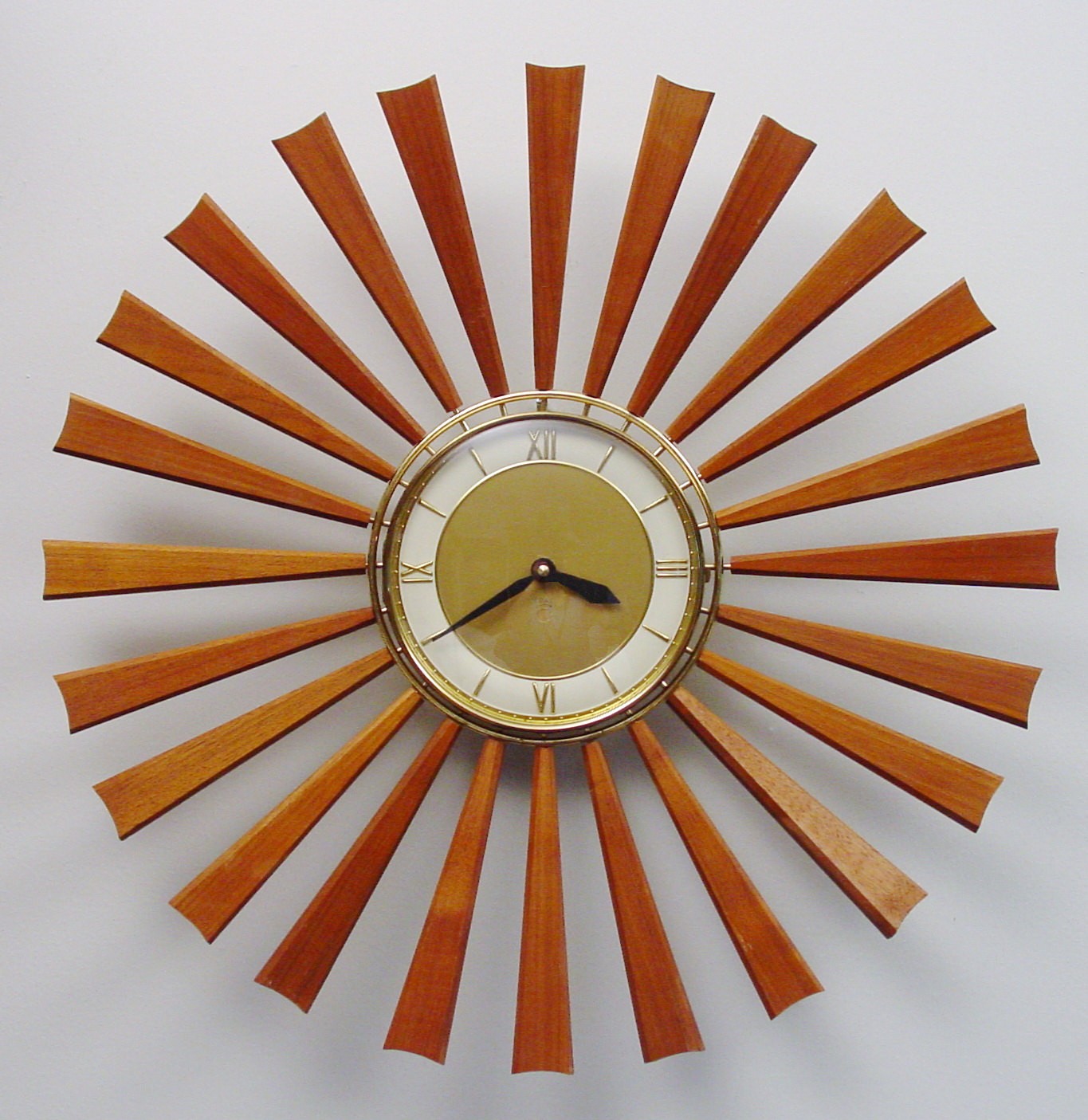 Midcentury Modern Starburst Clock, 24 Teak Rays, Atomic Wall Clock, Sunburst Design. $225.00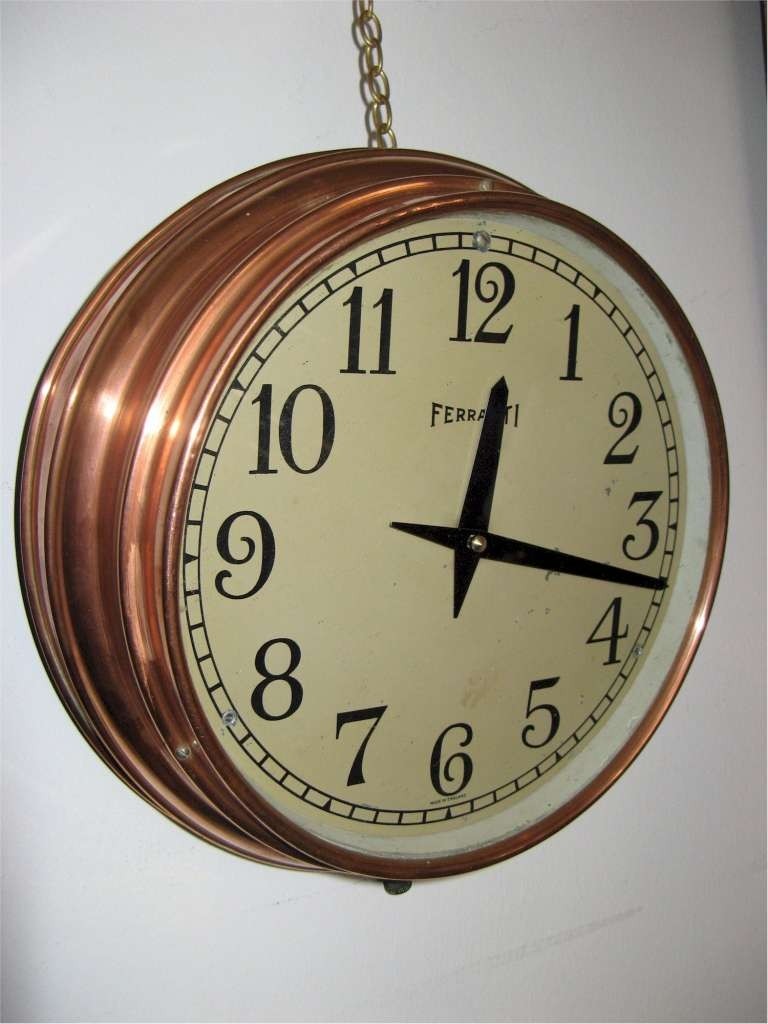 This time, time will be measured by a watchmaker's art master, copper wall clock in a copper frame, in its natural color. He comes to us from the 50s of the twentieth century and evidently refers to the art deco style.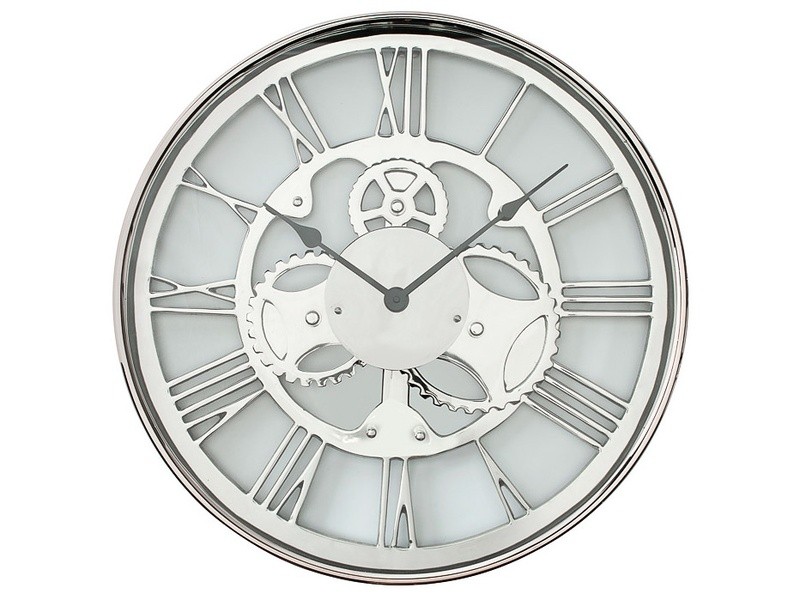 I am definitely an enthusiast of the modern style clocks, which also catch some tradition of its roots. Made of stainless steel and glass. This wallclock flirts with steampunk style, but it is style elegant and not weird.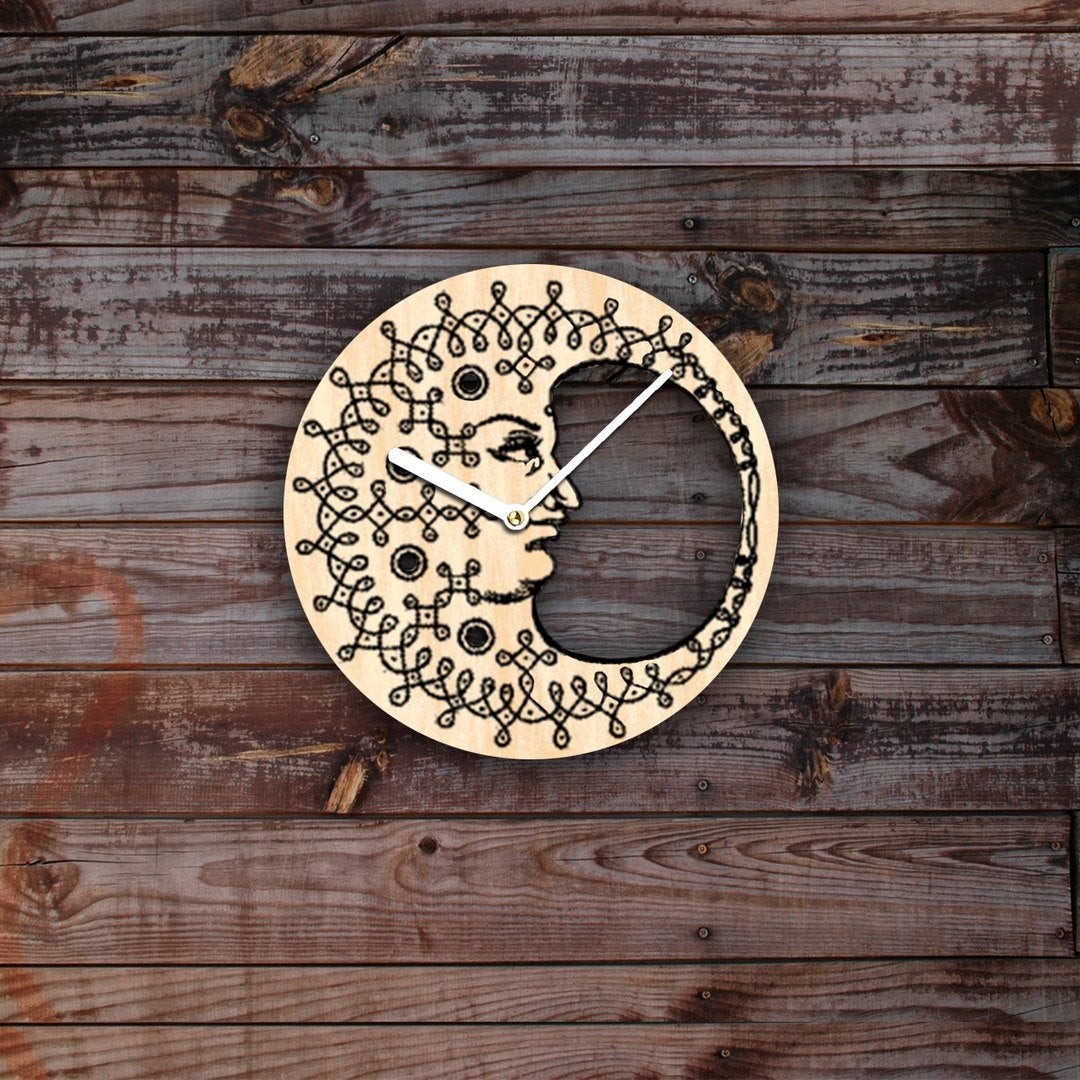 Wall clock moon decorative clock kitchen clock unique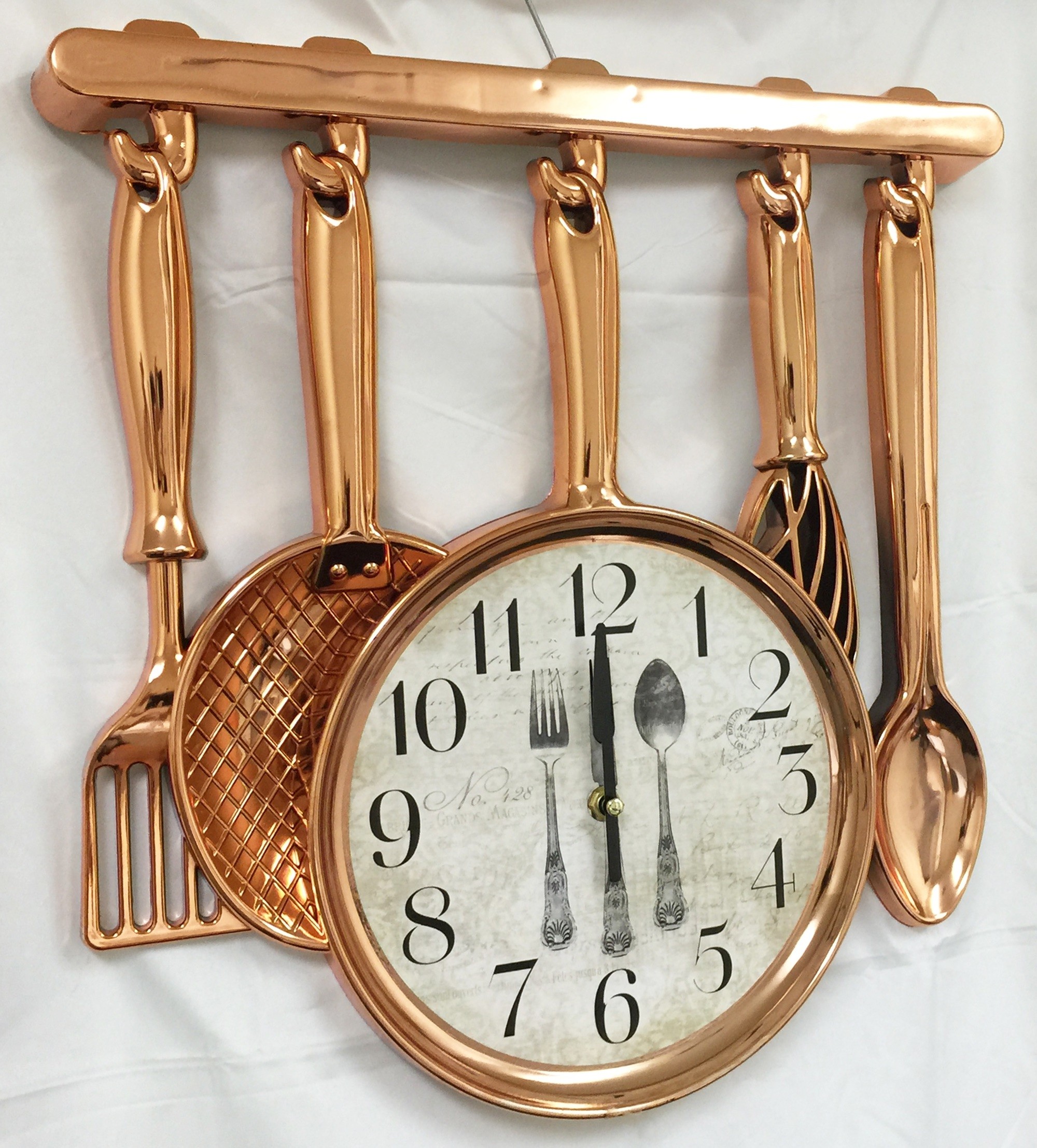 Creative Motion Industries Kitchen Clock in Copper Color ...