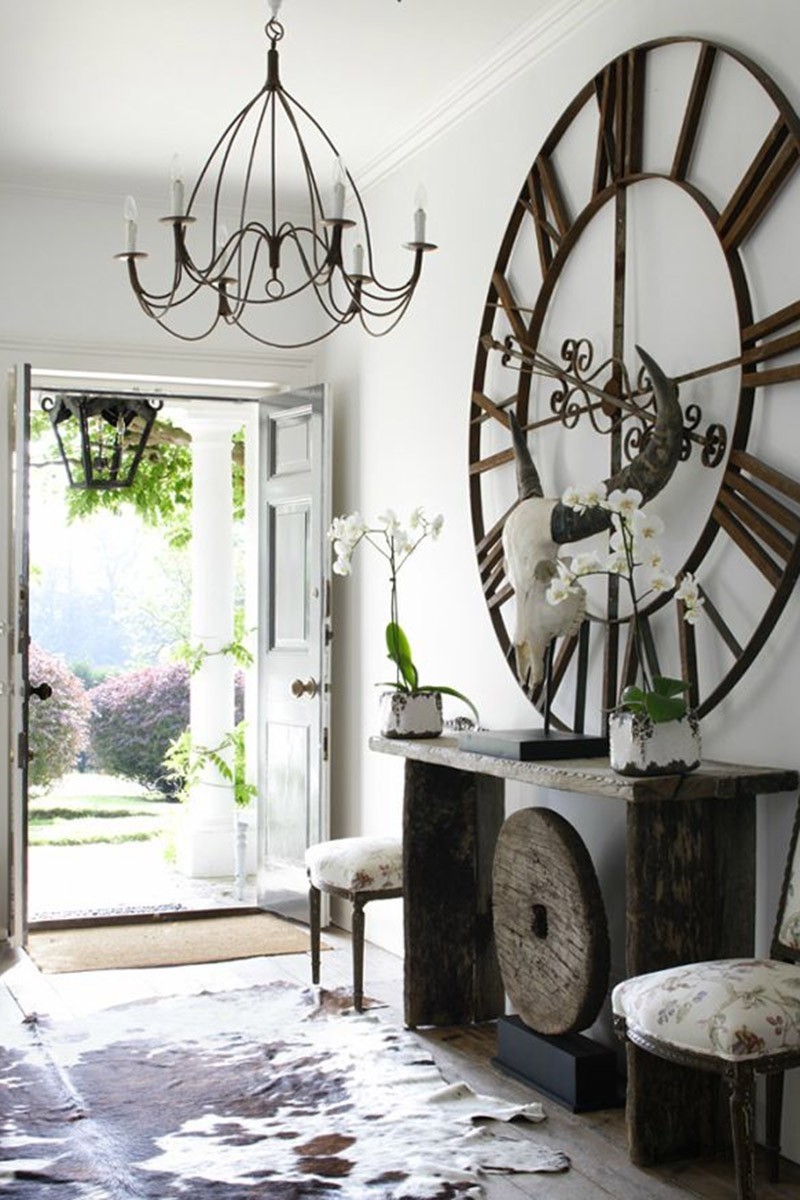 If you want to both be able to tell time and create a one of a kind and original look in your interior then this wall clock is the way to go with its extremely large face and a vintage, distressed look.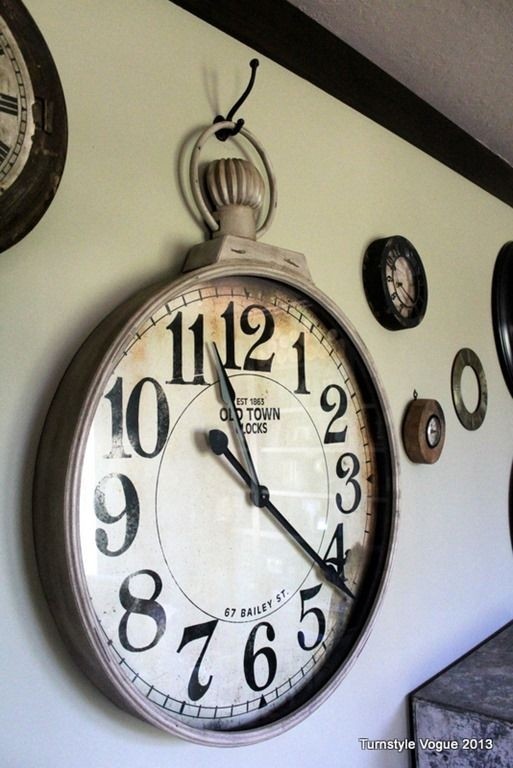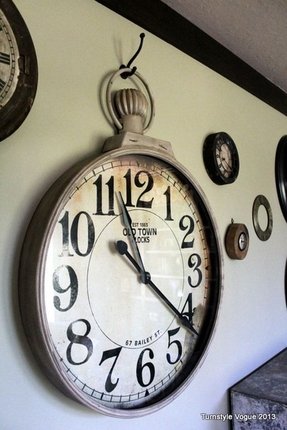 This exceptionally impressive wall clock is a unique detail that will beautifully emphasize the character of the decor. The large and very impressive dial, beautiful and large Arabic numerals make the whole is expressive and unique.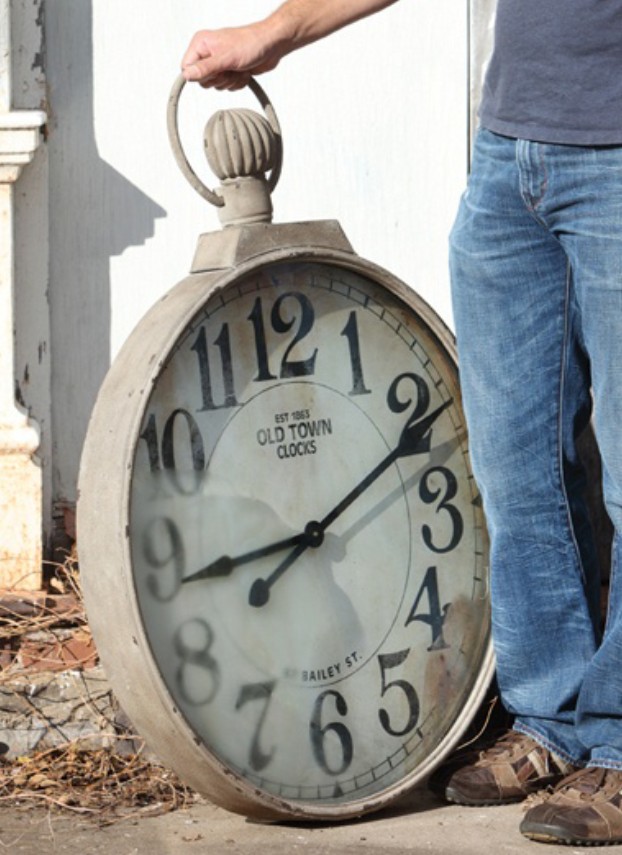 Giant wall clock with antique finish. Round shield has shape of pocket clock. It is fitted with Arabic numeral. Suitable for residential and commercial premises. Sophisticated wall decoration in all kinds of interiors.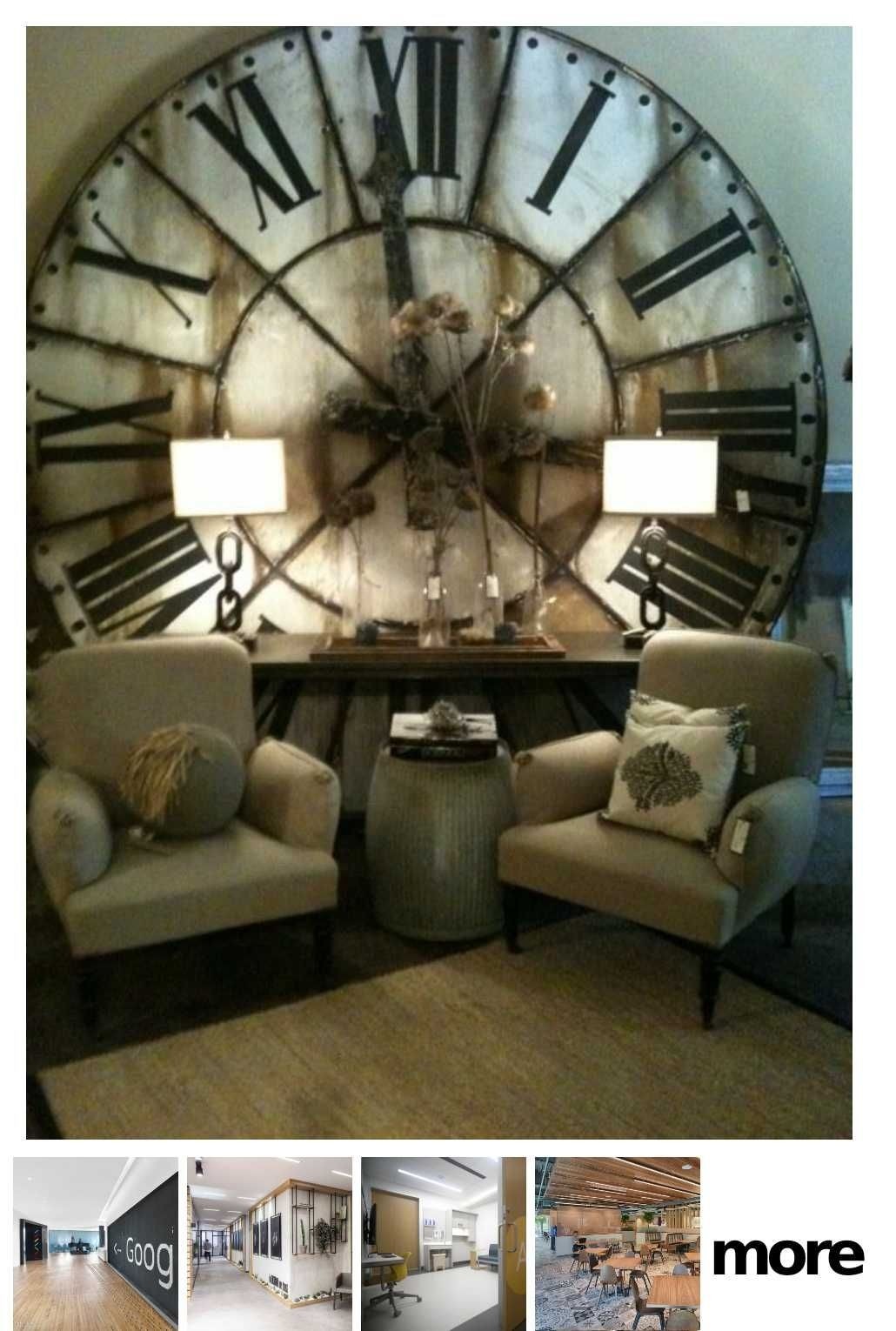 This big vintage wall clock, dramatic and beautiful at the same time is for sure a piece of furniture, that you cannot just pass by. It will enhance your house with some intriguing character.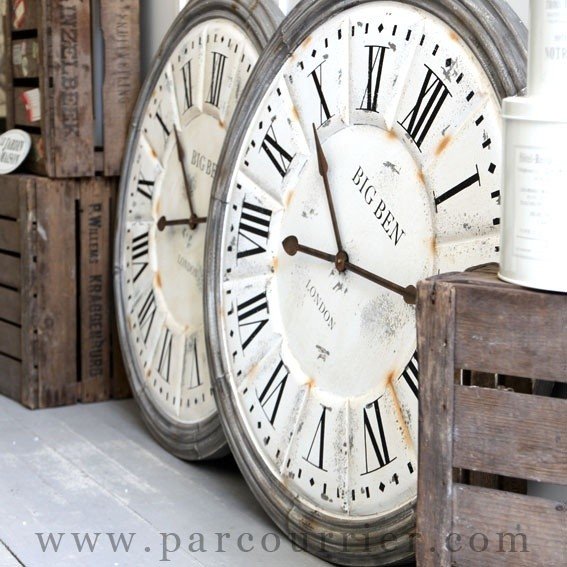 A huge wall clock in a vintage design. It's been distressed to get a more natural and old-fashioned look. The dial features large Roman numerals and Big Ben and London writing. It can be hung outdoors or indoors.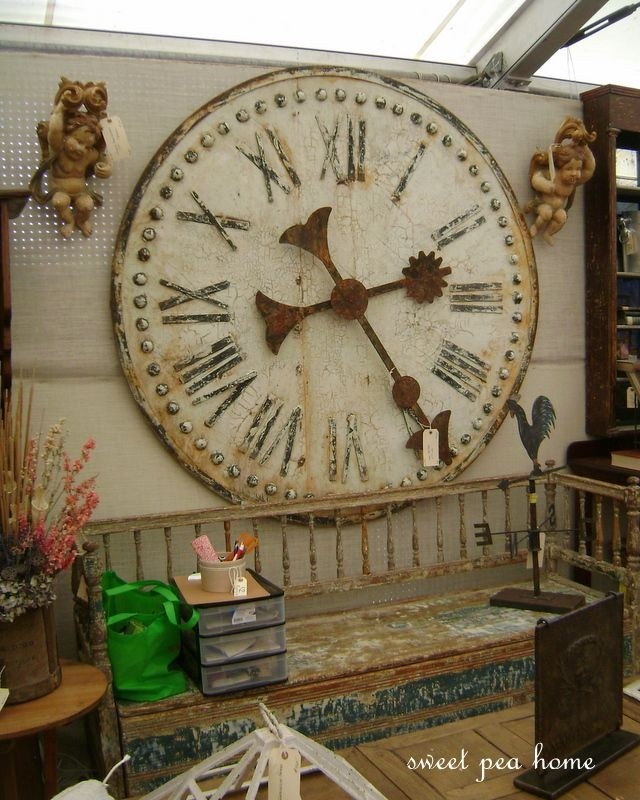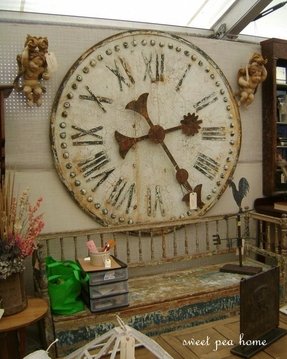 Unique extra-large wall vintage clock with metallic arms and roman numbers. The clock also has a unique white backdrop that compliments the rest of the accent pieces. Its rounded shape and extra touches of rounded metal accents make it the perfect choice for your farmhouse or vintage-inspired décor.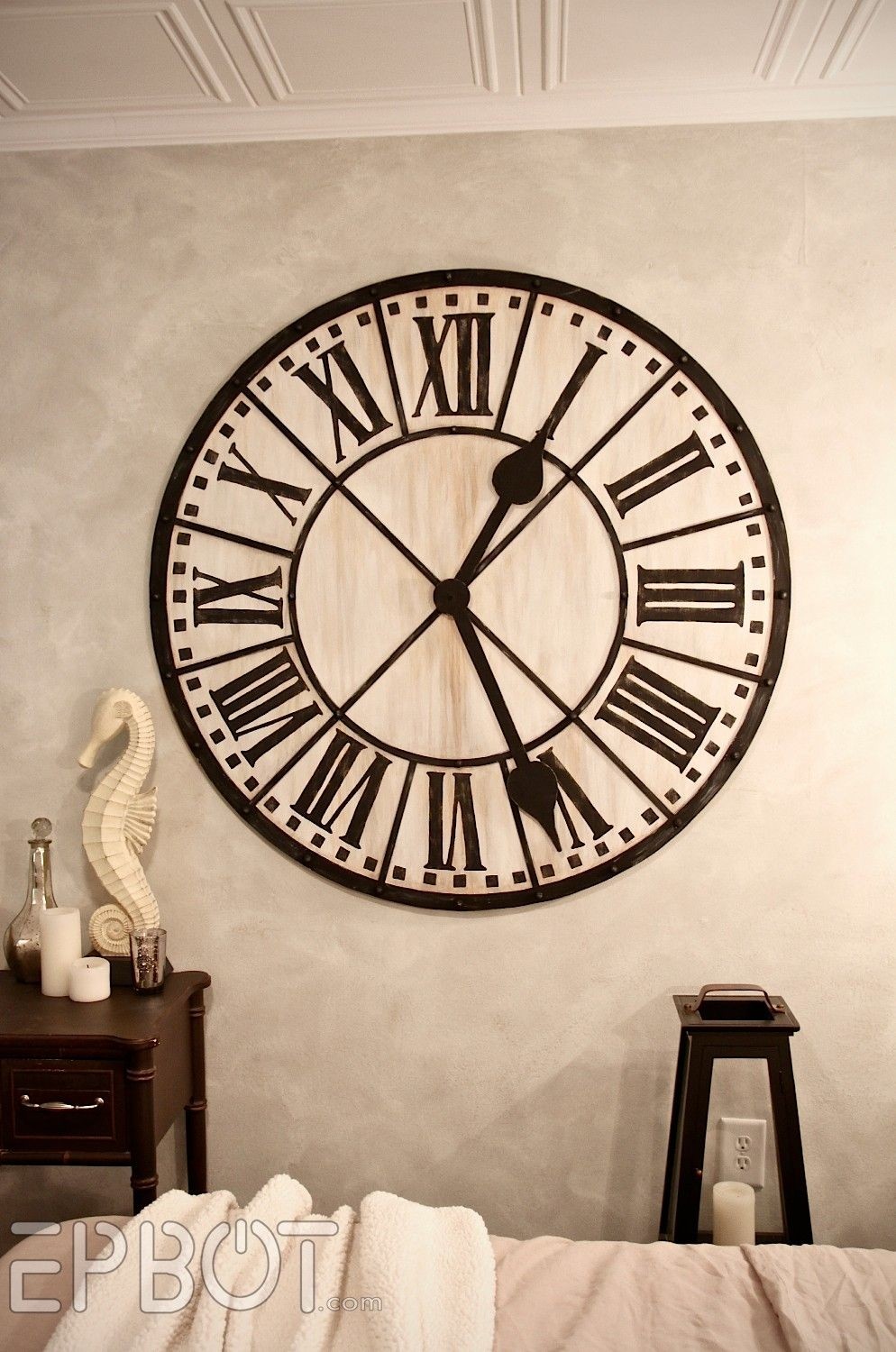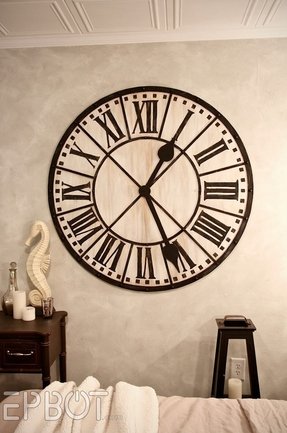 Giant wall clock in vintage style. Circular shield is made of wood and fitted with Roman numeral. Sophisticated decoration for any interior according to taste.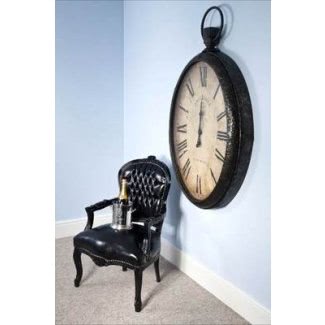 An enormous decorative vintage style wall clock looking like a round classic pocket watch. It has a black casing and a clear glass. It has a white-weathered dial with black both Roman numerals and 2 hands.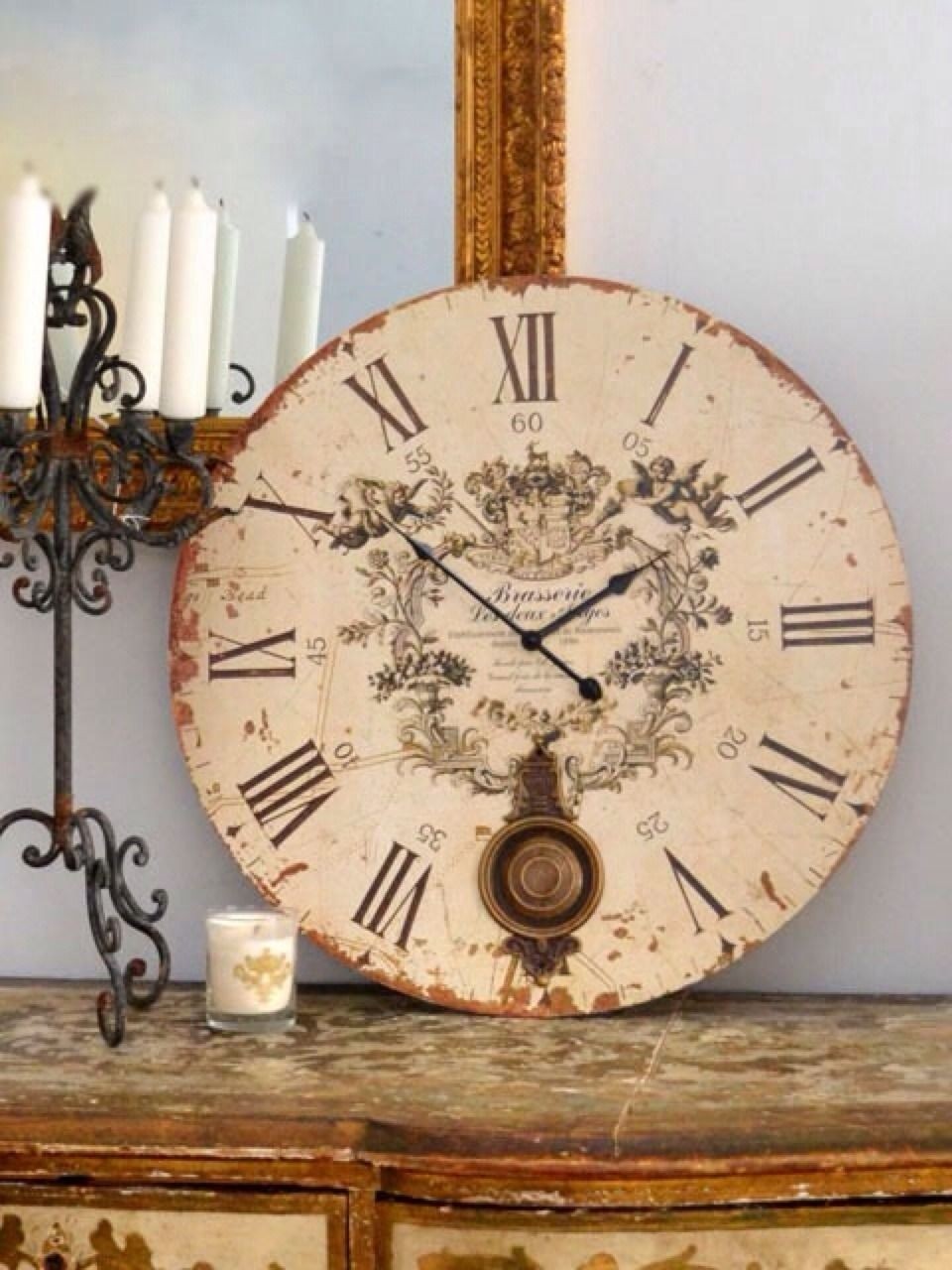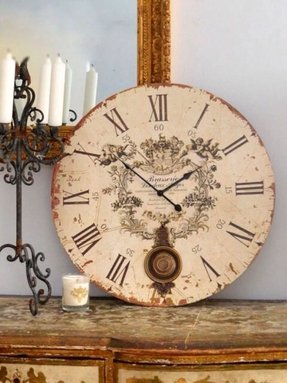 Giant wall clock in vintage style. Round shield is made of wood with antique finish and decorated with sophisticated pattern. It has quartz movement and Roman numeral. Elegant design for each room.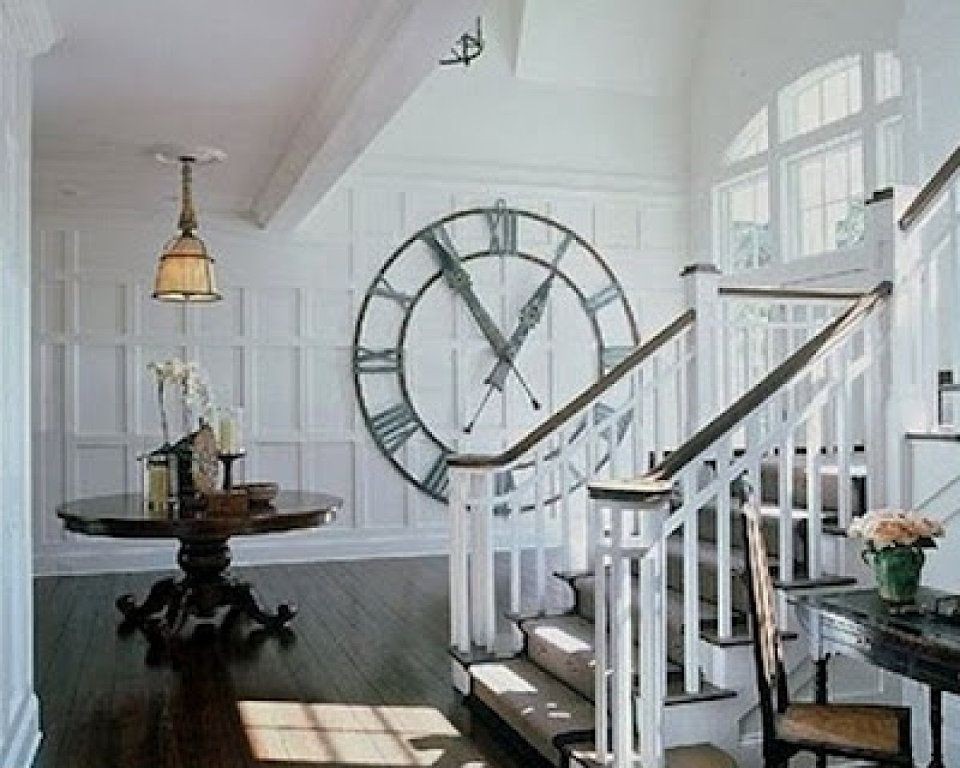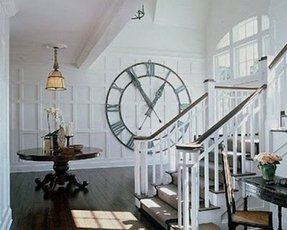 Love that clock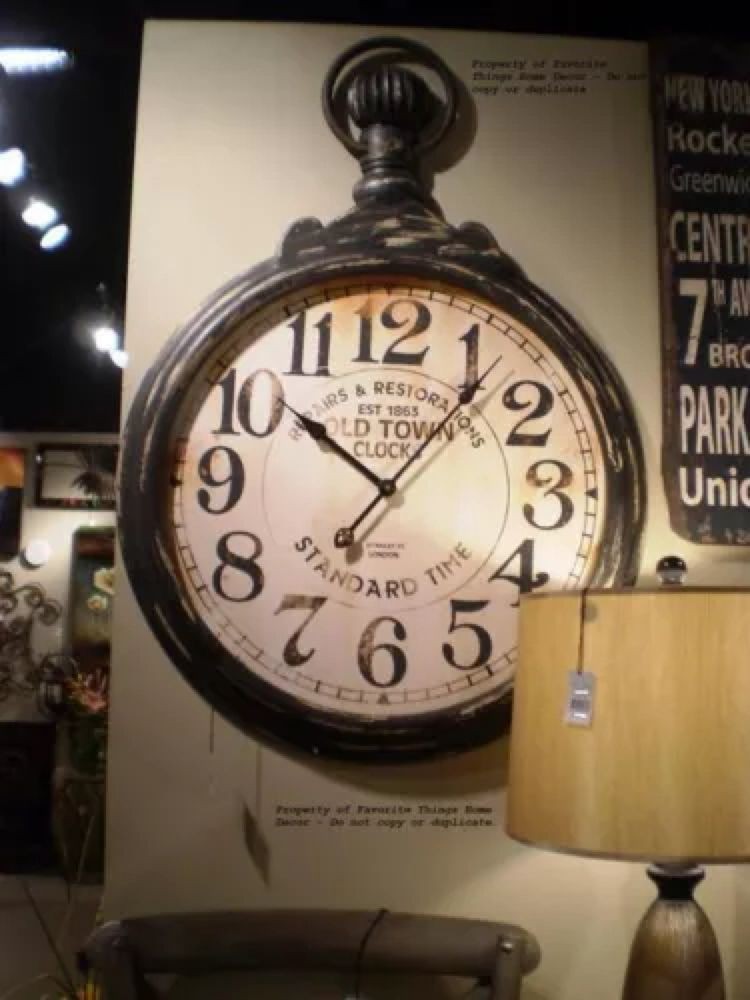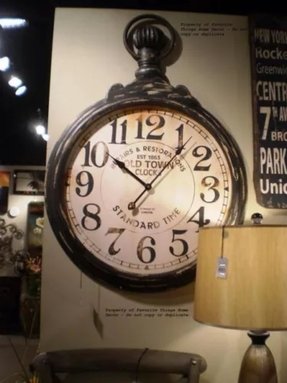 Designed in shape of a regular pocket watch, this vintage wall clock can be a splendid piece for making your home more old-fashion. It has a weathered, white, round dial with Arabic numerals, which is embedded in a round, wooden frame.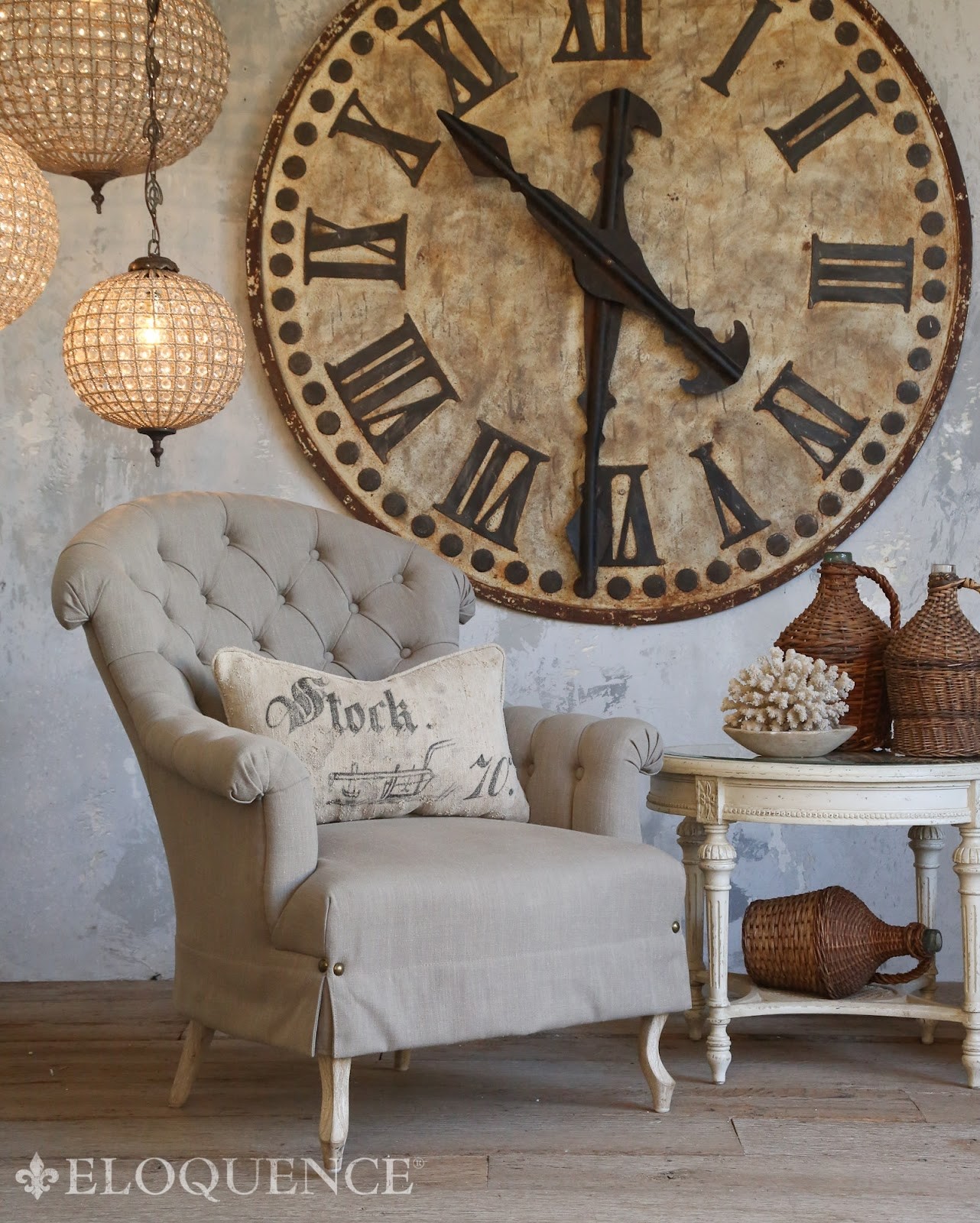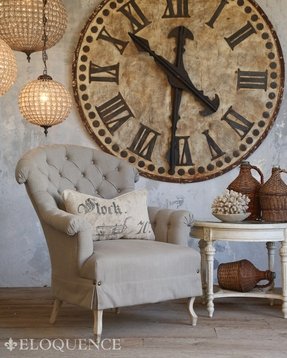 If you are looking for cool, retro accents to your house, this oversized wall clock with roman numerals will serve this role perfectly. Its distressed look conceals a perfect condition, owed mainly to the high-quality mechanism.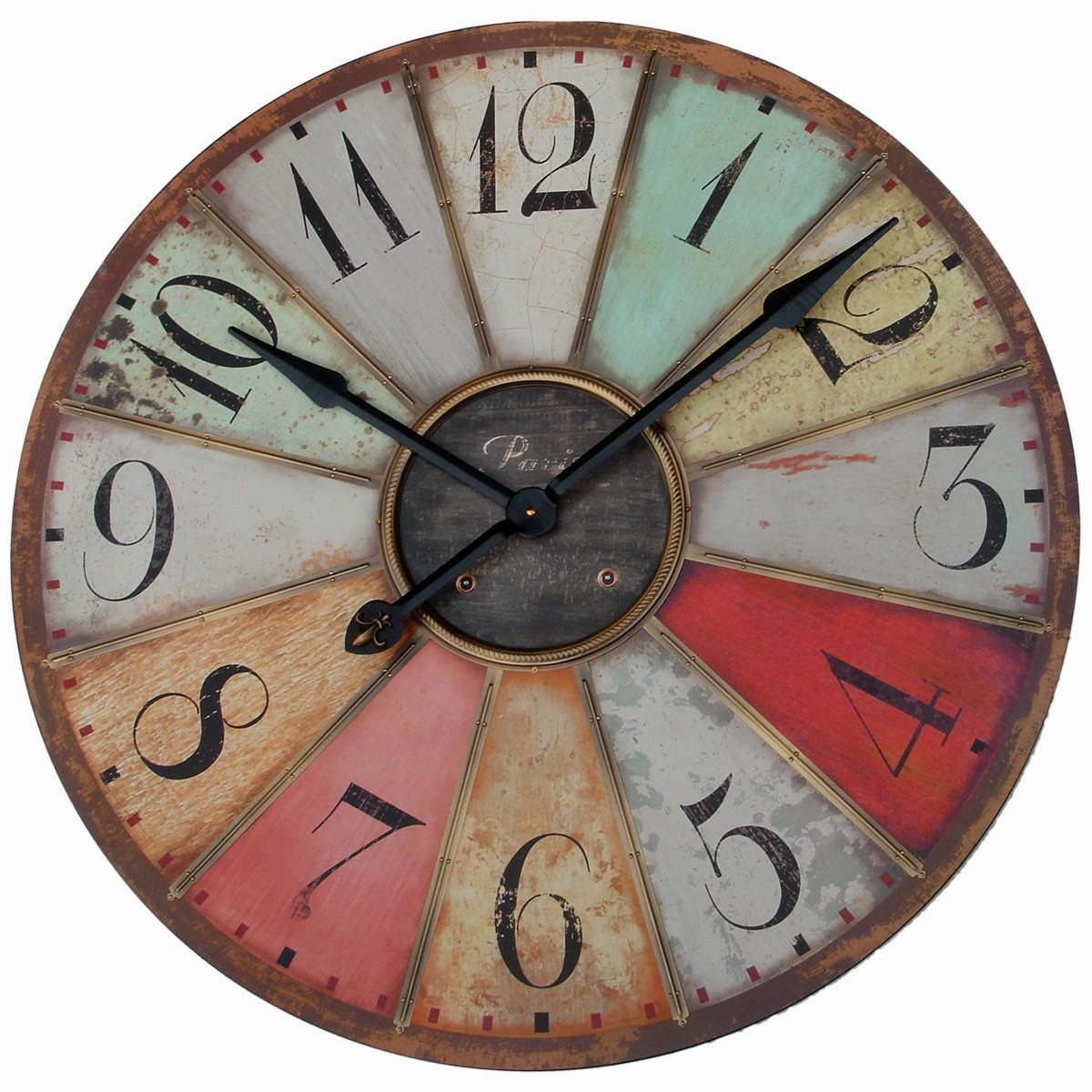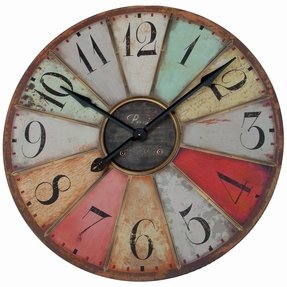 Vintage wall clock with multicolour face - each number has a different colour of the background it is printed on. The clock attracts the attention with outstanding design, mixing new and old, and distressed finish.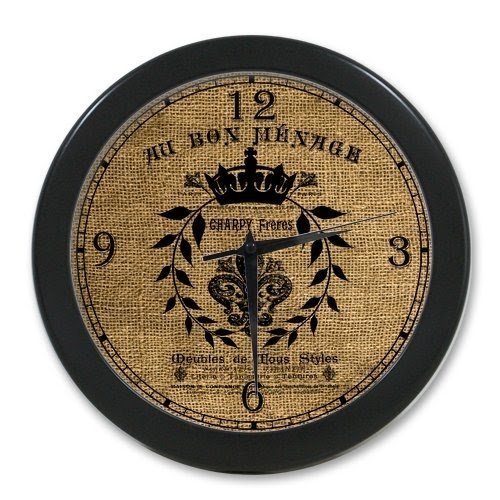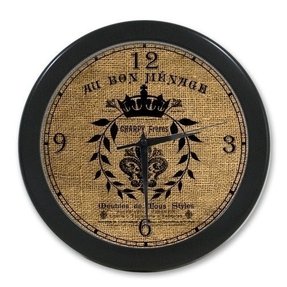 Strongly inspired by vintage findings, this wall clock provides a beautiful accent in a traditional themed setting. What's interesting about its design is the burlap background of its face, printed in black details.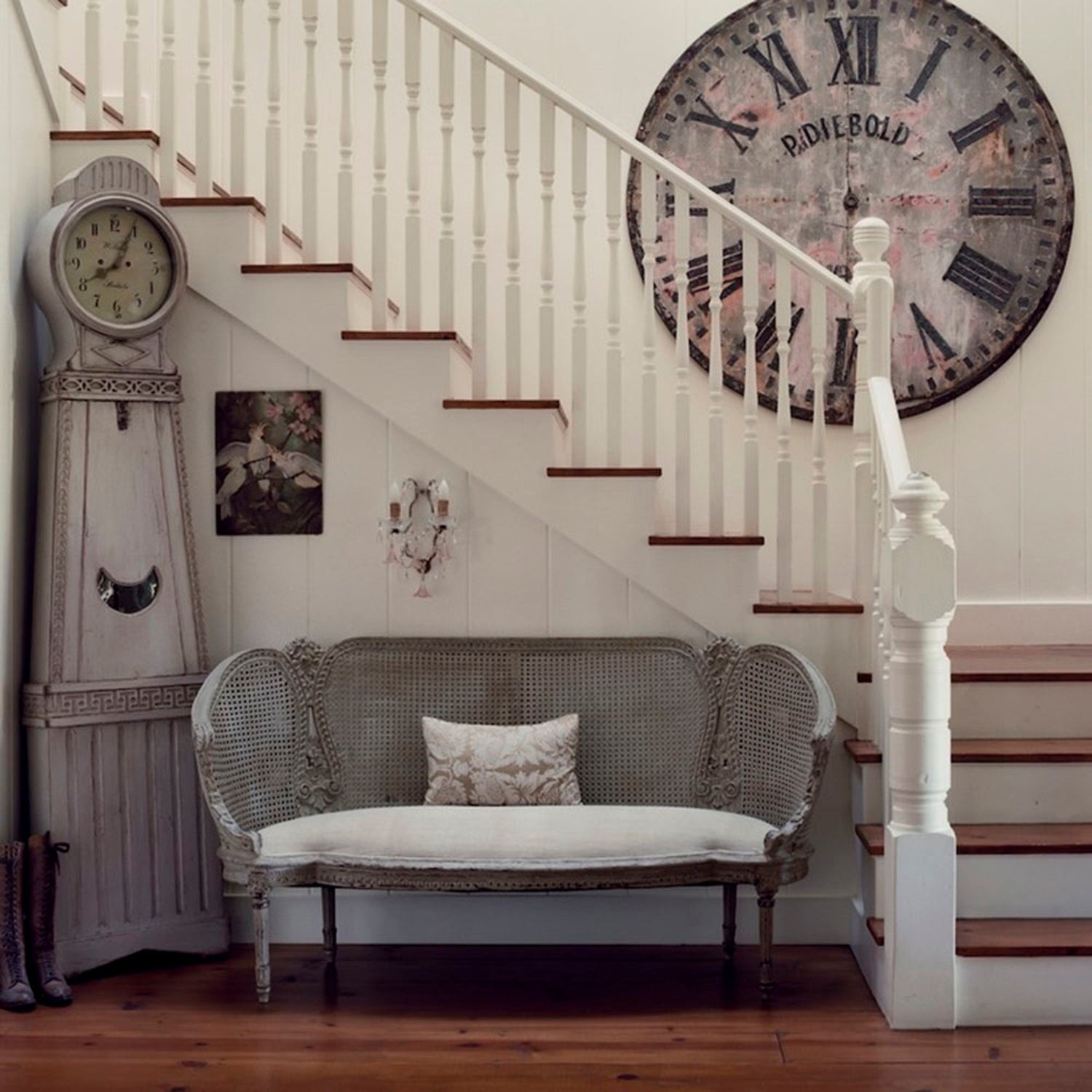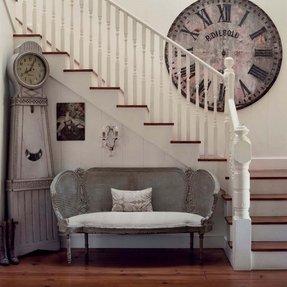 European Stairs Deign with Big Retro Wall Clock as Decorations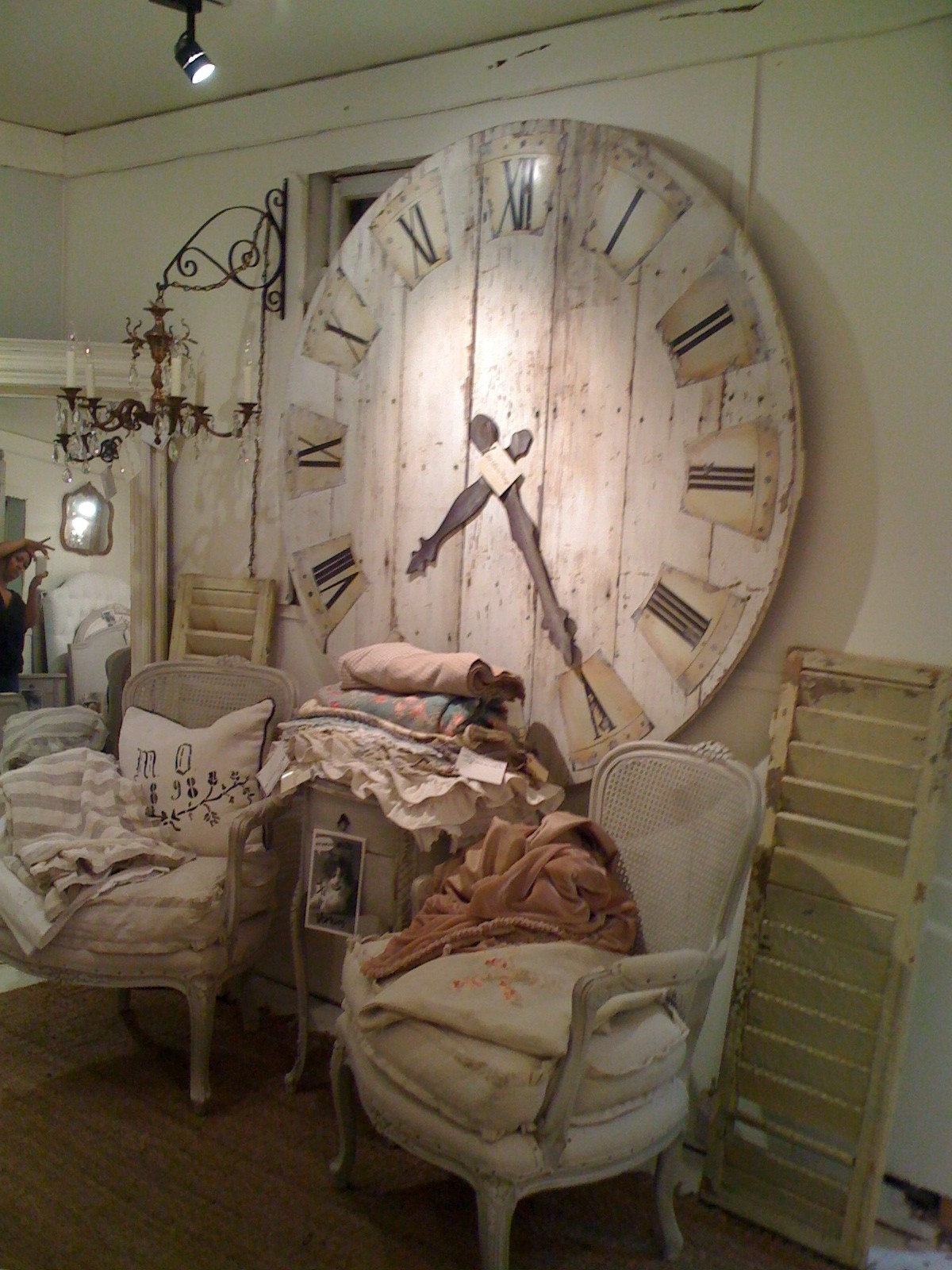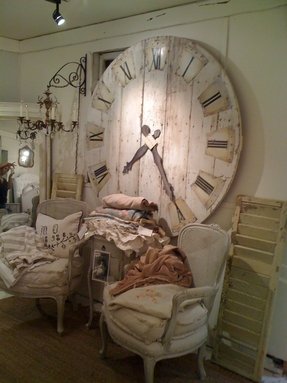 Add a vintage, lovely and romantic touch to your home with the giant round wall clock. The wooden structure looks incredible in beige interior. It features Roman numerals and solid finish.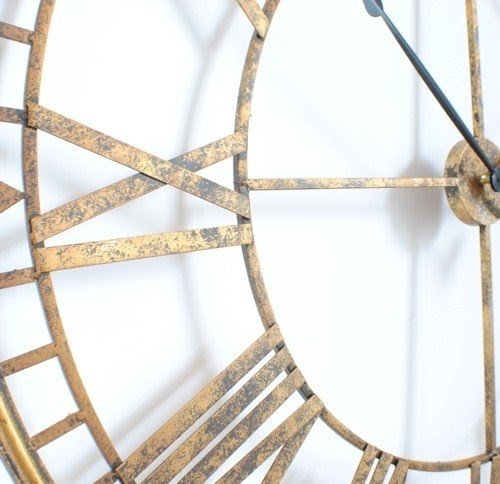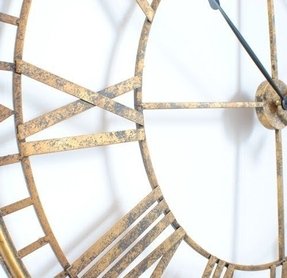 Being a real bargain for all vintage or retro enthusiasts, this large gold skeleton wall clock with Roman numerals will create an eye-catching accent in your living room or bedroom space.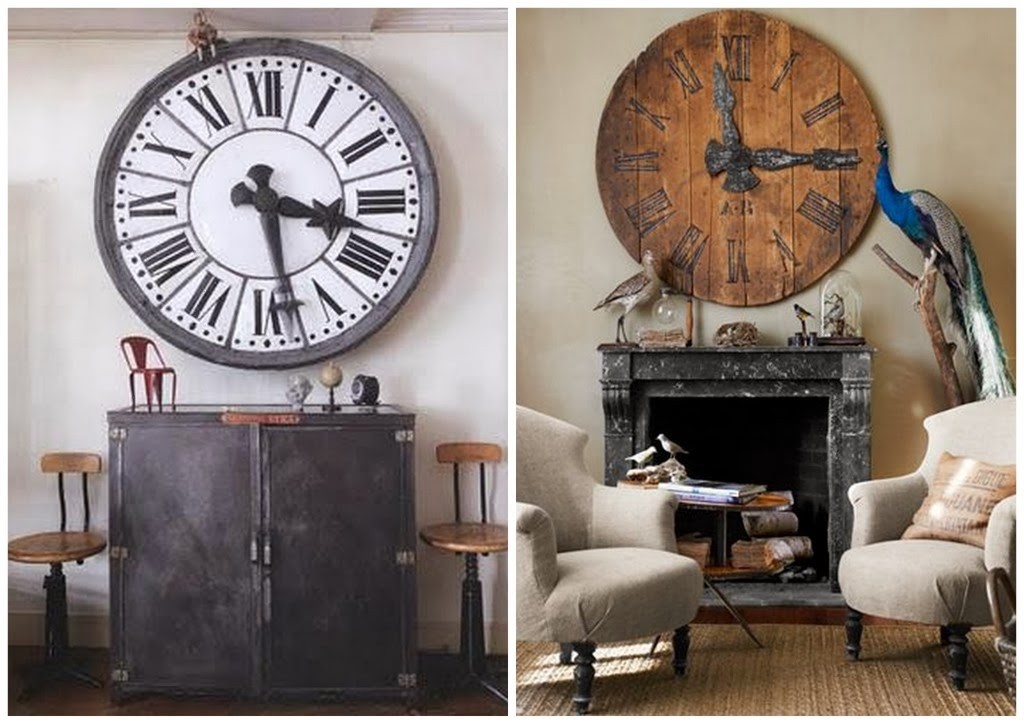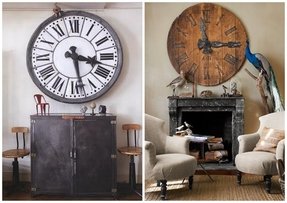 Cabinet in industrial style. It is made of metal and fitted with double doors. Suitable for storing clothes and others needed stuff. Application in all kinds of interiors according to taste and need.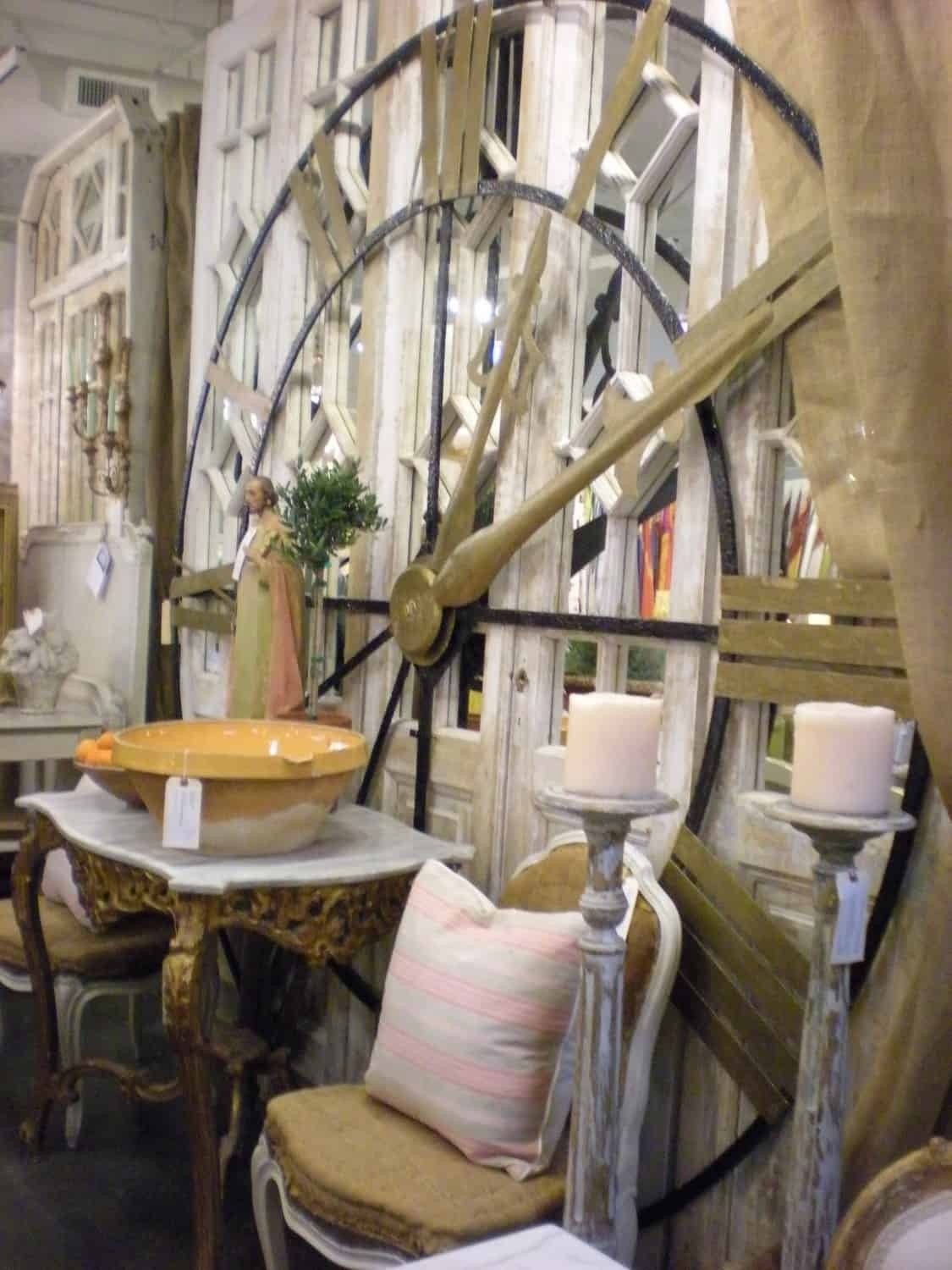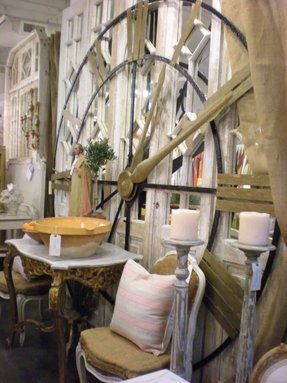 window panes in background act as room divider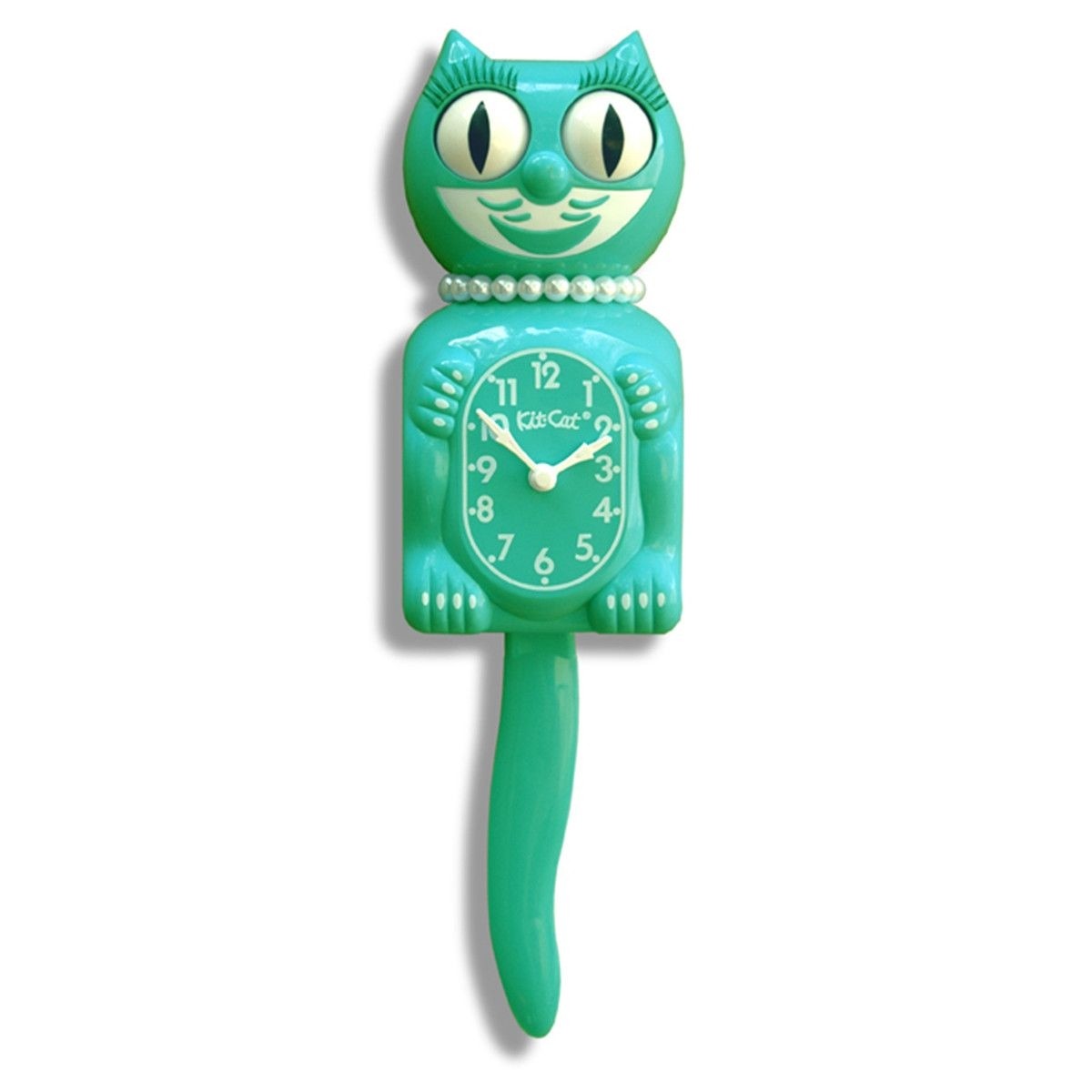 It is a lady kit-cat clock that has got a fantastic design, rolling eyes, wagging tail and emerald green color. It adds beauty and style to any living room, kitchen, kids room, bedroom and other.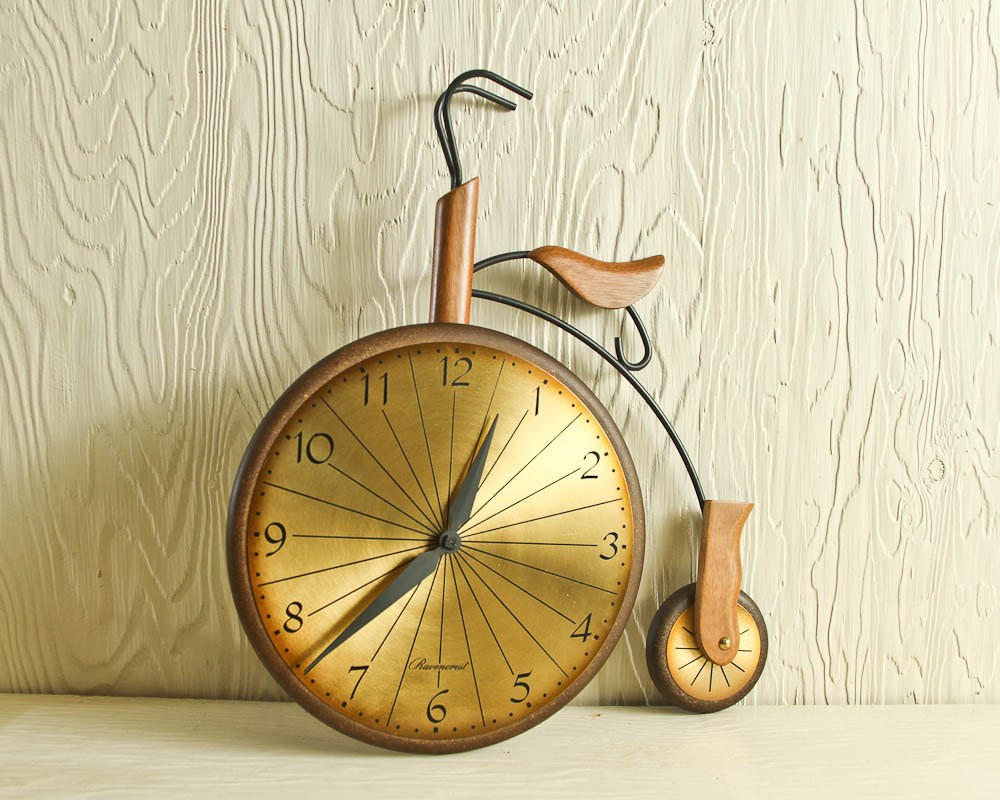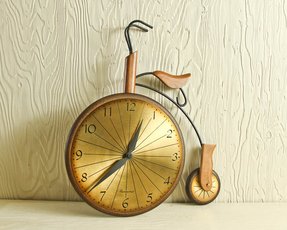 Large Cintage Bicycle Wall Clock. LOVE THIS! $130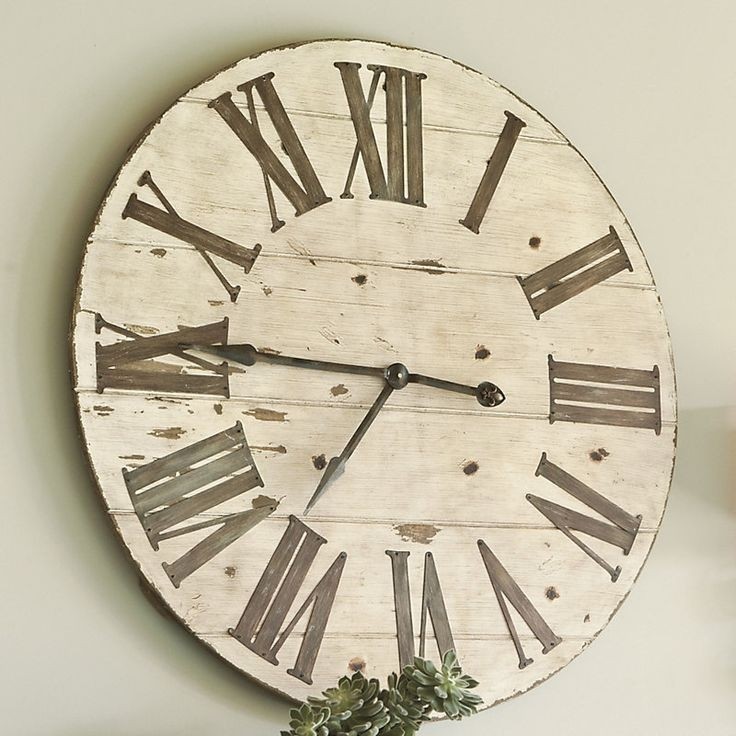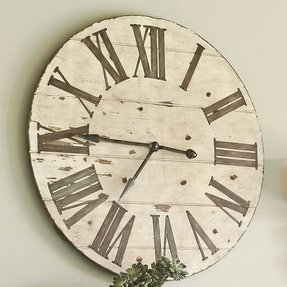 Crafted of wood and hand finished in antiqued ivory, it has distressed edges and dark chestnut undertones. Features a solid, quartz movement and uses 1 AA battery (not included).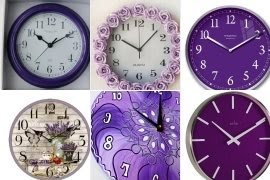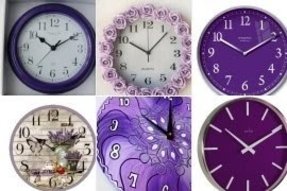 A cool vintage 1AA battery powered wall clock featuring an unusual round frame composed of lots of beautiful light purple paper rose flowers. Its round white glazed dial has big black Arabic numerals. Simple rectangular hands are of black metal.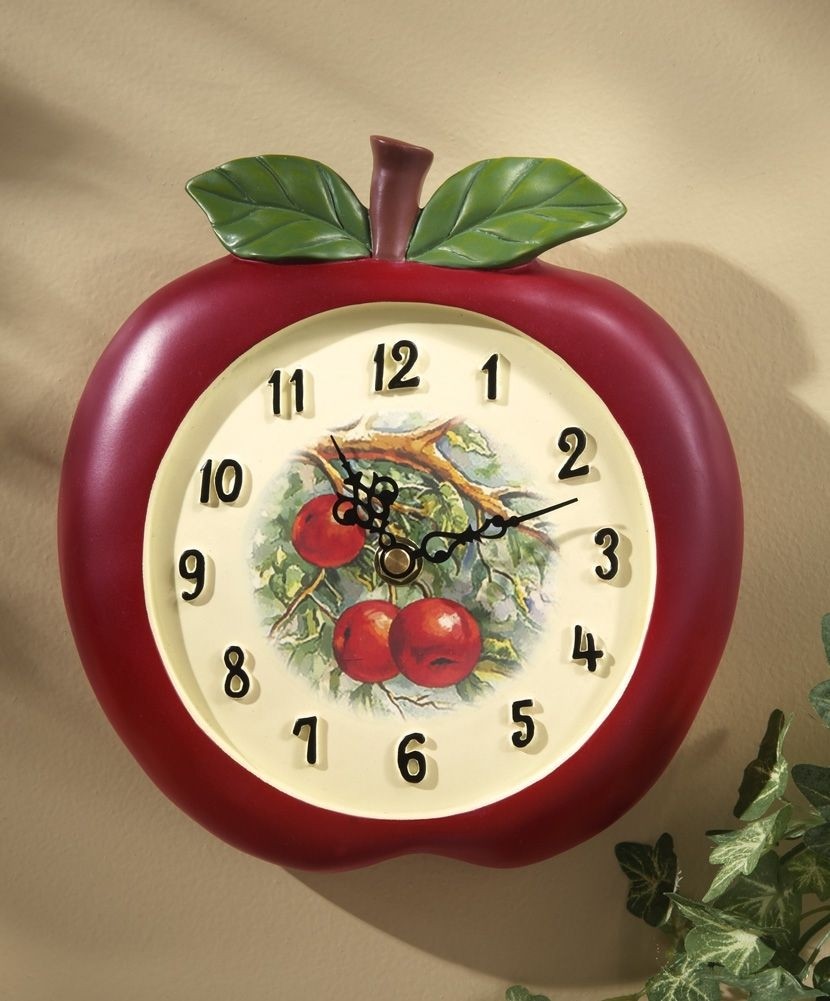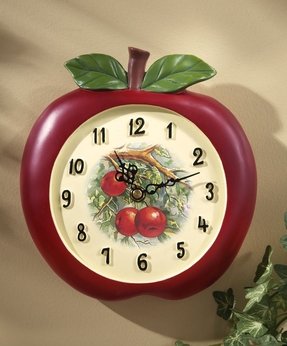 Apple clocks are a classic accessory, indispensable in a vintage-stylized kitchen! This apple wall clock features red bezel, black Arabic numerals, nostalgic print on the white face and Victorian-inspired black hands.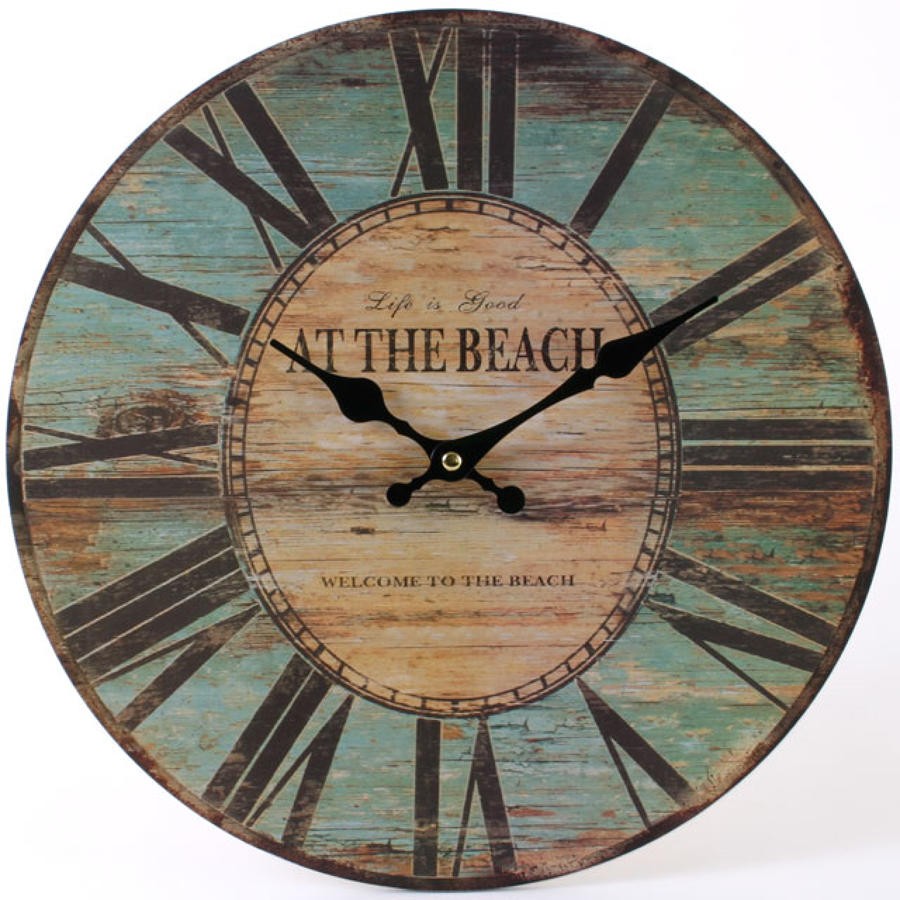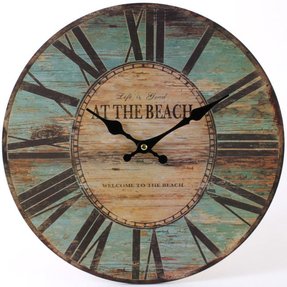 Wall clock in vintage style. Round shield is made of wood with antique finish. It is fitted with Roman numeral and quartz movement. Sophisticated decoration for any interior.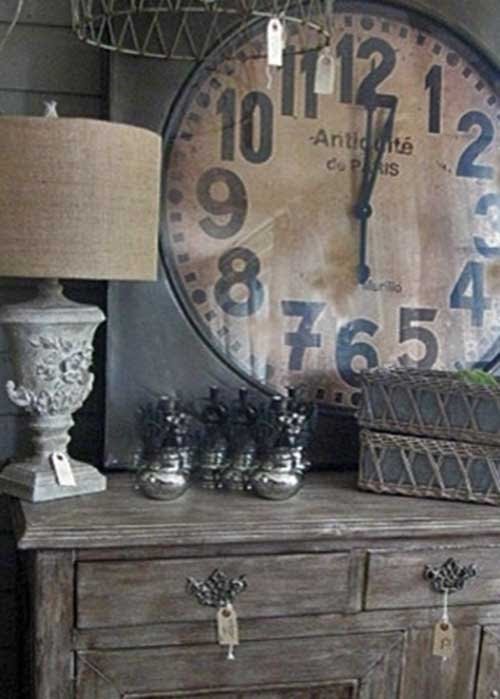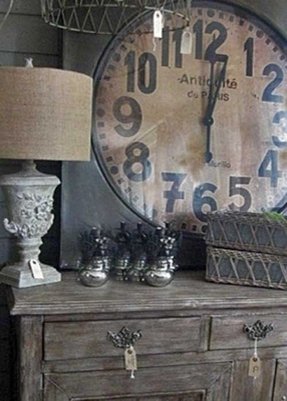 Extra-large antique wall clock to complement your vintage interior décor. Featuring a rounded shape, large numbers, and three arms, all sitting on a stunning white background. The clock has a unique aura of elegance that will transform your living room or any other space.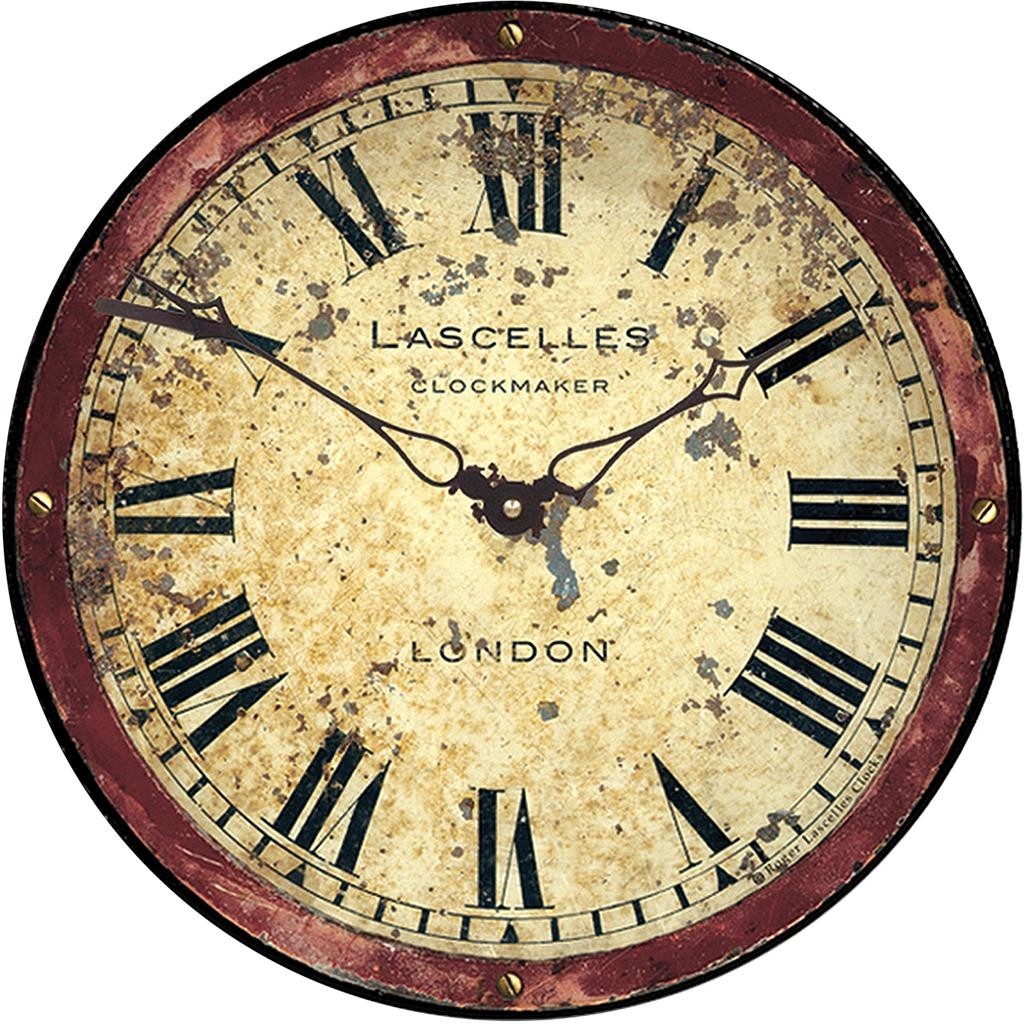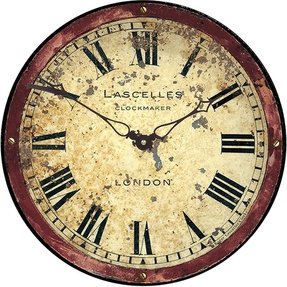 London Antique Wall Clock - 36cm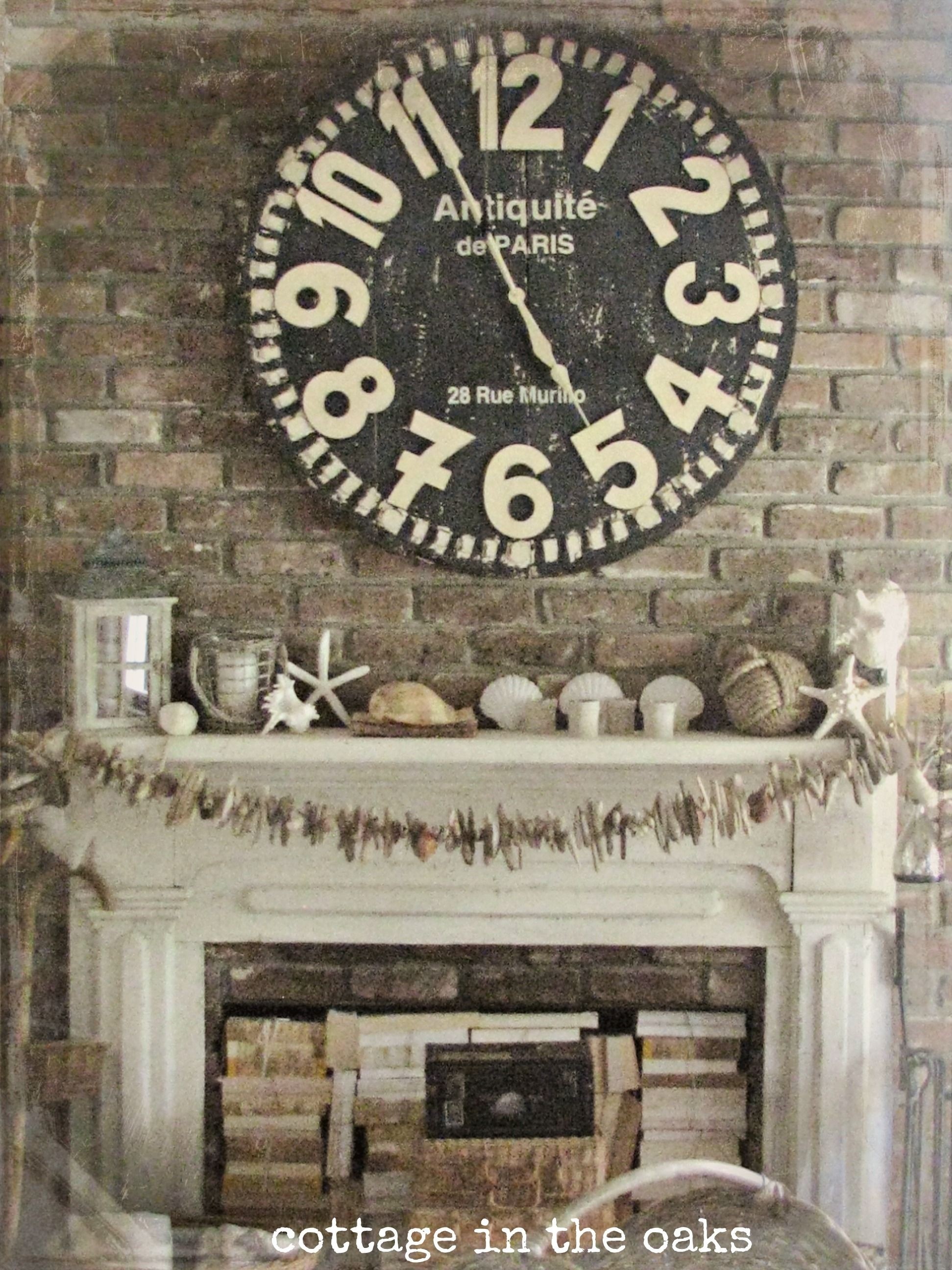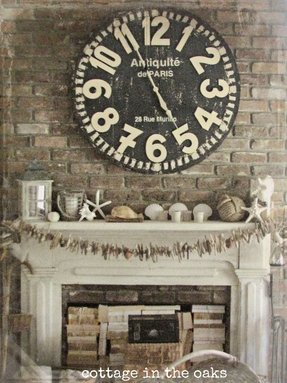 Vintage summer mantel, love driftwood garland and stacks of books in the fireplace!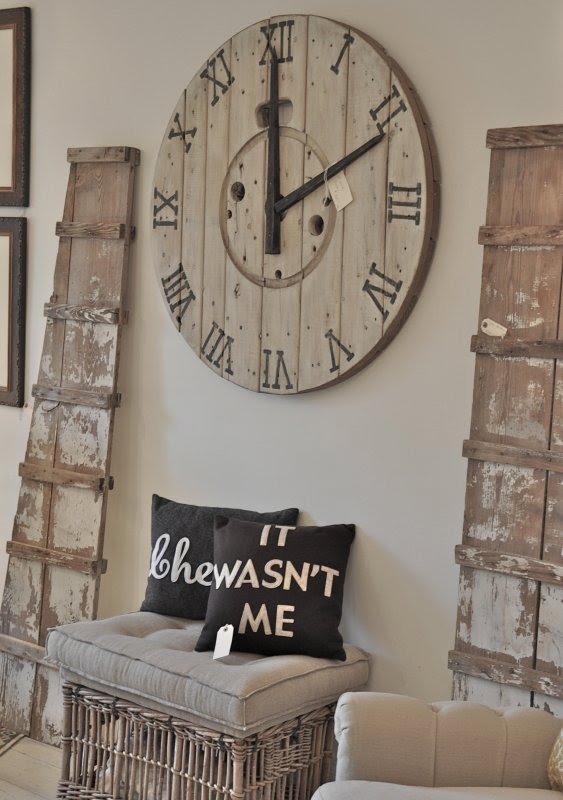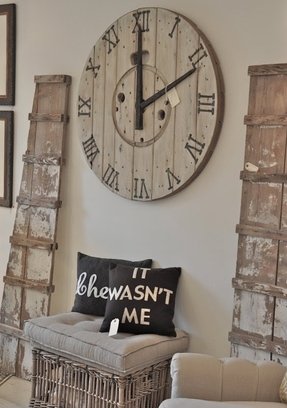 Love vintage! What a fabulous clock! Love the peeling paint on the old doors/shutters....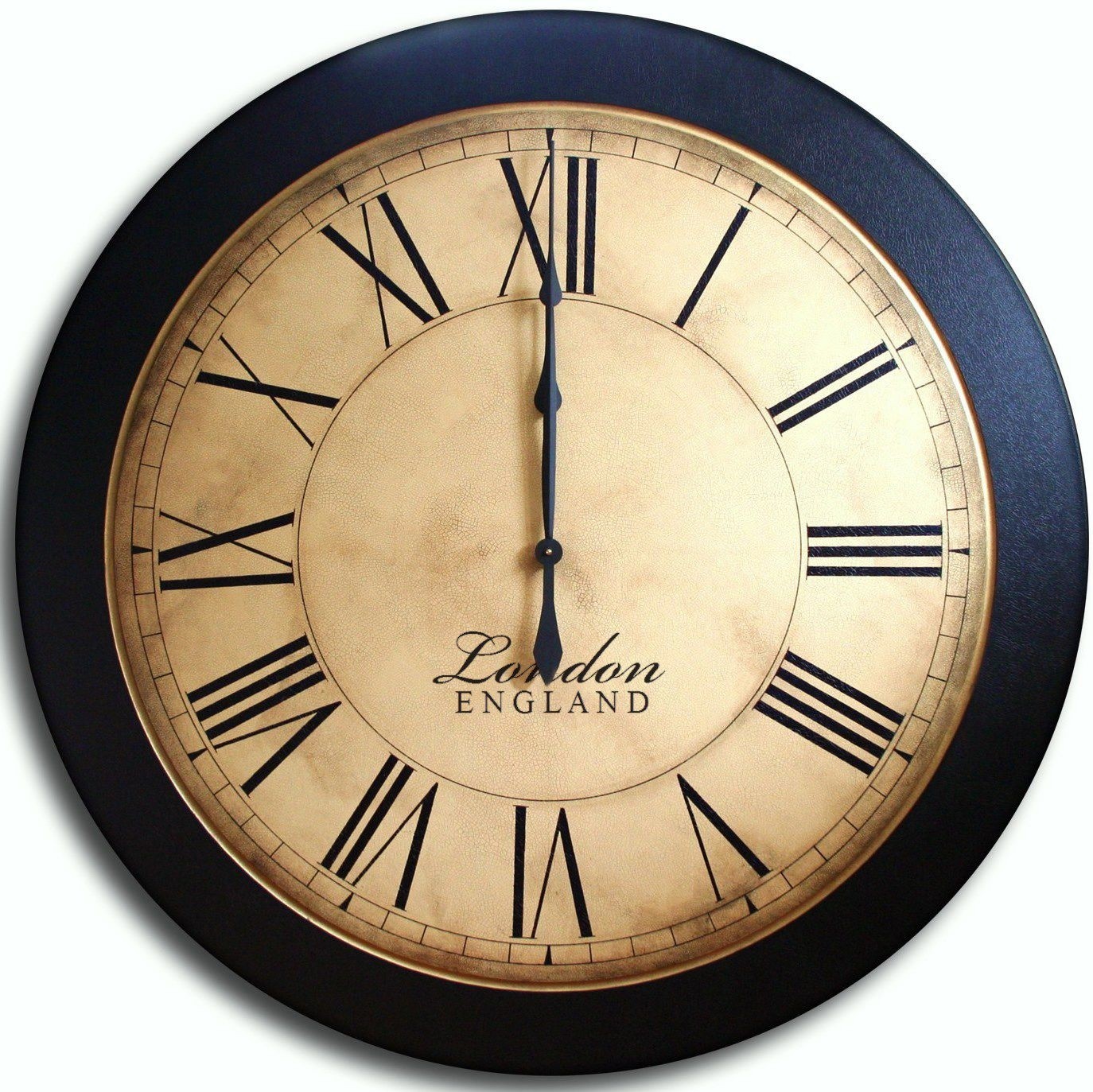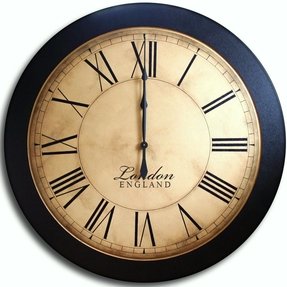 Large Wall Clock 24in Antique Style Big Round Clocks WHITING DISTRESSED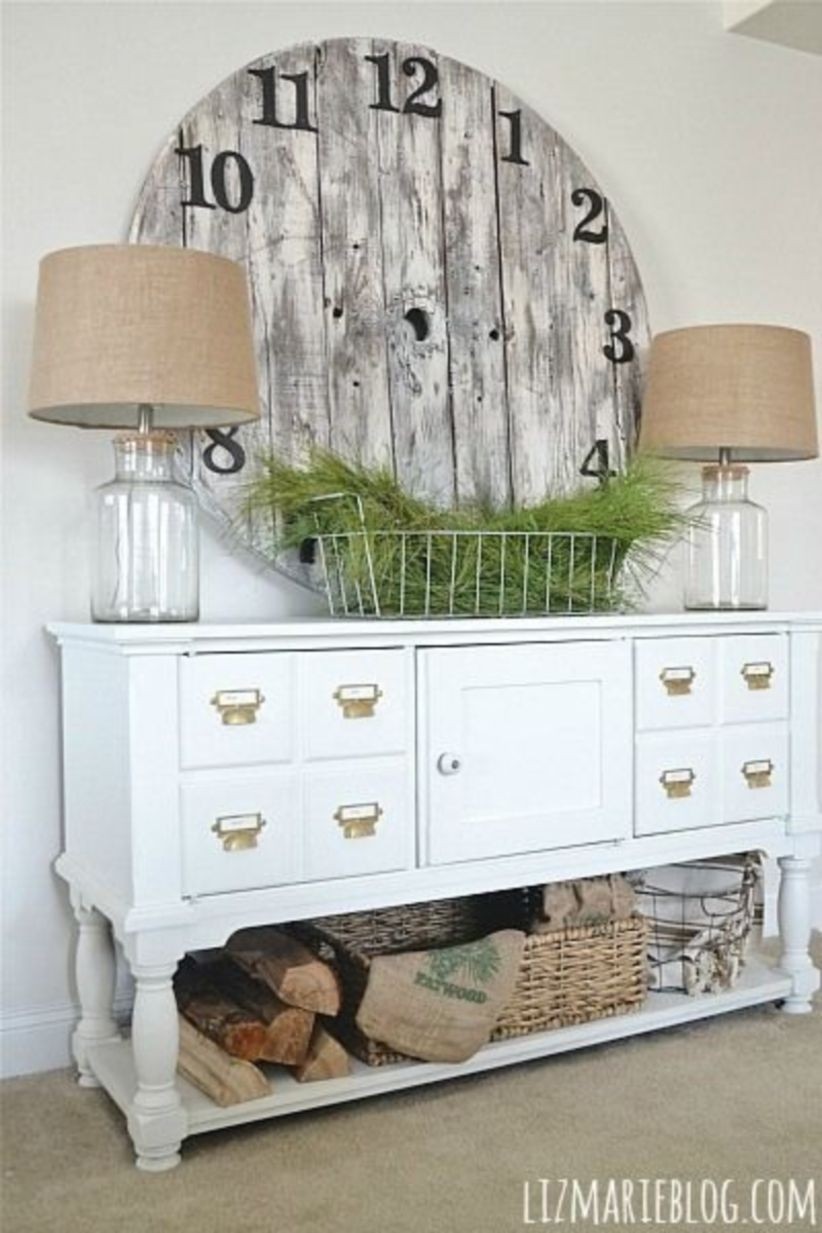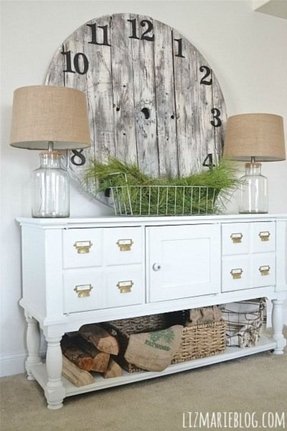 The stylish and highly impressive large wall clock with Arabic motifs is a great way to decorate the interior. Made of gray boards is very attractive and beautifully combines with the contemporary design of the decor.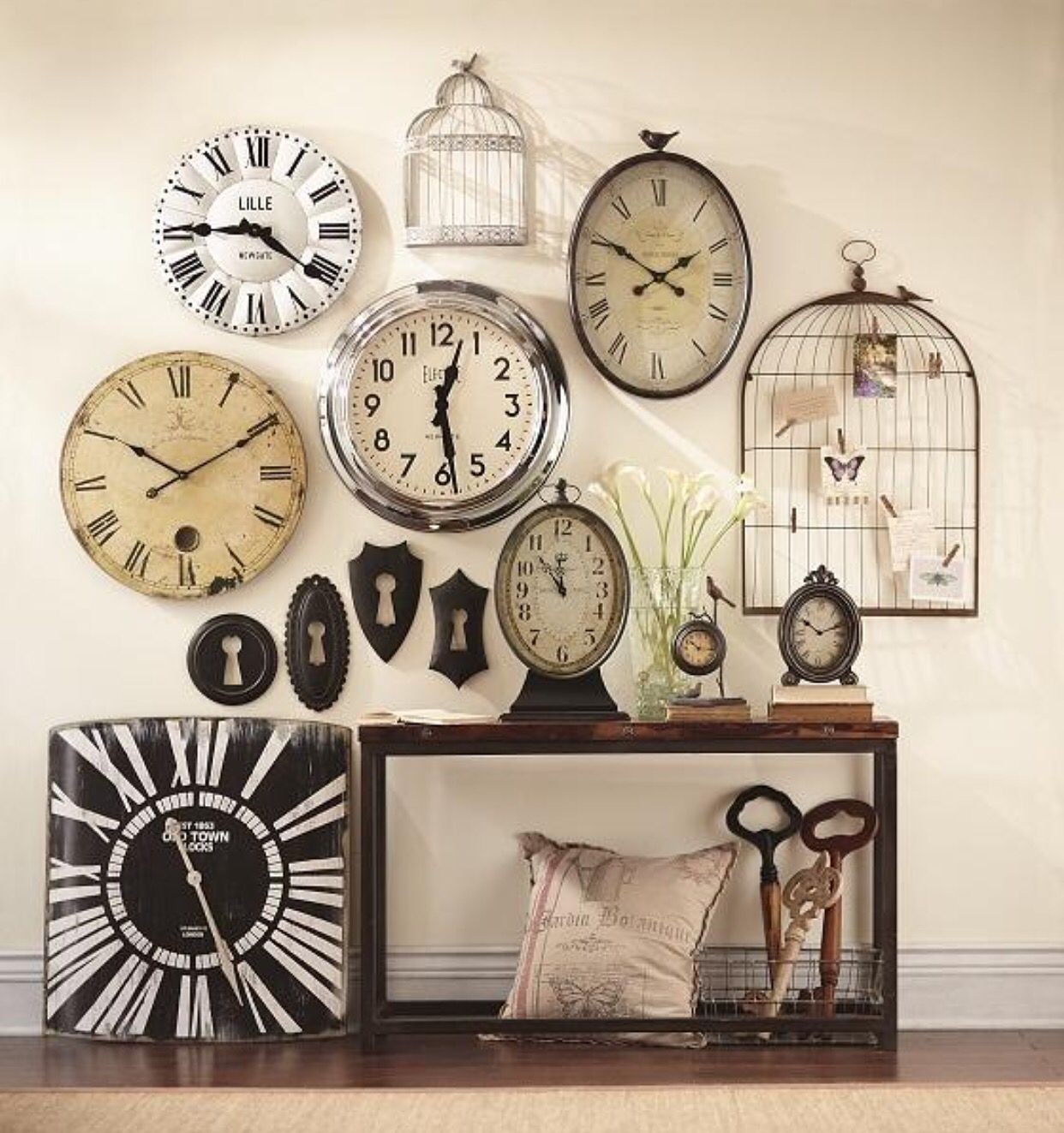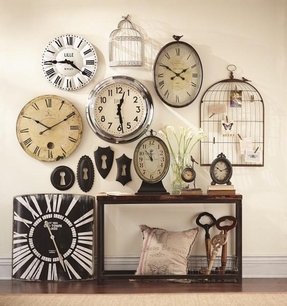 Vintage Clocks Decor <3 (not crazy about the bird cages though!)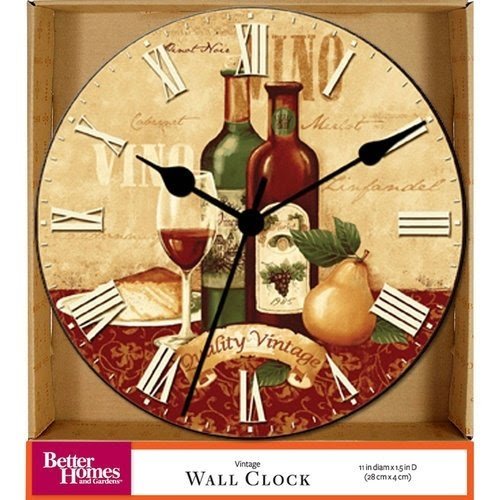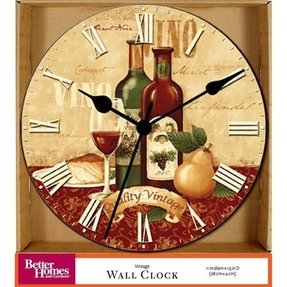 And interesting and charming piece of equipment that decorates indoors and plays a functional role. This wal clock features a very attractive and interesting wine theme. It has got no lens and requires one AA battery.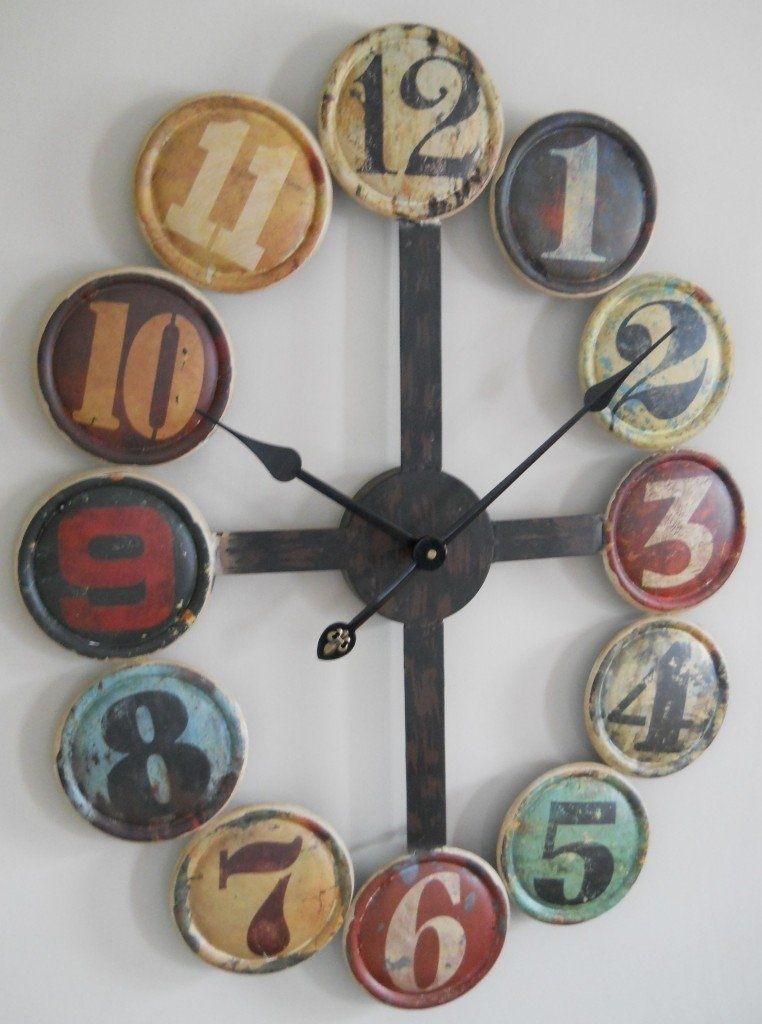 Made in an old industrial-style clock made of brown metal, this is the perfect way to decorate the interior. Large shields with Arabic numerals and attractive color schemes captivate the details.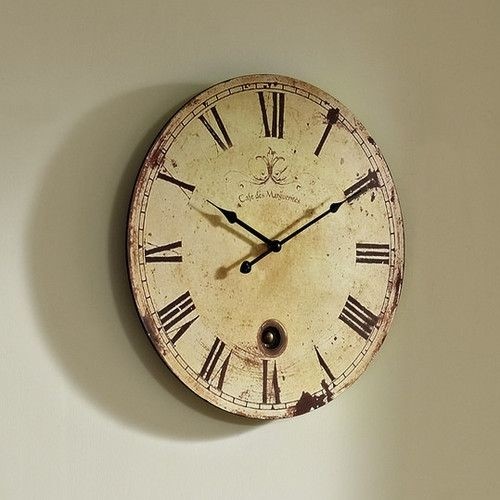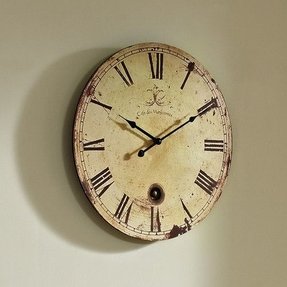 This kind of wall clock is a product that introduces a touch of classic style into the house. It features Roman numerals and classic black hands. Its primary material is metal, so the clock is solid and reliable.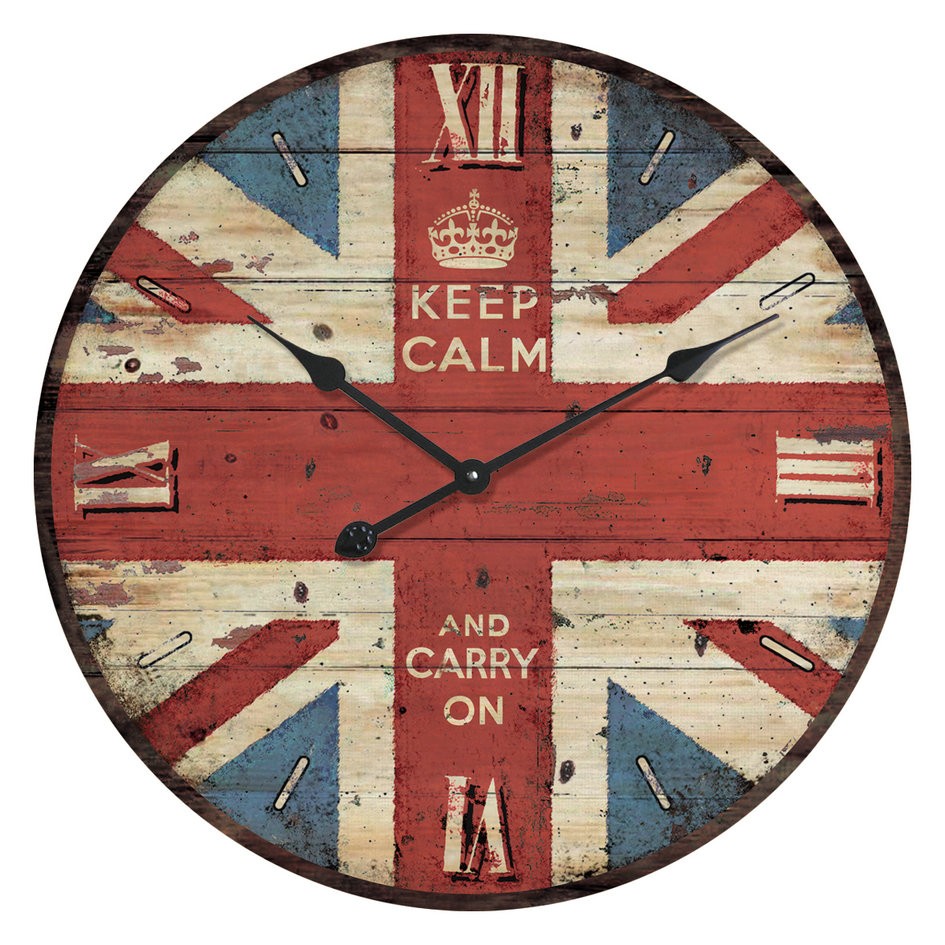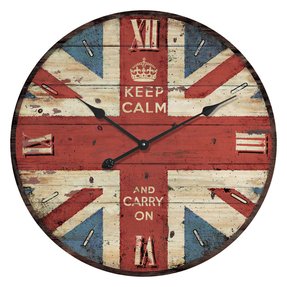 This charming wall clock is the true beauty when it comes to design. Not only will it prove a stylish addition to the decor, it will also look amazing with the British flag on the face of the clock with the slightly distressed finish and the "Keep calm and carry on" text.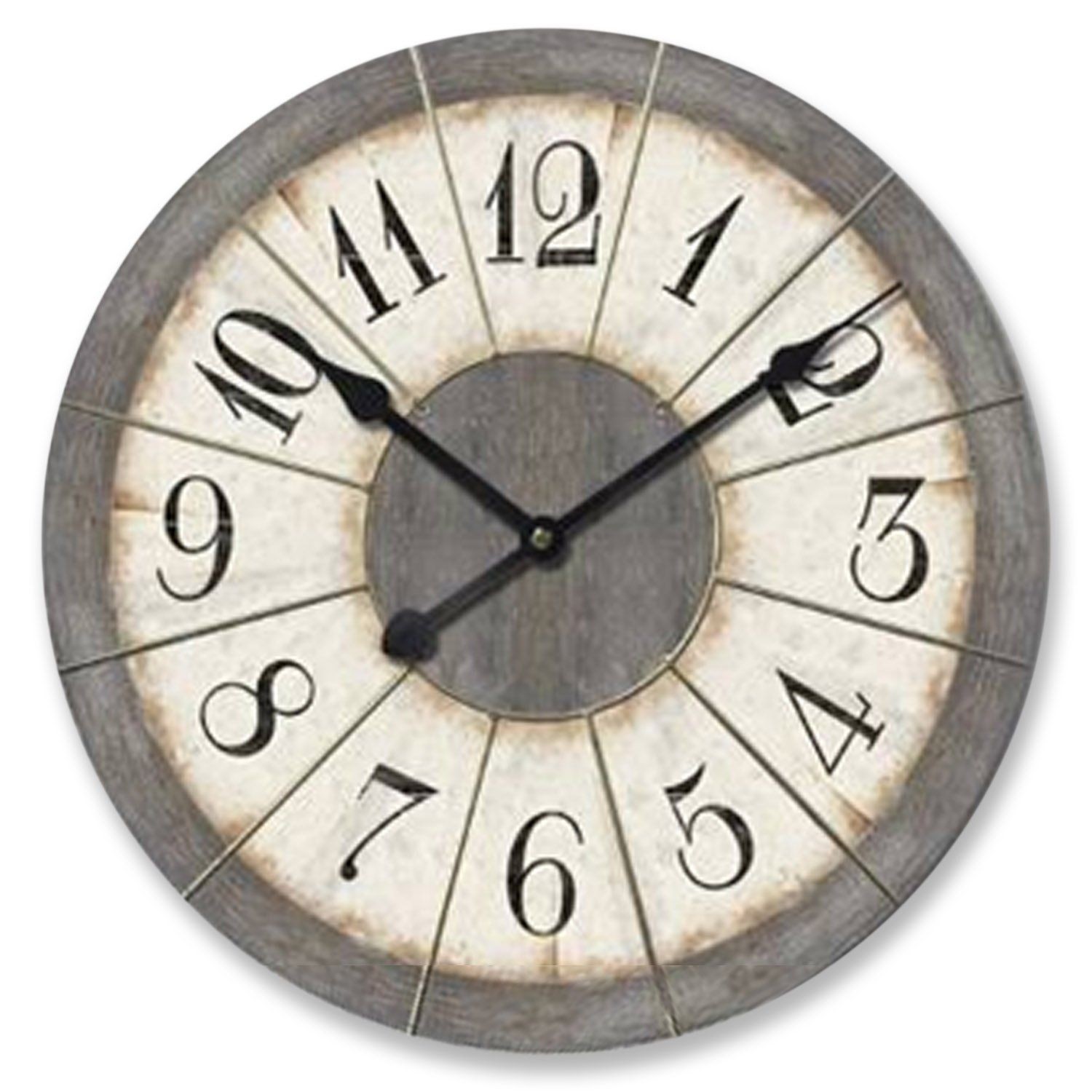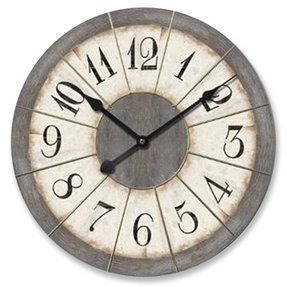 Wall clock in rustic style. Round shield is made of wood with antique finish. It has quartz movement and Arabic numeral. Sophisticated addition for all kinds of interiors according to taste and need.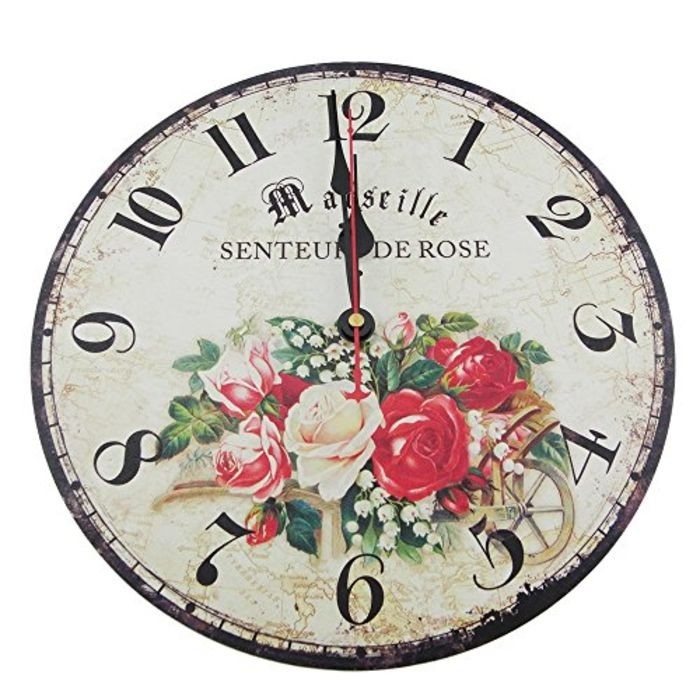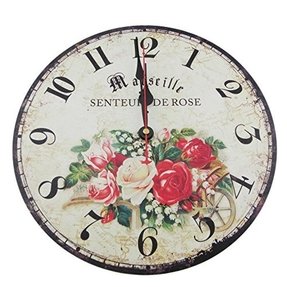 Lovely vintage wall clock with retro, country-style floral motif. It is made from solid wood and features pretty worn-out look as well as quiet and smooth sweeping movement of clock hands. Measures 12-inch diameter.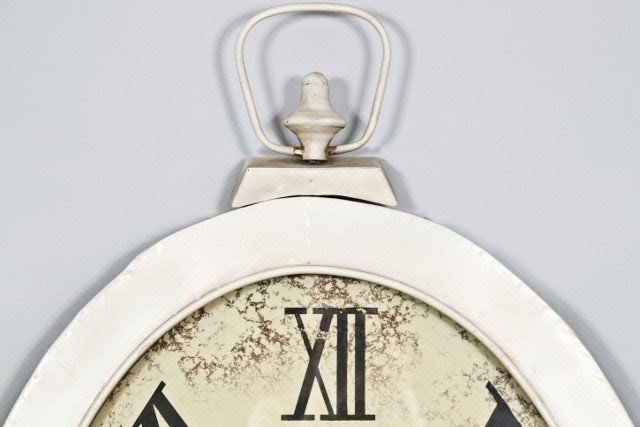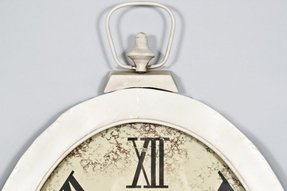 Large Vintage Style White Oval Pocket Watch Wall Clock - Jacob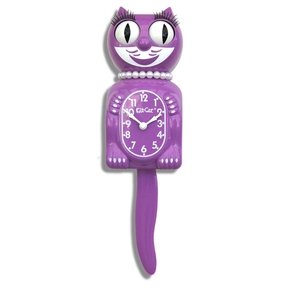 Adorable and fun-looking pink lady cat clock featuring the famous rolling eyes, wagging tail, and contagious smile. Operates with high quality quartz movement with analog dial. Runs on 2 C batteries, not included.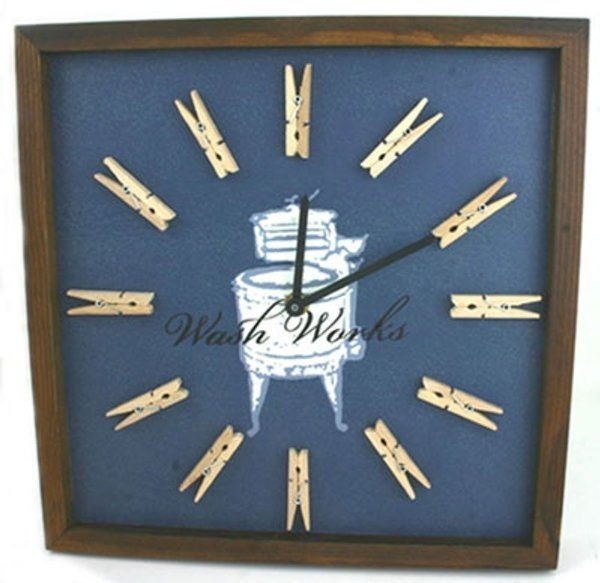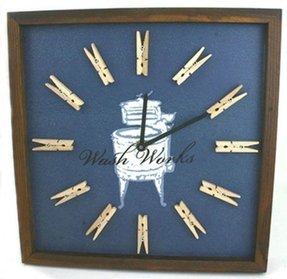 In case of some accessories, you just know that their user has a good sense of humour. This, well, wall clock, is just a perfect piece to enhance the decor of a laundry room, but not exclusively. It has clothespins instead of hour marks.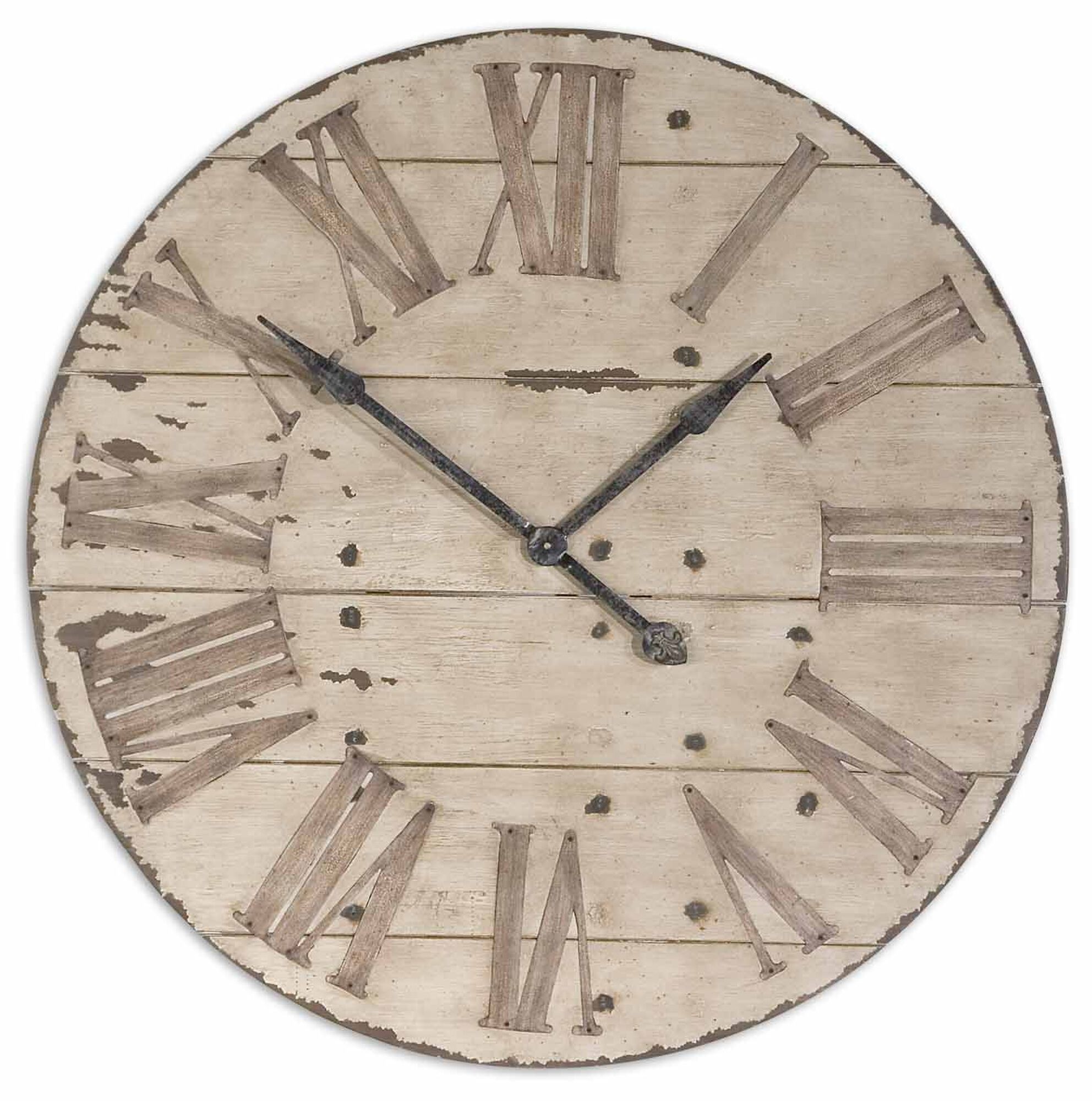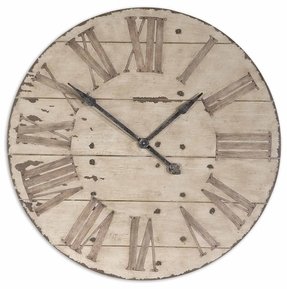 Harrington Clock - Clocks - Home Accents - Home Decor |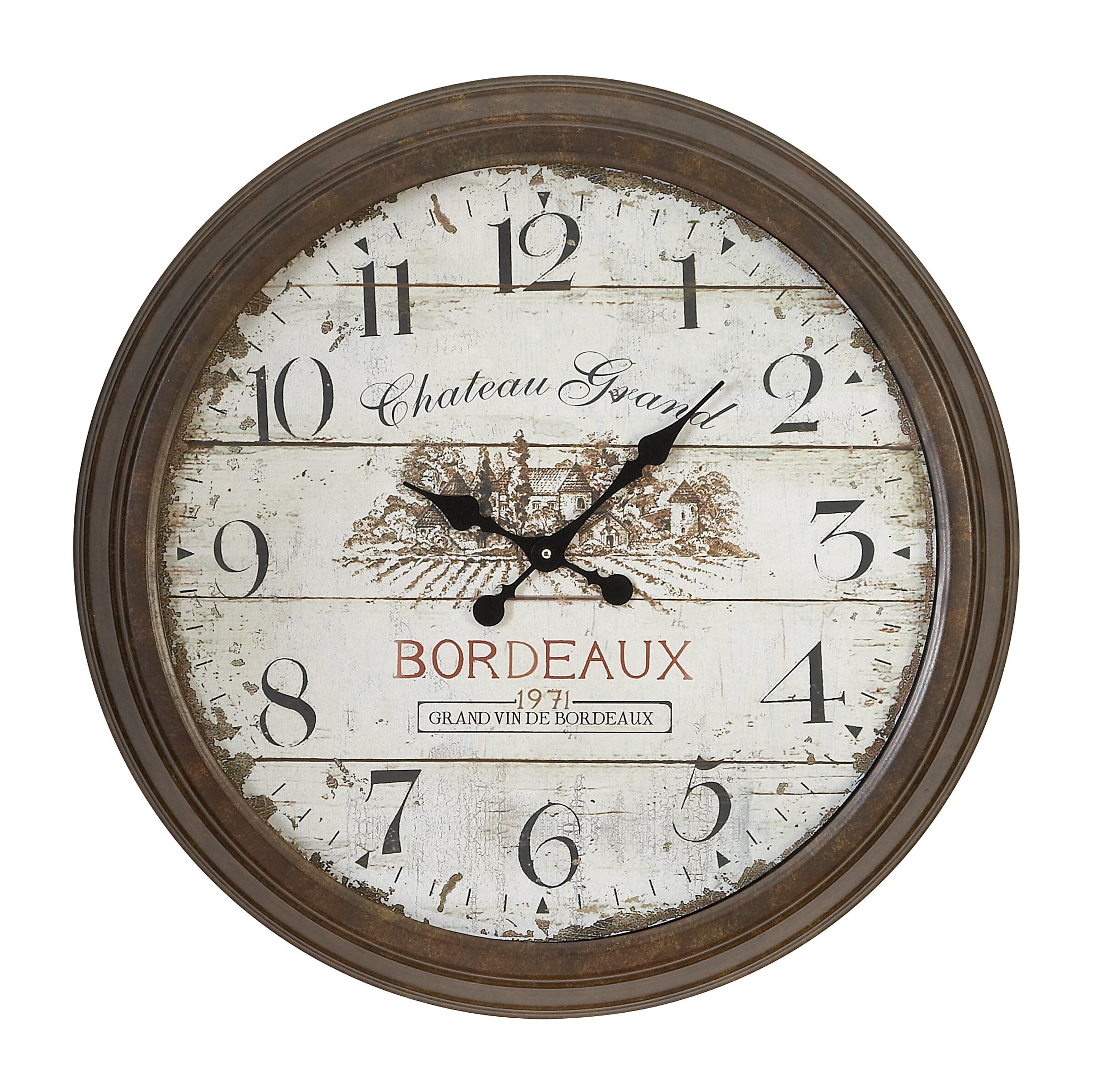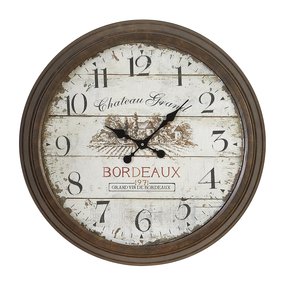 ... Wall Clocks > Wall Clocks > 28" Bordeaux Vintage Style Wall Clock