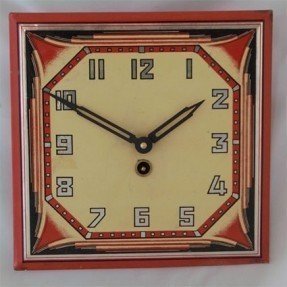 The wall clock has a very colorful design with the numbers written boldly on the edges of the octagon shape drawn on the pale background of the ground. The hands of the clock have a wide shape with pointed ends. The red frame of the clock complements the red patterns drawn inside.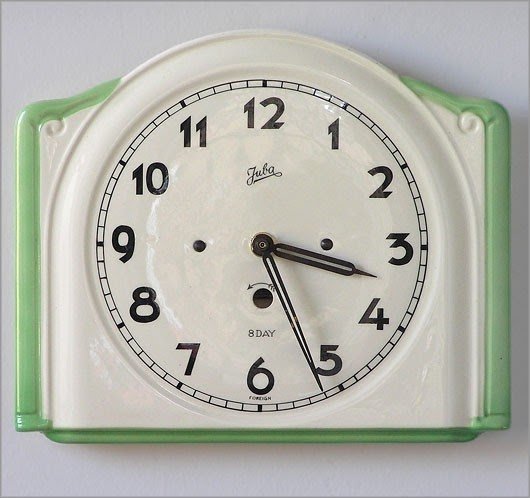 The wall clock is made from fire-glazed ceramic with a plain white color for both the interior of the clock mechanism and the frame. The edges of the frame are tapered with a green color giving the clock this minimalistic and stunning design.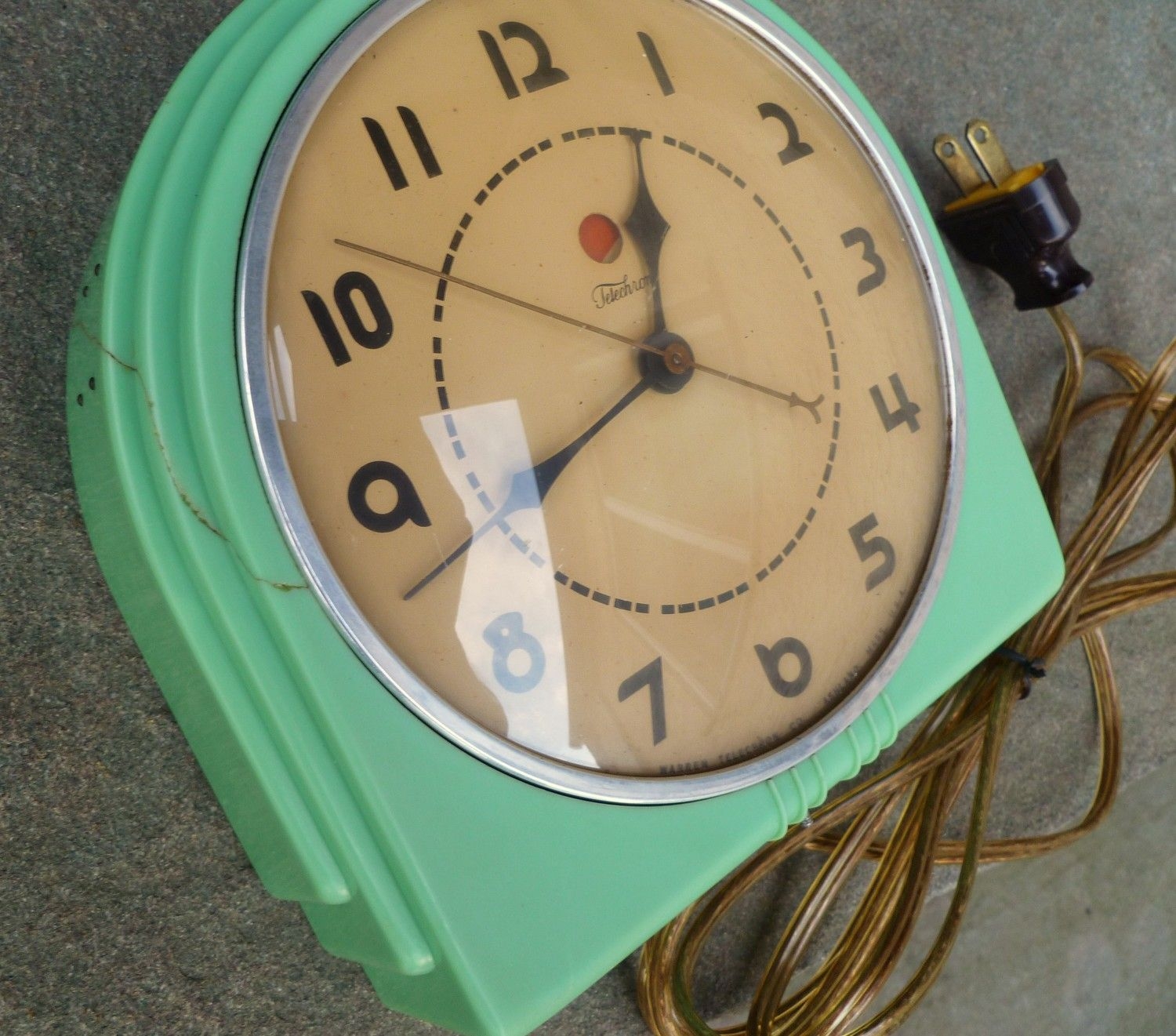 Minimalism is a new fashion, although it is defending itself before being fashioned. Here's an art deco wall clock without unnecessary additions. A black frame, the round face of the clock in the shade of cappuccino. Black numbers and clock-hands.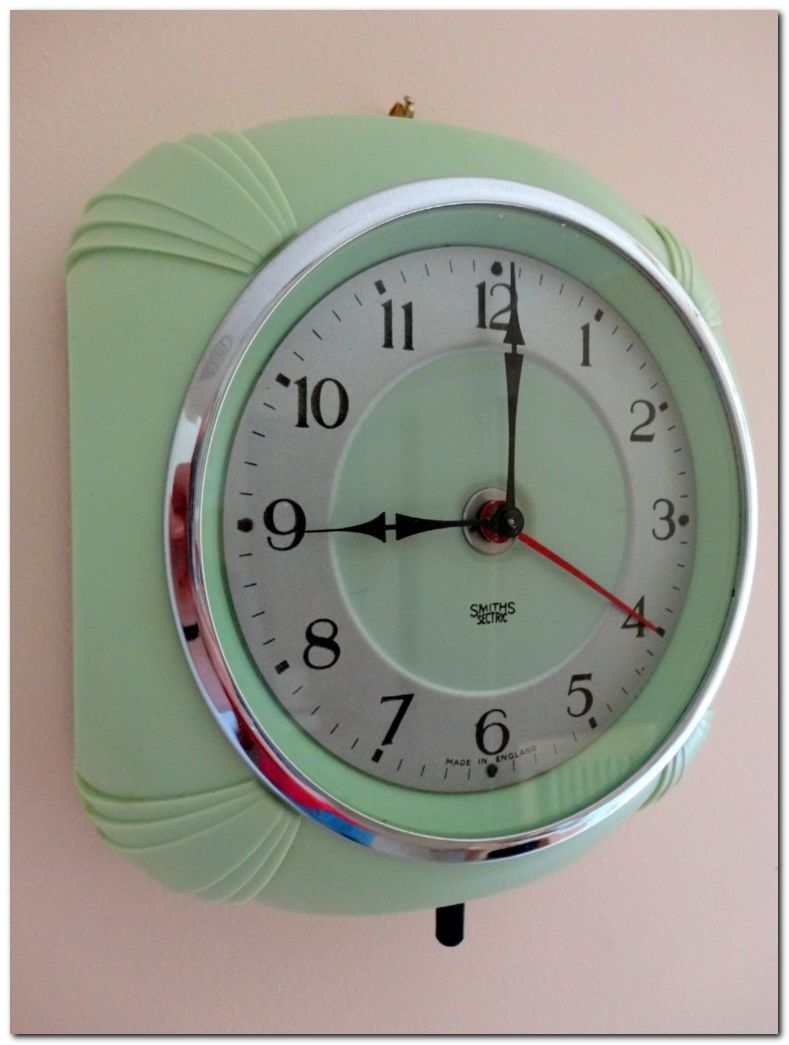 Charming green plastic art deco analog clock is perfect for a 1950s, early 1960s décor. The clock face has a green center with a white outer ring and black Arabic numerals. The hour and minute hands are black, the second hand is red.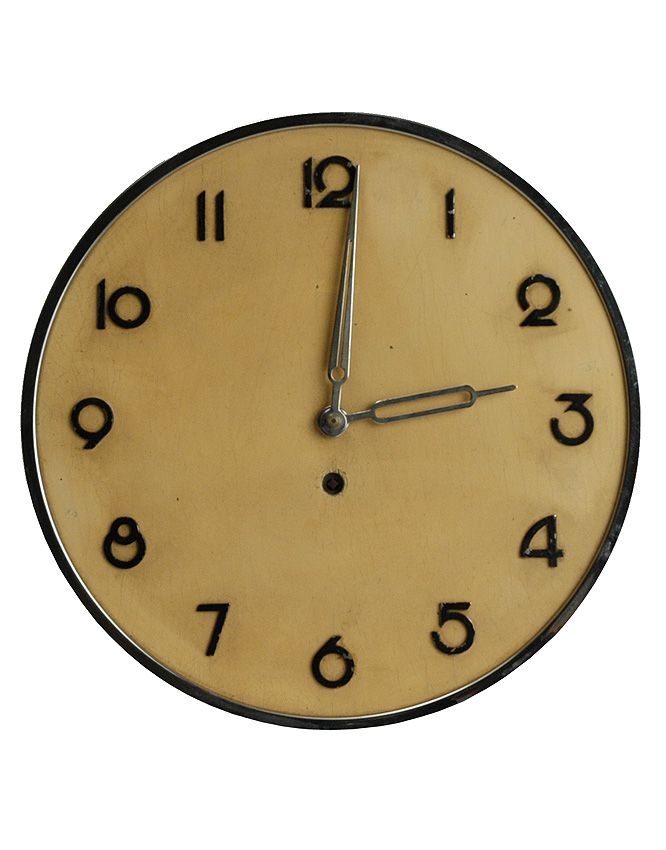 Simple and classic wall clock with a black frame, rustic background, unique font numerals, and electric quartz movement. It has a vintage rustic design and works perfectly. The vintage clock is perfect for any style and décor, whether at your office or home.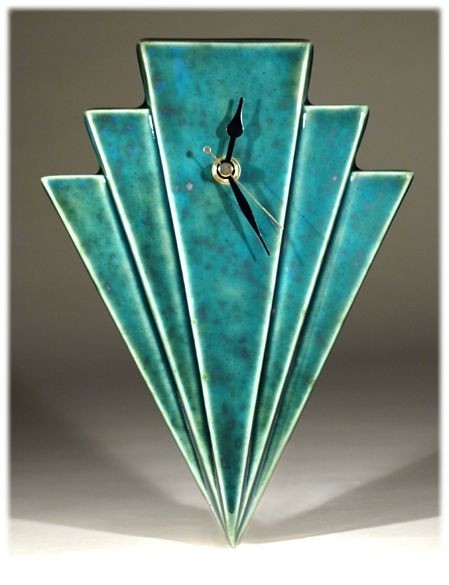 A modern masterpiece amongst wall clocks that is going to enhance your working place or your contemporary home. Designed by Russell Ackerman, the clock features a sophisticated frame with 2 black hands and 1 brass second hand.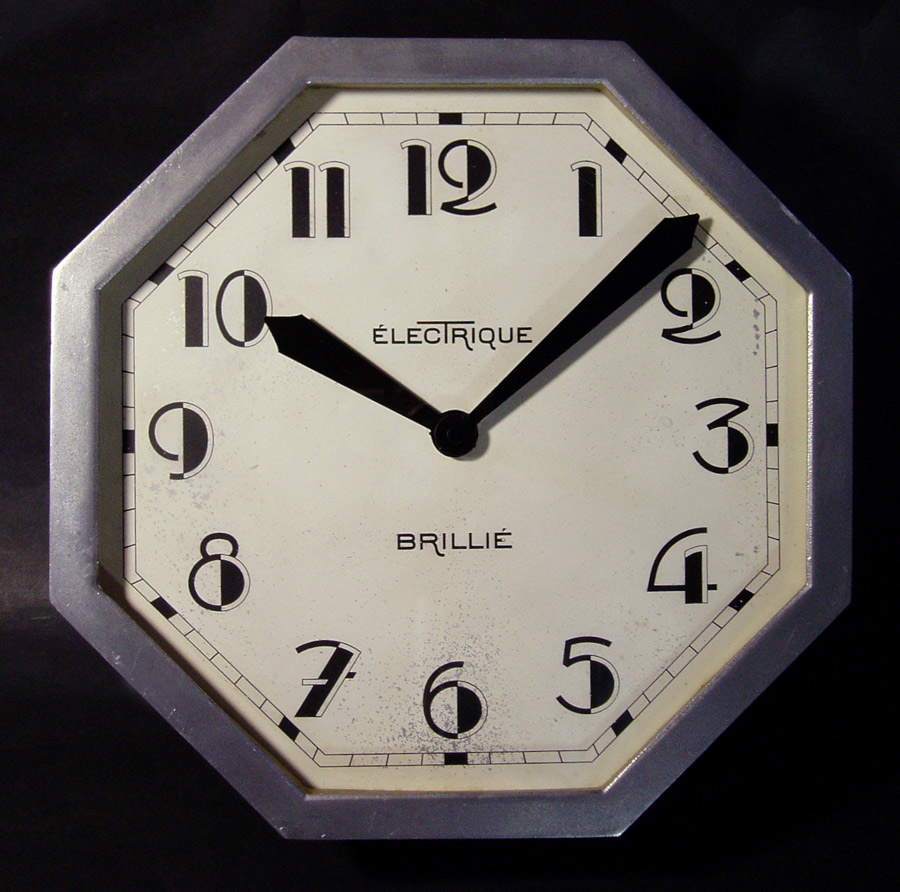 Simple and elegantly designed wall clock. The heptagon-shaped wall clock has a very simple design with the white and black color used in designing the bold numbers complementing the plain white background. The hands of the clock are also black with the clock frame having an ash color to complement the stunning design of the clock.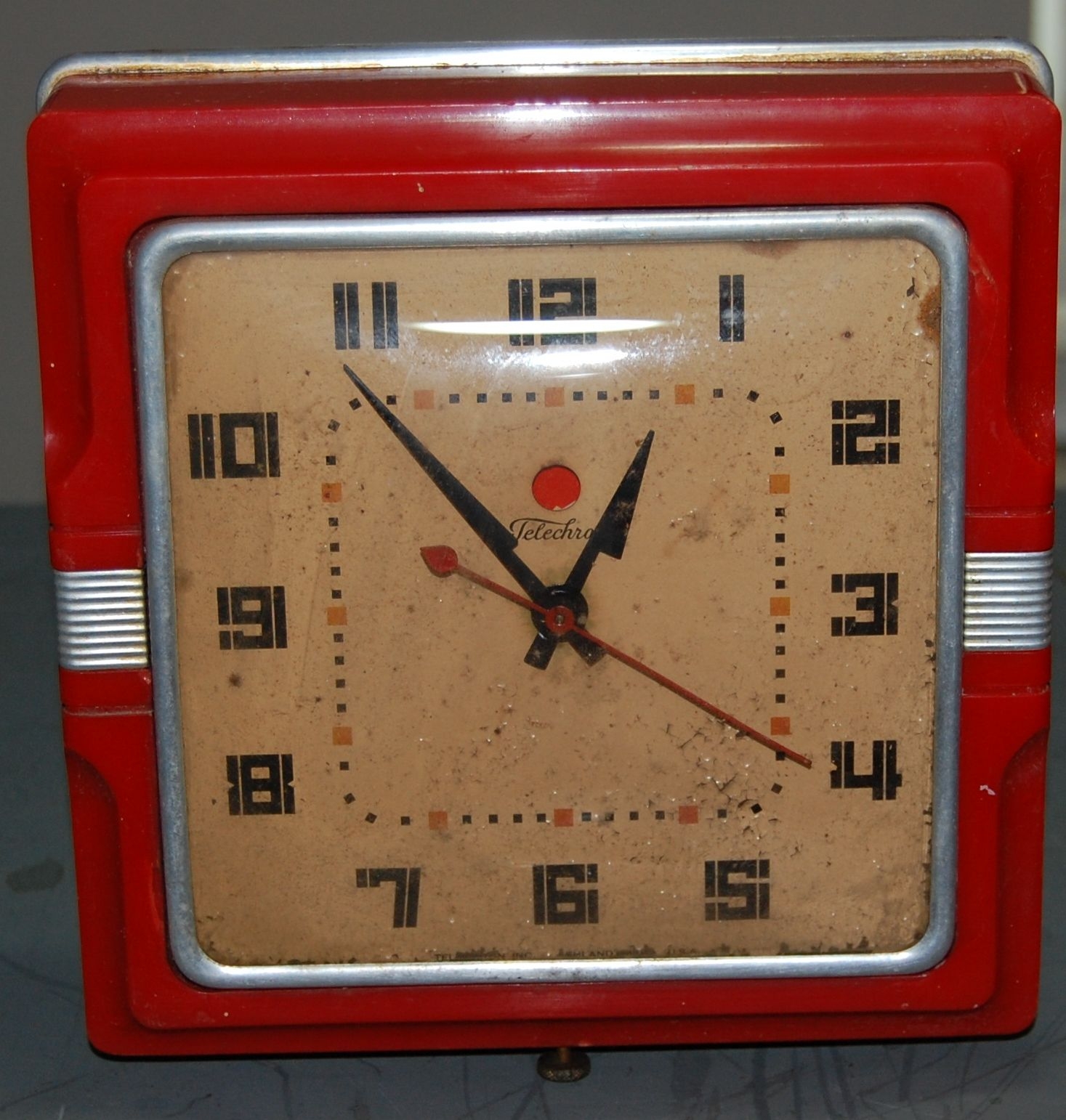 Art deco approach to a retro wall clack made in a vintage fashion. The wall clock is crafted out of metal with a red coat of paint with silver elements, and the numerals are placed on a leather piece of distressed material.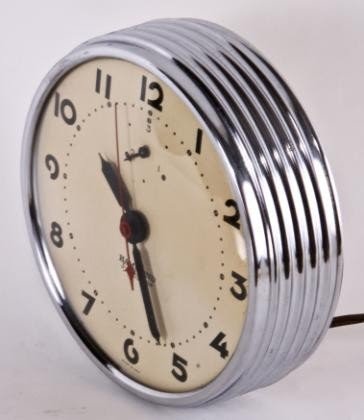 c. 1930's antique machine age art deco style round chrome wall clock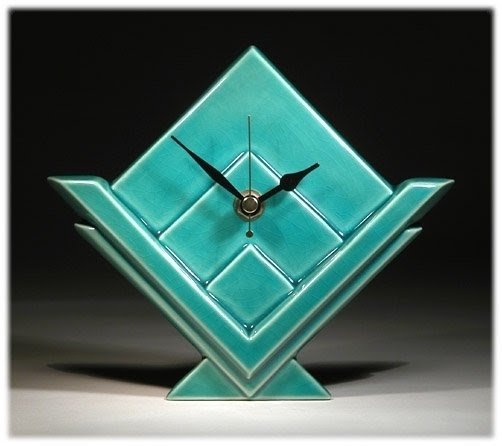 Handmade ceramic wall clock in an Art Deco style. Designed and made by Malcolm and Russell Akerman of Echo of Deco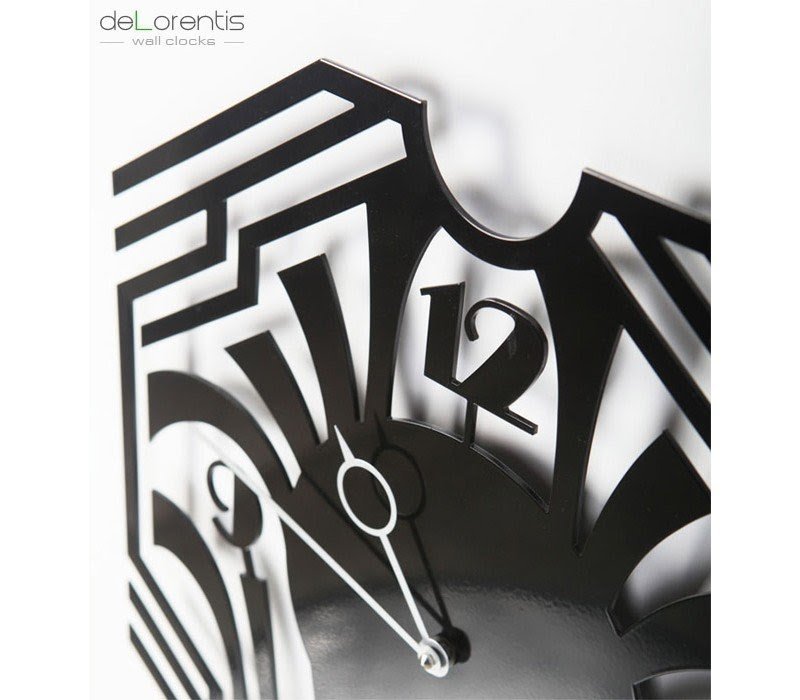 Wall clock BELLE EPOQUE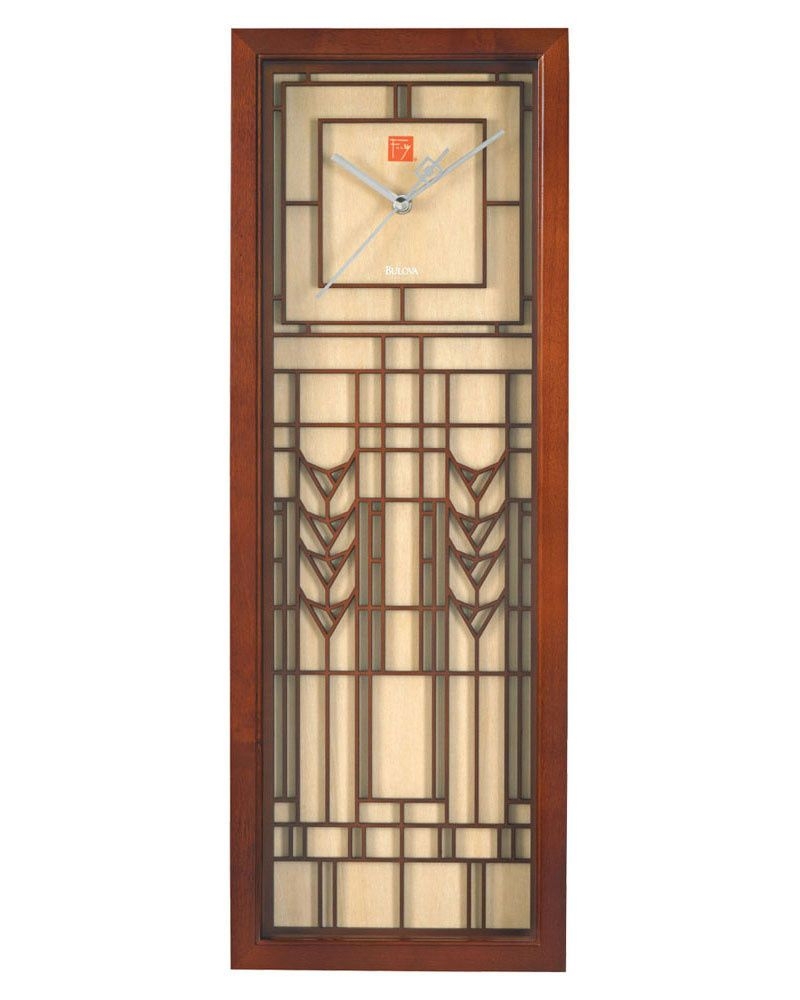 A fantastic blend of old-fashioned appearance and timeless elegance. This wall clock comes with a cherry-finished wood case, covered with a clear glass front panel and embellished with geometric patterns. The mechanism is accurate and equipped with 3 silver-finished metal hands.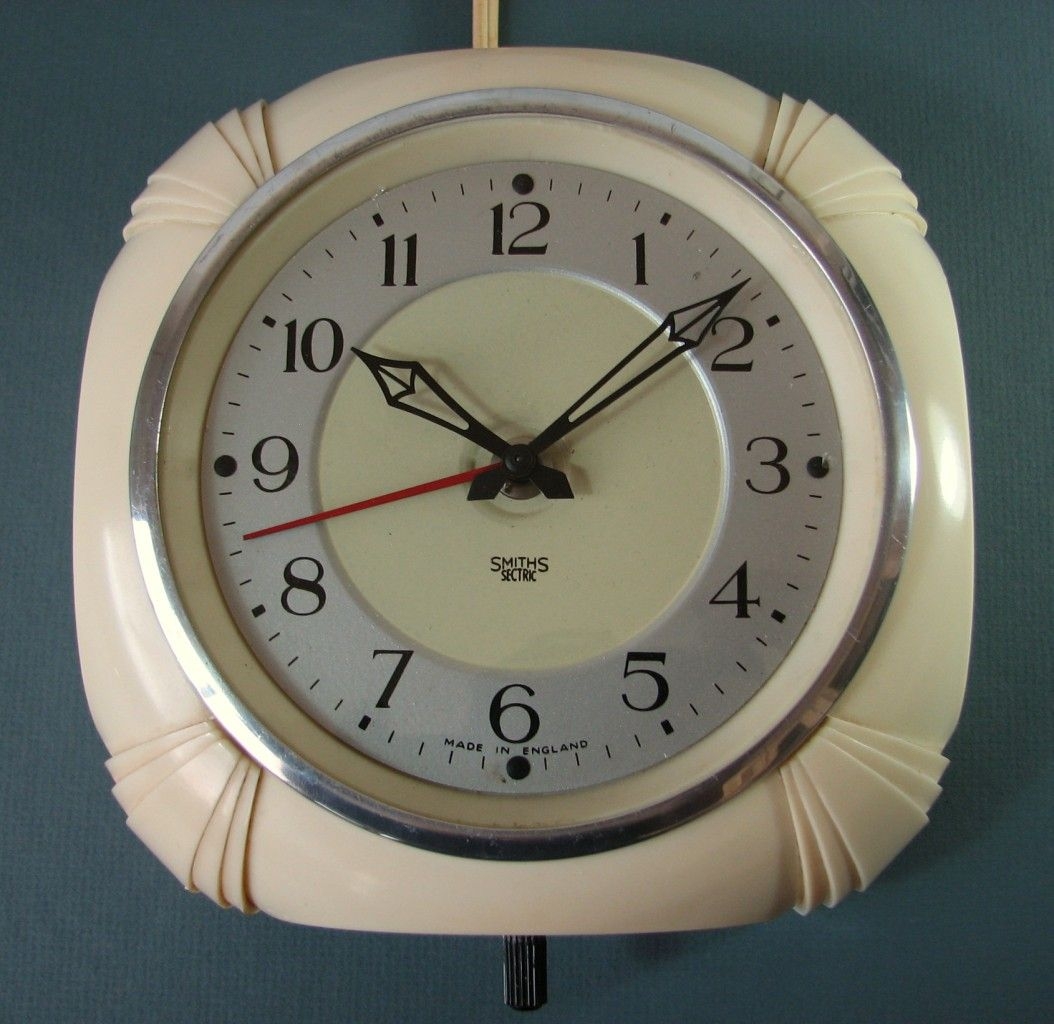 This Art Deco wall clock will be a beautiful gift for your friends and family. It features the creamy frame with the square shape and silver accent pieces. It's perfect as a clock to living zone or bedroom.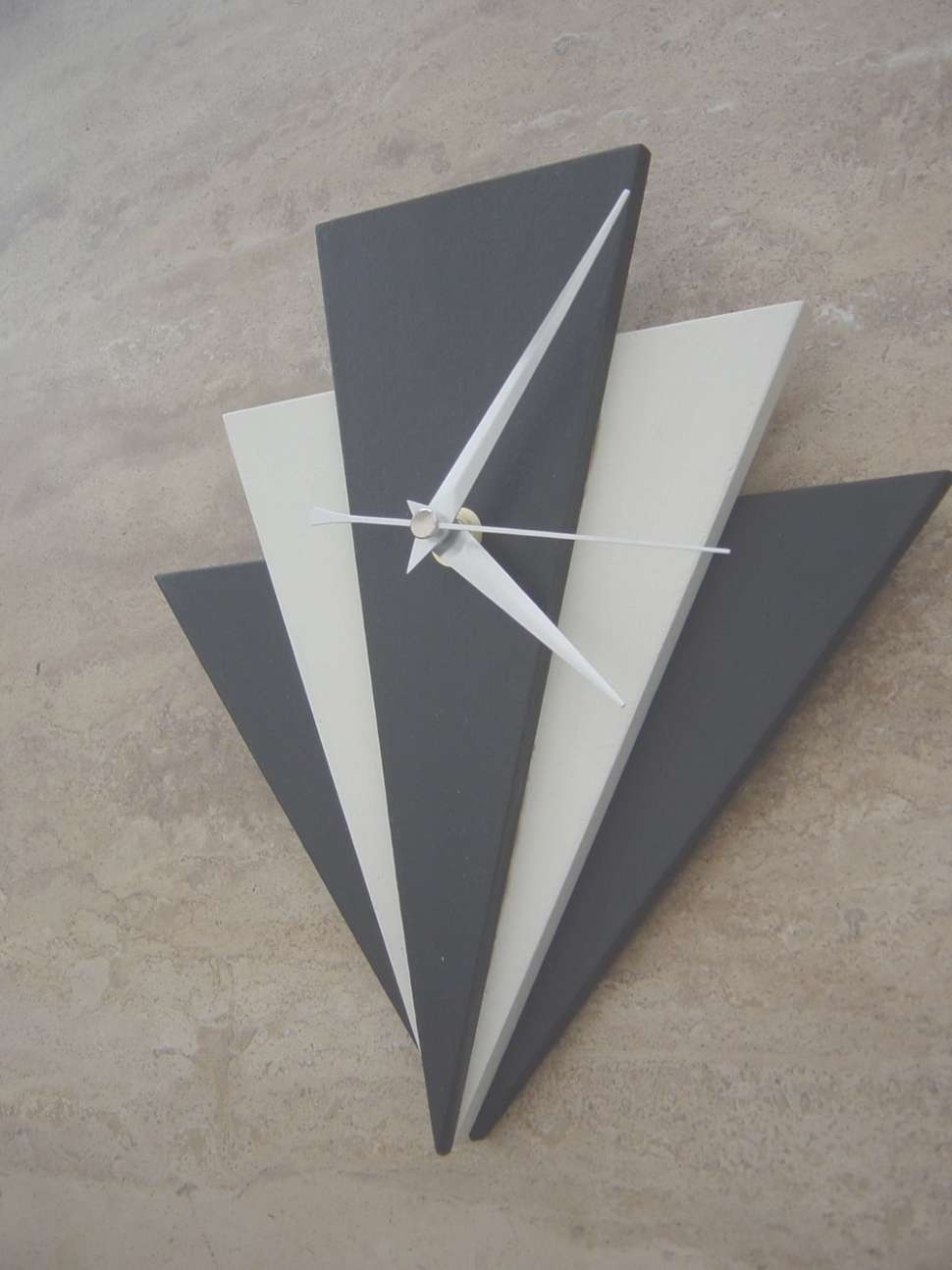 Black and white Art deco style wall clock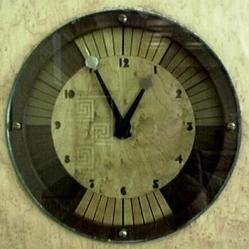 Exceptionally stylish and beautifully crafted art deco wall clock is a way for a spectacular interior design. Beautiful form and color make the decor gain in elegance and style. A small clock face with Arabic numerals is very tasteful.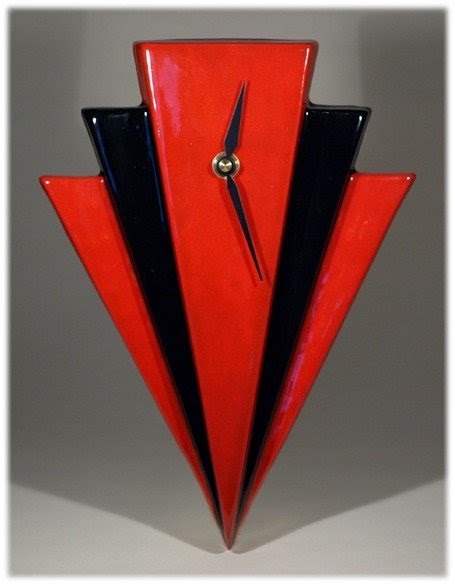 Manhattan Wall Clock. Length 24cm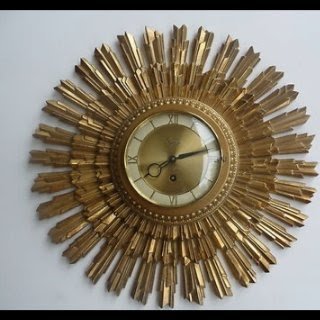 A beautiful wall clock with a frame of brass-finished metal. It looks like the sun with lots of sunbeams. It has a round glazed face and shape-varied black handles. A dial features a round brass central part and black Roman numerals on a white edge.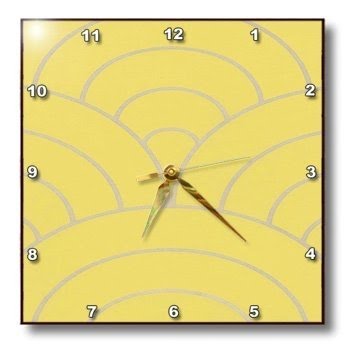 Square wall clock with yellow face, oversized when compared to white numerals, and accented with geometric curved lines in gray. The clock is a modern creation with strong Art Deco feel. The hands are gold toned.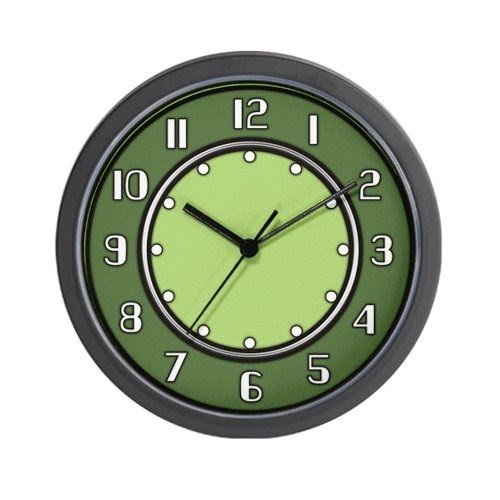 Simple wall clock in round metal case. Gray frame highlights the green colouring of the face, which is two-toned. White numerals are easy to read thanks to the contrast against the background. This lets the clock retain functionality.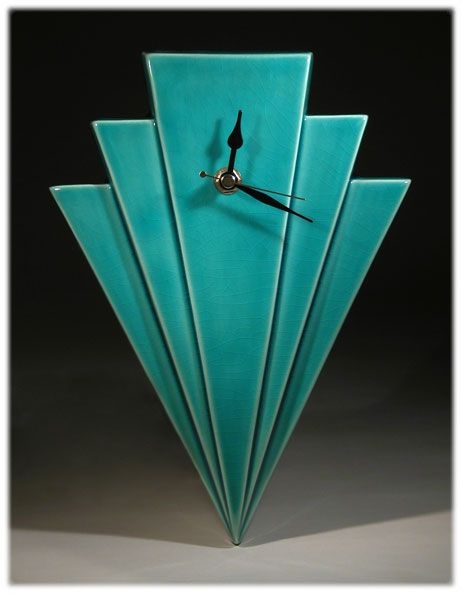 Deco-inspired modern ceramic clock***Research for possible future project.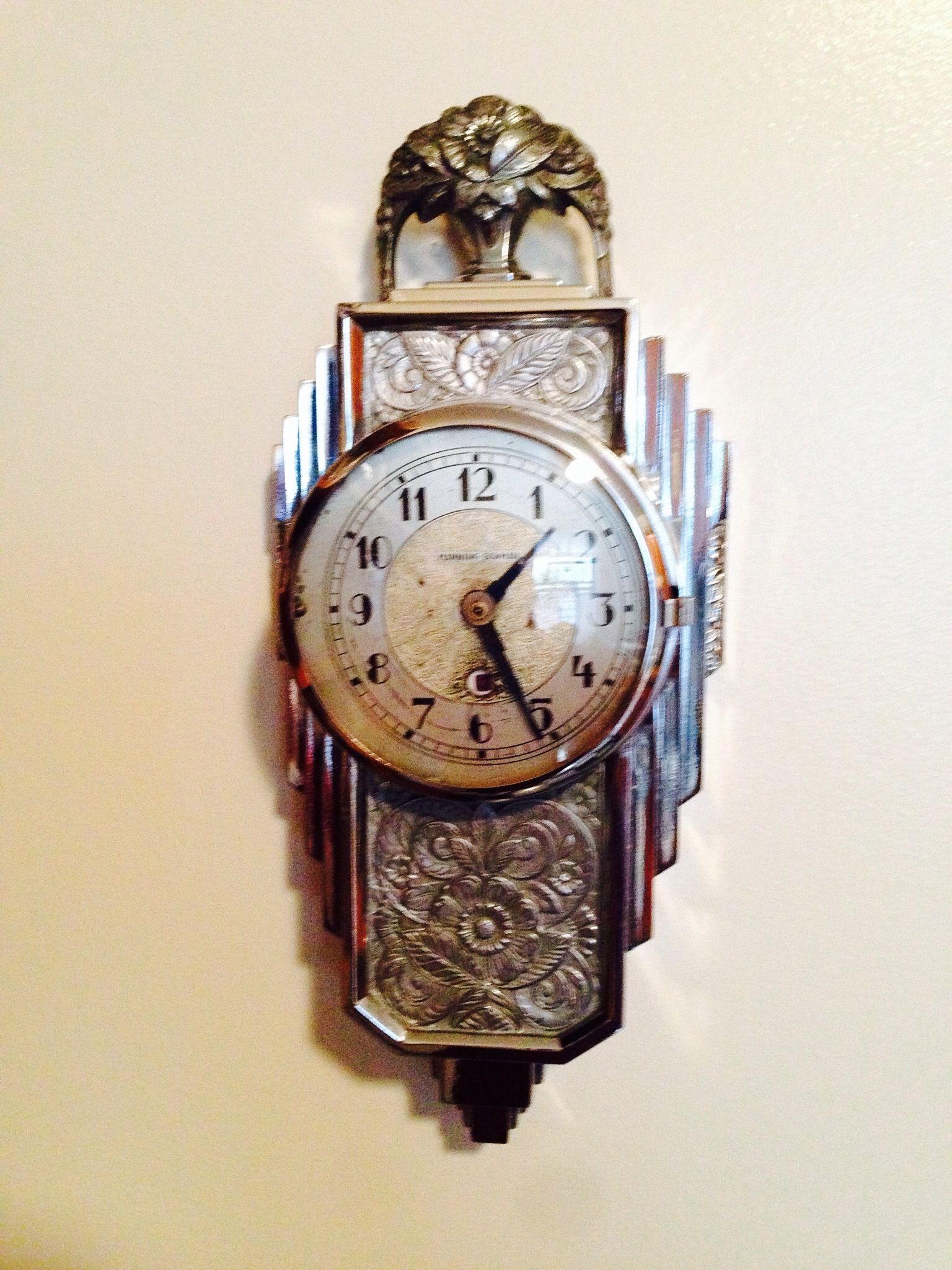 With such a magnificent Art Deco Wall Clock you won't have any trouble, whatsoever, to enhance your living room, den, or vintage-looking office. A highly accurate mechanism sits in a marvelous case with stunning design, with a round dial with black Arabic numbers and matching hands.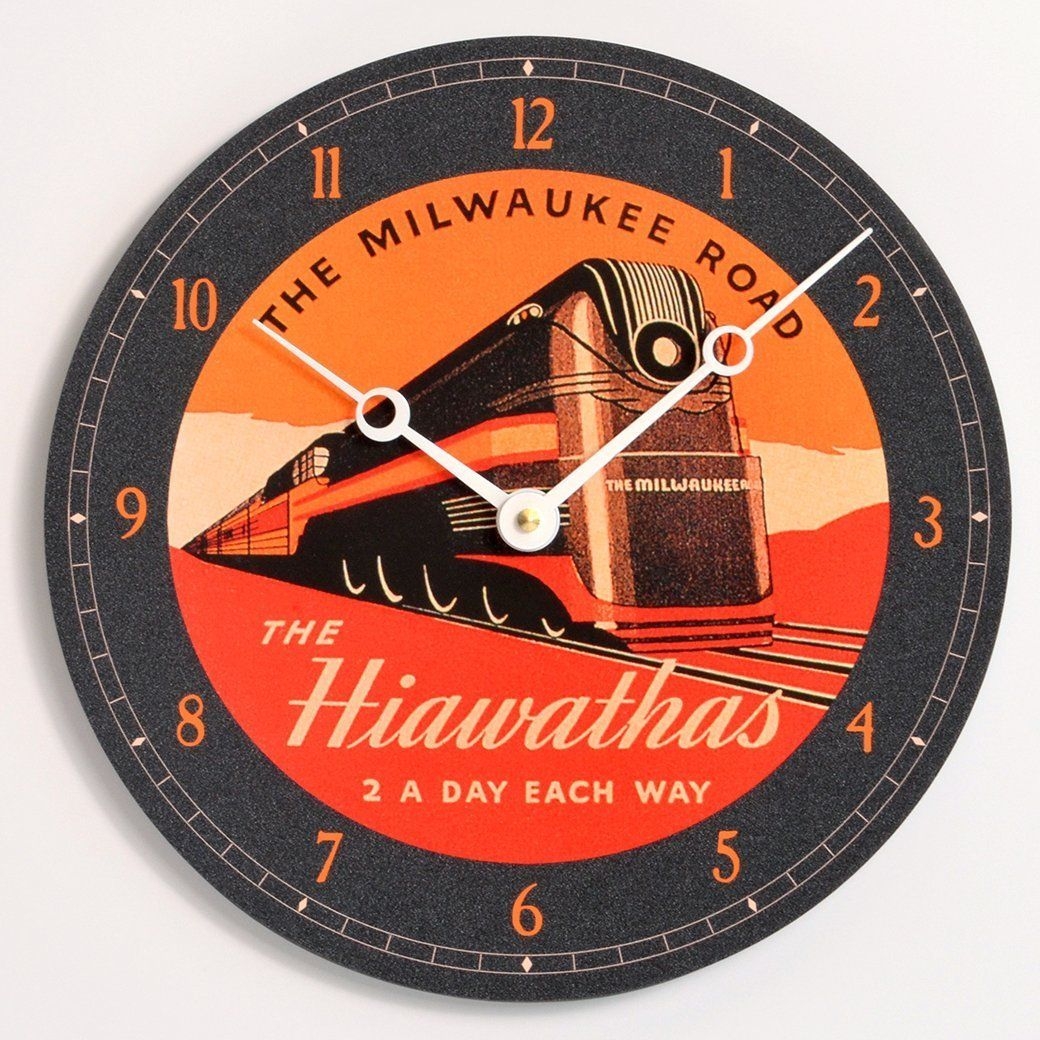 Vintage wall clock with Milwaukee road art bedecking the dial. The color palette of the clock is gray with oranges and reds, so it's rather eye-catchy, but in a no-overwhelming way. Everything is just well balanced here!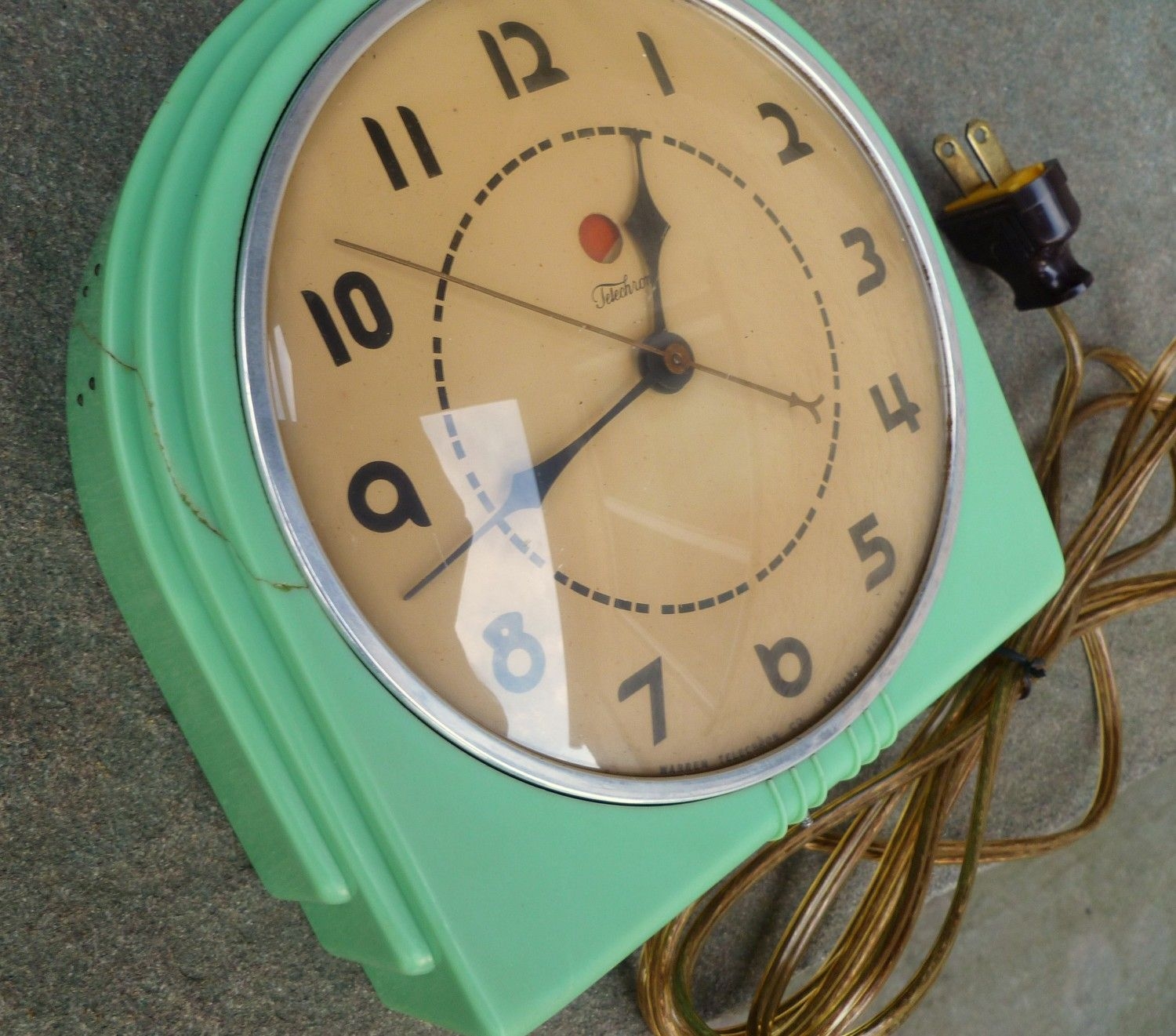 1930s Jadeite wall clock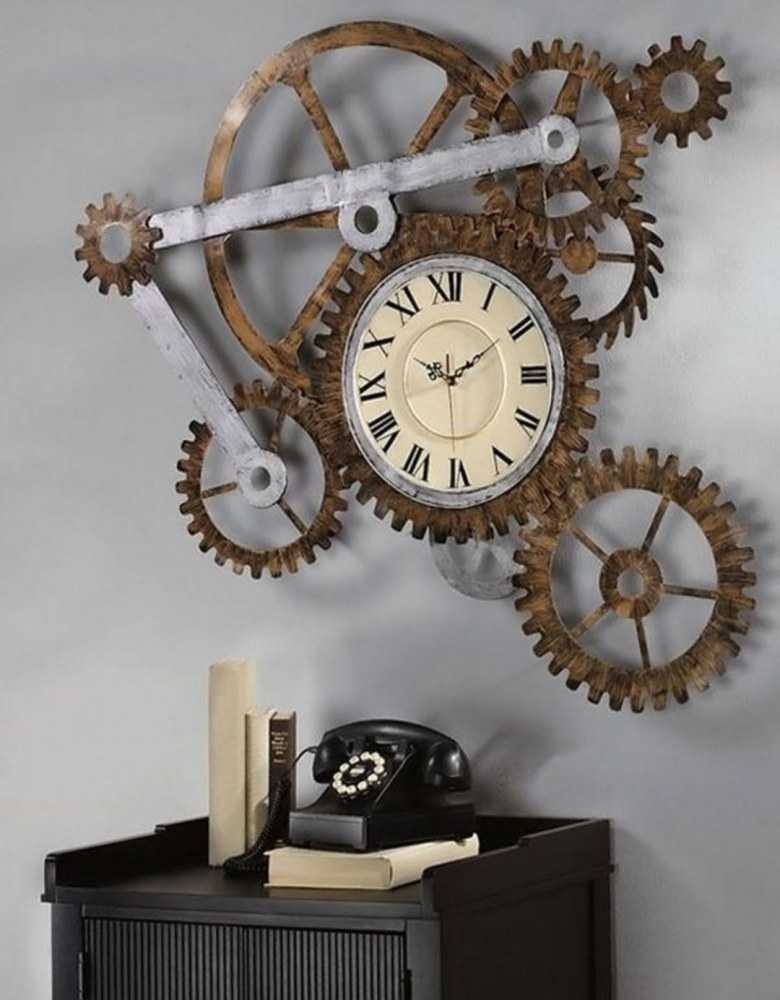 The attractive design of this eye-catching wall clock in the style of art deco delights. Beautifully illustrated details create a unique composition with a bright clock face with Roman numerals. The whole is presented exquisitely.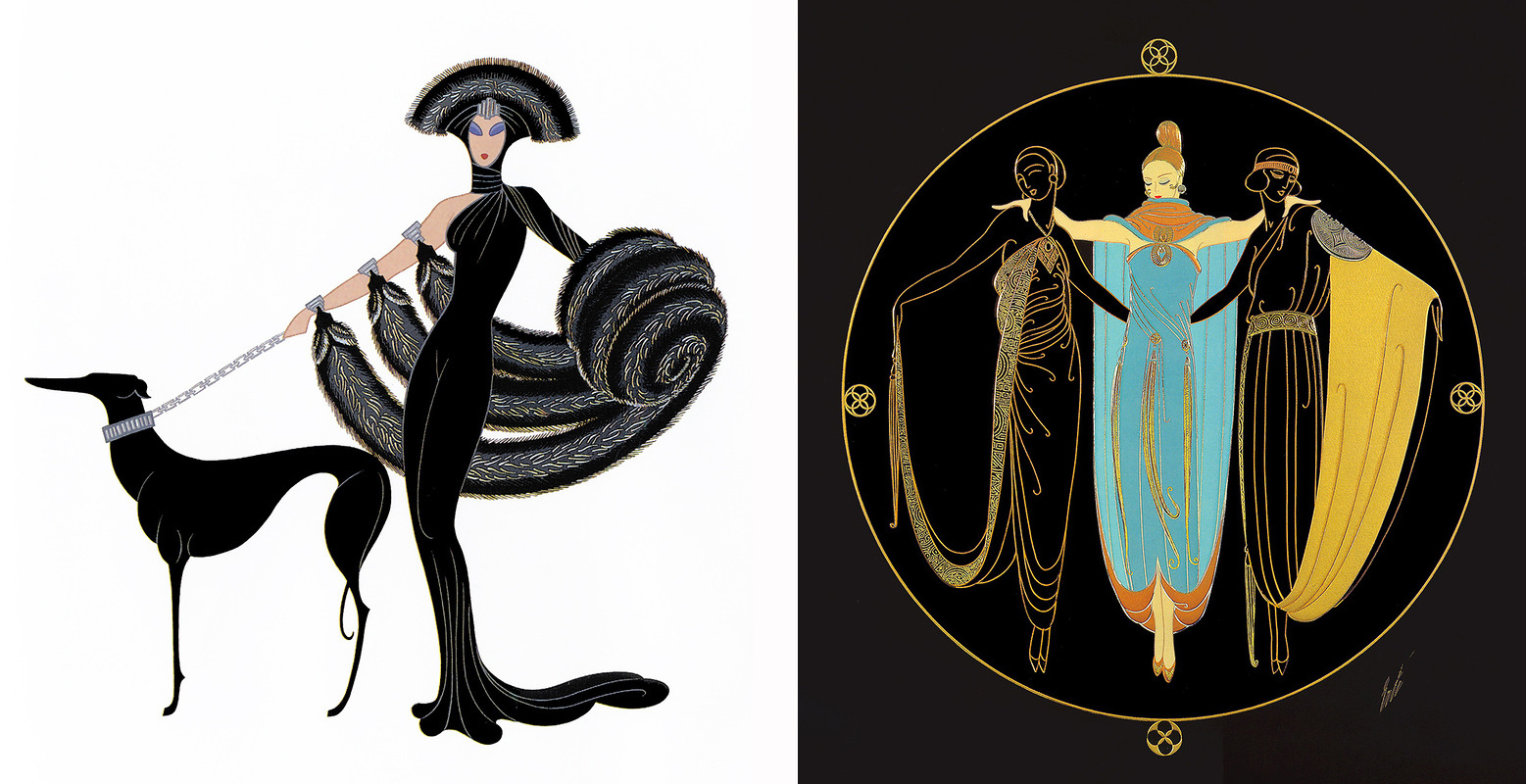 Wall clock in square frame with thick black trim and an artistic print applied to the face: Art Deco styled artwork depicts a lady with her dog on a leash. The hands are gold, and the Arabic numerals are white.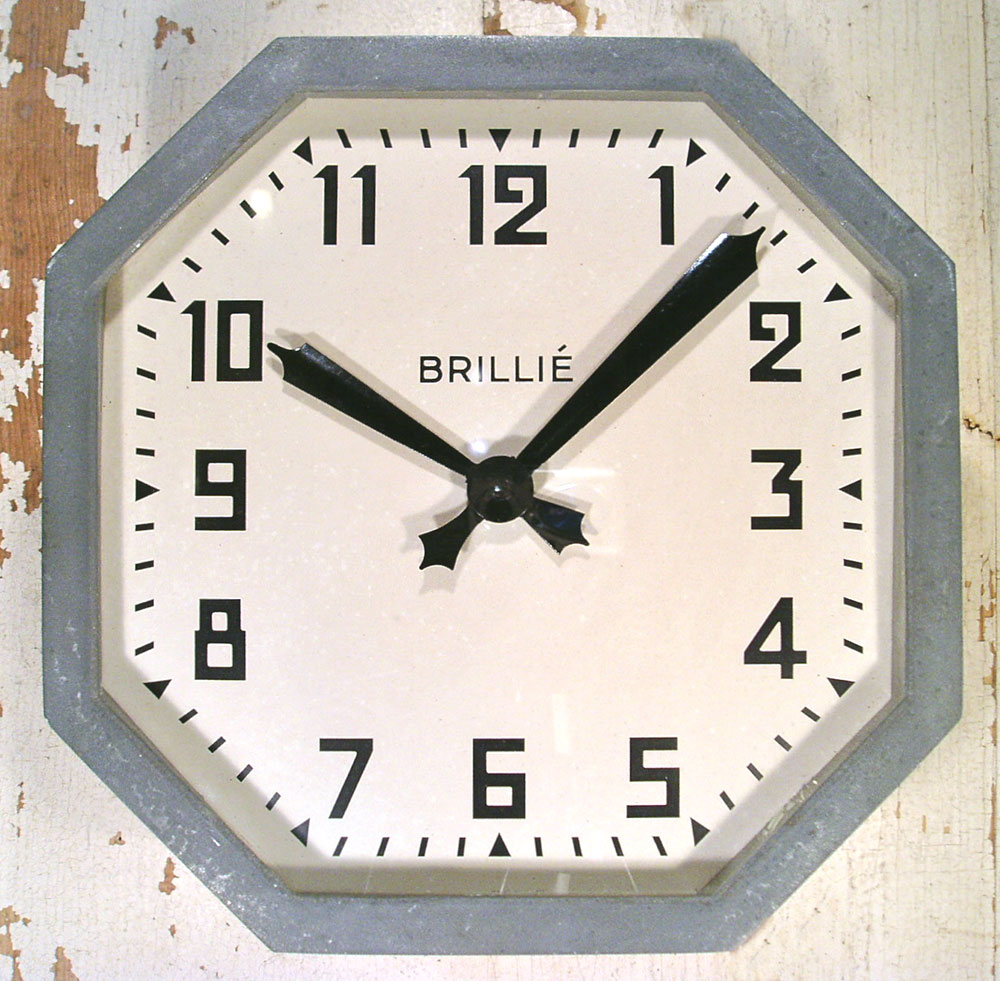 1930-40's French "Art Déco" Octagon Wall Clock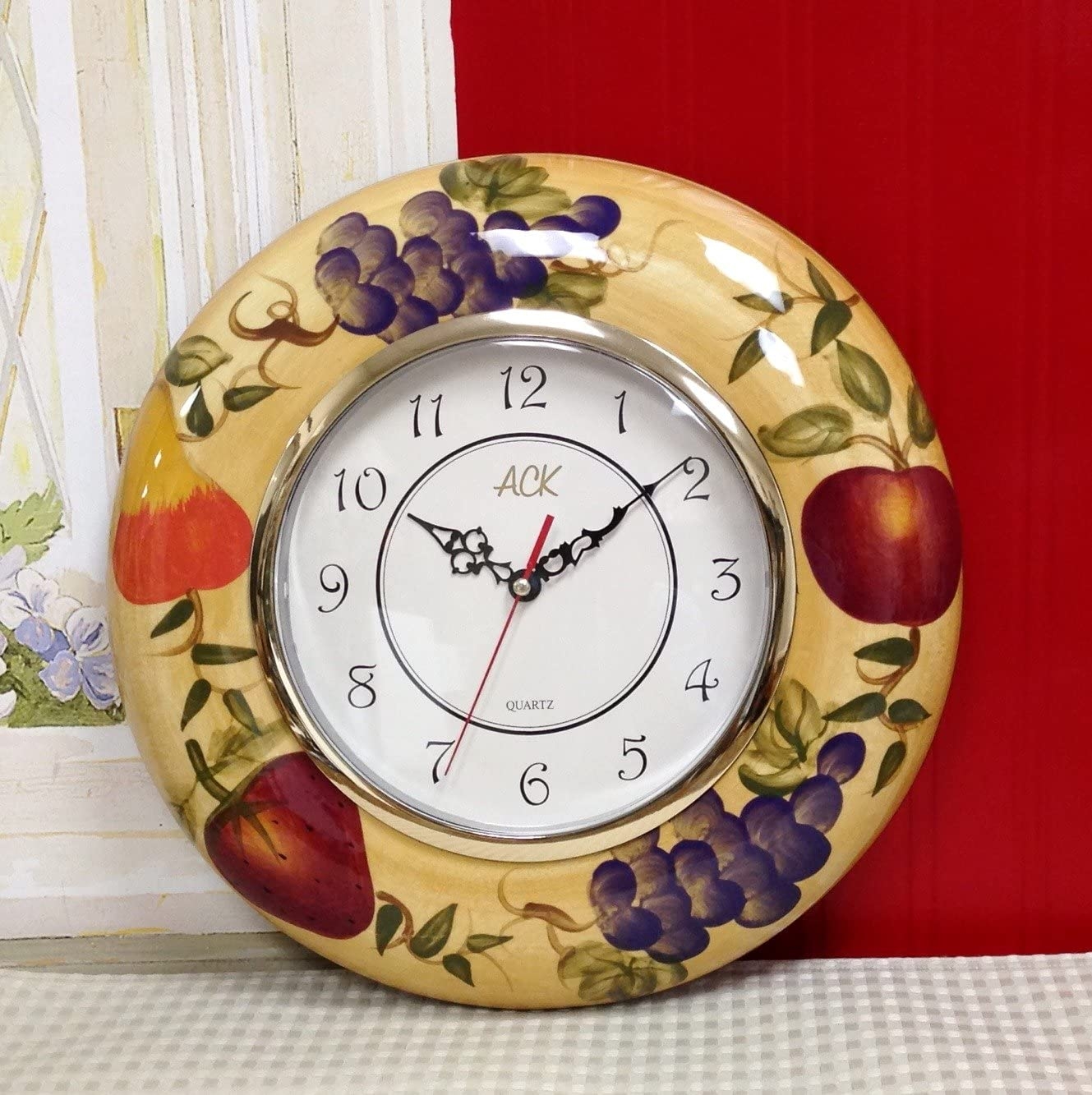 Kitchen wall clock in thick frame with retro fruit motif, pictured with care in warm colors. White face has black Arabic numerals and black ornamental hands, which design was inspired by Victorian era accessories.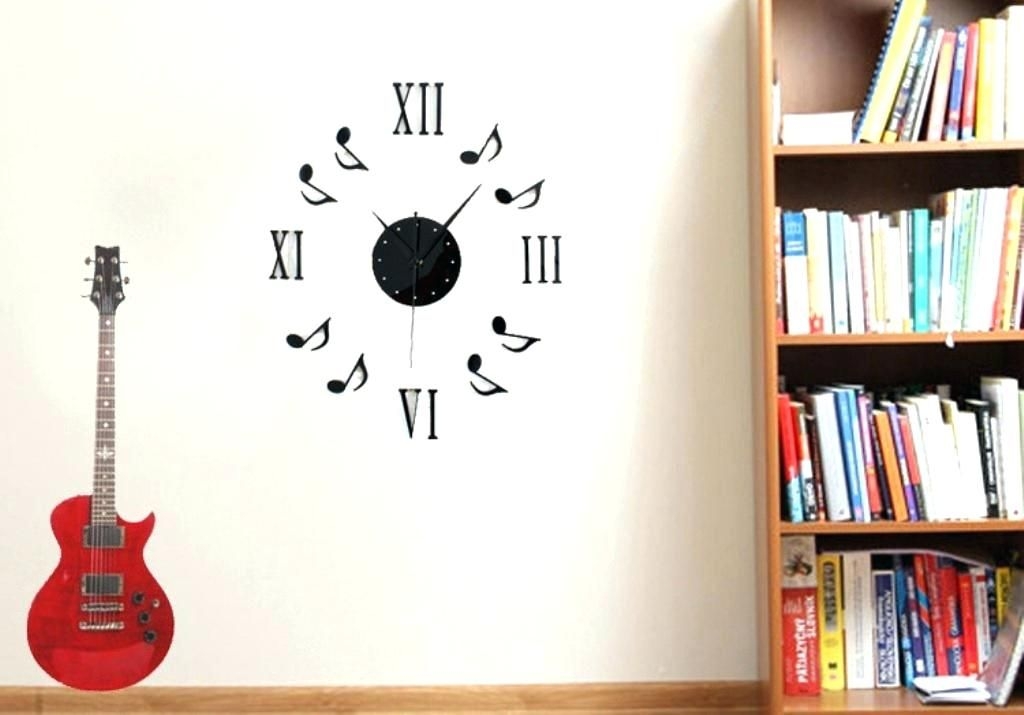 A very interesting element created for people who love music. This is a special wall clock that has got music notes and Roman numbers (III, VI, IX and XII) instead of Arabic numbers. The clock is made of high quality ABS plastic.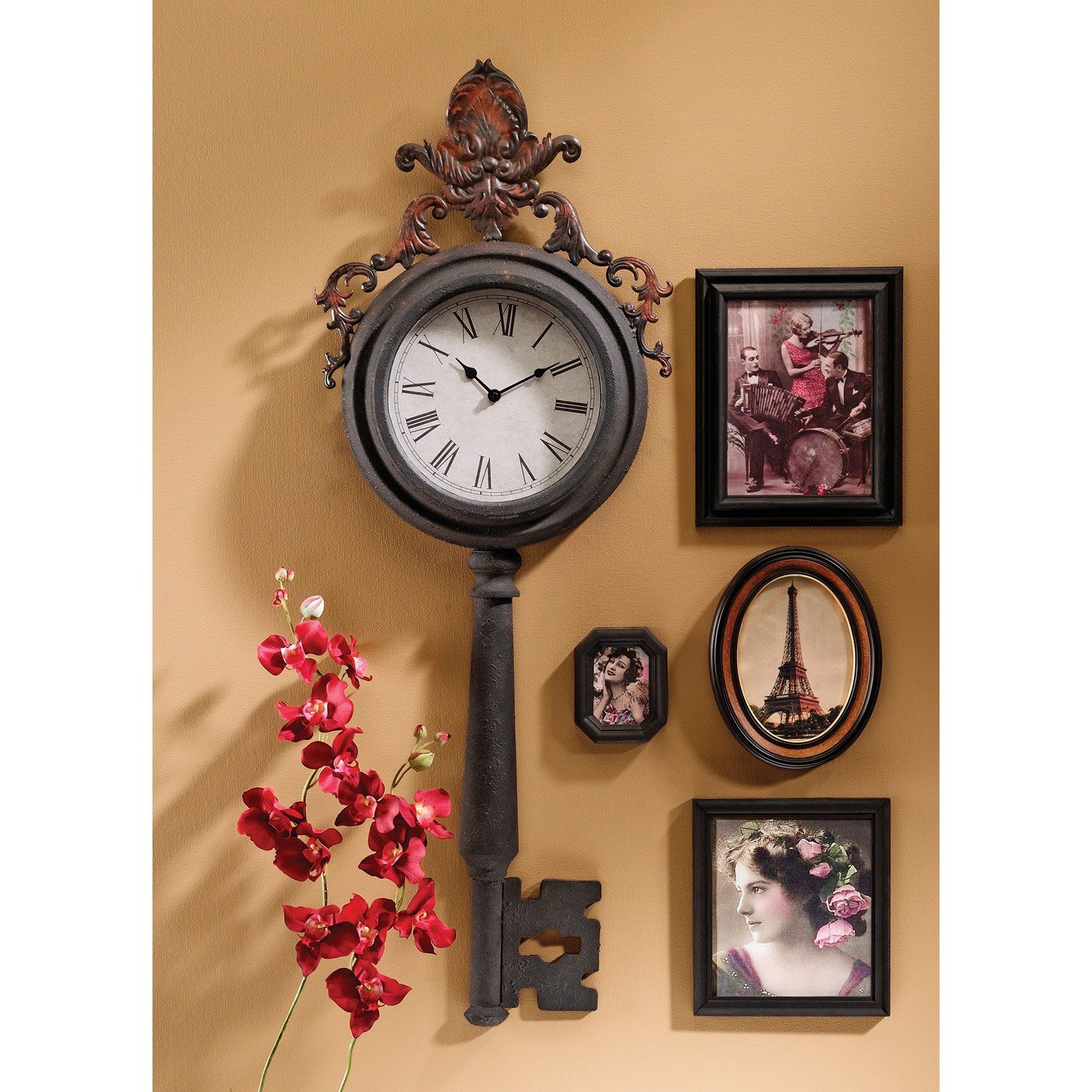 This type of product is a high quality element designed for use on walls. It is a clock that has got a key stylization. It features hand-crafted decorations and a very durable metal construction. The size of this clock is 14.5"Wx2"Dx38"H.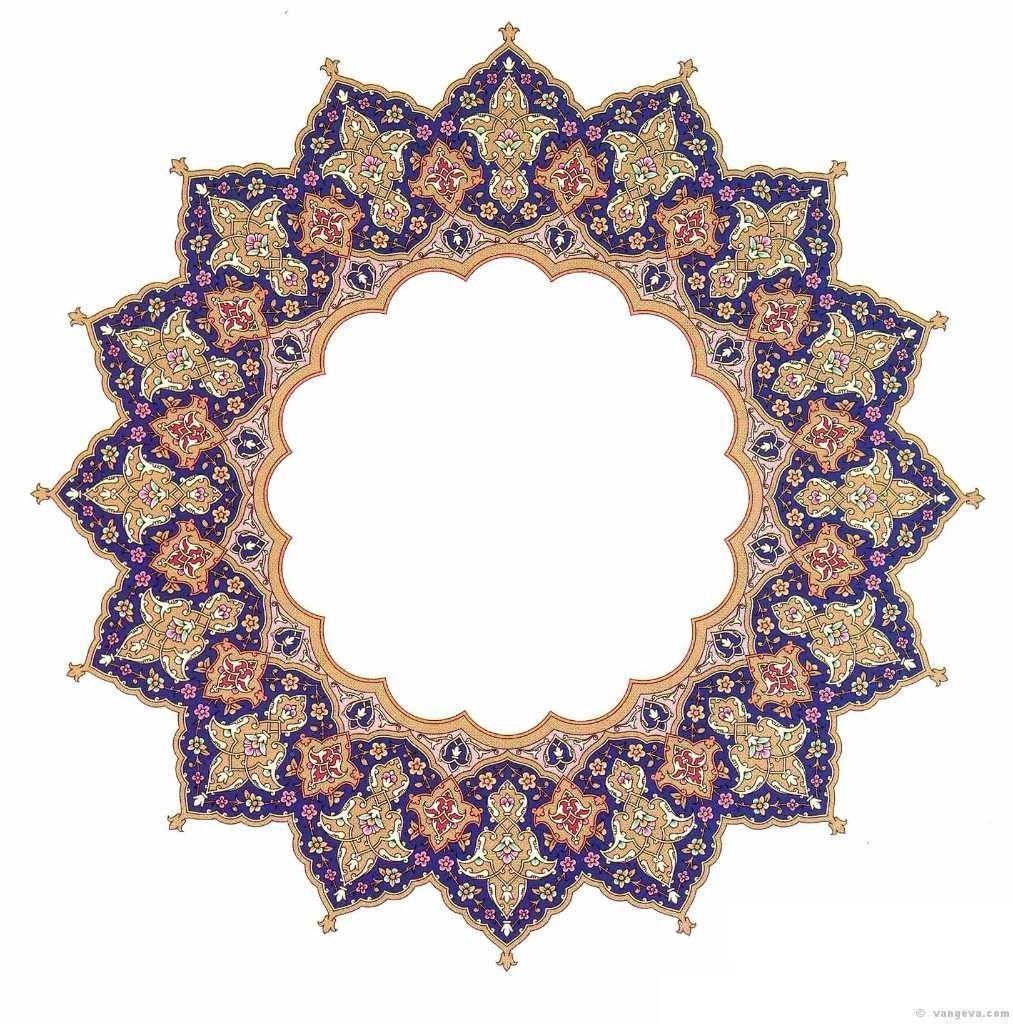 The gray frame of this stylish art deco wall clock is an excellent way to the original and interior decor. Beautiful carvings delight and bring to the decor a subtle and elegant style. The bright clock face with roman numerals captivates.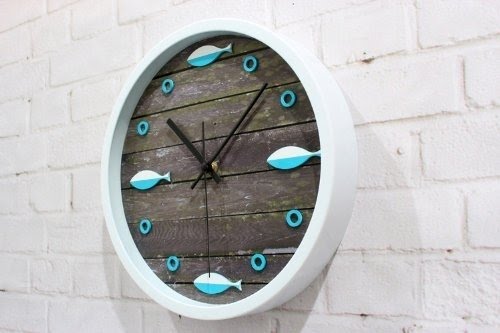 Nautical, or rather fish theme of this stylish wall clock draws the eye and complements your decor in many ways: made with attention to detail. it even has a distressed face background with wood grain pattern.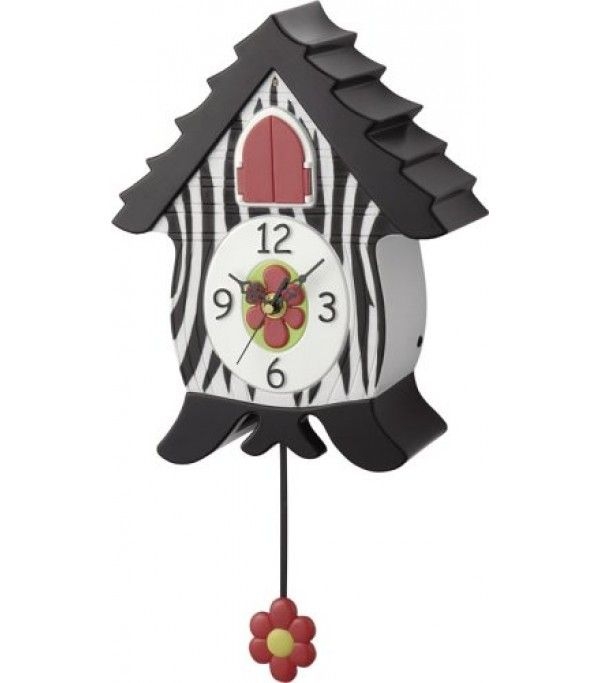 This adorable cooclock with cute monkey will be a perfect addition to your kid's room. On the hour the monkey pops out of the doors and sounds. A light sensor automatically shuts off the character when the room becomes dark.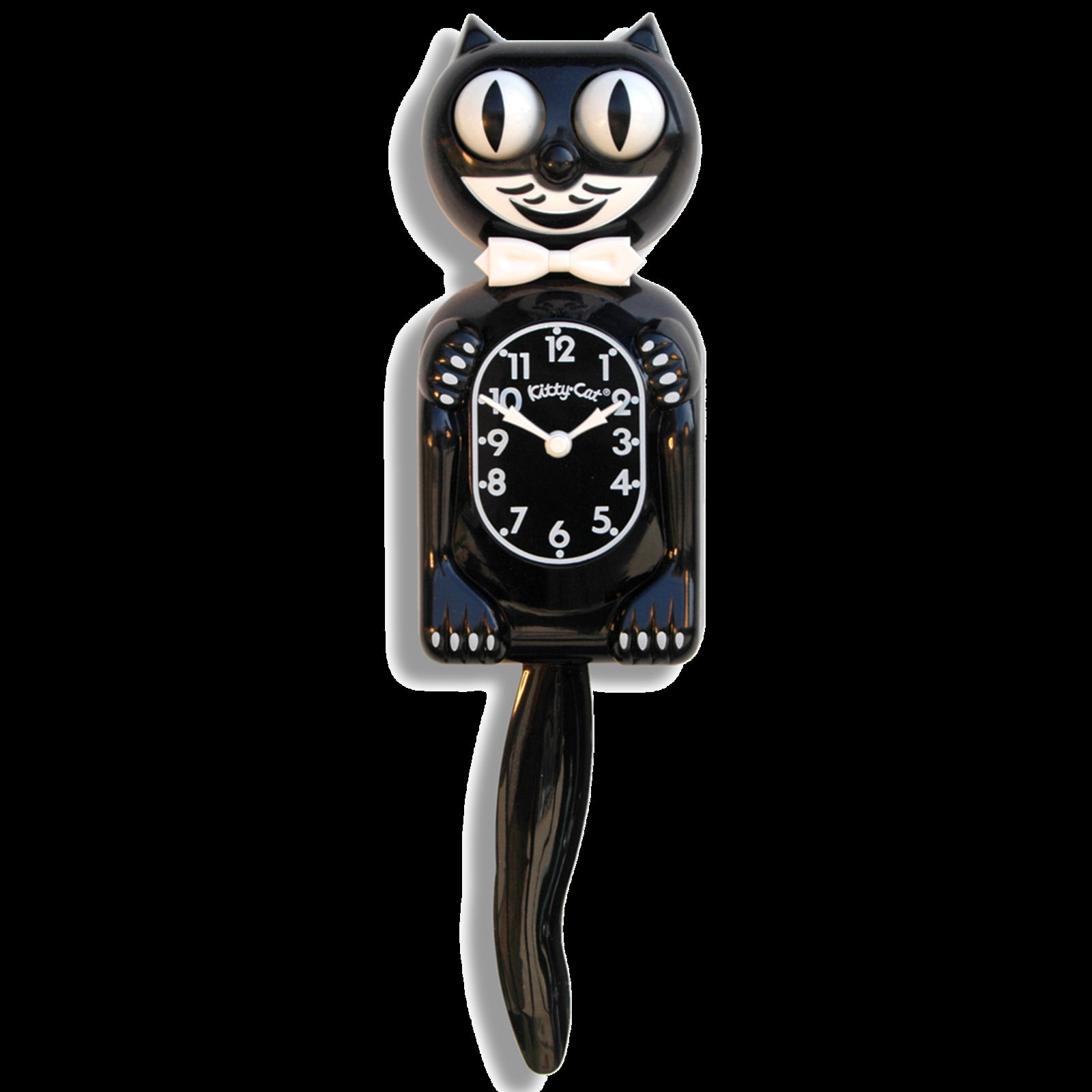 This kit-cat clock works perfectly in kitchens, dining rooms, kids' rooms, and kindergartens. The clock provides a quartz movement, and requires 1 AA battery. Includes a wagging tail (pendulum), rolling eyes, and an oval face with Arabic numerals.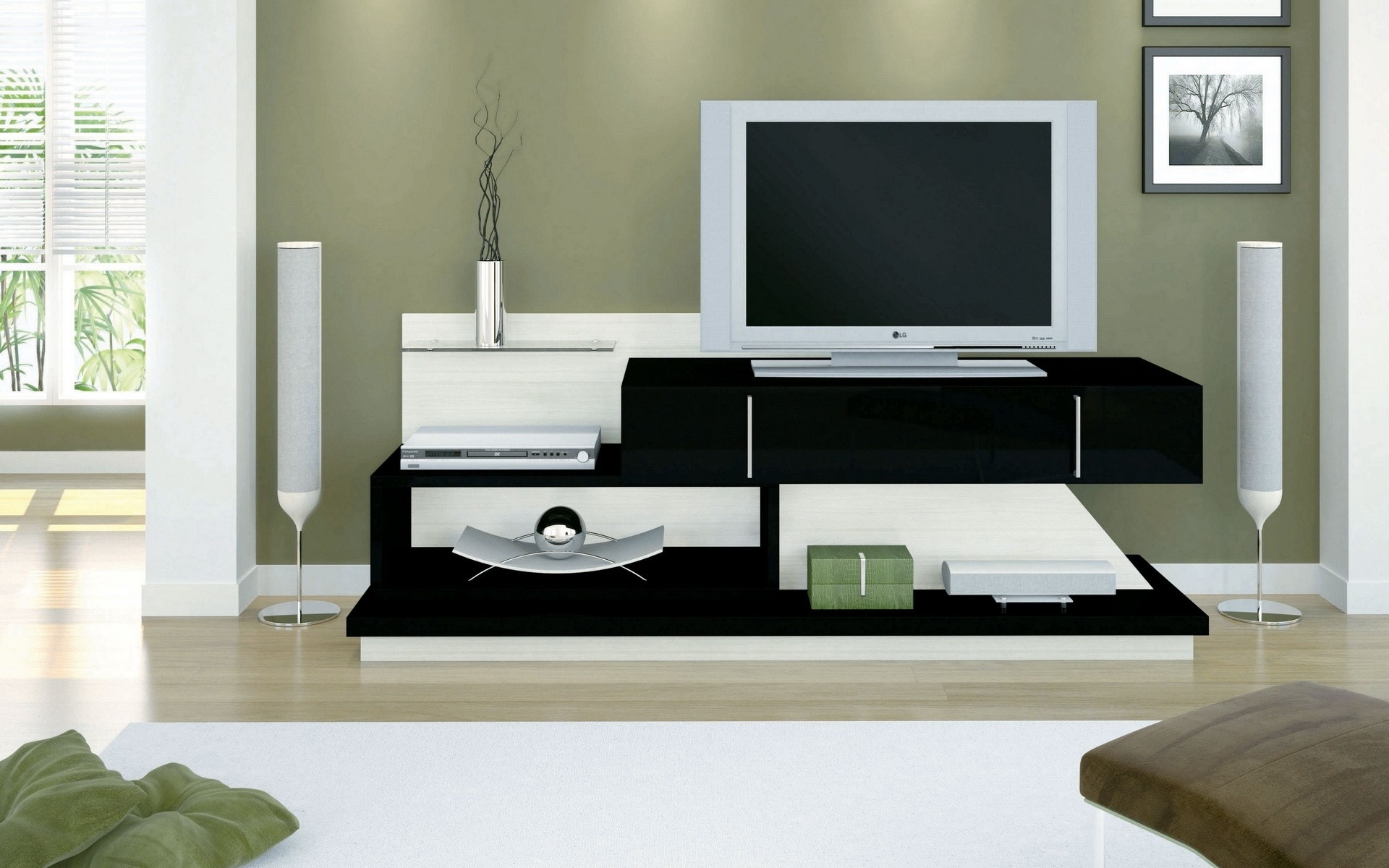 A very interesting element created for people who love original and functional solutions in their houses. This type of wall clock contains adhesive sticker digits that feature a very modern design. This product has got a very reliable mechanism.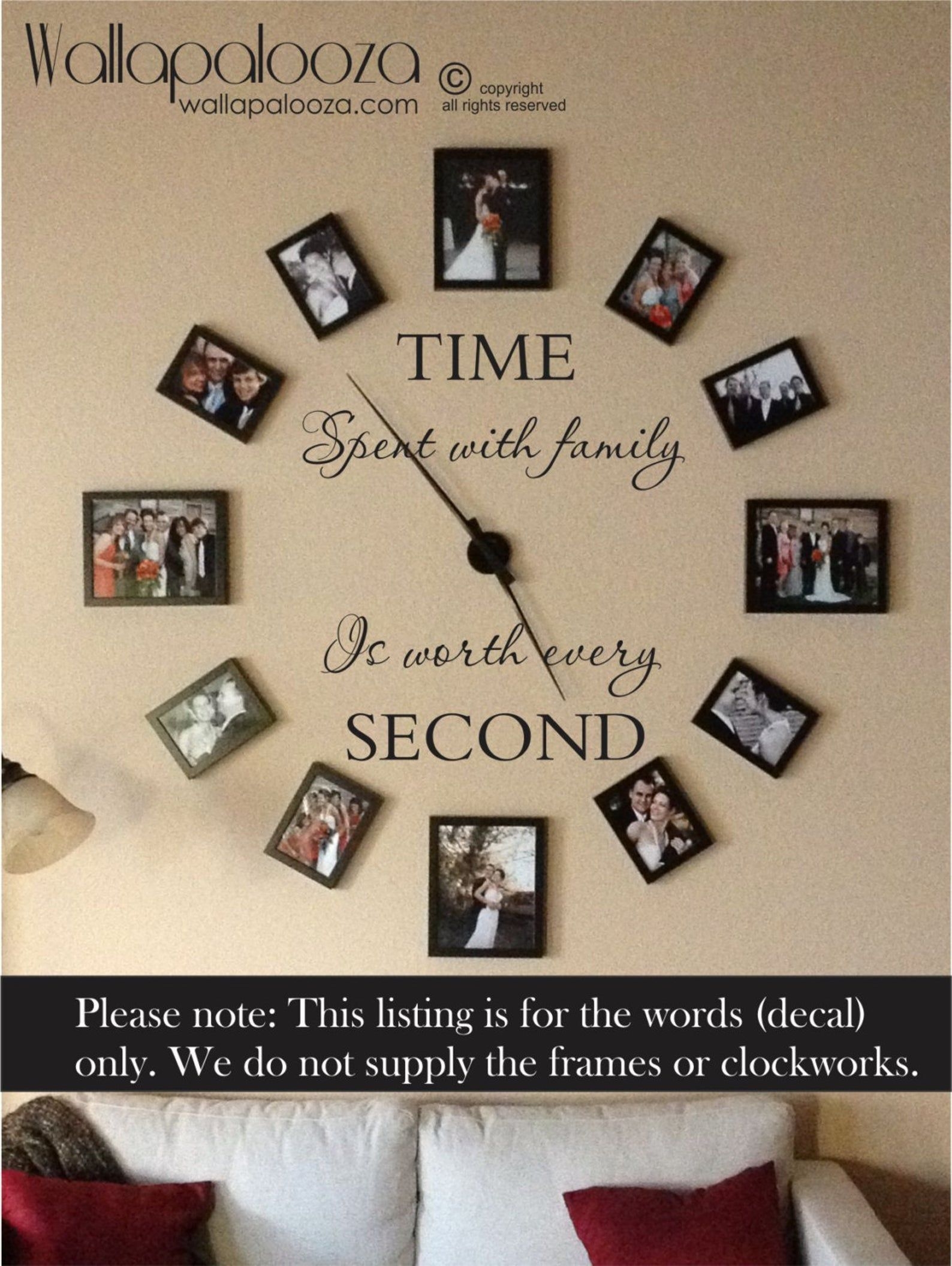 Why choose between a clock and a family pictures collage if you can have two in one. In this clock the numerals were replaced by picture frames, so you can fill them with your favourite photos of assorted size.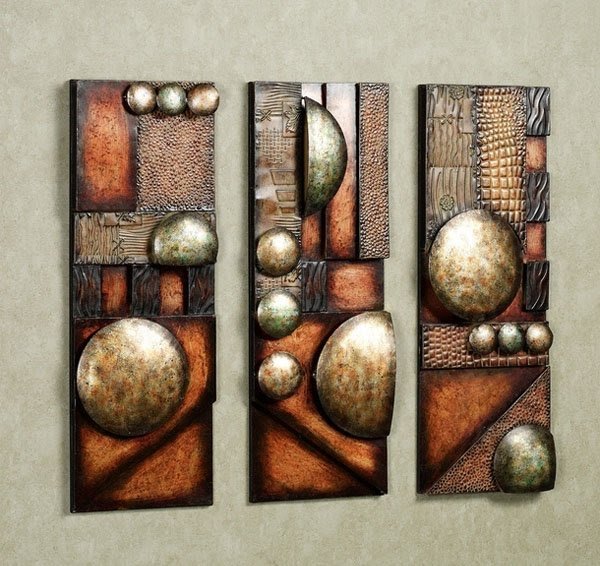 Metal wall mart consisting of a set of three wall-mounted sculptures made out of distressed metal and assorted elements. Sure to spice up the look of any living room with its unique, rustic design and industrial touch.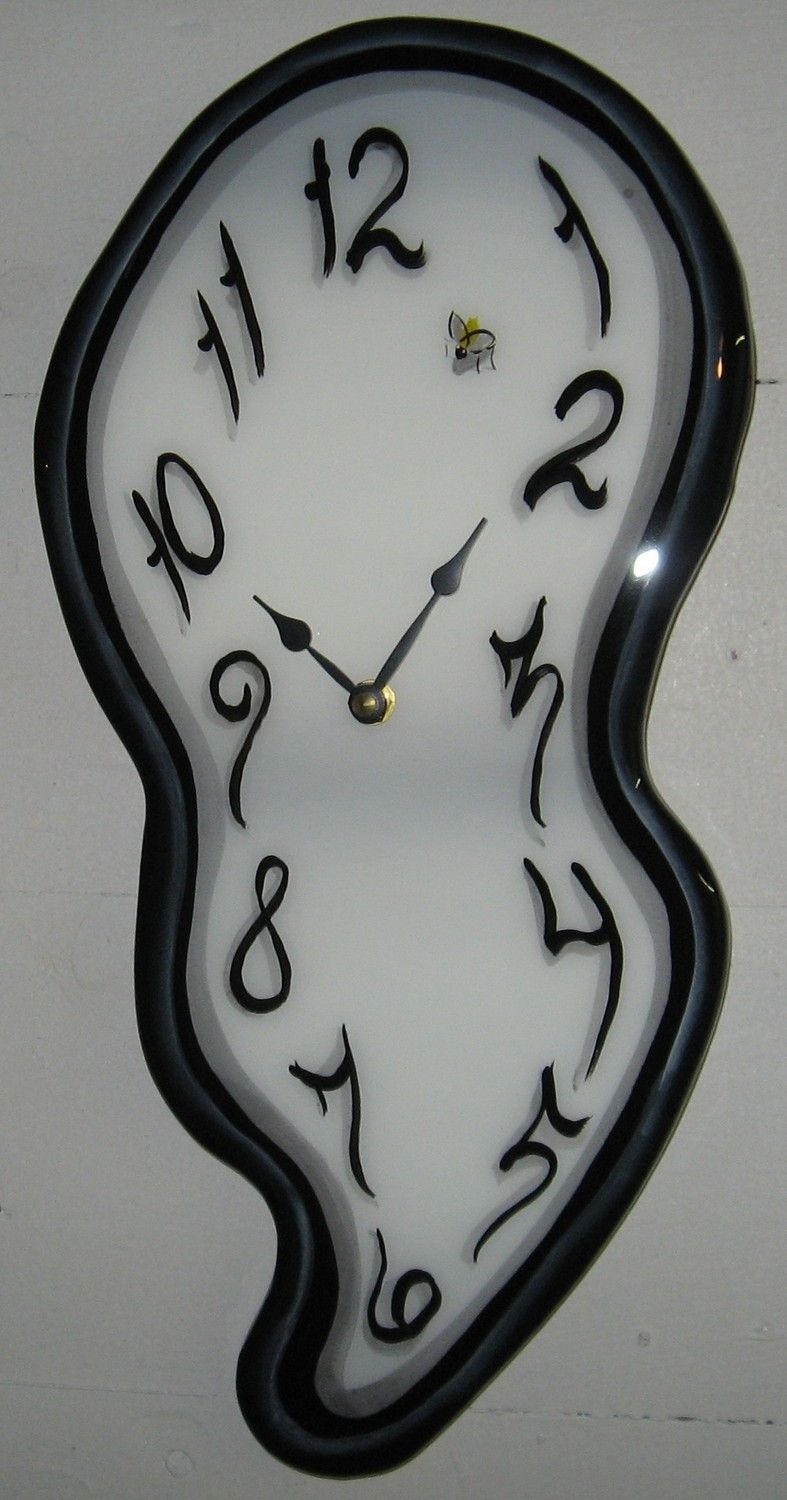 Melting Wall Clock Made to Order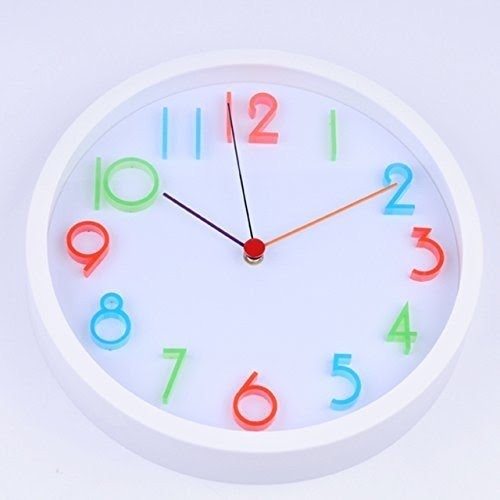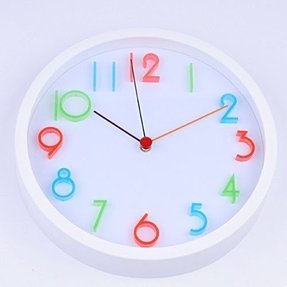 Wall clock featuring 3-D colorful and large numerals and front glass cover. Additionally, it features high quality quartz sweep movement, which provides accurate time and silent movement. The clock is powered by one AA battery.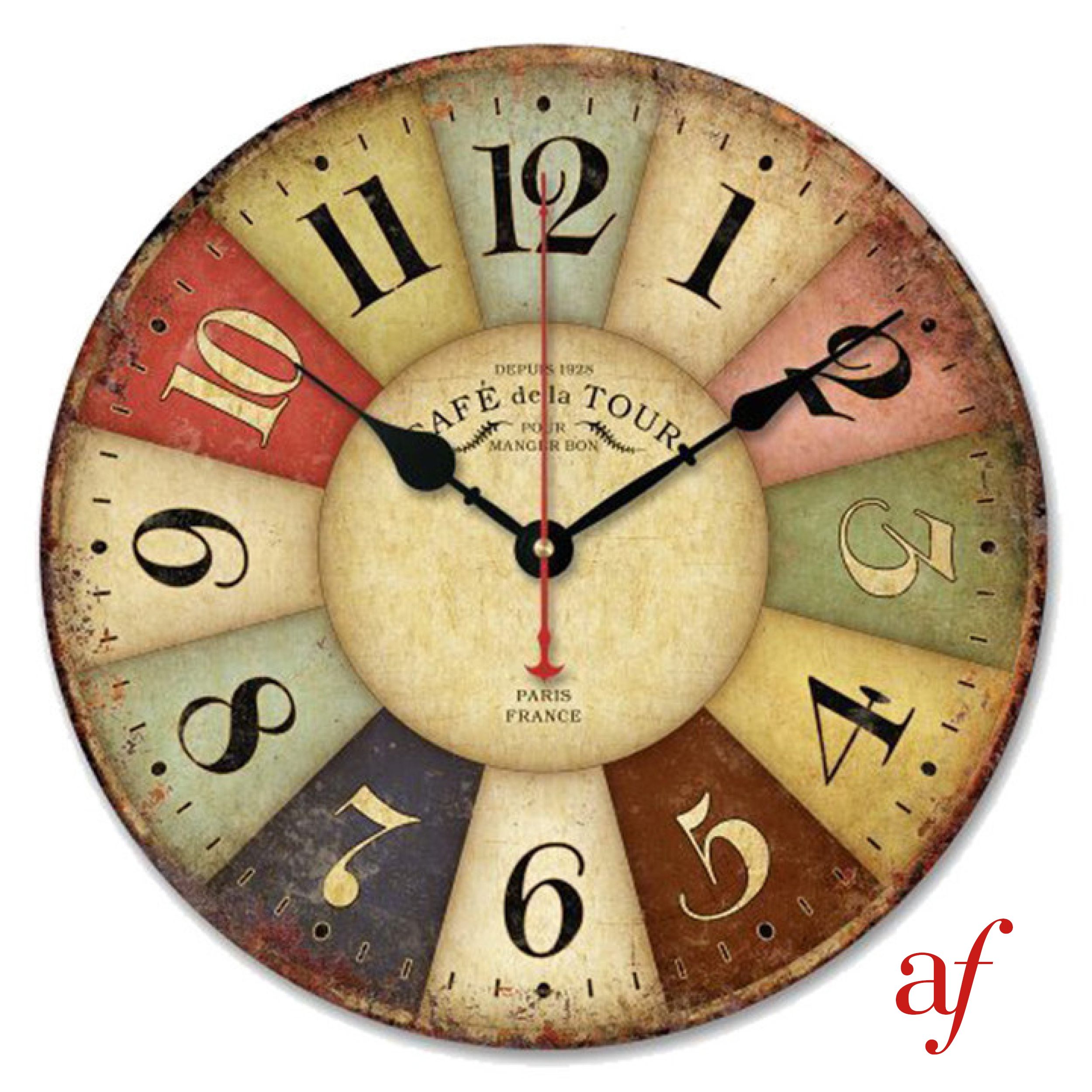 This kind of wall clock has got a functional and decorative role. The product has got a round shape and it features different colors of numbers. It is a silent non-ticking clock that works without malfunctions for a long time.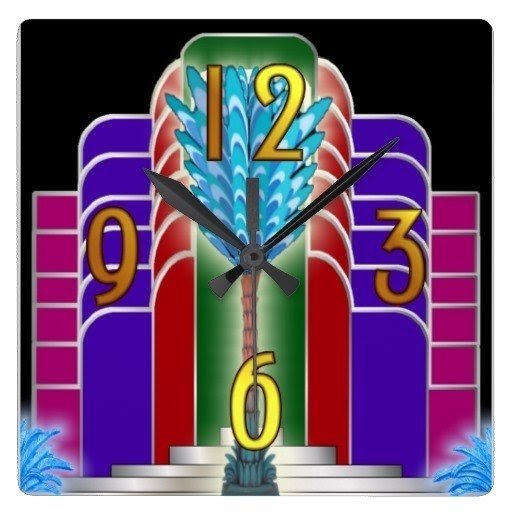 Art Deco Wall Clocks