Upholstered Barrel Back Chairs
These are elegant and look comfortable, don't you think? We can assure you that all the designs, shapes, colours and sizes of these upholstered barrel back chairs are pretty and functional. Therefore, it shouldn't come as a surprise that many people have already bought them. Now you can take your time to do it, too.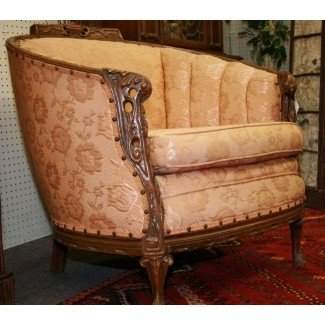 The oversized barrel back chairs are an excellent combination of exceptionally smart antique styling and functionality. The whole, based on the beautifully carved wooden frame, creates a unique upholstered composition.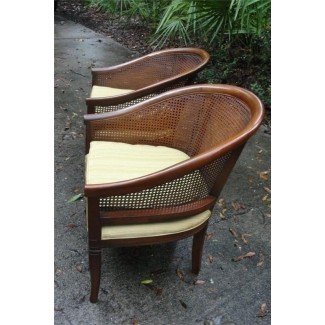 Mid Century Cane Back Barrel Chairs Hollywood Glam 2
Barrel back chairs with solid wooden frames and classic lines. Gentle slope of the back provides additional comfort. Green-gold tone cushions are soft for more relaxation to any user. Four strong legs assure good stability.
The nicely-framed barrel back chair is a perfect combination of style and functionality. Interesting details and solid wood construction are beautifully compiled with a light cover, which adds charm to the striped pattern.
A set of two traditional armchairs made in an old-fashioned style. The armchairs are upholstered with polyester blend material in a variety of colors, paired with wooden legs crafted out of dark, burnt oak wood.
Barrel-back French chair, perfect if you want to design a traditional, luxurious interior. The distressed framework doesn't need any renovation, as the antique vibe it carries is just priceless.
Brooklyn is a barrel back club chair that has been reupholstered using Old-World techniques such as eight-way hand-tied with coil springs, horsehair,
This soft-in-touch, comfy barrel back chair delights with its cosy, rustic appeal. Upholstered with beige linen, features a stylish nailhead trimming. A smooth way to add your decor some vintage vibe.
Our advice Buying Guide
What are barrel back chairs?
Barrel back chairs are chairs which consist of a seat and then a large back piece which surrounds the chair and provides arms too. The name is taken from the fact that these chairs do look like they are made somewhat in the shape of a barrel, and their short legs often contribute to this look too. This is a look which has been featured in homes for decades, if not centuries, and you can opt for the modern versions of the chair or the traditional furniture.
What are the most popular patterns on upholstered barrel back chairs?
The patterns will vary on upholstered barrel back chairs. Since they are upholstered, the most common material is fabric, creating a comfortable environment in your home. Let's consider some of the most popular patterns that people choose when buying barrel back chairs.
Subtle floral pattern: This is normally upholstered using one main color for the chair. For example, light brown or beige are common colors. The material is then embroidered with flowers and leaves which are a shade just slightly darker or lighter than the main color. This means that the floral pattern doesn't stand out too much, but is obviously not a completely plain piece of furniture.
Brighter floral pattern: Similar to the subtle pattern mentioned above, the brighter floral patterns have more contrast and are therefore more colorful. While the main background color might be beige or cream, the flowers will normally have some pink, green or purple thread running through them to add color. If choosing this pattern, consider any other prominent colors in the room to decide whether it will clash or work well.
Plain pattern: Since many of these chairs have an antique frame, the fabric upholstery is the chance to make it a little more modern. Since floral patterns are very traditional, many buyers like to consider plainer solid colors. Dark colors are popular if you intend to make the barrel chair a feature piece in a room or the only furniture for seating, while lighter colors work well as part of a wider living room suite.
What style of frame pairs well with upholstered barrel chairs?
A common look for older chairs is the distressed wooden look. While this may have been reinforced with newer wooden materials, the upholsterer is careful not to force the chair to look its antique look. A distressed frame paired with modern upholstery can create a beautiful contrast which is ideal for homes furnished with a shabby chic design.
PRODUCTS & IDEAS Best Ideas