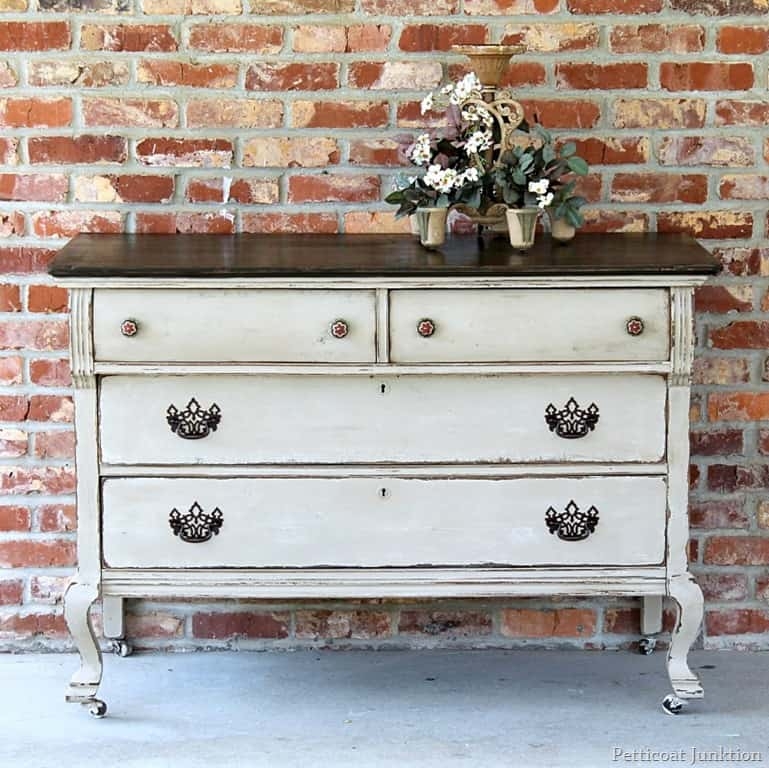 Stunning mid-century inspired bedroom chest of drawer with beautifully curved legs, a lacquered white finish, and ample storage. The piece offers up to three large drawers and smaller ones at the top. Each of the drawers is accentuated with little touches of black for outstanding visual appeal.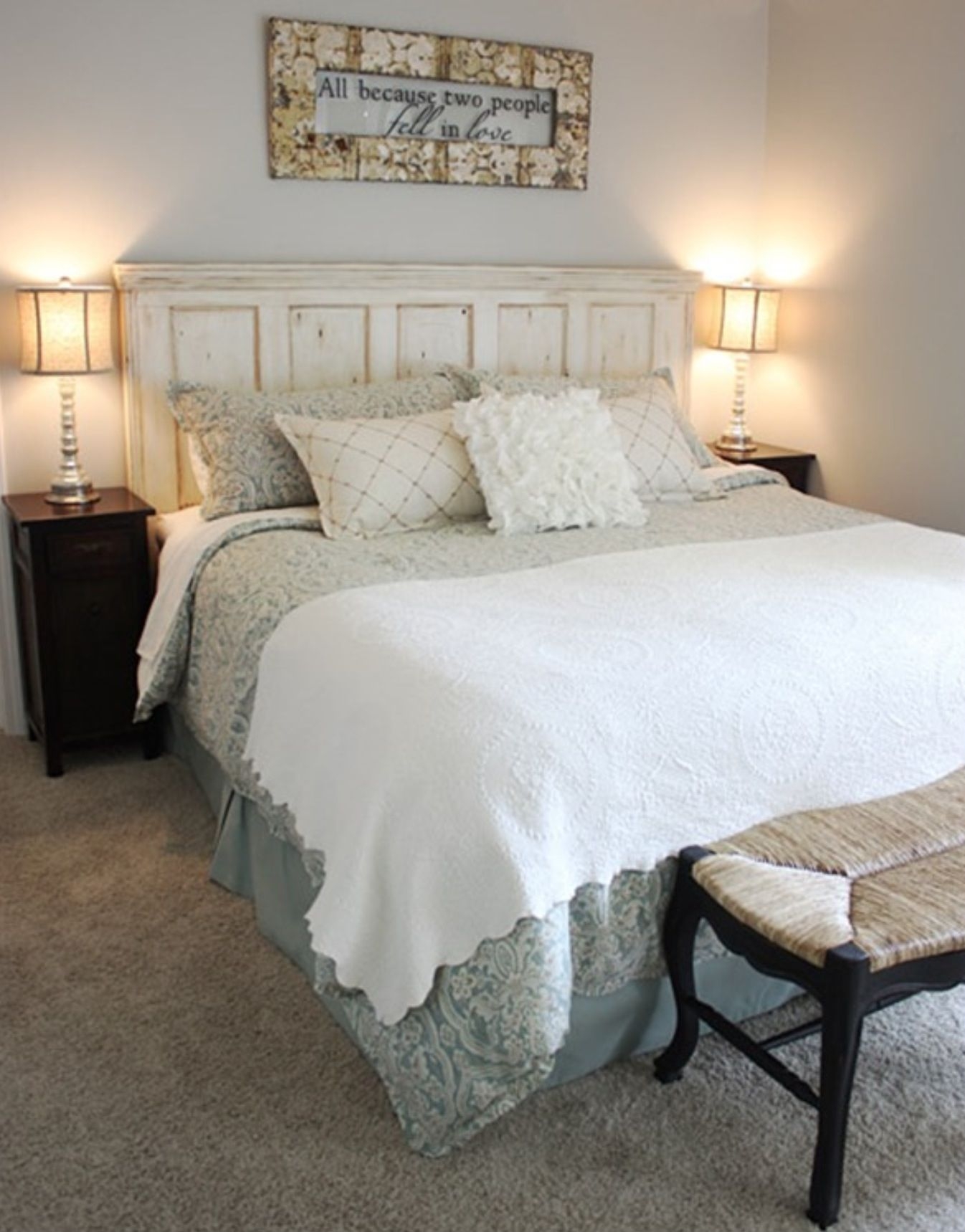 The rustic style queen bed with fluffy white and steel-color bedding. Looks like taken from the rustic cottage. In addition, the wall is ornamented with a handmade inscription. The interior presents the coziness and warmth.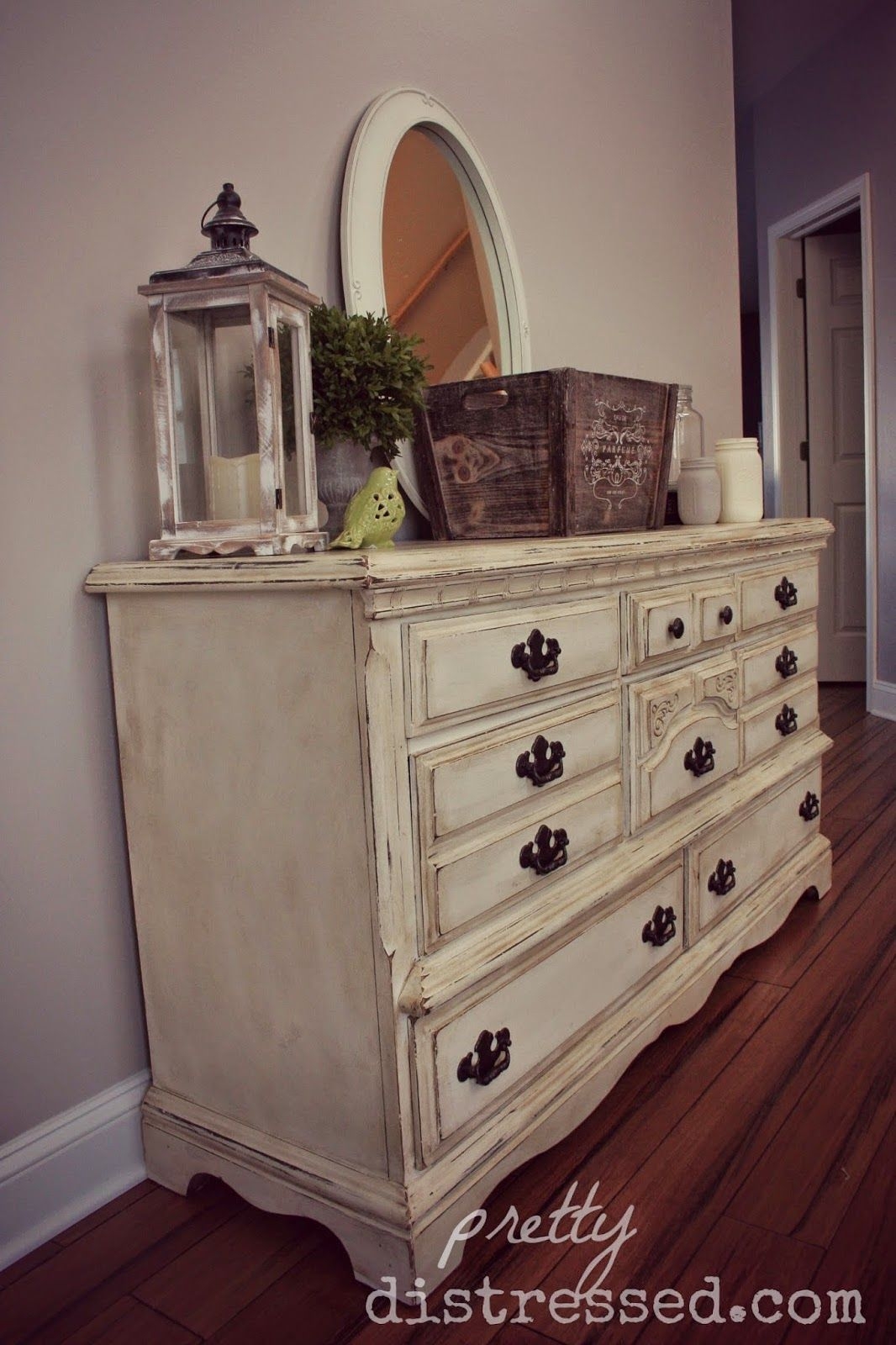 Annie Sloan Chalk Paint in Old White with heavy application of Annie Sloan Dark Wax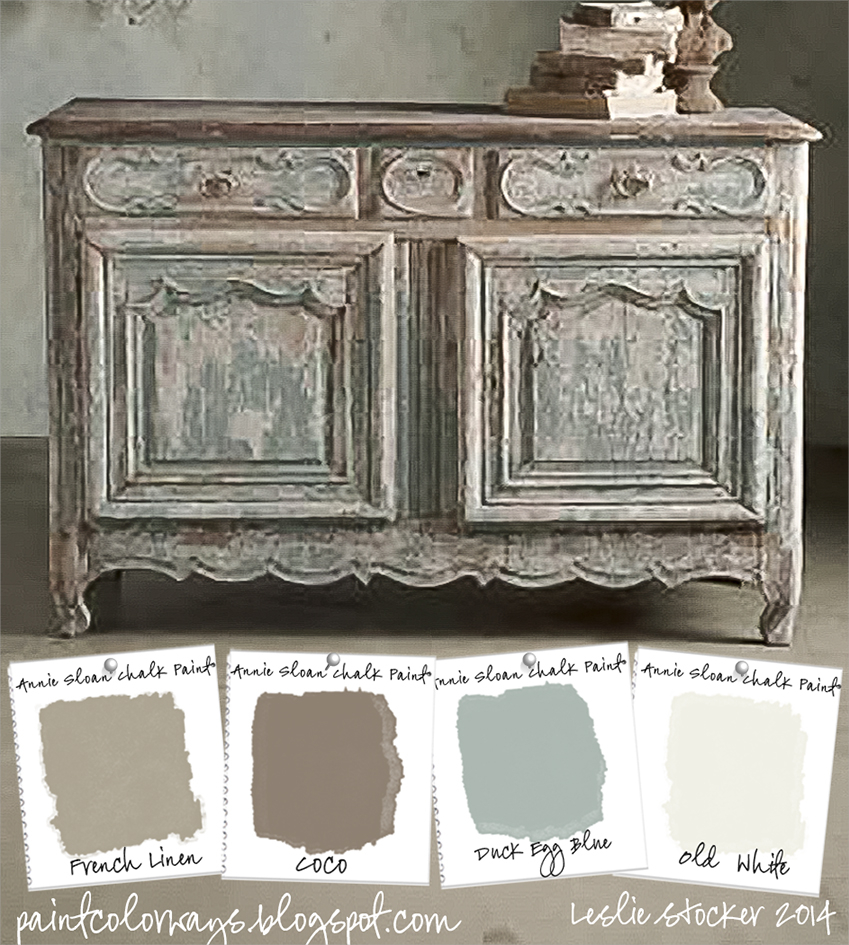 Vintage style bedroom chest with a unique laid back design and a midcentury look. The chest also offers a lot of storage thanks to its two drawers and two extra-large cabinets. You also get a large countertop that can be used for a lamp and a vase or whatever you want.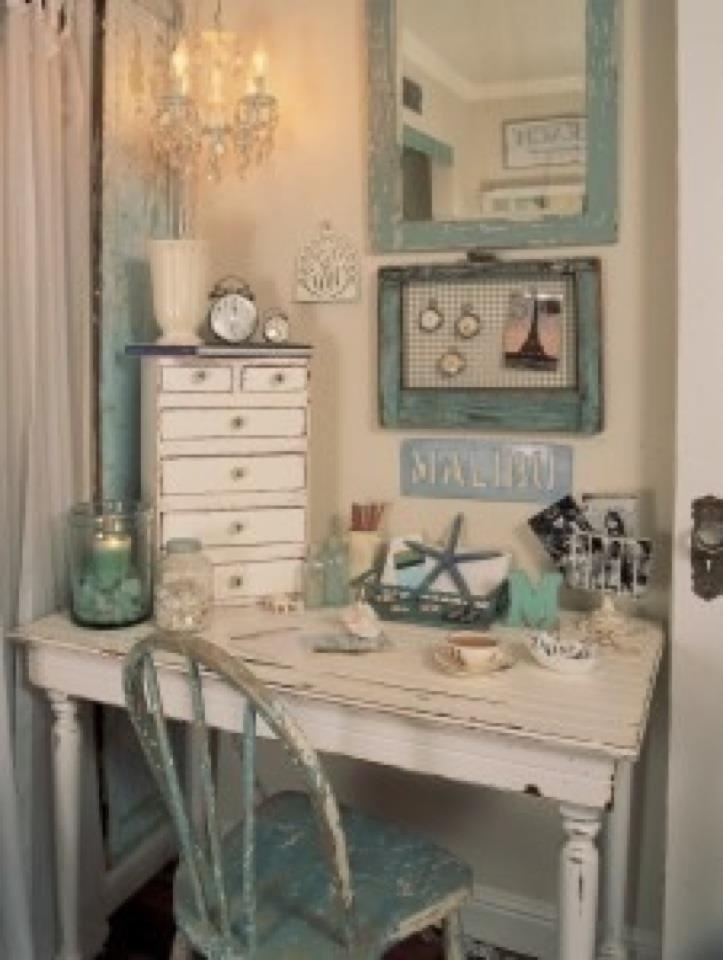 Wooden desk with antique finish. It is mounted on carefully carving legs. Rectangular top has large usable surface. Neutral design for each room. Perfect solution for work organization at home.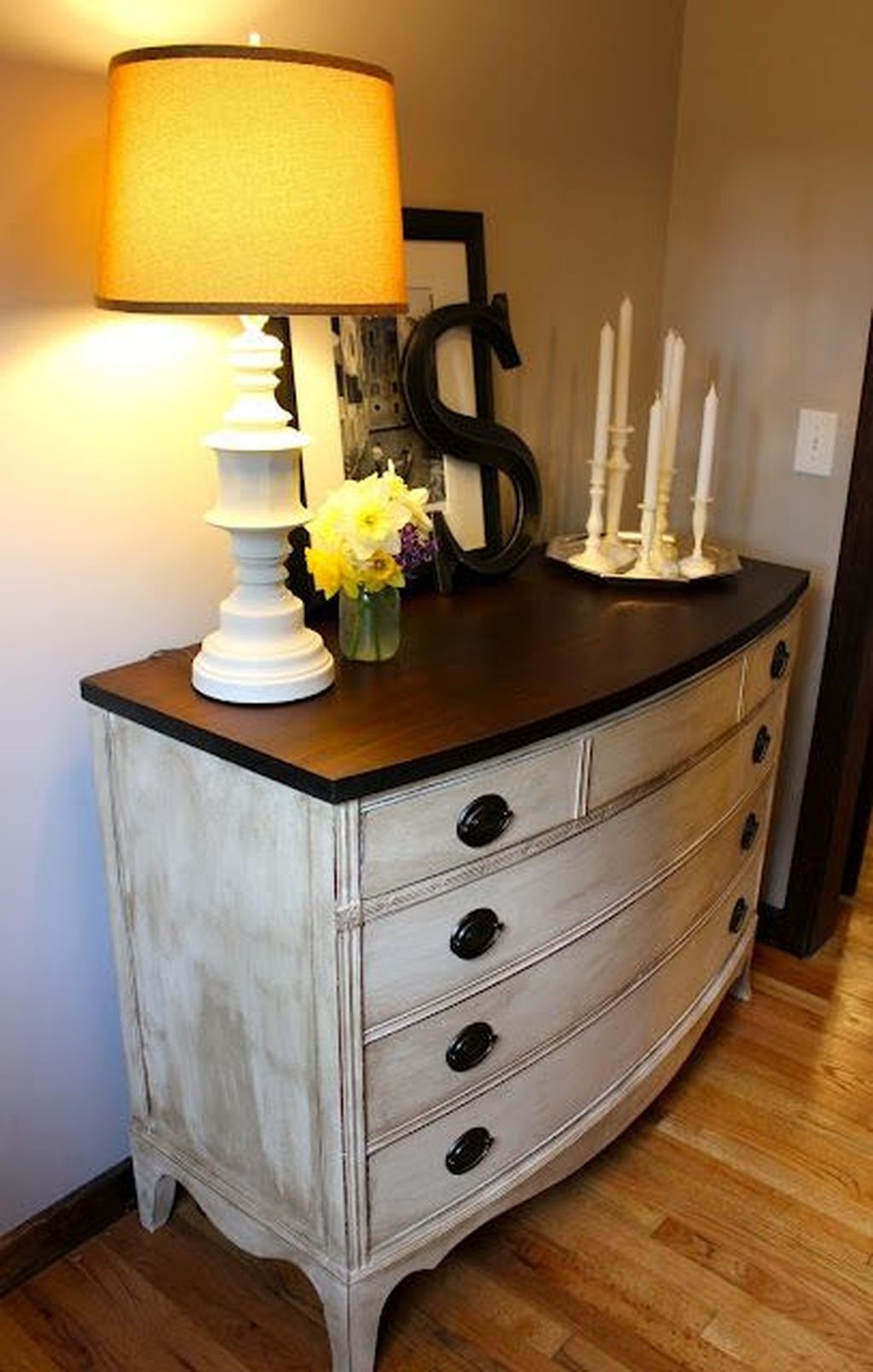 Gentle curves and vintage appearance makes of this lovely dresser a nice decoration for entryways, and hallways. It has wood construction bathed in a distressed two-tone finish, offering capacious storage drawers with black pulls.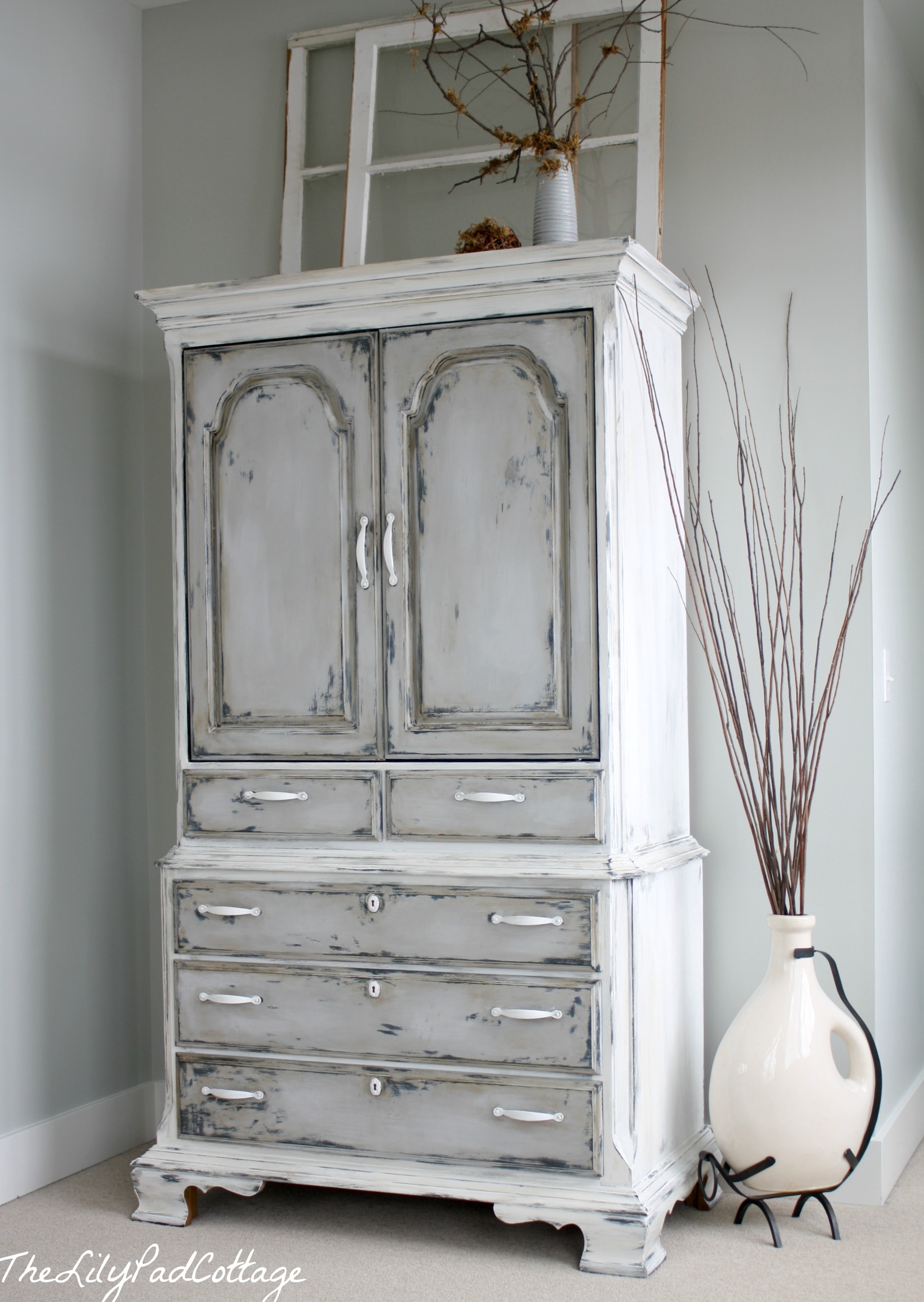 Emanating with country charm and old-fashioned flair, this lovely dresser fits almost any decor. Made of wood and bathed in a distressed off-white finish, it stands on flat legs, offering 3 storage drawers with locks, 2 small drawers and 1 two-door cabinet.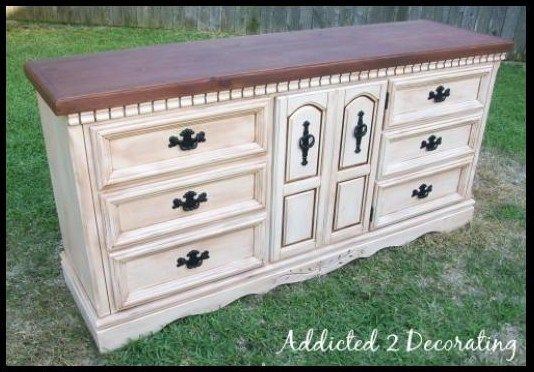 How To Paint, Distress and Antique A Piece of Furniture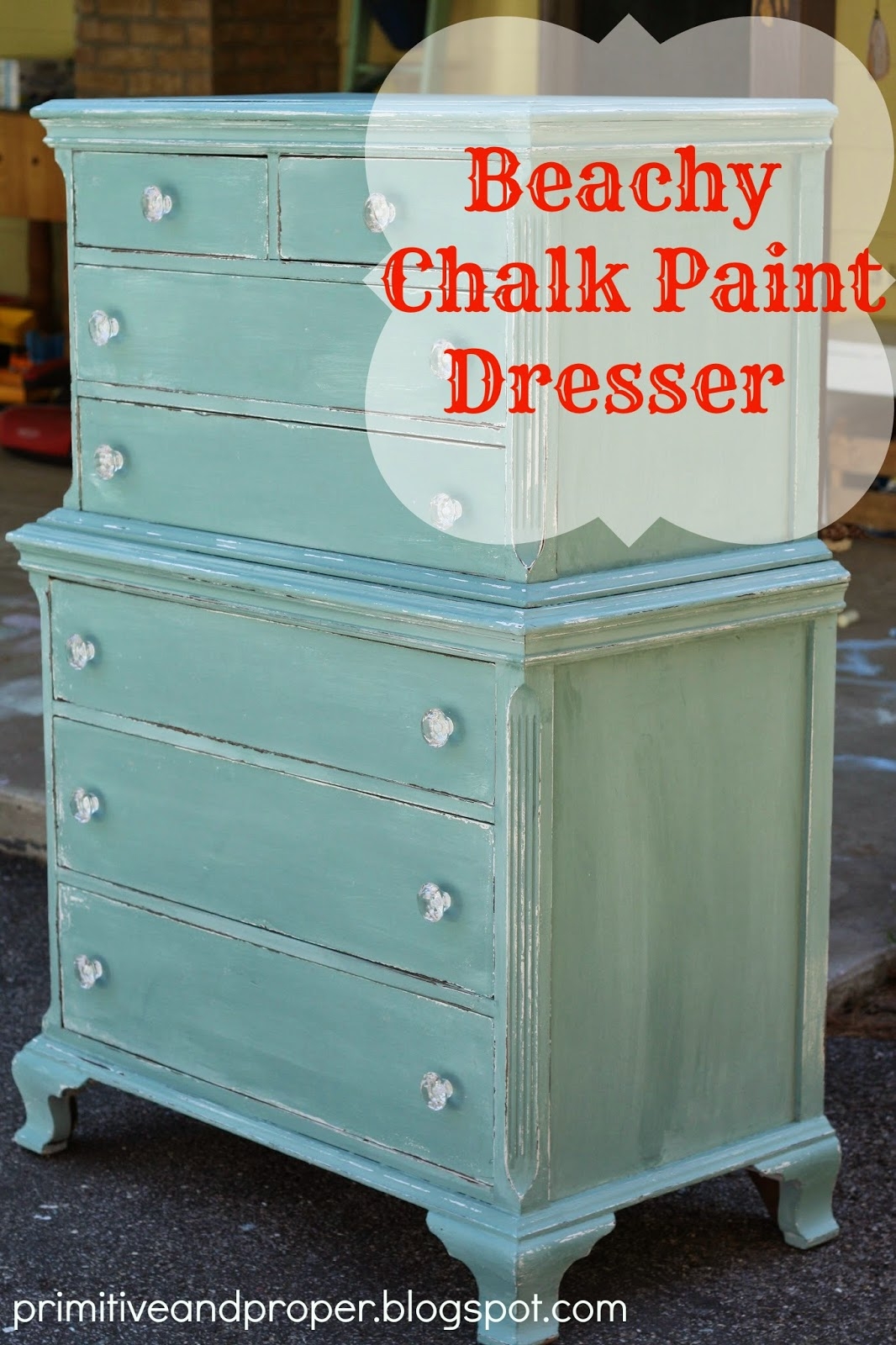 Primitive & Proper: Beachy Blue Chest; painted with duck egg chalk paint over white for a coastal feel, crystal knobs, lightly distressed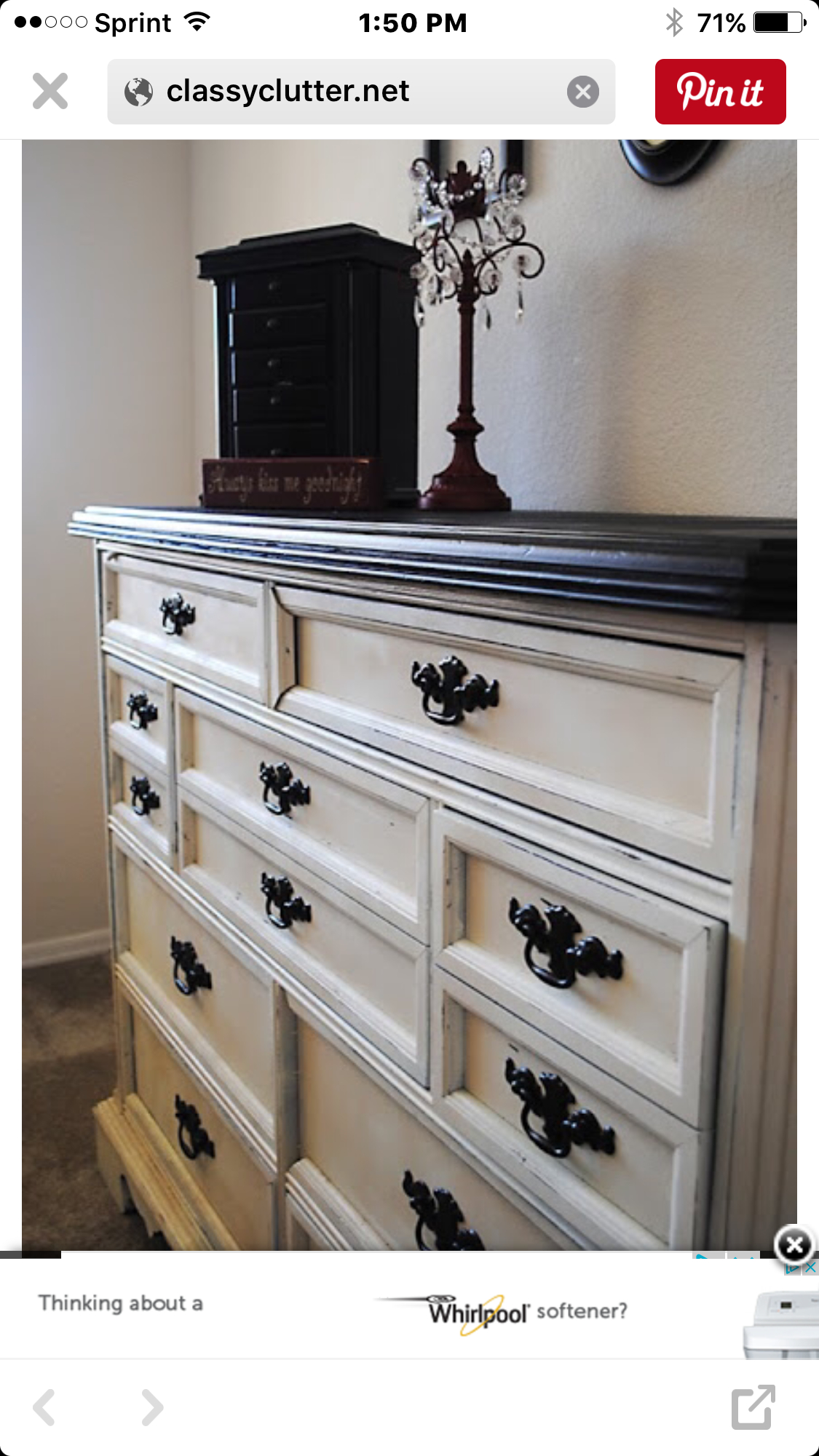 The old furniture can be painted to get the distressed white finish, just like this one! This dresser will be an excellent addition into any bedroom. It's perfect for storing your clothes and lingerie.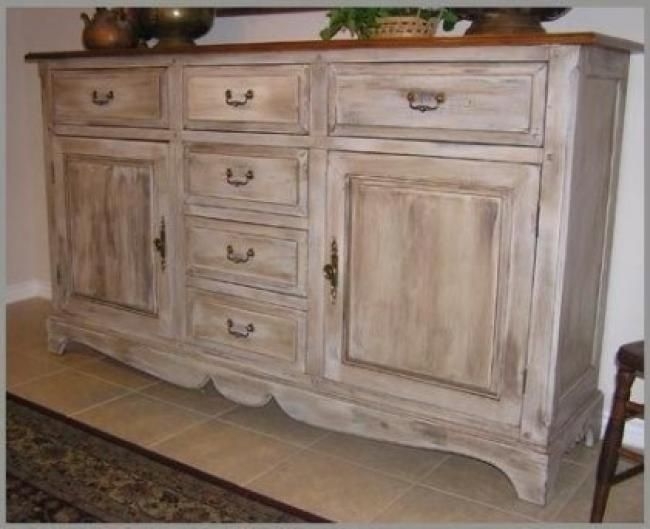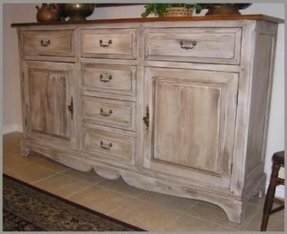 This antique bedroom cabinet enchants with its ornate, intricate accents, like drawer pulls and door knobs. It also catches the attention with its newly refinished surface, characterized by milk paint and distressed look.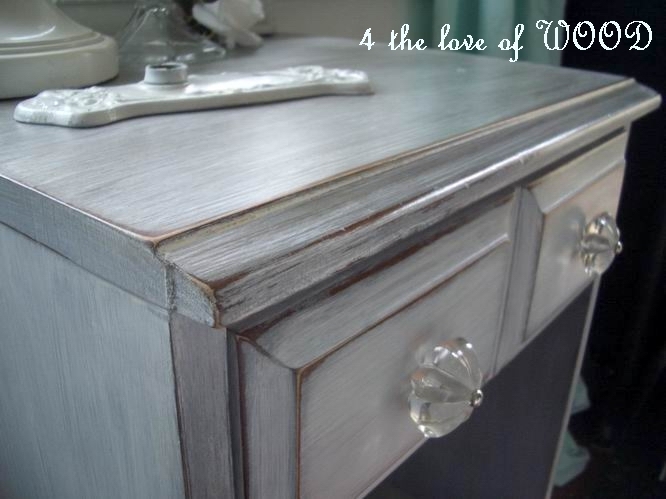 4 the love of wood: WHITE WASHED DOVE GREY - primer and wax: HOW TO!!!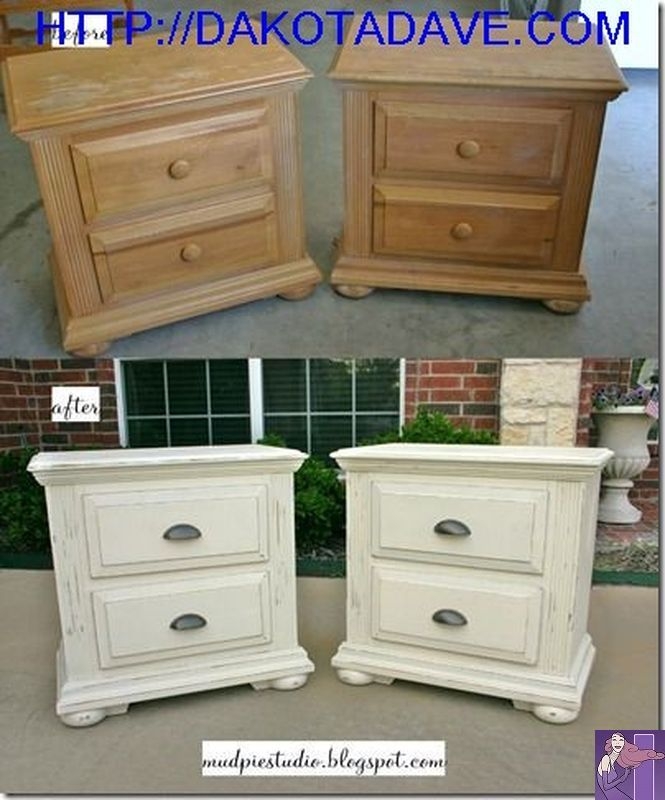 White distressed nightstands are elements that match any bedroom decor. Their wooden frames include two drawers with metal handles. Simple design of these elements look very interesting in many interior styles.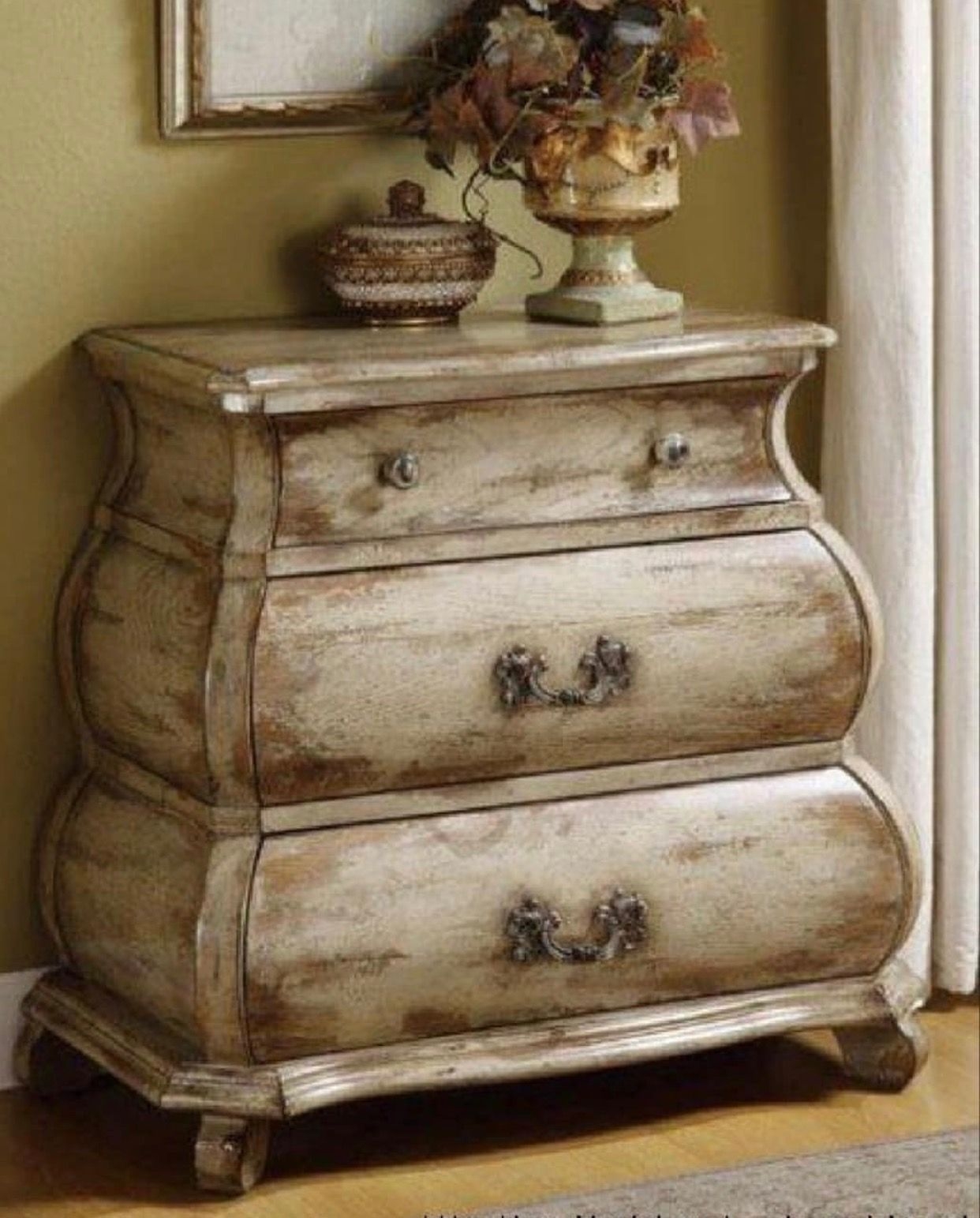 Boasting of old-fashioned charm and curvaceous silhouette; this chest of drawers really knows how to catch one's eye. Beautifully distressed with spray paint and sander, the chest is made of sturdy wood, and comes with 3 different size drawers.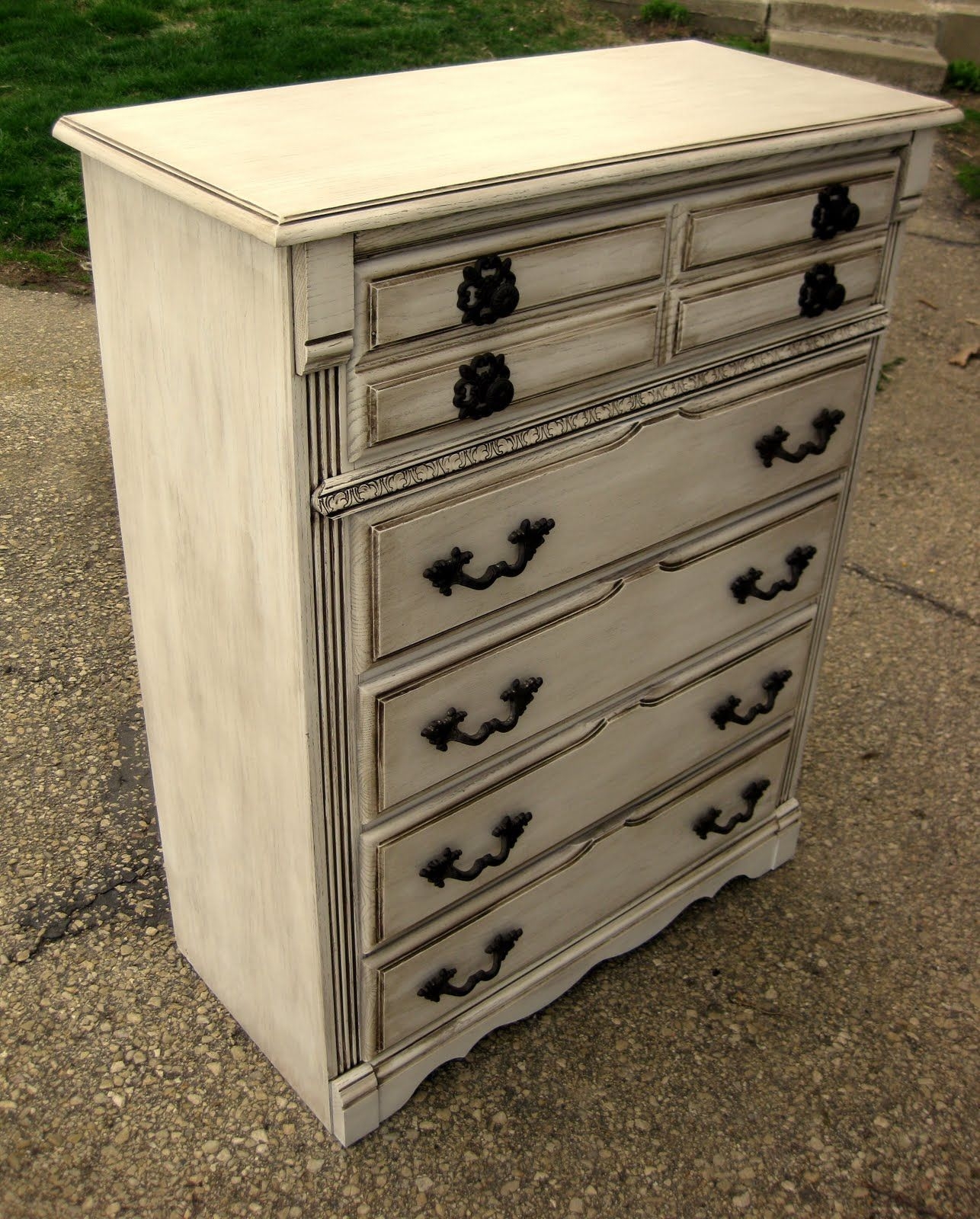 The charming decor and solid construction combined in this unique distressed white bedroom furniture delight. Dresser is extremely functional, with plenty of storage space thanks to roomy drawers. The subtle style will change the bedroom.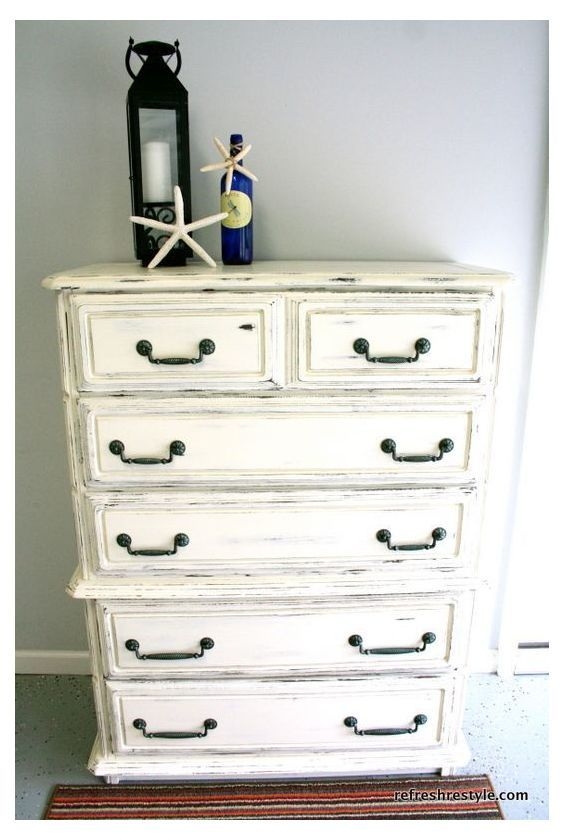 AS Old white with Rub 'n Buff in Turquoise applied to original handles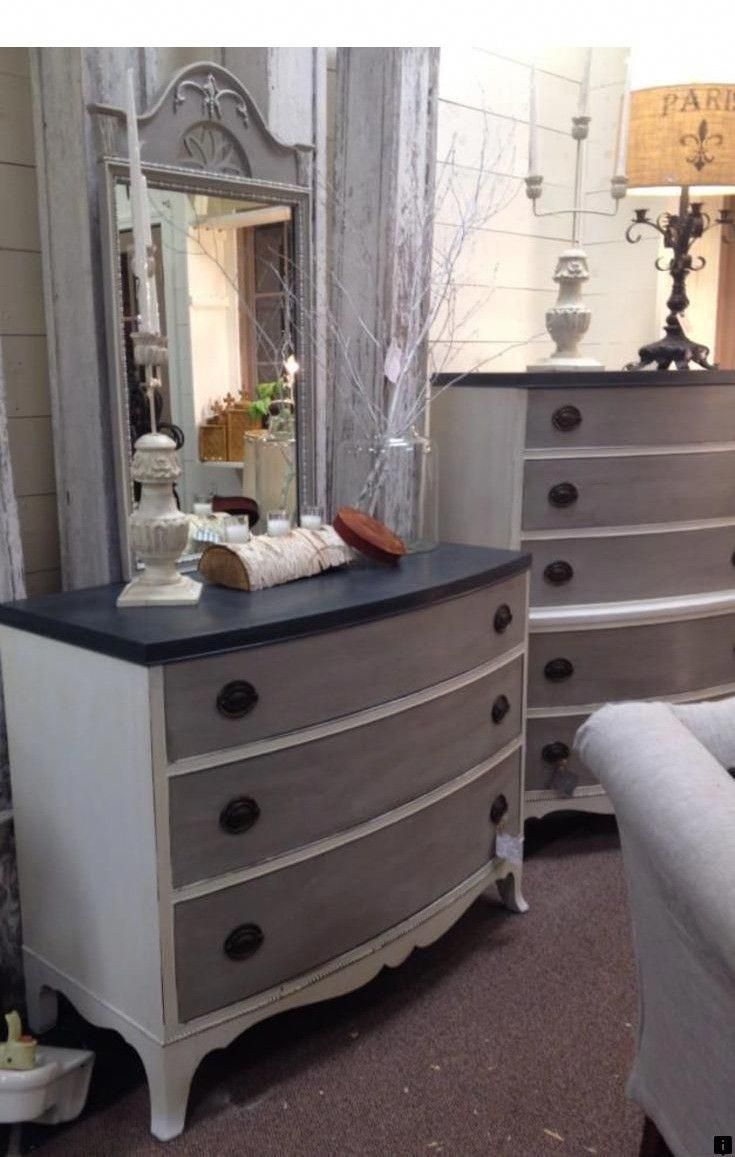 Facebook Friday #19 — American Paint Company colors used are Plymouth Rock, Smoke Signal and Lincoln's Hat (that is the gorgeous black)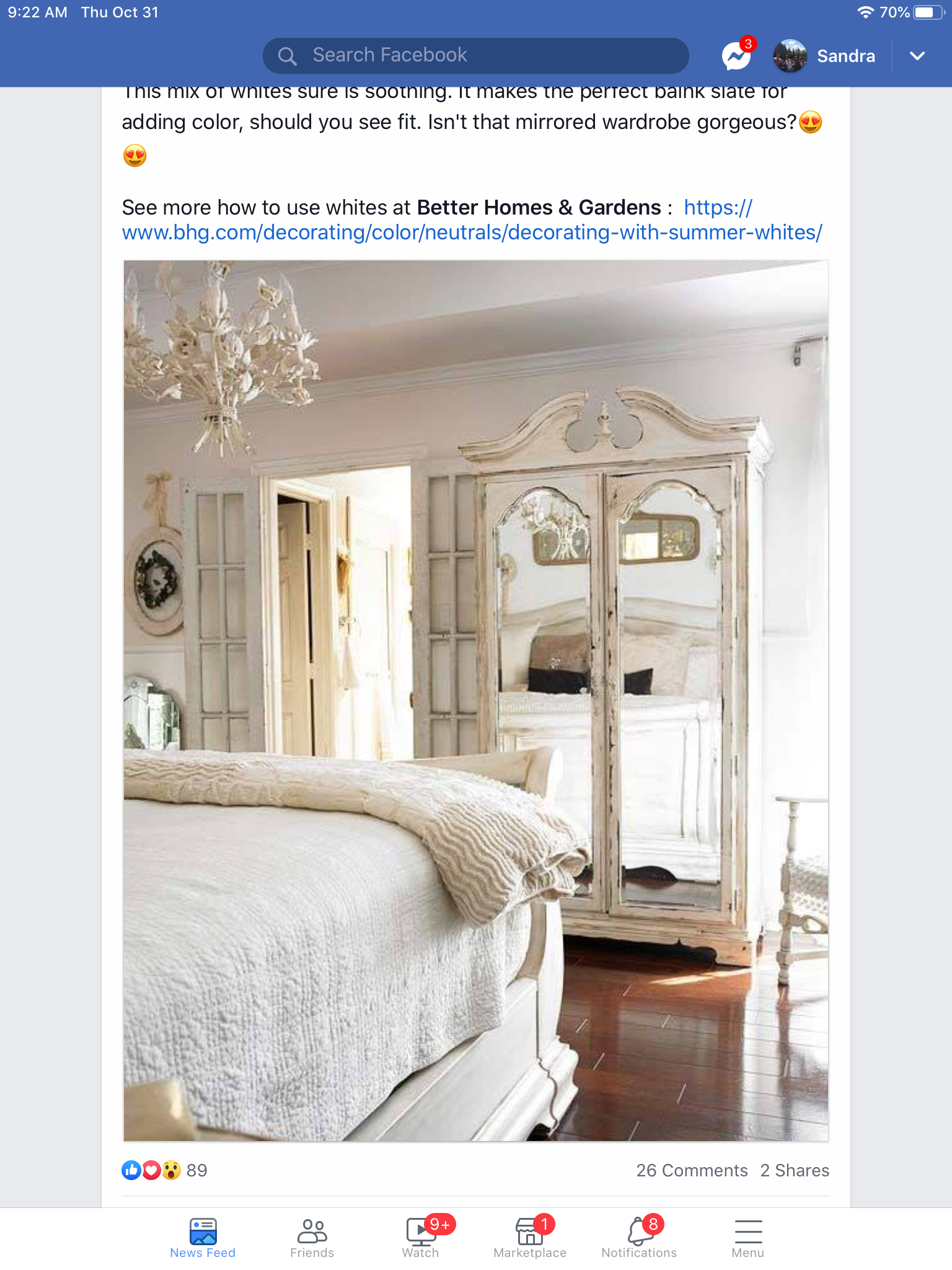 Comfort, ergonomy and relaxation. This bedroom stylization features a large, comfortable bed and a spacious wardrobe armoire with mirror doors. White metal chandelier also looks very attractive in this decor.
Painting a White Veneered Dresser to Look Like Distressed Wood Using Annie Sloan Chalk Paint Old White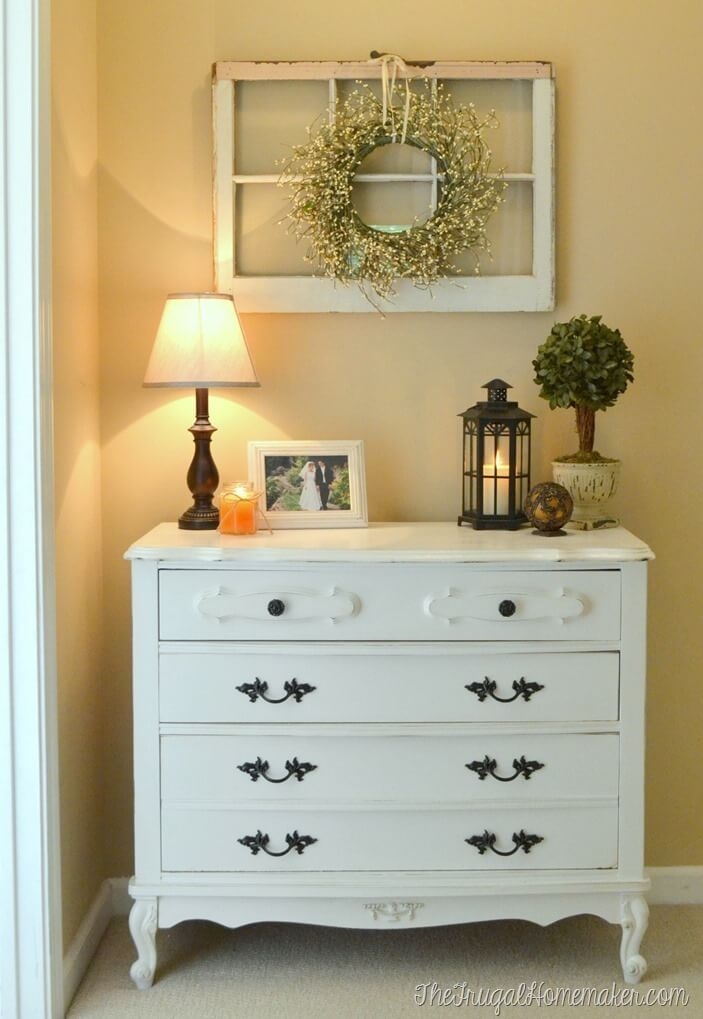 Distressed white bedroom furniture that provides an elegant and interesting look at the same time. It's not only the visual appeal, mind you, but also how capacious this furniture is – four drawers is usually enough in the bedroom.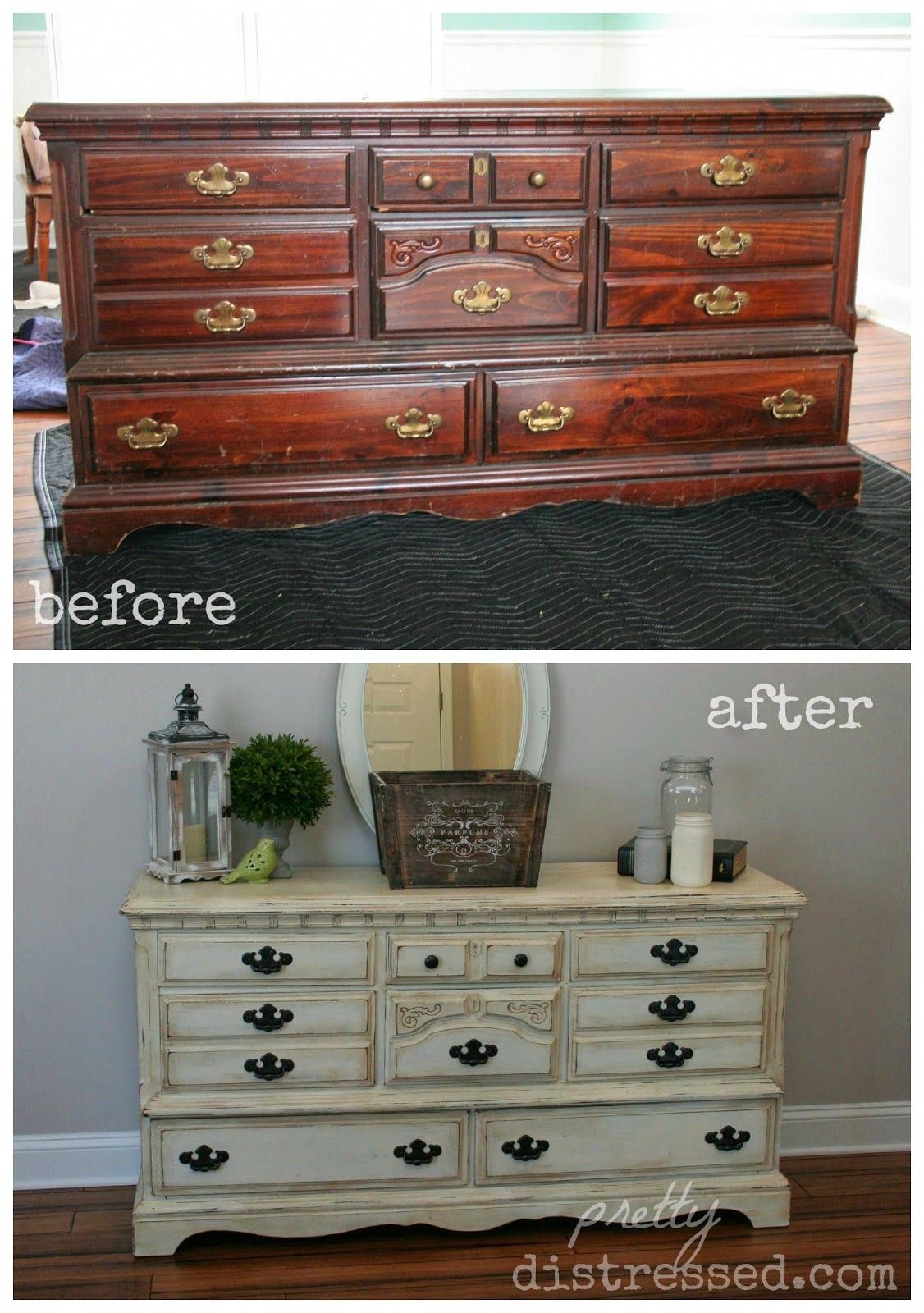 Need to up your bedroom chic, hinting at traditional inspirations mixed with shabby chic style? Try to take advantage of this tutorial, transforming an old wooden dresser into a stylish distressed white piece with new metal hardware.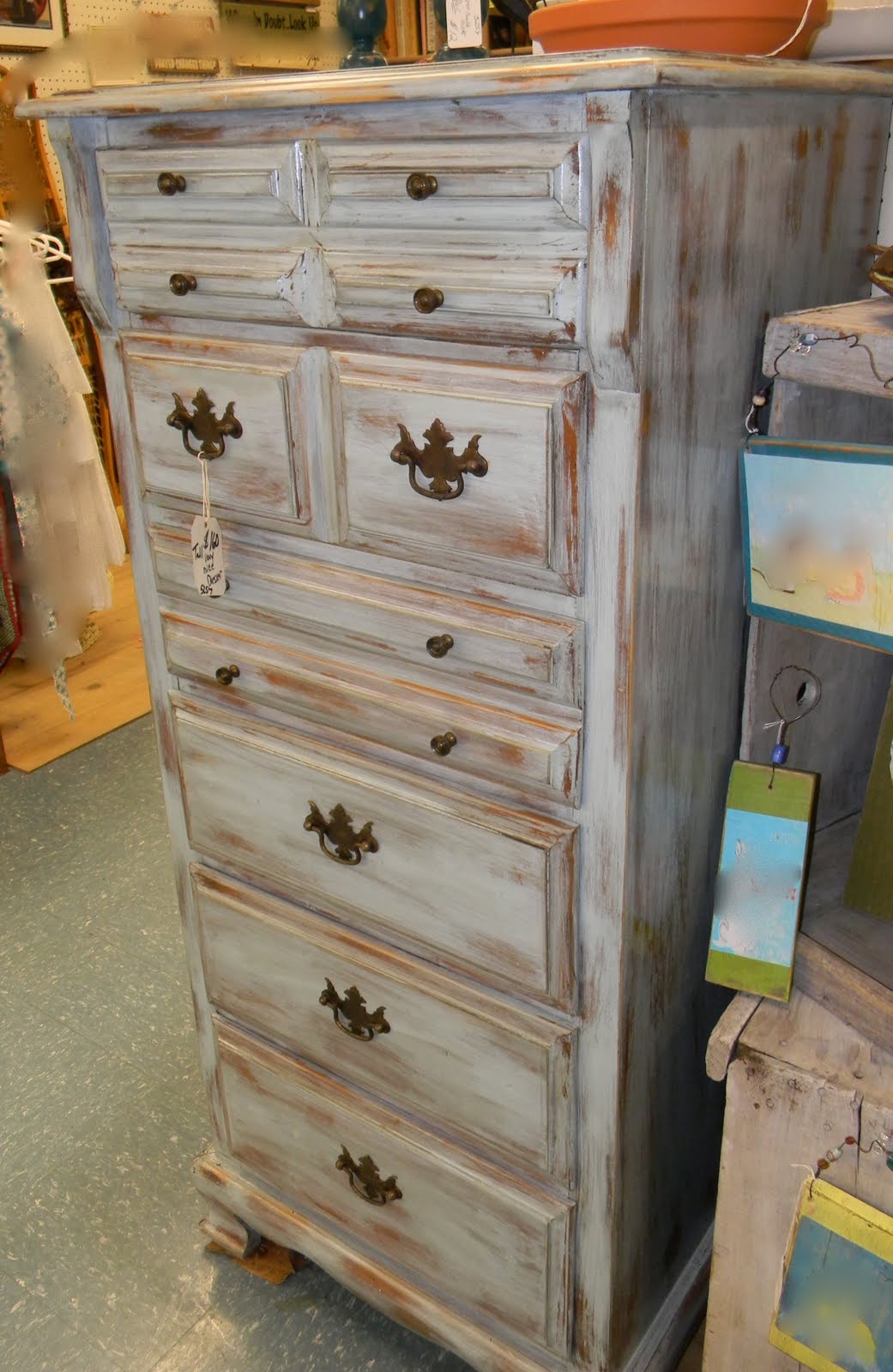 Posted by Emily's Up-cycled Furniture at 11:51 PM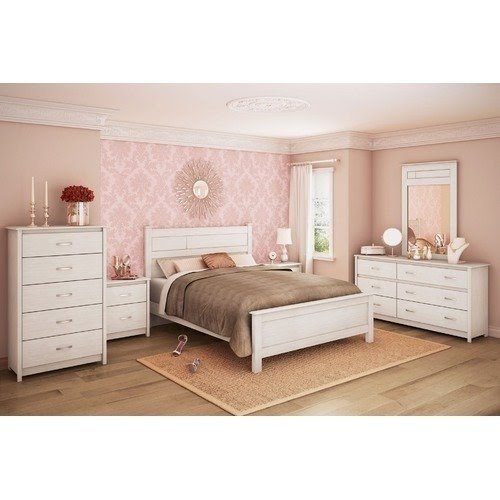 Distressed White Bedroom Furniture In distressed white wash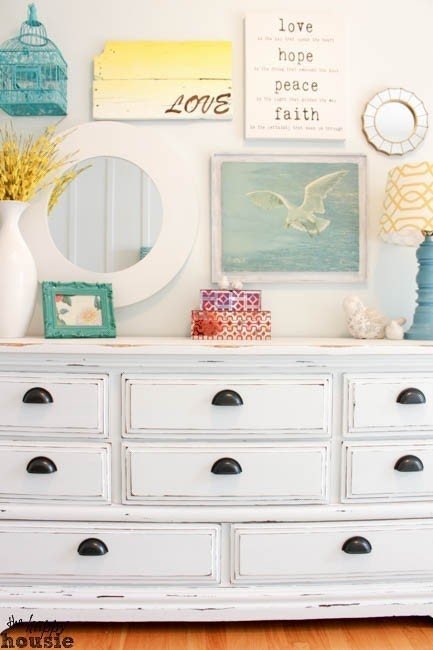 White dresser made of durable wood. This element of home furniture includes eight drawers with black handles that look stylish on this white surface. Practical and large storage space is paired with a top that provides additional space for pictures, flowers, etc.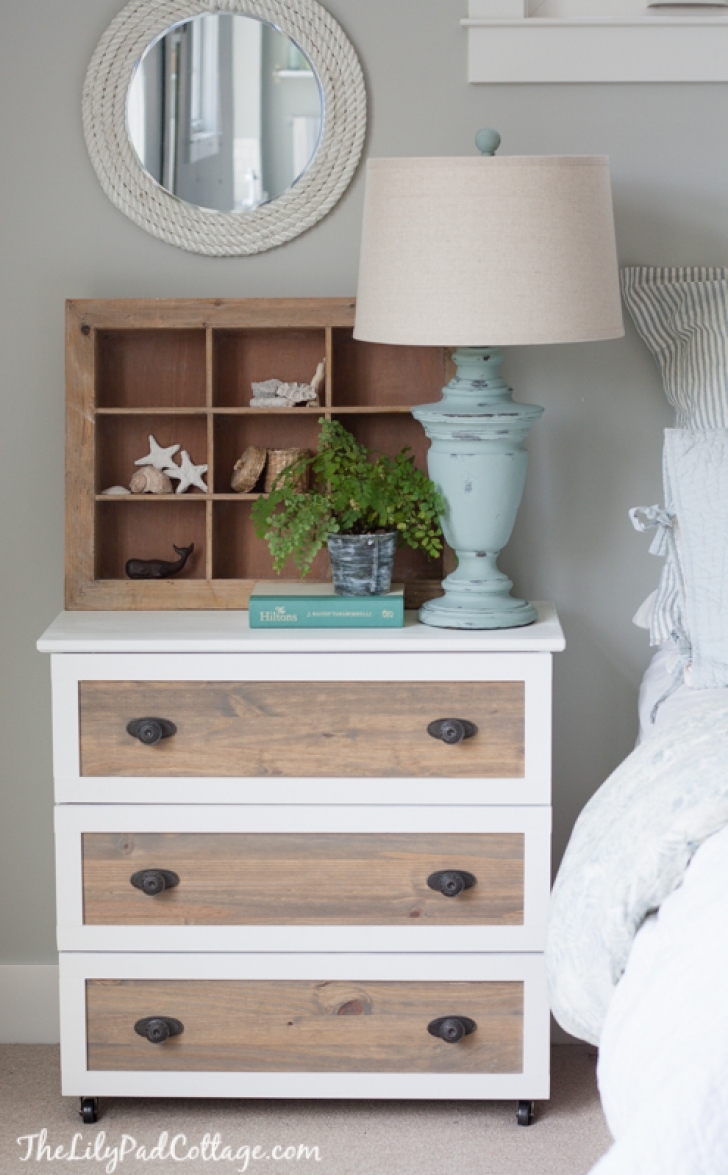 This beautiful white and light brown cottage dresser offers a perfect choice for any bedroom or practically any room of your home, for which you need some help from the extra space to hide your clothes.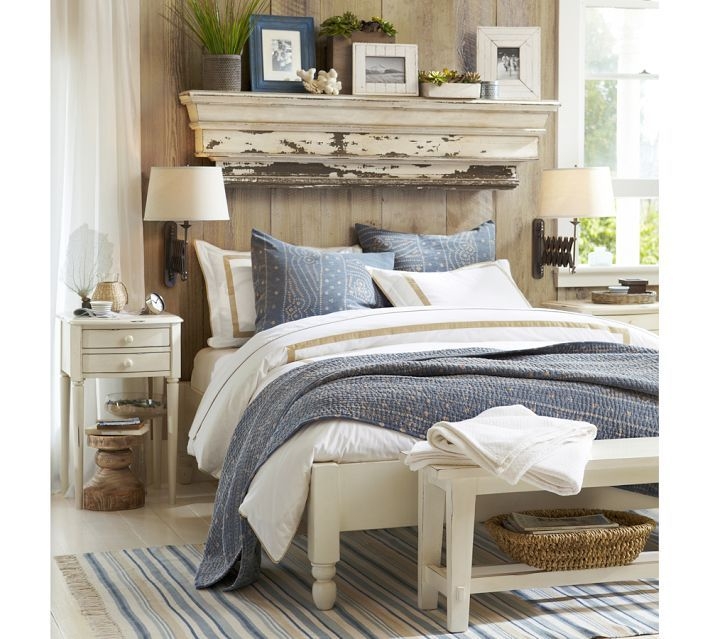 Made in the antique vanity table style with cabinets, mirror and chair create a unique whole for the ladies bedroom. The beautiful finish with white wooden trim adds all the lightness and beautifully emphasizes the feminine style of decor.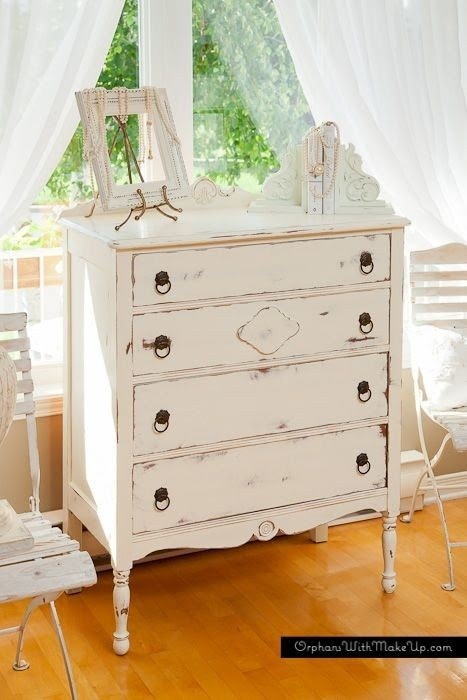 Four drawers dresser in white, with shabby chick distressed finish and decorative carved feet and skirt. To complete the style, there are some additional details: vintage white mirror and jewelry rack.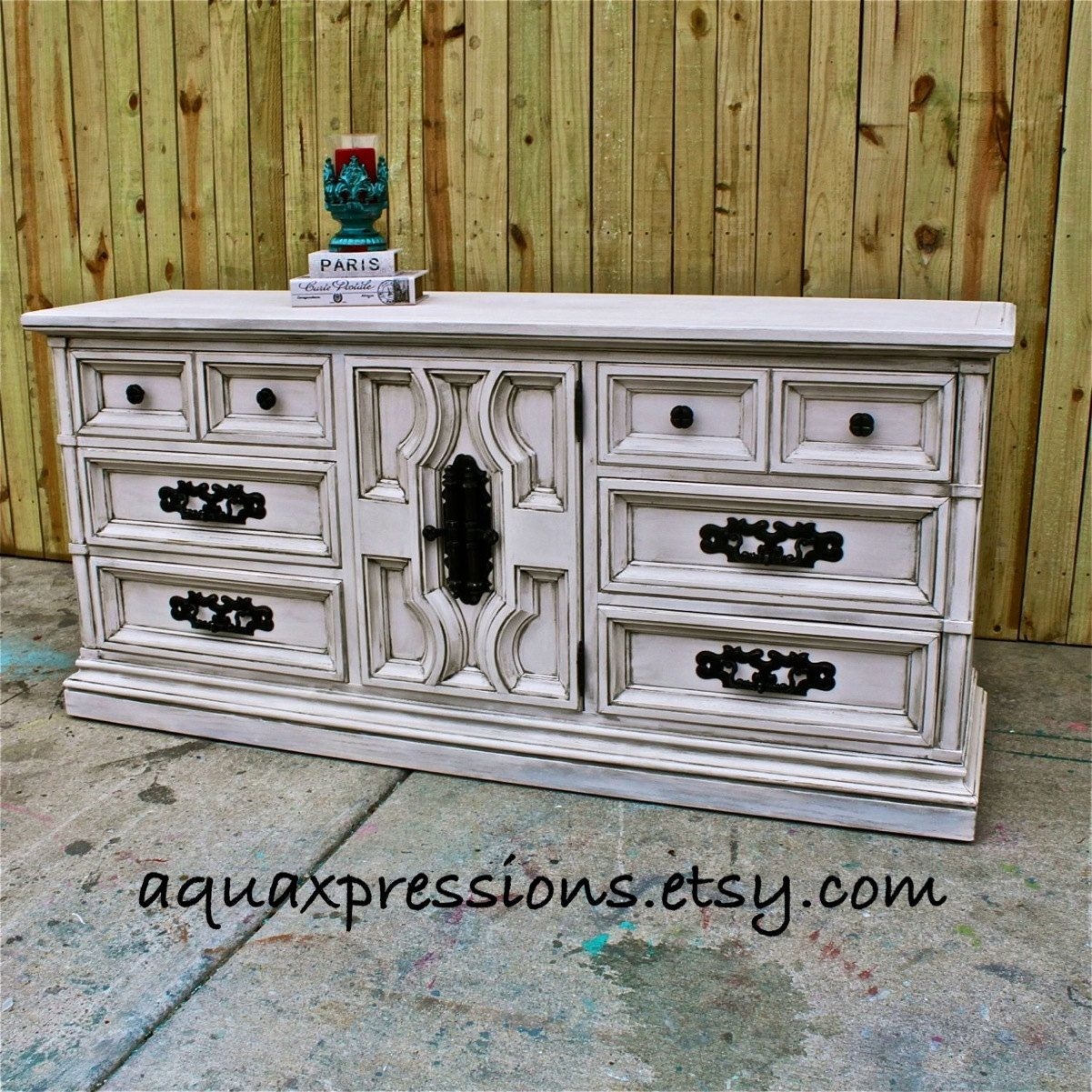 Heirloom White Vintage Dresser/ Buffet/ Bedroom Furniture/ Distressed ...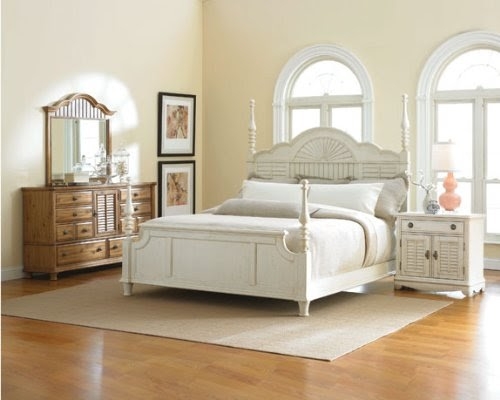 ... Furniture Summertime Collection 4378-3 Distressed White Poster Bedroom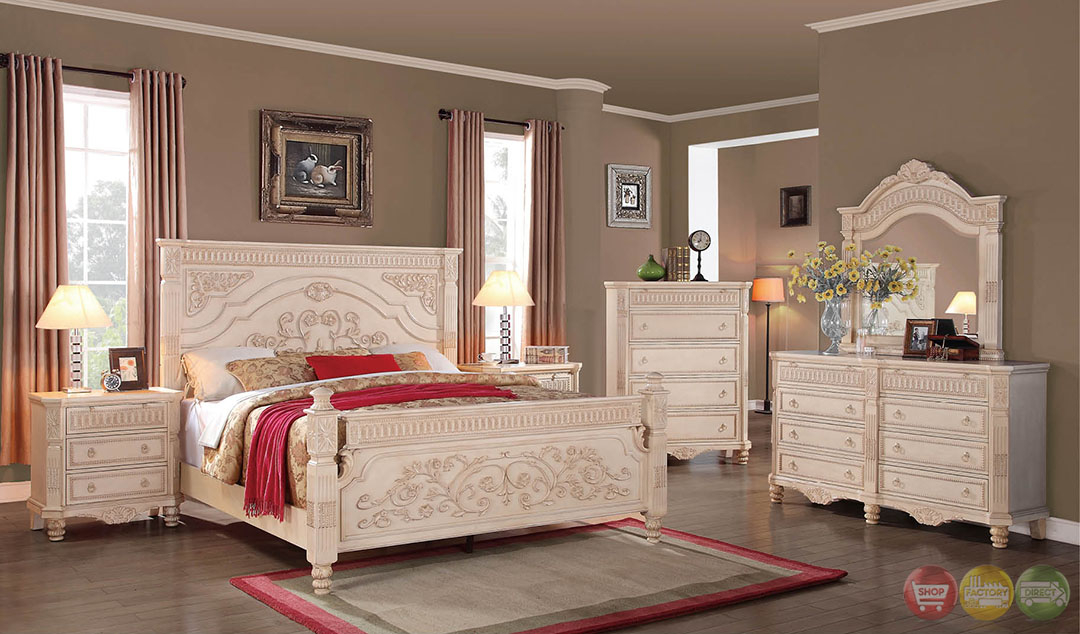 Lilly Antique Traditional Distressed Antique White Panel Bedroom Set ...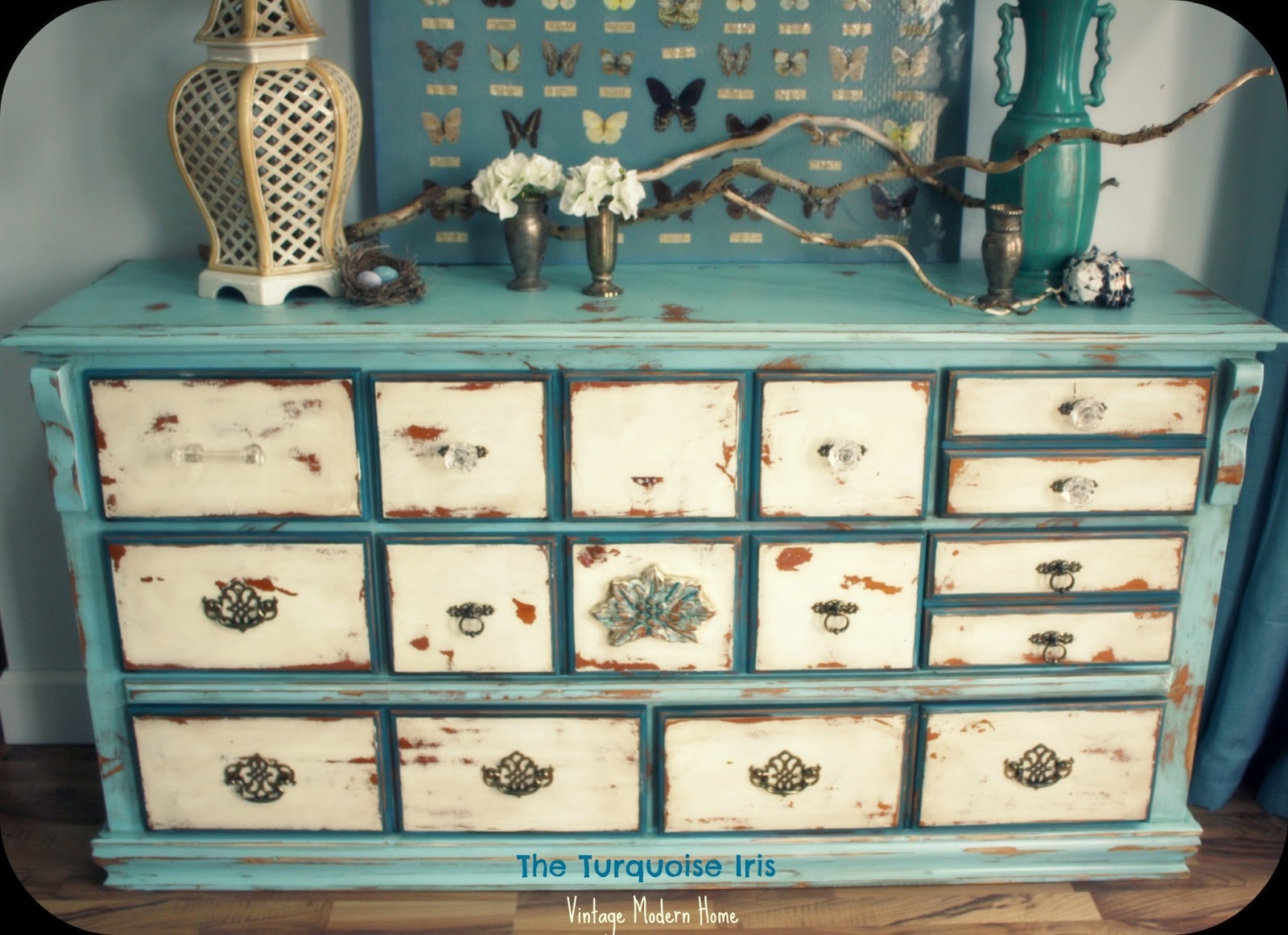 Distressed Bedroom Furniture 9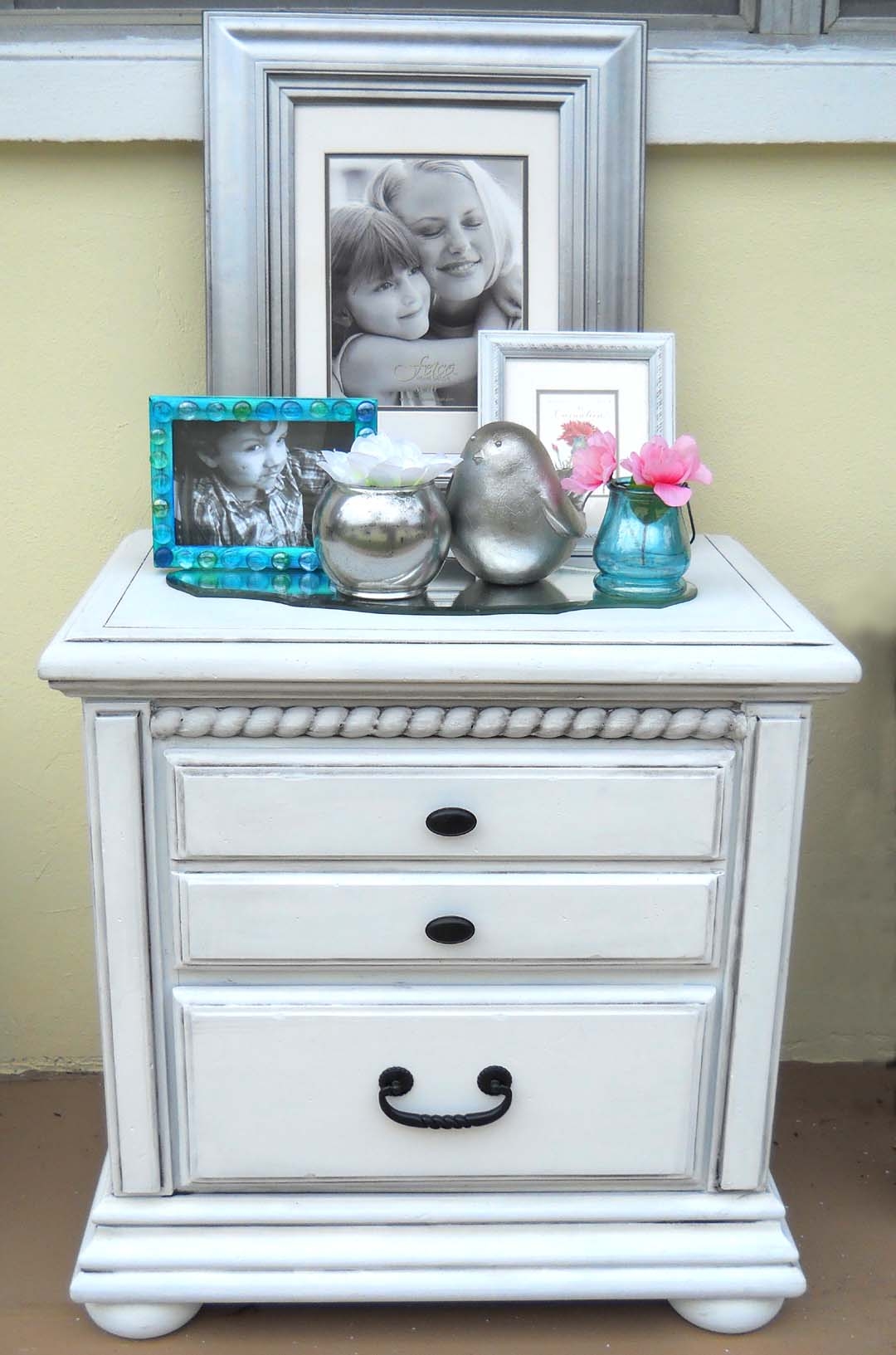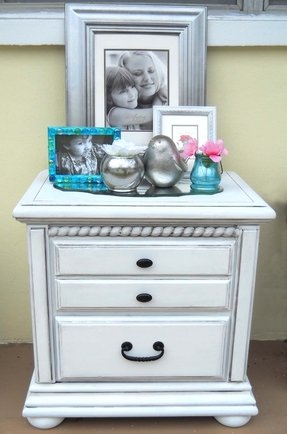 If you like fiddling with paints, waxes and accessories, this project shall arouse you interest. A great DIY way to refurbish an old side table into a gorgeous shabby chic white masterpiece. It features 3 storage drawers.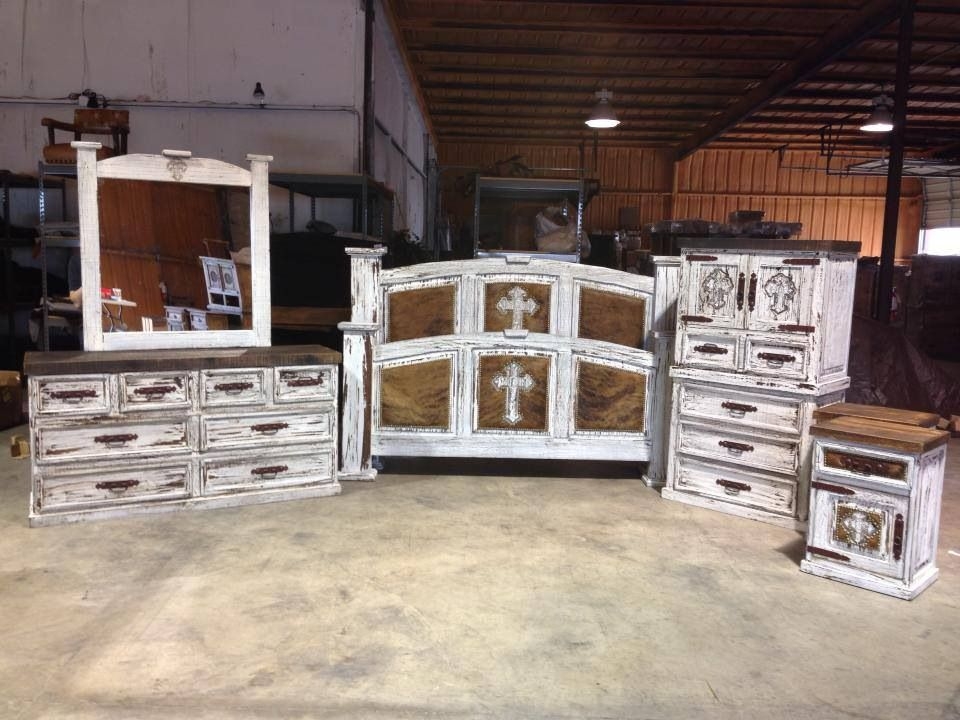 white bedrooms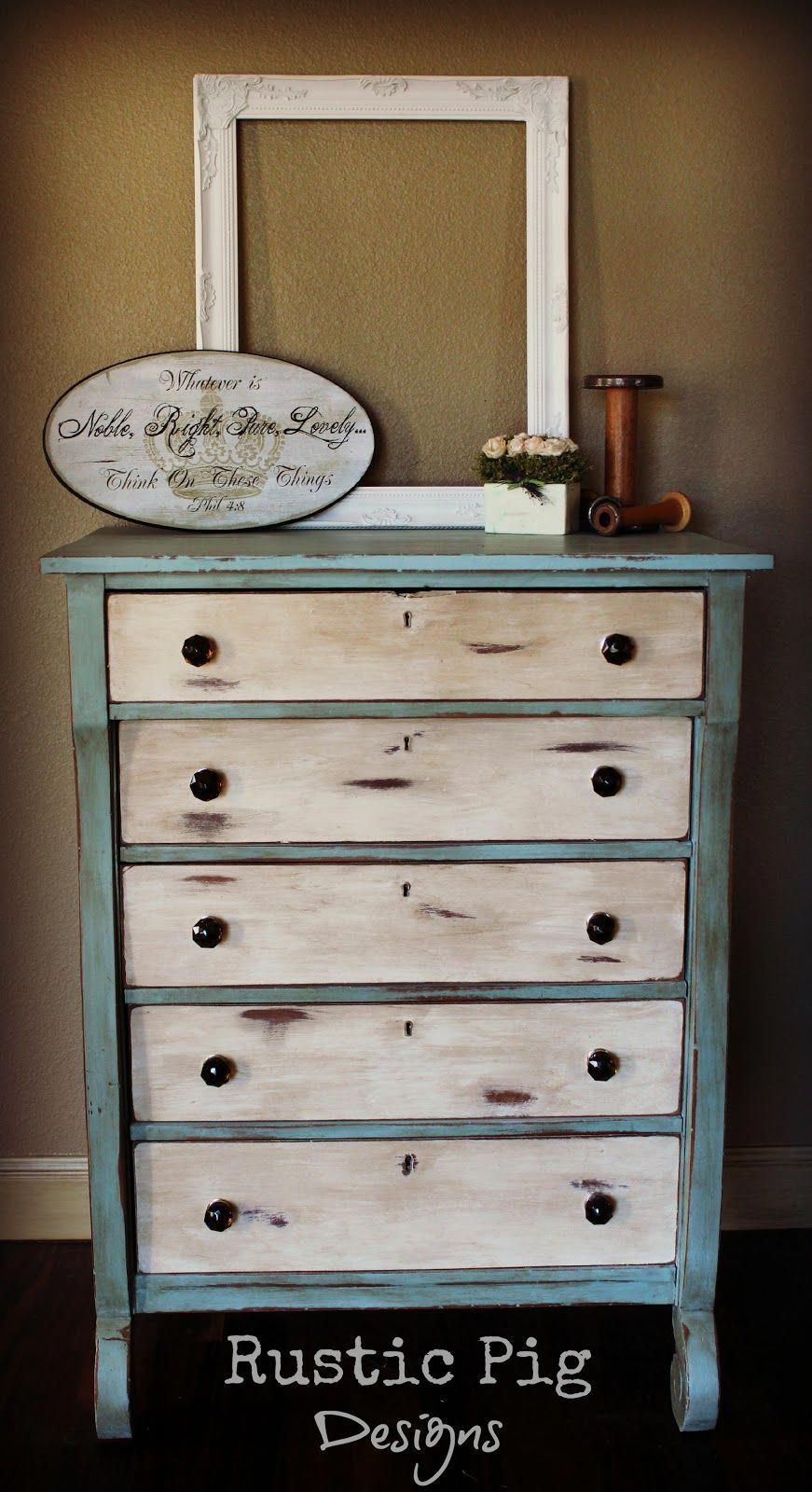 An Empire Dresser Makeover. It would definitely goes well with my beach themed house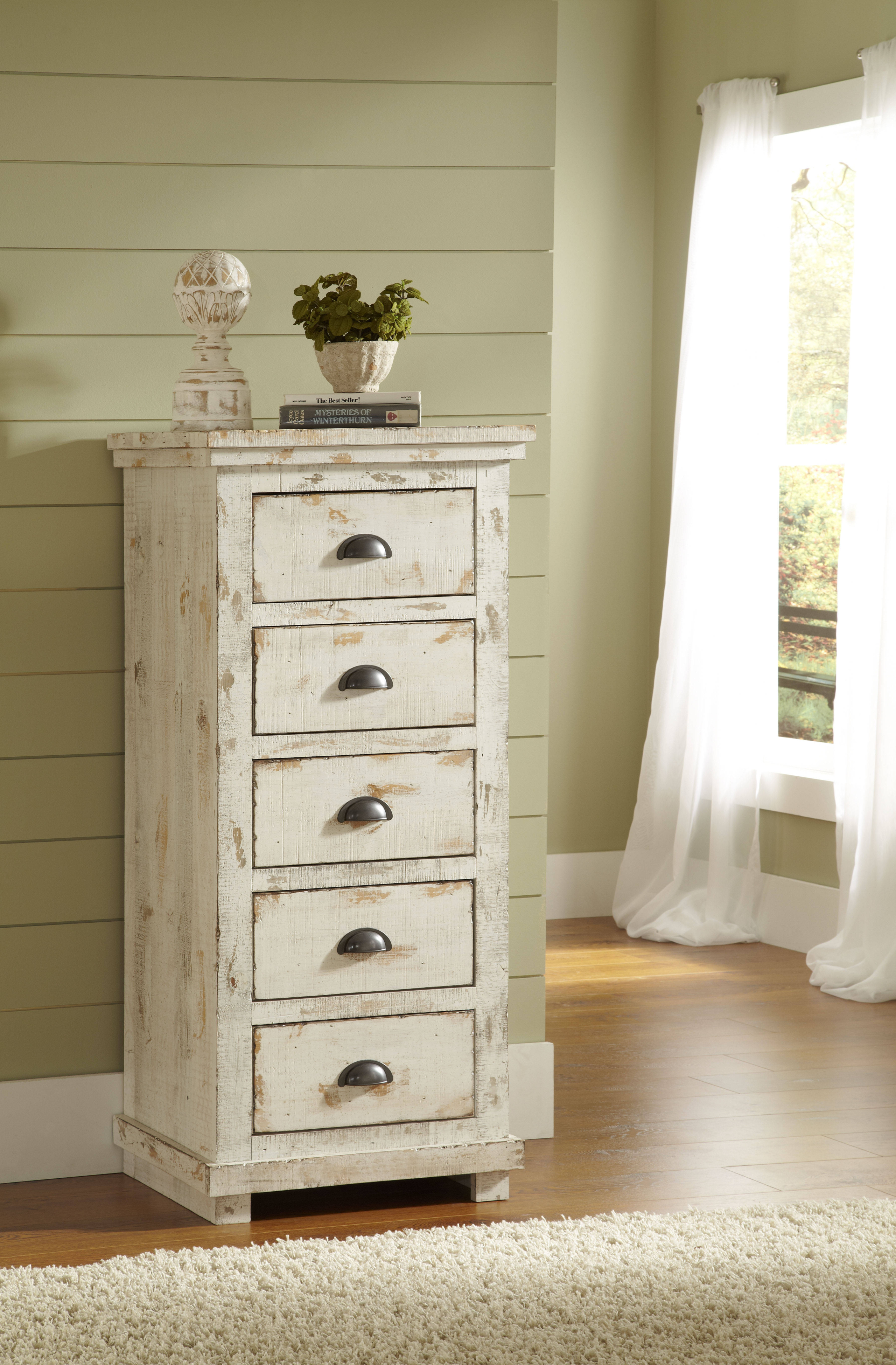 P610-13 Lingerie Chest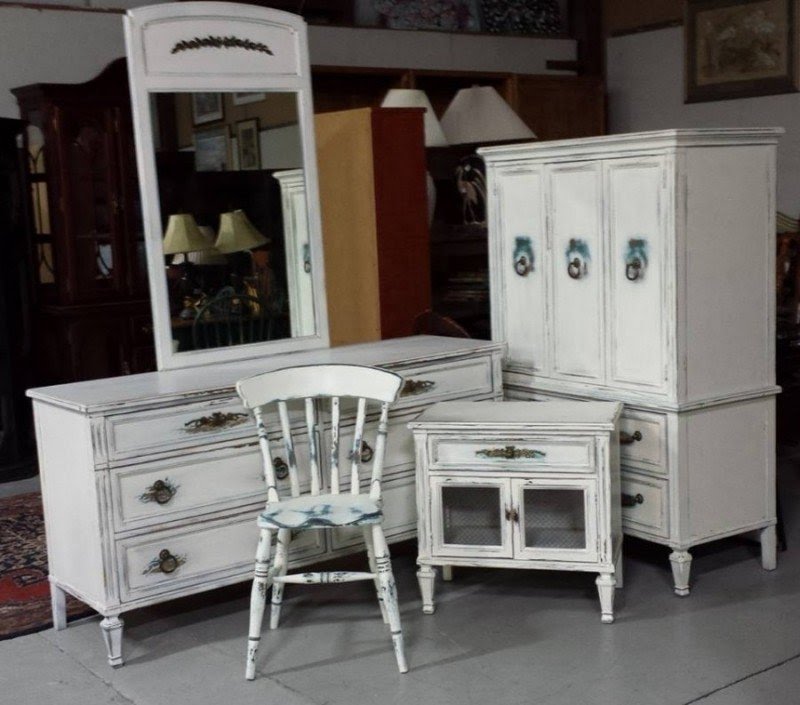 Very nice 4 piece bedroom set which includes: a 6 drawer dresser and ...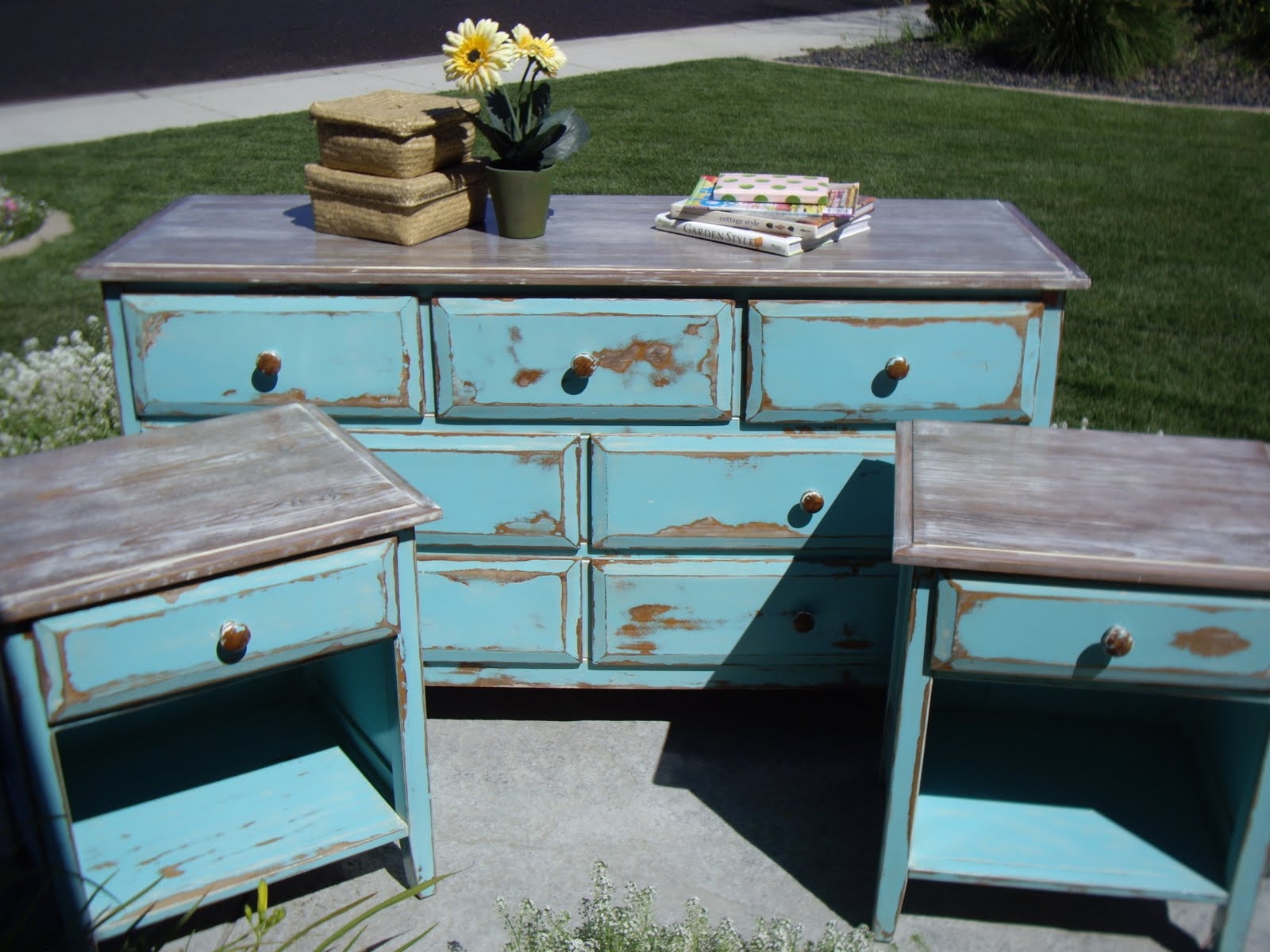 this will make for an interesting summer project...i must try it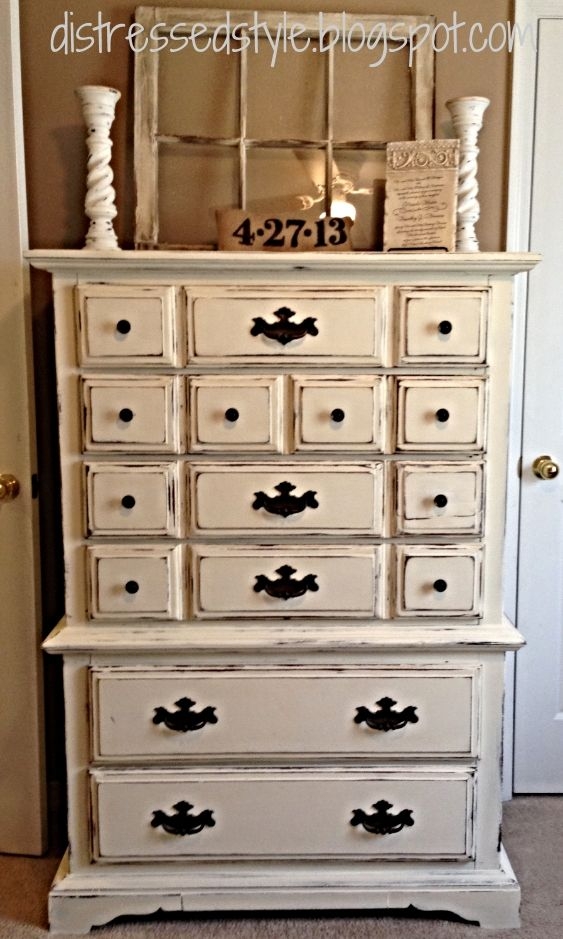 Distressed Style: Distressed Re-Do - DIY Dresser. Refinished Dresser using Old White Chalk Paint.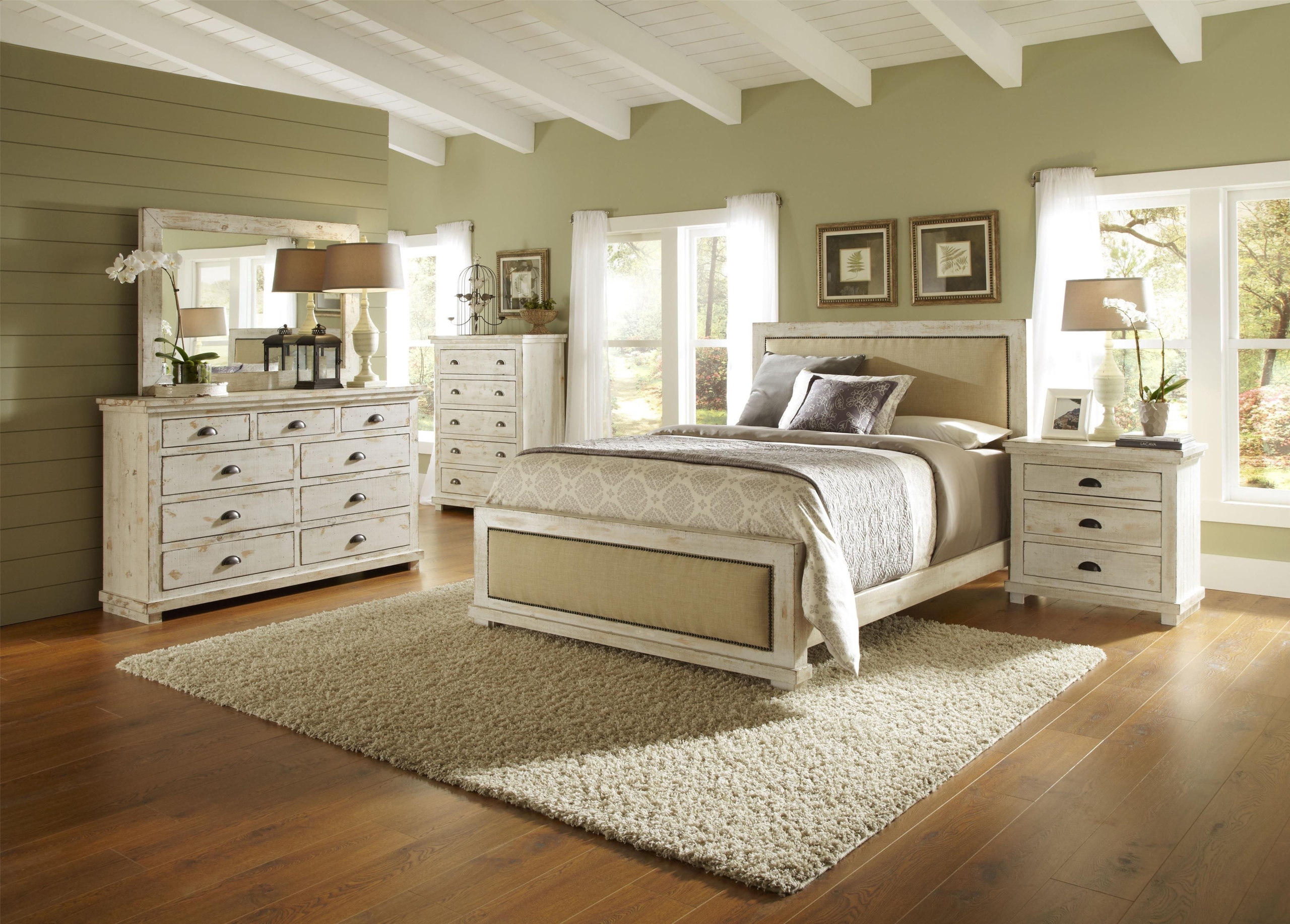 Bedroom Furniture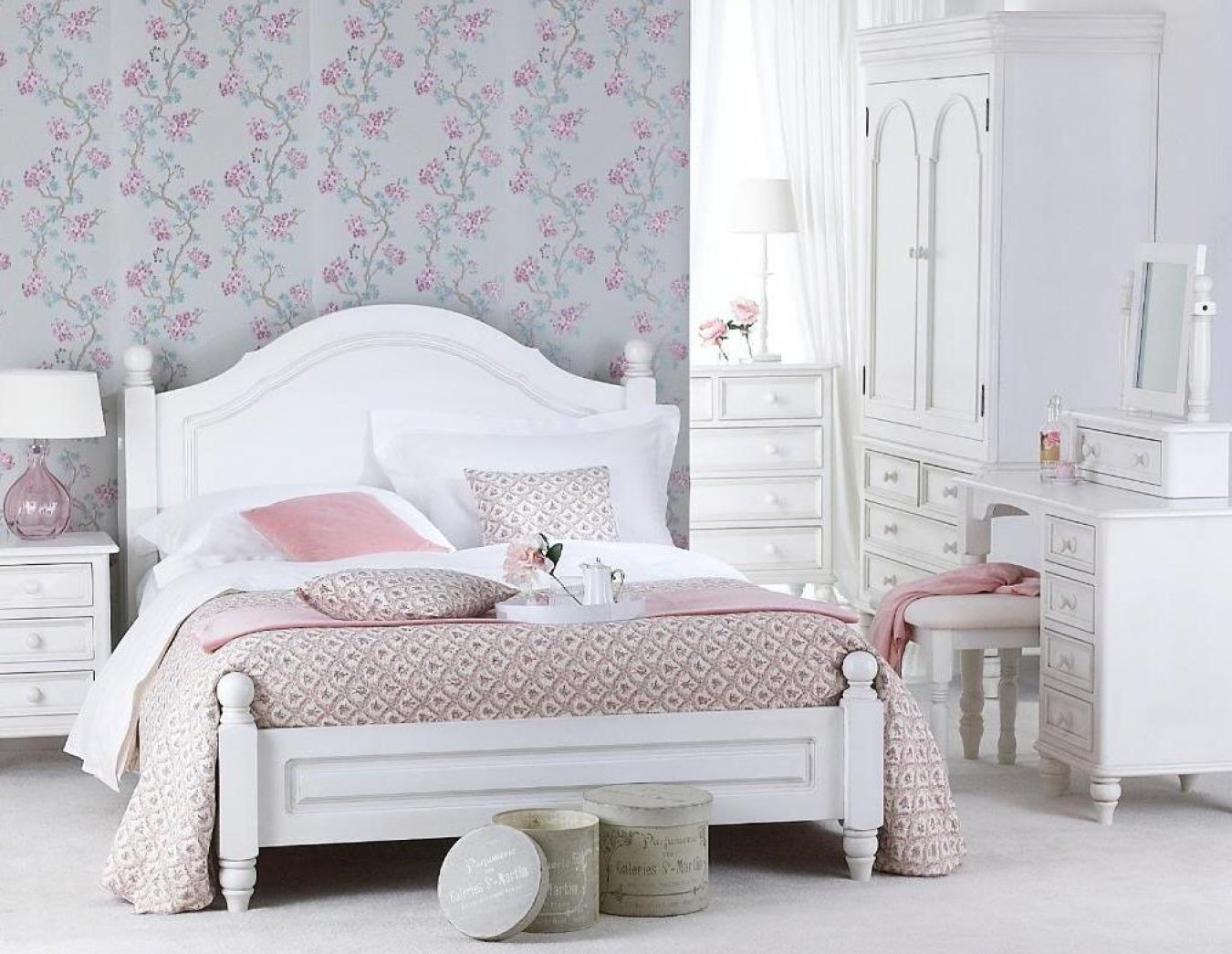 Home, Furniture & DIY > Furniture > Chests of Drawers
With the simple design in distressed white finish and the wood knobs in matching design this piece is truly beautiful and charming, making it wonderful for accentuating the decor of your home and provide you the extra storage space.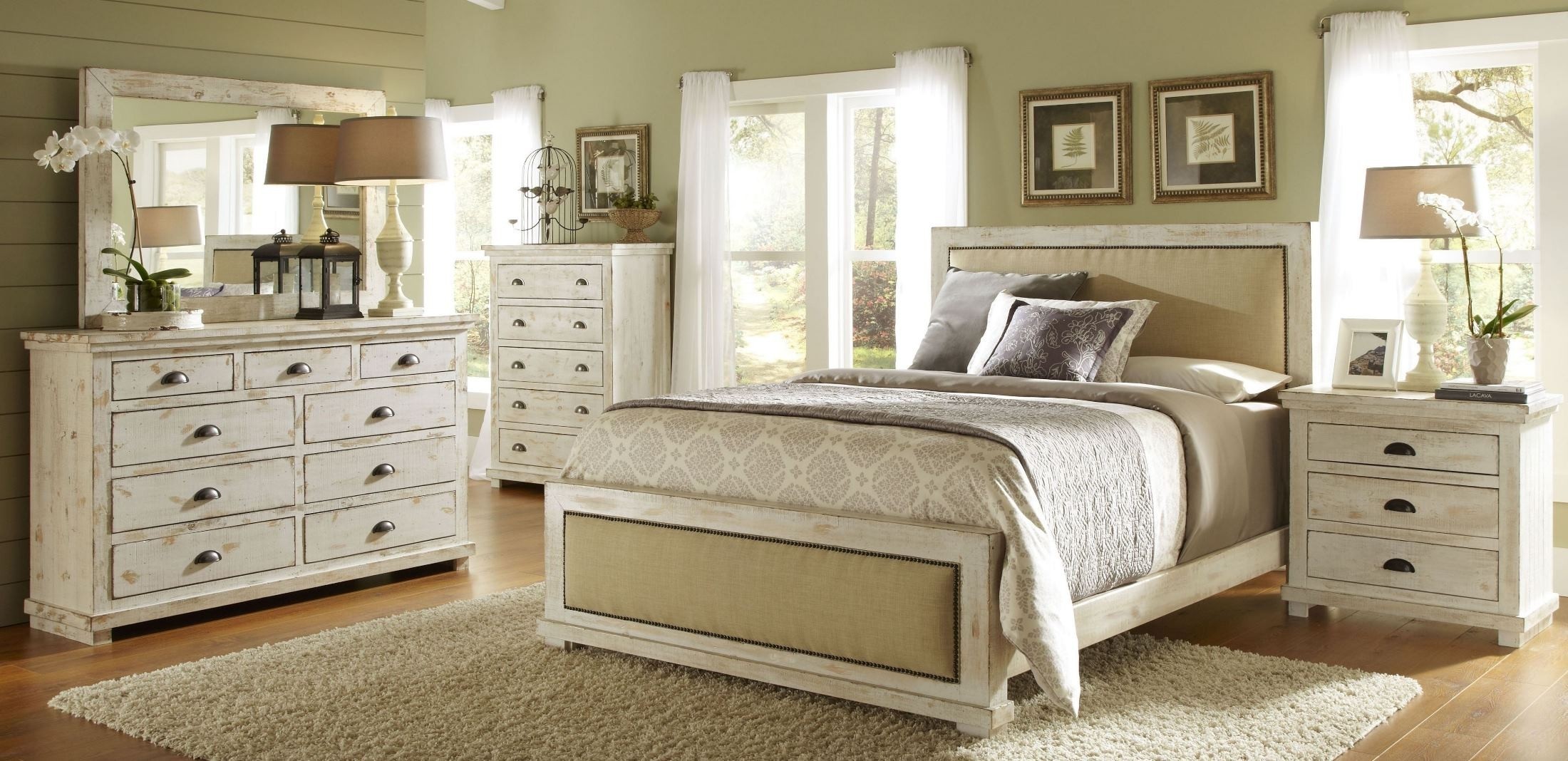 Willow Distressed White Upholstered Bedroom Set, P610-34 ...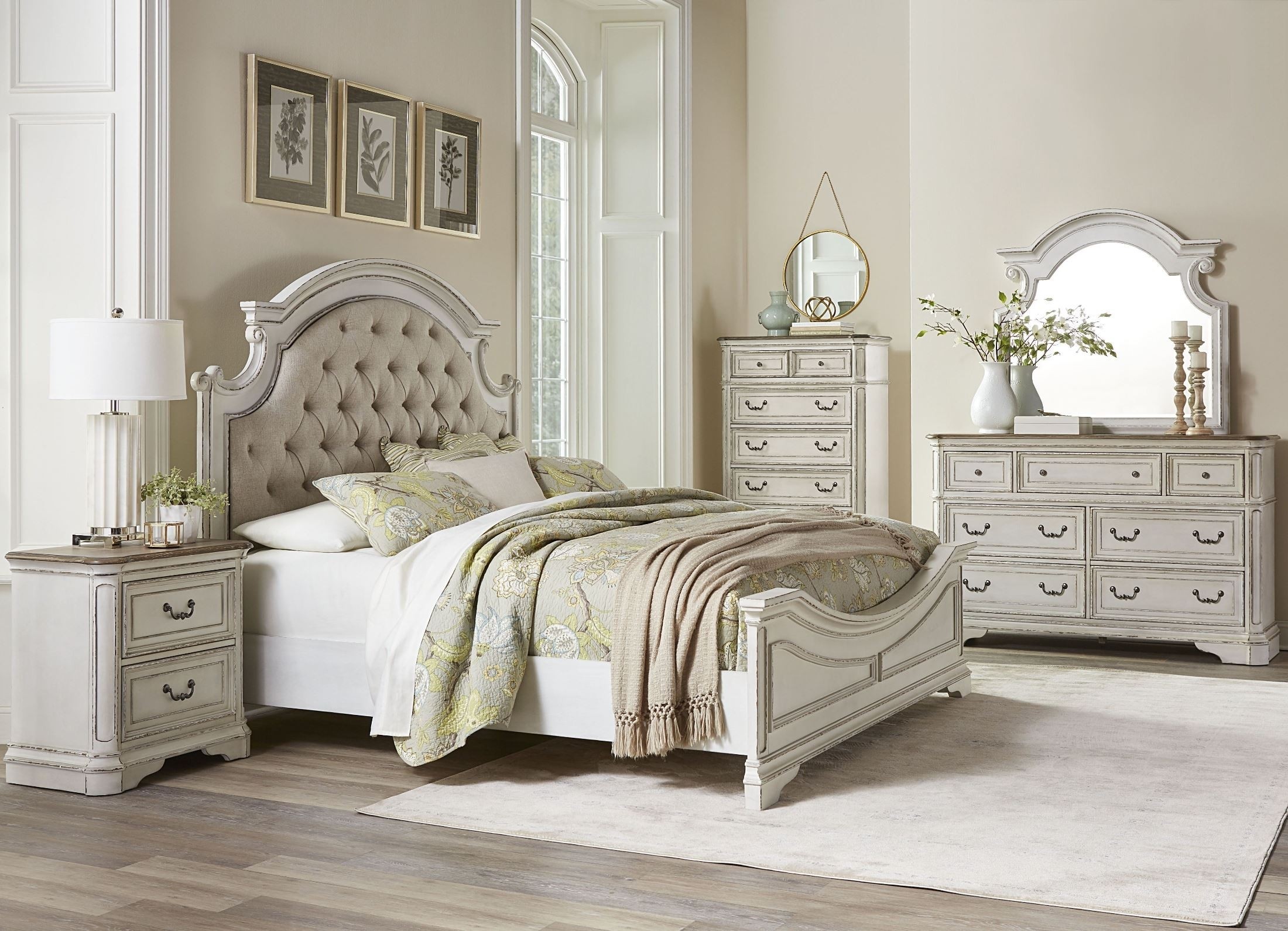 Stevenson Manor Distressed White Upholstered Panel Bedroom ...