Is formal modern décor being replaced with comfy home décor? Well, the rumors are true!
Although modern décor style is sticking around, more people are leaning towards a cozier-themed ambiance. Comfy home décor is quickly becoming the new buzz online. So, come join the cozy club!
How to Design Using Comfy Home Décor?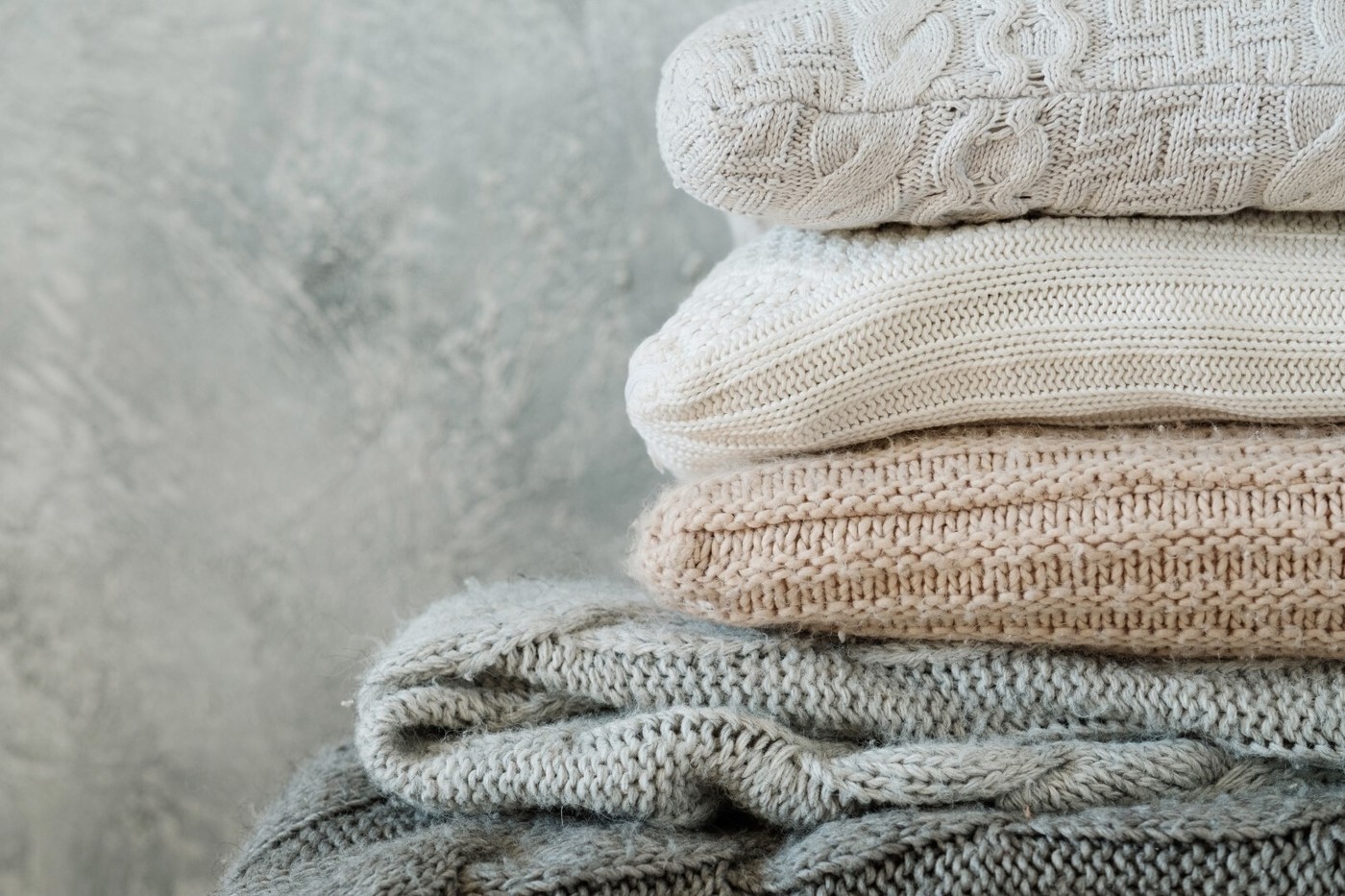 When you think of cozy décor, one of the first things you might think of is a thick, warm blanket. Blankets are part of the comfy home décor style, though there are plenty of other décor pieces you can add to your design today.
Comfy home décor can be added to any home style. The key to this style is placing items that will soften the edges of your home and other furnishings. Think overstuffed furniture, smooth curves, and soft materials.
The Reasons Behind the Recent Surge in Comfortable Décor
In 2020, the modern home decorating style decelerated rapidly. Since the pandemic outbreak, more people are working from home and increasing their time spent at home in general.
Many people are prioritizing comfort over formal styling in their homes. So, out goes formal, and in walks cozy!
Understanding the Trending Comfy Home Décor Style
This trending style uses different textures, lighting, and color tone palette to achieve superior comfort in your home. Combining these three components, you can choose to hang décor pieces or let them stand on their own.
Texture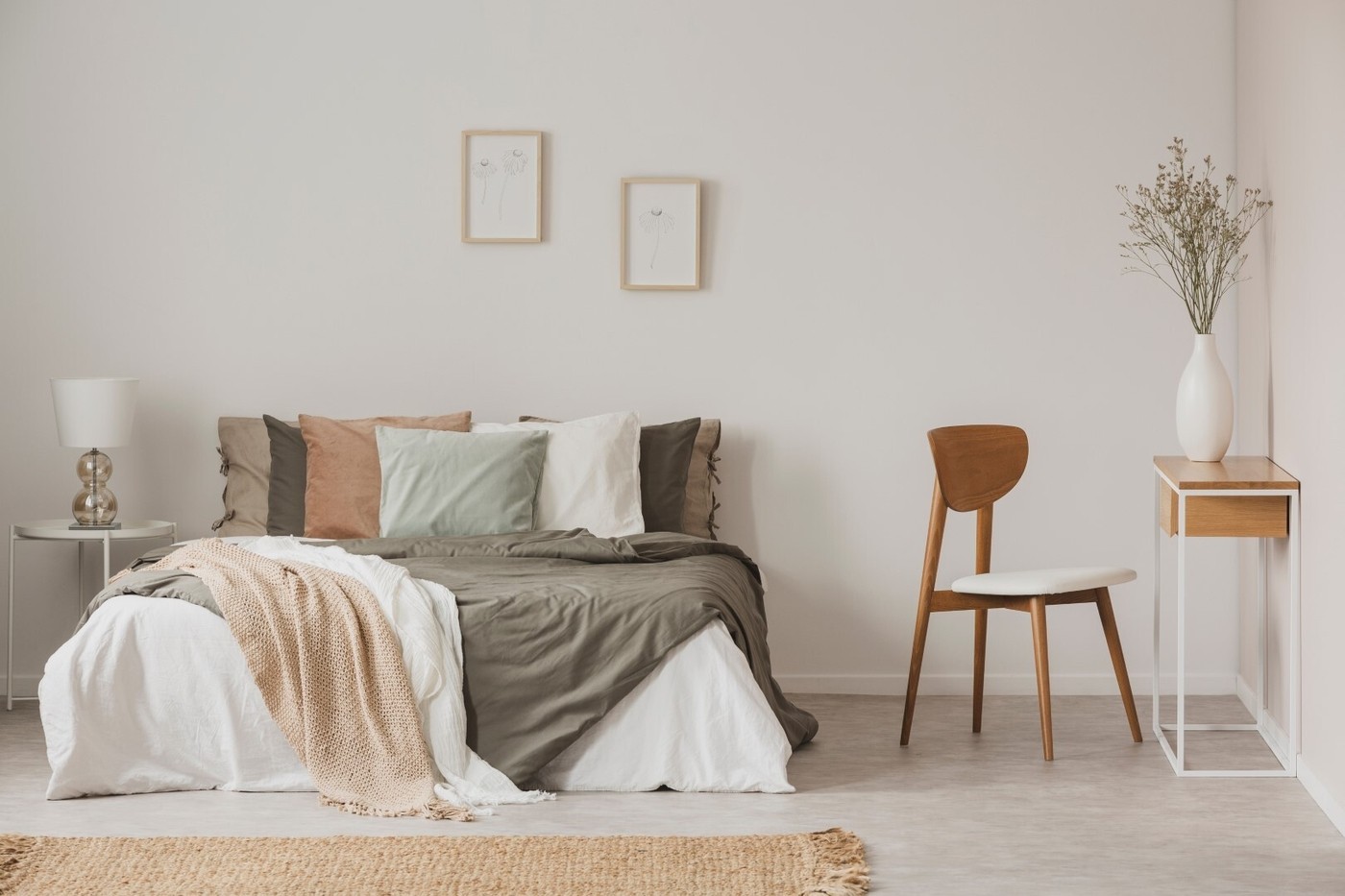 photographee.eu / shutterstock
The fabric used in comfy home style are materials like cotton, polyester, canvas, chenille, microfiber, microsuede, and wool. A comfy home living room addition could be an overstuffed chenille chair or a soft lazy boy.
There are other comfy home textures besides fabrics. Many people in this trending comfy home style are implementing lovely wood décor pieces and wood structures.
Adding outdoor elements into your home produces a natural and calming highlight. A fitting example would be hanging plants or freestanding trees.
Materials and hard textures like metals are not used often. However, they can fit into your comfy home style if the décor piece is curvier in shape.
So, if industrial designers are looking to combine a softer charm, they can use round and oval metal shapes instead of metal squares or rectangular shapes. A terrific example is a circular metal shelf versus a square shelf with strong corners.
Lighting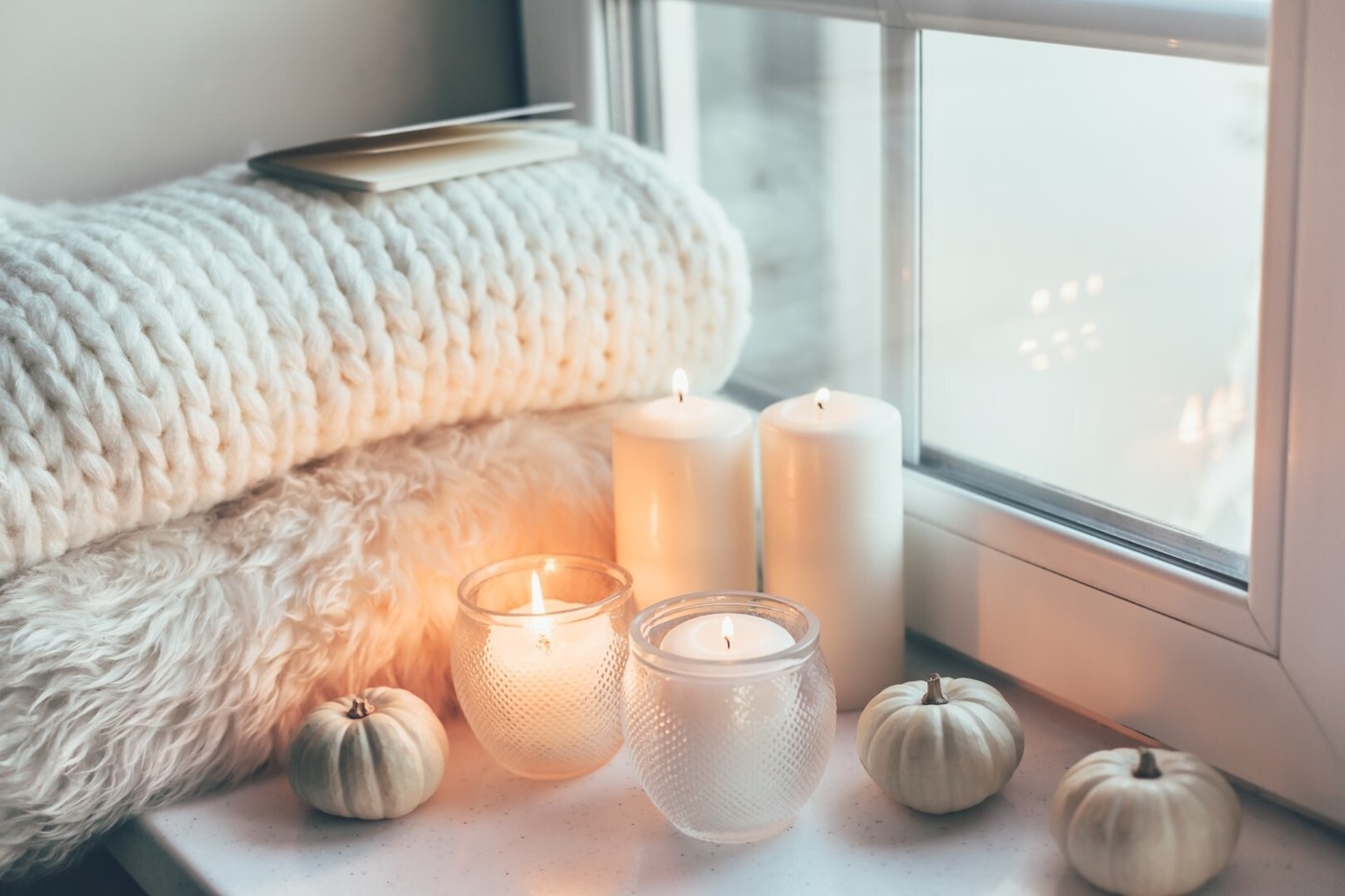 Alena Ozerova / shutterstock
Amber, yellow, and white glowing light add a comfortable ambiance to a comfy home style. So, look for lighting with frosted glass unless you plan to hide the light behind furniture and bounce the light off the walls.
If you have a more playful personality and would like to use colored lights, you sure can. Make sure your colored lights are enclosed in glazed encasing for a cozier vibe.
Tone & Color Palette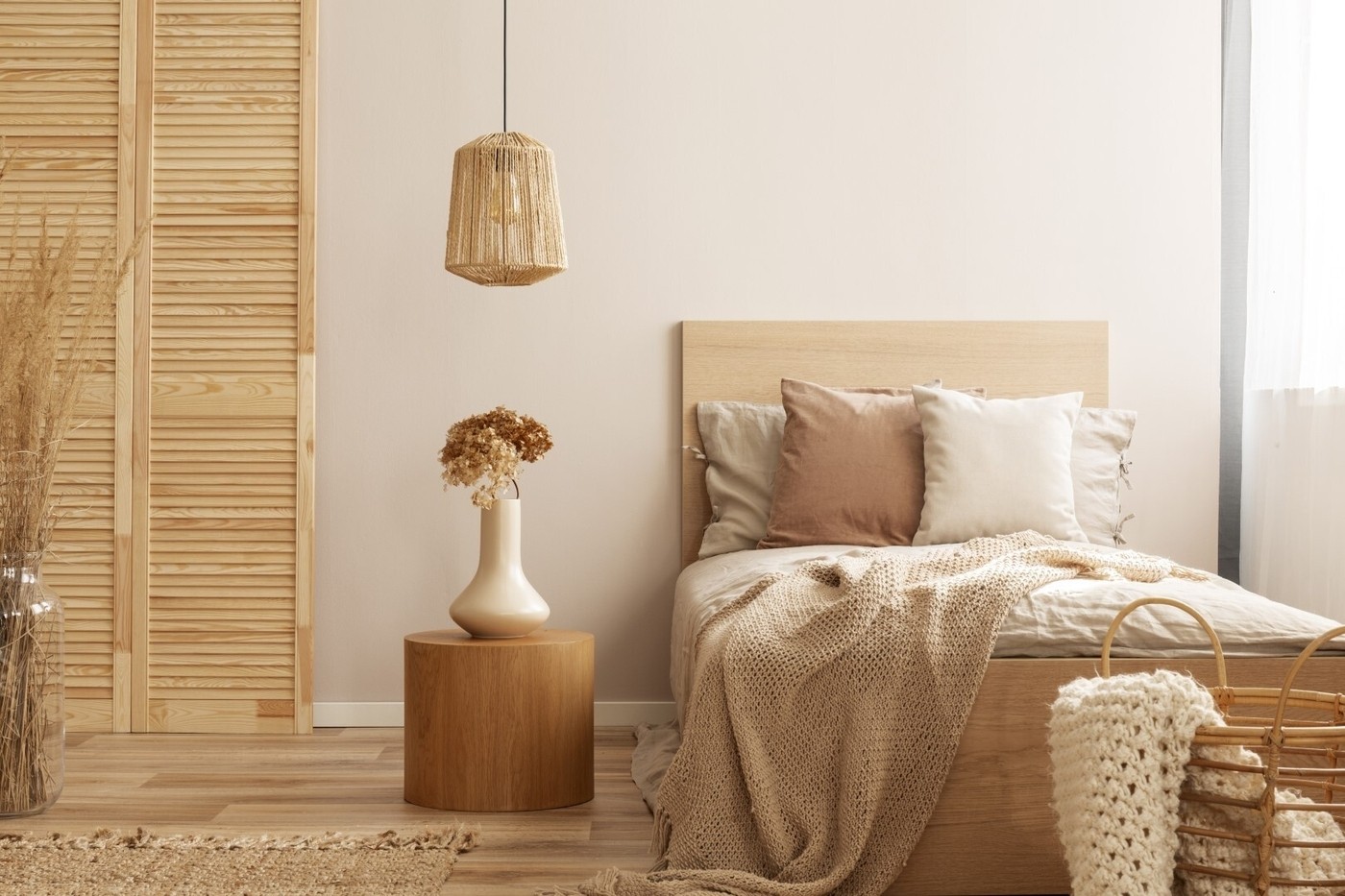 In modern and contemporary styles, you notice a lot of reflective and glossier materials like metal and glass. In comparison, comfy home décor colors primarily use a flat matte tone - which means less shine.
For example, instead of a translucent glass dining table, you would choose a frosted white dining table. Then on top of that frosted dining table, you could top it off with a warm, yellow-lit candle as your centerpiece.
Neutral earthy and pastel colors define the comfy home style. Your goal should be to stick with natural colors you see in nature and colors that give your comfy décor a faded, pale finish.
Tips on Cozy Home Décor that Hangs
The most important tip to keep in mind when shopping for hanging comfy home décor is the material. A softer material hanging around eye level makes it faster to grasp the sense of a cozier room.
Different materials also weigh lighter or heavier. When it comes to hanging cozy home décor, you will want to stick to lighter items. If you choose to hang a heavy item, make sure it is properly bolted to the ceiling or wall.
Here are a few hanging comfy home décor pieces you didn't think of before:
Wooden Floating Beds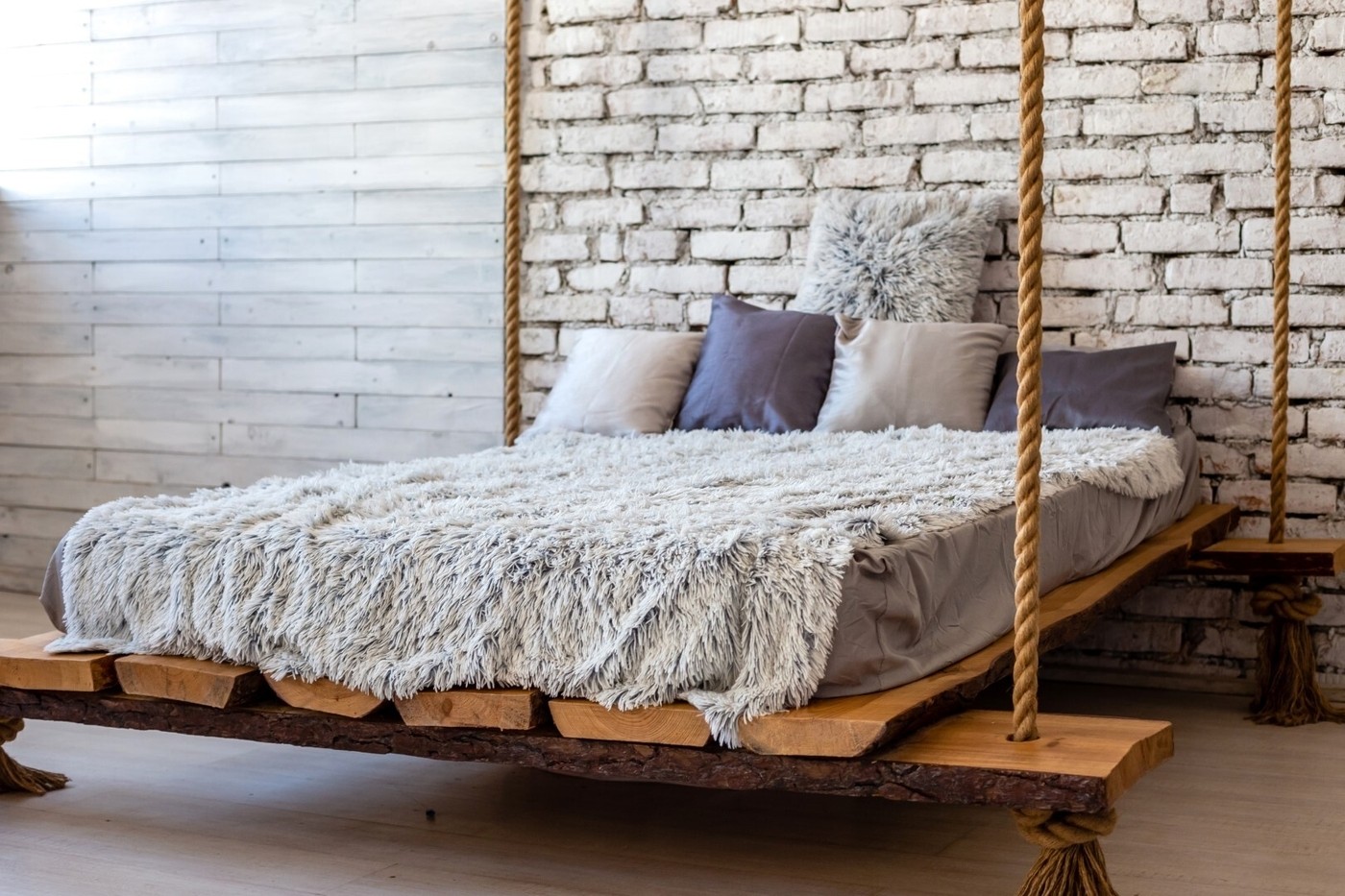 The fact that this bed is floating makes it a comfy home décor piece. Looking at this wooden floating bed, there are a few textures, tones, and colors at play.
Starting with textures, the natural wood and rope fiber add a touch of cozy nature to the bedroom. The other materials consist of soft fabrics like the shaggy microfiber and polyester blanket and the plush microsuede pillows.
Flat matte surfaces with no shine and dull color tones like grey and navy, add to your comfy home décor style. The colors used here are also a cozy neutral.
Wall-mounted Blanket Ladders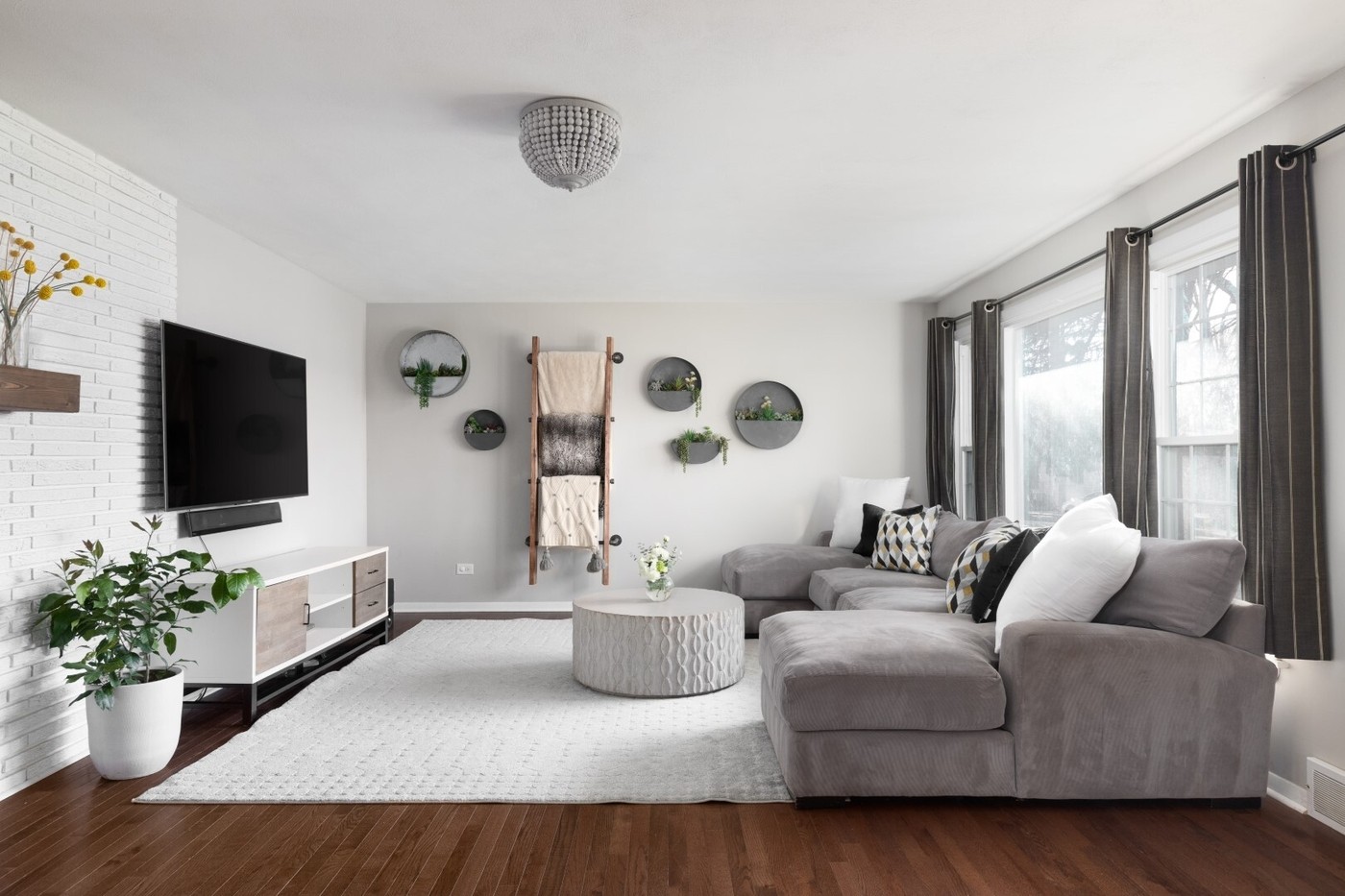 Joe Hendrickson / ShutterStock
A hanging blanket ladder is a fabulous way to enhance the cozy home style of your living room. Pastel faded pinks and greys infuse a matte finish, supple in presence.
You have seen freestanding blanket ladders, though a hanging one can save you floor space while instilling a comforting buzz. The textures and colors of the blankets you choose should be muted and soft.
Indoor Chair Hammocks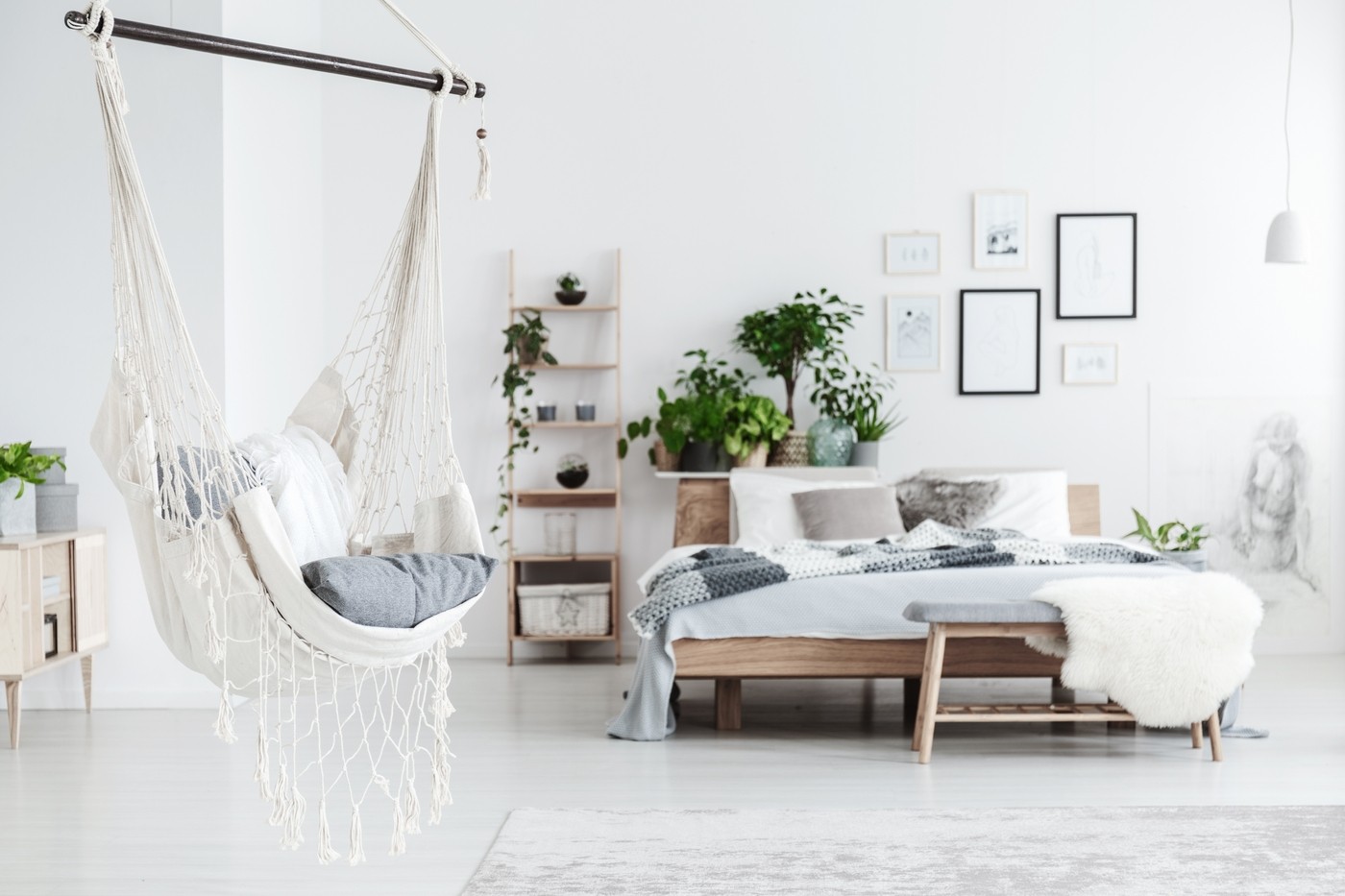 Hammocks are hung outside your home or at campgrounds. Why not exchange your regular seating for chair hammocks? Hammocks offer comfy seating and introduce a comfy home statement to living rooms and bedrooms.
Indoor chair hammocks with hanging frills add a level to comfort because they break up strict lines and inspire dimension. Stick to dull greens and browns for a chic Bohemian addition or use watery greys and blues for modern comfort.
Under Furniture Lighting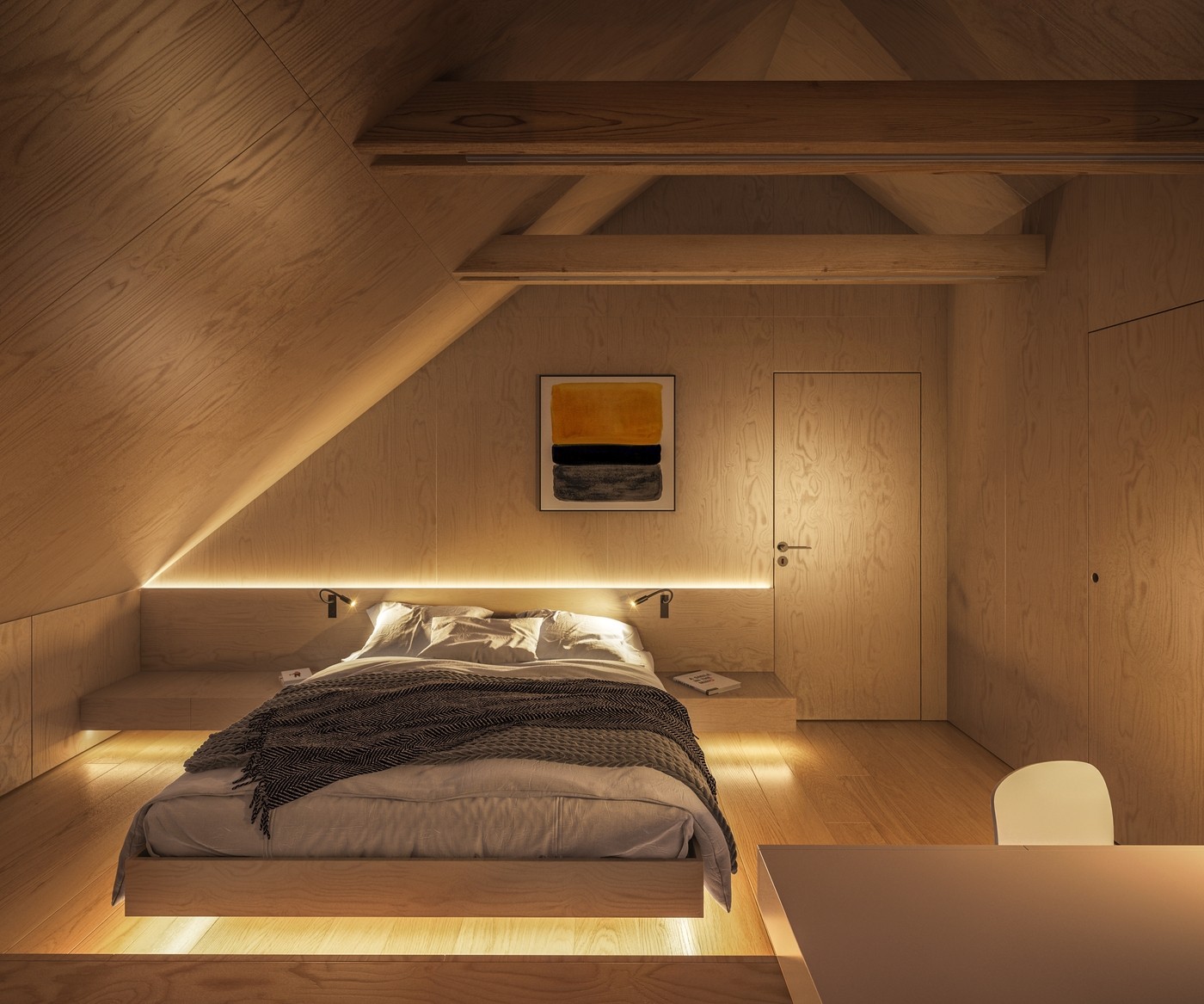 Sure, you've seen lighting beneath countertops and cabinets. Furniture lighting under beds and chairs create a cozy impression from the floor up instead of the ceiling down.
To nail the comfortable atmosphere, stick to neutral light hues like amber, yellow, and white. Layered blankets and absent wall décor contribute to the comfy home décor style.
Hanging Greenery Walls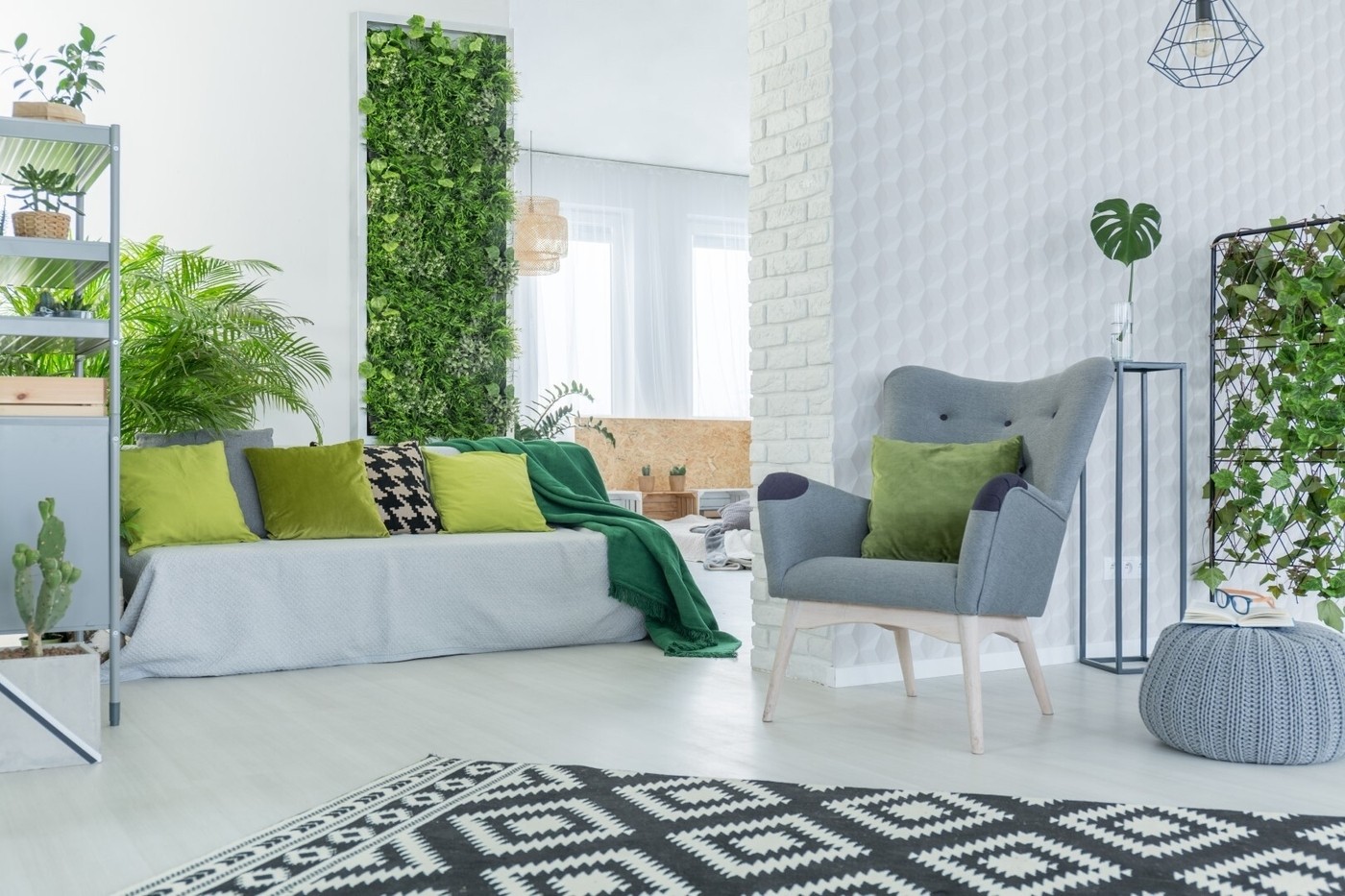 photographee.eu / shutterstock
Bringing the outdoors indoors is a remarkable way for nature-lovers to immediately bring comfort styling into their homes. The washed-out greys and green color scheme add an exotic yet comforting aura to this living room.
Real plants circulate oxygen making it easier to breathe inside your home. This leads to a more relaxing, stress-free environment.
Freestanding Cozy Home Décor Tips
Something you notice in freestanding pieces within the cozy home style is how low to the ground they sit. Unless you own an overstuffed chair, most cozy home décor pieces sit no higher than hip height.
Tall freestanding items exude a noticeable extravagance. Well, comfort home-style gives the opposite effect. Comfort home décor pieces sitting low to the ground are low-profile and less pretentious.
Here are some freestanding comfy home décor pieces you didn't think of before:
Ambient Ultrasonic Diffusers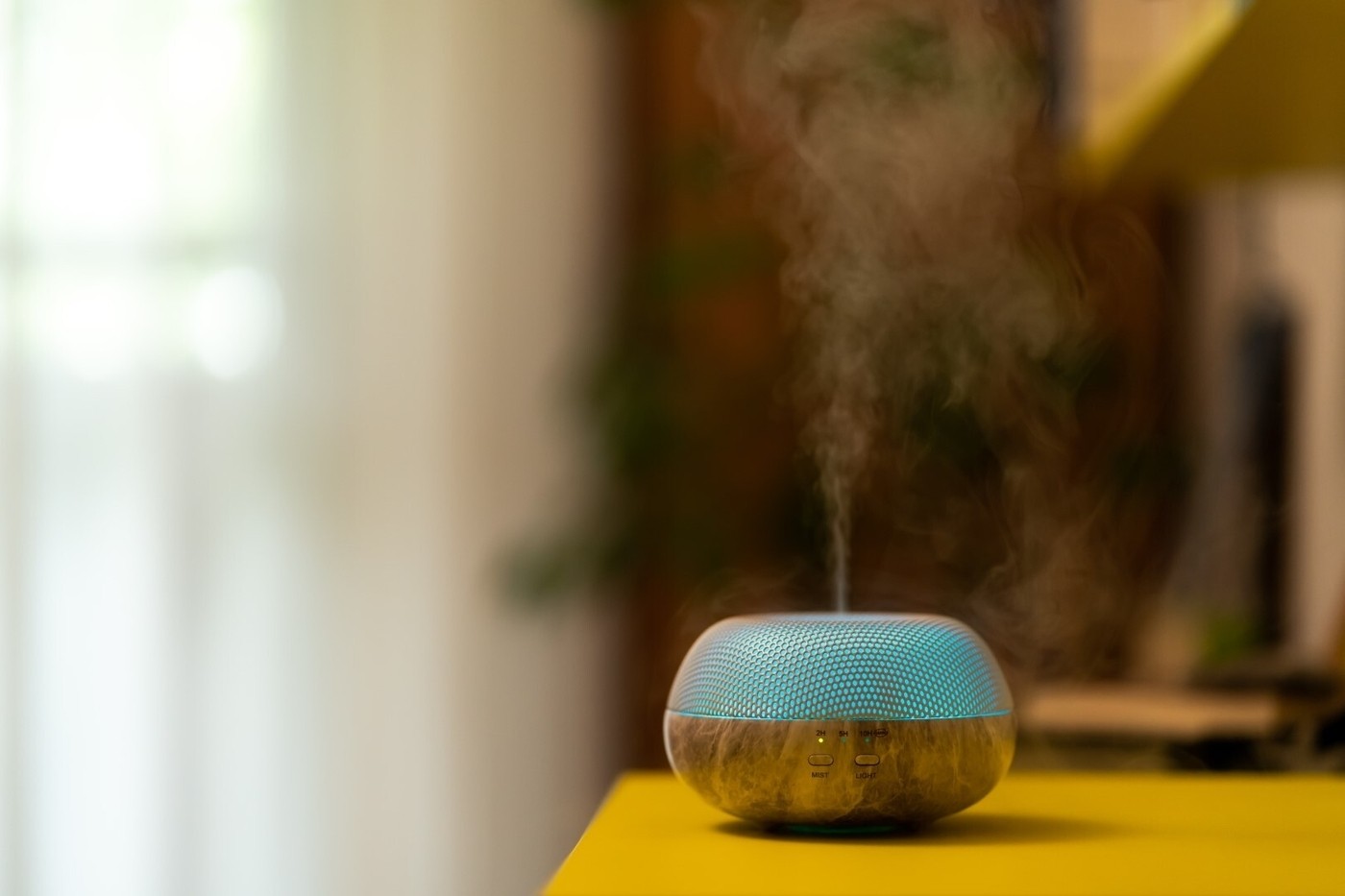 A smooth, rounded ultrasonic diffuser provides multiple comfort purposes in one. Their external appearance and the fragrances you place within them are soothing.
The airy flow of mist, wood texture frame, and ambient glow from the LED ultrasonic diffuser bring more ambiance to any room. You can set these diffusers in bathrooms, bedrooms, living rooms, offices, kitchens, and even laundry rooms.
Cozy Pet Beds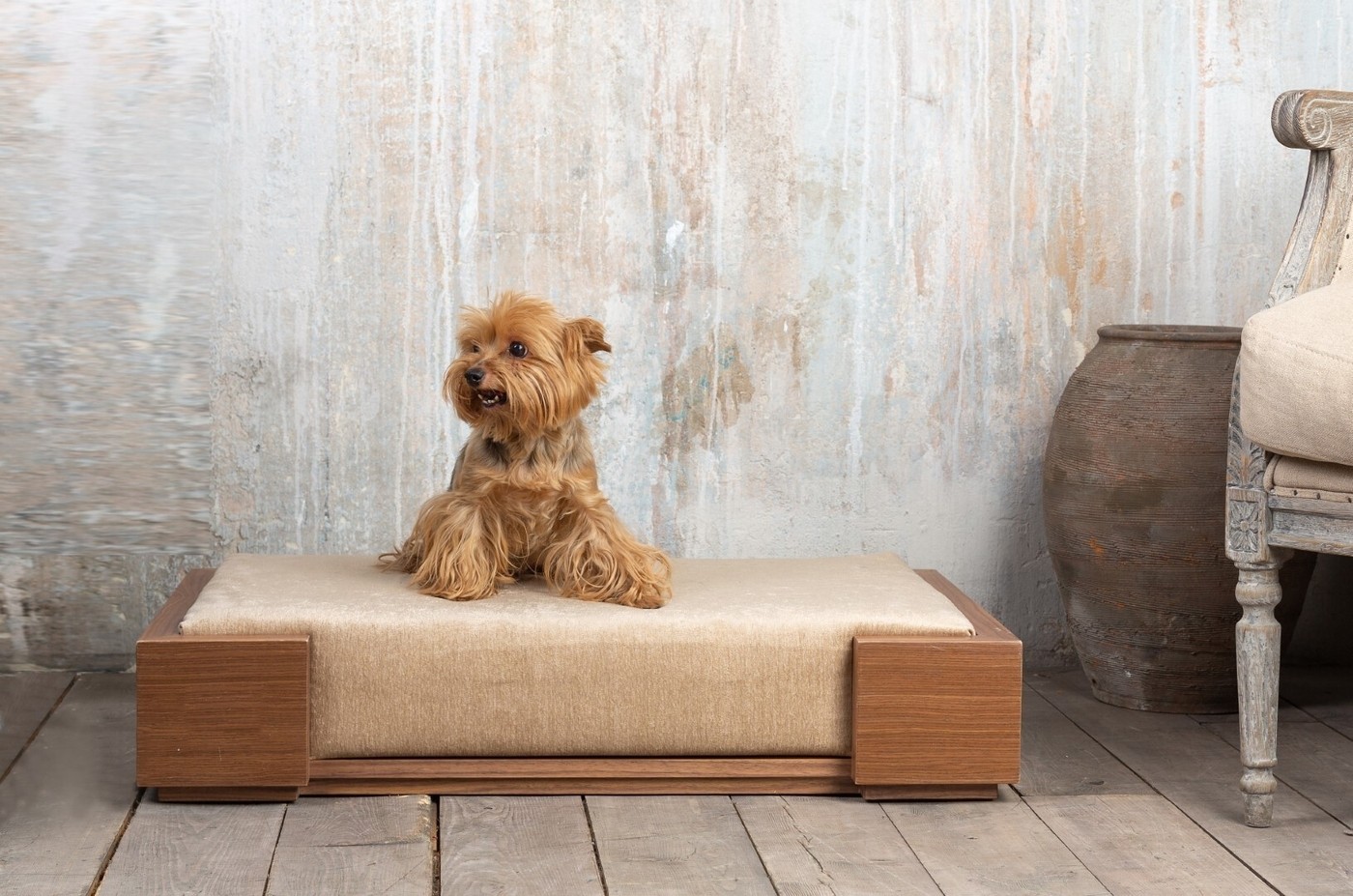 Even your pet's bed is a comfy home piece! Choose a low-profile pet bed with neutral colors and smoother edges for a more satisfying feeling.
For an improved comfort factor, leave the wood frame out of the purchase and just opt for the soft pet bed cushion. Whether you choose both cushion and frame or just a cushion, your pooch or kitten will love your comfy décor style!
Floor Pillow Décor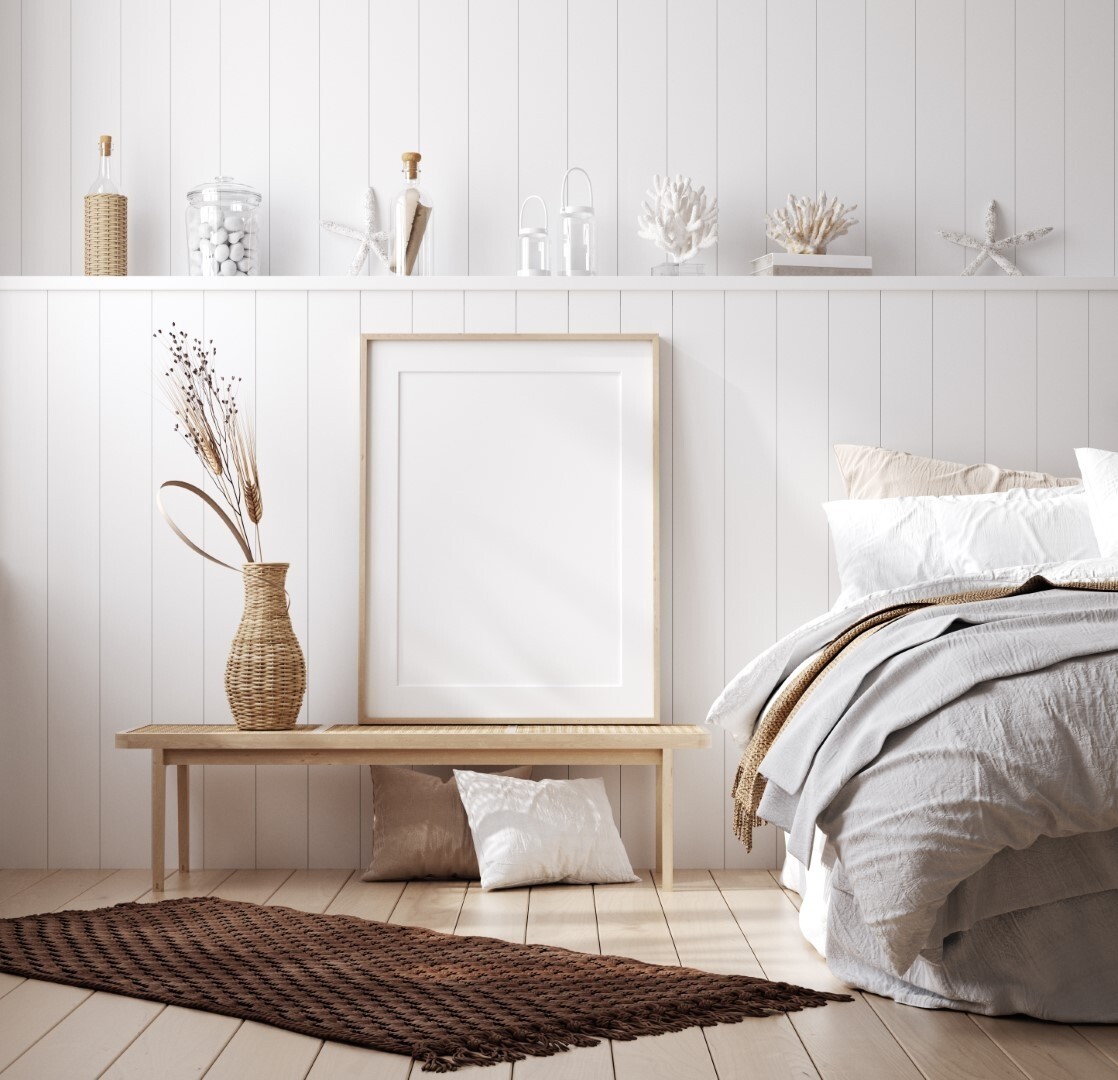 The fresh and trending style of floor pillow décor is taking a step into the fashion world. Place pillows under tabletops, nightstands, and entryway tables. You can also place them on windowsills and shelves.
Choose a pillow shape that fits beneath or on top of a surface without the need to cram it into the space. Allow for some breathing room to show off the fluff and soft pillow edges.
Rounded Pouf Ottomans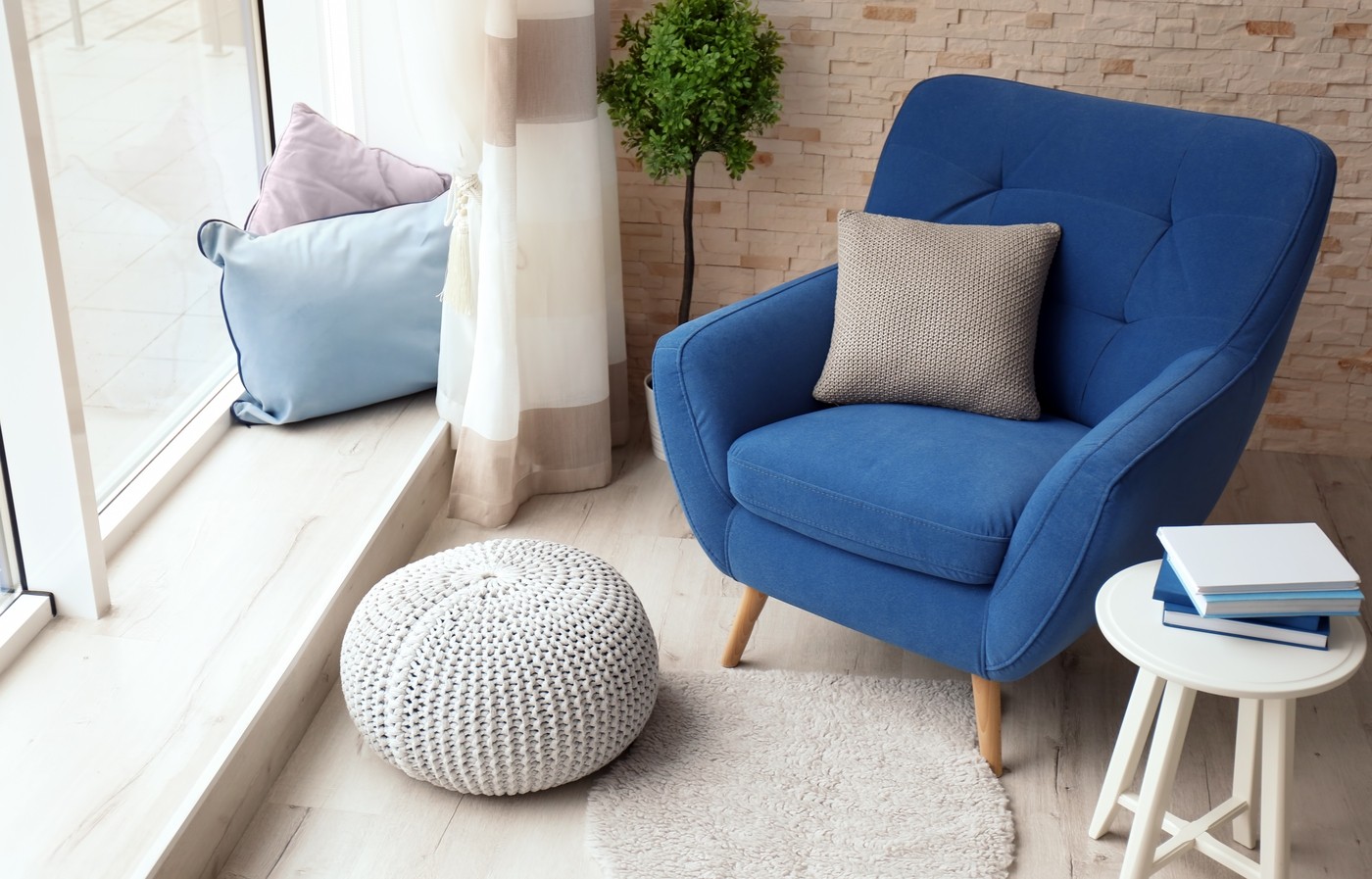 A comfy home décor piece you didn't think of before might be the rounded pouf ottoman. Their rounded curves, soft polyester, and cotton materials are extremely fitting in comfy style.
Find one with extra fluff for a shabby chic beauty. You can also pair pouf ottomans with floor décor pillows. Add a flat matte-colored velvet chair to the mix as well!
Soft Baskets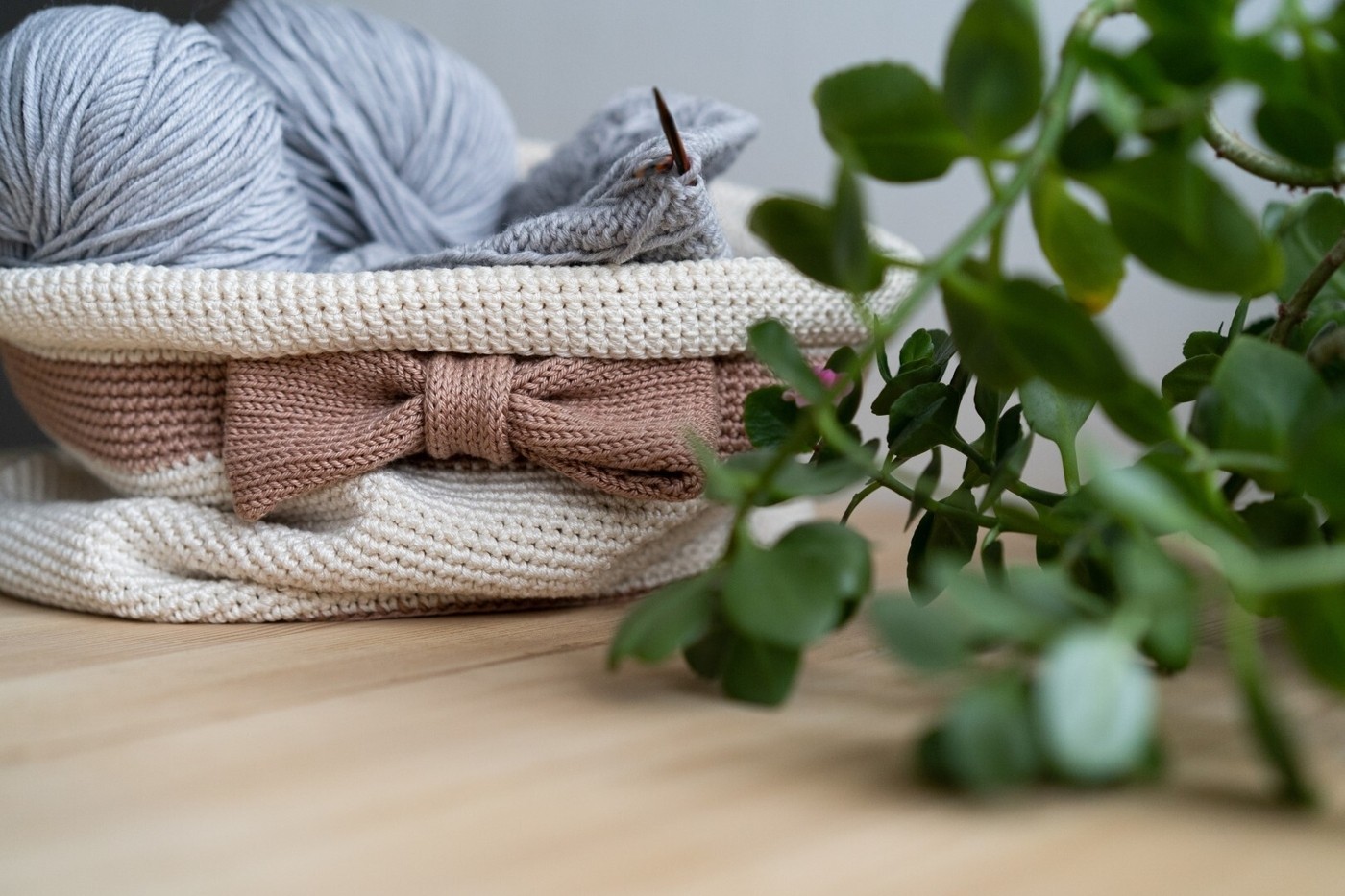 Baskets are predominantly used in modern, contemporary, farmhouse, shabby chic, Scandinavian, Bohemian, and coastal themes. The softly rumpled basket look is hot in today's market.
You can use soft baskets in bedrooms, living rooms, craft rooms, and nurseries, to boost their comfy home décor style. Store blankets, yarn, plants, pinecones, toilet paper, favorite books, and your other comforting items.
Quick comfy home décor tips:
Soft textures and materials
Smooth and curvy shapes
Warm ambient lighting
Flat matte tones
Faded neutral and pastel colors