In interior design, space is sacred. Spacious interiors are often viewed as luxurious and breathable, and they can be more versatile in terms of livability, functionality, and decorating. But not every space is blessed with ample square footage.
(In fact, housing data indicates that the average size of homes in the US have been on the decline since 2015.) But rather than lament the lack of space, we suggest embracing it. Below, we outline some tactical ways to perpetuate a feeling of spaciousness throughout your home.
1.

Use paint to fool the eye

If you're trying to modify the look and feel of a room, paint is probably the oldest, most dependable trick in the book. Generally speaking, lighter colors tend to be better suited for smaller spaces because they reflect and amplify sources of light. But there's a little more to it…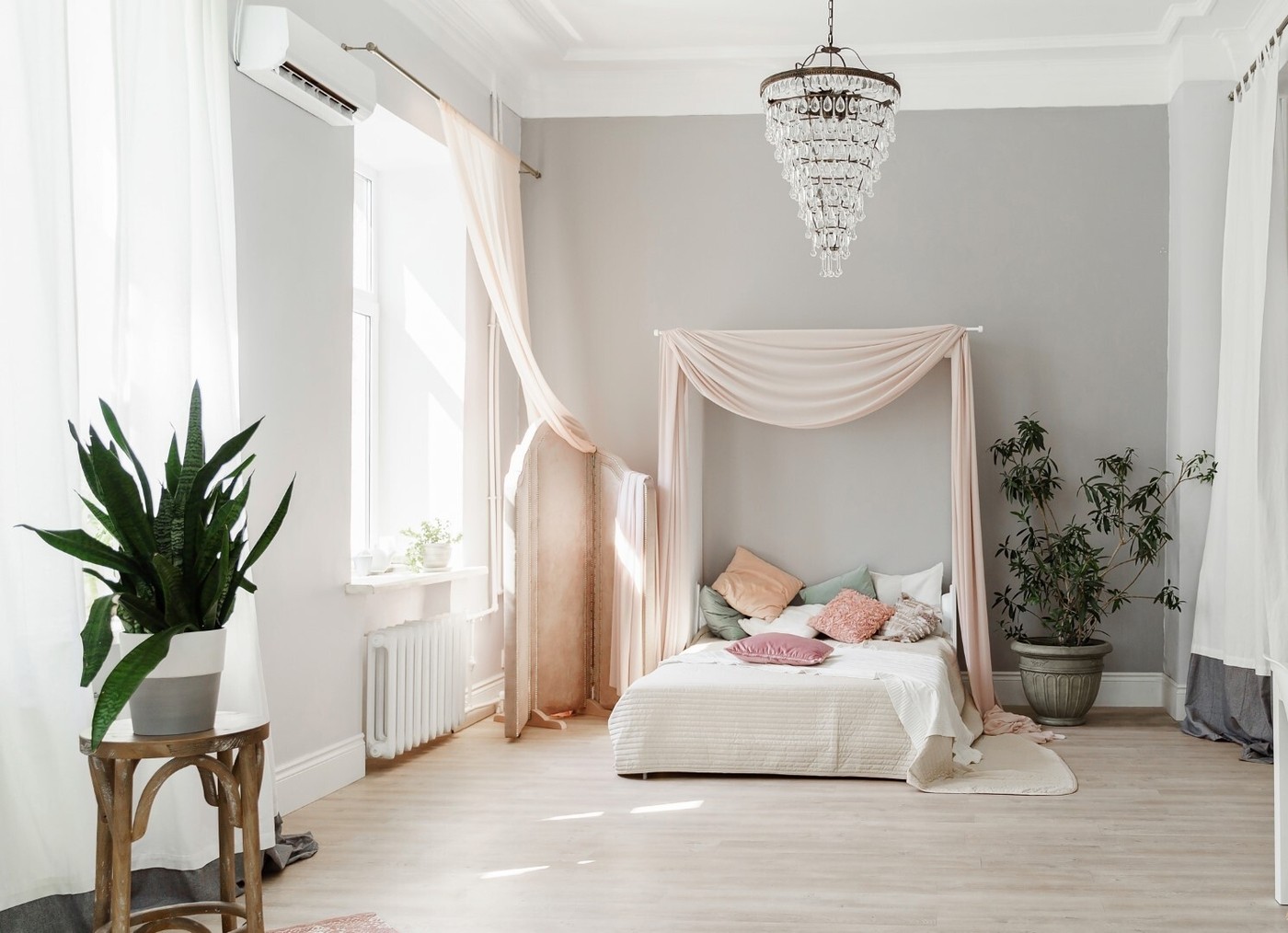 In addition to the reflectivity of certain hues, you'll also want to pay attention to the color temperature when devising a color palette for a space that errs small. Colors with cooler undertones, such as blues, greens, and many shades of gray and white, are typically perceived as brighter, giving the impression of openness and airiness.

Although too much of a dark or bold color can make a space look and feel smaller than it actually is, contrasting colors can be used in an accenting way to create the illusion of space. This largely depends on the nature of the space. For example, if your space has low ceilings, painting the walls a darker or bolder color than the ceiling and floors will help to lend the illusion of a taller room. Another tip: paint the far wall of a narrow room a contrasting color, whiling keeping the adjacent walls a light color. This will give the room a sense of depth.

Conversely, you can use the same paint color for your walls, ceiling, and trim. Not only will your space look sophisticated, but this trick will lend the impression of tall walls and high ceilings, simply because the eye won't immediately register where the wall ends and ceilings begin.

If your space has crown moldings, consider painting them a shade lighter than the walls. This trick will help to give the walls an unexpected sense of depth and dimensionality.
2.

Pay attention to the scale and proportionality of furniture

In a small space, the size of your furniture is especially important. Furniture that is too big will cause the space to look cramped and smaller than it actually is. Oversized furnishings can also be limiting in a small space in terms of possible layouts. As a rule of thumb, opt for furniture pieces that can be easily accommodated within the boundaries of the room. (You should be able to "float" your furniture, if need be.) Conversely, a furniture piece that's too large for the space will not only look disproportionate to the rest of the room, but may not be able to accommodate traffic flow surrounding it.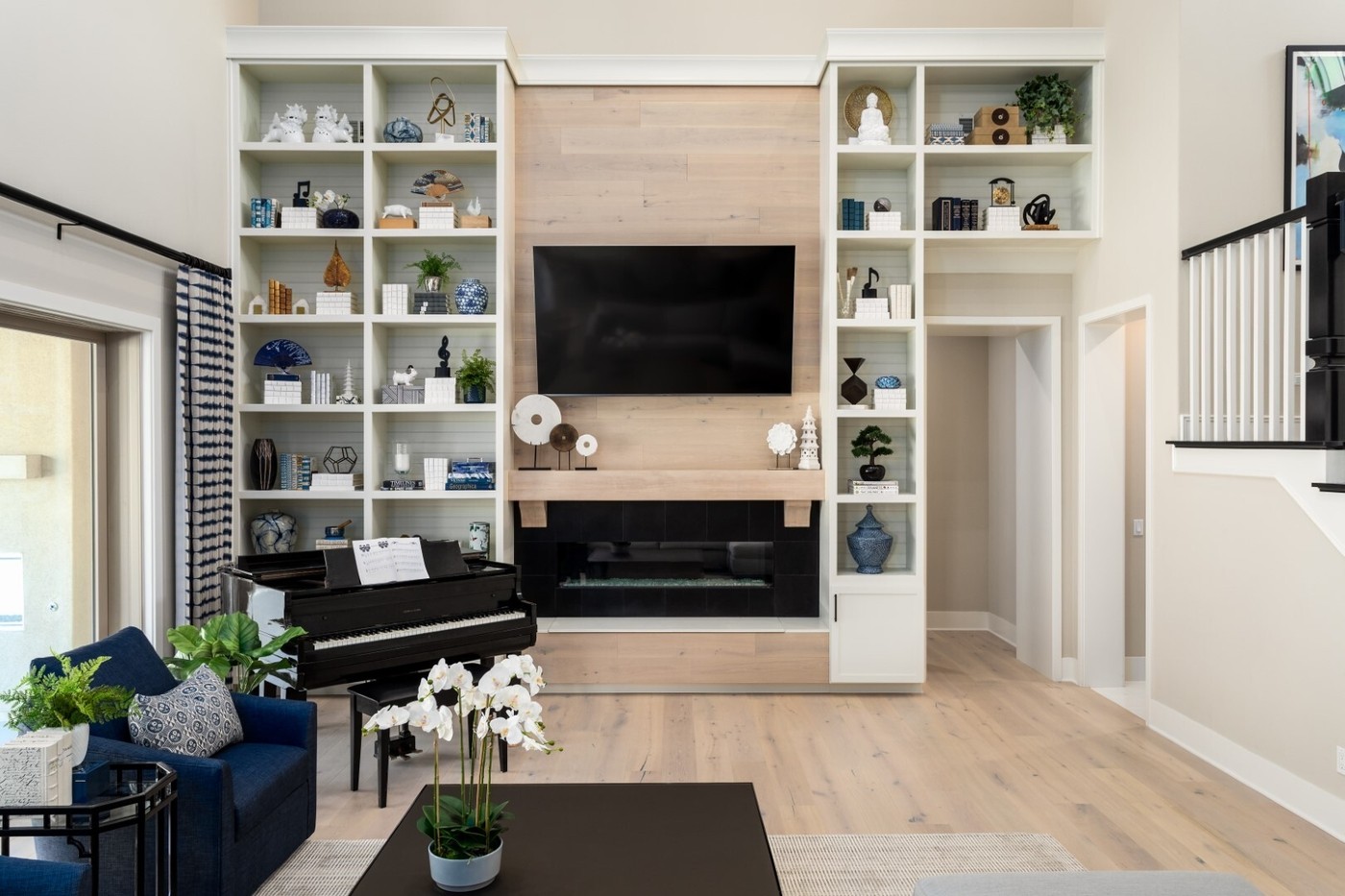 In any space, it's important to create avenues for light and traffic flow. Arrange your furniture to open up walkways throughout the space. Rather than bulky furniture, opt for sheer and/or delicate pieces that allow light to pass through in some way. Additionally, ensure that your furniture isn't obstructing any windows and natural sources of light.

In most rooms, the longest stretch of floor space occurs at a diagonal. As such, the best way to emphasize the length of a room is to place your furniture pieces at an angle. You can use a large rug (placed at a diagonal) to achieve the same kind of elongated effect.

Built-ins are great for maximizing interior space and minimizing visual clutter, while maintaining functionality. For instance, built-in shelving units encroach very minimally on the space, but still provide space for storage and display.
3.

Amplify lighting with reflective surfaces

In any space, big or small, natural light has the ability to elevate and expand the space. With this in mind, make sure you are taking full advantage of any natural light sources in your home. Keep windows unobstructed and uncovered or layer your draperies so that you can utilize a sheer window treatment during the day. You can also incorporate reflective materials, such as mirrors, glass, and metallic accents into your interior spaces so that your light sources—natural and artificial—are amplified.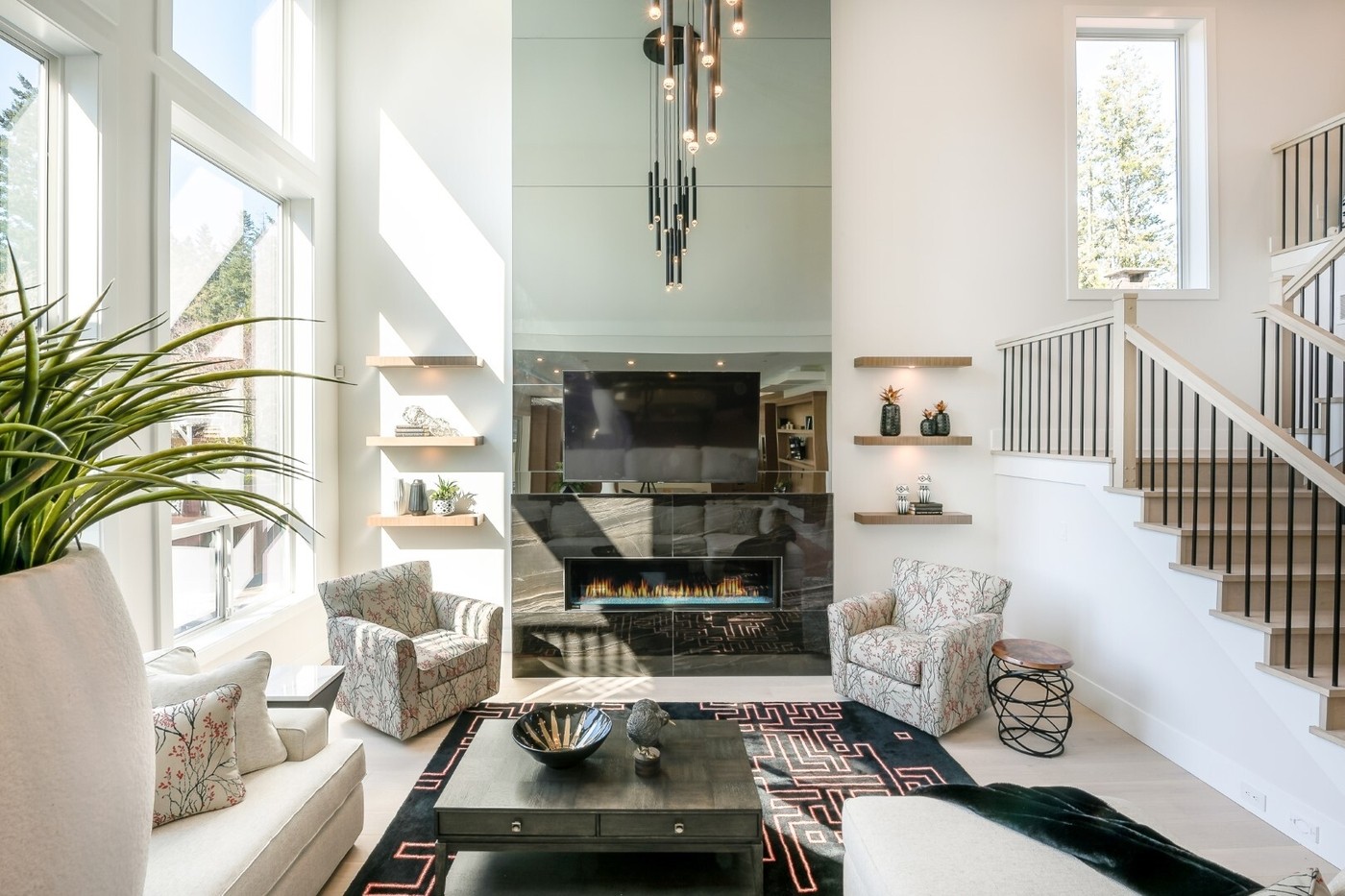 If you are using mirrors to supplement your lighting, make sure you are positioning mirrors strategically. For instance, a large mirror can be placed across a window to amplify the natural light. You can also use a mirror in place of artwork and/or within a gallery wall.

If you have limited space, opt for mirrored items that perform a double duty. For instance, a mirror with an ornate frame will give the effects of the mirror and an art piece simultaneously. You can also opt for furniture that incorporates reflective elements, such as a mirrored glass coffee table.

If you have limited access to natural light, layered lighting fixtures can provide a similar effect. Ensure you are using a mixture of ambient, task, and accent lighting. In a small space, recessed lighting fixtures, such as pot lights, will provide illumination without encroaching on your space.
4.

Decorate to emphasize ceiling height

Square footage isn't the only measure of a home's spaciousness. Ceiling height plays a major role in the overall size perception of a space. If you're fortunate enough to have high (or high-ish) ceilings, make sure you are giving your room's height the decorative attention it deserves. In short, you want to (a) emphasize your ceiling height, and (b) lend the illusion of higher ceilings.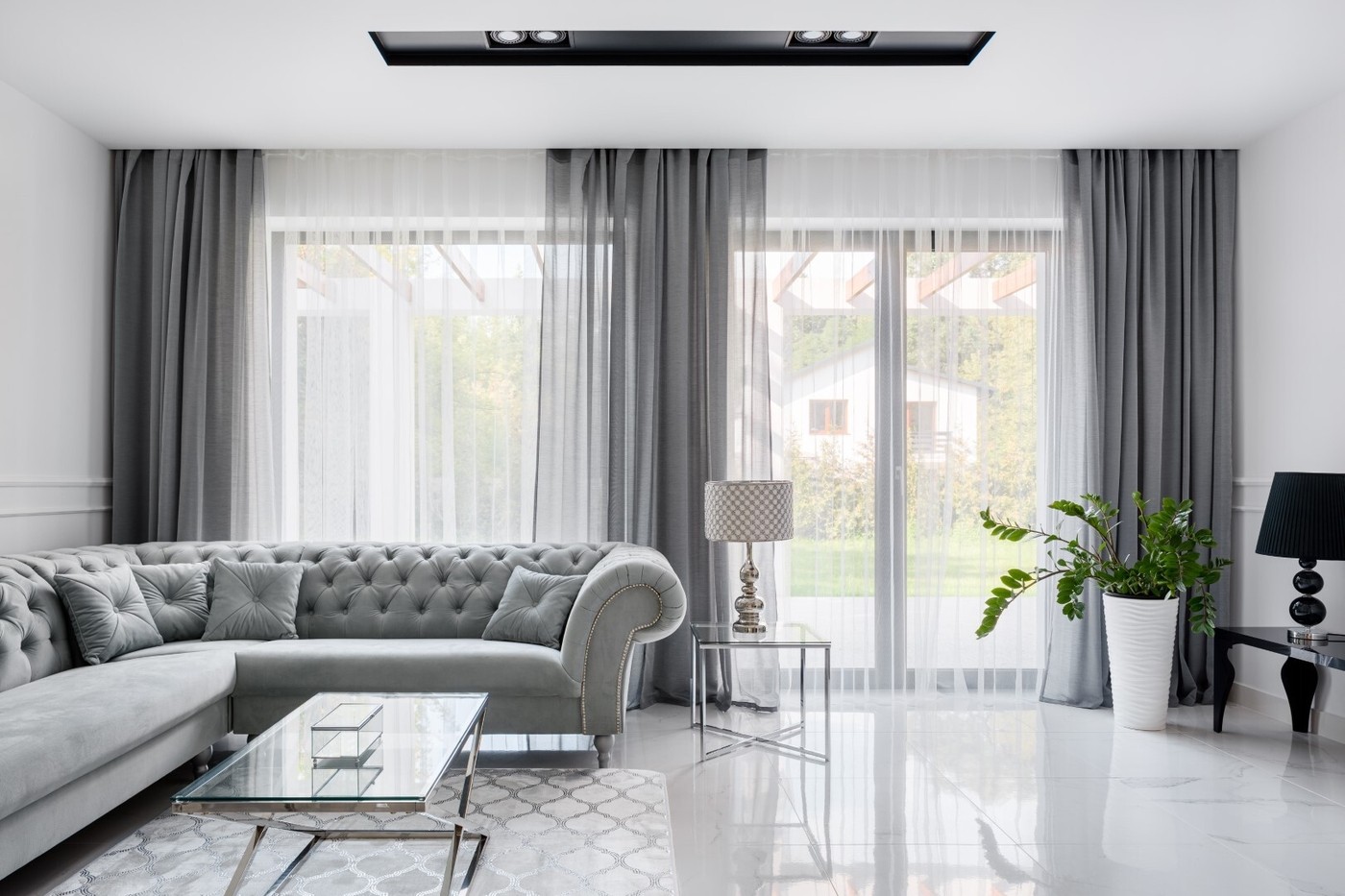 Wall-mounted artwork can be used to draw the eye upwards and connect the upper and lower portions of the room. The same goes for ceiling-mounted lighting fixtures, such as pendant lights. In a small space, lighting fixtures that allow light to pass through are ideal—for instance, a minimalistic crystal chandelier.

Curtains can be used to elongate the look of your walls, while mimicking the look of floor-to-ceiling windows. To do this, simply mount your curtain rods above your window frames, close to the ceiling. You can also invest in larger curtains (both length-and height-wise) than you need. Ideally, you want your curtains to "puddle" on the floor and always look full, even when they are drawn back.

Painting your ceiling a lighter color than your walls will give the ceiling the illusion of being far away. You can also use a paint with some degree of sheen for your ceiling, such as a high-gloss or semi-gloss paint, which will interact with the light sources in the space more dynamically than a matte paint.