Our Choice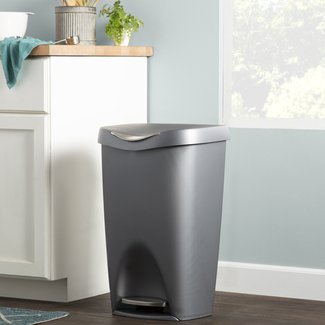 Wayfair Basics Plastic 13 Gallon Step On Trash Can
Simple, affordable, and functional, this contemporary trash can features a step-action lid to minimize kitchen mess.
With a capacity of 13 gallons, this plastic trashcan is suitable for families, couples, and individuals. It's small enough to encourage frequent emptying but large enough that you won't be constantly running to and from your outdoor bins.
The slow-close lid offers noise reduction, and the separate ring holds your trash bag securely inside.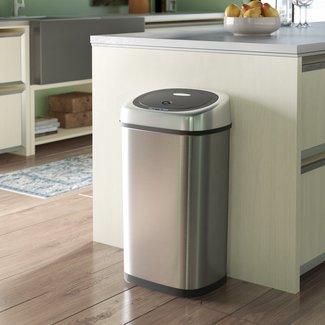 Stainless Steel 13.2 Gallon Motion Sensor Trash Can
A sophisticated motion sensor operates the removable lid of this trash can to streamline waste disposal in your kitchen. Classy yet understated, this trash can's chrome-colored steel exterior melds seamlessly with modern, stainless steel appliances.
The sleek design functions as an anchor to your kitchen corner, and the non-skid base prevent the unit from shifting or toppling from impact. The long-lasting battery features a sleep mode for better energy efficiency, and the lid operates with a quiet, soft close motion.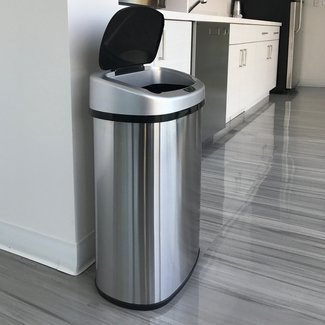 Stainless Steel 13 Gallon Motion Sensor Trash Can
At 26" H x 16" W and features a 13-gallon capacity, this stainless-steel trash unit is the perfect size for any kitchen. It also helps to improve kitchen hygiene, due to the touchless sensor that opens and closes its lid at a slow pace for easy use.
The stainless-steel exterior is easy to keep clean and smudge-free. Power it with included AC adapter or with 4 D-batteries purchased separately.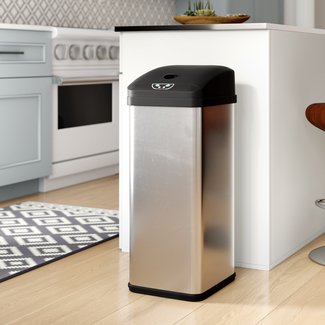 Ericksen 13 Gallon Motion Sensor Trash Can
A black motion-sensor lid and stainless-steel exterior enhance the functionality and style of your modern industrial kitchen. The motion sensor only draws power as needed for a lifespan up to three times longer than other automated trash cans.
Press the open button twice, and the lid remains open for five minutes for easy clean up after dinner. The carbon technology odor control system helps minimize off-putting aromas and keeps your kitchen smelling clean and fresh.
You'll love this sturdy and attractive waste receptacle so much that you'll want one for your recyclables too!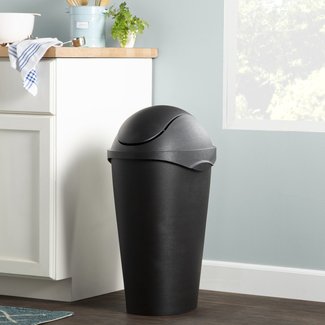 Wayfair Basics 12 Gallon Swing Top Trash Can
Budget-friendly and functional, this swing-top trash offers convenient waste disposal for your home. Available in both nickel and black finishes, it's the perfect finishing touch for the corner of your kitchen.
This 12-gallon polypropylene trash can features a molded lid that securely holds bags with soft-touch clips to prevent tearing and non-slip feet for added stability. With compact 28'' H x 13.25'' W x 18'' D dimensions, it is ideal for narrow spaces.
Plastic 13 Gallon Step On Trash Can
Available in mocha, gray, and black finishes with silver-colored accents, this trash can is constructed from hard, superior-quality plastic for long-lasting functionality. The lid is powered by a foot lever for a more hygienic kitchen environment and features a quiet, smooth operation.
A pet-safe lock allows you to secure the lid when you're not around and want to keep nosy pets or small children out of the garbage.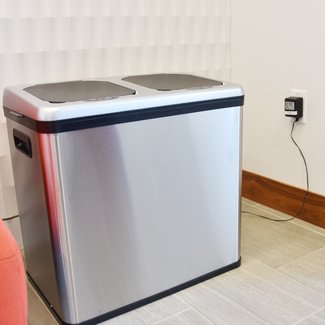 Dual Compartment Stainless Steel 16 Gallon Motion Sensor Trash Can
Two eight-gallon compartments make this trash can perfect for helping you and your family separate recycling from refuse. A stainless-steel finish is easy to clean while the motion sensor lid provides simple, convenient, and sanitary access to your waste receptacles.
At 22" H x 13.9" D x 23.1" W, this trash can is ideal for optimizing smaller spaces. Four caster wheels--one at each corner of the trash can--further enhance movability and functionality.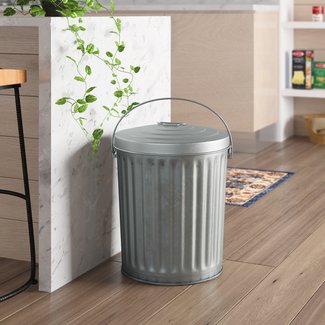 Medium Duty Galvanized 10 Gallon Curbside Trash & Recycling Bin
This nostalgic kitchen bin is perfect for the farmhouse-inspired kitchen or for complementing a bohemian-inspired space with vintage touches.
Lightweight, galvanized steel provides years of sturdy use and corrosion resistance. Handles on each side of the trash can help you move it easily, while the seal around the edge enables you to manage odors.
This multifunctional kitchen accessory is not only for waste management but also ideal for housing up to 40 lb. bags of pet food.
Erhart Stainless Steel 14 Gallon Motion Sensor Trash Can
This large, 14-gallon, motion-sensor lid trash can features an AbsorbX technology odor control system for optimal kitchen freshness and hygiene. The retracting lid design provides a unique, sophisticated detail to your kitchen space.
The extra-wide lid offers a controlled opening mechanism, a trash bag holder, and is UV coated to prevent the growth of bacteria. Available in steel, black, and white finishes to suit a wide range of kitchen décor aesthetics.