Having a workspace in your home is a modern-day necessity. With more businesses moving online, having a home workspace can give you a place to organize your thoughts and work without the pressures of being at the office.
It doesn't matter whether you have a large amount of space or just a small corner in your apartment; you can still turn your home workspace from drab to fab. The workspace that you choose depends on the area you have available. You can set up your workspace in a kitchen, a nook, a hallway, or your den's corner. If you have an unused guestroom, this may be the perfect time to transform it into your home office.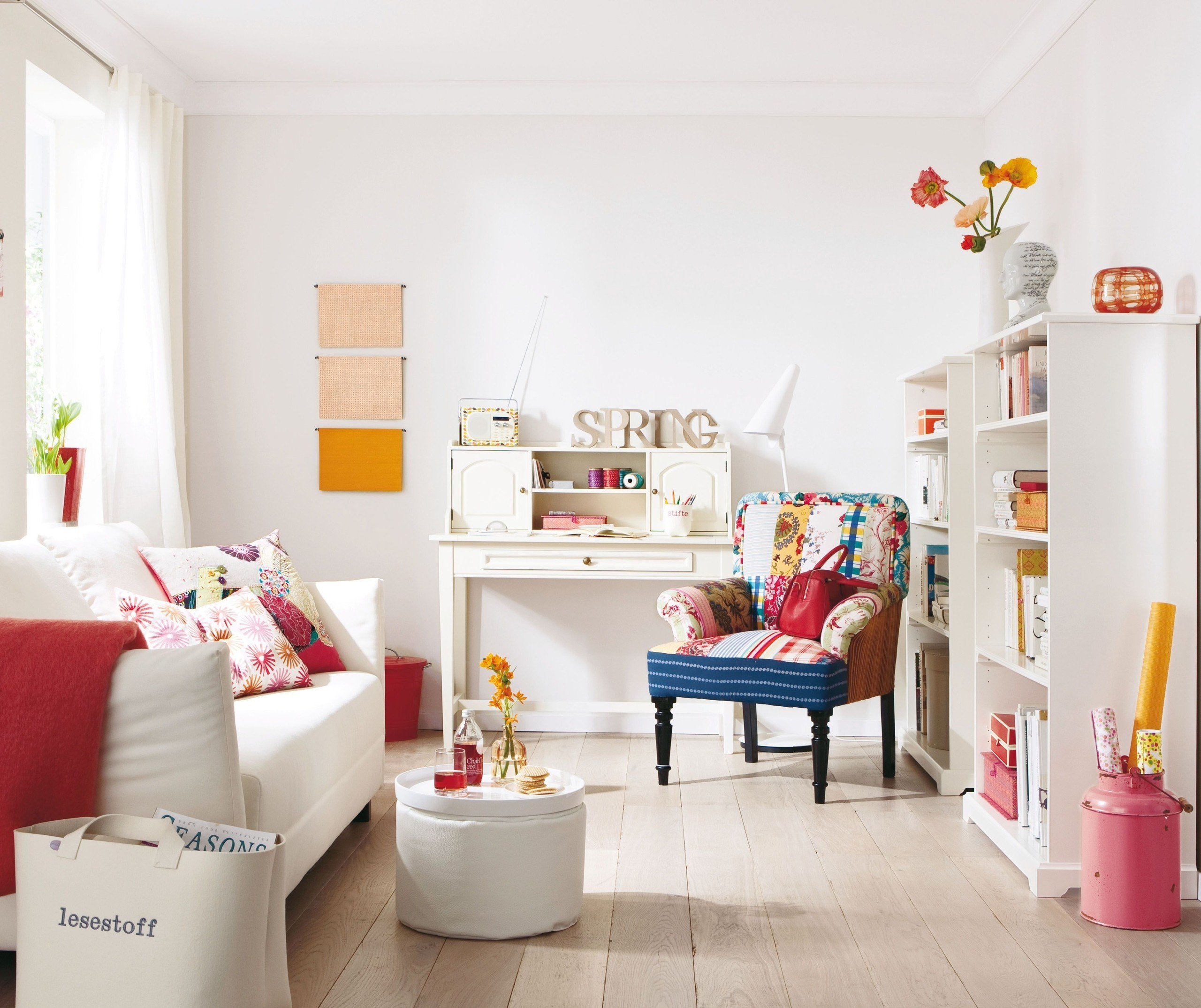 Choose a traditional secretary desk, executive desk, floating desk, credenza, computer desk, writing desk, or standing desk, all of which come in ergonomic options for your limited space. To make your home office an ideal working habitat, consider these eight crucial details when setting up your office with a secretary desk, ergonomic desk chair, filing cabinet, printer stand, storage, and office supplies.
1.

Hide Pesky Wires

The modern office has a ton of wires for all your computers and gadgets, and it can get messy quickly. One of the easiest and most effective ways to pull your home office into shape is to organize and hide your wires.

Some secretary desks include a fold-up workspace, so you can simply fold up your desk to hide the mess when you're done for the day. Others have a handy hole in the back of the desk, allowing wires to pass through to the power outlet.

Rubber bands, zip ties, and twisty ties are all useful when trying to make sense of the mish-mash of wires behind your desk. Group your wires according to the type of device, so when you're crouched down, trying to plug something in, it's even more straightforward.
2.

Label Cables and Wires

As you're making your wires more accessible, take the time to slap a label on them. Having wires labeled makes your life so much easier when you're in a rush and need to quickly move the printer.

Some people use only one label on each wire, situated toward the plug-end, while others prefer to use two, one near the plug and one further up to help you on either end - device or power source. A great tip from organization experts is to use colored tape to label your wires for easy visual recognition.

You should also decide whether you would like to label the wires with the name of the device they connect to or the type of plug. Since modern wires connect to more than one device, some home office owners like to label their wires and cords according to the plug - USB A, B, C, or Mini.
3.

Easy-To-Reach To-do List

To-do lists are an excellent way to quantify how much you're getting done in your home office. On your secretary desk, have a whiteboard or pad of paper at hand to jot down tasks or other notes throughout your workday.

There is a pure satisfaction in crossing each item off of your list. If you would like to be more eco-conscious, you can use a whiteboard to reuse it day after day. Scrap paper is another eco-friendly suggestion. If you have junk email or drafts of documents that you've already edited, cut them into uniform sizes and hold together with an alligator clip for a makeshift pad.
4.

Utilize Your Wall Space

When you live in a cozy apartment and don't have a whole room to dedicate to your home office, you can easily take over one corner of your abode to recreate your workspace. With excellent space-savers like a small secretary desk or floating desk and organizational products, it's easy to get a lot out of your tiny corner.

One way to make the most of limited space is by using all available wall space to your benefit. Hung pegboards and whiteboards are indispensable for getting stuff done at home. Consider a floating desk that folds up when you're done working to keep clutter at a minimum.
5.

Blend Décor and Organization

These days, you can get furniture pieces to help you save space and organize, like a small secretary desk or credenza, but you don't have to sacrifice style to get your act together.

You don't have to choose between utility and beauty. Many furniture pieces offer storage space and efficacy and still look great while ensuring you stay organized and put together.

To personalize your wall organization pieces and complement a period secretary desk, buy vintage picture frames fitted to your pegboard size to create an interesting focal point and an organizational tool.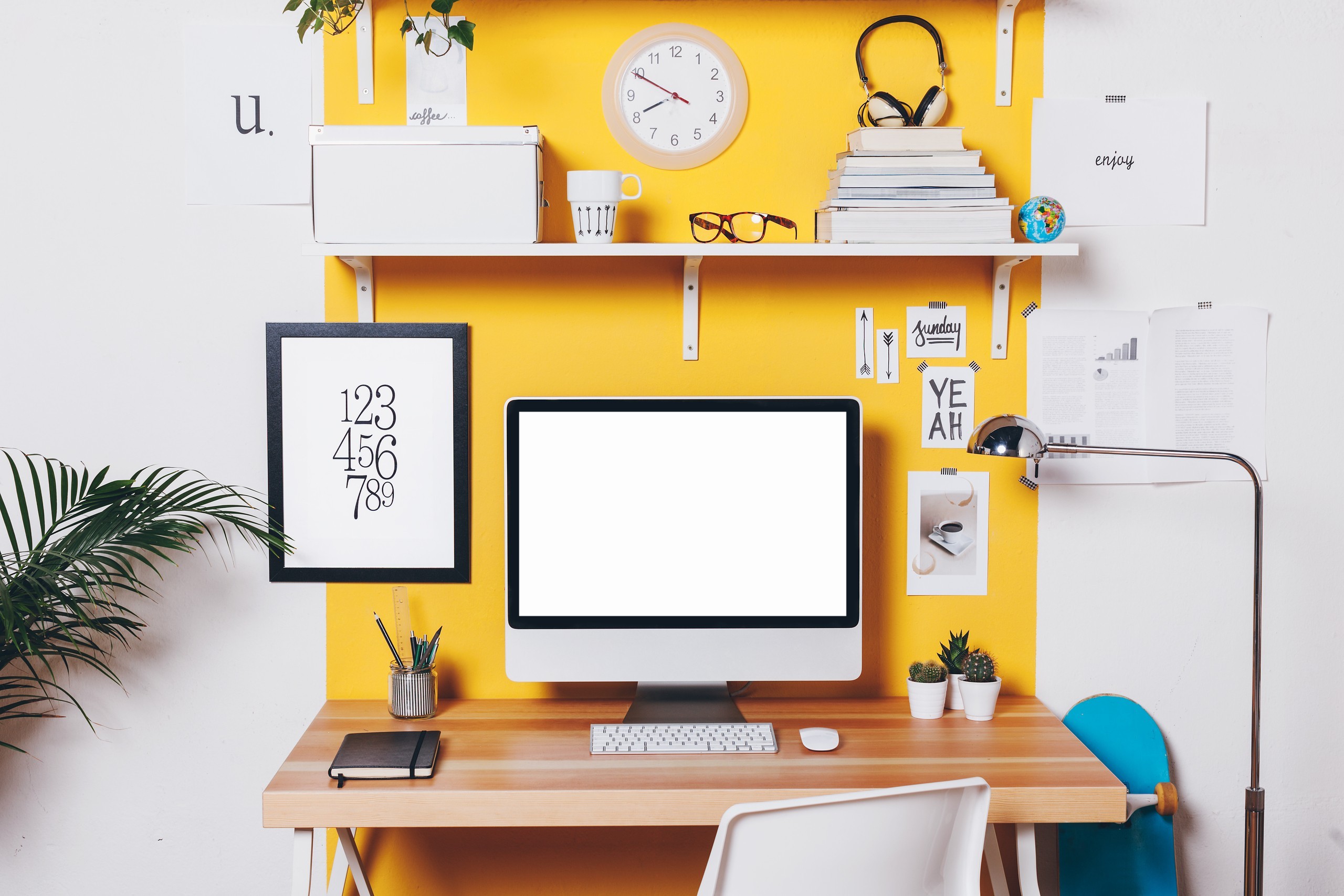 6.

Use a Hanging Organizer for Office Supplies

If your home office is close to a closet door, you can use a shower organizer to separate and organize all your office supplies like paper clips, writing utensils, or tape.

If your secretary desk or computer desks not situated by a door, you can use a hanging wardrobe to elevate the organizer, and it doubles as a makeshift blind to give your home workspace more privacy.
7.

Put In Cabinets or Shelves

If you have the budget and wall space, installing cabinets and shelves can maximize your office area. Especially in small apartments, using all of your room, even the vertical spaces, is a sublime idea.

Shelves for books and cupboards for all your office sundries keep them off your desk but still within reach. A mix of cabinets and shelving makes for an exciting aesthetic while keeping your supplies tidied and out of sight.
8.

Create a Vision Board

Using the backsplash of your secretary desk or the wall space above your writing desk, make yourself a vision board with short snippets of text and photographs. This can help you stay focused on your goals, which may be especially important when you work out of the traditional office setting.

You can use personal photos or ones from magazines; your vision board can be permanent, with glued pictures and a glass covering, or you can make a kinetic version that you can change as the mood suits.

A pegboard, especially a magnetic one often used to hold tools in a garage, is perfect for putting up photos and snippets of quotes to inspire you every day.
The Final Word
Home workspaces should blend seamlessly with the rest of your décor and reflect a more efficient ethos. If you need to tidy up your home office without a lot of effort, these eight tips can help keep your spot spic-and-span.
Like a secretary desk or filing cabinets, having the right furniture can give a much needed headstart in organizing. Think about ergonomics, your expectations, and décor when choosing the right furniture for your home office.