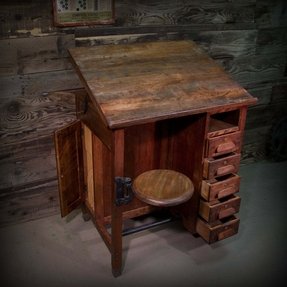 Antique Industrial Style Drafting Table
Old styled drafting table that introduces a touch of industrial style into the house. This wooden table includes a round seat and five practical storage drawers. It is suitable especially for small spaces.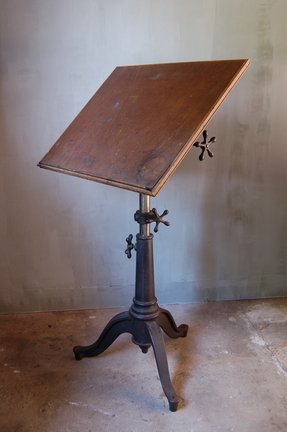 Vintage Industrial Drafting Table With
This industrial drafting table will be more than suitable for your vintage workshop. Crafted from cast iron, and equipped with many options for adjusting its height and angle, the table is very functional, also ensuring a proper stability thanks to its 3-legged base.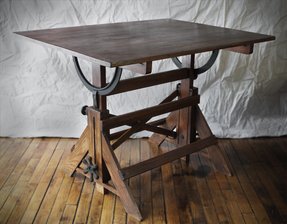 Industrial design for an old-fashioned, antique drafting table with an adjustable top. The drafting table is made out of dark oak wood with a subtle burned tint and is fitted with wrought iron elements, providing a unique touch.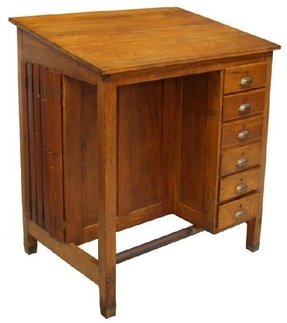 855: UNUSUAL ANTIQUE AMERICAN OAK DRAFTING TABLE, FILE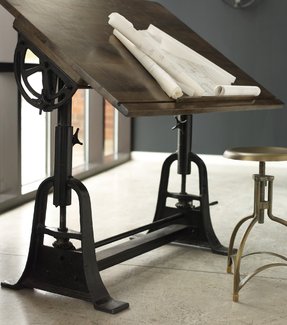 Drafting table with tilt adjustment function. Pedestal base is made of metal and reinforced with solid supports. Rectangular top is made of wood. Received a lot of top ratings from customers for high quality and elegant design.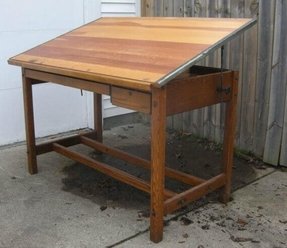 1940's Drafting Table. My dad had one of these and I used to draw on it when I was a kid. WANT!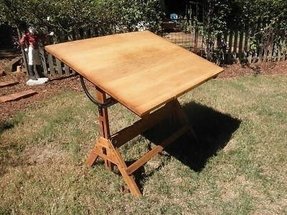 Hamilton Antique Drafting Table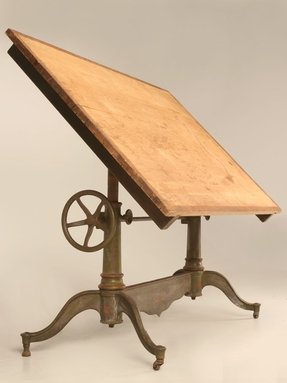 A decorative and functional element associated with industrial stylization. This drafting table offers a quite large drafting space and a mechanism that regulates its inclination. A solid frame includes front legs with small wheels.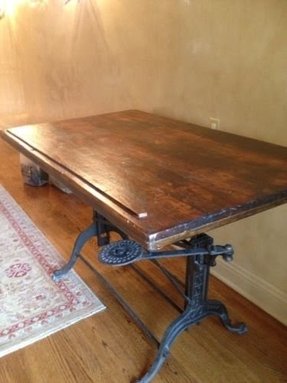 Antique Drafting Table | eBay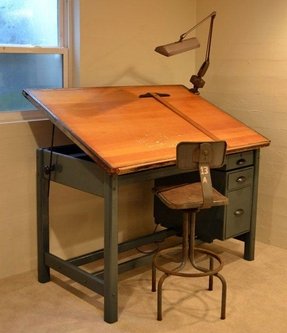 Vintage Industrial Tilt Top Drafting Desk / Drawing Table - Painted ...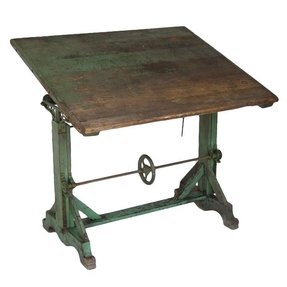 An interesting vintage drafting table. A base is of iron with a worn green finish. Two upright square posts (with handwheel-adjustable height) on M-shaped feet are joined by a stretcher with diagonal girders. A rectangular woody tilted top is green.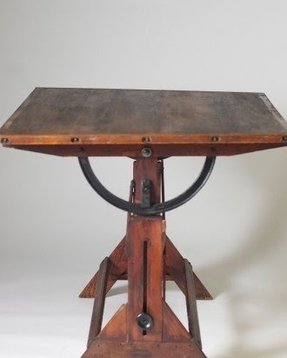 Old Vintage Wooden Hamilton Drafting Table
Rare Frederick Post Adjustable Drafting Table Vtg Antique Industrial Machine Age
Vintage design for an antique and old-fashioned drafting table made out of a walnut wood top with a frame made of cast iron. The drafting table provides a handy addition to any home workshop or hobby room.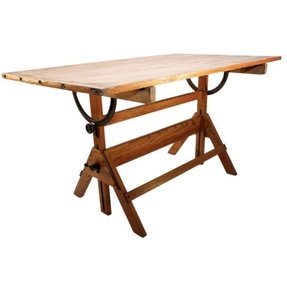 Antique Drafting Table Craig's List Score!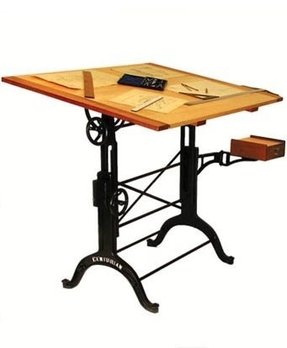 This functional drafting table can be a nice addition to your workshop, office, or other working station. Designed in an antique style, the table allows you to adjust its height and angle, and has a large enough top to place on it all your necessities.
Details about Antique Hamilton Economy Drafting Table Wood Cast Iron ...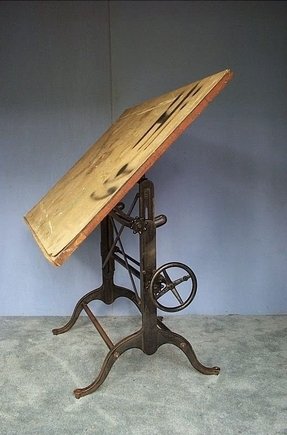 Vtg Cast Iron Drafting Table Architect Drawing Antique Artist Chair Machinist
Drafting table with tilt adjustment function. It is mounted on iron base with antique finish. Rectangular top is made of wood. Perfect solution for work organization at home.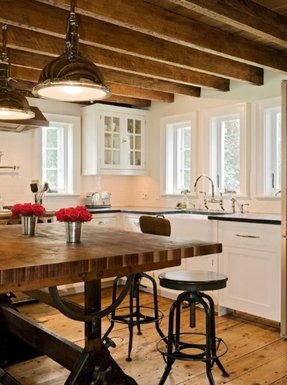 Rustic meets traditional meets hardcore architectural nerding. The island base is an antique drafting table.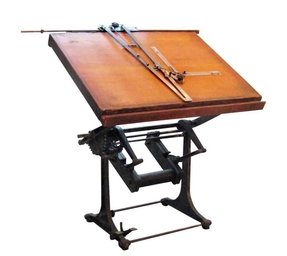 Industrial architect's drawing table.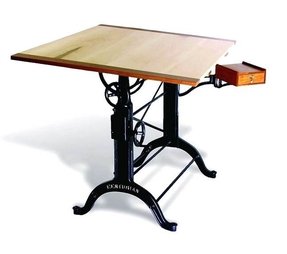 The most important feature of this wooden antique drafting table with a metal base is its movable table top.It can be conveniently positioned at any angle,or even placed in an upright position.Therefore is great for creative minds - architects and painters.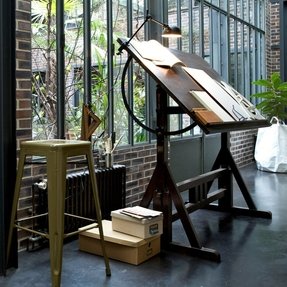 All kinds of studios beautifully display the ubiquitous passion, even in the form of specialist tables, like this antique drafting table. A reclining top offers a lot of space for work. Thanks to the double work surface, furniture is suitable for drafts.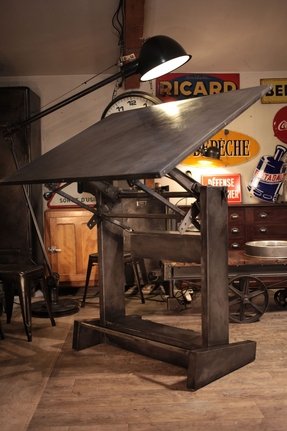 This model of antique drafting table has a centuries-old history. Often visited artists and gentlemen's offices in the atelier. In this case, it adopted a very industrial, metal form inspired by lofts in New York.The huge size gives you a lot of possibilities.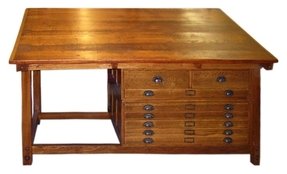 Best Antique Drafting Table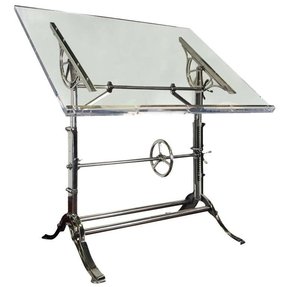 Mechanical Industrital Drafting Table
An industrial drafting table with mechanical system including wheels and knobs that tilt, raise and lower the construction. It's completely restored and evokes past times when the handicraft projects were a real mastery. The top of it is lucent.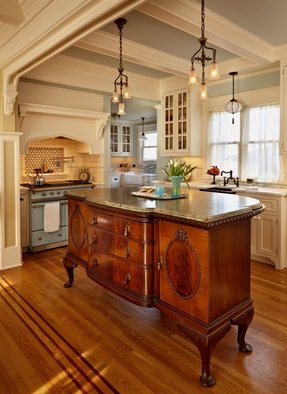 The kitchen island is my biggest dream! I found this antique French cabinet with granite counter. It looks awesome as a center of the kitchen. The wooden structure, deep drawers and beautiful details add a style to any home.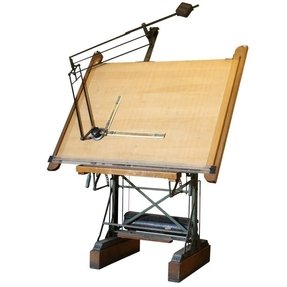 A drafting and drawing table in a vintage and industrial style. This piece features a huge wooden board with a mechanism that will let you adjust the height and angle. It's supported on a solid, steel construction.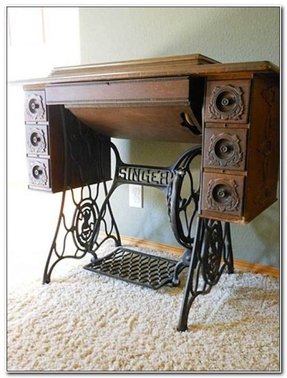 This old sewing machine used science to make many interesting artistic styles. Meghan Sedgwick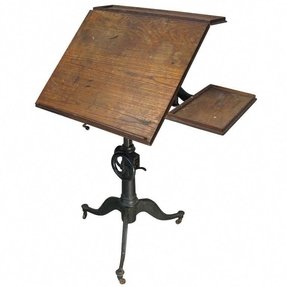 Antique Cast Iron Industrial Drafting Table | From a unique collection of antique and modern industrial and work tables at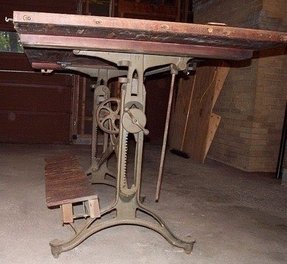 700Keuffel & Esser Co. Drafting Table in Portage, Michigan For Sale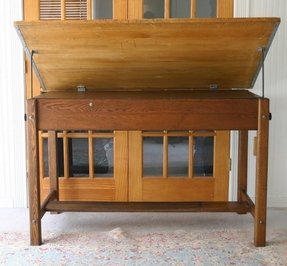 antique MAYLINE DRAFTING TABLE solid maple OAK artist work space EX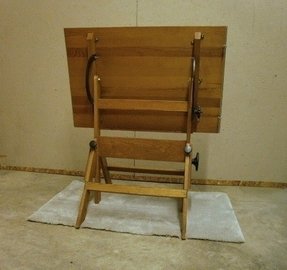 Details about Vintage Architect Drafting Drawing Work table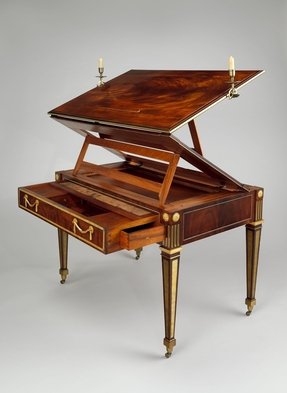 Architect's table by Roentgen - ca. 1780-1795. Changes from a flat desk to a sloping one for client's art/architecture needs. At the Met in NYC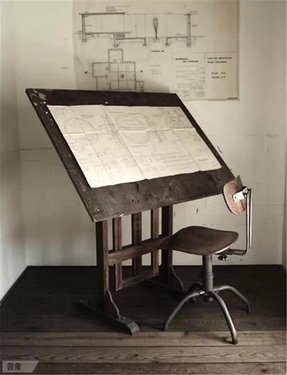 Classic drawing board table matched with industrial stool. Metal and wood always look handsome together. The chair has adjustable tilting backrest, and the board is really big and wide, perfect for large sketches.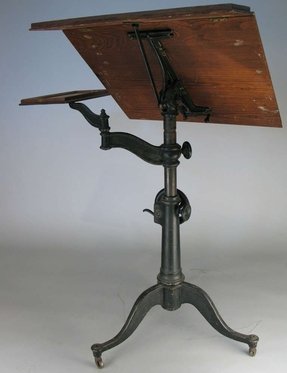 Antique Cast Iron Industrial Drafting Table image 4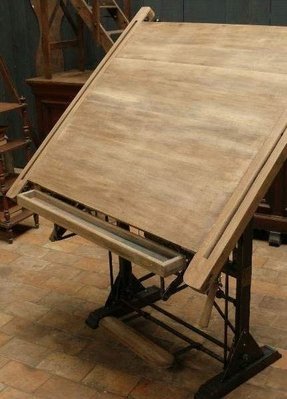 A1 size drawing board crafted from sturdy bleached oak in 1930 approximately. On bottom it features large pen tray. The tilting oak board has been attached to a super sturdy iron frame which allows to angle the board.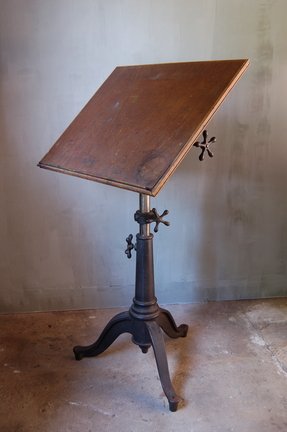 Antique drafting table - gorgeous.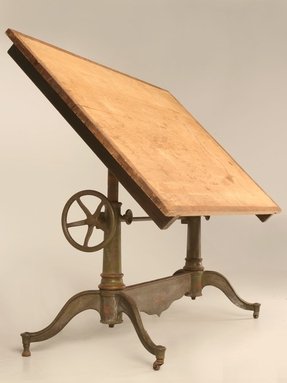 Antique American Drafting or Drawing Table by Columbia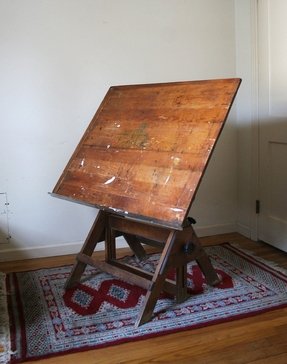 Antique Drawing Drafting Table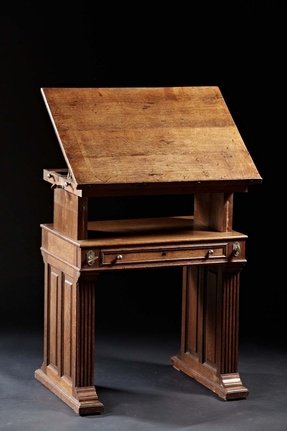 An Arts and Crafts Period Oak Drafting Table with Adjustable Slope image 3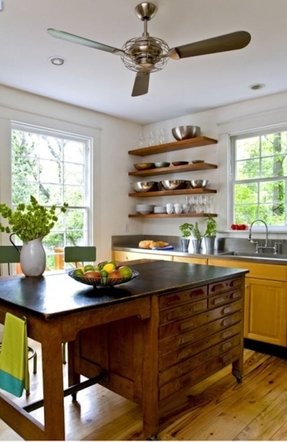 Looks like an old drafting table repurposed as an island. We've got a similar table in storage which we've discussed using as such.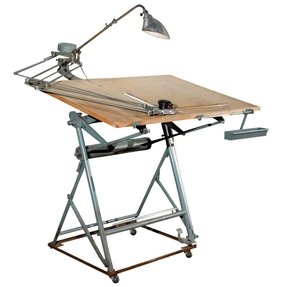 Isis Drafting Table with Original Components | From a unique collection of antique and modern industrial and work tables at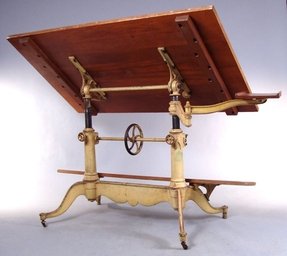 Antique Adjustable Cast Iron Drafting Table by Keuffel & Esser image 5
Antique Drafting Table image 2