Our Choice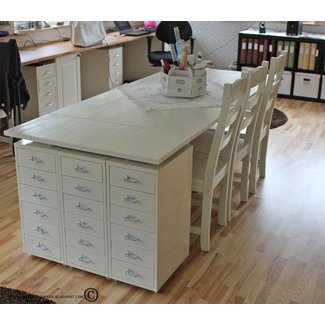 Solid Wood Drafting Table
This vintage-inspired drafting table evokes the old world elegance with its premium wood build, sturdy lines, and beautiful oak finish. The tabletop can cater to art projects, laptop work, or drafting blueprints for your latest architectural creation. Whether you're an apartment dweller who needs a compact, multipurpose desk to sit near their favorite window or you want a delightful accent for your spacious living room, this desk is built to last you through years of use.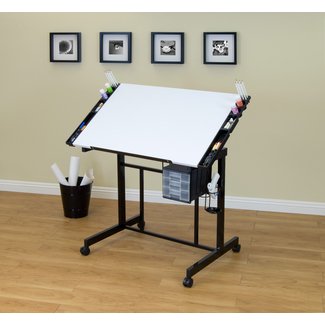 Deluxe Height Adjustable Drafting Table
Need an art table that can also double as a standing desk? This Scandinavian-inspired deluxe workstation has all the features you need to create amazing artwork and crafts. Featuring slots for paints and brushes, three drawers for supply storage, a sliding pencil ledge, the table is completely height adjustable and can be angled up to 40 degrees. Geared toward artists and creators, this wheeled drafting table can find a home by a sunny studio window, or it can move around your home as the need arises with casters attached to the bottom of the frame.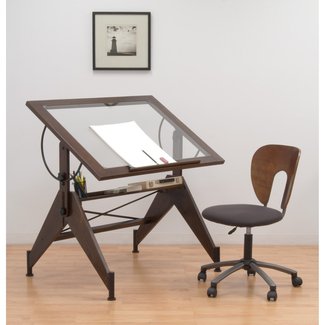 Aries Height Adjustable Drafting Table
Contemporary minimalists will love this forward-thinking design: a spacious glass tabletop supported by a dark walnut frame. Both the height and the tabletop angle are fully adjustable, making it perfect for writers, artists, and home office workers. Four floor levelers enable it to balance on uneven surfaces, making it a sturdy and safe option. Built-in pencil grooves keep your pens, brushes, or pencils securely stored.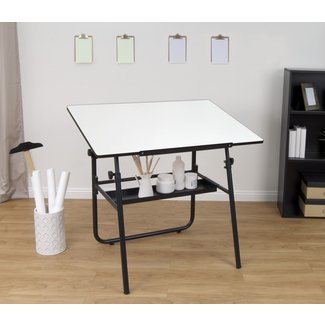 Ultima Height Adjustable Drafting Table
With a sophisticated black and white color scheme, this multipurpose desk coordinates well with modern-urban and industrial style homes. A built-in shelf and pencil groove makes this desk ideal for painters and crafters, and the smooth acrylic tabletop is easy-to-clean and stays looking newer for longer. The tabletop tilt angle ranges from 0 to 45 degrees, meaning it can transition from breakfast table to art station in a flash, and the table is foldable for easy storage and portability.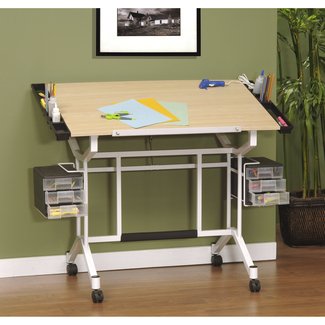 Pro Drafting Table
This adjustable drafting table is equipped with incredible storage capabilities, making it ideal for busy artists, drafters, and crafters. A total of six storage drawers, two tabletop storage trays, and a pencil ledge make for awesome functionality. Perfect as a house-warming gift to your artistic friend or as multipurpose furniture for college students moving into their first apartment. A breeze to assemble, this desk's laminated tabletop and sturdy white steel frame will provide years of service for creative endeavors.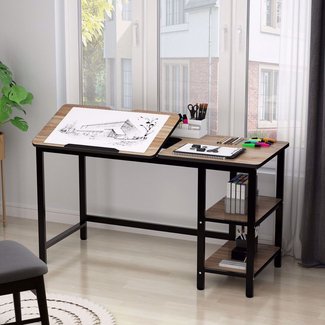 Maciejewski Multi-Functional Drafting Table
Combining the multi-functionality of a drafting table with the stability of a desk, this versatile piece is the perfect addition to a home office or child's room. The tabletop can adjust from 0 to 60 degrees while the adjacent desk structure features two shelves and a stable, nonadjustable surface for a lamp or organizing additional art or drafting materials. The desk and shelving material is crafted from MDF board while the supporting legs are made from iron.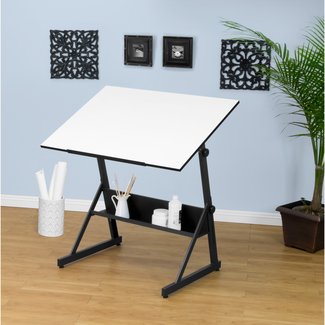 Solano Height Adjustable Drafting Table
Balancing classic style with modern versatility, this drafting table is ideal for the artist who wants their workspace to be as beautiful as their creations. Available in both solid white and tempered glass, the tabletop is supported by an elegant, charcoal-colored metal base. A lift top height adjustment mechanism allows the tabletop to sit anywhere from a 0 to 45-degree angle. A narrow ledge shelf offers space for your materials and plastic levelers on the base of the frame ensure that you always have a stable surface when creating.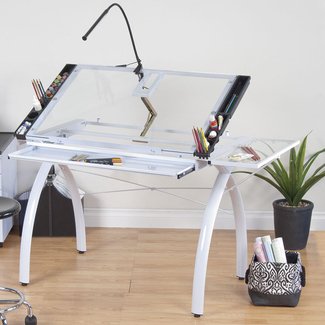 Futura Glass Drafting Table
Sleek and modern, this drafting table features elegant, curved legs, beautiful x-shaped crossbars, and an adjustable, tempered safety-glass work surface. The supporting frame is crafted from heavy-gauge steel and is available in high-gloss white, silver, and black finishes. A sturdy metal drawer slides out from beneath the work surface to keep your drafting supplies organized. Add a padded adjustable office chair, and metal desk lamp to create a functional modern home office.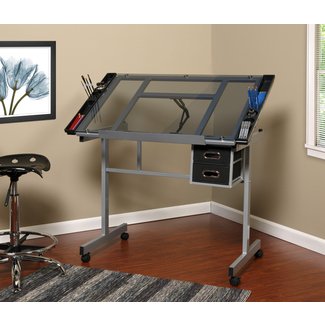 Swan Hill Drafting Table
Sturdy functionality meets unapologetic minimalism with this professional-quality drafting table. A stainless steel frame supports a tempered safety glass tabletop with roller glide drawers and storage trays that are removable so you can customize the table to suit your needs. Four caster wheels are equipped with safety stops so you can enjoy this desk anywhere in your home or office. With the spacious dimensions of the tabletop, this desk can also double as a table for two, making it ideal for individuals in a small apartment.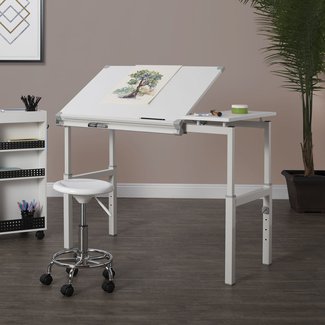 Teterboro Height Adjustable Drafting Table
Scandinavian design meets a touch of cottage aesthetic charm in this adjustable, all-white drafting table. A dual-surface desk offers an adjustable and fixed surface, helping you balance multiple projects at once. A heavy-gauge steel base is paired with an MDF tabletop for easy cleaning. Simple to assemble and a pleasure to use, this desk can be used in a studio or an office. Pair with a succulent display for a simple, chic aesthetic.