Our Choice
Olavo Solid Wood Secretary Desk with Hutch
Transitional and chic, this nautical-themed secretary desk comes in 7 awesome colors. Use in a modern living space in elegant distressed black or jazz up your chic bedroom with a split pea green finish. Quality elm and pine are used in the construction of this 80-pound unit. Open and appealing, just like the sea, there are 5 drawers and 2 cubbies to keep everything organized. A small size at 36 1/4" long x 19 1/8" wide, this lovely desk looks sharp against an empty wall. Find your favorite color and pair with a simple slat back wooden chair.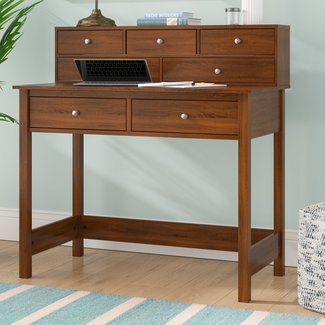 Strickland Secretary Desk with Hutch
Streamlined for today's busy executive, this desk with hutch is also a fashion statement for modern and minimal decors. Rectangular drawers with pewter finished knobs look stunning against the golden oak wood finish. With no wasted space, 7 drawers give you options in arranging office supplies, papers and personal items. Straight legs with reinforced edging adds a modern touch to the simple contemporary construction. Although lightweight, a 5-year warranty tells you that this secretary desk is built to last. Perfect for students and home office workers alive, you will always find a great area for placement.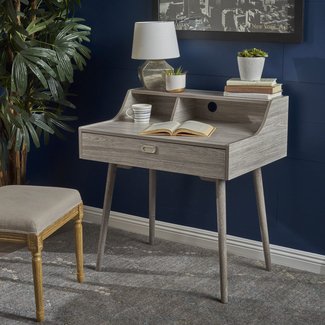 Verdugo Solid Wood Secretary Desk
Short and sweet, the natural light-toned wood spells modern for any small space. An efficiency apartment of home office with limited room will benefit with the wide open desk top area. 32.68" wide and 23.62" deep, any corner will be accepting to your new work space desk. A convenient USB cable cutout is also provided as well as a drawer that measures 2.75"Hx29.25"Wx14.5"D. Rounded stick legs are angled, adding a soft look along with the simple curved desk sides. A contemporary appearance at its finest, the distressed wood grain can also fit well in a transitional or coastal design.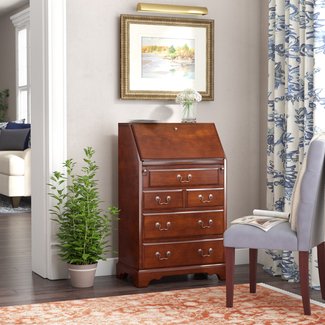 Esmont Secretary Desk
A big plus with this traditional unit is that it will arrive at your front door completely assembled. The deep cherry finish and the 18th century characteristics are bound to make this secretary desk one of your most treasured items. Gold brass handles and a locking cabinet are other assets in creating a majestic feel. The drop-down desktop gives you ample room for office work or letter writing. Mildly ornate legs add a richness that is not found in many other desks. Place a padded Chippendale dining room chair by its side to offset the splendid look.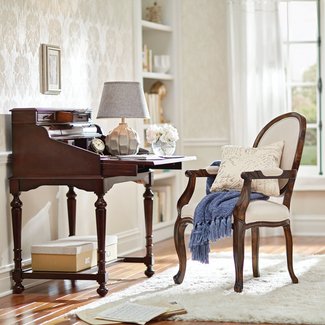 Last Solid Wood Secretary Desk with Hutch
Classic and elegant, this European period secretary desk brings grace and dignity to any home. The cherry finish covers every detail of craftsmanship, right down to the roller glides and soft door close. Ball feet and ornate sloping legs show off the dignity of old-time pride in woodworking. The writing space pulls out from the base to provide twice the space and soft close drawers are easily manipulated and silent in use. Incorporate beside a built-in bookcase or add to a corner of a dining room. Wherever you need a spot to work, this antique-looking desk will have an uplifting presence.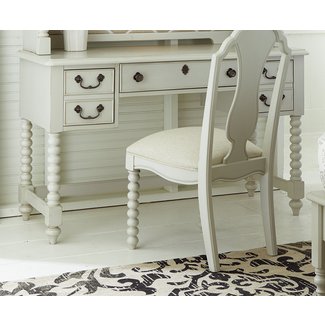 Inspirations by Wendy Bellissimo 50" Secretary Desk
Pretty and petite, your little princess will feel all grown up with this special writing desk. No playing with dolls when it's time to hit the homework. This quality secretary desk will put her in just the right mood. Spiral legs hold up the weathered white desk that will grow up with your little girl. Brass handles on 4 side drawers can hold books and papers for research while a large center drawer can accommodate pens, pencils and all sort of office trinkets. There is no assembly required and the weight is 113-pounds with the solid and manufactured wood that has been used in the construction. 2 more drawers and 4 cubbies can be found in the attached hutch. This secretary desk will for sure be a keepsake for generations to come.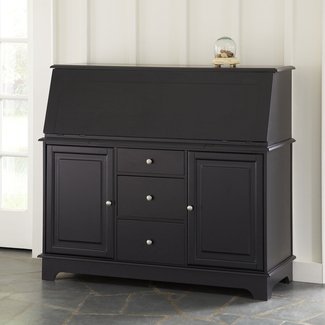 Trumble Secretary Desk with Hutch
Smart and cottage-chic, this trumble desk with hutch is an exciting way to have a home office without the cost of the extra space. 2 bottom doors can be used for equipment storage and cable management is included. Inside you will find adjustable shelving. Down the middles, 3 hefty drawers hold tons of supplies. Open the pull-down hutch top and discover a sizable desktop for your laptop. 6 more drawers are built into the hutch and 2 huge shelves can hold even more supplies. There is a choice of black or white, whichever tone best serves your interior. Coastal, country and anything chic will find a spot for this charming secretary desk.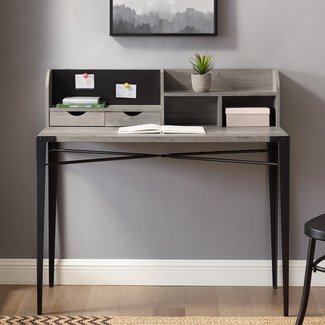 Doster Secretary Desk
Industrial, urban country or eclectic interiors will appreciate this secretary desk that has a host of modern updates. Slightly slanted toothpick black iron legs support the weathered gray desk top and hutch, its modern open look mimics a retro design of the 60s. Very chic in looks, the table is 41.75" wide and 20.5" deep. Although thin in rectangular perimeter, and only weighing 50 pounds, this desk is made to last. Cubbies and drawers are well- balanced with the magnetic message-board  that is an added attraction. Place in an entryway, hallway or in any corner that you want to make your office. It is an attractive piece of furniture for today's modern family.