Functionality has always been vital in a kitchen's set up in smaller homes, condos, and apartment living but even larger kitchens are coming under a lot of stress as families are staying in and cooking at home more.
Blind corner cabinets are easy to organize and provide a great solution to your kitchen storage needs. You may be looking for a spot to keep your pots and pans or you might want a special place to organize your baking ingredients. Either way, blind corner kitchen cabinetry can help you organize your kitchen supplies without compromising elegance or functionality.
If you've got countertops cluttered with gadgets, explore the list of stylish and functional corner cabinets at Foter Magazine.
What is a Blind Corner Cabinet?
A blind corner cabinet is a unit that is positioned between two adjoining rows of base cabinets. Usually, part of the view of the cabinet's contents is obstructed. Often the space in these corner cabinets is difficult to see, making it more challenging to use.
Fortunately, there are many ways to optimize the space in these cabinets to improve their functionality and make their contents easier to see. Installing a shelving system or cabinet pull-out system are just two methods of solving this challenge without having to completely reimagine your kitchen space.
Additional solutions include lazy susans and trash storage which helps you organize your favorite kitchen items or store away unsightly things.
How to Choose The Right One for You
There are a lot of different options for organizing your corner cabinets. Most of this choice comes down to personal preference but things to think about when making your decision include durability, price, and ease of accessibility.
Kitchens are high traffic areas so it's important to have items in this room that are durable and can stand up to a lot of use. Materials like metal or hardwood may be a bit more expensive than plastic but are much more durable and can withstand frequent opening and closing, as well as any accidental bumps, without affecting the functionality.
Most of the options discussed here are affordable and easy to find in stores or online. Others have a higher price point and should be installed by a professional contractor or at least someone who knows their way around a toolbox. Consider your level of expertise when it comes to home improvement as this can affect the type of organizational solution you choose for your corner cabinet.
Keep in mind what type of items you'll be organizing in your cabinets when making your choice as well. Organizational systems that hang on cabinet doors may not have the same weight capacity as a system that nestles inside the cabinet itself. Making the wrong choice here could cause damage to your items, your cabinetry, and the storage solution system.
Organizational Solutions for Blind Corner Cabinets
Knowing your options before reorganizing your kitchen is important so you can choose the right solution for your needs.
If you're just looking for a quick way t0 maximize storage without a huge overhaul, these ideas are affordable on most budgets, easy to find, and easy to install.
1. Traditional Lazy Susan
These traditional rotating shelves have been a favorite of homeowners and kitchen renovators for decades. They offer quick and easy access to the farthest corners of your kitchen cabinets by just spinning the shelves around to reach your cereal or spices.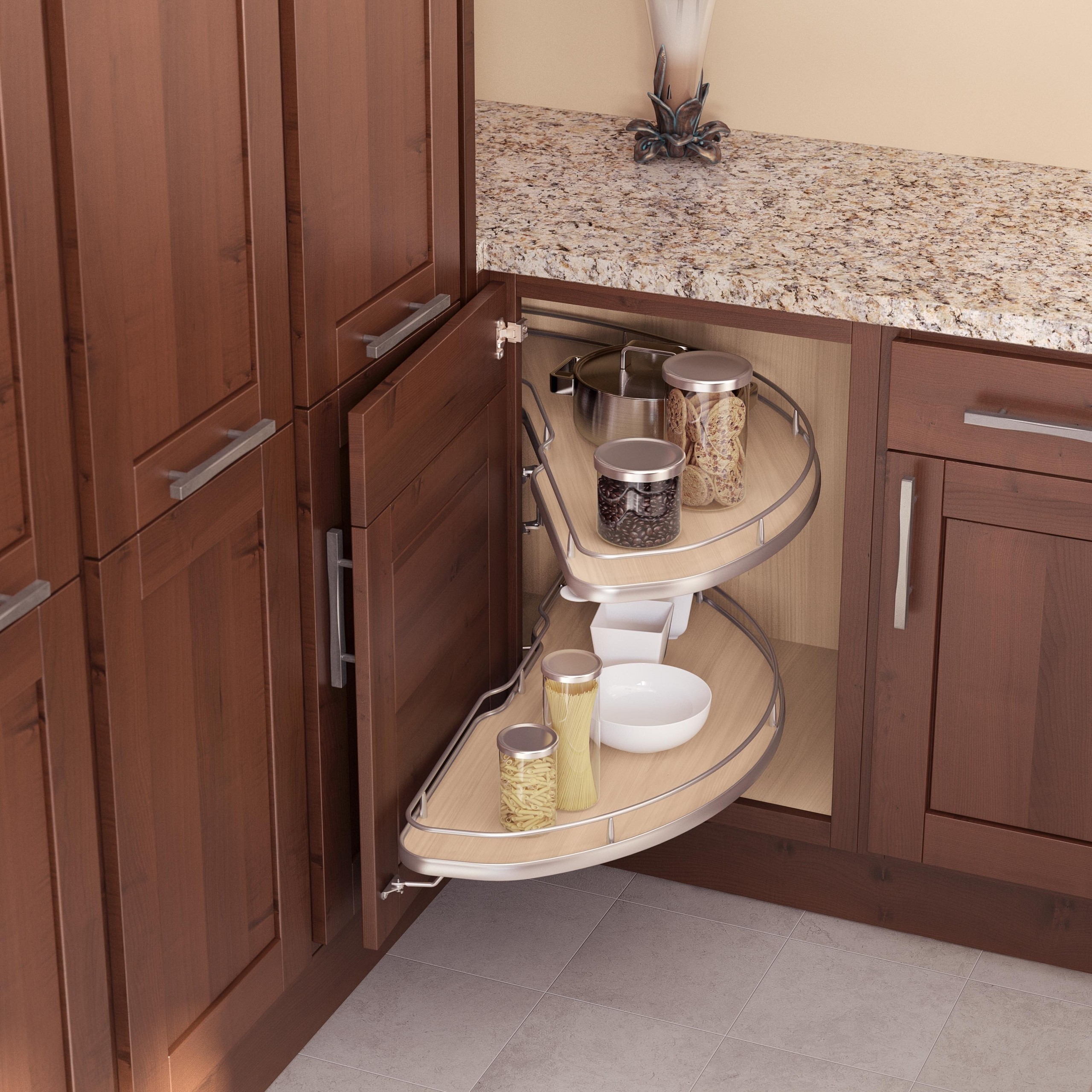 2. Lazy Susan on the Door
This solution makes the lazy susan even easier to access because it's been placed on the interior side of the door of the cabinet instead of the shelves. The only limit to this option is the weight capacity. This solution may best be for cabinets that hold lighter items like spices or kitchen utensils.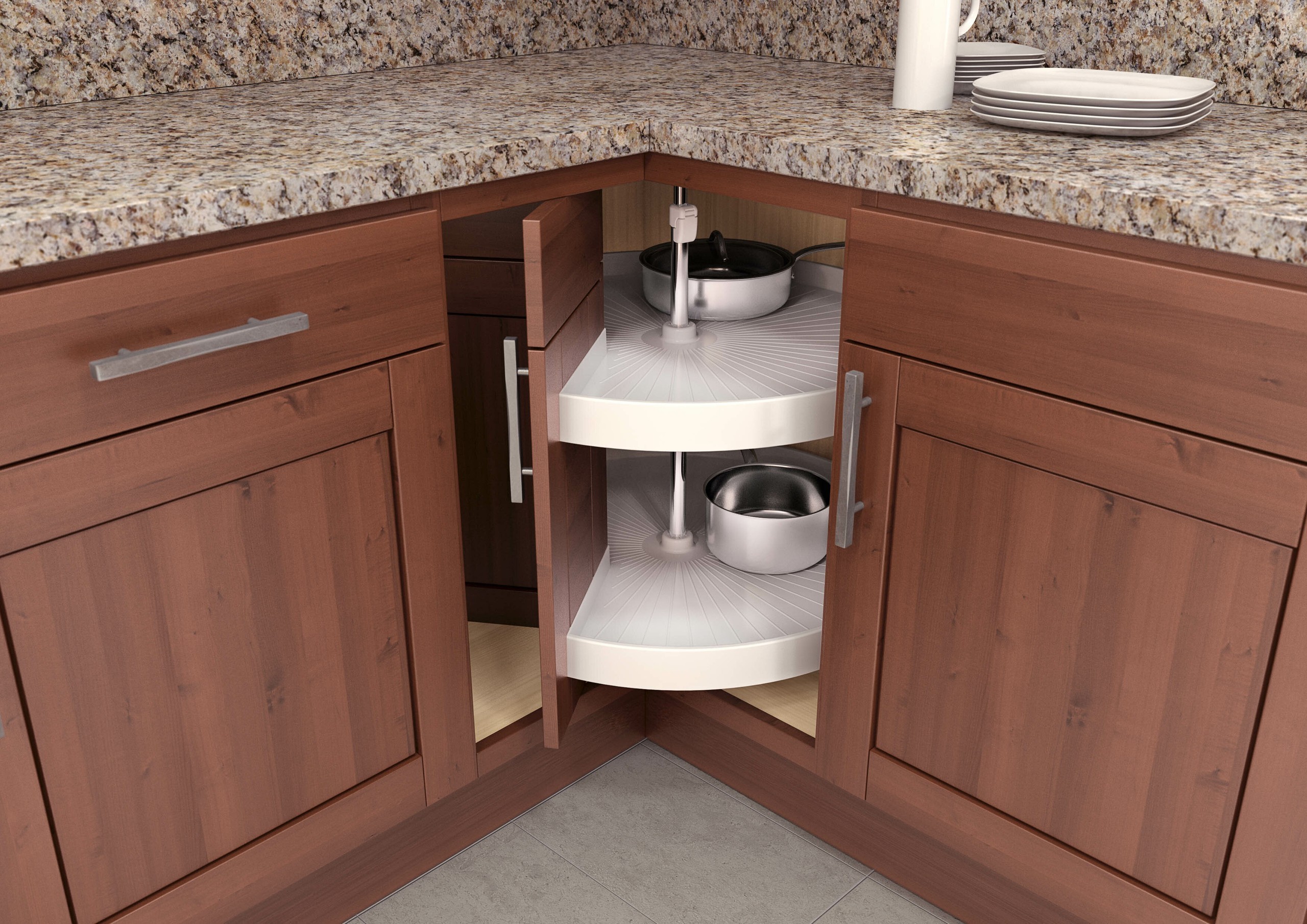 3. Pot Rack
A favorite solution for the deepest blind corner cabinets, pot racks resemble the racks in a dishwasher but they're mounted inside a blind corner cabinet to allow ease of access to your favorite cookware. They're capable of holding a lot of weight so feel free to store your heaviest cast iron skillets within reach while also keeping them dust-free.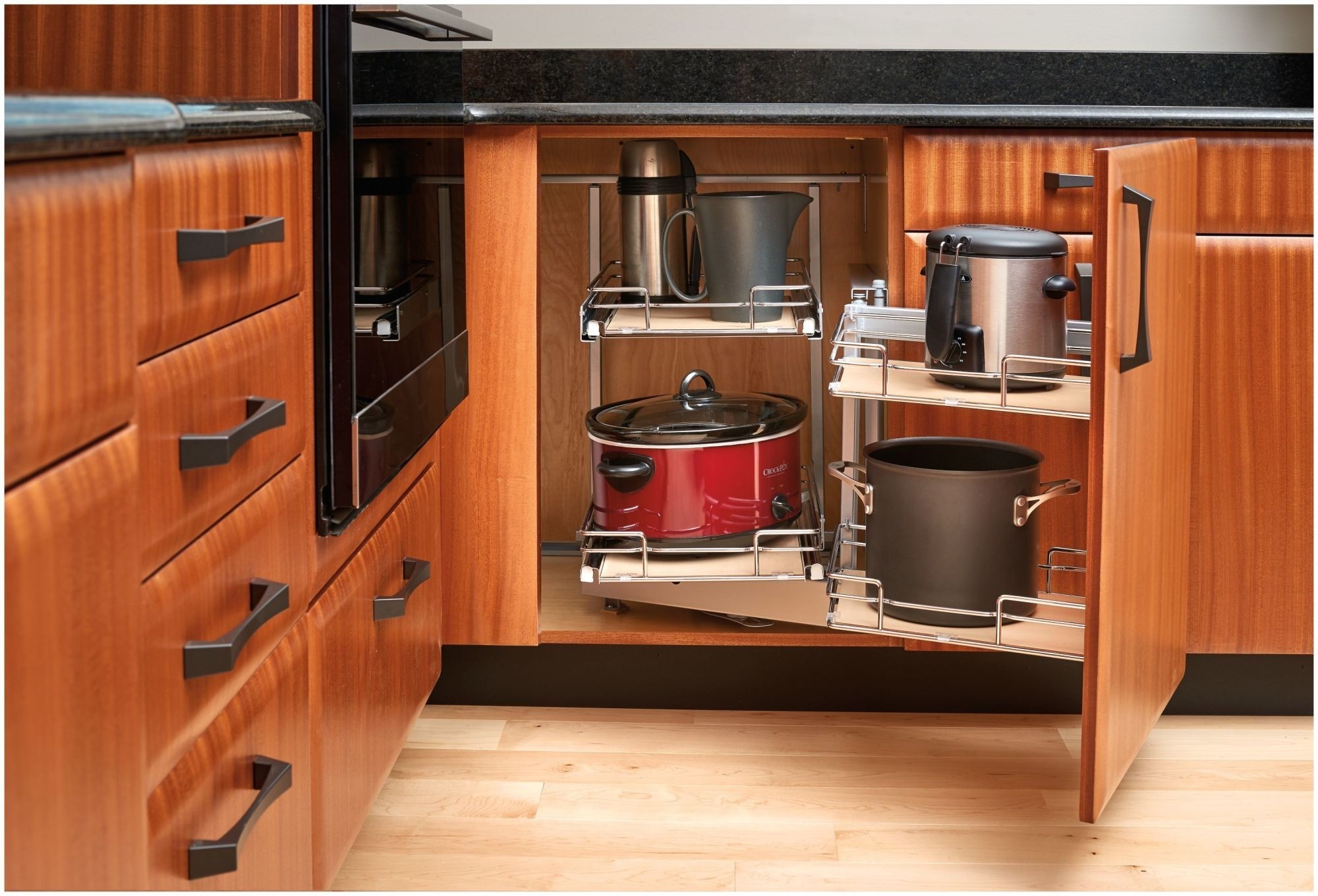 4. Wire Shelving
One of the easiest and most affordable options for storing your dishes, coffee mugs, or cleaning products is wire shelving. These shelves nestle securely inside your cabinet to store anything you'd like on them, from spices to serving ware. The only drawback to this option is that items stored on these shelves cannot be very tall.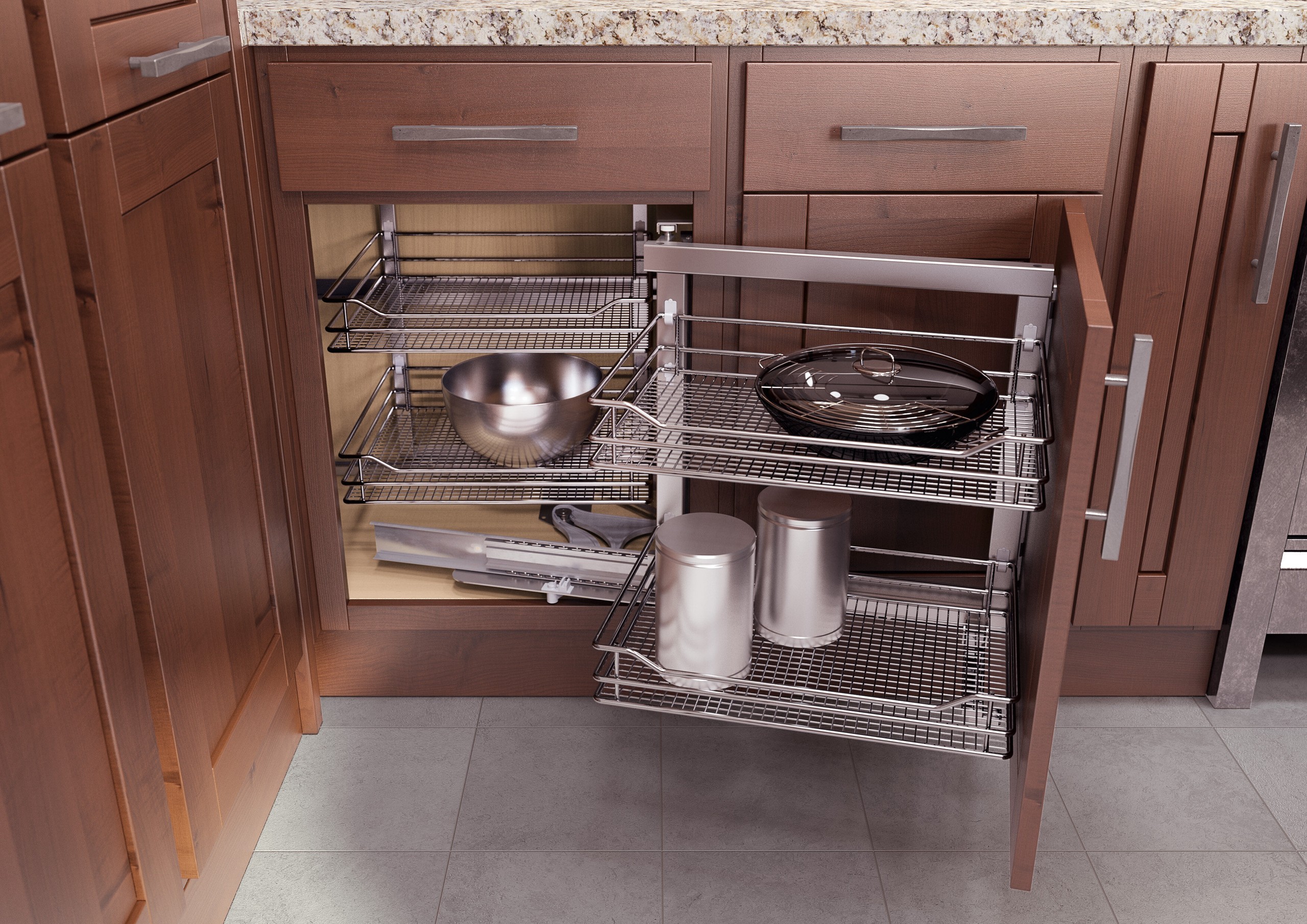 5. Custom Drawers
For people looking at a complete kitchen renovation, customized cabinet drawers make access to your deep corner cabinet a breeze. You'll have complete command over every inch of your cabinet space to store silverware, pot holders, or kitchen towels.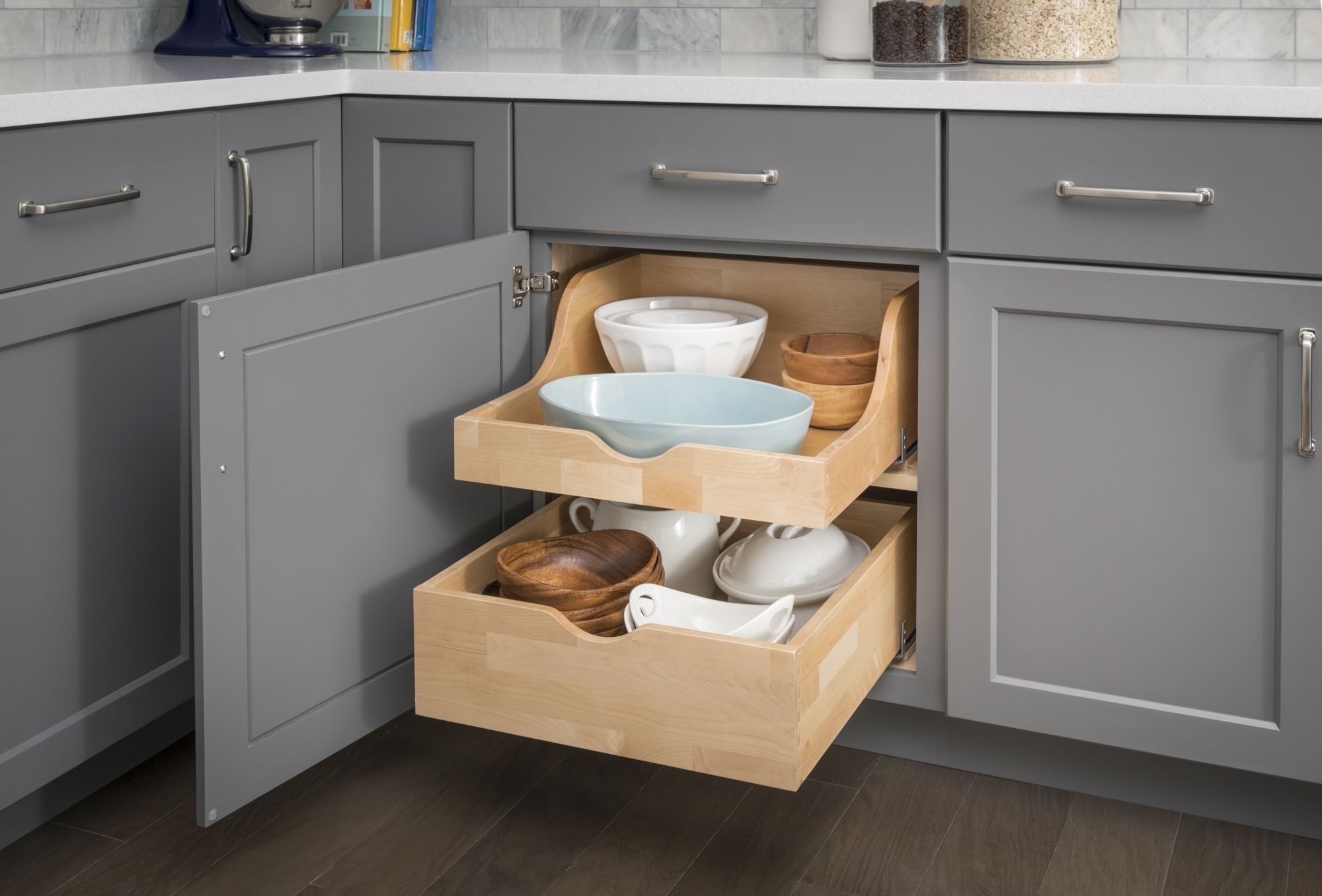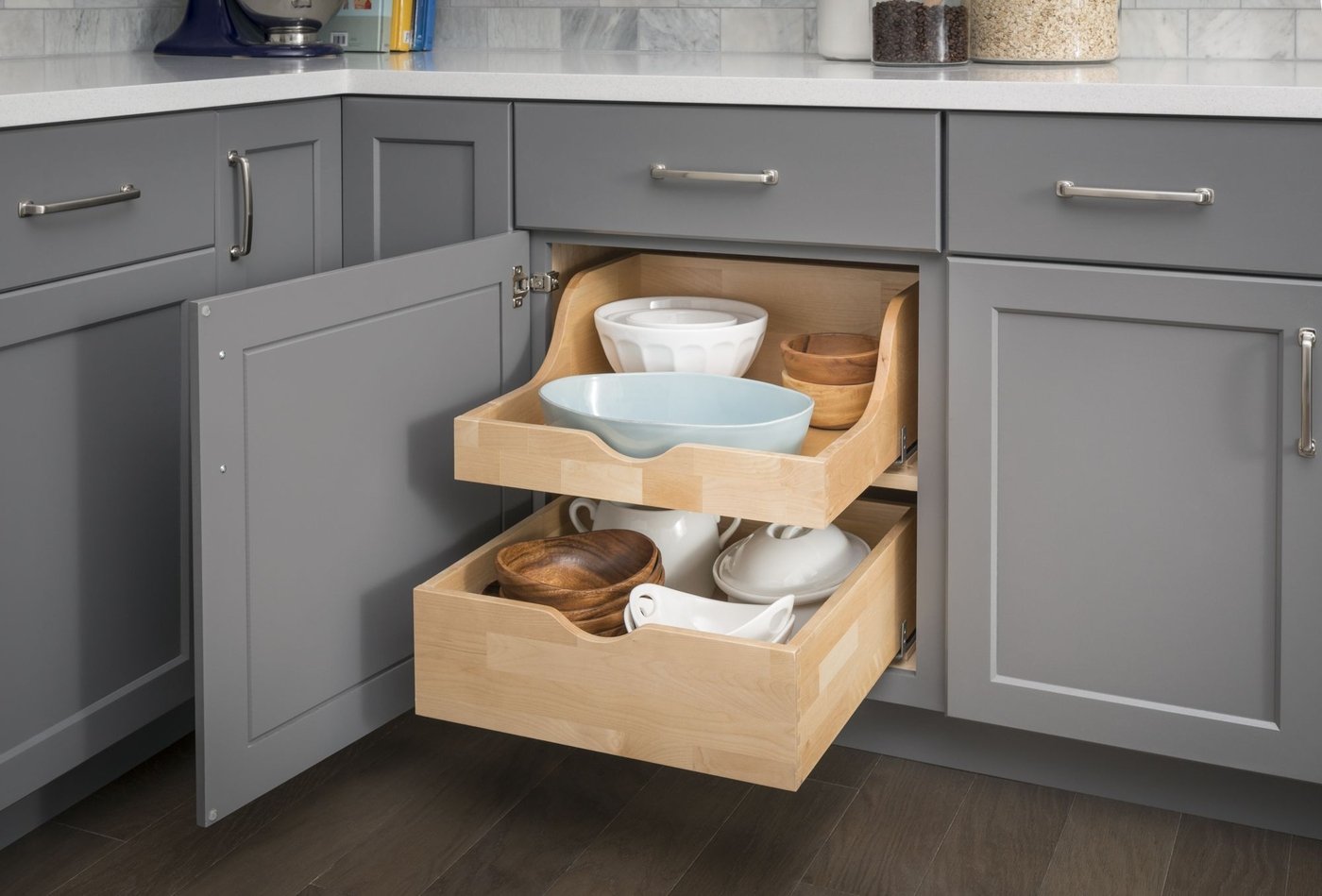 6. Pull-Out Shelves
Pull out shelves are a fantastic option for a variety of reasons. They're easy to find, affordable, and can be installed by just sliding them into the cabinet. They come in different sizes and shapes making them a great alternate solution to customized drawers.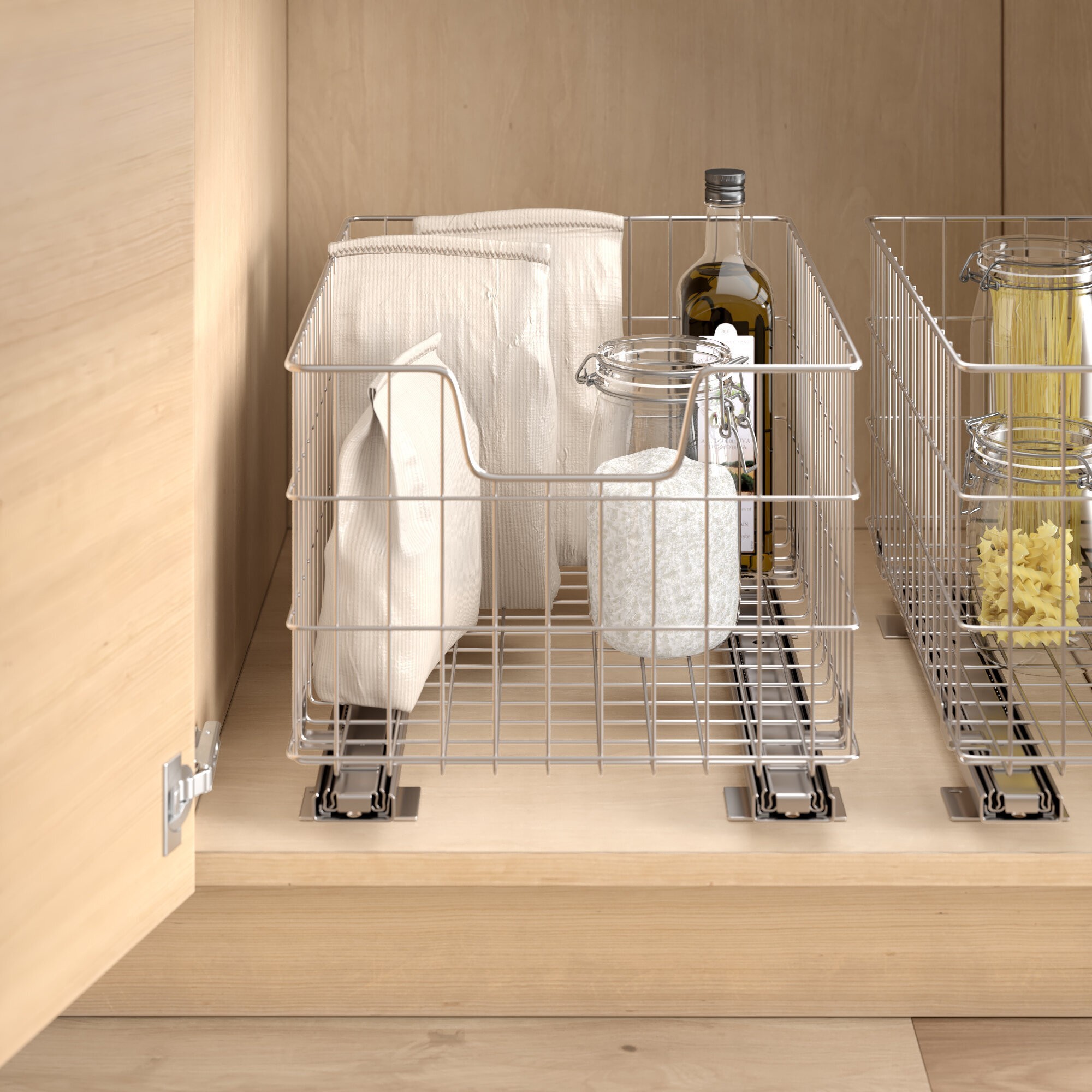 7. Flat-Front Drawers
One of the most cost-effective solutions is a flat-front drawer. These drawers allow you to keep all of your items securely stored and accessible while blunting the corner of the cabinet.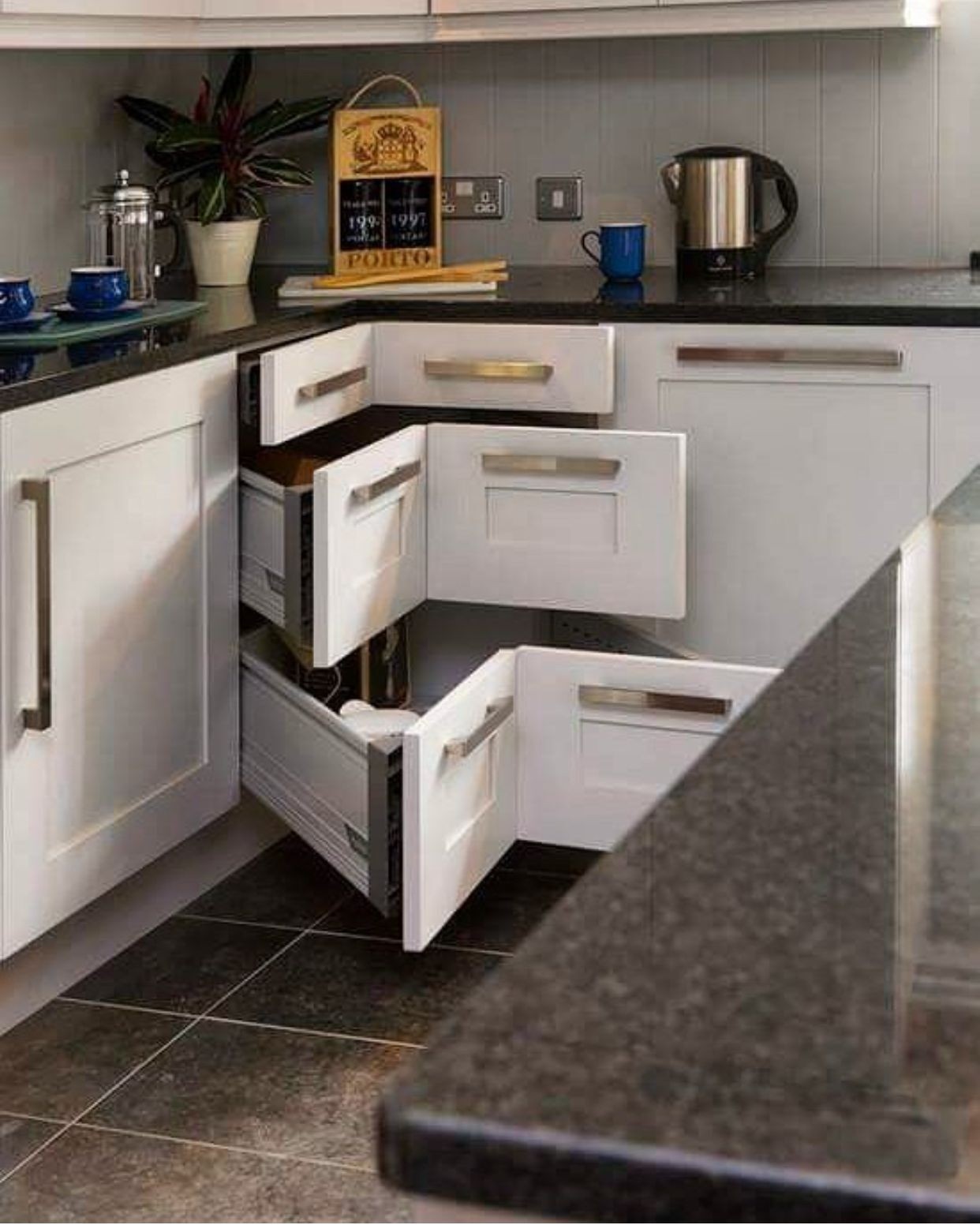 8. Trash & Recycling
Blind corner cabinets are the perfect solution for a pull-out trash and recycling system, especially if they're close to your prep area. These pull out solutions allow your unsightly messes to be hidden away to maximize your space in other areas of your kitchen.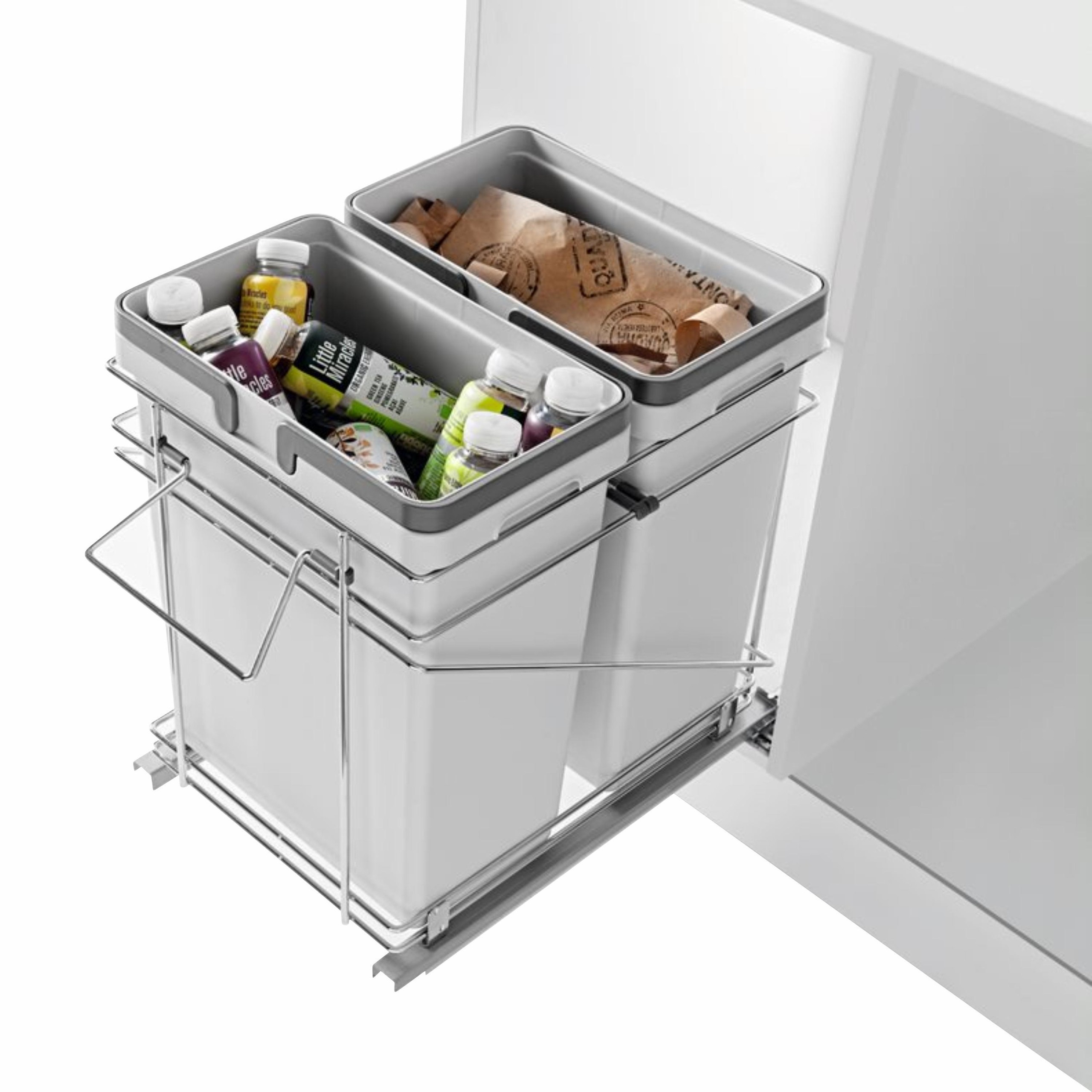 Wrap Up
No matter what the size of your budget is or your current organizational system, improving the storage solutions for blind corner cabinets is the best way to maximize the usage of space in your kitchen. It will increase your productivity and reduce the time spent looking for kitchen essentials.
Make sure to choose the solution that's right for you by considering what you'll store in the cabinet, how much space is available and how often you need to access your items.