This kit lets you construct a large outdoor playhouse for your kids. The buyer gets all the pre-assembled elements needed, together with pre-cut rafters and porch roof supports. The installation is not too difficult.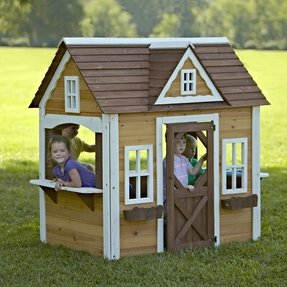 Garden houses are the dream of many children. It's hard to be surprised! Wood playhouse kit in the garden very often appears in children's books. Made of safe materials, wood and veneer. Decorative white door frames or windows enhance the impression.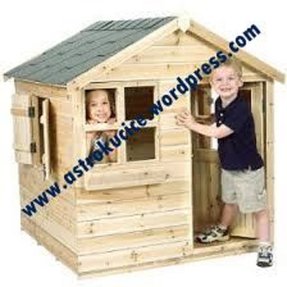 wooden playhouses many children would like to have their own playhouse ...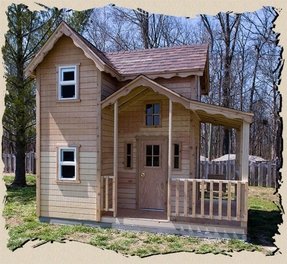 If you get this mini playhouse for your backyard, you can be sure your children will go mad with joy. The house is, simply, exquisite, offering a railed porch with a swing set, a high-pitched roof, a front door with glass panels, glass windows, and even a fireplace.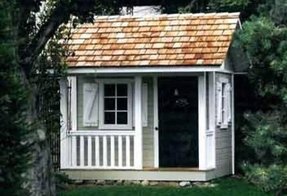 Small playhouse for kids. While not the biggest of them, it is certainly pretty. Colours are typical for a house, with dominating browns and some white. Construction is stable, so no worries about the safety.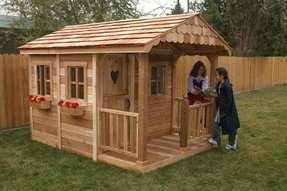 Home Outdoor Living Today Sunflower Wood Playhouse Kit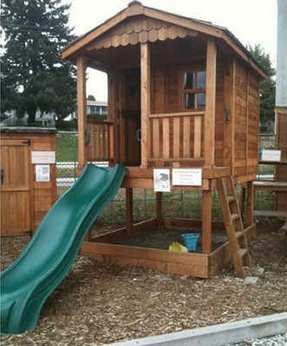 Sunflower Playhouse with Sandbox
A large, durable and safe playhouse that is designed for children. This panelized playhouse is an environment friendly product. It is made of materials that are resistant to decay and insects. It has got solid doors with a heart shaped window.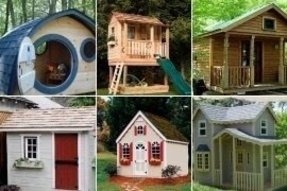 Beautiful playhouse kit for kids. We're sure your children are going to love it. It's a detailed reconstruction of a house, only smaller. Space for fake or even real flowers adds to the realism.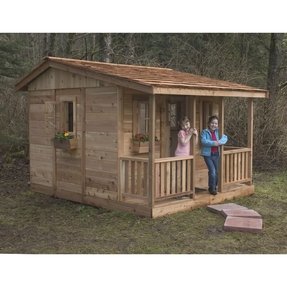 Cozy Cabin with 4 Functional Windows
If you're looking for some lovely and stylish elements for your garden, this amazing cozy cabin is gonna be the perfect option for you! It's gonna be more than enjoyable not only for the youngest members of the family.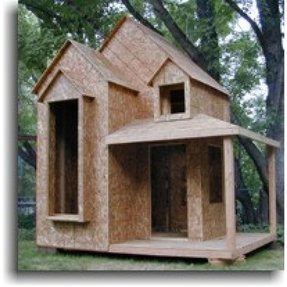 Home Virginian Playhouse Kit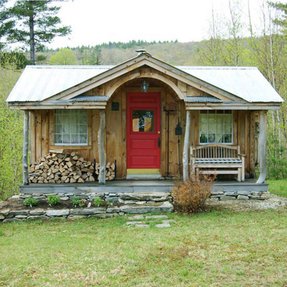 This charming wooden playhouse kit project took 32 hours and 2 people, engaged in establishing it. It enchants with the rustic, wooden appeal with a beautiful porch and arched roof over the front doors.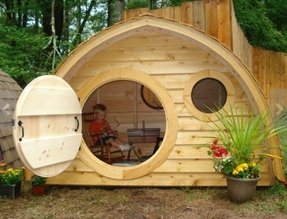 Hobbit Hole Playhouse With Round Front
If your kids love Lord of the Rings, then, this can be a great surprise for them. This outdoor playhouse is designed in shape of a hobbit's hole, with a stramlined roof, round windows, and a round front door working on long metal hinges.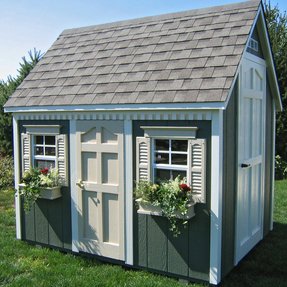 This sublime wood playhouse will not only provide ample amounts of fuctionality for your backyard, it can also be used as a favorite playing spot for your children, letting them hours of fun on end.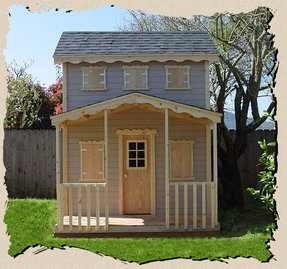 Woodworking outdoor wood playhouse plans PDF Free Download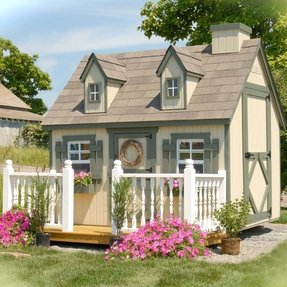 The Whimsical Cottage Cape Cod Playhouse Kit
A charming stylised outdoor playhouse. It's built of wooden materials but glass windows. It has a span roof (with attic rooms), door and window frames as well as shutters in greys, white walls, doors and a fence around a brown floor of a verandah.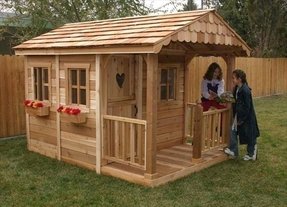 would be great for a backyard studio....love the hammock too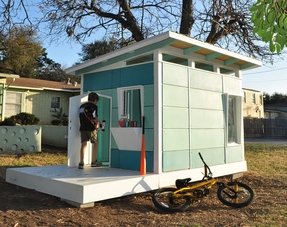 This playhouse kit was designed by Kanga Room Systems Inc., a company, which specializes in revolutionary, high quality, prefabricated wood product kits for stand-alone outdoor rooms. Various tones of celadon and turquoise combine here wid mid-century inspirations.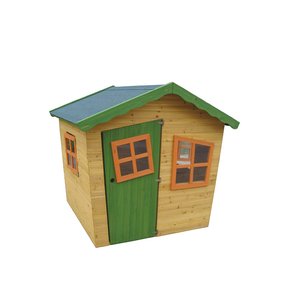 childrens playhouses kids outdoor playhouse kit 8x10 wooden stratford ...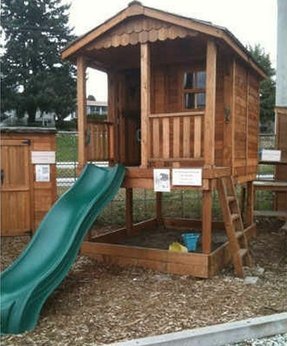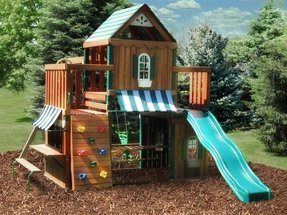 An absolutely adorable outdoor entertainment proposition for the kids, which will engage them for long hours. This wooden play set kit provides a safe and durable swing set with a playhouse and a cool, rock climbing wall.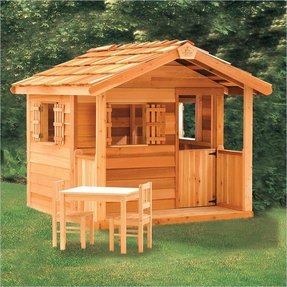 the wooden playhouses in order to form a triangular roof and secure it ...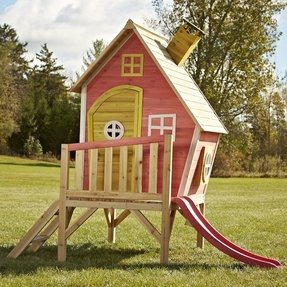 Shop Swing-N-Slide Wood Hide-N-Slide Playhouse Kit at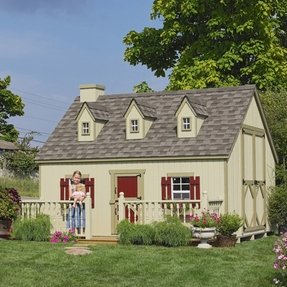 10x12 Cape Cod Playhouse Kit Small Dormer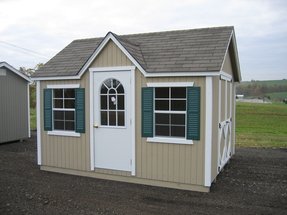 Classic Wood Cottage (12 ft. x 16 ft.) by Little. $3708.51. Additional Features Door measures 5W x 6H feetFeatures high-quality siding and trimBeautiful gabled frontFeatures aluminum gable ventsDouble side door allows for easy entry and exit  The Little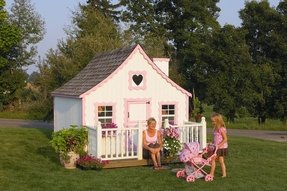 Gingerbread 8x8 Childrens Wood Playhouse Kit w Floor Little Cottage Company | eBay -
Hobbit Hole Playhouse With Round Front
This hobbit playhouse enchants with its round front door and windows, both painted in purple. Made from natural wood, it will fit well into most of the gardens or backyards.
Fireplace mantel surround with an unfinished wooden construction. This element of design features some simple, but decorative accents that improve its overall aesthetic value. Construction of this element is resistant to wear.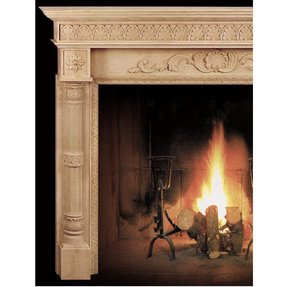 Fire place mantel made from high quality maple wood. It is finished with carefully made carvings. Classic form and elegant design for any interior as needed.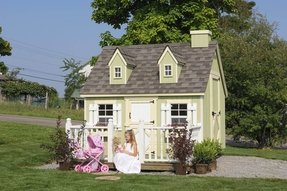 ... Kids Outdoor Playhouse Kit - 8x8 Wooden Cape Cod Style Cottage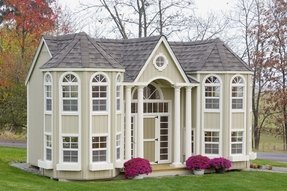 Dreamy wood playhouse... Not a simple wooden construction, it's a genuine MANSION... It even has columns on front, and arched windows, and attic window, and GABLED ROOF with slates... I'm stunned, literally.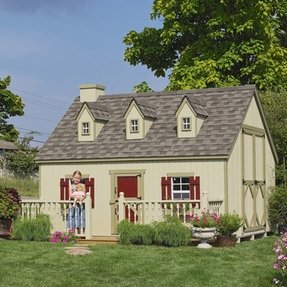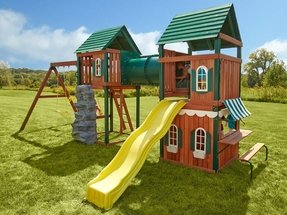 The Prescott Wood Complete Play Set includes Cool Wave Slide, rock climbing wall, playhouse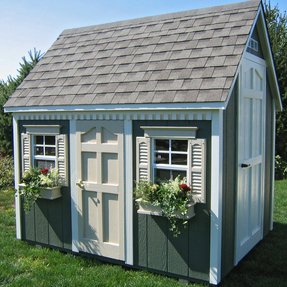 Outdoor fun is guaranteed with an outside yurt, so don't hesitate to choose a worthy wood playhouse kit (just to facilitate the construction process). Take a peek through the wide selection of kids playhouse kits.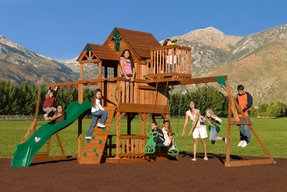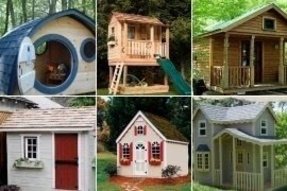 Phenomenal playhouse dedicated to kids. It is made of wood and fitted with swing on the porch. Designed for outdoor use. It is resistant to rust and harmful weather conditions.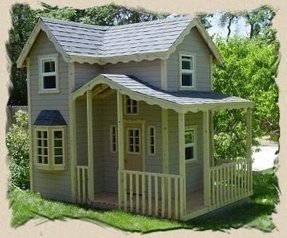 Children love to play in the garden, and this playhouse is an excellent choice. Beautiful chalet-like woodwork admires the details and resembles a real building. Charming colors, railings, shutters and a lovely patio encourage to play.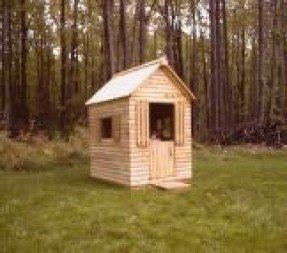 playhouse12[1]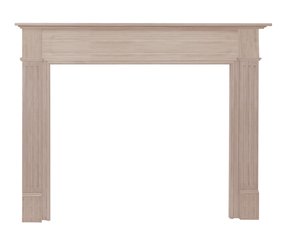 An elegant traditional wall-mounted fireplace mantel made of unfinished hardwood. It has an elongated rectangular moulding top, a simple apron with delicate milling cuts and quite wide straight detachable legs adorned with fluting and collars.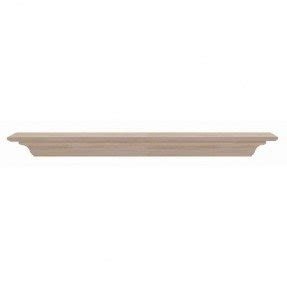 Toasty Retreat: Fireplaces & More Unfinished Homestead Fireplace Mantel Shelf
This amazing fireplace mantel shelf makes for a beautiful option for your interior for when you not only want it to be warm and welcoming but would, at the same time, gladly use some extra surface space.
Pearl Mantels Abingdon Fireplace Mantel Shelf With Secret Drawer
No blank wall to hang TV on, except for the one above the fireplace mantel? Take your inspiration from this unfinished fireplace mantel picture, with stone enclosure and secret drawer wooden mantel shelf.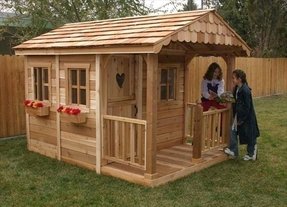 Cape Cod 4'x6' Childrens Wood Playhouse Kit w/ Floor (4x6 CCP-WPNK) #LittleCottageCompany #ChildrensWoodPlayhouses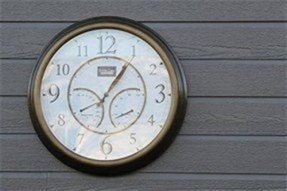 Living
If you don't have enough space in your living room for a full fireplace, take a look at this built-in, submerged one with a TV mounted above – such a clever and creative way to furnish your living room.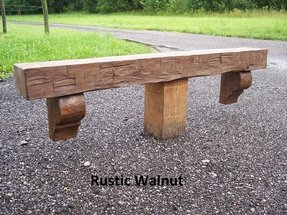 This unfinished fireplace mantel has the potential of turning it into a beautiful faux fire place. If you like vintage vibe, this wooden construction shall appeal to you. Just put a little bit spray on the logs ;)