Sandboxes with cover are just what you need to prevent your kids' sandy dream from turning into a mushy mess. Instead of purchasing a pit without a cover, regretting your choice and then struggling to find a compatible model, you have everything in one place.
The good news? They come in all sorts of sizes and designs, and you can find a wide range of sandboxes with covers here.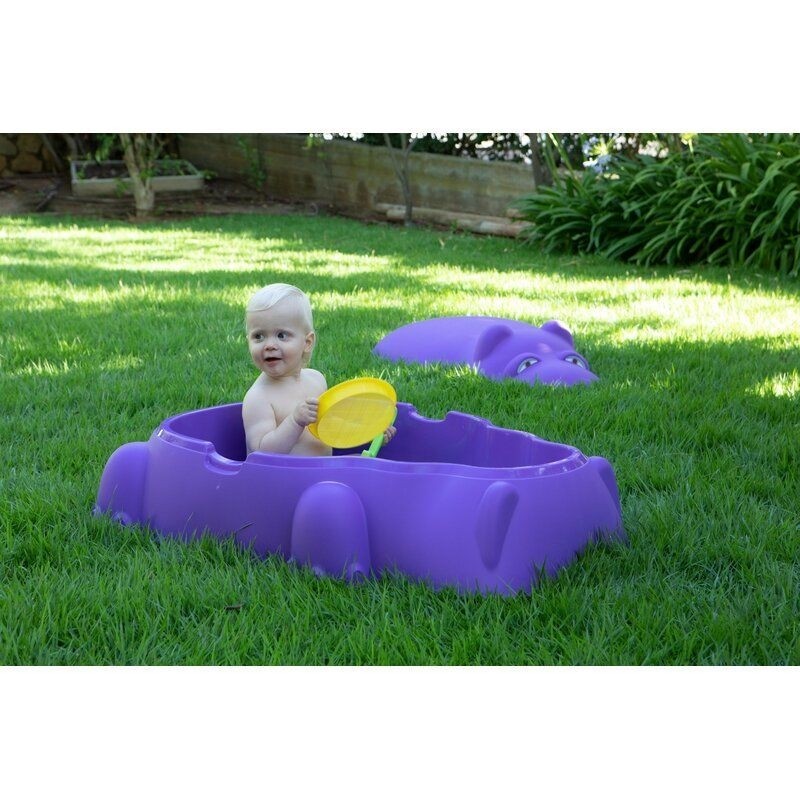 The tricky part? If you don't know what to look for, you could end up being stuck with a model that's far too big for your garden or whose color will fade after a couple of years.
Dip your toes in the water by reading about what you should consider before choosing a sandbox with cover… so that you can dip them in the sand without worrying about returns or replacement issues!
Choose the right location for your sandbox with cover
Instead of purchasing a sandbox and then trying to figure out where it can fit, be clever and do it the other way around!
As your kids will probably want to play in it for hours, it would be best to find a spot with some element of shade to protect them from UV rays;

If your kids are still very young, it's always best to keep an eye on them when they play. Choose a location that will allow you to do so.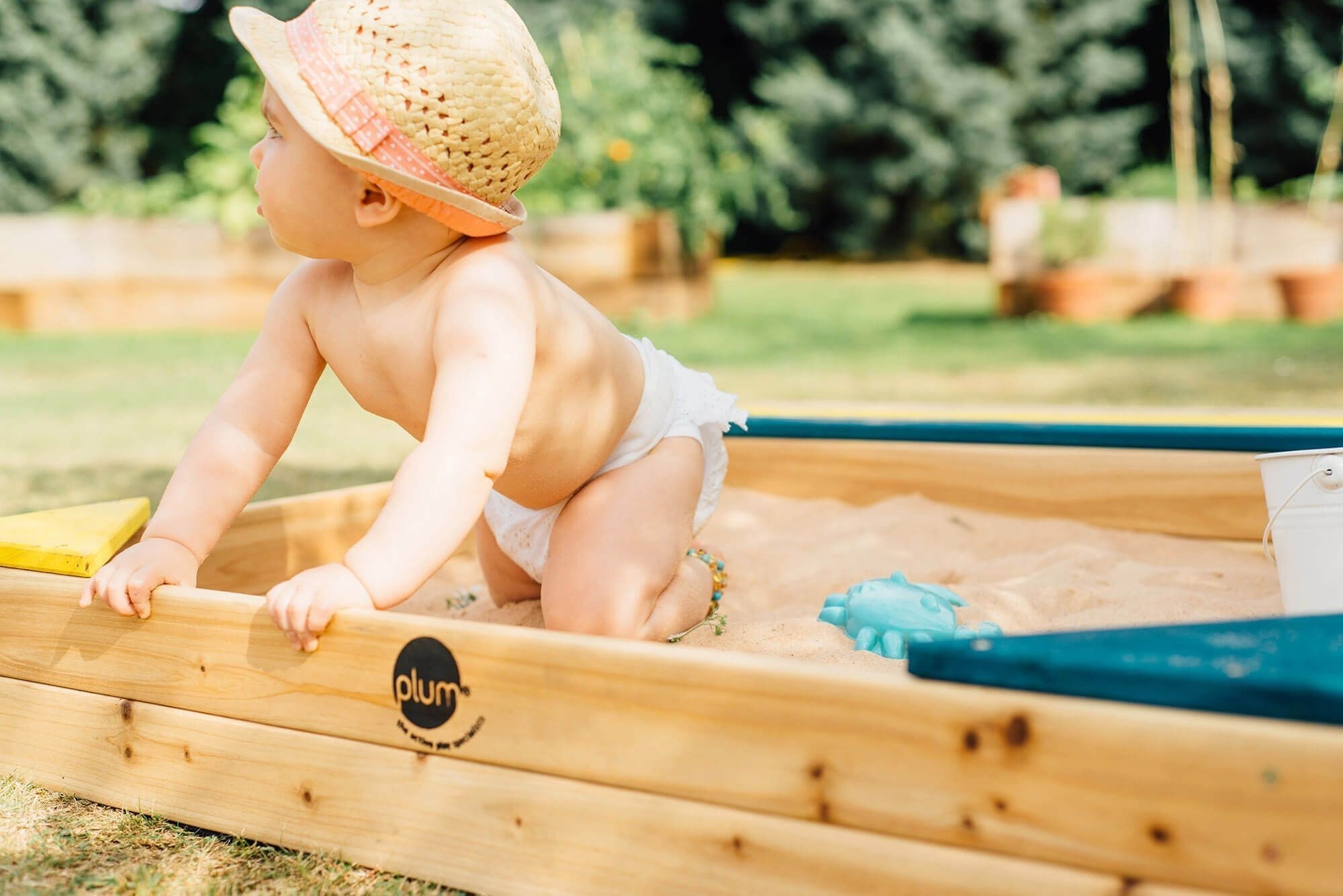 Figure out the right size for your new sandbox with cover
Now that you know where exactly you're going to place it, it'll be easier to select the right size for it:
Measure that space to know what you've got to play with;

Don't forget to leave a couple of extra feet around it so that your kids can access it comfortably without being squeezed against a wall;

How many kids will play in it? Is it just for yours or do they often have friends or cousins over?

A 5x5' sandbox is a great starting point for 2-3 kids, whereas models under 3x3' are better suited for one or two small toddlers, especially as portable models. Over 5'? Get ready for a sand party!

Keep your budget in mind too! The bigger the box, the more sand you'll need… and higher the cost.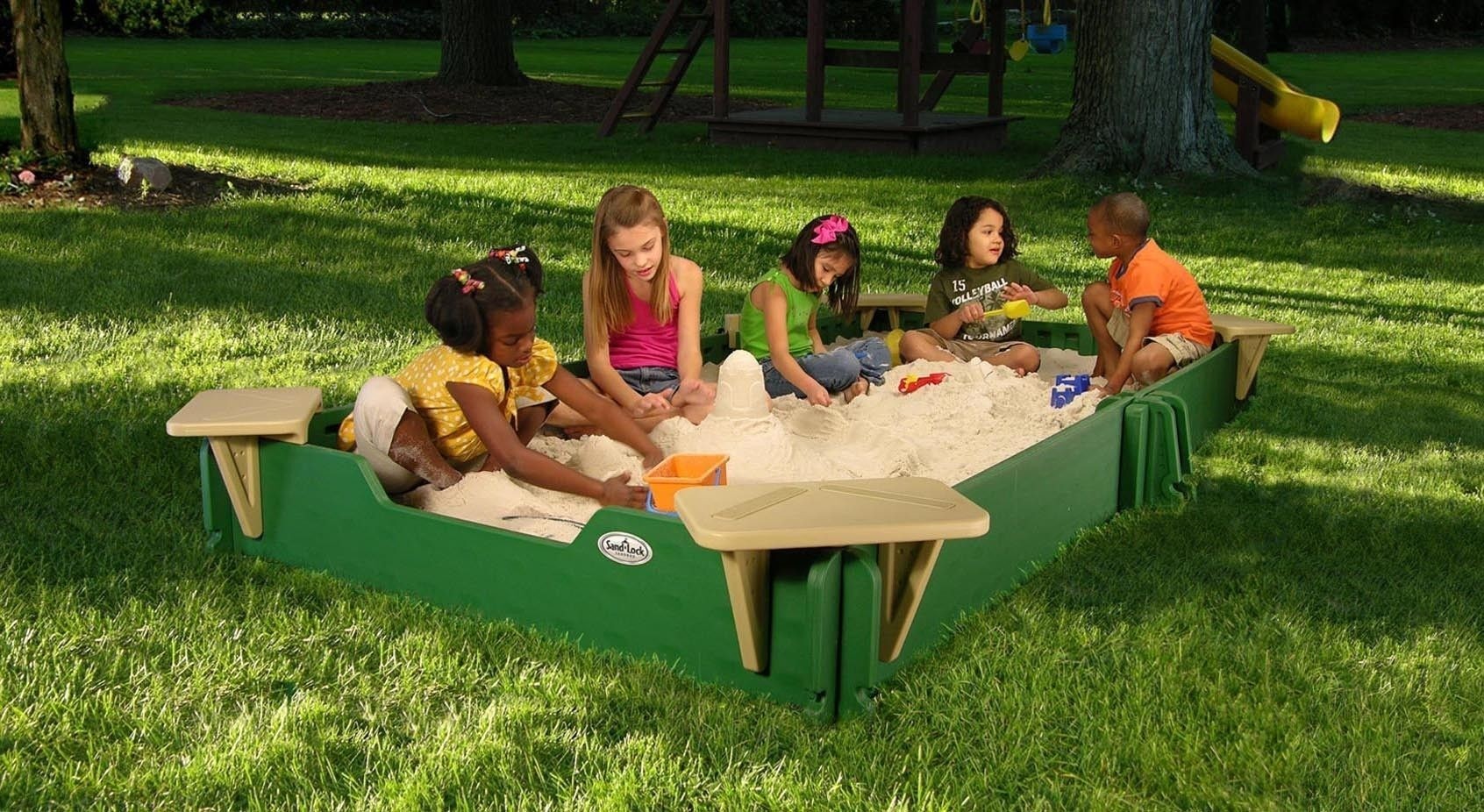 Look for the right design
Most sandboxes are square, but you can also find octagonal shapes which might be more aesthetically pleasing, and rectangular options, that are ideal to make the most of long but narrow areas;

If you want to maintain an element of consistency, look for plain wooden designs or one in the accent color of your backyard;

On the contrary, if you want it to be as fun as possible for the kids, you should concentrate on bright colors or animal shapes.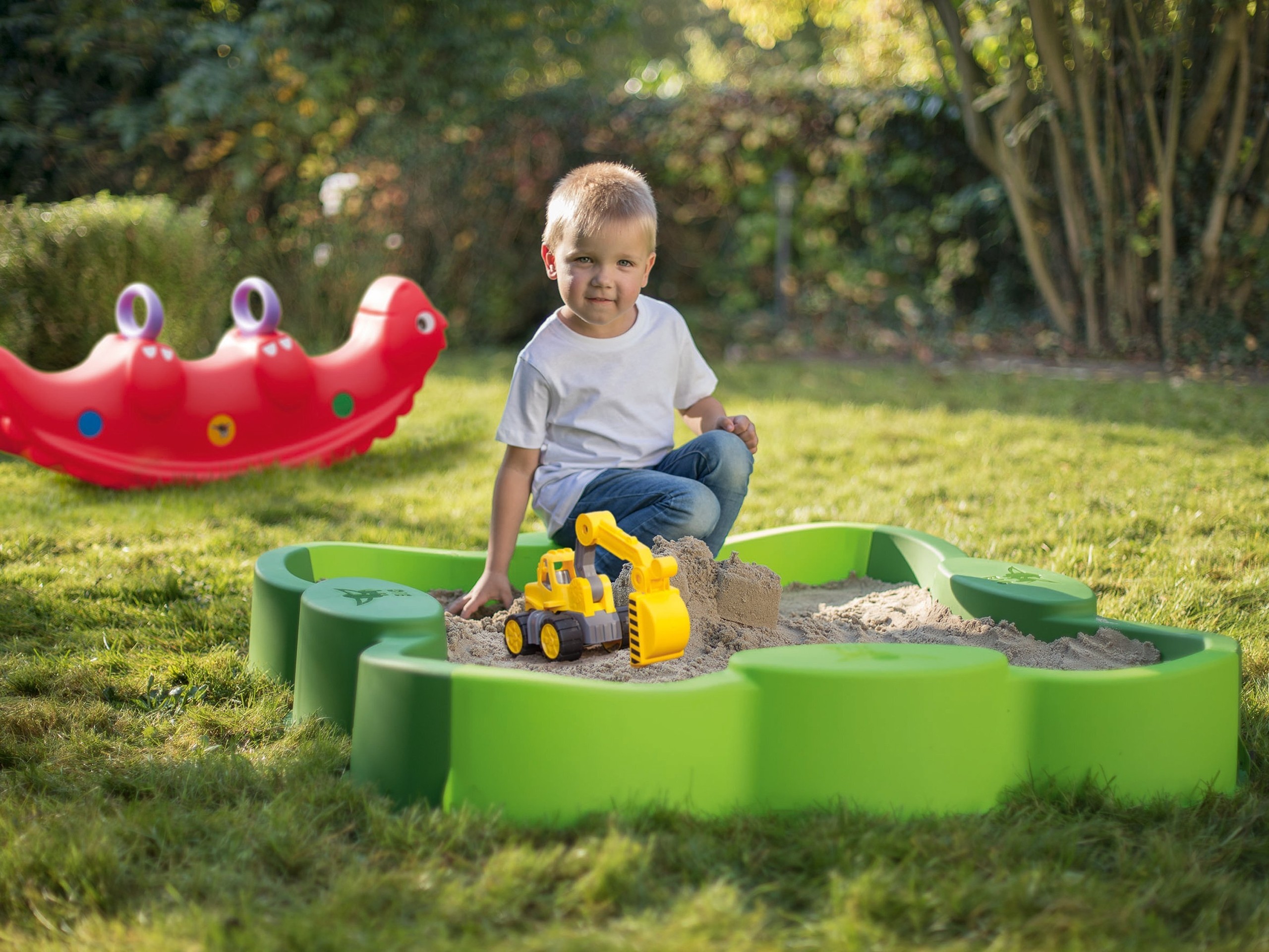 Choose high-quality materials
You have two main choices when it comes to the body of the sandbox: wood or plastic.
Wood is a beautiful traditional option that can help you complement the style of your garden in a natural way and is also durable and sturdy;

However, it needs more maintenance, even if you go for a model with a cover, since it's unlikely that it will also protect its sides from the weather.

Plastic might not be as stylish as wood, but it's a practical choice especially if you've decided to go for colorful or animal-shaped options;

While it's a budget-friendly option, keep in mind that it's not the most durable. It'd still be a great choice for toddler sandboxes that they will outgrow in a couple of years.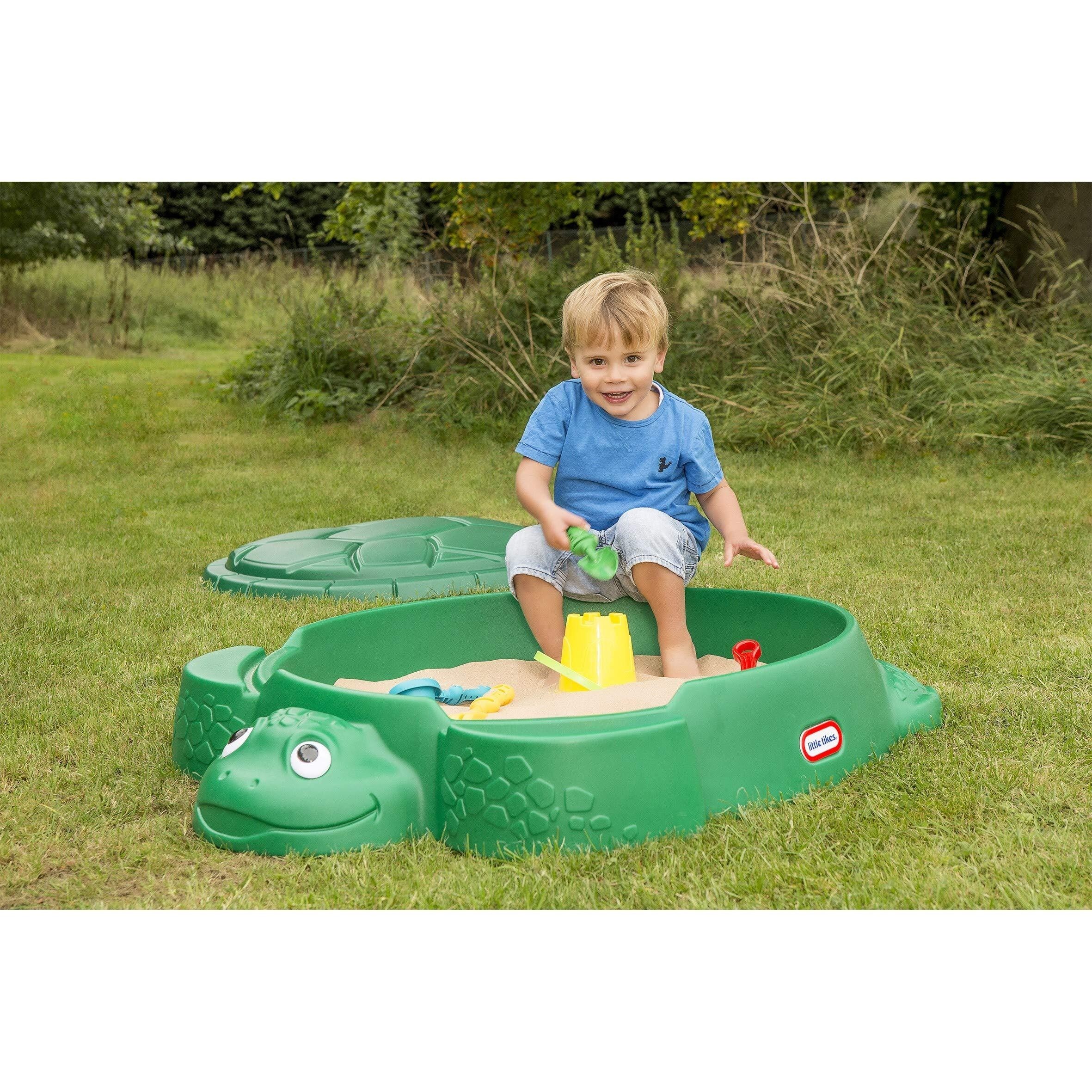 As for the cover, we recommend looking for models that are both UV-resistant, so that they won't fade after constant exposure to sunlight, and tear-resistant: that way you won't have to buy a new one every year!
The best material for a sandbox cover is mesh vinyl: it prevents the water from pooling, which could result in mildew or the perfect breeding pool for mosquitos, while also allowing the sand to breathe and dry quickly;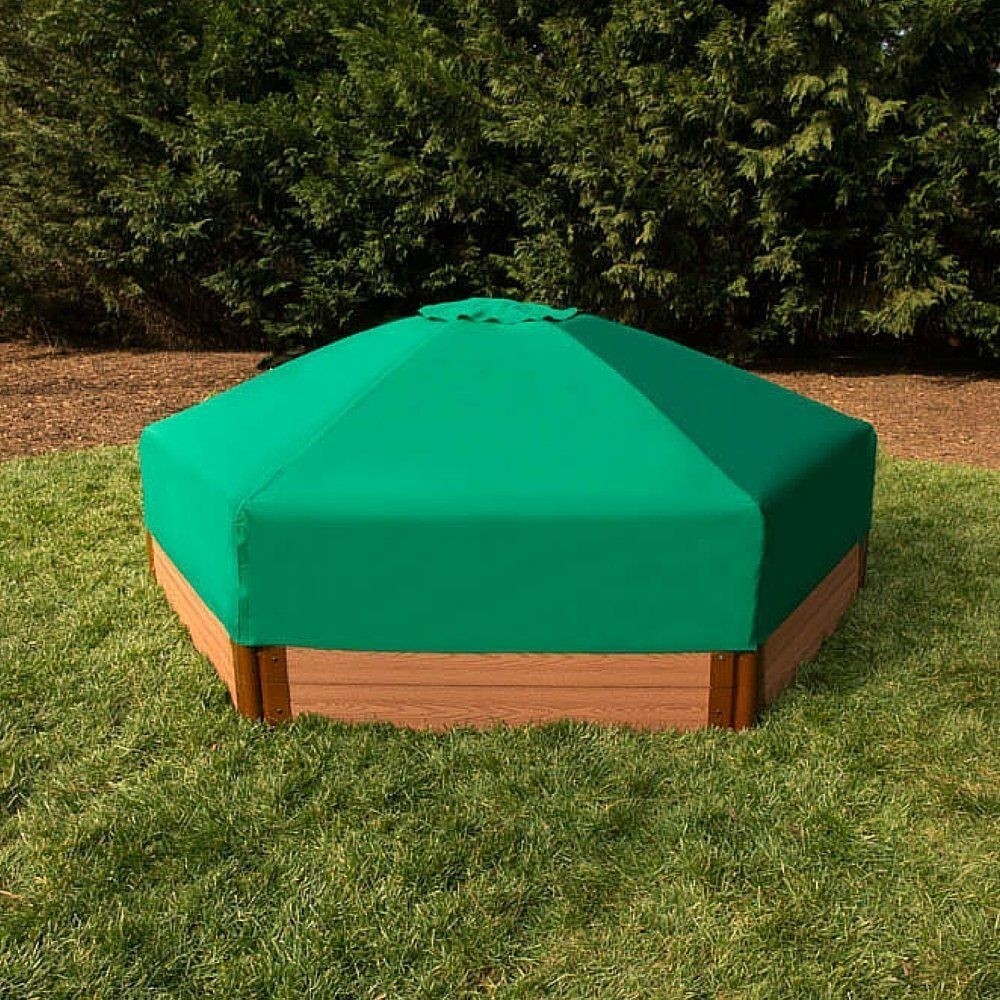 Wood is another popular option thanks to its cohesive look, but be prepared to look after it regularly and cover it in waterproof coating.
Extra features for your sandbox with cover
Now that you've sorted out the most important things, you can start thinking of features that would make your life easier or your kids' games even more enjoyable:
Did you not manage to find a spot under the shade of a tree? Then it might be worth looking for a sandbox with cover and canopy to avoid sunburns;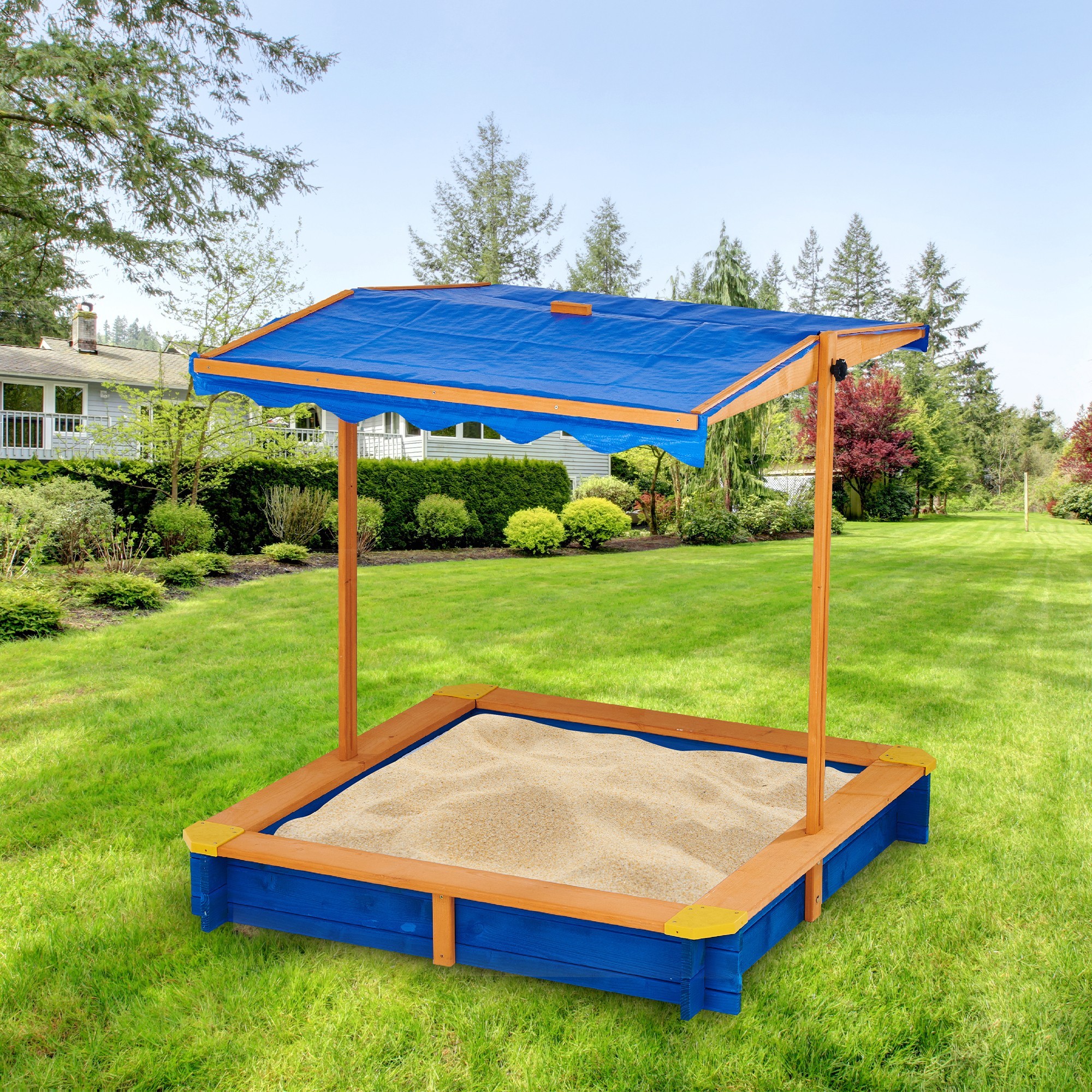 Staying hydrated is key! If you encourage your kids to drink frequently especially when they're playing outside for hours, a sandbox with cup holders could help you prevent wet accidents;

It'll be hard to get your toddlers out of the sand, but, if you have slightly older kids, they might prefer having the option to sit down comfortably while playing. If that's the case, choose a sandbox with cover and seating.