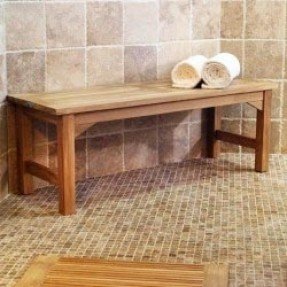 Imagine the lovely volcanic soaking pools of Japan and the ease they can bring. While it would be difficult to move a hot spring, this lovely teak bathroom bench can help create the same atmosphere of ease and simplicity in your home.
Solid teak wood is naturally resistant to water and microbes, and is therefore a great material to construct fashionable shower bench like this. It offers a superior design to please the eye, and it doubles as a seat and storage shelf.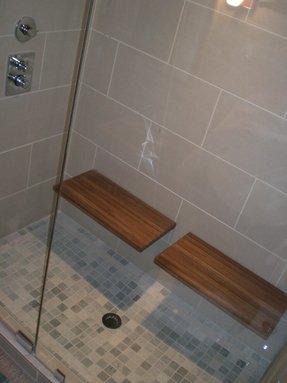 Spa Bathroom Contemporary Bathroom Vancouver
Don't you love the idea of taking a pause under the shower, on the teak shower benches - even for two of you! Folding benches are simple and have typical teak warm shades and simple rectangular shape. Useful also while shaving!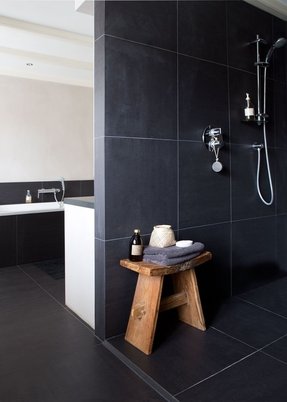 dark tiled shower + teak bench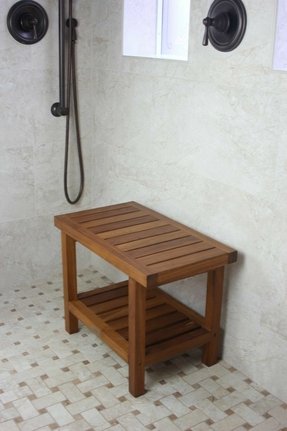 A cool simple traditional bathroom bench crafted of natural teak wood. It has 4 sturdy upright square section legs. Both a top and a bit smaller bottom shelf (with gently raised edges) are widthways slatted.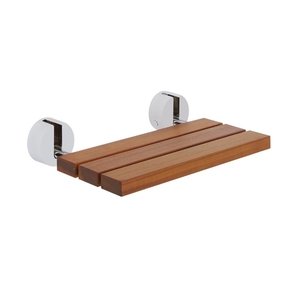 It is a wall mounted shower seat that has got a brushed nickel satin brackets, solid wood construction and spa design. It adds comfort and beauty to any shower and bathroom.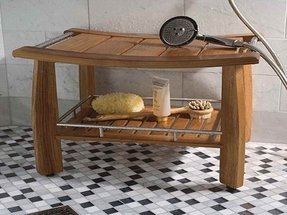 A pretty shower bench of moisture-proof teak wood with a natural finish. Thick angular legs taper up. An upper top of wide slats across has raised longer edges and 2 towel rails on short sides. A lower shelf of narrow slats has stainless steel rails.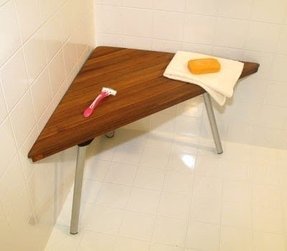 Teak Shower Benches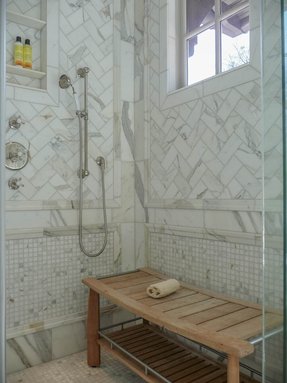 Fantastic bathroom shower features calcutta gold marble herringbone tiles as well as marble shower niche, calcutta gold marble 1" x 1" tile shower floor and teak shower bench.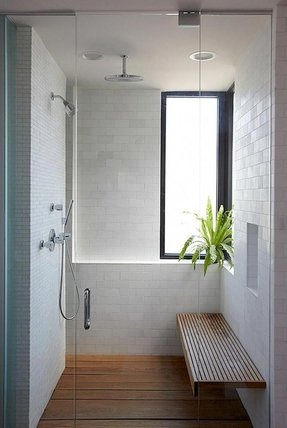 Chicago Mag: Zen bathroom with seamless glass shower with teak shower floor and bench. White subway ...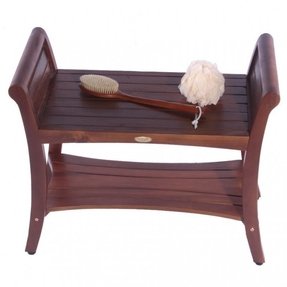 Symmetry Teak Shower Bench
It is a symmetry teak shower bench that has got a storage shelf, modern style and is made of 100-percent sustainably harvested solid teak wood. It is a great addition for your shower.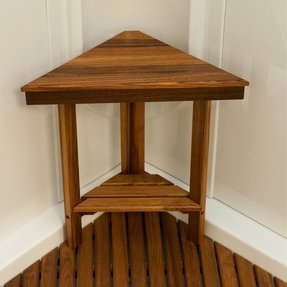 Decorate your contemporary interior with this space-saving, corner bench in compact size. The piece is entirely made of teak wood, along with 1 triangle open shelf, 1 triangle top, and straight legs.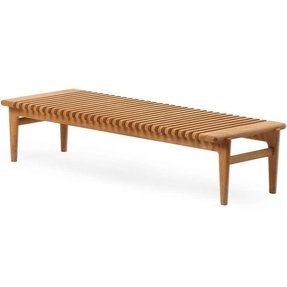 the Bar Bench By Hans J. Wegner | From a unique collection of antique and modern benches at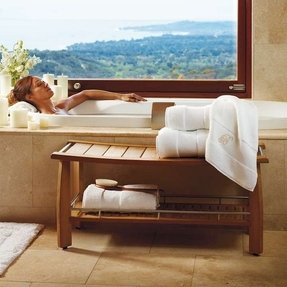 Sturdy and stylish, this shower bench is made of durable Teak and splashed in a natural finish. Offers a well-shaped seat, a pair of metal handles for easy transport, a slat shelf at the bottom, and thick legs with non-slip feet.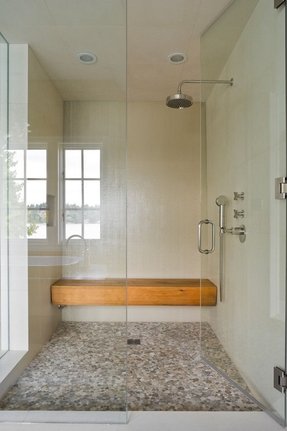 Floating bench. A floating bench is firmly secured to the shower walls but is open underneath. It can be made of waterproofed wood, like this one.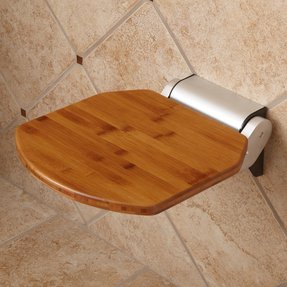 Elegant-Solid-Folding-teak-shower-bench.jpg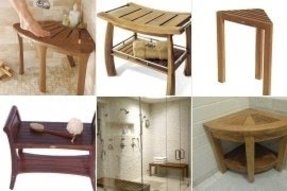 The whole corner of this bathroom has been dedicated for a really spacious shower with dark wood floor, closed behind clear glass doors. The shower offers a useful facility: a wooden wall-mounted seat.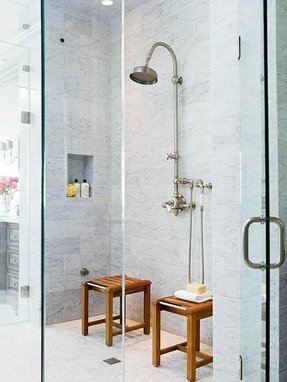 Steam Shower idea for our bathroom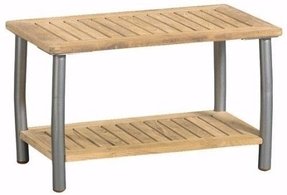 Upgrade the comfort level in your bathroom with this functional and stylish shower bench featuring wide shelf under the sturdy seat. Constructed of solid teak and aluminium base, both water-resistant and highly durable.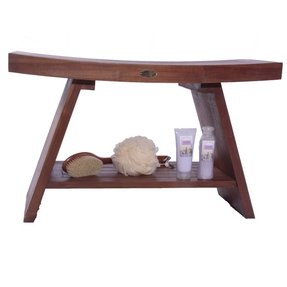 - Patent Pending Jumbo Extended Asia 29" Serenity Teak Shower Bench with Shelf ð Store & Organize Towels & Toiletries- Bathroom, ...$189.95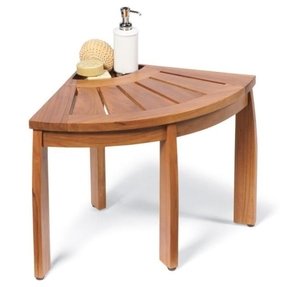 A shower seat like this works perfectly in a large walk in shower. Constructed of sturdy teak wood, the seat rests on 4 legs with anti-slippery caps, and has a quality design that allows to put it in the corner, thus leaving enough place to use the shower.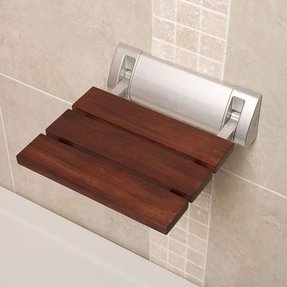 This stylish Sapele folding shower seat with chrome hinges and a wide base (12" x 14"). A solid wooden construction, this wall mounted smoothly folds down anytime you need.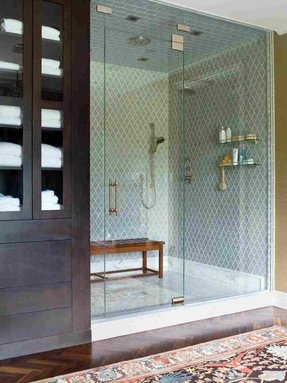 Best of in 2014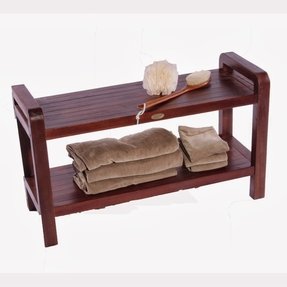 Use this wide shower bench in your home spa, bathroom or under shower - it is resistant to moisture, so it will work well in all of these locations. Take benefit of extra-wide seat and shelf. Move the piece around easily thanks to side handles.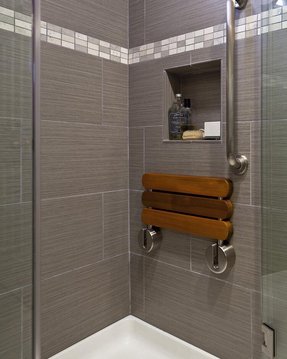 Love the fold down bench idea. Contemporary bathroom by Custom Kitchens by John Wilkins Inc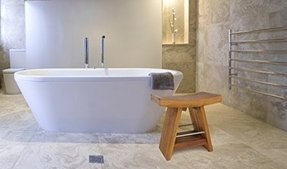 This shower bench is constructed of sustainably harvested 100% solid teakwood, therefore suitable for both indoor and outdoor use. The bench is water-resistant, reinforced by stainless steel hardware, and equipped with rubber feet pads.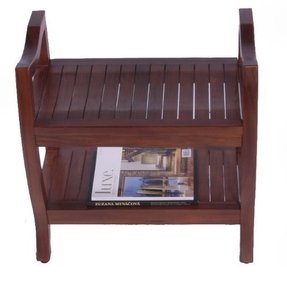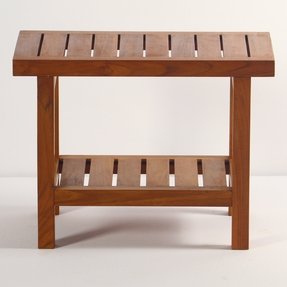 Aqua Teak Spa Teak Shower Bench With Shelf
This kind of element has got a simple and solid wooden construction. It is shower bench made of teak wood that looks stylish and that is resistant to moisture or other factors. It includes a lower storage shelf for towels, etc.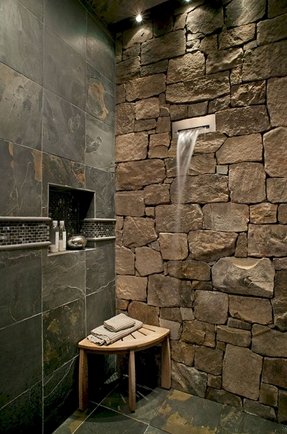 Tennessee fieldstone rough-hewn shower wall with a Hastings Ala Waterfall showerhead. Striated Black Rust slate runs up the other wall and along the floor. Teak bench = nice touch.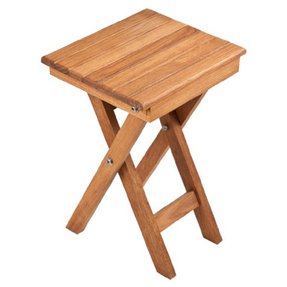 Deluxe Teak Shower Bench
This is a folding, portable shower bench can be fold flat for easy storage. It is fully made of solid teak wood, which is naturally resistant for moisture, and require absolutely no maintenance. Come unfinished, available in few sizes.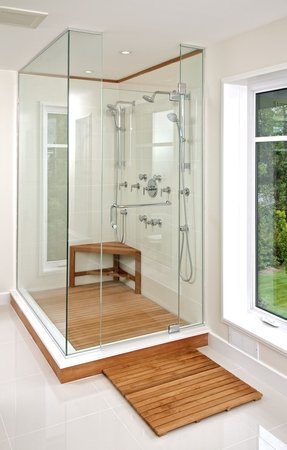 Create the perfect shower space for your household with this teak structure that comes with the extra bench and a mat to ensure maximum safety even for older users and is just sure to withstand years of use.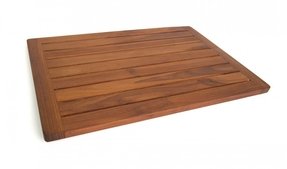 Wood looks great in bathroom - for updated decor, it is indispensable. This accessory is a teak mat that can be used in a bathroom or directly in shower area. It boasts superior design and high quality construction material.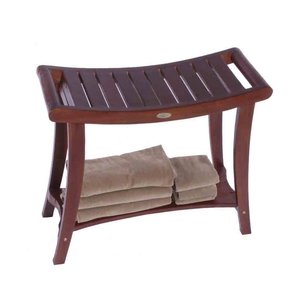 It is a shower bench with Asia design, solid teak wood construction, shelf for your towels and arms. It is a nicely finished and high quality product that adds comfort to any bathroom.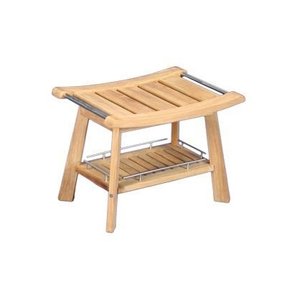 Product Code:Shower Bench