Folding Bathtub Doors
Shower curtains block light and build up mold and mildew, giving your bathroom a dank, potentially dangerous atmosphere. Folding bathtub doors are a modern alternative to shower curtains.
For those looking for a sophisticated space-saving option for their bathroom, a folding bathtub door is an excellent choice that minimizes the clearance needed around the shower. A folding door is also easier to clean than the classic sliding door model.
They can transform your bathroom and have versatile installation layouts. Swapping out a rod and shower curtain for a folding glass door instantly upgrades your bathroom turning your bathroom into a home spa.
When considering folding shower doors for bathtubs, look for water and rust-resistant models. A few other simple but convenient features to look for are rubber gaskets along the bottom of the glass, support bars, and handles. Here are ten of the best folding bathtub doors to add some privacy to your bathroom.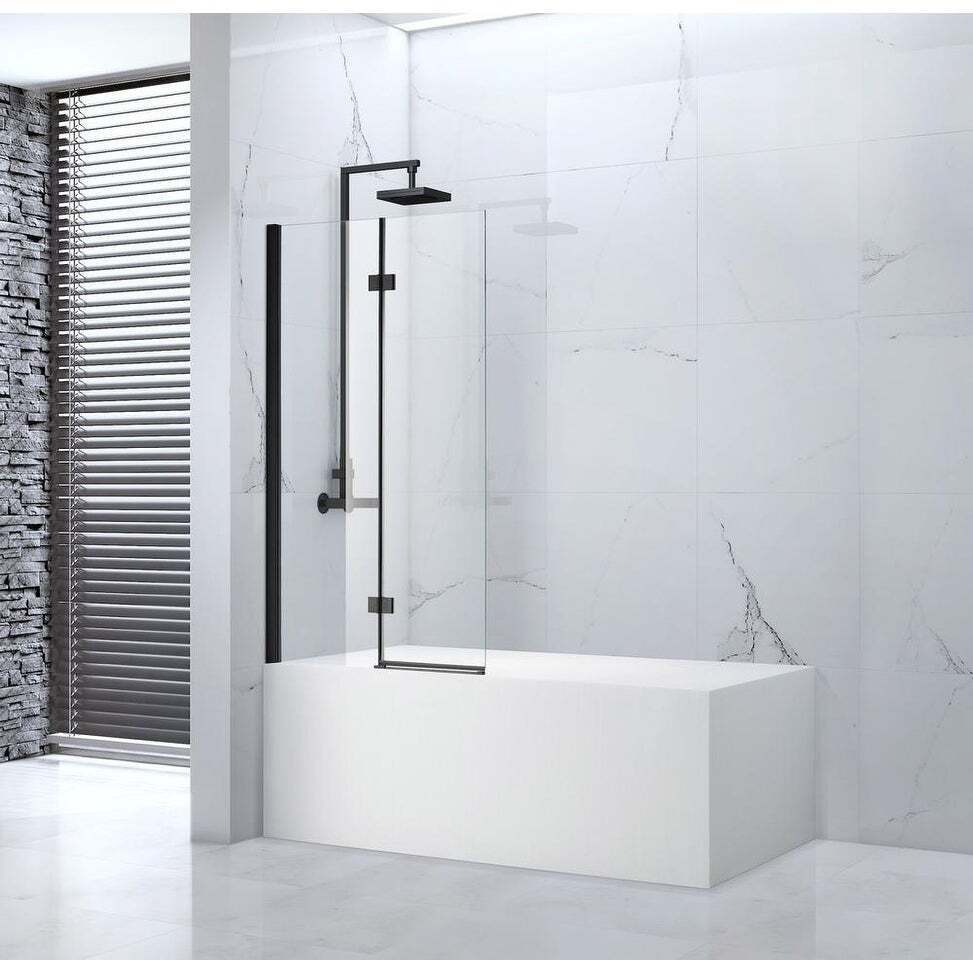 Frameless Bi Fold Tub Door in Black

What we like: Perfect for smaller bathrooms
What we don't like: Expensive price
This bi-fold tub door is specially designed to fit bathtubs and is a convenient alternative to a shower curtain. The door doesn't cover the whole bathtub, so you can still enjoy a relaxing soak without feeling enclosed in a tight space.
The construction is sturdy and durable, with 0.23" thick glass secured in a chic black frame. The door also features a flexible rubber gasket along the base, ensuring that it properly contains water. This contemporary tub door is stylish and can help you keep your bathroom dry and clean.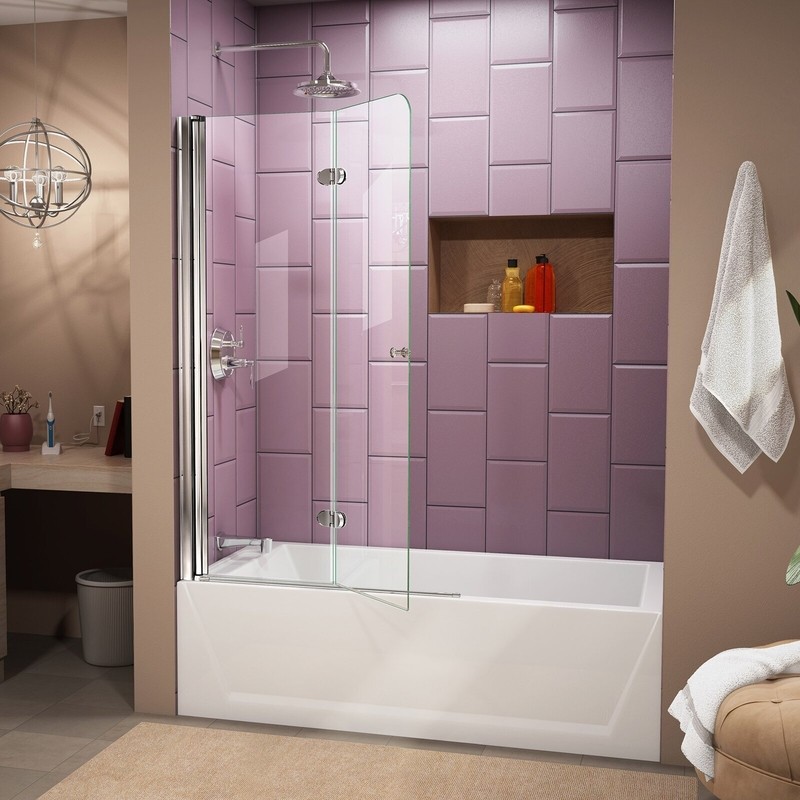 Fold Semi Frameless Tub Door

What we like: Reversible door configuration
What we don't like: Glass is not extremely thick
This is a chic, minimal folding door for any bathtub/shower combo. The tub door has a modern European design with frameless construction and rounded corners. Made from tempered glass, this 36" W x 58" H tub door has a glass thickness of 0.25".
The self-closing hinges allow effortless rotation toward the inside of the bathtub. The door can also pivot in and out from the wall. This bathtub door offers a sophisticated look and creates an open and inviting bathtub space.
$469.78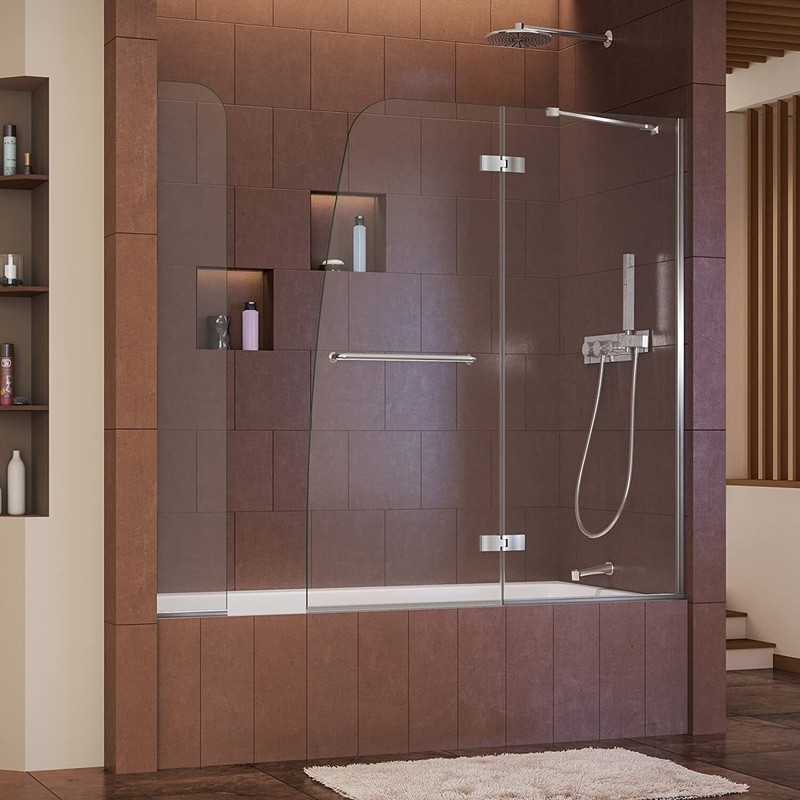 Ultra Frameless Hinged Tub Door

What we like: Limited lifetime manufacturer warranty
What we don't like: Not suitable for installation on a curved bathtub
This frameless hinged model is a 48" wide and 58" high bathtub door. It's a fairly wide door that contains water inside the tub space. This is a good option for smaller bathrooms where a sliding door won't work. It can be installed on any bathroom as long as the design of the tub isn't curved.
With thick certified tempered glass and anodized aluminum, this is a durable door. The door has a unique curved silhouette and an extender panel that provides extra splash cover. Overall, if you are looking for folding shower doors for tubs, this is an excellent choice.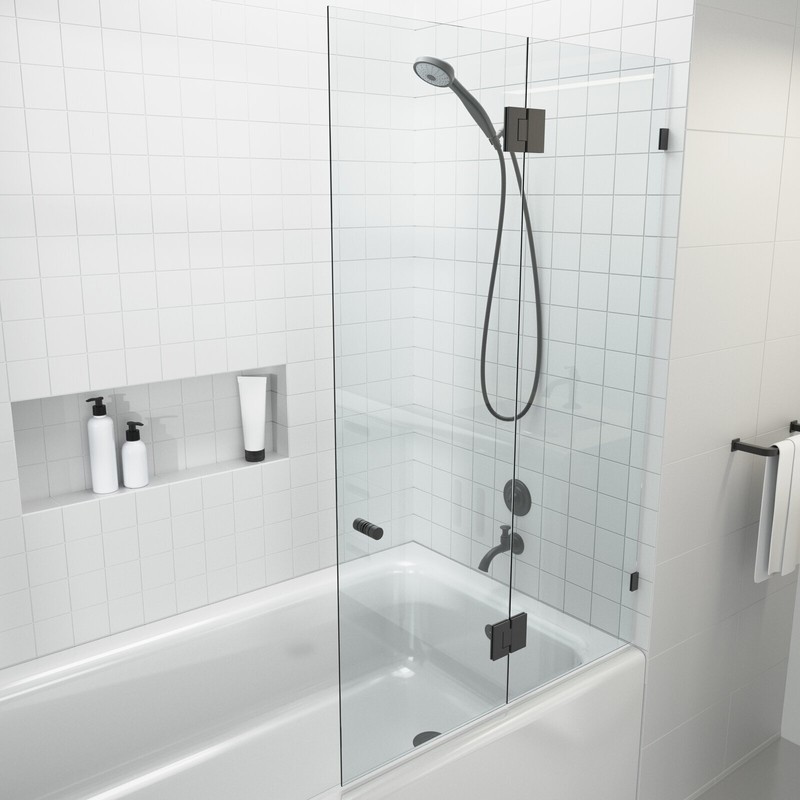 Hinged Frameless Tub Door

What we like: Beautiful oil-rubbed bronze finish
What we don't like: Lacks helpful assembly instructions
The hinged frameless tub door is a well-designed and sturdy door with ANSI-certified tempered glass and the special Enduroshield treatment. Enduroshield is a leading company in glass coating. The treatment helps glass repel water, soap scum, and grime. It reduces cleaning time dramatically, helping you keep your bathroom clean. The factory-applied glass coating comes with a 10-year manufacturer's warranty for your peace of mind.
The heavy-duty brushed nickel hardware is unobtrusive yet extremely durable, and the bi-fold bathtub doors feature out-of-plumb adjustment, allowing you to level the doors easily.
Another special feature of this tub door is its height. It measures 78", which is significantly higher than their competitors. This extra height provides a unique style and makes it suitable for bathrooms with high ceilings or low-profile bathtubs.
$456.51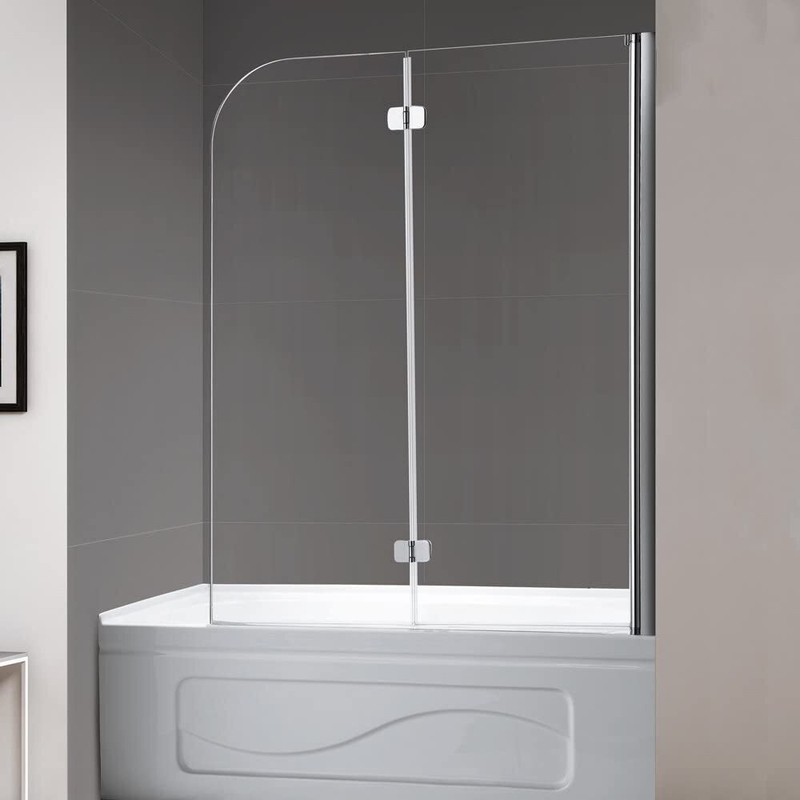 Frameless Hinged Tub Door

What we like: Allows for wide entry space with bi-fold screen
What we don't like: Hardware provided is soft and strips easily
The frameless hinged tub door is a top choice among folding shower doors for its ultra-lux glass coating, which creates a long-lasting shield on the glass that repels water and contaminants. This coating helps the door avoid staining and mineral build-up, making it the ideal choice for homes in areas with a high water hardness level.
Look for a tub door that has a shatter retention safety film on the glass. This safety film is bonded on the panels and holds all the fragments in place in the case of breakage. This provides protection in case of an accident.
$299.99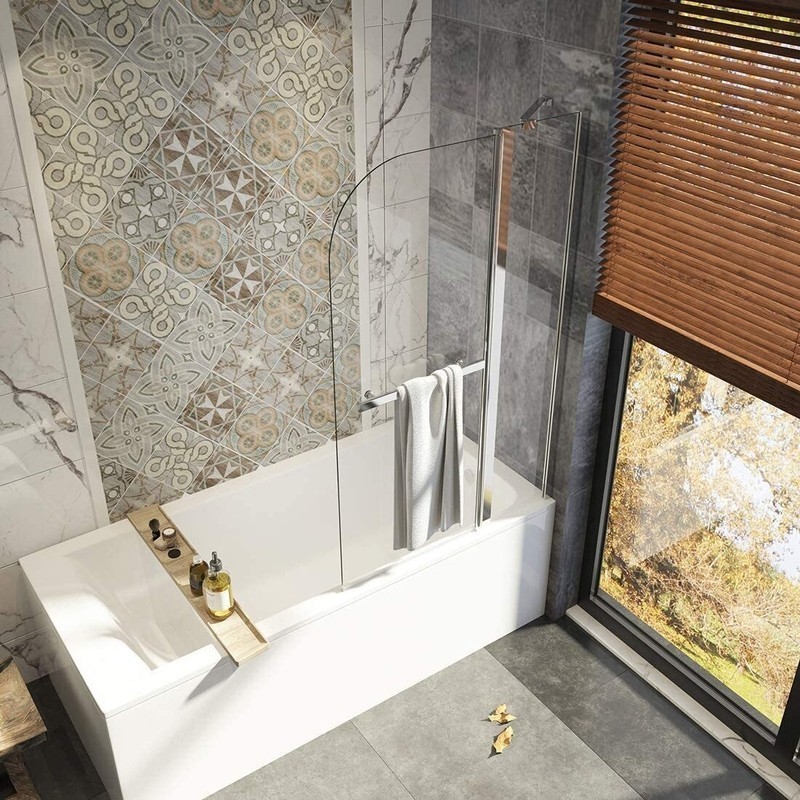 Pivot Bathtub Door With Towel Bar

What we like: Towel bar included
What we don't like: Some users report water seepage under the door
This tub door with tempered glass and prime aluminum hardware is a durable choice for any bathroom. The door features a stylish chrome finish and a handy towel bar on the outside of the glass.
The pivot bathtub door comes with detailed instructions, and installation is fairly easy. You can adjust the brackets to fit onto the edge of the bath or the bathroom floor, depending on your tub design. The design is also reversible, so you can install two opposite each other to create a swinging door set up for a wet room.
$309.99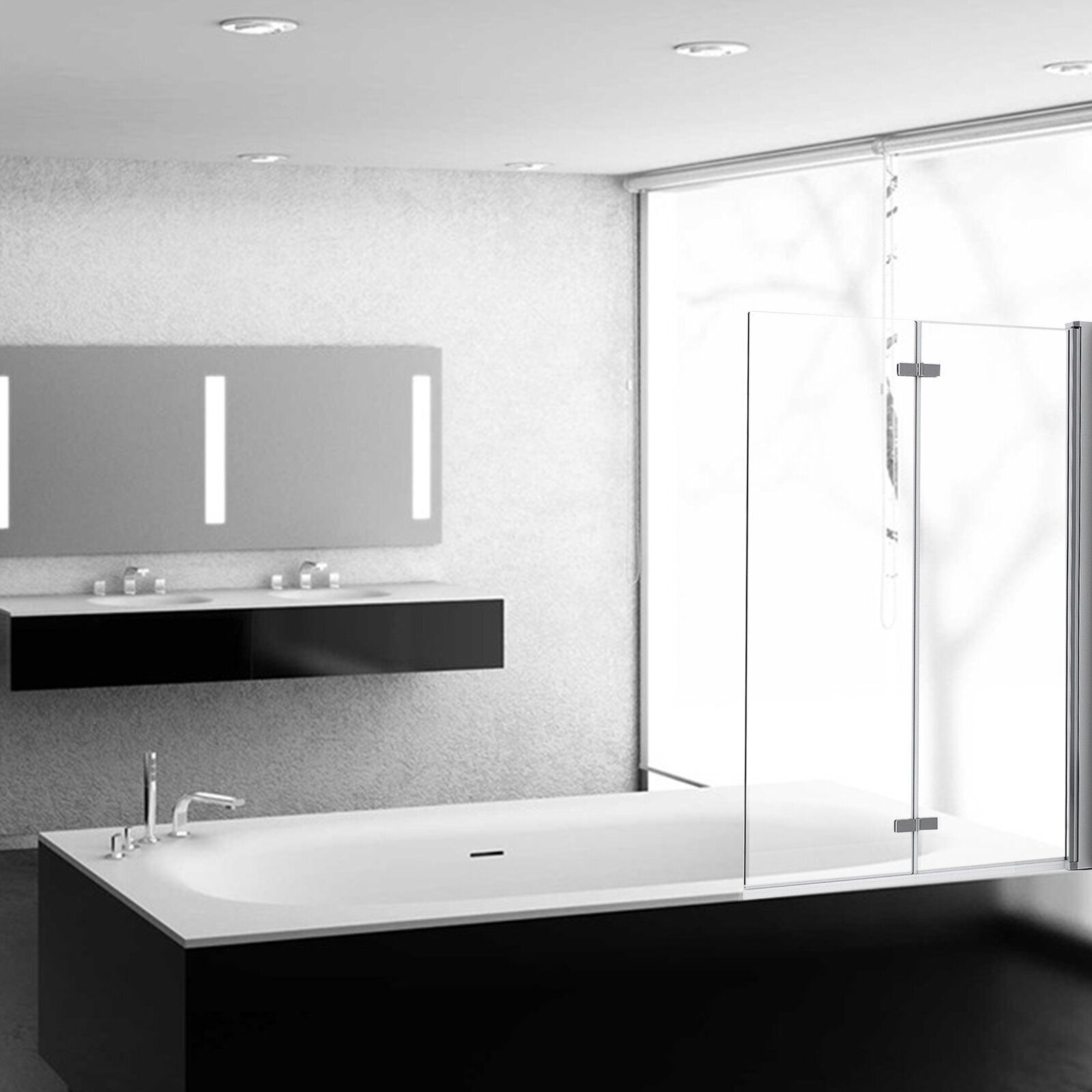 Folding Frameless Tub Door

What we like: Trackless, ultra-modern design
What we don't like: Can be challenging to install independently
Trackless shower doors significantly cut down your cleaning time because they won't trap grime and soap scum. They also give your bathroom a sleek, refined aesthetic. This simple folding tub door is one of the best trackless shower doors for tubs on the market to make your bathroom cleaner and more stylish.
The door features tempered glass and a chrome hardware finish. It doesn't offer extra features like support bars and door handles, but it's reasonably priced. The hinges allow for reversible door handling to fit different bathroom layouts.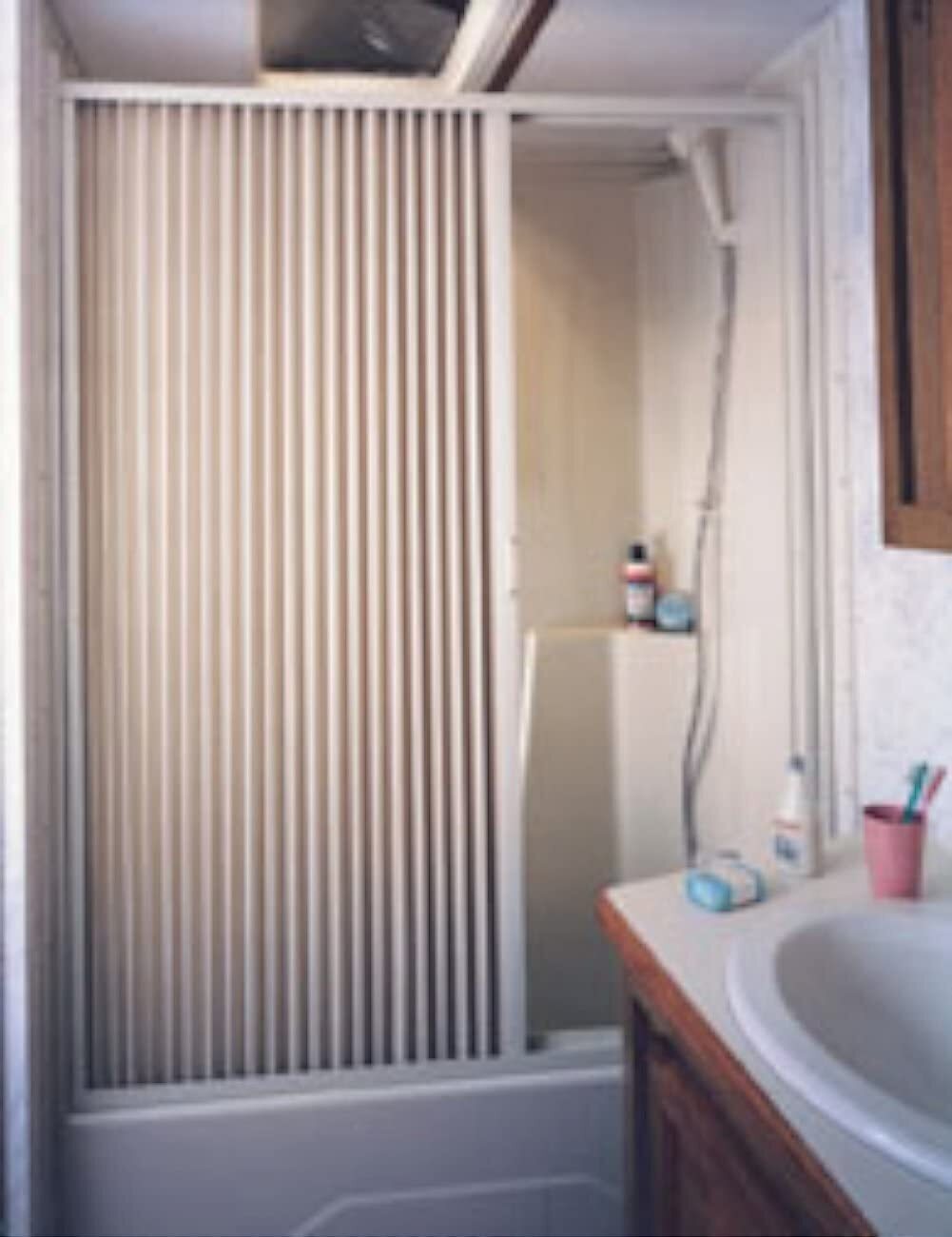 Polyester Door

What we like: Alternative to glass
What we don't like: Could appear dated
If you are looking for folding shower doors for tubs that aren't glass, this polyester door is an alternative that offers more privacy when you're in the tub or shower.
It's an easy-to-use folding glass shower door for a bath made of vinyl and polyester material. Requiring less maintenance than a clear glass door, you'll still need to wipe the door down regularly to prevent grime and soap suds from building up. This product is easy to install, and the white color suits most traditional bathrooms but could appear dated in an ultra-modern design scheme.
$108.92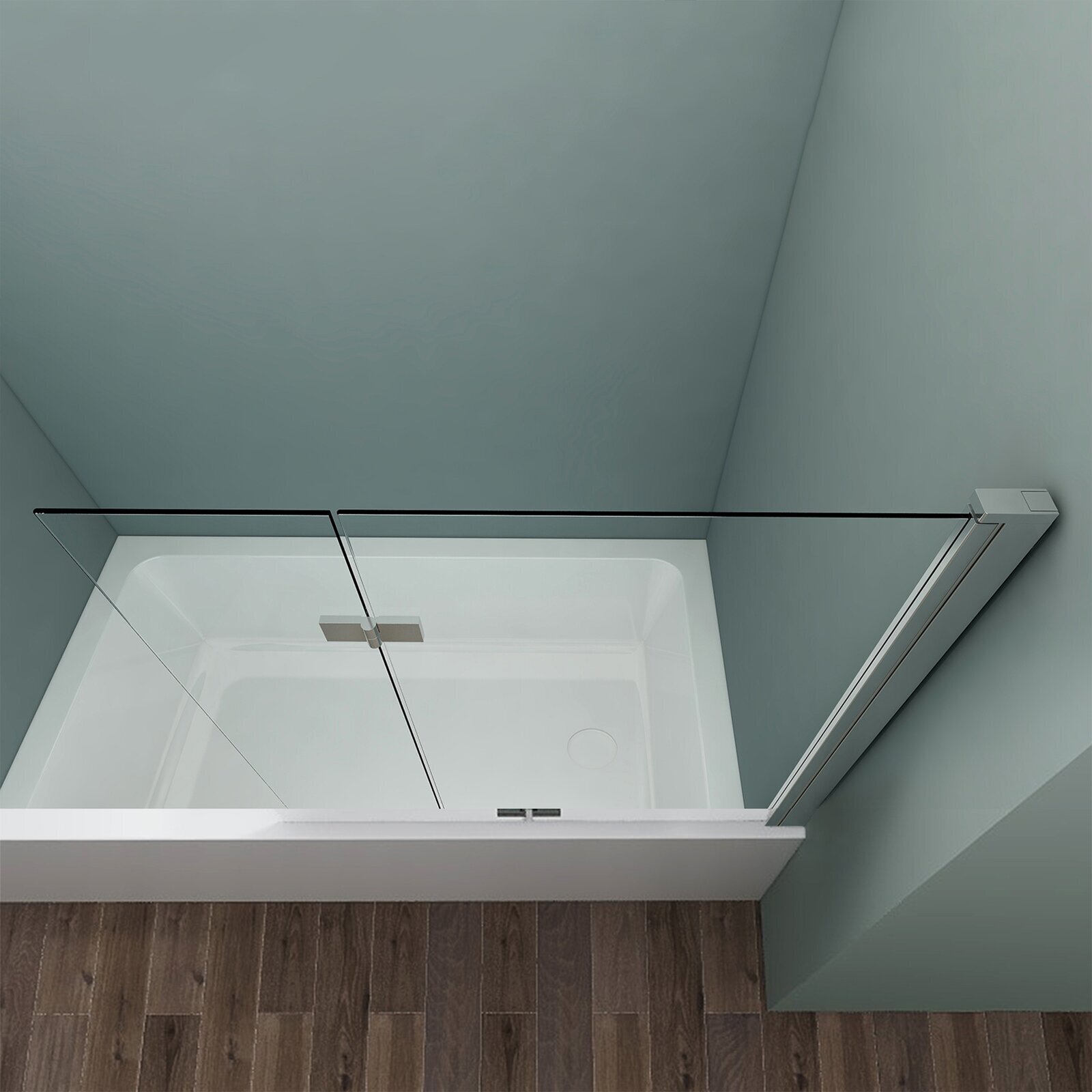 Hinged Frameless Tub Door

What we like: Easy to keep clean
What we don't like: Only one color option for hardware
This folding tub door has a very simple design, but it's reasonably priced and easy to install. It features a clear glass finish, tempered glass, and chrome hardware. The basic design complements any bathroom and ensures the glass is easy to clean, so you keep it looking new.
It doesn't have a handle or support bar, but it features a trackless style and convenient rotation.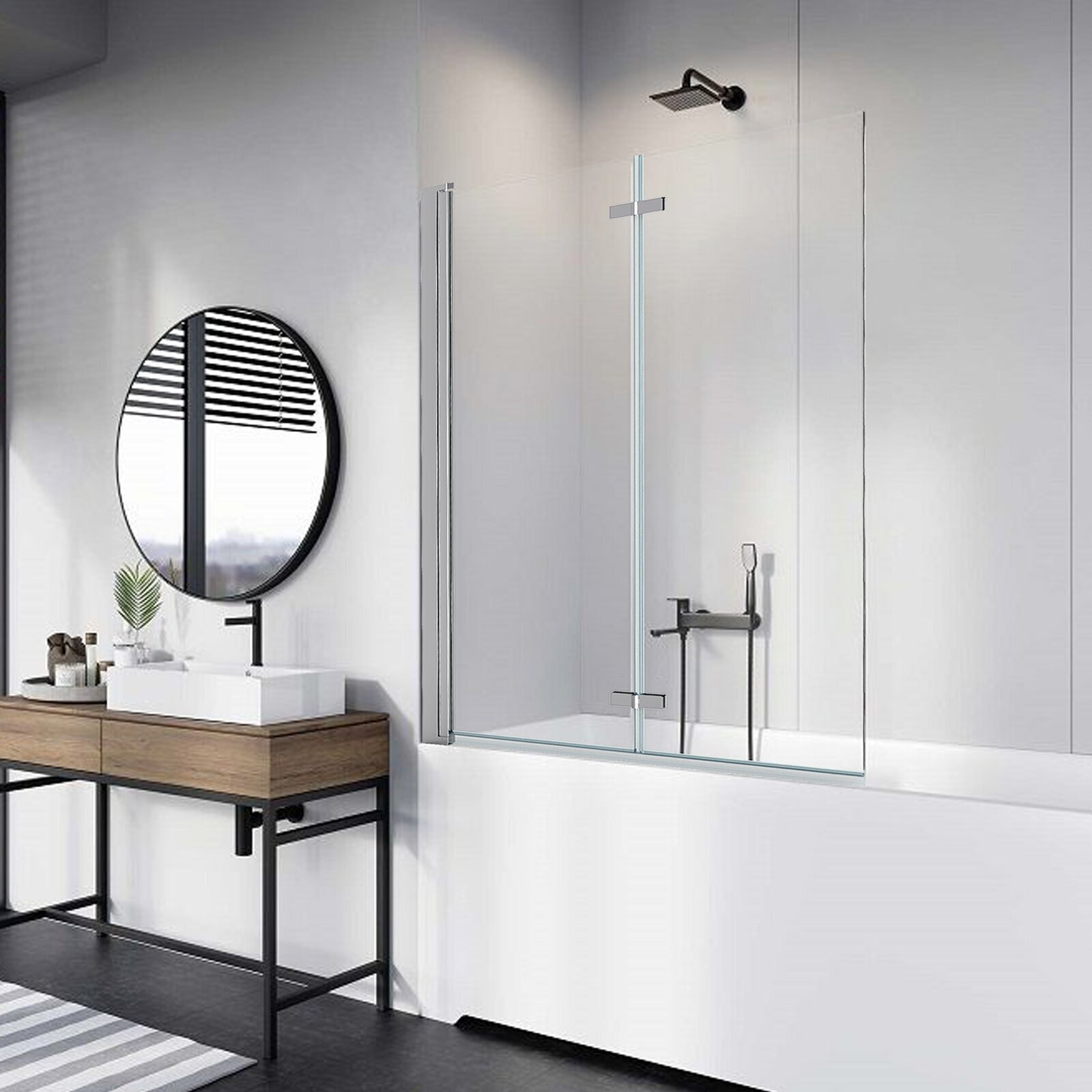 Folding Frameless Tub Door

What we like: Suitable for all bathroom sizes and layouts
What we don't like: No rubber gasket for water sealant
This folding tub door has a convenient reversible configuration, which easily adapts to any bathroom layout. It has a basic design with two glass panels, two hinges, and wall mounting hardware, which comes with the product. The smooth, clear glass gives this tub door a contemporary look that won't detract from your bathroom's design.
A disadvantage of this model is it doesn't have a rubber gasket along the bottom. If you are looking for a simple and affordable tub door that you can easily install yourself, this is a good choice.