Our Choice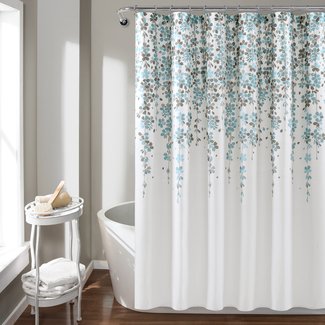 Weigel 1 Piece Shower Curtain
This floral shower curtain lets in natural light while at the same time adding beauty to the décor. The design is light and airy, depicting rose petals cascading from the top of the curtain. This sweet shower curtain brings the beauty of nature inside. It comes in a variety of fetching colors from a white background and yellow flowers to a gray monochrome to a pop of color with a red shower curtain and yellow and white petals.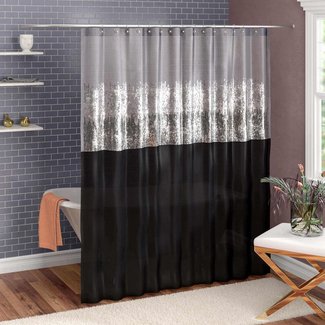 Valor Single Shower Curtain
Add some sparkle to your routine. This two-tone shower curtain features sequins on the upper lighter half and a monochrome neutral color on the bottom for a modern, flirty vibe. It has 12 hook holes for easy installation and is made of stain- and fade-resistant polyester so its sparkle will not dull. A shower curtain is functional – it keeps water in the tub or shower – but it can also be a key piece of décor in your bathroom.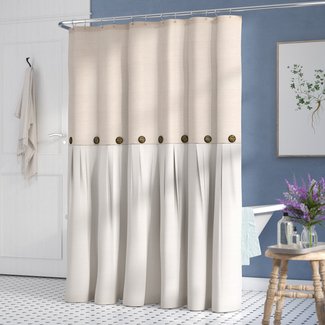 Beckham Single Shower Curtain
A shower curtain is a functional part of your bathroom keeping water splashes from escaping your tub or shower, but it can also be a style statement. This sophisticated polyester-blend curtain has a bottom half made from cotton-linen, so it ruffles appealingly. Buttons adorn the midline for a touch of class. Reinforced hook holes make it easy to hang and maintain. This elegant shower curtain would be perfect in an understated modern or boho home.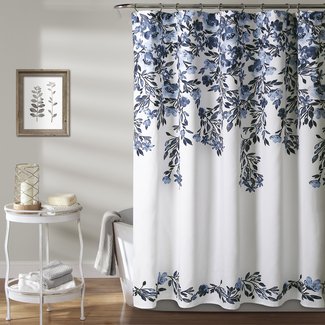 Mascher Shower Curtain
The gorgeous Mascher shower curtain updates any home instantly with a touch of whimsy. A twisting cerulean vine curls along the bottom hem of this curtain and also the top, with tendrils and blue flowers tumbling down to the midpoint. It is made out of polyester with 12 hook holes for easy installation. This curtain will need to be washed cold in a mesh bag if possible. Bring some romance into your bathroom with this nuanced, soothing shower curtain.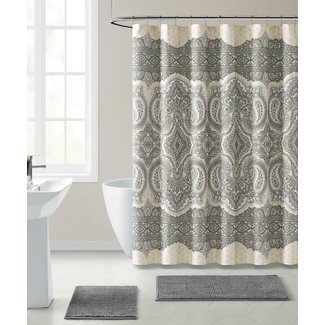 Teyvione Mold & Mildew Resistant Fabric Shower Curtain
This lovely shower curtain sports a paisley design that emits a boho-chîc vibe. Made of mold and mildew resistant polyester, this curtain is easy to install and maintain.
It perfectly encapsulates the ethos of shabby-elegant with its detailed design and grey and white color scheme. It would fit well with modern décor to add a bit of whimsy, or to tone down a more garish floral motif.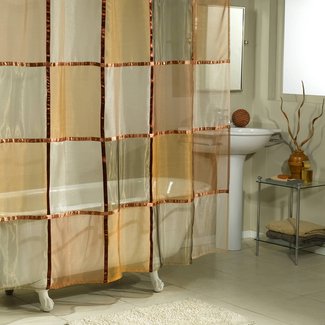 Willia Mosaic Single Shower Curtain
This unique shower curtain is made up of blocks of gauzy fabric in bronze, gold, or terracotta. These blocks are connected with a gold accent ribbon made of a shiny, metallic material, lending this curtain a sense of sophistication and charm. Made with the standard 12-hook set-up and machine washable, this curtain adds glamor to any bathroom in your house.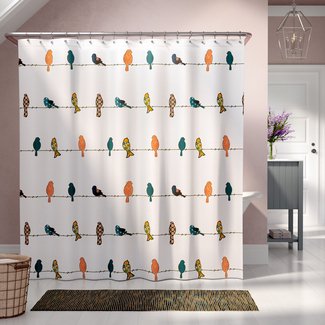 Recio Single Shower Curtain
Shower curtains are the perfect way to jazz up a dull bathroom. This shower curtain adds a pop of cottage charm to your bathroom with its motif of brightly colored birds perched on a wire. The pattern repeats itself in a parallel fashion all the way down the curtain. Easy to install and maintain, this curtain has the bird design in a cheerful blue-and-yellow combination, and you can also choose a more subdued light blush, navy, blue, or yellow and gray color scheme to complement the rest of your bathroom accessories.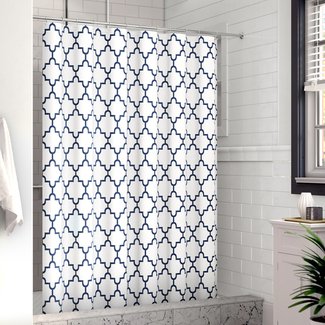 Otisco Single Shower Curtain
If your bathroom needs a quick update, try installing this classy, sporty shower curtain to spice it up. Adorned with a geometric trellis design across the entire curtain, this piece exudes old world class and sophistication and is a great focal point in an otherwise monotonous bathroom. A navy design on a simple white background blends with almost all color schemes, and the geometric shapes translate well to both contemporary or more classic décors.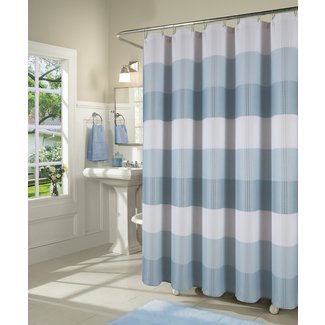 Mauldin Waffle Weave Fabric Single Shower Curtain
Available in a range of neutral colors, from subtle grey to blush, the August Grove Maudlin curtain is an excellent choice for a contemporary bathroom. This curtain's stripe and block design with a waffle weave create an interesting pattern while at the same time keeping your bathroom splash-free. A cinch to install and clean, this 100% polyester curtain will bring a touch of class and privacy to any bathroom.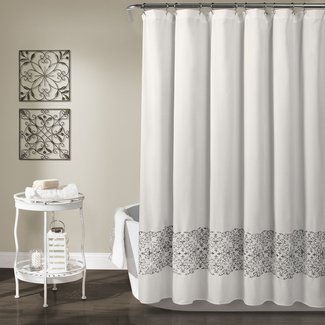 Mantooth Shower Curtain
A simple white curtain adorned with baroque detailing at the bottom; this shower curtain would work well in an ornate, embellished home. Stylistically, it would also fit in with a simpler décor as a pop of opulent detail. An intricate vine design runs in a band around the bottom of the curtain. This curtain is easy to install and wash, but make sure to put it in a mesh bag and use cold water to preserve its quality.