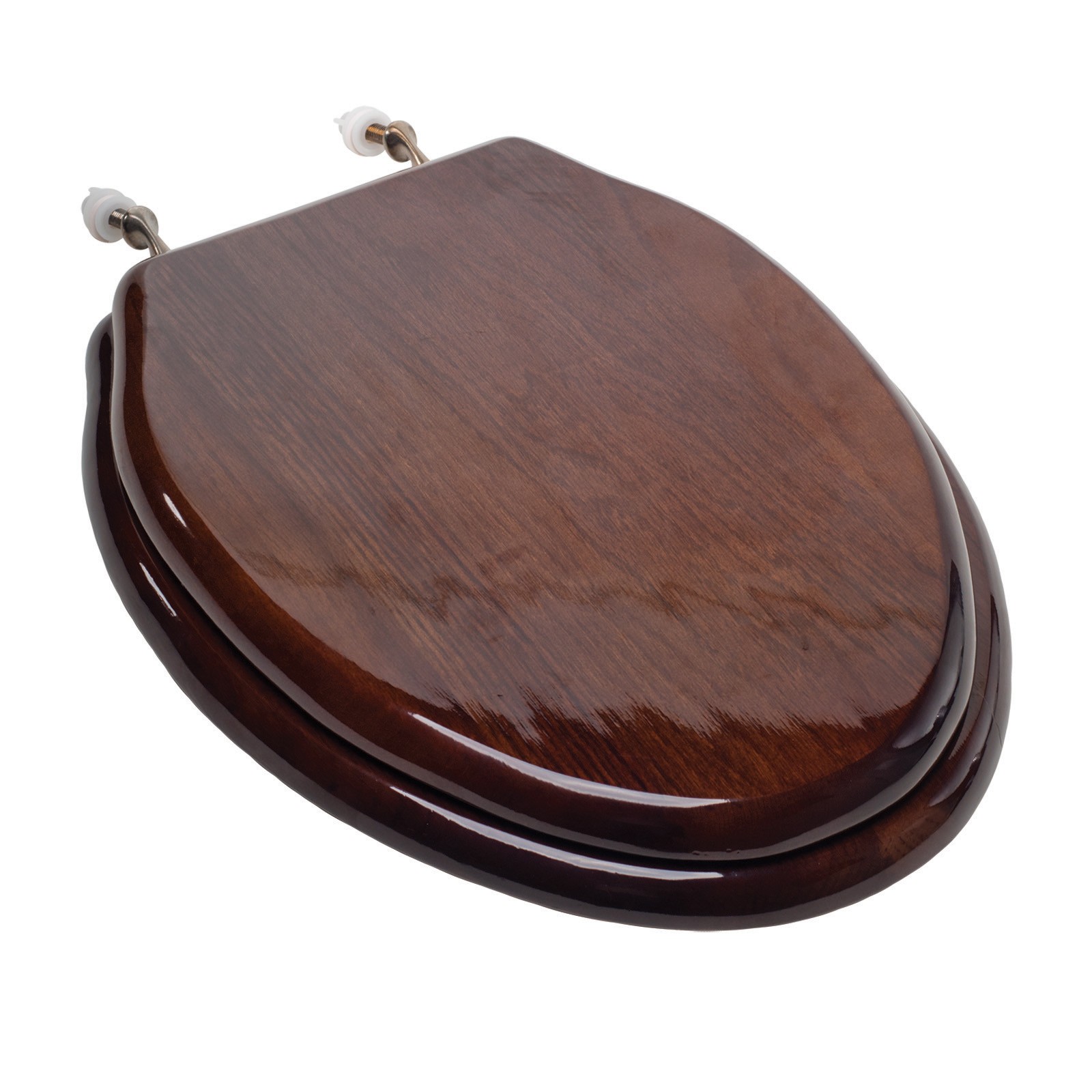 Designer Solid Wood Elongated Toilet Seat
Add some stylish durability to your bathroom with this solid wood elongated toliet seat. It has factory installed hinges that are PVD plated, corrosion resistant and perfectly aligned between the cover and seat. Includes also built-in anti-microbial agent.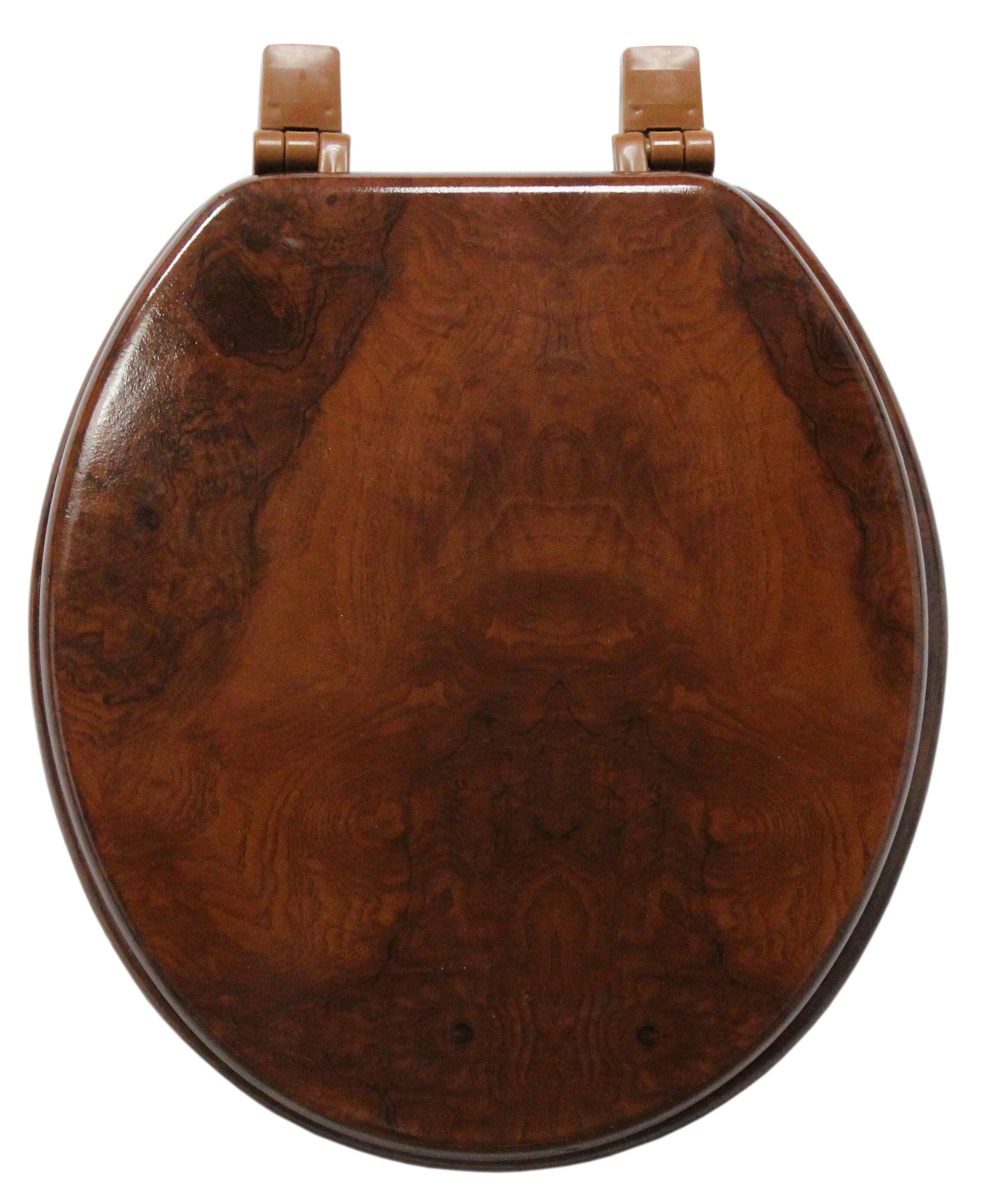 Marbleized Molded Wood Round Toilet Seat
Toilet seat with faux marble painting made of wood. Its size fits standard toilets. Additionally, the seat is water and stain-resistant, which makes cleaning it and its maintenance very easy and practical.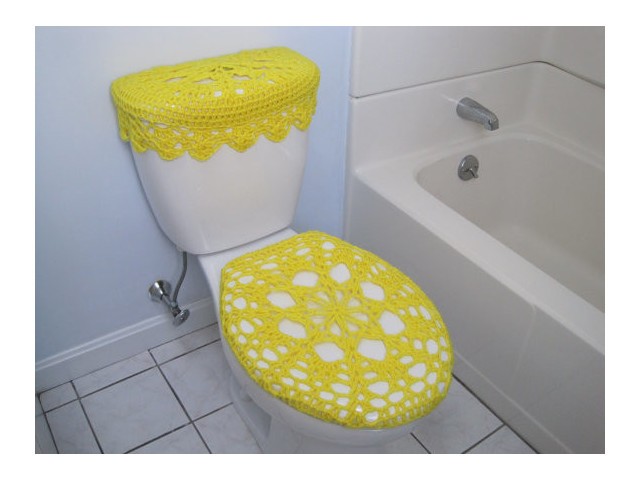 Reserved For Vicky Set Of 2 Crochet
Hand-crocheted with the highest attention to details, this cover for your toilet seat and tank lid will instantly make your bathroom feel more homely and charming, while its bright yellow finish brings some more life to it.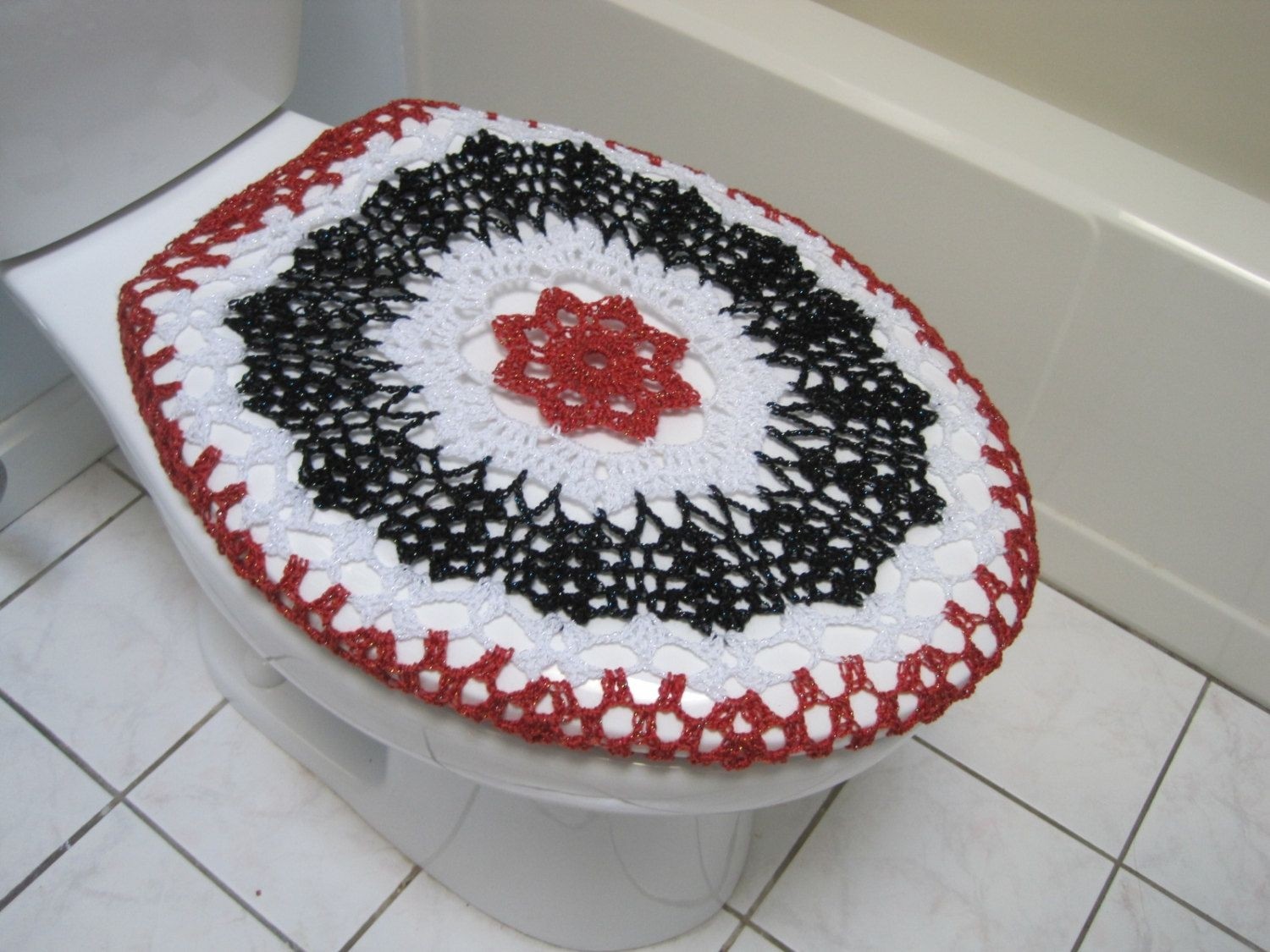 Crochet toilet seat cover or crochet
Mosaic toilet covers can always constitute a funky accent to the space, creating an inimitable appeal. Hand-crocheted with the same pattern, 95% acrylic/5% metallic (sparkles), fits any kind of toilet seat and tank lid.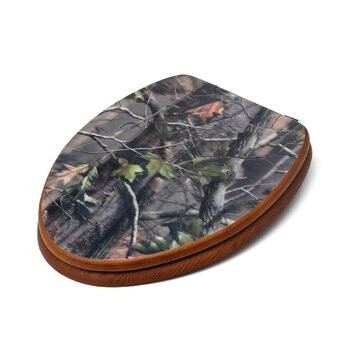 RealTree Camouflage AP Elongated Toilet Seat
This is an elongated toilet seat that offers maximum comfort and hygiene in the toilet. It has got a solid top with the picture of a tree. It is a durable piece of equipment that looks nice in any toilet design.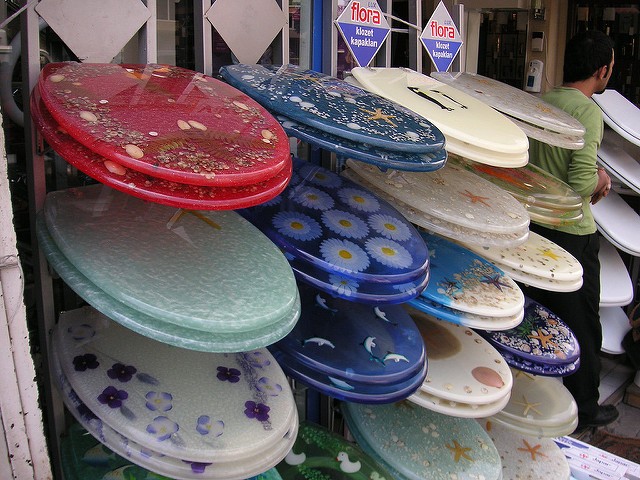 OK, that's indeed a wide range of unique toilet seats to choose from. Some people want their toilet seat to be outrightly decorative, even dramatic in some cases, and this choice of flowers, shells and sealife is decent to sift through.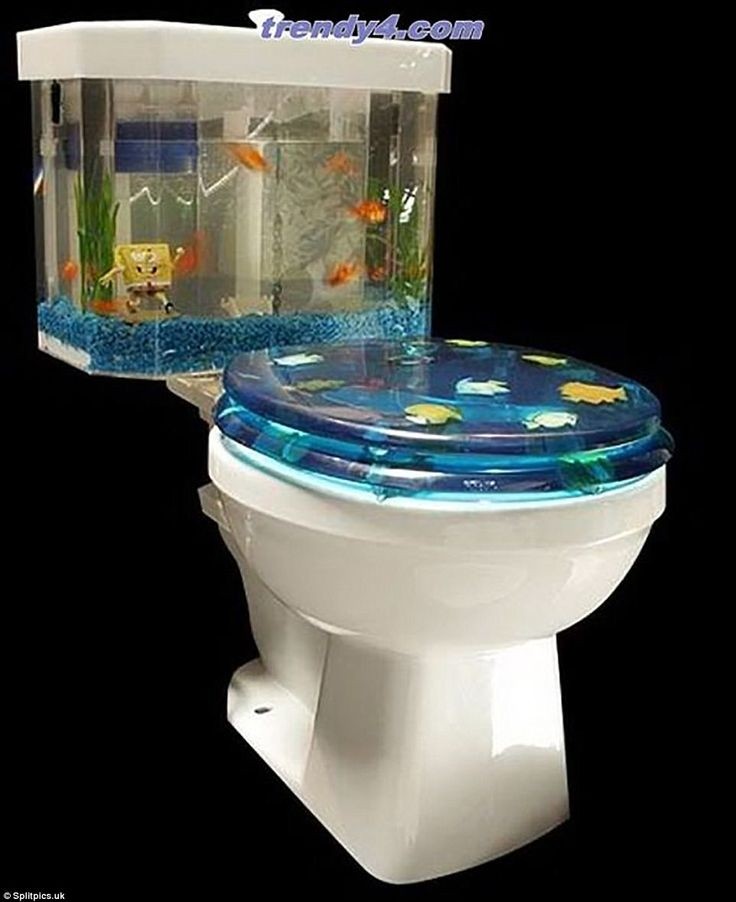 Number 7: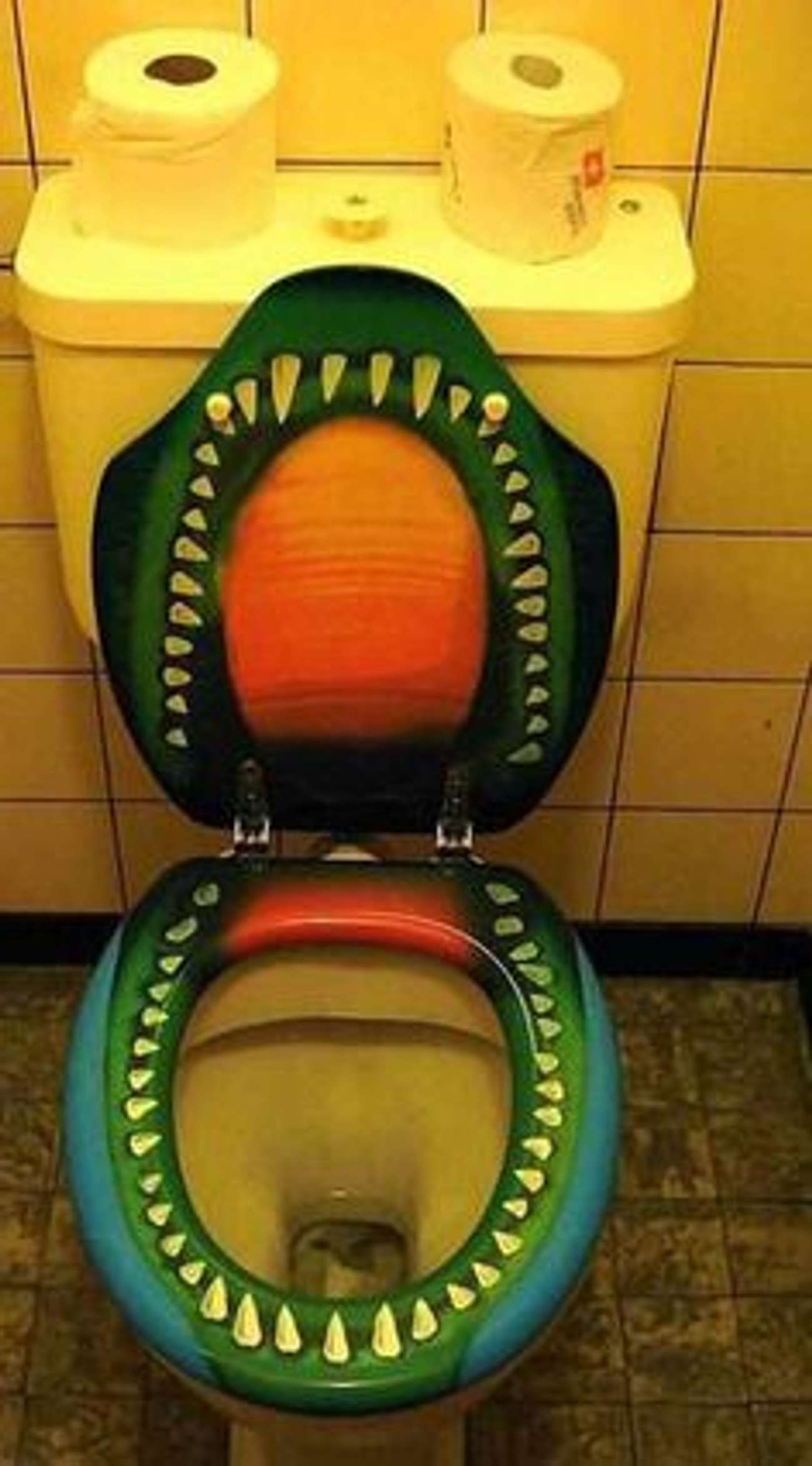 Why not add a fun choice for your bathroom with this hilarious, designer toilet seat and cover that looks like the mouth of a monster, packed with colors and ample originality. It will make your space into a truly original and unique one.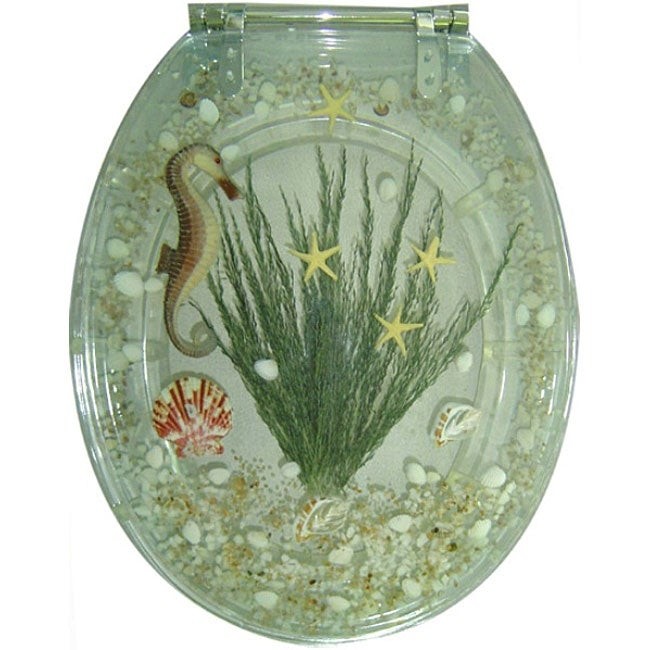 Why not add a charming accent piece to your bathroom with this lovely toilet seat that sports the decorative theme with the seahorses and under the seat shells. It will keep the interior warm and welcoming.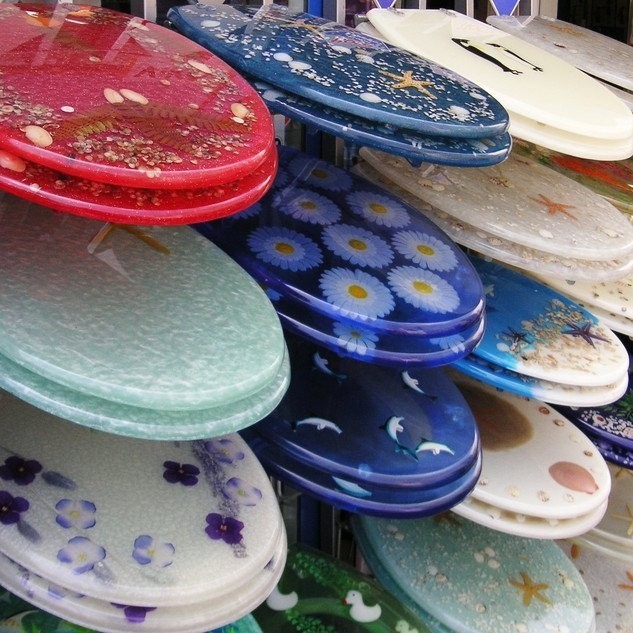 A whole variety of differently themed toilet seats, ready to embellish any bathroom. This vibrant set comprises a full palette of colours, from white, through celadon, red, purple, on a navy blue ending.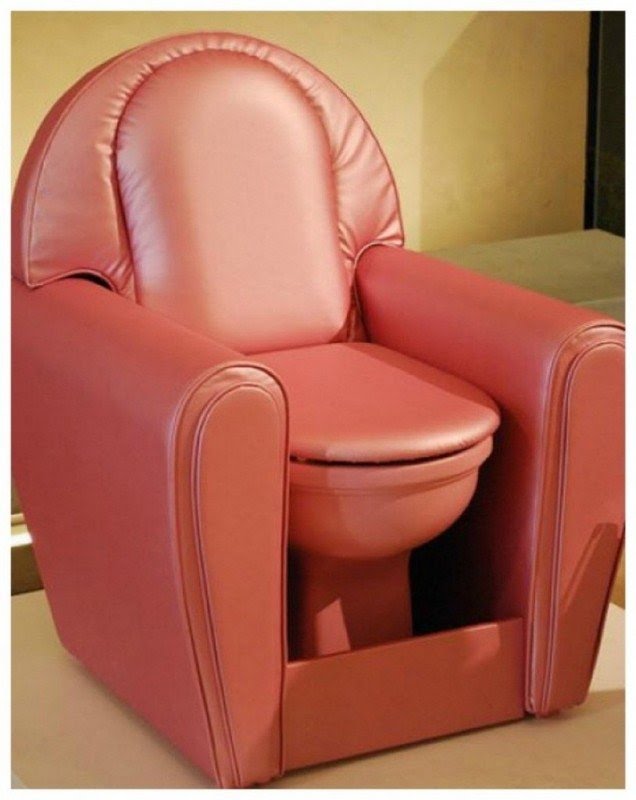 If you just can't help yourself and want to add a hilarious piece to your home decor, while at the same time making sure you can use its practical side then this toilet armchair will do the trick with its original shape.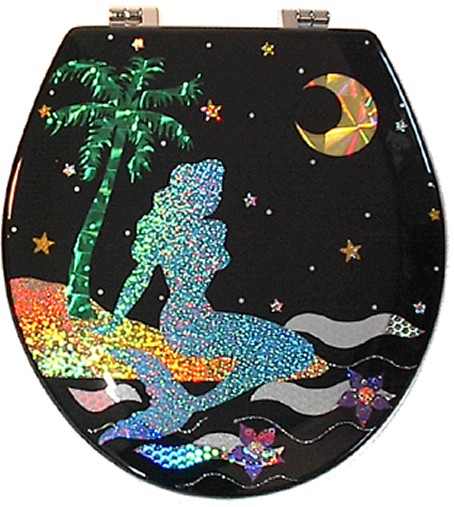 This mermaid toilet seat design is a unique proposition for all, who like to have some funky decor accents. It takes to the world of fairy tales and legends, being an attracitve proposition for both kids and adults.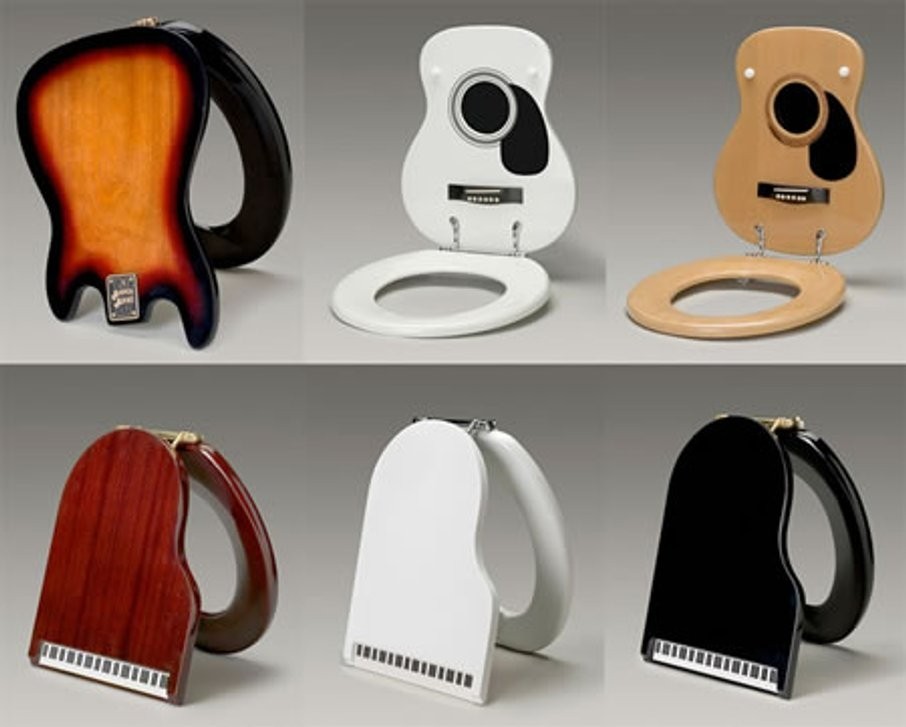 Oh my god, I have never seen so incredible toilet seats. This collection is inspired of music instruments, especially piano and different types of guitar. It is very stylish and funny present for every musician!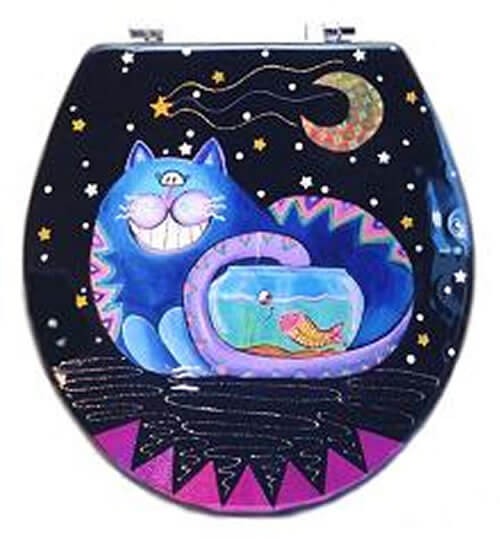 This magical cat has swallowed half of the universe, becoming a blue-glowing star, hunting for a fish in an aquarium. In it, the black secret of the universe with the moon and the sun - and this is just a unique toilet seat for your home.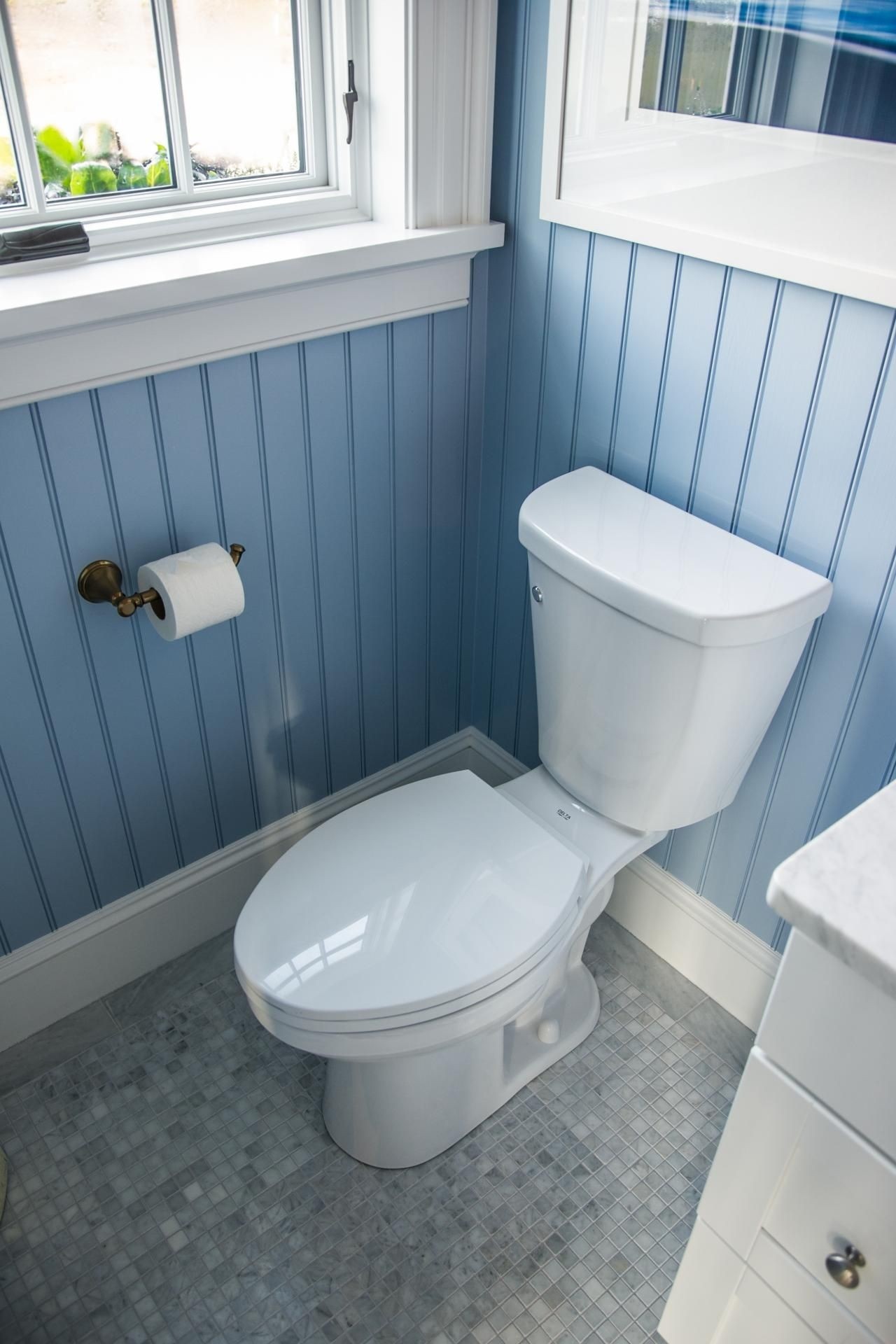 Unique toilet seat with gloss finish. Adds freshness and modernity to any bathroom. Suitable for residential and commercial premises.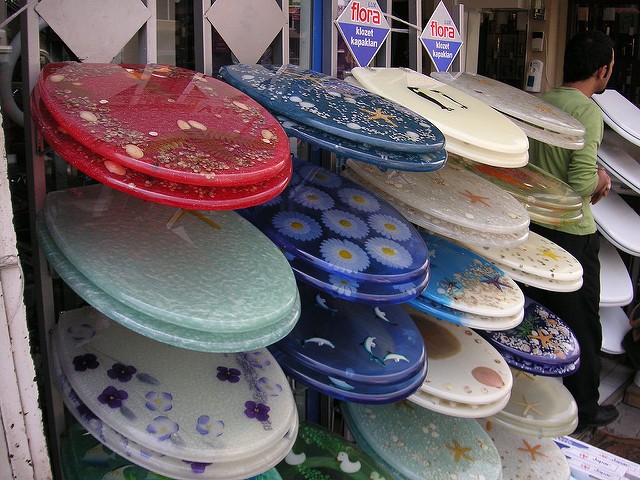 A good choice of various toilet seats that will help you to find the one you are looking for. The toilet seats come with different types of material, and various colors and patterns, but with each of them also working like a charm.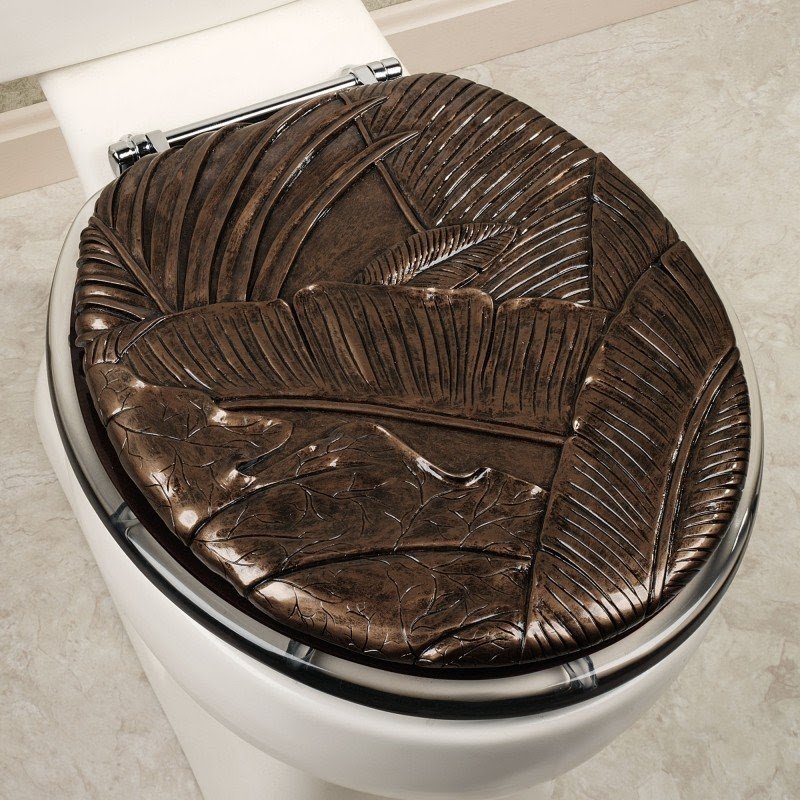 If you want to incorporate a bit of the tropical climate straight into your interiors, why not invest in a such a decorative toilet seat? Its unique design resembles the palm leaves, adding a cool, coastal vibe to your bathroom.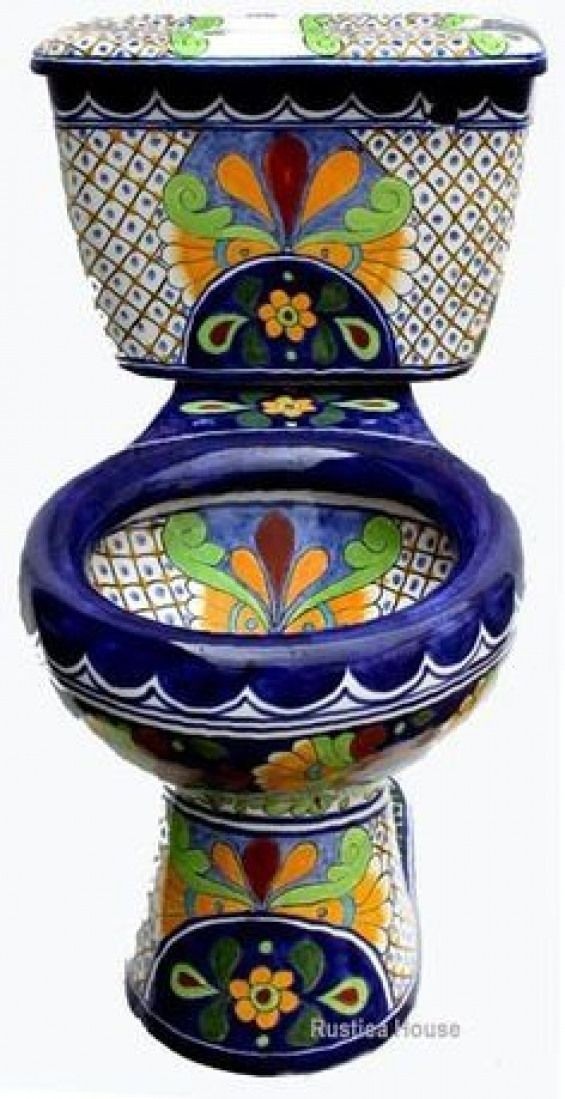 Bathroom set in a Mexican style. Set is consisting of hand painted sink, toilet with traditional pattern, mexican toilet seat and ceramic accessories. This untypical make your bathroom more special and oriental.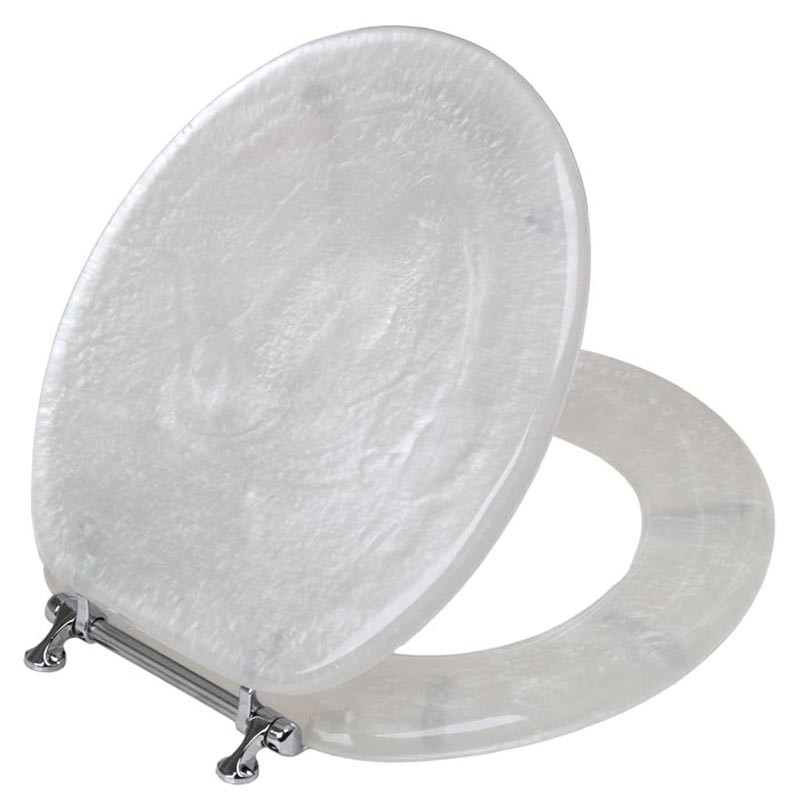 Why not decorate the bathroom also through the unique toilet seat for your home.It has a pearly color thanks to a texture with a chrome-plated classic appearance made of acrylic. The pearly color adds lightness and potential to a bathroom in a Marianist style.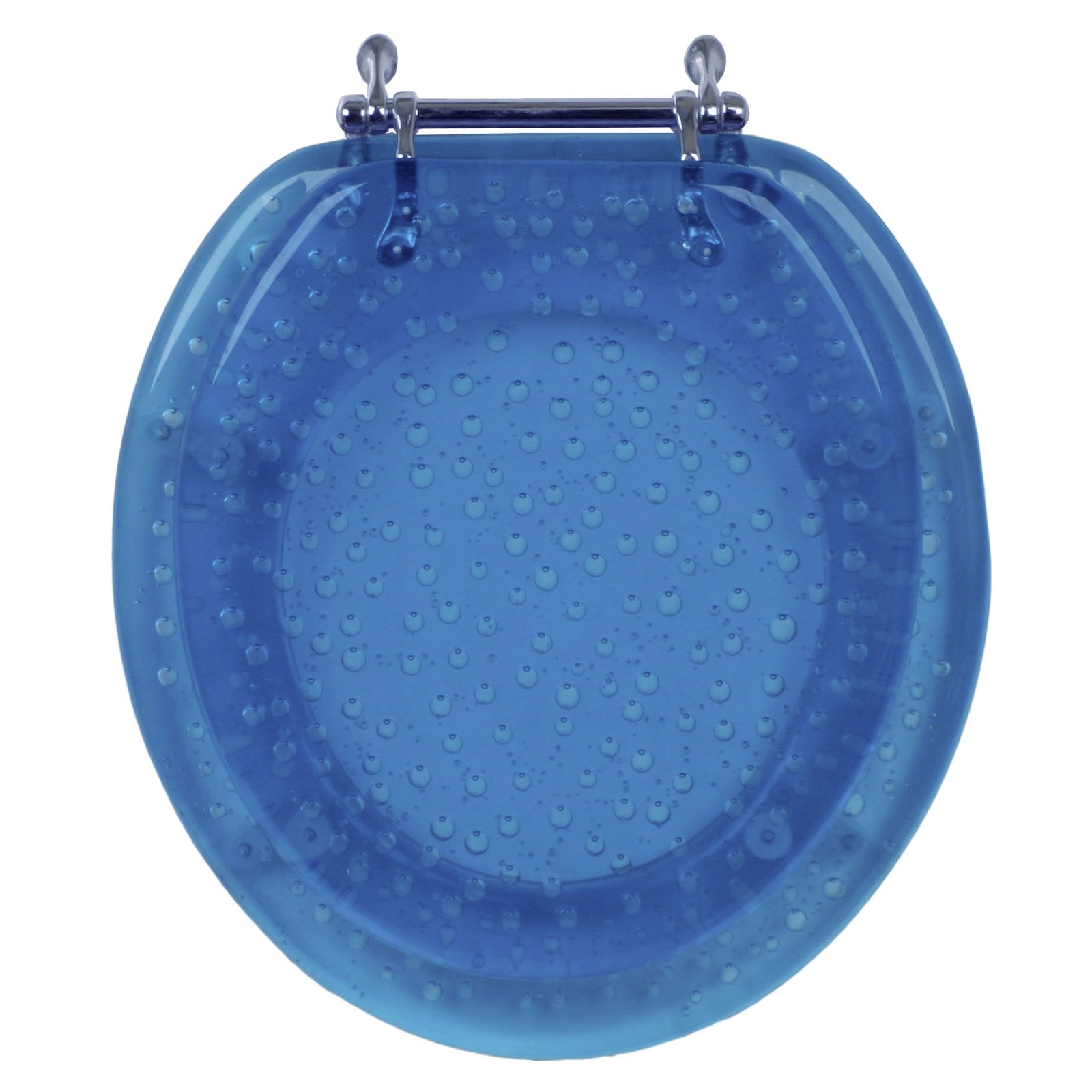 Every place is good to personalize - even a home toilet. Instead of a dull white toiletry board, you can use the blue decorative chrome toilet seat for your fome - made of acrylic. Funny character add bubbles trapped inside.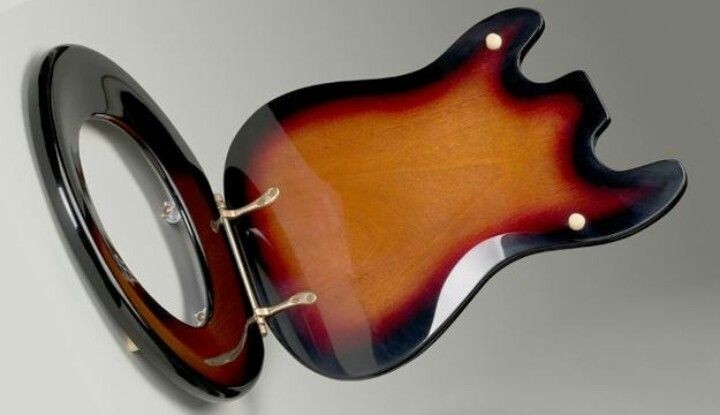 Unique design for an unusual bathroom toilet seat, made to resemble a guitar. The toilet seat is actually made out of real wood but has a thick layer of laminate cover which makes the wood save and gives the seat a shiny look.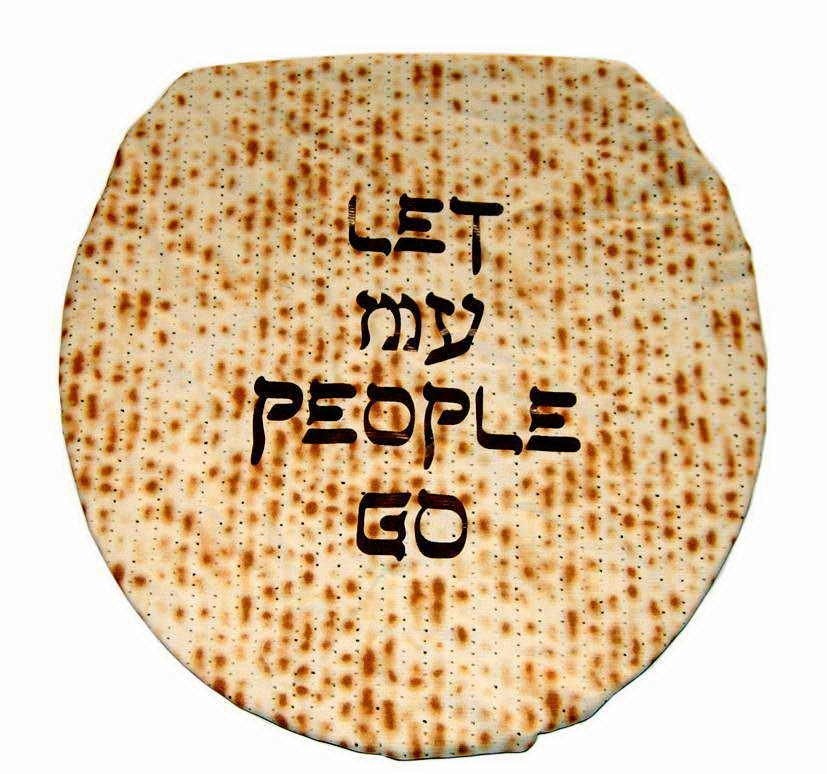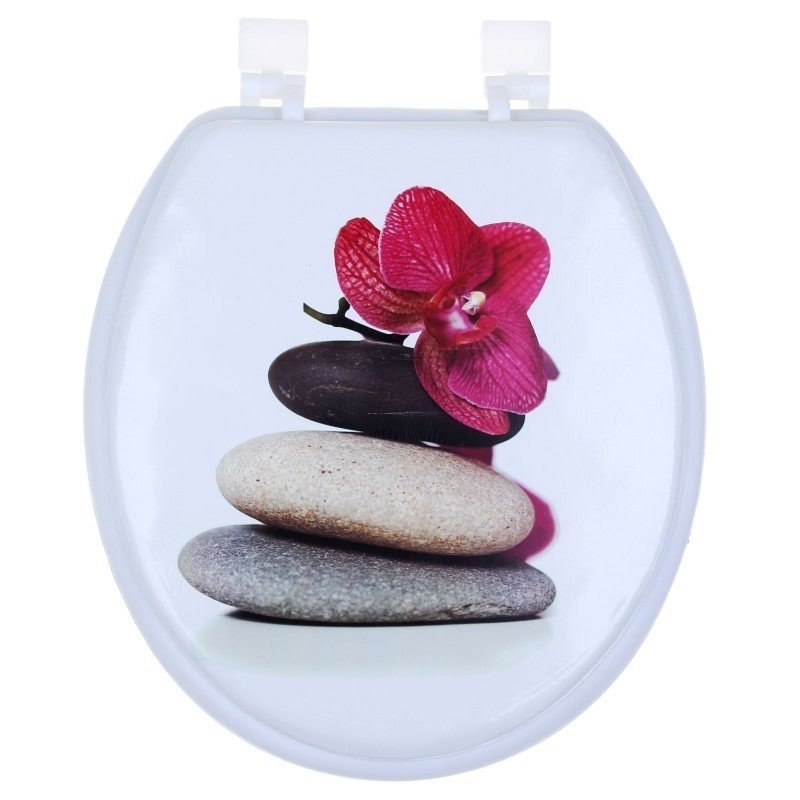 Comfortable and decorative cushioned toilet seat in white, with big high definition picture printed on its top. The image depicts fuchsia pink orchid and some pebbles; the print refers to spa accessories.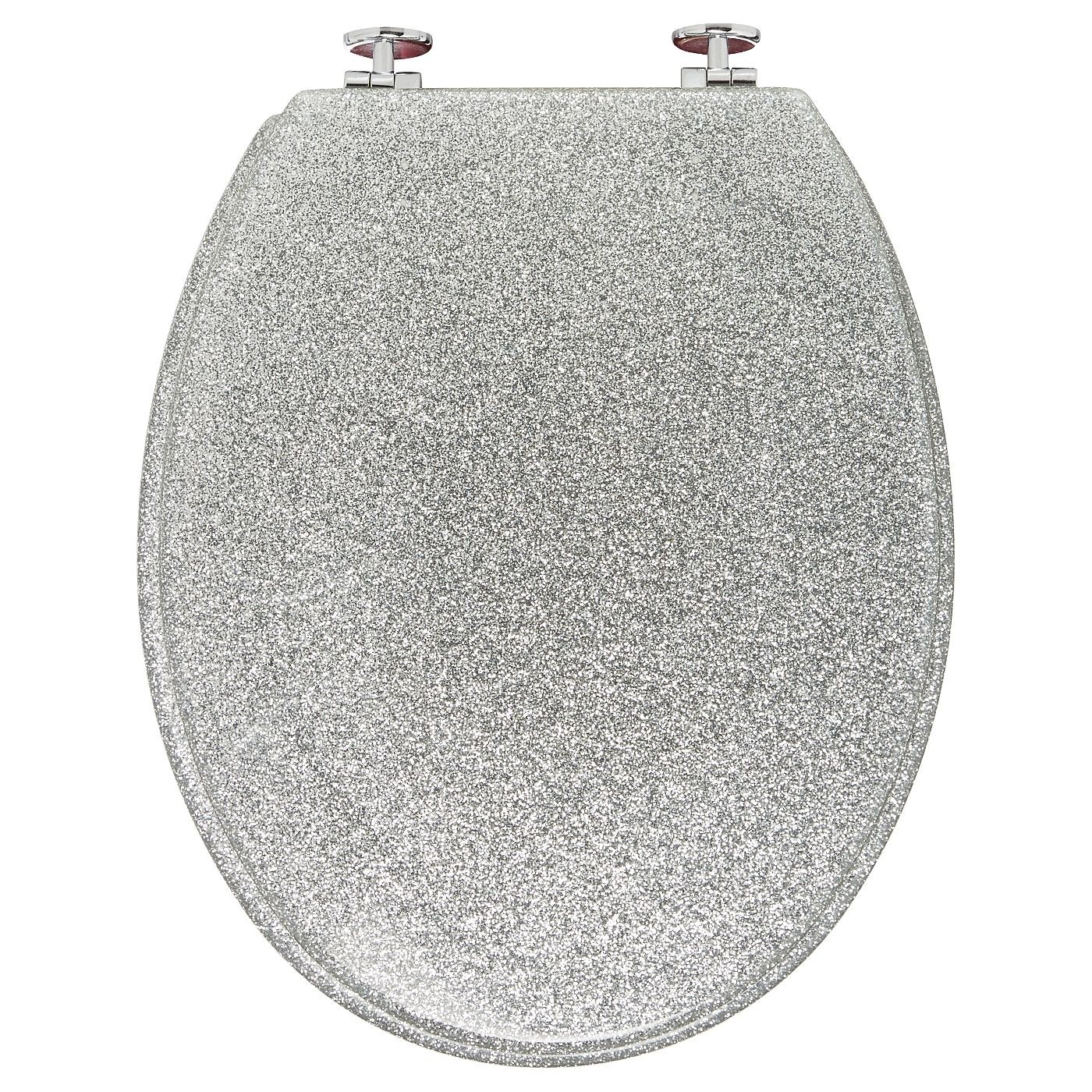 Elegant toilet seat. It has metal, silver-plated brackets. This seat is made of ceramic and it is covered of glittery, silvery stickers. This lavatory is very comfortable and durable, so it plays its role even during stomach flu.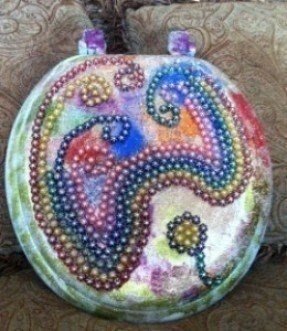 The beautifully decorated toilet seat is a great way to revitalize the bathroom. Beautiful details and attractive ornaments will bring color and joyful atmosphere to the decor. Great solution for any home.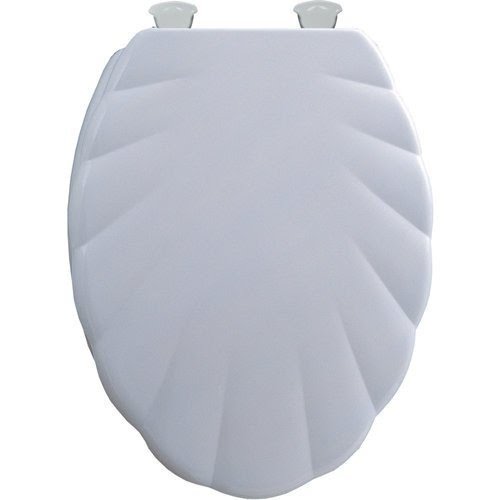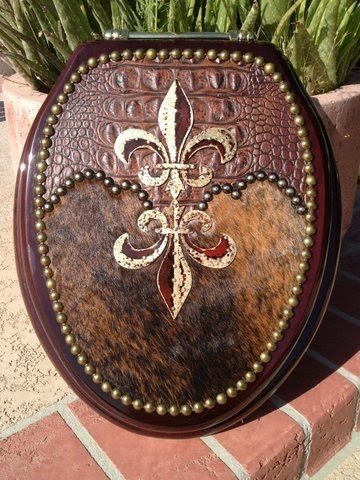 If you want to add some unique style to your bathroom, this decorated toilet seat will be a great proposition. Inimitable design, evoking unconstrained associations with western, will be a real bargain for all rustic style fans.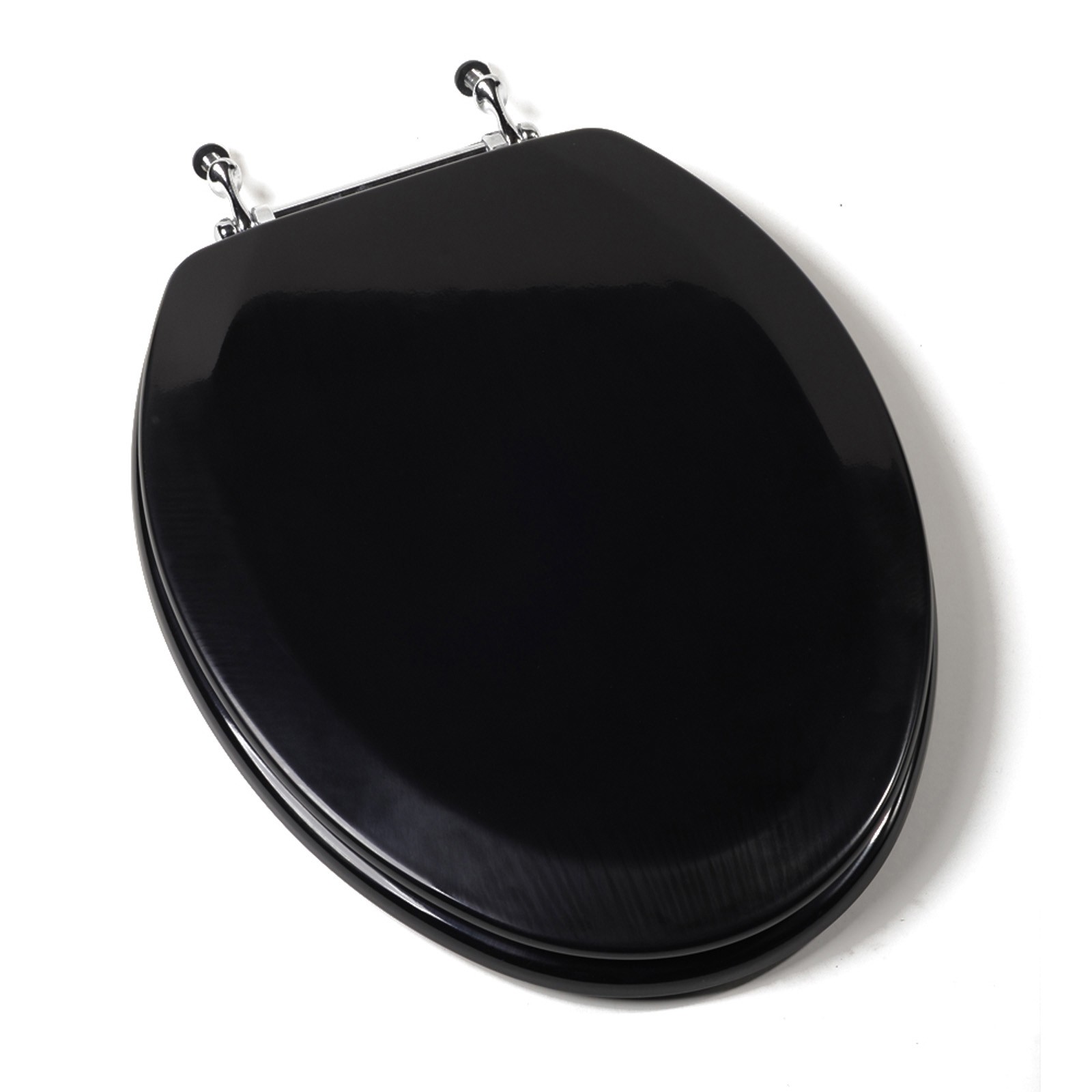 Deluxe Molded Elongated Toilet Seat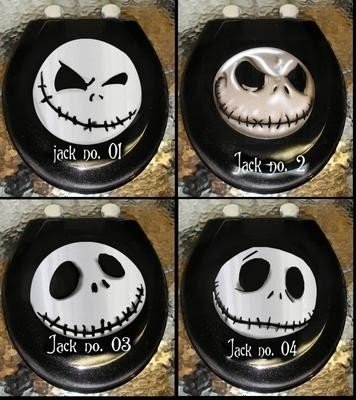 A funny toilet seat decoration, if you're looking for some funky or vibrant accents to your bathroom. Black finishing with a face of different countenances stands for lightness and freshness.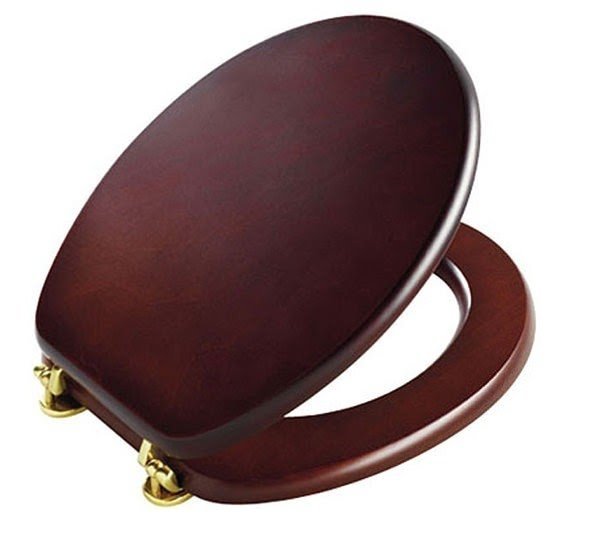 Image of Tavistock Premier Toilet Seat With Gold Hinges Mahogany ...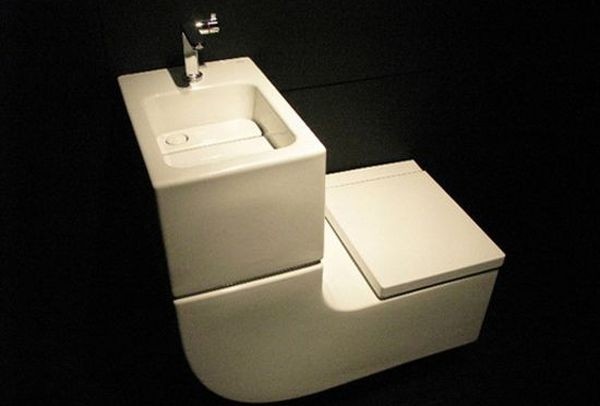 Very original toiled seat connected with a side sink. It features a very practical water recycling system. This bathroom element is made of durable materials that are comfortable in use. White finish looks good in any home design.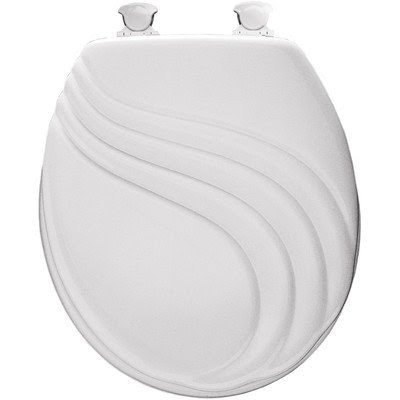 With its exclusive swirl design complementing bath décor, this wooden round toilet seat with Lift-Off Hinges is made in Sheboygan Falls, Wisconsin, USA with environmentally friendly materials and processes.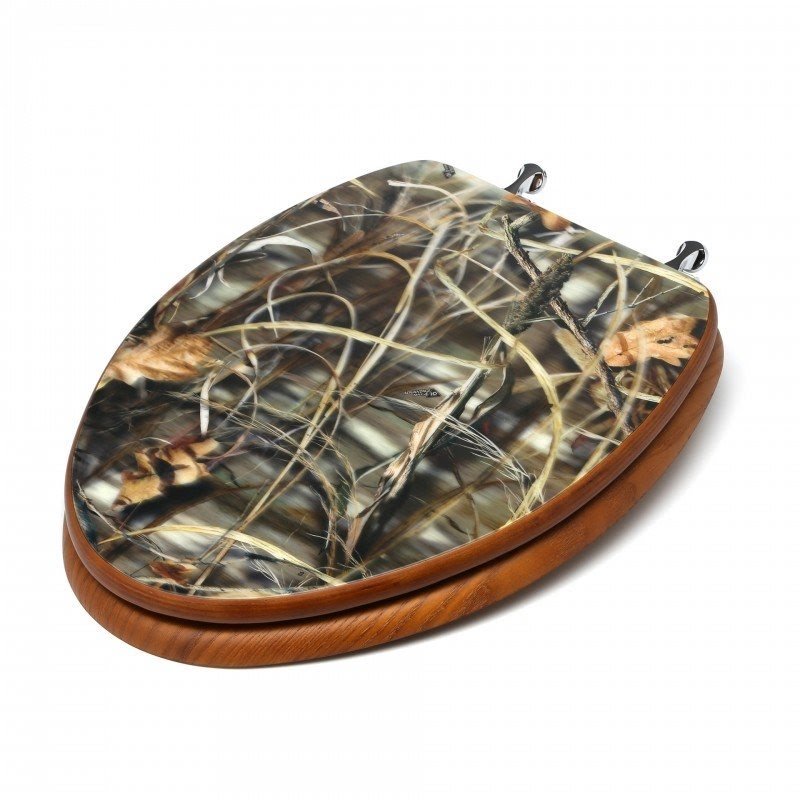 RealTree Camouflage Advantage Max HD Elongated Toilet Seat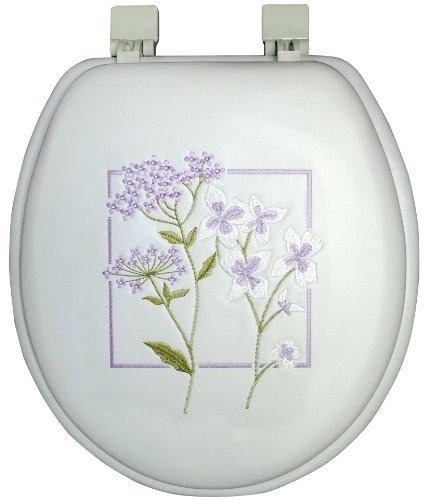 Ginsey Home Solutions Ginsey Home Solutions Emb Spring Blossom White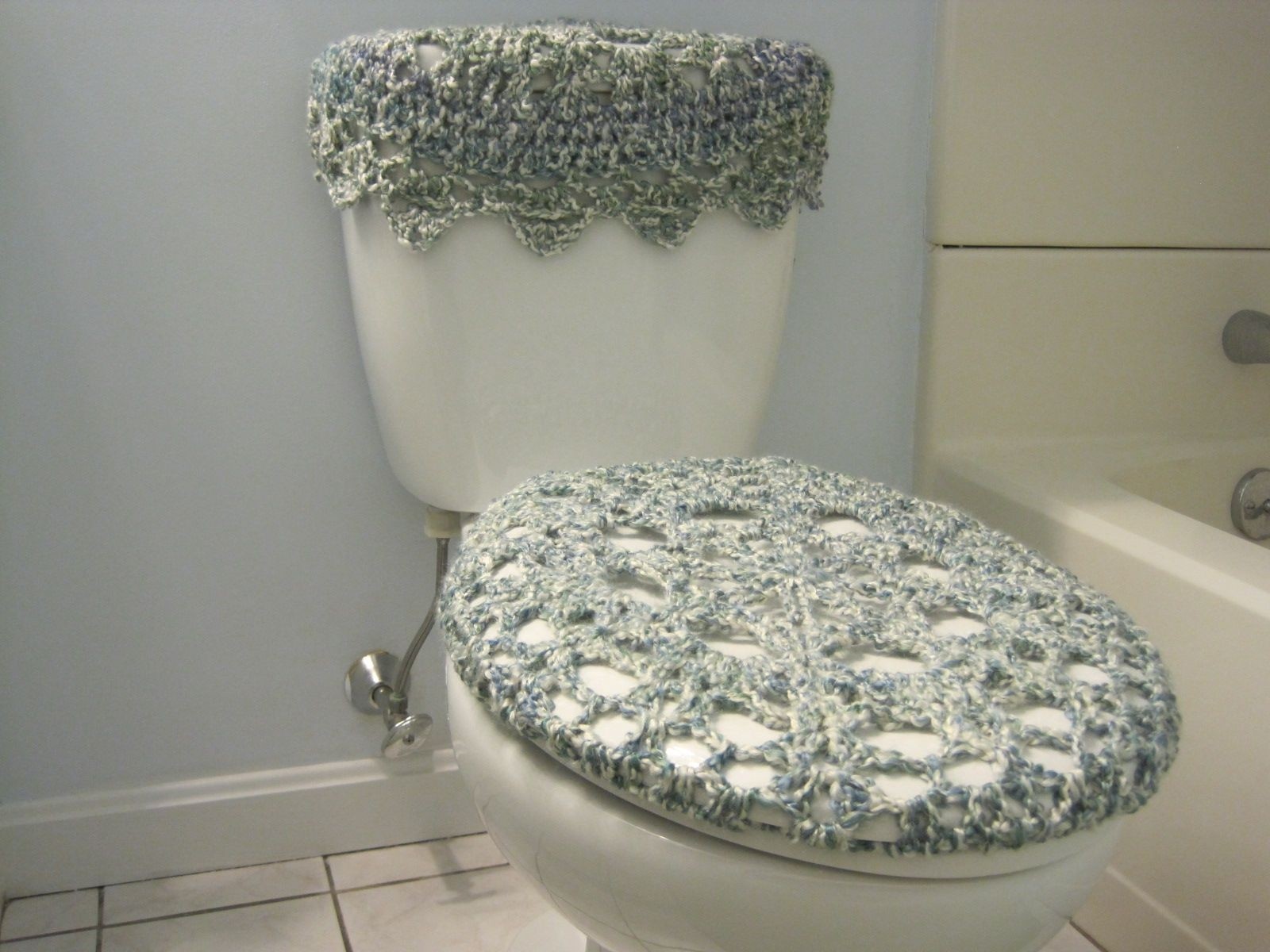 Out of boredom, you start to knit, but everyone already has scarves, hats, and sweaters made by you. Time for decorative clothes on the toilet, unique toilet seats cover for your home, in this case, made of greenish and gray wool.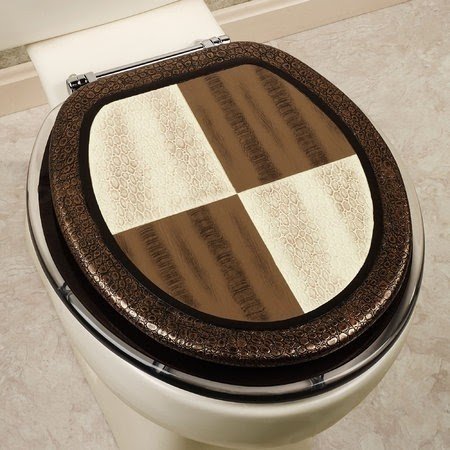 Home > Zambia Safari Decorative Toilet Seat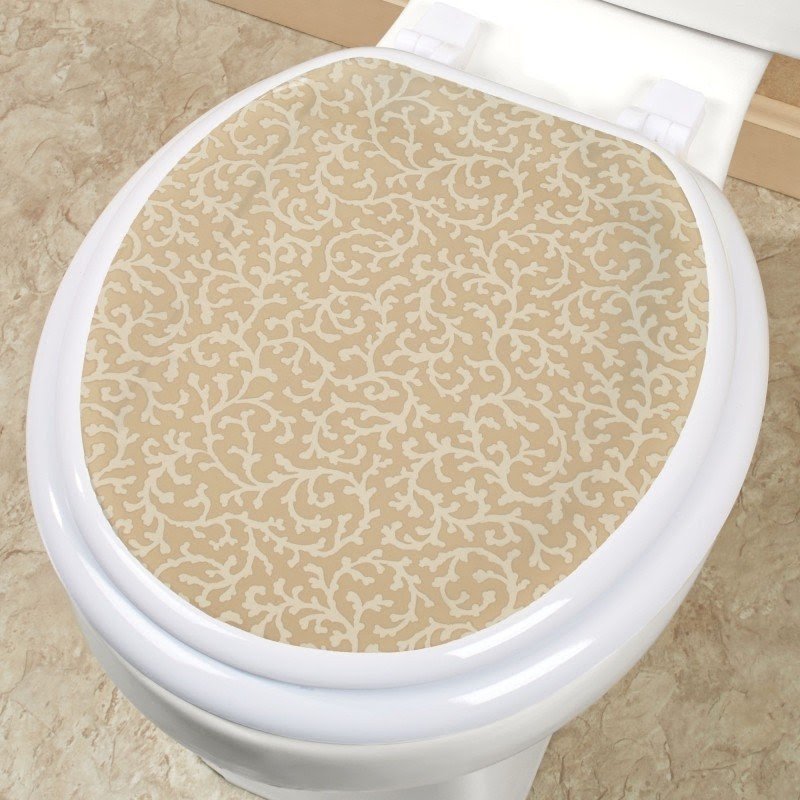 Home > Coral Cascade Decorative Toilet Seat by Waverly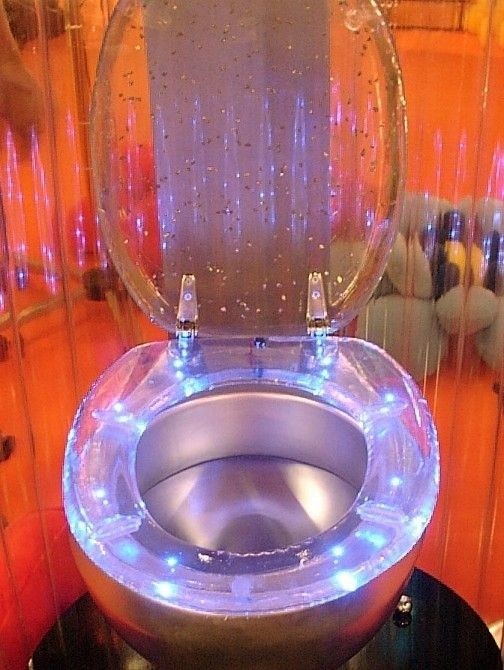 Unique Toilet Seats | Home Inspiration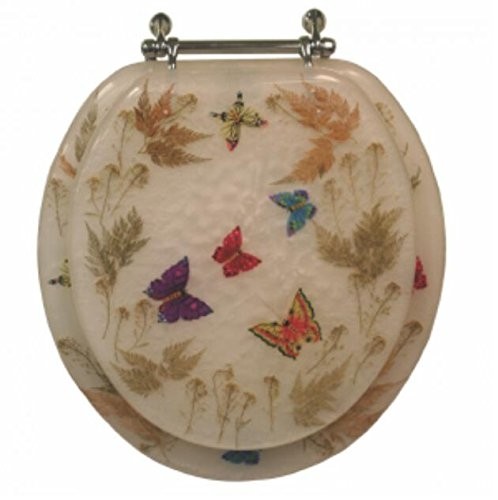 The Coolest and most Unique Decorative Toilet Seats!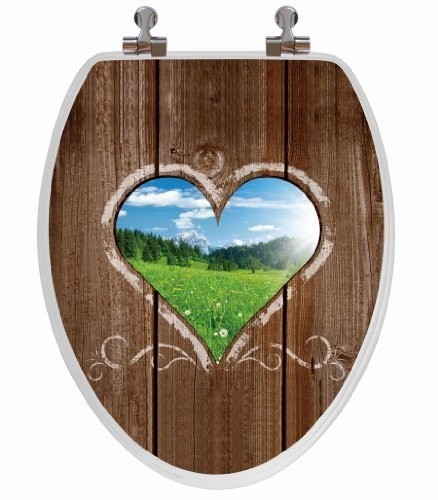 The Coolest and most Unique Decorative Toilet Seats!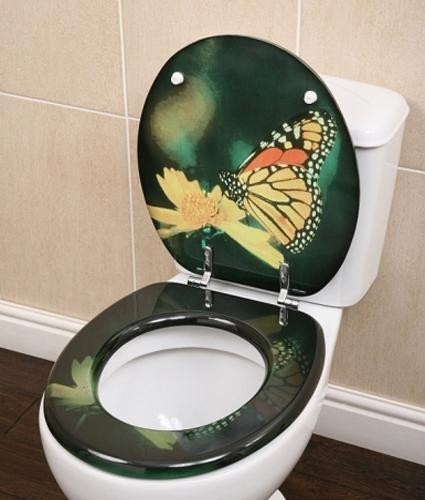 Designer Toilet Seat and Cover Ideas to Add Personality to ...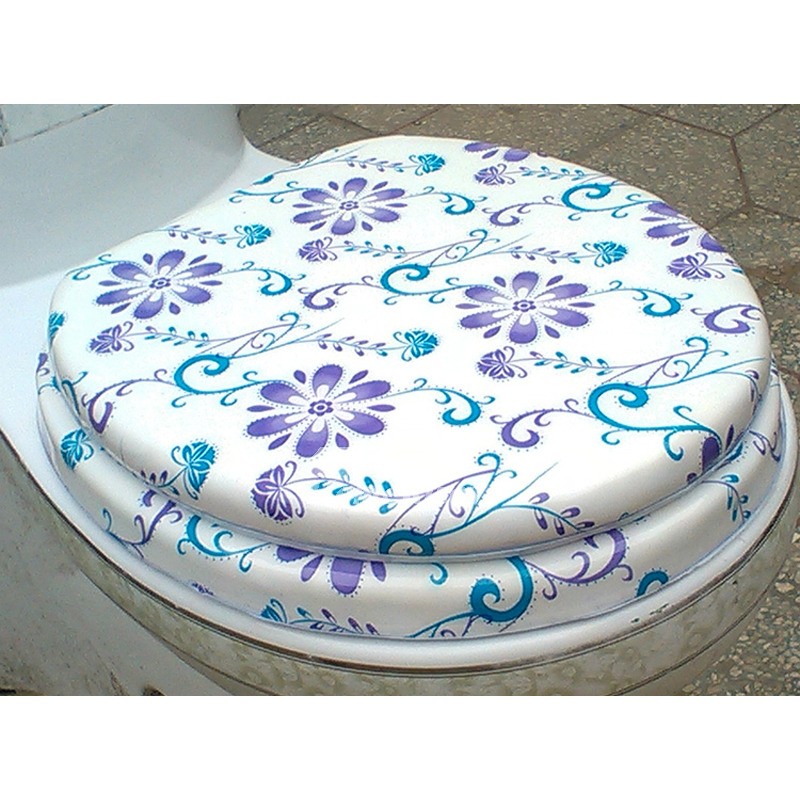 Decorative Toilet Seats o shaped PVC bathroom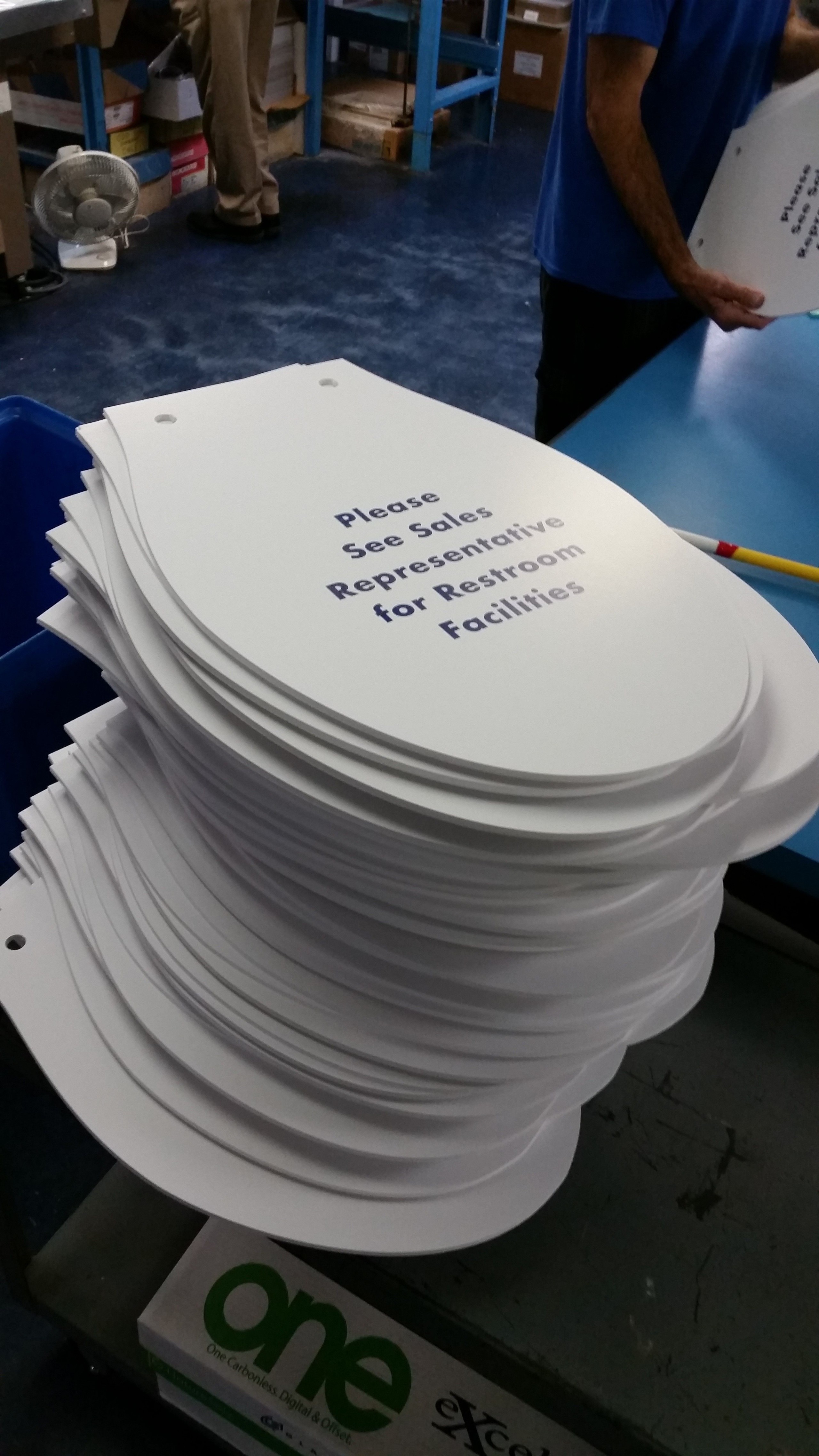 Sometimes we do unusual custom-routed requests... these ...