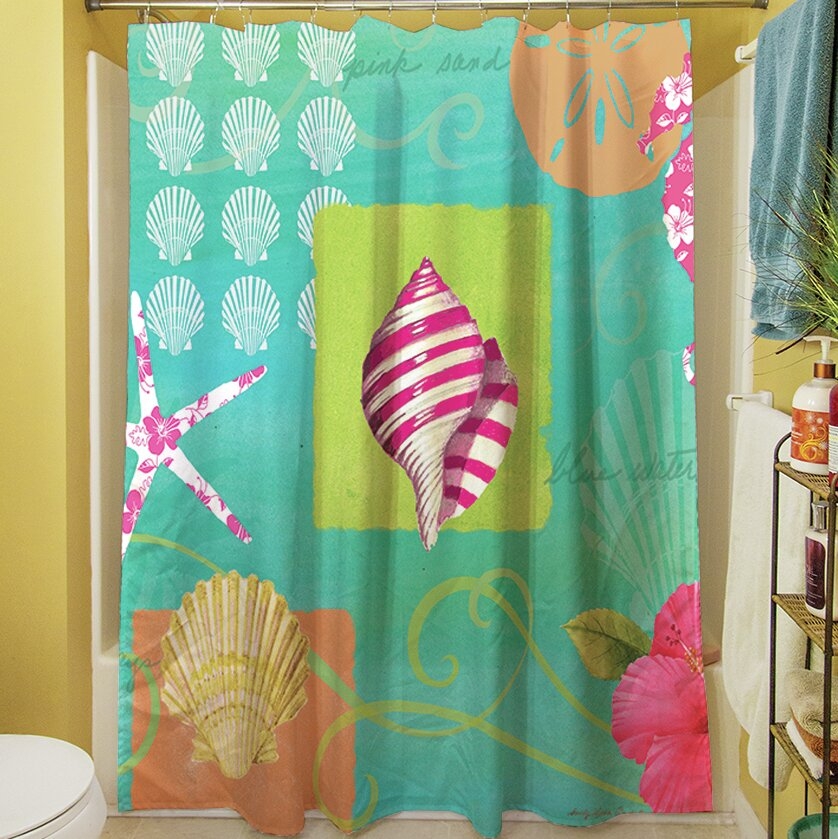 Tropical Beach Shower Curtain
Shower curtain made of high quality polyester and featuring appealing beach motif. Additionally, the material is waterproof and machine washable. The curtain also features 12 reinforced hook holes, which make it easy to mount.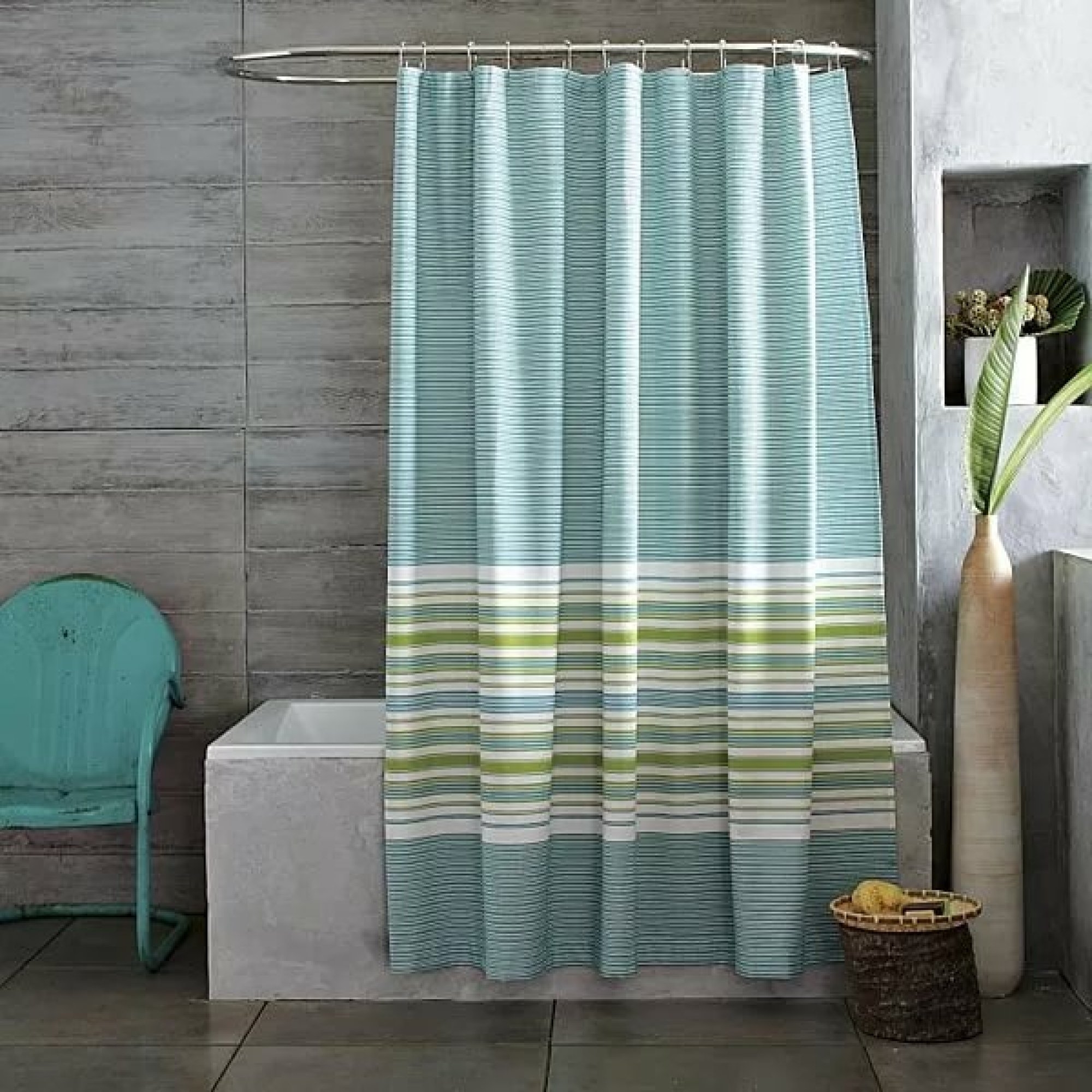 Gradiated stripe shower curtain
Lovely shower curtains behind which you could feel like by the sea. Beach theme stripe curtain like this makes a great invigorating impression in the bathroom. Great addition to a comfortable bath or shower.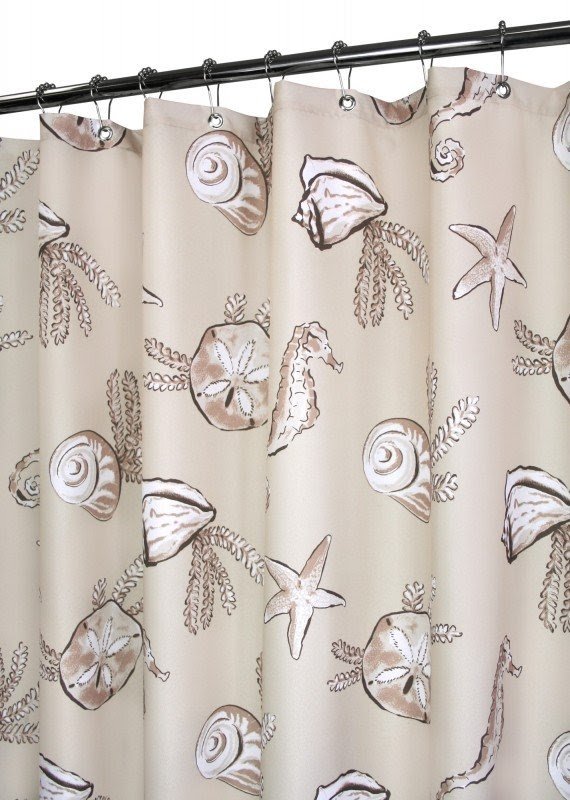 Watershed Prints Polyester Sea Life Shower Curtain
Aesthetic and trendy curtain with hooks for installing on horizontal rods. It is made of waterproof polyester with attractive printed sea motifs in shades of beige with lighter accents. Practical, a with weighted bottom rim, machine washable.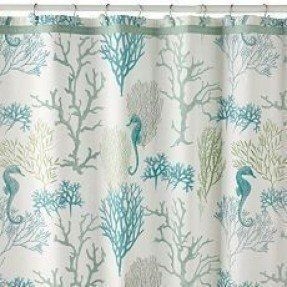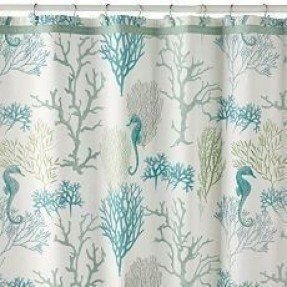 This beach themed shower curtain constitutes a great adornment of one's bathroom decor. Depicting the marine life, it will be a likeable accent by the children, as well as adults.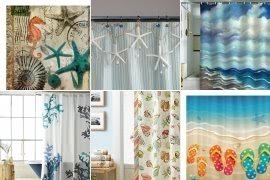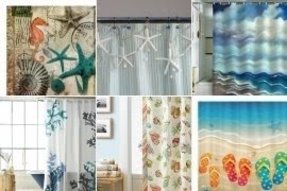 Durable and fashionable; this shower curtain emanates with oceanic themes - lovely adorned with blue and black seaweed patterns. It's all designed of a quality white material, with a reinforced upper part to prevent damages from curtain hooks.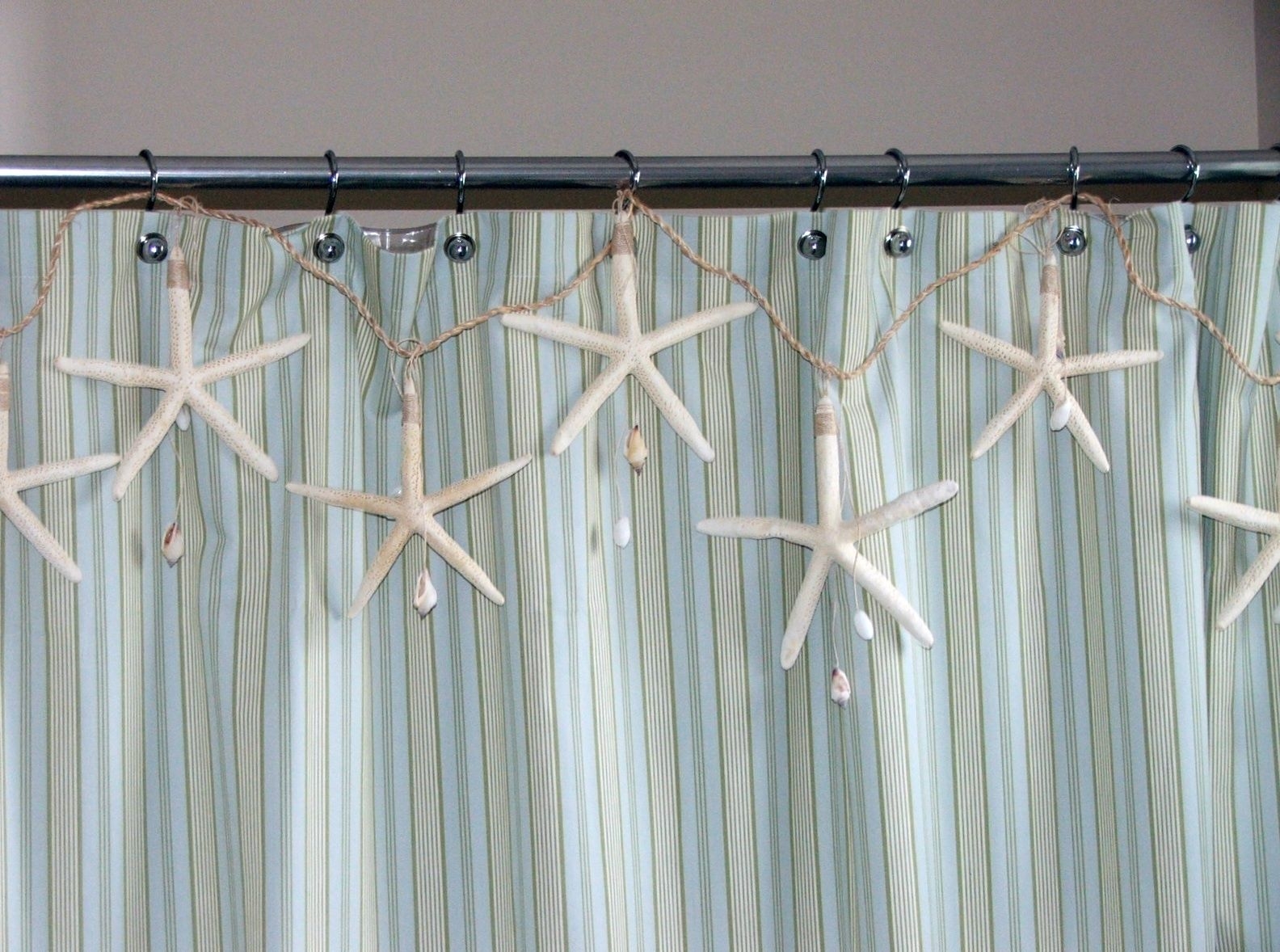 Interesting decoration and beautiful color and striped pattern of this shower curtain make the interior of the beach theme style. The whole of the eye-pleasing colors is stylish and very functional.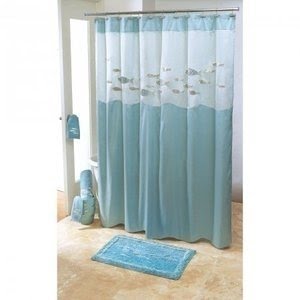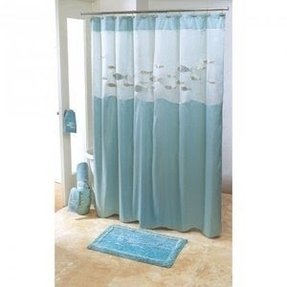 Beach or water themes are a natural for bathrooms. To further the water them, a shower curtain with fishes is a natural. Seawater blue lower area is topped with swimming fish across the upper third of the shower curtain.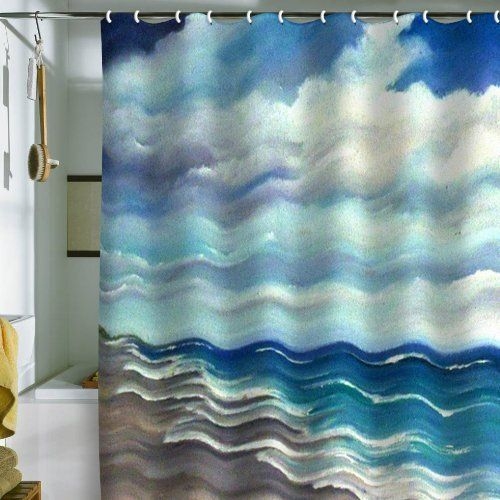 A shower curtain that will give your bathroom a beach look. It is in beautiful shades of blue, which resemble ocean waves. It will offer you privacy while taking a shower and it will also be a nice decoration of your bathroom.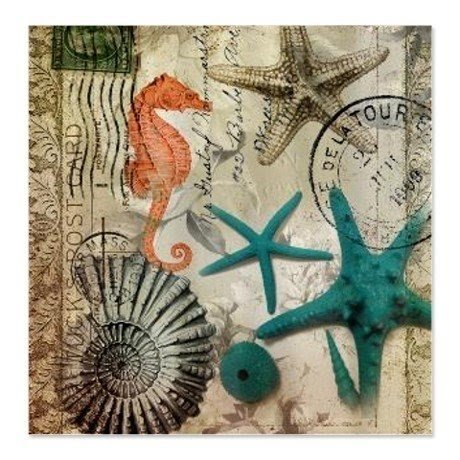 Nautical accents in the bathroom. This shower curtain features attractive seashells and other beach themes on its surface. It not only decorates bathroom, but also protects the rest of bathroom from water and moisture.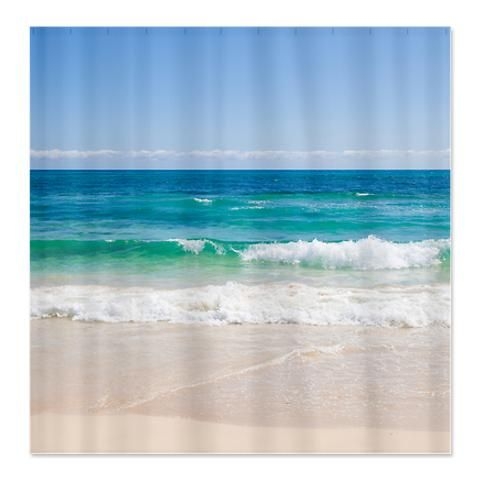 Original shower curtain with beach theme. It is made of waterproof fabric and fitted with hooks holes for easy assembly. Adds freshness and modernity to each bathroom.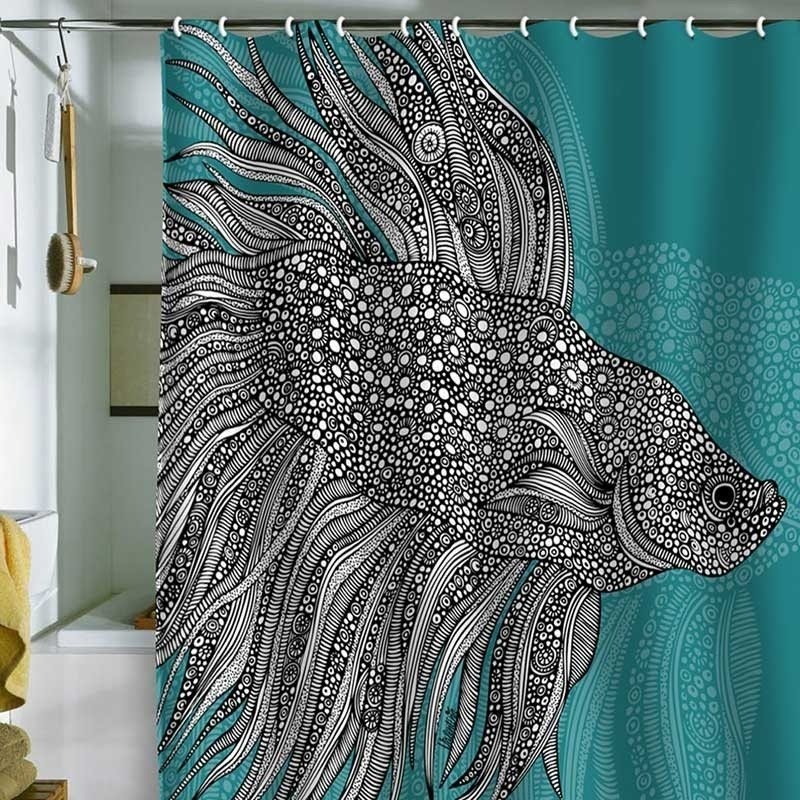 Gorgeous design for a fresh and colorful shower curtain – this one is made to depict a fish made out of different black and white shapes on a turquoise background, giving it a beachside house vibe and a vibrant look.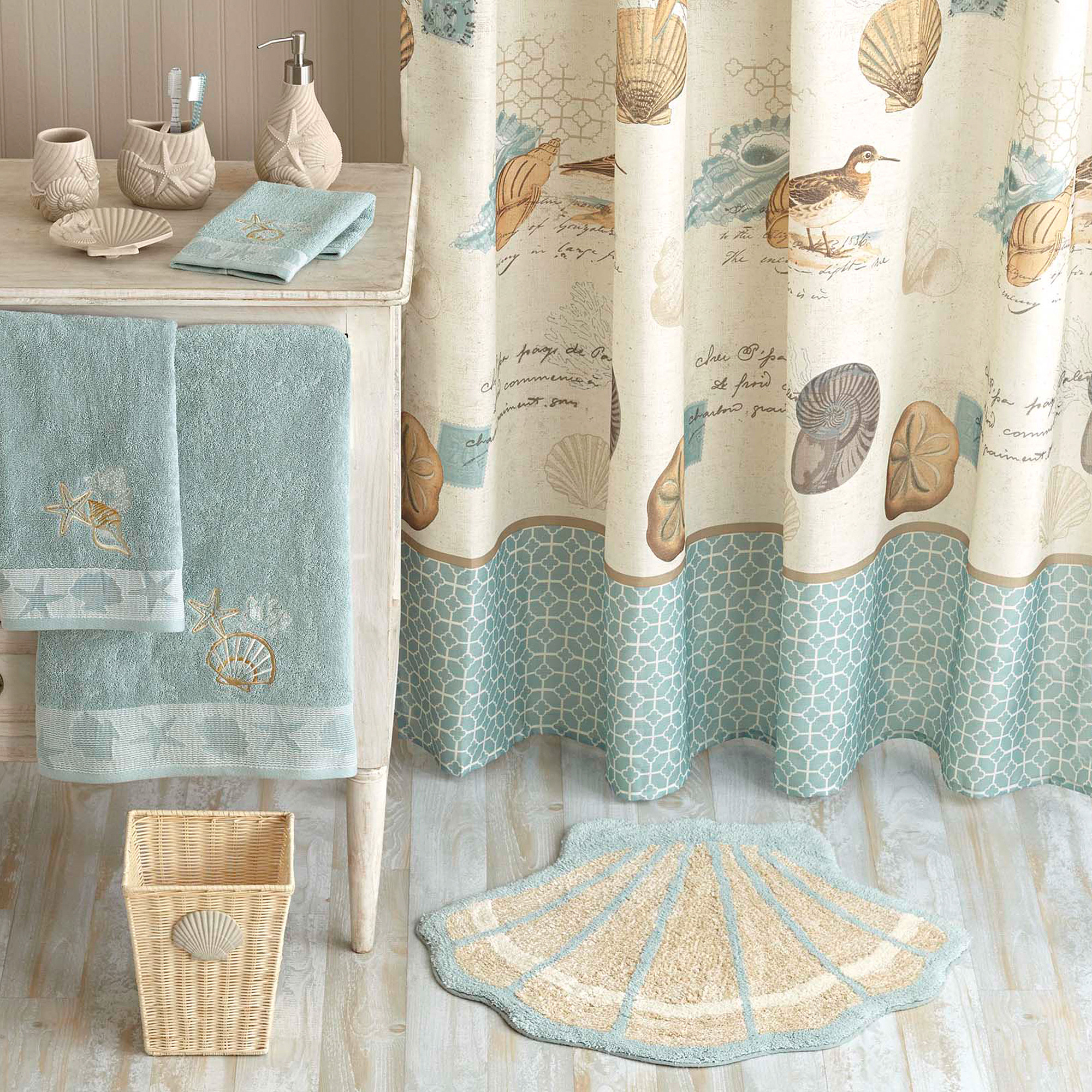 Highly water-resistant shower curtains featuring superb coastal-inspired design. The curtains feature a large background of white, neatly touched with elements of blue and other nautical accents for top class stylish appeal.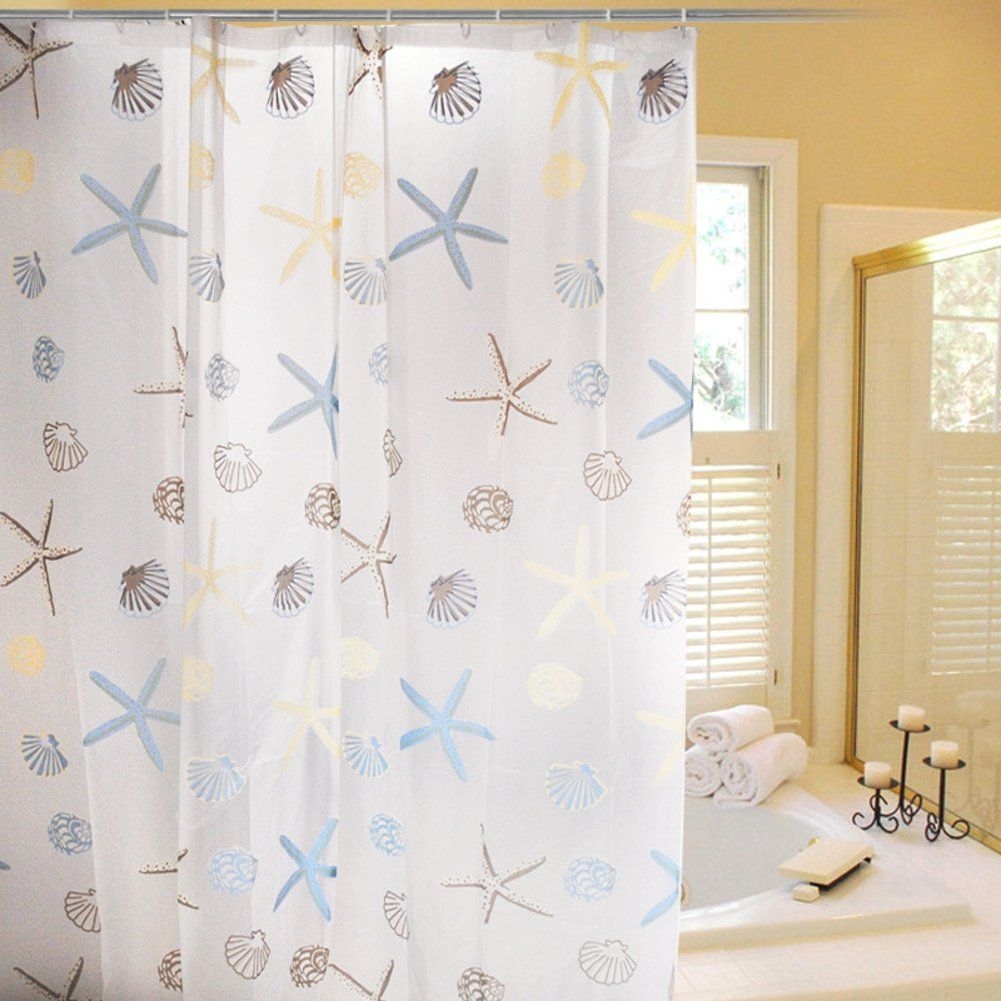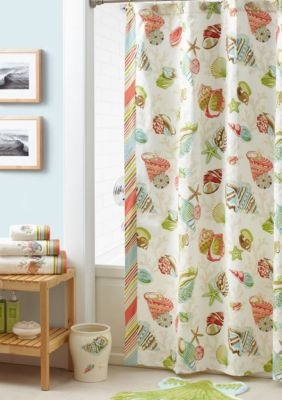 Stunning shower curtains build from water-resistant materials and featuring a superb beach themed design. The curtains are super large too and offer a great combination of bold colors that will liven up your bathroom. Several different sizes are also available to meet your needs.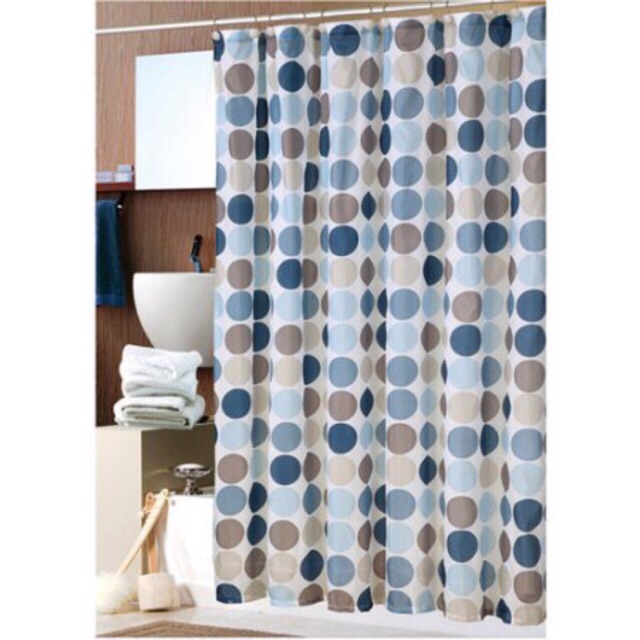 Next apartment - beach-themed bathroom? $12.97 shower curtain at Walmart.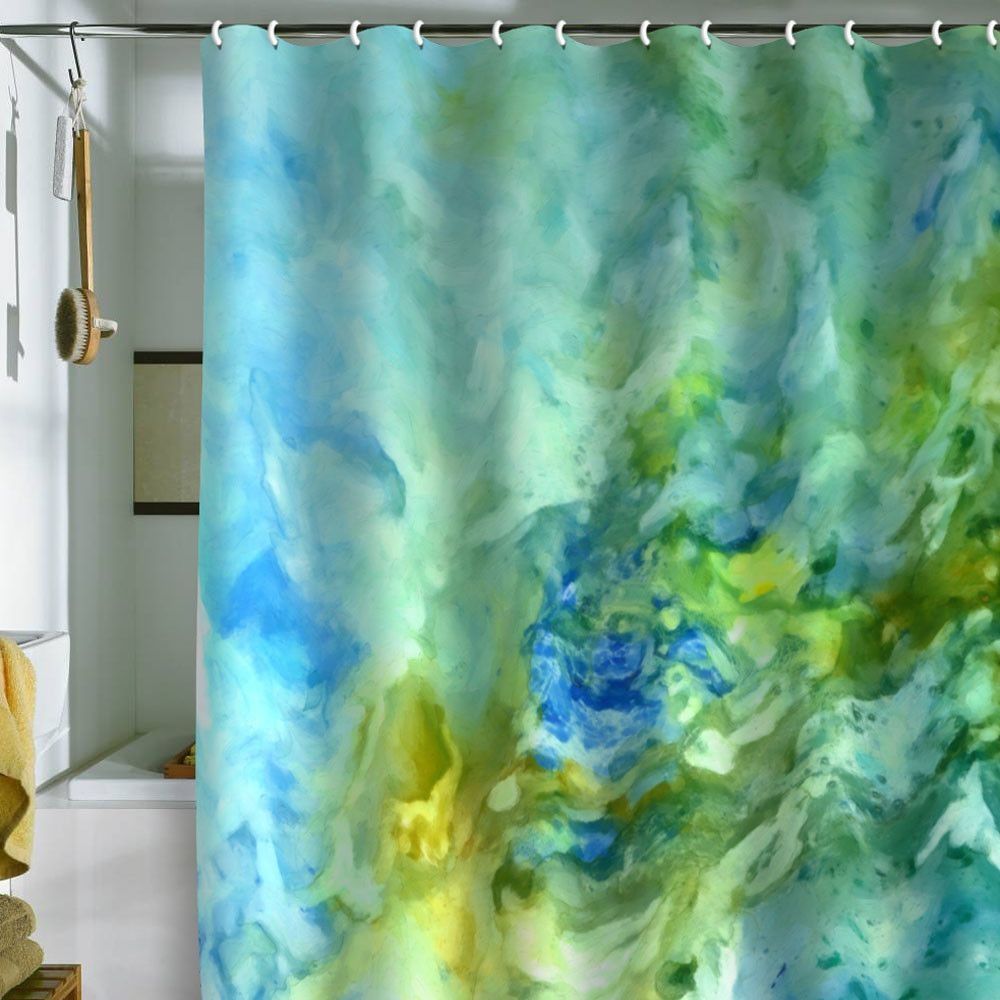 Well-chosen shower curtain, ensure comfort while bathing.This one is hand-painted in warm spring colors.You can get the impression that it is the bottom of the ocean, or beach theme. Green, yellow, and blue color perfectly match the whiteness of the bathroom.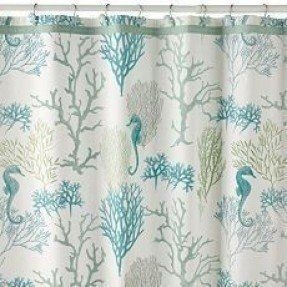 Beach Themed Shower Curtains - Bing Images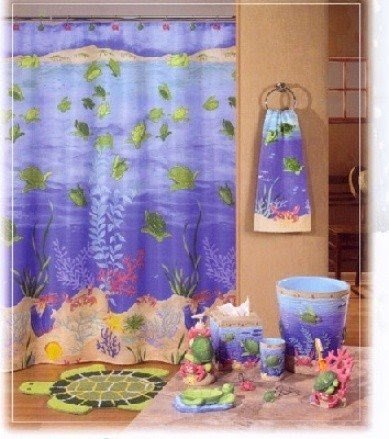 Set of bathroom accessories with sea theme. Includes shower curtain, soap dispenser, trash bin, toothbrush holder, towel and more. Functional addition for each bathroom as needed.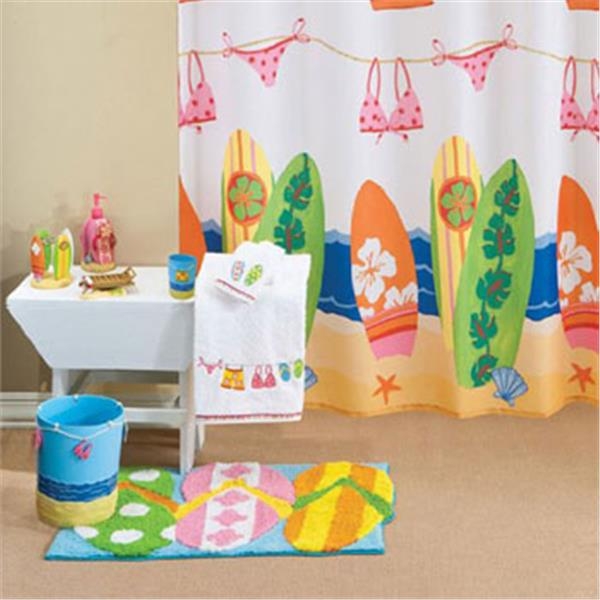 An amazing shower curtain for contemporary bathrooms that emanates with its beach theme and colorful design. Made of a quality fabric, the curtain is beautifully embellished with surfboards, swimsuits, seashells, starfish, beach sand, and oceanic waves.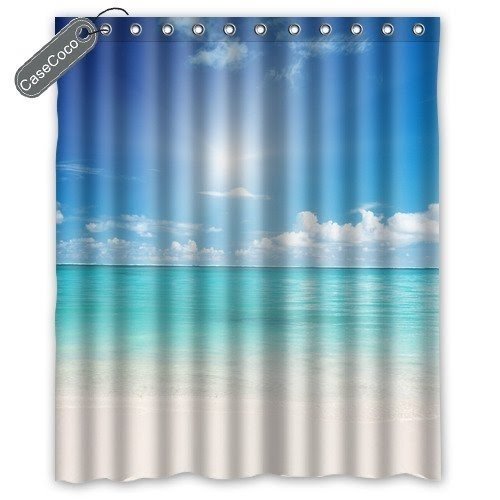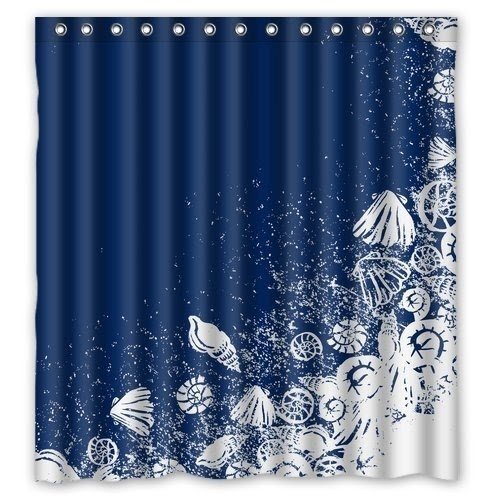 A wonderful shower curtain of waterproof polyester in a nice blue colour. It features charming seashells and air bubbles motifs in white. They are placed cornerways from a right top to a left bottom corner and intensify towards a right bottom corner.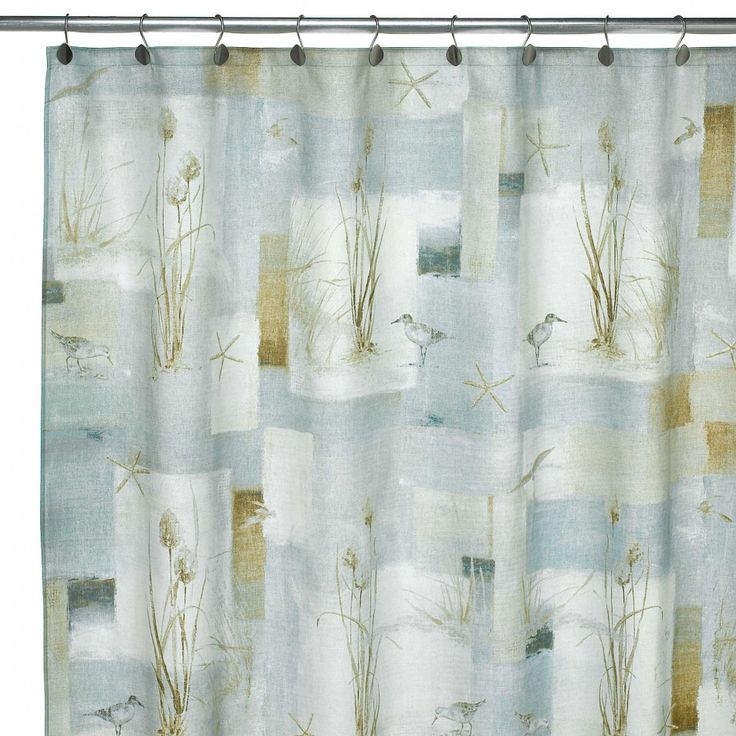 Avanti Blue Waters 70-Inch x 72-Inch Fabric Shower Curtain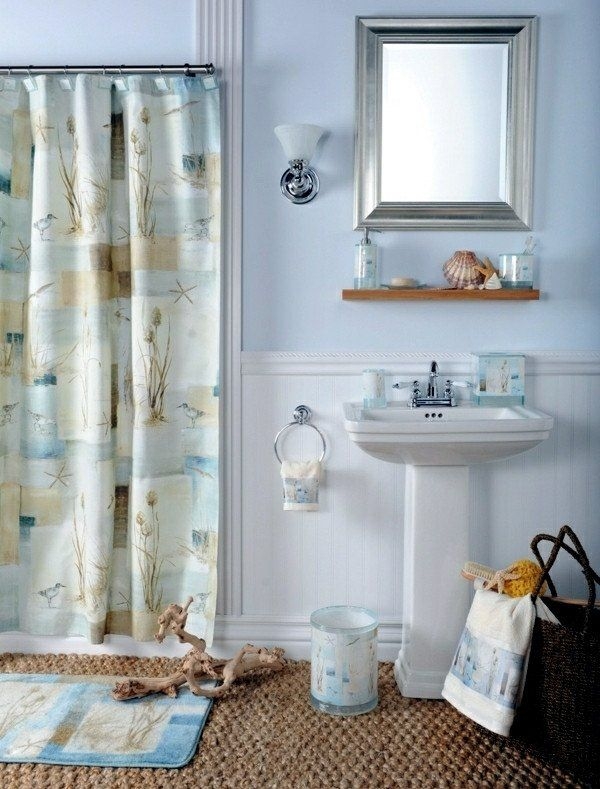 Set of bathroom accessories. Every element of set has the same pattern in beach style. Set is composed of waterproof shower curtain, rug, soap dish, cup, trashcan and toilet paper. It is not only useful, but stylish too.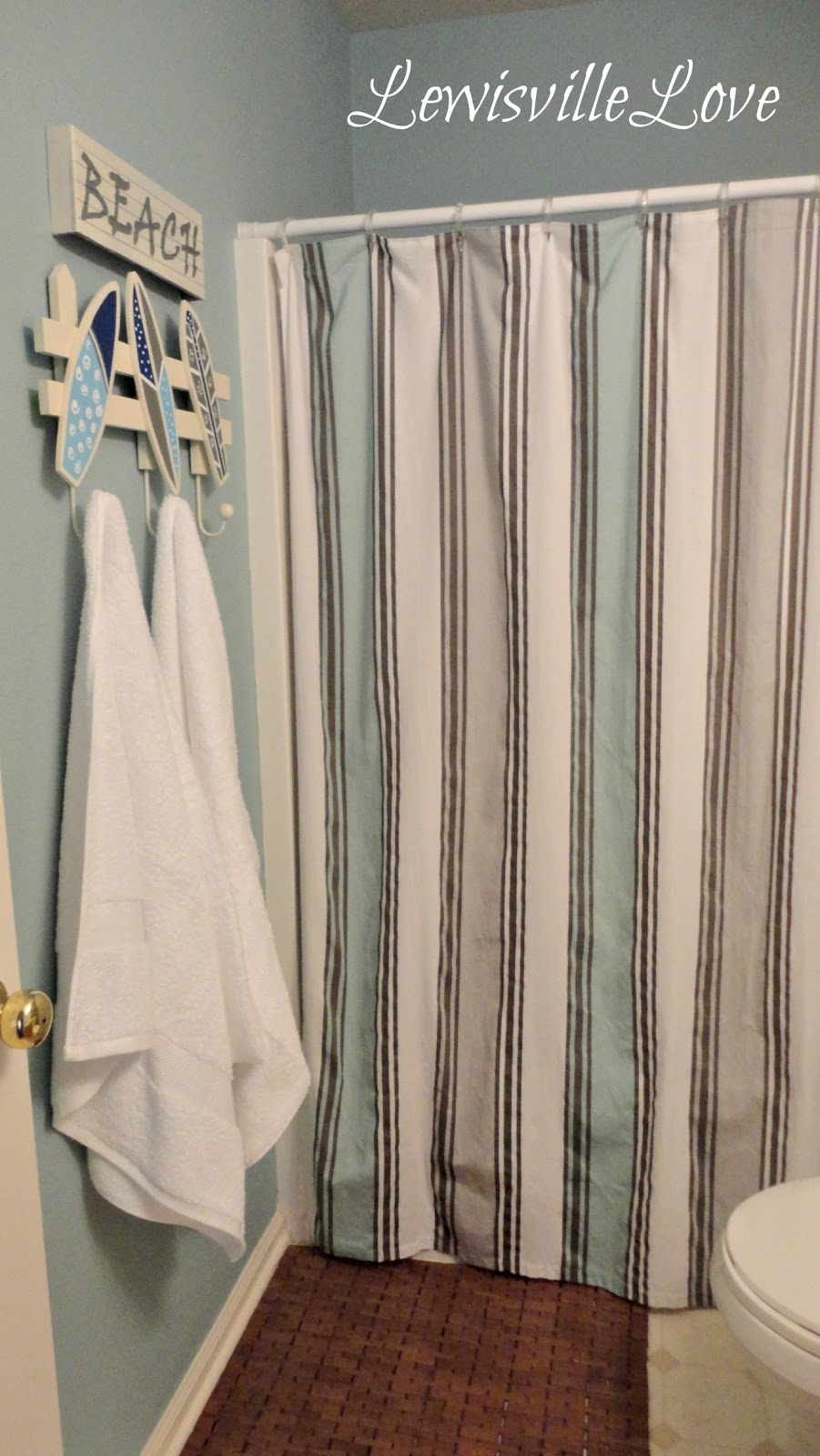 Aqua and sand beige stripes on a shower curtain deliver an easy way of making things around more beach style oriented. Here, other details have been chosen carefully: look at pale blue walls and terracotta tiling.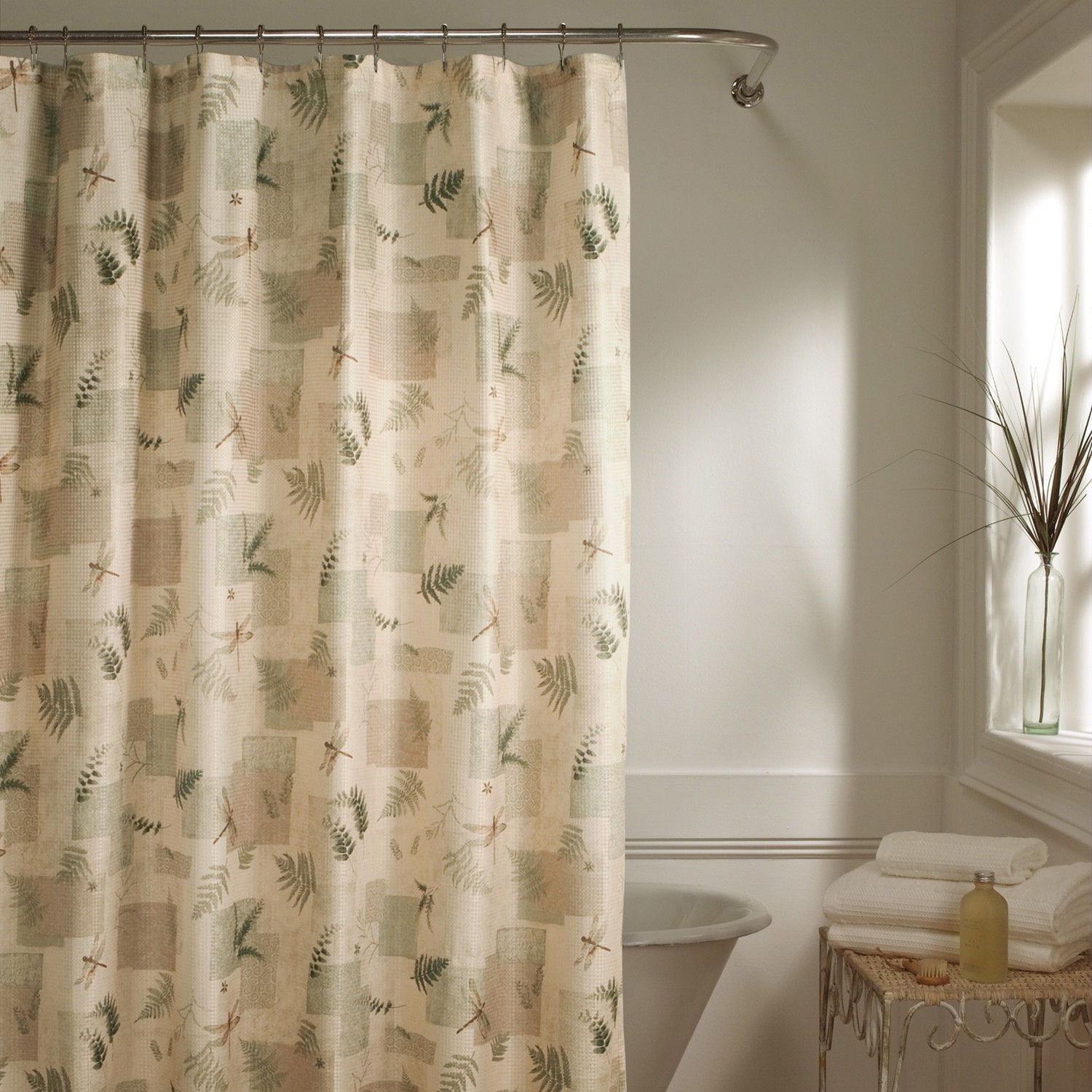 Julia Shower Curtain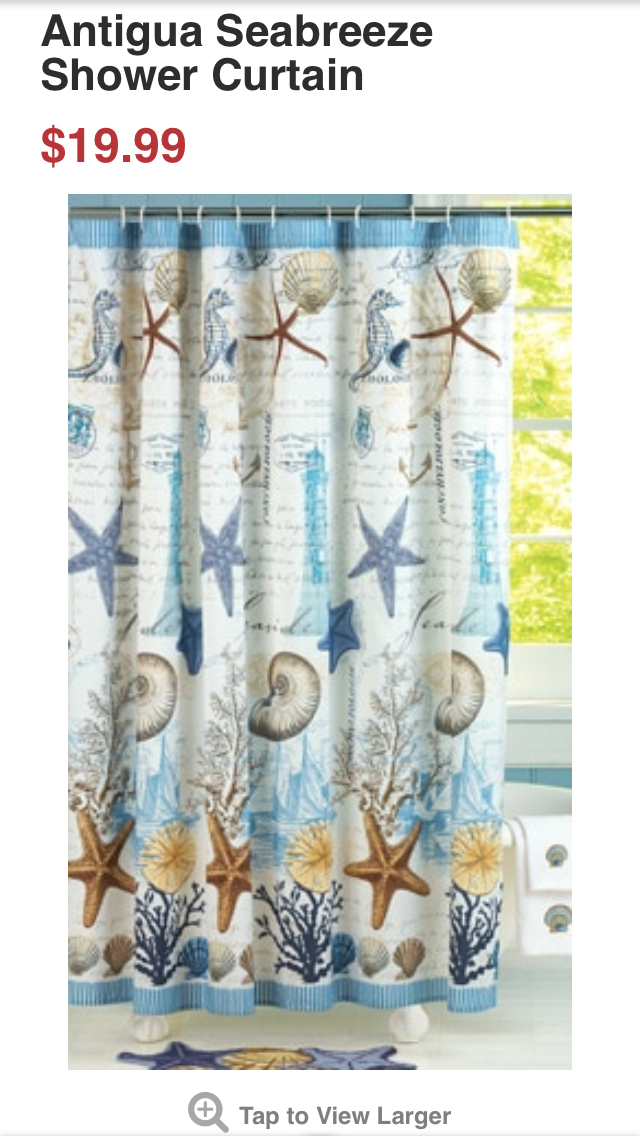 Shower curtain made of fabric and finished with nautical theme. It is fitted with hook holes for easy assembly. Functional design for each bathroom according to taste and need.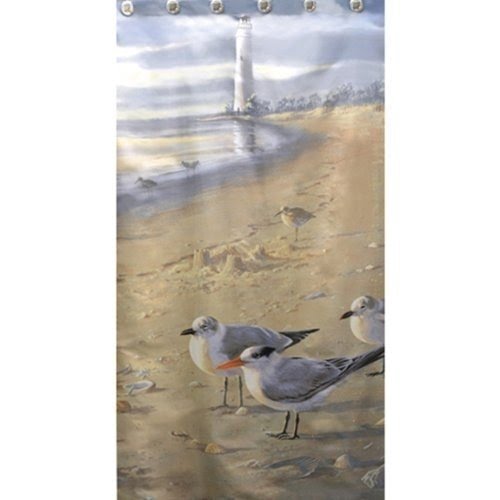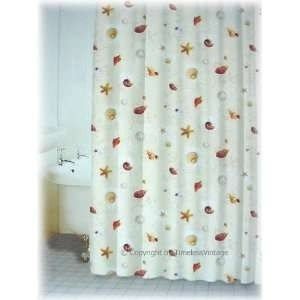 Shower Curtain Sea Shells Tropical Beach Bathroom Bath Shower Curtain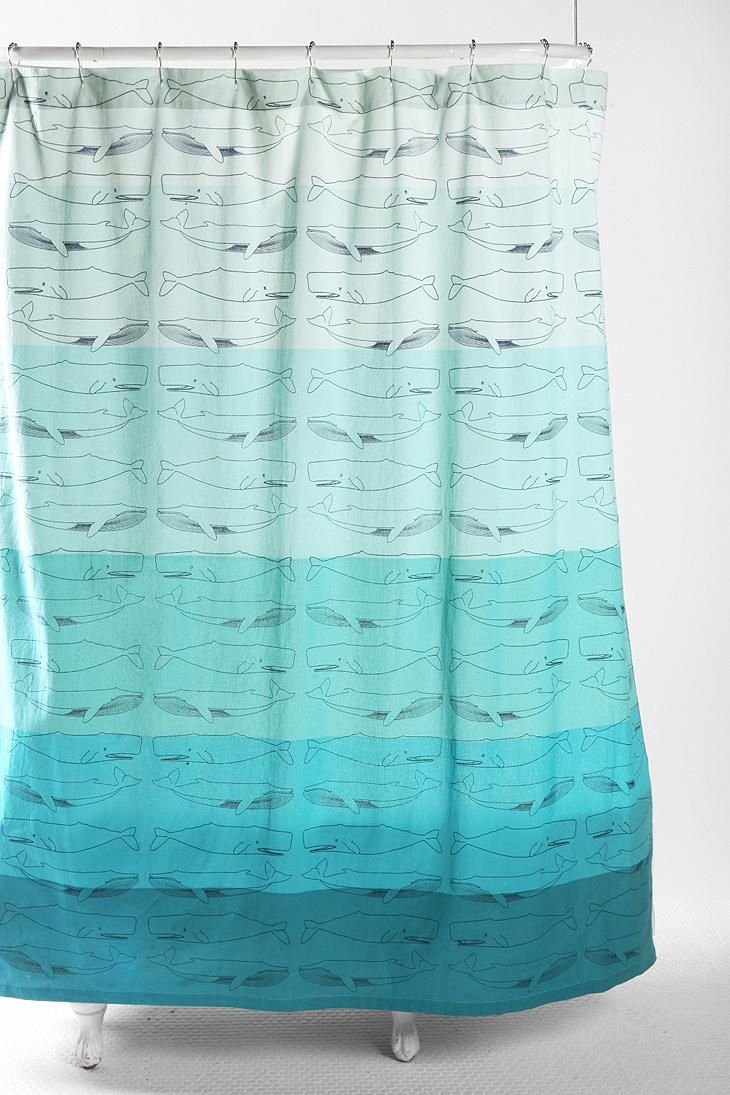 Beach Themed Shower Curtains | Whales Shower Curtain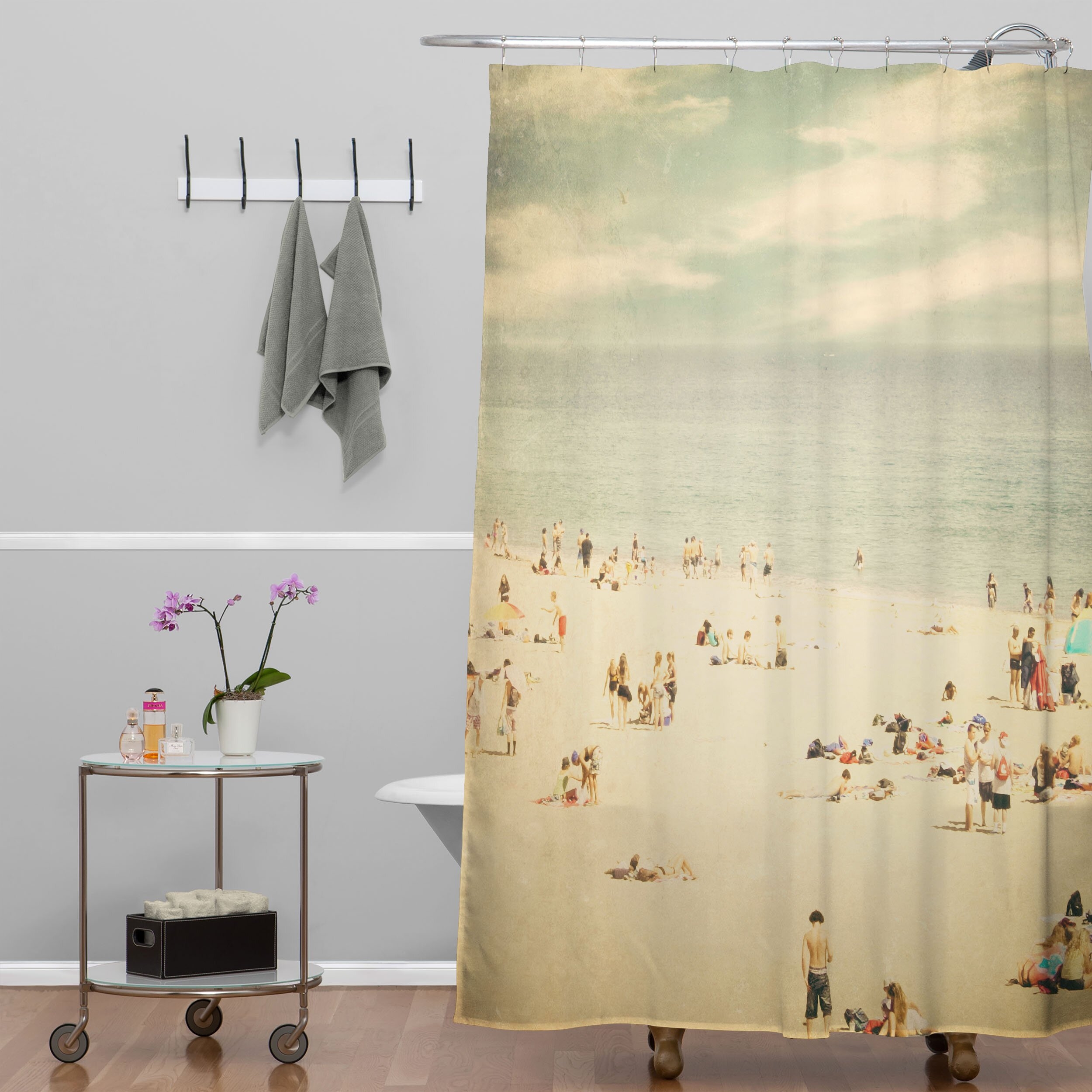 Shannon Clark Vintage Beach Shower Curtain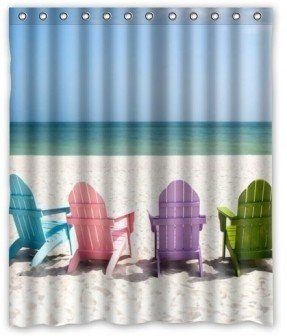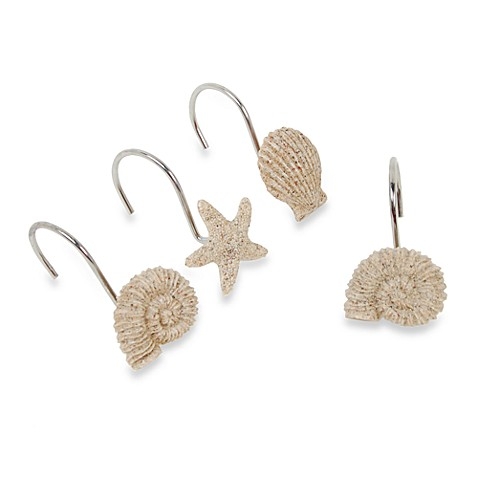 Sandy Shell Shower Curtain Hooks (Set of 12) - Bed Bath & Beyond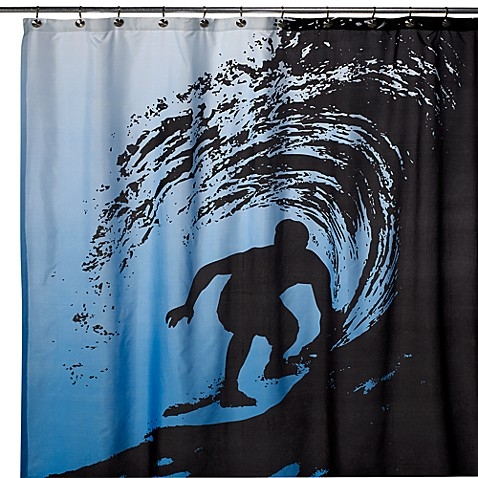 Wild Surf 72" x 72" Shower Curtain! Wild Surf 72" x 72" Shower Curtain A black silhouette of a surfer riding a wave stands out dramatically against the blue background of this fun shower curtain. An easy way to add a whimsical touch to your decor, show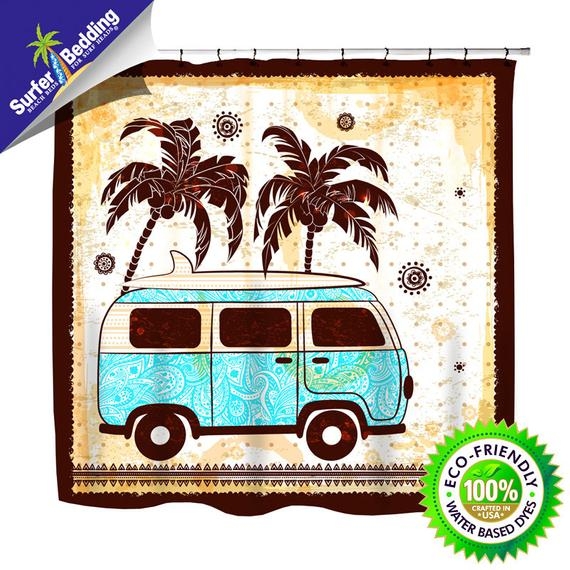 Surfer Bedding - Eco Friendly "Surf Bus" Beach Themed Shower Curtain - "Surf Bus" Surfer Shower Curtain from our "Extremely Stoked" Surfer Bed and Bath Collection.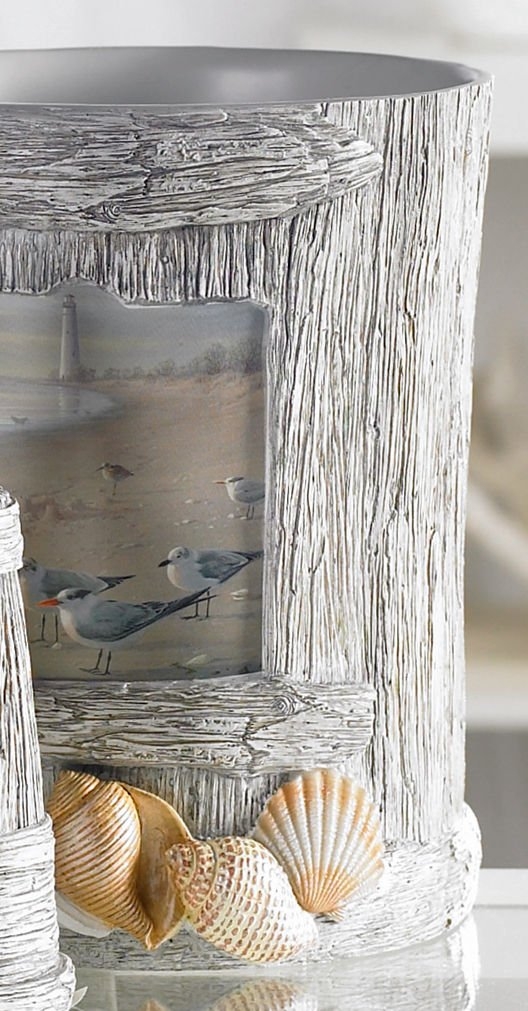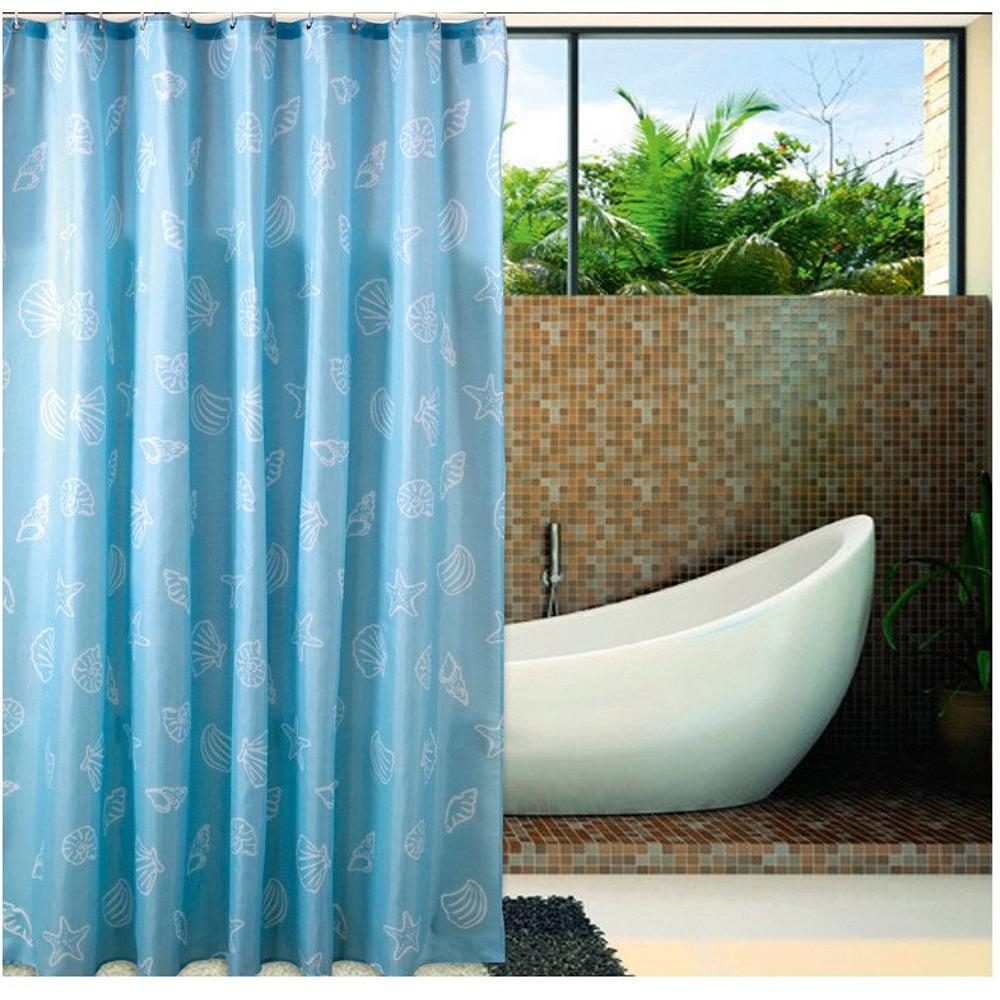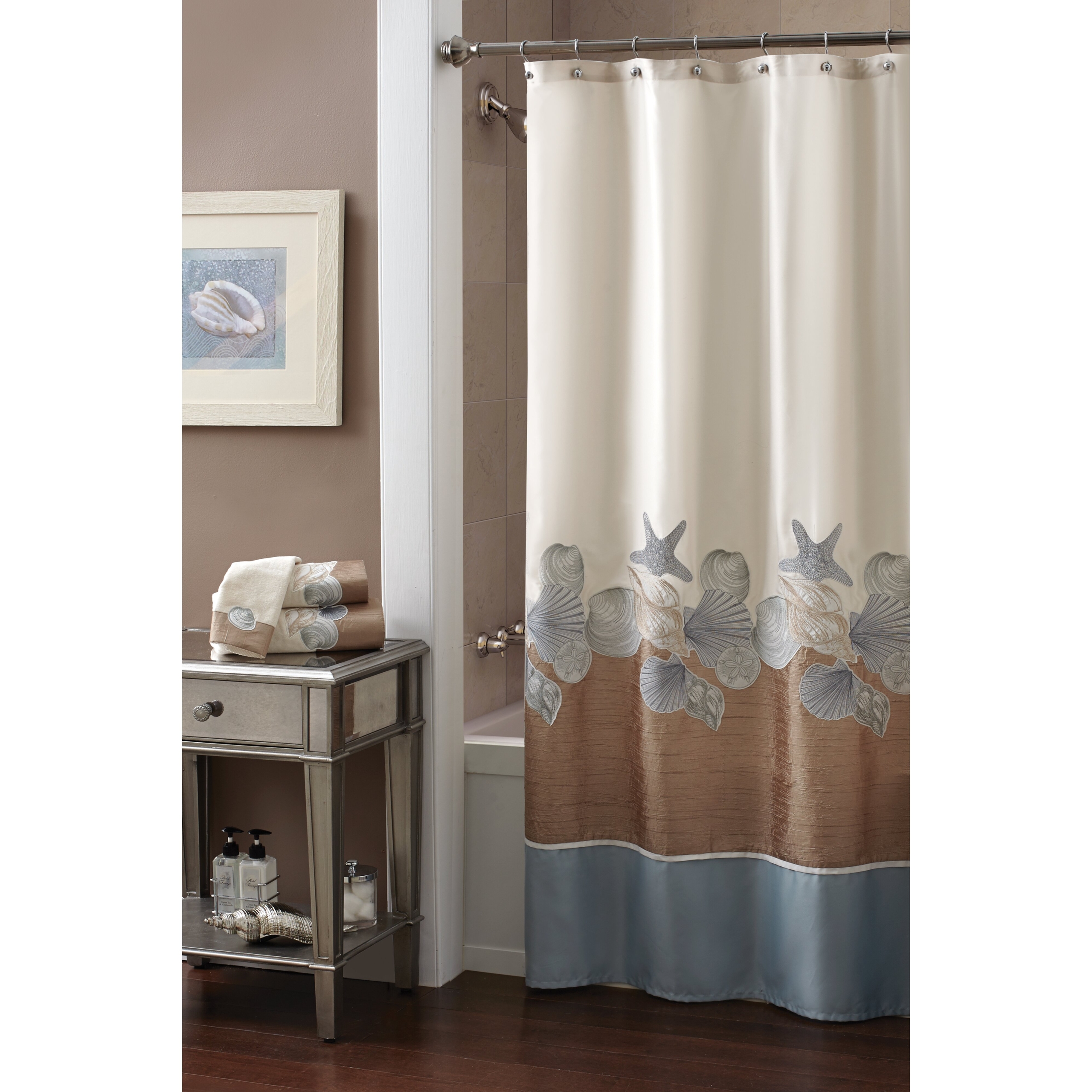 Shells Ashore Polyester Shower Curtain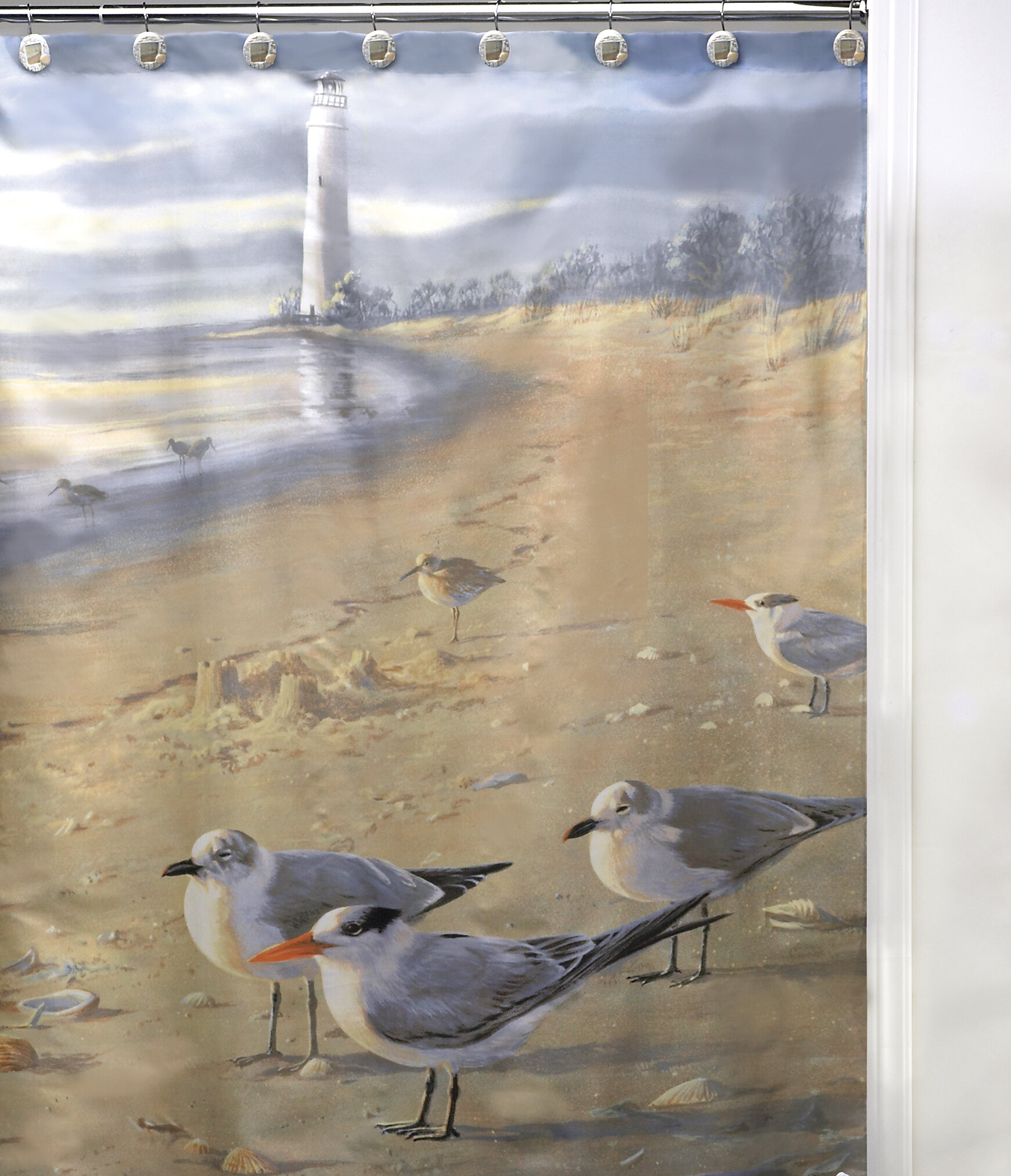 At the Beach Shower Curtain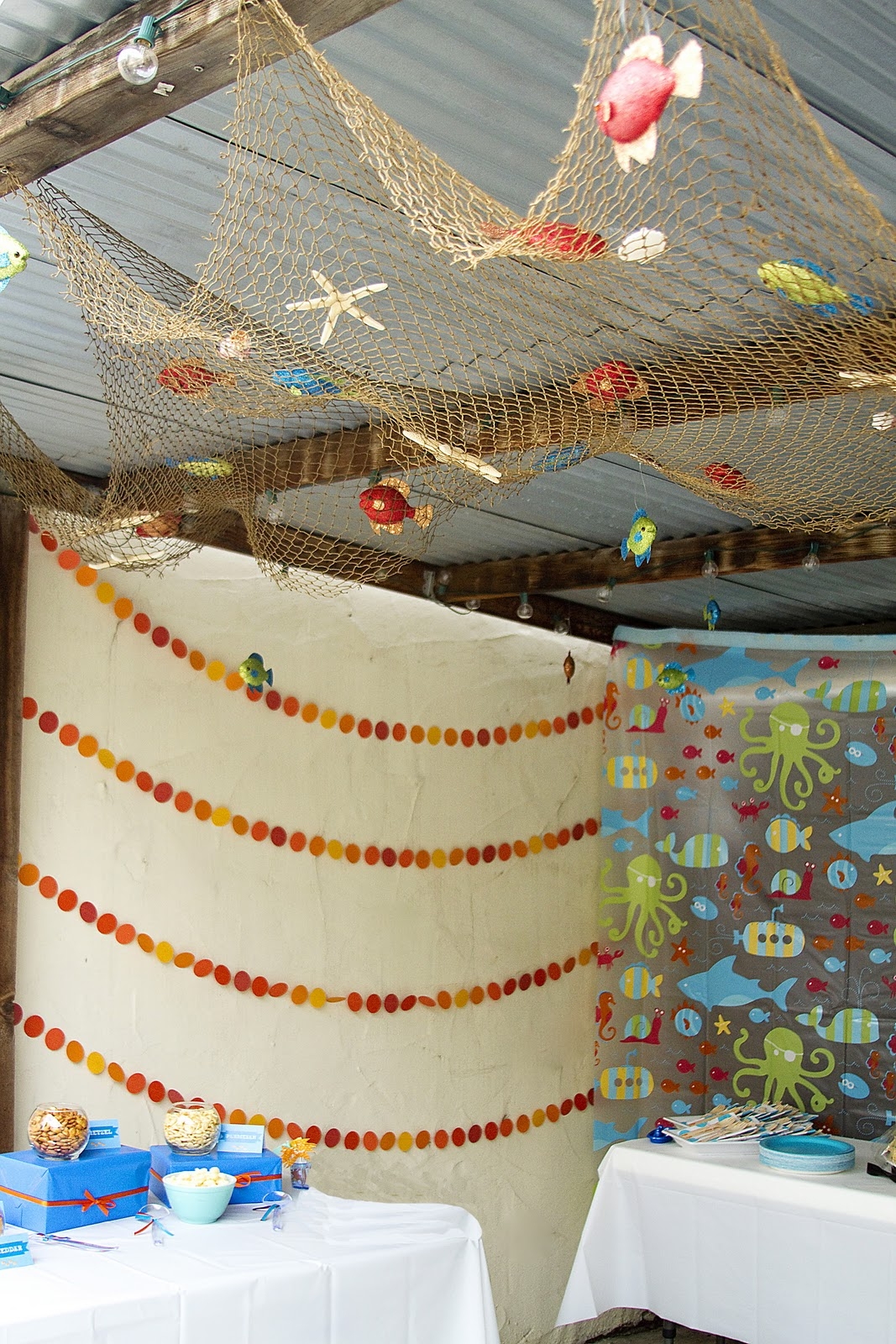 Under the Sea party - net with plastic toys for decoration.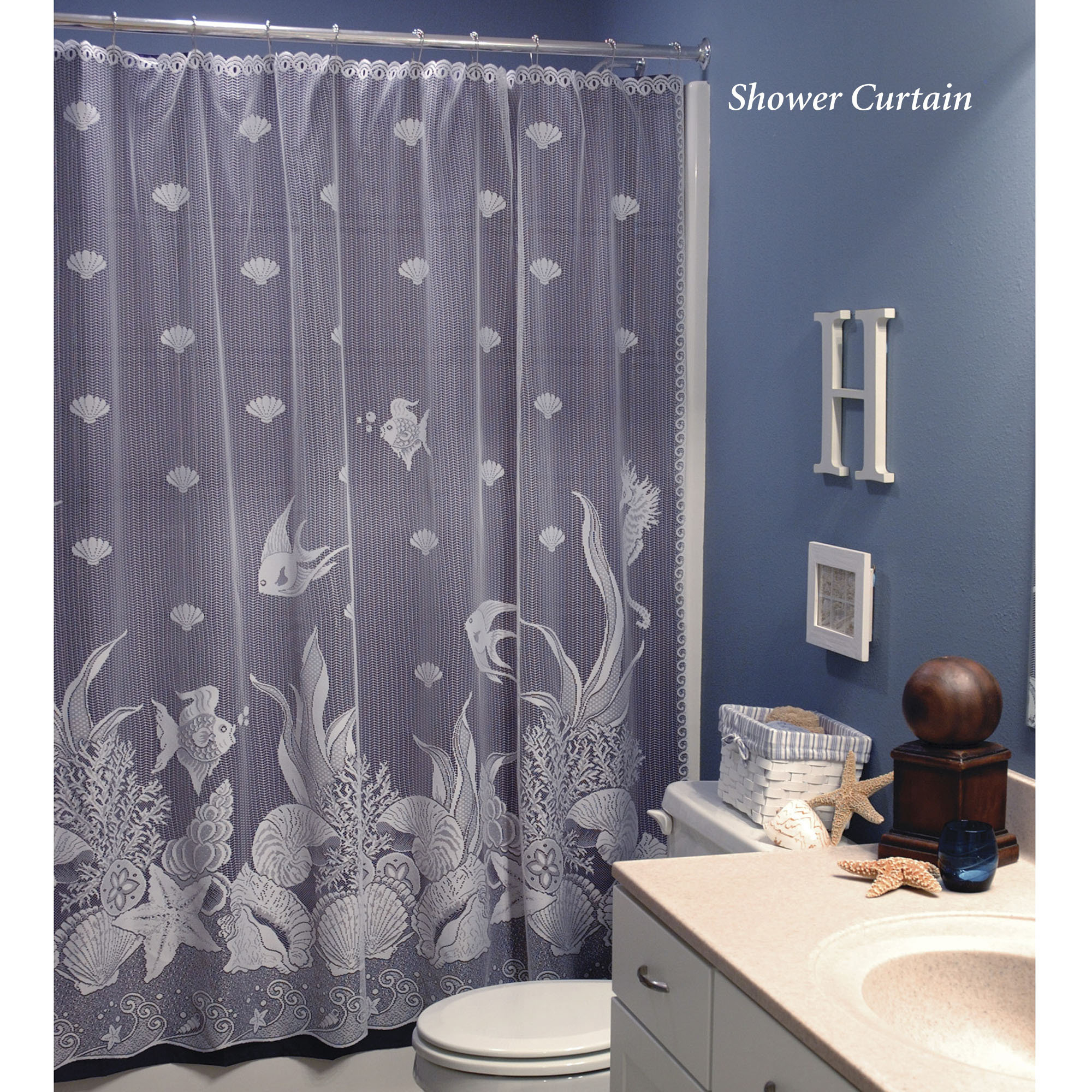 A glamorous contemporary lace shower curtain of white water-repellent polyester fabric. It features beautiful intricate seaweeds, seashells and fish motifs. It has reinforced hems with grommets in a top one and is machine washable.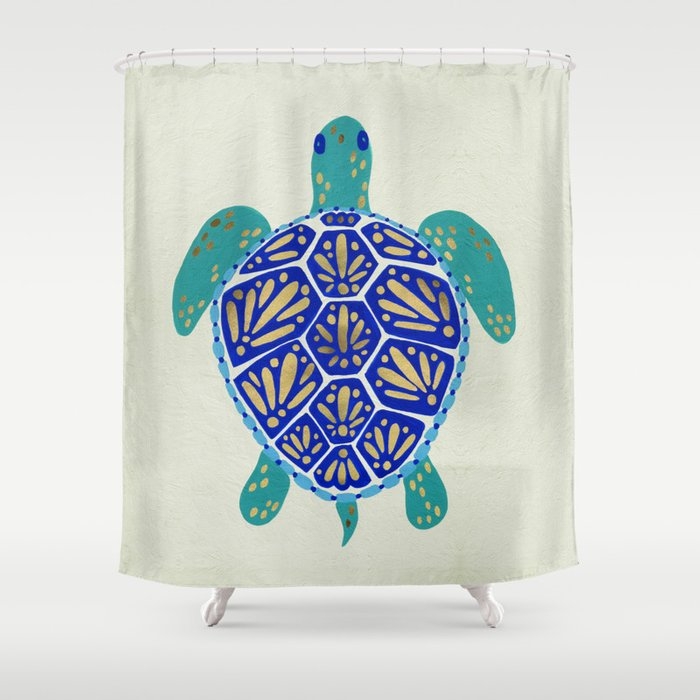 Cute design for a shower curtain with a picture of a sea turtle made out of colorful shapes. The dominant colors of this one are turquoise and navy blue, with some yellow and brown details to give it a fine contrast.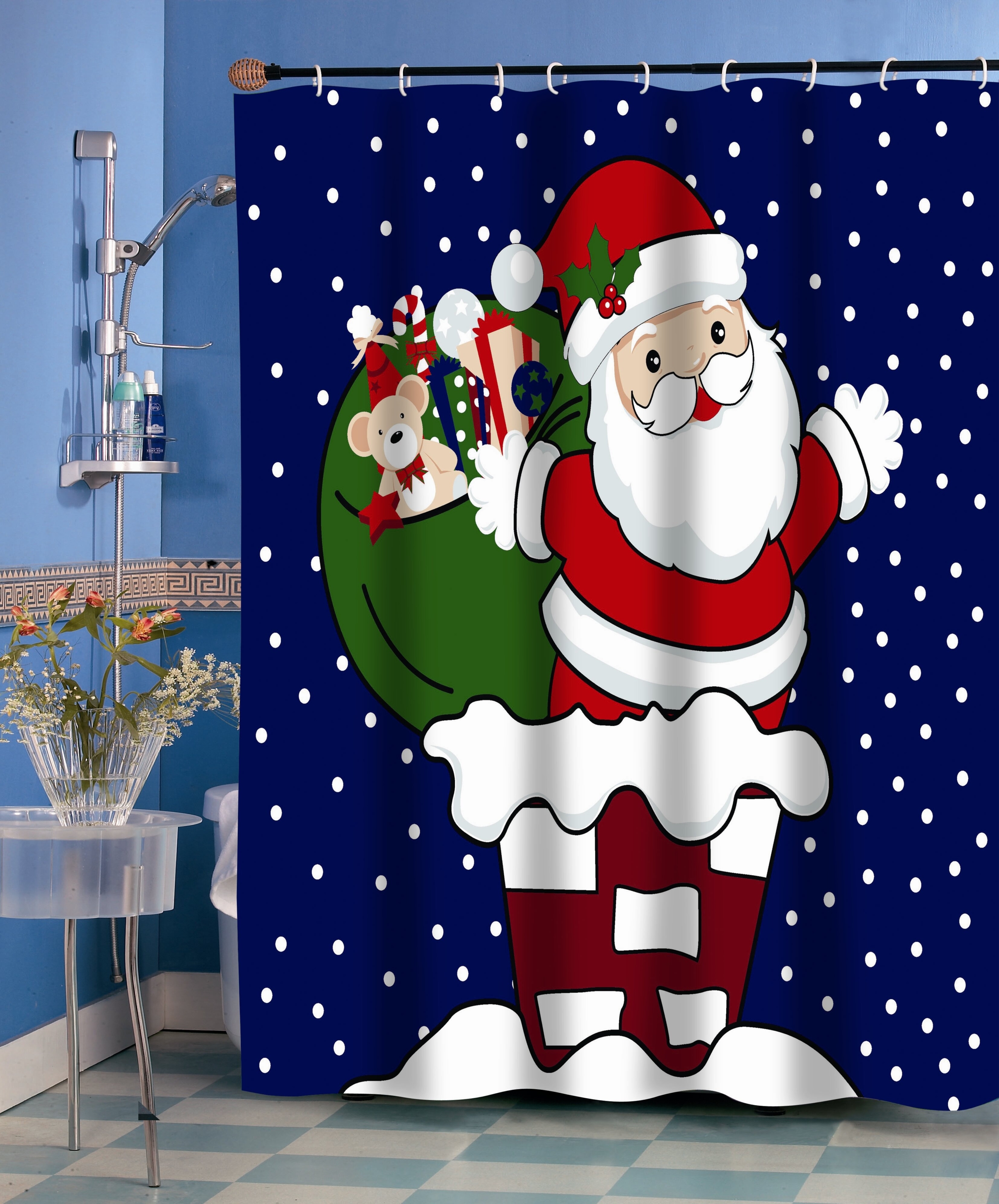 Up on the Rooftop Holiday Shower Curtain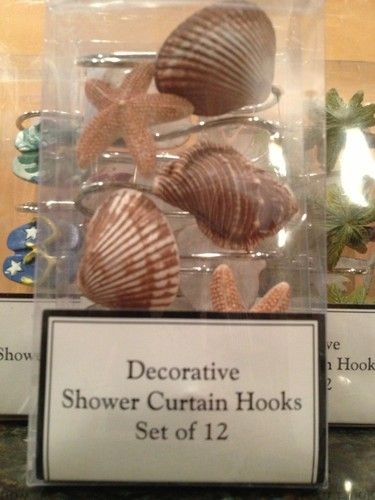 Shower curtain hooks