During the hot months, the best place to be is on the water, relaxing with family and friends. If you're planning on being seaside, lakeside, or poolside this summer, a huge assortment of giant lake inflatables can be found listed at Foter Magazine.
Considerations for Purchasing Giant Inflatables
Things to consider before purchasing giant inflatables are budget, safety concerns, durability, accessories, and transport.
There is a wide range of prices when it comes to inflatables based on the complexity of the design and the durability of the materials. They can span from hundreds to thousands of dollars; before you purchase a new inflatable for your water adventures, make sure it fits your budget.
The number one priority when you're out on the water is safety. Make sure the inflatable you're interested in is age-appropriate for the people who will be using it, and adheres to all lake, beach, or pool rules regarding size limited and protective features.
There's nothing worse than getting your new inflatable all pumped up, only to realize that it has a leak. If there will be a lot of activity on the float, jumping and leaping and sliding as opposed to merely floating around, make sure that its tensile strength matches the level of activity.
Imagine arriving at your destination only to realize that you need an air pump or special kinds of straps to make the float enjoyable. Before you buy an inflatable, check to see if everything you need comes with the float or if you have to get some accessories.
Unless you have a lakehouse or beach cottage, you'll most likely be transporting your float in your car. Make sure that it will deflate into a small package for easy transport.
Our Top Picks for Giant Inflatables for Large Groups
Here are nine awesome giant inflatables to get your group out on the water this summer.
1.
Water Slide
The Freefall Extreme is not a typical water slide. With a climbing wall, zero entry slide, and a cave underneath for bouncing, this inflatable slide will provide hours of fun on the water for all age ranges.
This float has a 10' tall climbing wall and ladder with an impressive drop for the water slide. If climbing and sliding isn't for you, then you can duck underneath for some shade or to bounce around on the springy inflatable floor.
This adorable float will have you riding the waves in style. The 16.5' by 10.9' parrot can easily fit 6 full-grown adults. Equipped with six cup holders and space for your whole party, this parrot is a blast.
The tail is detachable and can be used as a swim-up platform, and there are heavy-duty handles and a sturdy wrap-around rope to make getting on and off a breeze. It is constructed from durable pre-tested vinyl, and features quick release valves so you can deflate it in a snap.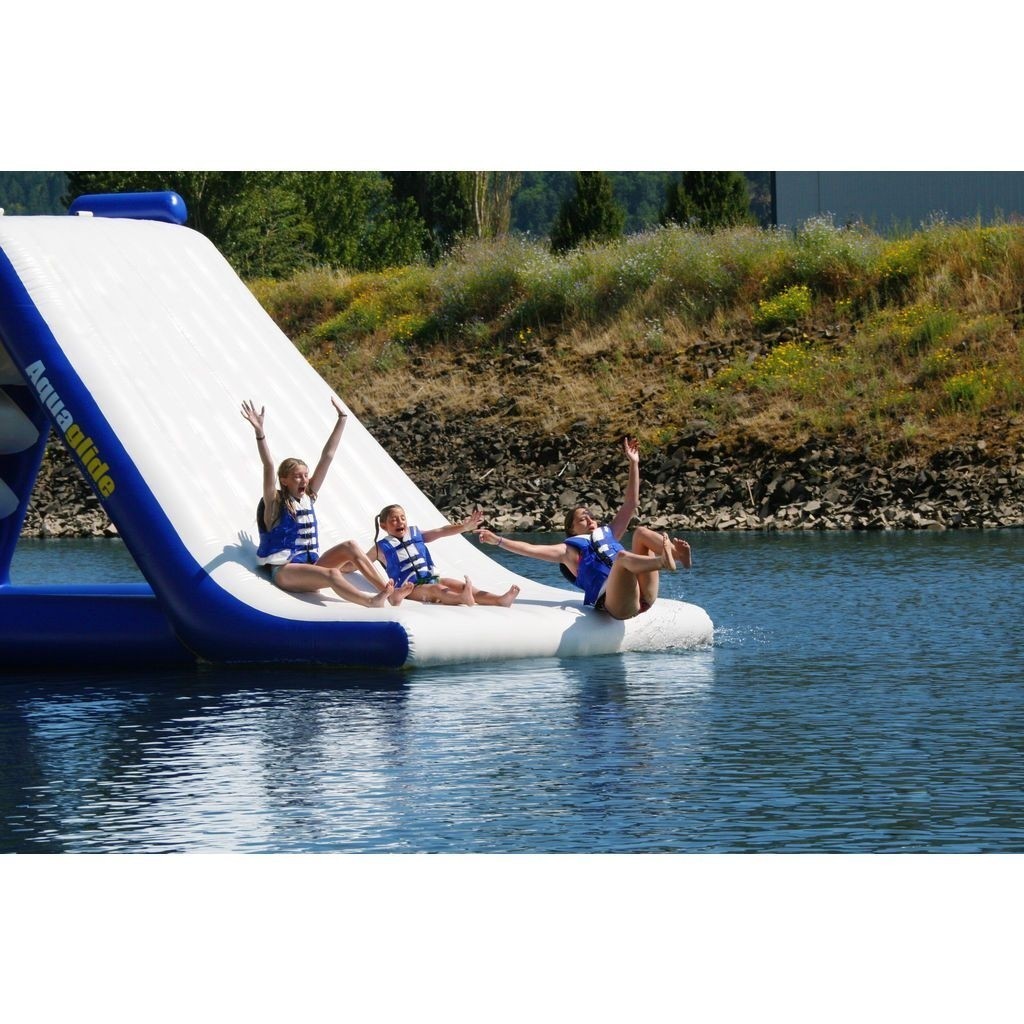 Hours of fun for kids and adults alike, this inflatable climbing wall offers challenge and recreation. An inflated cloud-like structure sits atop the water adorned with numerous handles so that you can pull yourself up to the top. Race to see who can get to the top of the mountain first. If you slip, you tumble into the water for a cool surprise.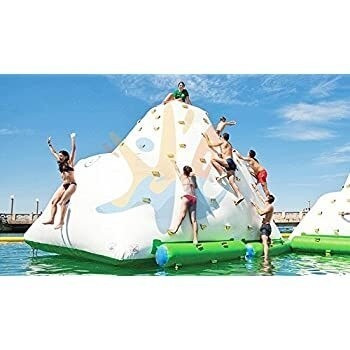 This large lake float is hours of fun for all ages. With a handy ladder and a 5-year warranty on its special, "no blow-out" seams, this is a durable trampoline with a 7'6" jumping surface. Easy to anchor with 6 D-rings, it also has eight swimming assisted handles to easily get on and off the inflatable. Your friends will have a ball bouncing into the water on the Island Breeze trampoline.
This lake float has everything you need for a day on the lake with your pals. A floating cooler is included with this raft to keep your drinks frosty on hot days.
It's a cinch to inflate and deflate with the float's speed safety valve, and it can fit up to seven people comfortably on the comfortable PVC mesh seating. Contoured backrests and molded cup holders make this the perfect float for a summer's day adventure.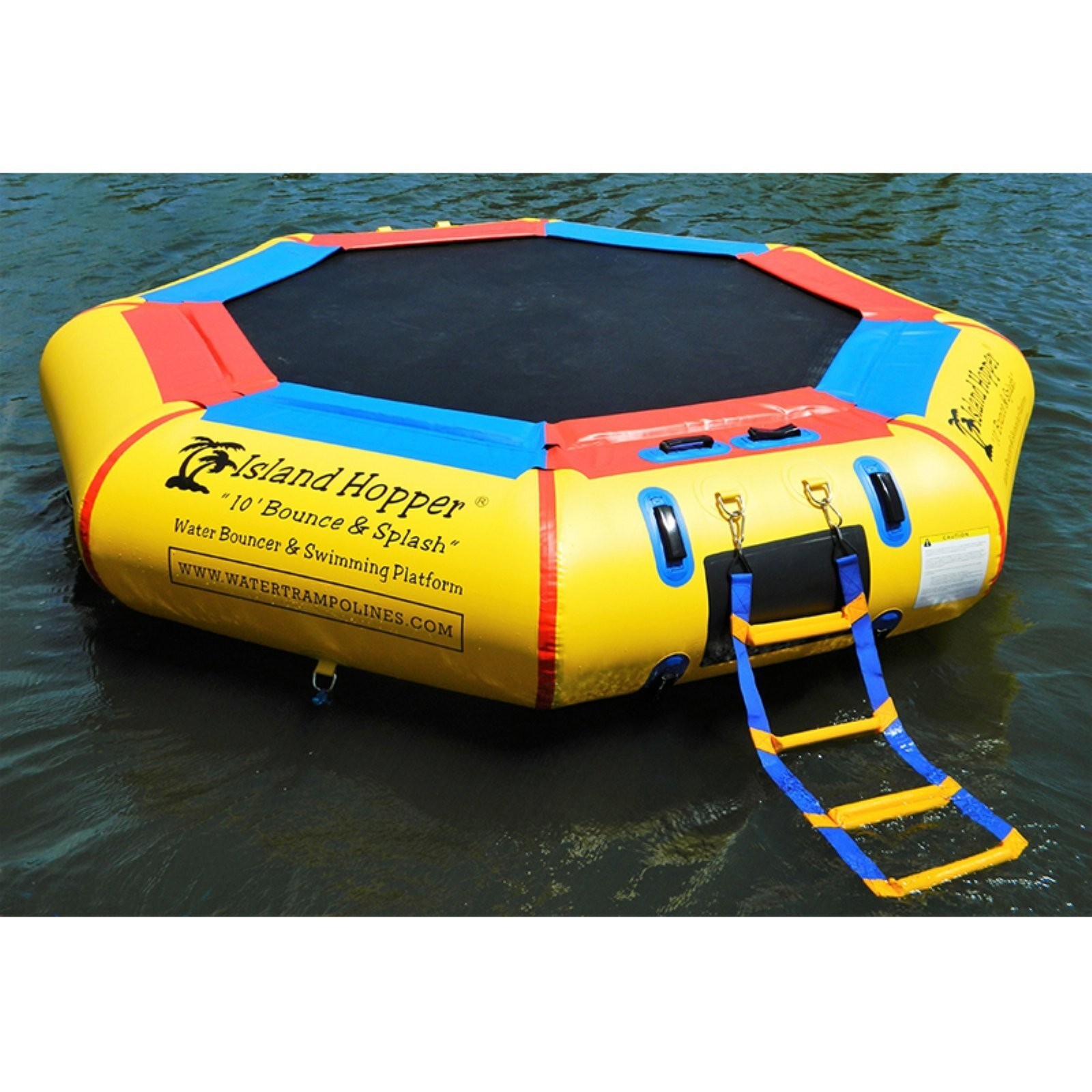 Ideal for lazing away a summer's afternoon, this lovely float includes a canopy for added sun protection. The sun shade is removable if you'd like to work on your tan, and this float seats six people comfortably.
Heavy duty handles and the swim-up platform make taking a dip and getting back on easy, and it comes with a cooler bag and six cup holders.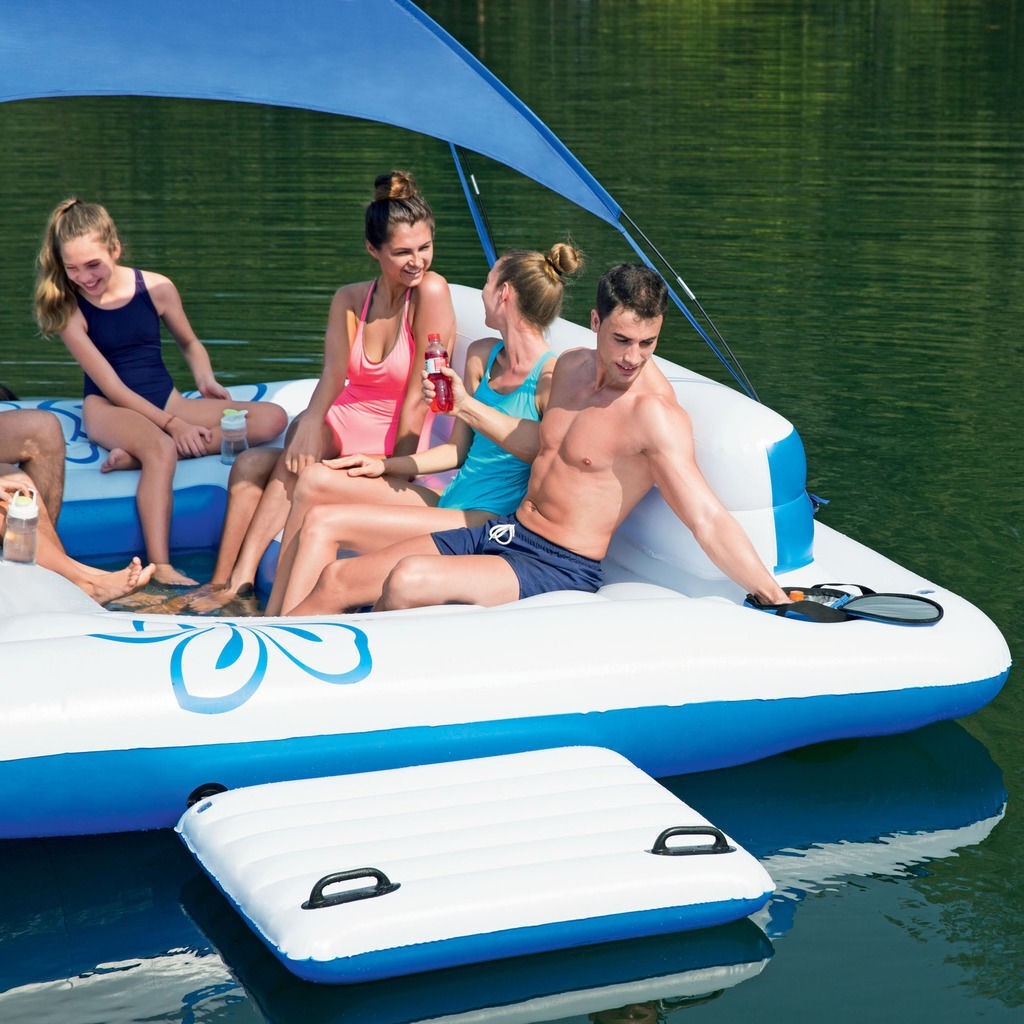 7.
Swimline Labyrinth
Your kids and their friends will have a blast on this lake float that looks like an inflatable piece of Swiss cheese with holes so you can pop up from underwater.
Hours of fun await on this heavy-duty float that has a weight capacity of 650 lbs. and can fit up to eight kids.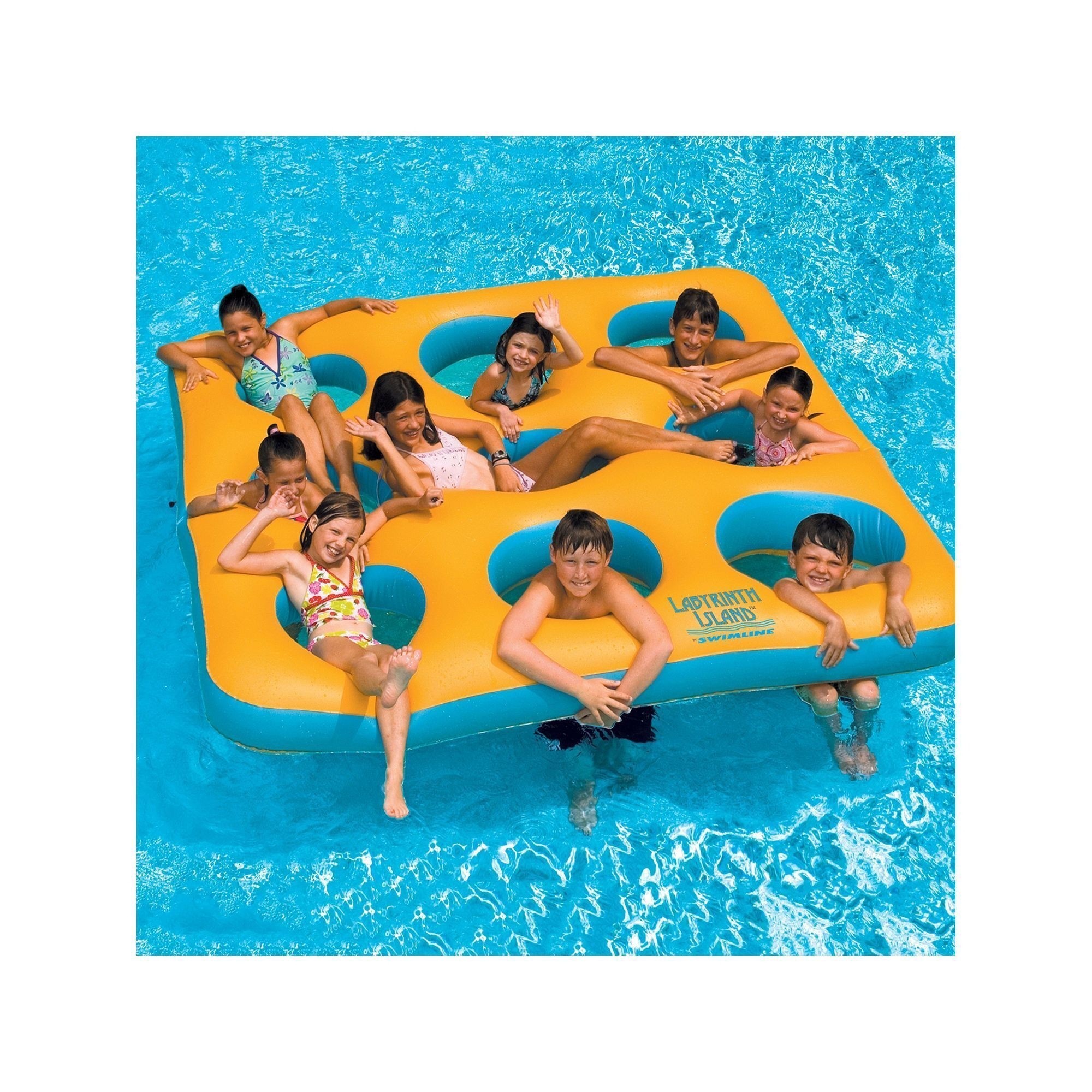 Pizza
A fun and Instagram-worthy addition to any pool or lake party, this large inflatable pizza is made up of eight separate slices. Hooked all together, this pizza measures 12' in diameter, and each individual slice is 72" long and 60" wide.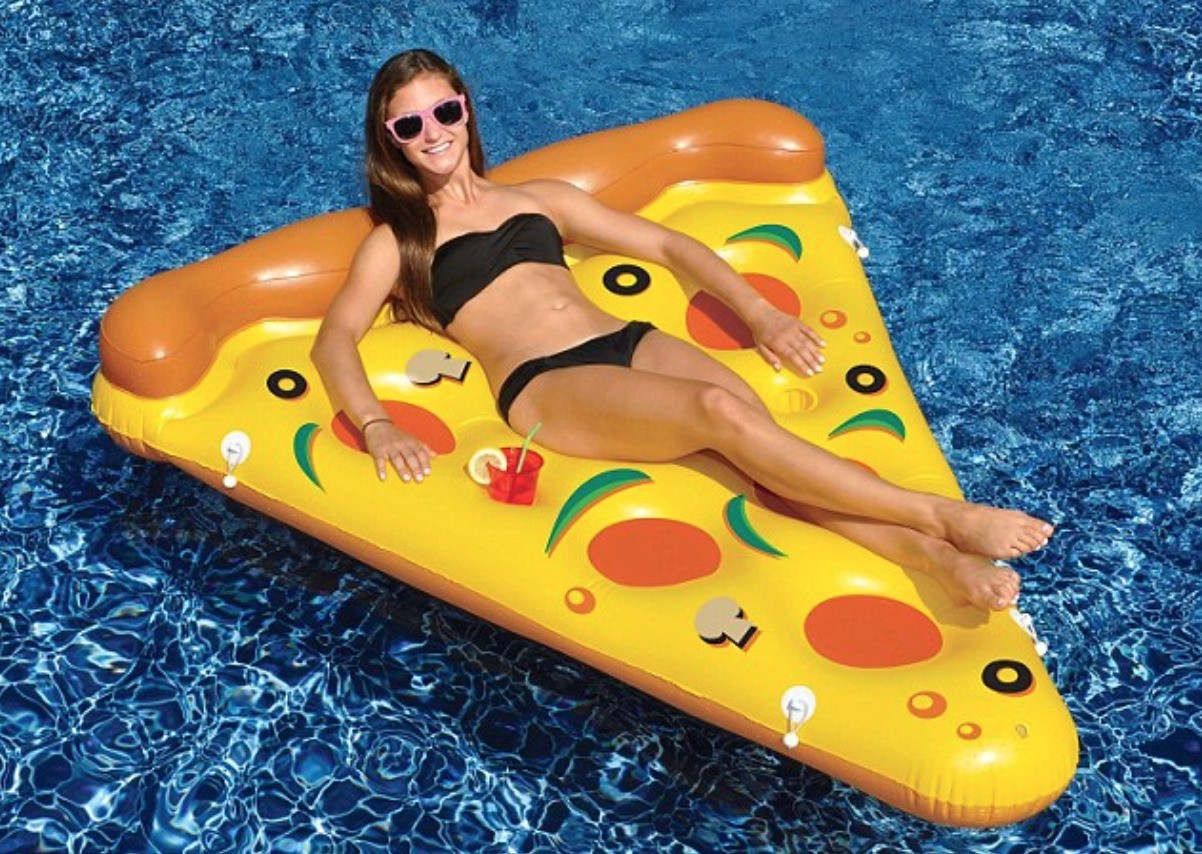 Wow Watersport
Incredibly durable and large, the Wow Watersport floating island is perfect for a pool party or an afternoon at the lake. Each of the twelve seats has its own backrest, complete with cup holders.
An open center is covered with mesh to let in a layer of water to cool your feet in or let the smaller occupants use as a private kiddie pool. A large grommet assists with tie-offs and this float comes with an anchor bag to keep the inflatable stable.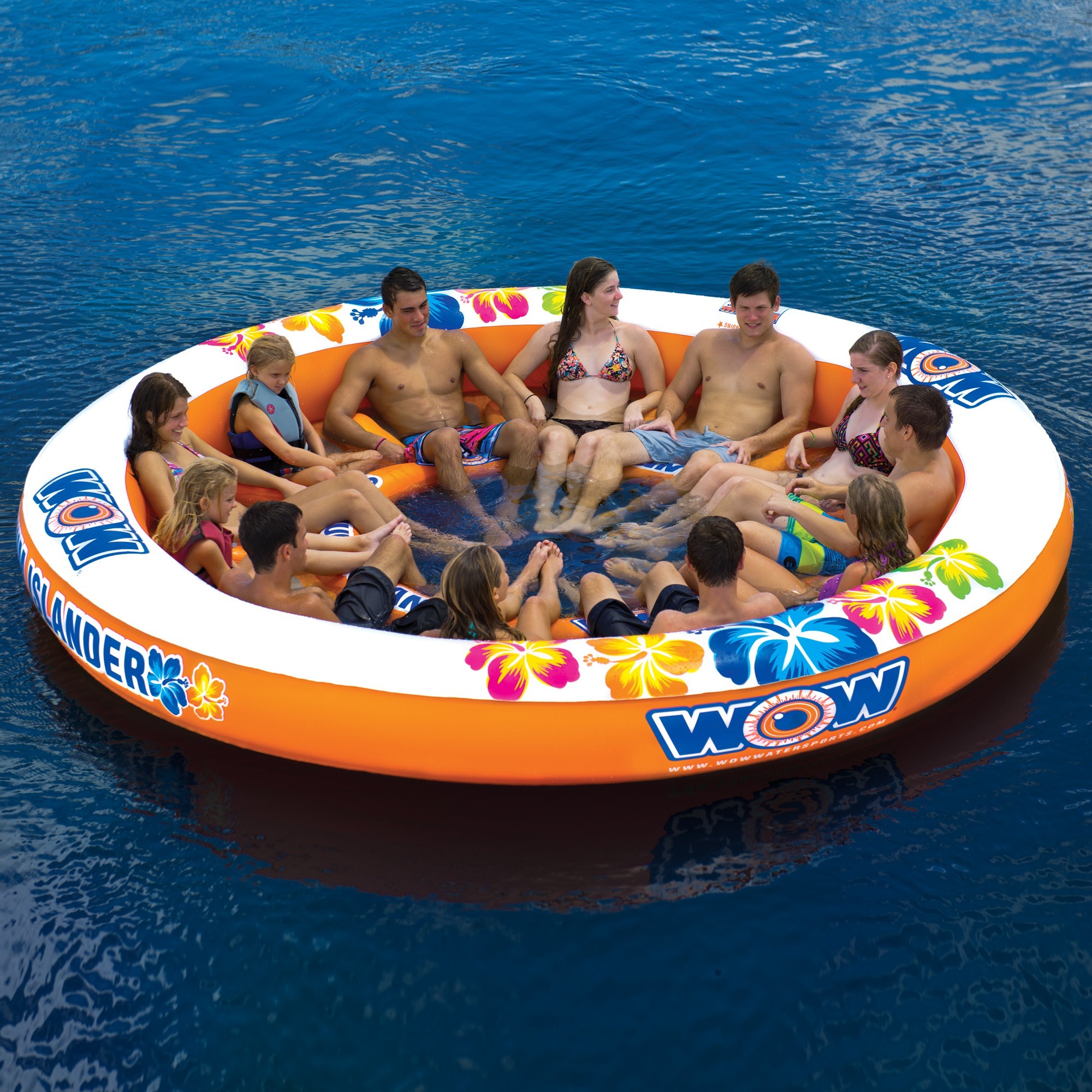 The Last Word
Giant lake inflatables are a great way to get out on the water with your friends during the hot weather.
Many floats, like trampolines and climbing walls, offer recreation for old and young alike. Other floats tempt you and your friends with an afternoon of floating peacefully on the water, drink in the cupholder by your side.
Make the most of your summer with one of these awesome giant inflatables for the water.