Monkey bars are a fantastic way for your kids to play together, develop their balance and muscles, and try new challenges. However, you definitely don't want to run into unpleasant surprises or accidents when you leave them to their monkey business.

Trust us: not all monkey bars are the same! It's important to take the time to figure out what model is most adequate and actually safe for your kids.
Luckily, you can find lots of different monkey bars here, perfect to meet any budget and needs.
But, first, make sure you consider these points before snatching yourself the right one for your little cheeky monkeys!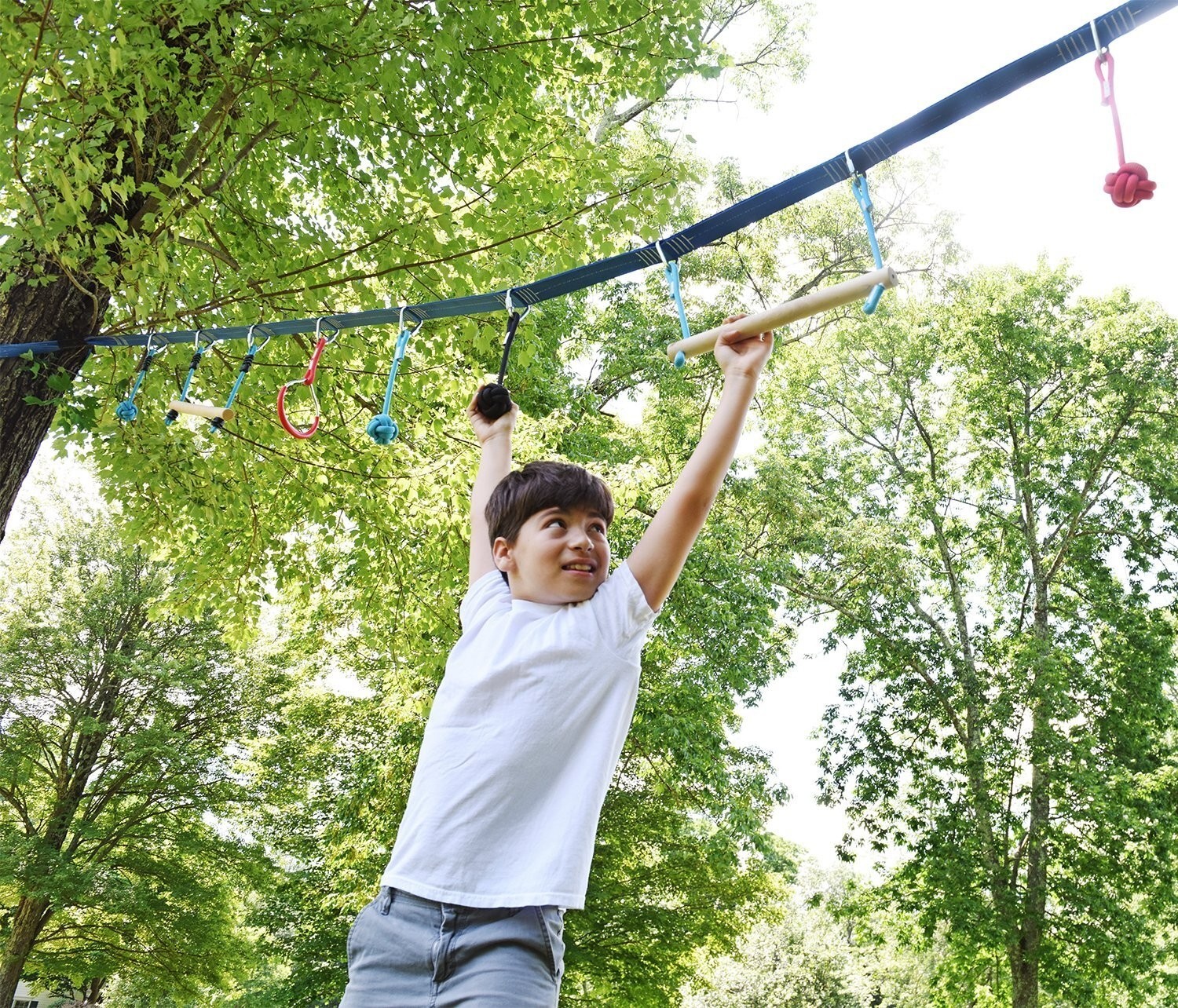 1.

Decide where you're going to place the monkey bars
We recommend placing them on a grassy spot rather than tough, solid ground in order to soften possible falls. If you haven't got a similar area in your garden, you can consider purchasing a safety mat instead;

Either way, it's important that your chosen area is level, otherwise the posts will be crooked and could compromise your kids' balance;

Measure it so that you know how big the monkey bars can be;

Don't forget to leave at least four or five feet around the structure so that your kids have enough room to run around them and, especially, to avoid hitting something with their legs while swinging on the bars.
2.

Figure out the right size for your kids

The right size for your monkey bars will depend on how much room you've got for them and, most importantly, how old and tall your kids are:
While you can easily go for longer models if you've got plenty of room, you should really be careful when it comes to the height of the monkey bars in order to avoid painful falls;

If your kids are still very young (pre-school age), don't go over five feet in height. For older kids (between six and twelve years old), you can go up to seven feet to allow them enough room to swing around without hitting the ground with their feet;

Keep in mind that the use of monkey bars is only recommended for kids aged four or older.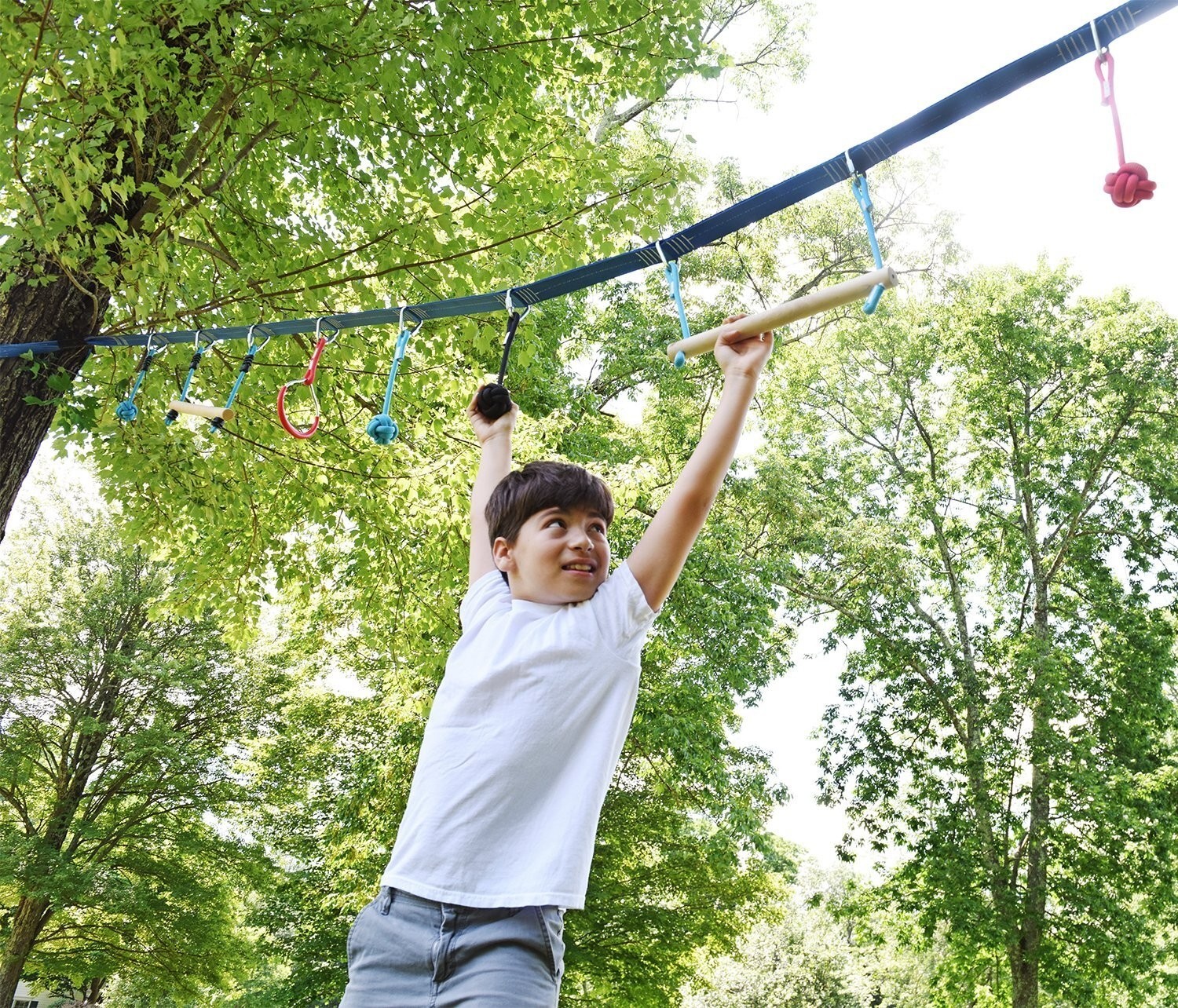 3.

What type of monkey bars is best for your kids?

Monkey bars come in a large variety of designs, but, overall, there are four main categories:
Straight monkey bars are the most traditional type and a great choice for beginners;

Wavy monkey bars can add an additional element of play and challenge, which makes them ideal for more adventurous kids;

Monkey bars with a sideladder can facilitate their climb to the top, especially in taller models;

Finally, if you want to unlock a whole new world of directions and possibilities or if you're buying monkey bars for more than one kid, you could consider a domed monkey bar design. However, adult supervision is particularly encouraged.
4.

Don't forget about durability!

Depending on the materials and whether or not they're exposed to the elements, monkey bars can last more or less long:
Galvanized steel and wood are the best materials for monkey bars. The former offers higher levels of UV resistance, which makes it ideal in hotter climates. However, you must be prepared to perform regular maintenance to ensure their durability either way, especially if they're exposed to frequent rain and sunlight;

Rope alternatives can be cheaper but they aren't as durable. We only recommend them if you're on a budget, are happy to replace them after a few years, or are planning on placing your new monkey bars underneath a patio or a sheltered area to protect them from the elements.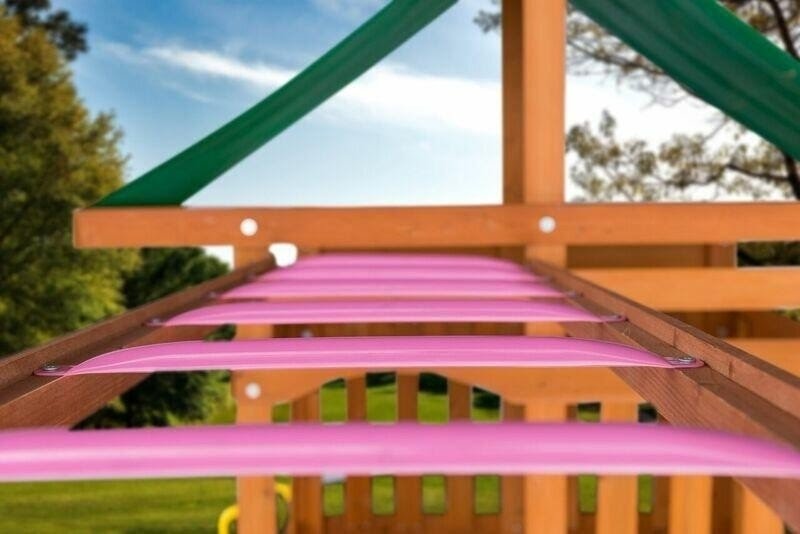 5.

Choose the style and colors of the monkey bars
Monkey bars are all about fun and playtime, so why not look for a model in your kids' favorite color or ask them what they'd prefer?

Alternatively, if you want to maintain an element of consistency in your garden, you should go for traditional wooden options, which result in a more natural look.
6.

Most importantly, check the safety of your monkey bars
As well as the height, you should always measure the distance between each bar. For younger kids, it should be between nine inches and one foot to avoid scary head entrapments, whereas for older kids you can go up to fifteen inches;

If they're a bit exposed, we also recommend covering the end of bolts with softer rubber pieces for extra protection and peace of mind;

To prevent your kids from slipping and falling, you could look for monkey bars with grips.