Designer Rolling Laptop Case
Pair up your power suit with a designer rolling laptop case. With their chic looks, attractive details, and substantial space, these laptop bags on wheels won't compromise your style. And if you're the type who brings a lot of office work with them, this type of bag allows you to carry them more conveniently. The various compartments also help organize your files from your gadgets. Here are our designers' picks of designer rolling laptop bags that will elevate your work aesthetic.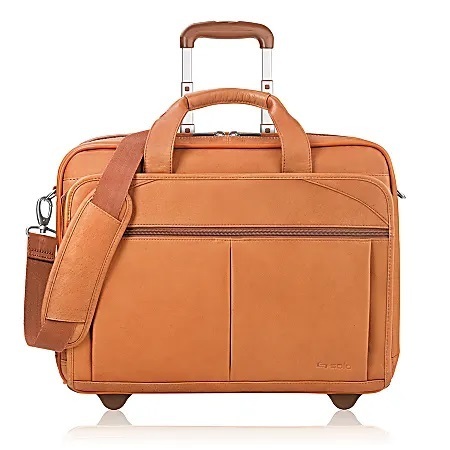 Tan Wheeled Laptop Bag
Tan Wheeled Laptop Bag
Solo
Create a balance between mobile office and chic style with this modern and spacious wheeled laptop bag. The main padded compartment securely carries your computer and cables. Front compartments provide organization for smaller items and folders.
Designer Advice:
Ideal for 15" laptops or smaller. While it is not described as such, this piece has enough space for two laptops without it looking too stuffed. It has a tendency to lean forward, which you can avoid by balancing the load inside the laptop bag. From a styling perspective, this would look great when paired with a bright-colored scarf.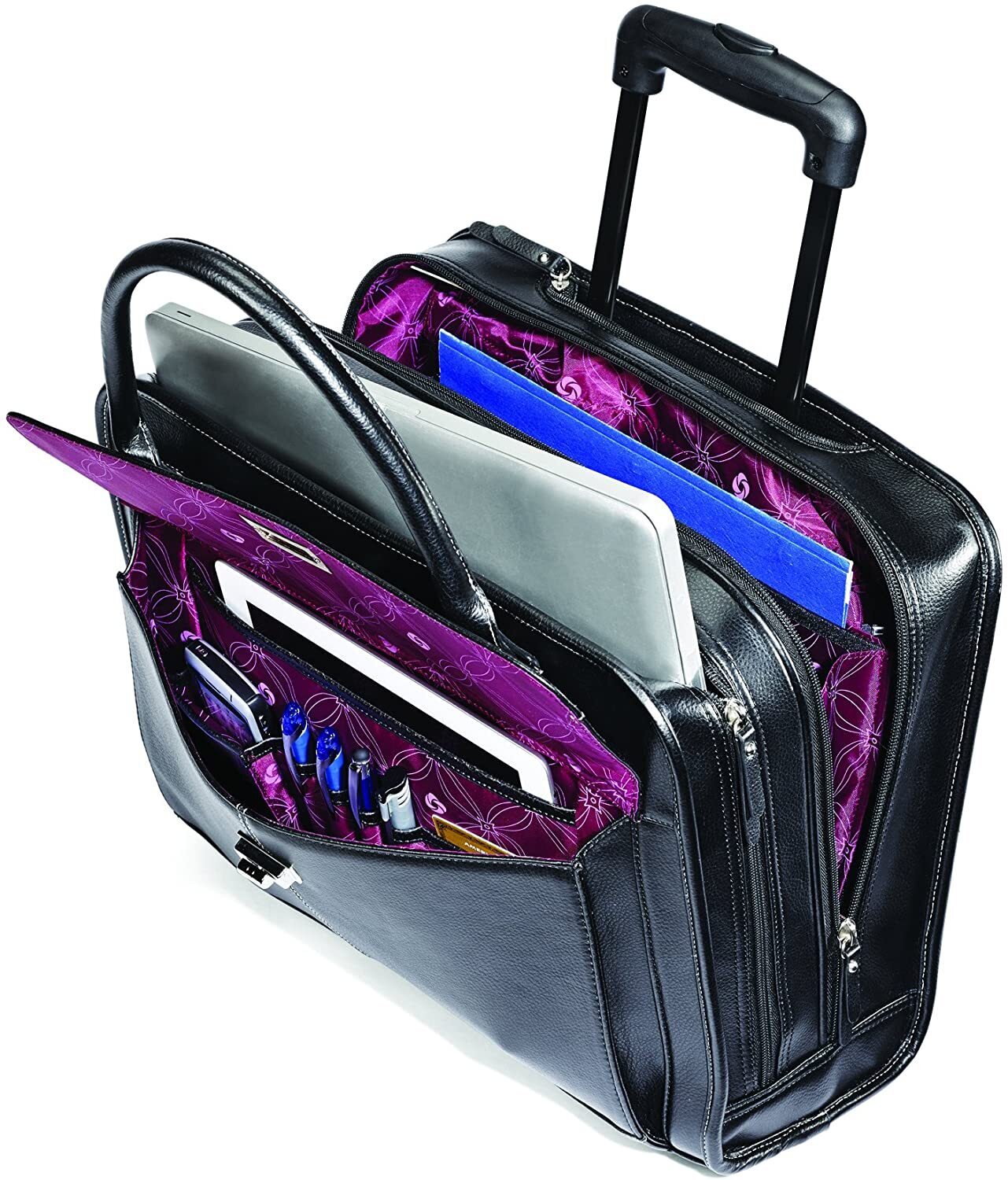 Black Laptop Bag on Wheels
Black Laptop Bag on Wheels
Samsonite Corporation
This rolling laptop bag for ladies lets you go the distance. Its padded middle compartment and accessory pocket keep your laptop safe, while its back compartment comfortably stores files. Rich mulberry fabric provides an elegant aesthetic, while beautiful hardware adds the finishing touch.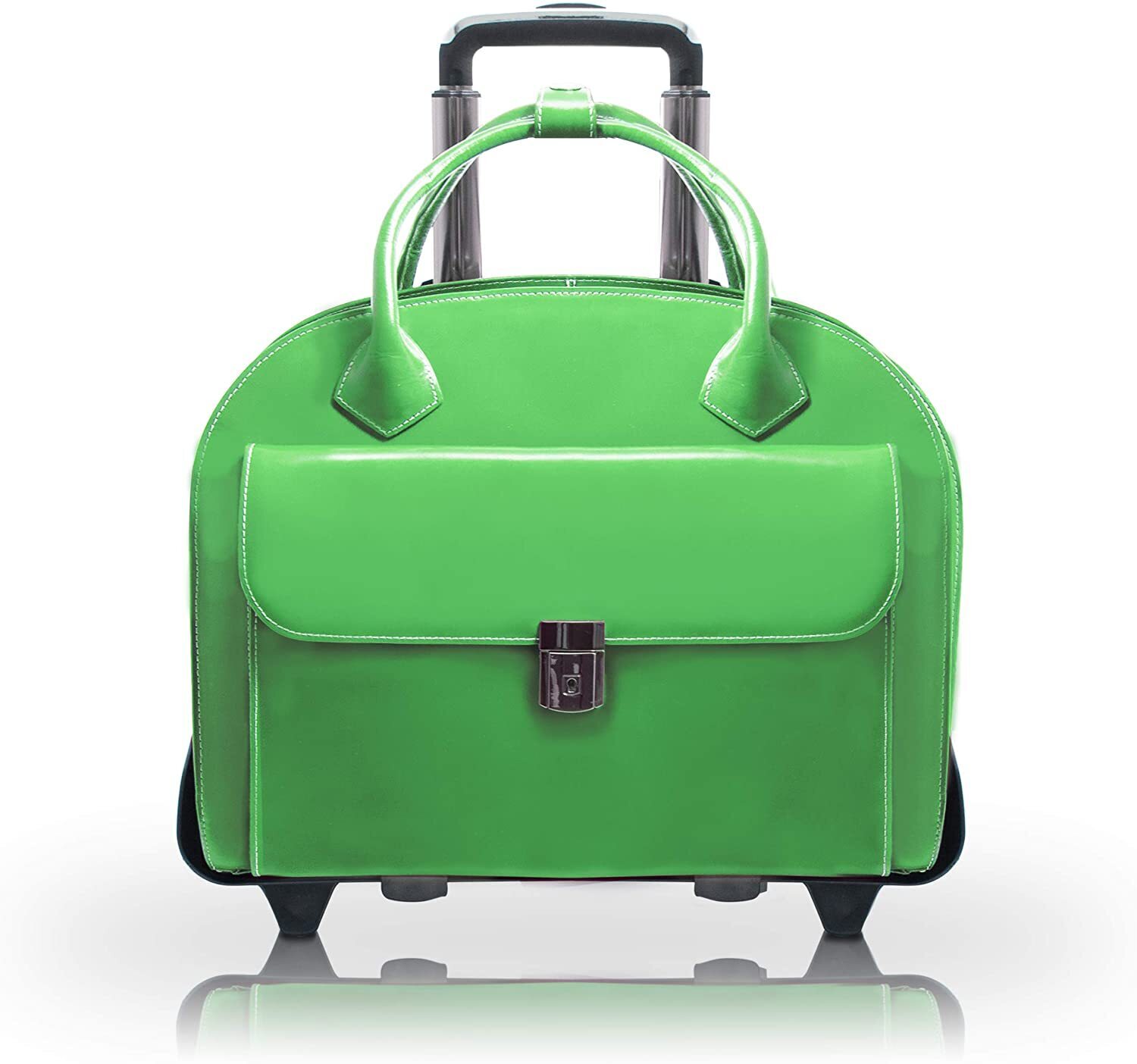 Chic Wheeled Laptop Case
Chic Wheeled Laptop Case
McKlein
Style and mobility are combined with this women's designer rolling laptop bag. With its patented system, this detachable piece allows the leather laptop bag to be carried separately when needed. Locked front compartment and interior organizers for the main compartment.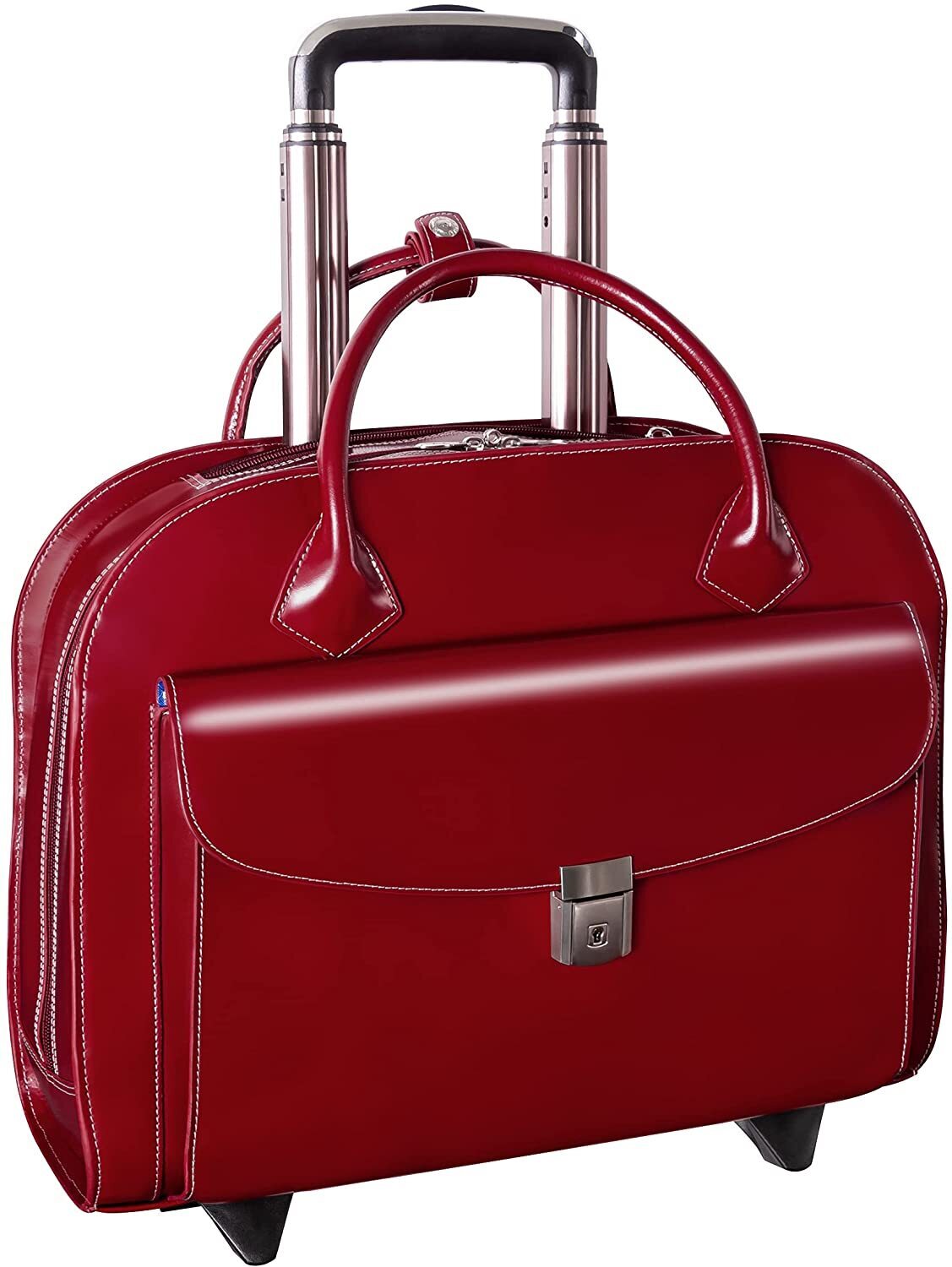 Leather Wheeled Laptop Bag
Leather Wheeled Laptop Bag
McKlein
Travel in style with this designer rolling laptop bag. Crafted from genuine cowhide leather, its high-density padded interior has a spacious compartment for your laptop. It also comes with interior organizers for smaller devices and file storage and lockable front access.
Designer Advice:
Fits laptops up to 17", although, at this point, it might be a bit snug for fit. The wheels have the tendency to catch and lodge small debris that might dent them and wear them easily. Make sure to be careful on roads and streets. This laptop bag rolls smoothly on smooth surfaces such as airports and office lobbies.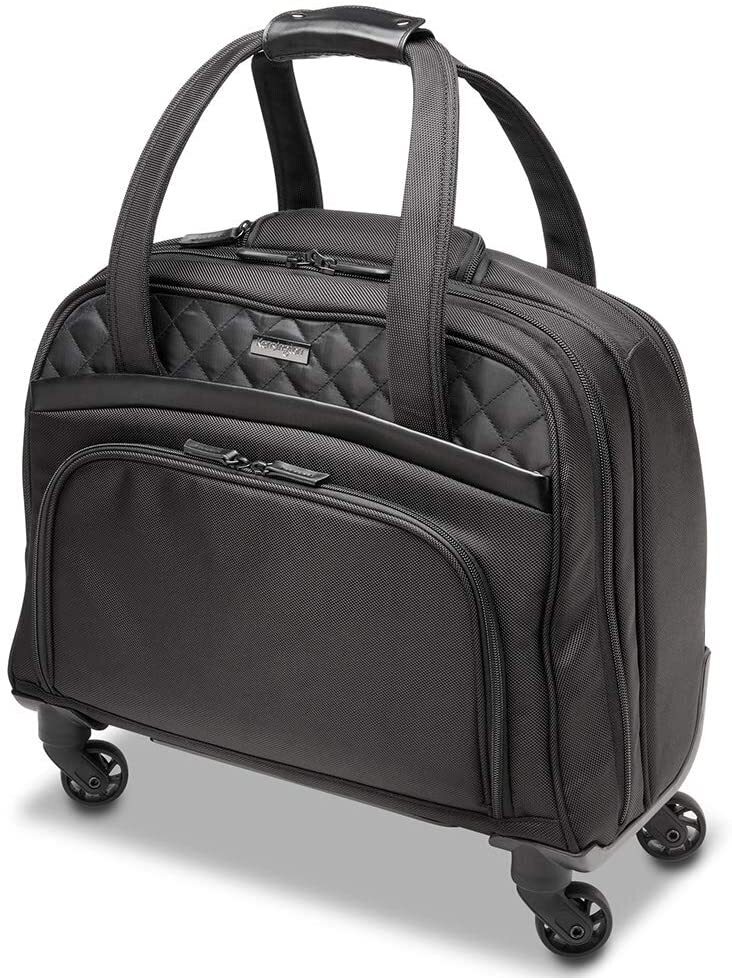 Laptop Case with Spinners
Laptop Case with Spinners
Kensington
Travel point to point in comfort with this ergonomically-designed designer wheeled laptop bag. The tufted pattern and rounded silhouette make it look like a tote bag, while its multi-directional wheels provide easy mobility. Equipped with drop protection padding.
Designer Advice:
The pink interior is a nice, unexpected touch that lends a pop of color to the all-black exterior. With its curved shape, this is the perfect bag for commuters looking for better mobility but might be limiting as a weekender bag. Handle in the middle also helps balance the stability, which means that you don't have to worry about it tipping forward.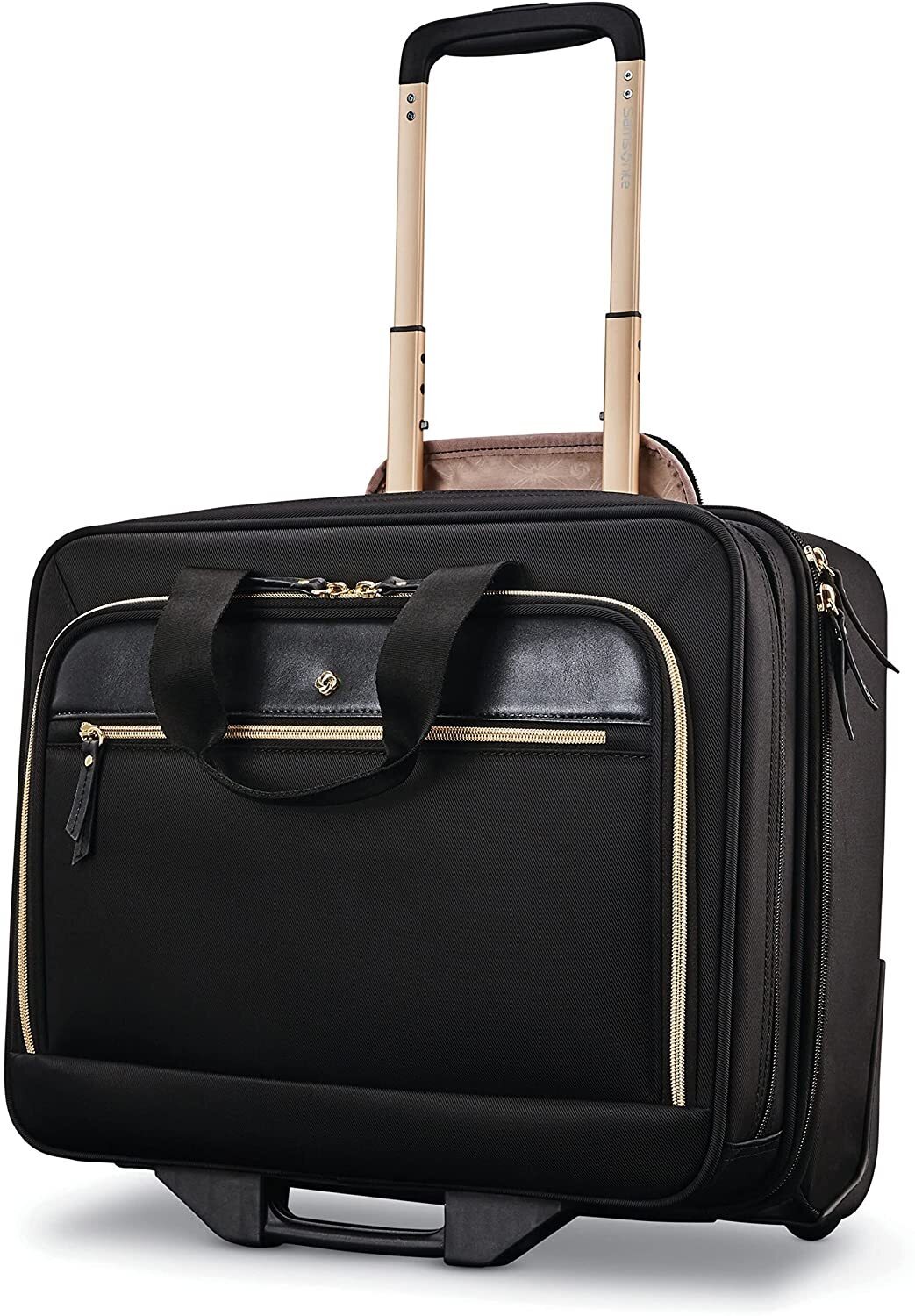 Stylish Laptop Case on Wheels
Stylish Laptop Case on Wheels
Samsonite
The perfect companion for short travels, this laptop bag with wheels come with a packing compartment for clothes and other essentials. It is made of nylon twill fabric with a water-resistant coating. The front pocket provides space for smaller gadgets.
Designer Advice:
This well-thought piece is ideal for those who travel on short business trips constantly. The black color lends a level of sophistication while the rose gold or gold hardware makes it look more distinct from a sea of black bags. With its size, it's not ideal for under the seat but it fits perfectly in overhead bins. Wipe with a clean, damp cloth.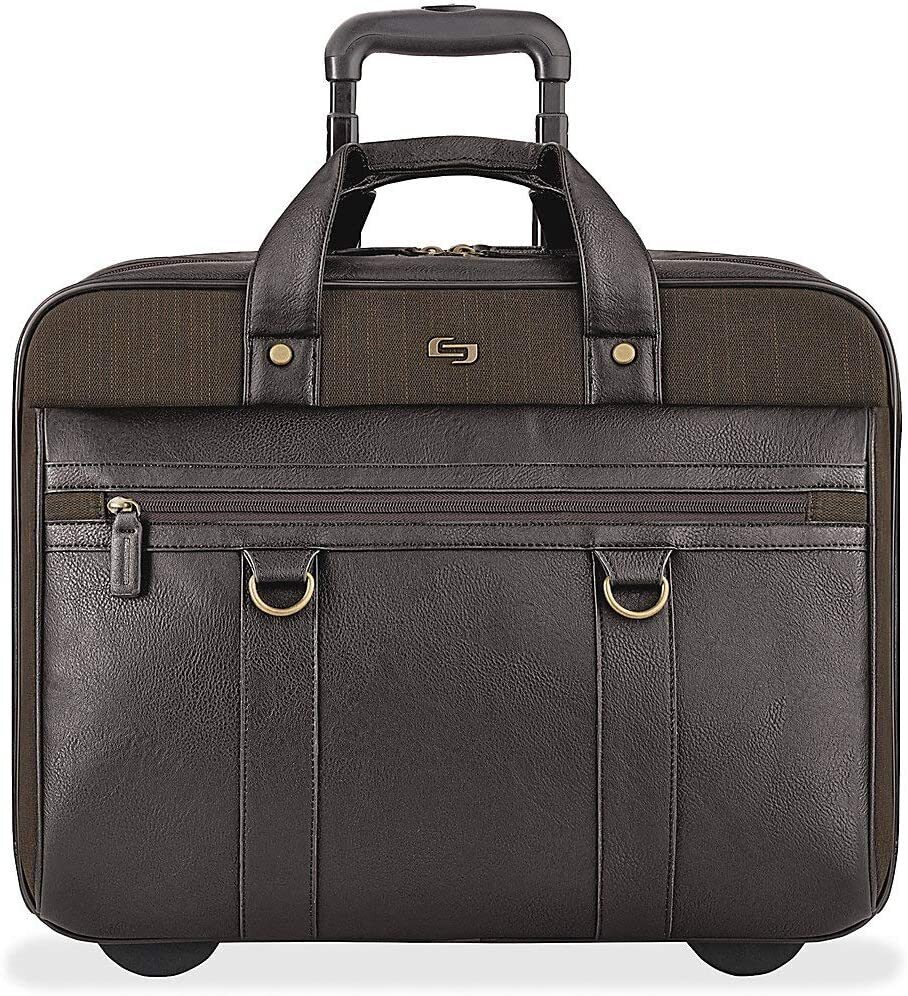 Espresso Colored Rolling Laptop Case
Espresso Colored Rolling Laptop Case
Solo
Roll in style with this laptop bag on wheels with retractable telescoping handles. It is equipped with padded compartments and a zippered organizer section. Durable vinyl construction in a leather-like texture makes this case both long-lasting and stylish.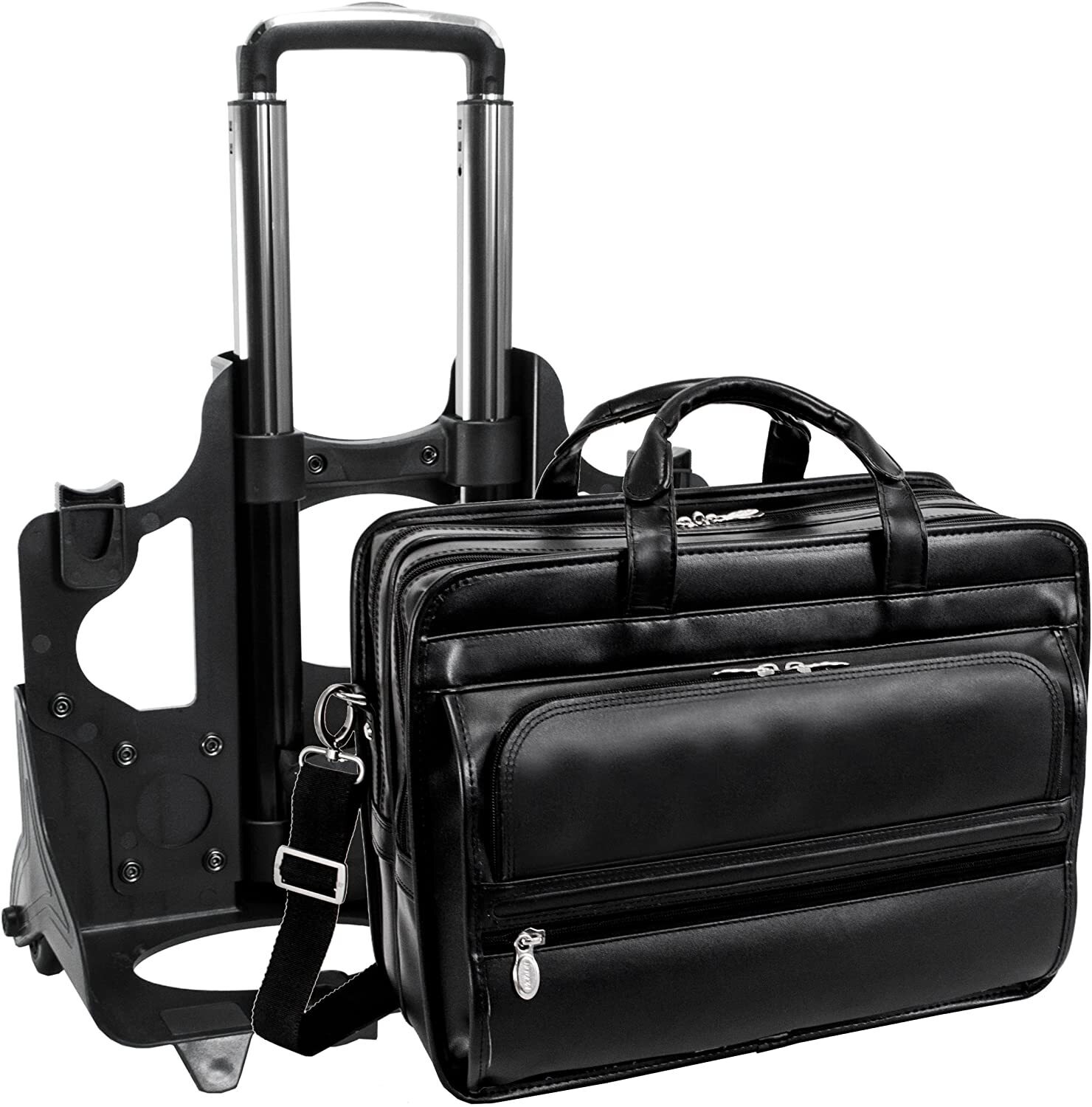 Detachable Rolling Laptop Case
Detachable Rolling Laptop Case
McKlein
A wheeled laptop bag for ladies in the UK, this piece allows to be detached from the wheel and handle system. It is padded with shock-absorbing foam to protect your gadgets, while its leather-like material evokes sophistication.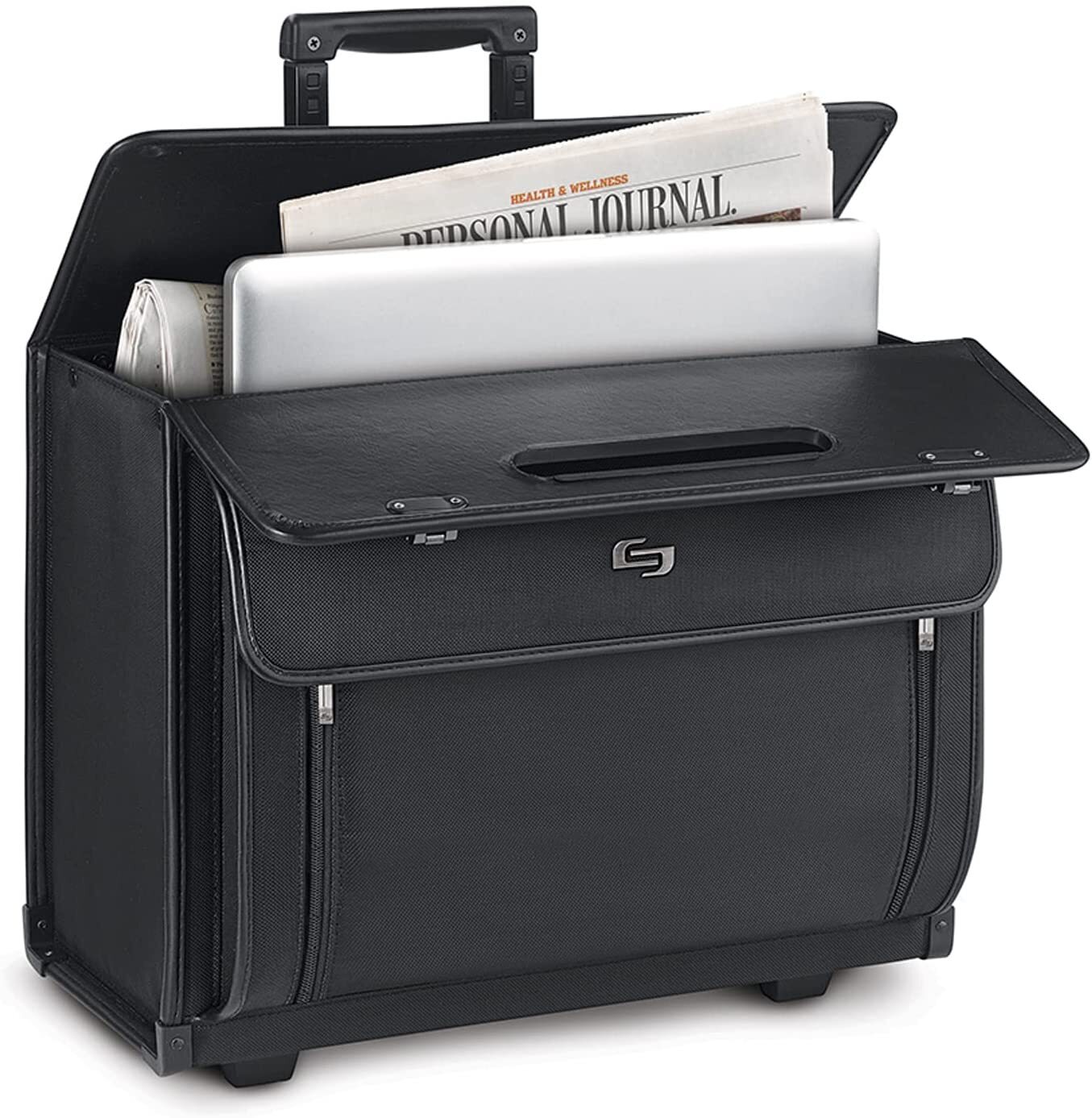 Hard case Rolling Laptop Bag
Hard case Rolling Laptop Bag
Solo
This hard-sided rolling laptop bag is sure to be an asset. It features a padded compartment and a front zip-down section with an accordion file pocket for organization Polyester construction with a subtle textured feel.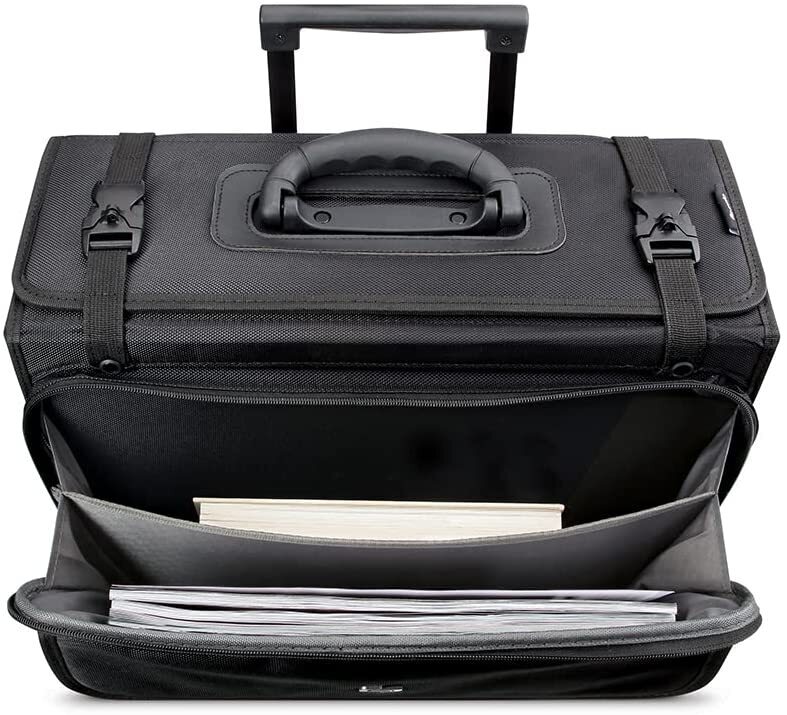 Spacious Laptop Case on Wheels
Spacious Laptop Case on Wheels
Solo
Don't fumble during inspection with this laptop case on wheels that has a removable laptop sleeve. Made of durable polyester, it sports a hanging file system to accommodate suspension files. Hard-sided with zip-down front organizers.
Designer Advice:
Perfect for laptops up to 16". While it has an organization system, there's only one small compartment for small items and gadget accessories. We recommend getting a small bag to help organize them especially if you're bringing chargers, adapters, and cables with you. With the ample interior space, there's definitely enough room for extra items.