You've owned a full-length floor mirror for years, but you're fed up with how much space it takes up. Not only that but trying to vacuum around it is a huge pain in the you-know-what!
To save room, you are thinking of buying an over-the-door mirror instead. But what choices are there to pick from? What design styles can you explore?
Look no further because you've come to the right place. We are giving you 15 awesome door mirror ideas to consider that will give you the desired floor space you're looking for.
1.

Modern Full-Length Wide-Framed Mirror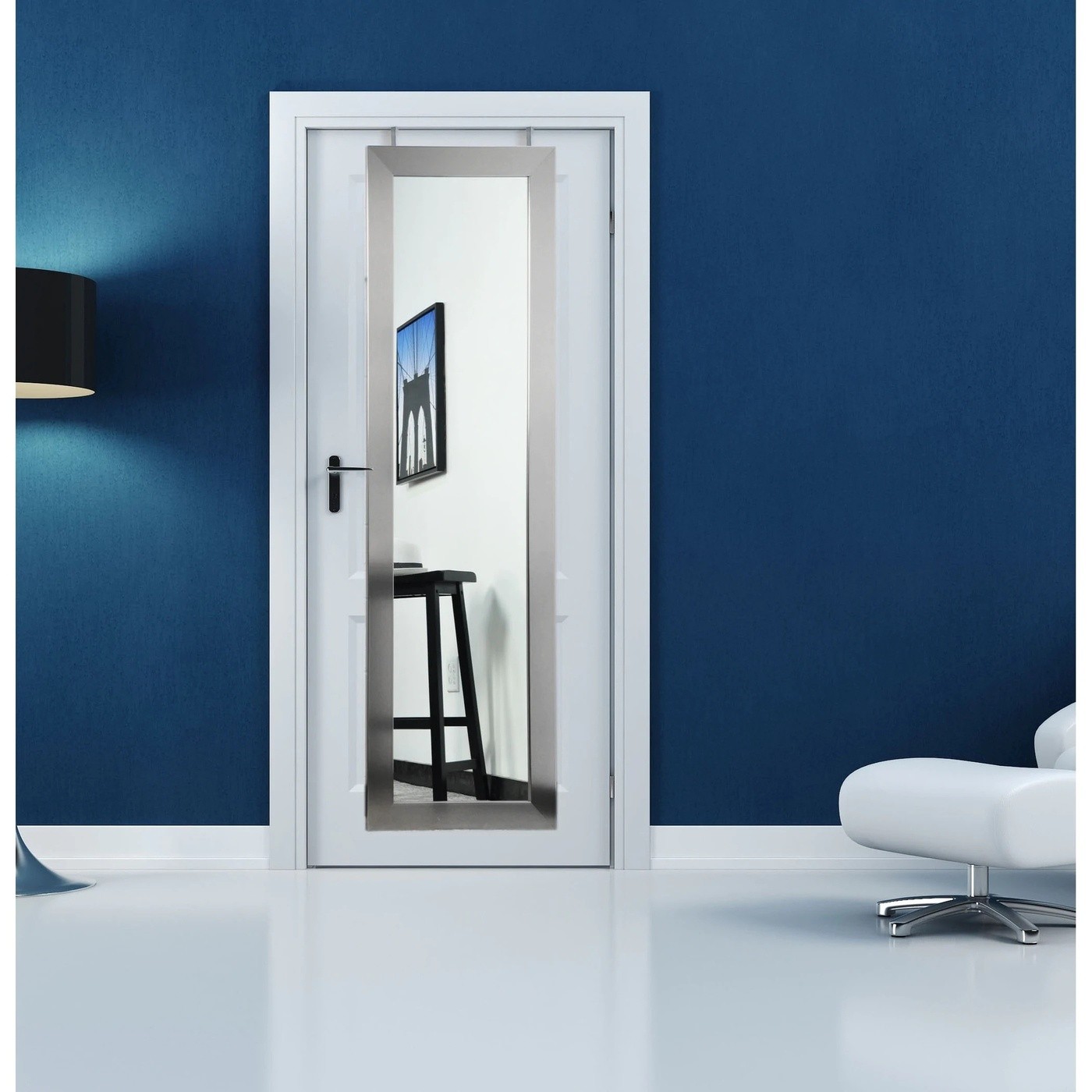 The full-length wide-framed mirror is the typical over-the-door mirror that allows you to see yourself from the top of your head to the tip of your toes. Since full-length mirrors are heavier, they come with four hooks and are safest to set up with two people.
The frame is made of MDF (Medium Density Fiberboard) which is best described as aesthetically pleasing engineered wrapped wood. The wide Nickel-finished frame makes it suitable for Farmhouse, Mid-Century Modern, Modern, and Contemporary design styles.
Full-length MDF mirrors have several color options to choose from like silver, black satin, pearl white, champagne, dark brown, industrial rust, and brushed gold.
2.

Round Or Teardrop Antique Mirror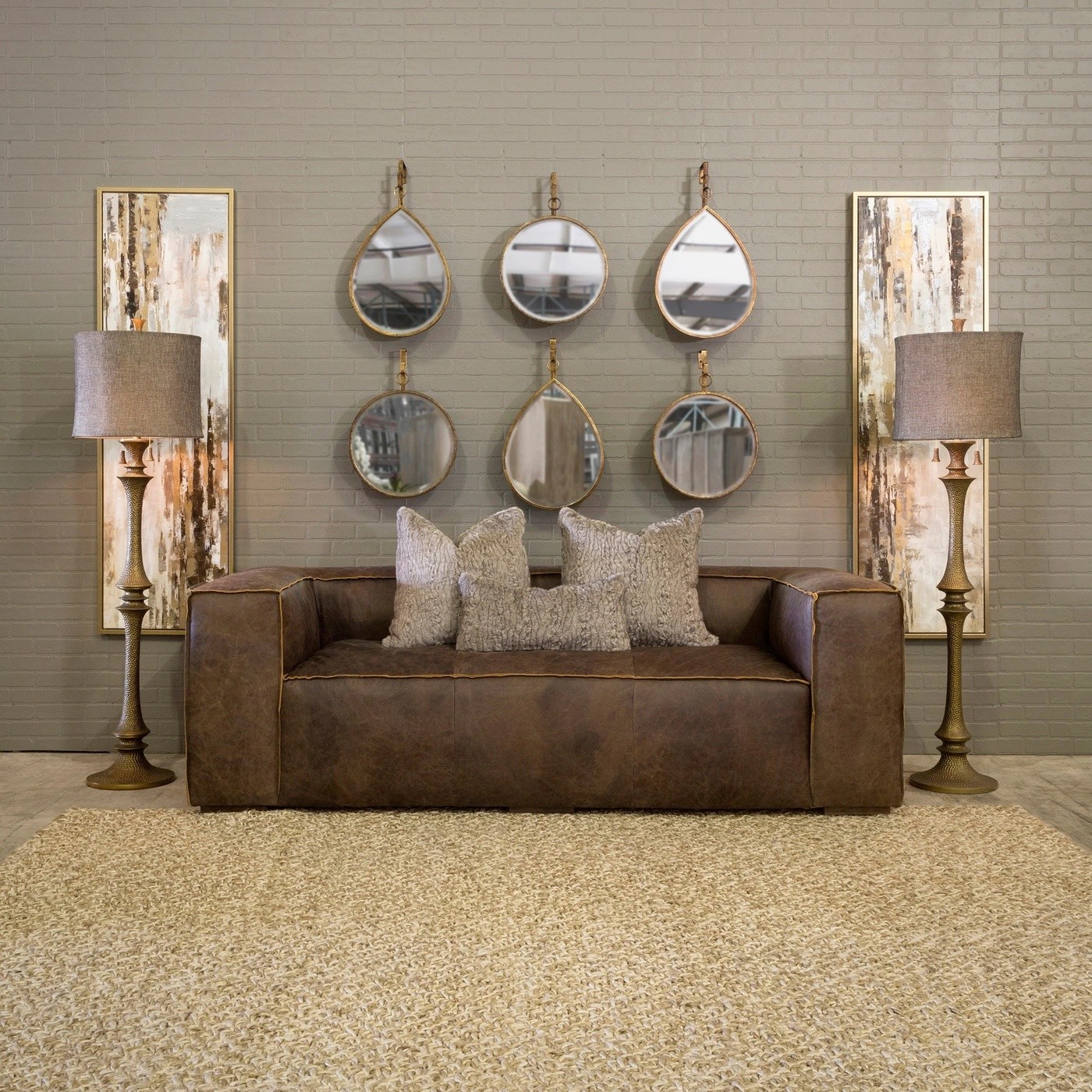 If you are looking for a streamlined design, then this is your go-to mirror. You won't be able to see your full body in it, but the mirror does provide some unique features.
The medium-sized rounded antique mirror is harder to find compared to the generic rectangular over-the-door mirrors. It's made of metal, glass, and mirror, and possibly wood.
Since this mirror is originally designed as a wall mirror, you may need Velcro tape to help secure it to a door. The antique mirror weighs a little over four and a half pounds and only needs one person to hang it.
3.

Young Adult Vanity Mirror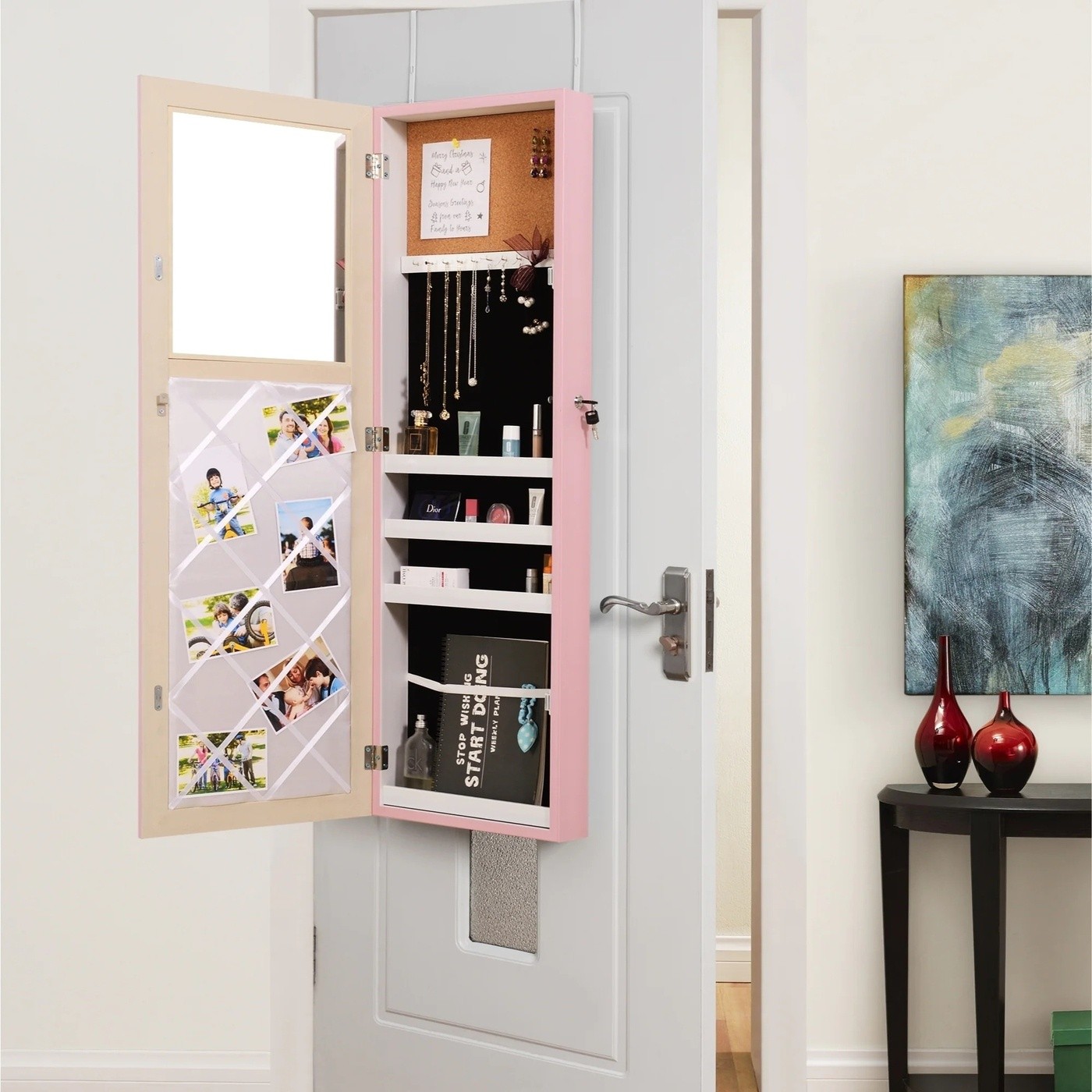 The young adult vanity mirror is perfect for a college student or for a younger adult wanting a mirror and a fun way to store jewelry, photos, and more. These over-the-door jewelry armoire mirrors are considered large and are normally over 32 inches tall).
They come with 10 necklace hooks, four shelves, and a cork pinboard. As an added feature, great for college dorm rooms, they also lock!
These mirrors are for women and men. Men can choose other color options like black, blue, grey, or white. It's a good place to store some expensive cologne or perfume!
4.

Simple Standard Over The Door Mirror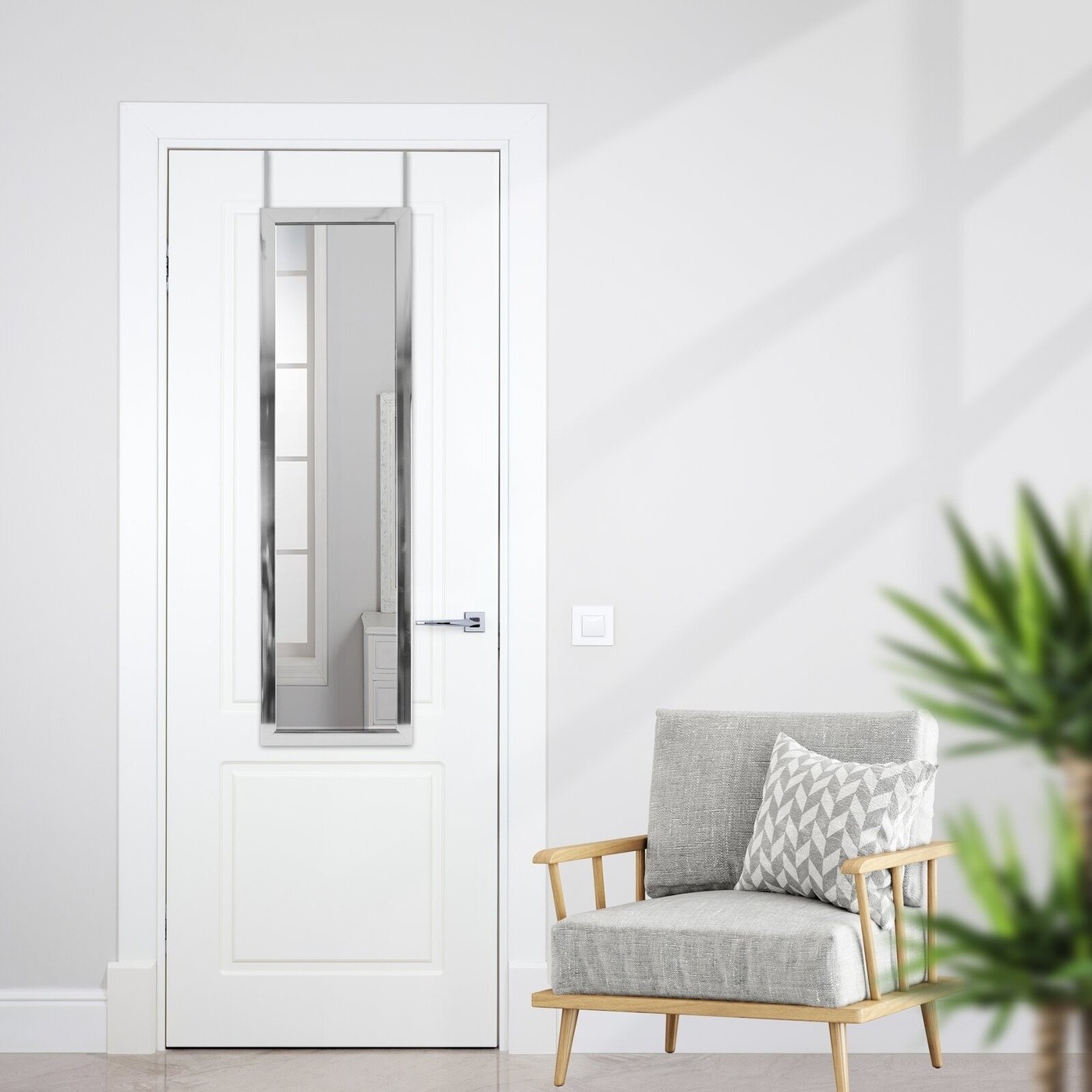 If you're shopping for over-the-door mirrors on a budget, this is probably your best option. These simple mirrors are made skinnier and flatter when compared to the wide-framed mirror.
The simple standard mirror can be bought in all sorts of colors and are extremely easy to find online and in-store. Most of them are made with cheaper materials like plastic.
They are only 50 inches high, making them a lot shorter than the full-length wide-framed mirrors. If you are trying to see how your shoes pair with an outfit, go with the full-length mirror over this one.
5.

Long Elegant Mirror Jewelry Cabinet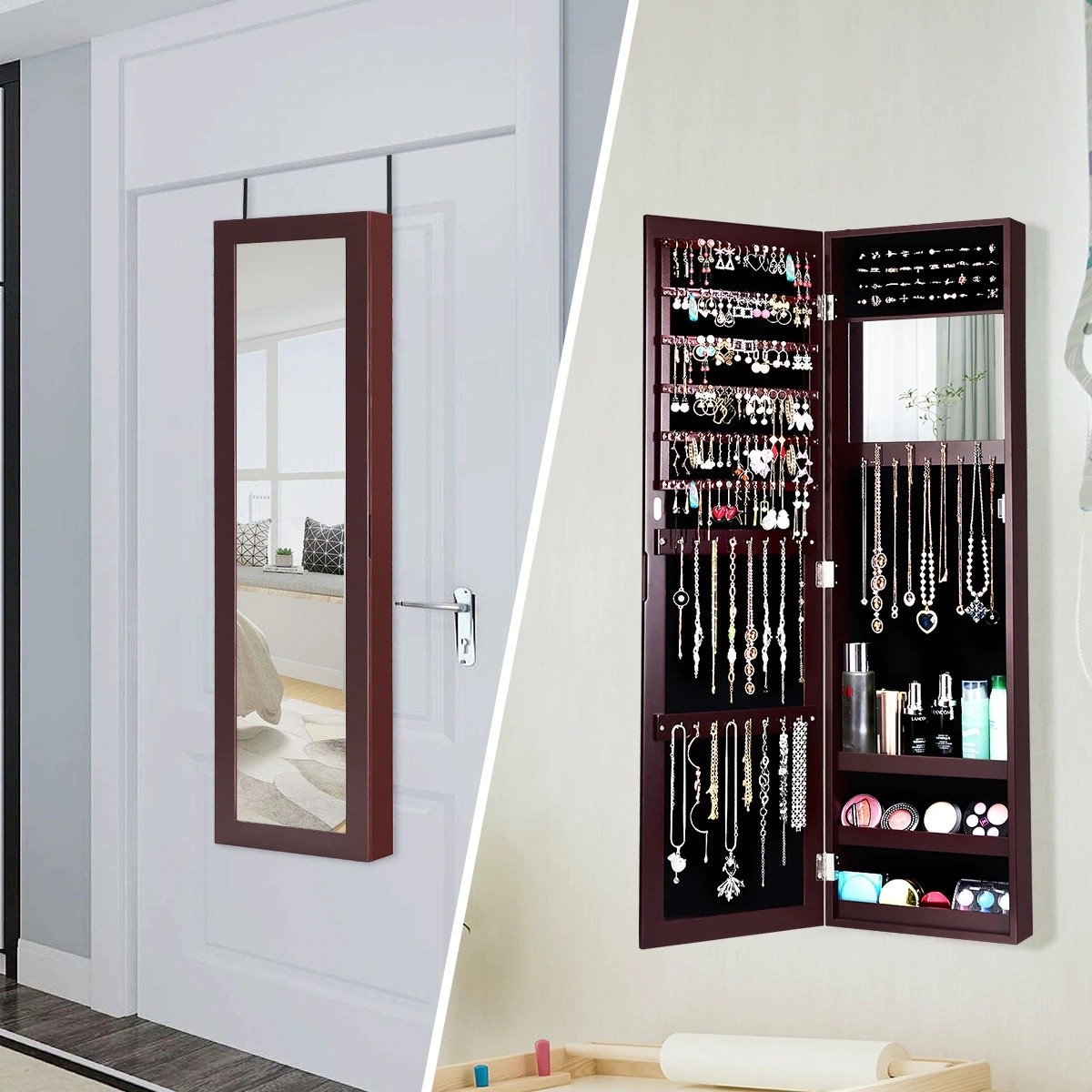 This long mirror is an elegant take on the young adults' mirror above. The main difference is this one's made for older adults.
The long, elegant mirror jewelry cabinet is almost twice as heavy as other over-the-door mirrors (about 15 lbs.). There are heavier door mirrors that we will mention later.
Made with a premium MDF board, this mirror is stable and durable enough to hold six lines of finger earrings, 40 ring slots, 25 hooks, and 3 storage racks. As a bonus, there's even a make-up mirror inside!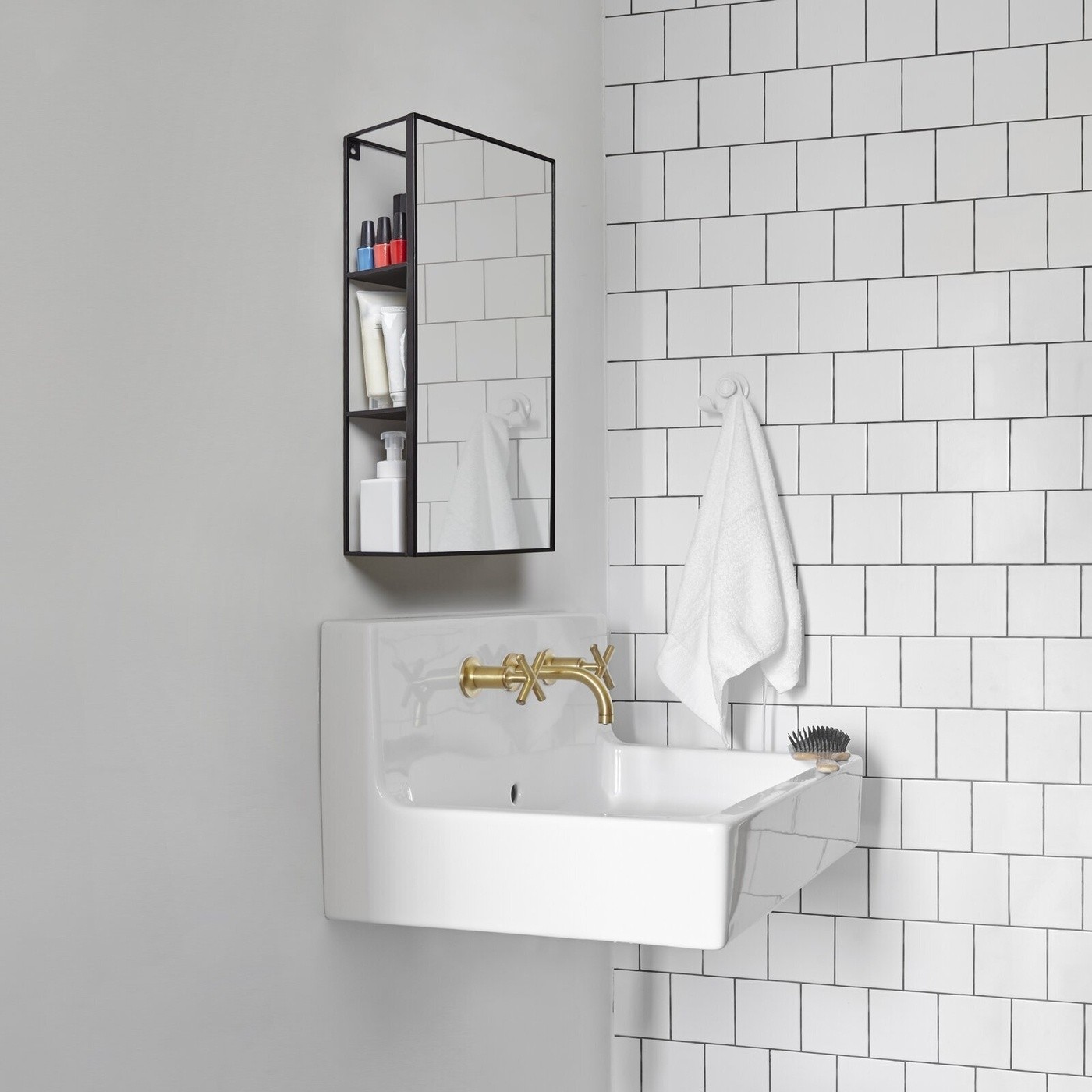 The hidden storage mirror is originally designed as a medicine cabinet for a bathroom. If you're into DIY projects and enjoy adding a personal touch to your over-the-door mirror, then this one is for you.
You'll need to buy hooks that go over the door that allow you to hang your mirror on them. If the mirror swings when you open and close a door, simply add Velcro tape to the back of the mirror and door.
This mirror is easily accessible from both sides. With open sides, this mirror would have to be placed over a door that doesn't get as much traffic (possibly a bedroom closet door).
7.

Sparkly Mosaic-Style Door Mirror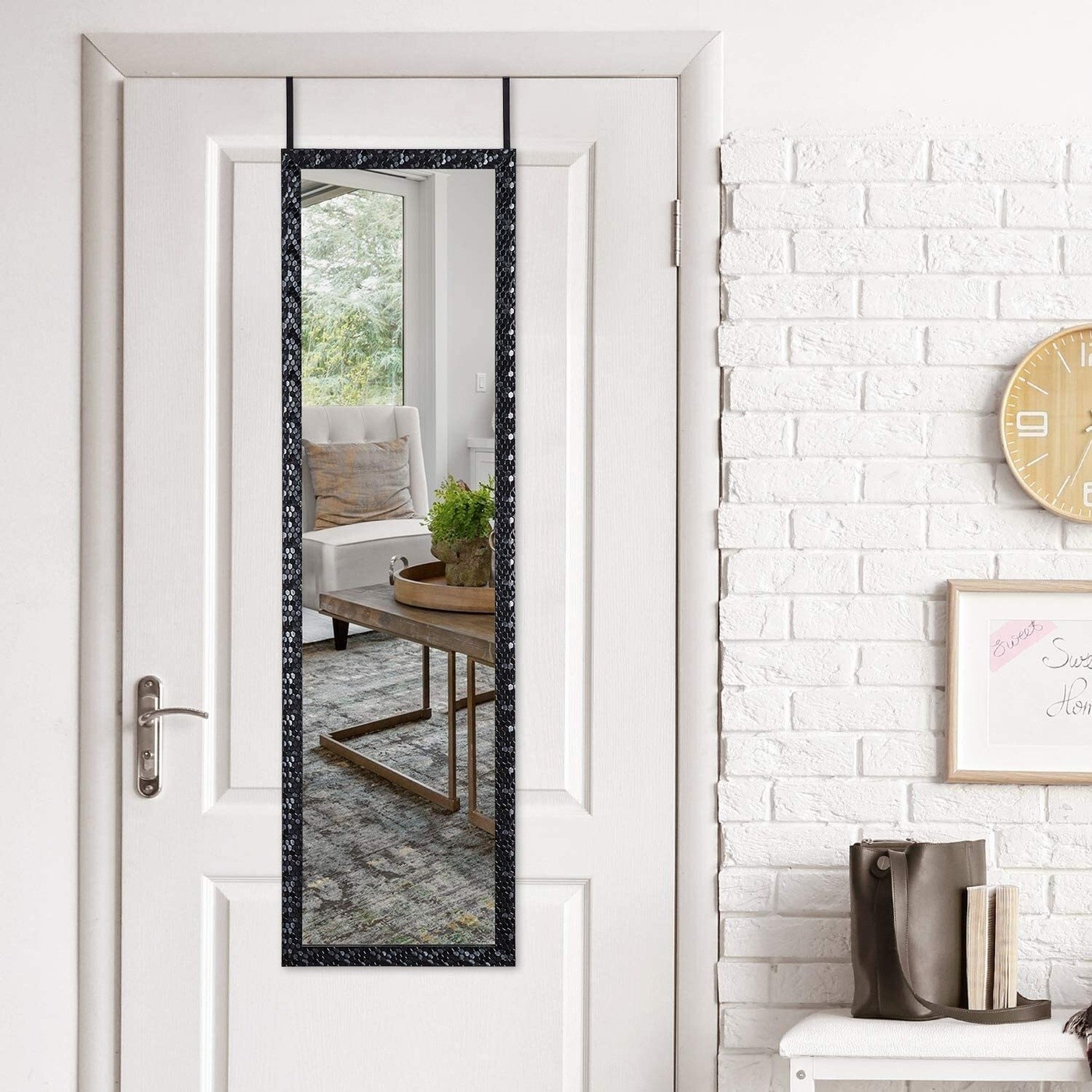 If sparkles call your name, you can't go wrong with this sparkly mosaic-style door mirror. This mirror is for you Glam lovers out there!
This glam mirror can be found in colors like black and gold. An even cooler thing about this mirror is that it is shatterproof (great feature if you hang it on the door).
It comes with two sets of hangers that allow you to adjust how high you want your mirror to sit on the door. These dazzling glass mirrors are large enough for you to see yourself from any angle.
8.

Rustic Over The Door Armoire Mirror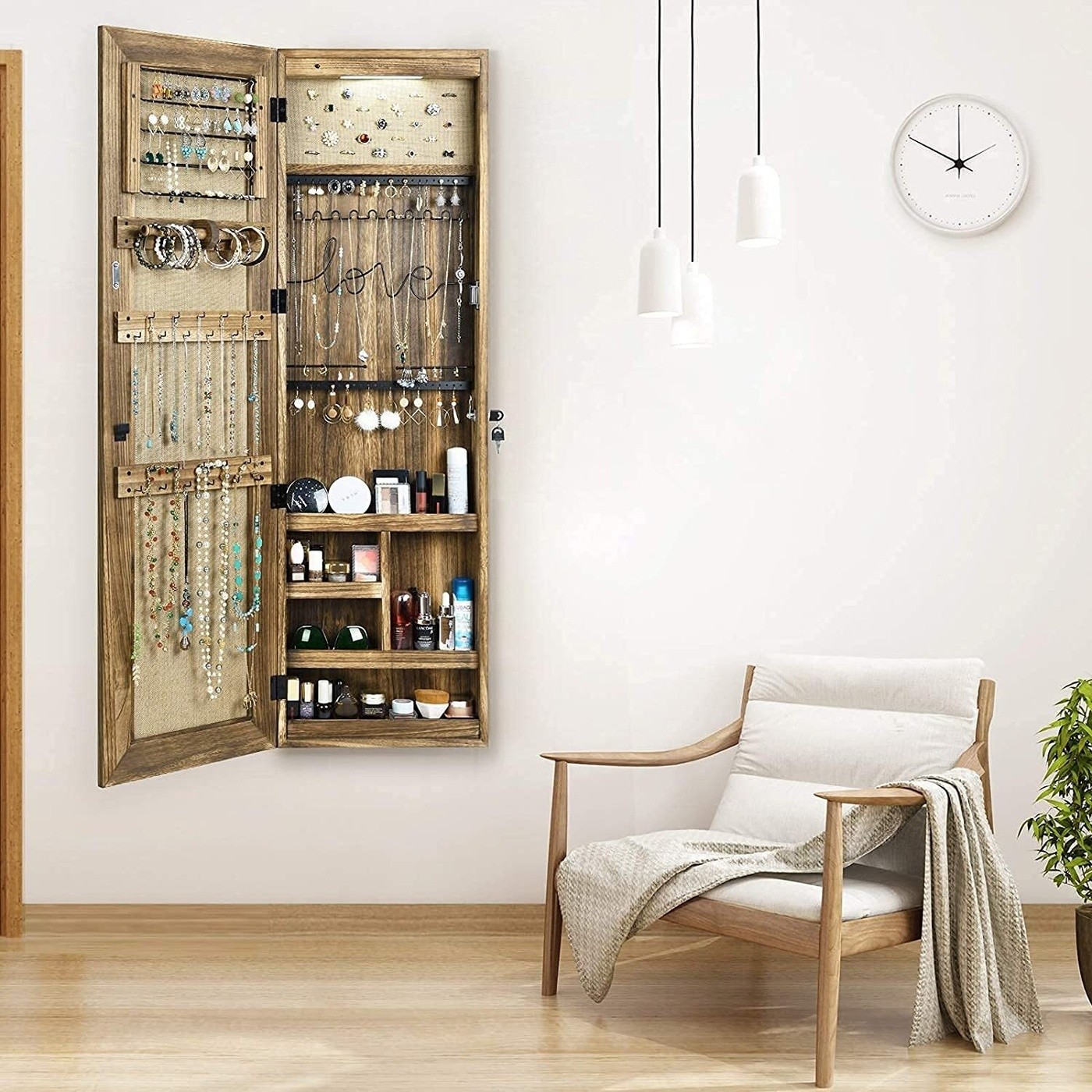 This mirror is like the elegant mirror cabinet, only this one doesn't come with a mirror on the inside and outside. It's also built for rustic or farmhouse design-focused enthusiasts.
These mirrors are all-wood designs with a beautiful, torched finish. This rustic wooden mirror gives you two adjustable heights to hang over the door and help you save floor space.
This mirror weighs about 14 pounds and may be a bit awkward trying to hang it over a door by yourself. This especially rings true if you're shorter in stature.
9.

Lockable Touch Screen Lighted Mirror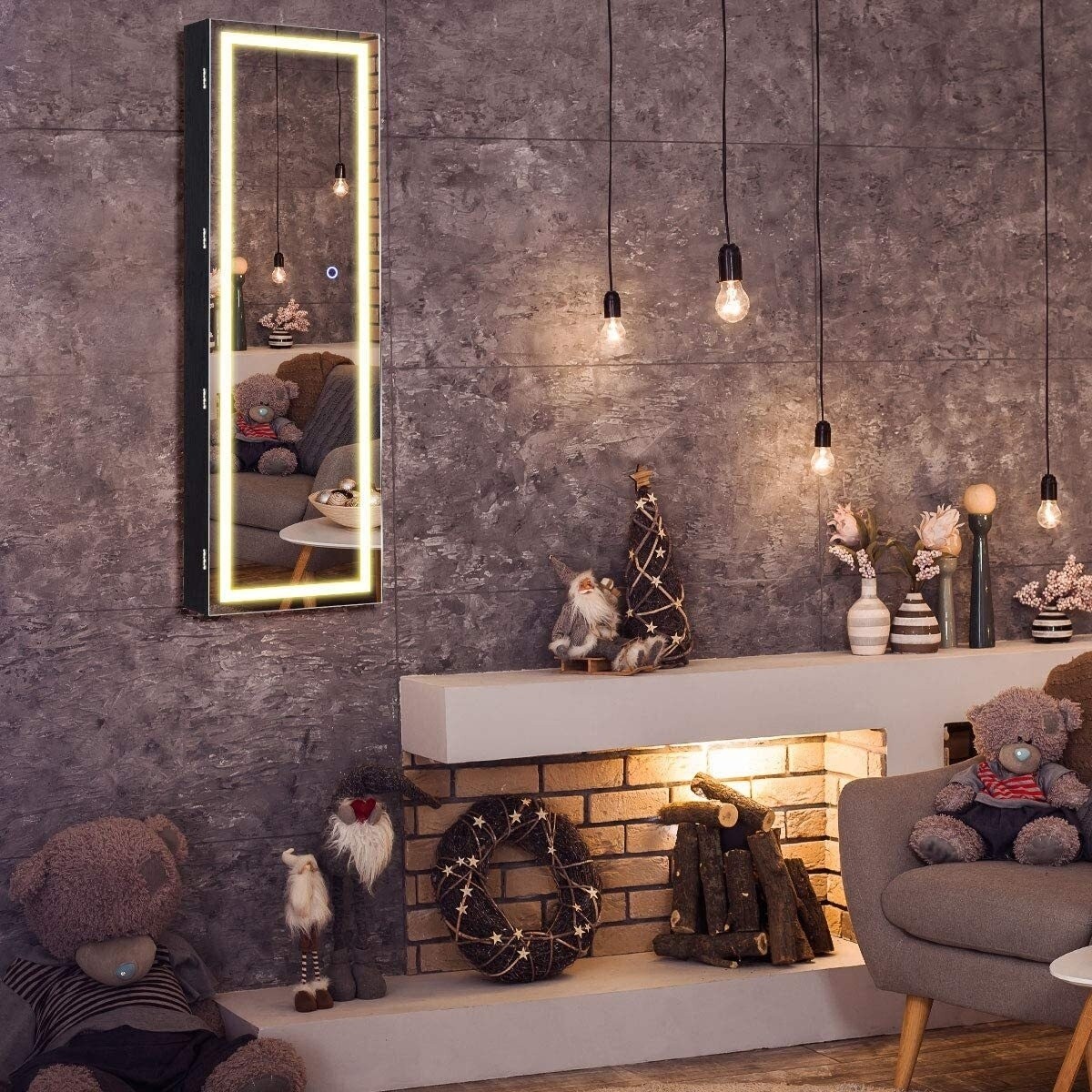 You want to add a closet door mirror but it's super dark and you might not be able to see yourself. With a touch screen lighted mirror, this won't be a problem.
The touch screen light is a neat feature that general door mirrors don't offer. These lighted mirrors also have a locked cabinet and a zipper pouch to hold whatever you want.
It is the heaviest mirror of all, weighing in at 26.5 pounds! If you buy this mirror, make sure it's secured to the door snuggly. This one may not be suitable if you have young adventurous children.
10.

Rounded Corner Over The Door Metal Mirror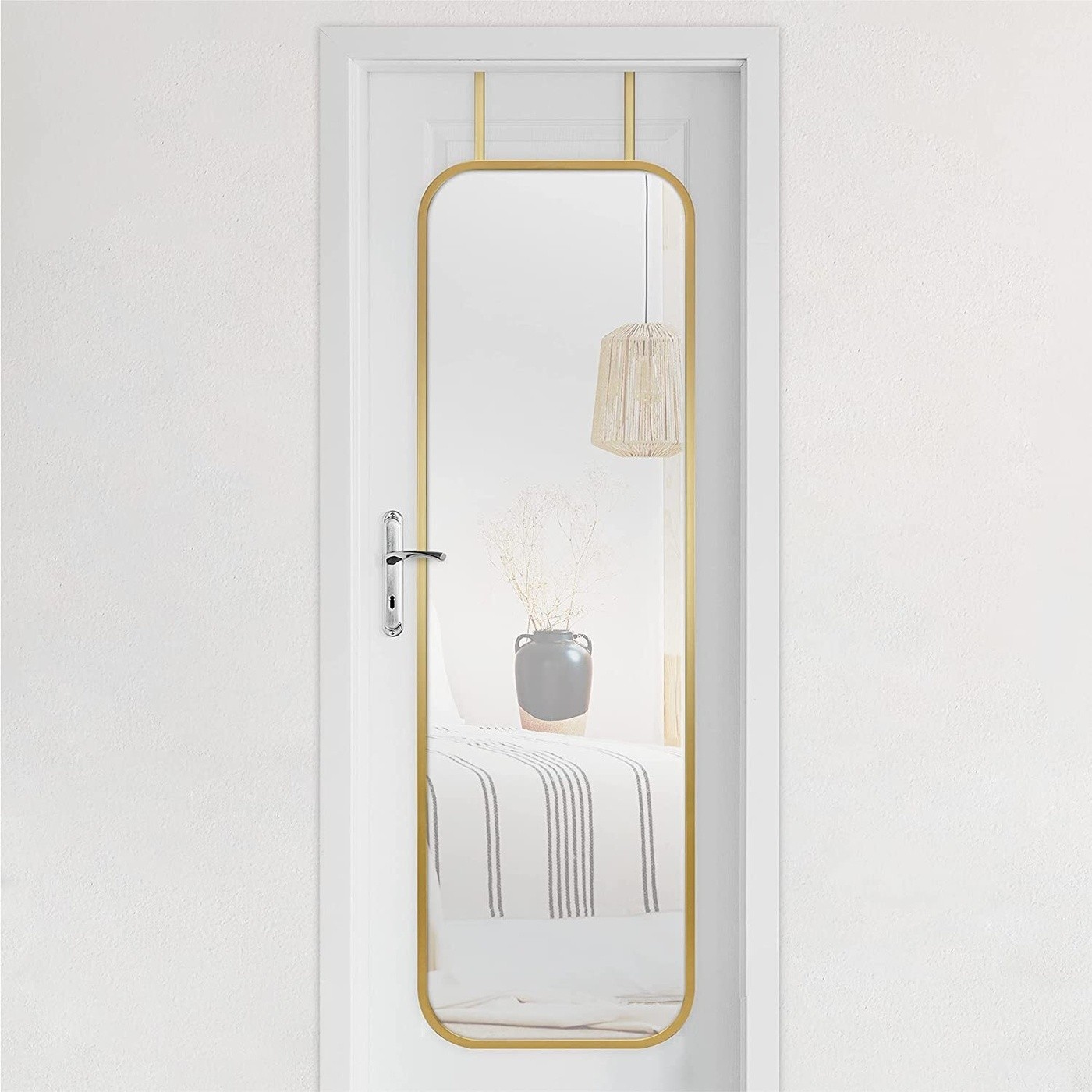 If sharp rectangular corners aren't your jam, opt-in for a lovely round-cornered over-the-door metal mirror. The brass-coated thin mirror is in the modern style arena.
Other color options you can choose from are black, blush, light aqua, silver, and white. These mirrors are extremely easy to hang and don't require you to have a tool kit.
There are two adjustable heights for this mirror and it's three millimeters flat. It's a simple yet stylish mirror great for any room.
11.

DIY Decorative Oval Rope Mirror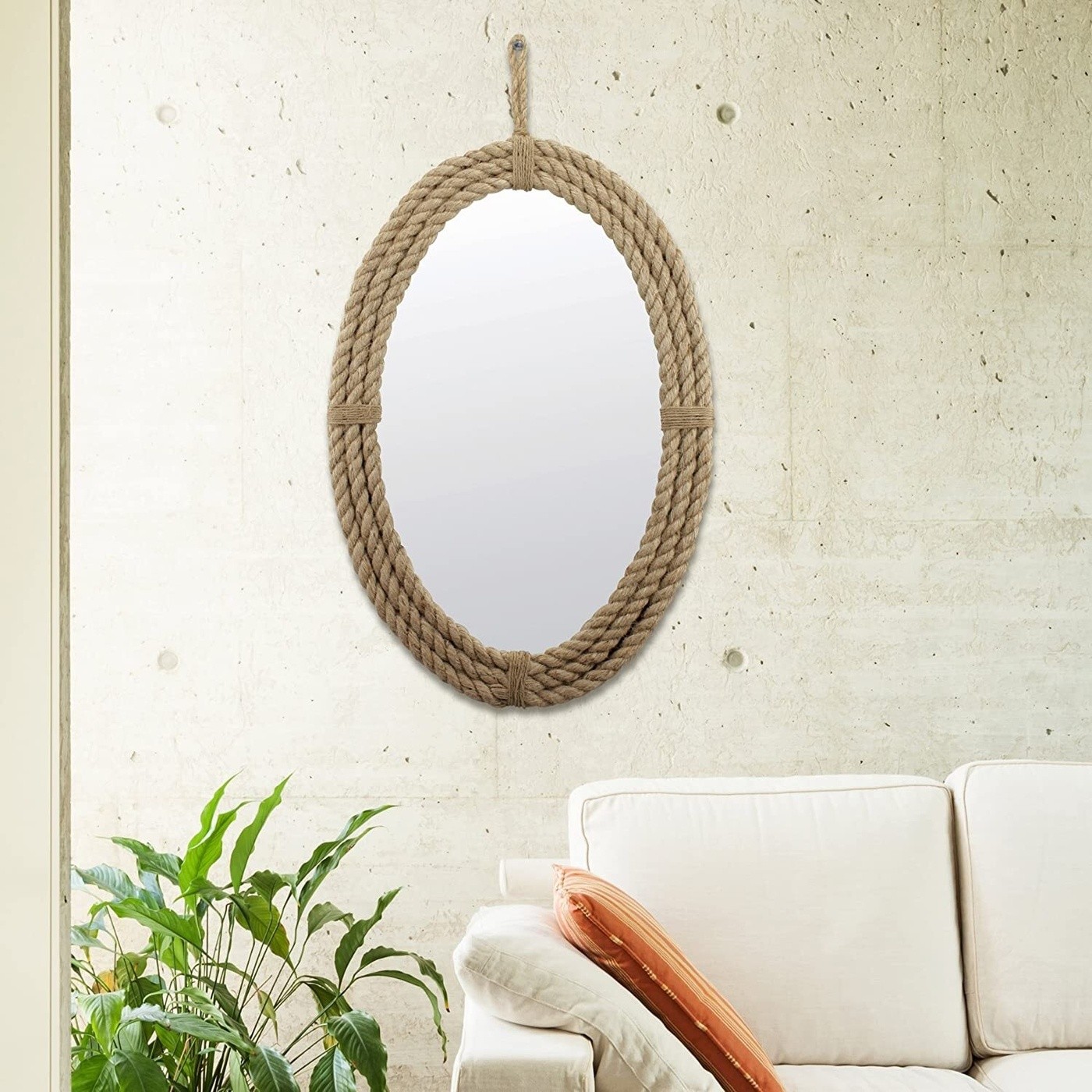 If you love this rope-designed oval mirror, simply add a door hanger or hook and Velcro tape, and BAM, you've got yourself a beautiful door mirror!
These smaller oval mirrors weigh a little over three pounds and are a great addition to bathrooms, hallways, bedrooms, or closet doors. The rope design is great for coastal and island-themed homes.
You can most likely find other oval mirrors, but it may be difficult to use them as door mirrors if they don't already come with a loop at the top. It's a unique piece to add to a door.
12.

Clean Aluminum Thin Frame Door Mirror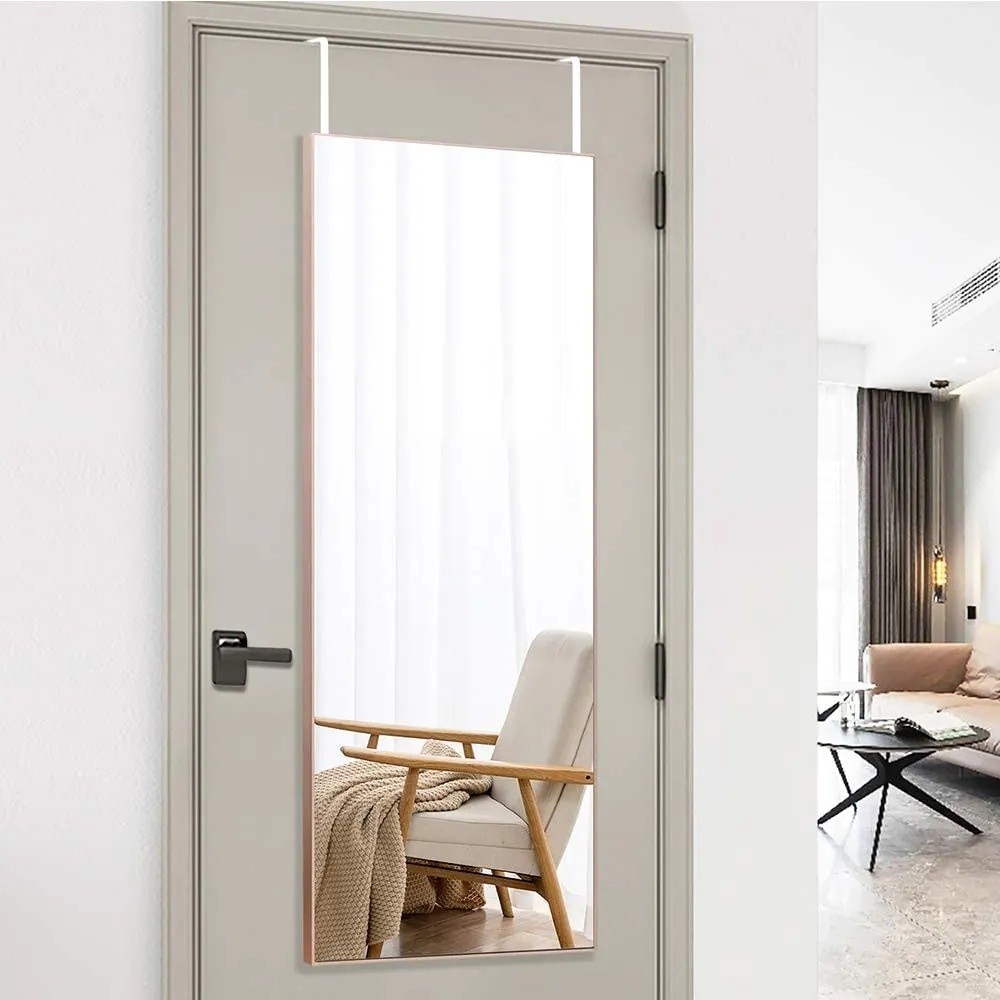 Not a fan of thicker framed door mirrors? That's not a problem with this dainty aluminum alloy thin-framed mirror.
The frame colors come in copper, black, gold, silver, and white. Thinner framed mirrors look a lot more appealing on thinner-sized doors. Wider frames on a thin door give the illusion of a smaller entryway door.
This simple clean mirror is made with high-quality float glass that doesn't cause mirror distortion. It also has multiple protective layers making it shatterproof.
13.

Rustic Designer Armoire Mirror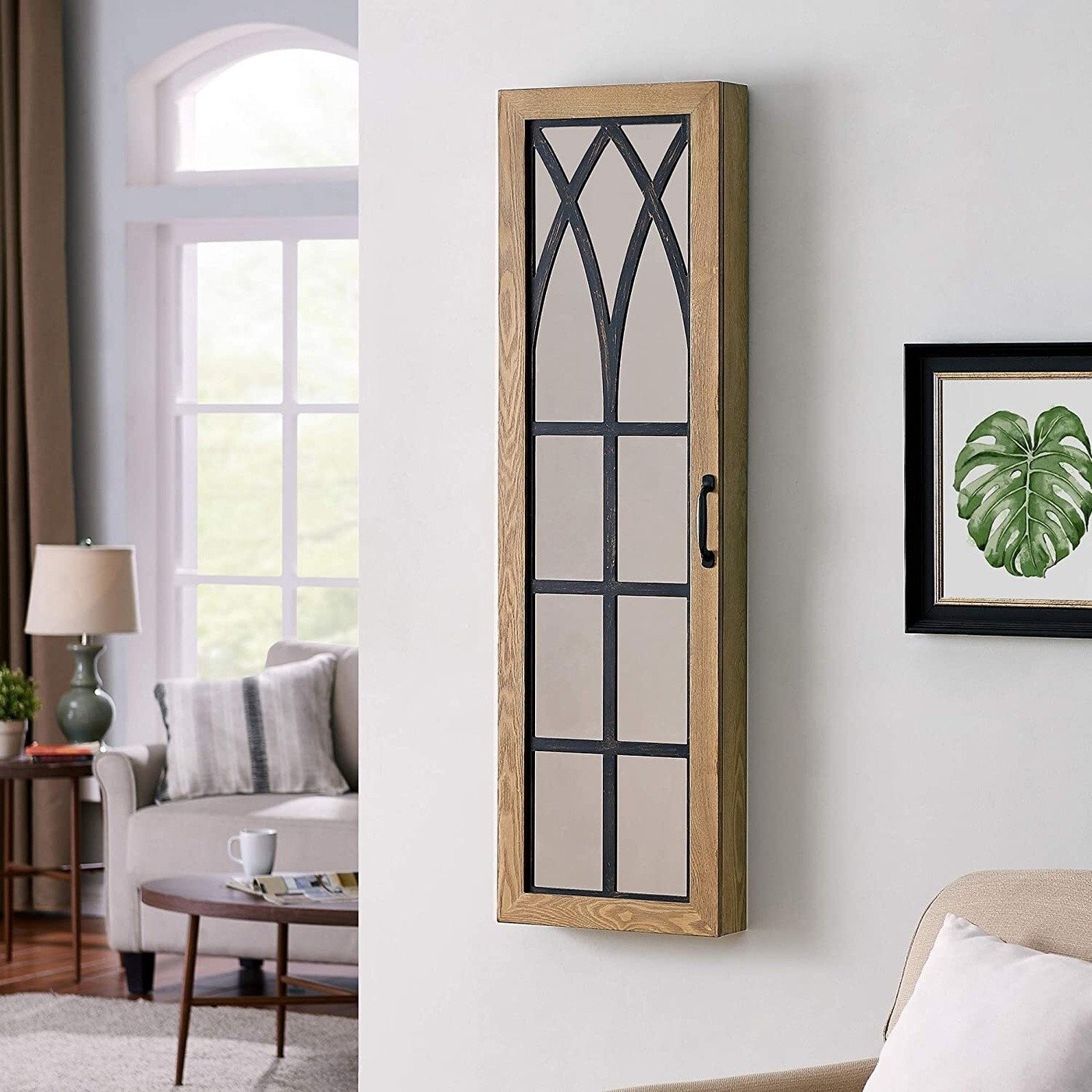 Are you planning to hang an over-the-door mirror in your living room and want more design to it? You can find mirrors that come with etched designs on the face of them.
The arch design on this one gives a very sophisticated touch to any room. It also doubles up as a jewelry armoire. Raise your hand if you enjoy space-saving mirrors!
It's easy to install and can hold up to 105 rings, 60 pairs of earrings, and 24 hooks to hang necklaces or bracelets. Rustic and farmhouse designers love this dual-purposed door mirror.
14.

Classic Light Bulb Mirror Cabinet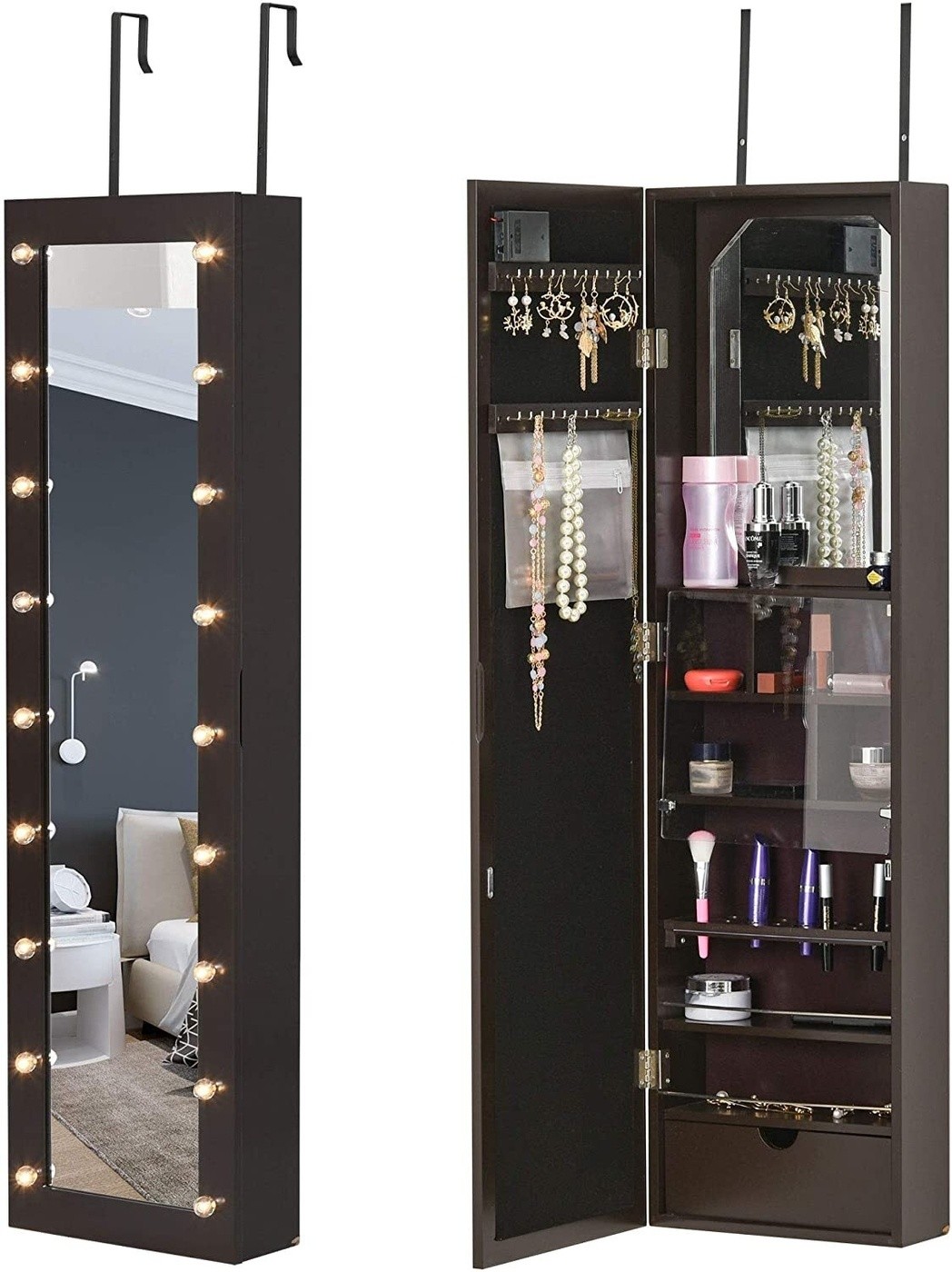 We're going classical on you! This fancy door mirror also has a cabinet that comes with it.
The classic light bulbs that line the front of the mirror bring warmth and light to any room. With the length being slightly higher than 39 inches, you shouldn't have an issue seeing your outfit before going out with friends.
The dark walnut finish is very classy for either men or women. This classy mirror gives you three adjustable heights to place your mirror on your door to your liking.
15.

DIY Small Geometric Hanging Mirror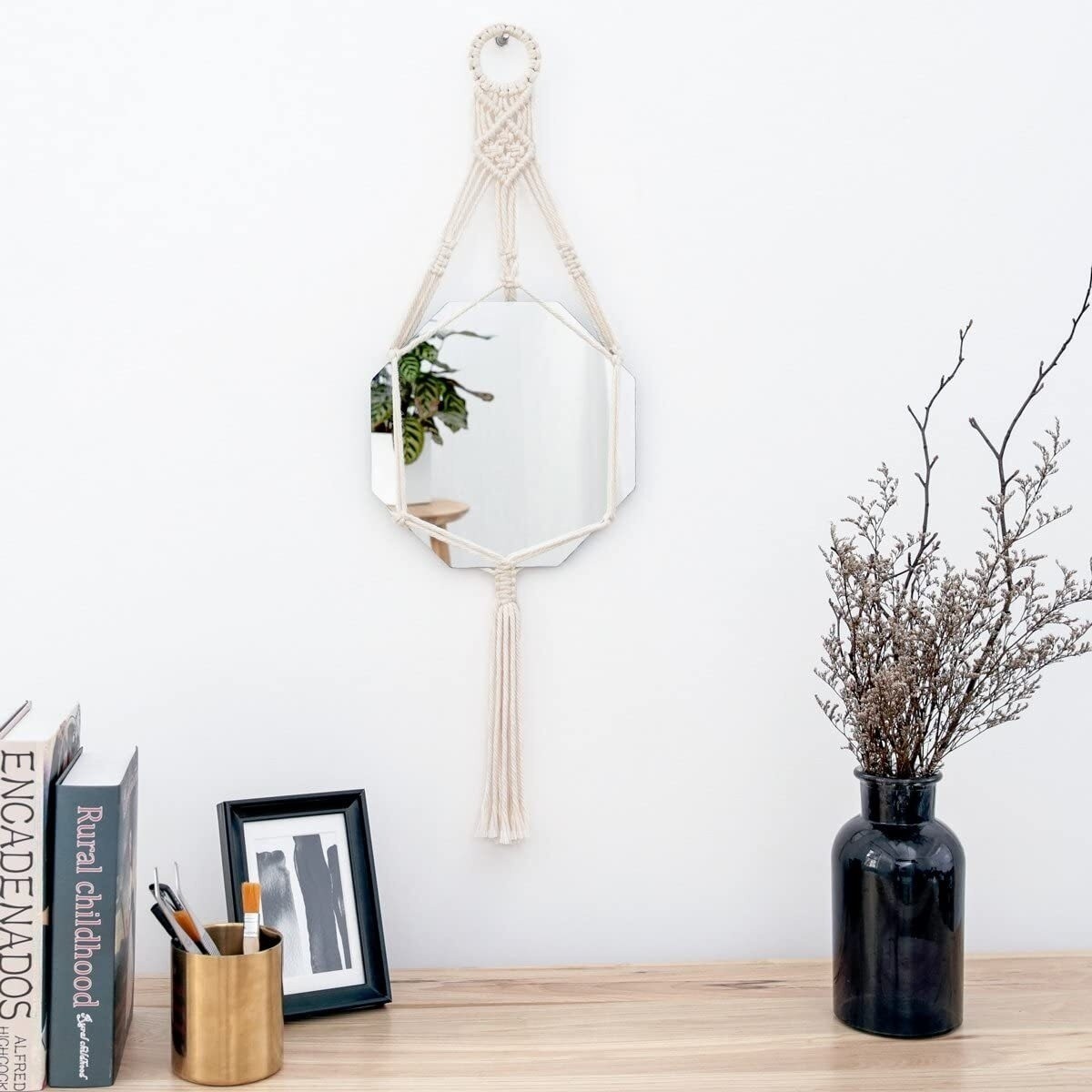 What if you don't need a large mirror for your door? The geometric Boho-designed mirror is a lot smaller than other mirrors. Add some flair to your door without taking up a whole door.
This mirror isn't made for the door, but it can easily become a DIY project by simply inserting a fitted over the door hook into the circle at the top. Add Velcro tape to the door and back of the mirror to prevent it from swinging and breaking.
The alluring mirror shape and the cotton frame are great for Boho-styled dorm rooms or apartment living. It's great for adding dimension and shape to a door and room.
Buyer's Guide For An Over-The-Door Mirror
For a mirror to be considered a full-length mirror it must be 48 inches in height. Fortunately, most over-the-doors are 48 inches long. Over-the-door mirrors can vary 38 -- 54 inches in length and 14 -- 18 inches in width.
Hanging a full-length mirror in a dark-painted room is recommended. Place the mirror somewhere that it can reflect natural light from a window to help open that room up.
Slightly oversized round mirrors are chic in any room size and if it isn't too colorful, it fits well in the modern minimalist home décor style.
Houses with vaulted or high ceilings do extremely well with the etched arch-designed mirrors. The arch design lifts the room even more!
Any wooden or warm framed mirror shouldn't match the door color. For example, don't add a dark oak frame to a dark oak door or the mirror will fade into the background.
If you choose a cabinet or jewelry armoire, make sure the hooks are steel or good quality (not so much plastic). Plastic can be flimsy and break easily.
Conclusion
We've given you 15 awesome over-the-door mirror ideas to choose from. We hope this helps you on your door mirror journey.
Whether you choose a modern full-length or oval rope mirror, you're saving a ton of floor space. Have fun shopping!