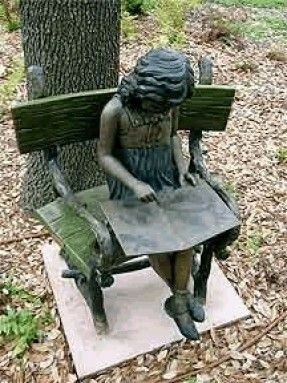 This little fascinating girl is doing one thing everybody forgot nowadays - she is reading under the tree. Garden ornaments and statues made of dark stone can remember us about something and someone - as memorial statues.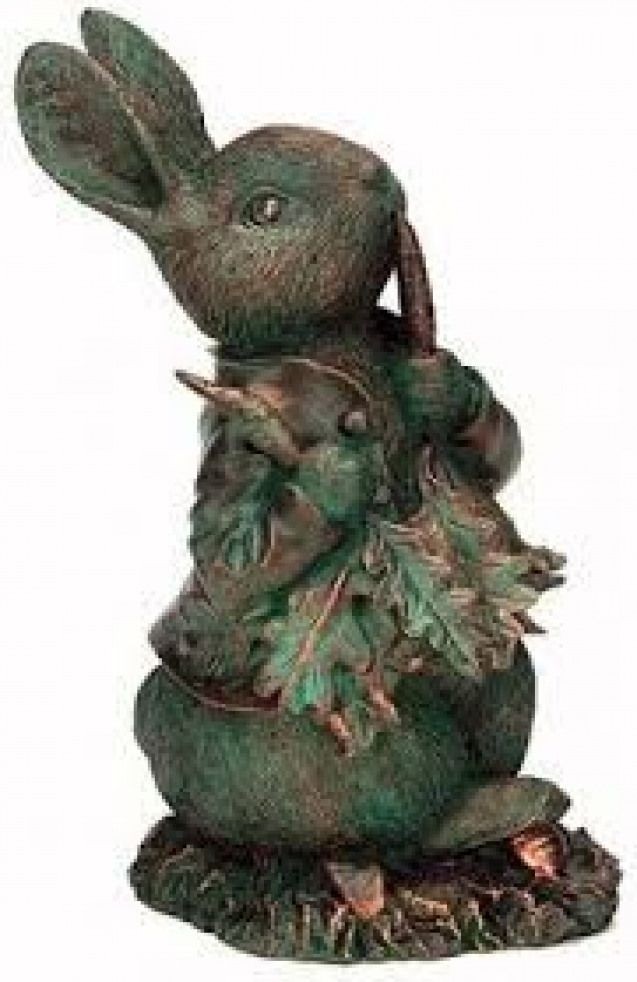 A cute ornament for outdoor areas such as gardens, patios, and backyards. The whole rabbit is made with attention to every detail, characterized by durable resin construction and covered in a bronze finish with green accents.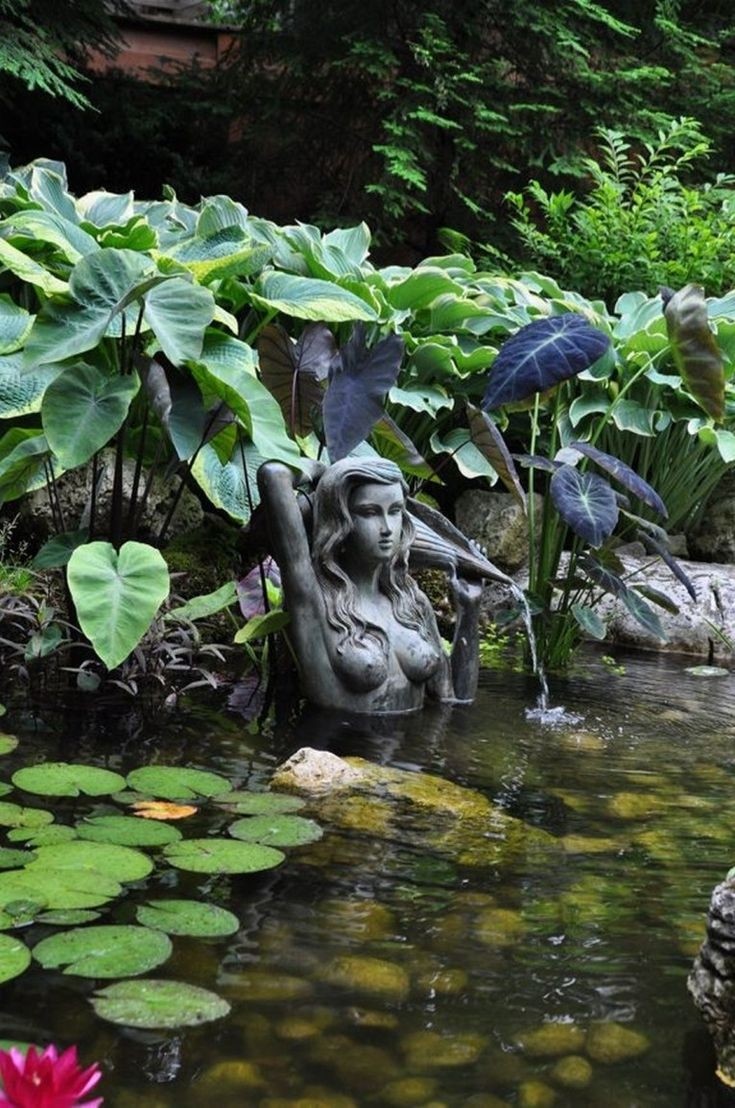 This outdoor product is a garden statue suitable for use with garden ponds. Its solid construction is resistant to water and many other negative factors. Gray color of this statue is neutral, so it looks very good among different garden elements.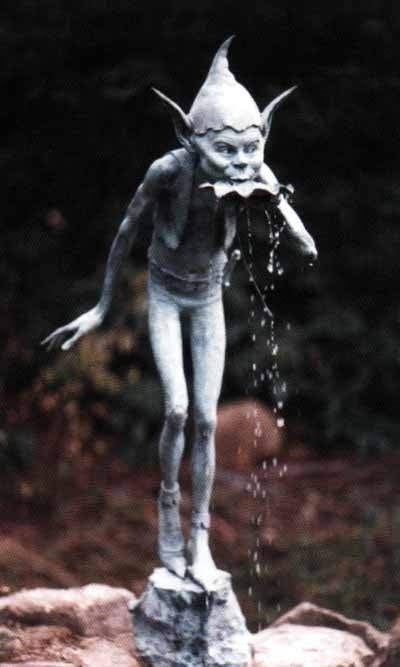 Bronze Water Features, Fountains & Cascades #sculpture by #sculptor David Goode titled: 'The Drinker' #art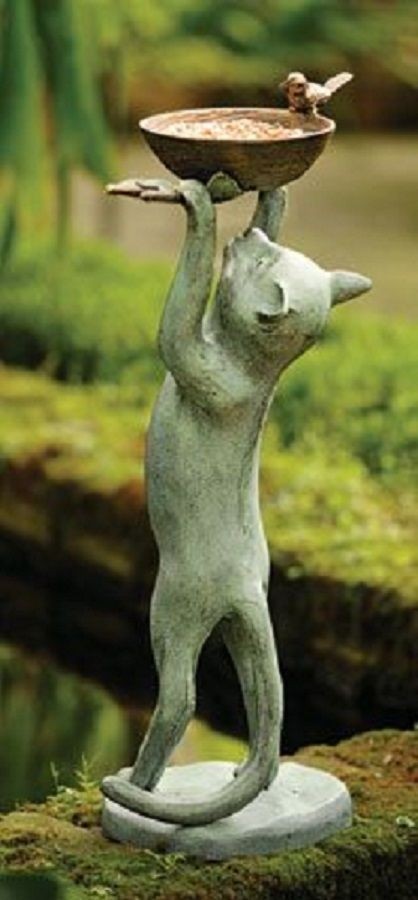 Bird bath in the shape of cat. It is made of durable stone. Great addition to the garden, patio and more. It is resistant to rust and harmful weather conditions.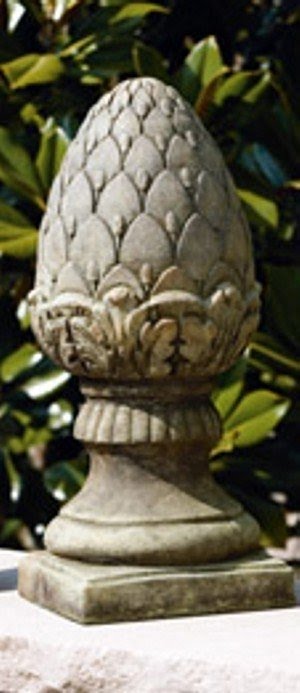 Large statue in the form of pineapple. Designed for outdoor use. It is made of durable stone. Suitable for residential and commercial use. Great addition to the garden, patio and more.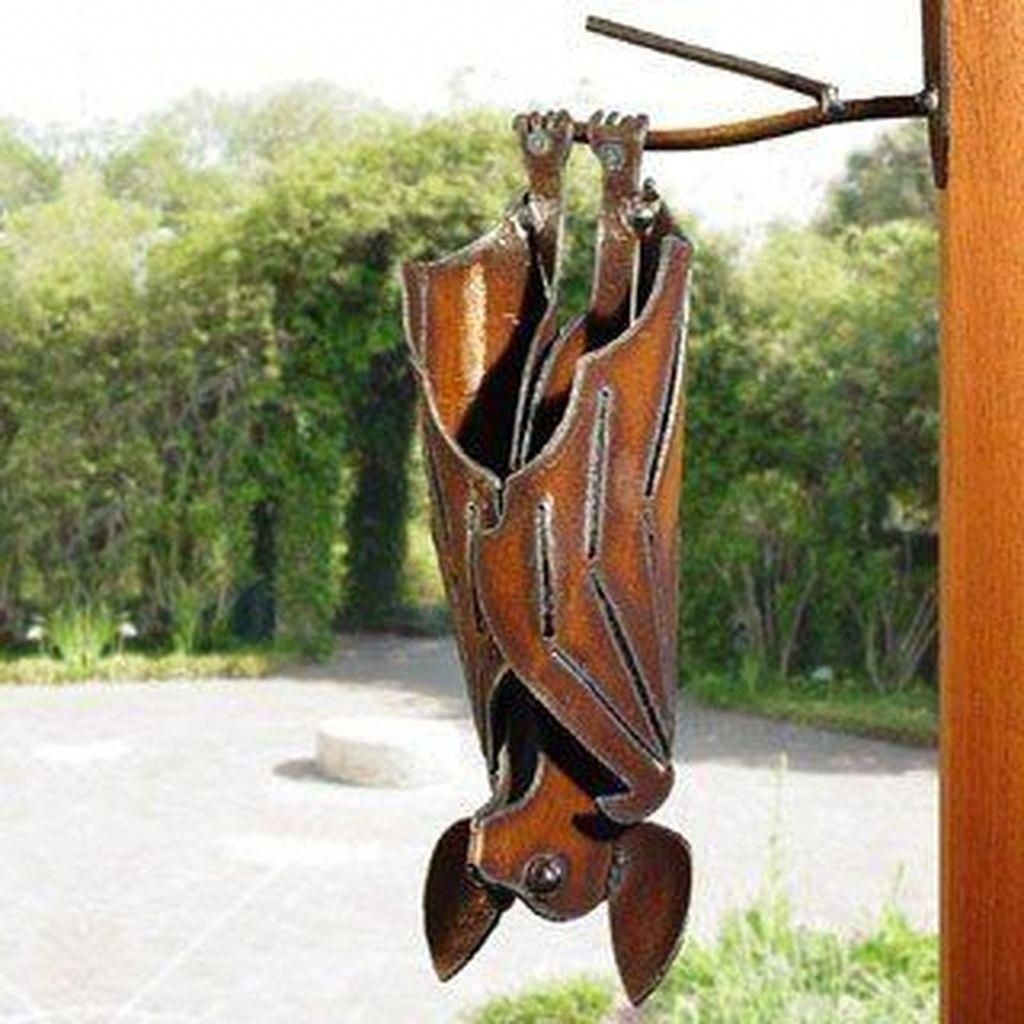 A truly amazing and absolutely fun hanging garden bat sculpture for your outdoor setting that will ensure a significant boost of visual appeal as well as make your setting truly your own and original.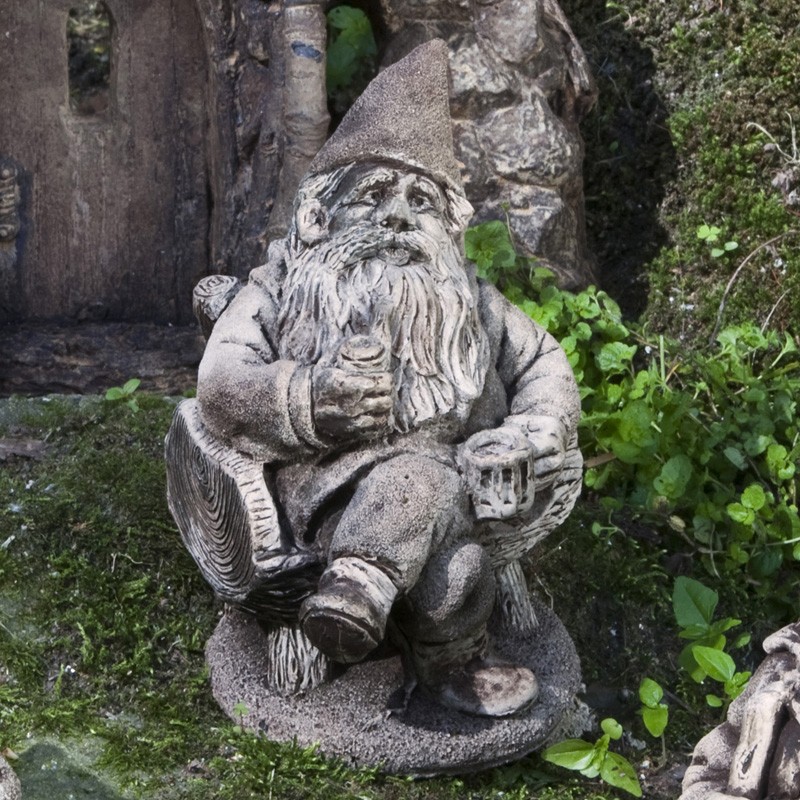 Old gnome garden statue/sculpture. Made of heavy stone looks cool in gardens and backyards. You can also decorate the surroundings of your house with couple of them. Adding little candles under his legs is also a nice idea.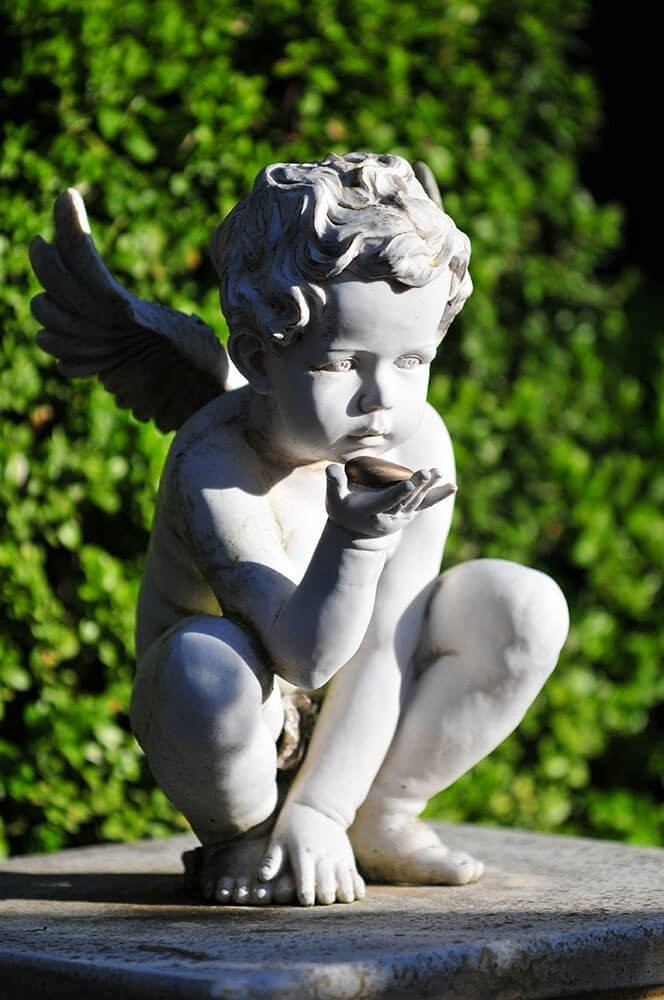 A gorgeous statue that can be used as a beautiful garden ornament. The whole boasts of detailed sculpting in shape of a little angel with wings, giving you a weather-resistant piece that will be watching over your home for years to come.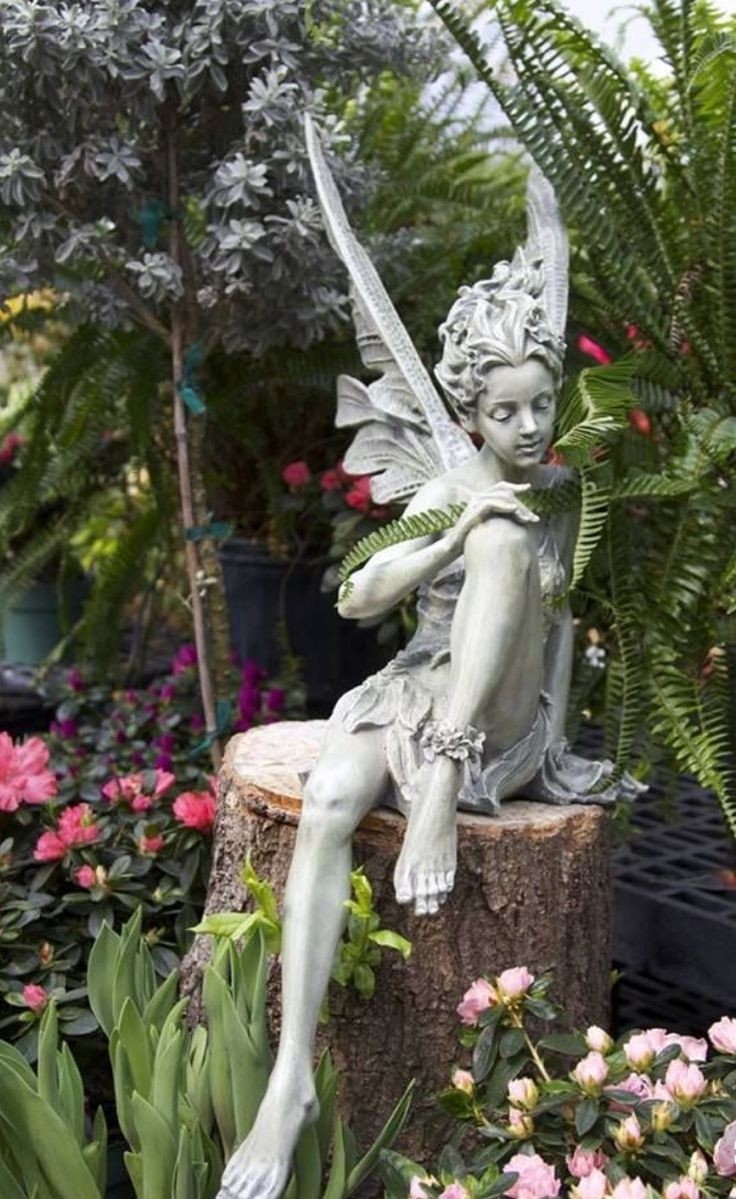 Dwarf Japanese azaleas and ferns make a great backdrop for the fairy statue.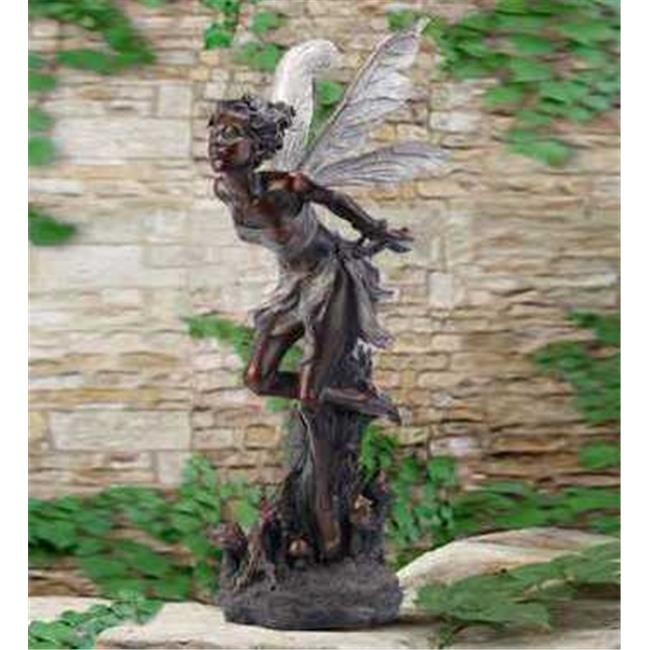 Fairy sculptural statue. Body of fairy is made all of bronze (aside from her delicate, bright wings). This item is well-made and beautiful, so it will be good decoration to standing in garden close by home entry.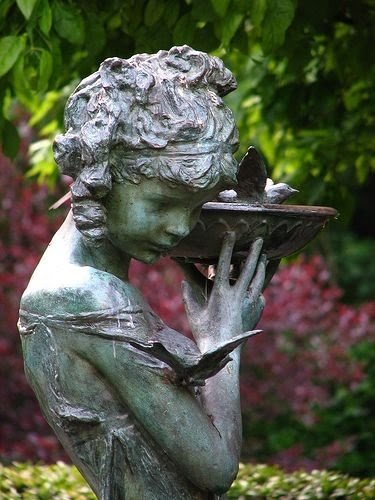 Garden Statuary with Bird Bath - I would love it if it weren't for Dr. Who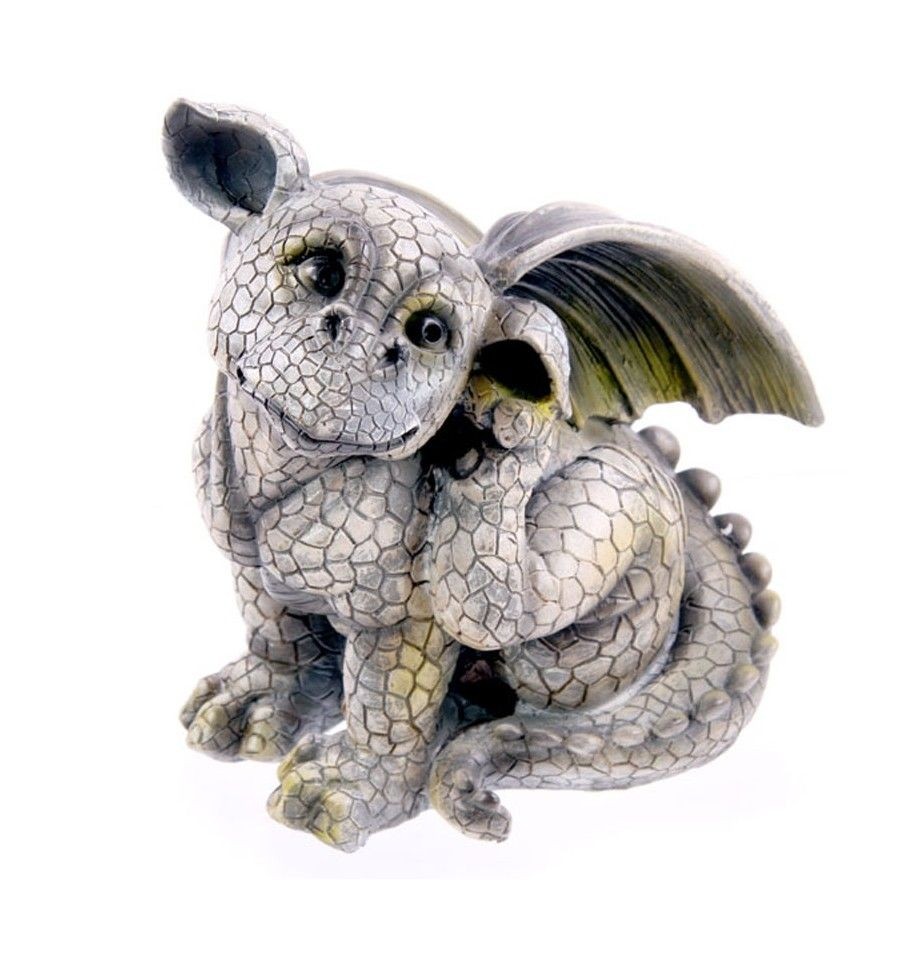 A really engaging figure of a little dragon, designed to adorn your garden. Sitting and scratching his ear, it creates a funny, joyful atmosphere. Made from resin, enchants with its realistic look. Should not be exposed to heavy frost and snow.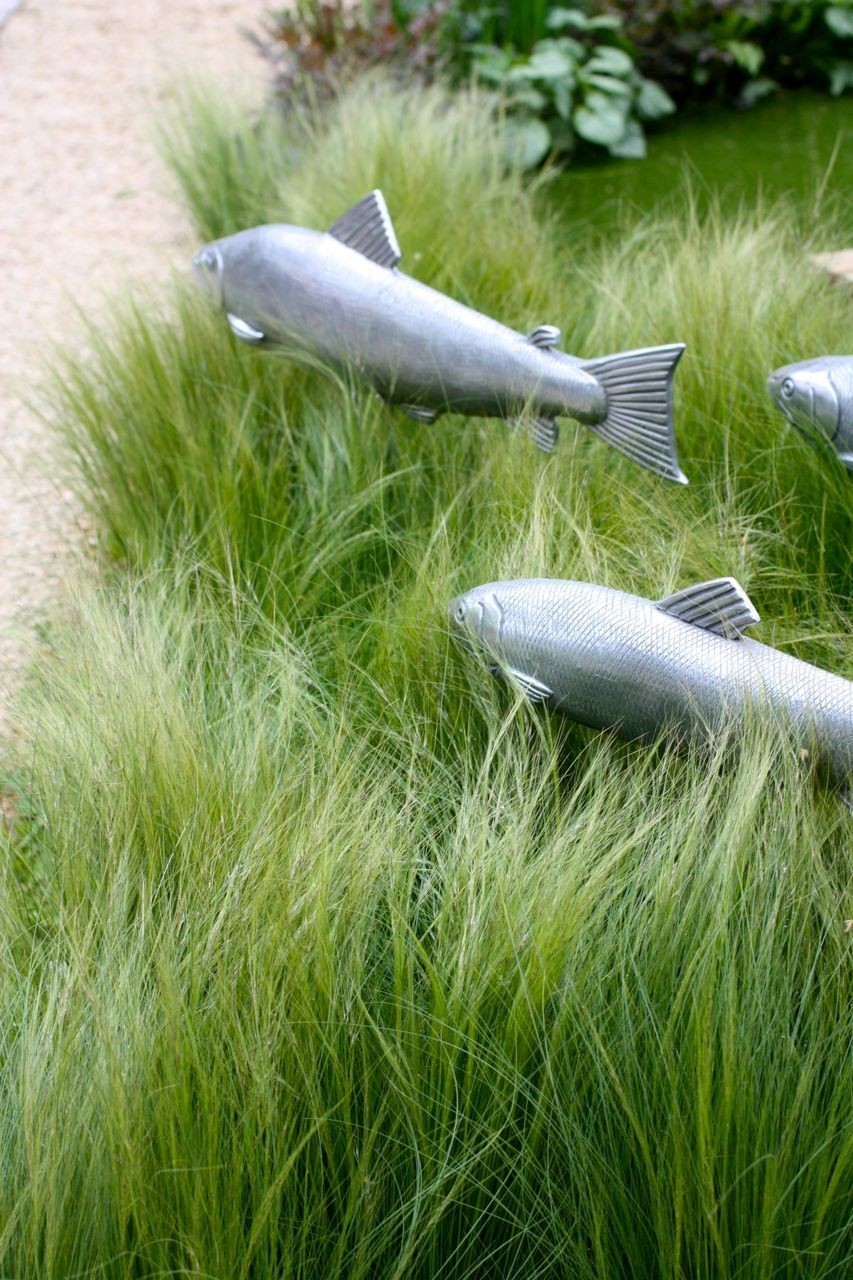 Lend a charming accent to your garden with those stunning sculptures with fish that can be put in a patch of ornamental grass and will stand out with their original and fun look, making everyone gasp.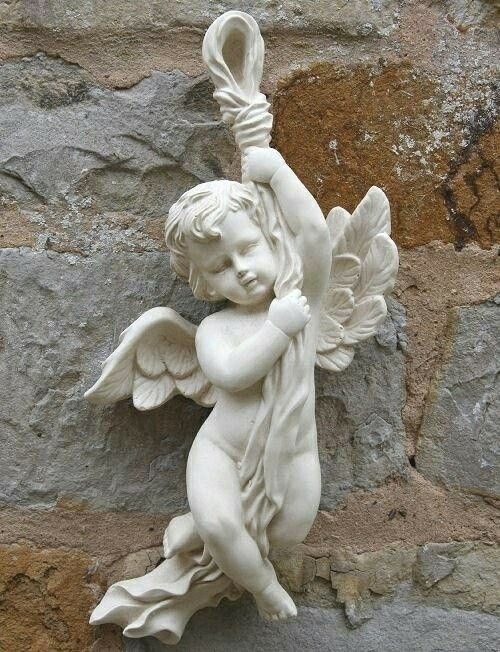 If you like classic or antique decors, this ornamental garden statue shall appeal to you. A Cherub figure made from bonded marble - a mix of Iberian marble and cement. It measures 38 cm H x 19 cm W.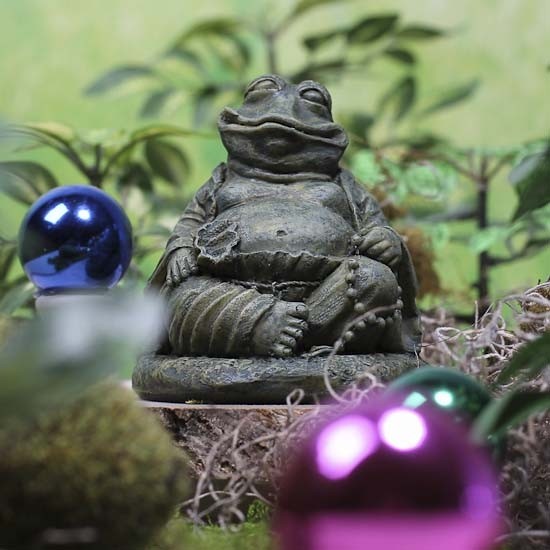 Take care of your loved ones - giving them a beautiful garden decoration in the form of a frog, whose name is Croaking Buddah.Made of brass, will bring you positive spirit. It is an Fung Shui accent which will be also a decorative element of your lawn.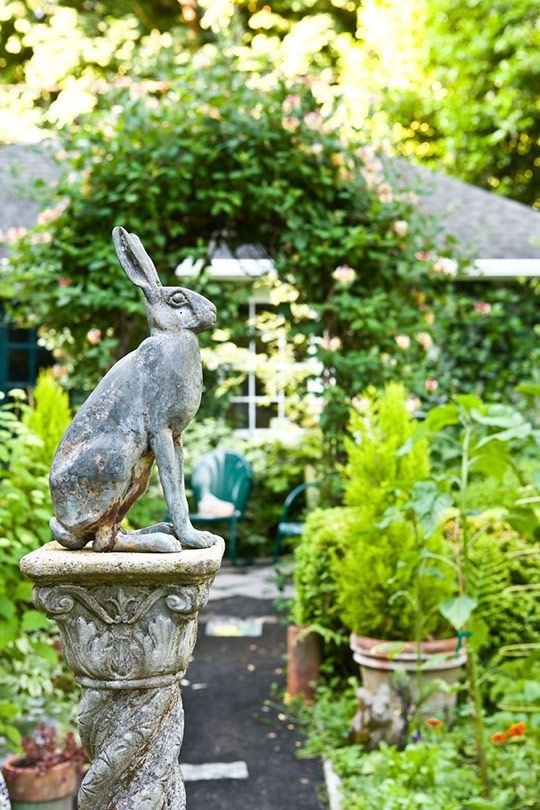 Garden decoration in the shape of rabbit on pedestal base. It is made of stone with antique finish. It is resistant to rust and harmful weather conditions. Suitable for residential and commercial use.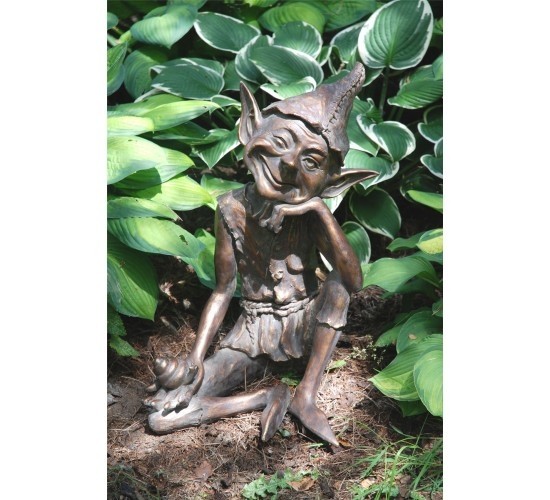 Large Garden Ornaments - Sitting Pixie Antique Bronze Sculpture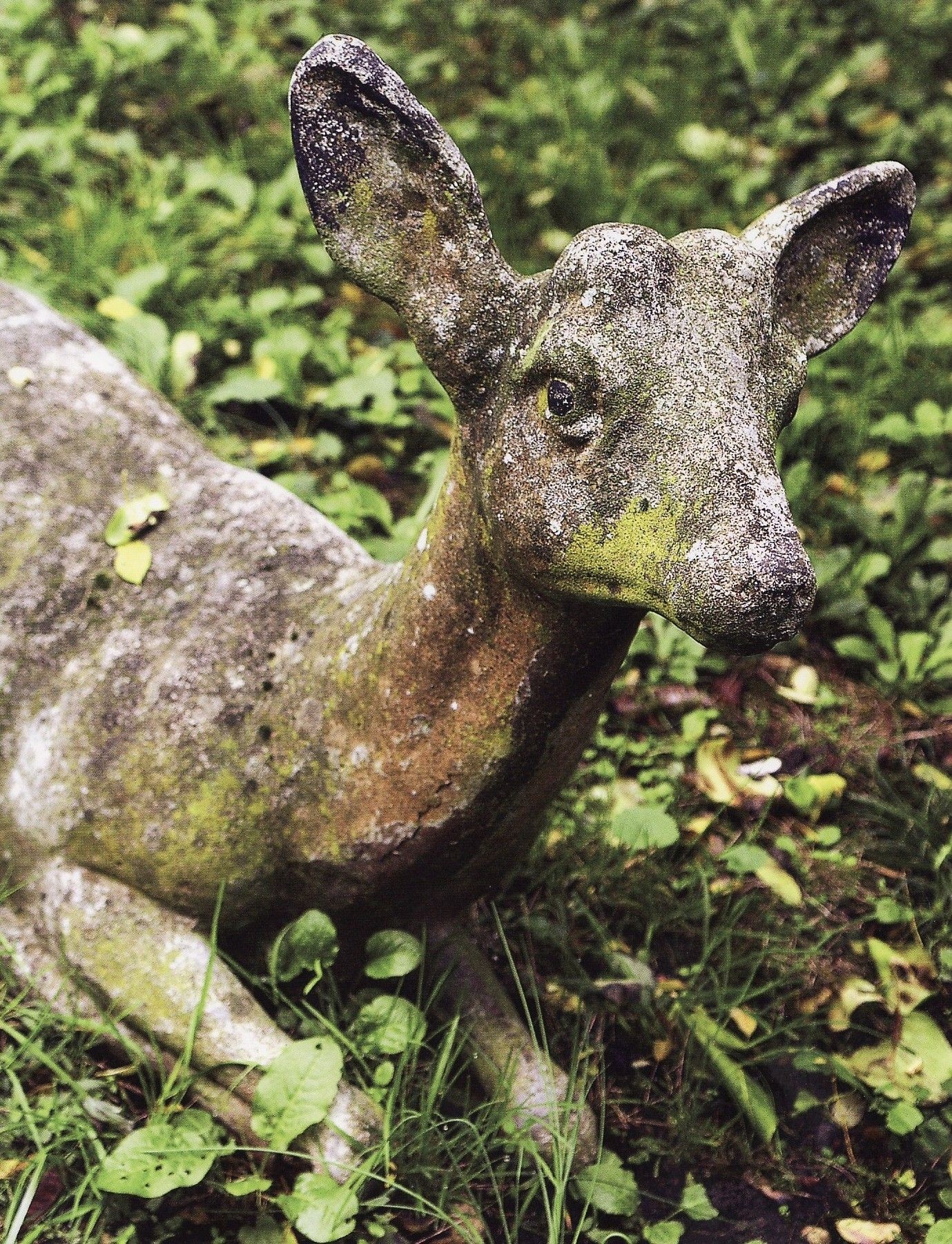 Romantic garden statue: a lifelike deer carved in stone, already covered with spots of green patina and moss here and there... Beautiful garden ornament. Once I'm rich, I'll get a whole collection of similar statues.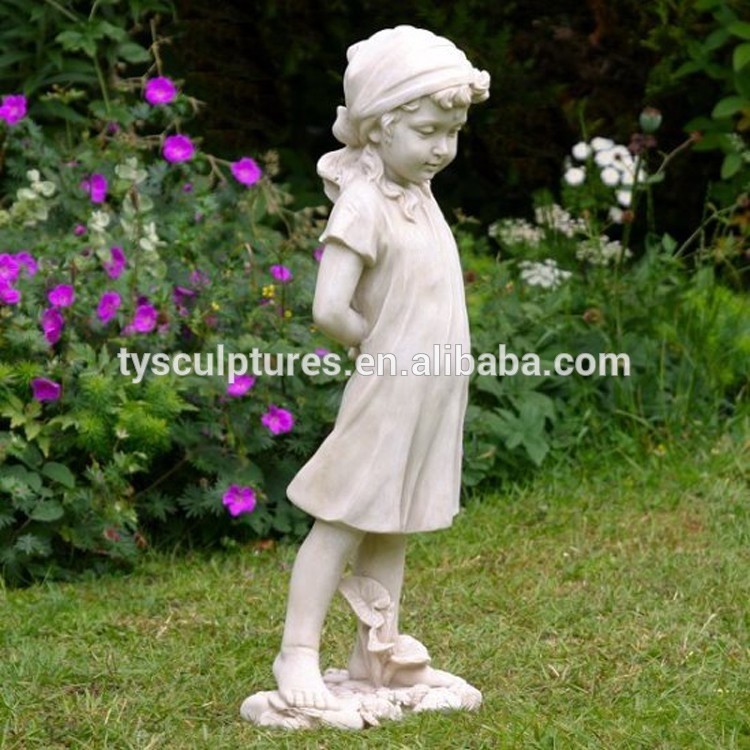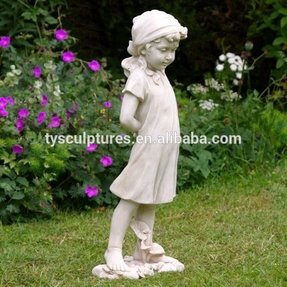 Girl Holding A Rose Garden Statues / Ornaments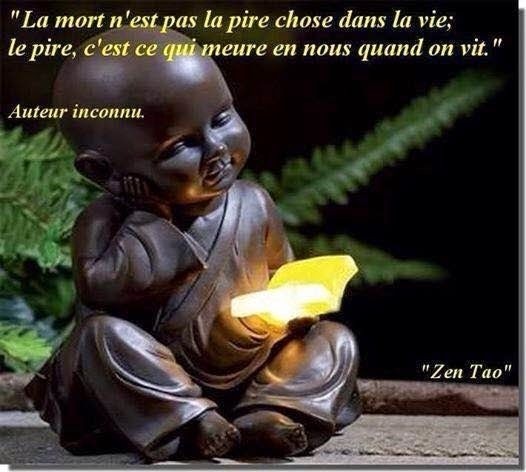 Cute little Buddha statue with lighting. Baby Buddha holds a lighted book in his hand. This peaceful & decorative figurine w/ lamp brings the zen vibes to its ambiance and encourages you to slow down. Just... breathe.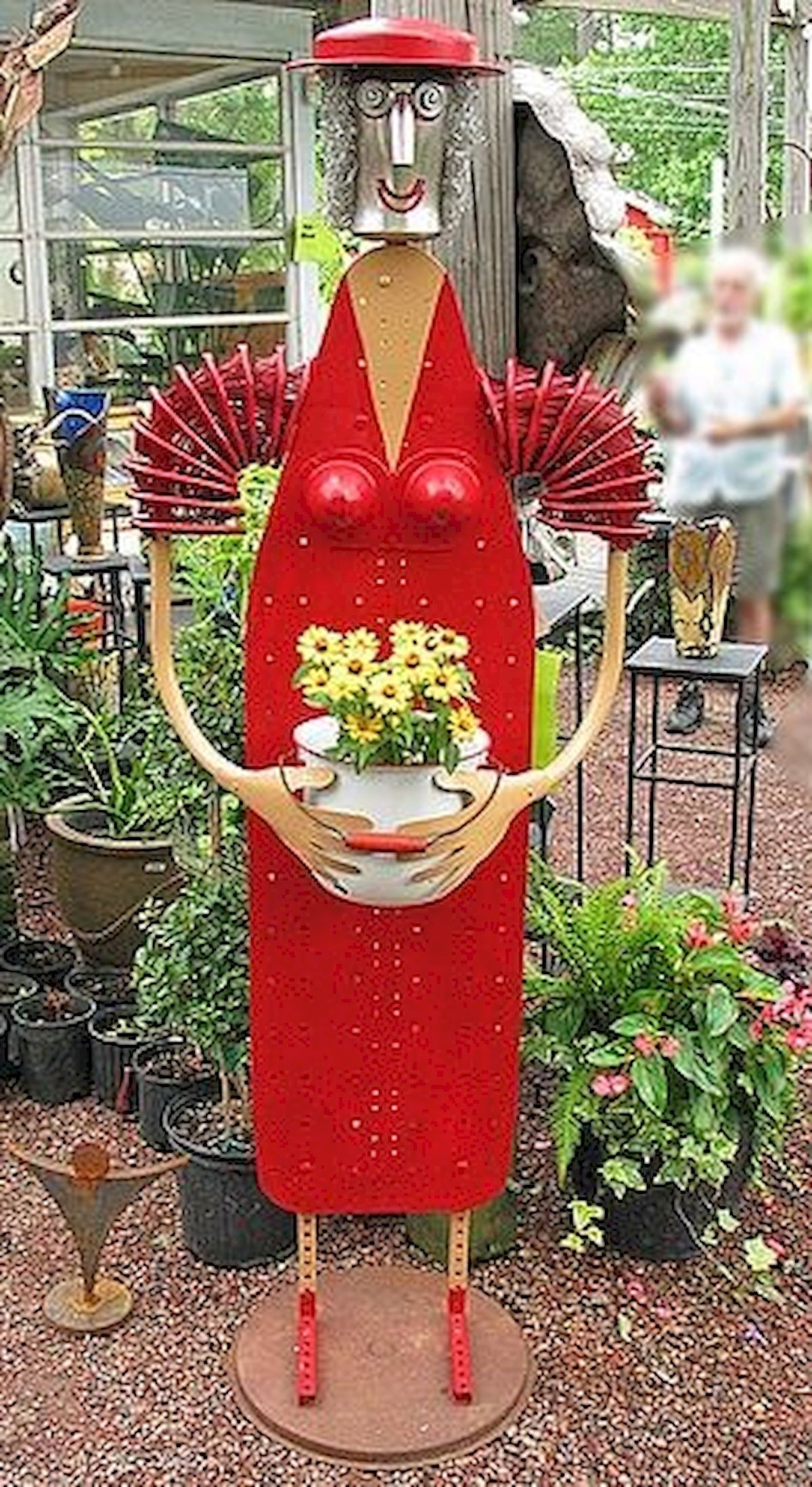 Finally a good use for and ironing board. I saw an artist that does this kind of work at the Lil Calypso art show on lake martin this past year. She was sold out before I could close my booth down. : (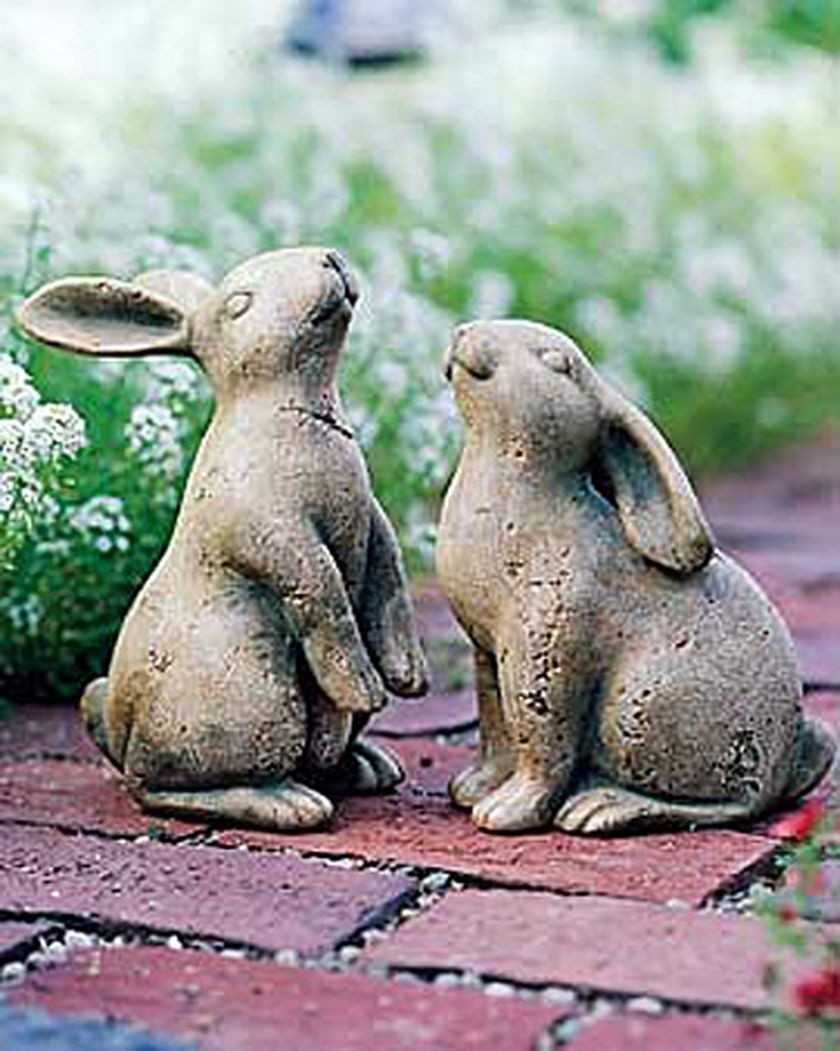 Sweet traditional garden ornaments - bunnies of resistant subtly textured terracotta with an aged mossy-greenish finish. One bunny is sitting while the second is standing on back legs. Both are looking up. They're should be protected against frost.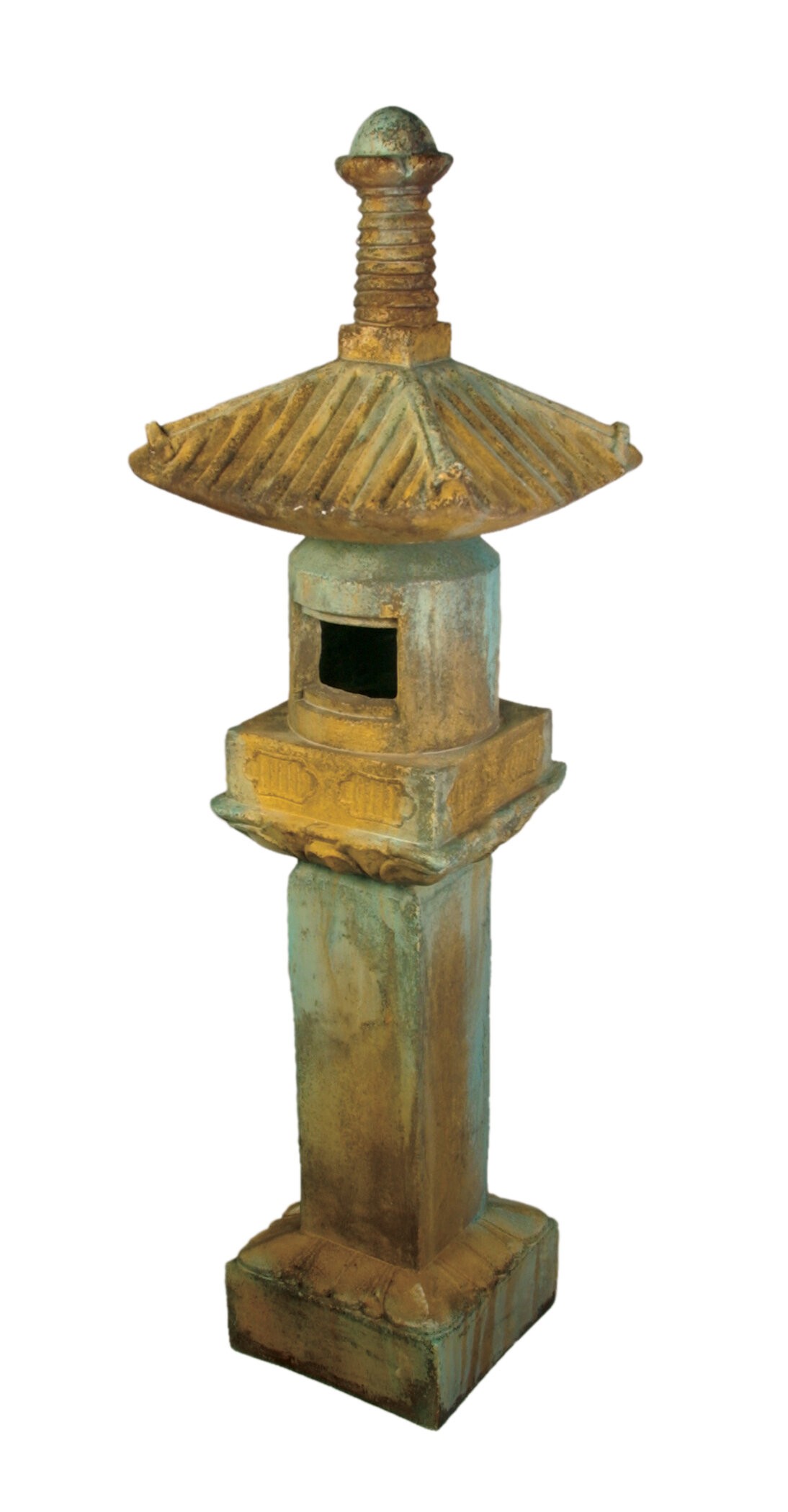 Pagoda Japanese Lantern Statue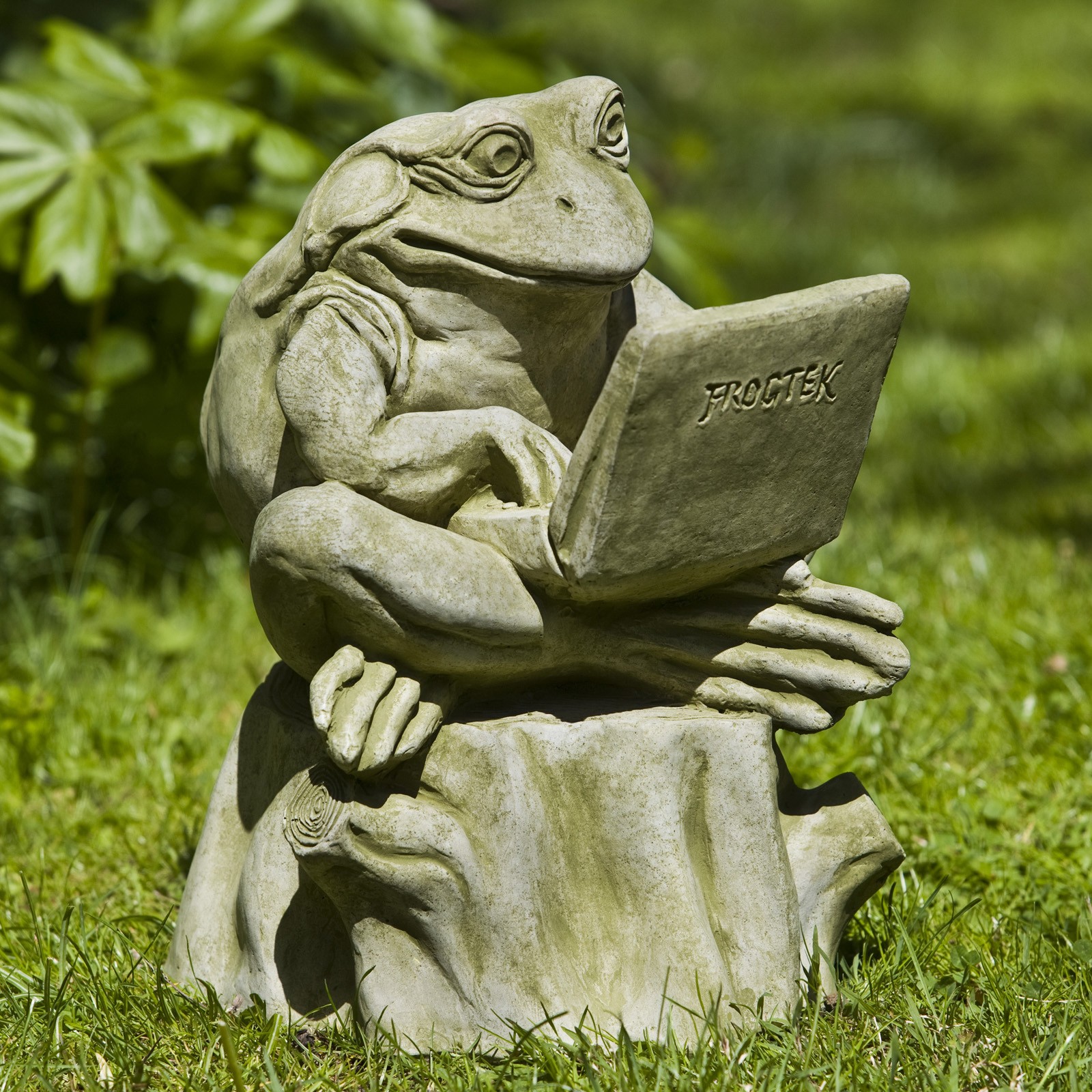 It is known that pitchforks and rakes are associated with the garden. Just like animals. This was combined and created interesting and fun lawn ornaments. Made of wrought iron, dark brown - represent moose, whose backs are rakes.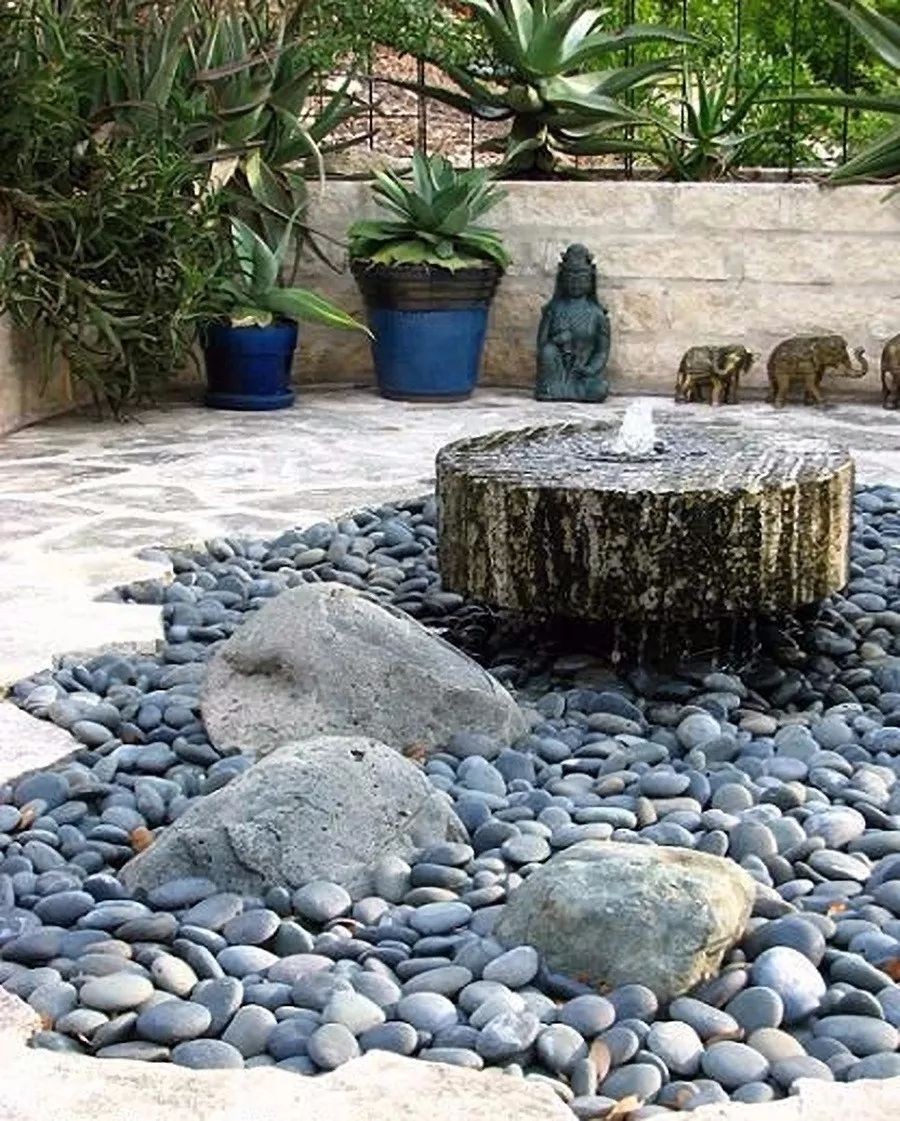 A free-form cutout filled with Mexican beach stones, a trio of small boulders, and a bubbling millstone fountain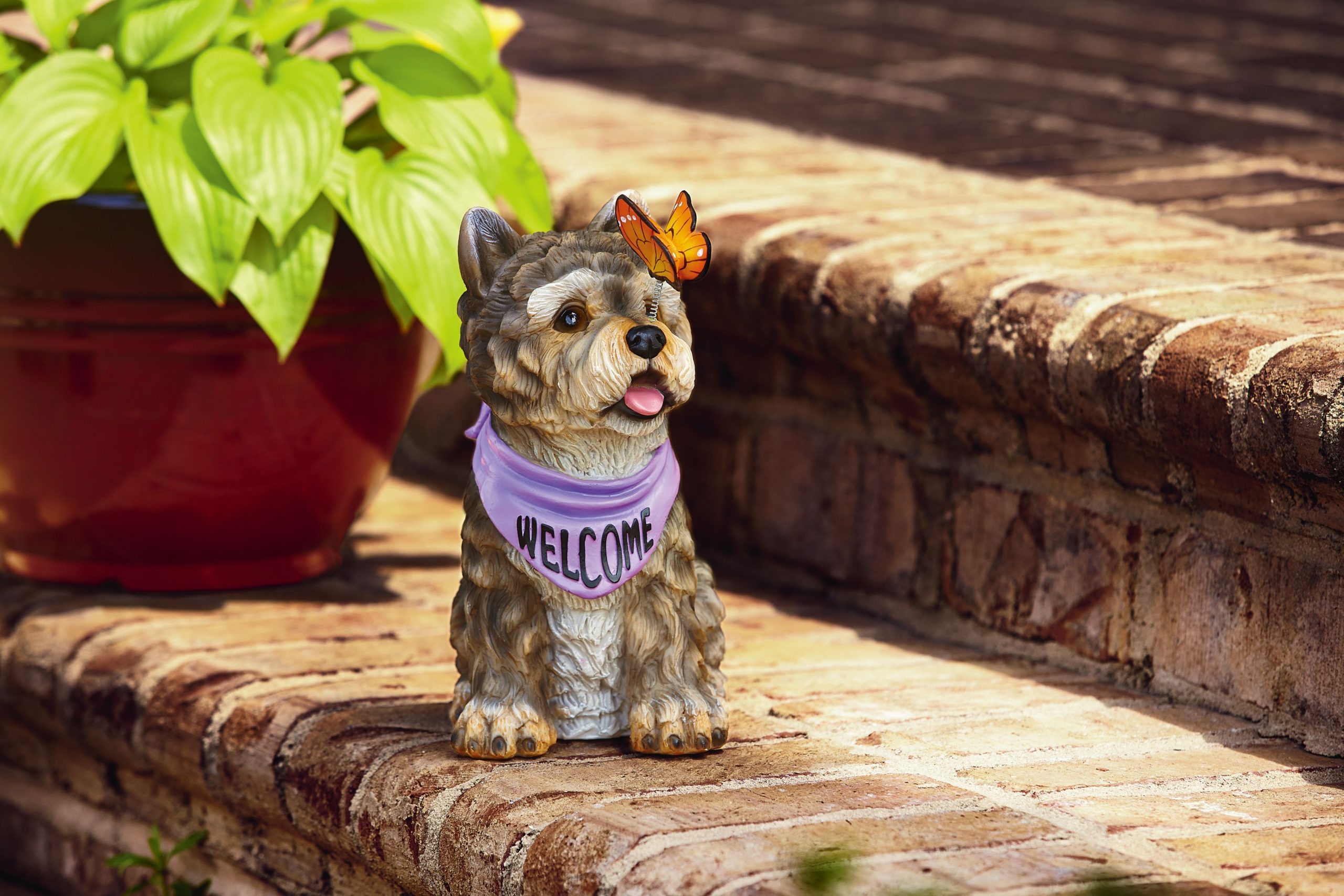 Lawn ornaments and statues are cool, especially the ones you can use in your garden. But this puppy sculpture is cool! If you love yorkshire terriers this one id definitely for you. Nicely decorated with small ribbon.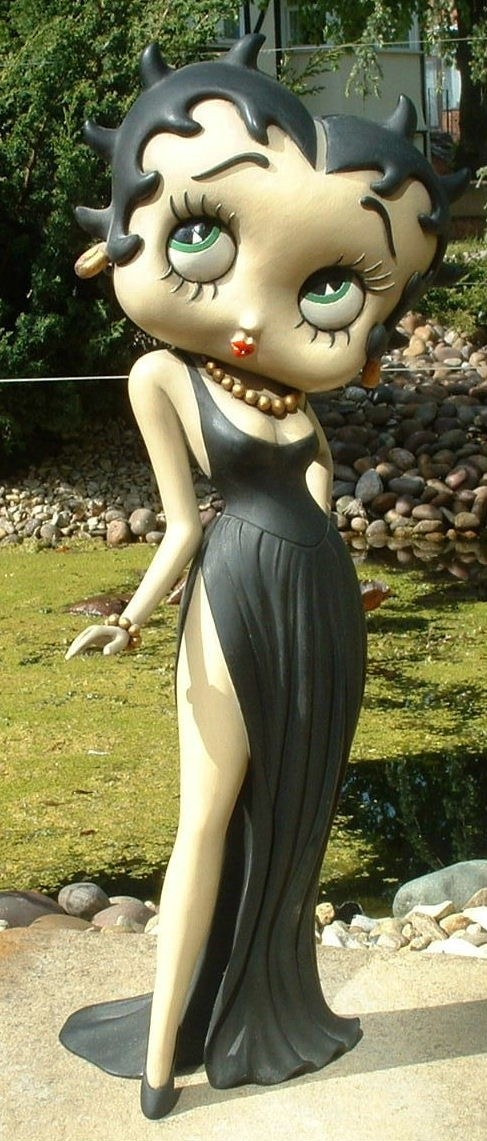 This lovely Betty Boop statue makes a great embellishment to your outdoor area. Carefully designed, delights with the multiplicity of well-reflected details. Will enhance your garden or patio terrain.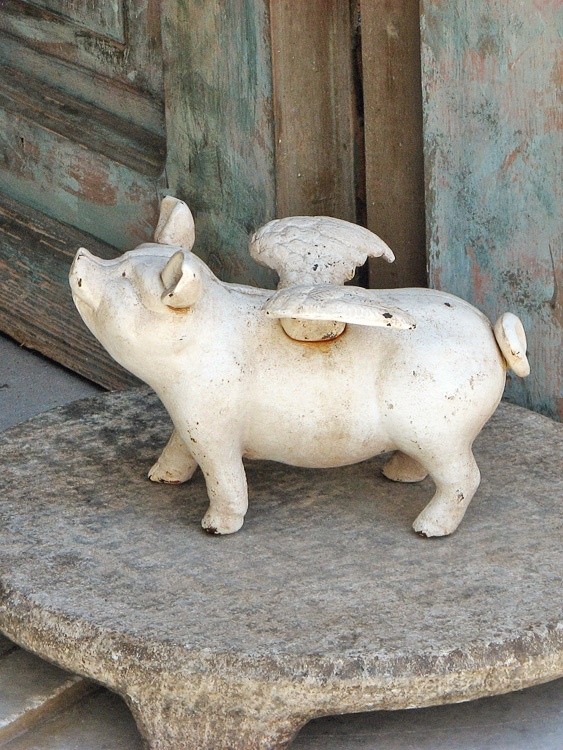 A stunning figure of a flying pig made of porcelain with a matte, distressed finish. It will be a charming decoration of your garden and it will give your space a rustic look. You can match it with the figures of other farm animals.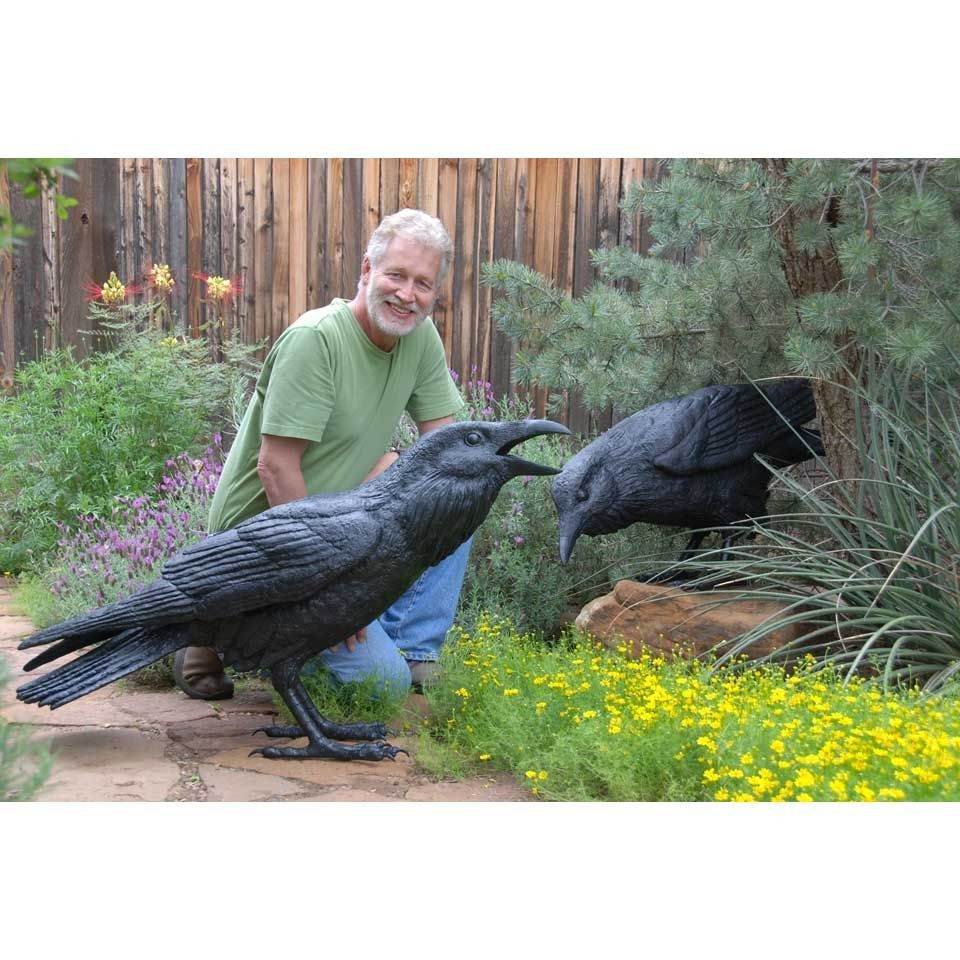 I may go buy a lottery ticket just to get one of these from the artist in Lubbock!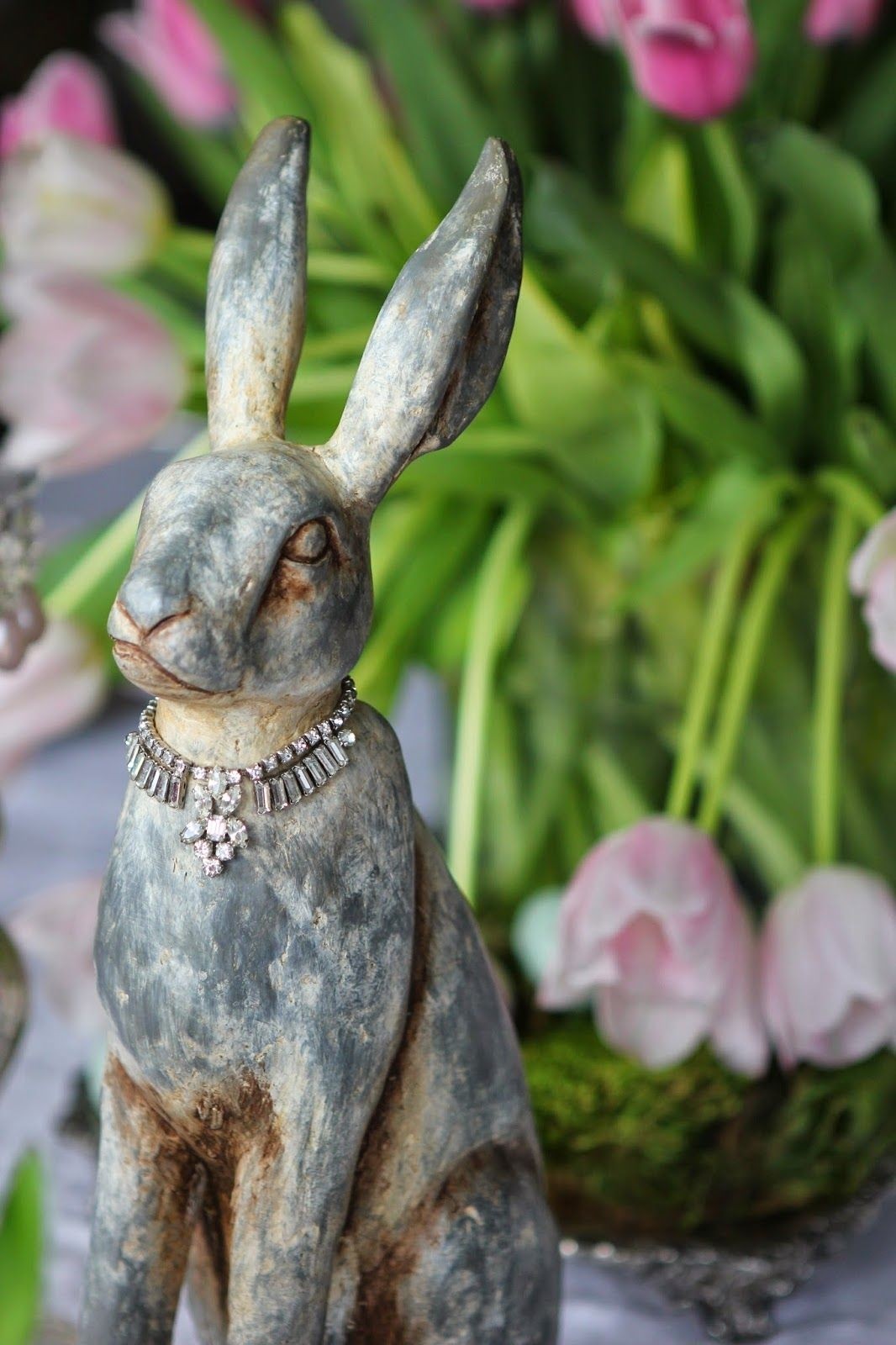 Creating a beautiful decoration for your patio, veranda or garden, this bunny with necklace can be a glorious Easter accent. A smooth way to add a bit of romanticism to your outdoors.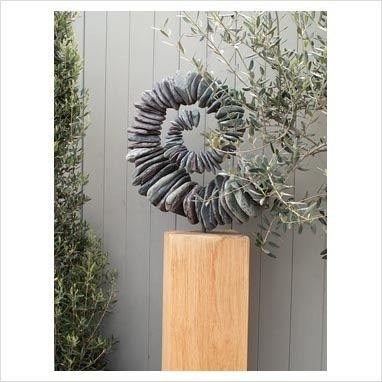 Spiral rock sculpture...(no Diy) drill through stones, thread wire, twist to desired shape. Attach to a post.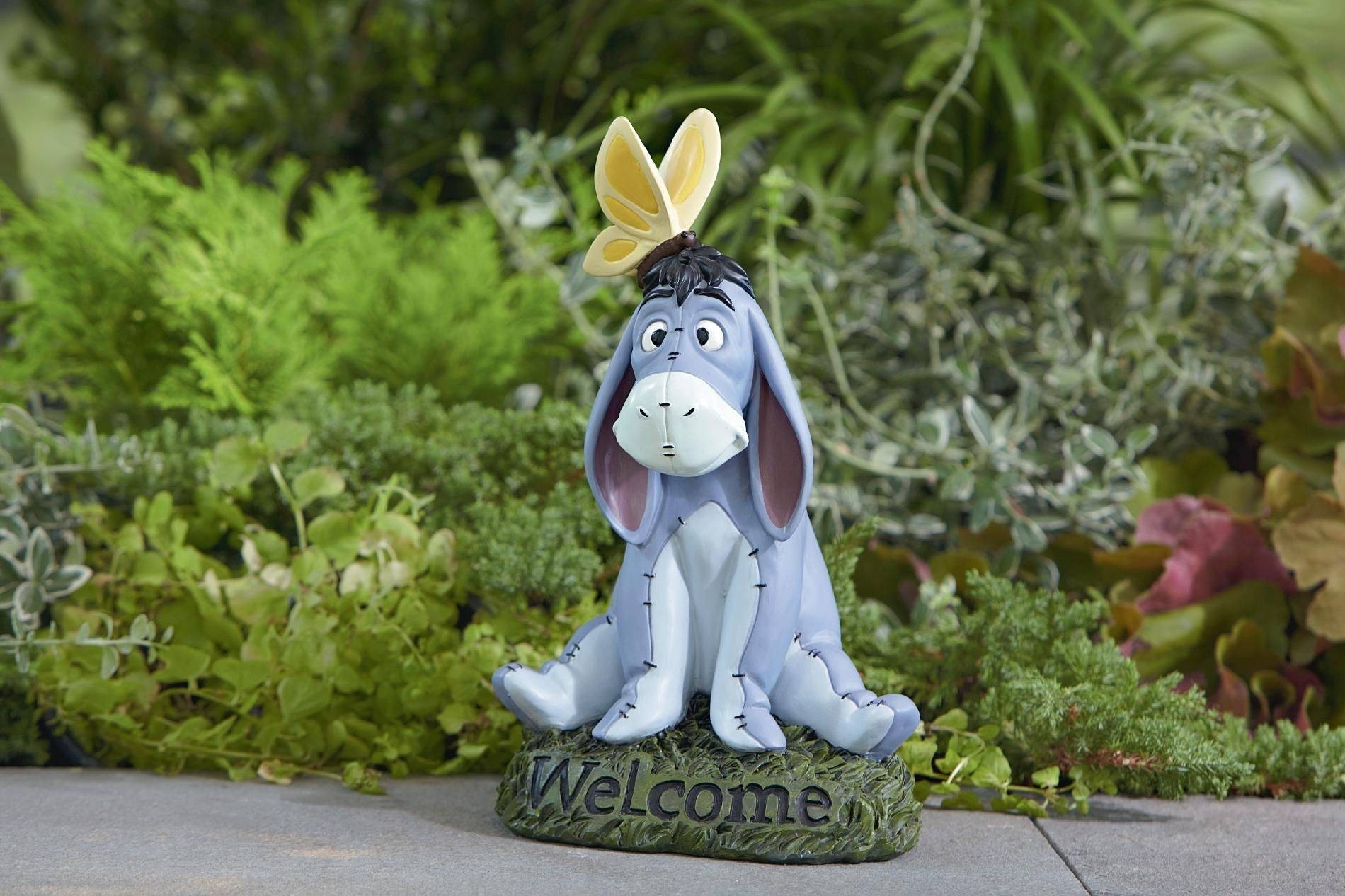 A funny decoration of your garden or front yard that is distinguished by a charming cartoon character in a subtle blue color and a green base with the welcome sign. You can place it on the pavement, lawn, or at the front door.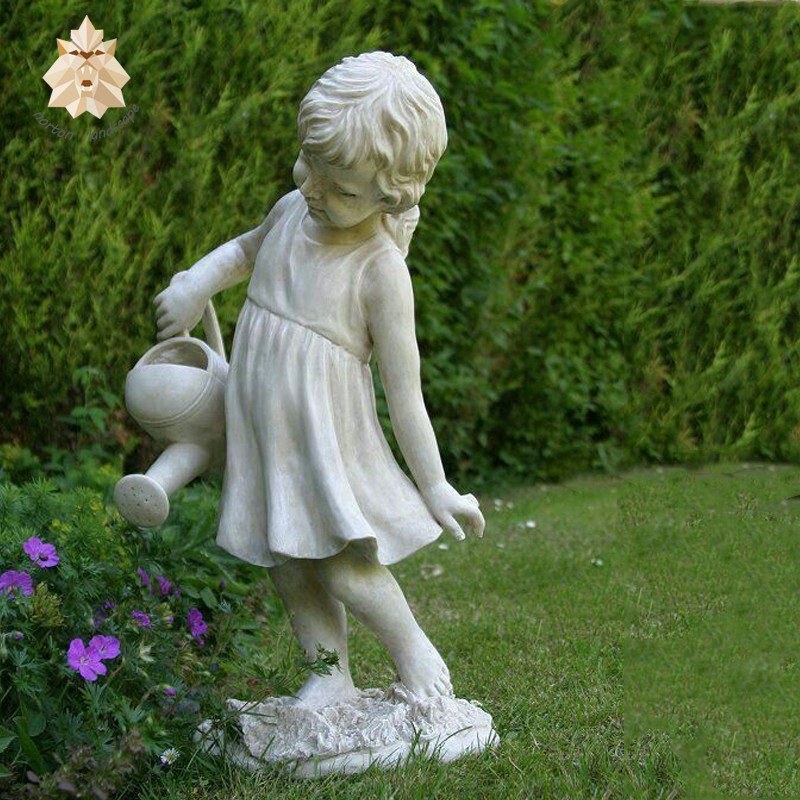 If you like to add some lovely accent to your garden, this ornamental statue will work out perfectly here. It presents a girl figure, watering the plants with her pot, all detailedly depicted.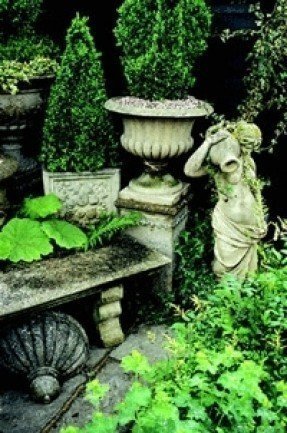 Outdoor area needs some garden interesting, mysterious elements. Hand-finished ornaments and stone statues are made from stones are quarried once crushed, and than used to produce them again. This technique allows to increase their value.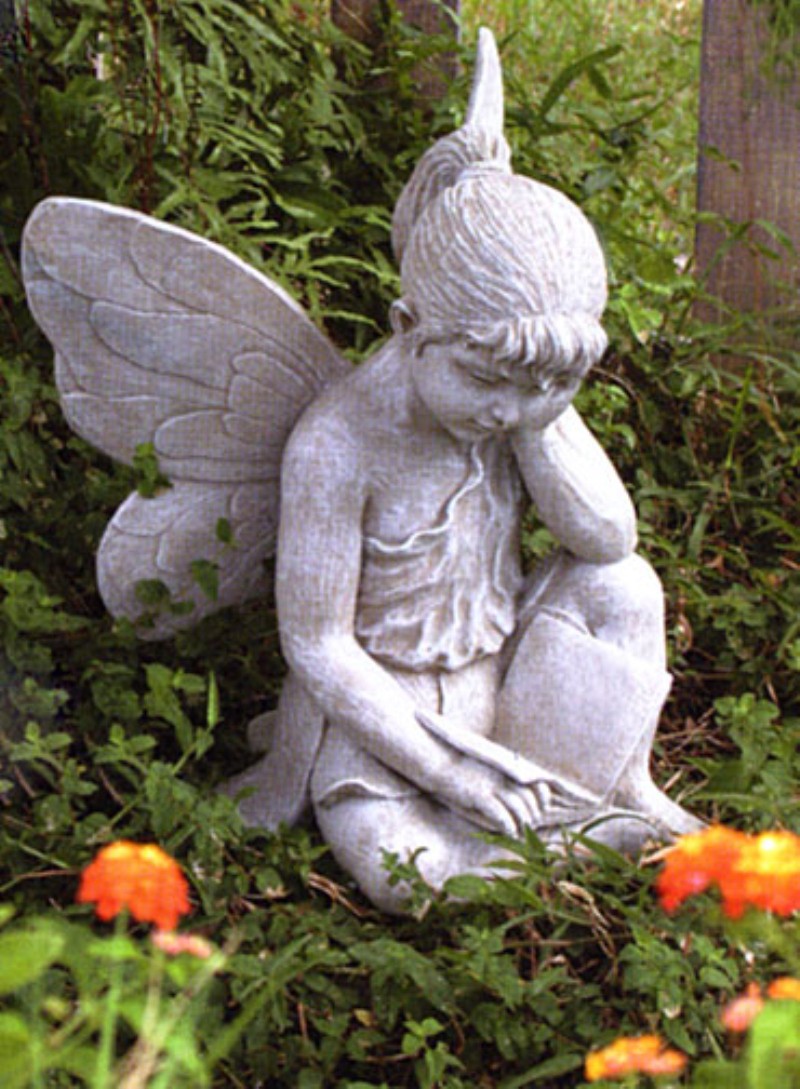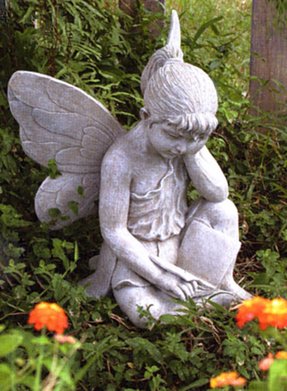 Make sure your carefully curated garden has this must-be fairytale factor to it: a fairy sculpture brings a desirable effect in your verdant outdor ambiance. Dreamy fairy with butterfly wings rests her cheek on her palm. What is she dreaming about?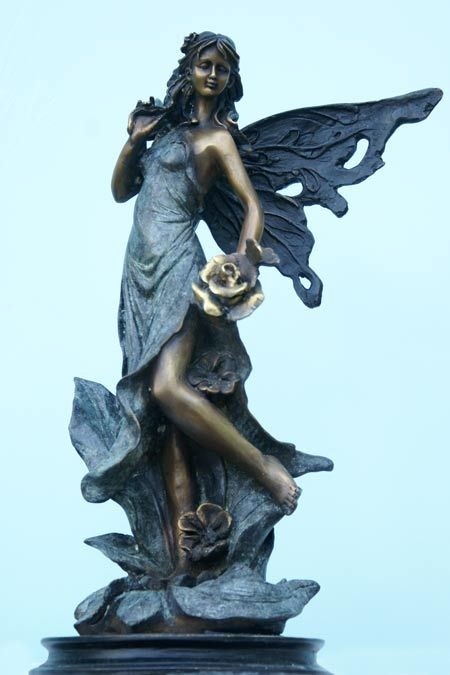 You can introduce a fairytale atmosphere to your garden with lawn ornaments and statues - as unique as this brass fairy metal statue. It will definitely foretell your garden a good stylish design. Sympathetic statue - has also beautiful dark wings.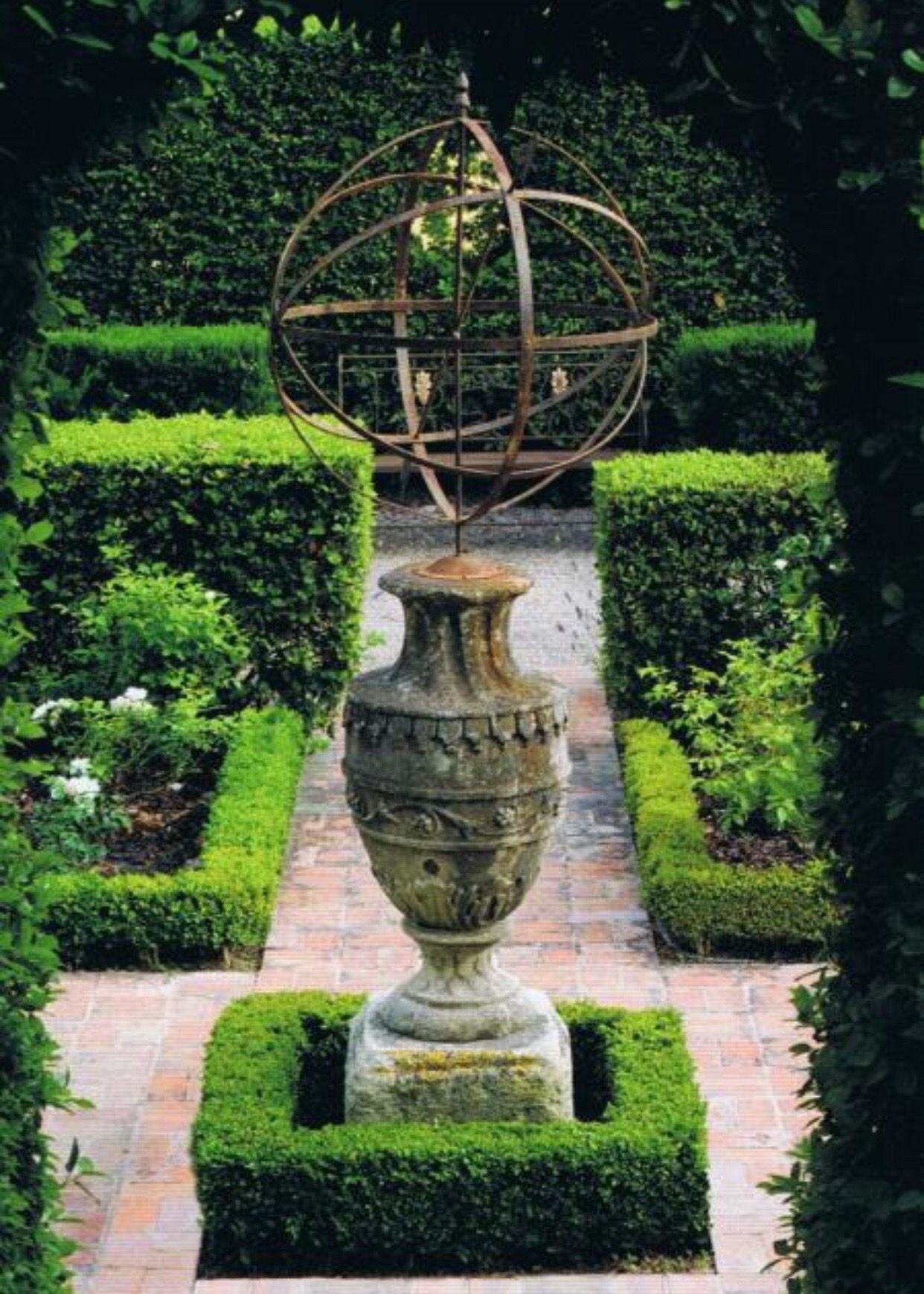 I can't help it, I really like boxwood, concrete urns and iron garden decor!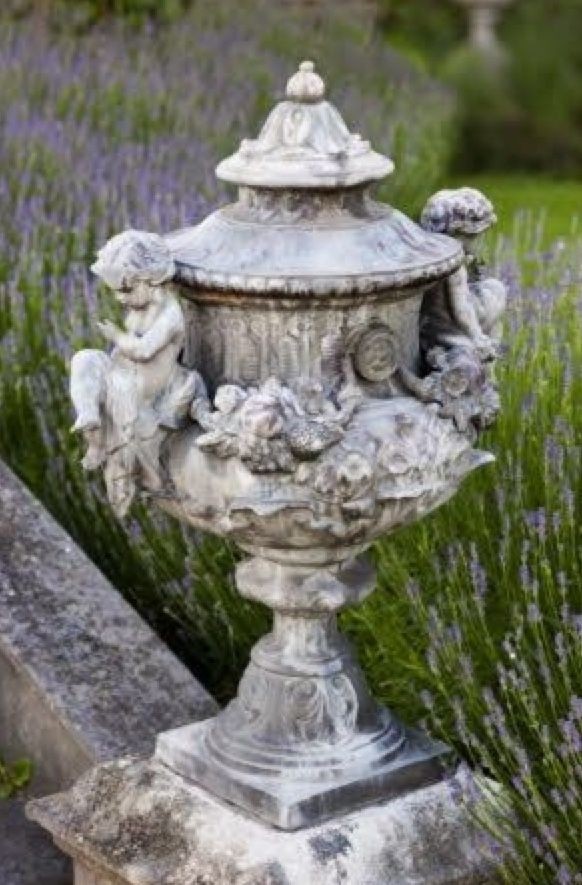 Urne dans le jardin de lavande en Juin ~ Urn in the lavender garden in June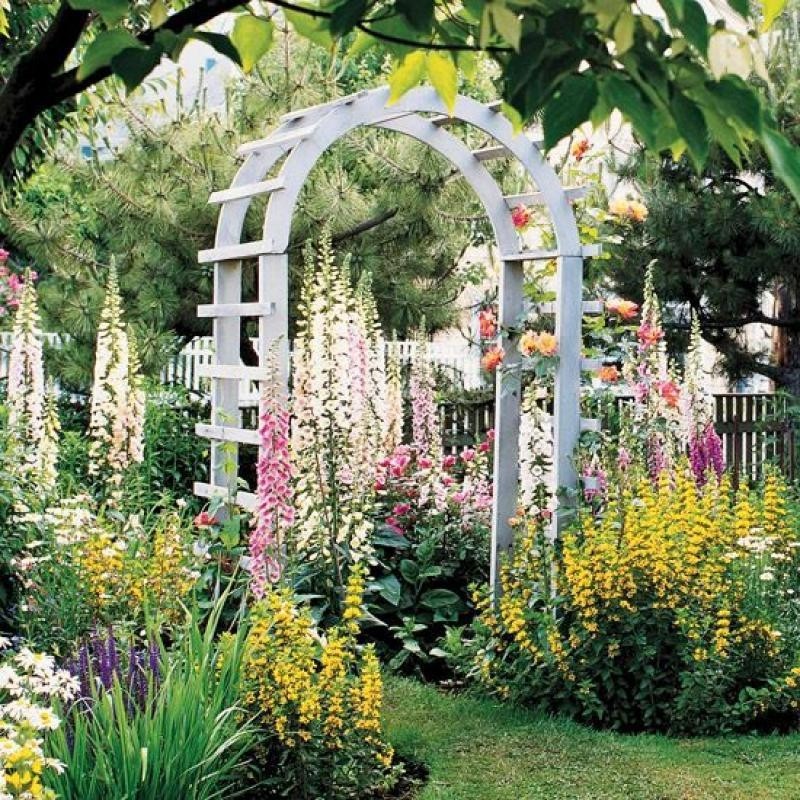 Beautification of the garden is mainly due to the flowering flowers, but also thanks to additions such as the magical transition from wood - garden ornament and statues as a white arch made of wooden planks. A tall garden trellis helps the flowers to climb up.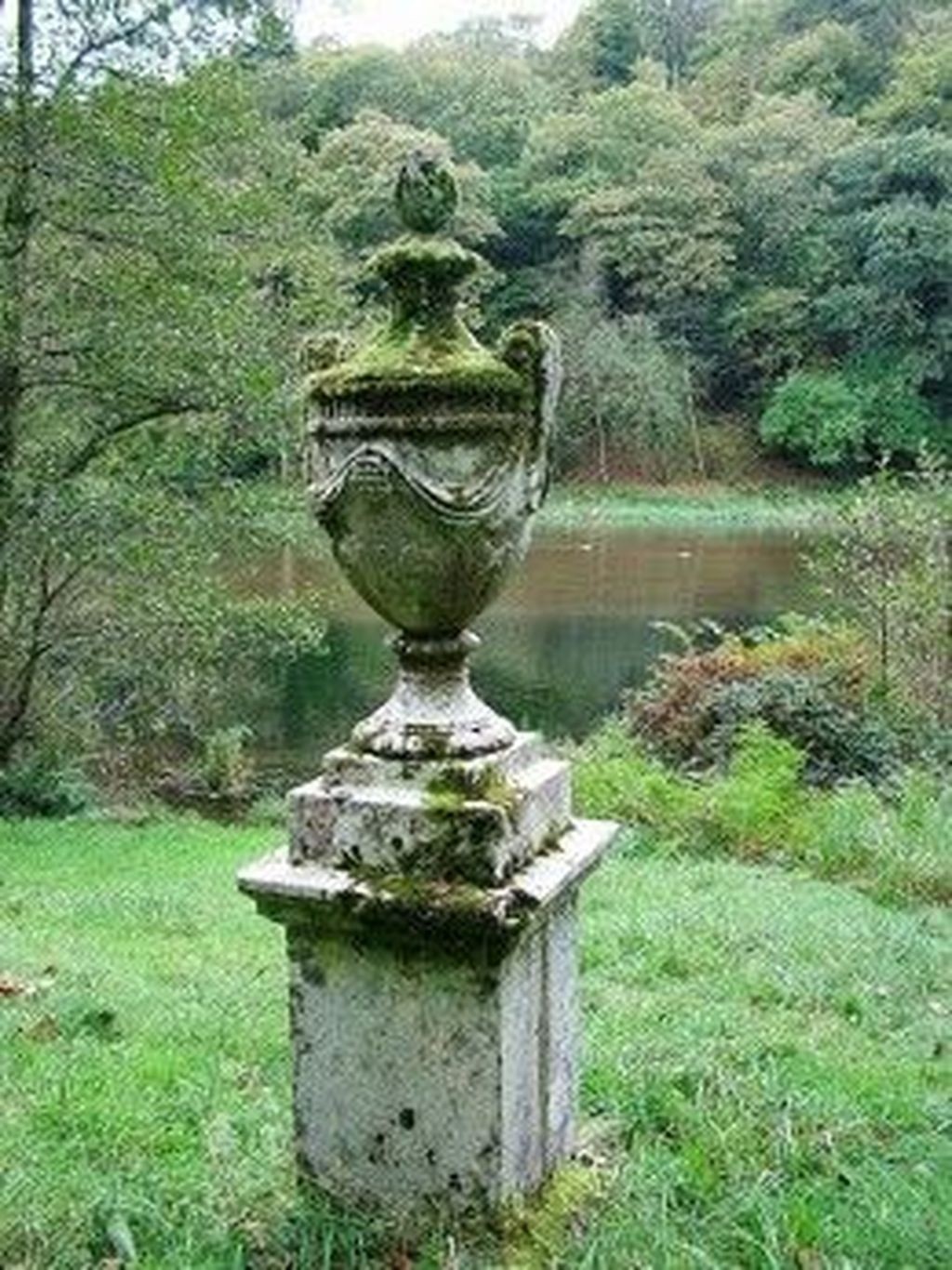 Mossy Urn  by foetoebare   garden ornament near the lake at Arlington Court, North Devon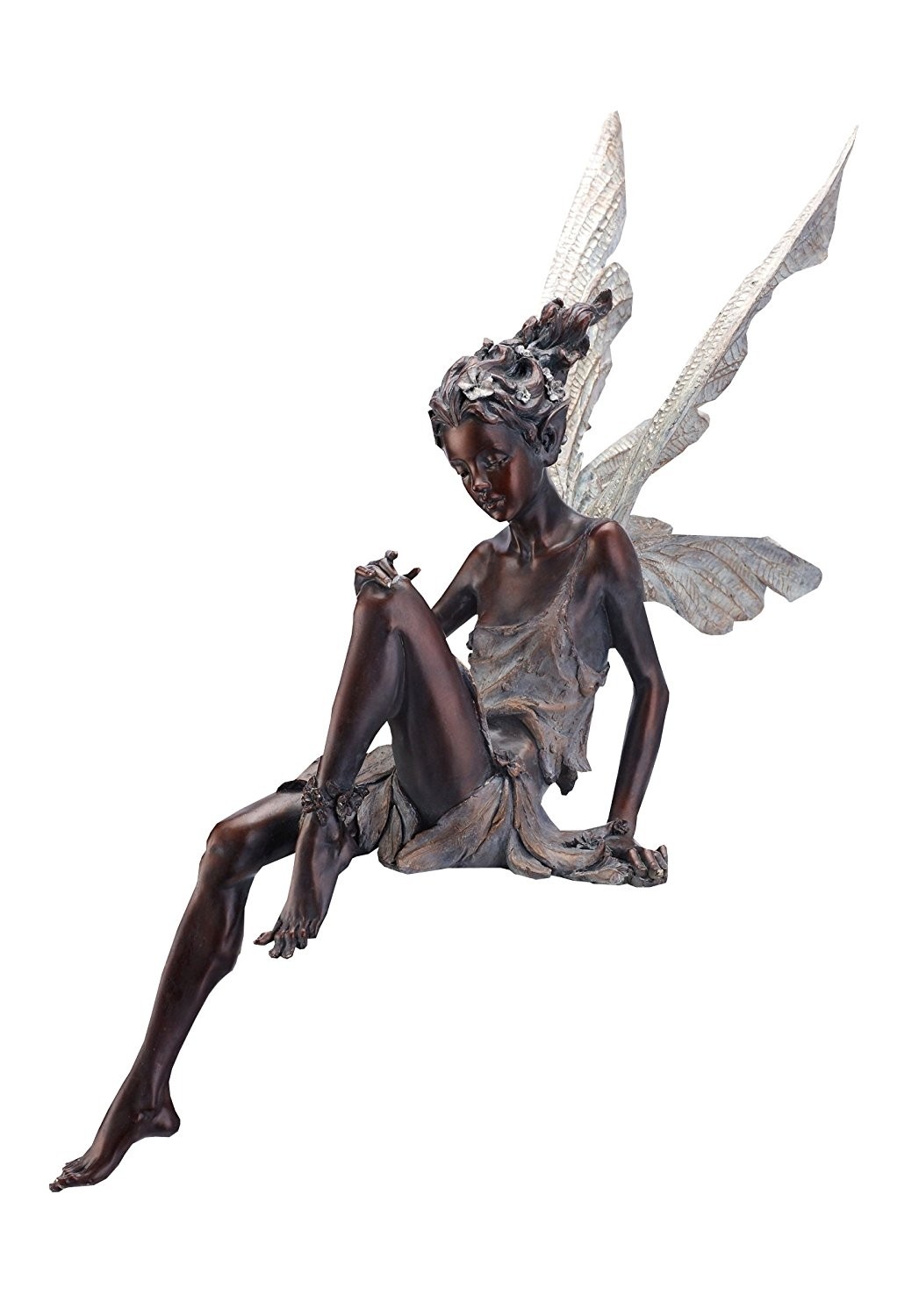 Fairy Garden Statues