Keeping chickens is a rewarding experience from fresh eggs every morning to fun, charismatic companionship. A flock of chickens also helps your household become more sustainable by providing you with your own food source, free pest control and garden fertilizer.
But to make sure your chickens stay in good health and have a happy life, you need a coop and run that provides warmth, shelter and protection from predators. There is a huge range of stylish and functional chicken coop kits at Foter Magazine.
Haman Round Roof Chicken Coop with Nesting Box and Roosting Bar
With a timeless red barn design and durable wooden construction, this walk-in chicken coop is a charming addition to any homestead or generous suburban backyard.
At 100 sq.ft., this coop is suitable for a flock of 10-12 chickens and comes with six spacious nesting boxes and a 120" roosting bar.
With a small ramp and chicken door in the rear to allow your chickens easy access and protection from predators, it also has a standard full-length door at the front so you don't need to squeeze into a cramped coop to collect eggs and clean out bedding.
It features a small vestibule inside the entry, perfect for storing feed, cleaning supplies, and baskets and gloves for egg collection.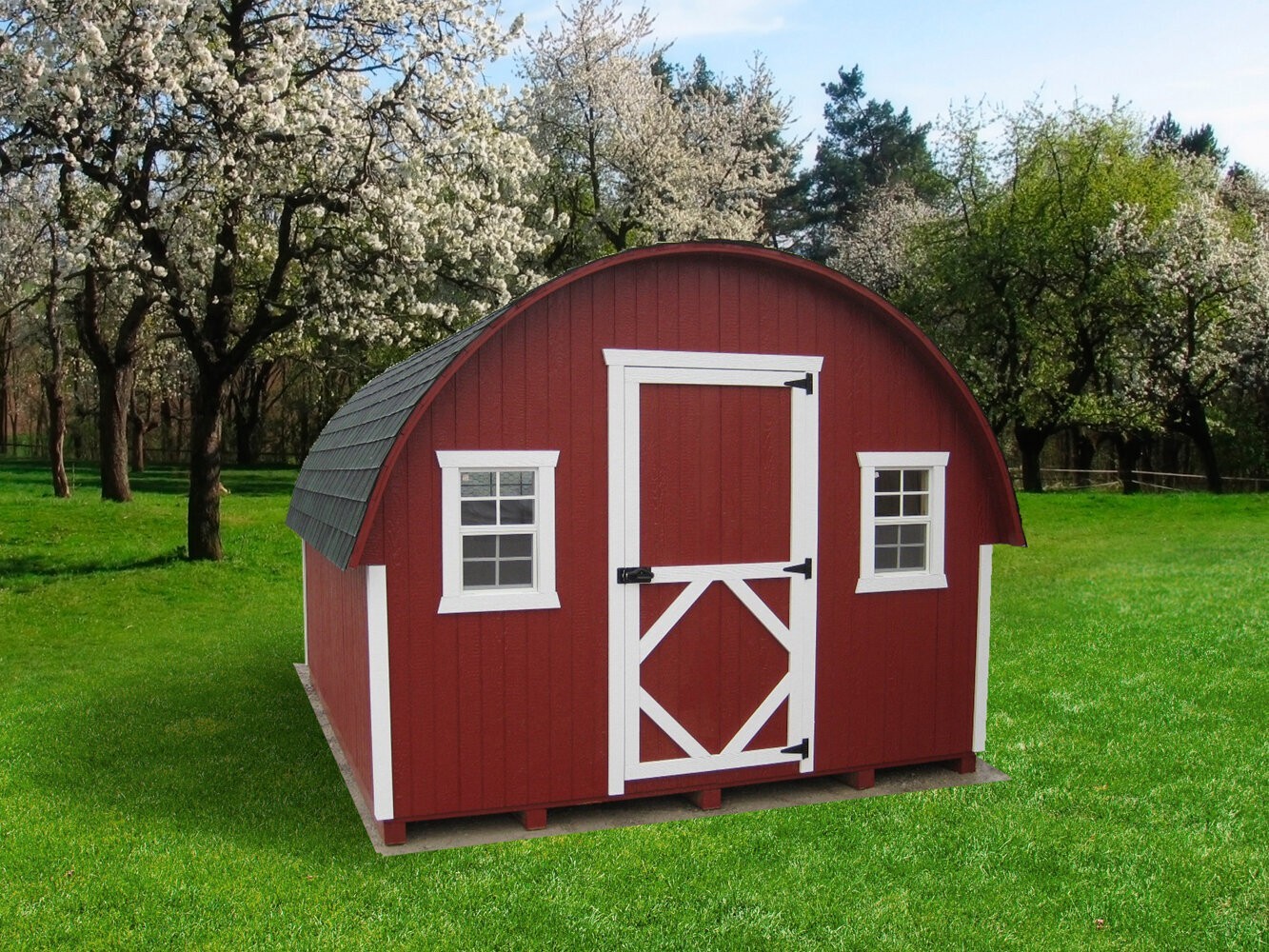 Acklin Walk In Chicken Coop with Chicken Run
The elegant neutral style of this coop and the compact dimensions make this a suitable chicken coop to set up in your backyard and complements any exterior décor style.
Designed to house two chickens, the coop is constructed from durable solid pine coated in a non-toxic waterproof finish. The roof is covered in asphalt which provides added insulation against extreme temperatures.
The 2-level design raises the nesting boxes off the ground for better predator protection and provides ample space underneath for your chickens to get some exercise. The tough wire mesh surrounds the entire run and covers the floor offering plenty of ventilation.
The ramp leads to the coop which features a single large nesting box and sleeping area and a pull-out tray for easy cleaning and egg collection.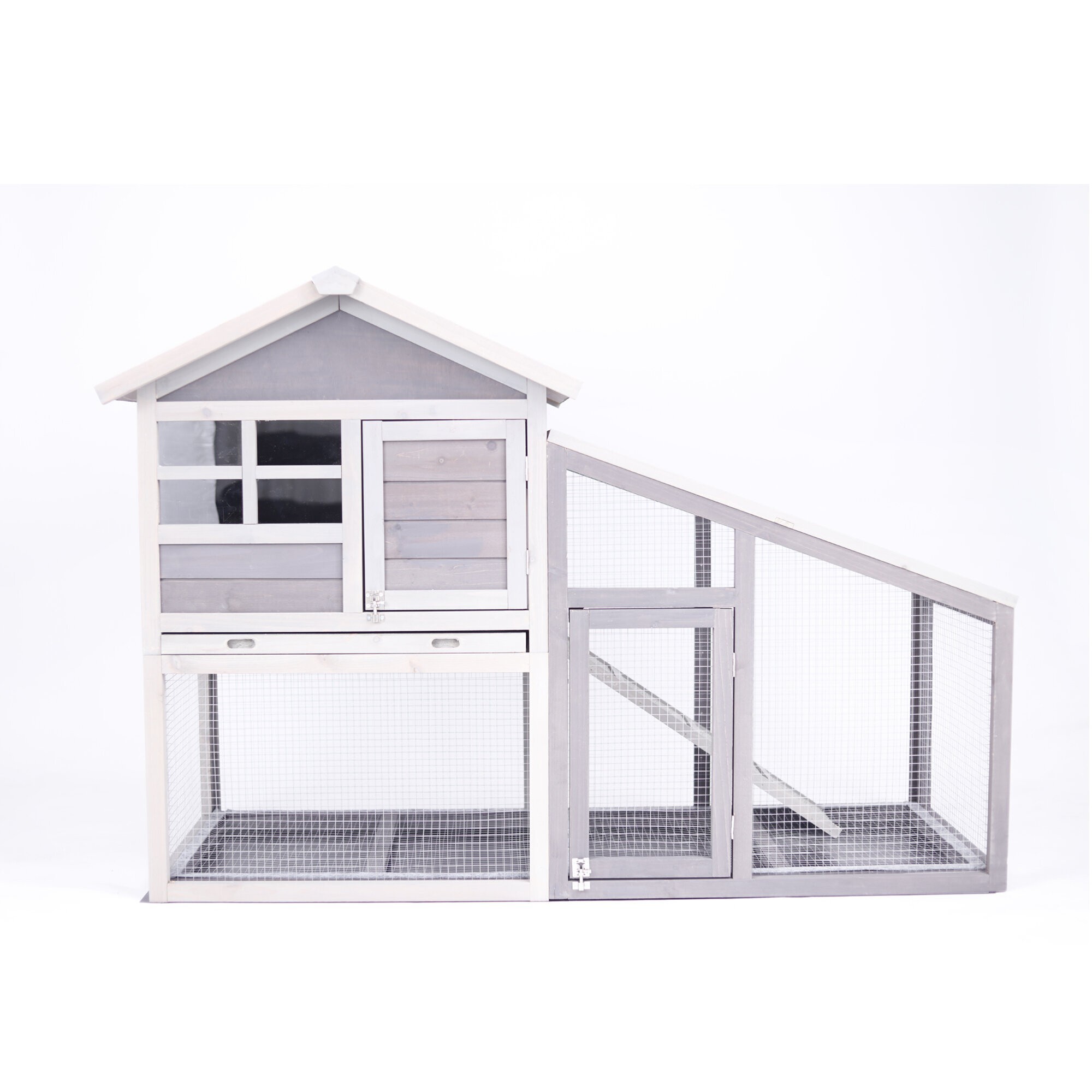 Hampel Chicken Coop with Chicken Run
This 2-level coop is the ultimate home for your feathered friends. The molded thermoplastic design makes it tough enough to withstand the elements while still allowing for easy cleaning and maintenance to ensure your chickens enjoy a healthy, hygienic living space.
Four-sided ventilation, both in the run and the coop, keeps your chickens cool in summer and prevents a buildup of odors from chicken manure.
With nesting boxes on each side featuring a hinged door, collecting eggs every day is a breeze. The coop also has an integrated feeder and water and roosting space for your chickens to rest during the day, and a lockable door to keep them protected at night.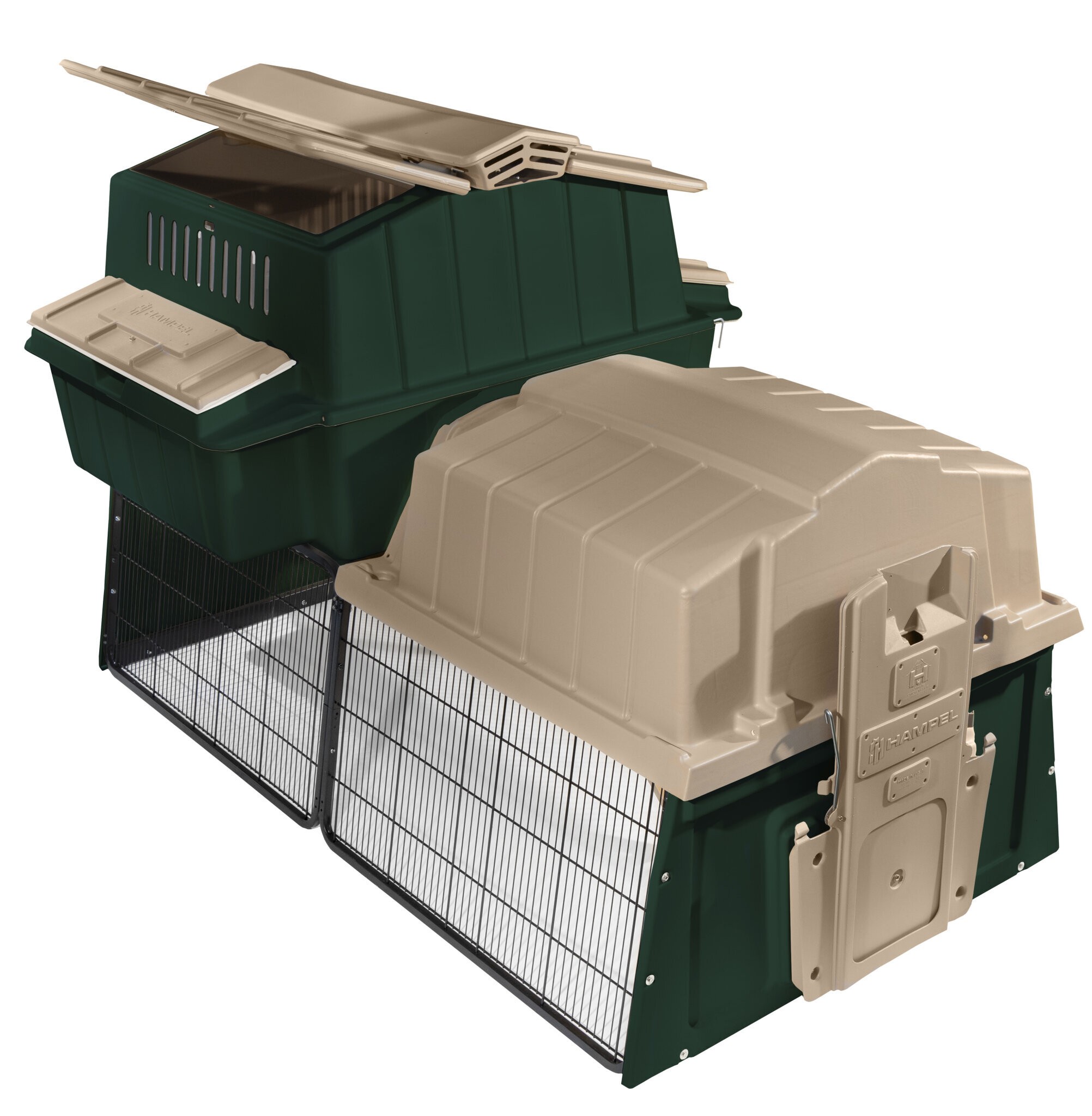 Gennessee Wooden Cottage Raised Portable Backyard Chicken Coop with Nesting Box
One of the most effective ways to protect your flock is by raising them up off the ground out of the reach of predators. This raised chicken coop offers a safe and portable way to house your chickens and has a charming design to add a touch of country style to your yard.
The natural pine wood frame is treated to resist the elements and provide added durability and strength. The nesting box features a hinged lid for easy access to fresh eggs, and a slide out tray lets you clean and change over straw to keep the interior of the coop pest and odor-free.
The frame features four handles for easy portability. Keep the coop inside an enclosed chicken run for a protected space for your flock to exercise. Or place the coop in a paddock or shady meadow and let your chickens roam free.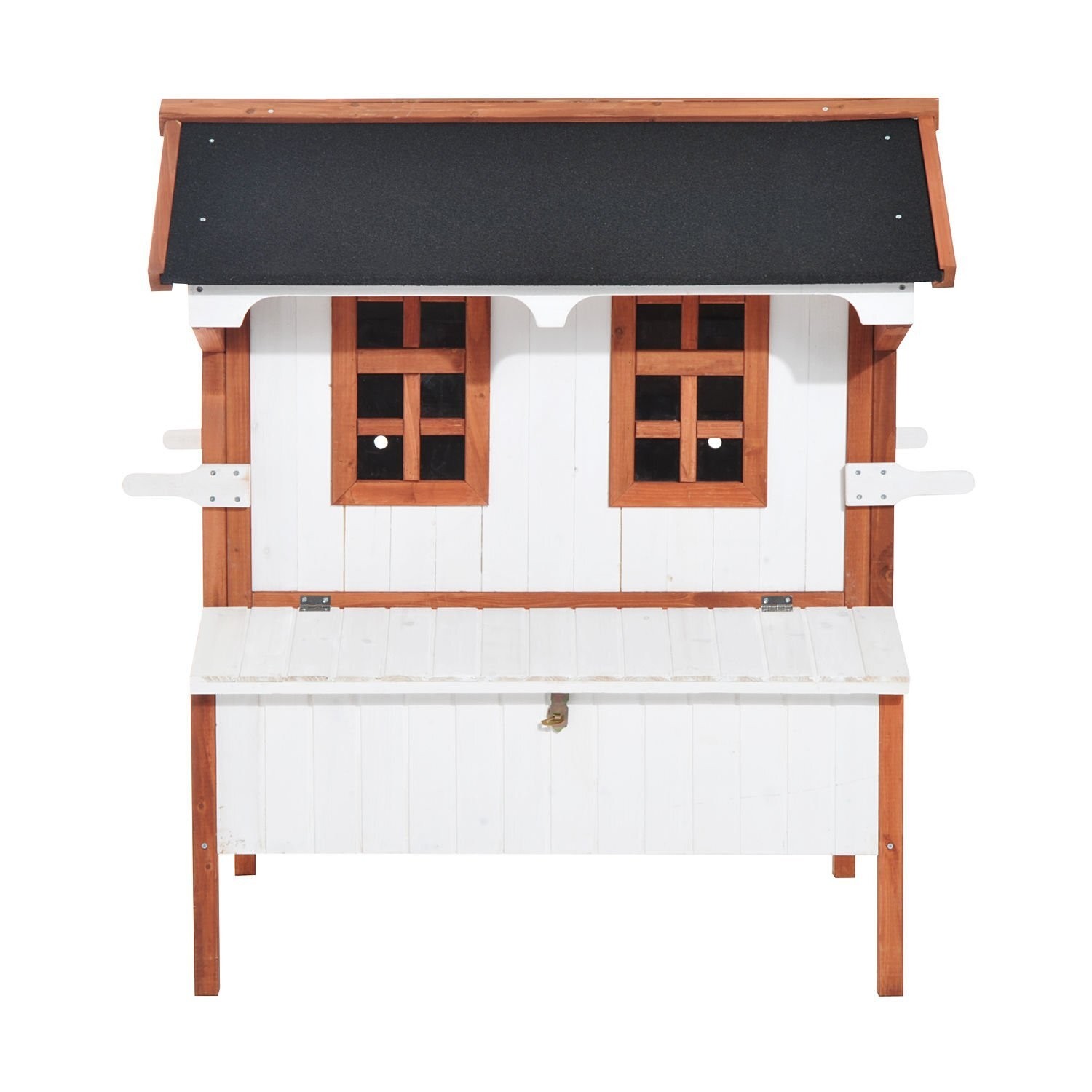 Holden Metal Walk-in Chicken Run with Waterproof Cover
Although chicken wire can provide a small measure of security for your birds, to give them a safe place to wander, a chain link chicken run will keep large predators out while providing ample space.
The Holden Walk-in Chicken run is designed for use in conjunction with a separate coop for laying and resting. The 78'' H x 120'' W x 156'' D frame is constructed from a heavy gauge wire chain link attached to a tubular galvanized steel frame. The full-sized lockable door allows for better accessibility.
The roof of the chicken run is covered at one end with heavy-duty metal, and at the other end with shade cloth to provide your chickens with cover from the sun and protection from birds of prey.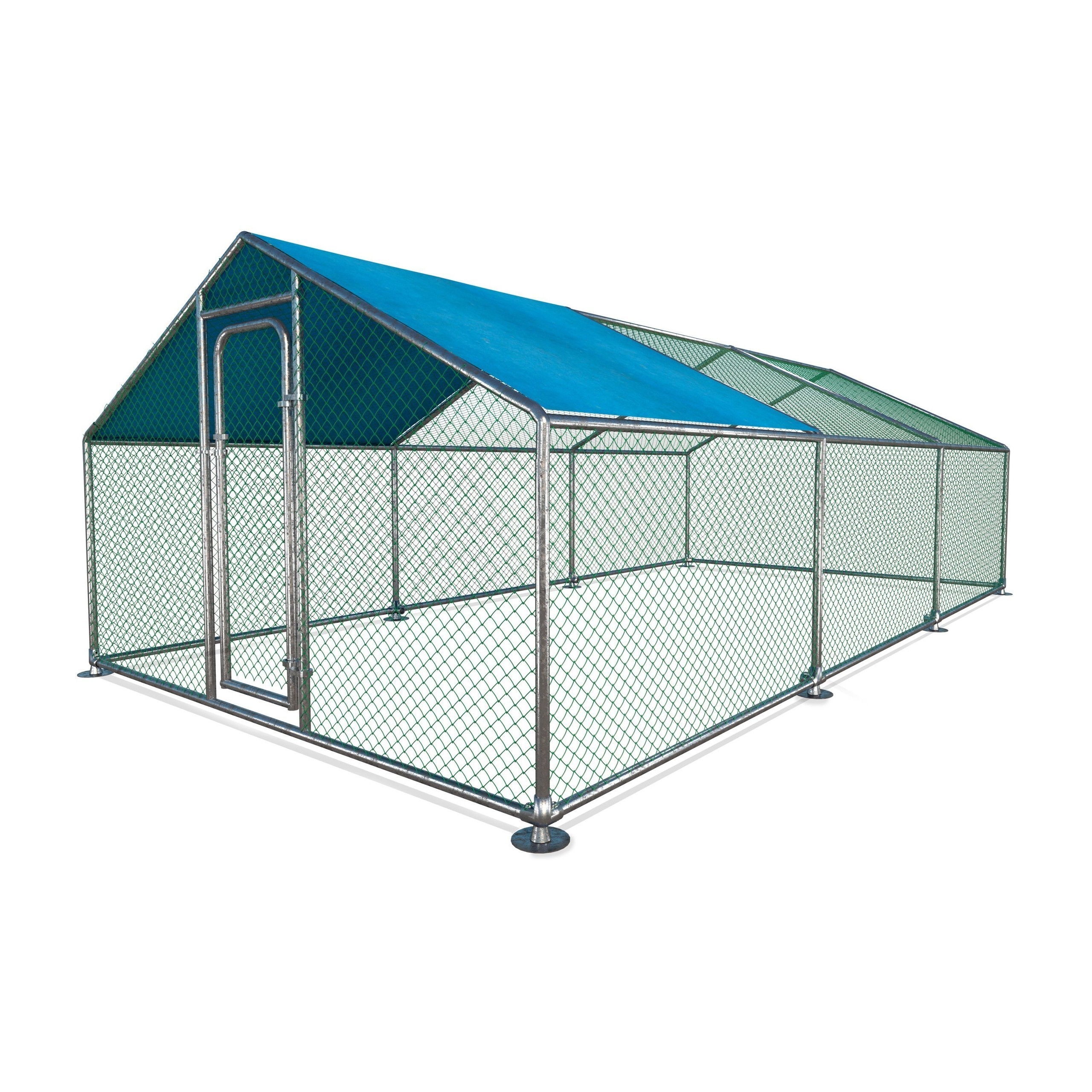 Formex Standard Snap Lock Chicken Coop
For a simple, low-maintenance chicken coop kit, the Formex Snap Lock Coop can't be beaten. With its quick and easy tool-free installation, you'll have a comfortable home for your hens in no time.
The polyethylene plastic coop is resistant to UV, water and bacteria, and can be hosed down as part of your coop sanitation routine to maintain healthy conditions for your brood. It is also resistant to impact from farm machinery and has no large gaps to allow snakes, rats or weasels access to your birds.
There are four access points, each with a lockable latch, for convenient egg collection and for your chickens to enter and exit the coop. The three nesting boxes can accommodate up to six birds and come with removable trays for fuss-free bedding changes.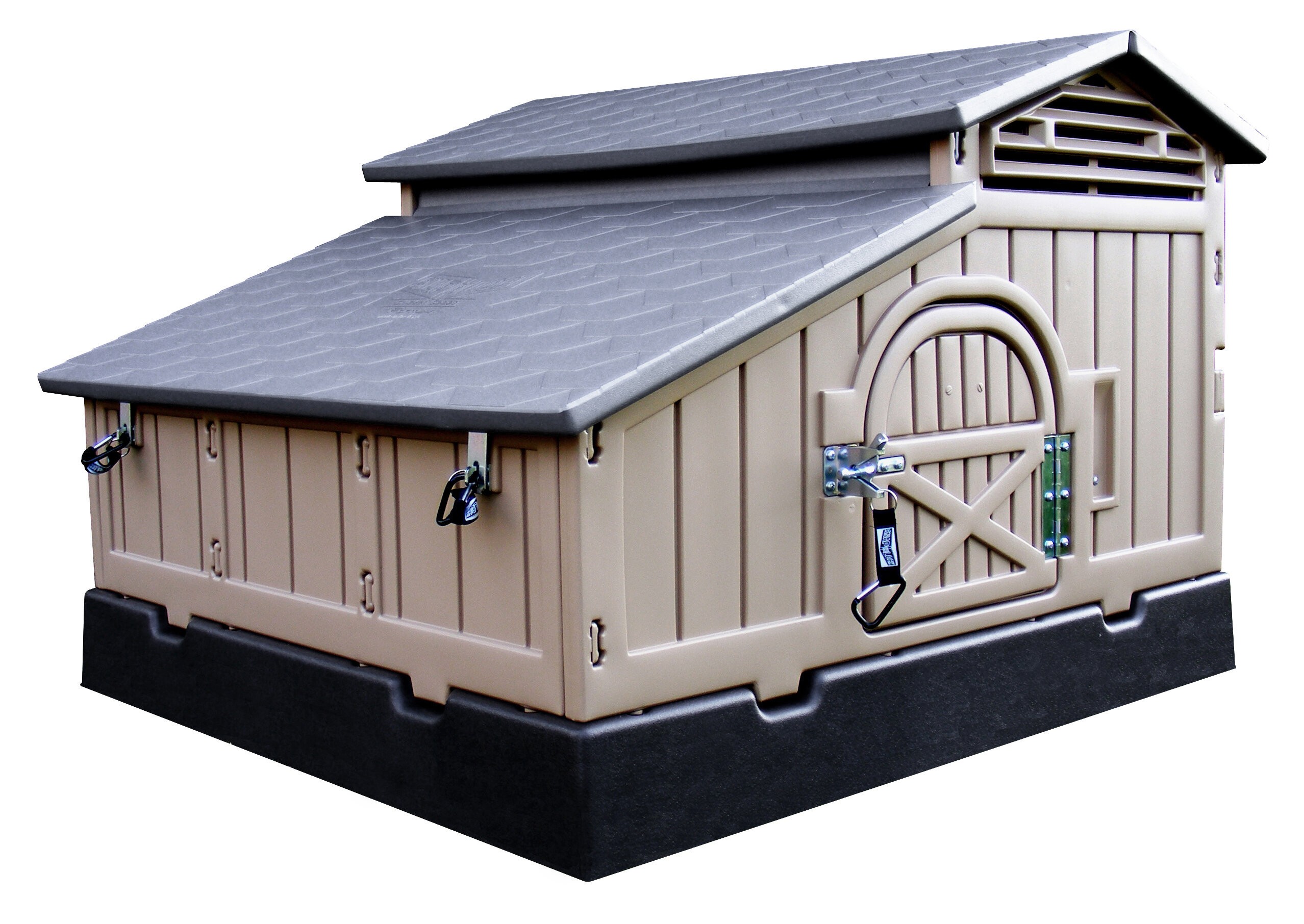 Garnett Modular Wooden Backyard Chicken Coop with Dual Outdoor Runs
If you have a yard with limited space, but you still want the pleasure of raising chickens, this chicken coop kit with run is the right choice. The modular design of the coop allows you to build the coop in multiple configurations to suit the layout of your yard.
It comes with a central roost and nesting area with dual runs covered in wire mesh for optimal ventilation and visibility. The 2-tiered structure keeps hens off the ground during the night for better security, and the upper level features a cozy nesting box, roost, and a sliding window to allow for ventilation in warmer months and insulation when the weather turns cold.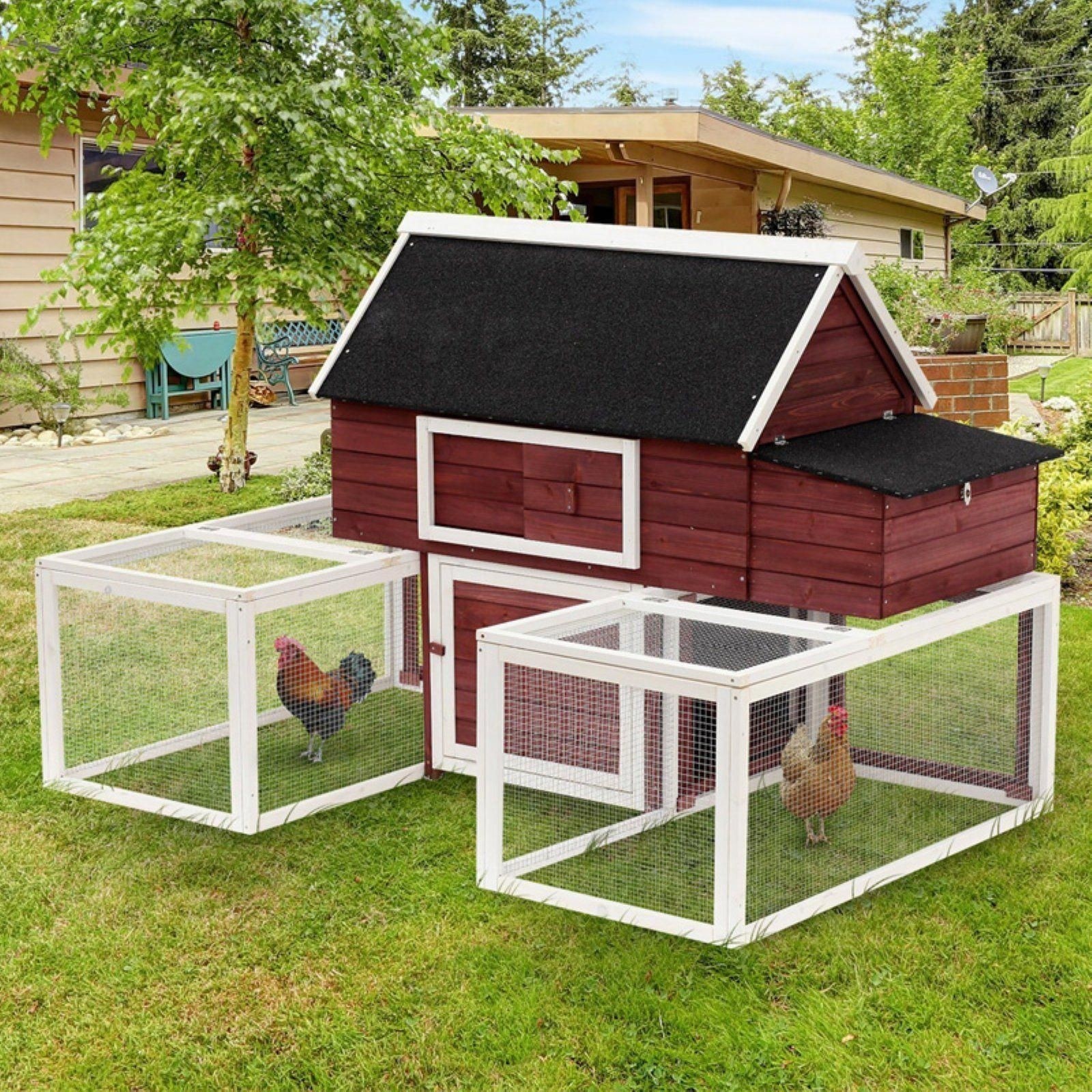 In a Nutshell
Keep your chickens happy, healthy and protected with a quality chicken coop kit that provides a secure place for resting and laying as well as ample room to run.
Before buying your chicken coop kit, make sure you purchase a model that provides at least 4 sq.ft. of space per chicken in addition to a separate exercise area to avoid any behavioral or health issues.
A chicken coop kit is an affordable and simple way to give your chickens a comfortable and safe home.