Whether you live in an apartment or a home with a small balcony, no one likes the sight of big furnishings crammed in a small space. Hoarding? No thanks!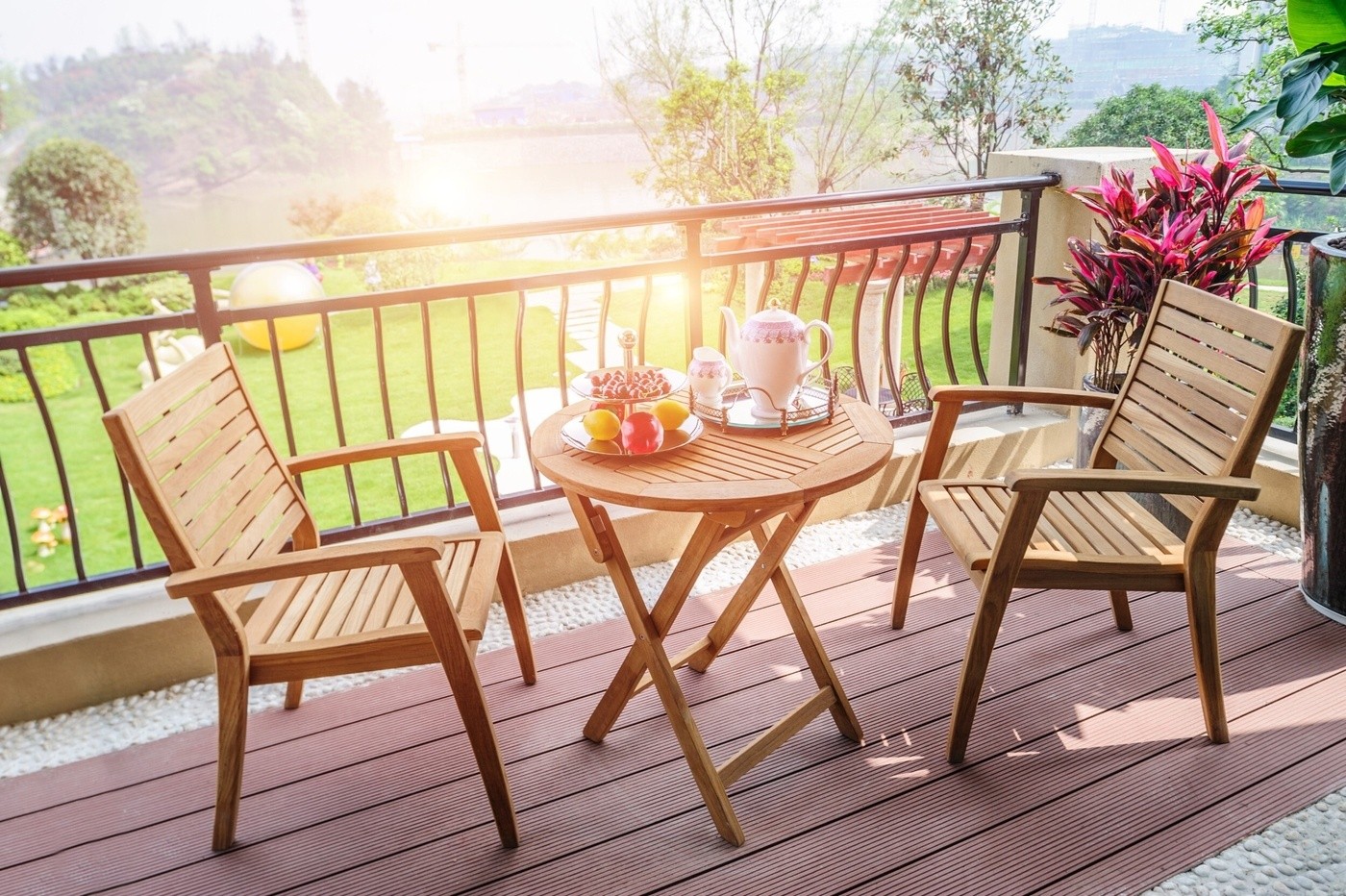 We also don't want plastic yard chairs that break when the wind picks up. So, what's the middle ground here? Where's the balance?
The balance is right here! Below we list 15 small balcony furniture pieces to help you with your small space dilemma. Keep reading!
1.

Teak Hinged Chaise Cushion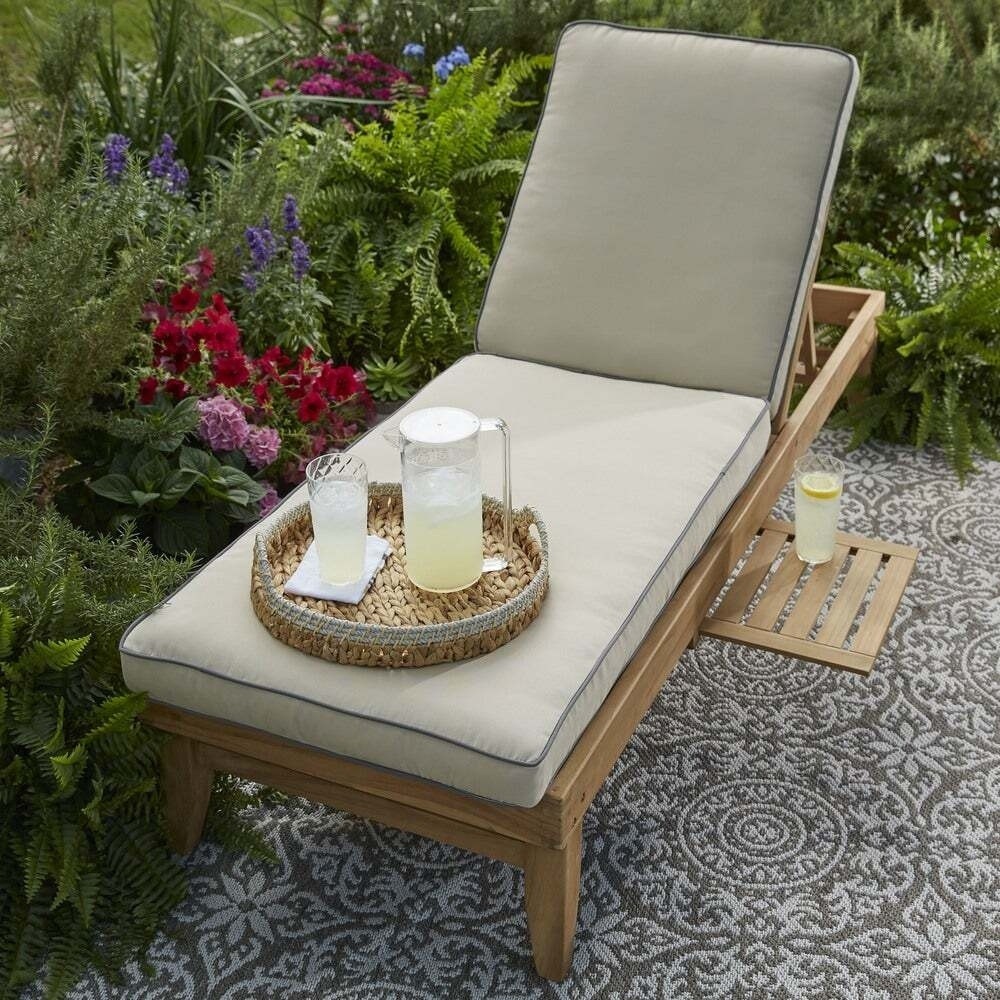 The great thing about these types of chaise chairs is the ability to make the chair lay flat. You can enjoy this chair all to yourself or share it with a partner or friend.
Hinged chaise chairs give you the option for a side table to set your drink down somewhere. The Sunbrella fabric prevents the sun from fading your colorful cushion.
It's best to spot clean, soft Sunbrella fabric. If your cushion gets dirty, use a soft bristle brush and never a hard bristle brush. You wouldn't want to ruin your soft fabric!
2.

Warm Stylish Metal Table Set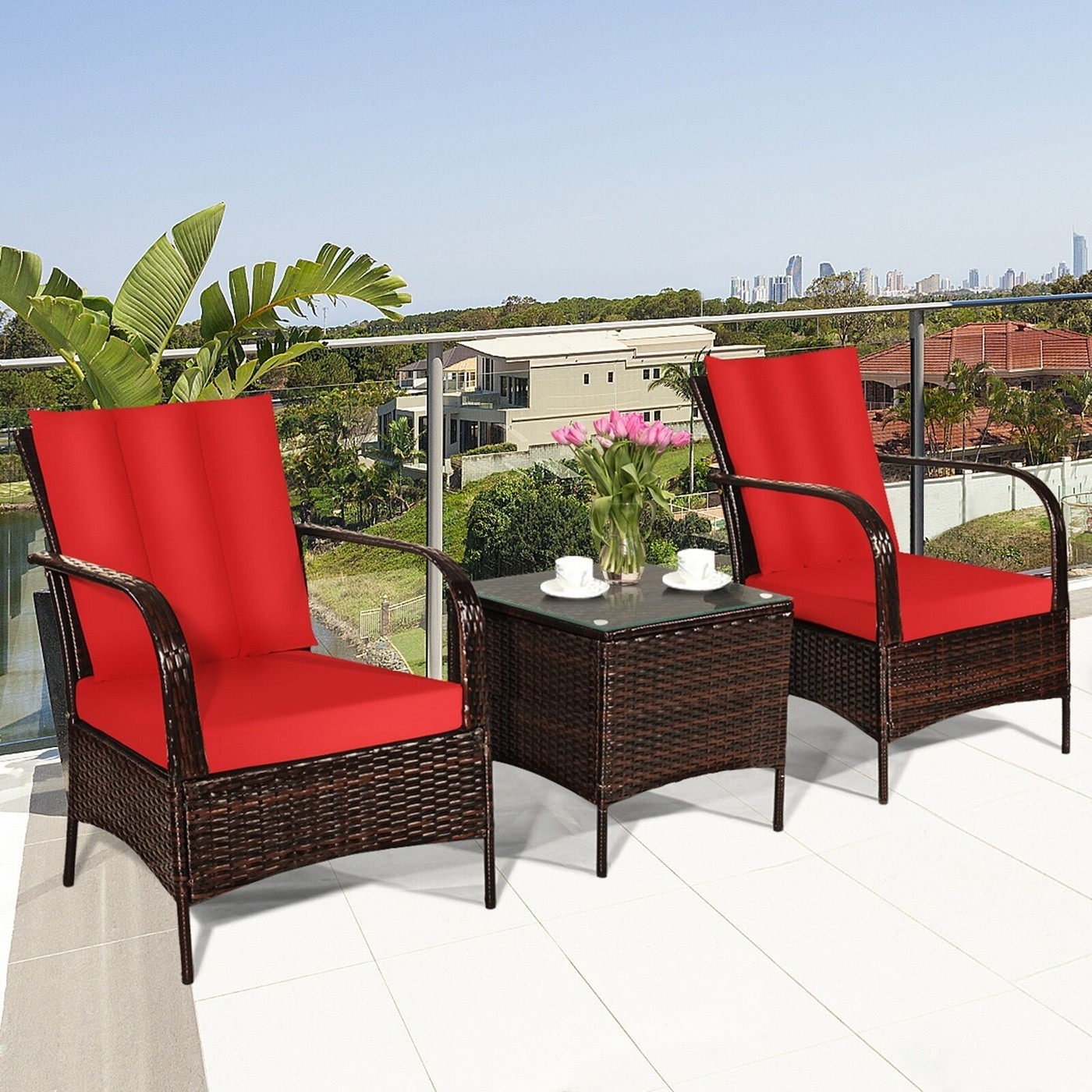 This warm stylish metal table set is perfect for spicing up your balcony. The square shape allows you to puzzle piece your small balcony furniture together.
Cushions are easily removed, and they come with hook and loop fasteners to prevent your cushion from sliding off or moving around when you get up. Hallelujah!
The colors and shapes of these types of table sets blend contemporary and traditional design styles. These chairs sit lower to the ground and are great for balconies with lower railings or clear glass siding like the one in this photo.
3.

Sleek Concrete Garden Bench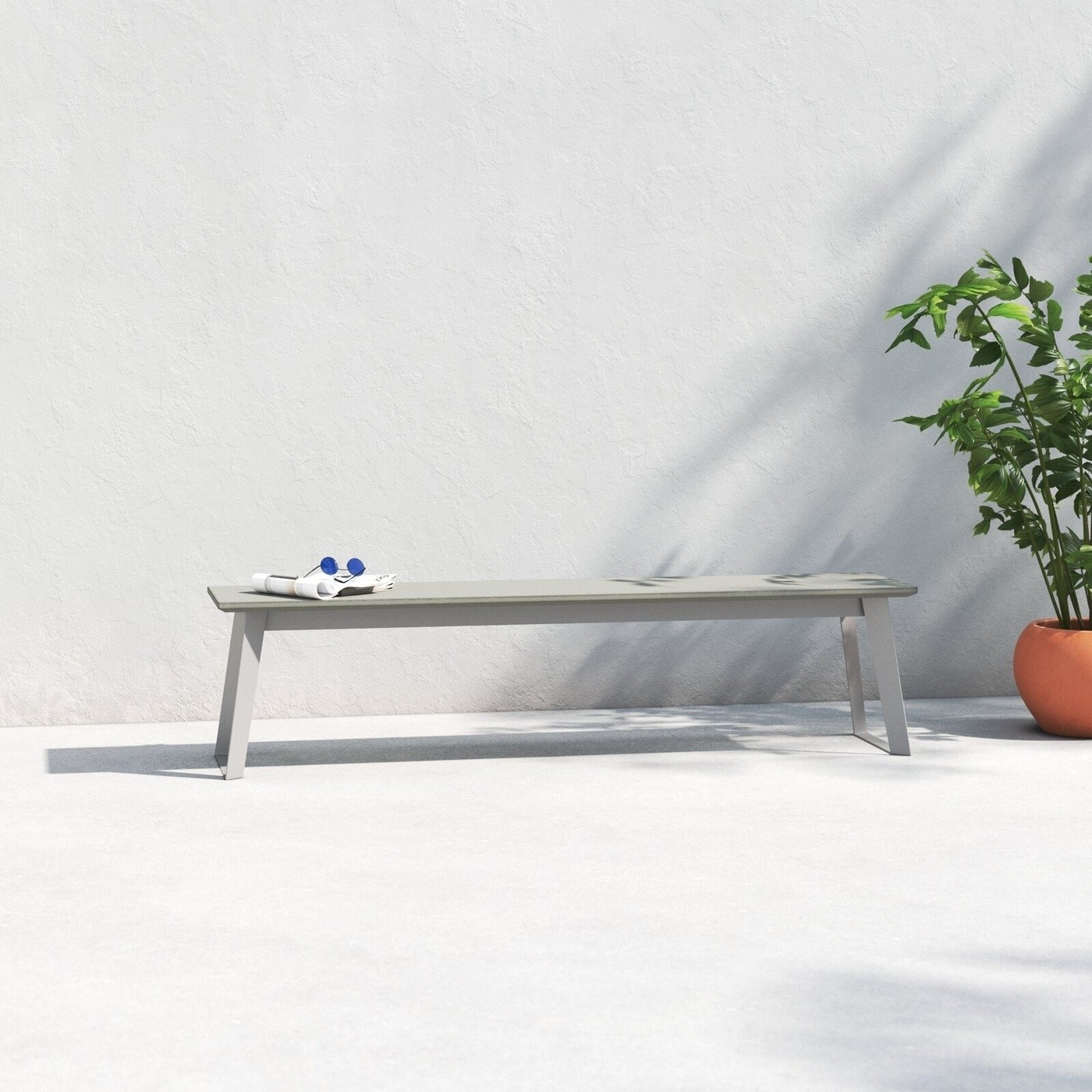 This bench is perfect for the minimalist or industrial décor style. The sleek concrete garden bench is plain and simple and serves a purpose.
It's made of a mix of concrete and fiberglass that keeps rust away and prevents water from getting in and cracking your beautiful bench. You can find these benches in all lengths; this one is 76 inches long and can sit up to three people.
Some concrete benches can weigh over 100 pounds, so there's no worry of it flying away! You can always buy a wooden bench if it's more favorable, just make sure it has a weather-resistant wood stain on it.
4.

Incredibly Comfortable Egg Swing Chair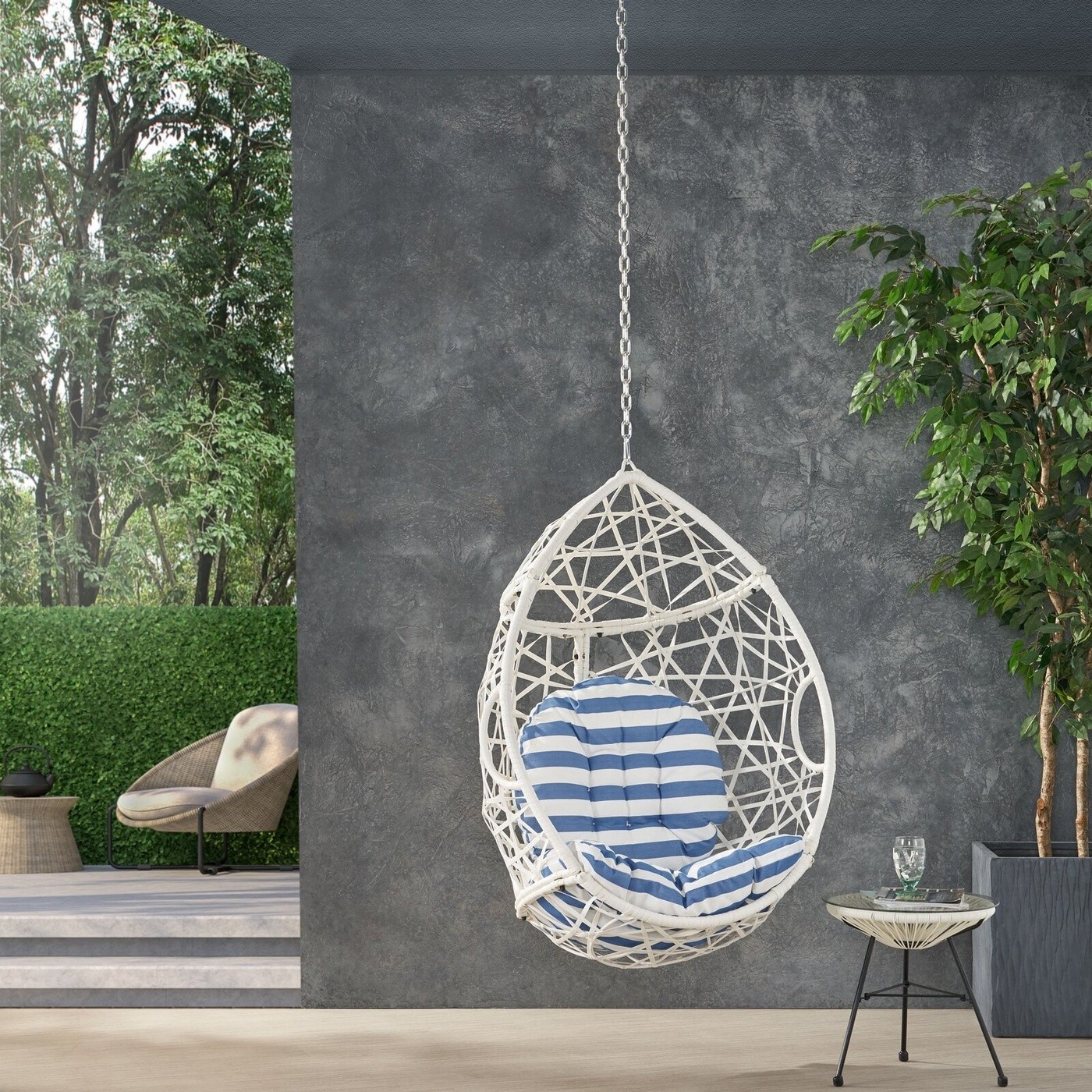 You know how comfortable a hanging egg chair is if you've sat in one before. If you enjoy the warm sun on your skin while taking a nap outside, then this is the best small balcony furniture for you.
Egg Chairs come in white, brown, black, and tan. Most of them are made of wicker rattan, macrame, or metal. If you find a plastic one, make sure it's heavy-duty or you'll be waking up from a nap on the ground!
To save space, it's best to buy an egg chair that hangs instead of one that comes with a stand. Also, there's a higher chance of stubbing your toes on a stand. Ouch!
5.

Wicker Rattan Love Seat With Cushions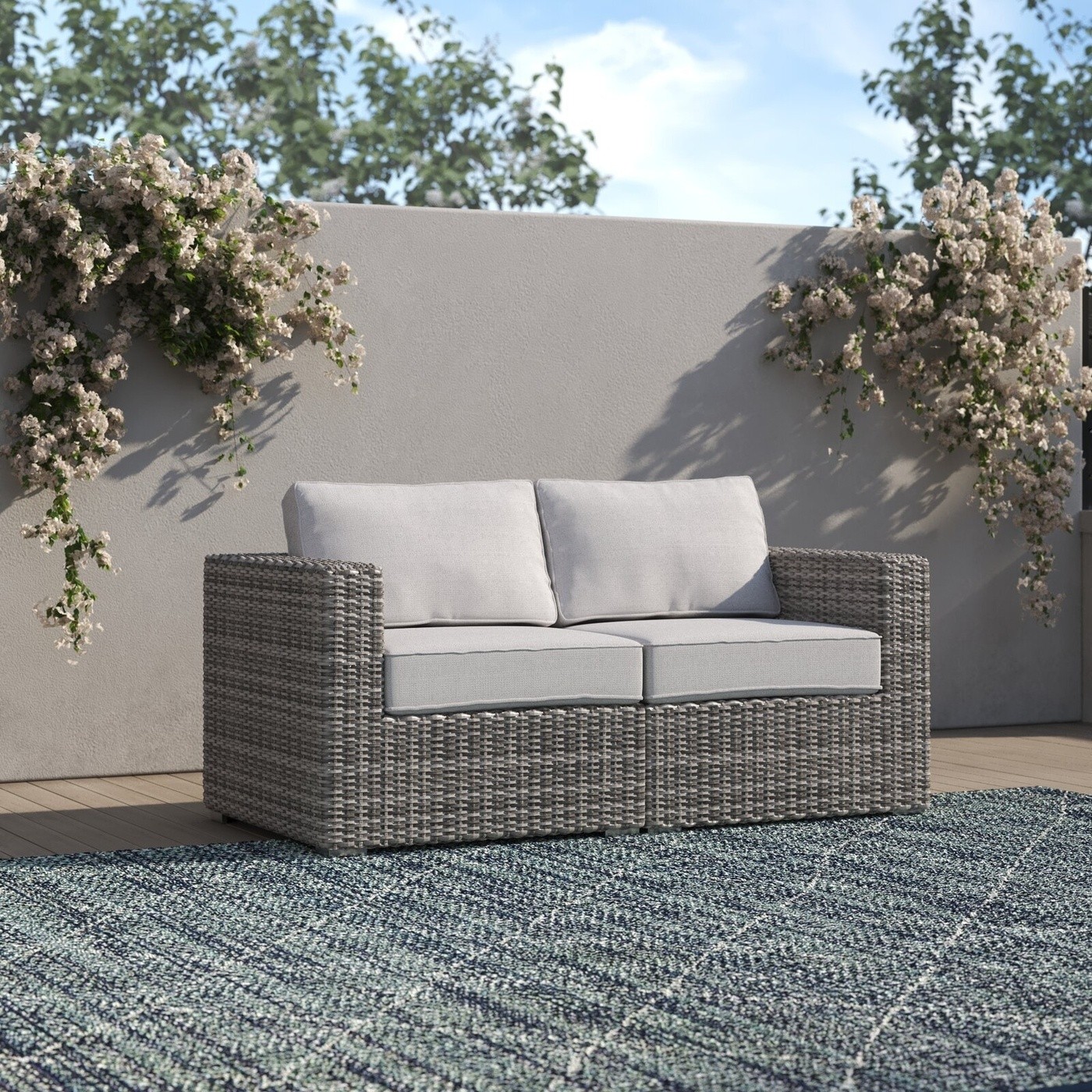 The wicker rattan love seat is a stylish seat for you and your partner to watch the sunset. Interlocking furniture clips prevent your two chairs from separating.
Cushions on these types of loveseats have zippers, making them easy to wash. There's also no assembly required, and the detachable feature lets you mix and match other pieces to better fit your small balcony.
They are extremely versatile in the sense that you can change out cushions to the type of color or pattern you like. If you like a vintage appeal, swap the solid-colored cushions with floral and call it a day!
6.

Colorful Mosaic Round Bistro Set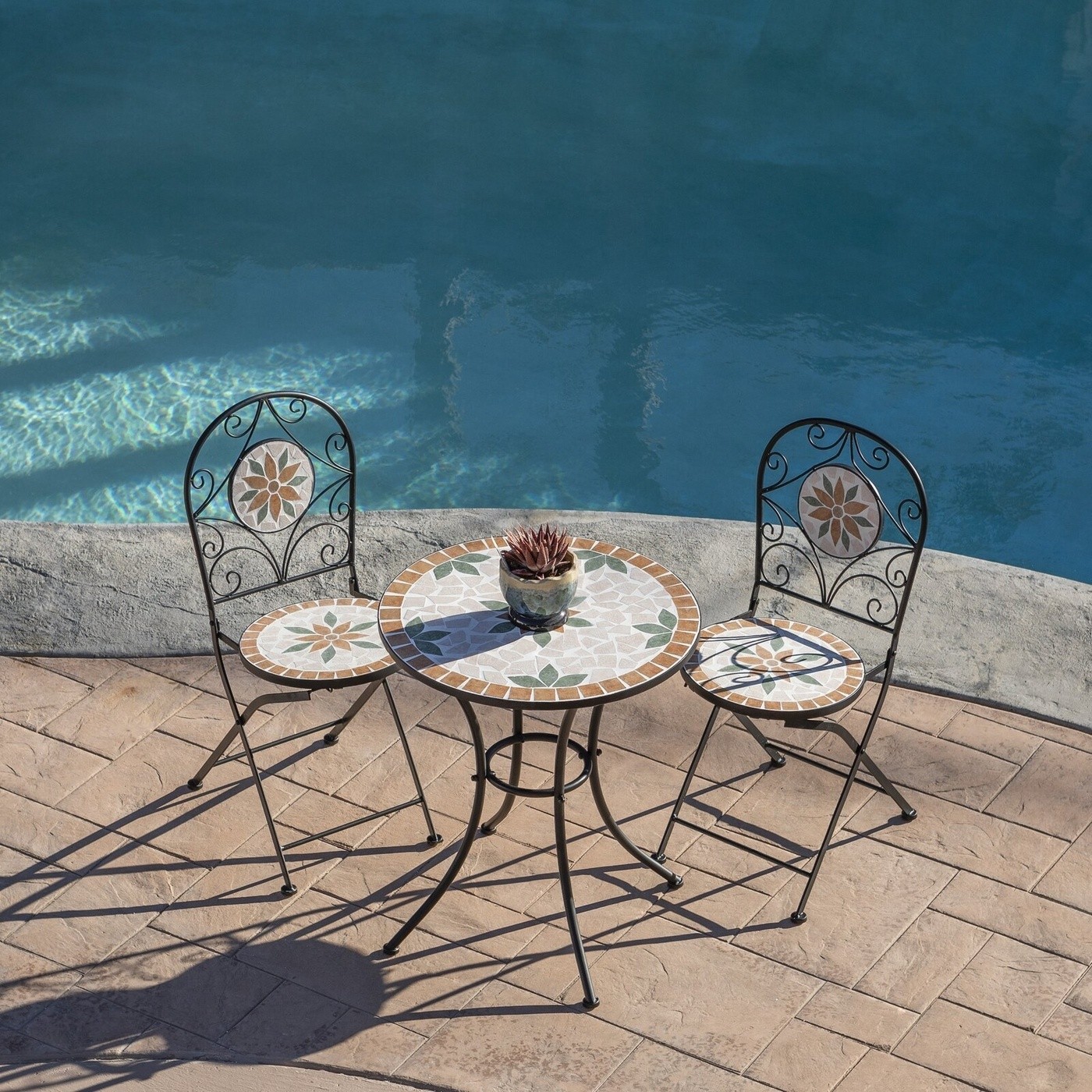 Are cushions too much or a hassle for you? No worries! This mosaic metal bistro set is low-maintenance, and it adds color to your balcony.
It may surprise you, but these metal chairs are foldable making them easy to store. These chairs aren't the most comfortable to sit on for long periods.
If you change your mind about the cushion, you can always add a small cushion that has ties on the back. For balconies that have a tiny space on each side of the door, add a chair to each side.
7.

Compact Balcony Bar Set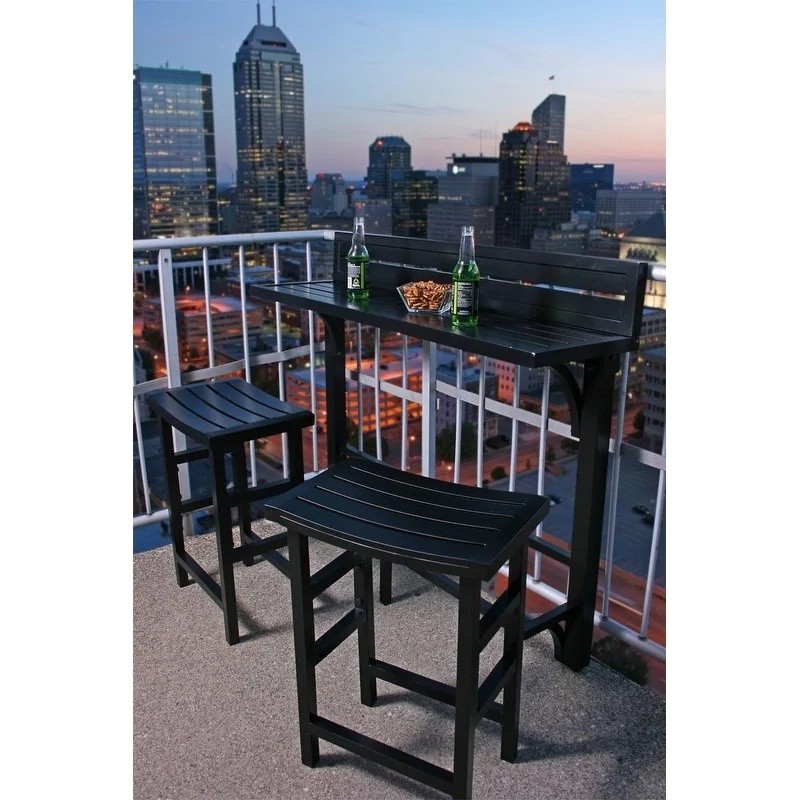 This small balcony furniture is calling to everyone who lives in a condo or apartment and enjoys city living. It has a modern and contemporary feel to it.
You can find balcony bar sets mainly made of metal, wood, and wicker. Metal is easier to clean and lower maintenance, but wood is more comfortable to sit on (especially in high low temperatures).
The compact table and thinner chairs make this a popular choice for small balconies. Balcony bar sets have taller bar stools and tables, so if your railings are low this design will look strange.
8.

Tall Swivel Chair Bistro Set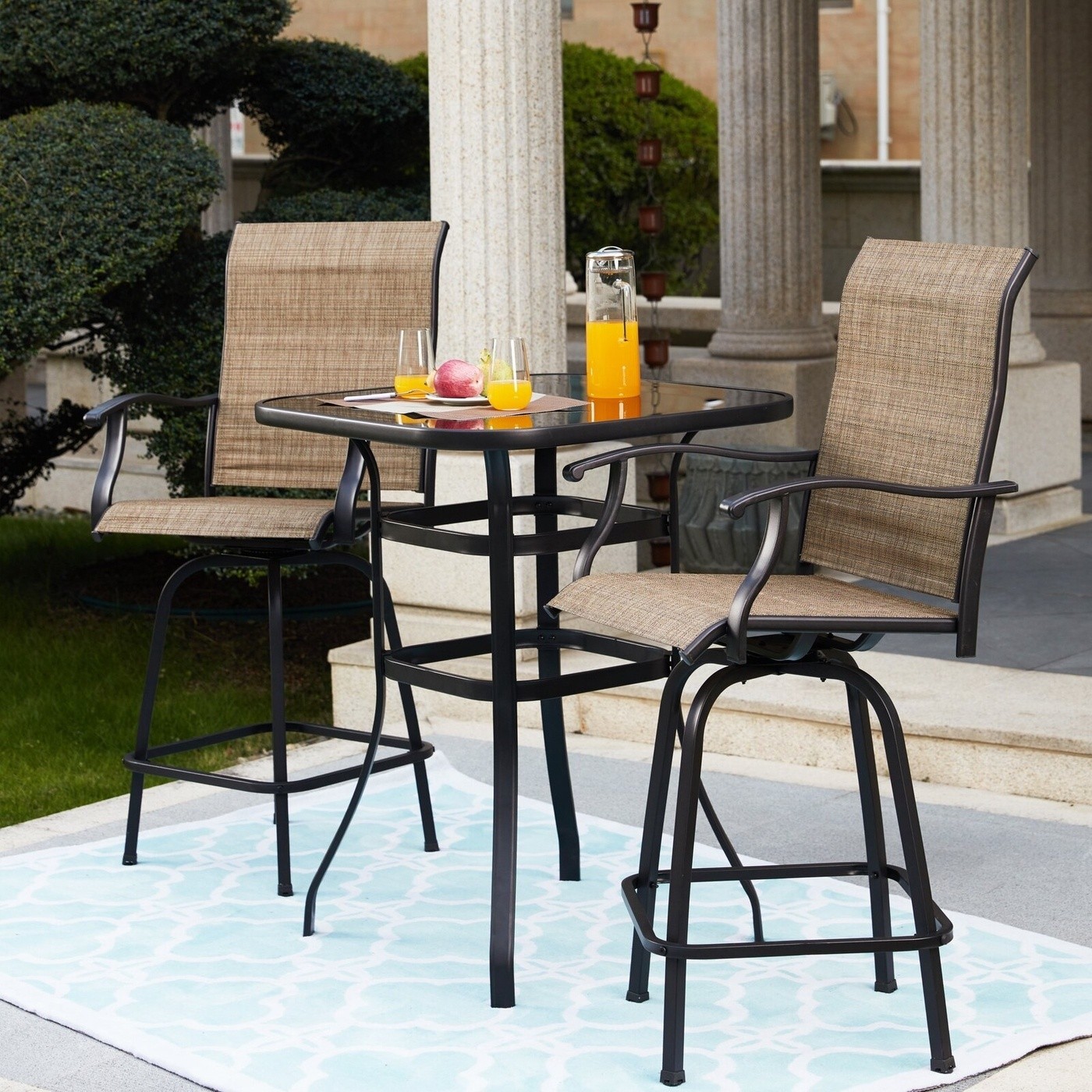 Tall swivel bistro chairs are wonderful for tall railings! There's no fret about not being able to see the views over your railings anymore.
The swivel feature makes it, so you don't have to scoot your chair back into space you don't have. The metal and glass-top table complement the modern flair to your terrace.
These bistro sets are easy to wipe down and the seating is the best of both worlds. You don't have to hassle with a thick smelly cushion or an uncomfortable hard surface.
9.

Short Round Wicker Rattan Set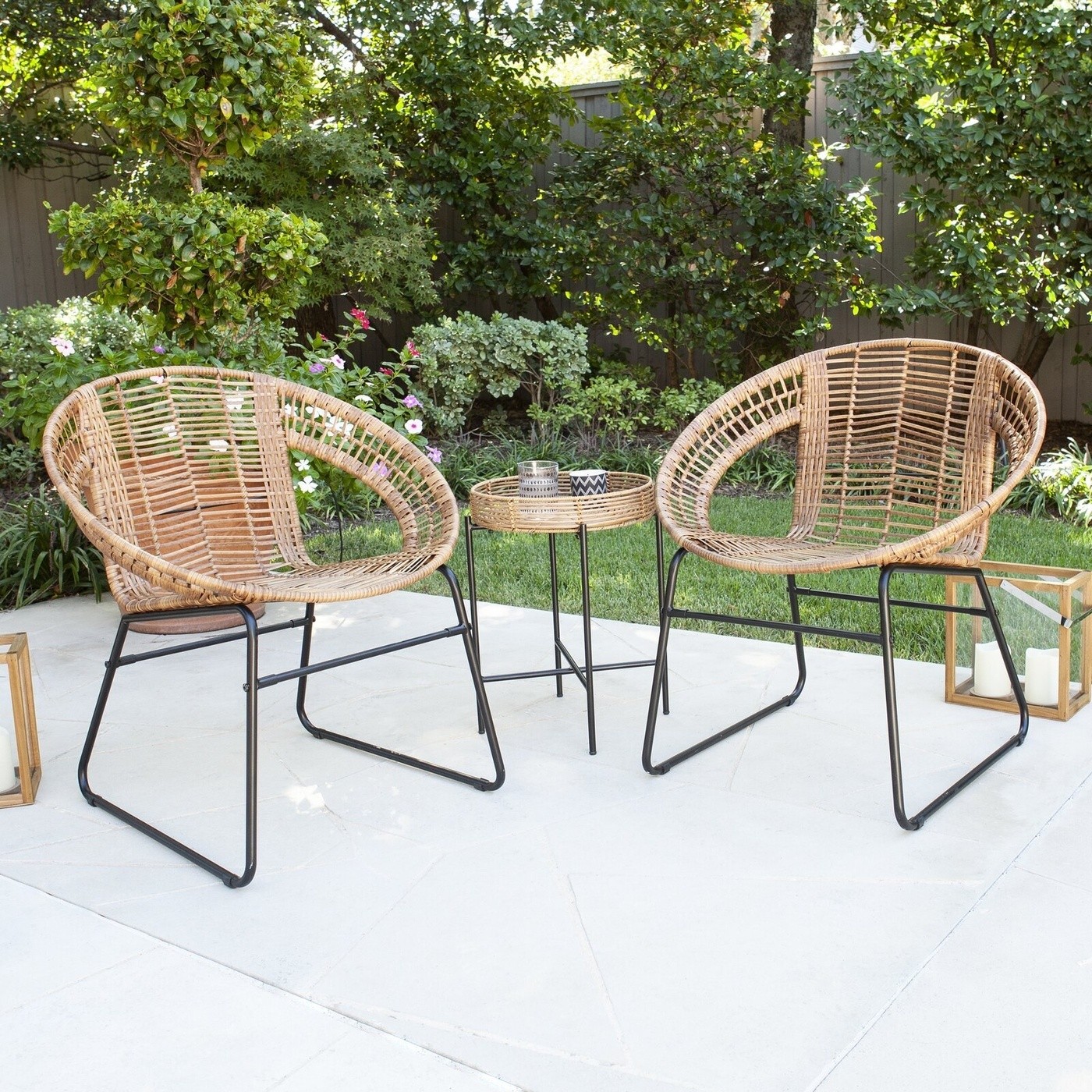 These wicker rattan furniture sets welcome coastal and boho-styled décor fans. The rounded shape gives a friendly vibe and the ledge on the table prevents accidental spills.
If you're tall this isn't the best option for you because the seats on these bistro sets are only 17 inches off the ground. Taller people should look for taller bar stool chairs.
These chair and table legs are made with iron metal and should only be wiped down with a dry cloth. If the seat is bothersome, add thin cushions.
10.

Single Cotton Fringe Macrame Hammock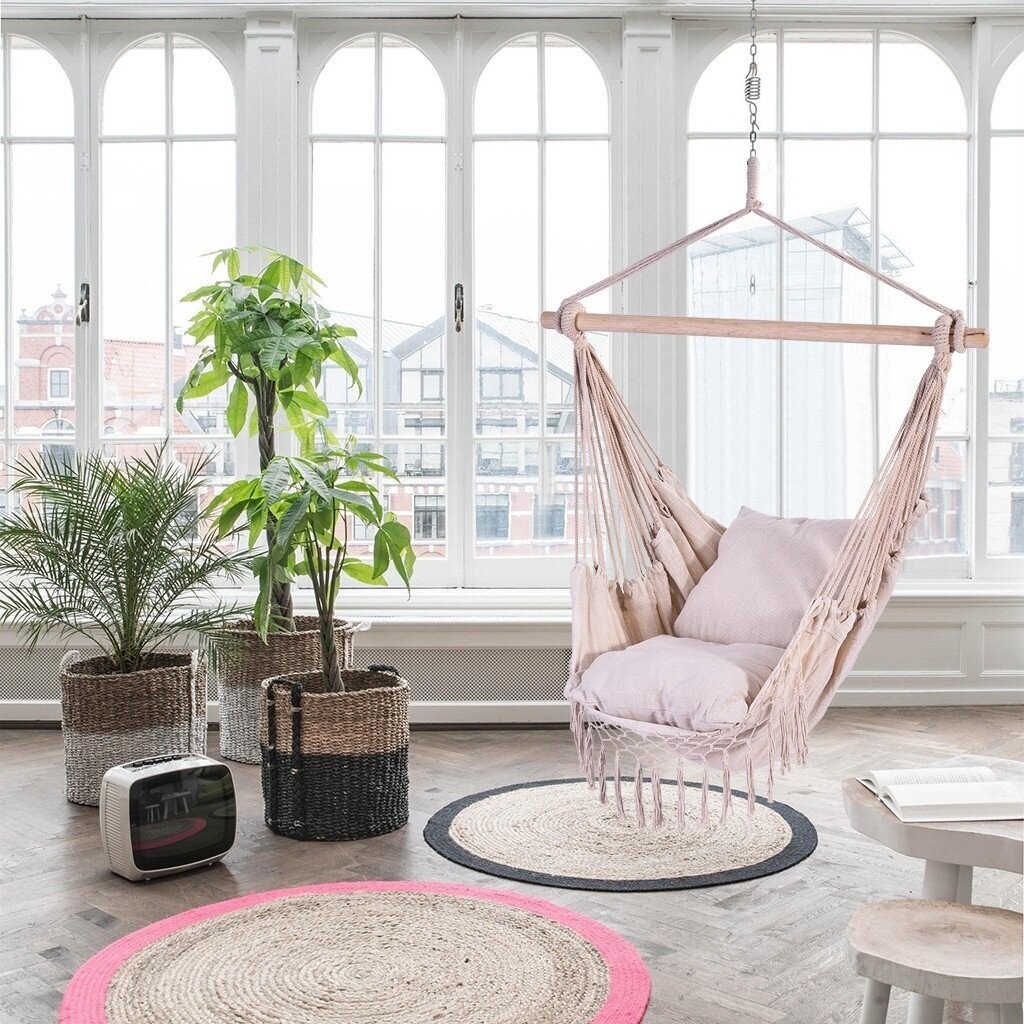 Here's another chill boho style to choose for small balcony furniture. With hammocks, they are easily hung and taken down and they take up next to no space.
They give a comfy relaxing vibe to your balcony and are great for kids or adults. The spreader bar makes it, so you don't have to wrestle with your chair to figure out which way is which.
The all-weather ropes are strong and durable. These types of hammocks are cute on "L-shaped" balconies because they allow you to twist and turn for a different view.
11.

Lounging Chaise With Cozy Cushion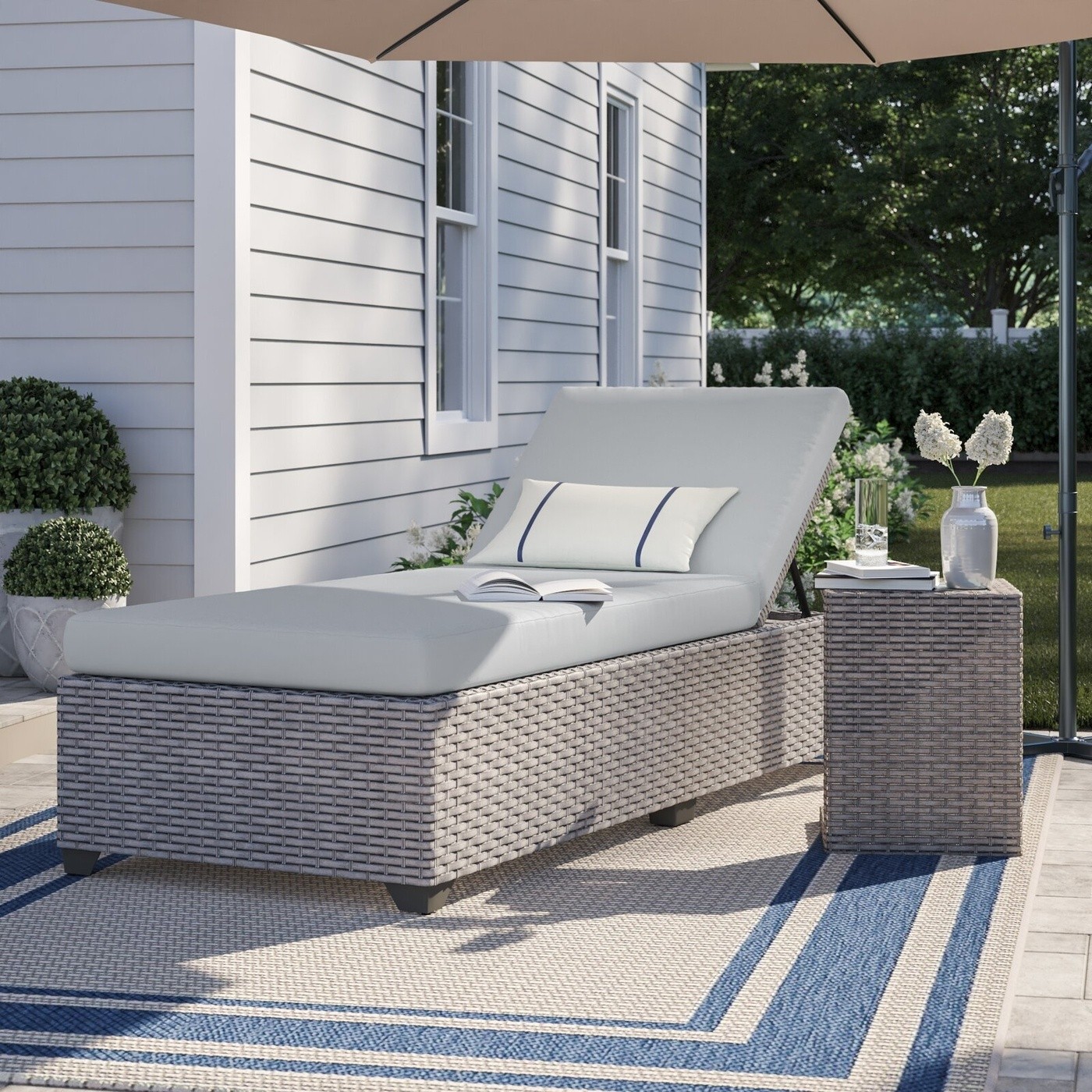 The lounging chaise can be used solo or fit two people effortlessly. If your balcony is a square shape, this cute chaise will look great pushed up against one of the sides.
Cushions are easy to clean and swap out with different seasons. Add a small table to this setup, and you're done!
Water repellent and UV resistant features help the life of the cushion. This elegant chaise adds a modern touch to your veranda.
12.

Small Round Foldable Table Set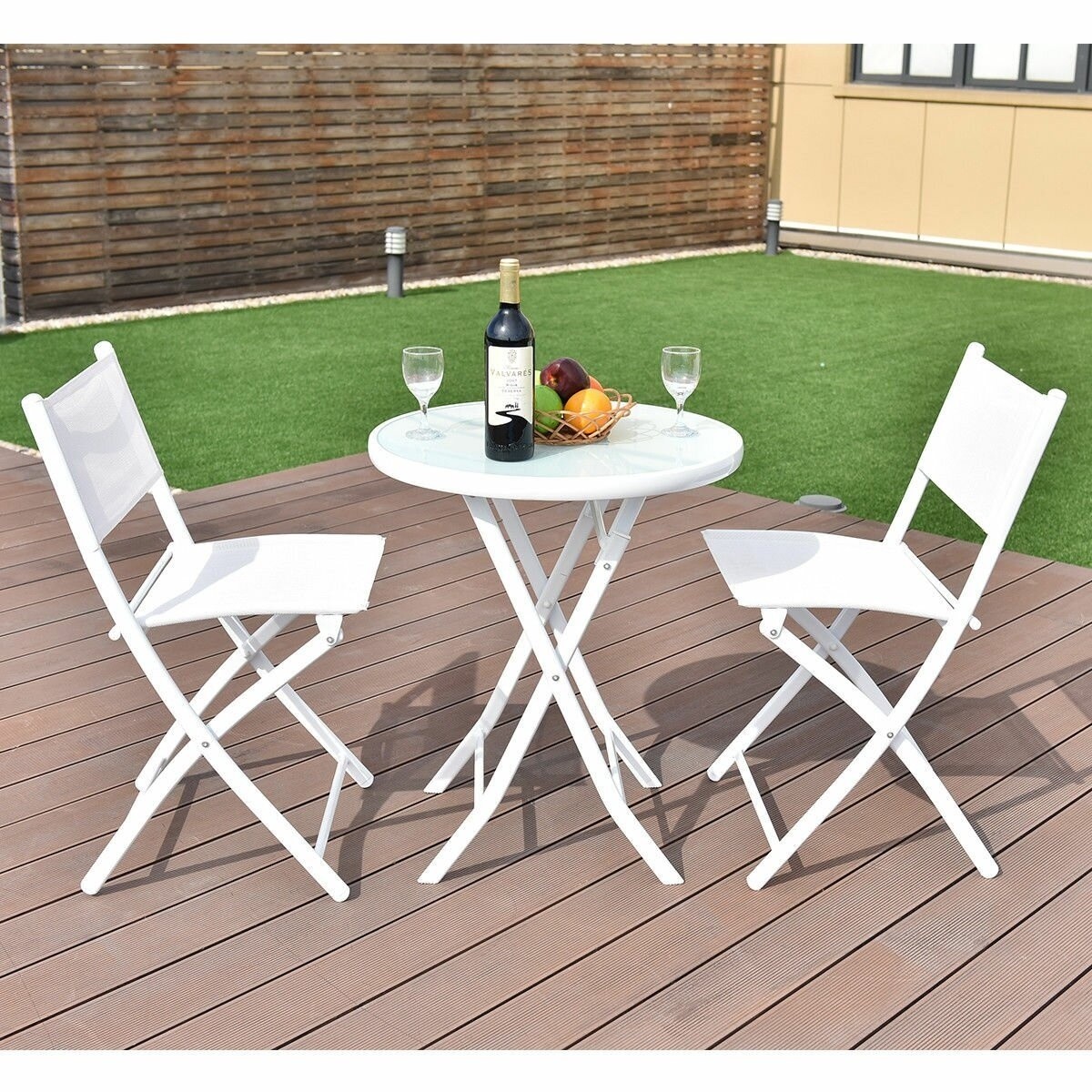 This bright white foldable table set pairs well with a rounded balcony with metal railings. Being able to fold the chairs and table makes this a fantastic table set option.
The seat is made of a textile fabric making it more comfortable than sitting on a metal chair. Cleaning is simple and quick, and the scratch-resistant feature is a selling point.
Some tables allow for a small umbrella to be installed in the center of the table. Umbrella or not, you can sit and enjoy a glass of lemonade after a long day of yard work.
13.

Rustic Solid Wood Folding Chair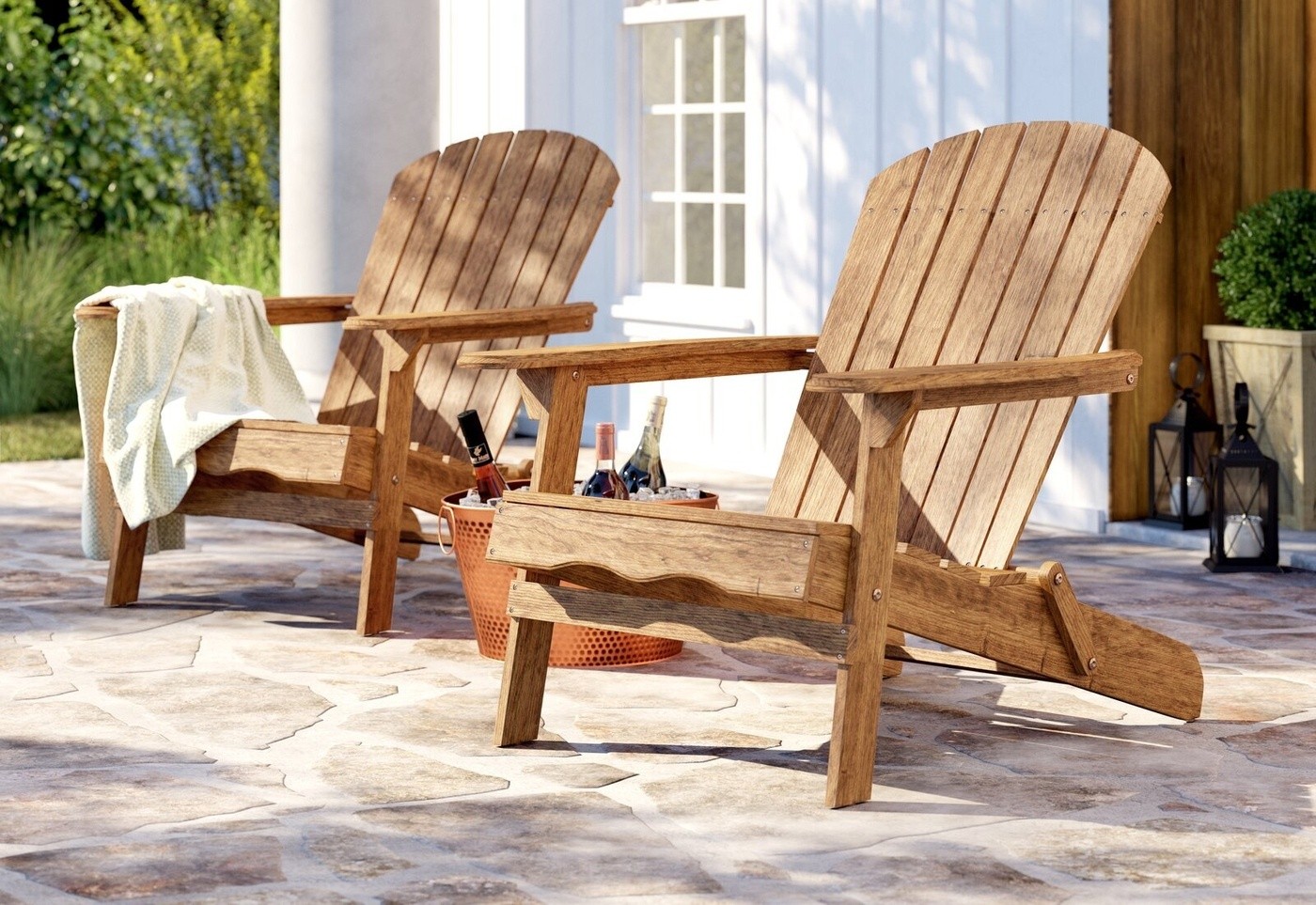 You can find these lounging folding chairs in hardwood, or a cheaper option is plastic. The plastic chairs are pleasantly sturdy, but they do get knocked over with the high wind.
They naturally lean at a 45-degree slant. They come in dark grey, natural wood, weather grey, white, navy, and many other colors if you choose plastic.
Wooden framed chairs give your balcony a nice rustic experience. These chairs fit well with balconies that have more space on one side of the door.
14.

Rust-Resistant Metal Rocking Chair Set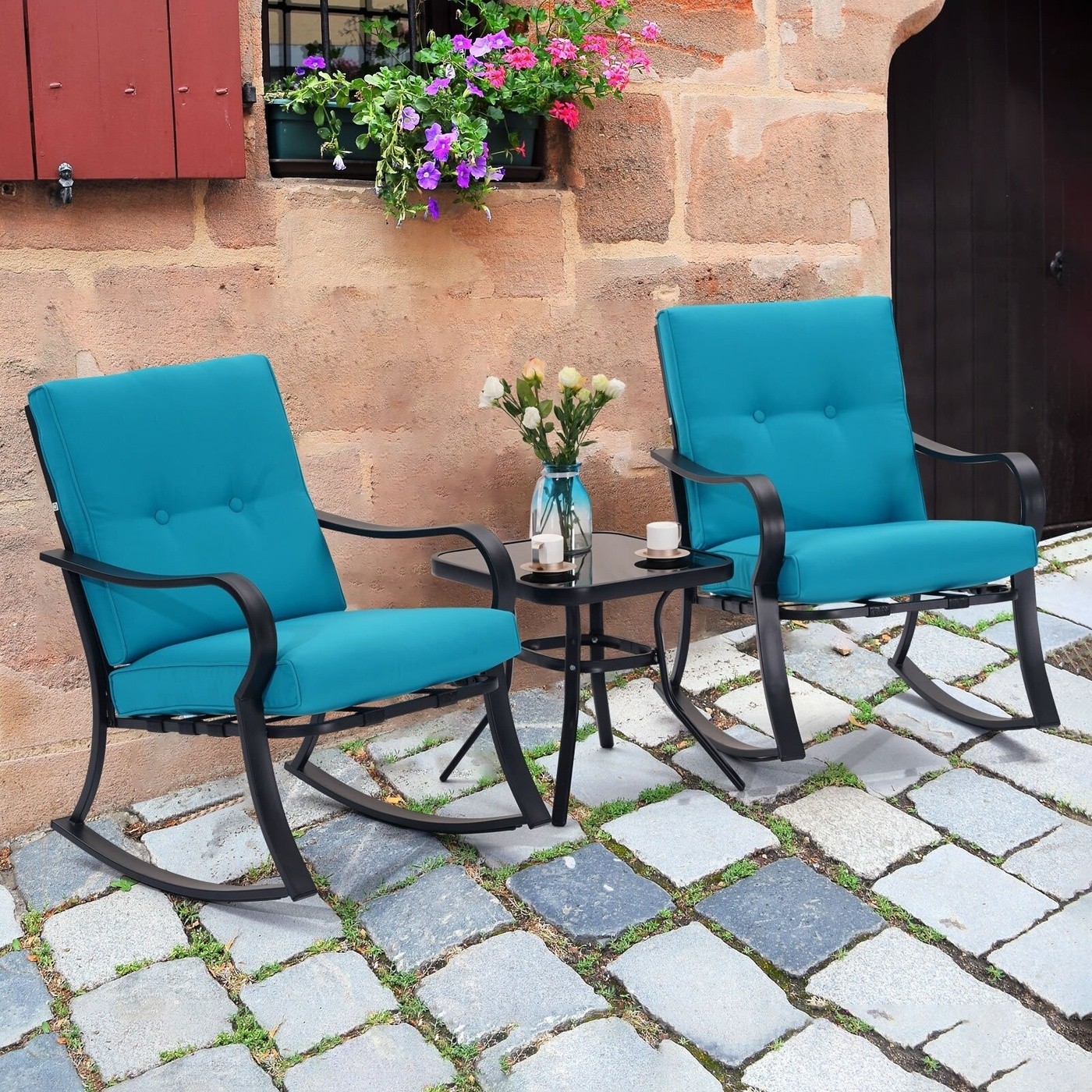 Here's an update on the classic wooden rocking chair. This is a modern approach to the rocking chair with its metal-framed chair and padded cushions.
The rounded table and chair arms create a gentler charm. The colors you can choose from are brown, blue, red, grey, green, and practically any color in the rainbow!
These cushions are polyester and mildew resistant. You do have the option to go with a wider seat with other metal rocking chairs.
15.

Custom Chaise Daybed With Parasol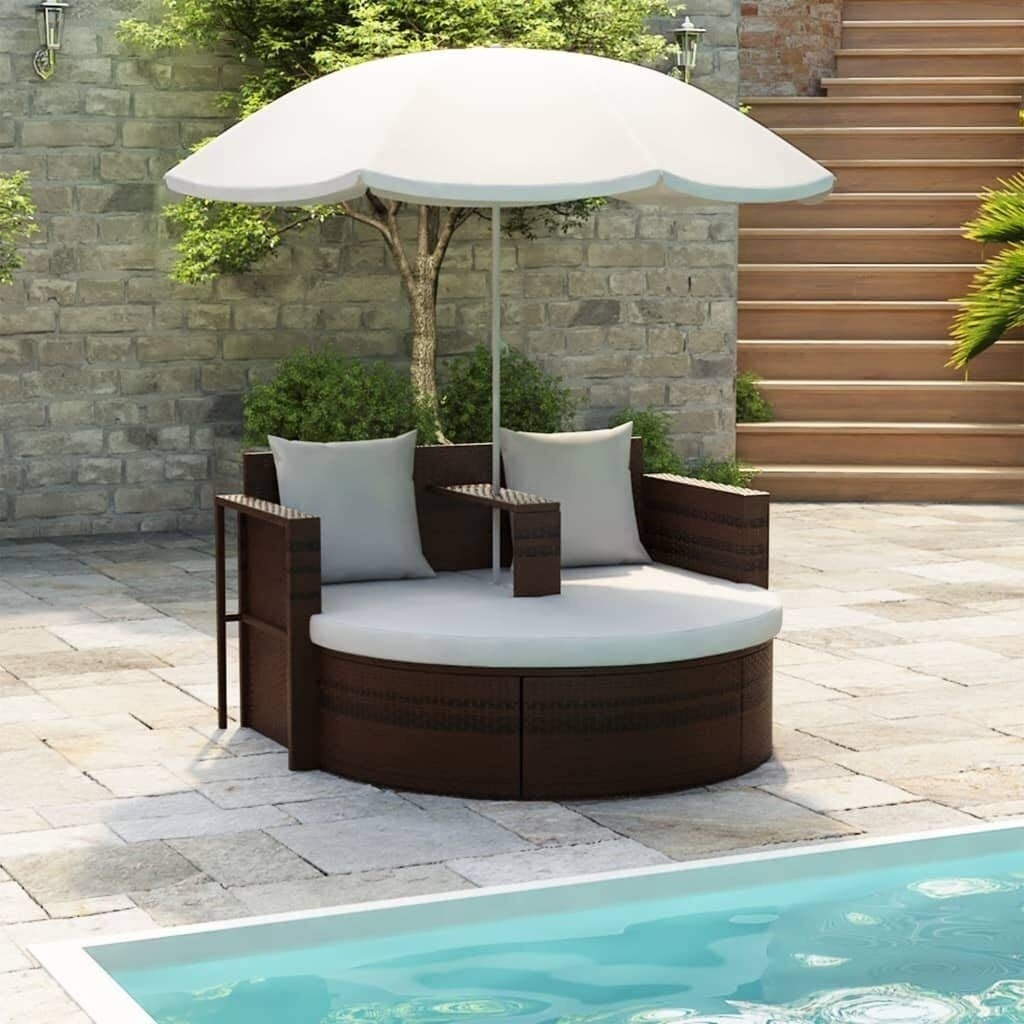 The high-class daybed seat can be suitable as small balcony furniture. The half-moon leg rest can be removed to make it two seats side-by-side.
The Parasol adds a delightful touch for people who get sunburned easily. There are many sizes and shapes of daybeds and sunbeds to choose from for your specific balcony.
If you use this chaise more for seating than lounging you can remove the cushions. The custom chaise with parasol is best for a rectangular balcony that extends farther away from the door.
Buyer's Guide For Small Balcony Furniture
A way to complement furniture to a small balcony is matching pillow or cushion colors to hanging plants or flowers. Add a green potted plant next to a bright solid-green cushioned couch.
Add a small rectangular rug underneath the warm stylish metal table set for a "wow" reaction. For a modern design, buy a light grey wicker rattan loveseat with navy blue pillows and a small navy-blue carpet to tie them together.
Complete the balcony bar look by adding a small, rounded bar stool and sit a tin pail on top of it filled with ice to keep your beverages cold. You can also hang some round bulb string lights.
Another great idea to save space on your small balcony is buying a half table that snaps onto your railing. Some of these amazing tables can fold up too.
If you love the comfort of an egg shape but can't stand the shape, looking into a hanging chair. They are like the hanging egg chair, only they don't come with the closed and rounded top.
Planter walls are a great addition to give your balcony a more natural feel them. If you choose hanging plants hang them in the corners so you don't block the view and open space (you don't want to close your balcony off more!).
All In All…
You won't have to cram these small balcony furniture pieces together to make your balcony look great. With these amazing ideas, your neighbors won't be eyeballing your small balcony thinking you're a hoarder (you aren't!).
Whether you choose the cushioned teak hinged chaise or the fringe macrame hammock, your small balcony will look exceptional. Go with your gut!