Sure, you've probably already thought of pool parties and summer BBQs, but… have you considered throwing an exotic Tiki party with your friends?
These unique events are centered around a celebration of Tiki culture, recreating the magical atmosphere experienced on Hawaiian, Polynesian or Oceanian beaches, especially once the sun's gone down.
The key element is obviously the iconic Tiki Bar, traditionally made of bamboo or wood and featuring a straw roof or umbrella. No matter your budget, you can find a jaw-dropping variety of Tiki Bars for sale here!
But let us tell you all about the benefits of this quirky choice, so that you can get in the right spirit for the best Tiki party of the decade.
1.

A Tiki party is a fun and unforgettable experience for you and your guests

Everyone loves a good party with their friends. However, when they're all about hanging out in someone's garden and listening to the same chart songs, they kinda end up blurring together when you look back at them.
Tiki parties, on the other hand, are a unique and memorable experience!

Thanks to their exotic atmosphere, different food and drinks, non-mainstream music and unusual dress code, they're the perfect opportunity to throw a different type of party that nobody will forget;

Needless to say, all your friends will absolutely love you for it.
2.

It's also a fantastic excuse to dress up

Are you already counting down the days to Halloween so that you can finally show off your best fancy dress? No need to wait that long!
A Tiki party is the ultimate opportunity to unleash your creativity and put together a Hawaiian-inspired outfit: long dresses with tropical patterns, bright Hawaiian shirts, flower crowns and necklaces… there's so much to play with!

This means that the fun actually starts before the party has even begun. Why not head to town or to the best vintage shop in your area to scout for the right garments with your friends?
3.

Let's be honest: all the pictures will be epic!
While we can guarantee that nobody will ever forget your Tiki party, it's also nice to have some pictures and, why not, a few physical polaroids from that night;

Thanks to the mysterious and exotic atmosphere created by your Tiki décor, flickering lights and the iconic dress code, the pictures of your evening will be one-of-a-kind. Definitely a precious memory for you and your guests to cherish forever!
4.

You can enjoy good food & exotic drinks
Enough with chips and the usual beers from the corner store! A Tiki party can push you to experiment with new foods and different cuisines;

Get creative with seafood and recipes that are based around tropical fruits like pineapple and coconut but don't forget to spice up your menu with a few traditional dishes like Kalua pork, Lomi Lomi salmon or Laulau;

You could cook them together with a few friends before the party is set to start or involve them by asking everyone to bring a single snack or dish;

As for drinks, show off your bartending skills with colorful rum-based cocktails like a Mai Tai, Mojito, Zombie and Piña Colada. You can use funky glasses and top them up with fruit as garnish to make them even more colorful and… well, Tiki!
5.

You can dance together to non-mainstream music
Instead of the usual songs that you've heard at 99% of your friends' parties, surprise your guests with traditional Hawaiian or Polynesian music that makes the atmosphere even more magical;

A Tiki party is ideal to dance the night away to exotic rhythms and discover new songs;

You can find lots of suitable playlists on YouTube and Spotify, and why not play the sound of the waves to add to the tropical atmosphere?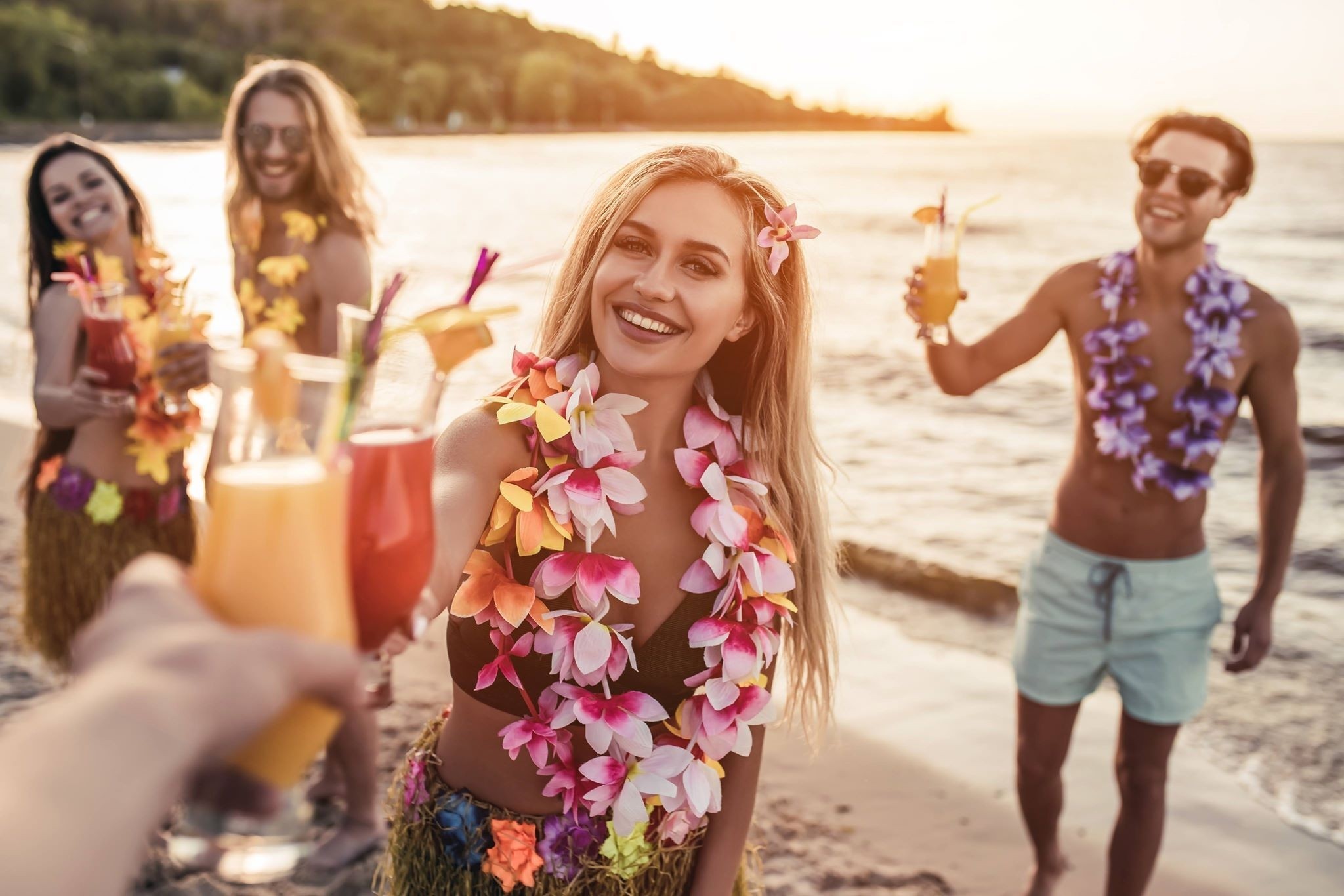 6.

A Tiki party is the perfect stress-relieving experience to unwind and have fun
Finally, one of the best things about throwing a tiki party with your friends is the escapist experience that it provides;

From its preparation to the actual party, a Tiki event will allow you to forget about the stresses of everyday life and channel your energy towards having a great time with your mates;

A Tiki party is also an unmissable opportunity to say Aloha to some friends that you haven't seen in a while and socialize in an unusual scenario with a mysterious but incredibly fun atmosphere.