Are you craving some exotic escapism? Can't wait to dance the night away with your friends and feel as if you had all been transported to a Polynesian beach? Then a Tiki Bar experience is just what you need!
To organize an event that nobody will ever forget and raise the (Tiki) bar for all upcoming parties, there are a few elements that you really can't miss out on.
But let's start with the basics!
What culture is Tiki?
Tiki culture is a type of décor that's centered around a romanticized view of tropical traditions and locations, with a focus on Polynesia, Hawaii and Oceania.
The name originates from Tiki, the first man on earth in Polynesian culture and their term for carved images of gods or ancestors.
8 things you need for an authentic Tiki Bar experience
1. A Tiki Bar (duh!)
The great news? There are lots of Tiki Bars for sale to choose from, so you're bound to find the perfect one for your budget and setting!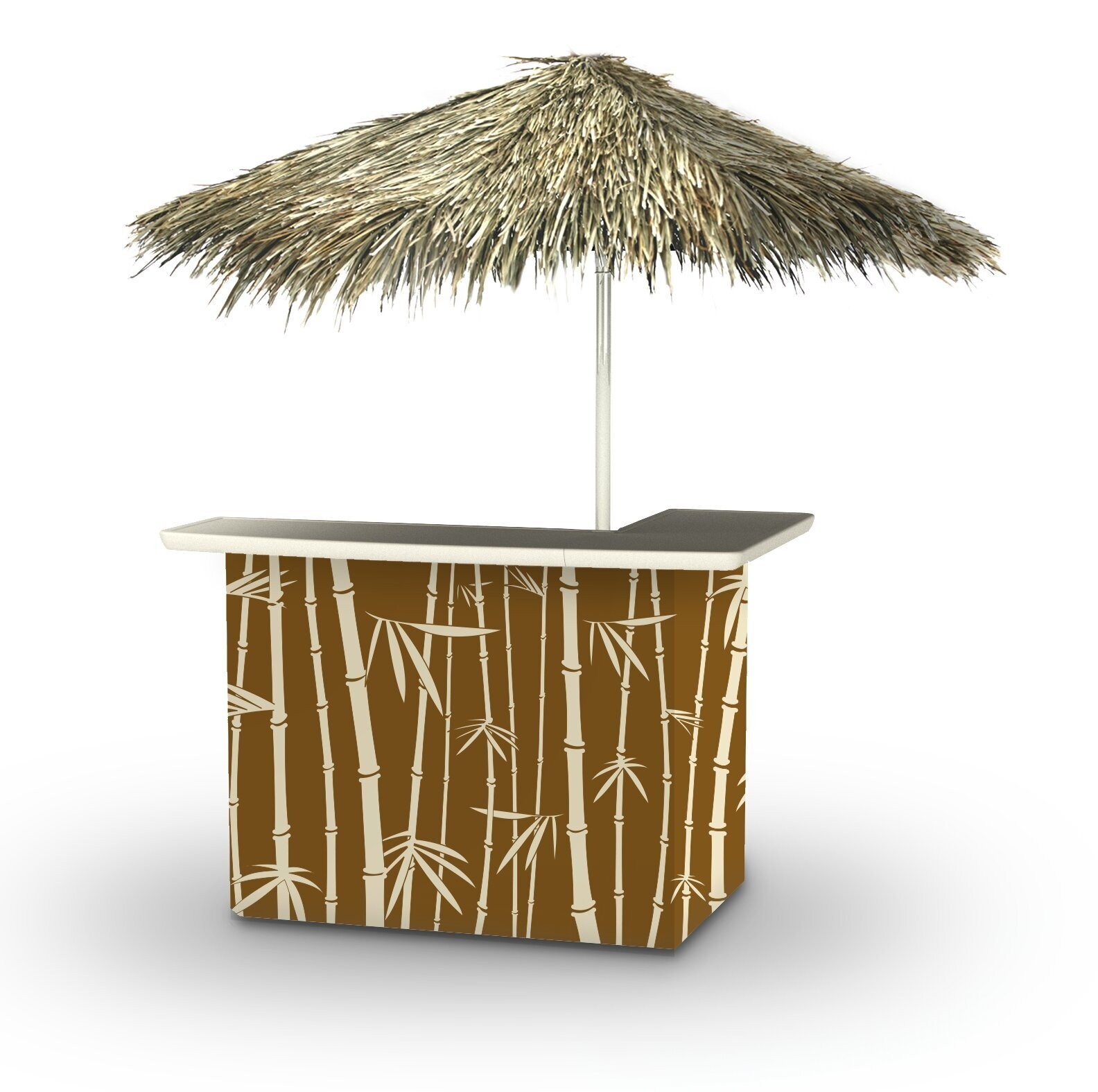 2. Choose the right location for your Tiki Bar
The Tiki experience is built around an escapist desire for exotic beaches, so it's only natural that water plays a central element:
The best location for a Tiki Bar would obviously be the beach, but a swimming pool is a practical alternative if you were planning on organizing the party in your garden;

If you can't place your bar next to either, here's a crafty compromise: why not have some speakers play the sound of the ocean waves in your garden?
3. Create the right lighting for a Tiki atmosphere
A Tiki experience should maintain a mysterious element: you definitely don't want it to happen in bright light!

The most exotic option is to go for some actual flames, for example by relying on a few bamboo torches;

If you're worried about potential fire hazards, you could always opt for fake flames instead;

In general, you want colored but dim lights, so, if you choose to use light bulbs, make sure you prioritize low-wattage options in different hues.
4. Add some Tiki furnishing
You'll probably all be dancing and chatting for most of the time, so don't worry about getting enough seating for all of your guests.
However, it's good to have some seating options for whoever needs a little break from dancing or for small groups who wish to socialize a bit more:
Consider adding a few tall stools to your Tiki Bar for those who want to chat to the designated bartender while enjoying a cocktail or two;

In the rest of the garden or party area, you can place some more chairs that add to the casual and exotic vibes that you're going for, such as rattan or straw-decorated models;

Low sofa-style chairs with colorful cushions and tribal patterns are another stylish solution.
5. Spruce up your party area with a few carved Tiki poles
The cherry on top for any Tiki party? Tiki poles, of course!
Tiki poles consist of totem-shaped sculptures of spiritual figures, usually with threatening expressions to keep the evil away;

Traditionally, they're made of wood or stone. However, if you're on a tight budget, you can find plastic alternatives, too.
6. Make sure everyone knows about the Hawaiian-shirt dress code
To add to the exotic atmosphere, we recommend encouraging your guests to show up in their most colorful Hawaiian shirts;

Bright dresses with tropical fruit or patterns are another popular option for the ladies;

Why not top it up with a few floral crowns and necklaces?
7. Find the right playlist and blast some Tiki music
Music is key! You could have the scariest Tiki sculptures and the most delicious traditional recipes, but, if you're going to play heavy metal or popular chart songs, you could break the tropical enchantment.
Luckily, there are lots of options to create the right playlist for your Tiki Bar experience:
Traditional Polynesian or Hawaiian music;
Energetic Calypso music;
Songs with a maritime or exotic theme.
If you're not sure where to start, you can easily find lots of Tiki-themed playlists on Spotify and YouTube.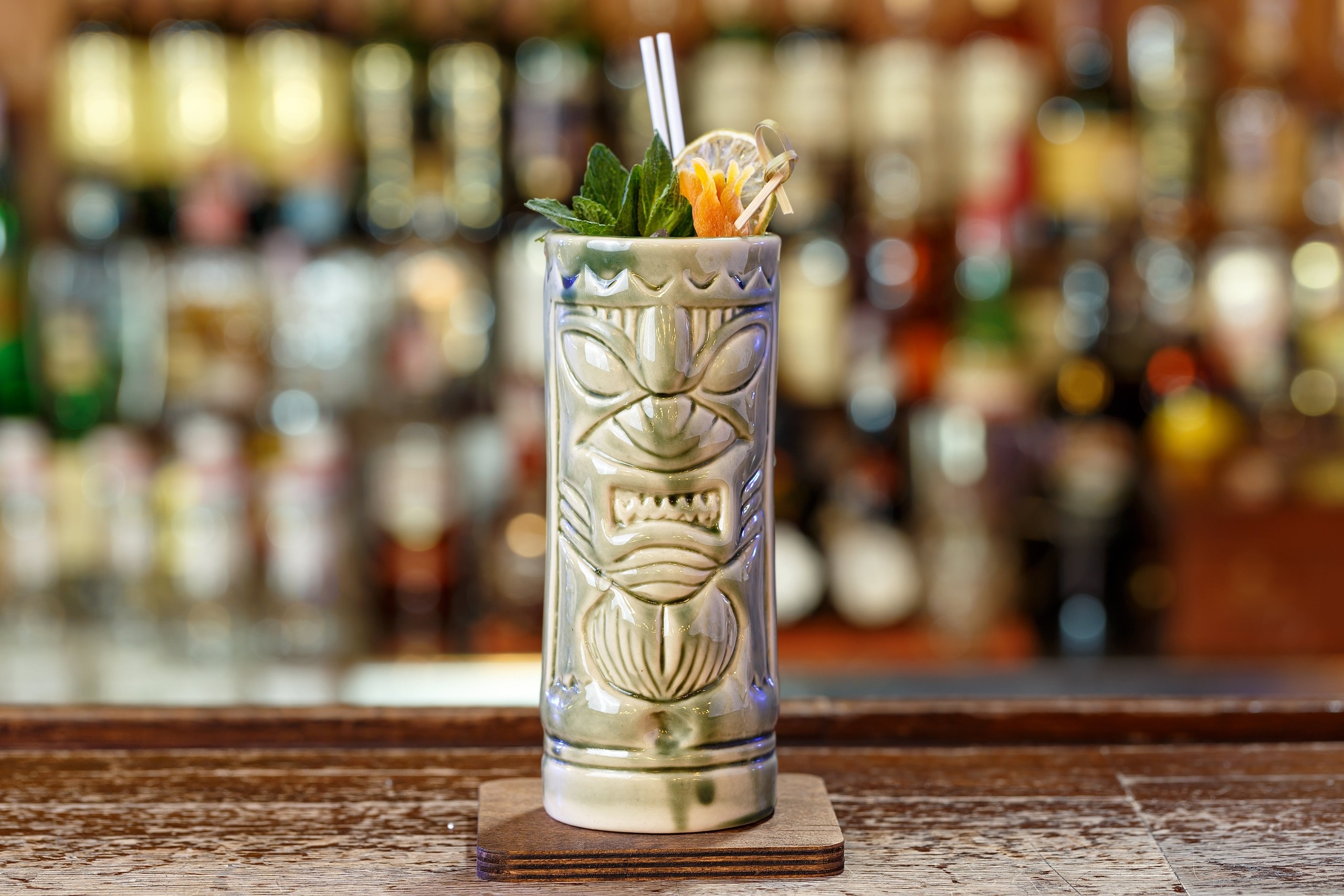 8. Prepare the right Tiki drinks
A Tiki Bar wouldn't be complete without a selection of drinks!
It's good to have a few options like beer (perhaps some exotic ones?), wine and alcohol-free drinks to leave more choice to your guests;

However, the Tikiest drinks are obviously cocktails, and the rule is simple: the more colorful, the better!

You should especially focus on rum-based cocktails like Zombies, Mojitos, Piña Coladas and the Tiki Bar drink for excellence: the Mai Tai.